Mmmmm! These 20 tasty sweet potato breakfast recipes made by talented recipe developers are going to spark some ideas for your most important meal of the day. You'll find a sweet potato dutch baby, breakfast bowls, and even a frittata. So you are sure to find something you like!
You know, sweet potatoes are just the perfect combination of delicious and nutritious. They are rich in so many micro and macronutrients (see FAQs). And they are versatile enough that you can include them in sweet or savory dishes.
Wow! What a vegetable!
Let's get to it.
Jump to:
20 Sweet Potato Breakfast Recipes
We curated this scrumptious list of 20 sweet potato recipes that are perfect for a hearty and nutrient-dense breakfast. Sweet potatoes are rich in all kinds of good stuff, but they also taste great. Bottom line, these sweet potato breakfast options will help you start the day off right.
And by the way, this is a list, not a ranking.
Sweet Potato French Toast Breakfast Casserole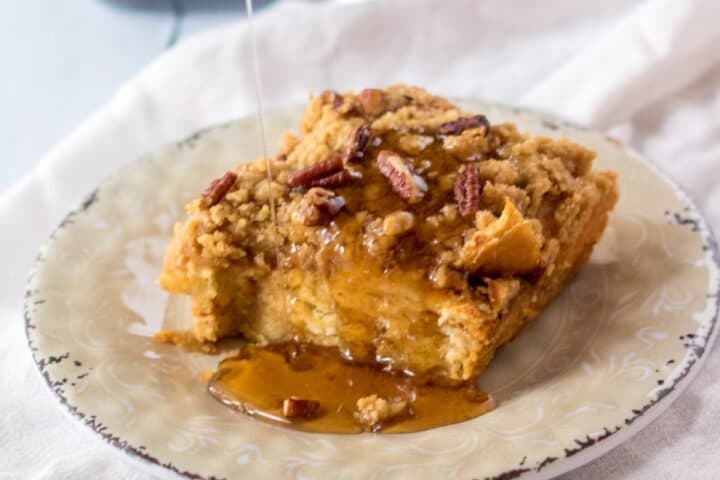 Karin and Ken of Kitchen Divas bring us this sweet potato breakfast casserole. A nutrient-dense twist on the breakfast bakes you may be used to. They're easy as pie to make and an excellent breakfast for dinner option-a Kitchen Divas' household favorite.
The ingredients include everything you would expect for a French toast bake with the addition of canned or homemade pureed sweet potatoes. On their page, you will find the recipe as well as a bevy of answers to questions for guidance.
Visit Kitchen Divas for the recipe.
Baked Apple Sweet Potato Oatmeal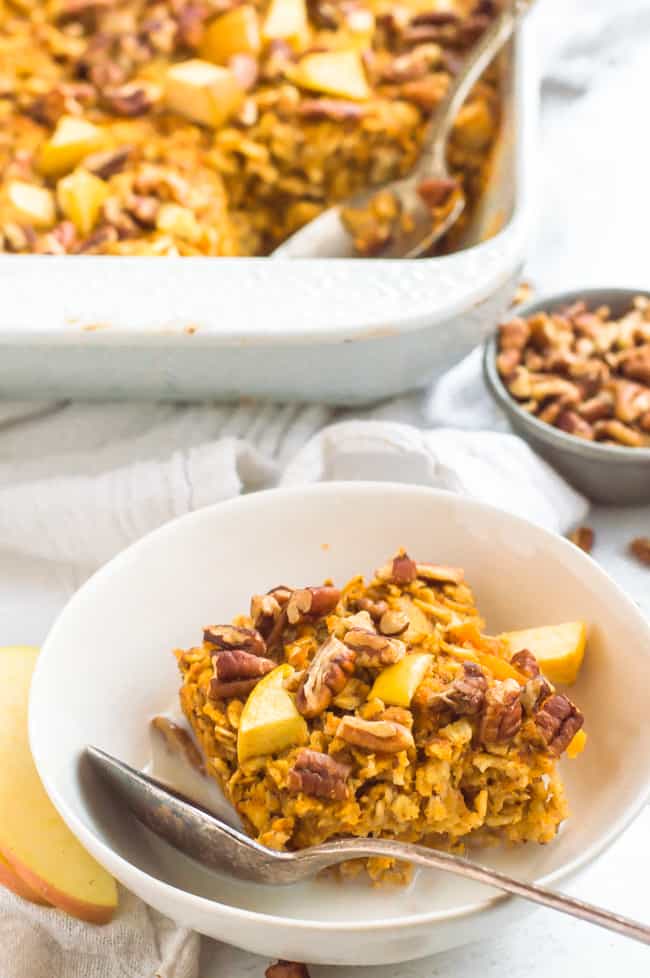 This sweet potato apple oatmeal bake from Taesha, The Natural Nurturer, is good in many ways. Let's see, it's full of healthful ingredients, it's perfect for a lazy weekend breakfast as you can make it a day ahead, and because it's chockfull of fiber, you have a perfectly filling fall breakfast.
While we love our not-so-great-for-you recipes, we're no strangers to nutrient-dense recipes like this one. With ingredients like avocado oil, rolled oats, pecans, and maple syrup, you can enjoy a delicious meal your body will thank you for.
Visit The Natural Nurturer for the recipe.
Sweet Potato Dutch Baby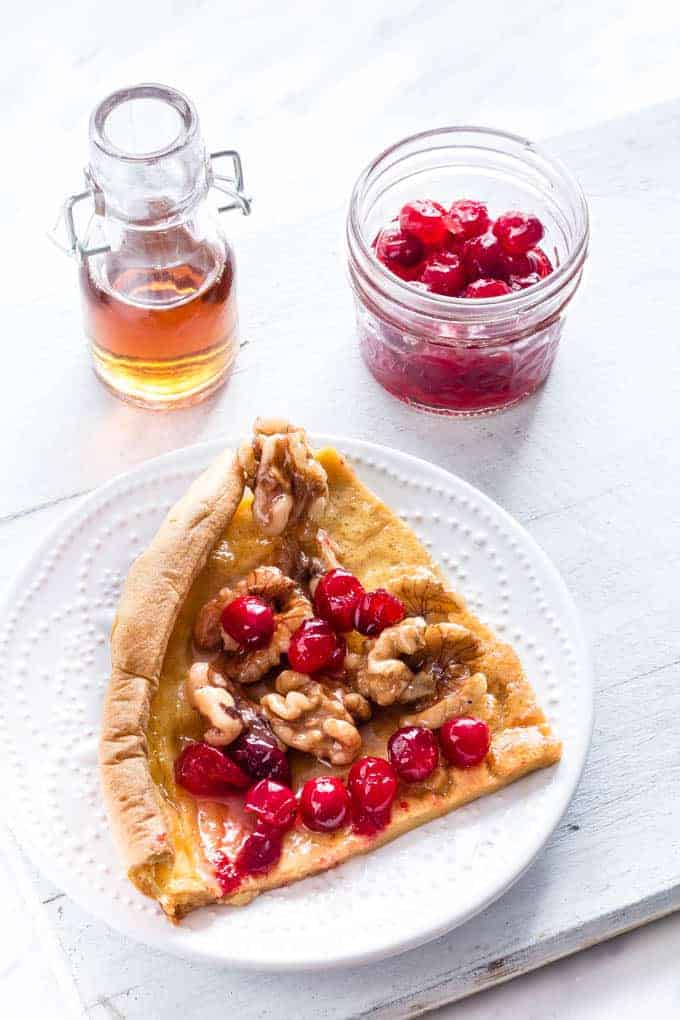 Bintu, the creator of Recipes From A Pantry and this sweet potato Dutch baby, has us weak in the knees. You're missing out if you've never had a Dutch baby. The classic baked German pancake provides the blank canvas for toppings limited only by your imagination.
But when you combine all of the good things you get from sweet potatoes with the babies of Dutch, oh boy! It gets better. For the topping, Bintu offers an easy orange and cranberry compote for a delightfully flavorful Sunday breakfast or brunch.
Visit Recipes From A Pantry for the recipe.
Sweet Potato Breakfast Bowls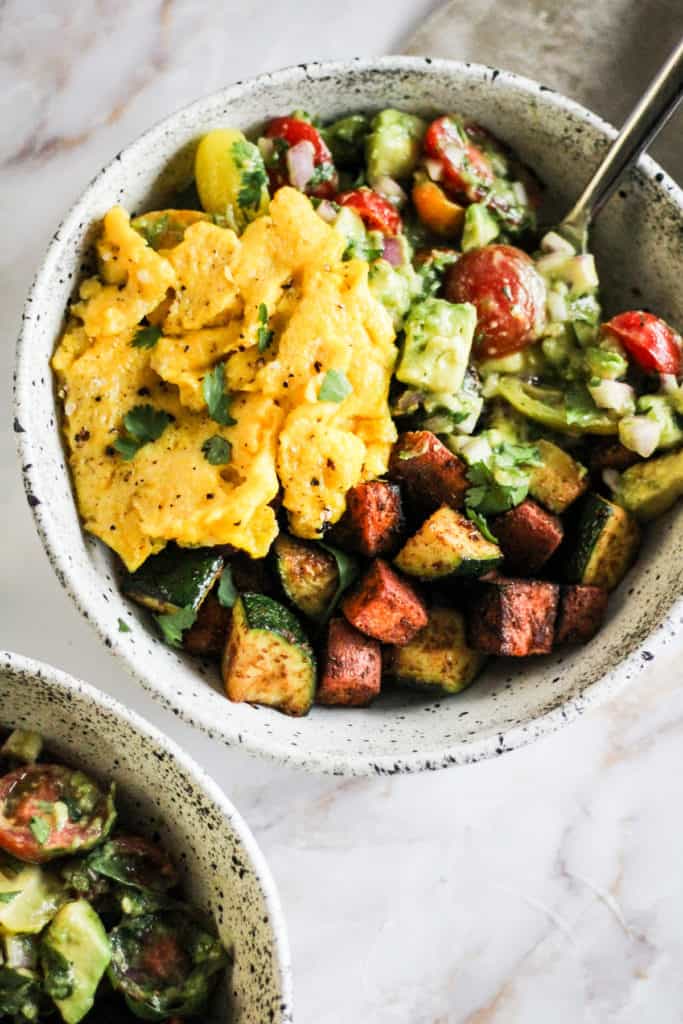 Before she gets into this sweet potato breakfast bowl recipe, Steph of Grateful Grazer shares her enthusiasm for bowls. Bowls are a quick and versatile meal concept you can make at home and find at many different restaurants.
This one features the superfood sweet potatoes. But that's not all. You also get a healthy helping of zucchini, vibrant cherry tomatoes, creamy avocado, and protein-rich eggs.
And if the deliciously healthful recipe isn't enough, there's even more! Steph also shares nutrition highlights, low-waste cooking tips, and links to other bowl recipes. Wow, what a resource!
Visit Grateful Grazer for the recipe.
Sweet Potato Muffin Recipe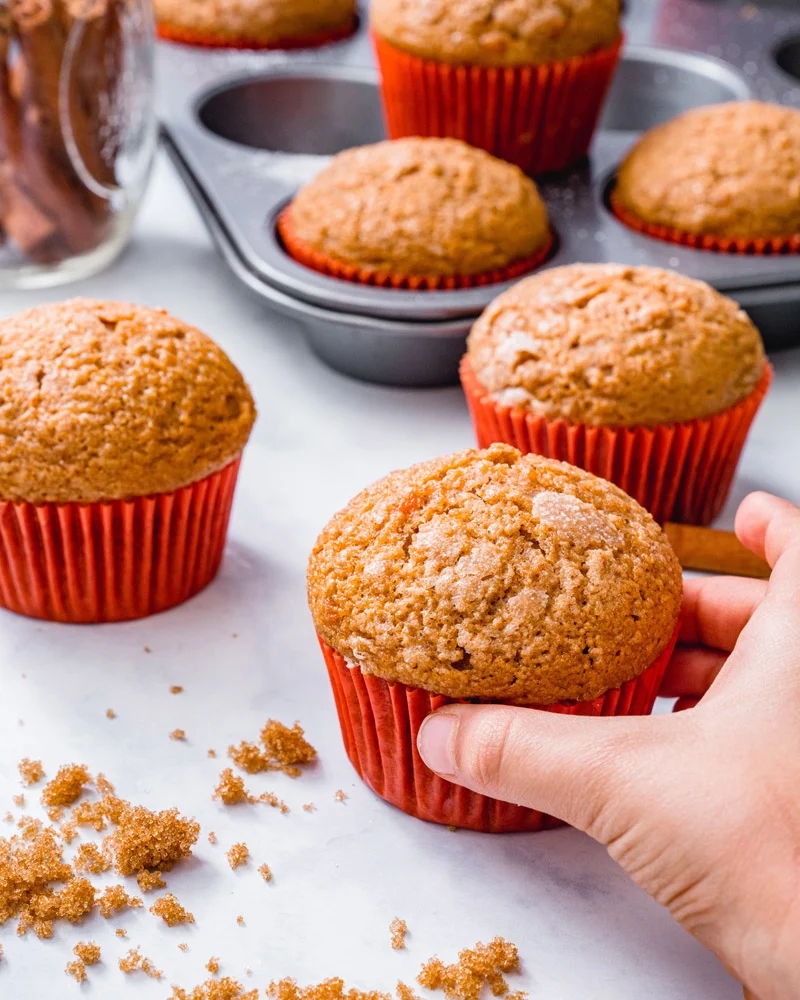 Sonja and Alex of the popular food blog A Couple Cooks bring us this vegetarian sweet potato muffins recipe. It's a fantastic grab-and-go breakfast option for when you're running low on time and desire to cook. Better still, they're preschooler approved.
The recipe includes staple ingredients you most likely have on hand like flour, eggs, milk, cinnamon, and brown sugar. However, you might need to pick up sweet potatoes or apple sauce, but your grocery store list should be pretty short.
What we really love about this recipe is that it produces tall muffins, thanks to Alex and Sonja's expert recipe development.
Visit A Couple Cooks for the recipe.
Sweet Potato Frittata with Spinach and Caramelized Onions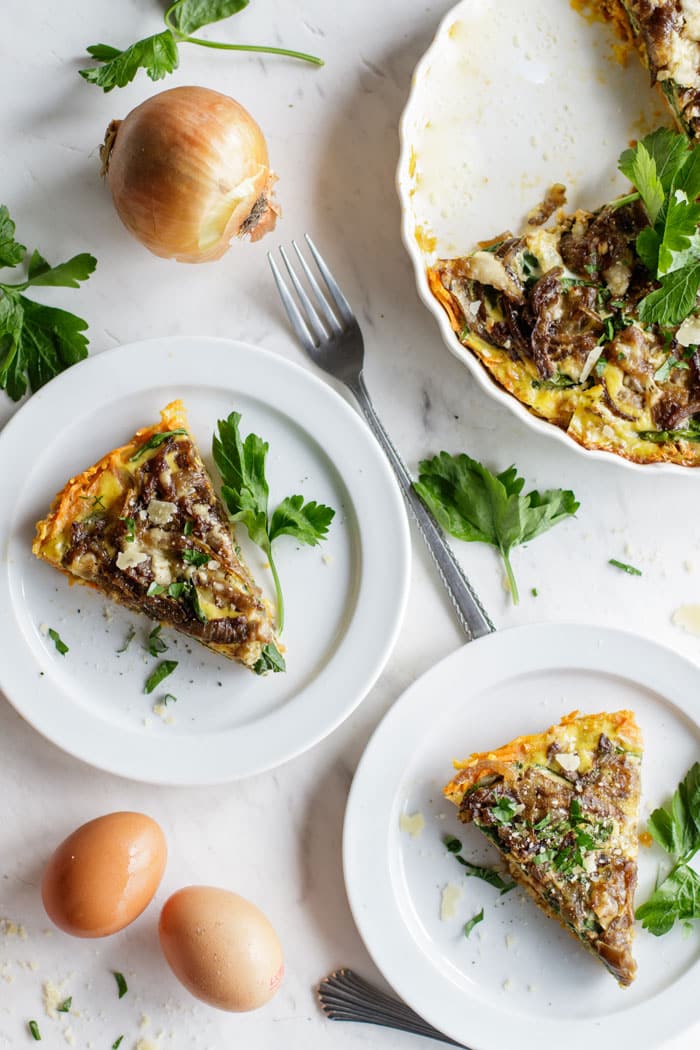 This sweet potato frittata from Michelle of Sunkissed Kitchen is easy, beautiful, feel-good food, and oh so tasty. She had us at caramelized onions.
And if you're on a strict diet, this recipe is super-inclusive as it is gluten-free with a paleo and whole foods 30 option.
You start by forming a crust using sweet potatoes. Then you add the egg and spinach mixture. Finally, top it with caramelized onions and shaved parmesan cheese. Bake and enjoy!
Visit Sunkissed Kitchen for the recipe.
Sweet Potato Biscuits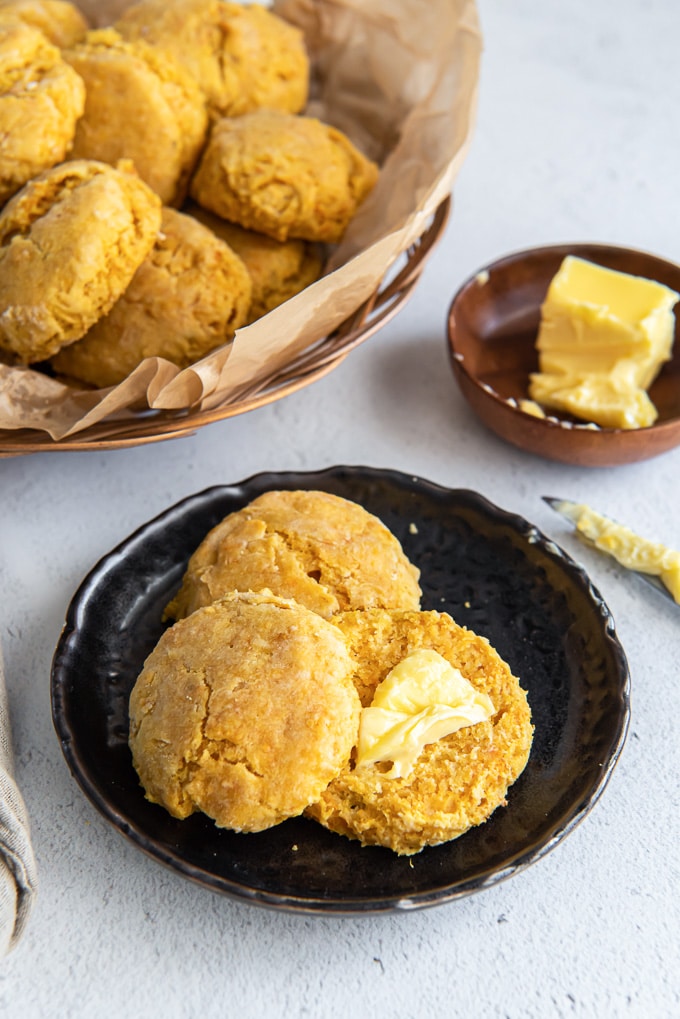 Marcie of Flavor The Moments made this fantastic sweet potato biscuits recipe years ago but decided to give it new life by updating it recently. And we're glad she did!
Do you know anyone who doesn't enjoy biscuits with their pillowy soft interior and slightly crispy crust? Yeah, we don't either. These biscuits are the ideal accompaniment for meals. Or they can be a stand-alone breakfast or snack.
You most likely have all ingredients on hand save for the sweet potato mash. So you can get the canned stuff, or if you would instead make it yourself, Marcie has a quick tip for you.
Visit Flavor The Moments for the recipe.
Sweet Potato Breakfast Parfait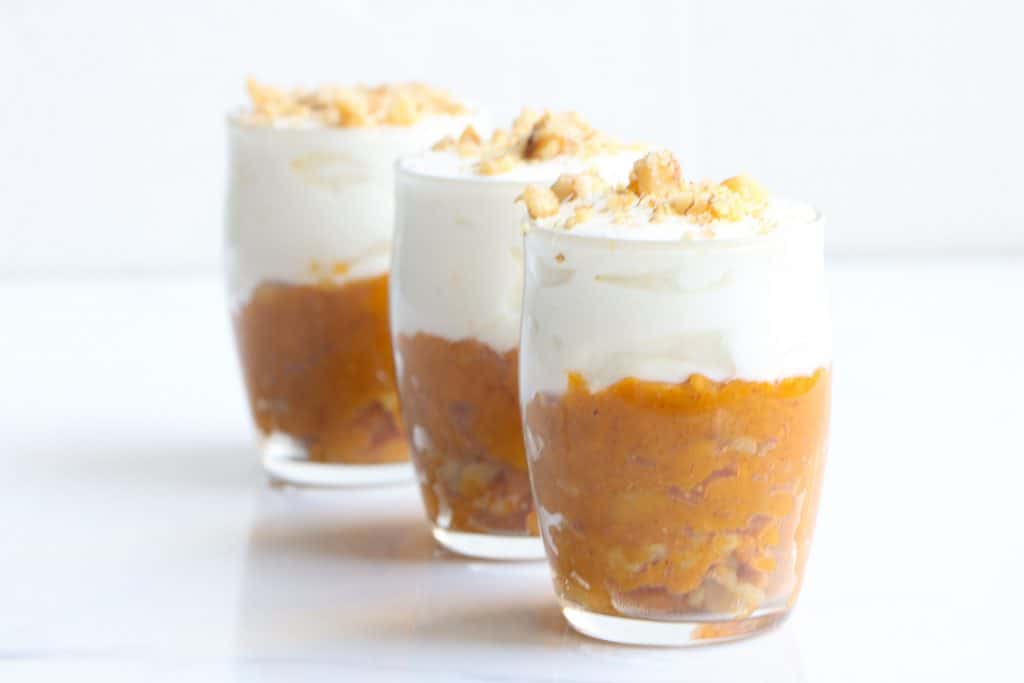 Along with running Shaw Simple Swaps, Liz is a registered dietician and a personal trainer. As per her aptly-named blog, she offers easy-to-follow nutrition advice, i.e., "swaps," so you can improve your diet permanently.
This sweet potato breakfast parfait is a part of that mission.
This super-easy breakfast starts with you cooking sweet potatoes in a pressure cooker and mashing them with a bit of maple syrup and vanilla extract. This mash forms the base of your parfait.
Next, you top it with Greek yogurt and walnuts for a quick, filling, and delicious start to your day.
Visit Shaw Simple Swaps for the recipe.
Sweet Potato Pancakes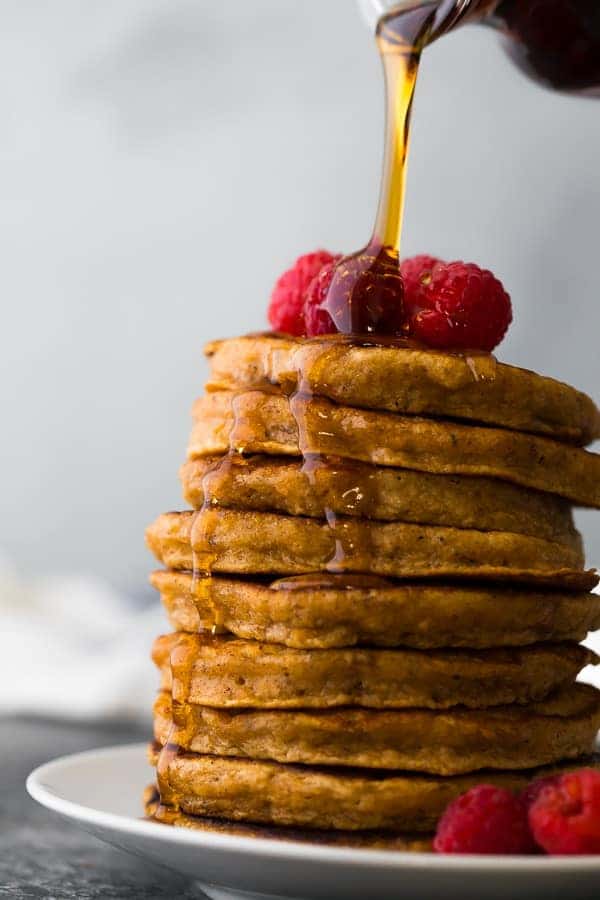 Everyone loves pancakes. So, the next time you make them, follow this sweet potato pancakes recipe from Denise of Sweet Peas And Saffron.
This simple recipe comes together in just minutes after you cook the sweet potatoes, that is. Then, drizzle with maple syrup, and you've got breakfast free of refined sugar.
You can make these healthy pancakes in big batches. Then, freeze them and enjoy them for weeks without cooking breakfast. Now that's what we call a win-win!
Visit Sweet Peas And Saffron for the recipe.
Sweet Potato Coconut Oat Cookies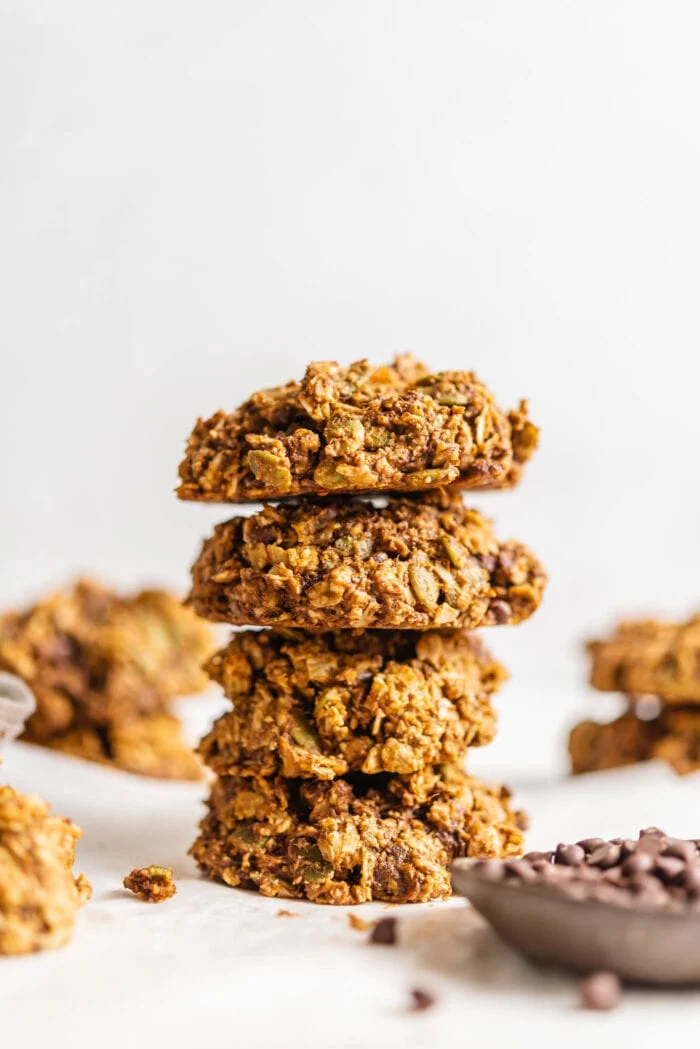 To be delicious, snacks don't have to be laden with excessive sugar, butter, or salt. That's what Deryn of Running on Real Food says with these 16-minute, nearly 5-star sweet potato coconut oat cookies. It's a simple recipe with plenty in the way of nutritious value.
Oats, sweet potato puree, and maple syrup are the stars of this cookie show, but you'll also find chocolate chips and nut butter there. Just mix the ingredients and bake per the instructions, then let them cool, and enjoy these soft and energizing cookies as a dessert or midday snack.
Visit Running On Real Food for the recipe.
Paleo Sweet Potato Waffles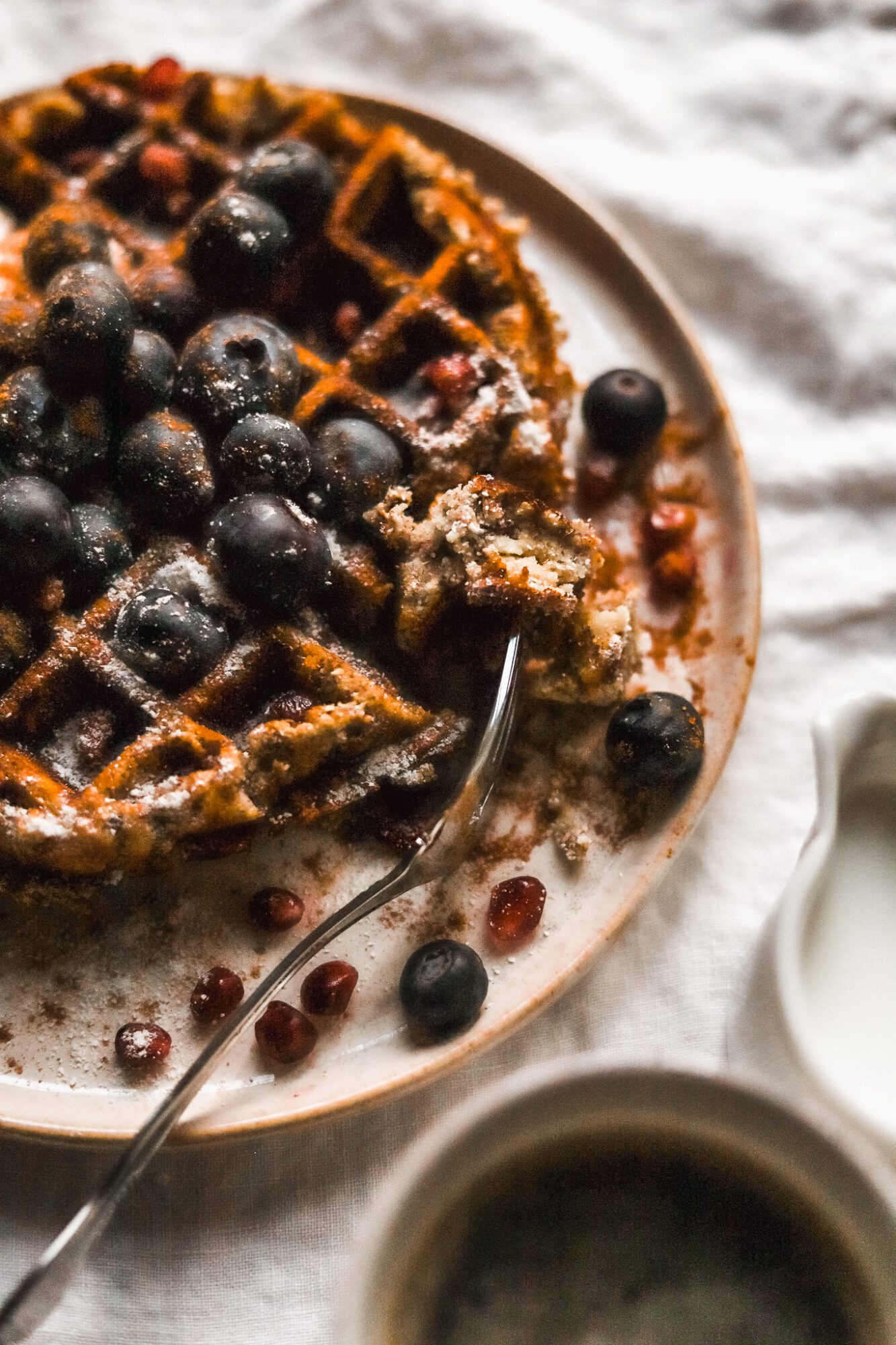 This paleo sweet potato waffles recipe marks the genesis of Britt of The Banana Diaries' foray into savory sweet potato recipes. And wow, did she ever jump into the deep end with this hearty and healthful breakfast. You're in for a treat!
These waffles fit just about any diet with just a handful of ingredients. They are nut-free, paleo, vegan, and even whole foods 30 compliant.
Are you not following any of those diets mentioned above? Don't worry. Sweet potato waffles are a delicious breakfast option that all can enjoy. Who doesn't love waffles topped with fresh fruit and maple syrup?
Visit The Banana Diaries for the recipe.
Paleo Sweet Potato Bars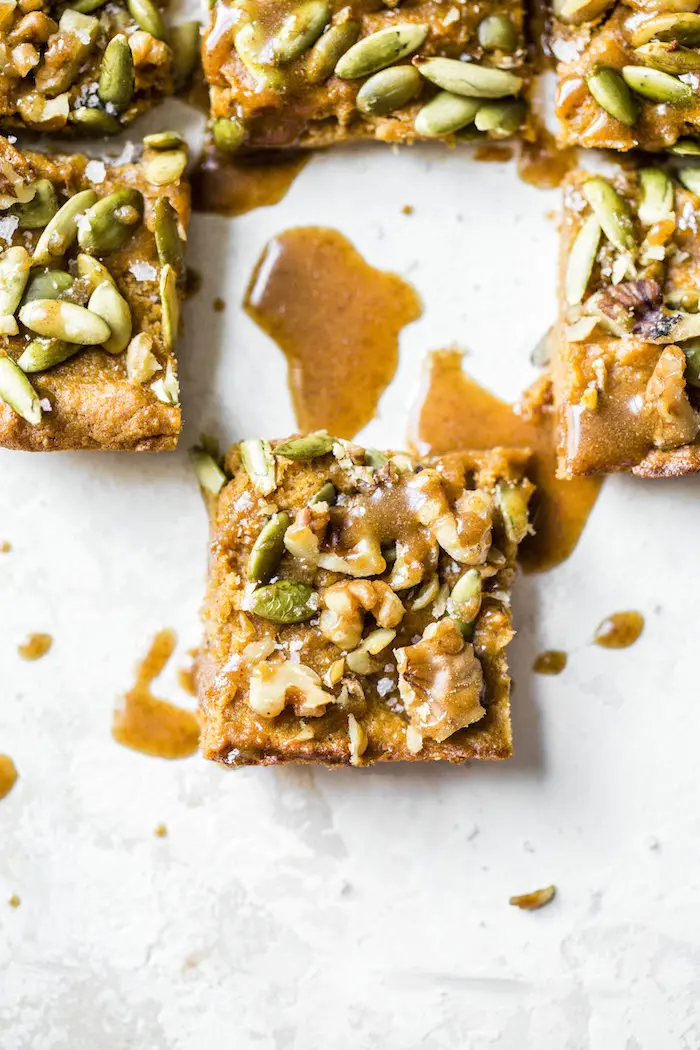 Sweet treats like these paleo sweet potato bars from Erin of The Almond Eater don't need to be syrupy-sweet to satisfy your sweet tooth. Nope! Instead, you have these slightly-sweetened bars filled with all kinds of good stuff.
What good stuff, you ask? Well, there's mashed sweet potato, almond flour, and chopped nuts for starters. Then you have the topping, a maple, and almond butter drizzle for a just-sweet-enough treat the whole family will enjoy.
Visit The Almond Eater for the recipe.
Sweet Potato Egg Breakfast Casserole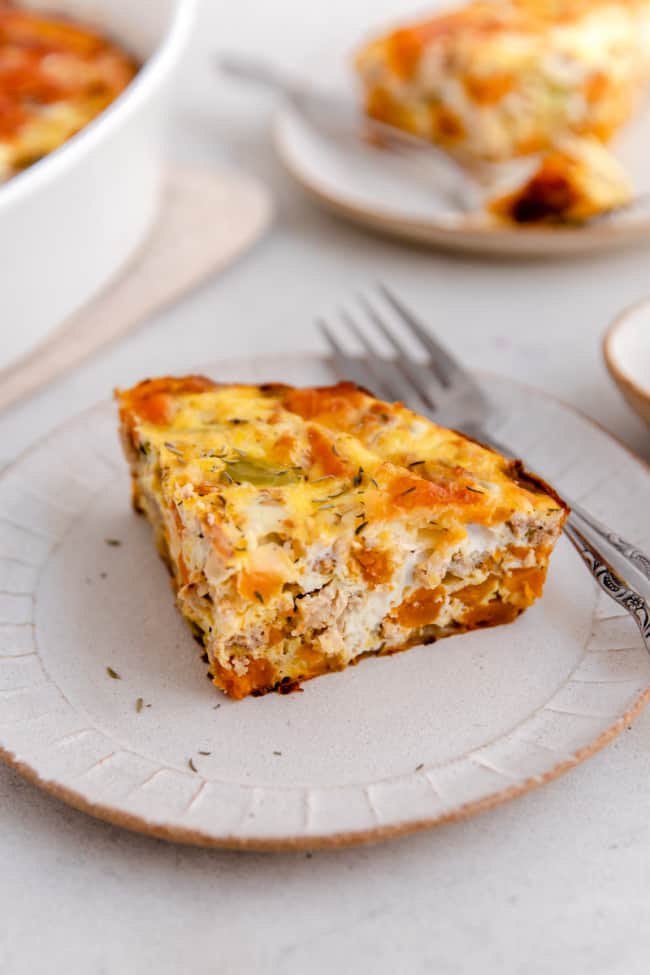 When it comes to the most important meal of the day, you will sometimes want a quick one, a snack even. But on other days, you want to feast when you have the time.
This sweet potato egg breakfast casserole from Erin of Erin Lives Whole is for feasting.
So with this hearty AM bake, all breakfast favorites are invited to the tasty party. You'll find eggs, sausage, green peppers, onions, sweet potatoes, and more in this hearty and sustaining meal.
Now, you're probably wondering if you can make it ahead. You can. But in our experience, bakes like this are most phenomenal when made the day of.
Visit Erin Lives Whole for the recipe.
Sweet Potato Egg Nests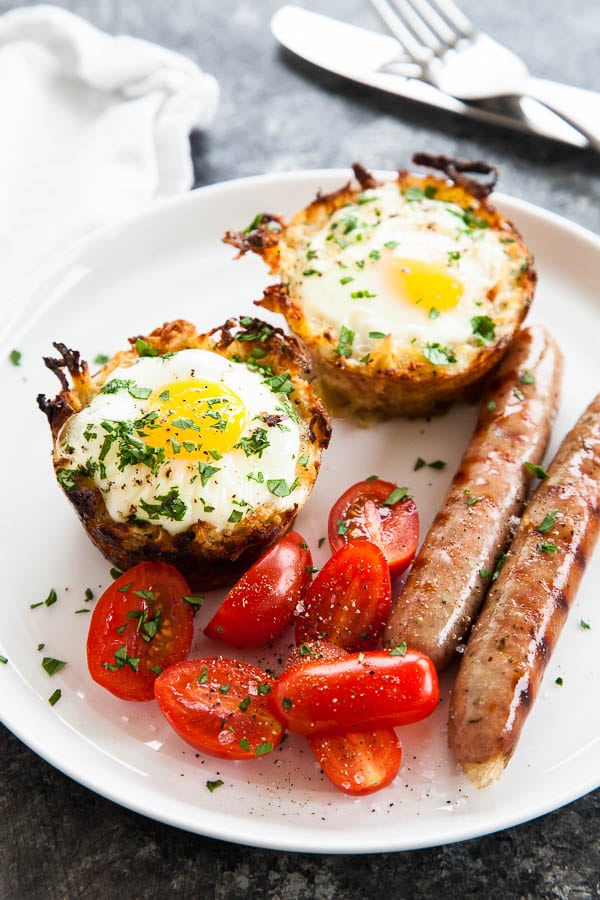 These sweet potato egg nests from Maresa of Breakfast For Dinner aren't the only muffin tin breakfast recipes you'll find on her site. You see, she's a bit of an enthusiast regarding small individually portioned breakfasts.
Two mini breakfast egg nests make a filling meal for most folks. They consist of a mixture of sweet potato, parmesan, and olive oil to form the "nest" then, you crack an egg inside and sprinkle freshly cracked black pepper and salt. Then you bake.
Next thing you know, you're enjoying a delicious photo-worthy breakfast.
Visit Breakfast For Dinner for the recipe.
SWEET POTATO ROSTI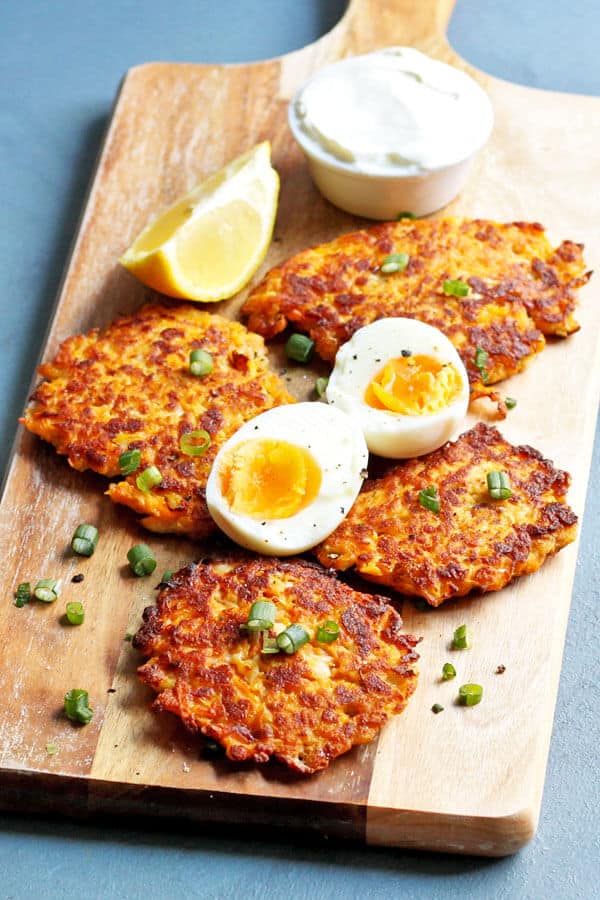 If you've never heard of rosti, Cassie of Cook It Real Good forgives you, I'm sure. However, rosti does have an American synonym you've heard of, and that, my friend, is hash browns. And if you wanted just to call hash browns "potato heaven," that would be fine by us.
Shredded sweet potato is combined with onions, halloumi cheese, egg, garlic, and a few other ingredients to make these mouthwateringly crispy orange hash browns.
Cassie will assist you with the finer details, but they are simple to make. Of course, the hardest part is not overeating them. Good luck with that!
Visit Cook It Real Good for the recipe.
Paleo Sweet Potato Waffle Breakfast Sandwich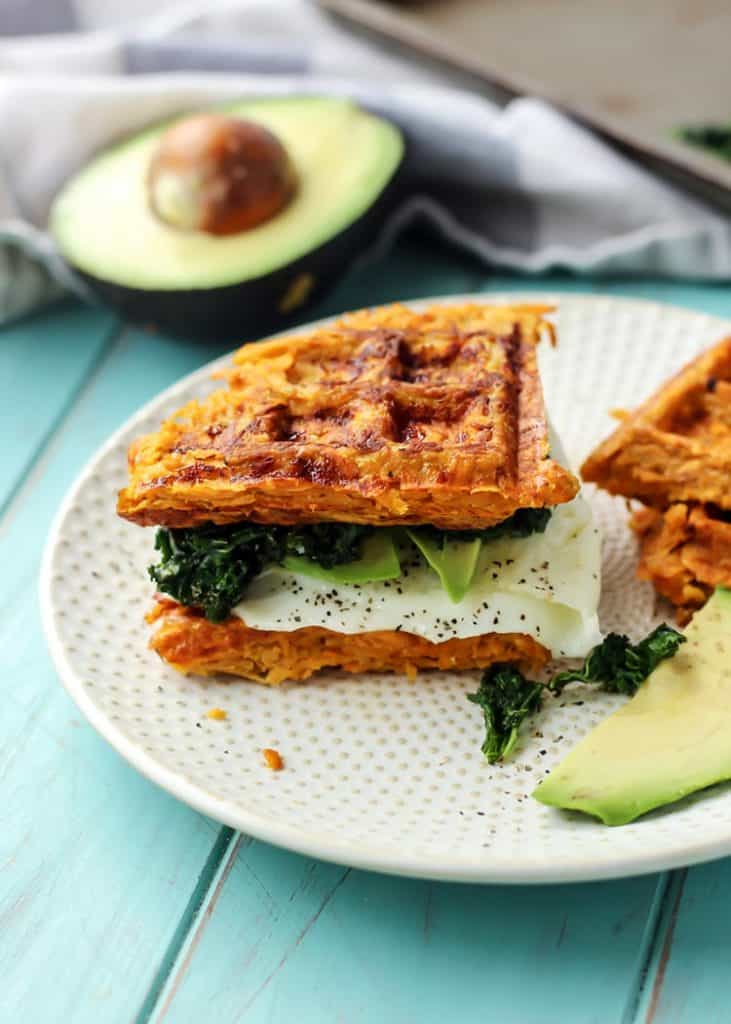 With this sweet potato waffle breakfast sandwich from Ashley of Fit Mitten Kitchen, you'll find tasty eggs, creamy avocado, and sauteed kale sandwiched between two slightly crunchy waffles.
It's a healthy and filling meal fit for breakfast, brunch, or brinner (breakfast for dinner).
This mega breakfast sandwich starts with grated sweet potato loaded into the waffle iron and cooked until slightly crispy. You then cook your kale and egg. Finally, assemble and enjoy.
Visit Fit Mitten Kitchen for the recipe.
Purple Sweet Potato Bread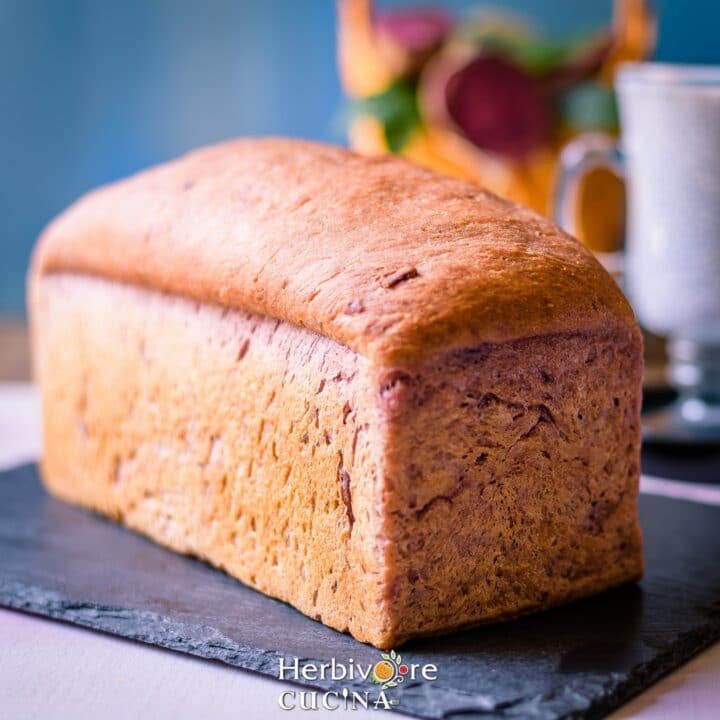 What do you do with leftover purple sweet potatoes? Well, if you ask Smruti of Herbivore Cucina, she'll tell you to make her sweet potato bread. It's a novel idea that is peculiar in the best way.
Fresh out of the oven, the bread presented as pale violet, so Smruti's mind raced with questions. Chief among them, "would the bread be equally as pale on the inside?"
To her amazement, no, upon cutting into the bread, she discovered a vibrant light purple color. You'll definitely want to see it for yourself.
Visit Herbivore Cucina for the recipe.
Breakfast Twice Baked Sweet Potatoes
While some call them paleo, whole30, or diet food, we'll just call them delicious! And if you don't like what you see in that image above, from Michelle of Paleo Running Momma, we probably couldn't call each other friends—just kidding!
But seriously, good food is just good food.
These twice-baked breakfast sweet potatoes start by baking the sweet potato for about an hour. Next, you mash those sweet potatoes. Then you cook the bacon and peppers.
Finally, you assemble the sweet potato halves with the egg and other fixings, bake again, and chow down.
Visit Paleo Running Momma for the recipe.
Sweet Potato, Bacon, and Egg Breakfast Tacos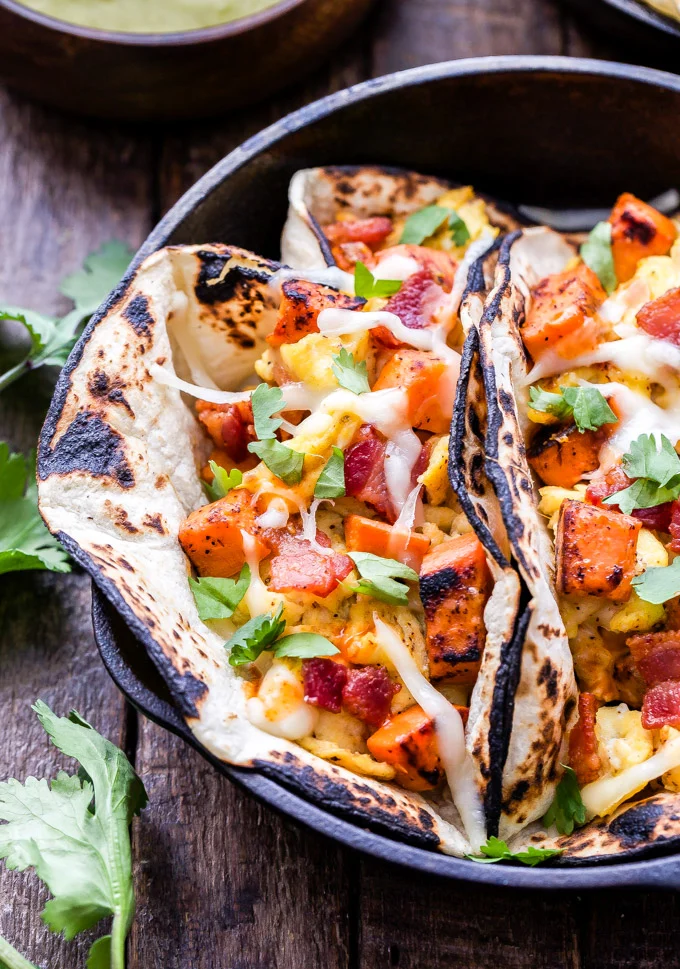 Danae, the Recipe Runner, offers these sweet potato breakfast tacos as a way to use up your way leftover tortillas before they go stale. The potatoes add a nice sweetness to this otherwise savory breakfast meal.
But before Danae gets into this simple recipe, she shares her tip to crisp up tortillas so they don't crumble apart on the first bite. It's a very helpful tidbit.
You start by preparing the sweet potato chunks. Then you make the bacon and eggs. Then you assemble and serve. Mmmm!
Visit Recipe Runner for the recipe.
Creamy Sweet Potato Smoothie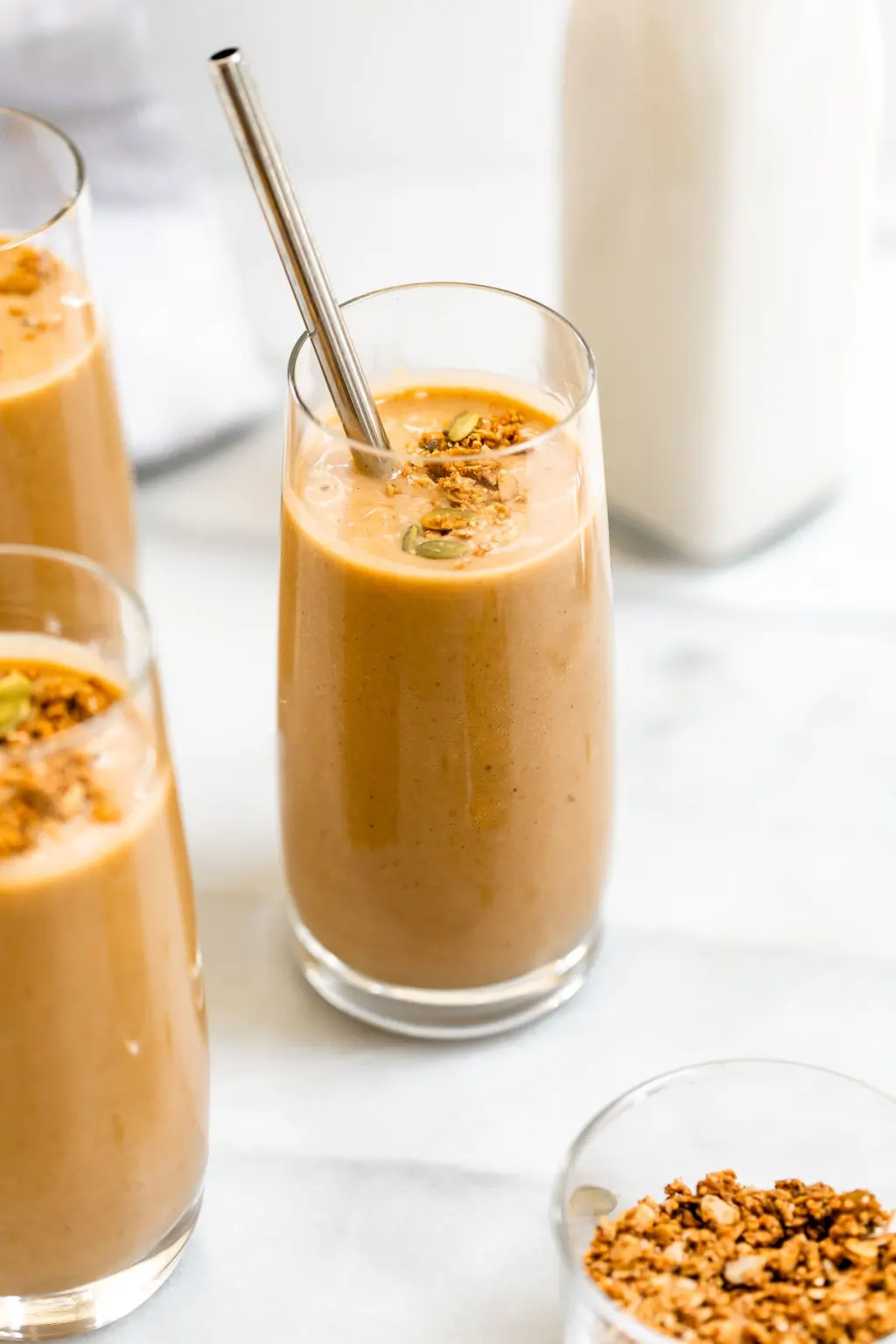 If you want a quick, refreshing, and satiating meal, look no further than this sweet potato smoothie from Claire of Eat With Clarity. Smoothies are great breakfast options as they couldn't be easier to make. But sometimes they can taste, well, not so great.
However, this recipe is different as it was designed with nutrition and flavor in mind.
The base is sweet potato, but the nutrition isn't parked there. There are also macronutrient-rich hemp hearts. Then you'll find a bevy of other ingredients to enhance the flavor, like cinnamon and nutmeg.
Finally, for sweetness, you have bananas and dates.
Visit Eat With Clarity for the recipe.
FAQ's
What is a sweet potato?
Sweet potatoes are large root vegetables. The most common among them are orange, purple, or white. And this might surprise you, but sweet potatoes are not related to the common potato.
What makes sweet potatoes so healthy?
Sweet potatoes are rich in vitamin A, vitamin b6, and potassium. They're also a good source of dietary fiber.
What is the difference between sweet potato and yam?
Sweet potatoes and yams belong to two different plant families. And the sweet potato is, as the name implies, sweeter. The skin of the yam is rough like the bark of a tree. Also, the sweet potato tapers at either end, while the yam is cylindrically shaped.
What is the best way to cook a sweet potato?
If you're cooking sweet potatoes to retain as much nutrition as possible, then you'll want to boil your sweet potatoes skin on in a lid-covered pot for 20 minutes. However, from our own personal test, we like to roast them in the oven when preparing them for pie.
Which Sweet Potato Breakfast Do You Want To Try First?
We know there are lots of great options here, but which one do you want to try first. Is it the sweet potato smoothie, the twice-baked sweet potato, egg nest, or something else? Let us know in the comments.
If you like this post, you'll love our sweet potato sweets list and our sweet potato ice cream.