Join us as we dive into the wonderful world of puff pastry recipes with this tantalizing roundup. This heavenly dough is renowned for its flaky layers and light and crisp texture.
Here's a sample of what you can expect to find! You have a bacon pastry twist, cream horns, a caramelized onion tart, and many more! So are you ready?
Let's dive in!
By the way, if you like puff pastry recipes, you might also like these phyllo dough recipes.
Bacon Puff Pastry Twist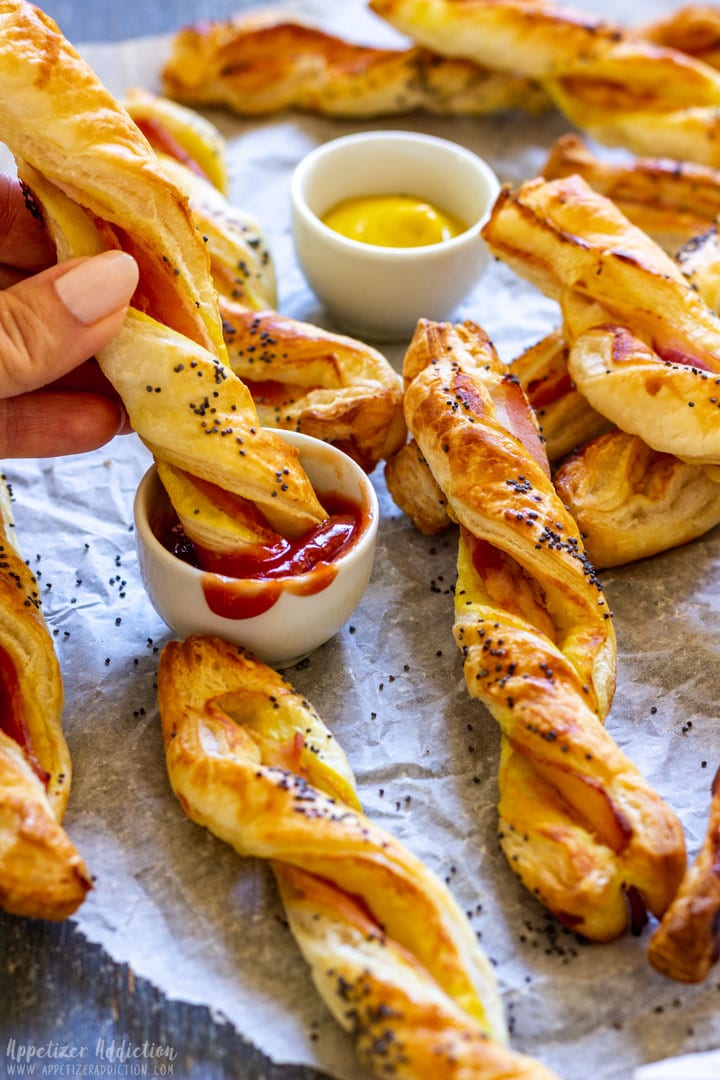 We can't resist bacon recipes, so when we happened upon these bacon puff pastry twists recipe from Julia of Appetizer Addiction, we knew it would make this list. Why? Because everything is better with bacon.
This five-ingredient puff pastry recipe is excellent as a side for soups or as a stand-alone snack. Wouldn't you choose puff pastry bacon twist over popcorn for your movie snack? We would!
Visit Appetizer Addiction for the recipe.
Puff Pastry Breakfast Pizza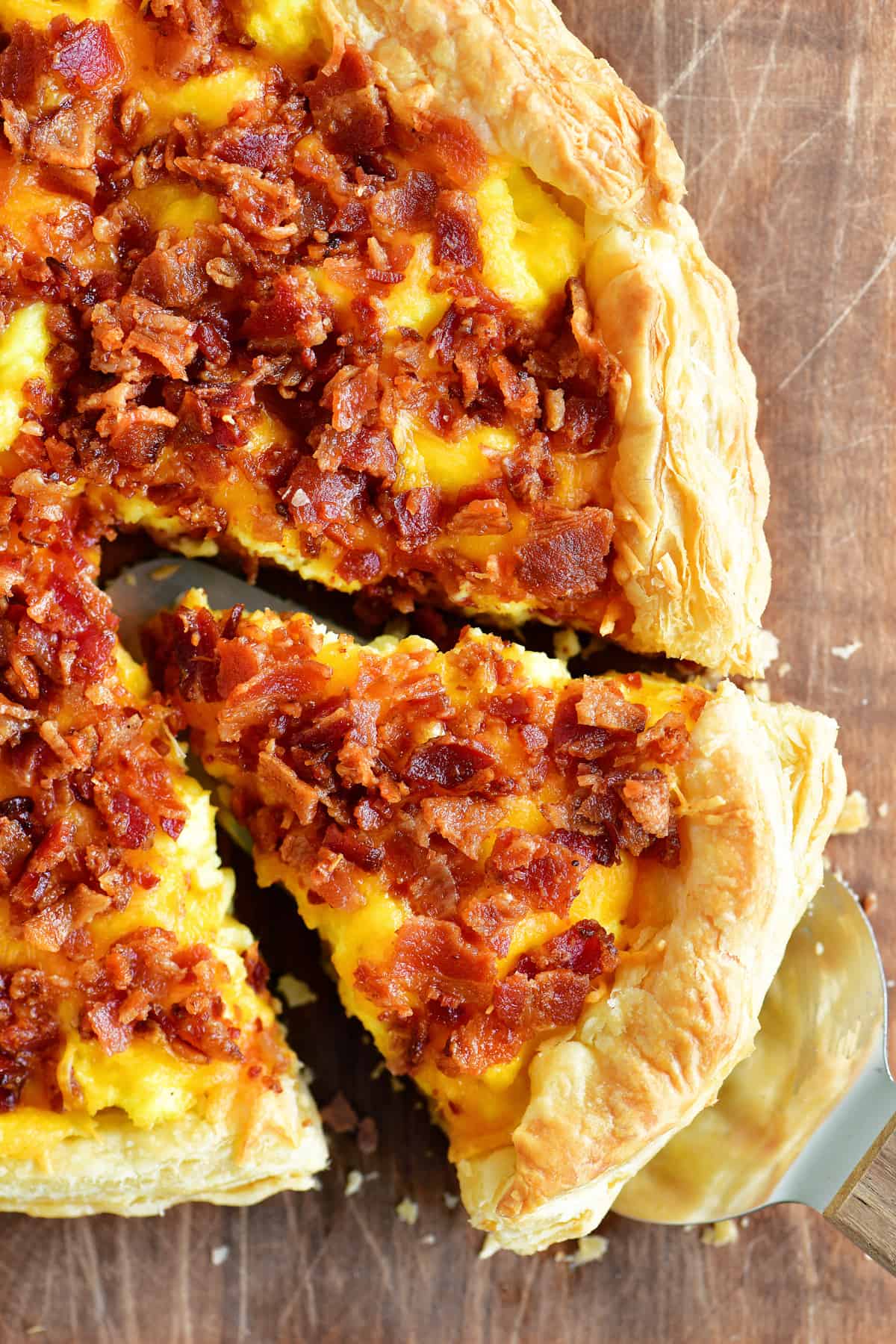 Are you tired of toast, eggs, or a bagel? Yawn. If so, your breakfast needs a makeover. And you're in luck with this puff pastry breakfast pizza from Tonia of The Gunny Sack.
Who says the most important meal of the day can't also be the most delicious?
Get this. It starts with a light and flaky puff pastry crust topped with cheese sauce, scrambled eggs, and, most importantly, bacon! And you'll love that It makes enough servings for a small army.
Visit The Gunny Sack for the recipe.
Rose And Pistachio Puff Pastry Cream Horns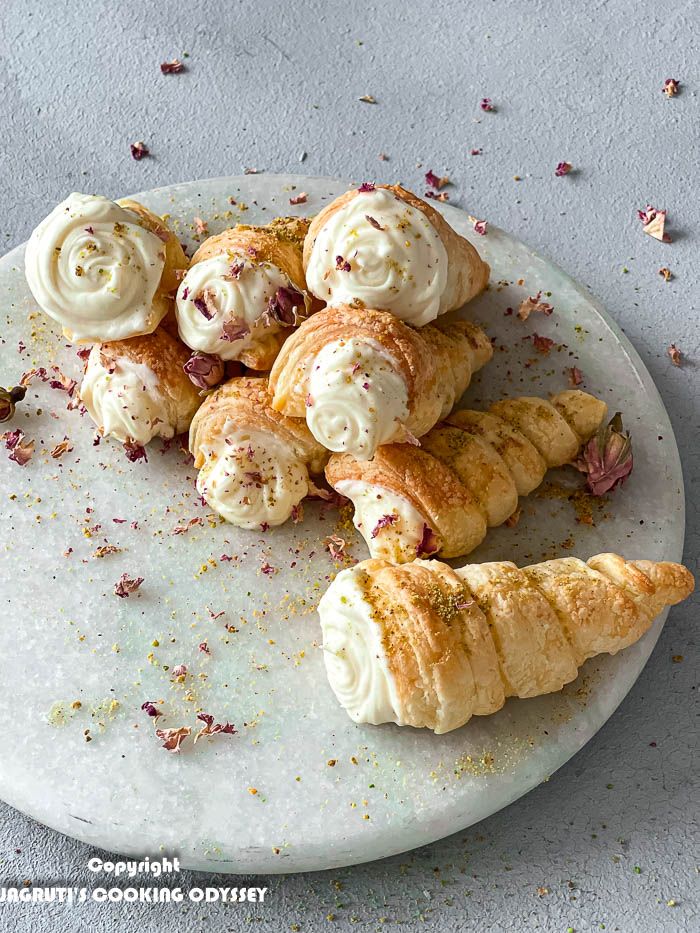 At J Cooking Odyssey, Hayley makes so many flavorful creations. It's an adventure and a destination you can get lost until you find something you can't wait to make.
One such example is this delicate puff pastry cream horns filled with rose-flavored shrikhand—a creamy sweet made of strained yogurt. Then it's sprinkled with pistachio dust.
Have you ever heard of such a thing? Aren't you ready to discover this delicacy?
Visit J Cooking Odyssey for the recipe.
Smoked Salmon Puff Pastry Cups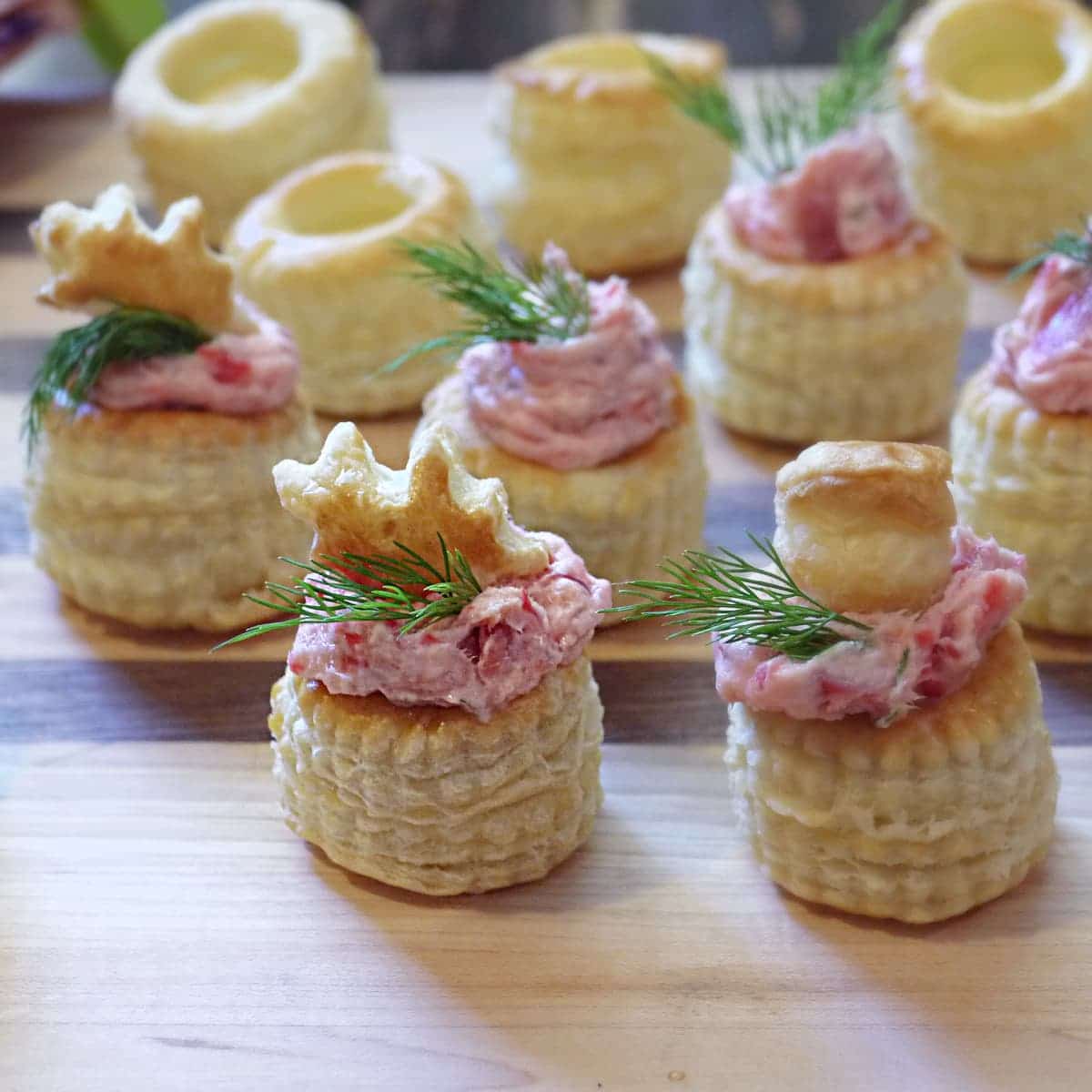 Allow me to introduce you to your new favorite party appetizer. It's smoked salmon puff pastry cups, aka vol au vent from Renee, The Good Hearted Woman. And to be honest, you won't wait for your next gathering to try them out.
The base is a cup made of puff pastry dough that expands when you bake it. Then you fill it with mascarpone cheese salmon dip. It's light, fluffy, and surprisingly easy to make.
Visit The Good Hearted Woman for the recipe.
Caramelized Onion Tart
This gorgeous caramelized onion tart from Frugal Mom Eh is a delicious appetizer recipe that your party guests will want to steal from you. Sure, it's elegant, but even rowdy football fans on game day would devour it.
It's highly customizable and vegetarian. Although, you could even make it vegan with a few adjustments. As shown, however, you have an irresistible fig and onion filling atop a flaky puff pastry crust. Once it's done, you drizzle it with honey and sprinkle on some feta cheese. Yummy!
Visit Frugal Mom Eh for the recipe.
Malaysian Curry Puff
We've never had Malaysian curry puffs from Minshien of Joyous Apron, but it looks familiar. We understand meat, potatoes, and spices stuffed into delicate pastry. It's delicious, welcoming, comfort food.
Inside each dough parcel is a wondrous mix of potato, shallots, curry paste, and coconut milk. The taste, we're sure, will keep you going back for more.
Visit Joyous Apron for the recipe.
Chocolate Cream Cheese Pastry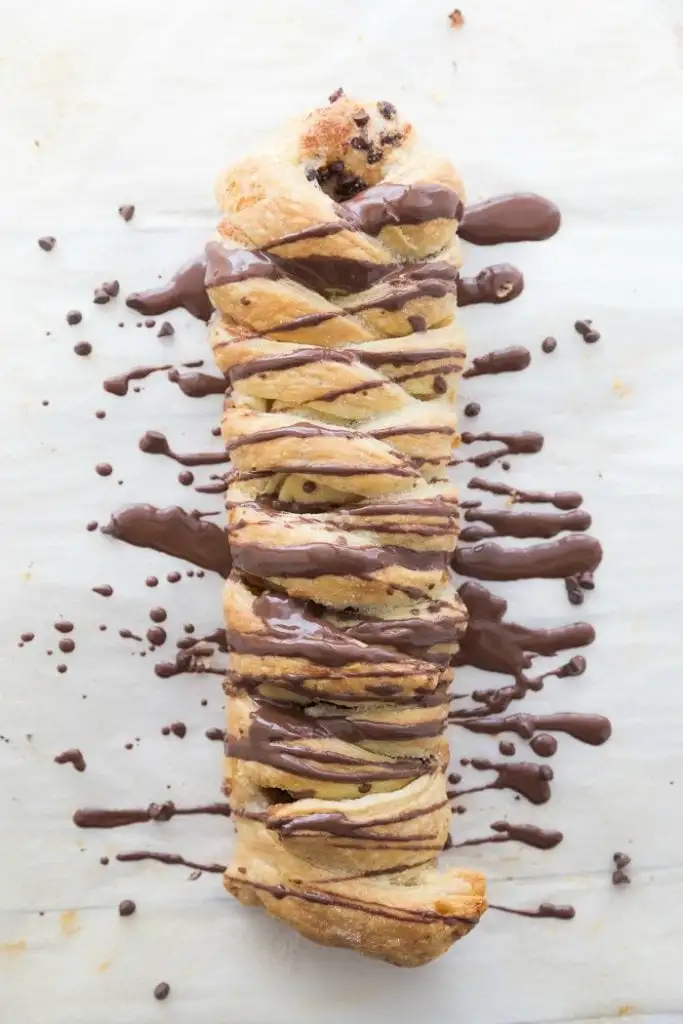 April of Mama Loves Food insists on these chocolate pastries when the Paris wanderlust bug gets a firm hold on you. It can, in an instant, transport you to the scents, sights, and just everything that attracts your heart to the place.
Lovingly spread cream cheese frosting over the pastry dough, sprinkle with chocolate chips, braid, and bake. That's it! Just 20 minutes for a Parisian delicacy right in your kitchen.
Visit Mama Loves Food for the recipe.
Puff Pastry Cinnamon Twist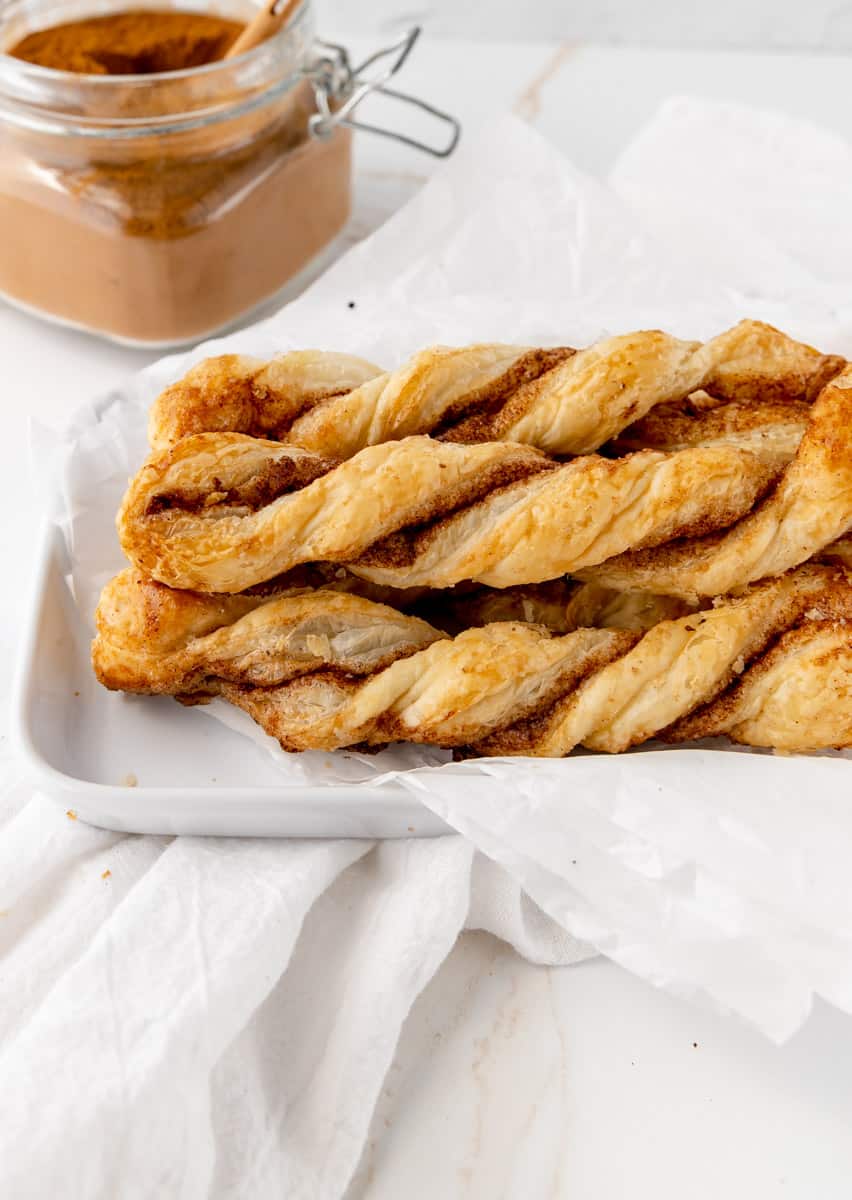 Imagine the look on your kid's faces when they come running in from playing outside and smell these puff pastry cinnamon twists—a simply mouthwatering treat from Michelle of Barefoot In The Pines.
While you could probably guess the four ingredients in this simple creation, you still want to check out Michelle's page for tips like how many times to twist the dough and why you need to flatten the ends.
Visit Barefoot In The Pines for the recipe.
Festive Seafood Pizza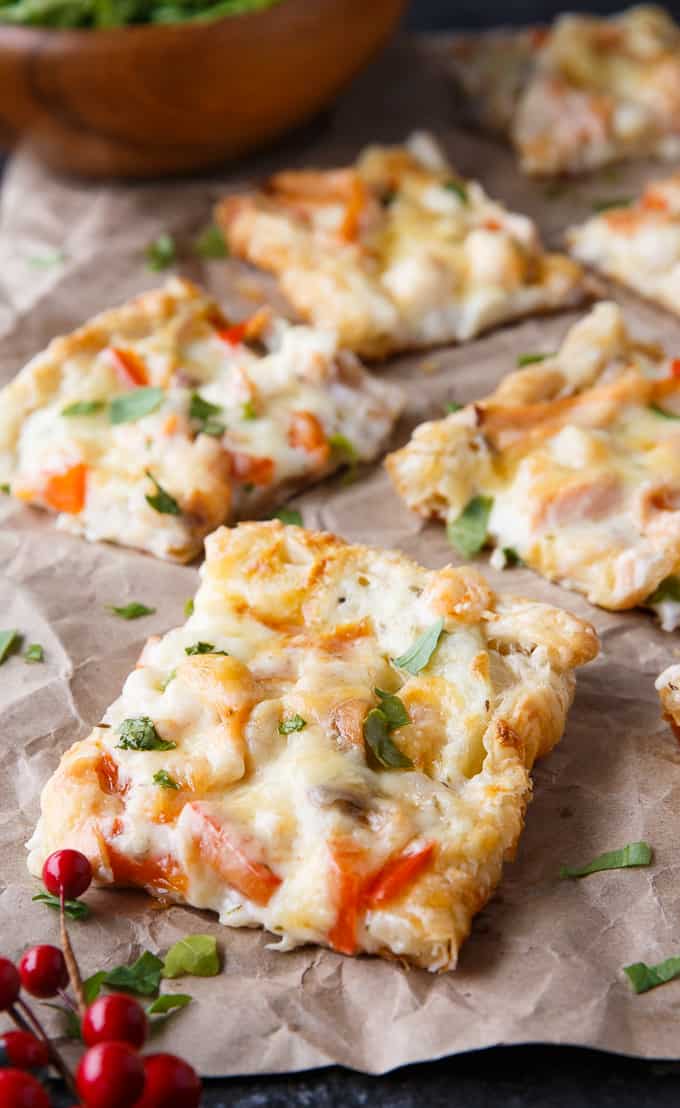 This festive seafood pizza from Simply Stacie is a reshare from her favorite calendar. It's a delicious take on classic "za" that makes for a fun holiday appetizer. And an unexpected one at that. 
So, shock them, feed them, and they'll leave your party talking about your culinary prowess for days.
The crust is a satisfyingly flaky puff pastry loaded with a cheese sauce. Then there's more ooey-gooey mozzarella on top, and finally, you'll find the seafood trio, which includes smoked salmon, shrimp, and slightly sweet scallops.
Visit Simply Stacie for the recipe.
Strawberry Mille Feuille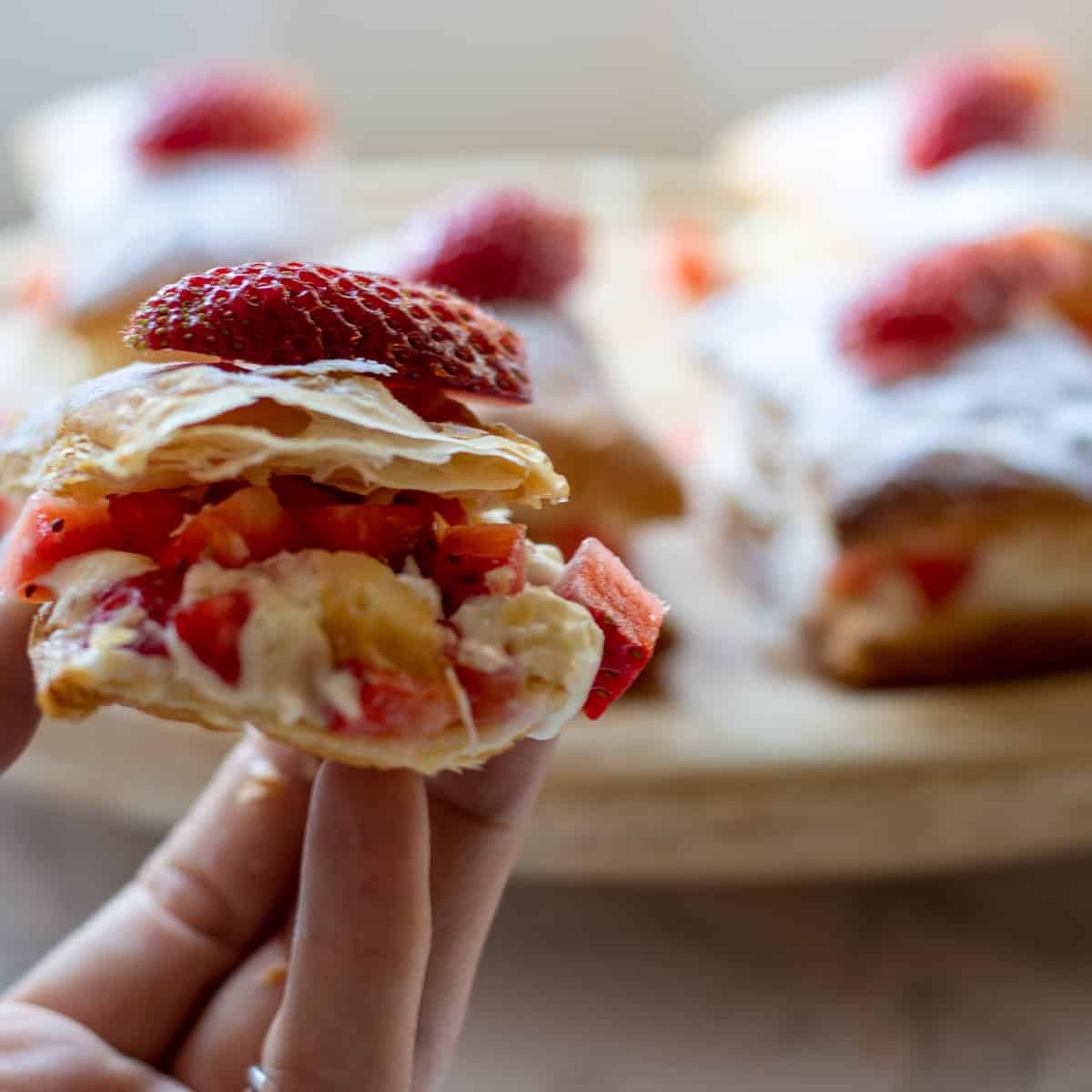 This entry is a strawberry mille feuille (thousand sheets, layers, or leaves) from Ayla, professional chef of Cooking Gorgeous. French name aside, this delicate dessert is easy to make with a well-educated guide.
You bake the store-bought pastry dough. After it cools, cut it in half and stuff it with the creme diplomat – a luscious, custardy pastry cream mixed with whipped cream and top with sliced strawberries.
Finally, enjoy bite after bite of crispy yet pillowy, buttery, sweet strawberry bliss!
Visit Cooking Gorgeous for the recipe.
Quick Banketstaaf (Dutch Christmas Log Pastry with Marzipan)
Not only is Faith of An Edible Mosiac a talented food blogger and photographer, but she's also an entertaining writer. So her quick banketstaaf recipe isn't just a delicious Dutch marzipan-filled pastry. There's also hilarious context.
For this semi-homemade treat, use storebought puff pastry dough, but Faith implores you to make homemade marzipan. You roll that marzipan log in the puff pastry before brushing on an egg wash and sprinkling with sliced almonds and sugar.
Visit An Edible Mosaic for the recipe.
Cinnamon Cranberry Puff Pastry Pinwheels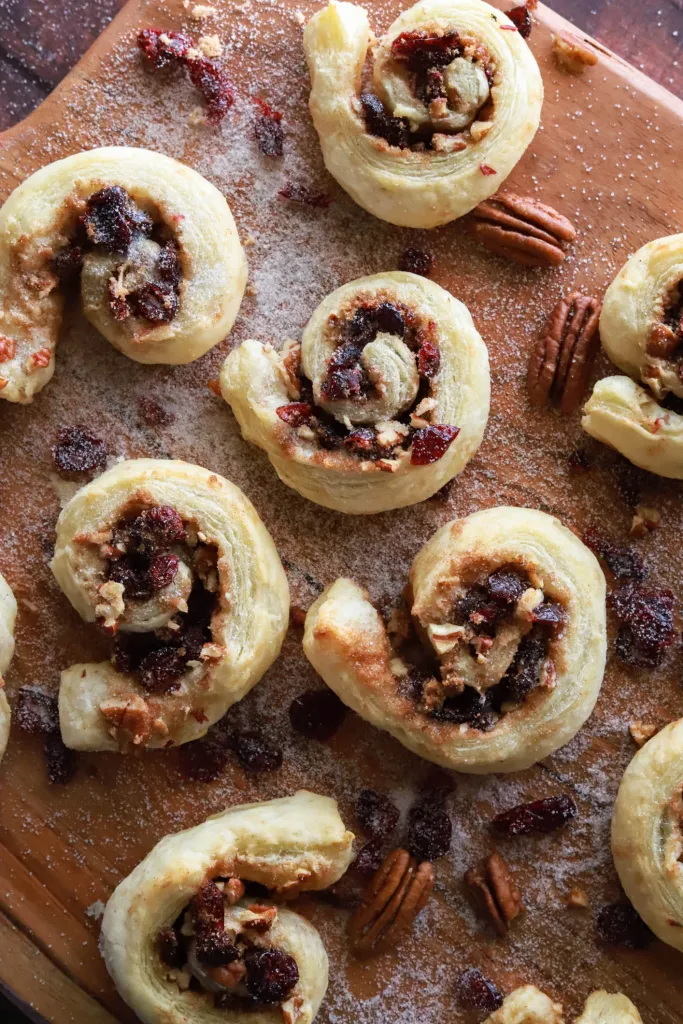 This cinnamon cranberry puff pastry pinwheels recipe from Kalyn of Butternut And Sage has New Year's celebration written all over it.
But, unfortunately, New Year's is kind of an afterthought holiday. By then, you're recovering from the Halloween, Thanksgiving, and Christmas stretch and don't want to do much for New Year's Day, right?
So that's why you need this quick and easy sweet appetizer. Simply spread butter over thawed pastry dough, sprinkle brown sugar, pecans (chopped finely), and dried cranberries, roll, slice, and bake. Easy!
Visit Butternut And Sage for the recipe.
Mini Veg Puffs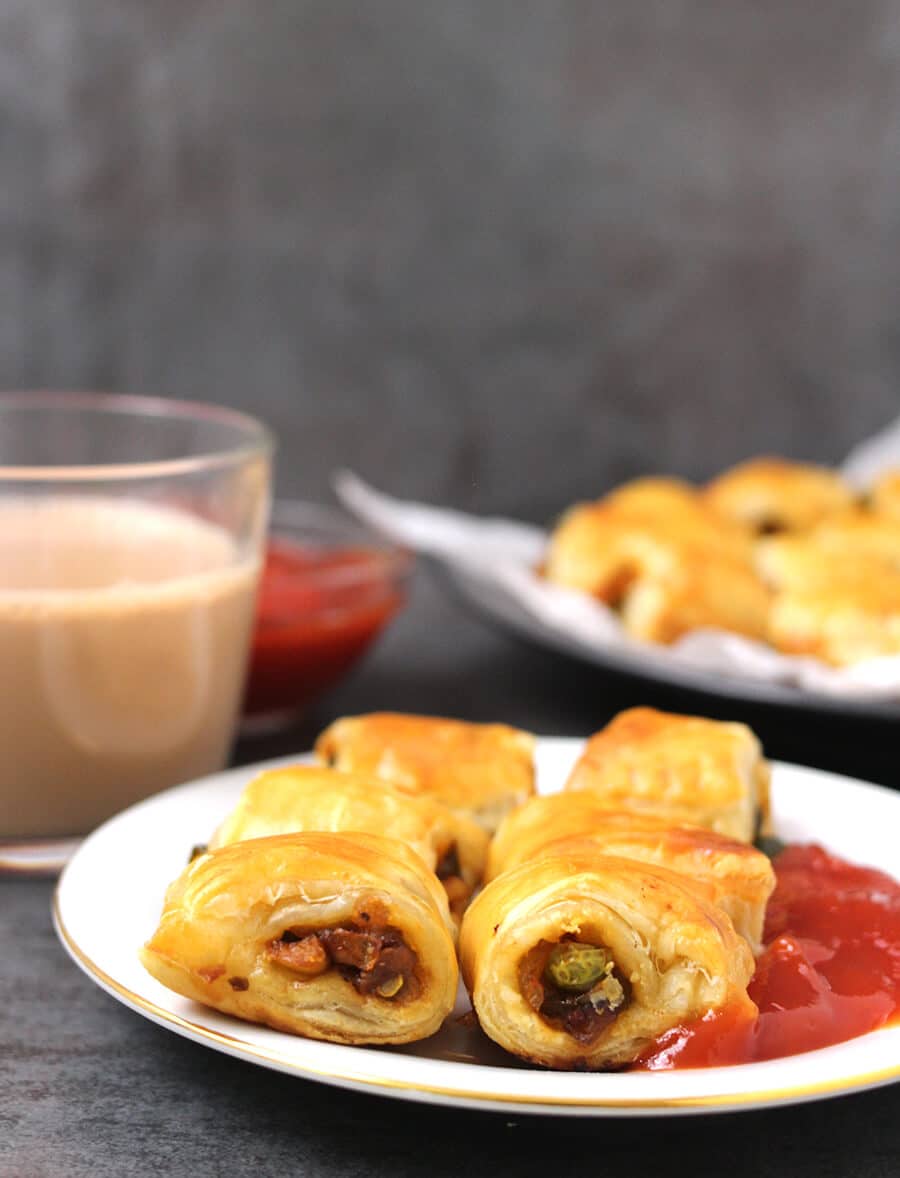 You won't have to convince your kids to eat their veggies with these mini veg puffs from Cooking With Kushi. They're an easy vegetarian party appetizer that could be the star of your next gameday party. Plus, it's nice to have some variety to offer.
And, oh, how you will love the flavor! Potato, cauliflower, green peas, mushrooms, and carrots are enhanced with garam masala, coriander, and red chile powder. So whip up a plate of these delights any time for guilt-free snacking.
Visit Cooking With Kushi for the recipe.
Breakfast Pinwheels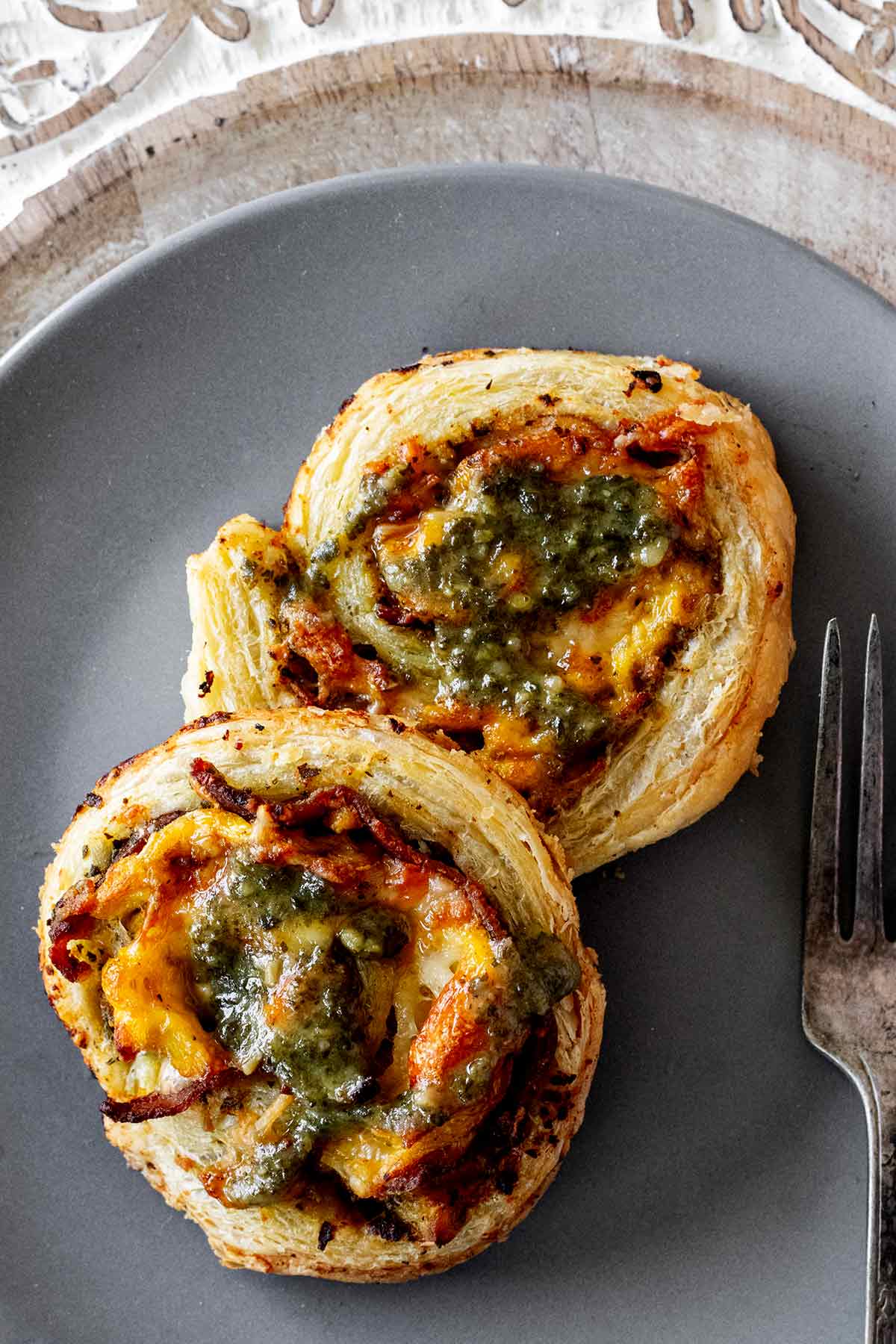 Sandra of Heavenly Home Cooking knows a thing or three about delicious, plate-licking breakfast recipes, as evidenced by these irresistible breakfast pinwheels. Like the breakfast pizza above, they're a fun, easy, and tasty way to switch up your breakfast routine.
If you don't count the salt and pepper, this dish has only six ingredients. So first, spread slightly runny scrambled eggs, herby pesto, and heavenly bacon over the dough. Next, roll it, slice it, and bake it. See there, a breakfast to look forward to.
Visit Heavenly Home Cooking for the recipe.
Guinness And Mushroom Cottage Puff Pastry Meat Pie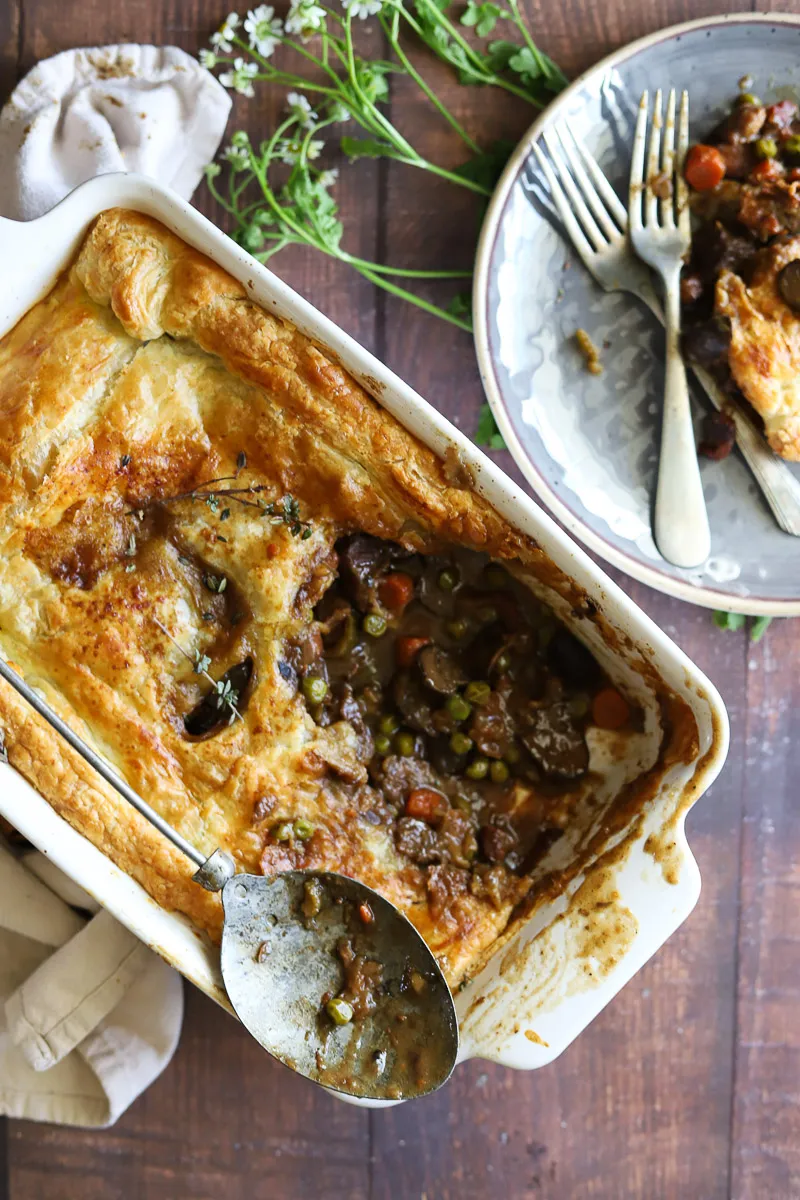 Are you ready to try one of the best beef pot pies ever? This Guinness and mushroom cottage puff pastry meat pie from Kaylen of Butternut And Sage is comfort food perfect for the winter. It's filled with veggies, mushrooms, beef, and a profoundly flavorful Guinness gravy.
We know firsthand how Guinness beer enhances the flavor of chocolate. So we're looking forward to trying this recipe. It takes a while to cook, but the prep time is minimal and worth the wait.
Visit Butternut And Sage for the recipe.
Easy Goat Cheese and Honey Bites
These easy goat cheese and honey bites from Erin of Suburban Simplicity check all the appetizer boxes. They're easy, taste great, and everyone craves them. So that's a win all the way around.
You only need four ingredients to make these clever little bites: puff pastry, goat cheese, honey, and thyme. So hop over to Erin's page, where you'll find all the tidbits.
Visit Suburban Simplicity for the recipe.
Air Fryer Blueberry Brie Pastry and Dip Appetizer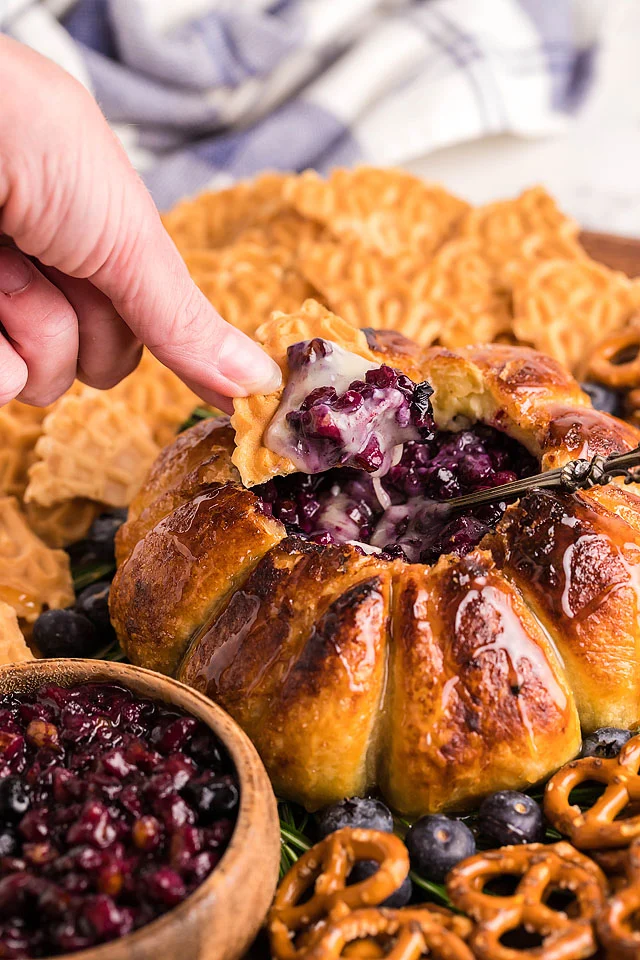 Leave it to Bella of XOXO Bella to create accessible elegance with this air fryer blueberry brie pastry and dip appetizer recipe. It's a puff pastry-wrapped wheel of brie cheese with a sweet blueberry topping. You then drizzle on caramel sauce for extra indulgence.
Don't worry if it looks too complicated. It's pretty simple with Bella's instructions. She'll explain how to tie the pastry-covered brie wheel with kitchen twine for a starburst pattern. She'll also give you a bevy of dipper ideas to choose from.
Visit XOXO Bella for the recipe.
Salted Caramel Pear Tarts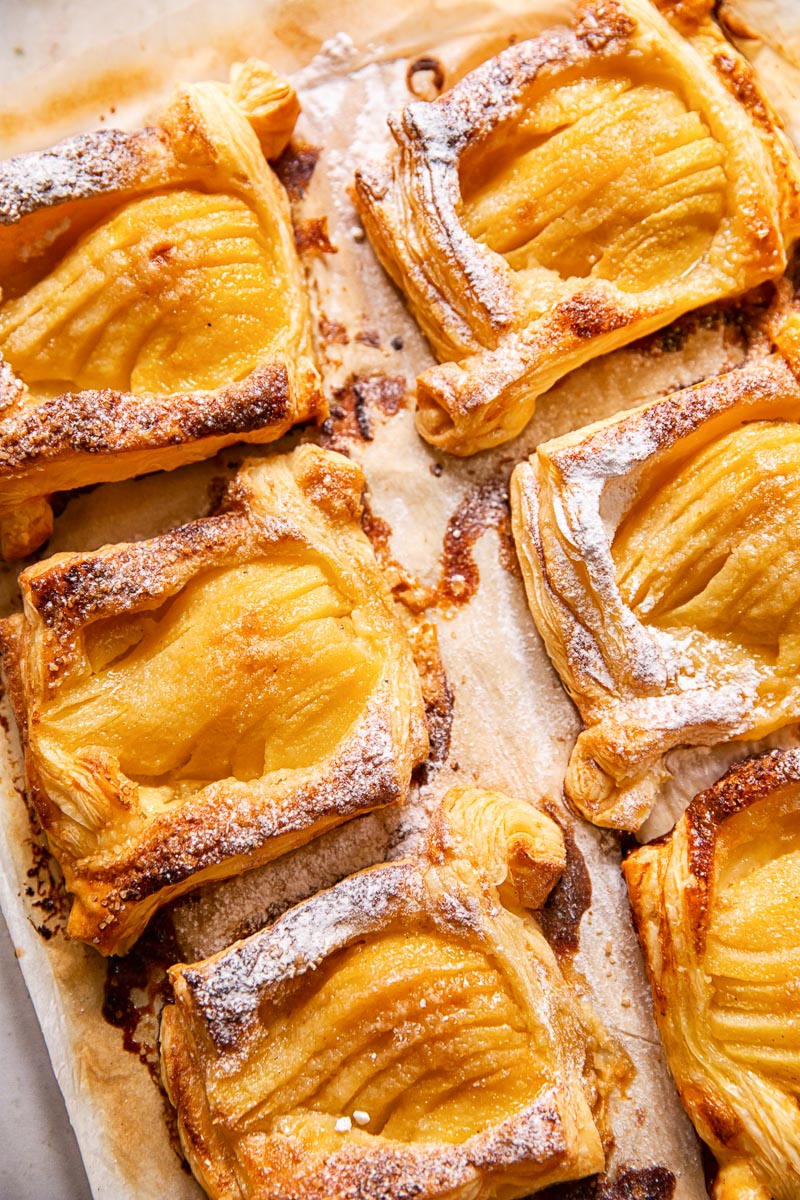 You won't need to book a flight to Paris to enjoy this salted caramel pear tart from Julia of Vikalinka. While appearing fancy, this eight-ingredient lovely treat takes just 10 minutes to prepare and 30 minutes to bake.
Following Julia's lead, cut the pastry dough into squares, and fold the dough as shown in her detailed instruction. Next, add a sliced and spiced pear half to each puff pastry square, and sprinkle with brown sugar and sea salt. Then bake, take some pictures, and do a victory lap.
Visit Vikalinka for the recipe.
Savory Pork Wellington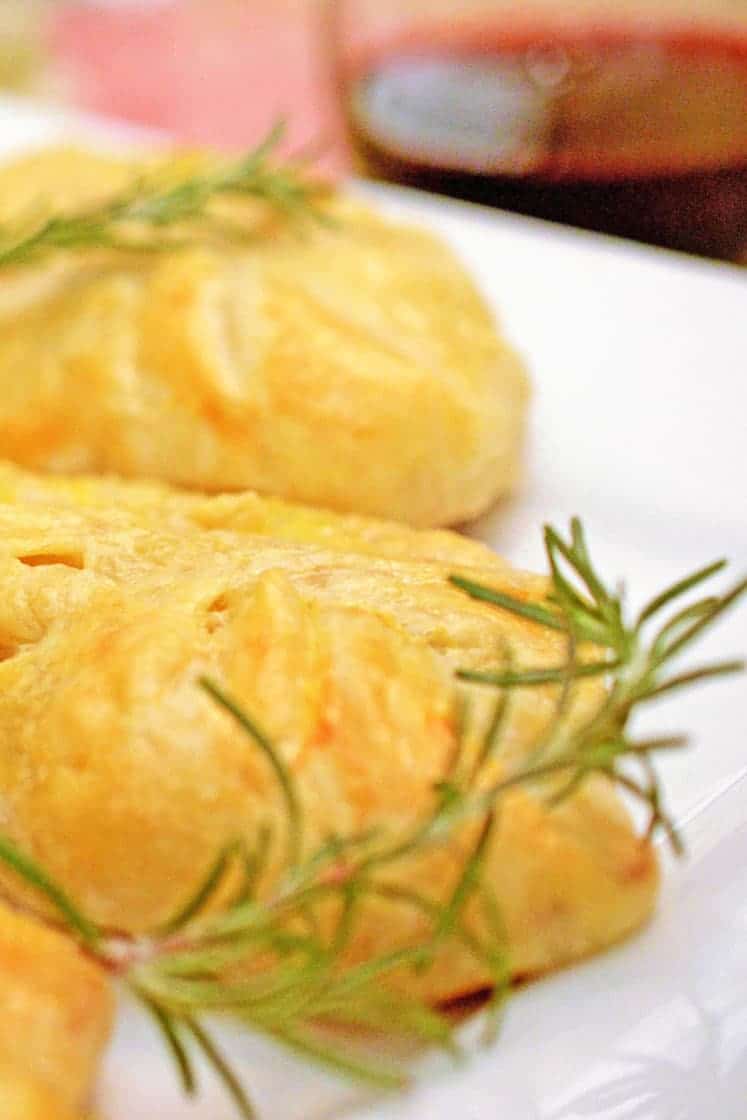 Dan, one half of the Platter Talk team, developed this Savory Pork Wellington recipe. It's a succulent center-cut pork chop wrapped in flaky, tender puff pastry. It takes 25 minutes to prepare and about 30 minutes to bake.
After you thaw the pastry dough, cook the pork chops for one or two minutes. Next, coat the chops with the homemade pesto. Then bake. It's a delicious main sure to impress your dinner guests.
Visit Platter Talk for the recipe.
Puff Pastry Pinwheels
These puff pastry pinwheels from Kathy of Beyond The Chicken Coop was designed with breakfast or brunch in mind. But they would also make a nice simple dessert or movie snack. They're beautiful, easy, and so delicious.
Cut Kathy's homemade puff pastry recipe or the storebought variety into four-inch squares. Next, add a dollop of apricot jam to the center of each square. Then cut slits at each corner and fold over, and bake.
Of course, there's a little more to it, but overall, this recipe is about as easy as it gets for elegant treats.
Visit Beyond The Chicken Coop for the recipe.
Strawberry Tarts With Balsamic Glaze
With these strawberry tarts with balsamic glaze from Kelley of Chef Savvy, Mother's Day will be extra special. With this fruity decadence, Mom will think it took you all day to make.
And while you would spend the whole day cooking for her, there's no need. These tarts take just 10 minutes of prep and 25 minutes to bake.
Believe it! There are but four ingredients for this delightful spring goodie, including puff pastry dough, balsamic reduction, and strawberries.
Visit Chef Savvy for the recipe.
Easy Bursting Mini Blueberry Galettes
With a blog called On My Kids Plate, you can be sure this easy bursting mini blueberry galette (or open-faced pie) from Kristy has a skill level between Dora The Explorer and Kidz Bop.
And with your little cutie's help, make this rustic pie using everyday staples like sugar, flour, water, and salt. And fresh blueberries brightened with lemon make this galette perfect for summer. The directions are very clear, and the results are tasty.
Visit On My Kids Plate for the recipe.
Tomato Puff Pastry Tart
This tomato puff pastry tart from Vandana of Green Bowl 2 Soul is an excellent midweek vegetarian meal option. It's a less than 30-minute meal, a great alternative to ordering out, or a meatless Monday option.
But it's not all about summery cherry tomatoes. You'll also enjoy the tastes of mozzarella cheese, Italian spices, and olive oil. Along with this simple recipe, you'll find lots of practical tips, like pricking the middle of the dough so it doesn't rise above the sides.
Visit Green Bowl 2 Soul for the recipe.
Air Fry Pizza Hot Pockets
Brandy, the Nutmeg Nanny, makes a good case for air fryer pizza hot pockets. They're easy, far better tasting, and take just 10 minutes to make and 15 minutes in the air fryer.
So, skip the freezer section this year and create a pizza pocket appetizer to be proud of.
Each crispy, flaky pizza pocket is loaded with cheese, mouthwatering pepperoni, sausage, and Italian herbs. But do yourself a favor. Make enough so each person can have at least two. Just sayin'.
Visit Nutmeg Nanny for the recipe.
Puff Pastry Turkey Pot Pie
If you need to figure out what to do with all that leftover bird after the big Thanksgiving feast, turn to this beautiful puff pastry turkey pot pie from Sula And Spice. Because, as she so eloquently puts it, "there are so many turkey sandwiches a person can eay."
Sula, we completely agree!
With a can of cream of mushroom soup, veggies, turkey, milk, spices, and puff pastry, you can have a dinner remix in no time. Oh, and the best part, it remixes well for great-tasting leftovers.
Visit Sula And Spice for the recipe.
The Best Maple Glazed Donut Recipe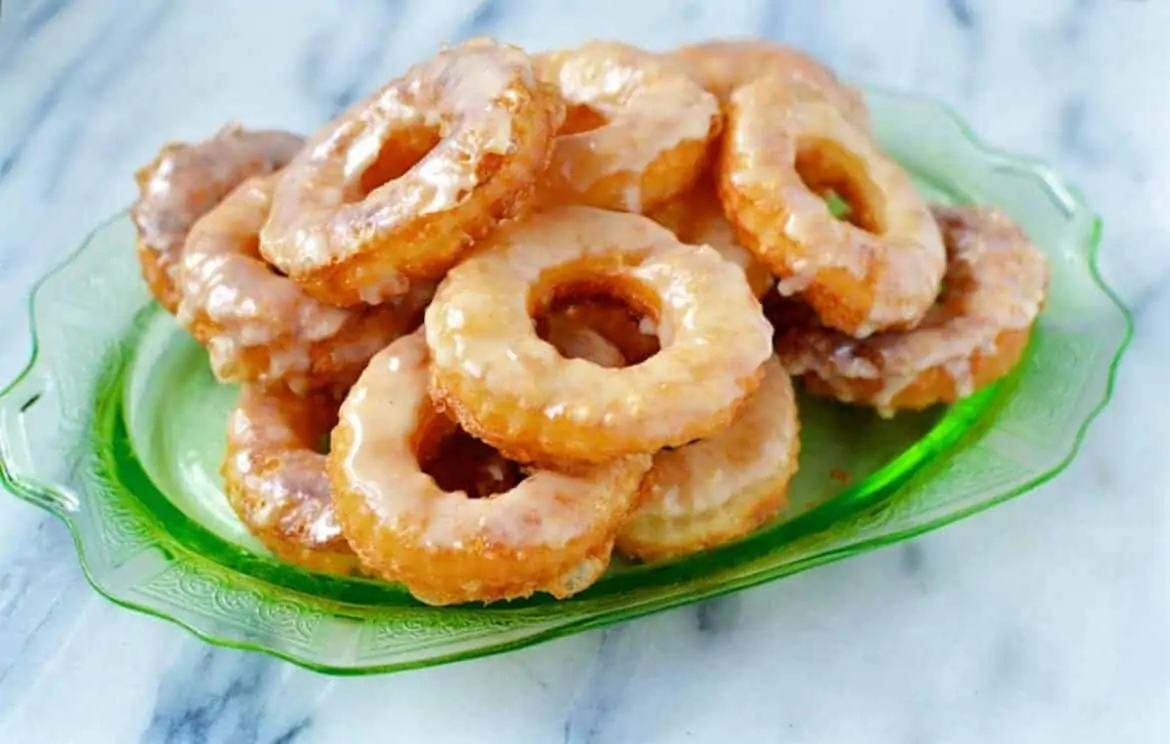 With this maple glazed donut recipe from Jeana of Surf And Sunshine, you may have discovered the best homemade donut hack ever. Imagine donuts that are crispy on the outside but pillowy soft, with flaky layers on the inside.
But it gets better. Jeana gives you insider tips on making the best maple glaze, too. You'll also discover her frying techniques so you can make homemade donuts that taste as if they came from the shop.
Visit Surf And Sunshine for the recipe.
Savory Mushroom Palmiers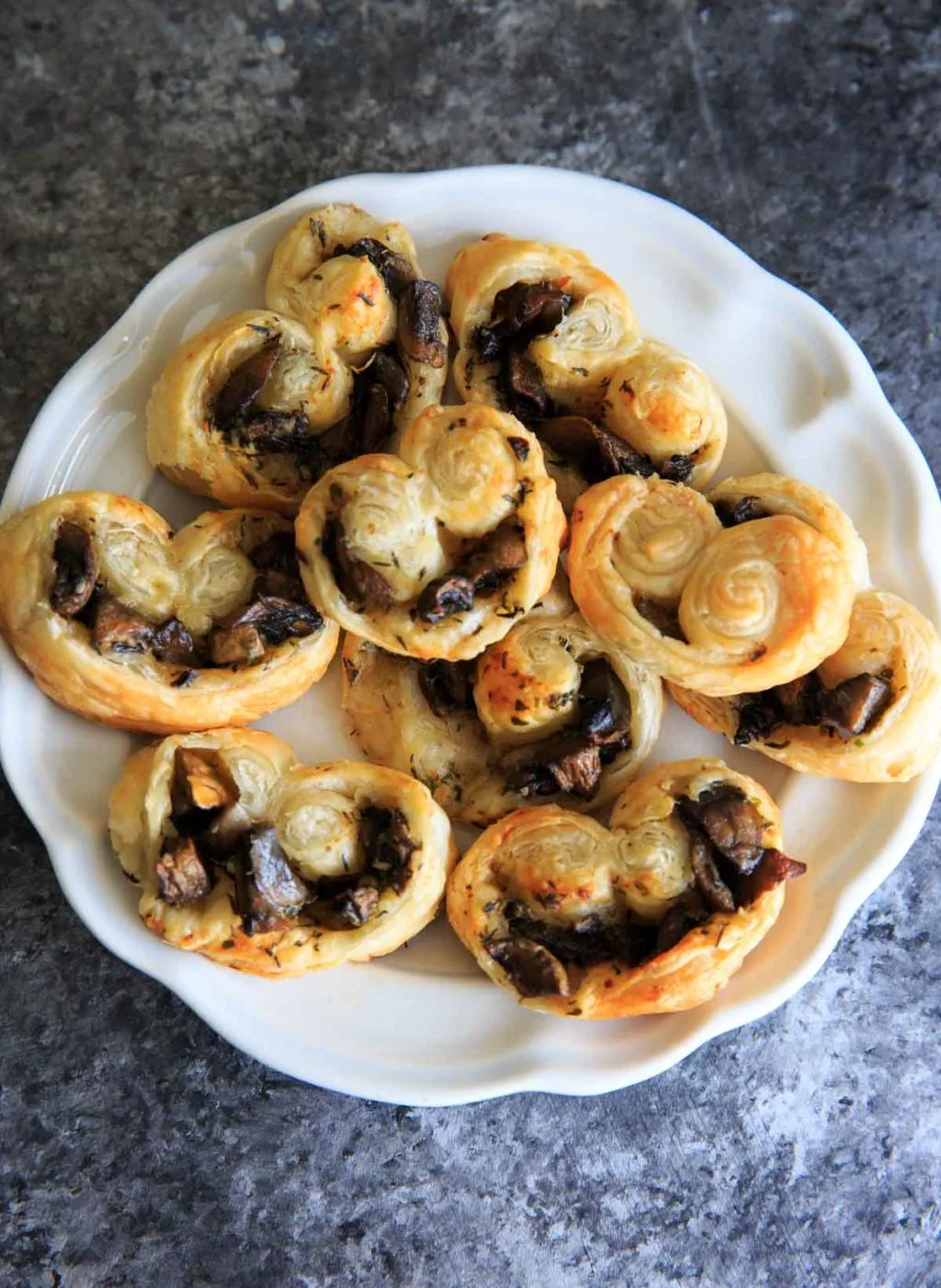 This savory mushroom palmier (savory elephant ears) recipe from Kelly of Trial And Eater is a twist on the old-fashioned sweet French cookie whose name means palm tree.
With puff pastry, spreadable goat cheese, mushrooms, herbs, and spices, you can create this crave-worthy holiday appetizer for snacking before the main course. It will keep a group of hangry eaters satisfied but make plenty.
Visit Trial And Eater for the recipe.
Which Puff Pastry Recipe Will You Try First?
With so many delicious options to choose from, which will you make first? Is it the flakiest, layered homemade donuts, the strawberry tarts with balsamic glaze, or something else?