OMG! We had a blast researching and curating this list of 22 breakfast for dinner recipes. It's like eating something unexpected, upside down, and backward in a Dr. Seuss way. It's fun!
You'll find the most delicious grilled steak and egg tacos recipes with an impeccable medium-done ribeye steak, breakfast crepes with the creamiest eggs ever, delicious sheet pan pancakes six ways, and so many more.
So, are you ready to discover?
Let's jump in!
Before you leave, don't miss these high protein breakfast recipes.
Grilled Steak And Egg Tacos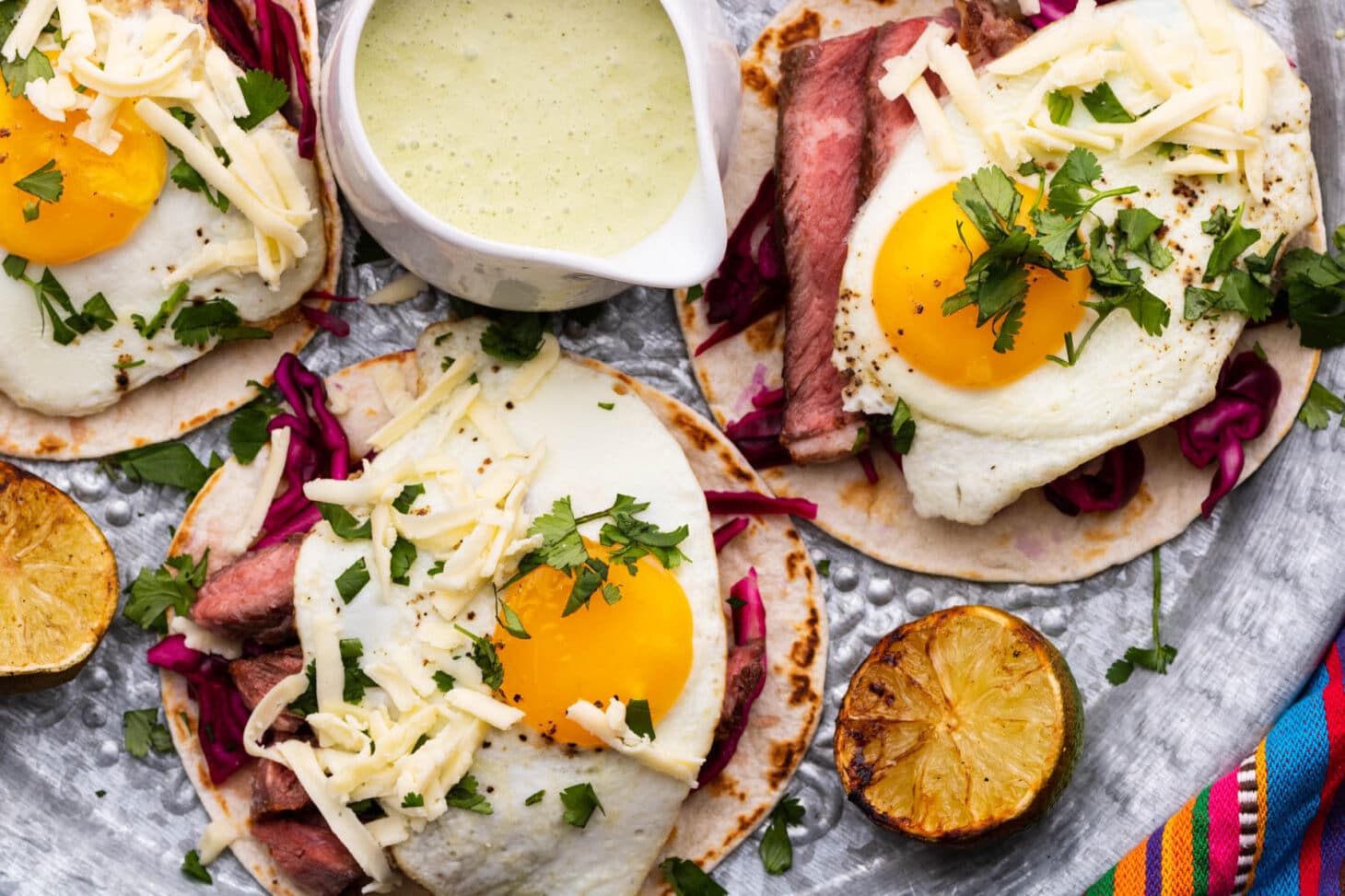 Bernice of Dish N The Kitchen shares this steak and eggs taco recipe with us. A feast fit for royalty, actually. But what makes this recipe stand out? For one, while most steak and egg tacos feature scrambled eggs, for her offering, Bernice shows you how to make a flawless sunny-side-up egg. Then, there's a juicy, medium-done ribeye steak. Finally, the zesty aji Verde—a Peruvian green sauce with lots of flava.
Visit Dish N The Kitchen for the recipe.
Saksuka (Turkish Vegetable Meze)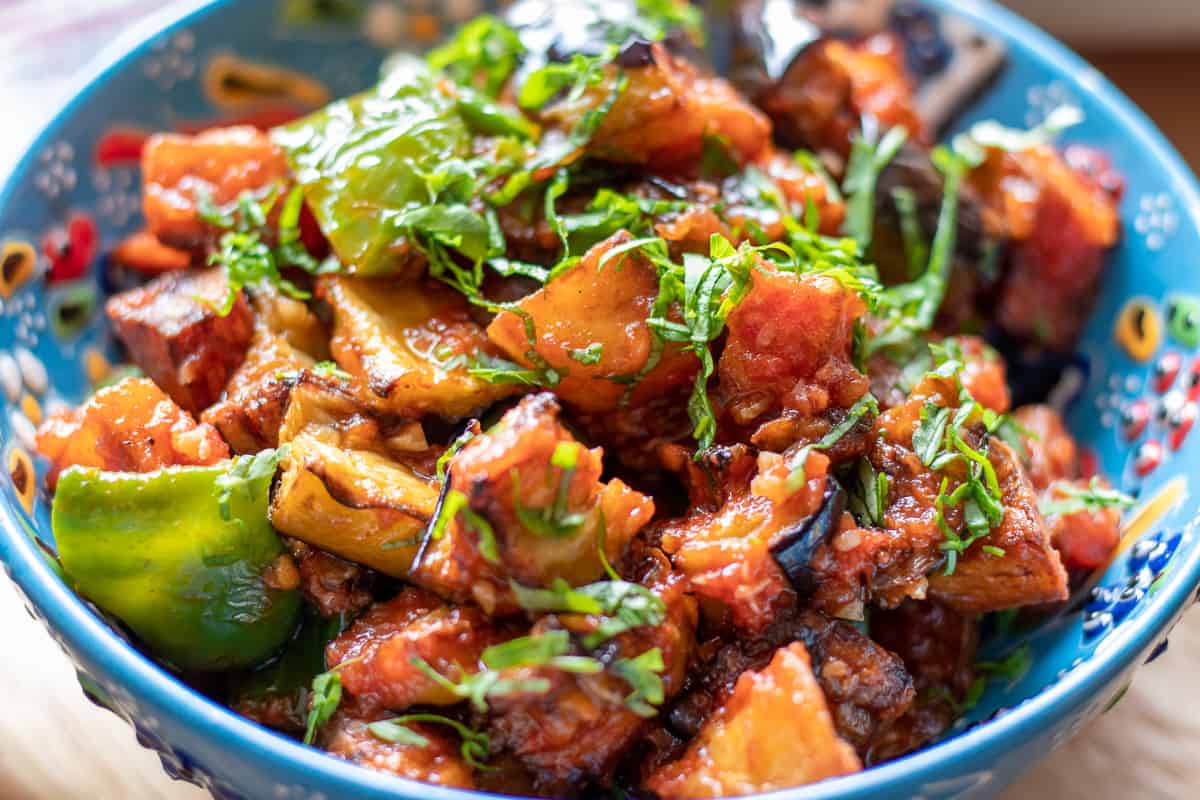 If you love noshing on vegetable-filled bites, you'll be thrilled with this traditional Turkish saksuka (not to be confused with shakshuka) recipe from Ayla of Cooking Gorgeous. The pro chef walks us through how to make this shallow-fried vegetable medley topped with a simple tomato sauce. Eggplant is a must, while the remaining veggies are region dependent.
Visit Cooking Gorgeous for the recipe.
Shrimp Scrambled Eggs Recipe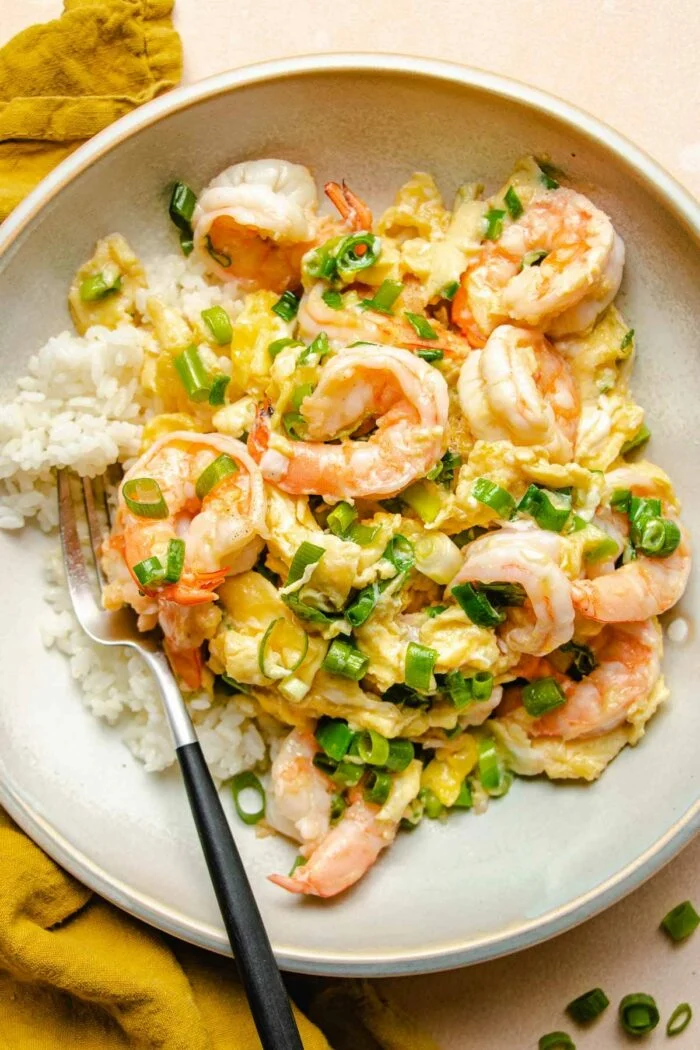 In Hong Kong, eggs for dinner are typical. But we're not talking about just any ordinary eggs. Nope, this offering from Chihyu of I Heart Umami with just six ingredients (one unexpected) is silky, flavorful, and may even become part of your regularly scheduled program. 🙂 Serve over rice and ring the dinner bell.
Visit I Heart Umami for the recipe.
Smoked Haddock Kedgeree Recipe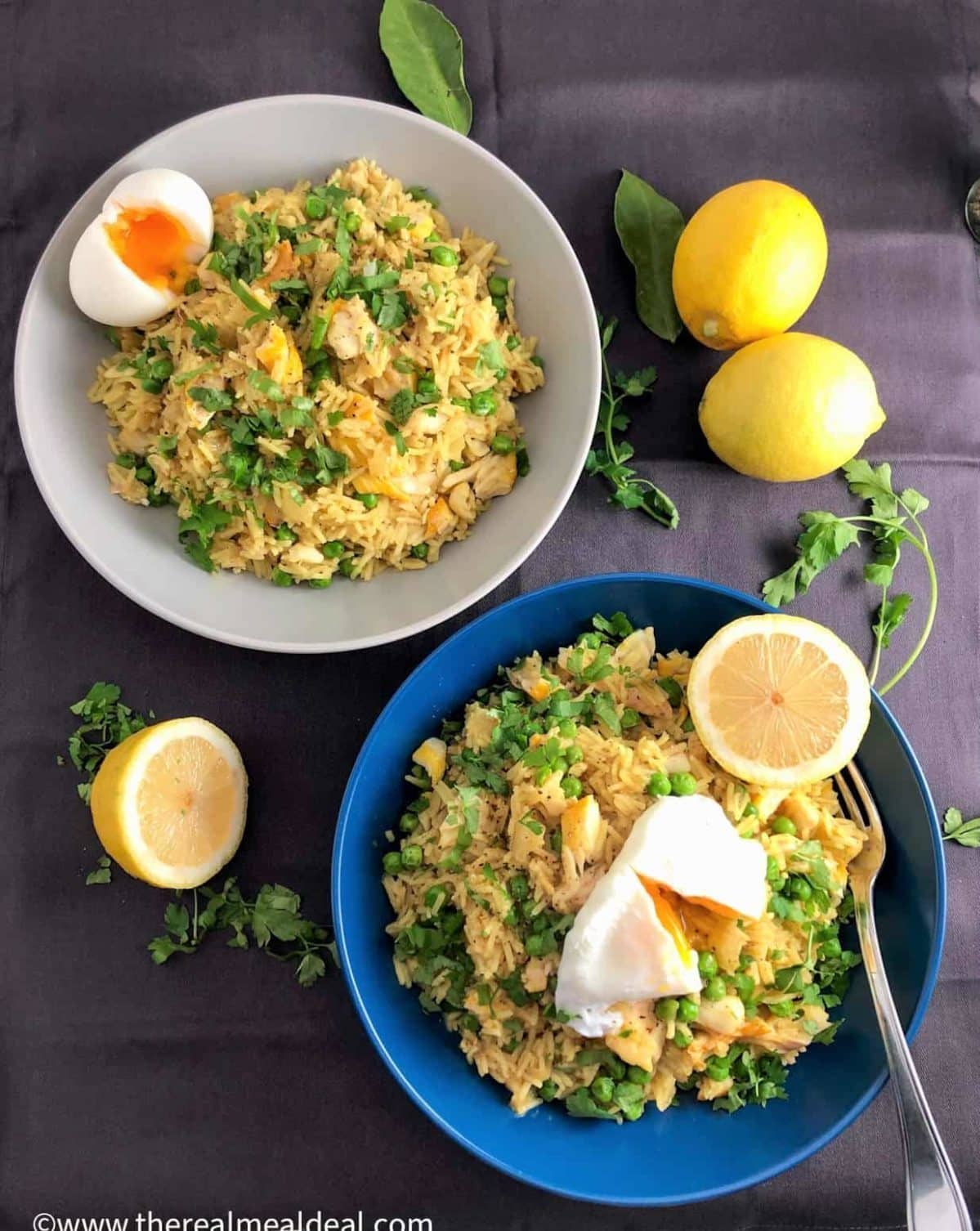 When we came across this smoked haddock kedgeree recipe from Claire, we knew it was The Real Meal Deal. It is a flavorful dish with curried rice and smoked fish, served with a picture-perfect beautiful poached egg, herbs, and lemon halves. Your taste buds are in for a treat. But the biggest surprise is that the generously spiced dish comes together in just 40 minutes.
Visit The Real Meal Deal for the recipe.
Lumberjack Breakfast Casserole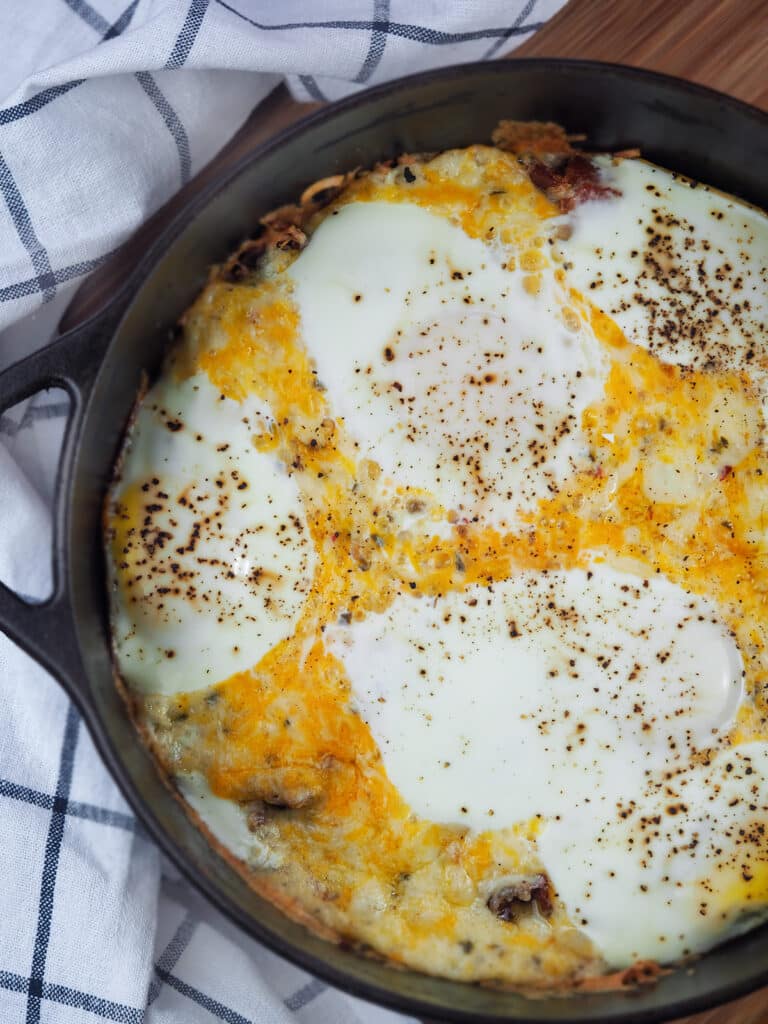 Need to feed a crowd of hungry folks? No one will be opposed to this hearty, hashbrown, egg, bacon, sausage, and cheese-filled lumberjack breakfast casserole from Matt of Ole Blue Dog. And while prep takes just ten minutes, it takes about an hour to bake. Still, with a little planning, it's a good weeknight meal.
Visit Ole Blue Dog for the recipe.
Pancake Sausage And Egg Sliders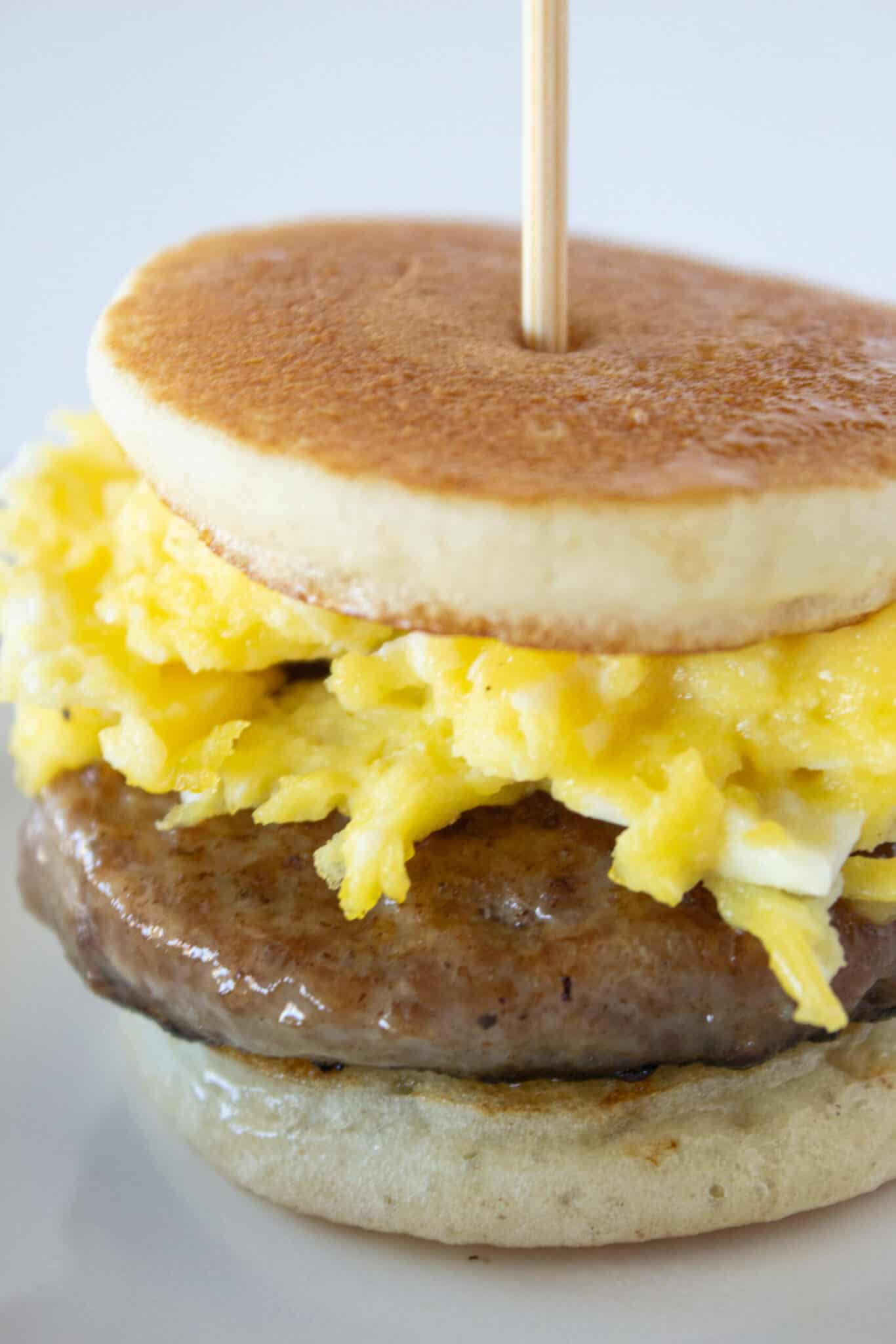 How cute are these simple breakfast sliders from June of Practically Homemade? With sausage, egg, and medallion pancakes, they represent a filling breakfast for dinner recipe option that will put smiles on faces. And you'll have the biggest grin because they take less than 30 minutes to get on the table.
Visit Practically Homemade for the recipe.
Tex Mex Migas
If you're looking for a breakfast or dinner with Southwestern flavors, check out this Tex Mex Migas recipe from Melissa of Casual Epicure. Known as a "peasants dish," its origin story isn't the most flattering, but the results are delicious. It's a dish where you'll find eggs, chorizo, and leftover tortillas. Simply tasty!
Visit Casual Epicure for the recipe.
Sweet Potato Hash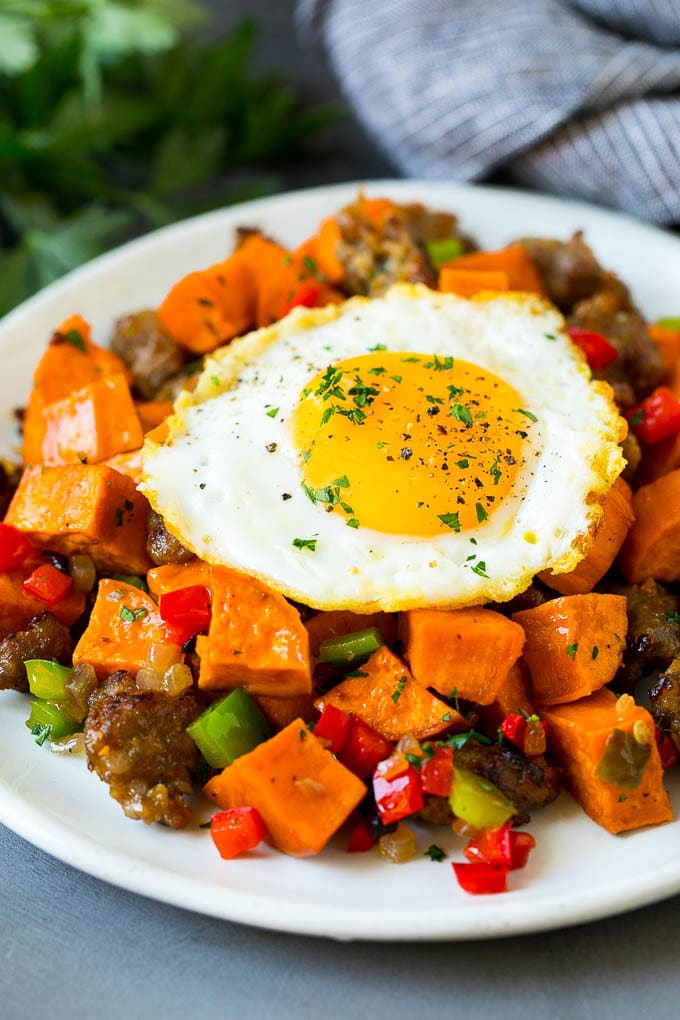 Sweet potatoes make an excellent breakfast ingredient. And that's what drew us to this sweet potato hash with sausage recipe from the one and only Sara of Dinner At The Zoo. It's a tasty scramble filled with the orange tuber, sausage, peppers, onion, garlic, and more. And while the luxury breakfast may not be the best option for busy mornings, it's an excellent choice for a weekend dinner or brunch.
Visit Dinner At The Zoo for the recipe.
Chilaquiles Rojos Recipe
As a bit of a Mexican food connoisseur, Julia of A Cedar Spoon brings us this Chilaquiles Rojo recipe-her absolute favorite. It comprises a savory tomato sauce, corn chips, queso fresco, avocado, and onion. Served with an egg, it makes a delicious breakfast for dinner meal.
Visit A Cedar Spoon for the recipe.
Easy Chile Relleno Casserole
For this super easy casserole from Kathleen of The Fresh Cooky, Hatch green chiles are stuffed with melty Monterey jack cheese and "snuggled into an easy egg batter." It's ideal for just about any diet, including a gluten-free adaptation. Prep time is about 20 minutes. Then it goes into the oven for about an hour.
Visit The Fresh Cooky for the recipe.
Breakfast Crêpes with Eggs and Cheddar
Don't be scared of making French crepes at home because Chef Molly of Vanilla Bean Cuisine shows you just how easy and delicious it is. The version she's sharing with you today is stuffed with tasty eggs, sharp cheddar, and chives. And along with a stellar crepes recipe, she shares her expert secrets for the creamiest eggs you've ever had.
Visit Vanilla Bean Cuisine for the recipe.
Baked Ham And Cheese Omelet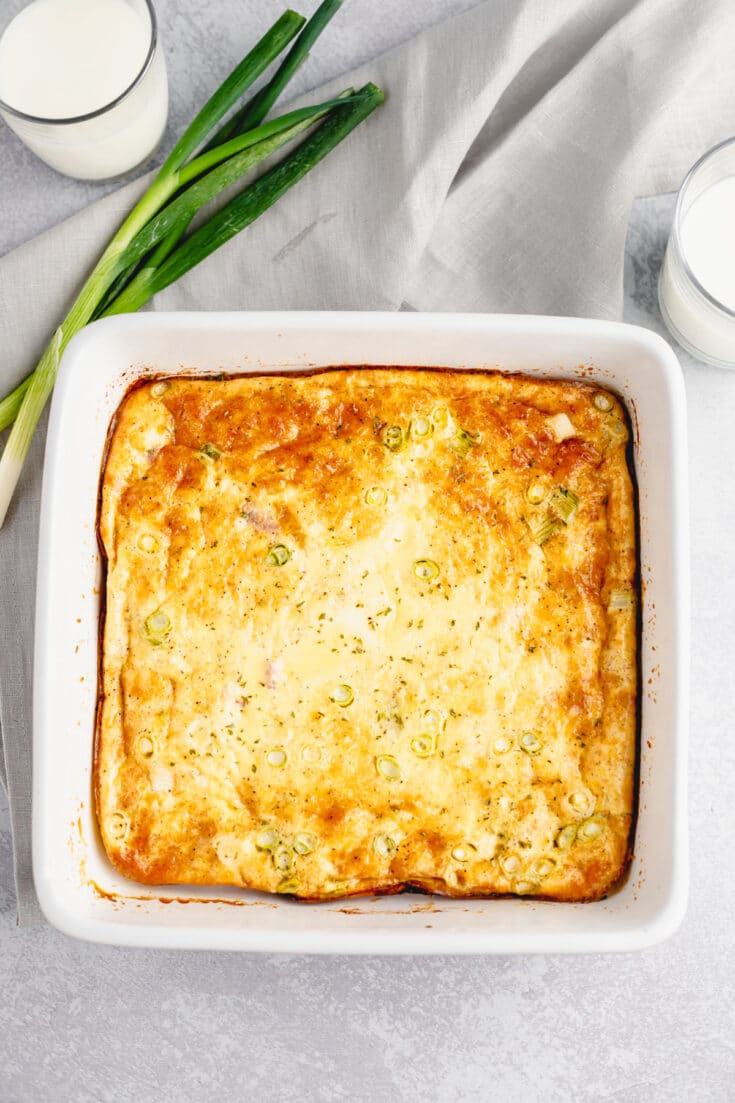 We love omelets! They're so easy, so customizable, and oh-so-delicious. And with this baked ham and cheese omelet from Simply Savoury Meals, you can now make them even easier for a crowd. It's savory, fluffy, and brimming with ham, cheese, eggs, and spring onions.
Visit Simply Savoury Meals for the recipe.
Easy & Delicious Avocado Baked Eggs
Farm-grown food lover K.C. is the G-Free Foodie. And with these easy and delicious egg avocado-baked eggs, she shows you a base dinner for breakfast you can dress up any way you like. So, go nuts! Add bacon, parmesan, tomatoes, or even leftover brisket.
Visit GFree Foodie for the recipe.
Menemen Recipe (Turkish Scrambled Eggs With Tomatoes)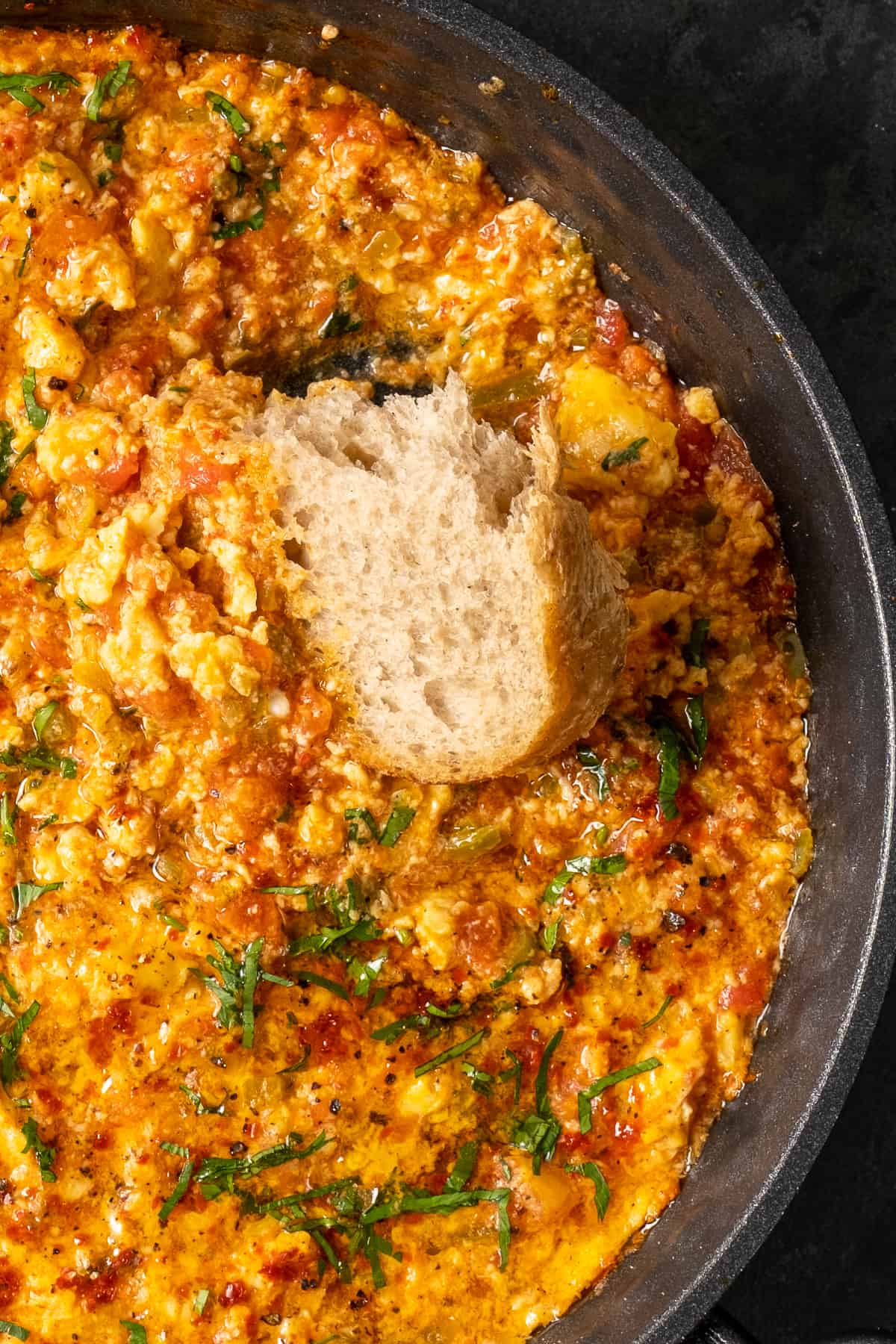 Zerrin and Yusuf from Give Recipe bring us this Menemen recipe—exciting Turkish scrambled eggs with tomatoes. There are less than ten items, including salt and pepper. But the main ingredients are eggs, of course, green peppers, and tomatoes. Plus, paprika and red pepper bring out the flavor in this beautiful bite.
Visit Give Recipe for the recipe.
Shrimp and Grits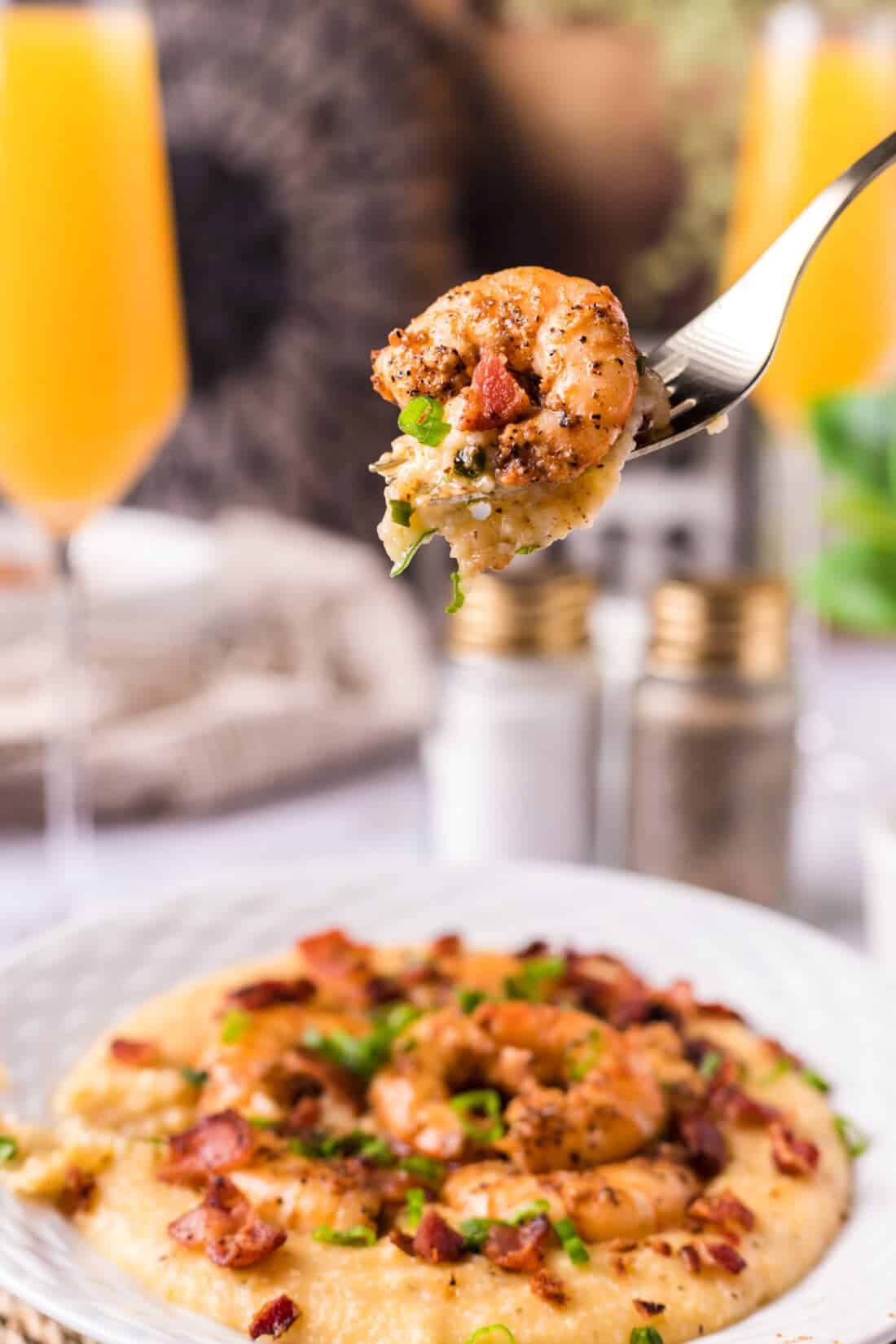 Grits are a breakfast favorite in our house. So when we found this delicious shrimp and grits recipe from Amanda's Cookin', we knew it had to go on this list. You'll find succulent cajun-flavored pink shrimp harmoniously paired with cheesy, filling hominy. Optionally add bacon or chives.
Visit Amanda's Cookin' for the recipe.
Breakfast Crunchwrap
We wouldn't turn down these copycat breakfast crunch wraps from Christi of Love From The Oven any time of day. Flour tortillas stuffed with drool-inducing fluffy, cheesy eggs, salty sausage, and hash browns are exquisite eats all day long. It's a macro-loaded bite and a great way to start or end the day.
Visit Love From The Oven for the recipe.
Vegan German Potato Cakes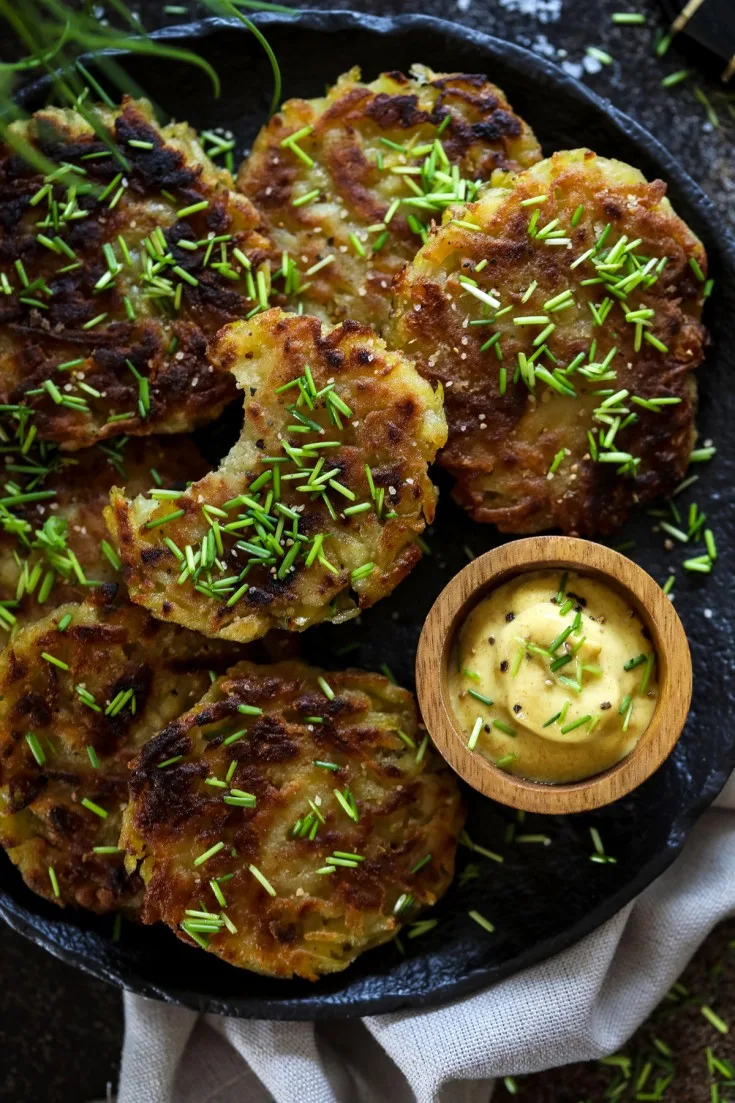 With these vegan potato pancakes, Elena of Happy Kitchen Rocks shows us that Germans certainly know a thing or two about turning the humble potato into a scrumptious meal. They require just three ingredients you likely have on hand and a 30-minute investment. Then, serve them with mustard and watch them disappear.
Visit Happy Kitchen Rocks for the recipe.
Spicy Chipotle Huevos Rancheros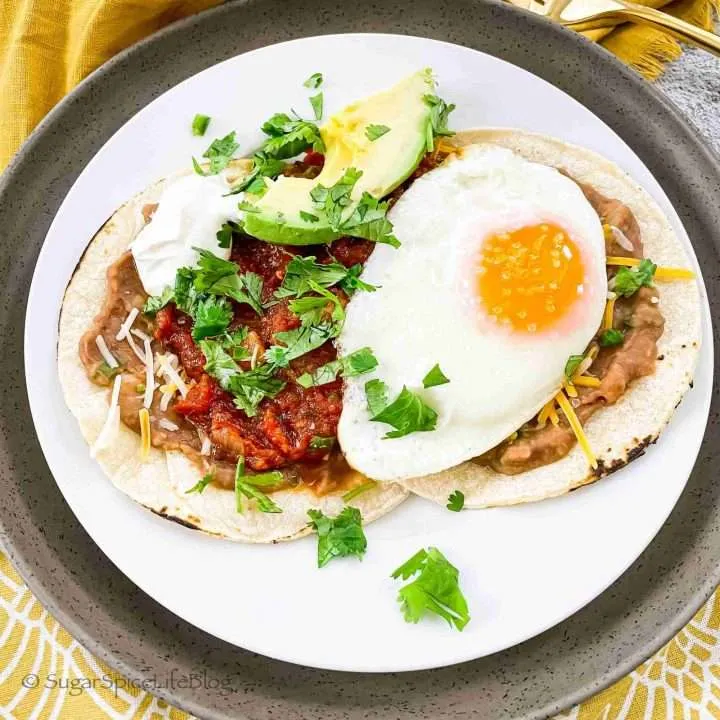 Huevos rancheros, a dependable Tex-Mex breakfast or breakfast for dinner, gets a facelift from Jill of Sweet Simple Masala. You'll find everything you would expect in Southwest cuisine, like corn tortillas, refried beans, and salsa. Only this time, she adds chipotle to the salsa to spice it up a bit.
Visit Sweet Simple Masala for the recipe.
Sheet Pan Pancakes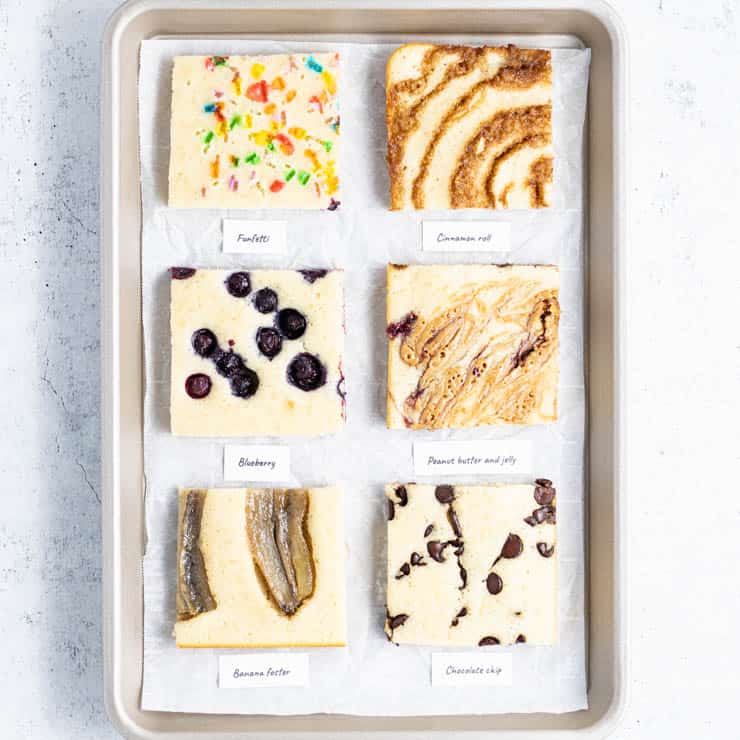 There are near-infinite ways to make sheet pan pancakes. Still, Claire of The Sweet Simple Life walks us through six of her favorite variations: cinnamon roll, Funfetti, chocolate chip, bananas foster, blueberry, and pb&j. Okay, so we get it. These crowd-pleasing options are more dessert than dinner. But sometimes, it's fun to mix it up.
Visit The Sweet Simple Life for the recipe.
Spinach Mushroom Quiche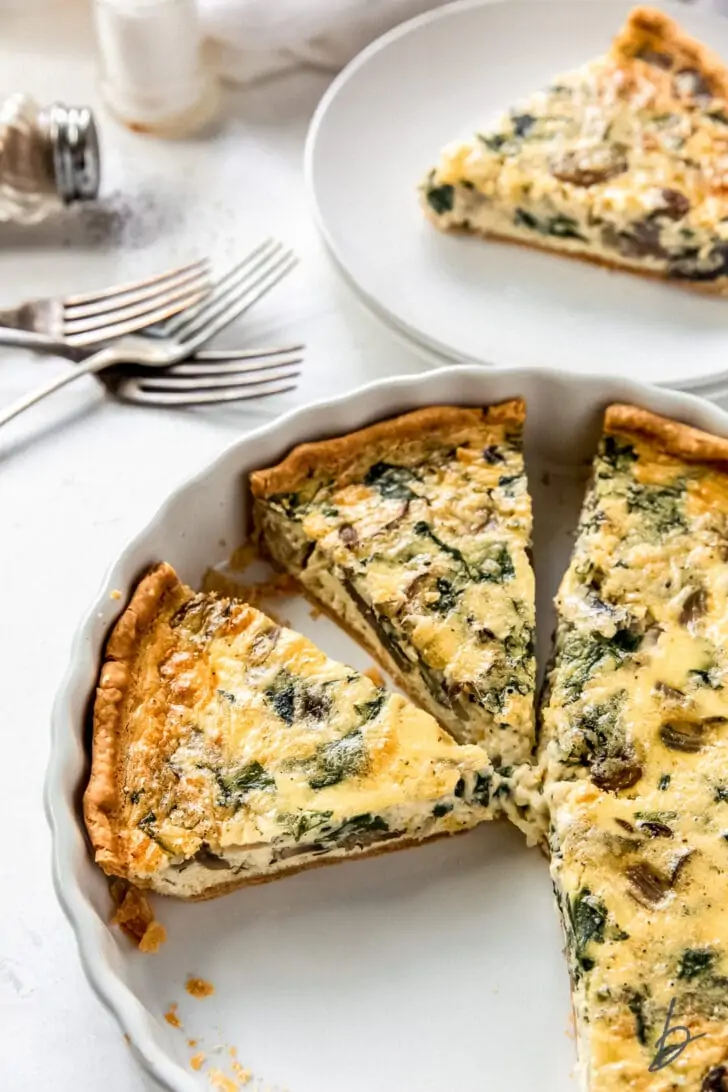 If You Give A Blonde A Kitchen, you might end up with this spinach mushroom quiche recipe. Haley walks you through a savory anytime meal that's filled with gruyere, spinach, mushrooms, and eggs on a satisfyingly crisp pie crust. The filling is remarkably creamy but surprisingly stable.
Visit If You Give A Blonde A Kitchen for the recipe.
Rosti Eggs Benny
What the heck is rosti eggs, benny? Certainly, you've eaten or seen eggs benedict. But, instead of poached egg with silky hollandaise sauce on an English muffin, Vanessa of Maple + Mango serves it on a nest of potato hash browns, otherwise known as rosti. It's a creative spin that combines two classic dishes that are better together than apart.
Visit Maple + Mango for the recipe.
Vegan Pumpkin Waffles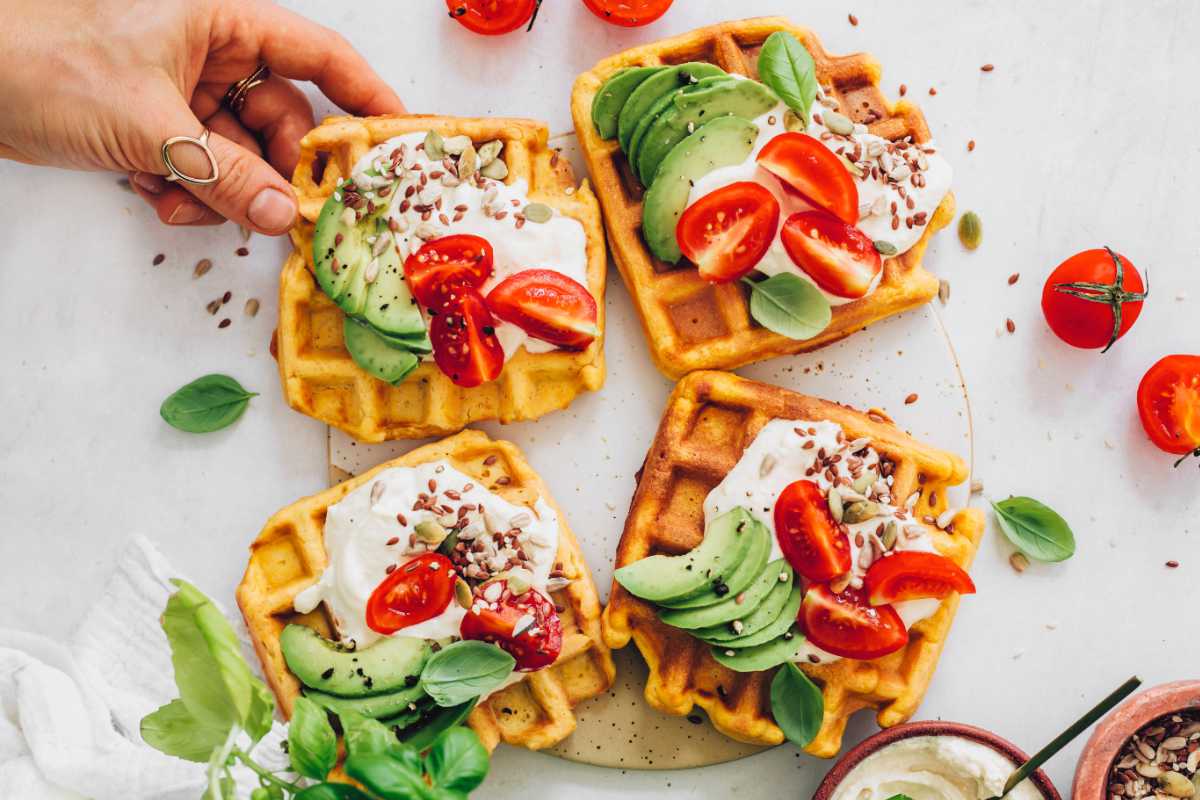 We can hardly avoid the magnetic attraction to gorgeous, brightly colored dishes like this savory pumpkin waffles recipe from Alena of Nutritiously. Starting with a crispy on the outside, fluffy on the inside pumpkin waffle, and topped with ingredients like cherry tomatoes, avocado, and fresh basil, the 30-minute fall meal will incite a craving morning, noon, or night.
Visit Nutritiously for the recipe.
Which Breakfast For Dinner Recipe Will You Try First?
We get it! You probably want to try them all, but which one will you try first? Is it the rosti eggs, benny? It's tasty and fun to say! How about breakfast crunch wraps? They will certainly fill you up. Or is it something else? Let us know.