Indulge your taste buds with the irresistible world of mini cheesecake recipes! These bite-sized treats offer all the creamy goodness and rich flavors of traditional cheesecakes but in a convenient individual serving.
From classic New York style to exotic flavors like black forest and Bailey's, there's a mini cheesecake recipe to suit every palate. So are you ready for a tantalizing cheesecake journey?
Let's dive in!
While you're at it, see these mini desserts in a cup, these mini bundt cakes, and these single-serving desserts.
Raspberry Swirl Mini Cheesecakes
One look at these raspberry swirl mini cheesecakes by Liz of the Savory Cipolla, and you know you're kin for a special treat. They're gorgeous! The graham cracker crust is buttery, and the cream cheese filling is complete with raspberry puree. They're elegant enough for bridal showers but simple enough for a weekday dessert.
Chocolate Sweet Potato Cheesecake Bites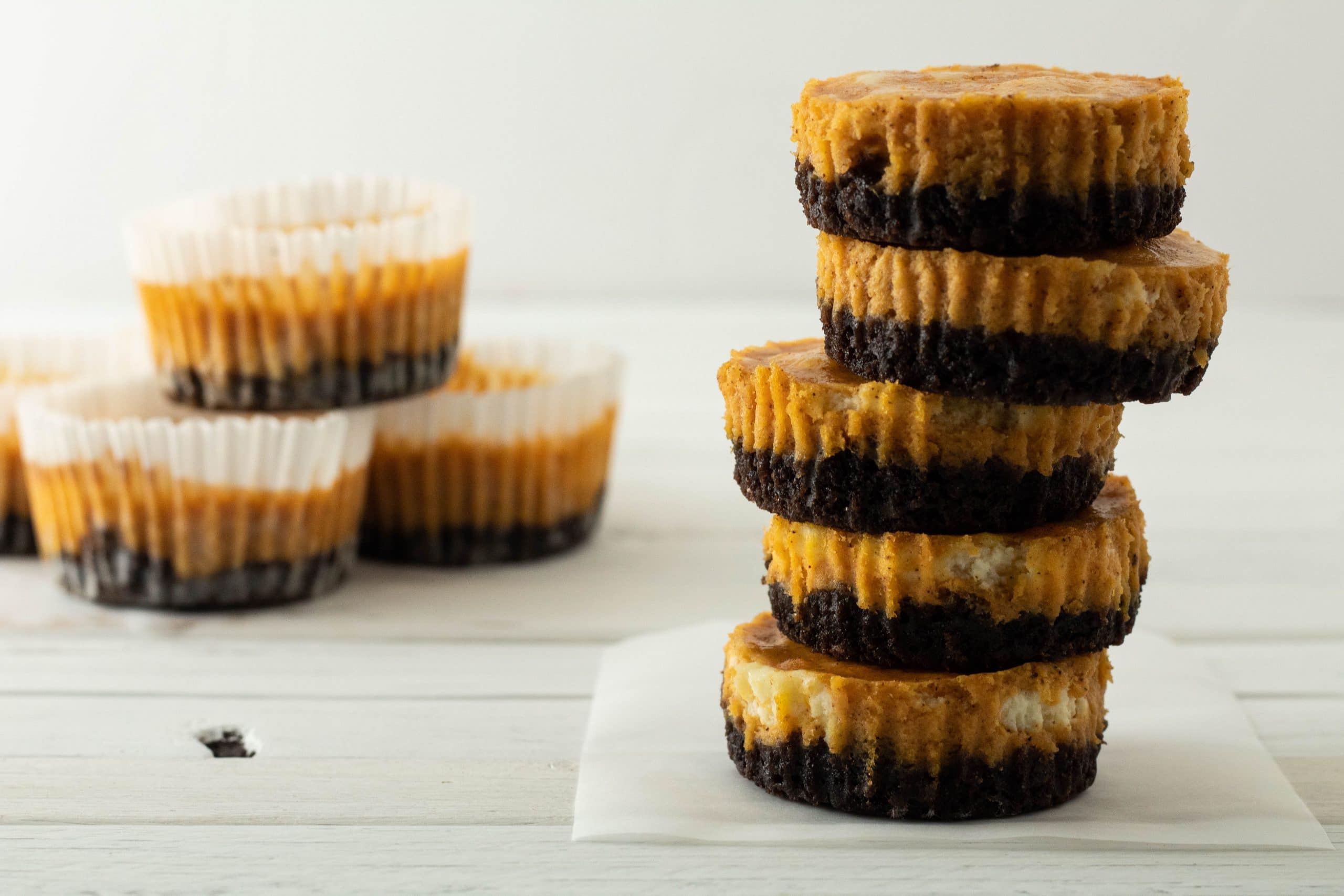 It won't matter if you're a sweet potato lover or kind of "whatever" about the tuber. You're going to love these chocolate sweet potato cheesecake bites! The base is chocolate graham crackers, while the filling is sweet potato cheesecake swirl. They're so good you'll want to make them today.
Five Ingredient No Bake Oreo Cheesecake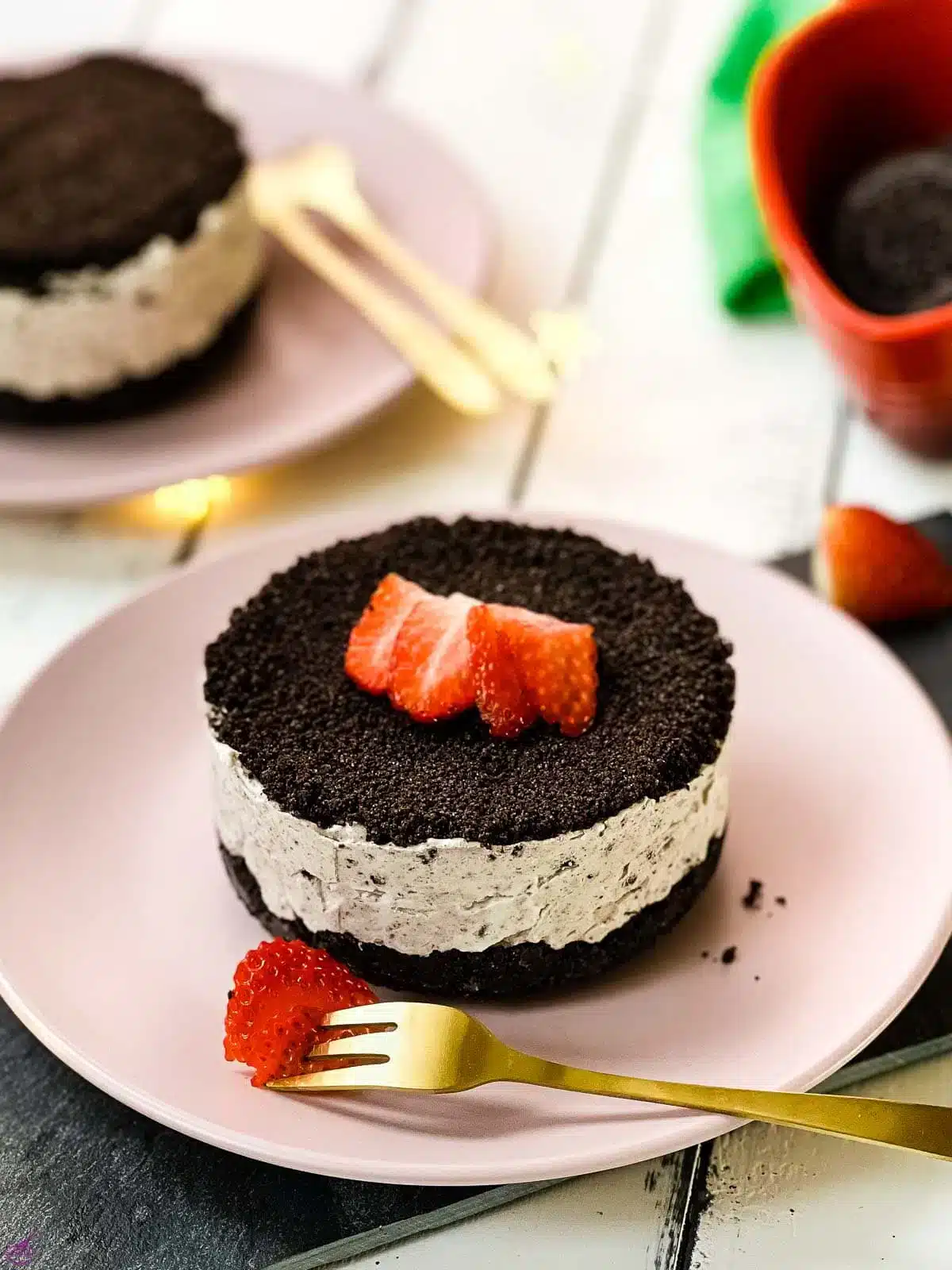 Those who know Nora of Combine Good Flavors know she's a cheesecake fanatic. So you can expect this five-ingredient no bake Oreo cheesecake to knock it out of the park. She combines cream cheese, whipped cream, powdered sugar, Oreos, and butter to make the most delicious filling. But perhaps the best part is the Oreo crust and the strawberry slices.
Mini Butterfinger Cheesecakes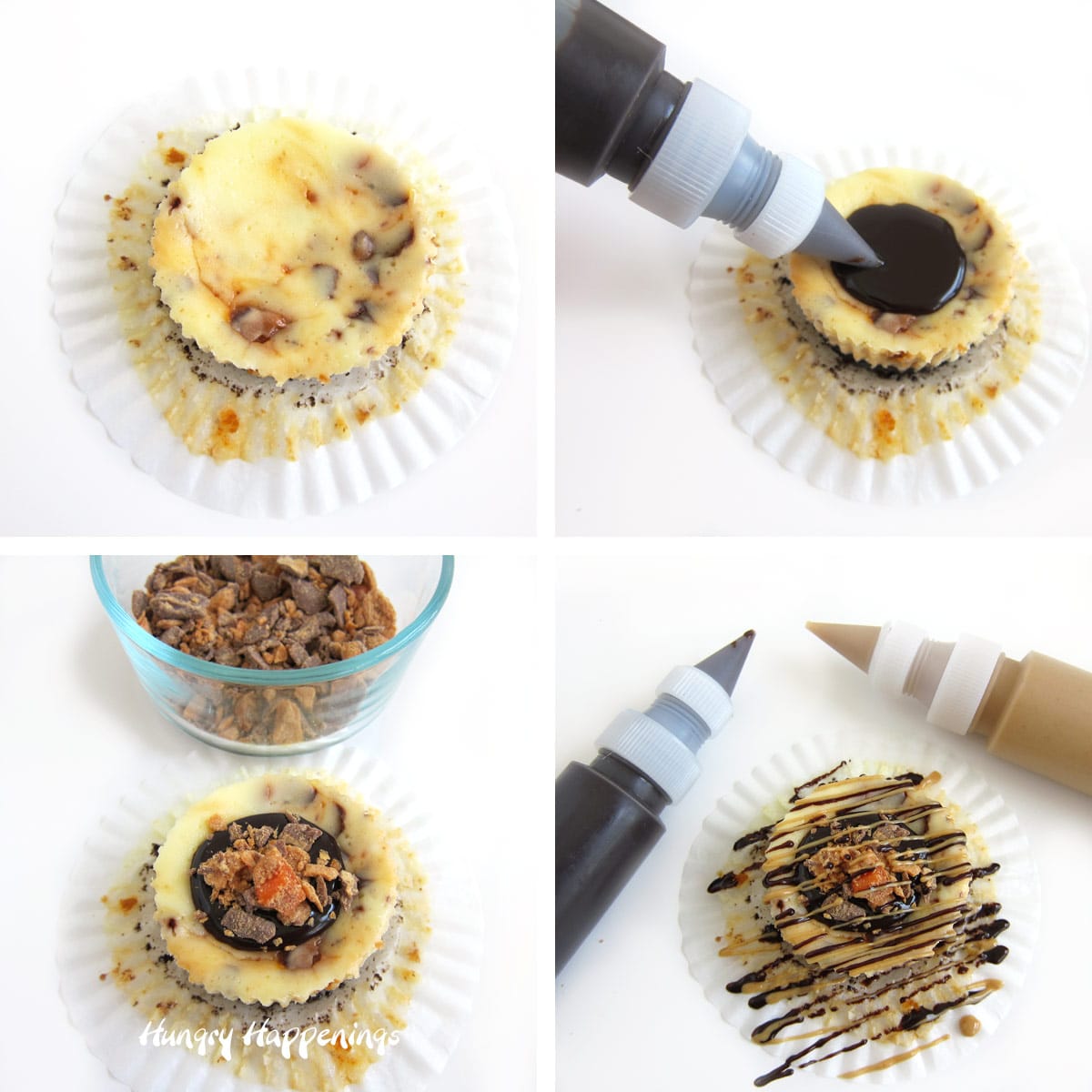 Beth of Hungry Happenings knows you want to reach into your screen and grab one of these mini Butterfinger cheesecakes. But while that's not possible (yet), take comfort in knowing you prep these delicious morsels in just 30 minutes using Beth's reliable cheesecake recipe, including Butterfinger baking bits.
Mini Cherry Cheesecakes
Cherries, Oreo crust, and cherry pie filling combine for these classic mini cherry cheesecakes by Milisa of Miss In The Kitchen. And with just eight ingredients and 15 minutes, and her tips, they are easy to make for special occasions or just because it's Tuesday.
Mini Pumpkin Cheesecake Recipe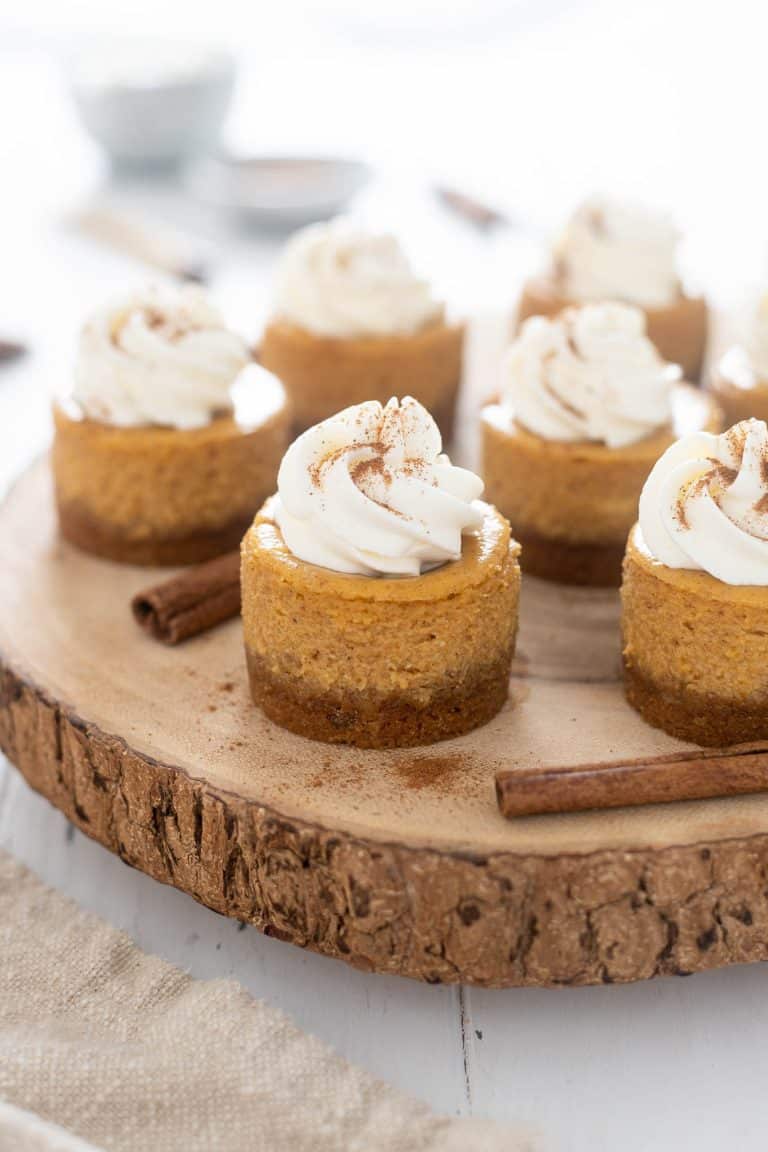 Fall can't get here fast enough when you crave this mini pumpkin cheesecake recipe by Marcie. It's so good you'll Flavor The Moments. You have a buttery crust with a creamy cheesecake filling brimming with the flavors of pumpkin and spices. Finally, you can drizzle on salted caramel sauce. Just imagine!
No Bake Bailey's Mini Cheesecakes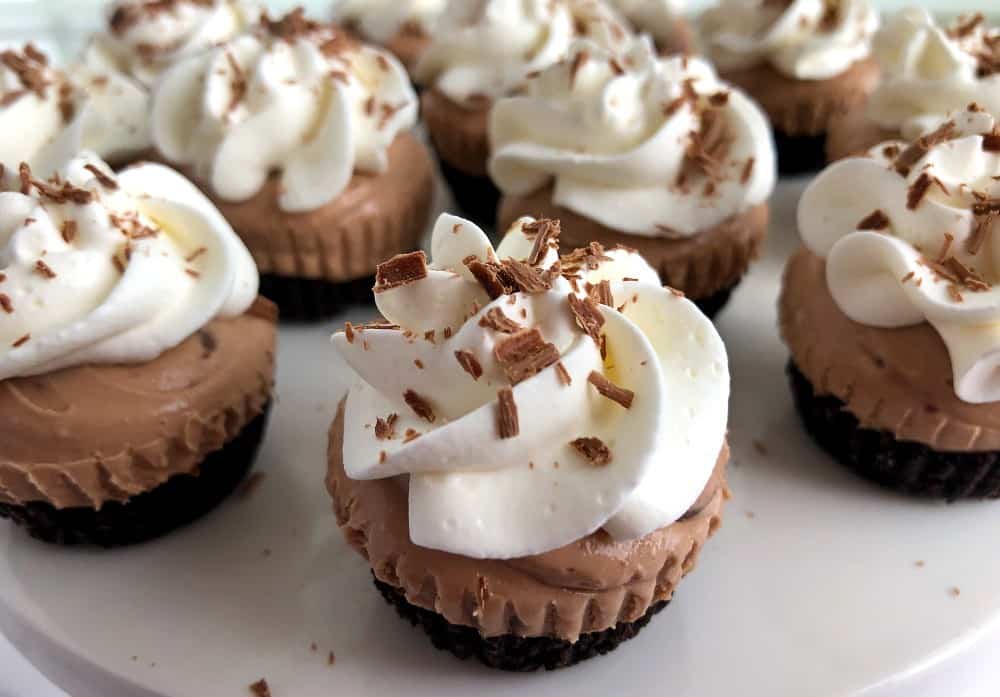 While ideal for St. Patrick's Day, these no-bake Bailey's mini cheesecakes by Emily Fabulous are delicious no matter the occasion. And when we say they are packed full of flavor, that is an understatement. Each little two-bite treat contains Irish cream liqueur spiked cream cheese filling on top of an Oreo crust. And on top, you'll find whipped cream and melted chocolate.
Mini Peanut Butter Cup Cheesecakes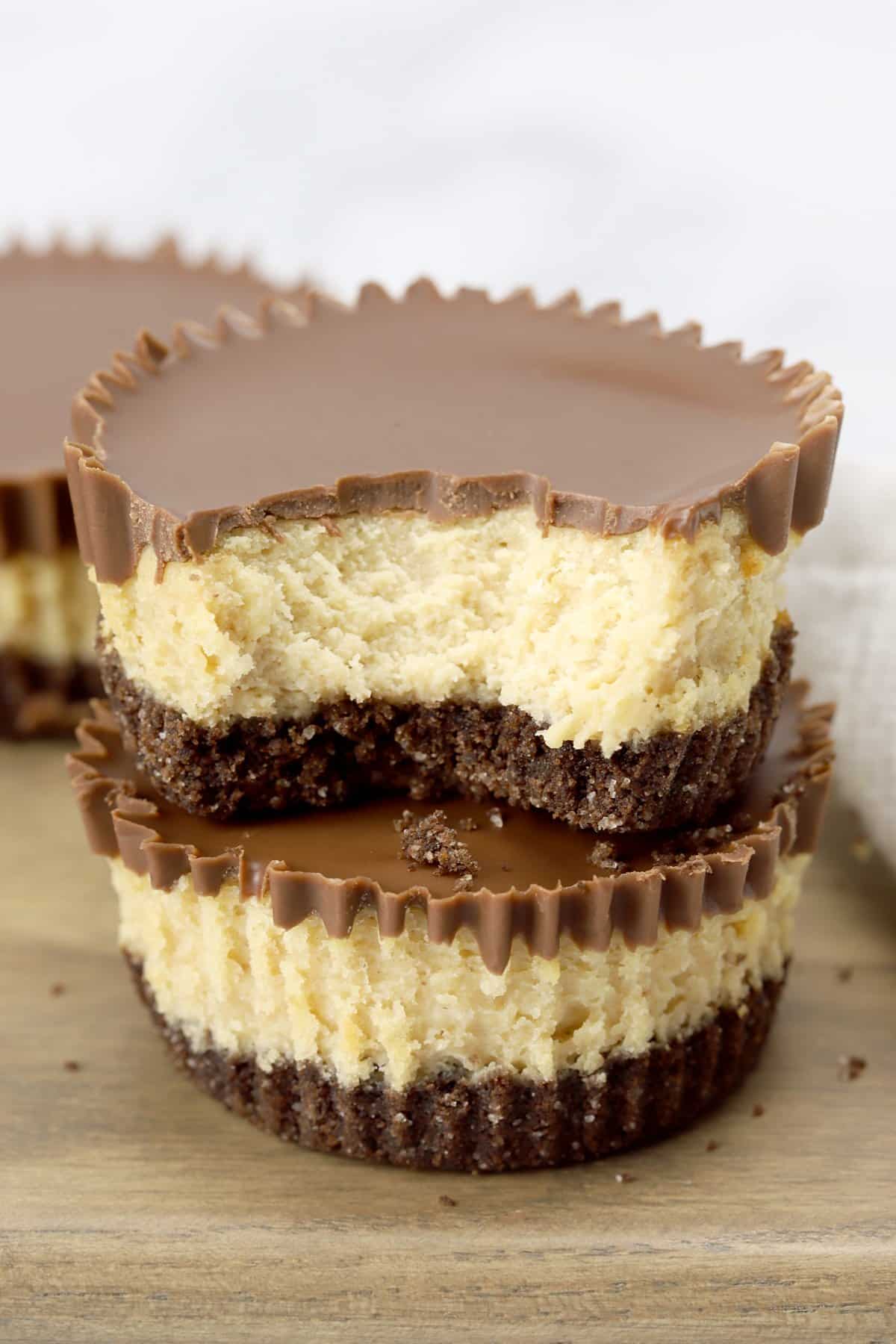 Peanut butter lovers, beware! These mini peanut butter cup cheesecakes from Heather of The Toasty Kitchen have the power to ruin your diet. The snackable treat has a graham cracker crust base with a peanut buttery cream cheese filling. On top, there's a chocolate peanut butter topping.
Mini Lemon Cheesecakes with Mascarpone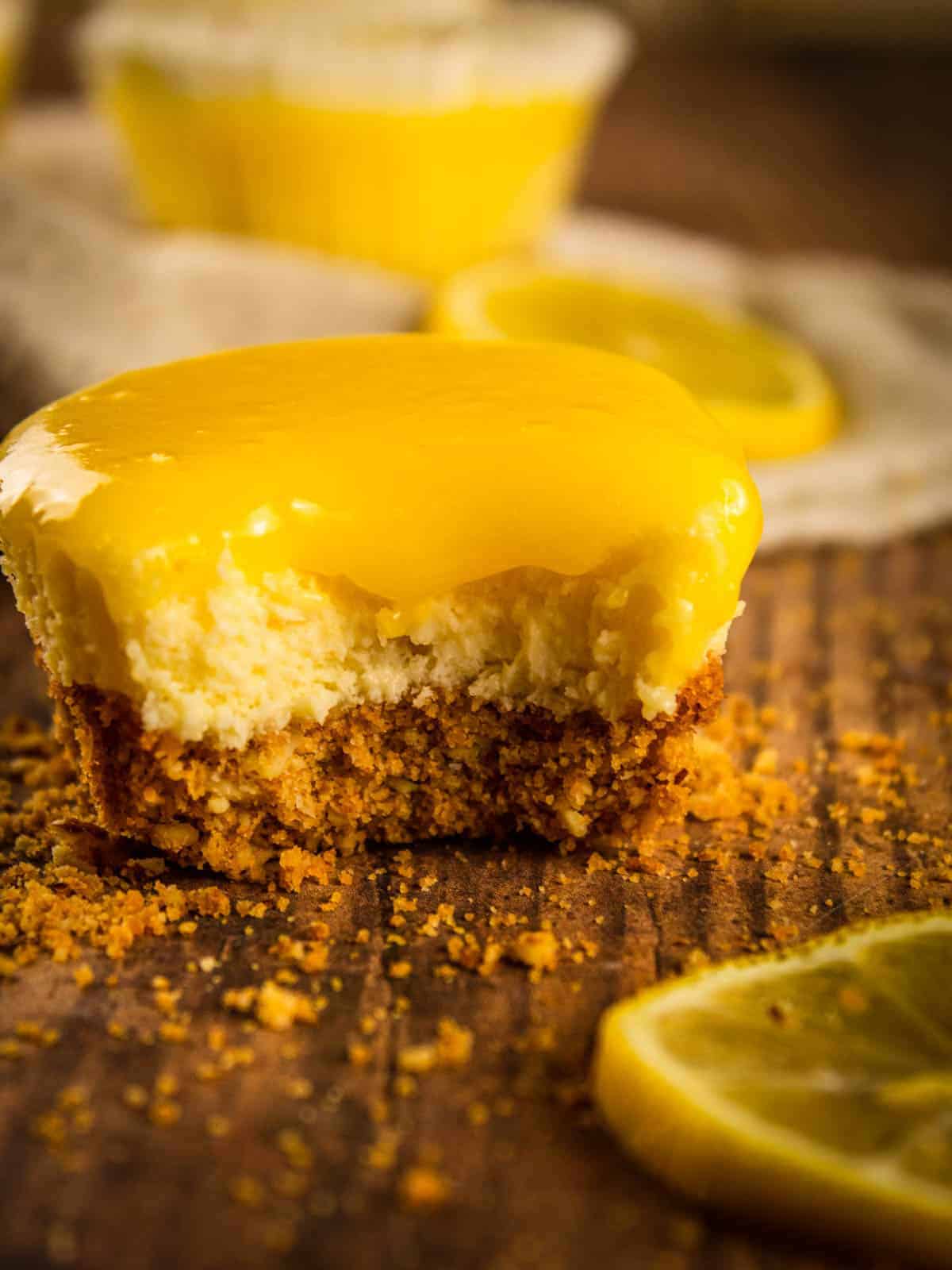 These mini lemon cheesecakes with mascarpone are a favorite of the Scarlati Family Kitchen. And there is soon to be a favorite in yours. Here's why. The base is a crispy graham cracker/almond crust. As for the filling, it is a lemon-laden cheesecake. It gets better. Each little bright bite has a spoonful of lemon curd.
Mini S'mores Cheesecakes
Chef Lindsay Farr has seen a lot in the culinary world but still gets excited over s'mores. We're the same way. Just check out our s'mores ice cream sandwiches for proof. So when we discovered this mini s'mores cheesecakes recipe, we almost lost our cool. Graham crackers, chocolate cheesecake, and toasted marshmallows always look good together.
No Bake Blueberry Cheesecake Bites
Get a load of these no-bake blueberry cheesecake bites. AI Made It For You. The gluten-free and dairy-free food blogger shares a cheesecake recipe even diet-restricted folks can enjoy. So instead of cream cheese, you have cashews and coconut yogurt. The result is a creamy, decadent dessert you have to try.
Mini Black Forest Cheesecakes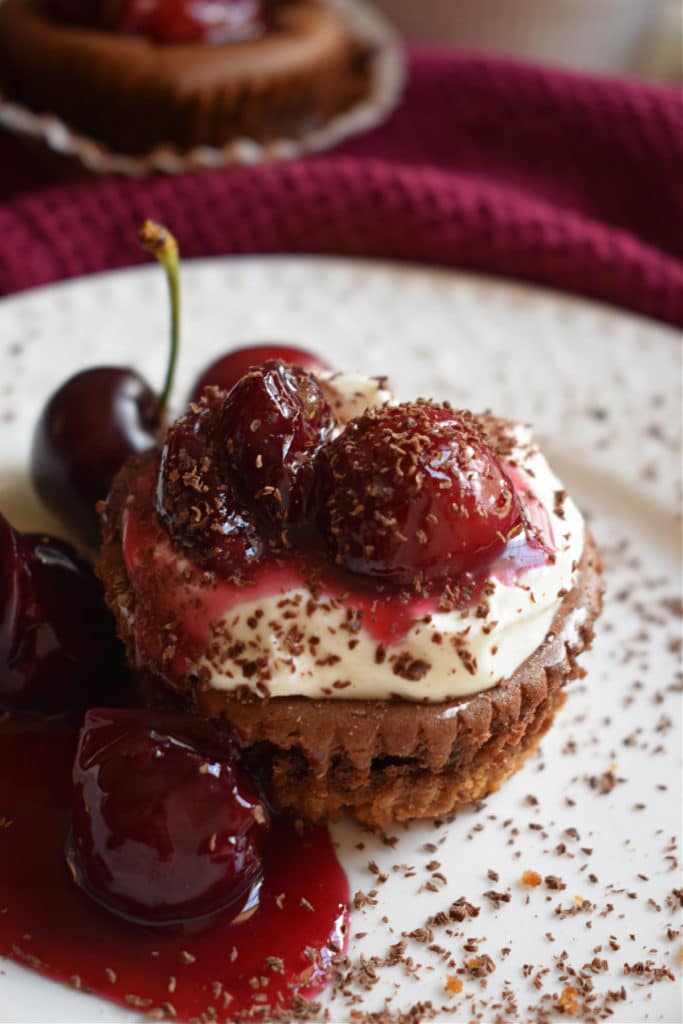 What better way to use fresh cherries than with these mini black forest cheesecakes by Julias Cuisine? There's a buttery cookie layer, then a layer of chocolate cheesecake. On top, add the homemade cherry filling, and finally, add whipped cream and chocolate shavings.
Mini New York Cheesecakes
These mini new york cheesecakes from Erin of State Of Dinner are everything you expect from the Big Apple's version of the classic dessert. Only miniaturized and individually portioned. So expect a creamier cheesecake, thanks to the sour cream.
Instant Pot Cheesecake Creme Brulee Bites
Visit Amy + Jack of Pressure Cook Recipes when you need dependable recipes like these Instant Pot cheesecake creme brulee bites. It starts with a buttery graham cracker crust. The next layer is a dense, rich, and creamy cheesecake filling. Once they're done cooking, add a little sugar on top and torch for an elegant mini dessert.
Cheesecake Cookie Cups
With these cheesecake cookie cups, Melissa of Persnickety Plates reminds us of how fussy some cheesecake recipes can be. But that's certainly not the case here. Her treat starts with a cookie cup (how cute). Then you fill it with her no-bake, four-ingredient fluffy cheesecake filling and a drizzle of chocolate.
Mini Frozen Cannoli Cheesecake Bites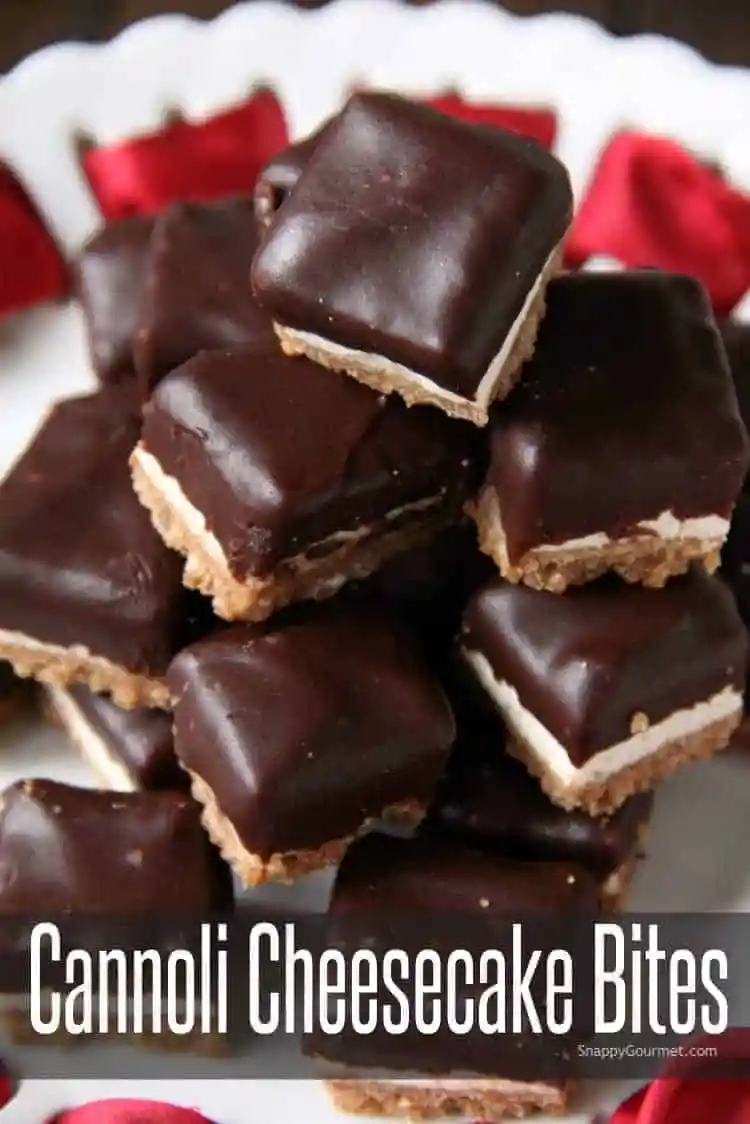 If you want to hog all the attention at your next party or potluck, bring these mini frozen cannoli cheesecake bites by Lisa of Snappy Gourmet. She shows you how to make the cannoli cheesecake squares with waffle cone crumbs, ricotta, mascarpone, orange zest, and mini chocolate chips. Then dip it in chocolate and freeze it for a dessert sure to surprise. It's an original.
Mini Patriotic Cheesecakes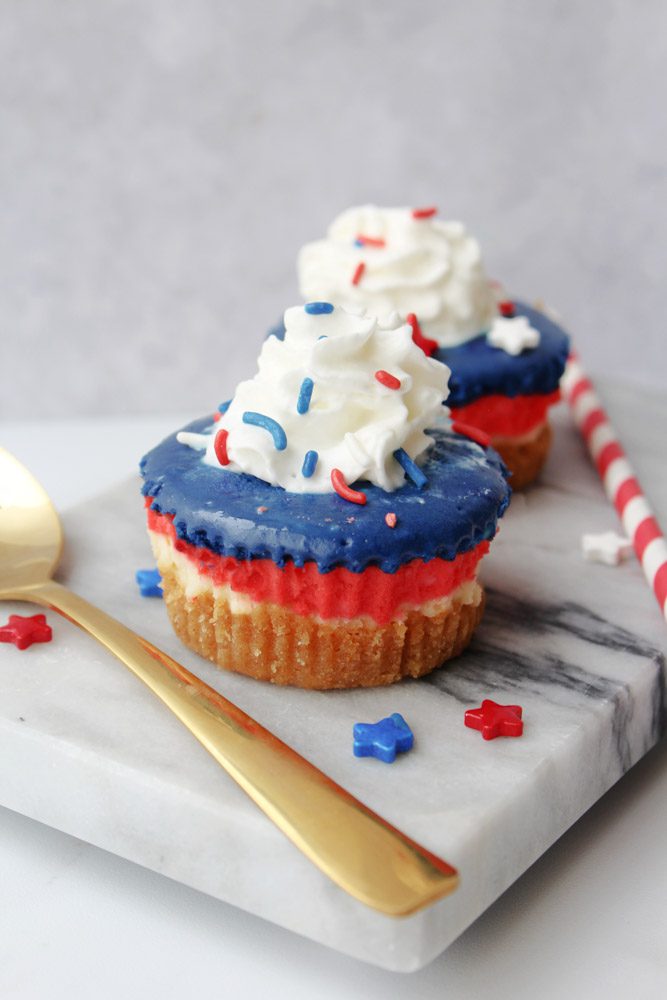 What better way to celebrate Memorial Day or Independence Day than with these mini patriotic cheesecakes by way of Confessions Of Parenting? Michele walks us through an accessible recipe showing us how to make the base and colorful layers. Finally, finish with whipped cream and red, white, and blue sprinkles.
No Bake Mint Oreo Cheesecake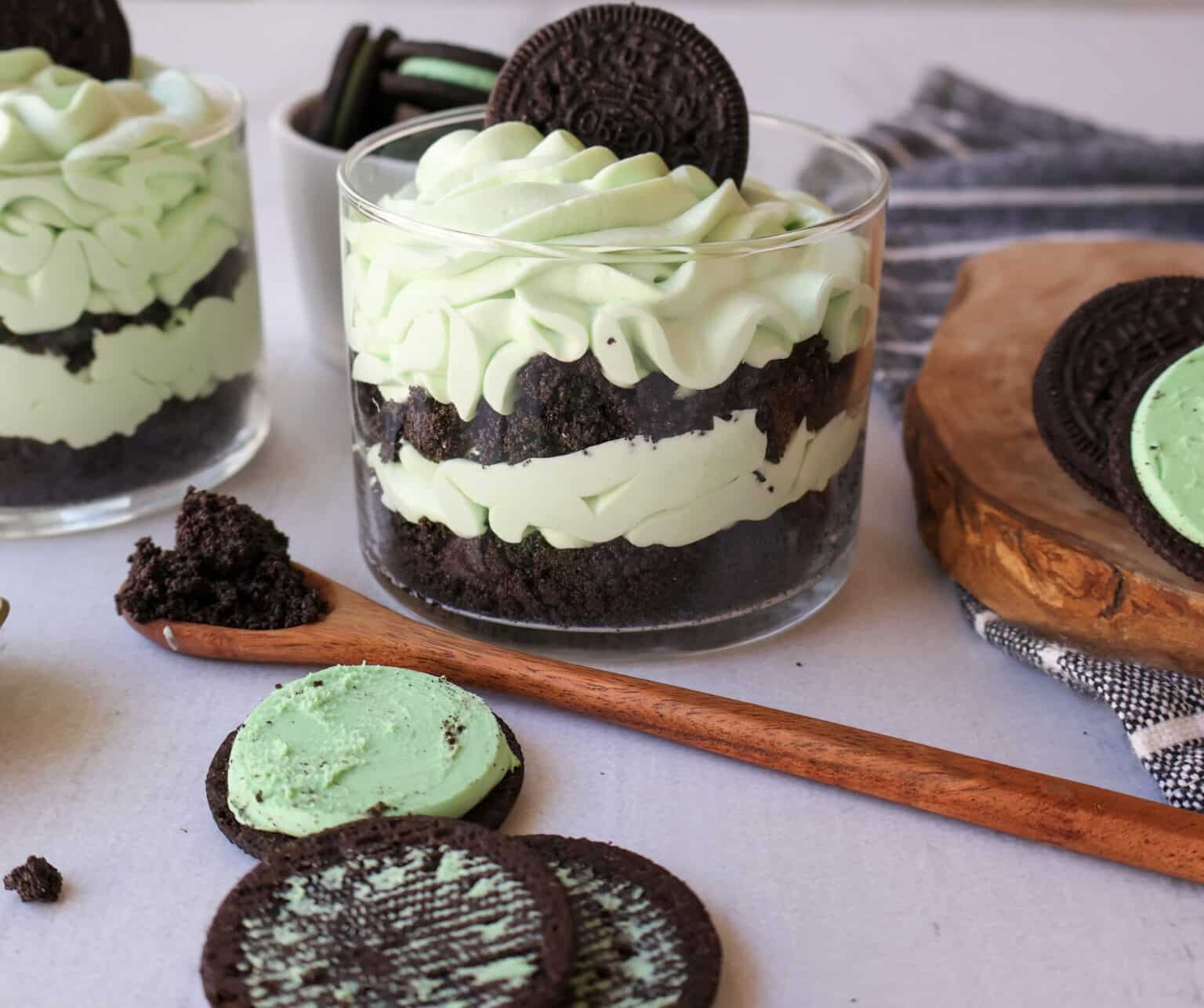 Certainly, you know someone who's a mint chocolate fanatic. So why not surprise them with this no-bake mint Oreo cheesecake dessert by Golden Grace Kitchen? This layered dessert is a beauty. You make it by alternating the gluten-free Oreo cookie crust with the mint cream cheese layer. Yum!
Mini Cheesecakes with Biscoff Crust and Mango Coulis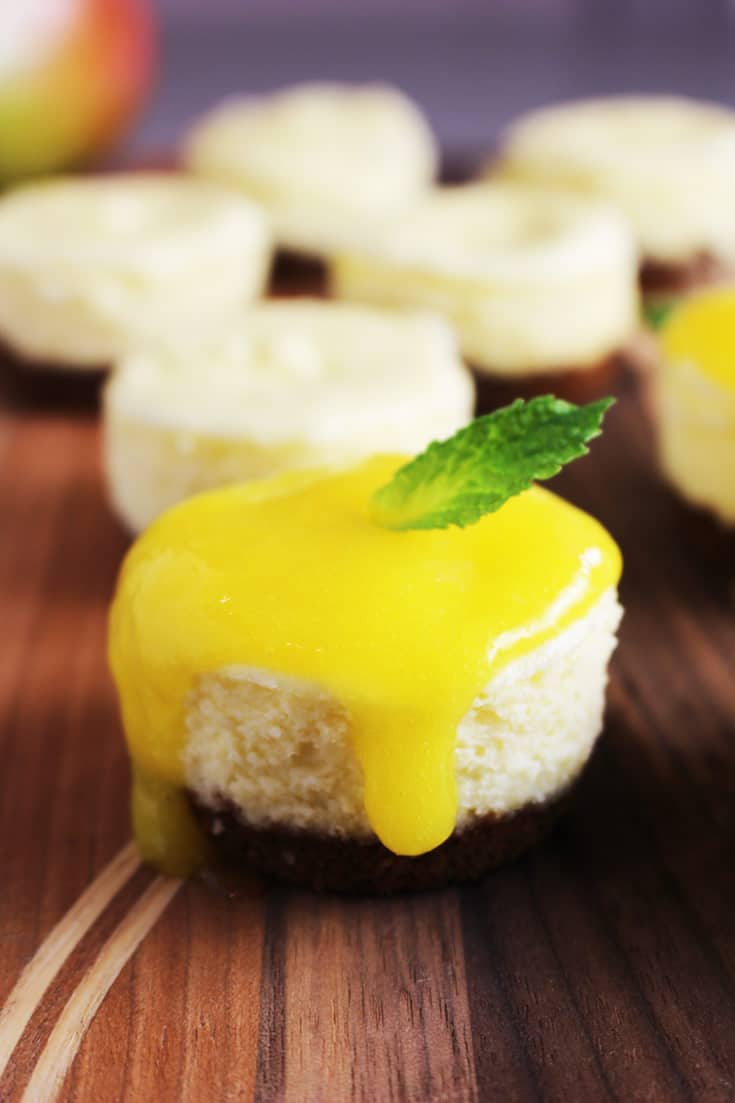 These mini cheesecakes with Biscoff crust and mango coulis by Our Happy Mess will make everyone smile. It starts with a subtly sweet Biscoff cookie crust. That's interesting. The filling with cream cheese, sour cream, and eggs is straightforward. But then it gets fascinating with the addition of Mango coulis—a tropical dessert topping so good you'll want to drink it.
Which Mini Cheesecake Recipe Will You Try First?
By now, you can see the world of mini cheesecakes is a realm of culinary delight that promises to satisfy all dessert lovers. With their perfect portion sizes, endless flavor variations, and charming presentation, mini cheesecakes are a crowd-pleasing treat for any occasion. But which bite-sized dessert recipe will you try first? We'd love to know!
Don't forget to see these other mini dessert recipes.