Bar none, my favorite holiday sweet treat are these pecan pie bars that Sarah started making about 10 years ago. They are soooo good! The kind of recipe that makes your mouth water at the mere mention. But, it's not just that the bars taste so good, it's also the nostalgia that comes along with them. Each bite takes me back to simpler times! You know, those snowy winter days where you could just hang with the family and watch Christmas movies. When there was little else on your mind but making your Christmas wish list. So, if these pecan pie bars don't put you in the holiday spirit, then you must be related to Ebinezer Scrooge – just sayin'.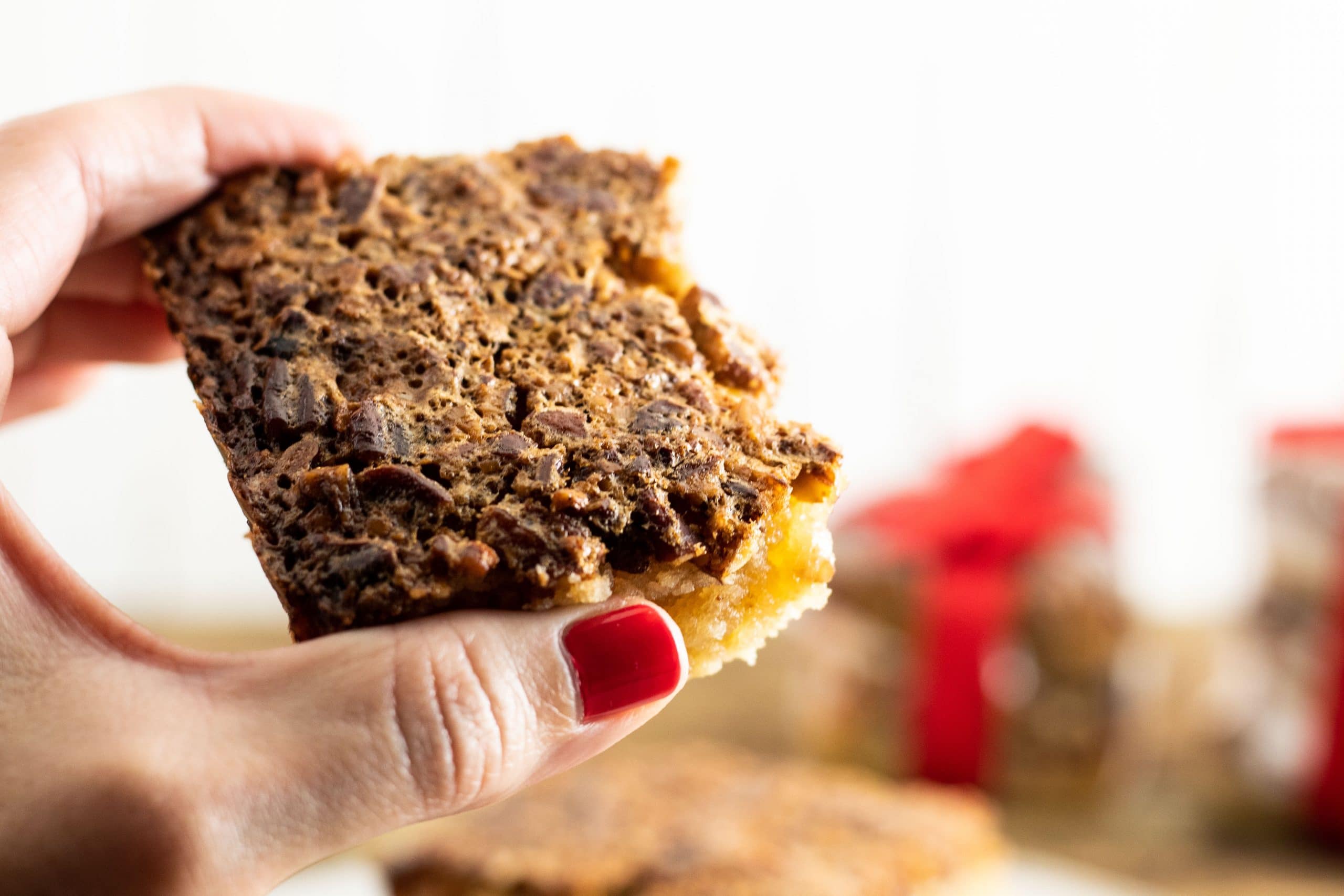 Sarah made these bars a couple weeks ago and we decided to share them here. We made a nice little red and white background to signify the holiday season. We wrapped a few in plastic wrap and tied a bow around them. This also makes these little heavenly delights the perfect simple gift for someone on your gift list. Perhaps a coworker or your mailman. Trust me they will appreciate them.
The recipe is very simple and also perfect to make in advance. Just allow them to cool, then cut them into squares before you freeze them, and finally just allow them to come to room temperature.
Don't be like me, I am a dessert thief. My hand is always in the cookie jar. And with these bars being my favorite, I just can't wait for them to completely cool. When these bad boys were made, I just had to get a piece before the filling completely set. Instead, you will want to wait until they are completely cooled before you cut.
These pecan bars are the same as making good ole fashion pecan pie. The biggest difference, of course, is the shape. Instead of a pie, they are cut into bars. Also, the pecans are chopped. Usually with pecan pie the pecans remain halved.
First you will want to gather all of the ingredients.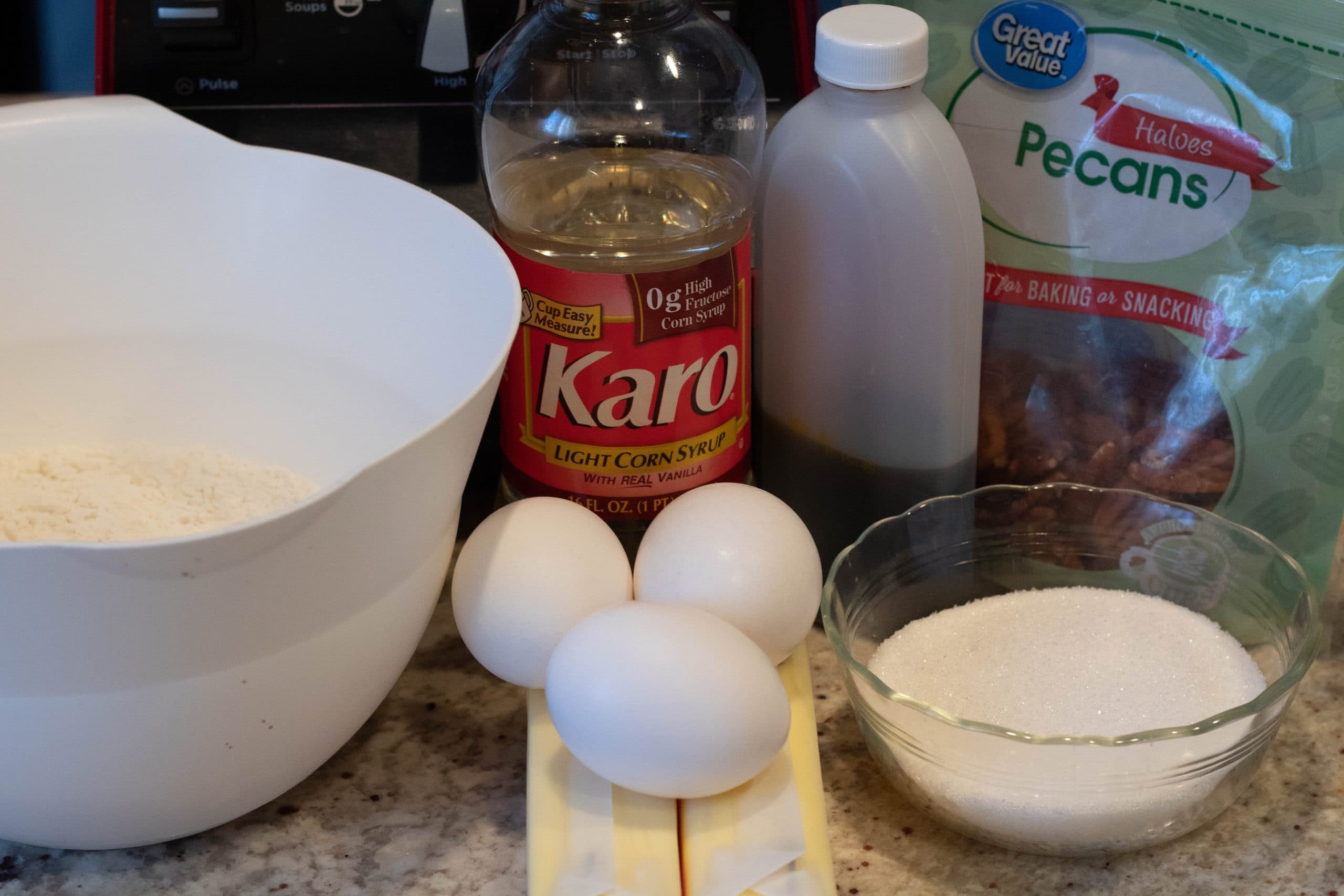 Next, make the crust, and form it in a pan (see recipe below).
Then you will want to make the filling (see recipe below).
Pour the filling over the crust.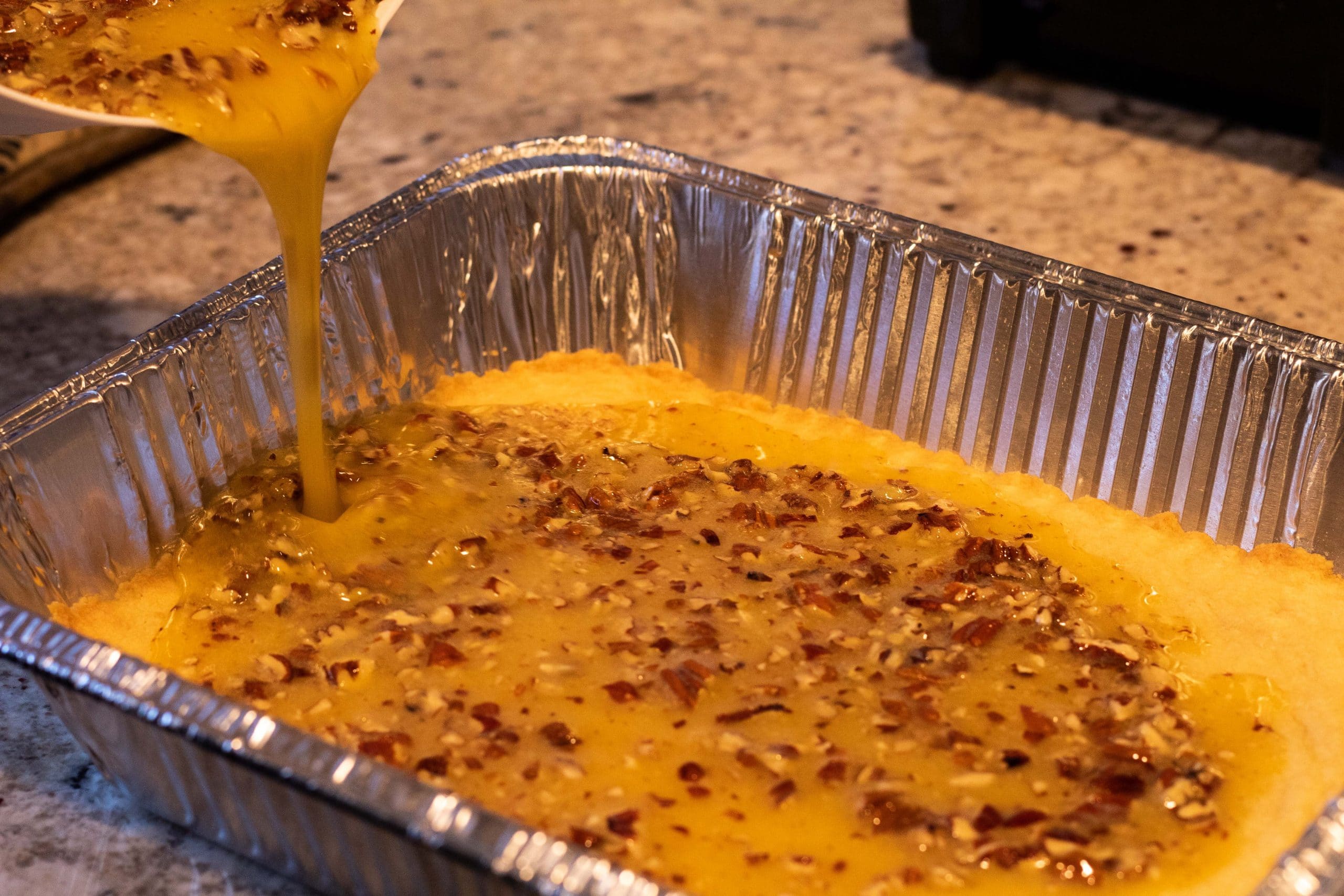 Bake. Wait about two hours before cutting. Make sure that you allow the filling to set before you cut.
Pecan Pie Bars
These pecan pie bars are an amazing dessert that can be enjoyed year round but is especially delicious during the holiday season. They are easy to make and can be the perfect gift.
Ingredients
Dough
1

Cup

Unsalted Butter

2 Sticks at room temperature

2

Cups

All Purpose Flour

2/3

Cup

Sugar

1

Teaspoon

Vanilla Extract

1/8

Teaspoon

Salt
Filling
1

Cup

Light Corn Syrup

½

Cup

Sugar

3

Large Eggs

Room temperature

1

Teaspoon

Vanilla Extract

3

Tablespoons

Unsalted Butter

Melted

1

Cup

Pecans

Chopped
Instructions
Start with making the dough. In a medium bowl cream the butter, sugar, salt and vanilla extract. Add the flour and mix until all combined.

Preheat the oven to 350 degrees.

Spray a baking sheet (11 ¾ x 9 1/4) with cooking spray. (See note) Press the dough mixture at the bottom of the pan evenly. Bake for 15-20 minutes.

While crust is baking make the filling. In a small bowl add the corn syrup, sugar, eggs, vanilla extract and melted butter. Stir until combined. Set aside.

Chop the pecans and add them to the bowl with the filling. Set aside.

When the crust is done baking pour the filling mixture on top. Bake for 30-35 minutes or until the center has set. Rotate the pan half way through to make sure it evenly browns. (See note)

Once bars are done let them cool for about 15-20 minutes before cutting. Enjoy!!
Notes
I used a casserole foil pan you can also use a standard 9 x 13 cake pan. The cooking time may vary.

After 30 minutes in the oven watch it to see if it's done it may only need 2-3 extra minutes. The cooking time will vary based on the size of the pan and your oven's actual temperature.

These were even better the next day after sitting in the fridge overnight.

Store them in an air tight container for about 5-7 days in the fridge.

If you want to cut the bars smaller I recommend cutting them after they sat in the fridge for a few hours.

You can also add a drizzle of chocolate on top. That would make these even better.