Cereal is not just for breakfast or basic rice cereal treats. In fact, the best cereal dessert recipes below will surprise you and open you up to a whole new world of cereal possibilities. For example, there's a cinnamon cereal truffle, corn cereal jam tart, lemon meringue rice cereal treat, and many more. You are in for a treat, quite literally. Enjoy!
Love this post? Don't forget to check out our best mini desserts in a cup and summer dessert recipes, and our best mini bundt cake recipes.
Jump to:
5 Fun Facts About Cereal
1. The first cereal, Granula, was invented in 1863 by Dr. James Caleb Jackson and potentially a precursor to Grape-Nuts.
2. According to a 2020 report, over 283 million Americans consumed cold breakfast cereal.
3. Cornflakes was the first cereal to contain a prize. It was a picture booklet called the "Funny Jungleland Moving Pictures Booklet," It was given to anyone who bought two boxes of cereal.
4. According to a 2021 report, Cinnamon Toast Crunch is the most popular cold breakfast cereal in America.
5. National Cereal Day is March 7th. Celebrate the day with a big bowl of cereal and check cereal makers' websites for special deals and freebies.
16 Best Cereal Sweet Treats
Below you will find 16 of the best desserts made with cereal ever! Some of the most talented food bloggers around dreamed up these creative confections. For example, there's a s'mores recipe, a macaron recipe, even a salted caramel rice cereal treat recipe, and many more. And as always, this list is just that, a list, not a rank.
No-Bake Cinnamon Cereal Truffles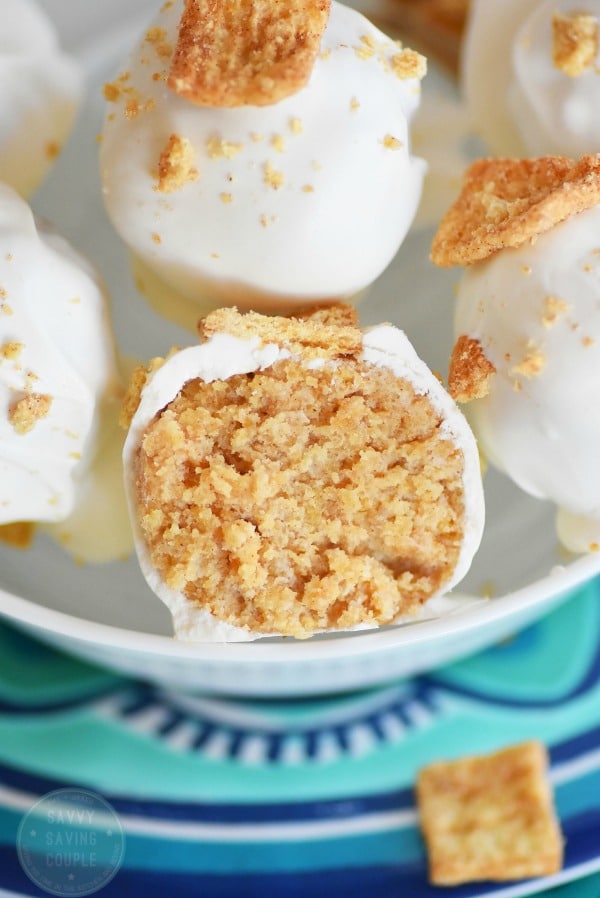 With just four ingredients, two of which you most likely have on hand, these cinnamon cereal truffles, a cereal treatfrom Jared and Amy of Savvy Saving Couple, are ready in just 15 minutes. They are a simple treat that your whole family will love, and they have that "can't eat just one" quality that means you'll probably have to make more than one batch.
Visit Savvy Saving Couple for the recipe.
Golden Graham S'mores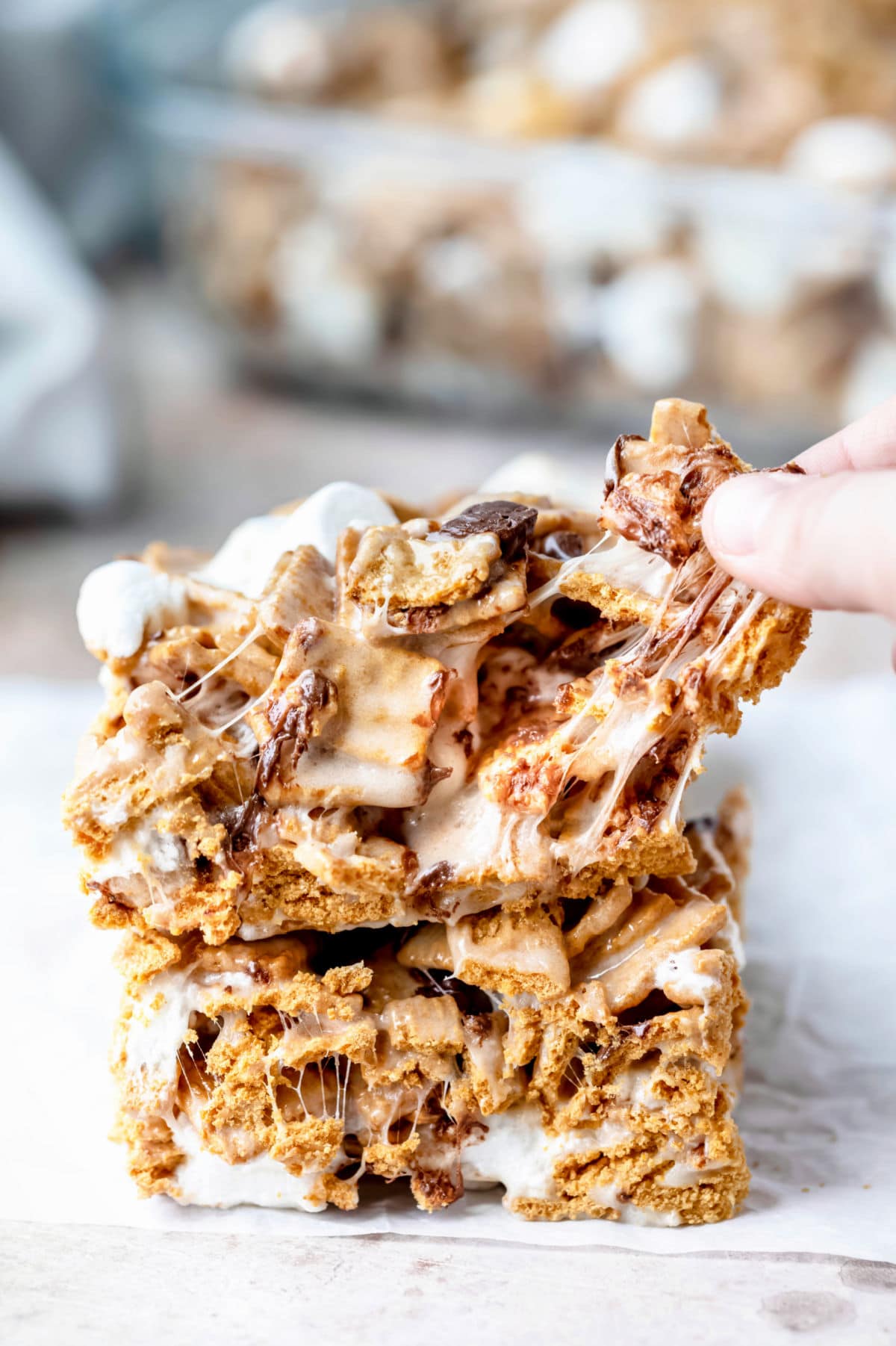 S'more's lover, Kate of I Heart Eating, brings us this Golden Graham S'mores recipe. It's another delicious dessert ready in just 15 minutes. We are suckers for the near-infinite variations of s'mores. However, these s'mores treats see tasty Golden Grahams cereal taking the central stage instead of Rice Krispies or Cocoa Puffs, which is better because you make campfire s'mores with graham crackers, marshmallows and chocolate bars. These sweets will keep for up to four days but don't expect them to last that long. The whole family will love them. 😉
Visit I Heart Eating for the recipe.
Fruity Pebbles Milkshake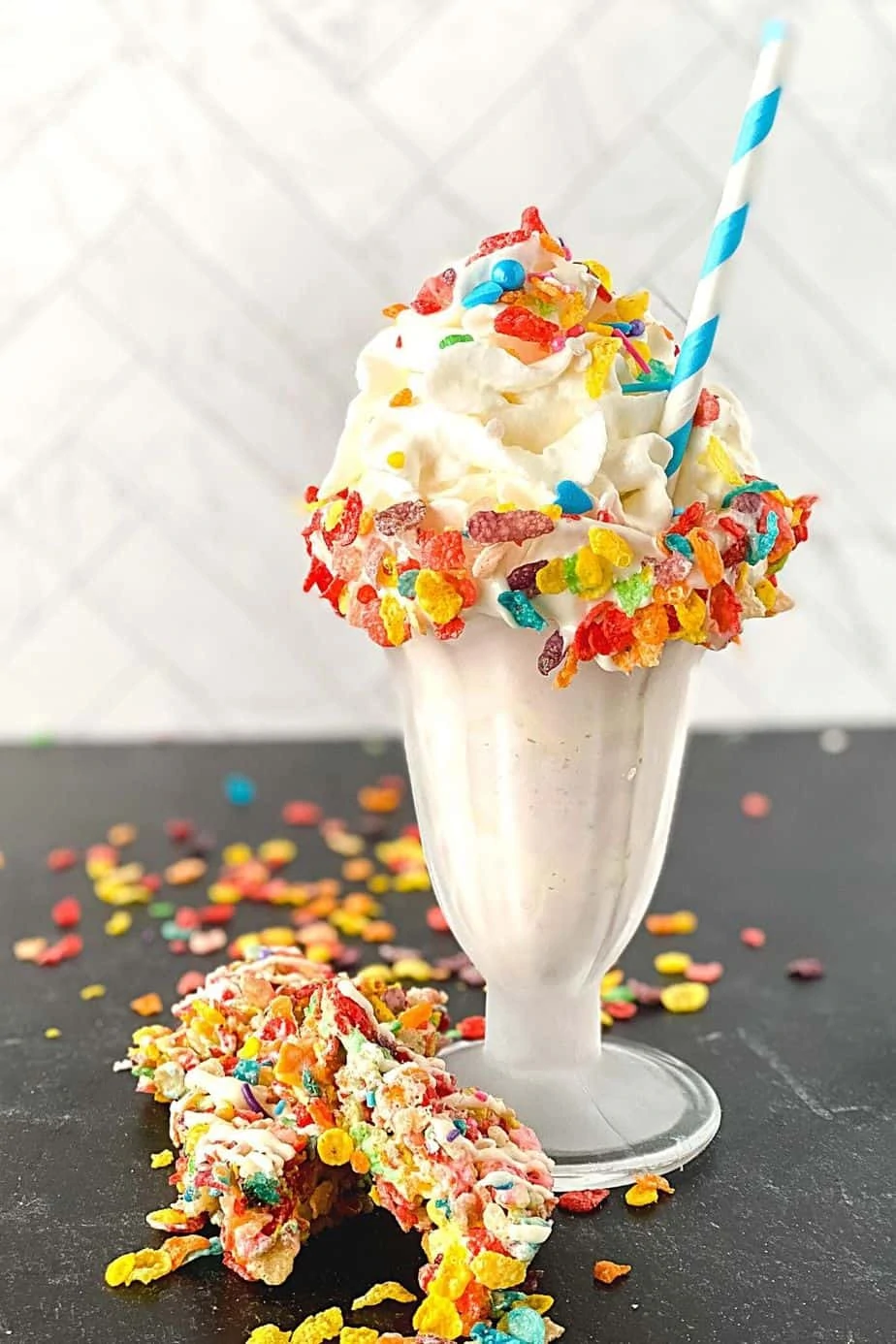 The Farm Girl Gabs, "who says Fruity Pebbles are just for breakfast?" Well, Melissa, we indeed share that sentiment. But this delicious treat has us asking, "who says you have to wait until after dinner to eat dessert?" This easy no bake dessert is made with just a few ingredients thrown into a blender and a glass rimmed with even more colorful cereal, this milkshake is a flashback to childhood curiosity.
Visit The Farm Girl Gabs for the recipe.
Fruity Pebble Sweet Rolls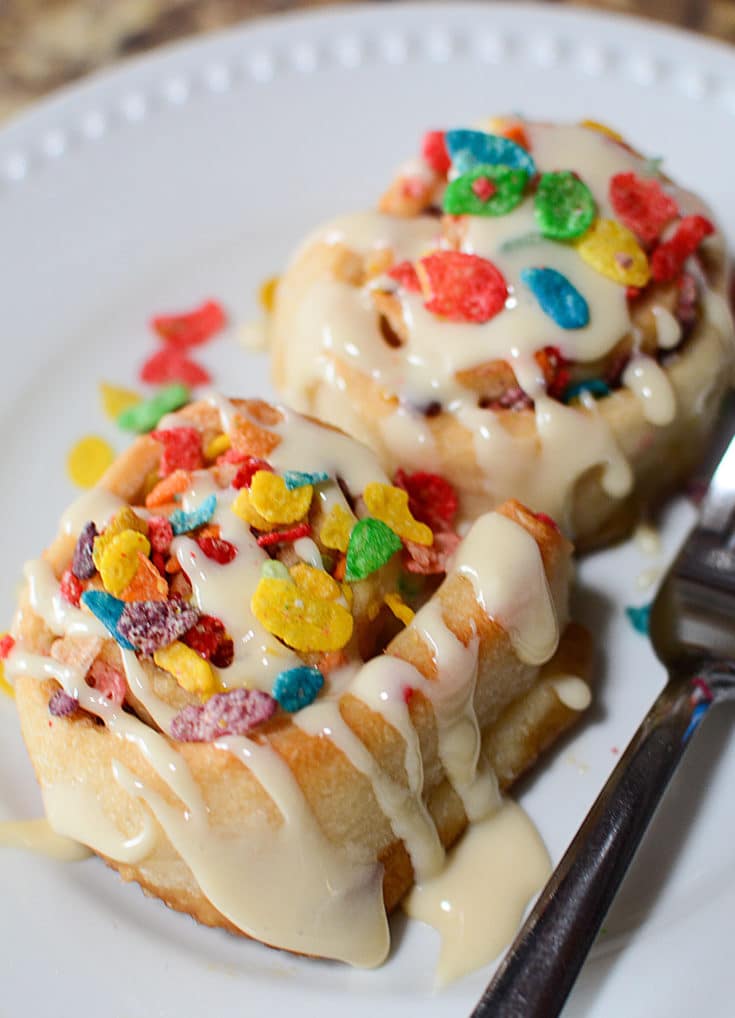 If you happen to be both a fan of Fruity Pebbles and cinnamon rolls like Joanne of The Salty Pot, you will say "I do" to this kid-in-you-inspired dessert union. Joanne took classic cinnamon rolls and then sprinkled on loads of Fruity Pebbles for a creative hybrid treat sure to bring out the twelve-year-old in all of us. So, with this cereal dessert recipe, gather your friends, bring some milk and reminisce about the good ole times.
Visit The Salty Pot for the recipe.
Cereal and Milk Cream Puffs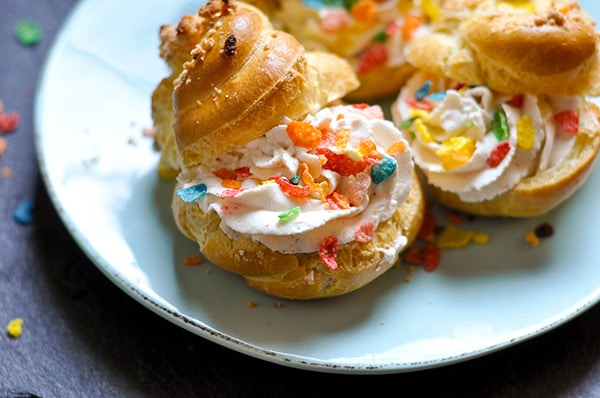 These cereal and milk cream puffs from Erica of The Sweet And Sour Baker are her fun yet sumptuous take on cereal milk. Don't you remember the good-til-the-last-drop leftover milk from your morning cereal? It's that taste in cream puff form. And while the more traditional cream puffs have a stiffer filling, this version is light and airy. In addition to a trip down memory lane, you'll also learn how to make an impressive French choux (pronounced shoo) pastry dough.
Visit The Sweet And Sour Baker for the recipe.
Cornflake Jam Tart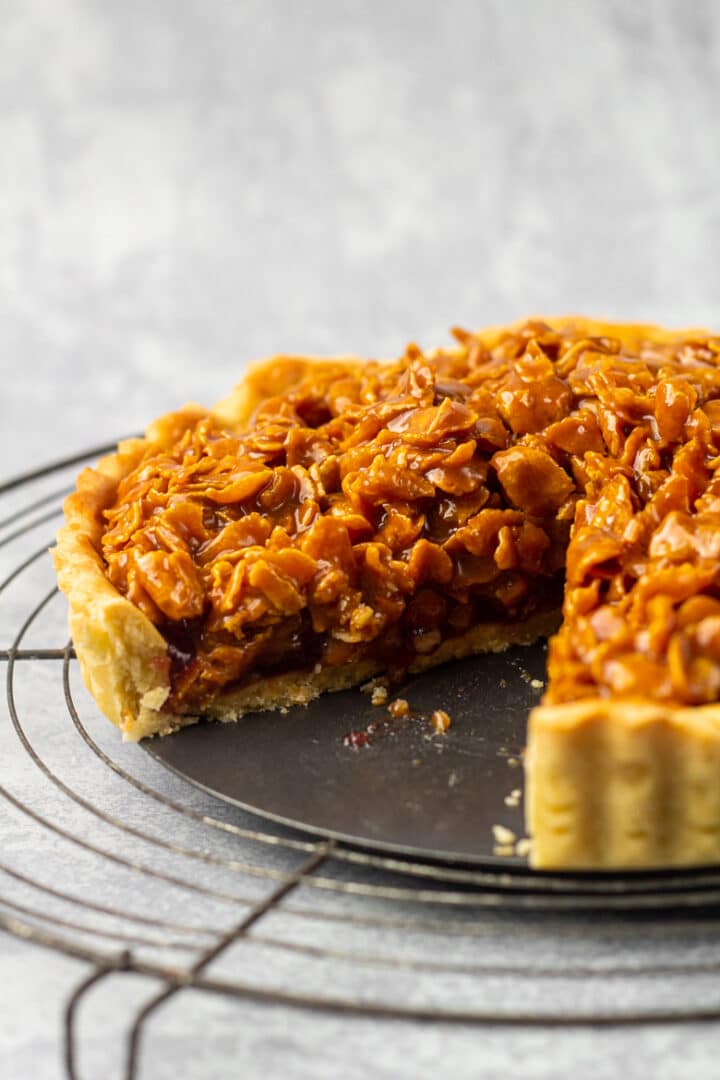 Ah yes, from meatloaf to coating fried chicken, the humble cornflake does it all. Still, this Cornflake Jam Tart from Marsha of Marsha's Baking Addiction is a surprisingly easy recipe. It starts with her buttery and flaky "perfect pie crust," then there's a loving layer of raspberry jam, and finally a healthy dose of caramelized corn flakes. Finally, it ends with bite after bite of us asking how she conjured up this rich and dreamy tart in the first place.
Visit Marsha's Baking Addiction for the recipe.
Cereal Macarons With Cereal Milk Frosting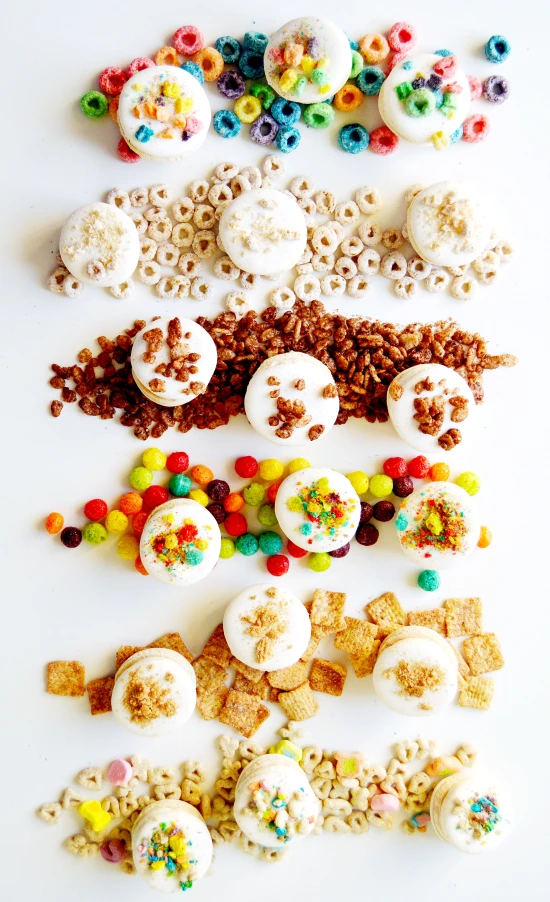 If you, like us, have been putting off learning how to make macarons, now is the time. Let cereal lover, Gisselle of The Busy Spatula, show you how to make these fun cereal milk macarons. You will find an assortment of these French sandwich cookies on her page, including Froot Loops, Lucky Charms, Apple Jacks, and more. So make them with one of your favorite cereals, or choose as many as she did for a treat the kid in you will adore.
Visit The Busy Spatula for the recipe.
Salted Caramel Rice Krispie Treats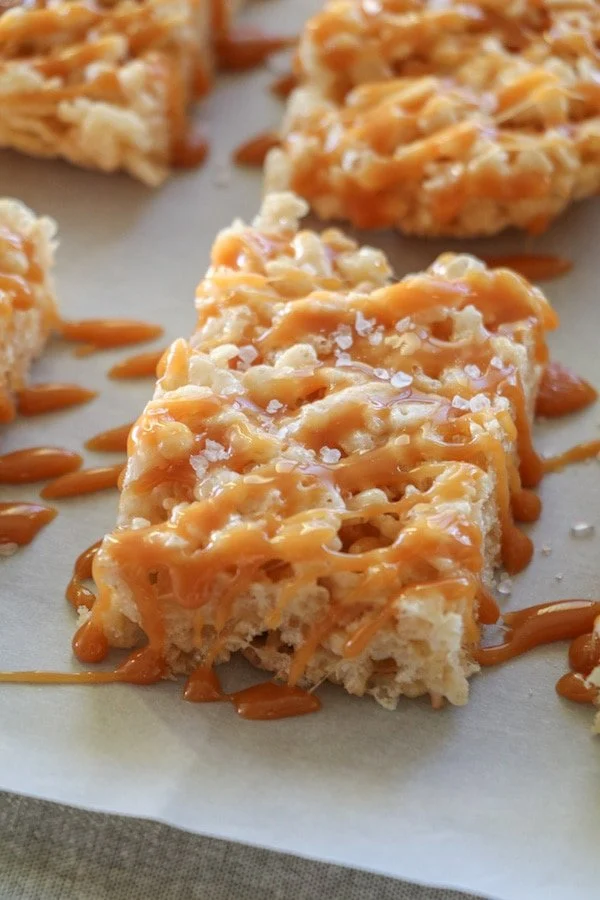 We love salted caramel anything, so when we came across these gourmet salted caramel Rice Krispies treats from Lauren of Lauren's Latest, she had our full attention! It's a 20-minute recipe that makes enough treats for a basketball team or a handful of hungry teens. And if you're a Rice Krispie fan, you just have to check out her cereal dessert recipes like Biscoff Rice Krispie Treats and Maple Bacon Rice Krispie Treats.
Visit Laurens Latest for the recipe.
Froot Loop Cereal Milk Cake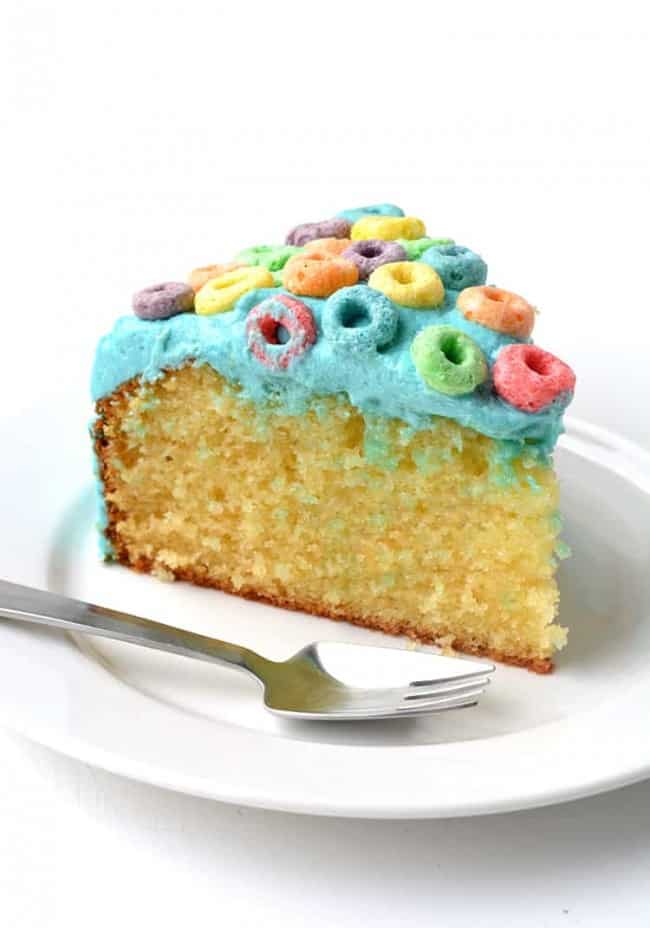 This Froot Loop cereal milk cake recipe from Jess of Sweetest Menu features a yellow cake made with cereal milk, blue frosting, and decorated with crunchy Froot Loops. It's quite a striking and enviable sight. We wouldn't blame you for calling Mom and asking in a sad tone, "why didn't you ever put Froot Loops on top of my cake?" Seriously, what seven-year-old wouldn't light up seeing this novel and enticing cake.
Visit Sweetest Menu for the recipe.
Cap'n Crunch Pancake Muffins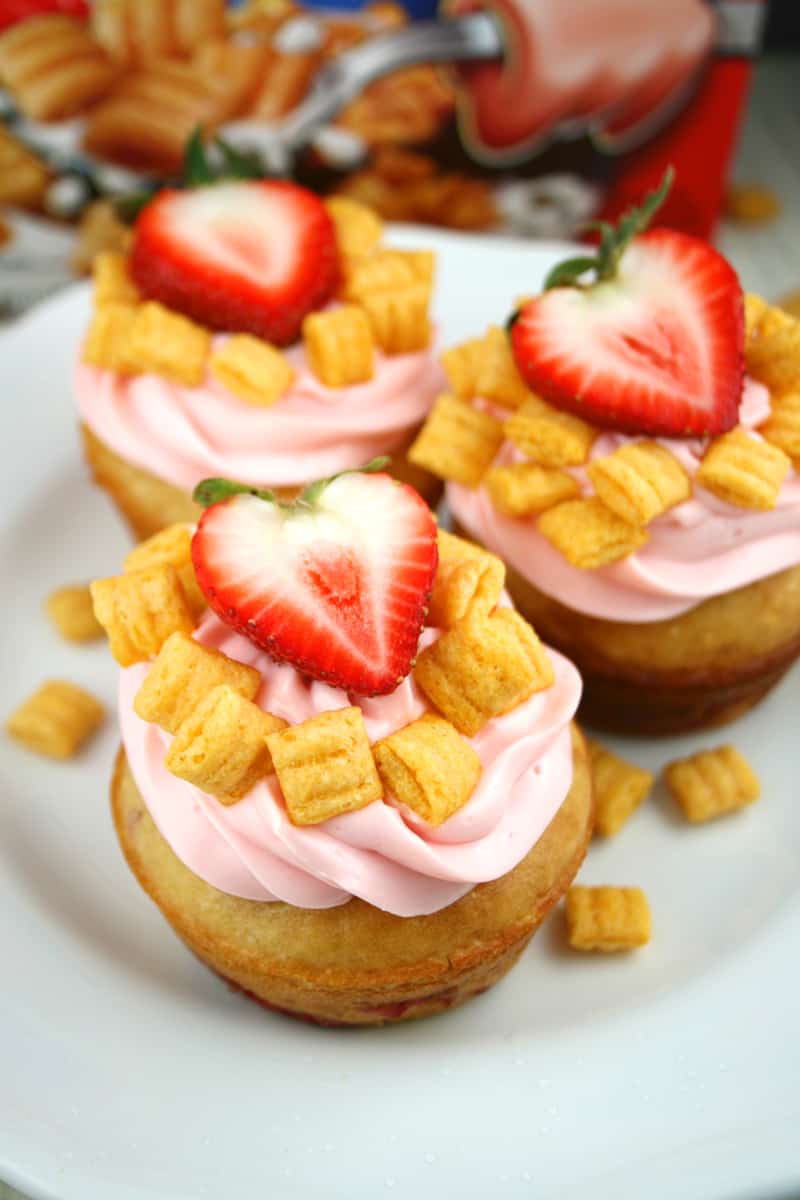 Lise of Mom Loves Baking imagined these Cap'n Crunch pancake muffins, a delicious portable breakfast. But it could double as a dessert, and the kiddos certainly won't complain. But first, what is a pancake muffin? It's a muffin made with pancake batter. Lise's version has cereal mixed in. Then there's more cereal on top of the frosting, and finally, she topped it with a strawberry for a nutritious garnish.
Visit Mom Loves Baking for the recipe.
Lemon Meringue Rice Krispie Treats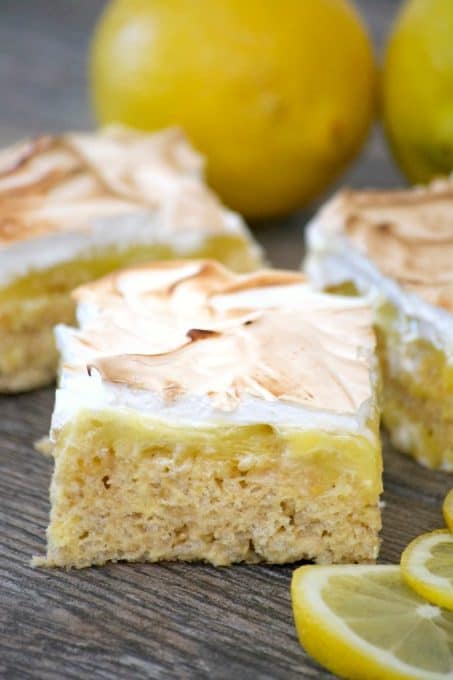 Lynne of 365 Days of Baking shared this lemon meringue Rice Krispie treats recipe so enthusiastically that it's downright contagious. So consider this a warning! Fans of cereal treats and lemon meringue pie may find that the call of their sweet tooth is a little too strong to resist this one. And how could they?
These no-bake treats are topped with tangy-sweet lemon curd and torched marshmallows. Yummy!
Visit 365 Days Of Baking for the recipe.
Christmas Wreath Cookies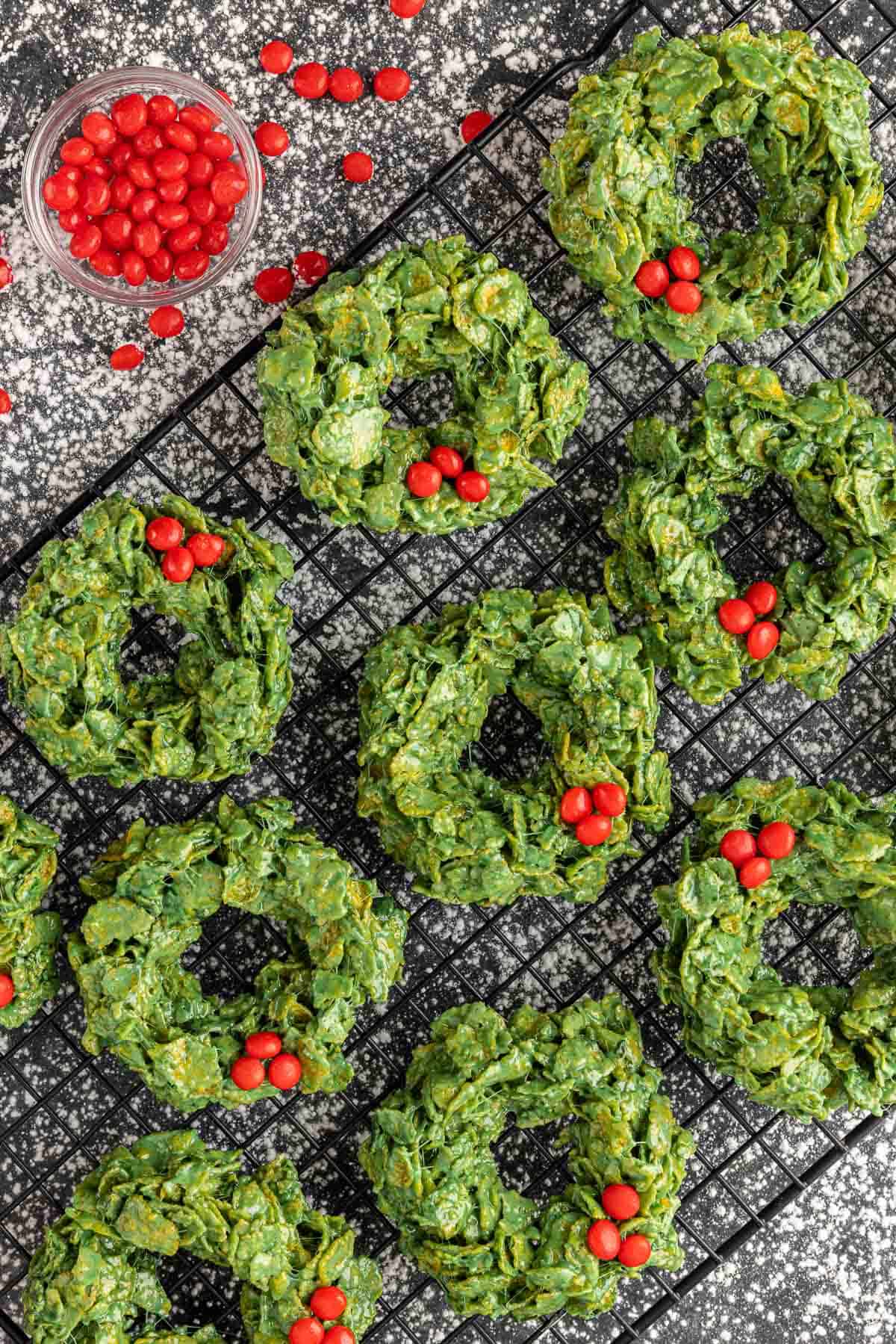 There's nothing quite like Christmas! So we had to include this cute classical wreath cookies recipe by Kat and Melinda of Homemade Interest on this list. It's a tasty and appealing recipe made with corn flakes and marshmallows, including appropriate substitutions and variations. It's sure to bring a smile to children of all ages. Furthermore, you can rally the troops kids to help. They'll have fun personalizing their own little cookies.
Visit Homemade Interest for the recipe.
Cookie Cereal Marshmallow Treats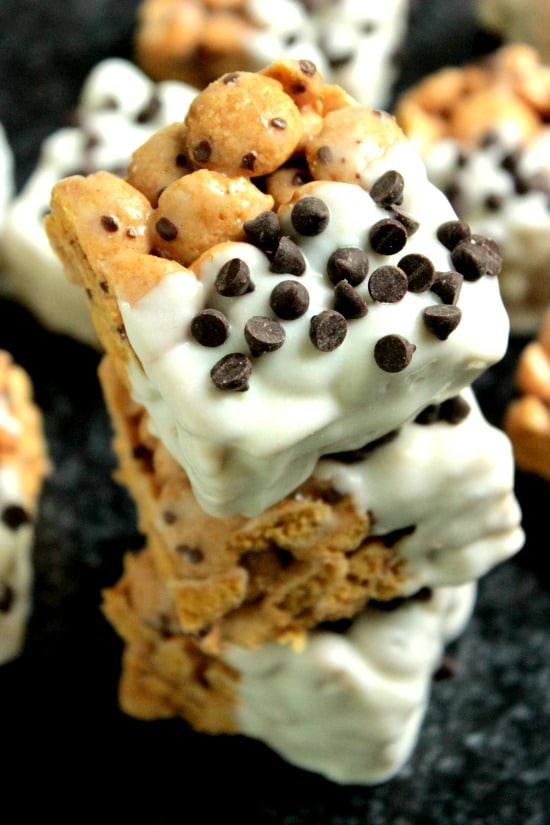 We're you one of the kids that loved that cookie cereal with the obsessed dog? Don't worry. You're not alone. And now, with this cookie cereal marshmallow treats recipe from Angie of Big Bear's Wife, you can relive the fun in cereal dessert form. Like rice cereal treats, they start with butter, marshmallow, and cereal. But Angie ups the ante by dipping them in melted white chocolate candy and mini milk chocolate chips.
Visit Big Bear's Wife for the recipe.
Thin Mint Cookie Muddy Buddies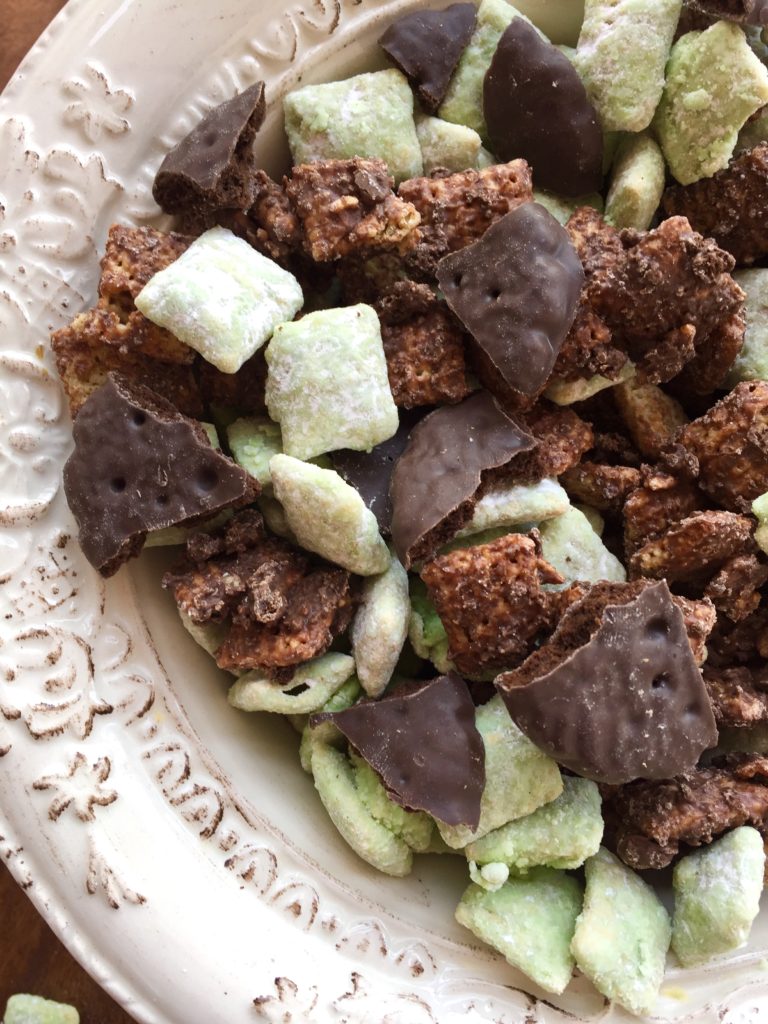 Are you a Thin Mint Girl Scout Cookie maniac? Well, this thin mint cookie muddy buddies recipe from Kathryn's Kitchen Blog will blow your mind! It's a Chex (rice checkerboard cereal) base cereal treat with lots of Thin Mint Girl Scout cookie pieces and more. The best part is that in just 20 minutes, you can be chowing down on this fun-to-eat, simple dessert that's easy to put together.
Visit Kathryns Kitchen Blog for the recipe.
Fruity Pebbles Cookies With White Chocolate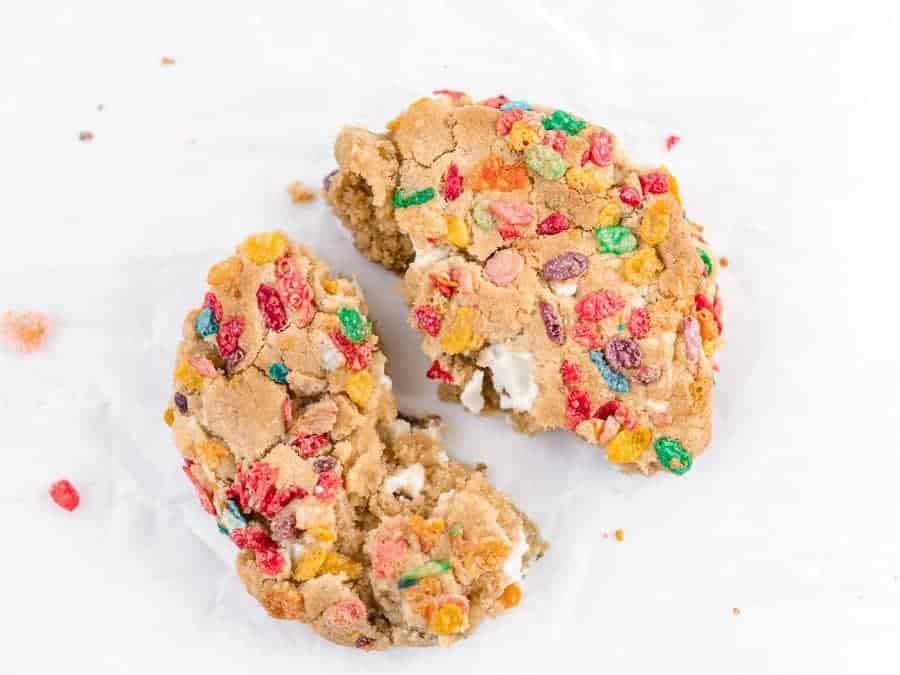 Kickass Baker Kim invented these Fruity Pebble with white chocolate cookies with a bit of help in the inspiration department from the legendary Christina Tosi (of the critically acclaimed Milk Bar bakery). These delectable treats feature the cereal every kid wants, cereal milk, and white chocolate. They look downright mouthwatering, so don't be surprised if they leapfrog other recipes on your "must make" list.
Visit Kickass Baker for the recipe.
FAQ
What supplies do you need for cereal desserts?
Many cereal treats use the same supplies, like a large bowl, cooking spray, parchment paper, plastic wrap, wax paper, and butter or shortening prepared pan.
What are some common ingredients used in cereal desserts?
Some common cereal dessert ingredients are unsalted butter, miniature marshmallows, vanilla extract, light corn syrup, milk chocolate chips, and peanut butter.
What are some unexpected reasons to make cereal treats?
Cereal desserts are one of the most delicious ways to use up leftover cereal and reduce food waste.
What's Your Favorite Sweet Cereal Treat??
Is it the fruity pebble milkshake, those scrumptious lemon meringue rice cereal treats, or something else entirely? Let us know in the comments.
Oh, and if you really enjoyed these recipes, don't forget to check out our cold dessert recipes, and mini bundt cake recipes post.