Get ready to explore 10 Savory Scones Recipes, a totally different experience to sweet scones. So now you can enjoy the craveable, buttery, flakiness of the well-regarded breakfast food but with a salty twist.
For example, you've got Ham and Cheese, Smoked Gouda and Chives, Spanakopita Scones, and more. So, now there's only one question; are you ready to discover the tasty?
Let's dive in!
For other breakfast options, see this list of make ahead breakfast sandwiches.
Ham And Cheese Scones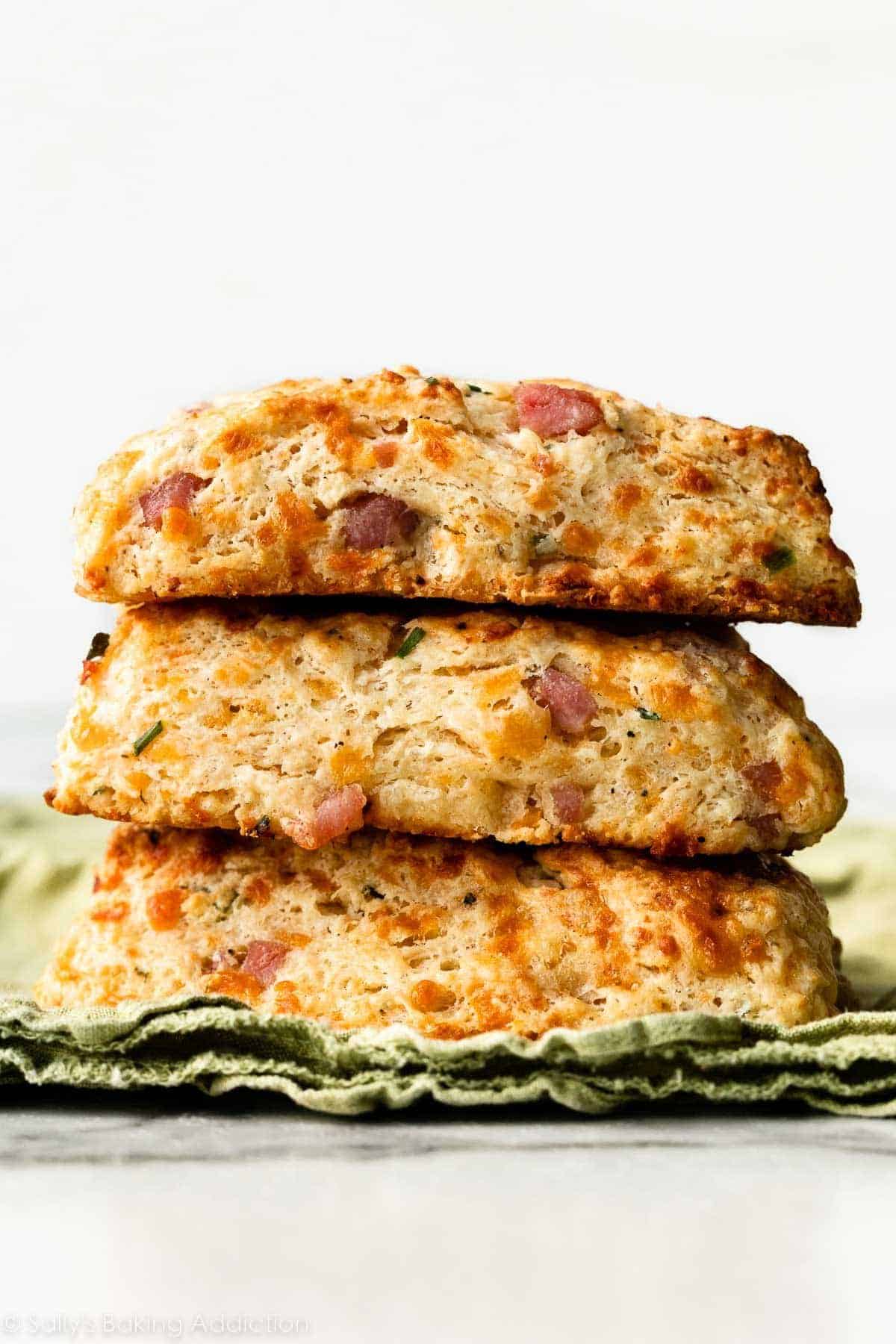 With these Ham and Cheese Scones by Sally's Baking Addiction, the super-star cookbook author and food blogger takes a left turn from tradional-ville to savory town. You'll be delighted by the meat, cheeses, chives, and flaky, rich, buttery, rather than dry texture. So isn't it obvious? This one is a must-try.
Apple Cheddar Scones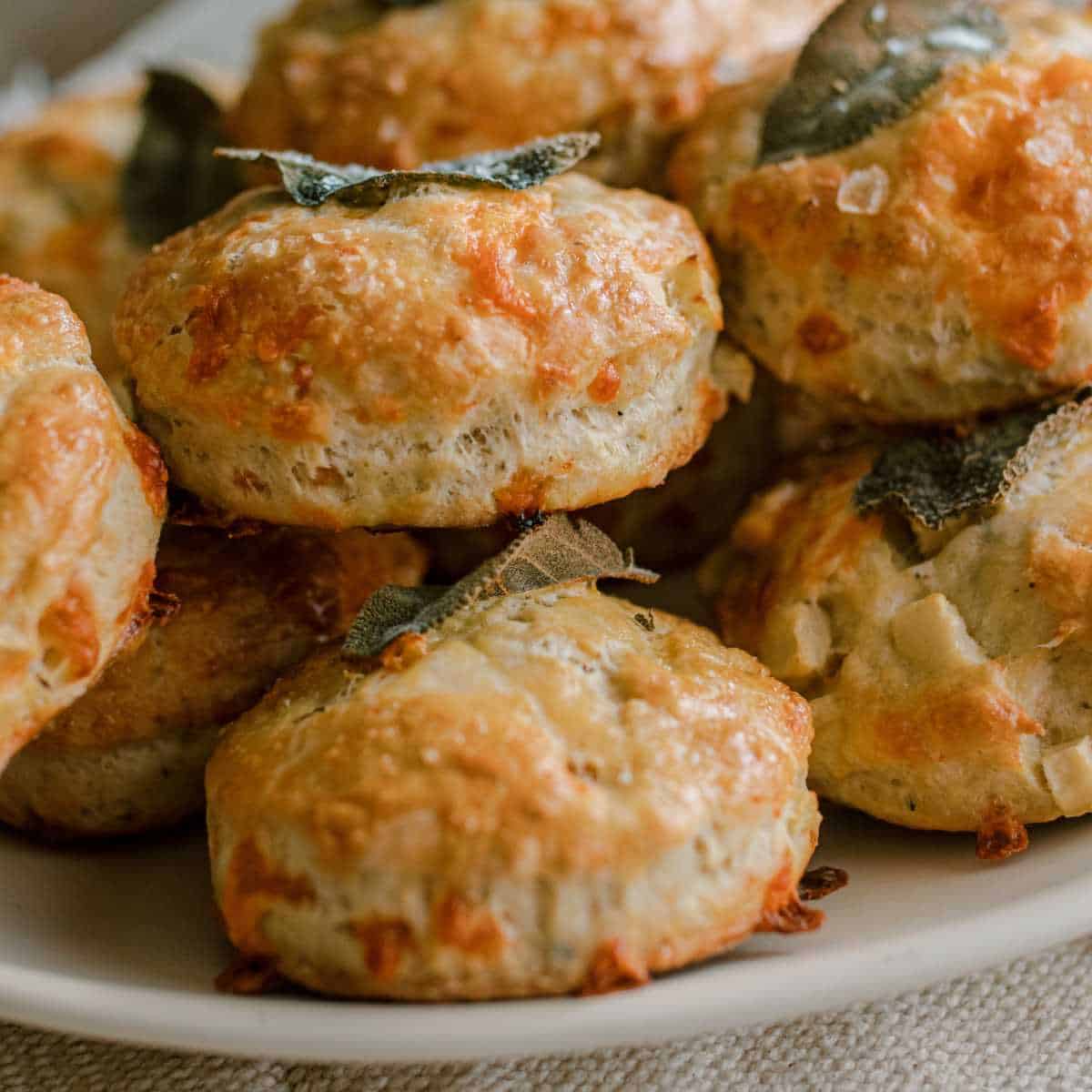 While these Apple Cheddar Scones by Life Around The Table are a bit sweet, the cheese and herbs balance it out, which makes it a nice pairing for your favorite fall soup. So you're in good hands as Christy shows you the ropes with an appetizing recipe that takes just 20 minutes to prepare (and another 20 minutes to bake).
Parmesan Pumpkin Scones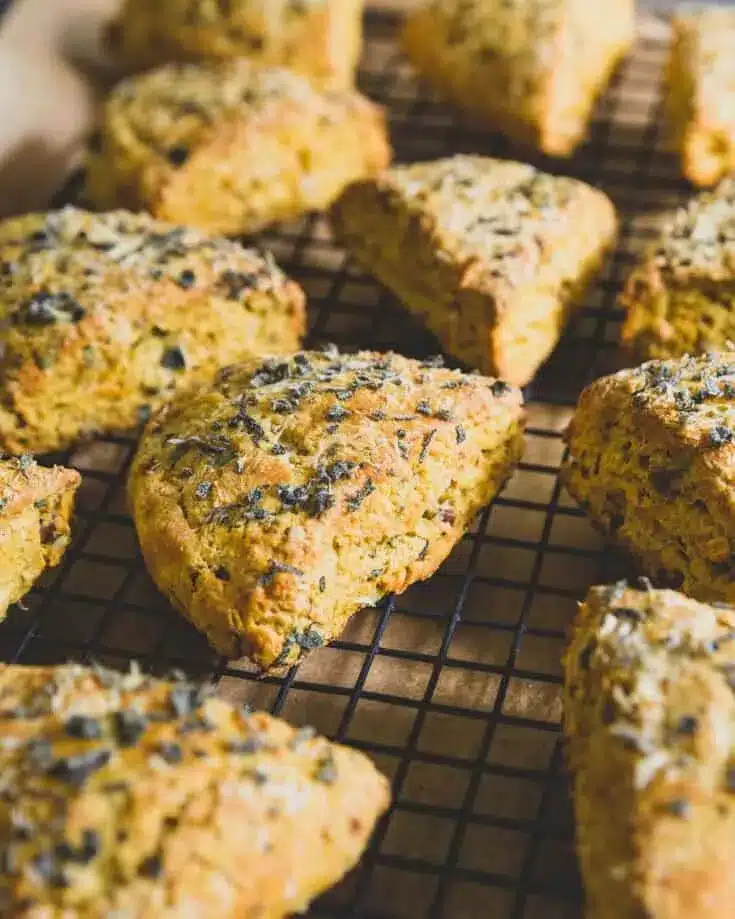 For Gina, savory scones like these Parmesan Pumpkin Scones come in first place when Running To The Kitchen. She'll take them over biscuits or bread any day of the week. Let us learn why that is. So, pumpkin and parmesan are just the beginning. There are also pecans, pepitas (similar to pumpkin seeds), dried herbs, and cream. Okay, we get it.
Smoked Gouda And Chives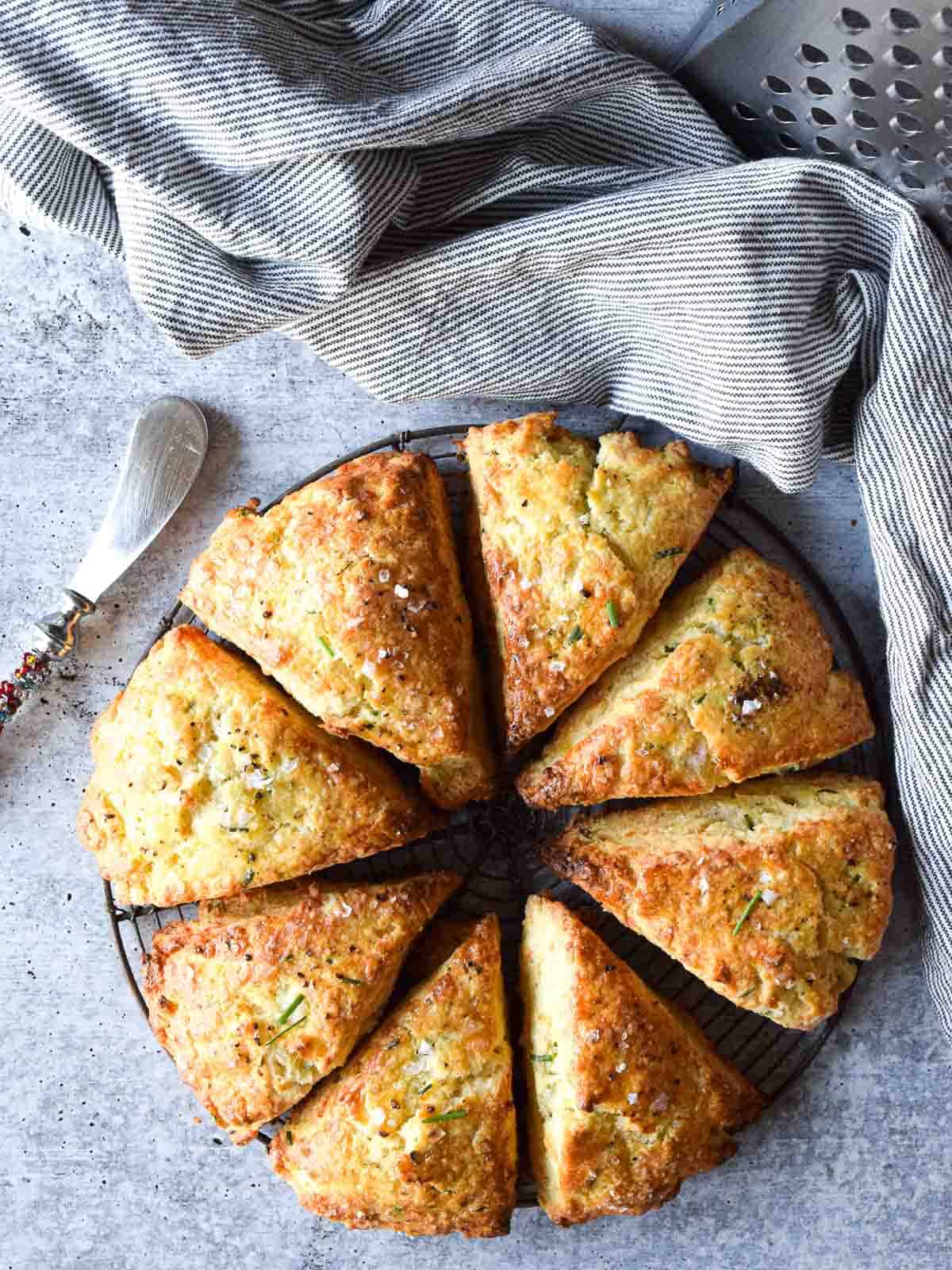 Dionysus himself must have created smoked gouda because it's a perfect food. It doesn't need any help to be good. So when we came across these Smoked Gouda And Chive Scones by Jennifer of Brunch & Batter, we knew they would be a must-try. With tips, she guides you through a savory, herby, and cheesy recipe, sure to compliment your favorite dinner salad.
Masala Scones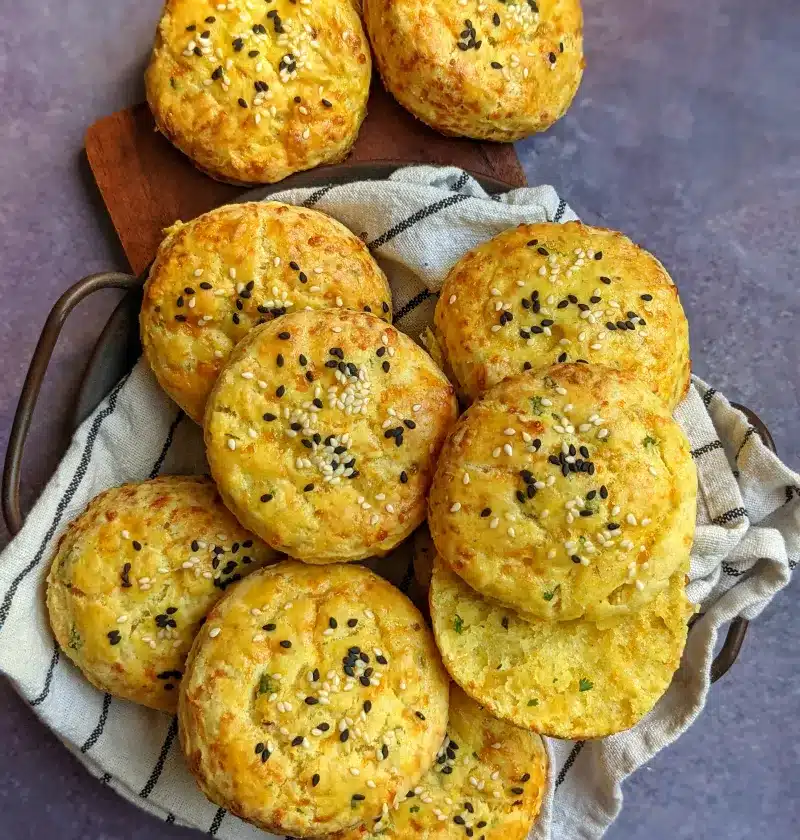 Sure, these Masala Scones from Blend Of Spices By Sara are shaped like a British biscuit rather than the customary wedges, but that doesn't make them any less desirable. Instead, it's a fusion recipe of sorts that combines the traditional Scottish baked good with Indian flavors like turmeric, garam masala, garlic, chili flakes, and finely chopped cilantro.
Bacon Beer Scones with Smoked Cheddar and Caramelized Onions
This Bacon Beer Scones with Smoked Cheddar and Caramelized Onions recipe come from award-winning cookbook author Alanna of Bojon Gourmet. The standout ingredients are right in the long but dreamy title. So are you drooling yet? I mean, we would've been happy with just the bacon and cheese, but she took it up a notch with the delectable caramelized onions and lager. Yum!
Spanakopita Scones
Full of spinach, garlic, lemon zest, feta, and more, flavorful is the best word to describe these Spanikopita Scones by Food 52's Emma. She took inspiration from traditional Mediterranean food. But unlike the phyllo dough version, for this one, all the ingredients are baked in instead of a filling.
Apricot & Rosemary Scones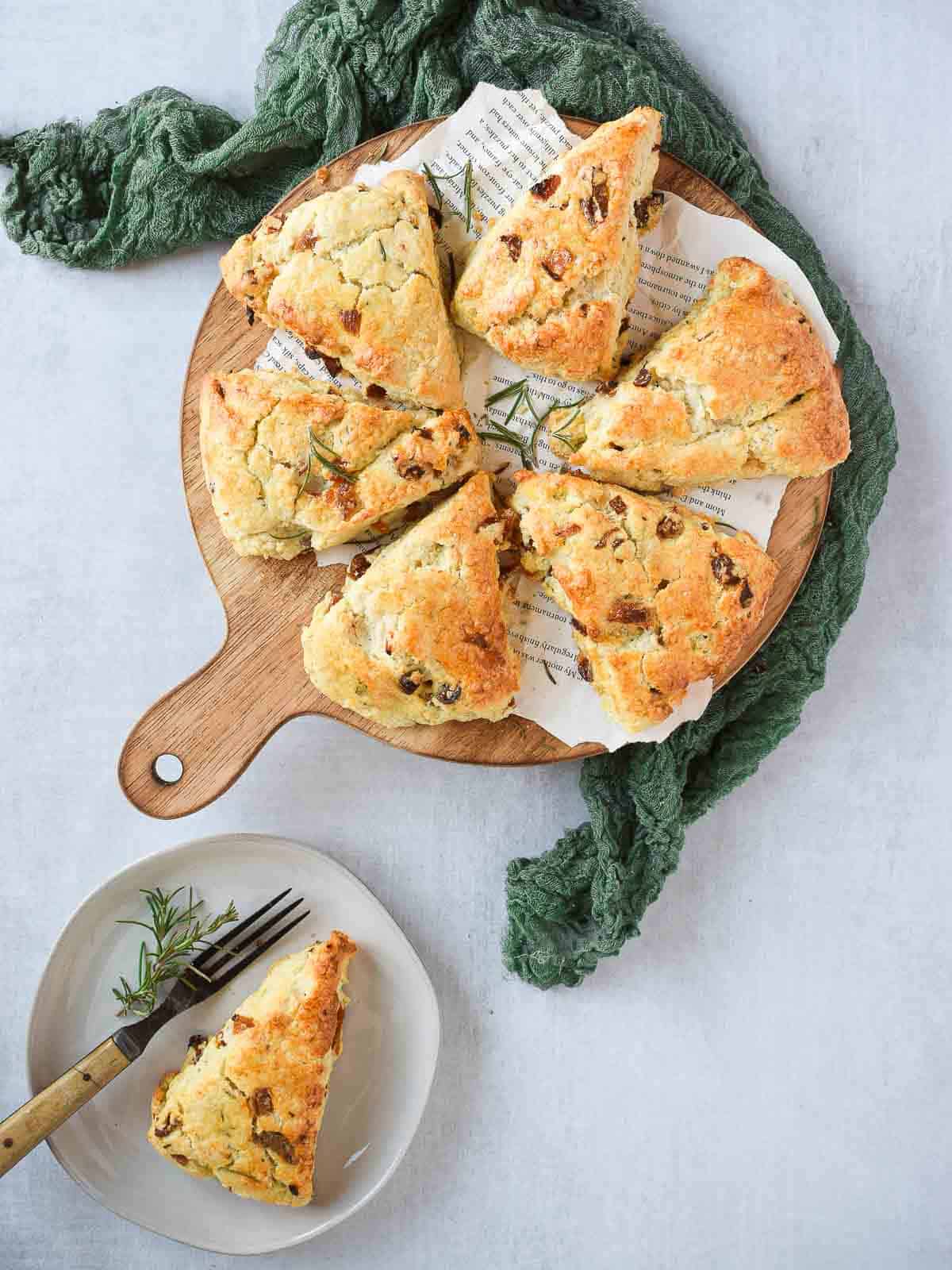 These Apricot & Rosemary Scones are another special offering from Brunch and Batter. The combination of sweet dried apricots balanced by fresh rosemary makes for a unique pairing teetering on the edge of sweet and salty. They're buttery, flaky, and an ideal cheese or snack board addition.
Jalapeno Cheddar Scones
When they're gone, you'll dream about these bright orange and green Jalapeno Cheddar Scones by A Seasoned Greeting. And while they are not spicy, the strong flavor of jalapenos and sharp cheddar cheese shines through. It gets better. When they're ready, serve them with honey for a delicious contrast.
Double Cheese Scones
The Ultimate Cheese Scones is better than your ordinary cheddar-dotted variety. Rather, this version has twice the fromage (cheese for those who didn't take French in high school). So you get the best of both worlds; sharp cheddar combined with melty pools of mozzarella in a recipe Paula spent years getting just right. We should consider ourselves lucky because she did the hard work and provided her Vintage Kitchen Notes.
Which Savory Scones Recipe Makes Your Shortlist?
You've seen a number of delicious scones recipes like the Jalapeno Cheddar Scones, Masala Scones, and more. Now it's time to choose. So, which one will you make first? We'd love to know!
For other delicious recipes to fuel your morning, see this list of high protein breakfast recipes.