You'll be so happy to discover this excellent list of 19 air fryer chicken recipes. The air fryer yields tender, juicy chicken while crisping up the skin. And here is another huge benefit. Your air fryer won't heat your house like the oven will.
But what kind of recipes can you expect?
You'll be happy to find air fryer chicken wings. They're nearly as crispy as deep-fried. You'll also discover chicken and shrimp pasta. Oh, and there's even a chicken recipe with a crispy parmesan coating. Wowza!
So, are you ready to explore?
Let's dive in!
Don't miss our instant pot chicken recipes and this list of chicken thighs.
Crispy Air Fryer Buffalo Chicken Wings
Boston has the cream pie, and Philadelphia has the cheesesteak, but today we're talking about Buffalo, New York, and they represent wings. Buffalo wings are required eats for game days, parties, and other gatherings. And you'll be delighted to learn about these four-ingredient air fryer Buffalo chicken wings from Killing Thyme. It's the same great taste minus all that mess.
Visit Killing Thyme for the recipe.
Air Fryer Chicken Wings Baking Powder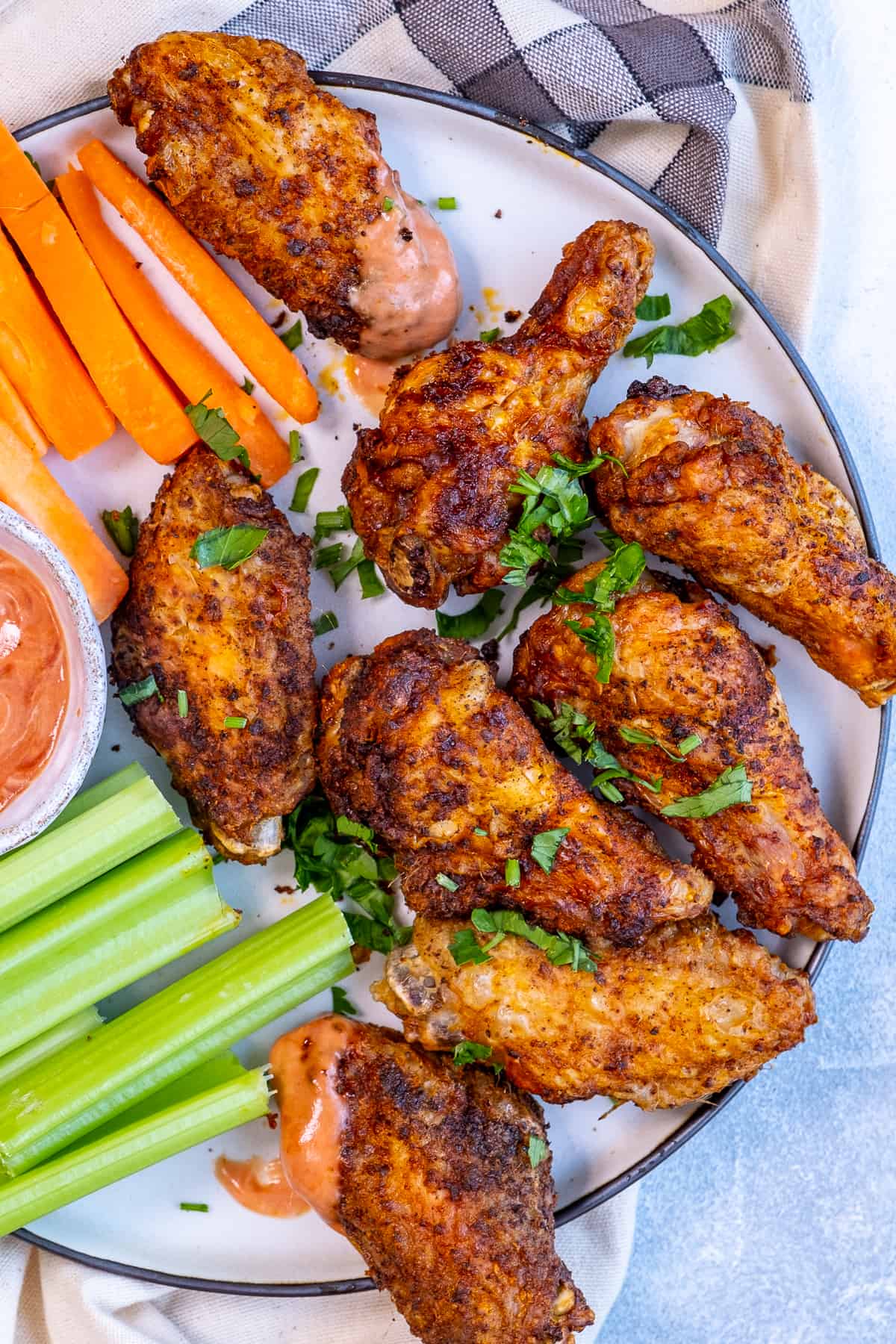 Without lots of hot oil, mess and hassle, it's impossible to make crispy chicken wings, right? Well, that's not entirely true. With these four-ingredient air fryer chicken wings with baking powder from Give Recipe, you can enjoy the crispy crunchiness of fried chicken but without all the headaches.
Visit Give Recipe for the recipe.
Air Fryer Tandoori Chicken Recipe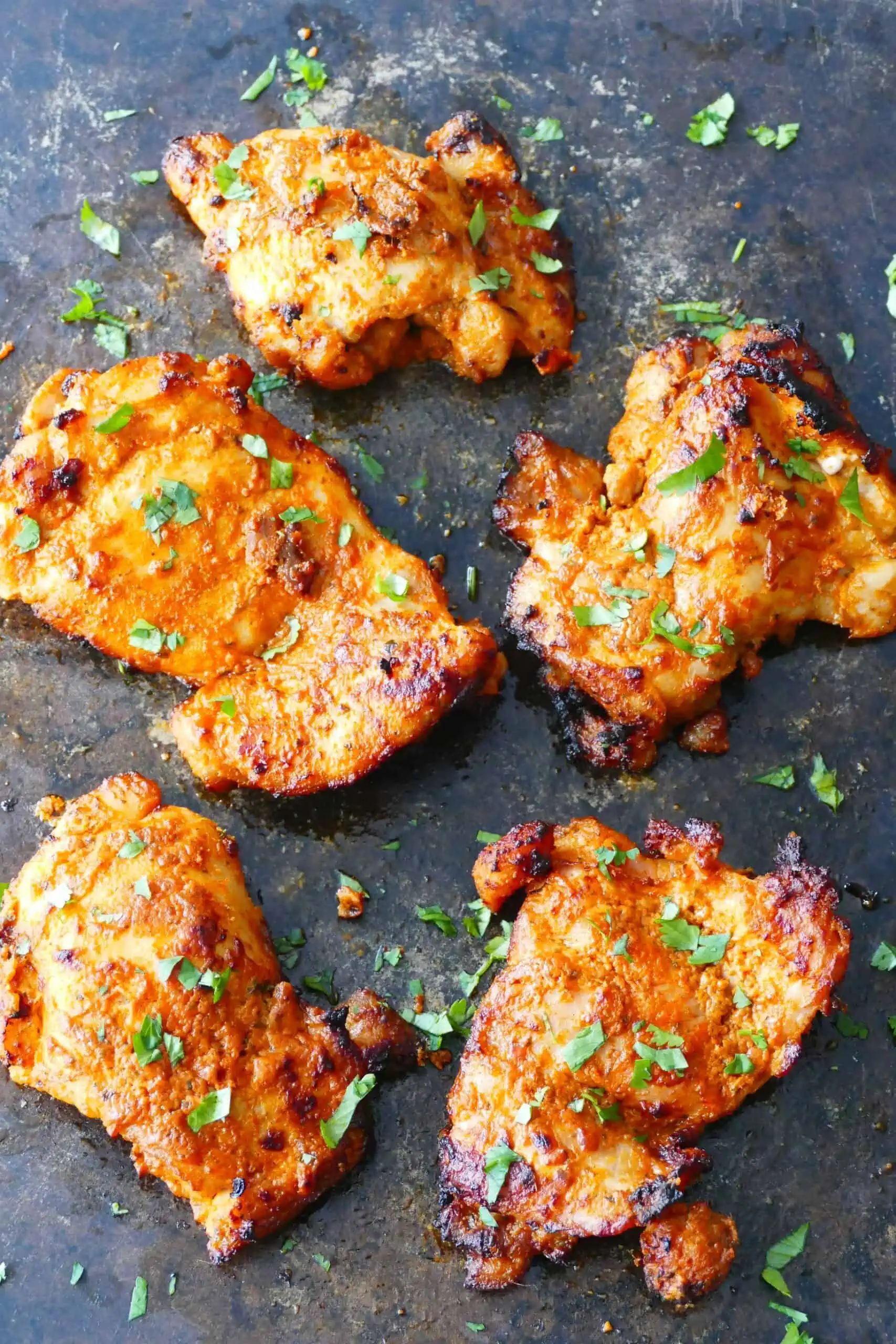 Are you ready to spice up dinner in a major way? How about tonight? Check out this tandoori chicken recipe by Neena of Paint The Kitchen Red! It starts with a flavorful marinade which is a tantalizing mix of yogurt, garlic, ginger, fenugreek, and other spices. This dish is sure to tantalize your taste buds. Next, cook the chicken in the air fryer to perfection in the oven or air fryer for a tender and juicy, exotic chicken dinner. Finally, serve it with your favorite sides for an easy and delicious dinner that everyone will love.
Visit Paint The Kitchen Red for the recipe.
Air Fryer Chicken Drumsticks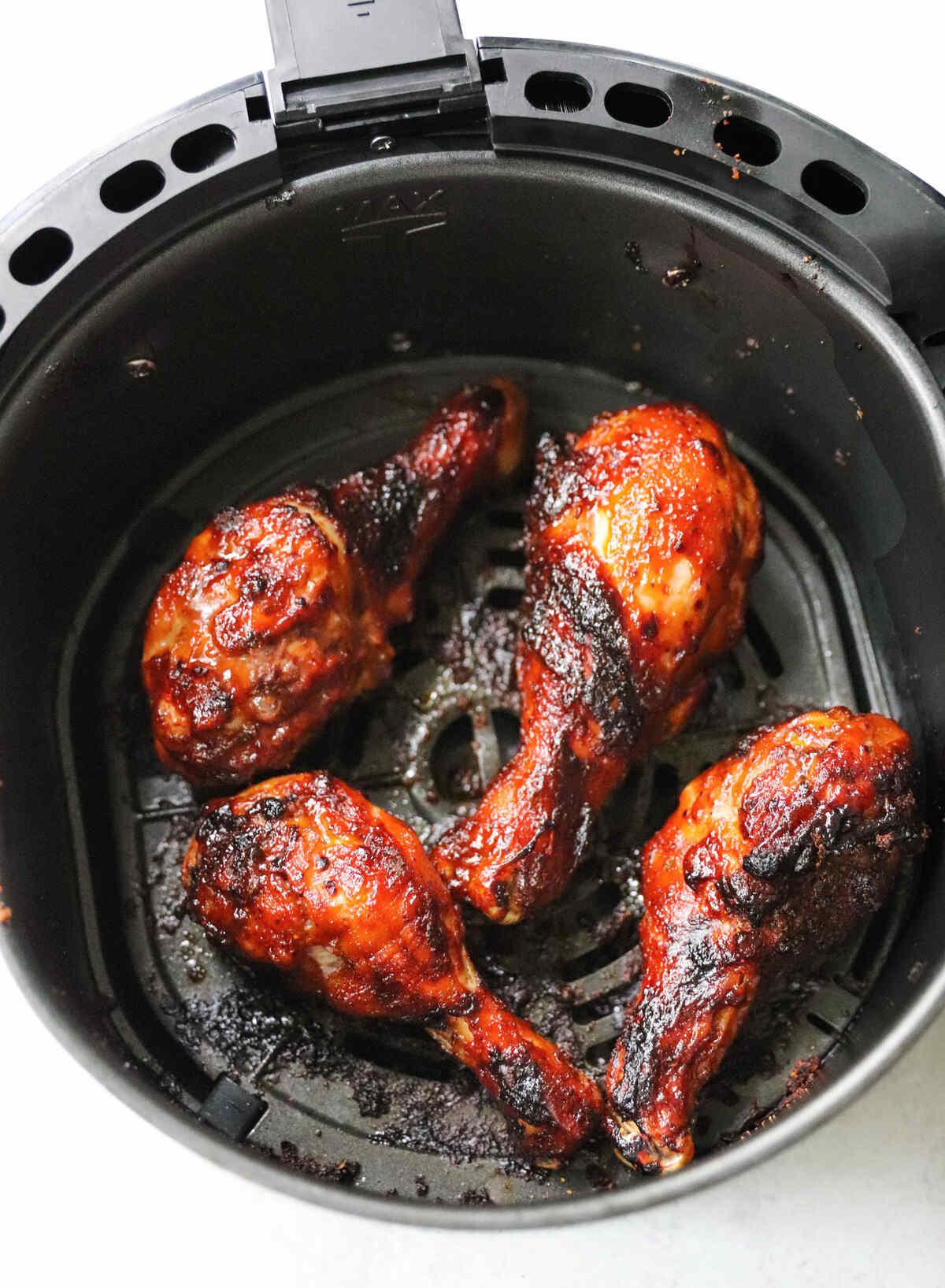 Air fryer chicken drumsticks are another four-ingredient air fryer chicken recipe. This time coming from Laura, the Cook At Home Mom. Let's see, they come out sticky and so deliciously crispy, but on the inside, they're tender and moist. Oh, but it gets better. Your new favorite go-to chicken recipe takes just 25 minutes to make.
Visit Cook At Home Mom for the recipe.
Air Fryer Chicken Nuggets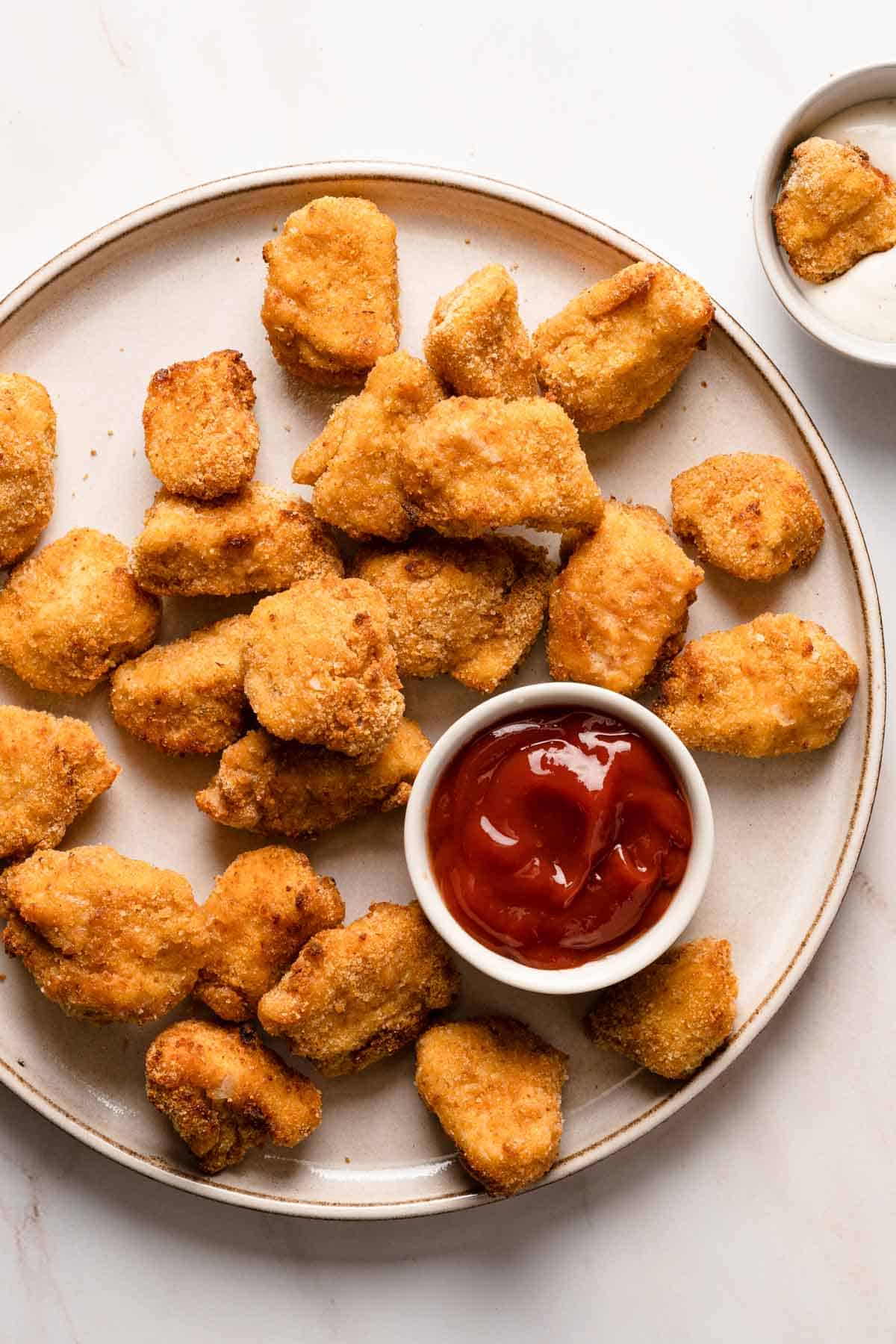 Don't get us wrong, store-bought chicken nuggets have their place, but after you try this from-scratch chicken nugget recipe from Kate of Nibble & Dine, there's no going back. They're flavorful with paprika, onion powder, and garlic powder with a crispy bread coating. Plus, you can have the munchable afterschool favorite on the table in just 25 minutes.
Visit Nibble & Dine for the recipe.
Air Fryer Chicken Tenders (No Breading) 5 Ways!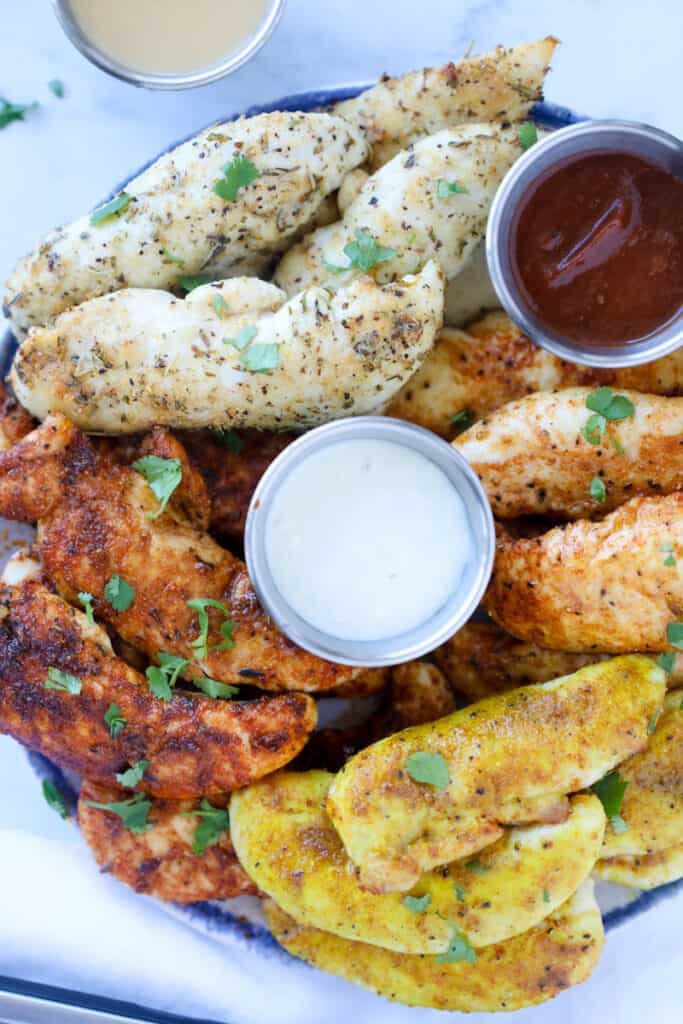 Breaded chicken nuggets are great, and we'd likely choose them over the unbreaded variety more times than not. However, with these naked air fryer chicken tenders, Jen of Whole Lotta Yum makes a tempting offer with five different seasoning options, including Cajun and curry. They're gluten-free, quick, and sure to be a main dish favorite.
Visit Whole Lotta Yum for the recipe.
Air Fryer Chicken And Shrimp Alfredo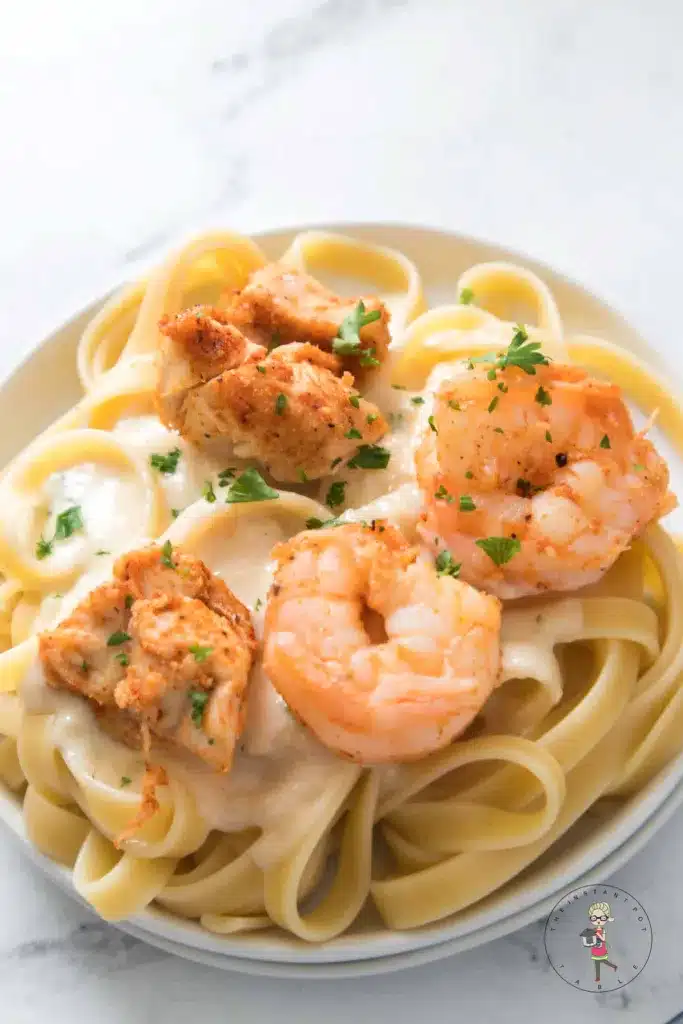 With about ten ingredients and 30 minutes, you can have this mouthwatering air fryer chicken and shrimp alfredo from The Instant Pot Table ready to eat. You'll learn how to make the sauce from scratch while the chicken and shrimp turn out tender and delectable.
Visit The Instant Pot Table for the recipe.
Easy Mexican Air Fryer Chicken Leg Quarters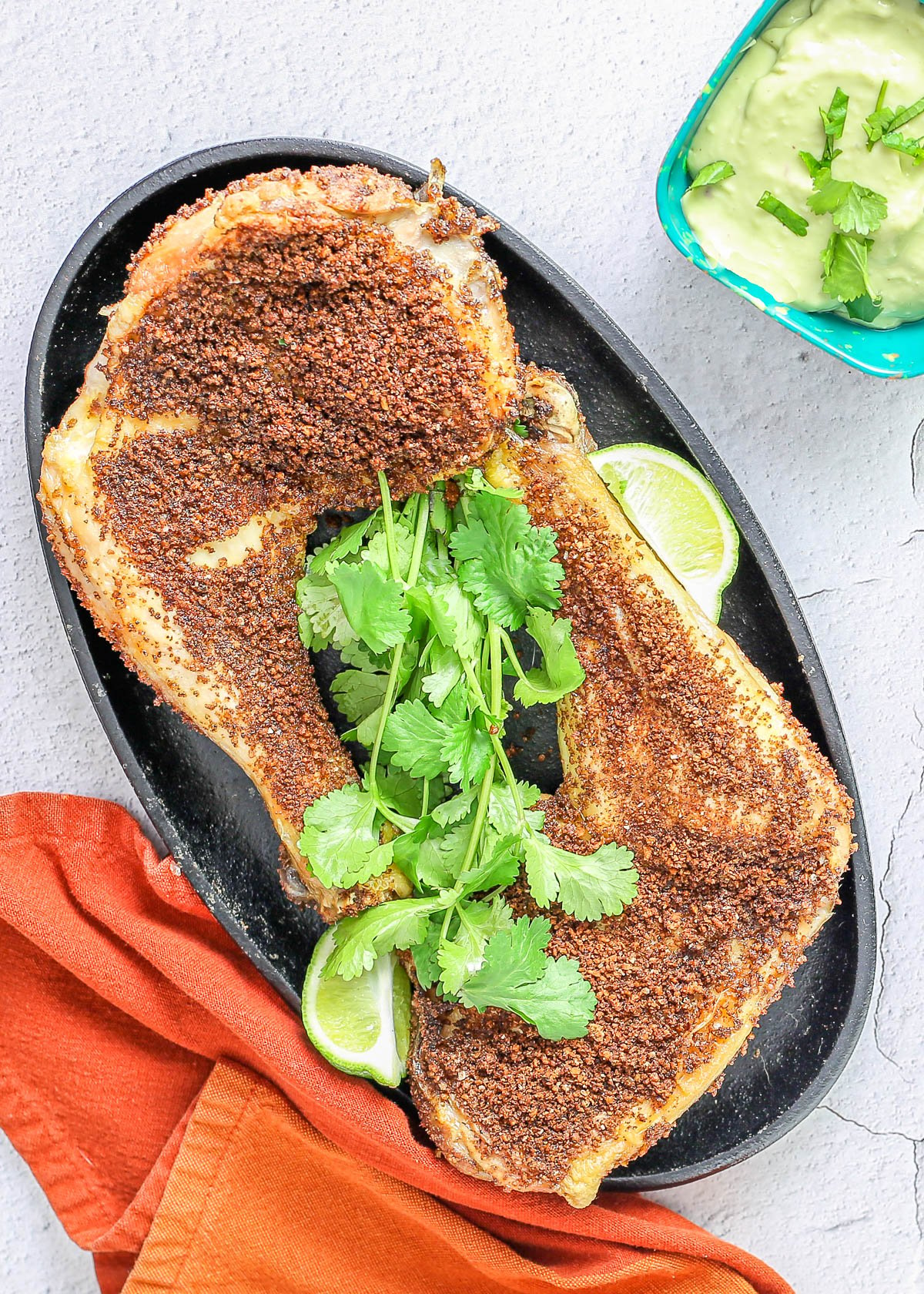 Chicken leg quarters are an underutilized cut, but Tamara of Beyond Mere Sustenance shows you how to handle them with just a few ingredients and an unorthodox approach. First, she pulverizes corn tortillas, mole spice blend, salt, and pepper. Next, she rubs the chicken with oil. Then she presses the mixture onto the chicken and air fries it for about 25 minutes. The result? A crispy coating enveloping tender, juicy chicken for a flavor that's out of this world.
Visit Beyond Mere Sustenance for the recipe.
Air Fryer Sticky Chicken Tenders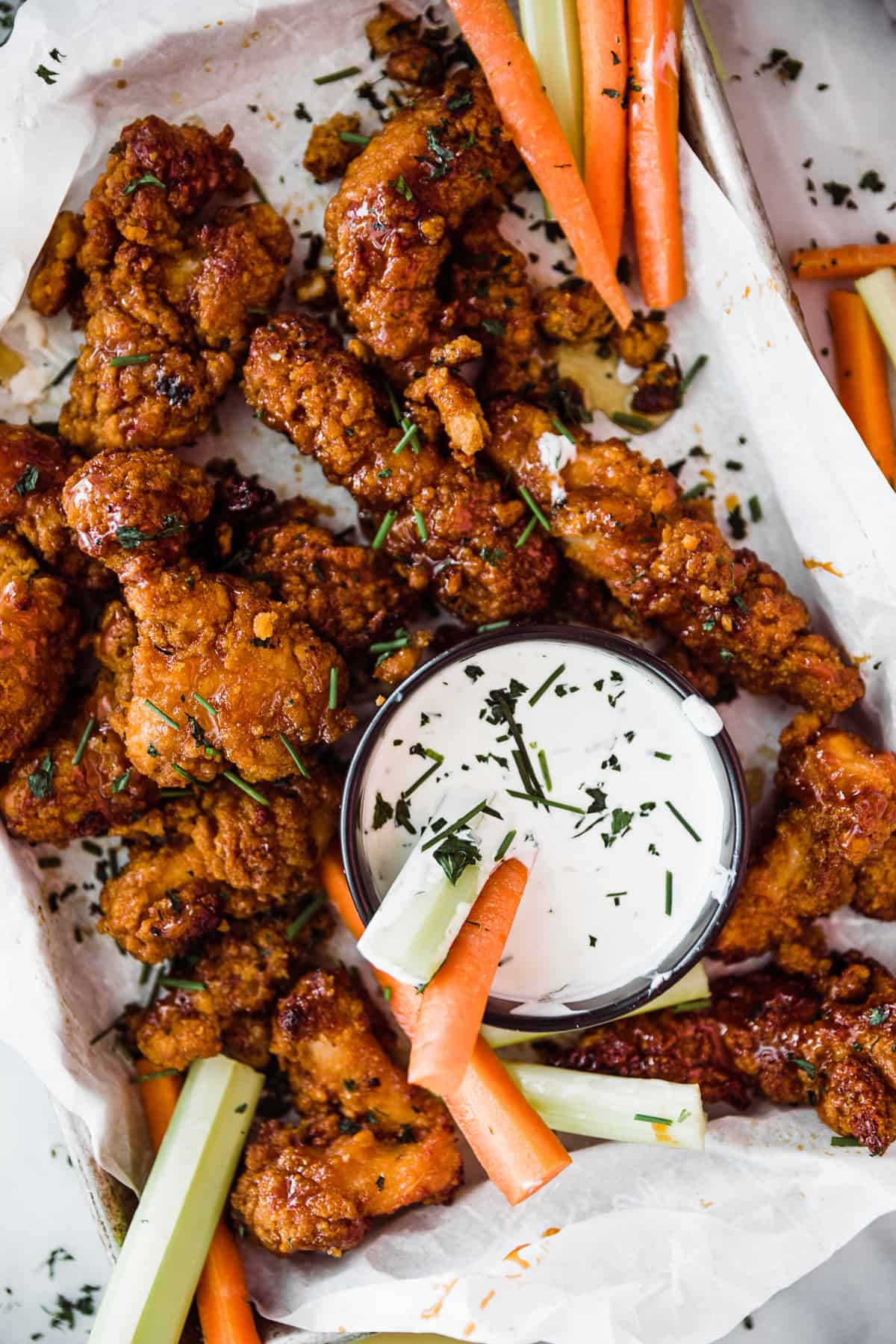 Some serious flavor is headed your way with this Winger's chicken recipe from team Oh So Deliciso. So, if you like a spicy, sweet, sticky chicken tender, hold on tight because we're going on a wild ride. The sauce includes brown sugar, hot sauce, and melted butter. But the best part? You use premade breaded freezer aisle tenders.
Visit Oh So Delicioso for the recipe.
Air Fryer Chicken Legs
Deep frying or baking aren't the only ways to get that crispy chicken skin we all know and love. Nope! So, instead of a mess or heating up your whole house, Jessica of Fantabulosity shows you how to get that irresistible crispiness with the air fry and without flour. All you need is parmesan, butter, garlic, salt, and pepper.
Visit Fantabulosity for the recipe.
Air Fryer Chicken Meatballs
In less than 10 minutes, you'll be chowing down on these air fryer chicken meatballs-a healthy weeknight main from Jenna of Salt & Spoon. And yes, they are healthy, but that's not all. They're also tasty, flavored with basil, garlic powder, onion powder, paprika, and parmesan cheese. So, are you sold? We sure are!
Visit Salt & Spoon for the recipe.
Air Fryer Nashville Hot Chicken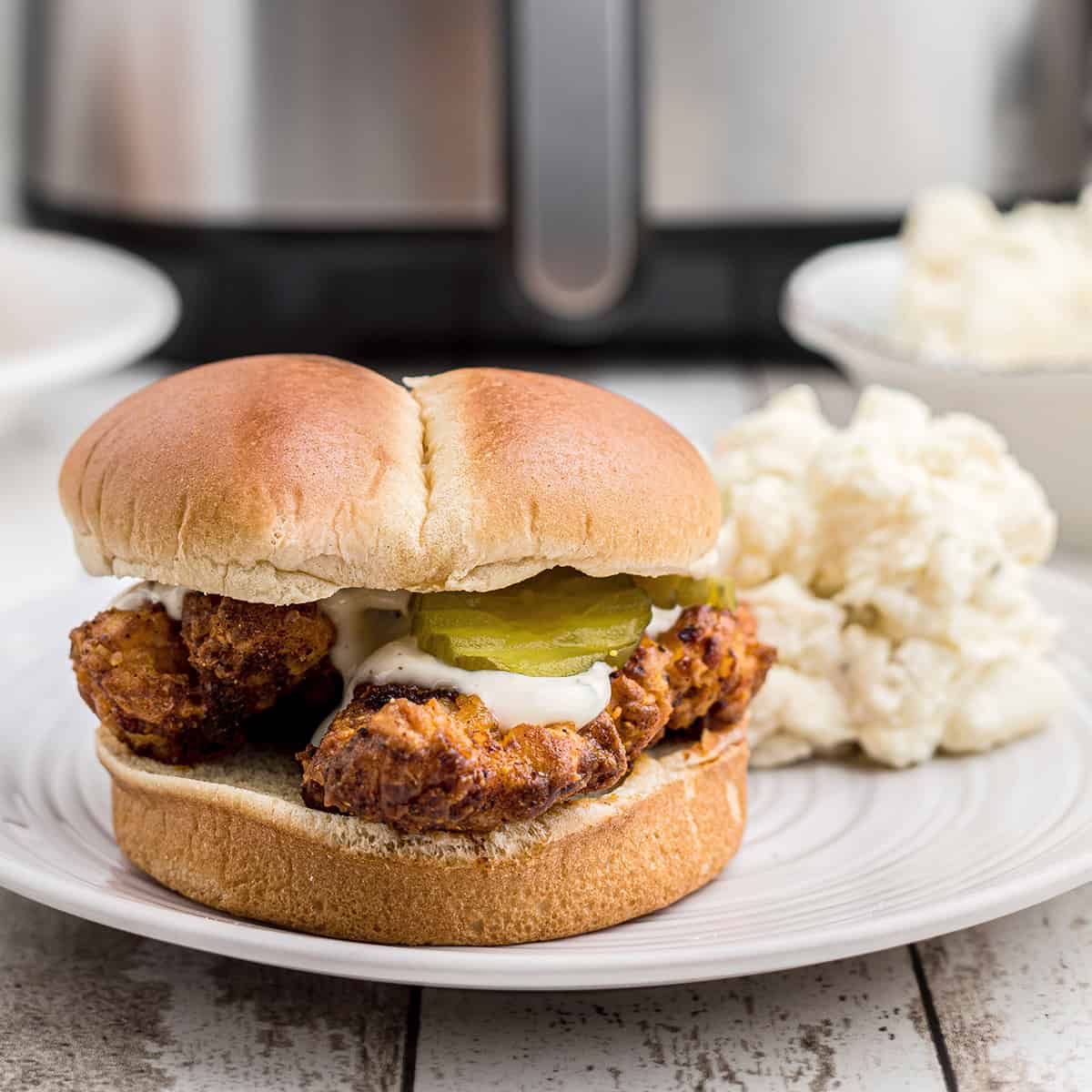 You want to try this air fryer Nashville hot chicken recipe from Lana's Cooking for a knock-out punch to your tastebuds. But before cooking, you bathe the chicken tenderloins in a fiery mix of hot sauce, cayenne pepper, flour, buttermilk, garlic powder, onion powder, and other ingredients for an hour. Then, it's off to the air fryer. And finally, you serve them on white bread or a bun with mayo and pickles.
Visit Lana's Cooking for the recipe.
Air Fryer Chicken Sandwich
You will never again wait in block-long lines for a cold chicken sandwich once you make this juicy air fryer chicken sandwich From Valerie's Kitchen. First, marinate it in a buttermilk and pickle brine for two hours, so it turns out oh-so-tender and mouthwateringly juicy. Then, finally, serve it up on a bun with her "ultimate chicken sandwich sauce." Omg!
Visit From Valerie's Kitchen for the recipe.
Air Fryer Chicken And Broccoli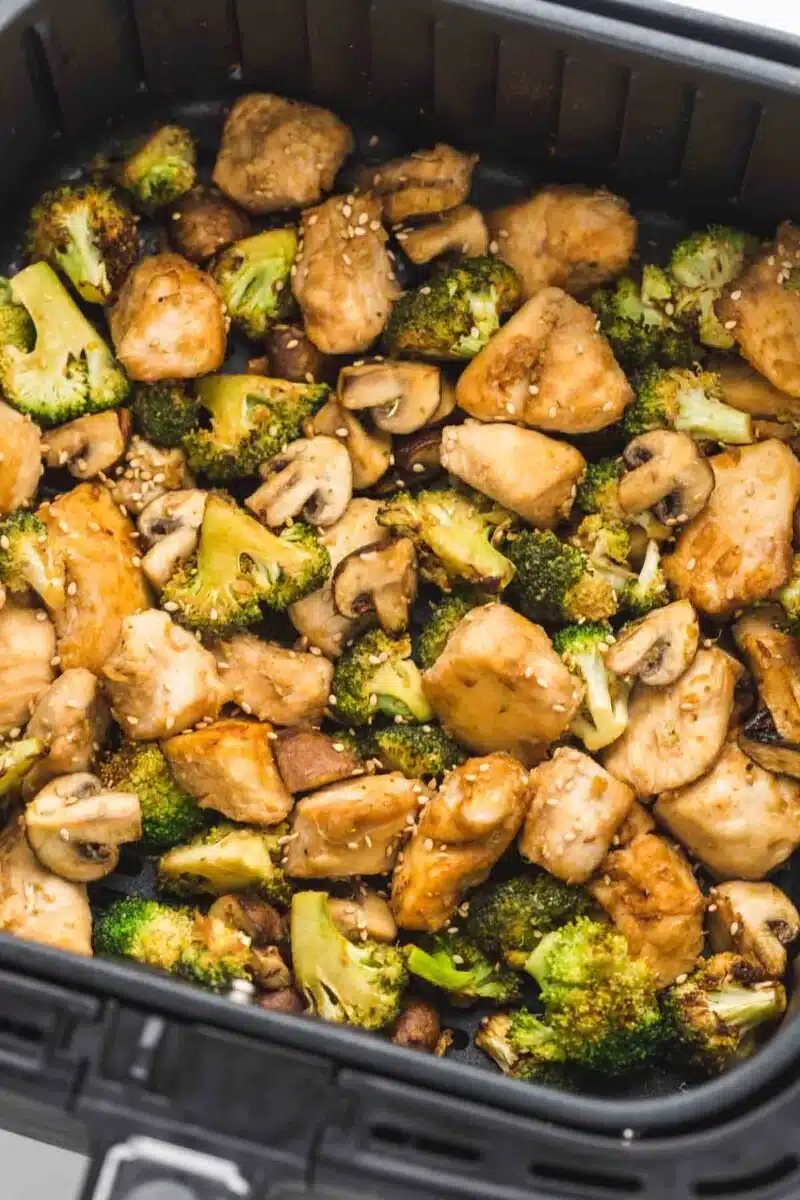 With Asian-inspired flavors, you will adore this air fryer chicken and broccoli recipe by Diana of Little Sunny Kitchen. Here's why. Chicken, mushrooms, and broccoli make for a complete, hearty meal. But those flavors: garlic, ginger, honey, soy sauce, and sesame oil seal the deal.
Visit Little Sunny Kitchen for the recipe.
Air Fryer Spatchcock Chicken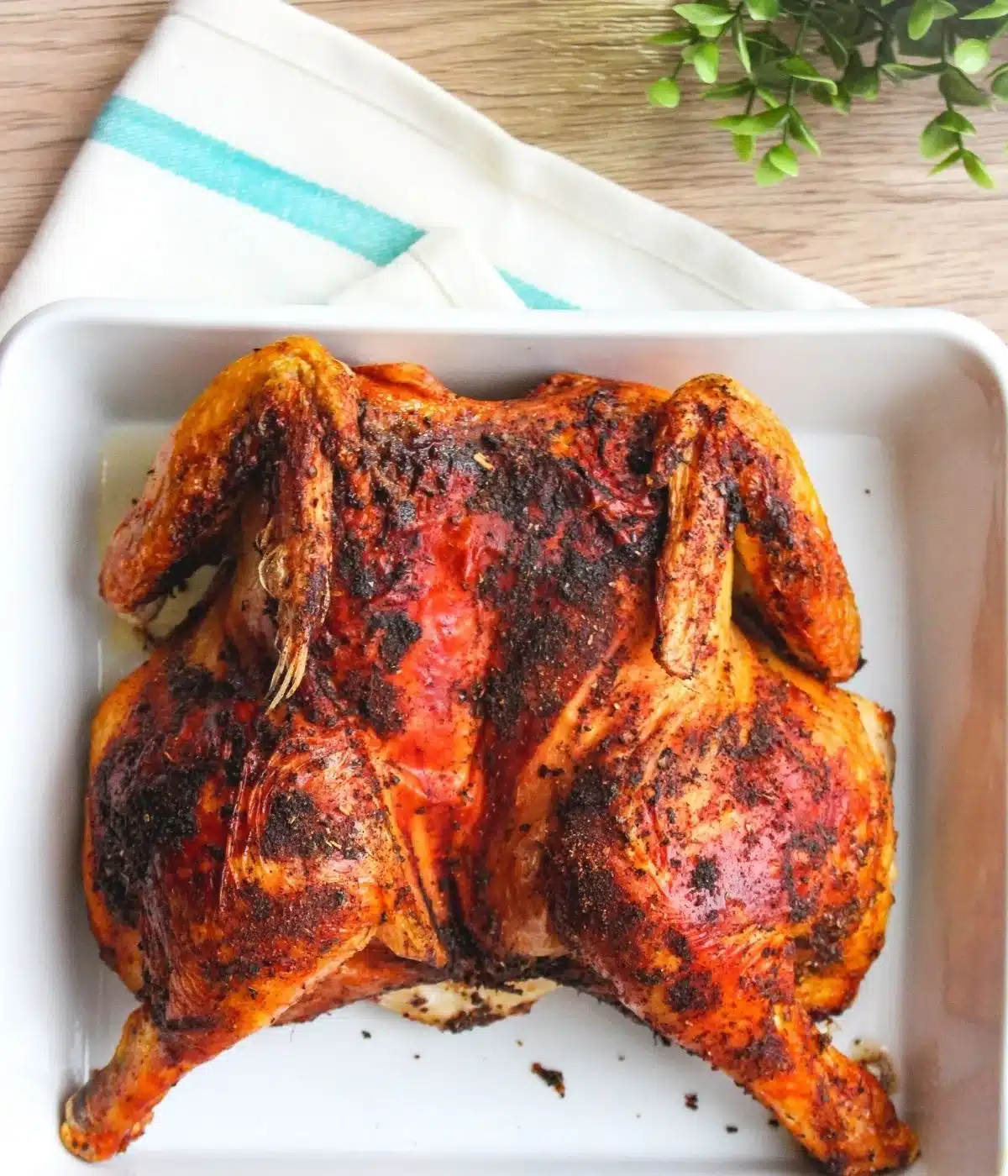 Spatchcock is a terrific cooking technique as it ensures the breast and thighs are done simultaneously. So, often this method is used on the grill, but Nicole and Andrea of Simply Scrumptious show us how to do it on the air fryer. First, you generously apply a flavorful seasoning mix to the chicken. Then, cook it, and in less than an hour, you have a whole bird prepared right on your countertop.
Visit Simply Scrumptious for the recipe.
Greek Air Fryer Chicken Wings
After four hours in a bright mix of lemon juice, lemon zest, garlic, and oregano, these Greek chicken wings from Kalyn's Kitchen are something to behold. After you take them out of that citrusy bath, air fry them and serve them with a side of whipped feta and sumac dip. Have you heard of chicken wings more flavorful than this?
Visit Kalyn's Kitchen for the recipe.
Air Fryer Panko Chicken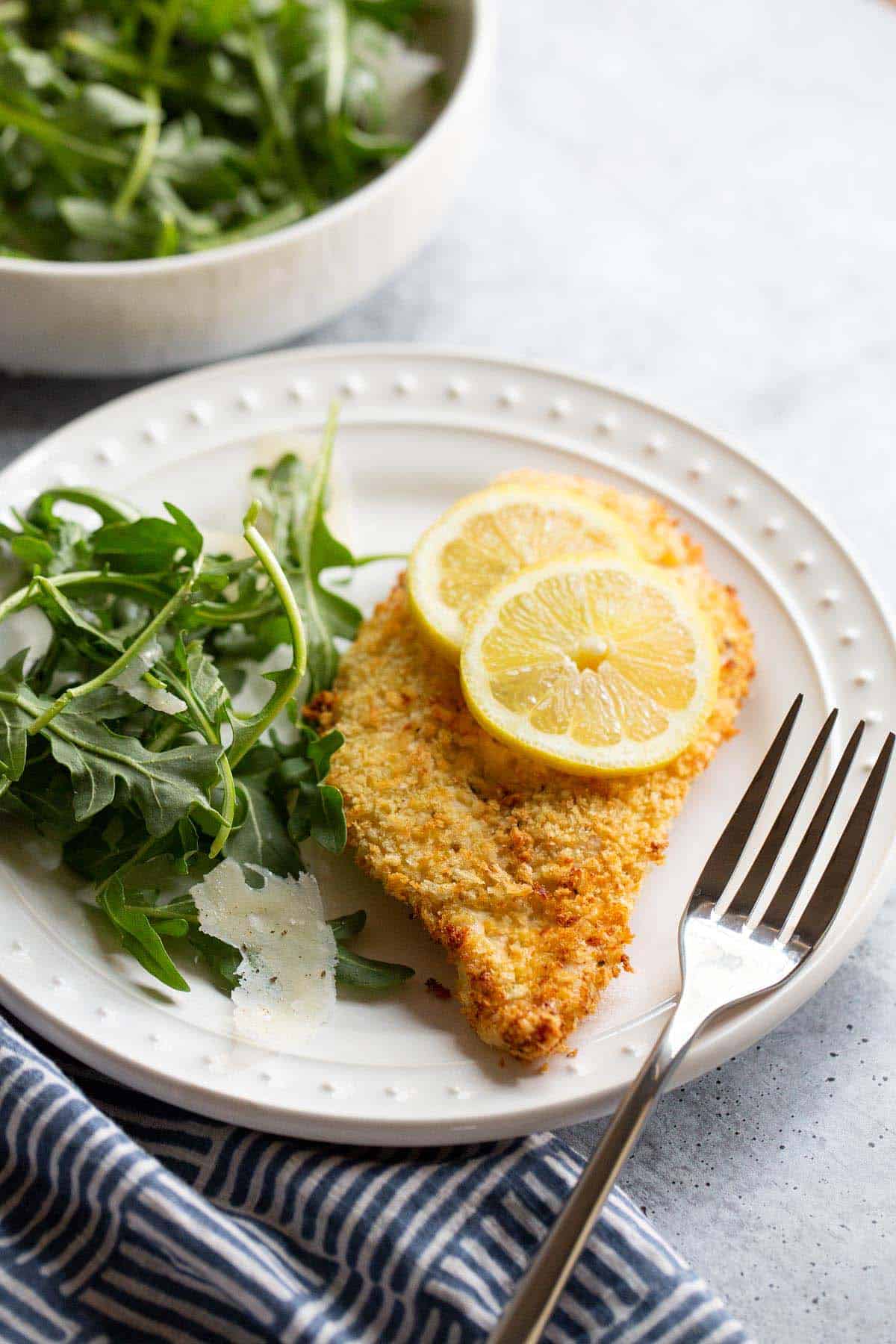 Perfectly crispy on the outside with an irresistible panko crunch while moist and tender on the inside, this air fryer panko chicken recipe from Food Banjo is ideal for a weeknight meal. However, that's not the only thing to love about this chicken. You dip the chicken in an egg, dijon mustard, and water mixture before coating it in the panko for a taste you'll remember.
Visit Food Banjo for the recipe.
Easy Air Fryer Chicken Fajitas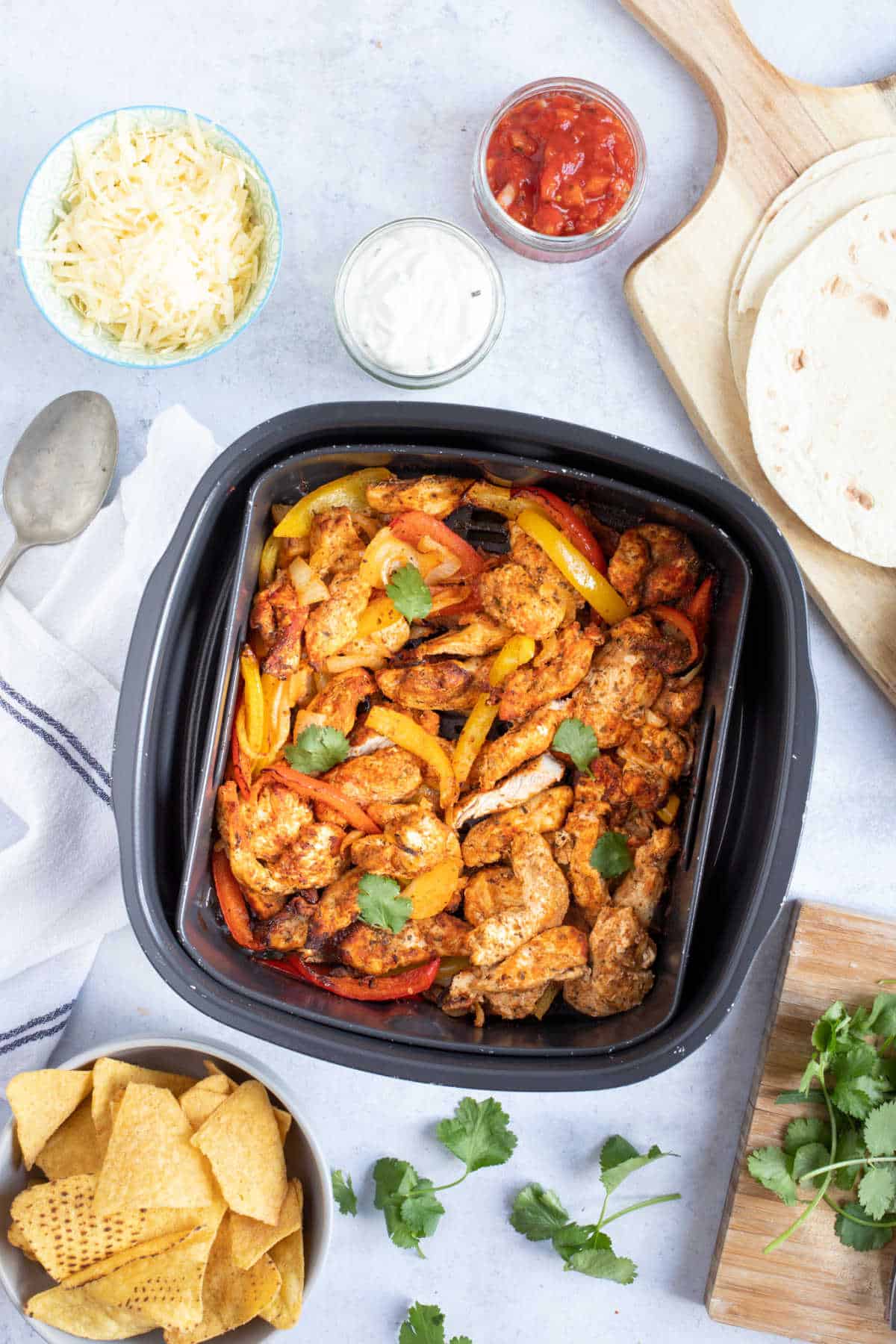 Mum of three, Beth, is the Effortless Foodie, conjuring up fantastically tasty and easy weeknight eats like this air fryer chicken fajitas recipe. It's a simple mix of chicken breast, peppers, and onions. But the magic comes from the fajita seasoning-a spicy mix that includes cumin, smoked paprika, and cayenne.
Visit Effortless Foodie for the recipe.
Air Fryer Chicken Wings with Hot Pepper Peach Bourbon Sauce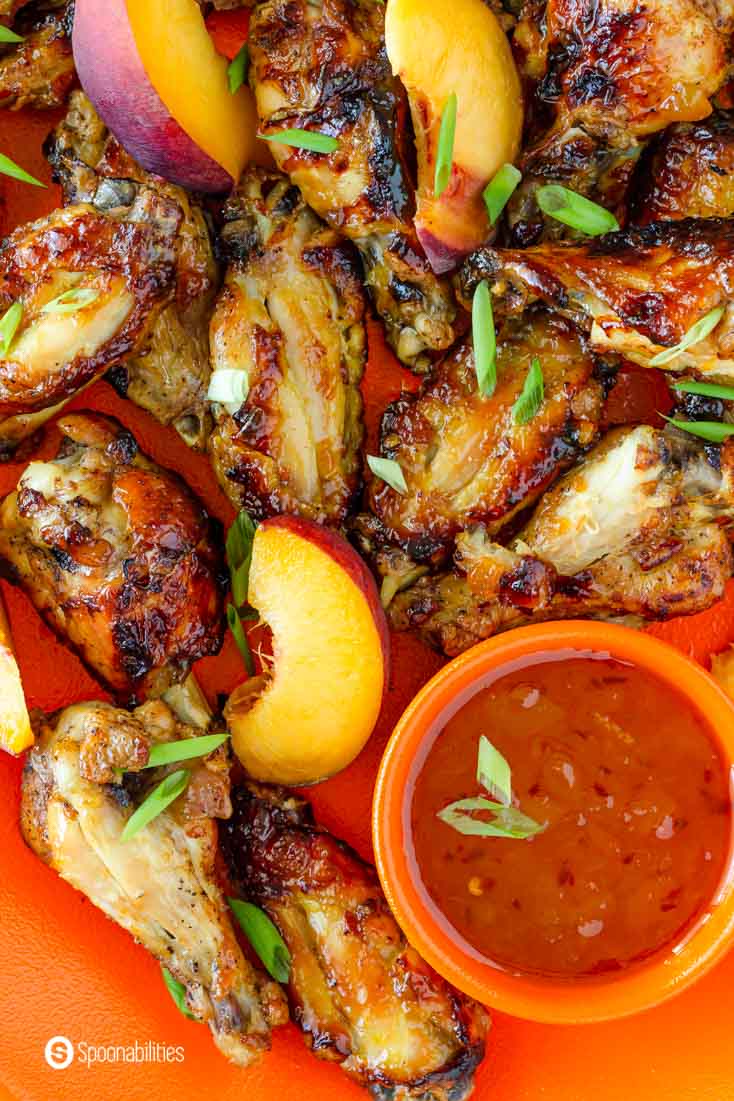 So chicken wings in the air fryer aren't exactly a novel idea, but that's not what we're here for. There are countless air fryer chicken wing recipes out there. However, it's not every day we see them paired with hot pepper peach bourbon sauce. It hits all the flavor spots; spicy, sweet, savory, and tangy.
Visit Spoonabilities for the recipe.
Which Air Fryer Chicken Recipes Will You Try First?
By now you've come across nearly 20 chicken recipes you can make right in your air fryer. There are amazing options like Greek air fryer chicken wings, Nashville hot chicken, and even complete dinners like creamy chicken and shrimp alfredo. So, what will it be? We'd love to know!