If you don't know what to do with that leftover rotisserie chicken, here are 20 easy recipes with shredded chicken? It's a wonderful list filled with practical dinner, snacks, and game-day appetizers ideas.
For example, there are chicken bacon ranch sliders that are great for dinner or game day. Then there's a chicken pesto salad that's perfect for feeding a crowd at a picnic (but it also makes a tasty lunch). And that's just the beginning.
So, are you ready to discover? Let's dive in!
If you like these chicken recipes, you'll love these chicken thigh recipes.
Chicken Bacon Ranch Sliders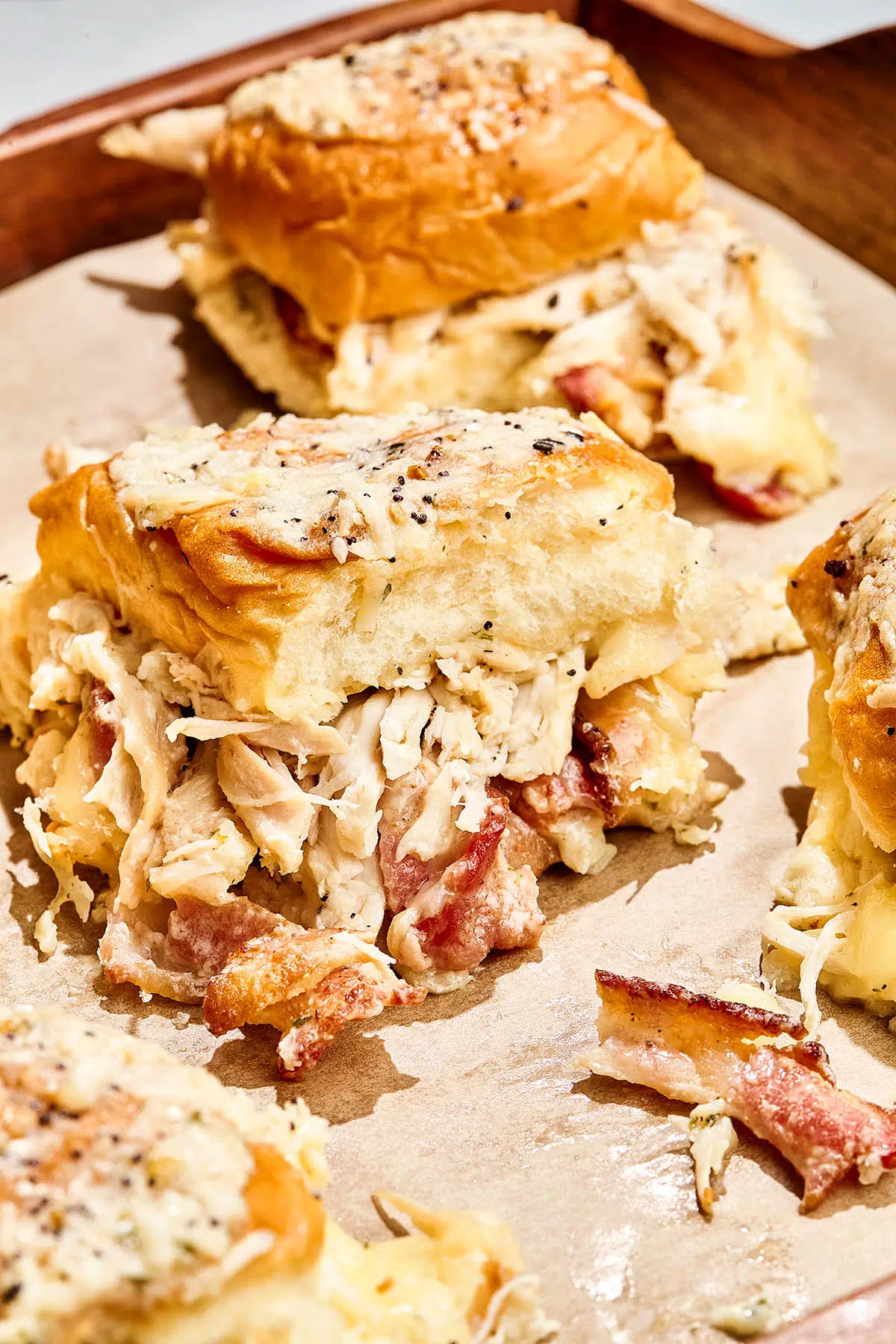 Kelly Neil, what are you trying to do to us with these mouthwatering chicken bacon ranch sliders? Because not only are they tasty, as in you can't eat just two, but they're just about effortless to make.
Kelly shows you how to assemble the straightforward 10-ingredient any-time meal with just a few steps.
First, delicious shredded or pulled chicken is a perfect way to use up that Costco rotisserie.
There's also a homemade creamy sauce using dry ranch seasoning, butter, and buttermilk. And, of course, bacon. You can't lose with this one.
Visit Kelly Neil for the recipe.
Chicken Lime Taquitos
Excluding salt and pepper, these easy chicken lime taquitos from Entirely Elizabeth are just ten ingredients. The rolled, dippable, crunchy on the outside, and super flavorful on the inside bites will have the kiddos eager for dinner.
And with ingredients like shredded chicken breast, cheese, and herbs, they're a reasonably nutritious meal. Of course, you can make the chicken in the crockpot, but leftover rotisserie chicken breast works here too.
Oh, and what really makes this recipe work is Liz's tips, like making sure to brush the tortillas with olive oil before placing them in the oven.
Visit Entirely Elizabeth for the recipe.
Healthier Chinese Chicken Salad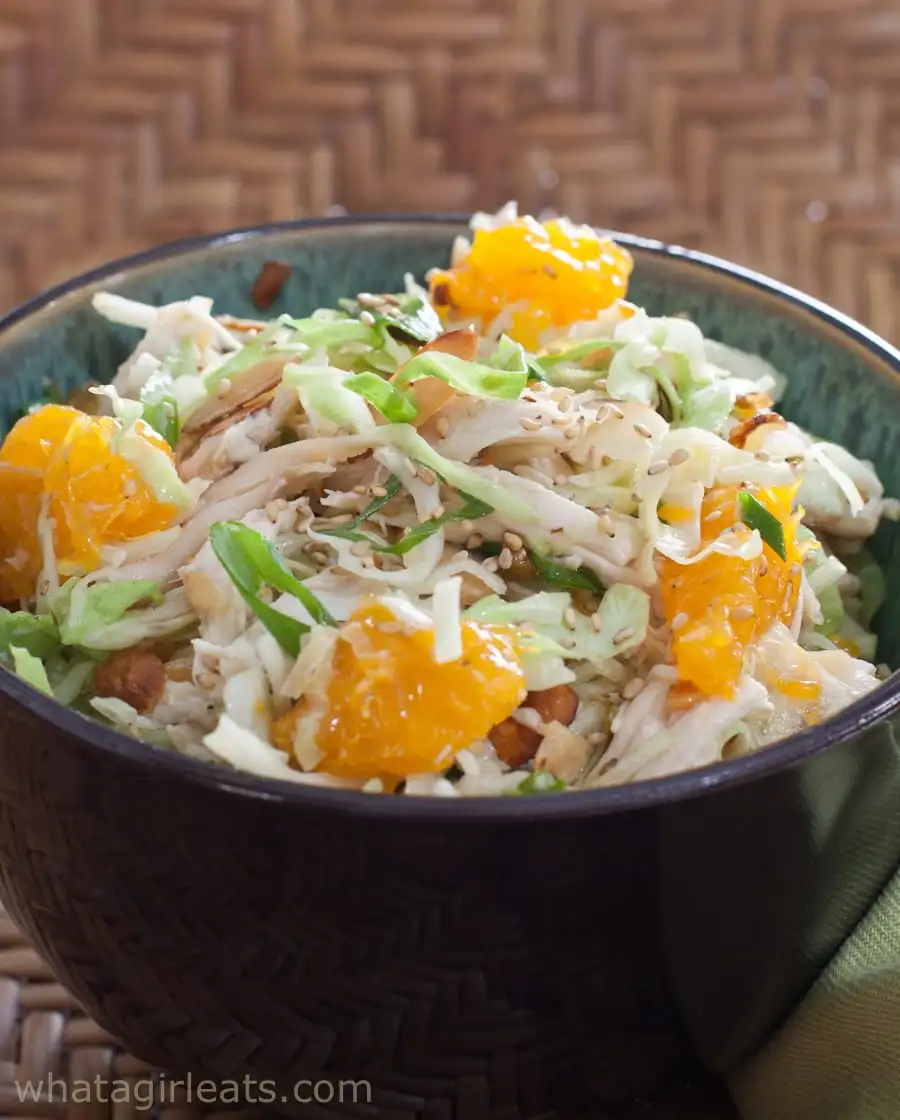 This Chinese chicken salad from Cynthia of What A Girl Eats has a history. It was inspired by her mom's favorite food to bring to PTA events in the 60s. The original is tasty, if a bit indulgent.
But nowadays, Cynthia is the chaperone of this delicious salad, and under her tutelage, it gets better grades, in health at least.
First, nutrient powerhouse napa cabbage replaces anemic iceberg lettuce. But it still gets good marks for flavor. The juicy cubed or shredded chicken breast mingles with juicy and sweet Mandarin oranges, sesame seeds, and slivered almonds.
Finally, for extra credit, there's that deliciously sweet, but not syrupy, Asian dressing.
Visit What A Girl Eats for the recipe.
Chicken Pesto Pasta Salad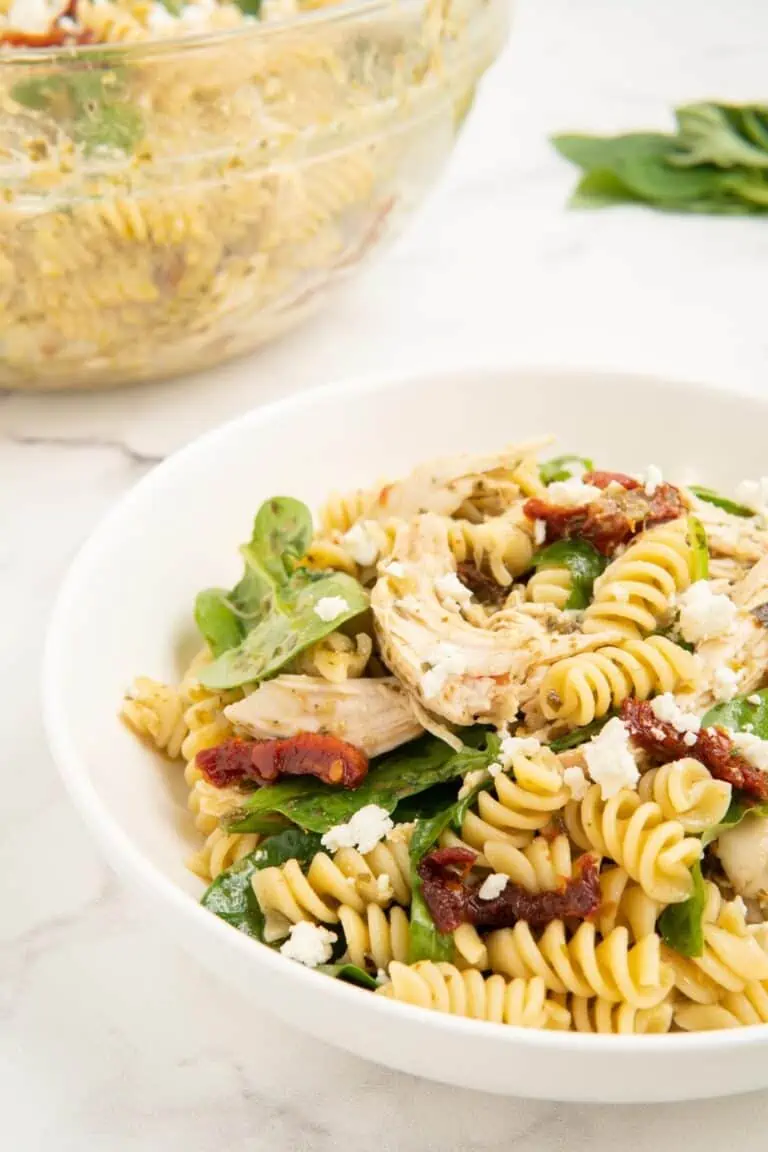 Serve this chicken pesto pasta salad from Salt And Spoon cold or room temperature making it perfect for large crowds and outdoor gatherings. Plus, it's bursting at the seams with flavor, so make enough for everyone to have seconds.
You dress up shredded chicken breasts, spiral pasta, and greens with herby, nutty pesto, crumbled tangy and salty feta cheese, slightly sweet sun-dried tomatoes, and bright Italian dressing.
Visit Salt And Spoon for the recipe.
Mexican Shredded Chicken Dip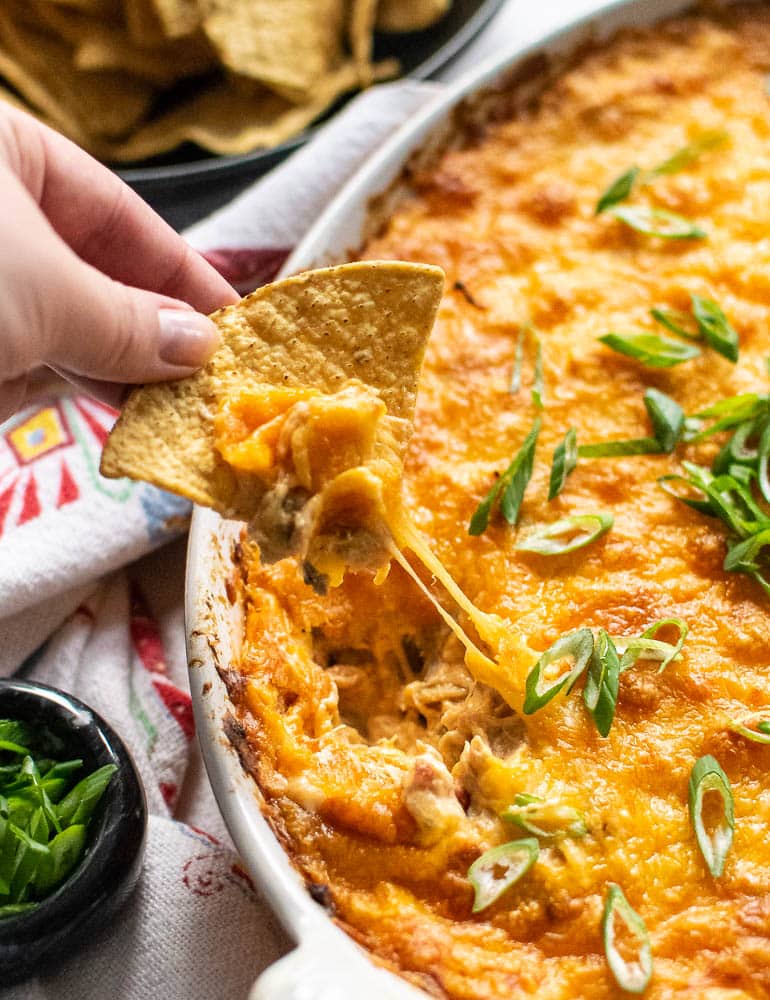 Whether you're binge-watching reality t.v. or screaming as your team botches the big play, this Mexican shredded chicken dip from Carolyn's Cooking will be your cheesy, comforting best friend.
The crowd-pleasing, economical, browned top dip is filled with pure deliciousness. You'll find leftover shredded chicken breasts leveled up with salsa, green chiles, cream cheese, and seasoned Mexican cheese.
Set it out with your favorite dippers and watch it disappear.
Visit Carolyn's Cooking for the recipe.
Instant Pot Shawarma Wraps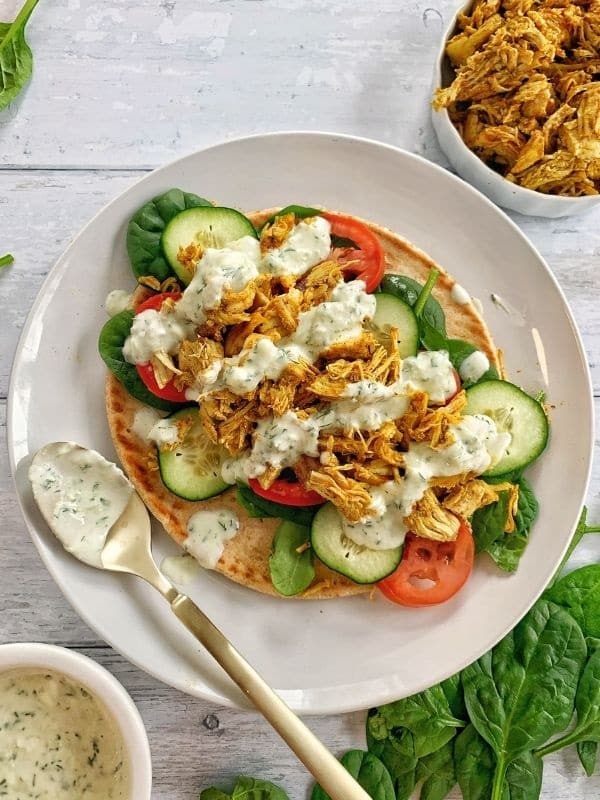 While traditional shwarma is glorious, it is also a low and slow time gobbling pursuit that can take hours and hours. Who has time for that?
However, these instant pot shwarma wraps from Megan of Oregon Dietician are a good stand-in for the real thing. Plus, they're so deeply flavorful that everyone will assume you've spent all day on them.
But you'll know the truth. You throw the chicken, herbs, and spices in the pressure cooker, and 12 minutes later, it's ready for the pita, cucumbers, tomatoes, and that zippy yogurt sauce.
Visit Oregon Dietician for the recipe.
Chicken Tater Tot Casserole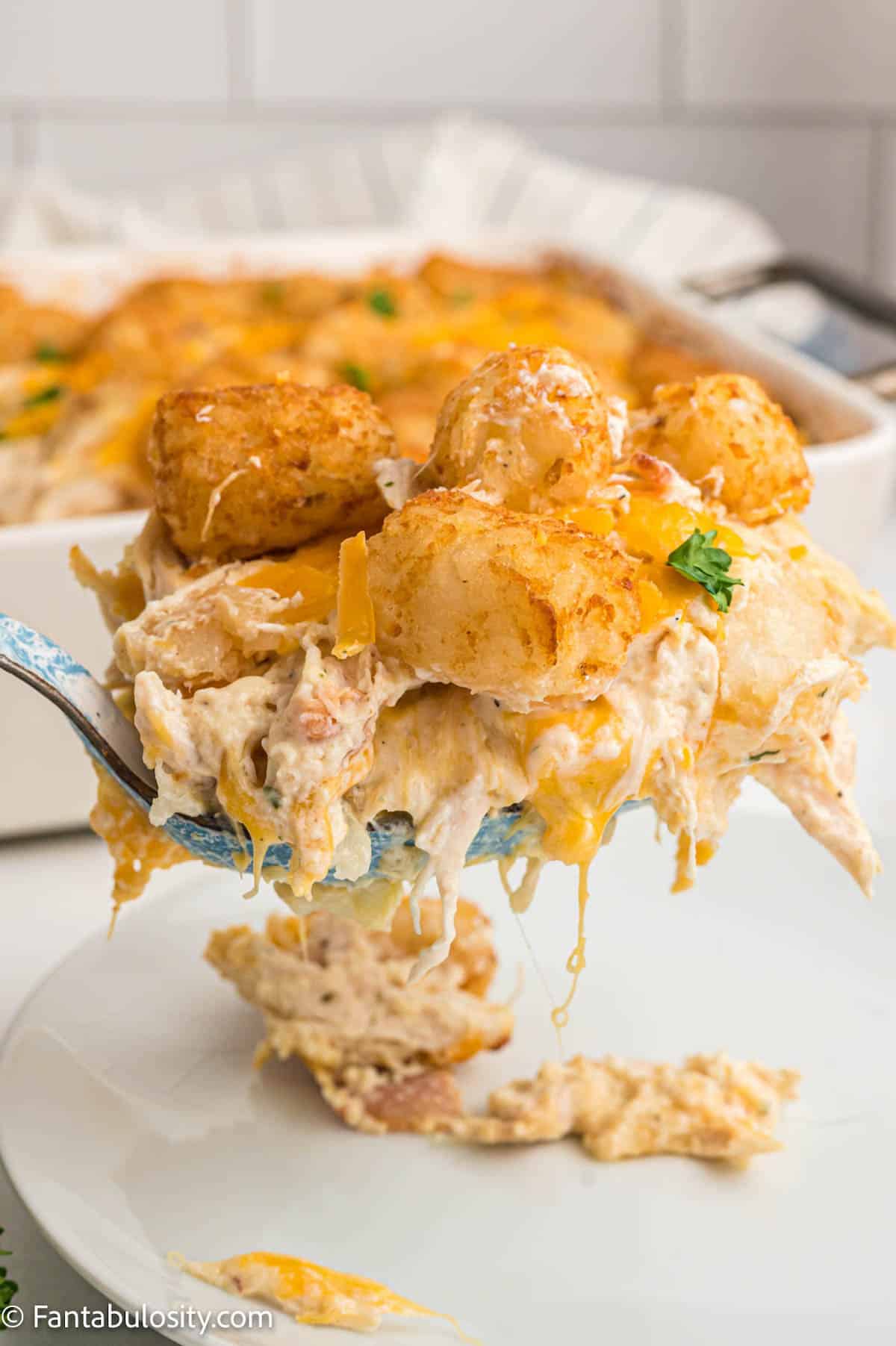 This chicken tater tot casserole from Jessica is comfort food Fantabulosity at its finest. And boy, oh boy, will it rescue you from stale dinner ideas.
Okay, let's set the scene for you! It's a Friday night. You're tired from running around all week. The kids invited their friends over for a stay, and everyone has pizza fatigue.
Well, this casserole, all cheesy and inviting, with ranch and bacon, is the solution to your Friday dinner blues. All you need is seven ingredients, most of which you already have, like shredded chicken (perhaps leftovers from last night), cheese, bacon, and sour cream.
Visit Fantabulosity for the recipe.
BBQ Chicken Nachos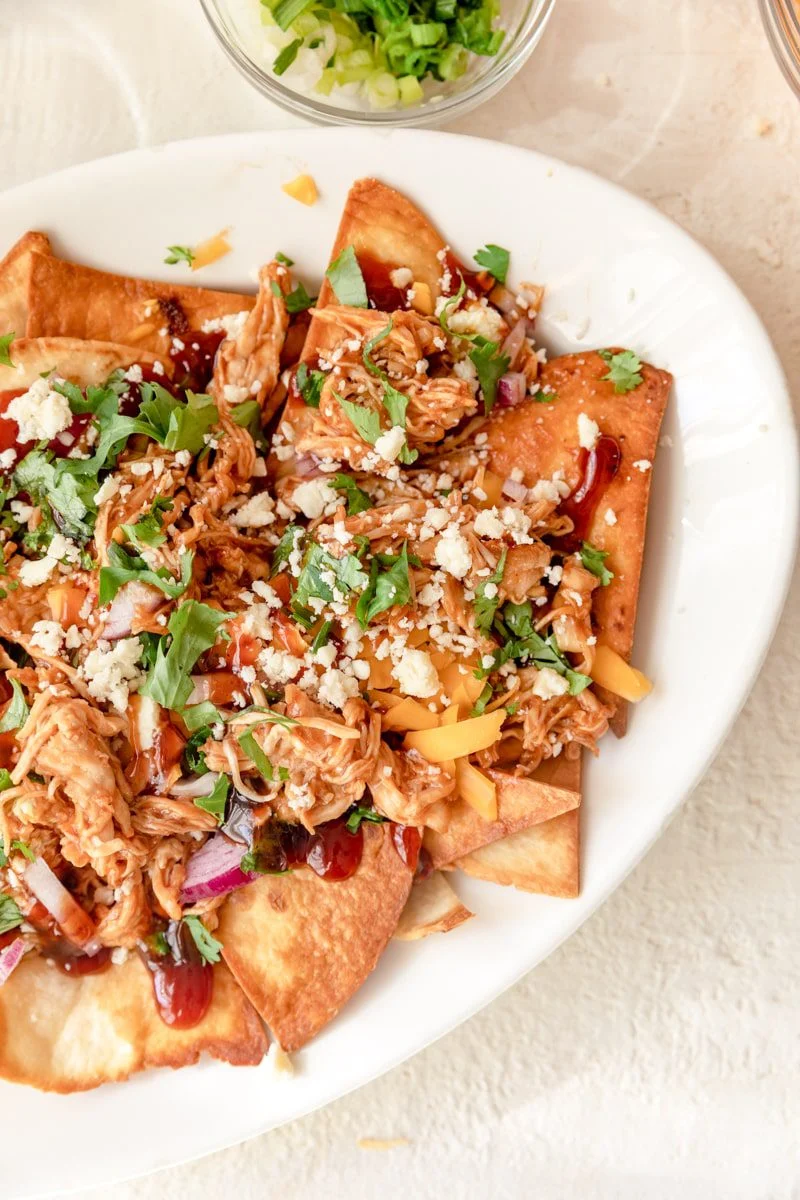 Leftover chicken rescues you again with this delicious Family-sized BBQ chicken nachos from Sara of White Kitchen Red Wine.
It's just what you need when you're family is tired of eating that leftover rotisserie chicken the same exact way, time and again.
All you have to do is shred chicken breast (there's even an air fryer chicken breast recipe), chop onions, herbs, and cheese, assemble, and bake.
It's a fun 20-minute recipe, and with Sara's tips, like how to avoid soggy chips, you'll make it over and over.
Visit White Kitchen Red Wine for the recipe.
Classic Chicken Salad With Roasted Grapes
Jennifer of Brunch and Batter has a secret to share with you. It will elevate rinky-dink chicken salads to paradise levels of flavor. And that secret is, drumroll, please, roasted grapes!
For us, it's a "why didn't we think about that" kind of thing, as our favorite ice cream includes roasted strawberries. Roasting fruit intensifies the flavor.
But it's not just about the roasted grapes. Jennifer includes a few other steps and ingredients to make this chicken salad a little more than classic.
Visit Brunch And Batter for the recipe.
BBQ Chicken Grilled Stuffed Peppers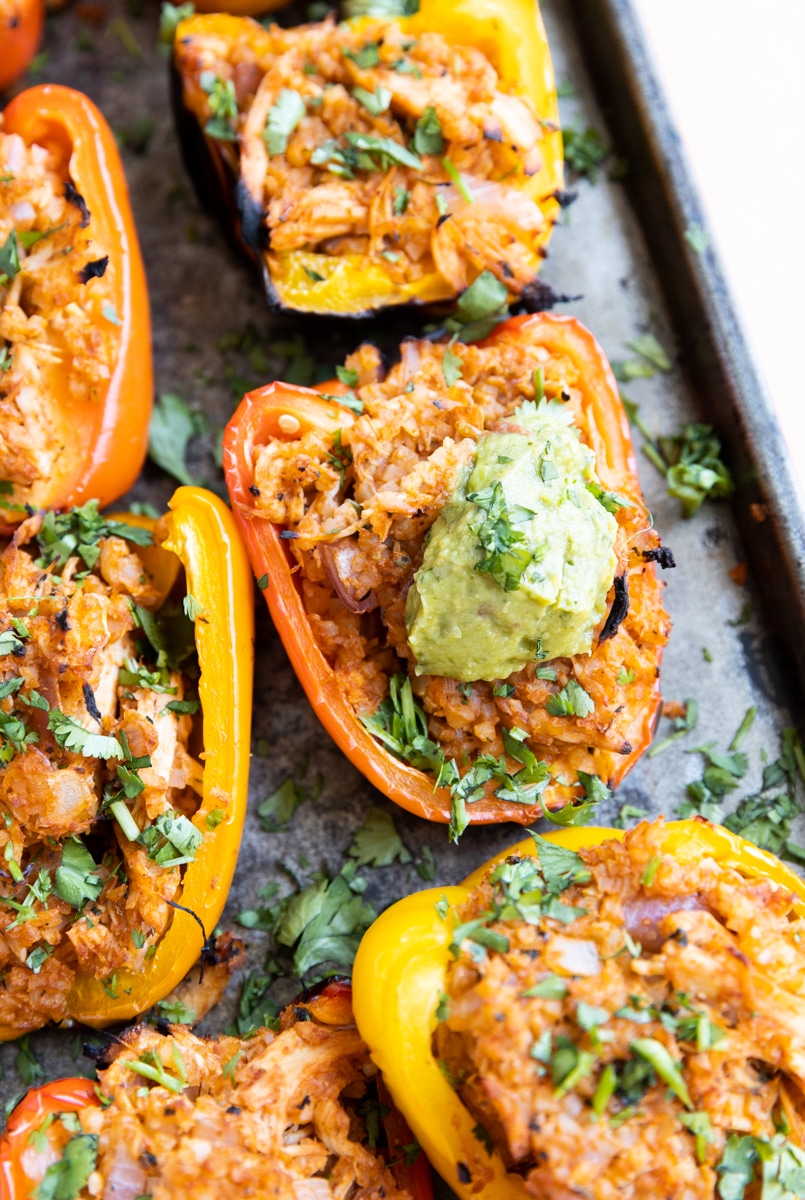 At Fresh Water Peaches, Mariah makes "gut healthy recipes" like this delicious seven-ingredient, grain, and dairy-free bbq chicken grilled stuffed peppers meal.
She gives you instructions for poaching chicken, but you can also swap for rotisserie. Instead of rice, you'll find cauliflower rice, and she even recommends a brand of bbq sauce that's lower in sugar.
So, when you need a break from heavy meals, check out Mariah's site. You'll probably stick around for a while.
Visit Fresh Water Peaches for the recipe.
Chicken Pot Pie Soup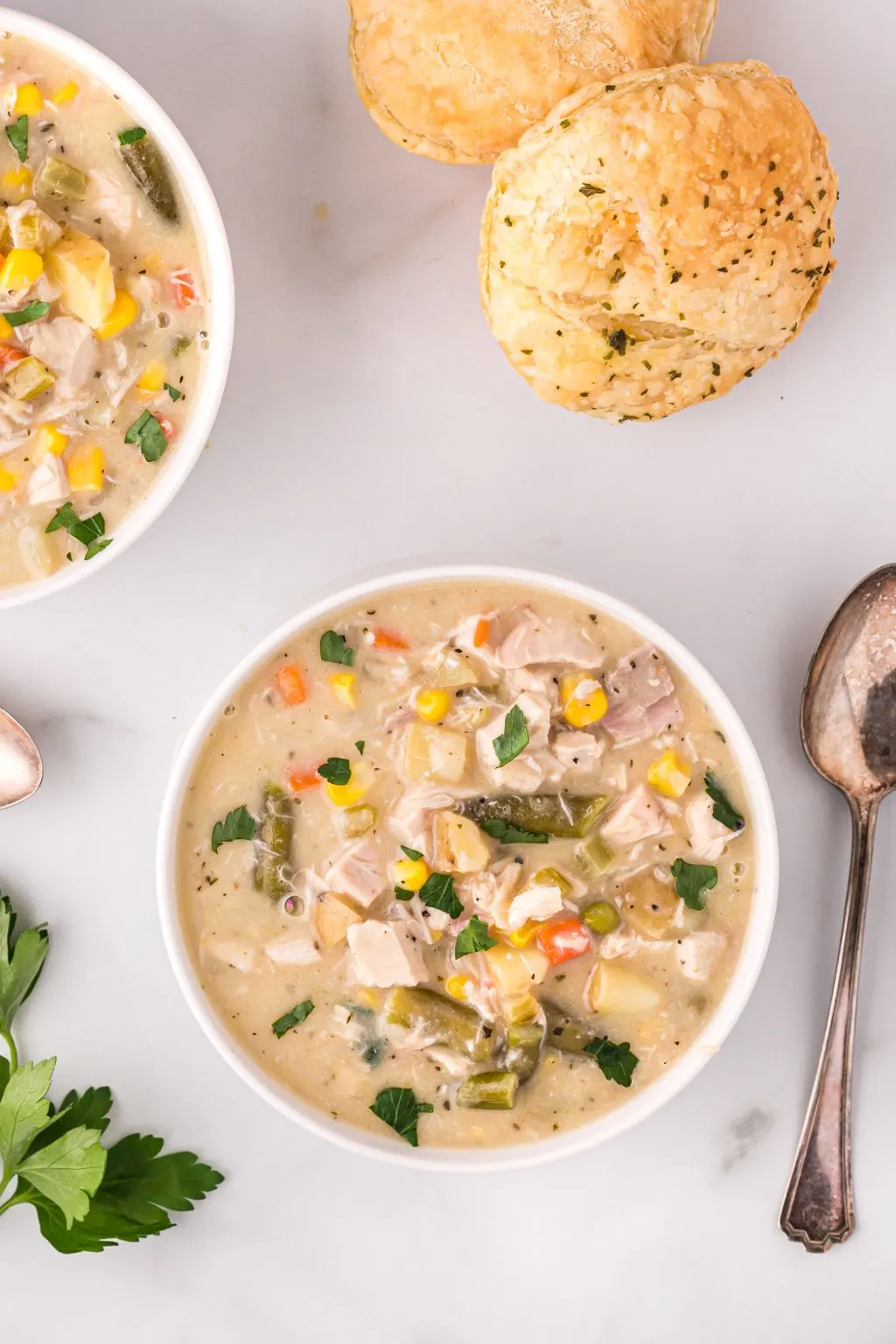 This chicken pot pie soup from Michelle of Blackberry Babe is just the kind of fun and wholesome meal to create memories with your family during cuddle season. You make it in just one pot, plus you can double it and stretch it to two or more meals.
Mmmm! It's rich with heavy cream, shredded chicken, and your favorite vegetables like carrots, corn, peas, celery, and green beans. Then you serve it with puff pastry biscuits. Delicious!
Oh, but it gets better! It's so versatile you can make it in the instant pot, crockpot, or stovetop.
Visit Blackberry Babe for the recipe.
Easy Garlic Honey Chicken Crock Pot Recipe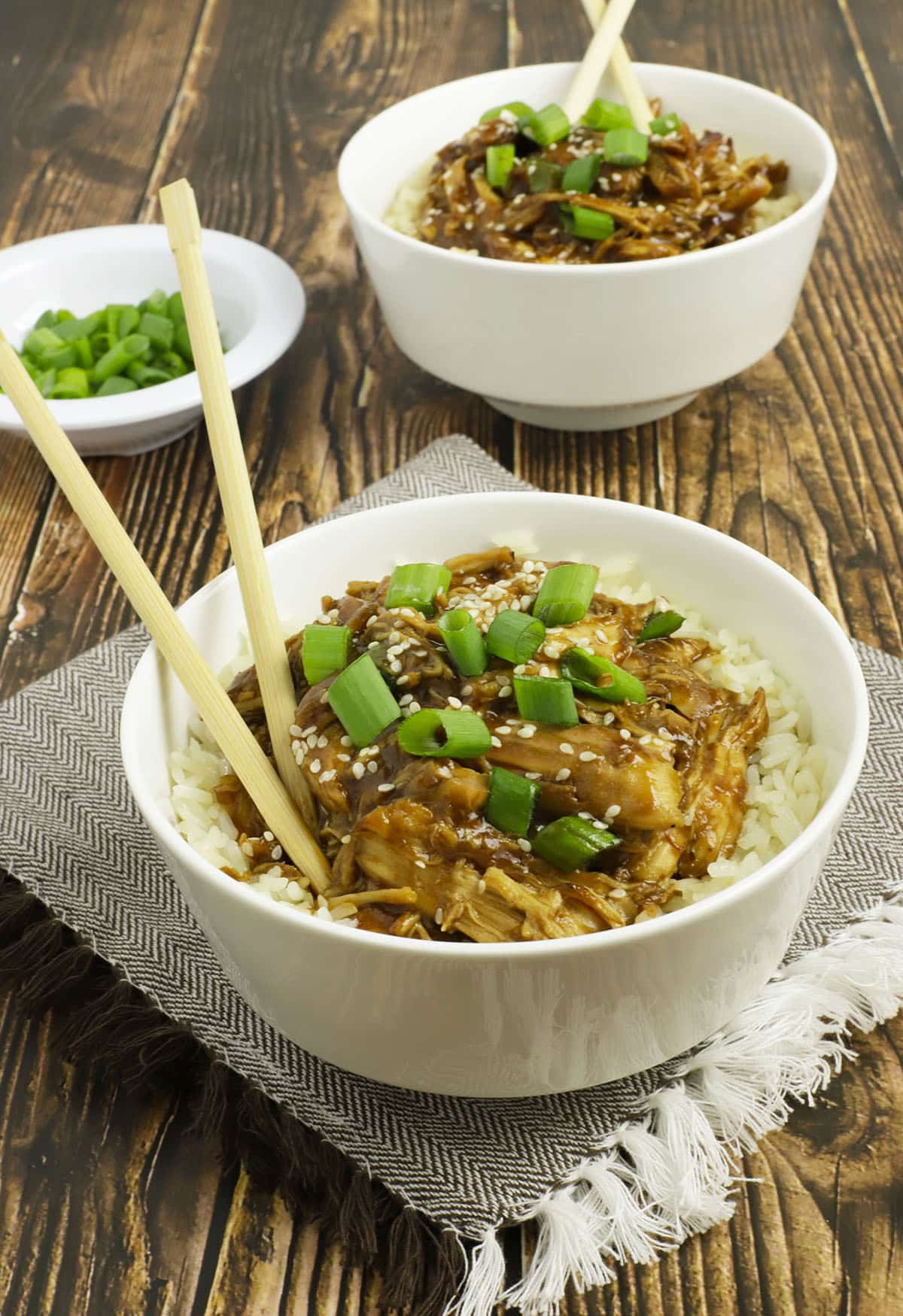 If you're anything like Anne of My Kitchen Serenity, you love making delicious homemade meals for your family, but they can be time-consuming endeavors. So that's where crockpot dinners like this garlic and honey-laden chicken come in.
The set-it-and-forget-it fare is full of Asian flavor from sesame oil, rice vinegar, ginger, and garlic for a taste so good you'll think it's takeout. Serve it over rice, and you have a delicious option to add to your weekly rotation.
Visit My Kitchen Serenity for the recipe.
One Pot Creamy Gnocchi
Shredded chicken breast and gnocchi (Italian potato dumplings) provide the canvas for this creamy one-pot meal from Balance With Jess. But you color it flavorwise and visually with lovely bright sun-dried tomatoes, dried herbs, and frozen corn.
Then there's the boost of flavor you get from the chicken bone broth and parmesan rind. Talk about silky, creamy, and rich! Once it's done, garnish it with fresh parsley, and you've got homemade gourmet in less than 30 minutes.
Visit Balance With Jess for the recipe.
Chicken Tinga Tostadas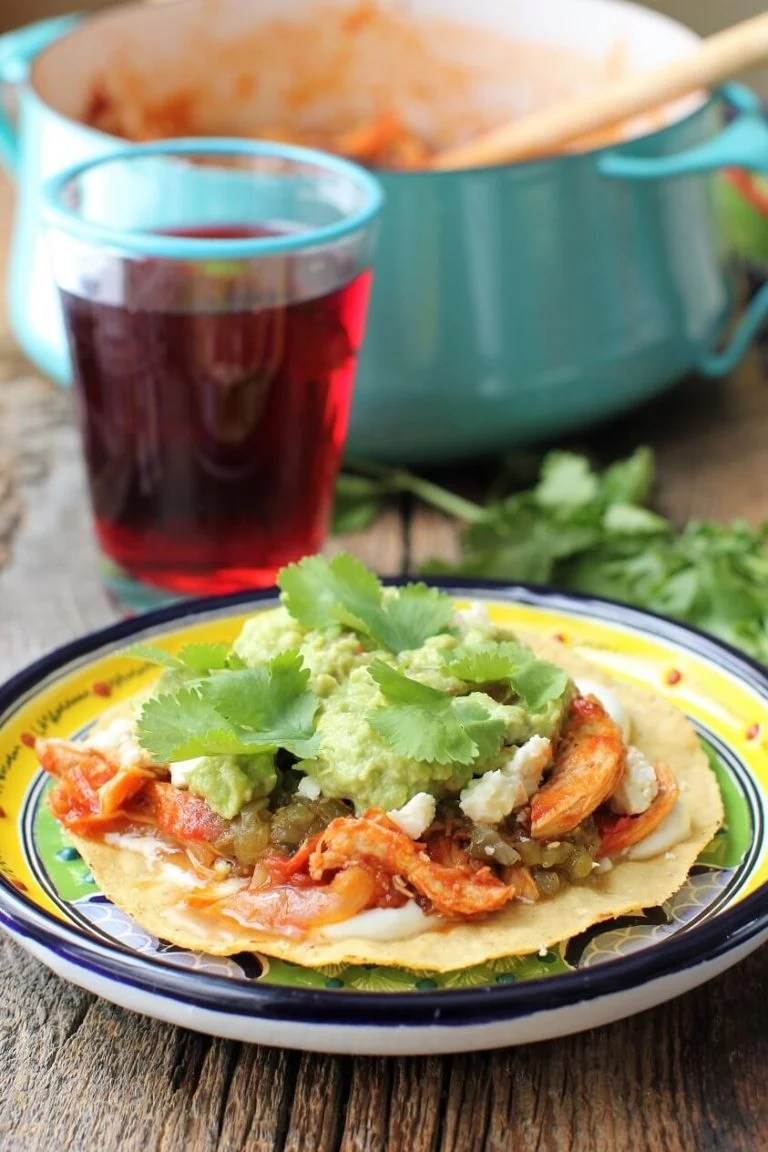 Tostadas are like miniature Mexican pizzas; they're delicious and fun to make and eat. But despite being so tasty, this chicken tinga tostada recipe from Margaret of Kitchen Frau is also easy and budget-friendly.
First, you'll season chicken to the high heavens by combining it with chorizo, garlic, onions, and chipotle peppers. Next, the only thing left to do is assemble.
Just smear a crispy tostada with refried beans and pile it high with chicken tinga, crema, crumbly cheese, and green salsa. Mmmm!
Visit Kitchen Frau for the recipe.
Tom Kha Gai Soup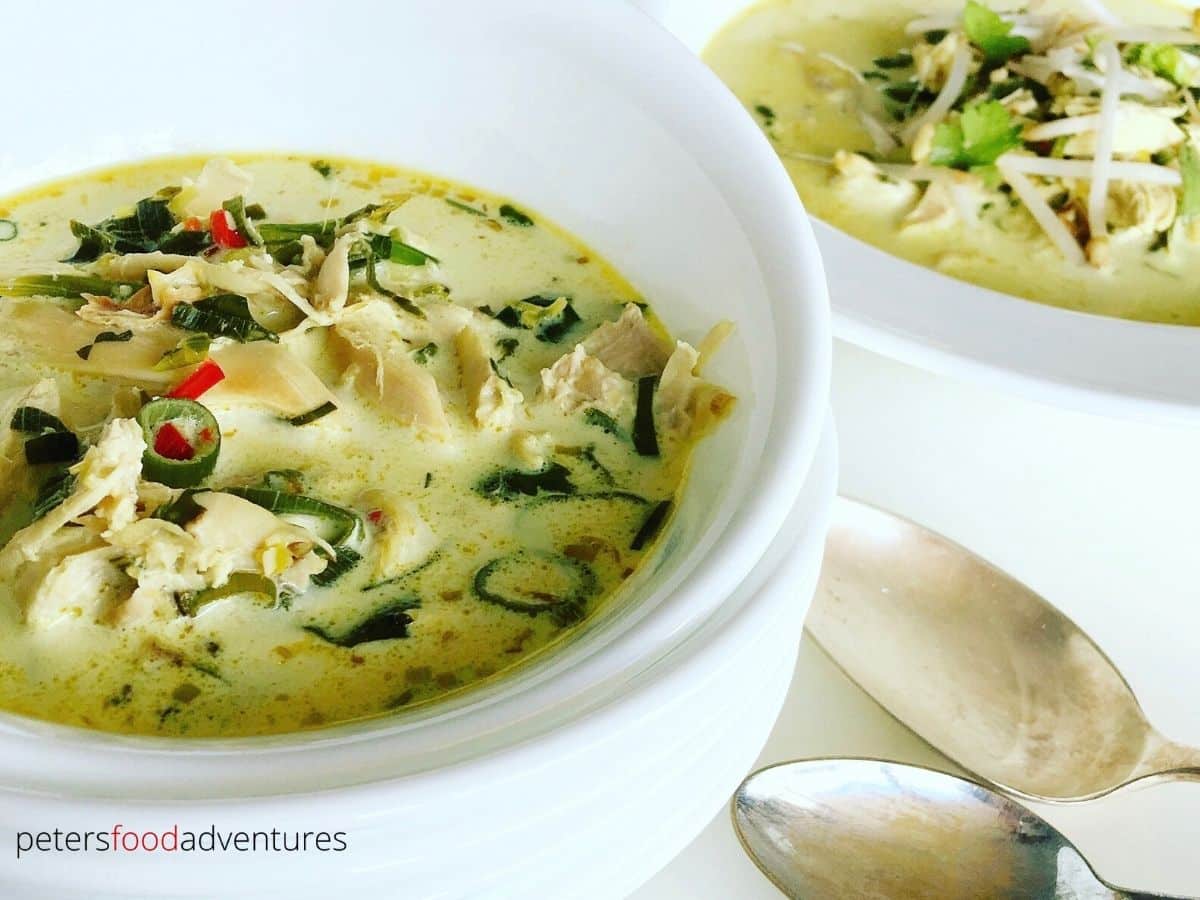 OMG, the flavor in this tom kha gai soup (Thai coconut soup) from Peter's Food Adventure is out of sight!
Before Peter gets into the recipe, he provides you with a brief explanation of the name. But we know what you care about most is what makes this soup so darn slurpable, so let's get to it.
There are many pungent ingredients, so we'll just name a few: coconut milk, fish sauce, garlic, ginger, lemongrass, and galangal root. And, of course, there's lots of delicious shredded tender chicken breast.
You garnish it with lime, green onions, and fresh cilantro and let the slurping commence.
Visit Peter's Food Adventure for the recipe.
Spicy Asian Chicken Salad
Give boring lunches a kick in the you-know-where with this spicy Asian chicken salad from The Devil Wears Salad. And with a blog name like that, you can be sure it's share-worthy.
They provide you with a poached chicken recipe (but we're sure you can use leftover rotisserie, too) that gets fused with chopped cabbage, carrot, cucumber, and onion.
And that's before it gets drizzled with the dressing, aka the best part. It's full of so much seasoning from chili oil, sesame oil, garlic, soy sauce, and sugar. You'll love it!
Visit The Devil Wears Salad for the recipe.
Leftover roast chicken congee (jook)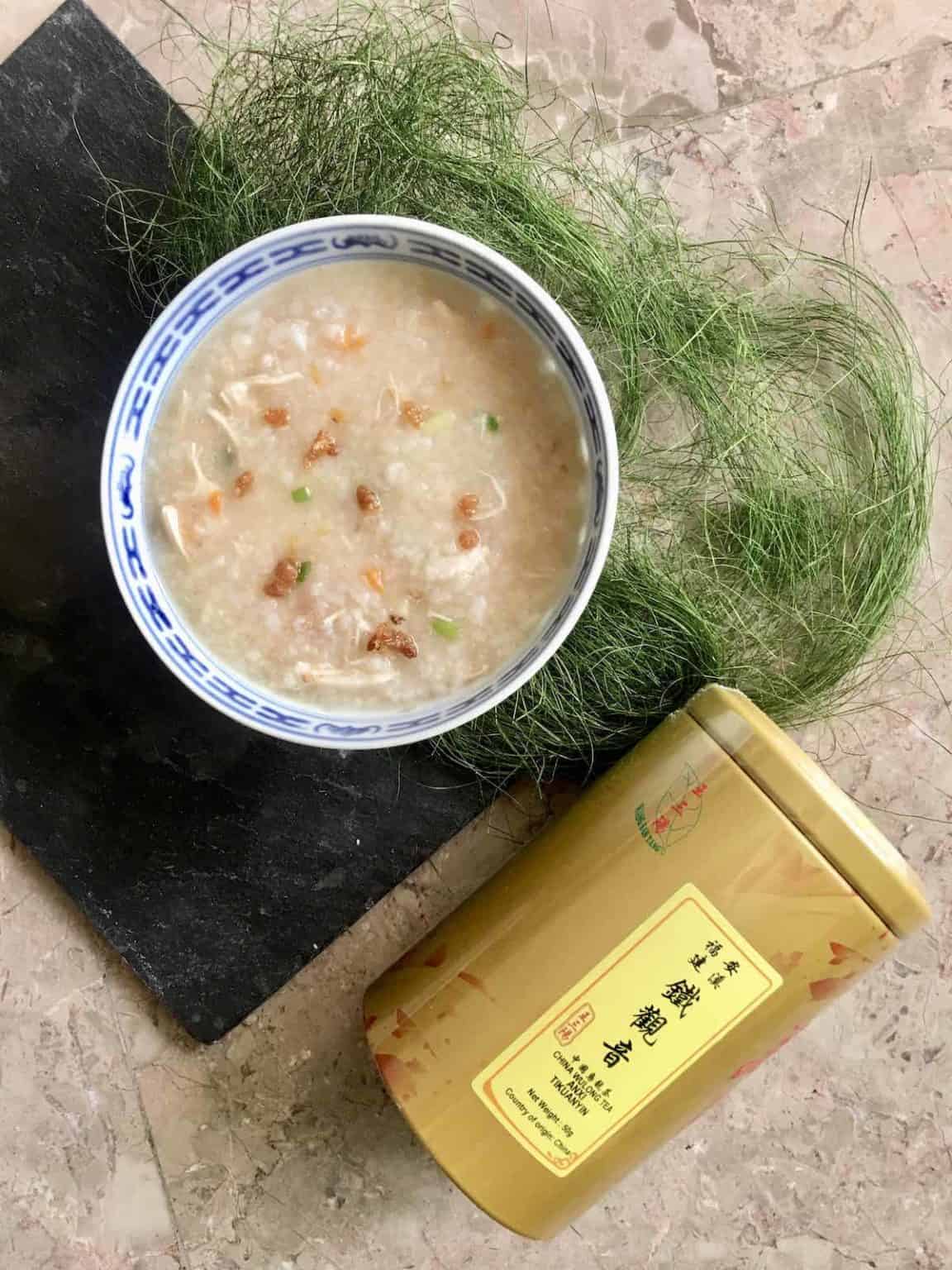 For this leftover roast chicken congee recipe, Zhen gives you all the resources you need for this Greedy Girl Gourmet. She gives you a crash course in congee and shows you how to get the most bang for your buck for roasted chicken recipes.
So, this traditional rice meal is mainly leftover shredded roasted chicken and rice. However, the rice has to be a particular kind to achieve the desired texture for classic congee.
But that's just the beginning. To make it classic congee, you will also need garlic, ginger, fish sauce, and other flavors.
Visit Greedy Girl Gourmet for the recipe.
Buffalo Chicken Dip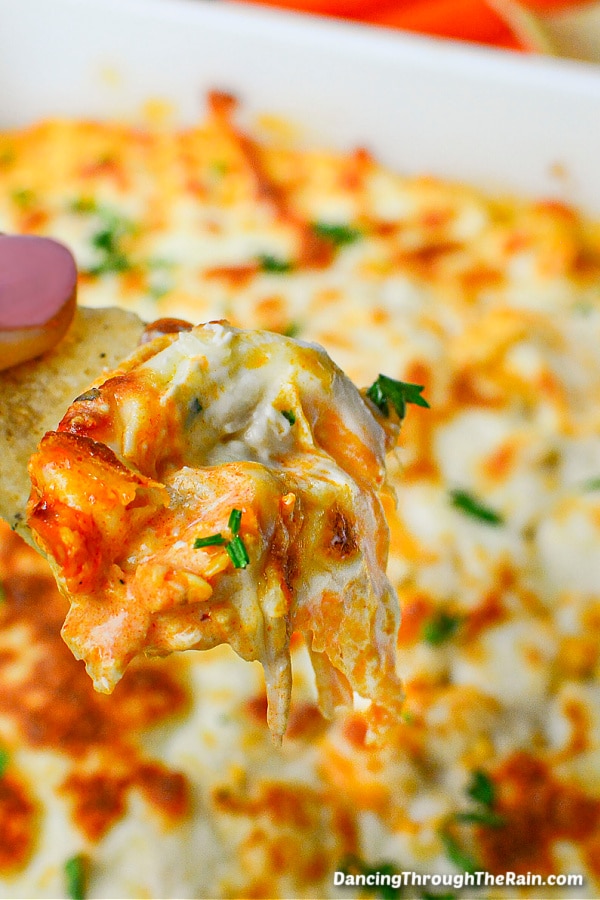 No shredded chicken recipe list would be complete without buffalo chicken dip. And we picked a good one with this straightforward buffalo chicken dip recipe from Alli of Dancing Through The Rain.
It's a five-ingredient snack option and a gameday staple you'll love from bite one. It's filled primarily with shredded chicken breast, but you'll also find hot sauce and mozzarella.
Visit Dancing Through The Rain for the recipe.
Chicken Mole Enchiladas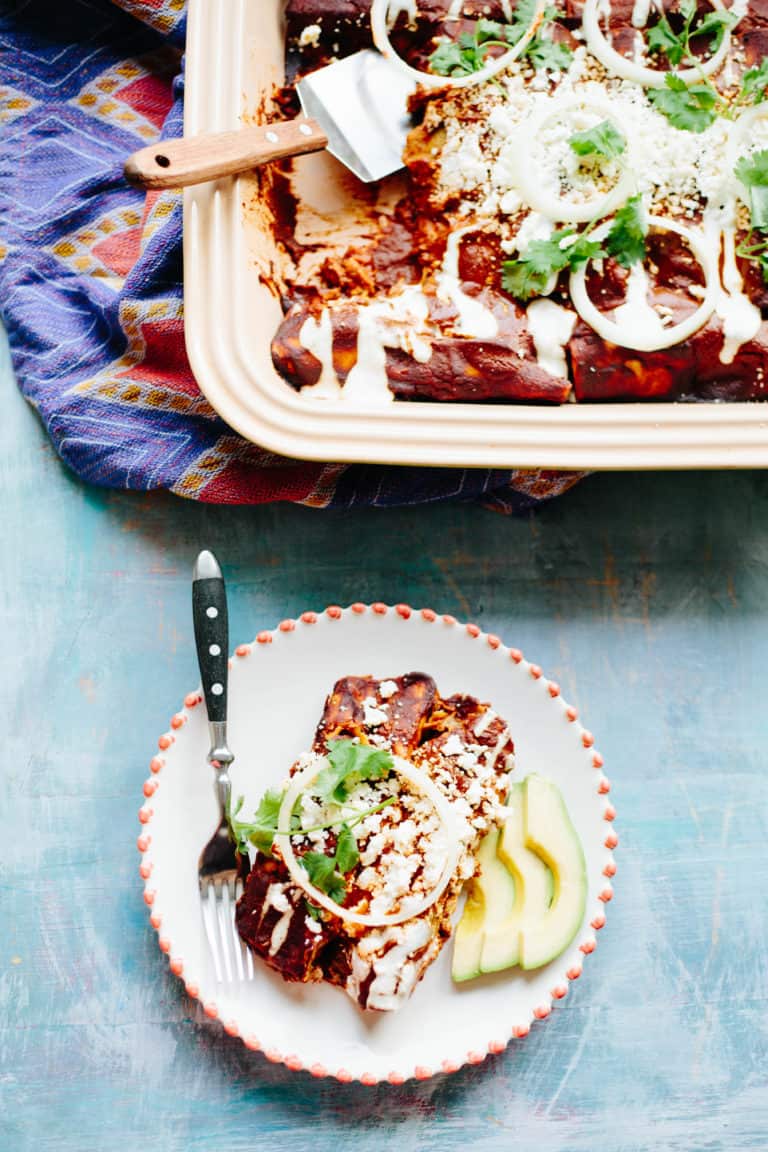 Nicole of Coley Cooks was originally tardy to the party. She published this recipe a day after Cinco De Mayo. But it's so good she insists you make it not only for Mexican holidays but any time you're in the mood for rich Mexican food with complex flavors.
Akin to the myriad ways to make mac + cheese, there are many ways to make mole. Lots of them require dozens of ingredients and days to complete.
But Coley simplified mole to its most vital parts to make the rich, dark, and earthy sauce at home more easily and frequently.
The result is a 10-ingredient sauce that takes less than an hour to make, and it's perfect for smothering shredder chicken-stuffed cheesy enchiladas.
Visit Coley Cooks for the recipe.
Instant Pot Tortilla Soup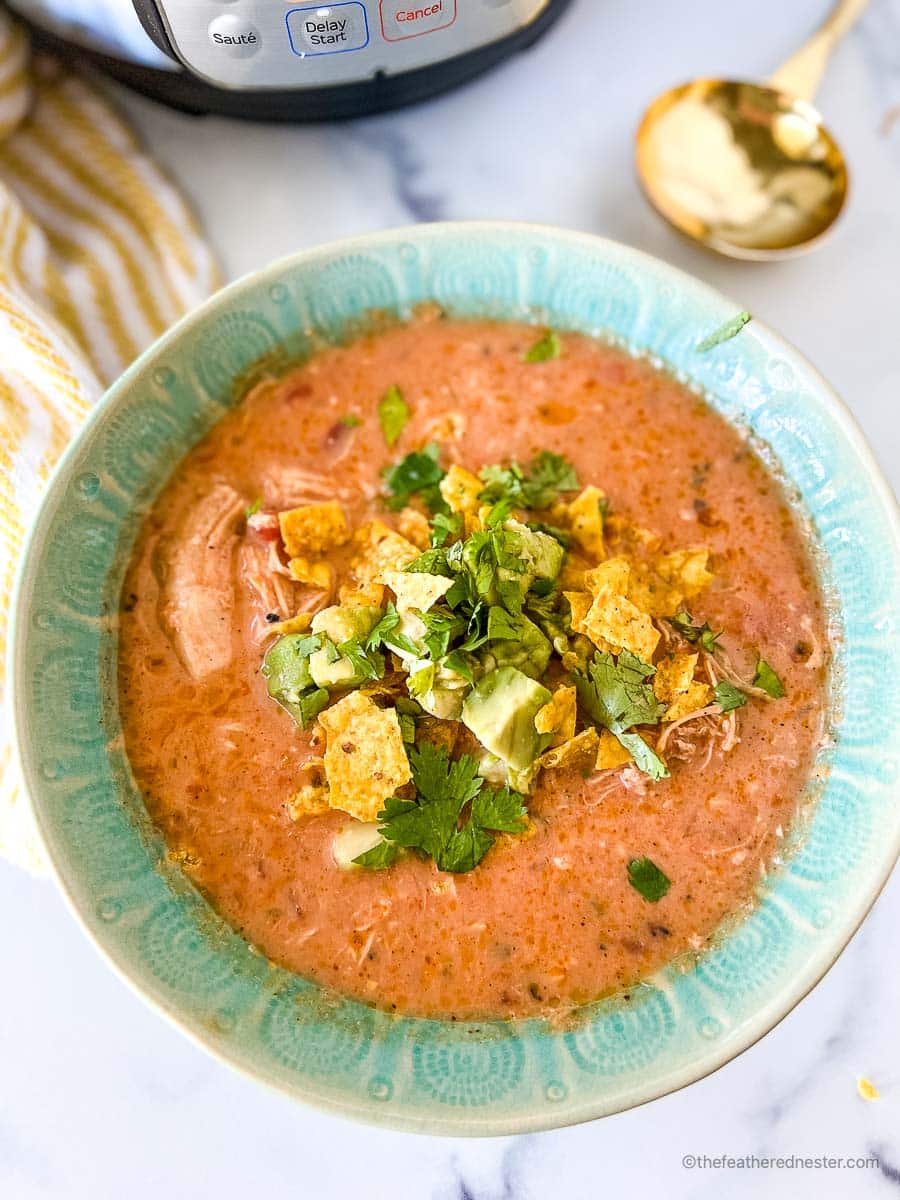 Looking for a shredded chicken soup dish to make all year long? Well, look no further than this quick, rich, flavor-filled chicken tortilla soup from Renae of The Feathered Nester.
You'll find so many delicious Mexican flavors in this 10-ingredient bowl. There's the tender shredded chicken that just falls apart in the pressure cooker. Plus loads of flavor from the jalapenos, cumin, dice tomatoes, and more.
Visit The Feathered Nester for the recipe.
Which Shredded Chicken Recipes Will You Try First?
By now, you've come across lots of delicious recipes featuring shredded chicken. Which one will you try first? Is it one of the soups, the buffalo dip, enchiladas, tostadas, or something else? Let us know.