You'll want to try all of the 25 Street Food Recipes on this list. There are so many delicious bites that you will struggle to pick one.
Here's just a taste of what's to come!
There's an Instant Pot Bahn Mi, Korean street toast, birria tacos, and so many more. And even more that we wanted to include. So are you ready to discover the tastiness?
Let's dive in!
Instant Pot Bánh Mì (Vietnamese Sandwich)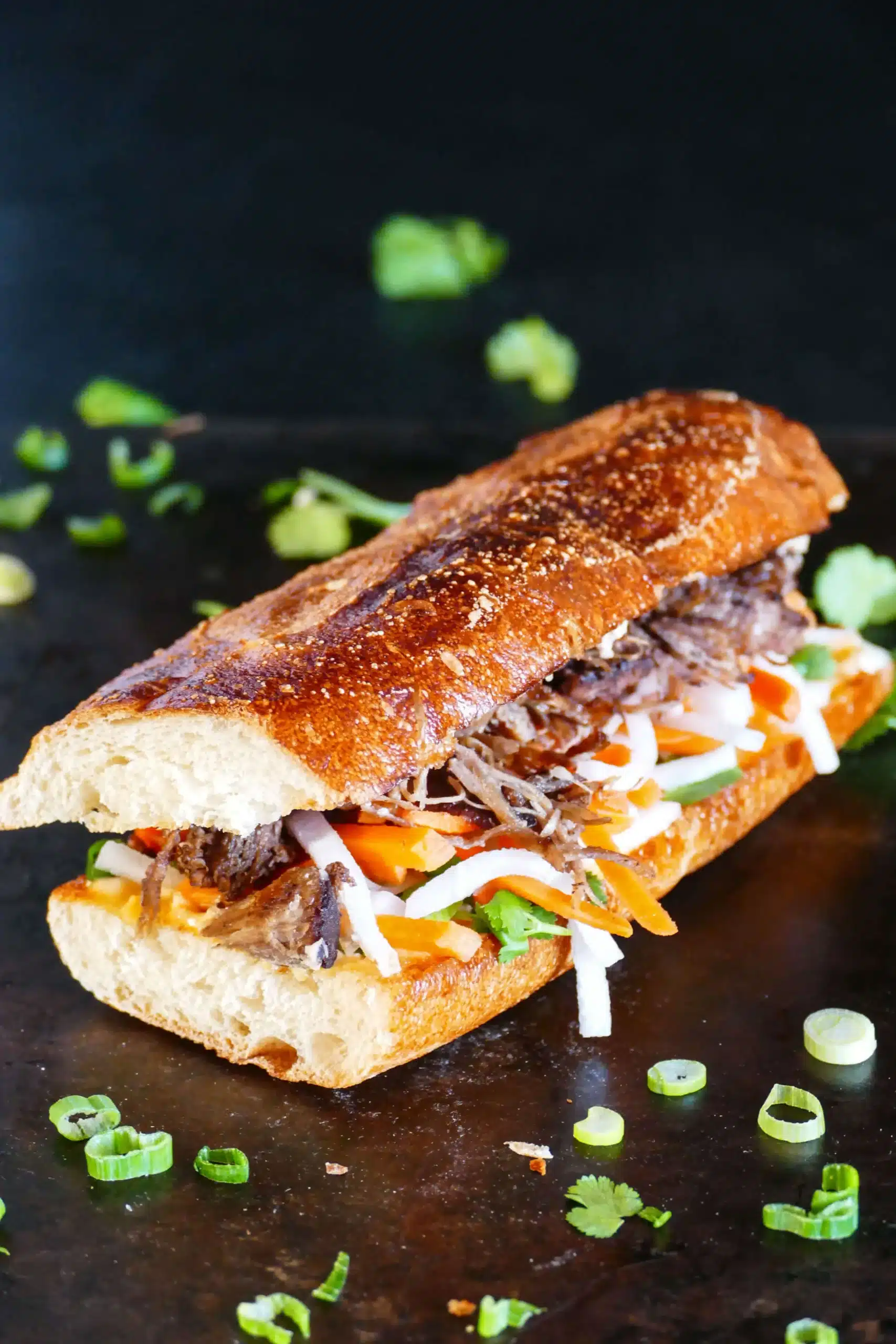 Bring the taste of Vietnamese takeout to your home with this Instant Pot Bánh Mì recipe by Neena of Paint The Kitchen Red. Just cook the flavorful and tender pon in a fragrant broth of lime juice, fish sauce, garlic, five spice, and other seasonings. Then serve it on a crusty French baguette with a medley of pickled vegetables, fresh herbs, pate, and a drizzle of tangy Maggi seasoning sauce. It's a delicious fusion of textures and flavors that will transport you to the streets of Vietnam.
Chocolate Peanut Martabak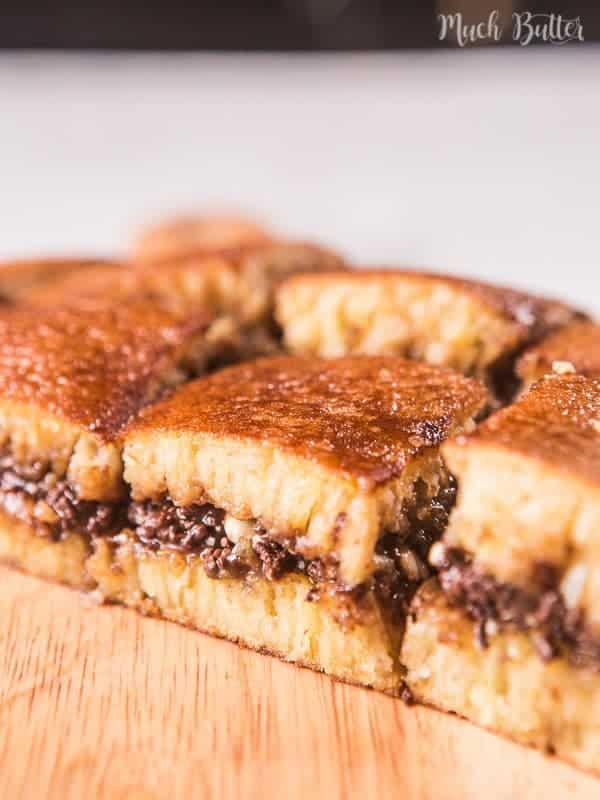 This Indonesian chocolate peanut martabak means "cakes made by Hok Lo people,." It is simply divine! Luckily for us, we have Farah, Hani, and Rani of Much Butter guide us through the splendor. It's a hyper-indulgent treat that features a giant pillowy pancake with chocolate, peanuts, and sweetened condensed milk. To serve, fold it in half. OMG! This one is a must-try!
The Best Chips Mayai Recipe (Chipsi Mayai)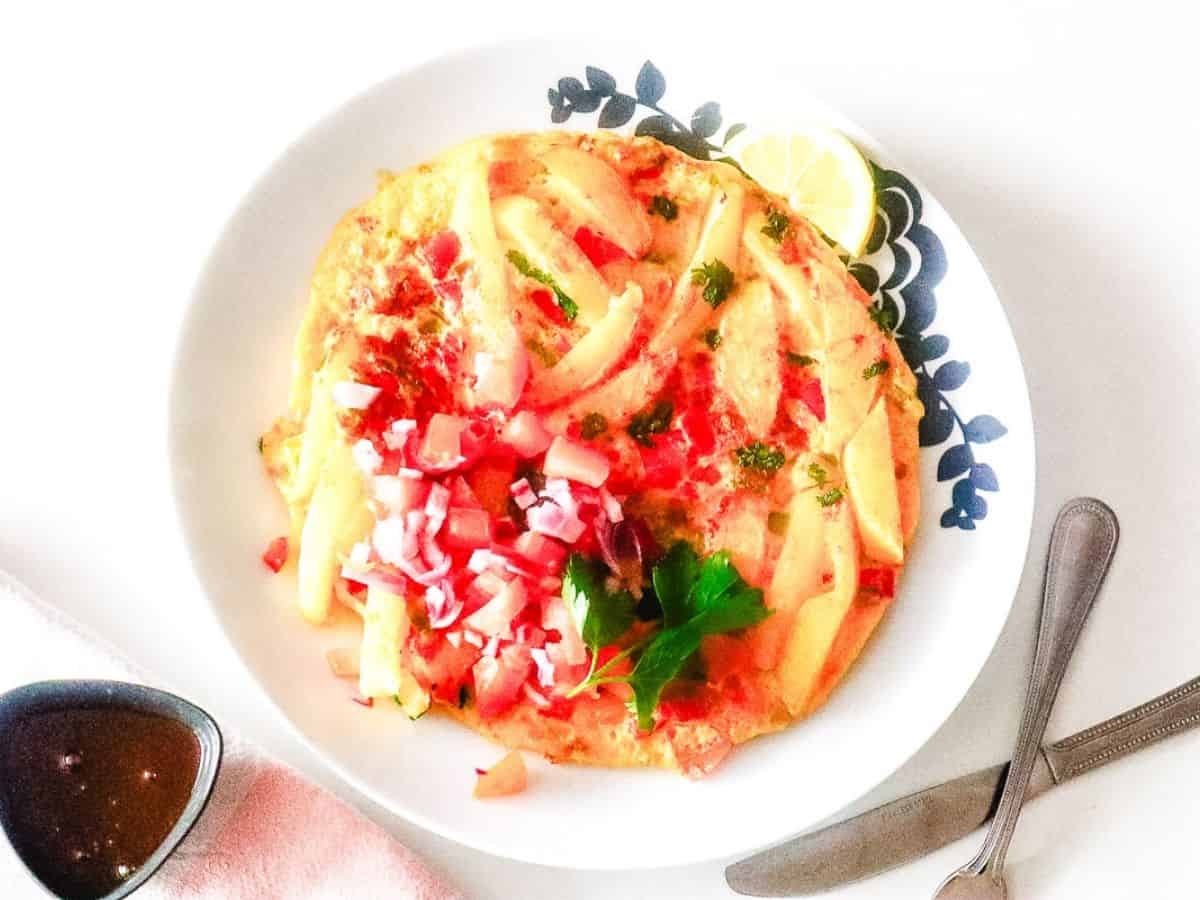 Chipsi Mayai is Swahili for chips (fries) and eggs. As we love potato recipes, this fries omelet from Kate of We Eat At Last, certainly has our attention. Beaten eggs provide the base for French fries, onion, bell peppers, and diced tomato. Serve warm with optional toppings like ketchup or hot sauce.
Korean Street Toast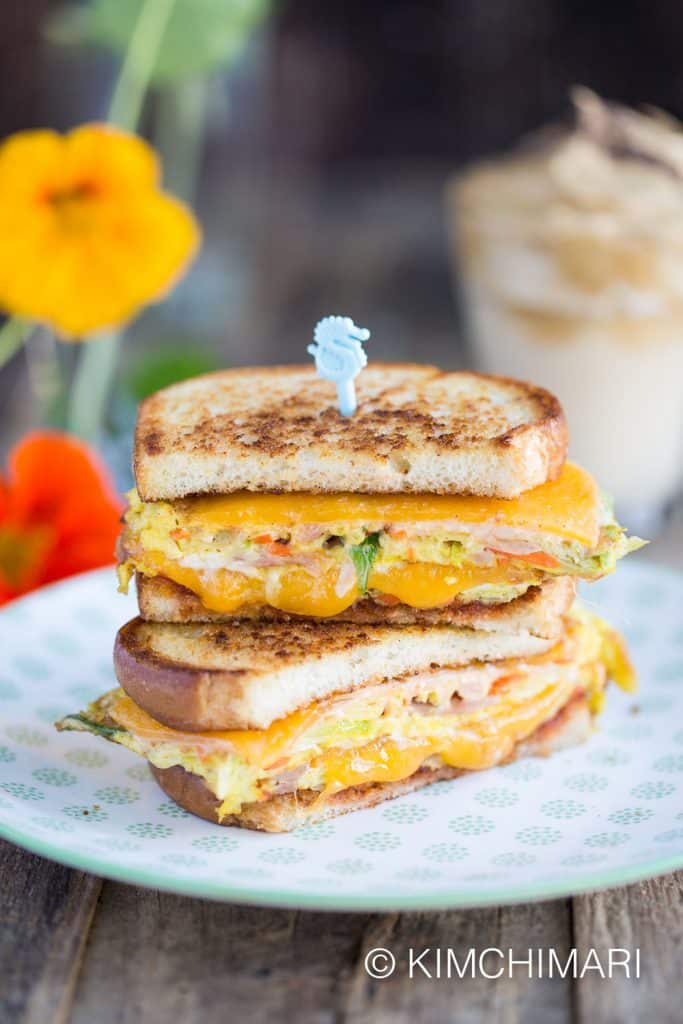 While obscure over the last 20 years, this Korean street toast is starting to come back. We understand why. It features a combination of fluffy eggs, thinly sliced cabbage and carrots, and cheese, all sandwiched between slices of crusty bread. It's a hearty and delicious way to kick-start your morning and experience the vibrant flavors of Korea.
Dalgona Sponge Candy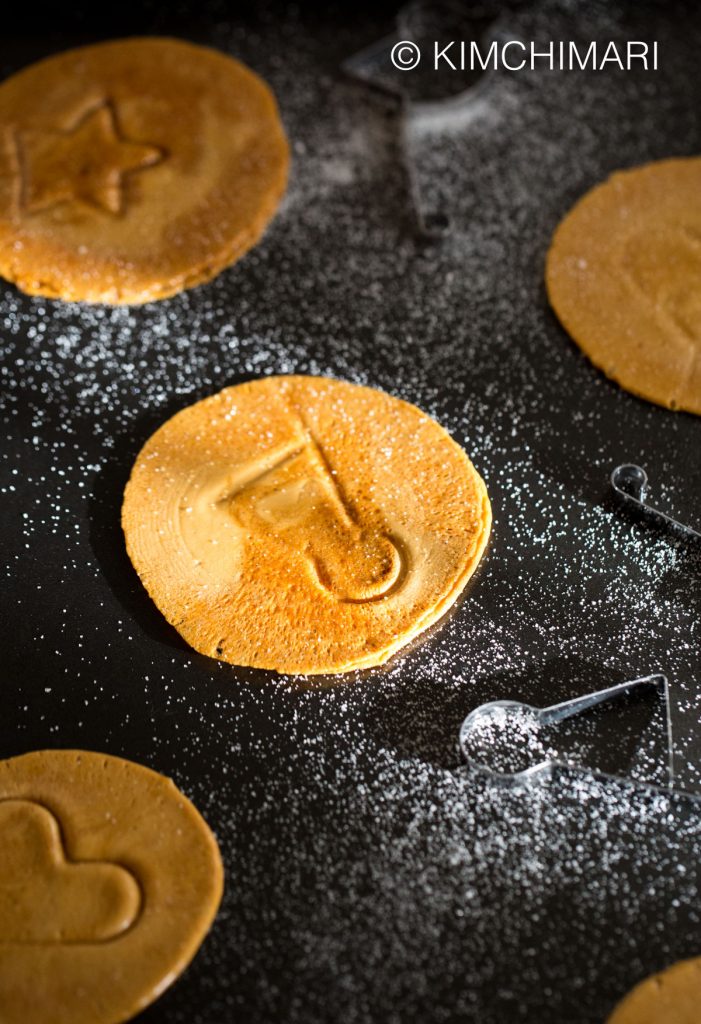 Thanks to a certain show on a popular streaming service, Korean dalgona sponge candy is more popular than ever. But for JinJoo of Kimchimari, it's a childhood favorite. Sweet with notes of caramel, slightly crunchy but melt-in-your-mouth satisfying, it's a beautiful mix of flavors and textures. This three-ingredient dessert is a delight for those craving a unique and satisfying sweet treat.
Bacalaitos (Codfish Saltfish Fritter)
Alongside Puerto Rico's beachside, you can't miss the many small stands selling bacalaitos, also known as codfish fritters. But if you can't yet make it to the island, this authentic recipe from Marta of Sense And Edibility has you covered. All you need are salted codfish, flour, sazon, sofrito, other herbs and spices, frying oil, and Marta's tips. Perfect as an appetizer or snack, these fritters bring a taste of the islands to your plate.
Instant Pot Birria Tacos
This instant pot birria tacos recipe by Amy + Jack of Pressure Cook Recipes has Mexican cuisine's rich and comforting flavors. Only your electric pressure cooker does all the heavy lifting. Your choice of chuck roast or shank is braised in a flavorful blend of spices (there are many), herbs, and chilies until it becomes melt-in-your-mouth tender and delicious. Finally, make the tacos, crisped up on a cast iron skillet, and serve with a side of consommé for a satisfying and authentic Mexican meal.
Pan-Fried Buns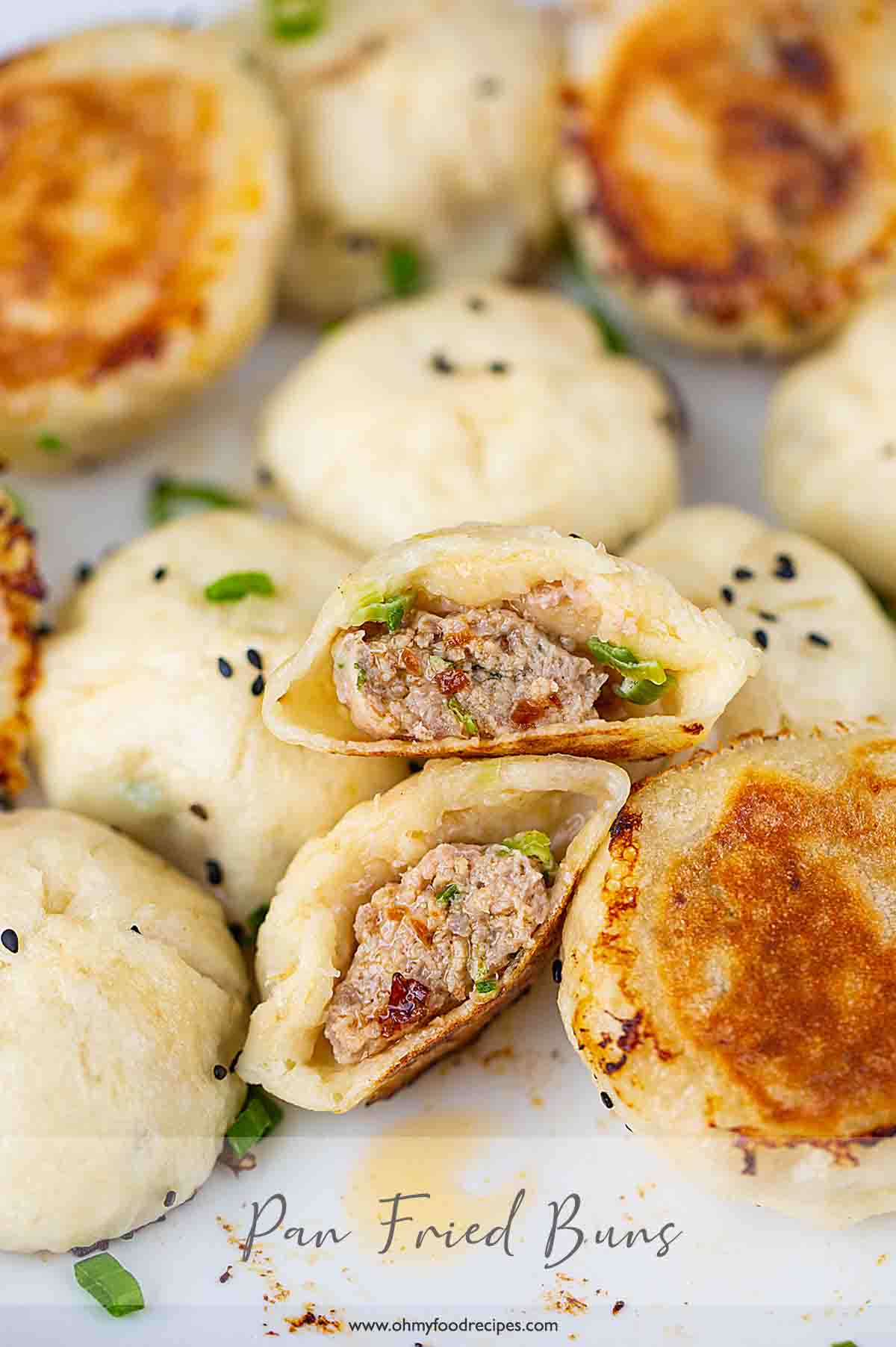 Like scallion pancakes or curry fish balls, these pan-fried buns by Oh My Food Recipes are authentic Chinese street food. Similar to a dumpling, they are the perfect combination of soft and crispy. In the center, you find a savory meat mixture of ground pork, oyster sauce, sesame oil, and garlic powder. And on the outside, you have a crispy bun.
Pupusas
Enjoy the taste of El Salvador with these traditional pupusas coming to us from Foreign Fork. They are tasty flat dough pockets made with fine cornmeal that you fill with a savory blend of cheese, meat, or vegetables. Pan fry until crispy on the outside with char marks while gooey and flavorful on the inside.
Pão de Queijo (Brazilian Cheese Bread)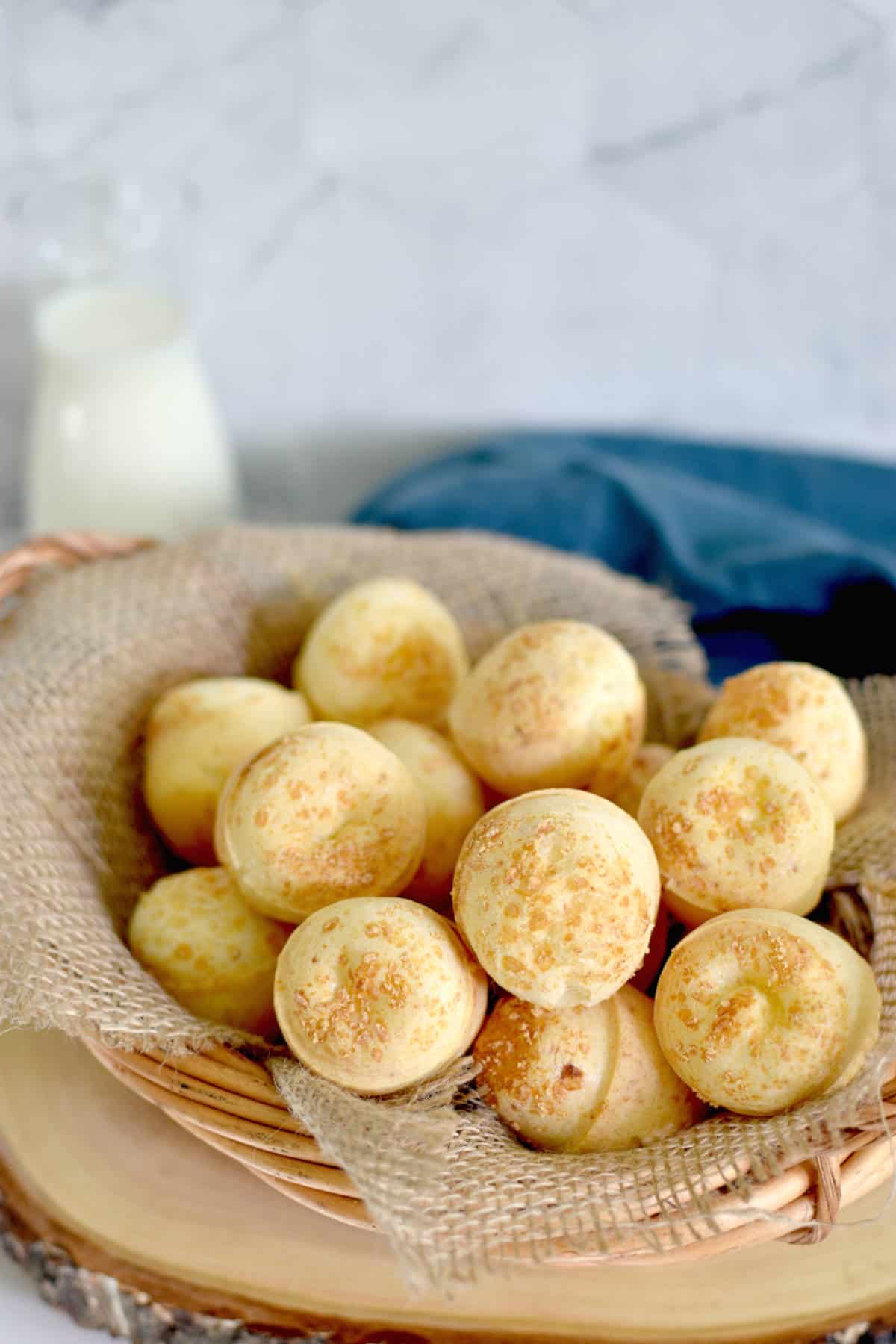 Thank Lilian of Simply Living Recipes for presenting these naturally gluten-free Brazilian cheese bread balls. They are so addictively good you won't be able to eat just one. Actually, you'll be challenged to stop at just five! Made with tapioca flour and a generous amount of cheese, they are soft, chewy, and irresistibly cheesy. These breads are perfect as a snack, side dish, or even as a breakfast treat.
Buñuelos (Bolivian Donuts)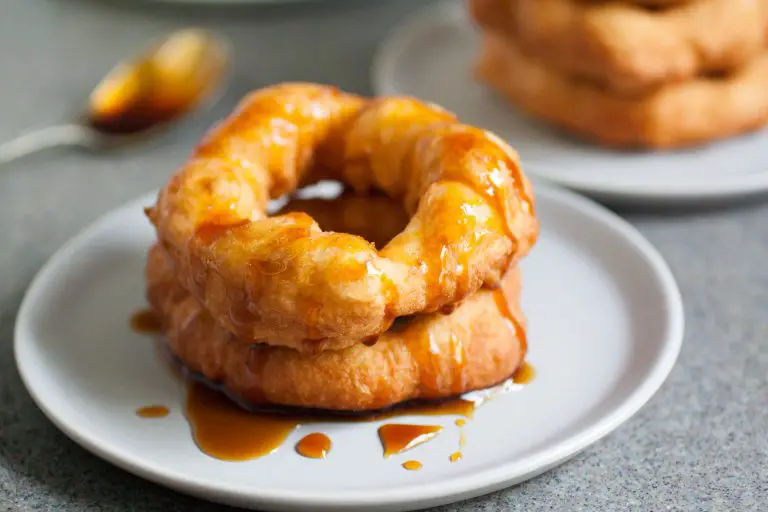 Food is central to most celebrations worldwide. So Lizet shares these Buñuelos, or Bolivian donuts, to celebrate Bolivian independence. It's a donut recipe with anise seed and yeast for a crispy on the outside and fluffy on the inside confection. Finally, fry to golden brown beauty and serve them with molasses or panela syrup. Enjoy them as a dessert or a special morning treat with coffee.
Bánh Bột Chiên (Vietnamese Fried Rice Flour Cake)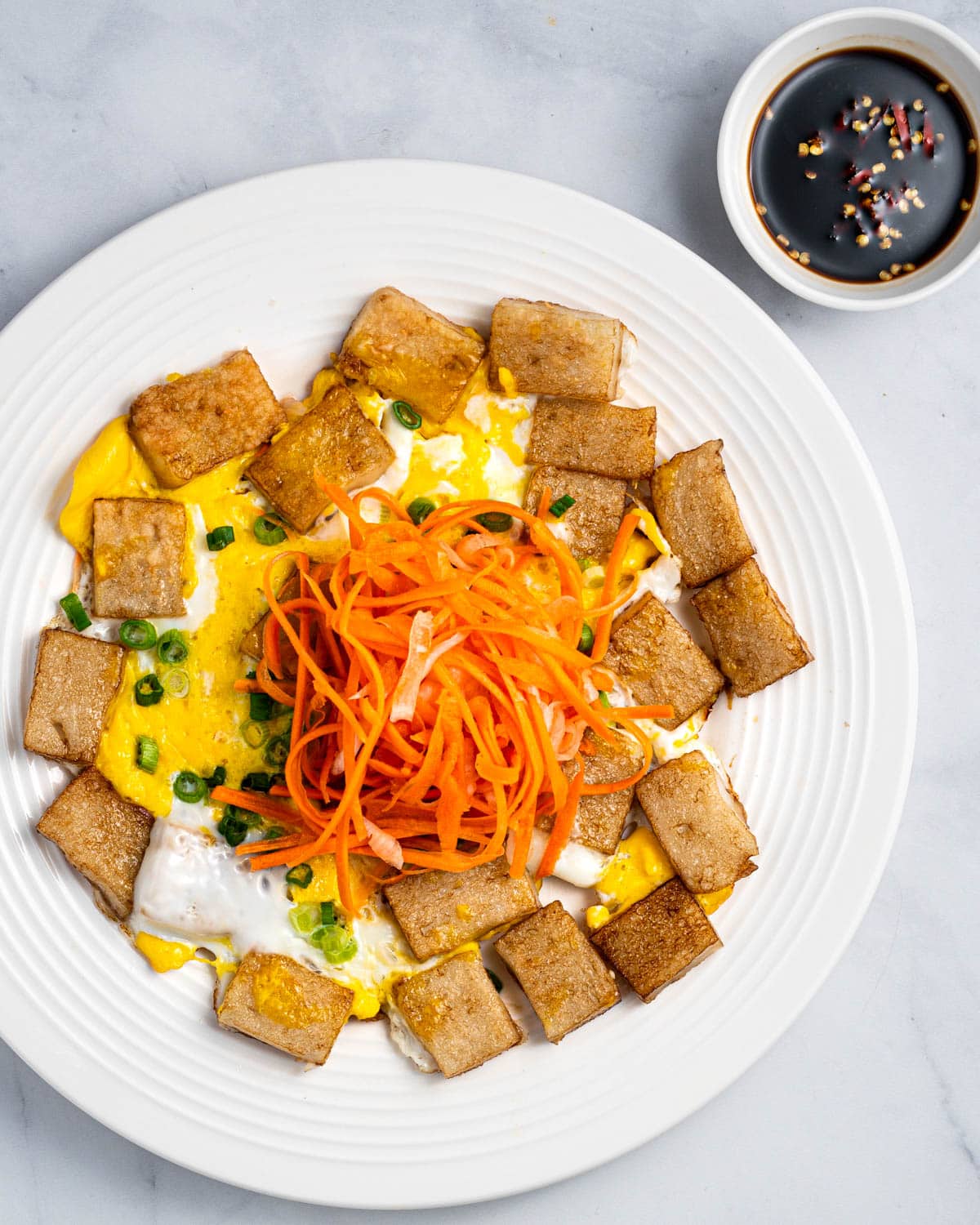 Vietnamese fried rice flour cake is traditional Vietnamese street fare. And now, with the guidance of Quynh of Savory Sweet Spoon, you bring that flavor to your own kitchen. First, the texture is crispy on the outside and soft and fluffy on the inside. You'll learn how to fry the steamed rice cubes with eggs and scallions. Then, make the deliciously simple and flavorful dipping sauce with soy sauce, vinegar, and sugar.
Pinchos (Pork Skewers)
Undesirable days of selling pinchos in front of the bowling alley weren't enough to keep Marta from loving the Puerto Rican pork skewers. The meat on a stick is a blend of herbs, spices, and citrus juices. The pork is chargrilled for an irresistible smokiness, creating tender and juicy bites. Served with bread and a tangy, sweet, and spicy dipping sauce, pinchos make the kind of fantastic appetizer or main course you can expect from Sense And Edibility.
Chicken Pakora Kebab
At Untold Recipes By Nosheen, you'll find authentic South Asian creations like these crispy chicken pakora. So get ready to dive into the flavors of Pakistan and Indian cuisine with these succulent chicken kebabs. Marinated in aromatic spices like ginger, turmeric, and garlic and coated in a crispy batter, these kebabs are deep-fried, resulting in a delightful combination of flavors and textures. Perfect as an appetizer or a main course, they will surely be a hit at any gathering.
Kolkata Fish Fry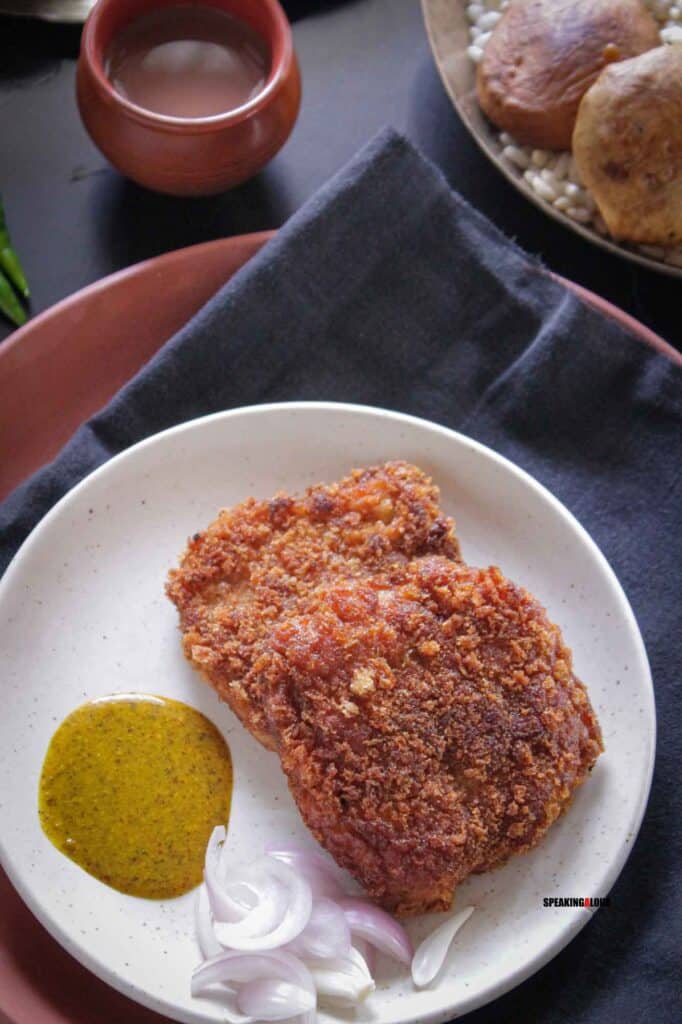 This Bengali fish fry recipe by Speaking Aloud is a popular street food experience. In every bite, you'll taste the vibrant flavors of Kolkata with this classic. First, marinate barramundi or seabass in a blend of spices, like ginger, onion, garlic, and chili juice. Then, dip it in an egg wash and coat it in a flavorful batter before frying.
Taiwanese Green Onion Pancake (Cong You Bing)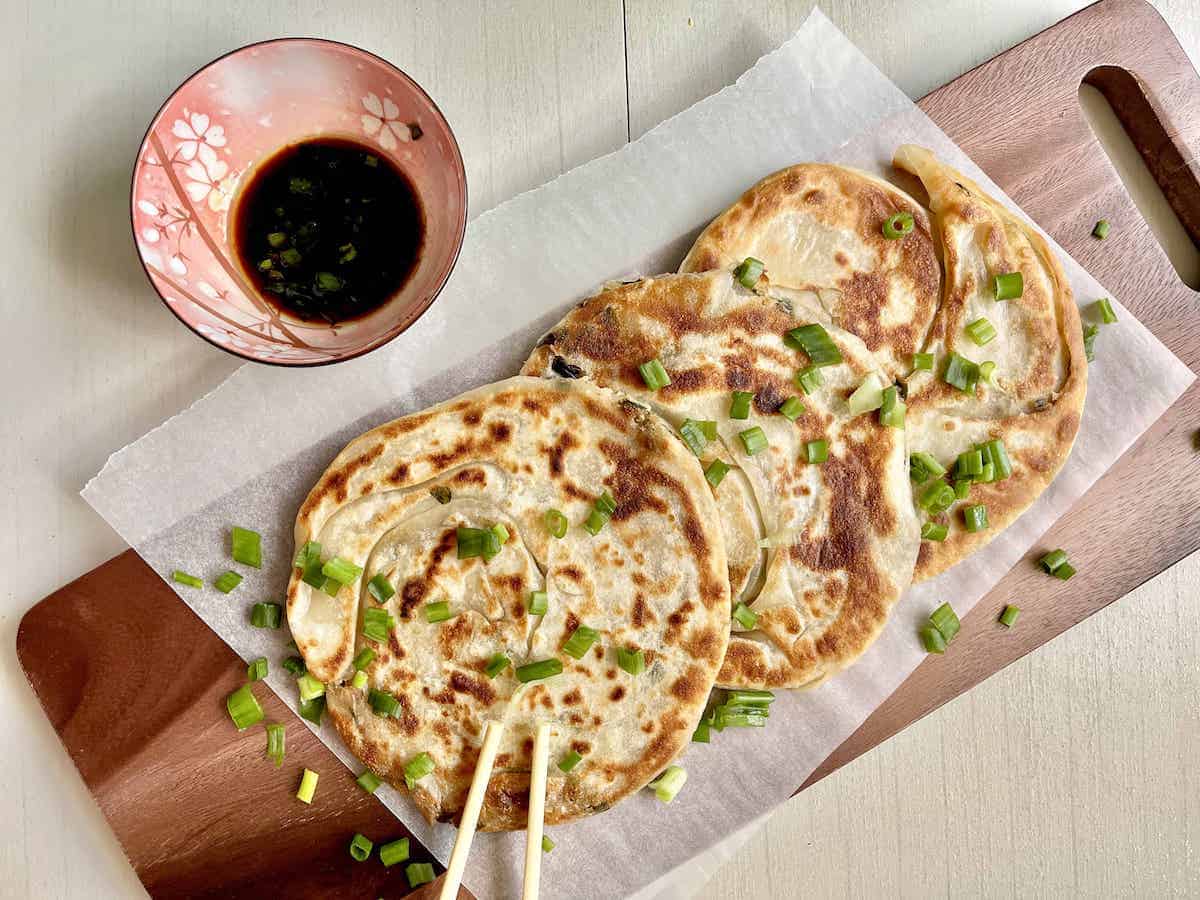 Indulge in the crispy and classic Taiwanese street food known as Taiwanese green onion pancake or Cong You Bing by Zhen of Greedy Girl Gourmet. The savory pancake is filled with fragrant green onions and pan-fried to perfection, resulting in a delightful blend of textures and flavors. And that's just the beginning. She also shows you how to whip up a sweet and savory dipping sauce with soy sauce, rice vinegar, and sugar.
Batata Vada
Prepare for a burst of flavors with these Indian potato fritters by Second Recipe. Spiced mashed potatoes are coated in a crispy chickpea flour batter and deep-fried until golden and crisp. Enjoy them as a snack, or serve them with chutney for a delicious vegetarian meal. And trust us! You won't miss any meat.
Coxinha de Frango (Chicken Fritters)
Treat yourself to these Brazilian chicken fritters – a unique appetizer you want to pay attention to. Coxinha de Frango features a savory filling of shredded chicken, garlic, onion, and Catupiry cheese. Next, stuff that delicious filling inside a thin, flavorful dough. Shape into a drumstick, bread, and deep-fried until golden brown. Finally, enjoy bite after bite of savory flavors combined with crunchy textures and tender filling.
Mee Goreng (Spicy Indonesian Noodles)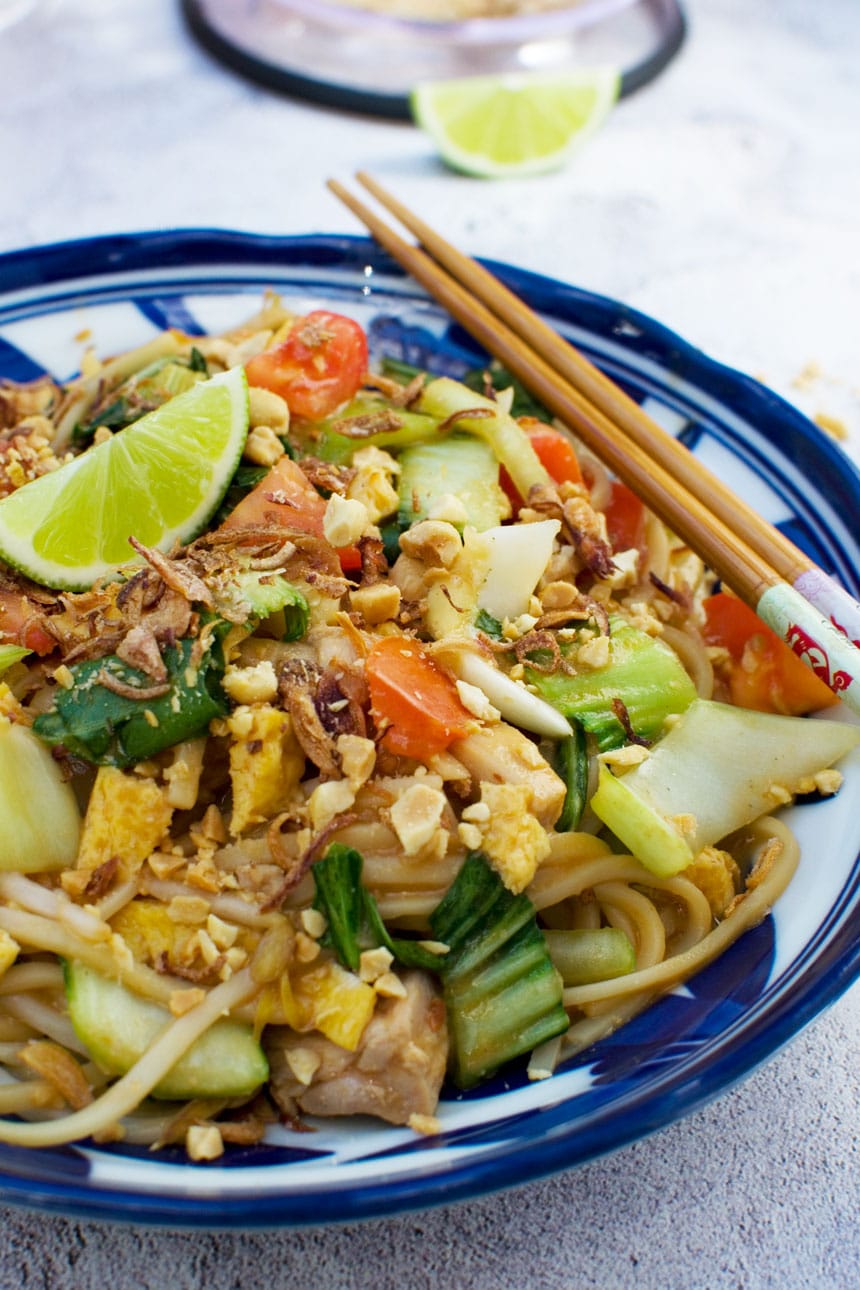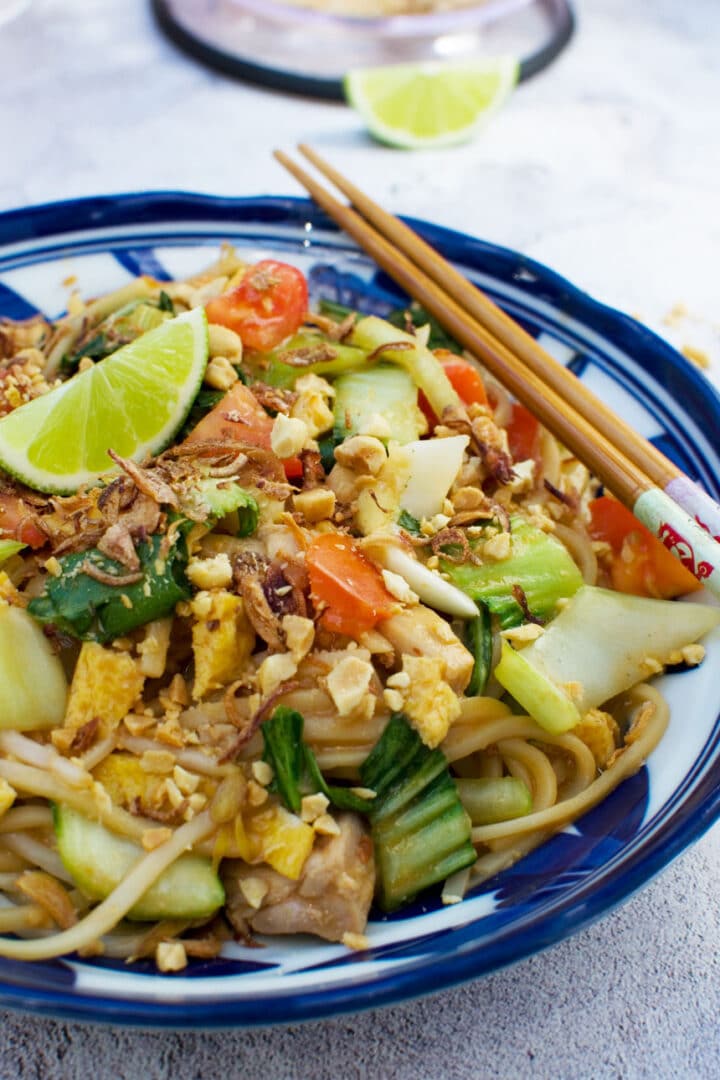 Experience the fiery flavors of Indonesia with this popular Mee Goreng street food dish by Scrummy Lane. Stir-fried egg noodles are infused with a mildly spicy sauce and combined with various vegetables like beansprouts and tomatoes. But it's also protein packed with chicken. The result is a tantalizing medley of sweet, savory, and spicy flavors that will leave you craving more.
Vietnamese Grilled Pork Meatballs (Bun Cha)
Dive into the vibrant world of Vietnamese cuisine with these succulent Vietnamese grilled pork meatballs by Sophie of Delightful Plate. They're infused with aromatic herbs and spices. The juicy meatballs are served over a bed of vermicelli noodles, bright and refreshing herbs, and finally, the best part – A tangy fish lime dipping sauce. It's a harmonious mix of fish sauce, lime juice, sugar, and papaya.
Aloo Chop (Bengali Potato Fritters)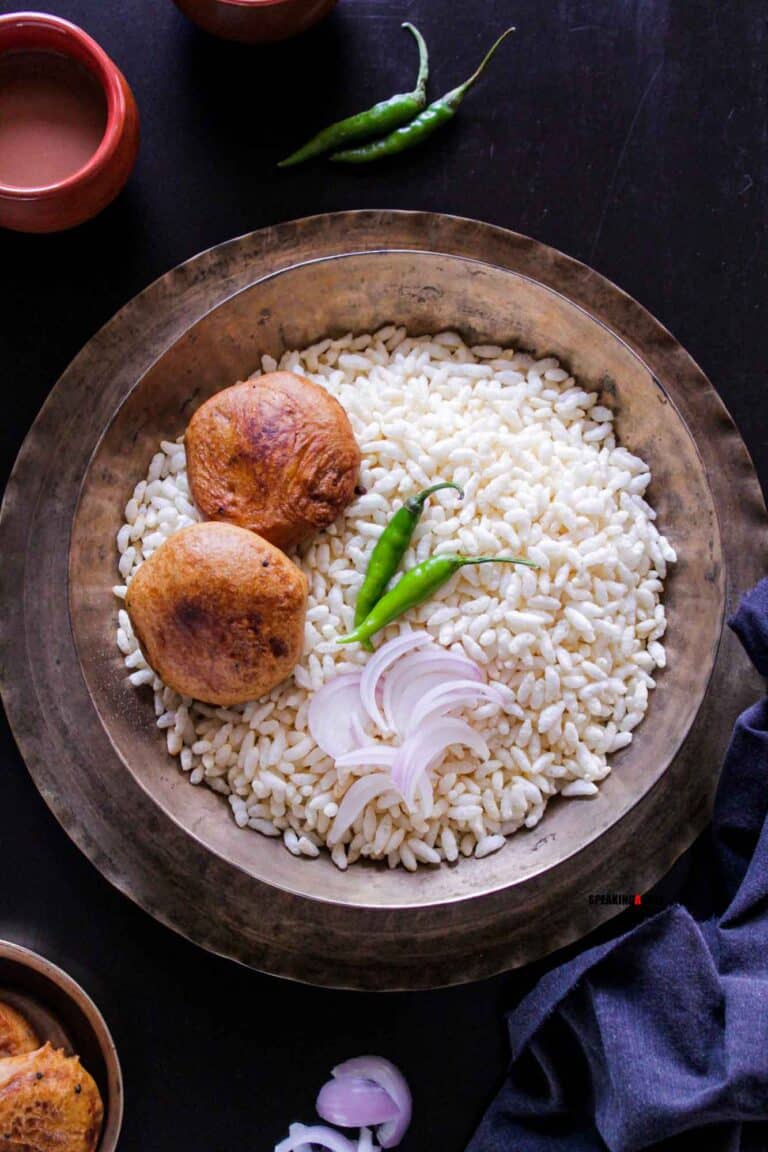 If you like spicy food, you'll really enjoy these crispy and flavorful Bengali potato fritters from Speaking Aloud. First, shape spiced mashed potatoes into patties. Then, dip them in a slurry of rice flour, chickpea flour, and water. Finally, deep fry the crispy potato nuggets to finger-licking deliciousness. These golden delights are perfect as an afternoon snack or a side dish for your meals.
Italian Deep-Fried Custard (Crema Fritta)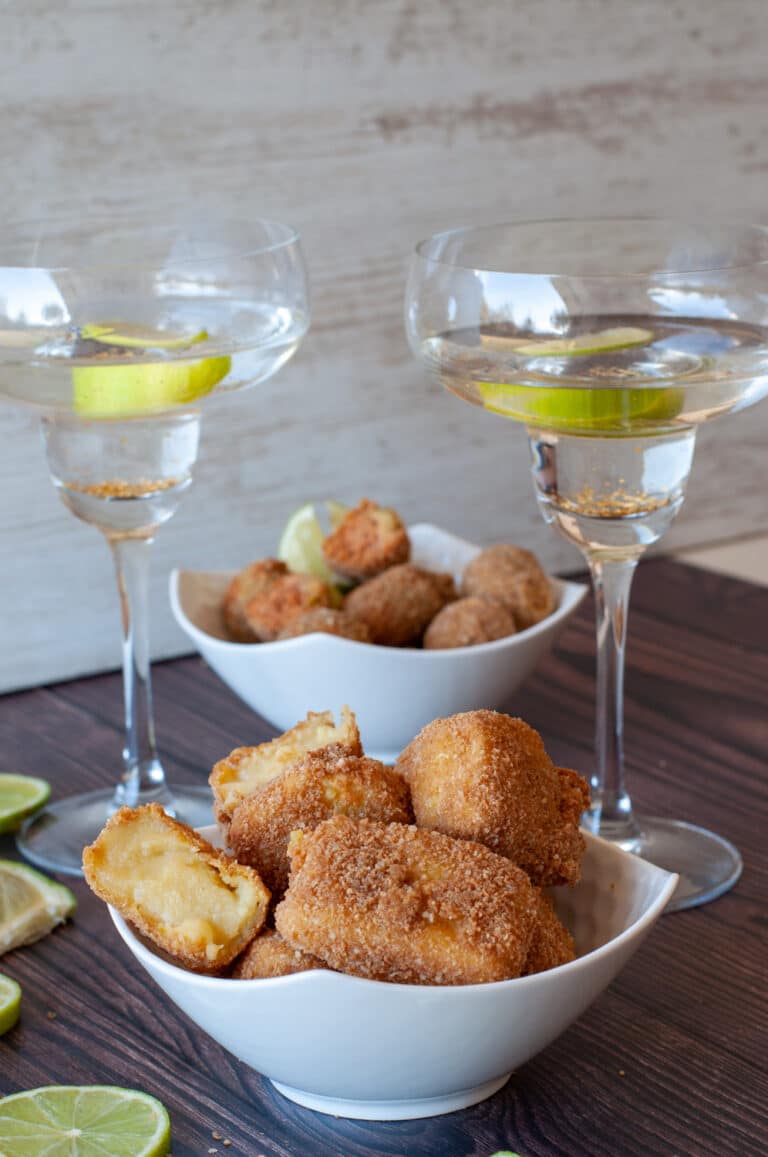 Deep fried custard? Yes, indeed! Laura is Your Guardian Chef, inviting you to indulge in the lusciousness of this Italian deep-fried custard. You start by making a creamy, sweet, eggy custard. Once set, dip the custard squares in a flour, egg, and breadcrumb coating. And finally, deep fry until they're so golden and brown, sweet and delicious. You'll want to eat them all!
Samosa
Embark on a flavor-packed journey with these beloved vegetarian Indian snacks—samosas. Crispy pastry pockets are filled with a spicy mixture of potatoes, peas, and aromatic herbs and spices—many, many spices like masala, red chile powder, cilantro, and much more. They're simply delicious. So whether enjoyed as an appetizer or a meal, samosas are sure to satisfy your cravings.
Loukoumades
Honey and sesame seeds give these Loukoumades or Greek donuts from Maayke of Nutmeg And Vinegar a uniquely sweet flavor. They're little deep-fried balls of yeasted dough drizzled with honey and sprinkled with sesame seeds. With their crispy exterior and soft, airy interior, these addictive bites are a donut lover's dream.
Sweet Nigerian Buns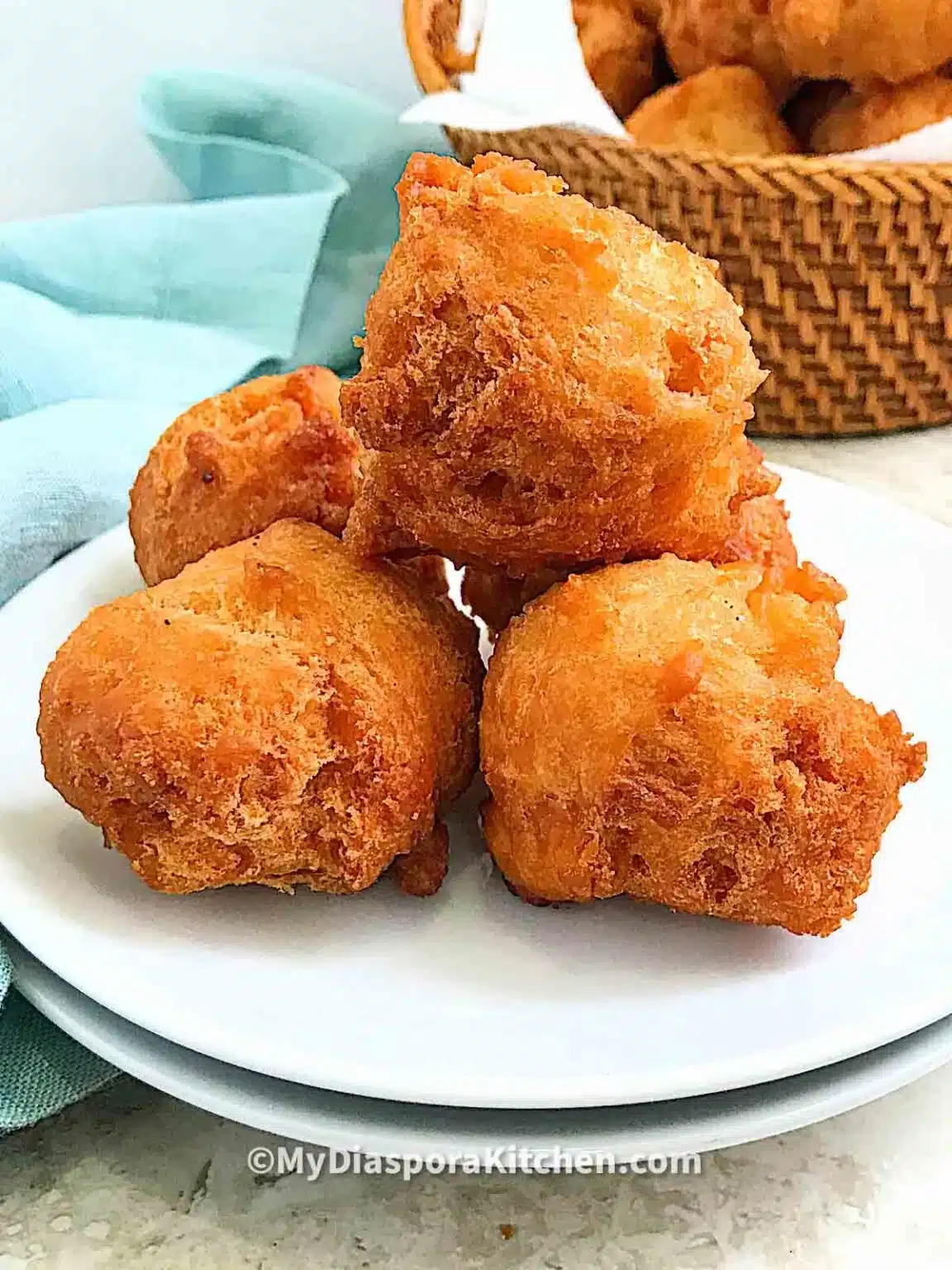 Sweet Nigerian buns are delectable African street food. This recipe is brought to us by Chichi of My Diaspora Kitchen. Mix the flour, butter, sugar, milk, and spices to make a thick dough (no yeast necessary). Next, shape into small balls and deep fry until golden brown. You're going to want these fluffy, sweet buns at every opportunity. They are perfect for breakfast, snack time, or special occasions.
Which Street Food Recipe Will You Try First?
We hope you had as much fun exploring these street recipes as we did. By now, you've seen Italian deep-fried custard, Brazilian chicken fritters, and even Greek Donuts. So now the time has come to choose. Which one will it be? We'd love to know!