Jump to Recipe
Nachos bell grande recipe – tortilla chips with ground beef, refried beans, diced tomatoes, nacho cheese, and sour cream. They're tasty, easy, and best of all cheaper to make for a crowd than going to the restaurant!
If you like these nachos, you'll love our Elote Waffle Fries Nachos, too, they're soo good and easy to make!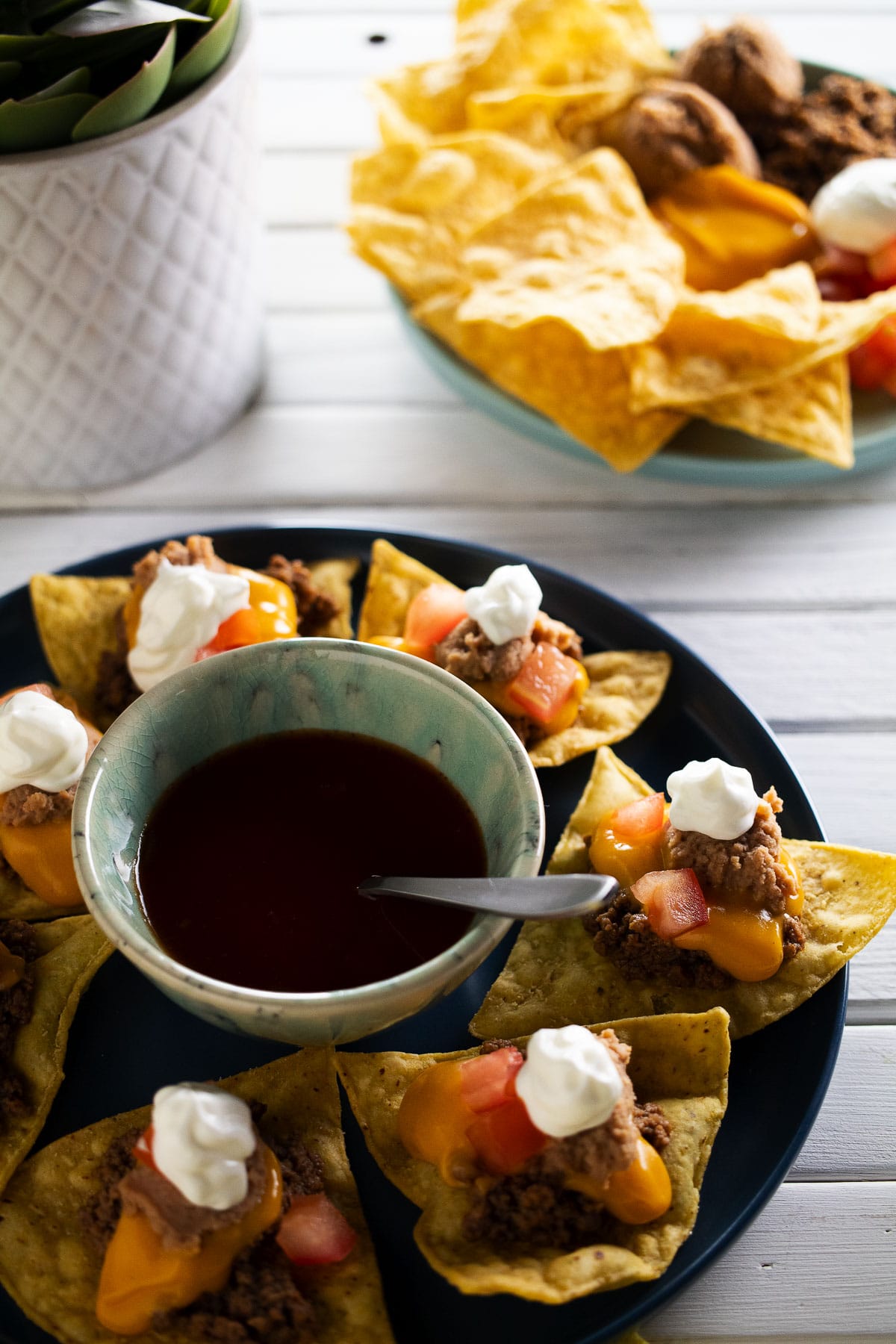 We make our version of Taco Bell's Nachos Bell Grande at home for a few good reasons. For one, sometimes we just don't want to make the trip and wait in the oft long lines only to get home with soggy chips or missing toppings.
Another reason is that we can guarantee the freshness of our ingredients. And finally, we can control the serving sizes and ingredient amounts. For example, we like more meat than what they give you at the restaurant.
You know, it's like rolling the dice sometimes when you go to fast-food restaurants. Sure, the food is tasty but you can't be sure that you'll get your order the way that it should be.
Also, you can bet your bottom dollar that it won't look anything like the picture. So, when we make our nachos at home we like to take our time and load them up individually. That way, we get a picture-perfect bite with every single chip.
Jump to:
Ingredients
Below are all of the ingredients that we used for our nachos bell grande recipe. But, first, we'll explain why we like to use what we use.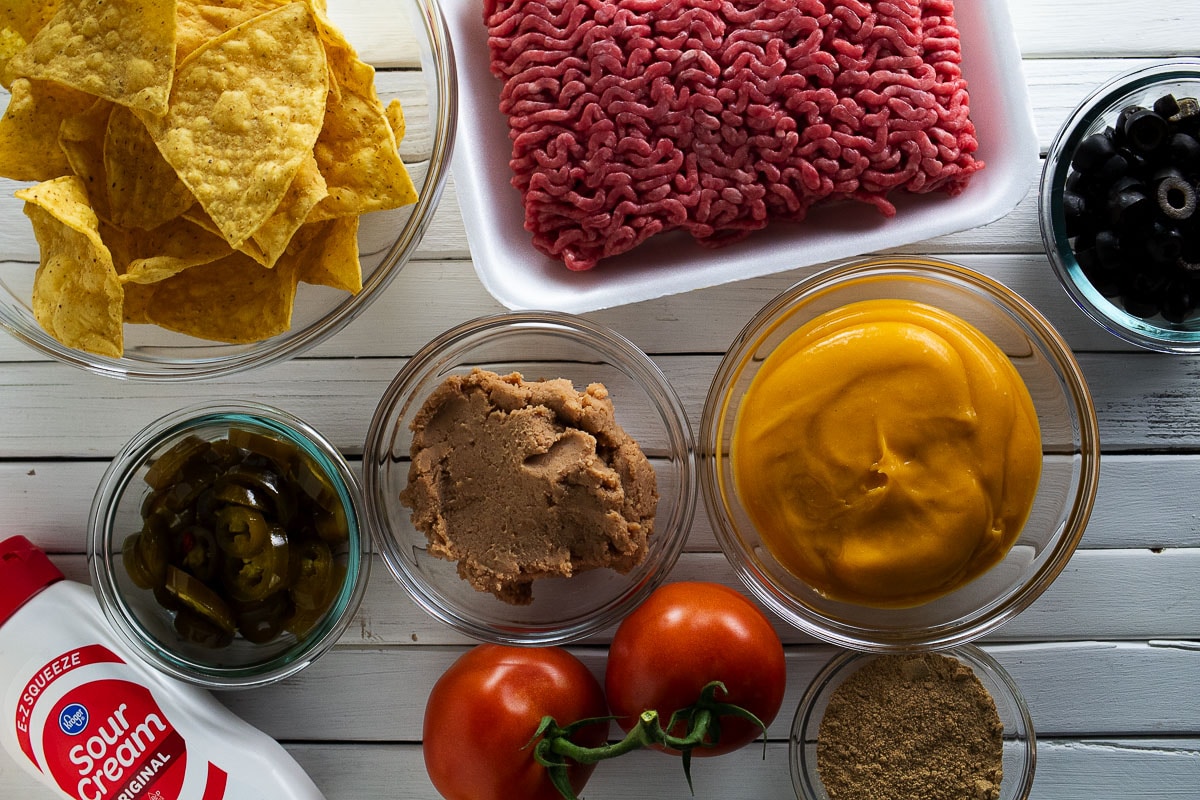 Ground beef – We used 80/20 ground beef.
Tortilla chips – Hey, chips matter. We prefer our local small batch artisan chips, they are thicker, fresher, and tastier, which means that they won't get soggy as you eat them. However, you can use whichever tortilla chips you want. You can even fry up your own.
Nacho cheese – We just went with what was available. The store brand offered a giant can, more than enough to feed a small army for a reasonable price. Lukily, we can freeze the rest.
Tomatoes – We prefer the roma or vine ripened variety.
Taco seasoning – taco bell sell's taco seasoning, you should be able to find it at any major grocery store. If it isn't available, go with your favorite brand.
Sour cream – We like using sour cream that comes in the squeeze bottle. It is so convenient.
Refried beans – I'm sure that there are subtle difference between different brands but we haven't come across one that we like more another just yet.
Taco sauce – Once again Taco Bell makes their own sauces but you can opt for your favorite.
Now, you can also get crazy and add your toppings. For example, we regularly add the following toppings:
Olives – get canned sliced black olives to save time.
Green onions
Sliced jalapenos
See the recipe card for quantities.
How to Make Our Nachos Bell Grande Recipe
This recipe is pretty straightforward. It's about as easy as it gets. The only thing that you must cook is ground beef. But you want to make a recipe that actually tastes like Taco Bell, right?
Have you made tacos or nachos at home and found that the chunks of ground beef were too large? We've found that those large chunks tend to roll off of the nachos. So, we have a little trick for you. Read more below.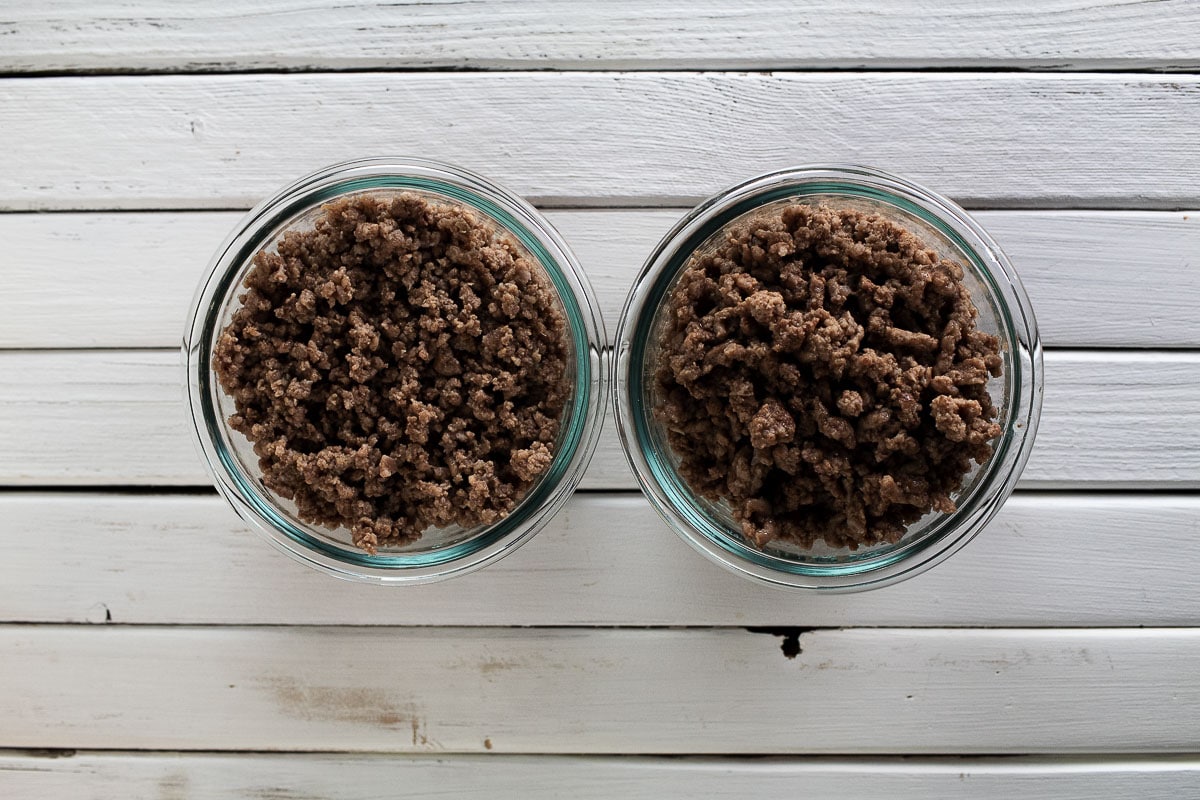 First, you will need to cook the ground beef on medium heat, breaking it up as you usually would, and drain excess fat.
After you finish, your ground beef should look something like the meat on the right side in the image above. As you can see, the chunks of ground beef are too large unlike what you get from Taco Bell.
So, what we do is, working in small batches, blend the meat on the pulse function to get a finer texture. You have to be careful here because you don't want to end up with meat paste.
Now, you might be thinking you can avoid this step and just buy canned meat. We tried that, and it sucks. The meat is too salty and just doesn't taste very good. Our way is better!
Once you drain and blend the meat, add the taco season. But we're not finished here. You can buy Taco Bell taco seasoning for a taste closer to what you'd get from the restaurant.
Variations
Standard Nachos Bell Grande comes with ground beef, refried beans, tomatoes, nacho cheese, sour cream, and tortilla chips. You can make your's "traditionally", or you can level them up a bit. You can dress them up any way that you like.
Make it spicy – add sliced or diced pickled jalapenos for a nice little kick.
Guacamole – fresh guacamole is a healthy and tasty addition to your nachos.
Lettuce – not for me, but you can certainly add a little lettuce to your nachos and pretend your eating healthy here. 😆
Olives – For a salty, briny addition, add some canned black olives.
Meatless – you can turn this recipe into a vegetarian version with lentil "meat" sauce or even impossible meat.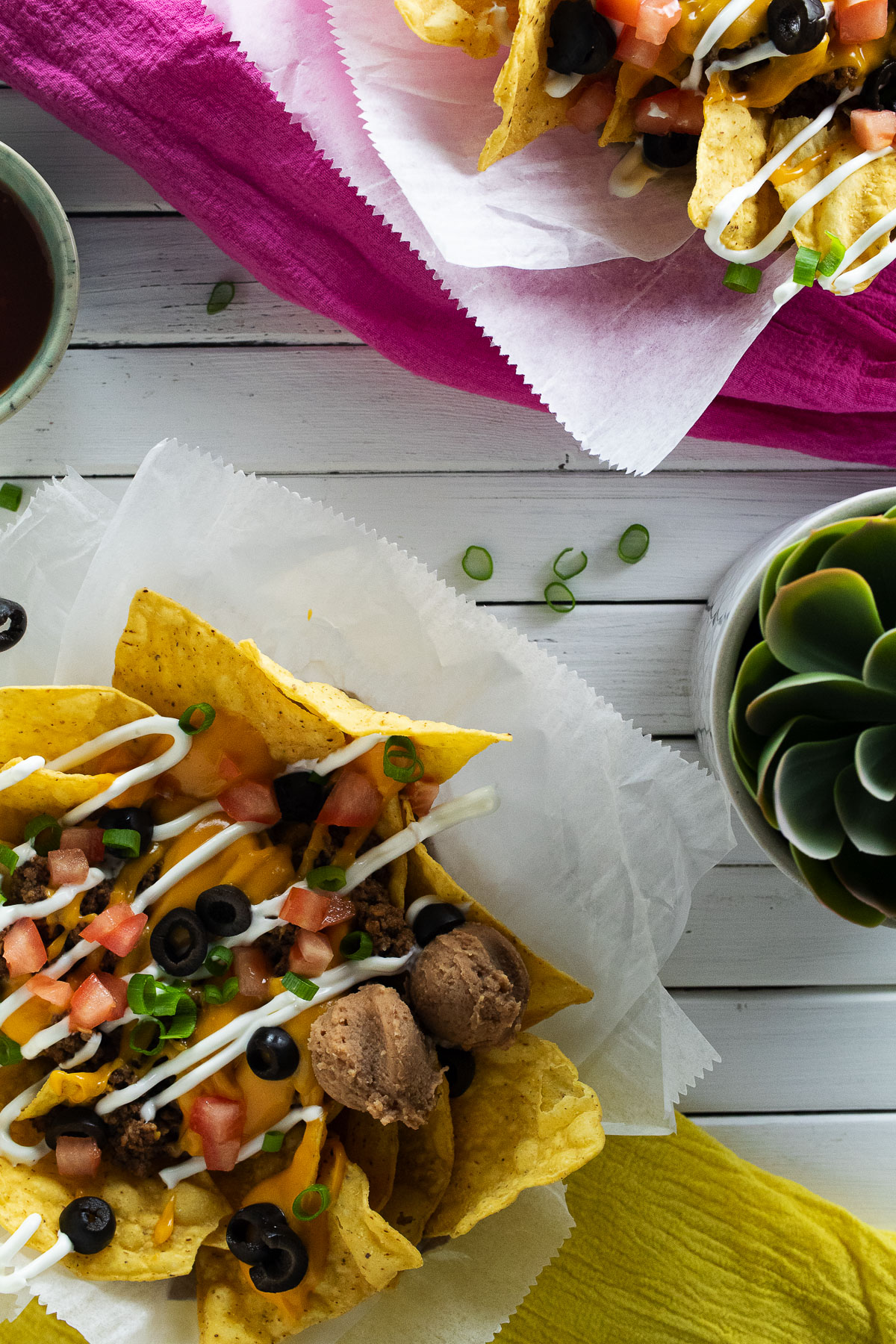 Storage
Store any leftover beef and vegetables separately in an airtight container. These ingredients will be good for a few days. If you buy canned nacho cheese, you will likely have more than you need.
Luckily, you can freeze it. If you want to make the cooked ground beef in advance, you can freeze that as well.
Top tip
To get that restaurant-style nachos bell grande dinner, blend your cooked ground beef after draining the excess fat. This finely textured meat tastes better than the larger chunks you would get if you only brown the meat.
Please note that canned taco meat is no substitute as it is often too salty and not as tasty.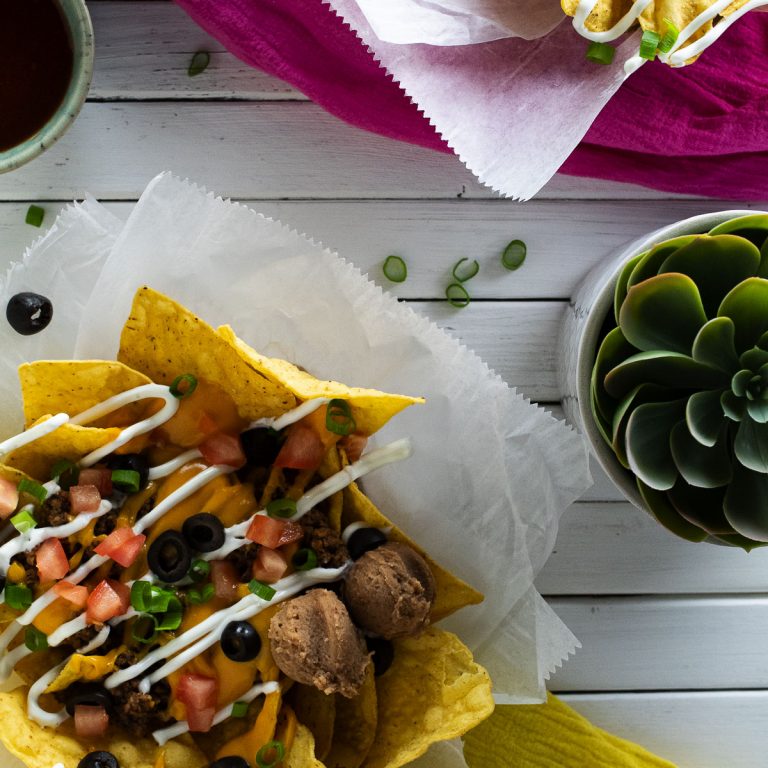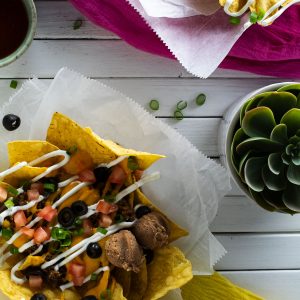 Nachos Bell Grande Recipe
Salty tortilla chips topped with finely ground beef, nacho cheese, refried beans, sour cream, and tomatoes. Our nachos bell grande recipe is perfect for a crowd and better than the restaurant version!
Ingredients
1

bag

Tortilla chips

1

pound

Ground beef

Diced tomatoes

1

packet

Taco seasoning

1

can

Nacho cheese sauce

Sour cream

1

can

Refried beans

Green onions (optional)

Sliced black olives (optional)

Sliced jalapenos (optional)
Instructions
In a large pan, cook the beef for 6-8 minutes or until no longer pink. Drain excess oil.

Take about half the cooked ground beef and put it into a blender, pulse two times. Then, shake the blender container to loosen meat and pulse two more times. Do the same for the rest of the ground beef. Finally, pour the beef back into the pan.

Add the taco seasoning to the middle of the pan and add ⅔ cup of water. Mix until the seasoning has dissolved, then stir it into the beef.

Heat the nacho cheese sauce and the refried beans in two separate small saucepots on low. Stir occasionally to prevent them from burning. 

Plate the chips and top them with the taco meat, nacho cheese sauce, refried beans, tomatoes, and sour cream. Finish with some of the optional items and enjoy!
Notes
If your blender doesn't have a pulse option, you can put the blender on low speed and run it for about 30 seconds. You don't want to create a paste; you just want the meat to be tender and in smaller pieces.
If you have a lot of oil in the pan, you can drain off some excess.
By adding the seasoning in the middle first then adding the water, all the meat will be well seasoned. 
Nutrition
Calories:
727
kcal
Carbohydrates:
63
g
Protein:
28
g
Fat:
41
g
Saturated Fat:
11
g
Polyunsaturated Fat:
9
g
Monounsaturated Fat:
15
g
Trans Fat:
1
g
Cholesterol:
81
mg
Sodium:
1471
mg
Potassium:
473
mg
Fiber:
8
g
Sugar:
4
g
Vitamin A:
876
IU
Vitamin C:
4
mg
Calcium:
177
mg
Iron:
5
mg