If you're looking for Unique Ice Cream Recipes, you're in the right place. Because just below, you're sure to find something new and exciting that you're compelled to try.
For example, there's Banana Pancake Ice Cream, Rolled Ice Cream, Cookie Monster Ice Cream, and many more. So here's a guarantee. You're going to find something so enticing you'll just have to make it. Ready?
Let's dive in!
Jump to:
20 Unique Ice Cream Recipes
Just below, you'll find 20 surprising, unique ice cream recipes. So have you ever heard of mango kulfi? It's a denser ice cream from India. What about wasabi ice cream? It packs a bit of heat, but it's balanced by sweetness and cold. And if you're looking for any way to get extra protein, there's even a cottage cheese ice cream. You're certainly in for a special treat.
Banana Pancake Ice Cream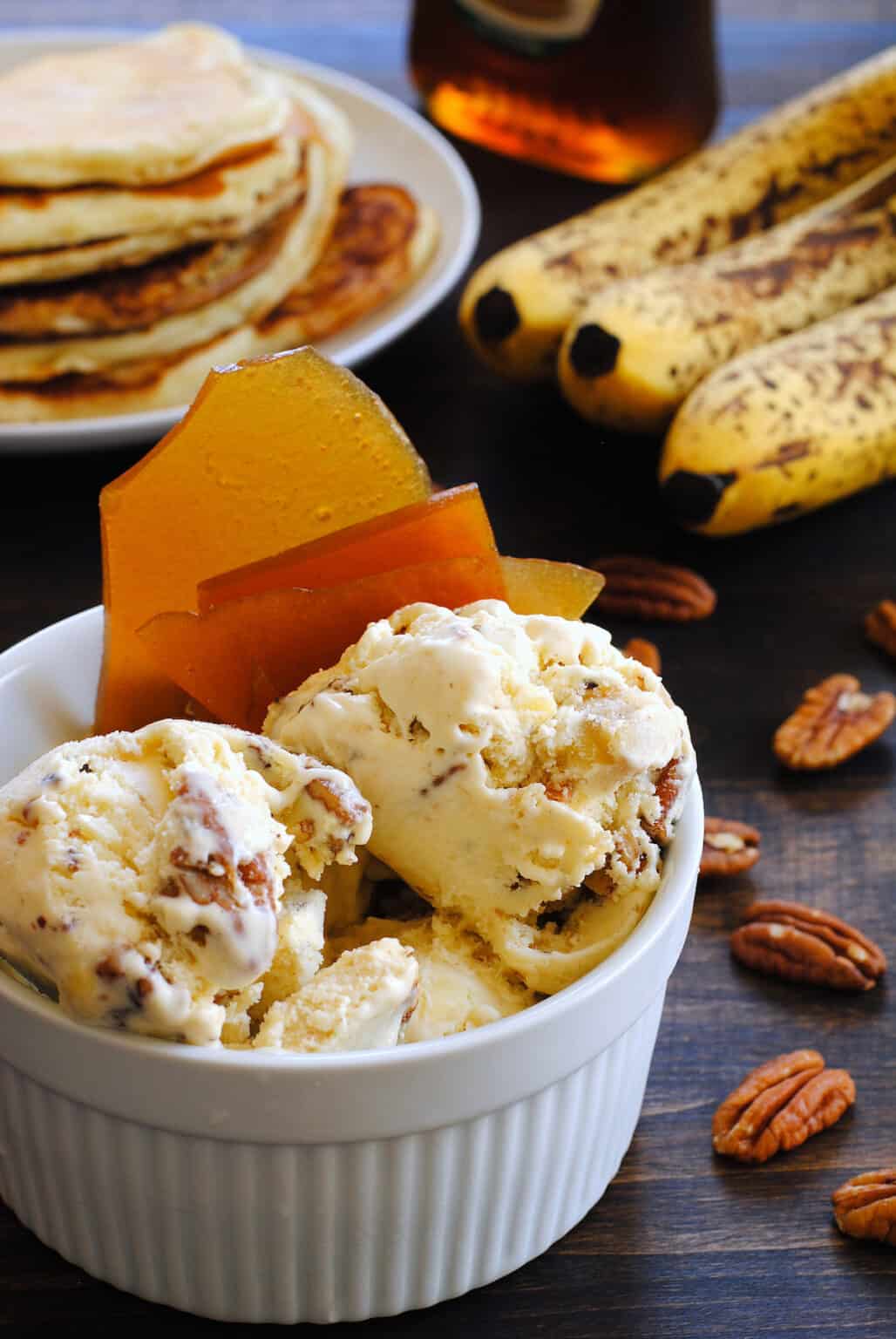 Summer for Lori of Foxes Love Lemons is all about fresh cherries and delicious corn on the cob. But ice cream is where her culinary prowess really shines. Today she introduces us to her imaginative Banana Pancake Ice Cream. We're talking about a flavor so creative Jeni Britton would double-take.
But it's not just about leftover flapjacks and ripe bananas. This custard is super creamy, rich, and flavorful, thanks to the abundance of eggs, heavy cream, and vanilla bean.
No Churn Christmas Cookie Ice Cream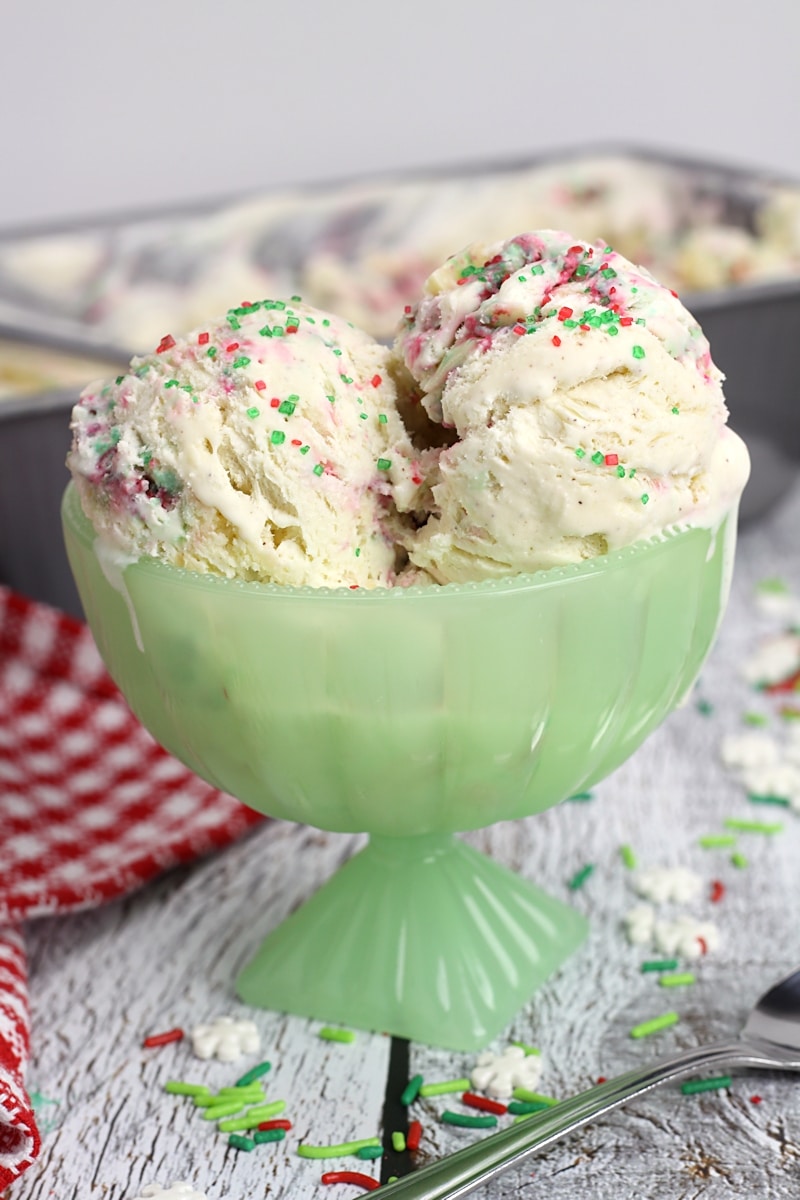 With her No Churn Christmas Cookie Ice Cream, Heather of The Toasty Kitchen reminds us that ice cream season extends far beyond the warm lazy days of summer. In each spoonful, you'll find bits of sugar cookie, white chocolate, sprinkles, and even a hint of cinnamon. It'll be a totally unexpected and welcomed dessert this holiday season.
No Churn Lemon Curd Shortbread Blueberry Frozen Yogurt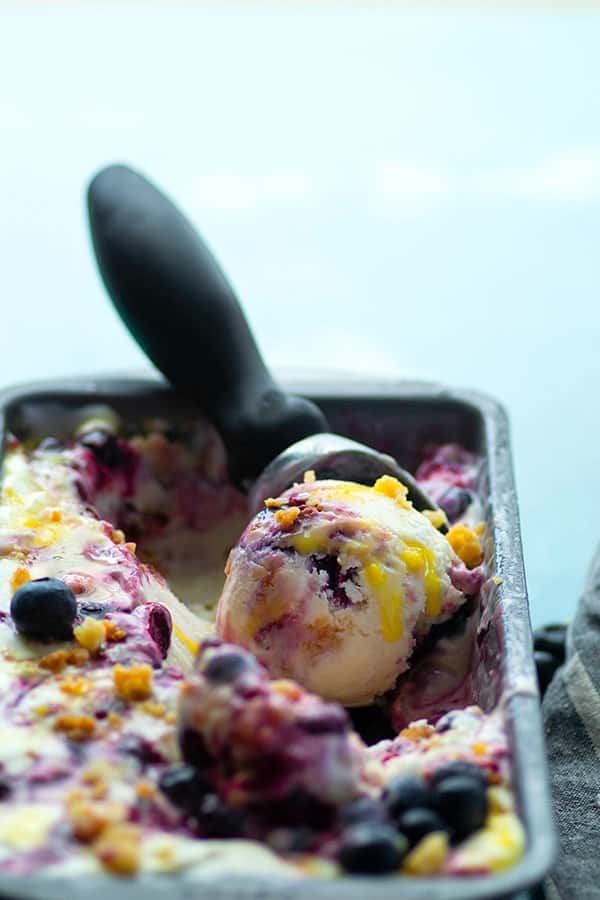 Sarah of Whole and Heavenly Oven has it figured out. A good diet should consist of mostly whole, healthy foods. For example, tender vegetables and healthy chicken recipes.
But every once in a while, the urge to indulge takes over, and you crave cold treats like this No Churn Lemon Curd Shortbread Blueberry Frozen Yogurt. The balanced diet enthusiast gives you a simple recipe for shortbread, a sweet and tart blueberry sauce, and no-churn froyo with sweetened condensed milk.
Rolled Ice Cream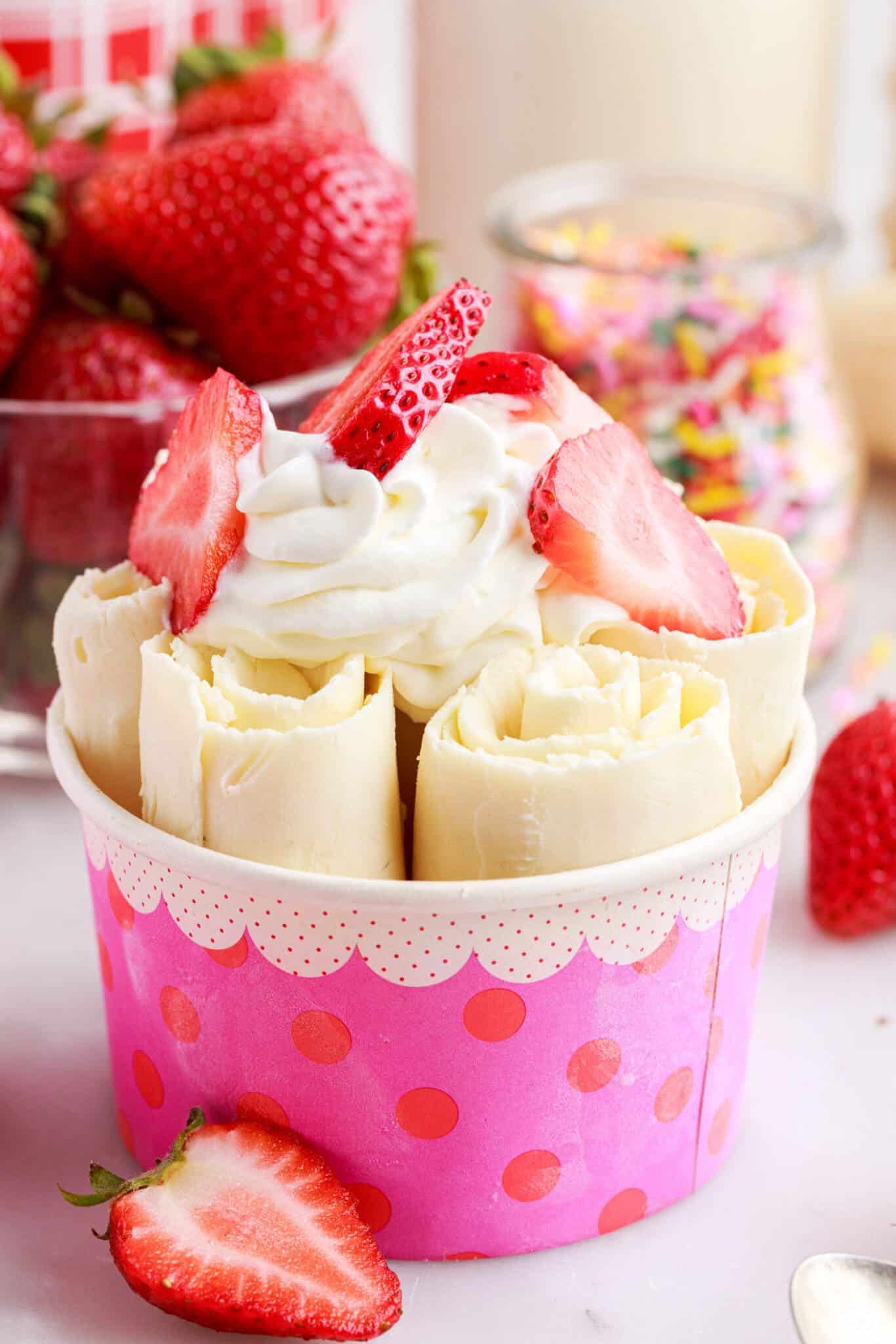 If you were ever looking for a completely unique ice cream experience certain to get everyone excited, look no further than this Homemade Rolled Ice Cream Recipe from Amanda's Cookin'. Also known as stir-fried ice cream, the Southeast Asia invention's popularity has grown far beyond its origin in recent years.
Our bet is you won't have to go far to find a rolled ice cream shop near you. But Amanda shows us how to do it at home with just four ingredients, a sheet pan, and a spatula.
Toasted Marshmallow S'mores Ice Cream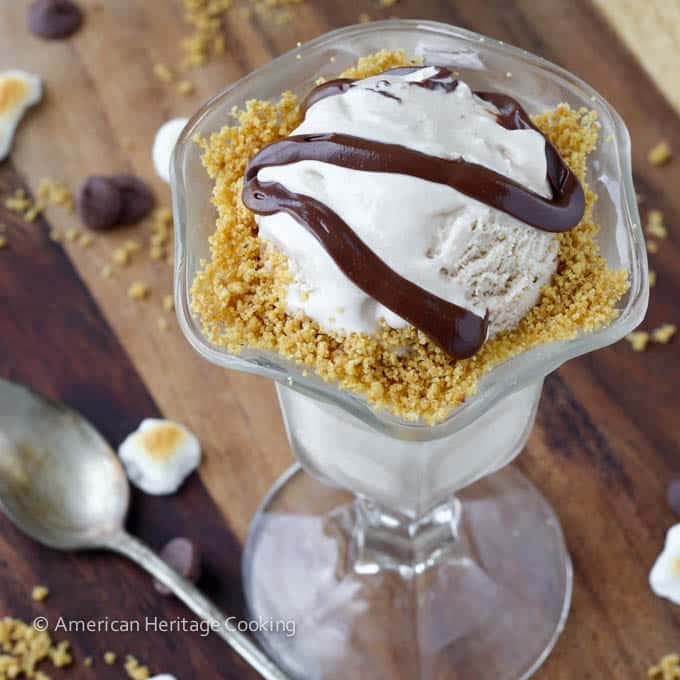 So we're kind of suckers for anything marshmallow, chocolate, and graham crackers. Don't believe us. Check out this s'mores ice cream sammie. So naturally, we had to include this Toasted Marshmallow S'mores Ice Cream by Chef Lindsay Farr on this list. It starts with an eggy, mini marshmallow-filled custard base, graham cracker sand with gourmet cinnamon, and Nutella or other hazelnut spread.
Fried Chicken Ice Cream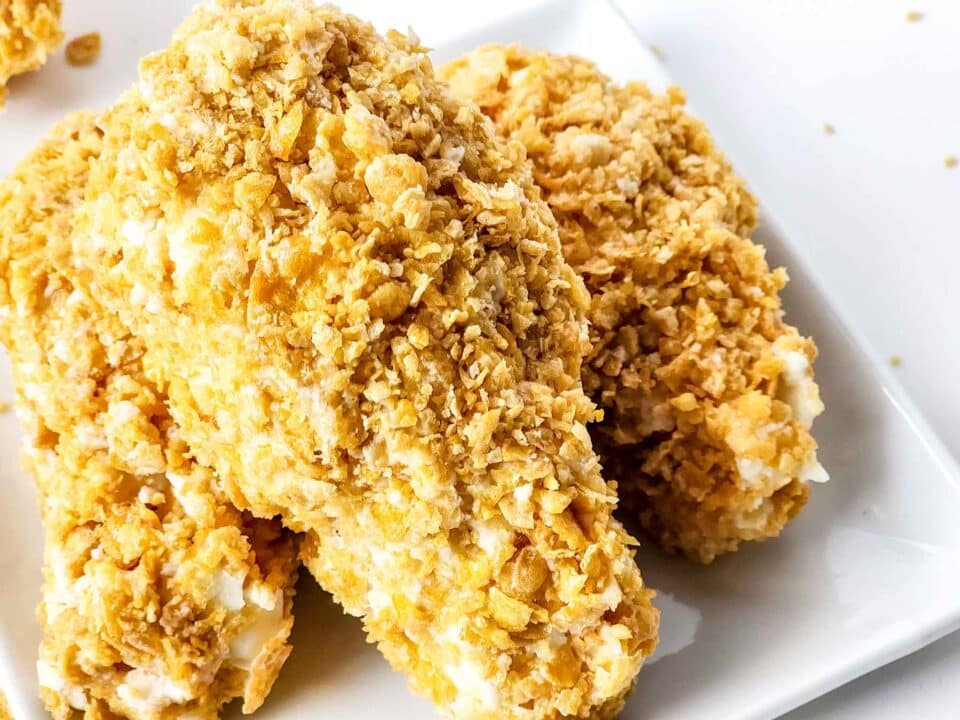 If, like us, you never catch all the viral Tik Tok food crazes as they happen (they come and go so quickly), you might rely on bloggers like Nellie of Brooklyn Active Mama to keep you informed. This time it's with her rendition of Fried Chicken Ice Cream.
Wait! Don't click that "x"! It only looks like fried chicken. In reality, it's a Twix bar covered in vanilla ice cream and coated in crushed cookies or cereal. How unique!
Little Debbie Strawberry Shortcake Rolls Ice Cream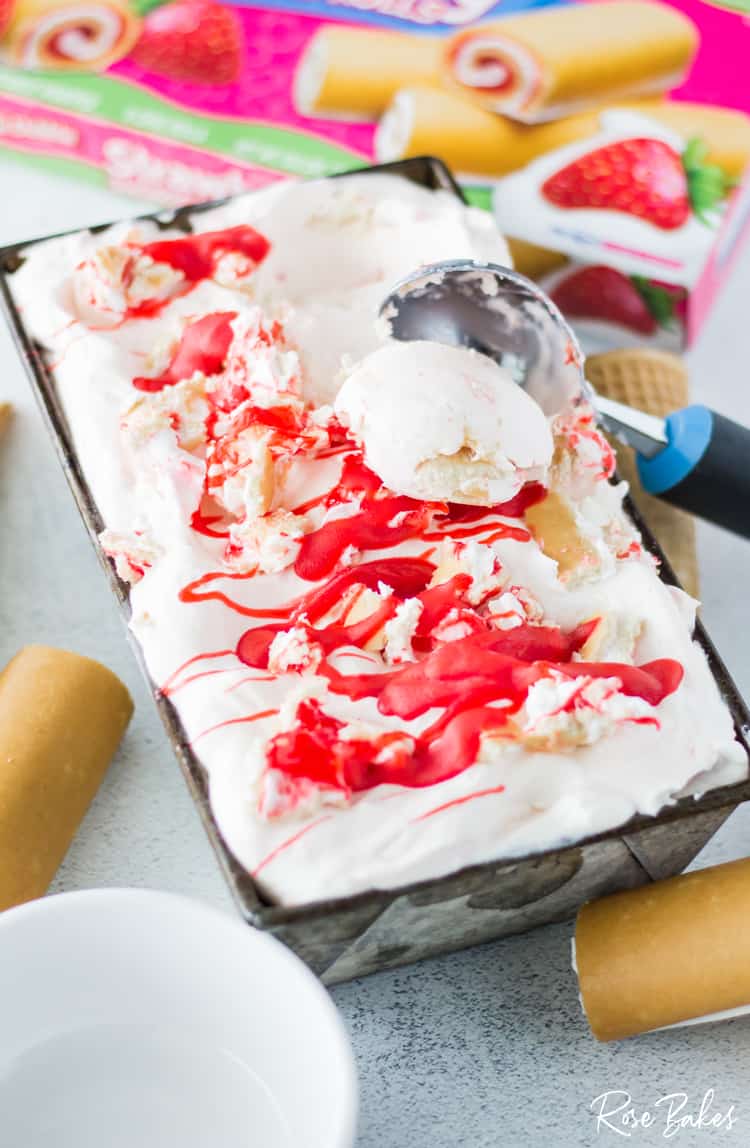 Feeling a bit nostalgic? How about this Little Debbie Strawberry Shortcake Rolls Ice Cream recipe by Rose Bakes? It's an ode to the childhood favorite snack loved nationwide. It starts with a no-bake ice cream recipe that includes sweetened condensed milk, cool whip, and heavy cream. Then, add the strawberry shortcake rolls and glaze for a treat everyone will remember.
Cookie Butter Ice Cream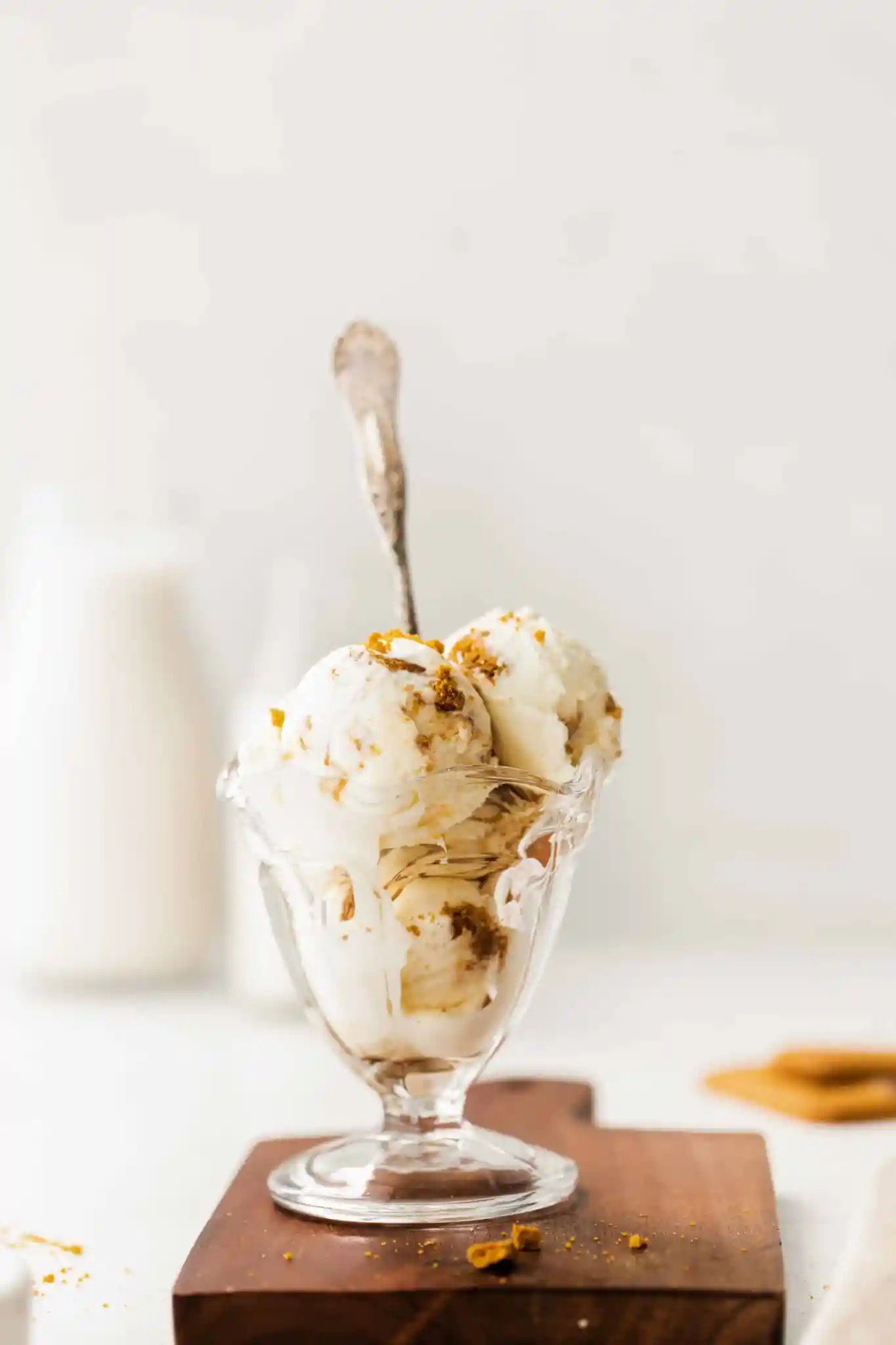 Cookie butter is a magical mix of deliciousness with a texture and appearance similar to peanut butter. But in my humble opinion, so much better. It's so good, in fact, you'll want to make all manner of treats with it, like this Cookie Butter Ice Cream by Kaeleigh of Cinnamon & Sage.
For this tasty recipe, all you need is five ingredients, including whipping cream, sweetened condensed milk, and cookie butter. You don't have to worry about cooking or churning.
No Churn Bubblegum Ice Cream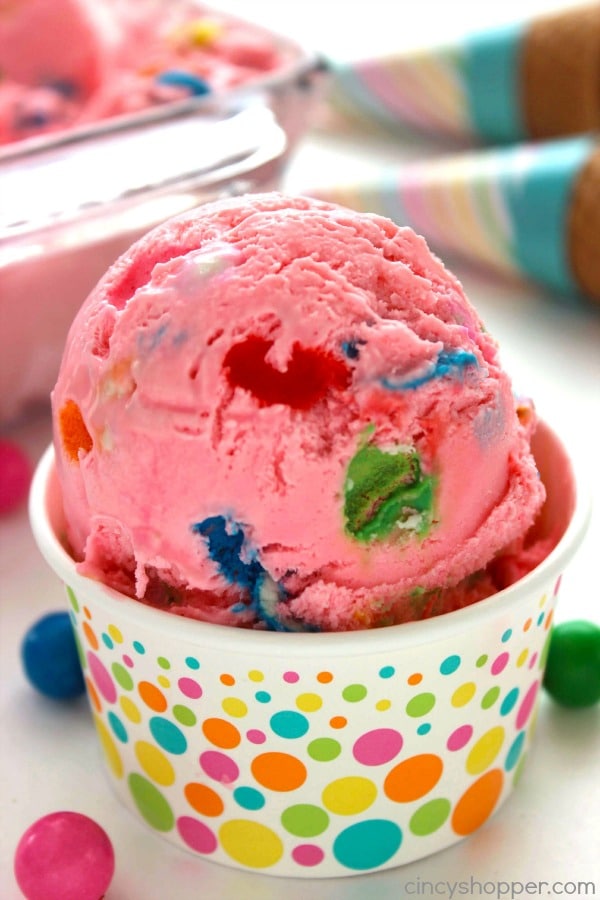 What do you do when you aren't satisfied with the amount of bubblegum in the bubblegum ice cream at the parlor? Well, you make this No Churn Bubblegum Ice Cream by Jen, the Cincy Shopper. For this no-churn treat, there are only four ingredients, including sweetened condensed milk, heavy cream, and a boatload of bubblegum.
Cookie Monster Ice Cream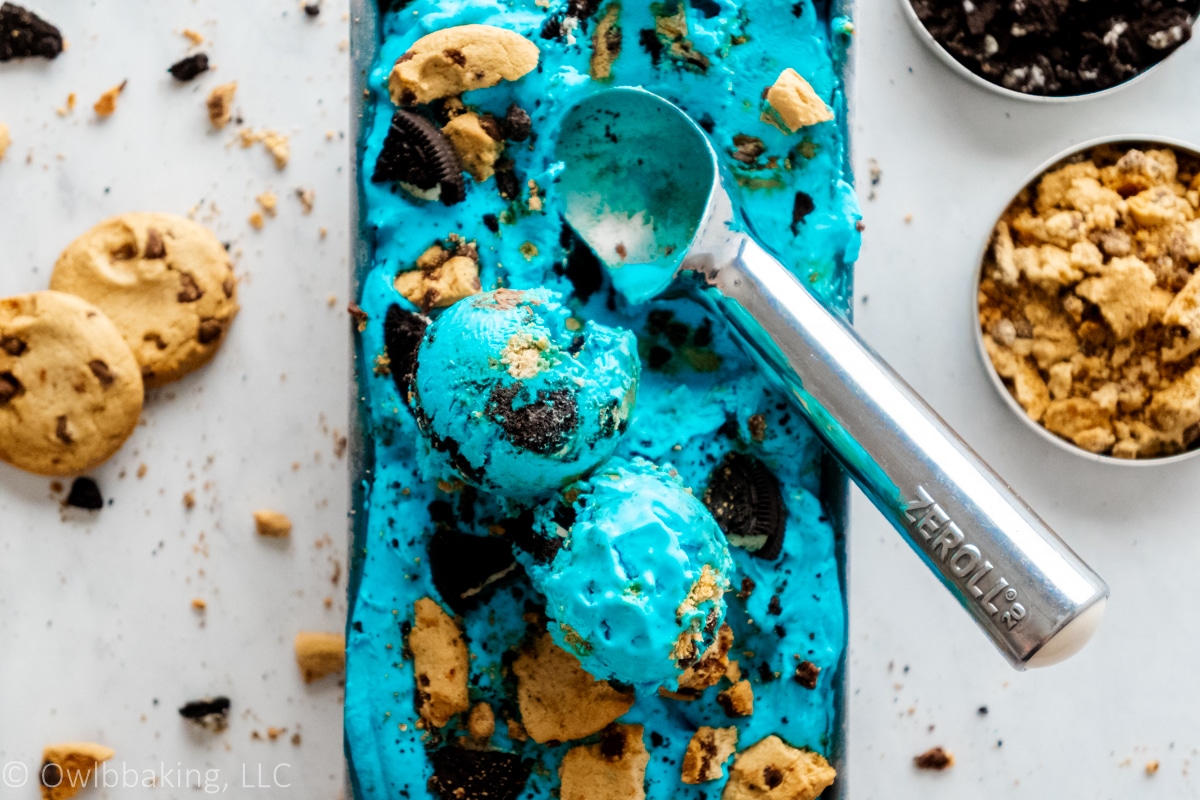 We covered Homemade Cookie Monster Ice Cream in another Ice Cream Post a little while ago. It's a unique ice cream overflowing with all sorts of cookies like Oreos and chocolate chip cookies. You'll also love that it doesn't require an ice cream maker, which makes it super easy to whip up in no time. So are you a cookie monster?
Mango Kulfi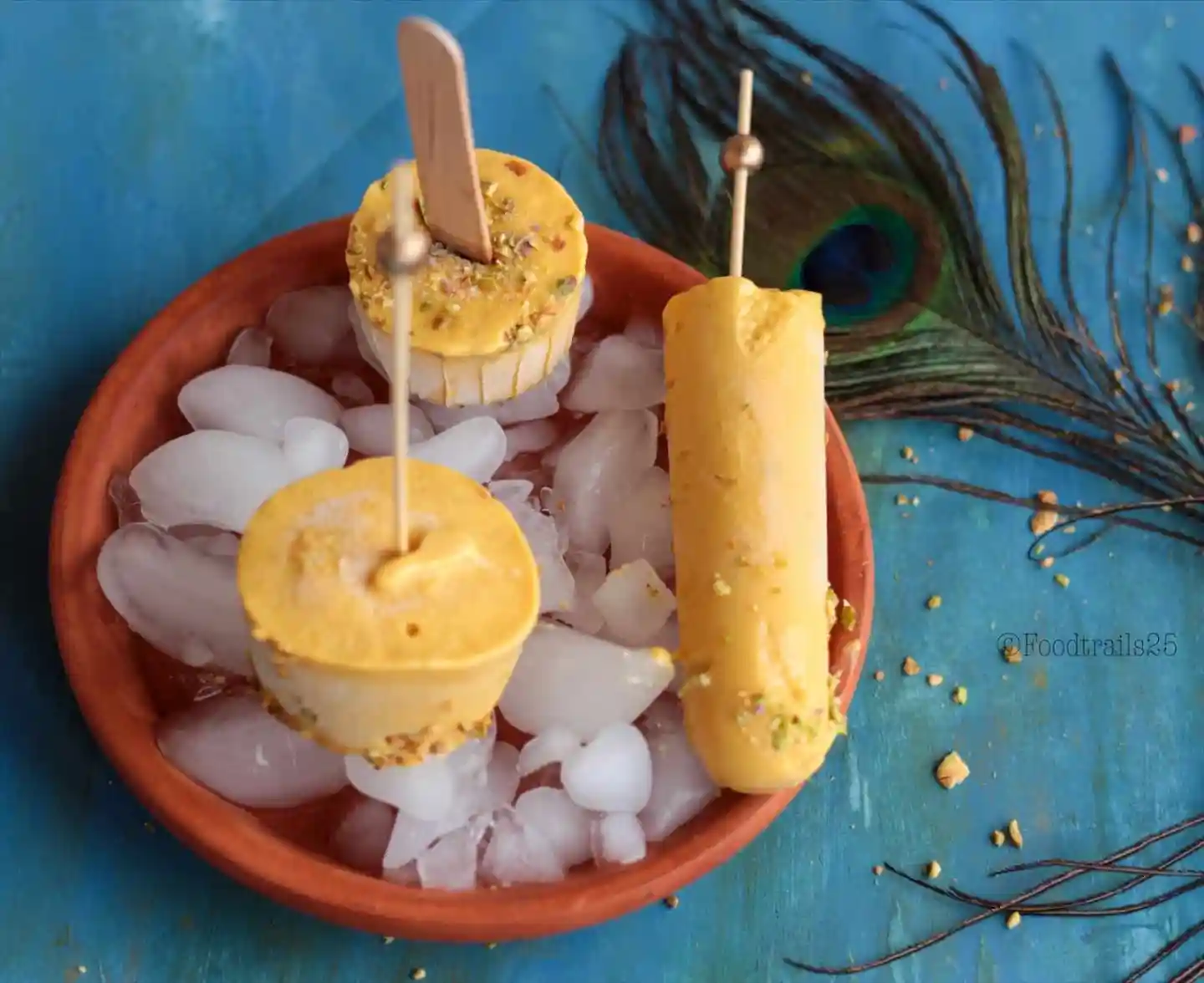 This Mango Kulfi recipe by Swati of FoodTrails25 is somehow rich and creamy, even though there's no heavy cream or condensed milk. It's denser than American ice cream, and you can even make it without an ice cream maker. The flavors are likely novel to you and include interesting ingredients like coarsely powdered pistachios, jaggery powder, and powdered rolled oats.
Ice Cream Sandwich Cake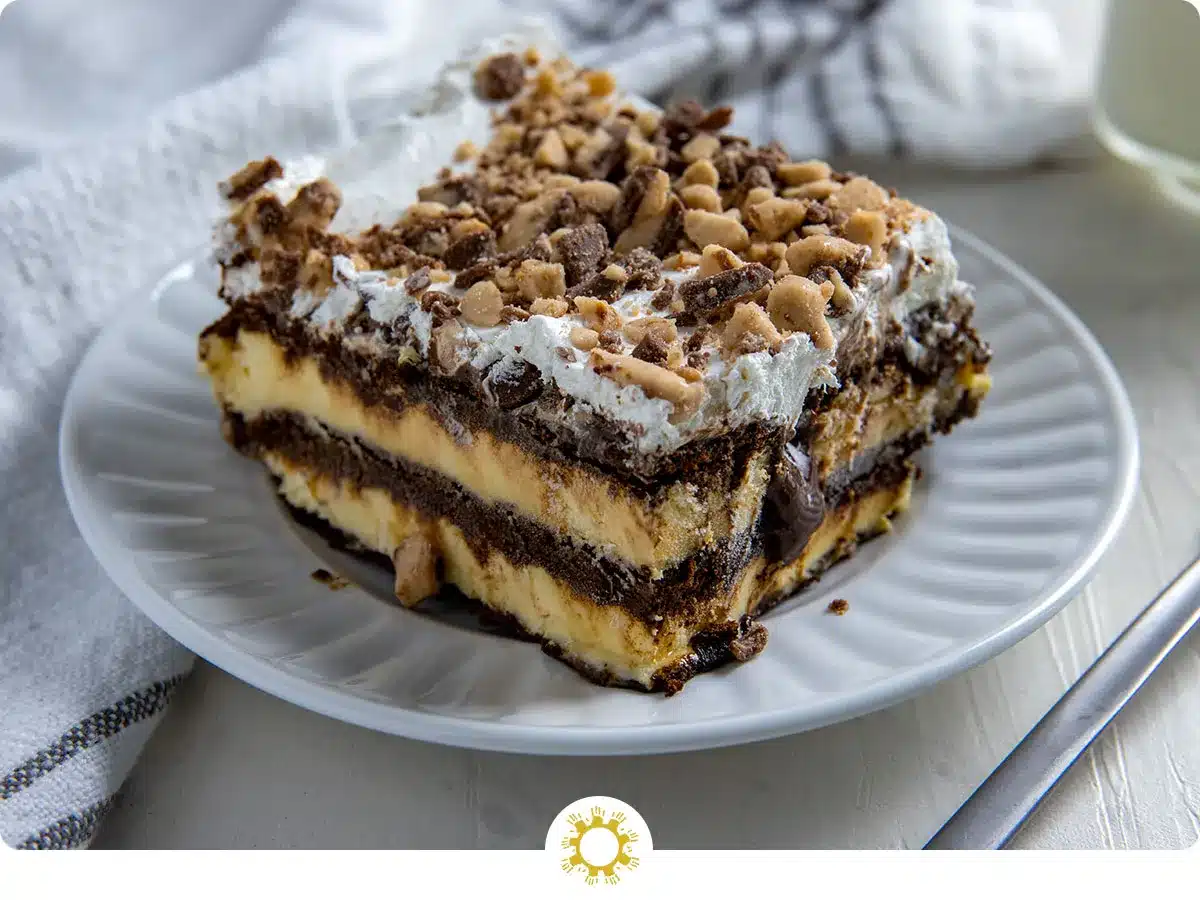 This Ice Cream Sandwich Cake recipe by Son Shine Kitchen makes for a unique and perfectly indulgent summer dessert. Here's why. It's dummy proof. There are just four ingredients, and they are all prepared, including ice cream sandwiches and cool whip.
Passion Fruit Ice Cream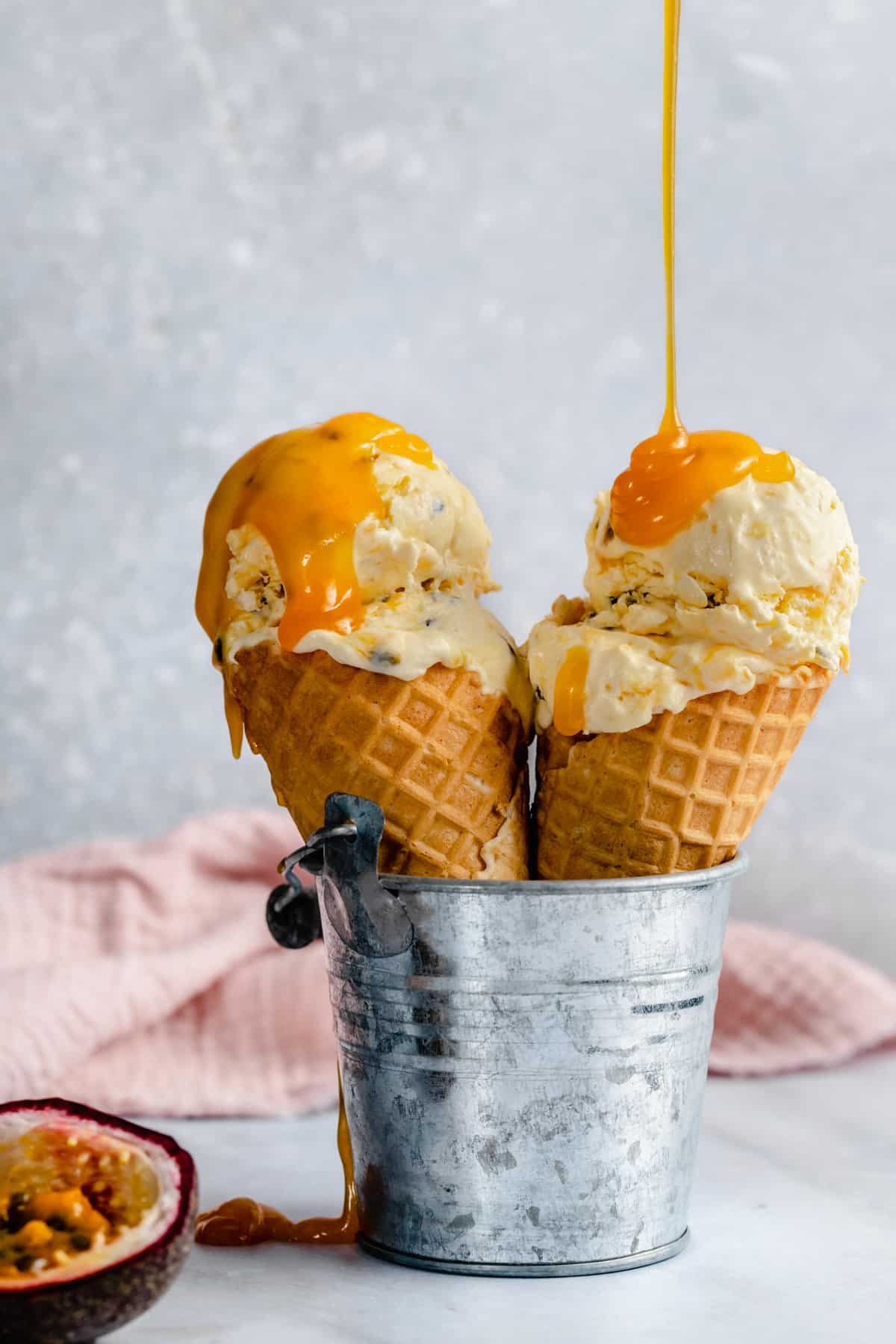 Give your tastebuds a zap with this zingy and sweet Passion Fruit Ice Cream by Sasha of Eat Love Eat. Passion fruit is harvested from June to December, so you can satisfy your tropical cravings most of the year. Assisted by Sasha, you'll learn how to make the colorful ice cream as well as a delicious curd you'll want to eat by the spoonful.
Thai Tea Ice Cream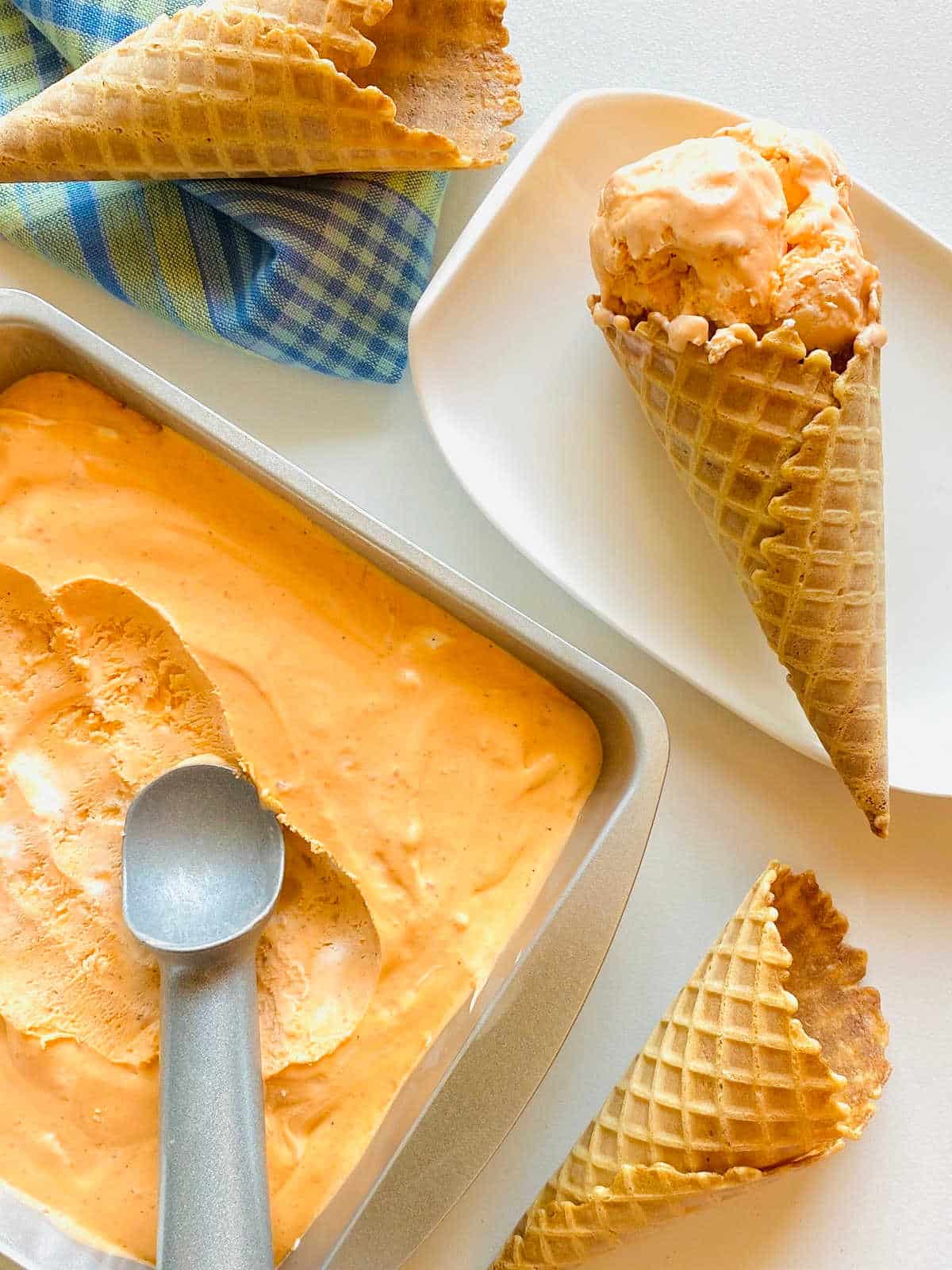 Want to try something sweet, refreshing, and satisfying to your need for something new? Well, look no further than this Thai Tea Ice Cream from Aubrey's Kitchen. It was inspired by those attention-grabbing creamy orange drinks you can't miss at Thai restaurants. It's mega flavorful with Pantai iced tea, heavy cream, sweetened condensed milk, and walnuts.
Wasabi Ice Cream with Pistachio and Vanilla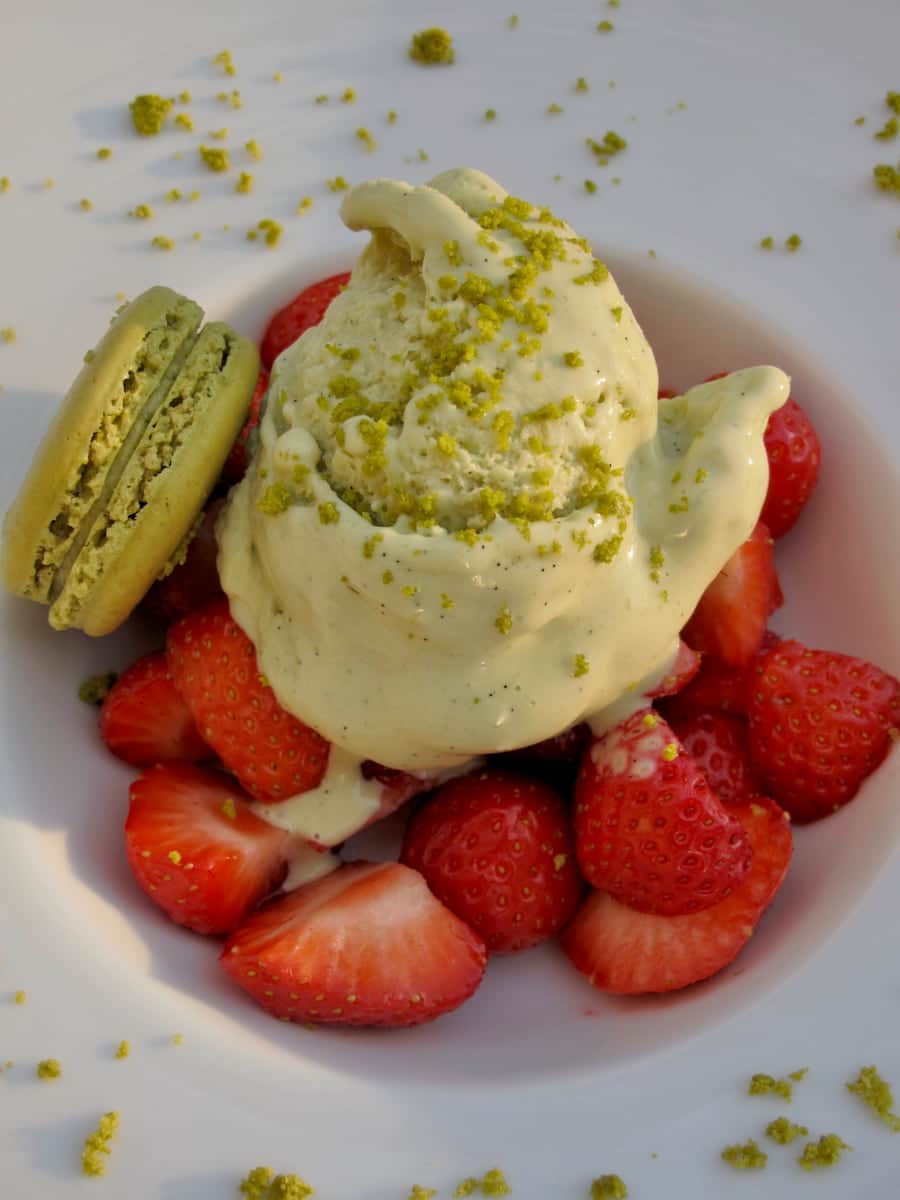 Would you have ever thought of such a thing as Wasabi Ice Cream? Yeah, it's beyond the bounds of our imaginations, too. But that's why we have creatives like the lovely Jill of the Mad About Macarons food blog (and the author of the book by the same name).
With wasabi, you'd be right to guess it packs some heat. But with the cold, vanilla, pistachios, and sweetness, you have an innovative cold and creamy balanced treat.
Meringue a Trois
Meringue a trois is a cheeky name for the individual single-serving dessert, Baked Alaska Ice Cream Cake, by the Cuss Kitchen (a fun food blog destination with clever merch).
You'll love this cold dessert because it's easy using mostly prepared ingredients like strawberry shortcake cups, hot fudge, and ice cream. On top, you spread on the homemade meringue and torch it.
Cottage Cheese Ice Cream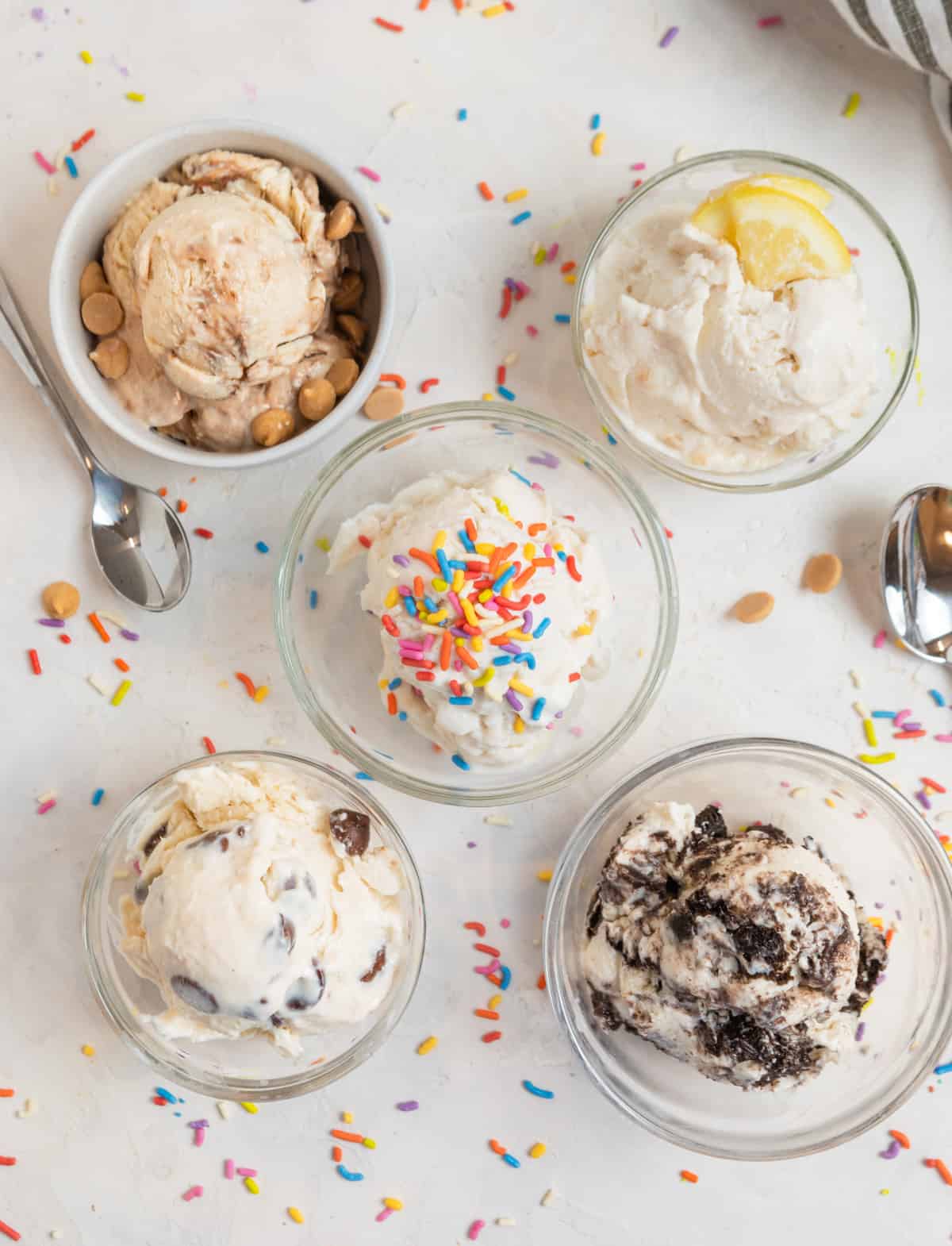 This Cottage Cheese Ice Cream by Lemons + Zest is a protein-packed snack that's been a hit all over social media. It has a cheesecake-like flavor, and Lorie shares five different flavors like lemon, oreo, and peanut butter fudge. You can whip it up in minutes, and there's no churning. But there's just one thing. It's deliciously simple but not a complete substitution for the real deal.
Cereal Milk Ice Cream
Haley of If You Give A Blonde A Kitchen took inspiration from the Momofuku Milk Bar Dessert for this Cereal Milk Ice Cream. As it sounds, it's ice cream made from the leftover milk from your morning cereal. She uses cornflakes, but your favorite cereal will do. Can you think of anything better to satisfy the child in you?
Dondurma (Turkish Ice Cream Recipe)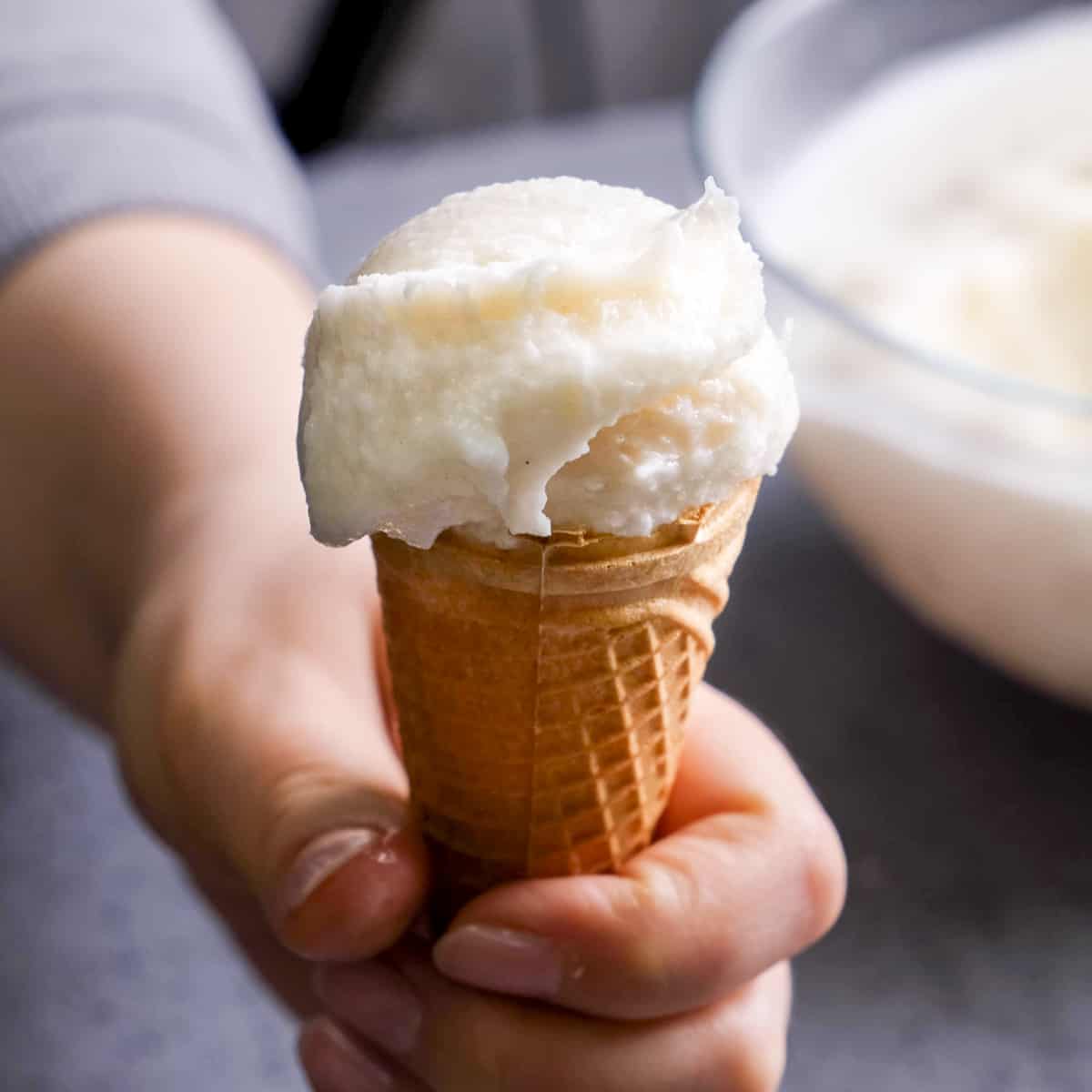 Stretchy ice cream? You've got to be kidding me! Well, that's what you can expect from this Turkish Dondurma Ice Cream recipe by way of Zerrin and Yusuf of Give Recipe. It's a three-ingredient no churn ice cream, including salep. An ingredient we hadn't heard of until now. We'll let them fill you in on the details. But it's what gives this ice cream its unique qualities.
Homemade Rose Ice Cream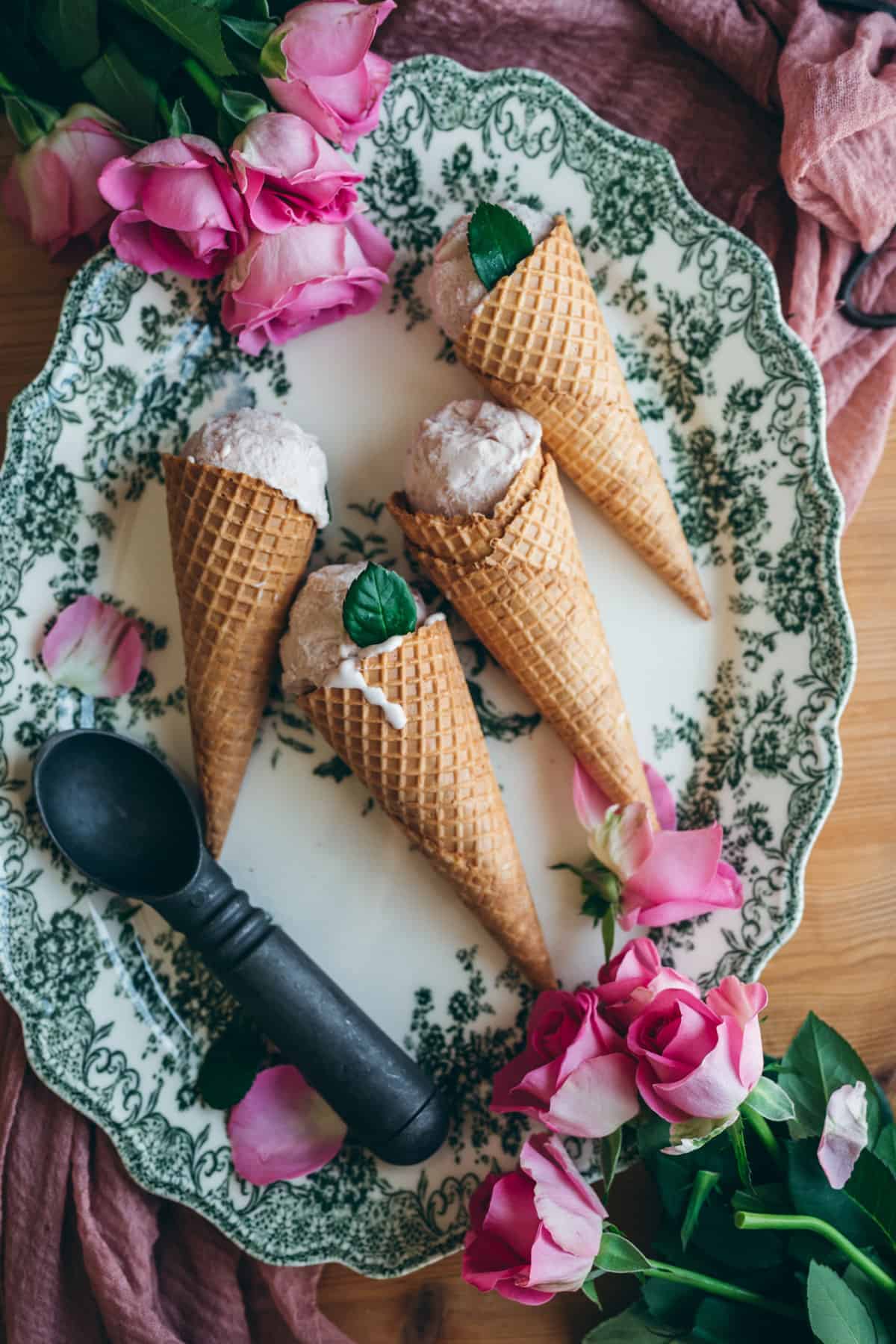 Bontanical ingredients like rose aren't particularly easy to find at your average grocery store. Still, Homemade Rose Ice Cream from Frolic And Fare is a delicately delicious flavor worth a trip to the specialty shop. In fact, making it at home might be your best bet, as some ice cream parlors use artificial ingredients (Sarah can tell you all about that). Anywho, it's a simple eight-ingredient custard that might become your new favorite.
Which Unique Ice Cream Recipe will You Try First?
So by now, you've seen a wide variety of innovative ice cream treats. Which one are you digging the most? The stretchy Dondurma Turkish ice cream certainly got our attention. But then again, so did the rose ice cream and Thai tea ice cream. They are all exceptional options. So, what will it be? We'd love to know.
Other Cold Desserts You Have to See!