Here is a fantastic list of 20 Tasty Tater Tot Recipes! Say that five times fast. So whether you're looking for breakfast, dinner, or a quick appetizer, this collection has you covered.
But here's a sneak peek. There are Buffalo Chicken Totchos, Cheeseburger Tots, and even Cinnamon-sugar Sweet Potato Tots, and so many other delicious options to choose from. So are you ready to discover potato deliciousness?
Let's dive in!
And if you love this list, you'll also love this delicious round-up of Easy Potato Recipes and Leftover Mashed Potato Recipes.
Tater Tot Casserole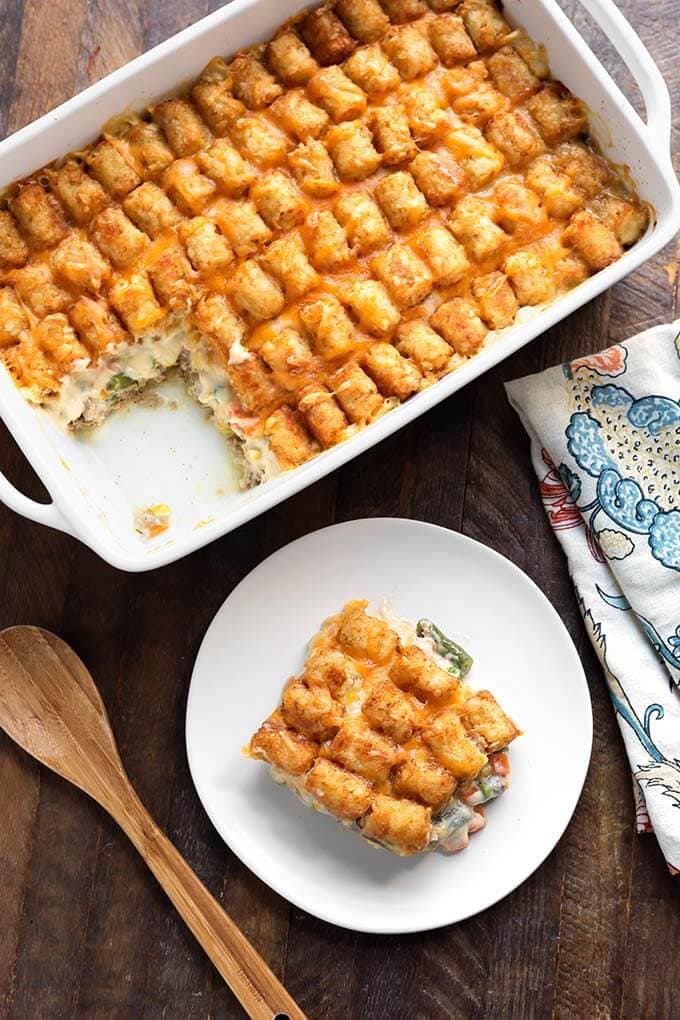 Seeing hotdishes like this Tater Tot Casserole from Sandy, the Simply Happy Foodie, conjures nostalgia. So go ahead, scratch your screen, and you might smell it. Seriously though, this is old-school comfort food at its finest. In this belly-filling, second-helping-inducing meal, you'll find tater tots, ground meat, herbs and seasonings, canned soup, and frozen veggies.
Buffalo Chicken Totchos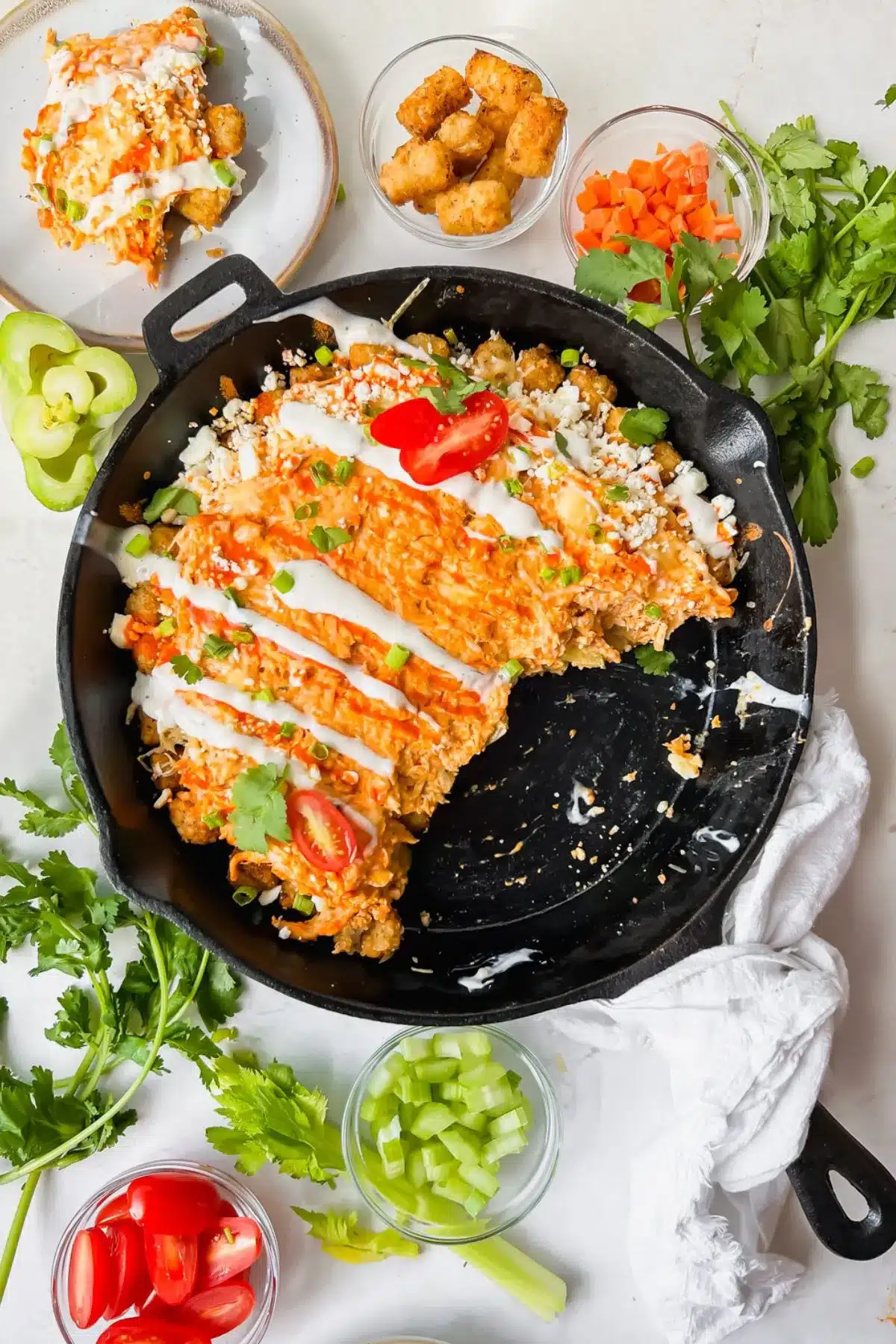 A Paige Of Positivity makes a tempting offering with this Buffalo Chicken Totchos recipe. Get this. You start with a layer of crispy tater tots, then load them up with all sorts of buffalo-style shredded chicken goodness. But it's not just chicken with a kick. You also get celery, ranch seasoning, and cheese for a meal heartier than what you'd make with tortilla chips.
Tater Tot Lasagna
Instead of noodles, replace them with spuds in this Tater Tot Lasagna by Simply Stacie. It's a layered dish with Italian-seasoned ground beef, pasta sauce, garlic, and cottage cheese. Then, on top, you'll find tots and melty mozzarella. You'll love it because it's a fun switch-up on the ordinary (read: mundane) Italian meal.
Tater Tot Breakfast Casserole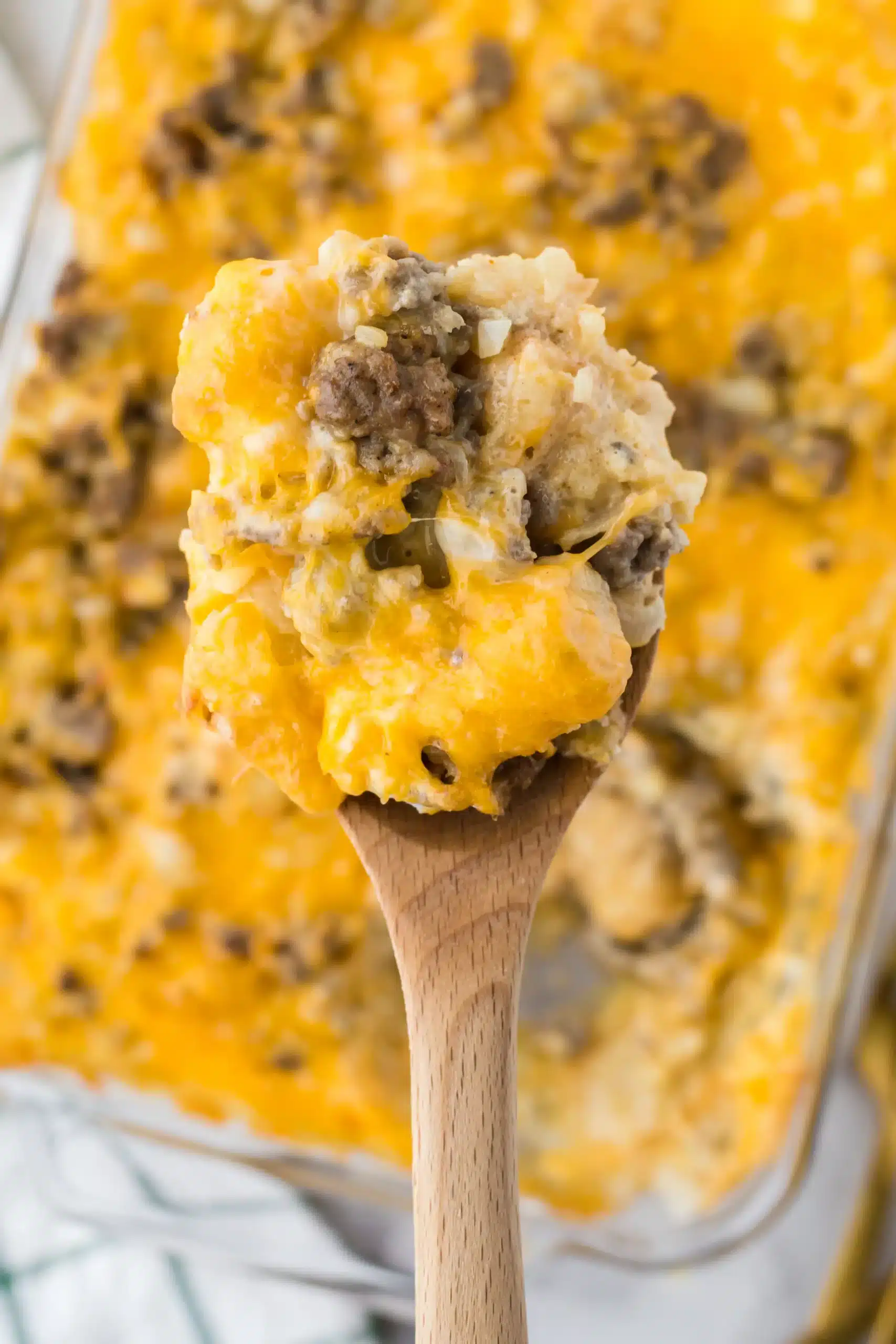 Tater Tot Breakfast Casserole is a fantastic way to beat the morning madness, and who better to show you the ropes (or teach you new tips) than Jessica of The Forked Spoon? Oh boy! There's just so much to love about this filling breakfast food. Not only will everyone love the tots, sausage, eggs, and cheese. But they're perfect for crowds and great to make ahead!
Philly Cheesesteak Tater Tot Casserole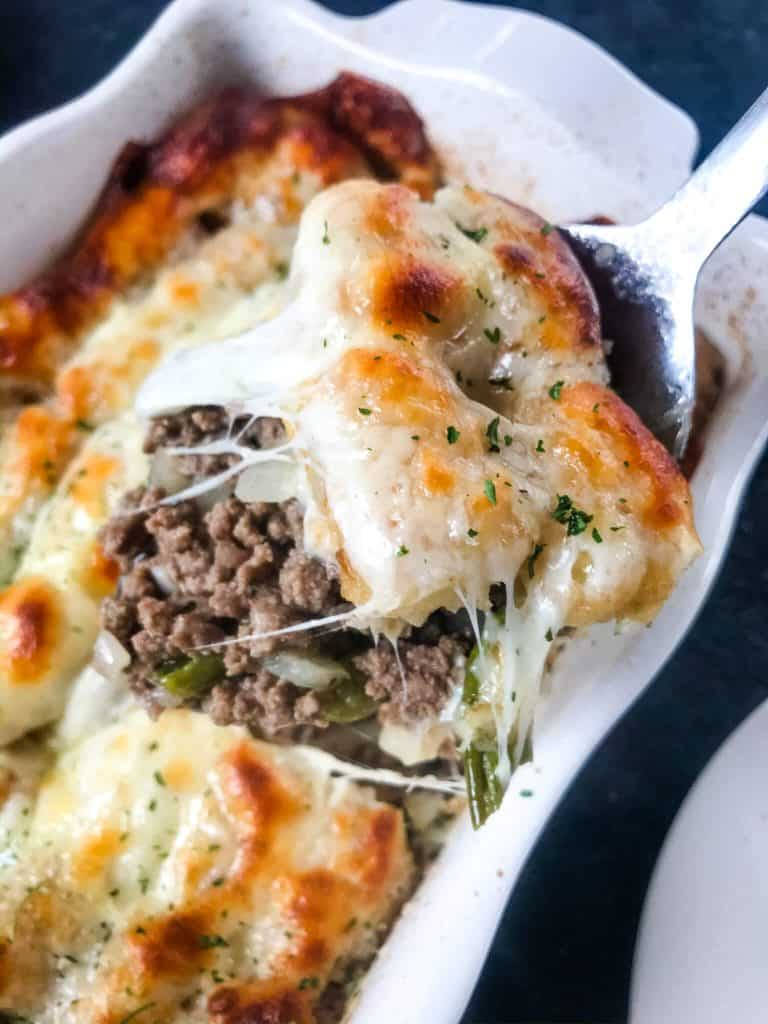 Two junk food favorites collide for this Philly Cheesesteak Tater Tot Casserole by Kim of Three Olives Branch. It features layers of seasoned ground beef, onion, bell peppers, tater tots, and stretchy provolone cheese. You'll love it because it's a quick dinner option for busy weeknights and so tasty even picky eaters will love it, too.
Homemade Tater Tots
Instead of a recipe that utilizes tater tots, how about an education in making Homemade Tater Tots? It's a guide from Marissa of Little House Living. In it, she explains the many benefits of making the spudtastic treat from scratch. For one, you control the ingredients and, thus, the quality thereof. It's also good if you want to get a little frisky by adding garlic, cheese, chives, or bacon.
Sloppy Joe Tater Tot Casserole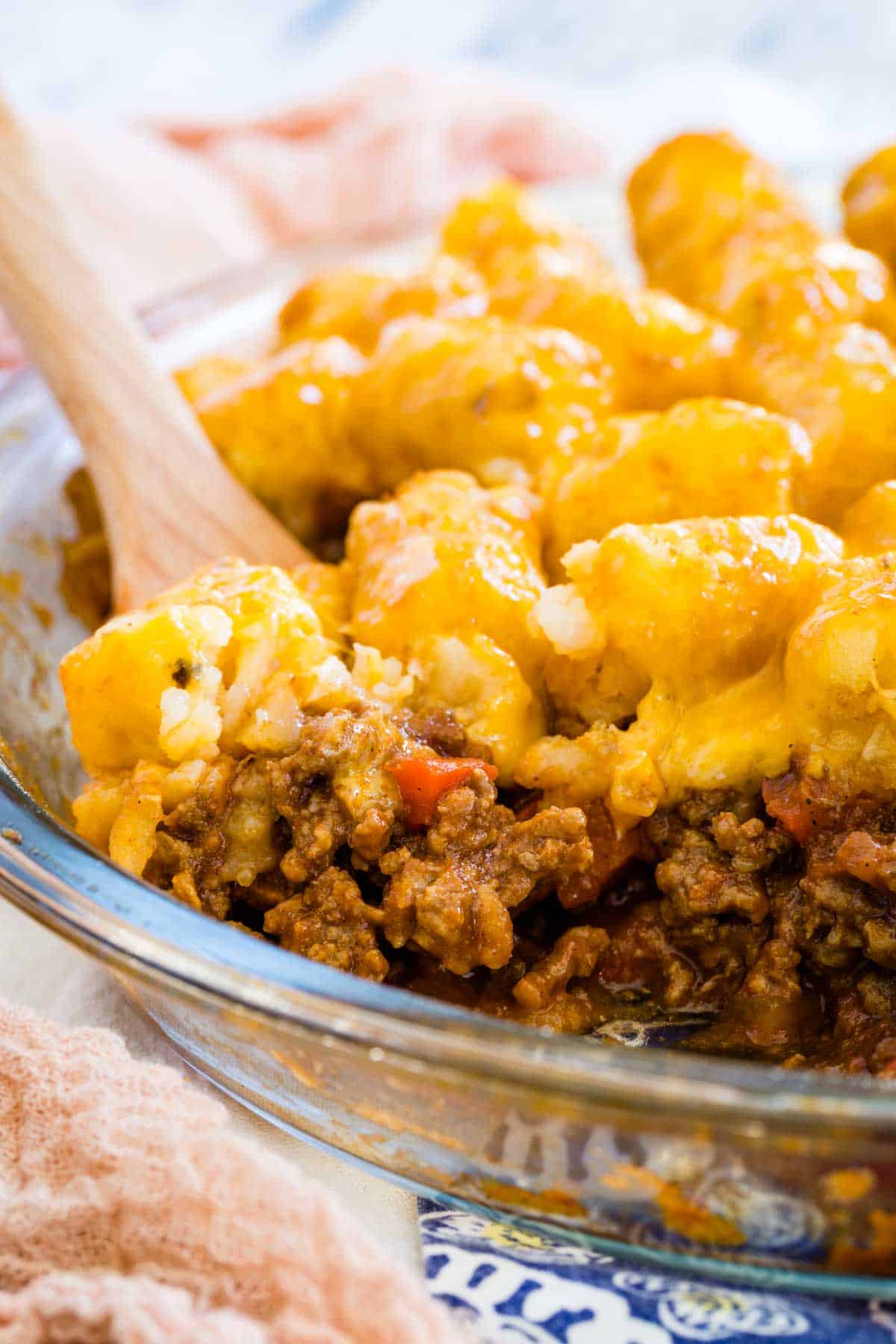 With this Sloppy Joe Tater Tot Casserole by Cupcakes & Kale Chips, your childhood favorite lunch hall dish just got the upgrade you didn't know it needed. We love that Brianne shows you how to make the sauce from scratch with Worcestershire sauce, ketchup, spicy brown mustard, and molasses. It's a leftover-friendly, simple weeknight winner dinner, and don't worry. It's still sloppy.
Chicken Pot Pie Tater Tot Casserole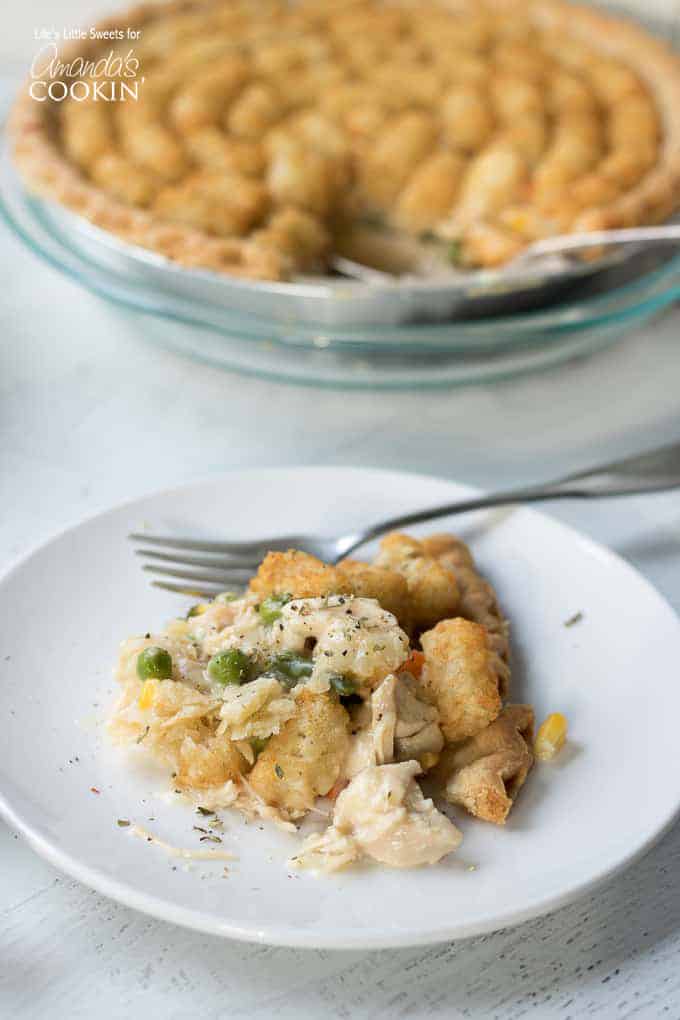 Chicken Pot Pie Tater Tot Casserole from Amanda's Cookin' is a brilliant way to switch up the classic comfort food. It features a savory gravy simmering with mixed veggies like canned corn, carrots, peas, and green beans. And, of course, there's shredded chicken tucked into a pie crust. Then finally, on top, the crispy tots seal the deal.
Tater Tot Grilled Cheese Melt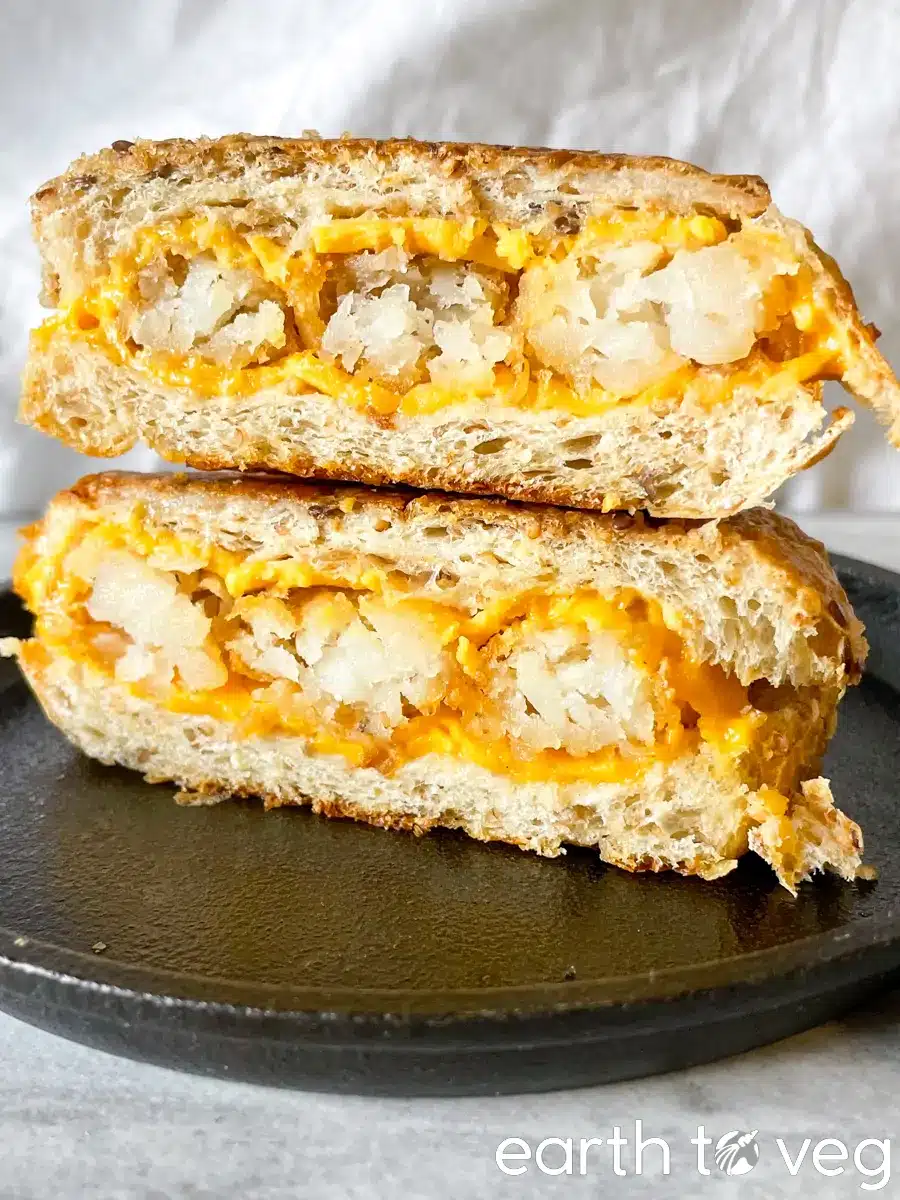 When we put together this collection of gourmet grilled cheese sandwiches, somehow, we missed this Tater Tot Grilled Cheese Melt by food blogger Jellie. As it sounds, it has tater tots sandwiched between two slices of cheese between bread. So with a blog called Earth To Veg, naturally, it's a vegan dish, but all eaters can get behind it, especially with the specific cheese brand recommendations.
Chili Cheese Tater Tots Nachos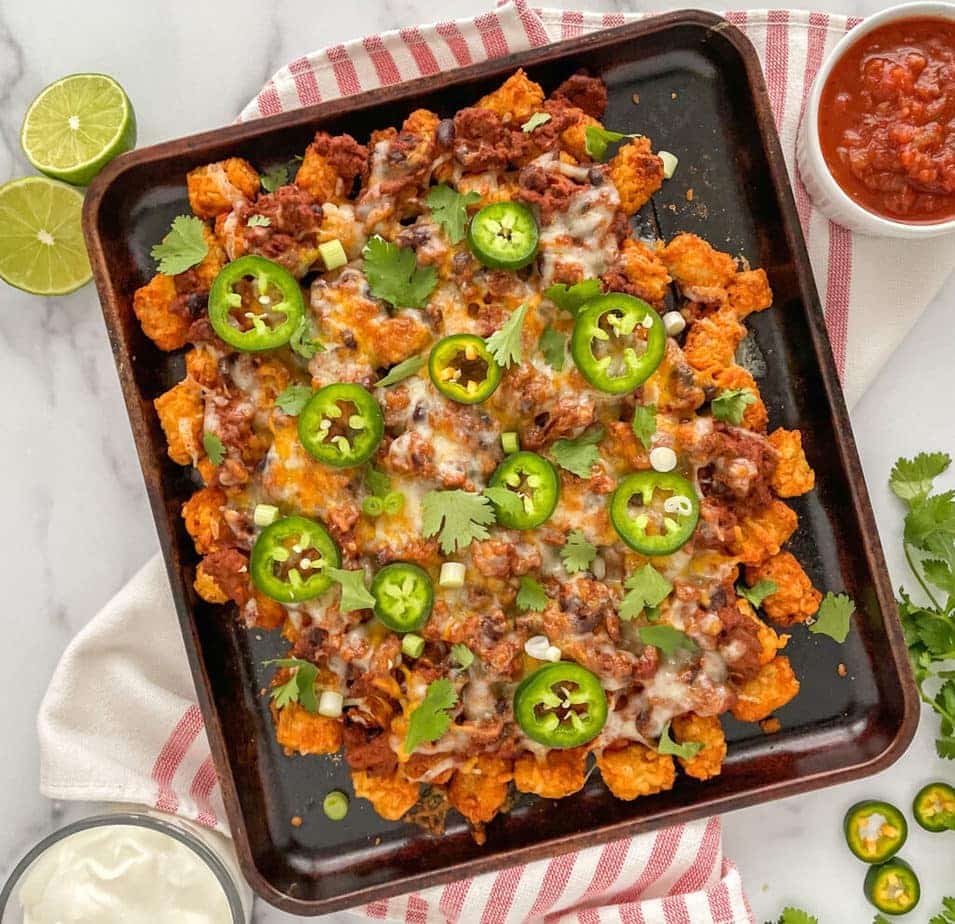 We love nachos, but if given a choice, we'd take totchos over them any day of the week. So, these Chili Cheese Tater Tot Nachos definitely have our full attention. Of course, it starts with your favorite freezer aisle tots. Still, they get a hot and tasty makeover with a bevy of toppings, including dry chili (recipe included), cheese, sliced jalapenos, and anything else your little heart desires.
Tater Tot Skewers
These Tater Tot Skewers are a fun food-on-a-stick recipe. And as the name implies, it's crunchy on the outside, fluffy on the inside, tater tots dressed up with cheese, bacon, sour cream, and green onions. What's not to love? Just imagine their faces when they're eating this simple yet novel appetizer.
BBQ Chicken Tater Tot Skillet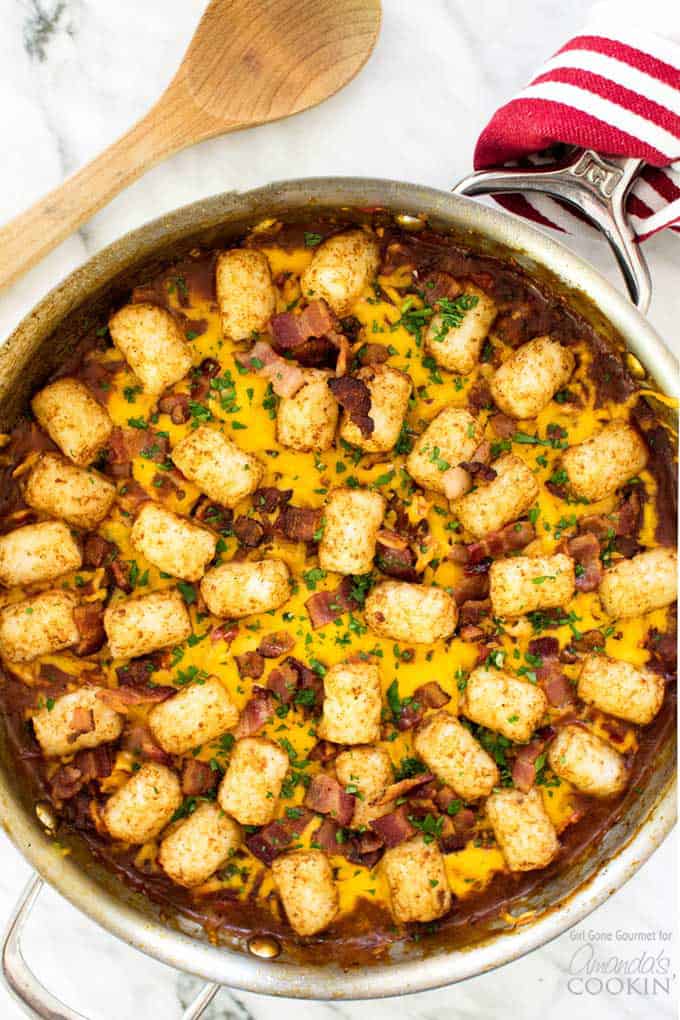 Do you see the bacon looking all crispy and desirable? Well, what the heck are you still doing on this page? You have to read up on this BBQ Chicken Tater Tot Skillet from Amanda's Cookin'. With just 15 minutes of prep, you can have this weeknight, flavor-loaded, crave-able meal on your table. It's packed with chicken breast, peppers, tater tots, cheese, and more!
Waffle Iron Tater Tots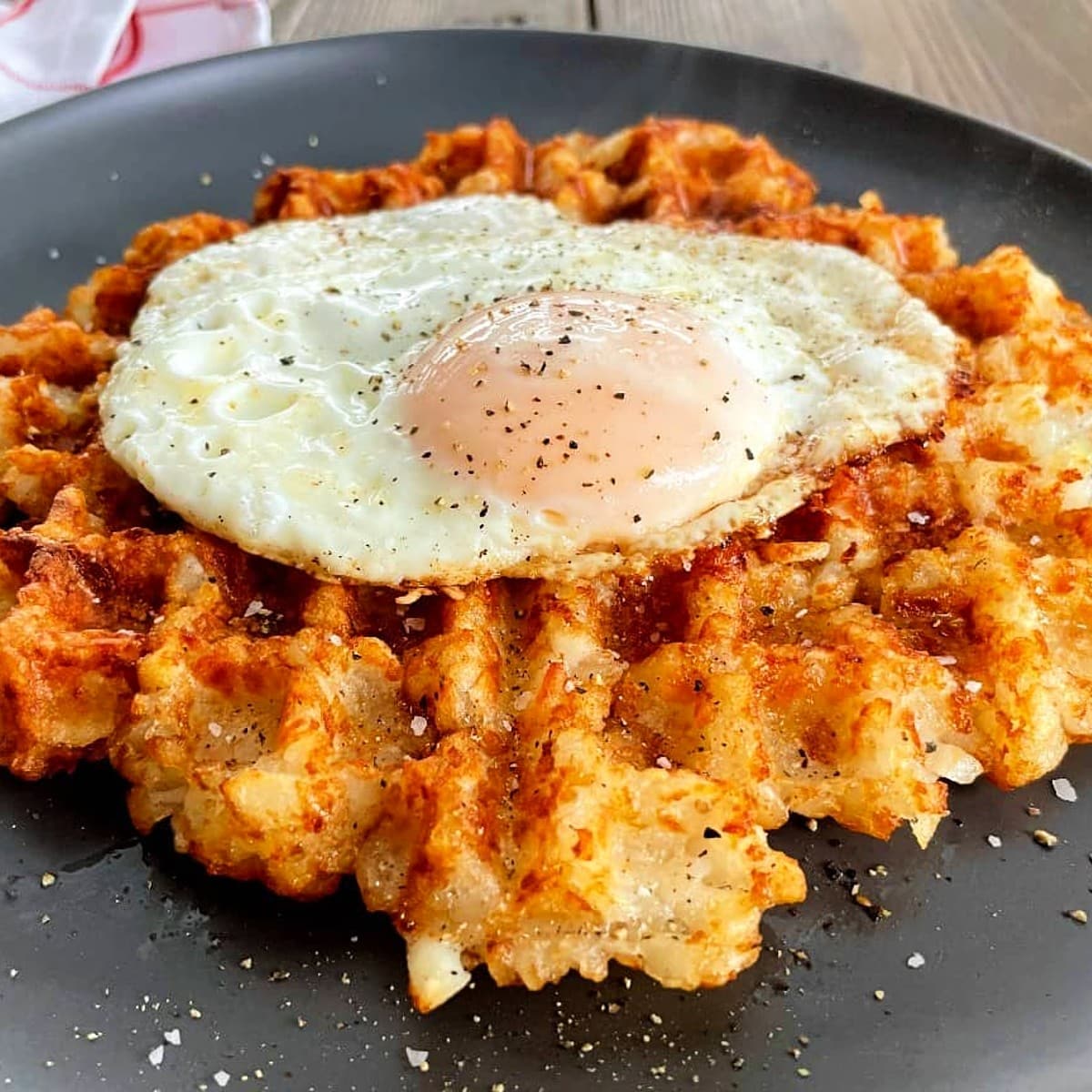 Emily Fabulous-ly shows you how to make a quick ten-minute Waffle Iron Tater Tots breakfast. Doing so results in a crispy hash brown without the fuss. And if you serve it with an egg, bacon, or sausage, you've got an upgraded breakfast treat better and faster than waiting in the fast food drive-thru line.
Cowboy Casserole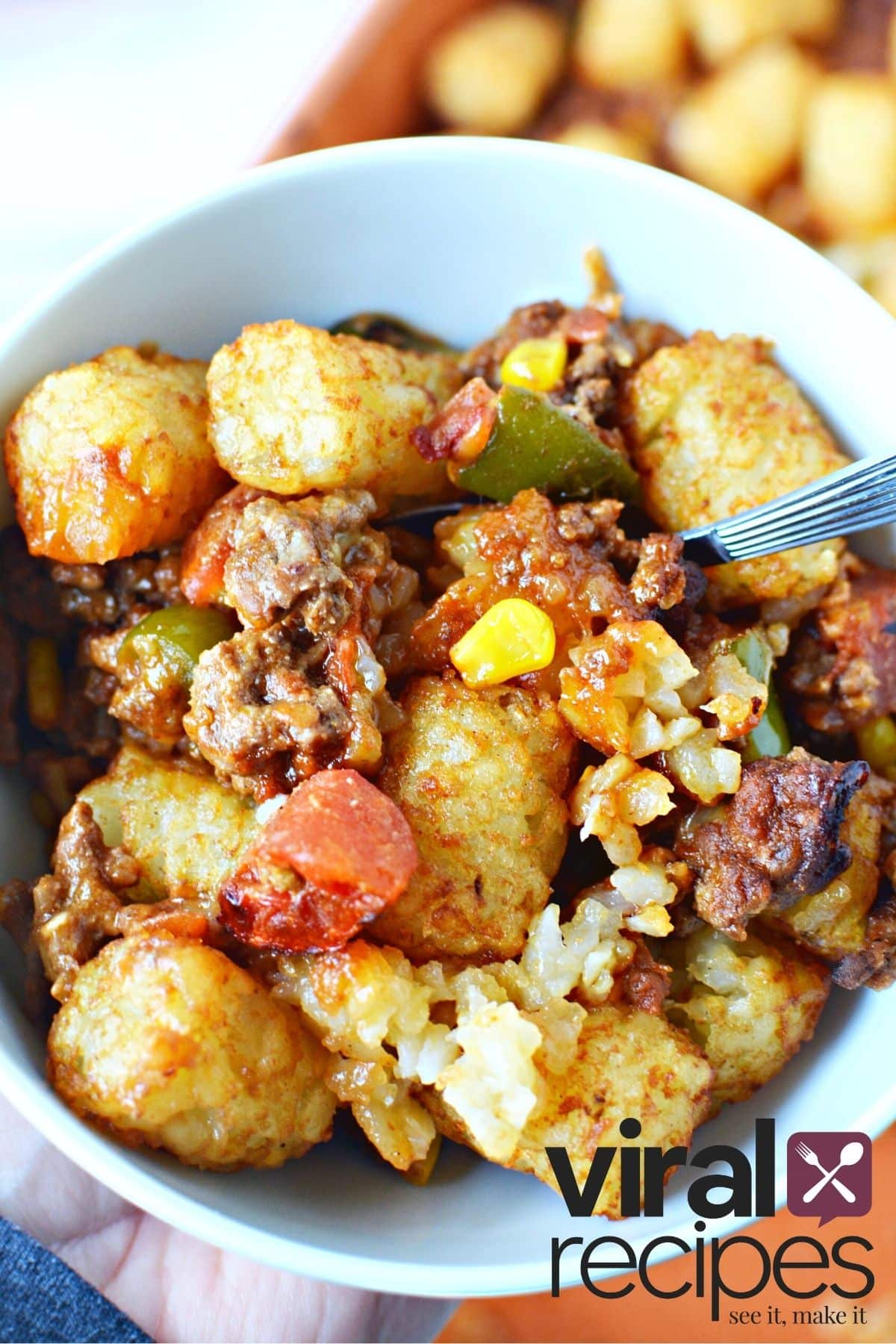 This Cowboy Casserole is another tater tot dish, this time from Viral Recipes. Like the others, you'll find layers of ingredients like ground beef, vegetables, and flavors like bbq sauce, sour cream, and cheese (lots and lots of cheese). It's the type of meal everyone loves after a long day of work or play.
Cream of Chicken Tater Tot Casserole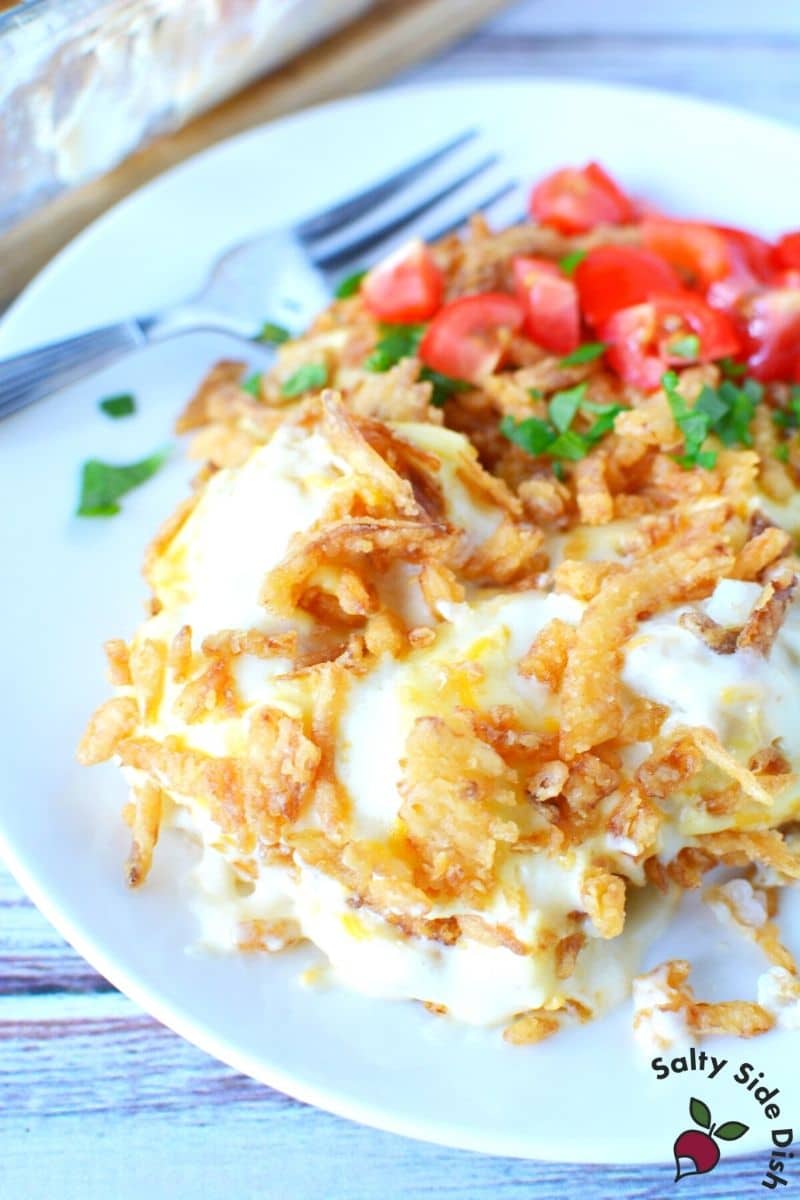 With this delicious Cream of Chicken Tater Tot Casserole, assume most will want a second or third serving. The creamy offering is a great way to round out a meal. It's full of tots, cream of chicken soup, sour cream, French fried onions, and cheese. What more could you want from a Salty Side Dish?
Bacon Wrapped Tater Tot Cheese Bombs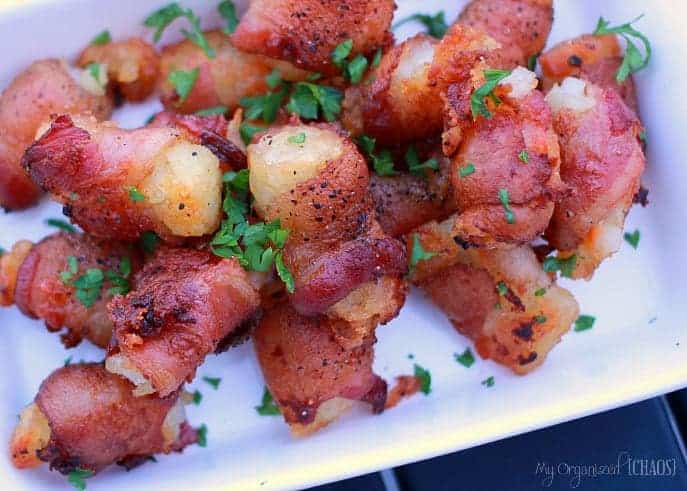 This Bacon Wrapped Tater Tot Cheese Bombs recipe by Tammi of My Organized Chaos makes for a magic trick of an appetizer. That is, they'll disappear right before your eyes. So, just as they sound, you stuff the tots with cheese, wrap them in bacon, sprinkle them with herbs and spices, bake, and finally, devour!
Sweet Potato Tater Tots
For these Sweet Potato Tater Tots from The Minimalist Baker, they decided to go sweet rather than savory. And you know what? We're here for it. After baking, you put the few ingredients in the food processor, form the tots, and dip them in the panko before baking. Finally, toss them in cinnamon sugar and munch away.
Cheesy One-Pan Vegan Burger Tater Tots
If you know vegans, you'll want to show them this Cheesy One-Pan Vegan Burger Tater Tots recipe from World Of Vegan. As it sounds, there are tots, vegan ground "beef," vegan cheddar, and all your favorite toppings like pickles and ketchup. It looks so good! Even non-vegans will find it tasty.
Loaded Chicken Tater Tots Recipe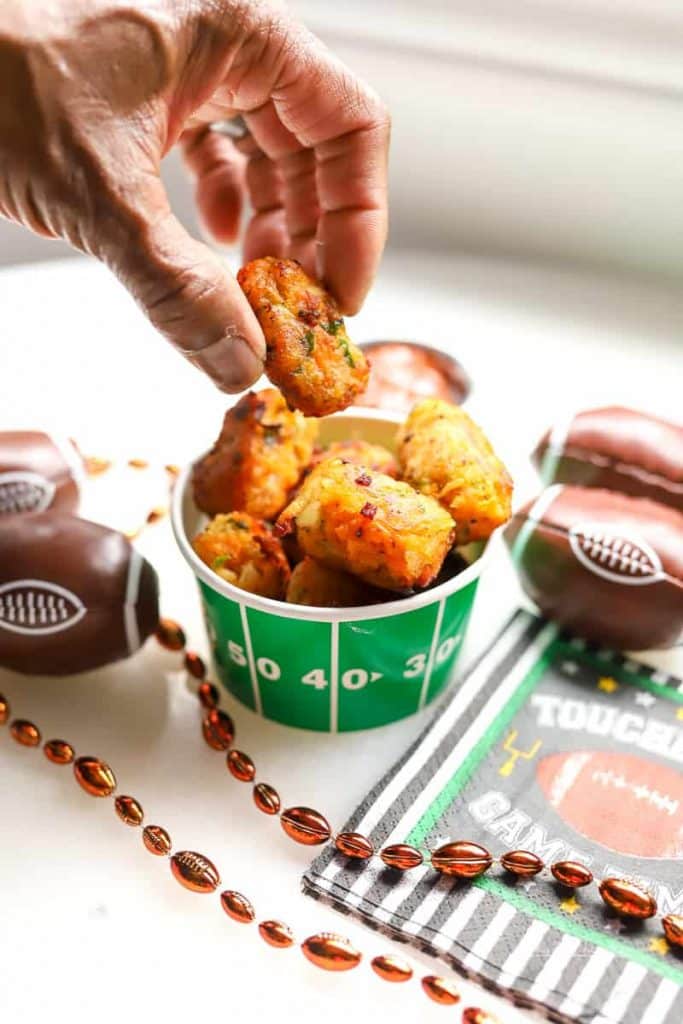 To read the name, you'd expect this Loaded Chicken Tater Tots Recipe to be tots smothered in shredded chicken, cheeses, and other delicious toppings. But no, the Worthey's have a much more inventive offering. Instead, they add the chicken to their homemade tater tot recipe. It makes for a flavorfully fun dinner, lunch, or unforgettable game-day snack.
Cheeseburger Tots
These Cheeseburger Tots from Kat and Melinda of Homemade Interest have "cutest, tastiest gameday fare" written all over them. Here's why you'll want them. So it starts with tater tot cups (they show you how to make them). Then it gets fun with the filling: ground beef, pickles, onions, cheese, and special sauce. They're so good! This recipe might challenge sliders for gameday food domination.
Which Tater Tot Recipe Will You Try First?
From Cheeseburger tots to Waffle Iron Tots, you've seen many tater tot recipes. So now is the time to choose which one you want to try first. So, what is it going to be? We'd love to know!
Looking for other potato recipes, see these easy and delicious potato creations!