These Buffalo Chicken Dip Pretzel Bites will drive you bonkers! Make them once and you are sure to get requests for them often. This is a perfect recipe for all kinds of occasions. Make them for game day, fight night, birthday parties, or just because it's Tuesday.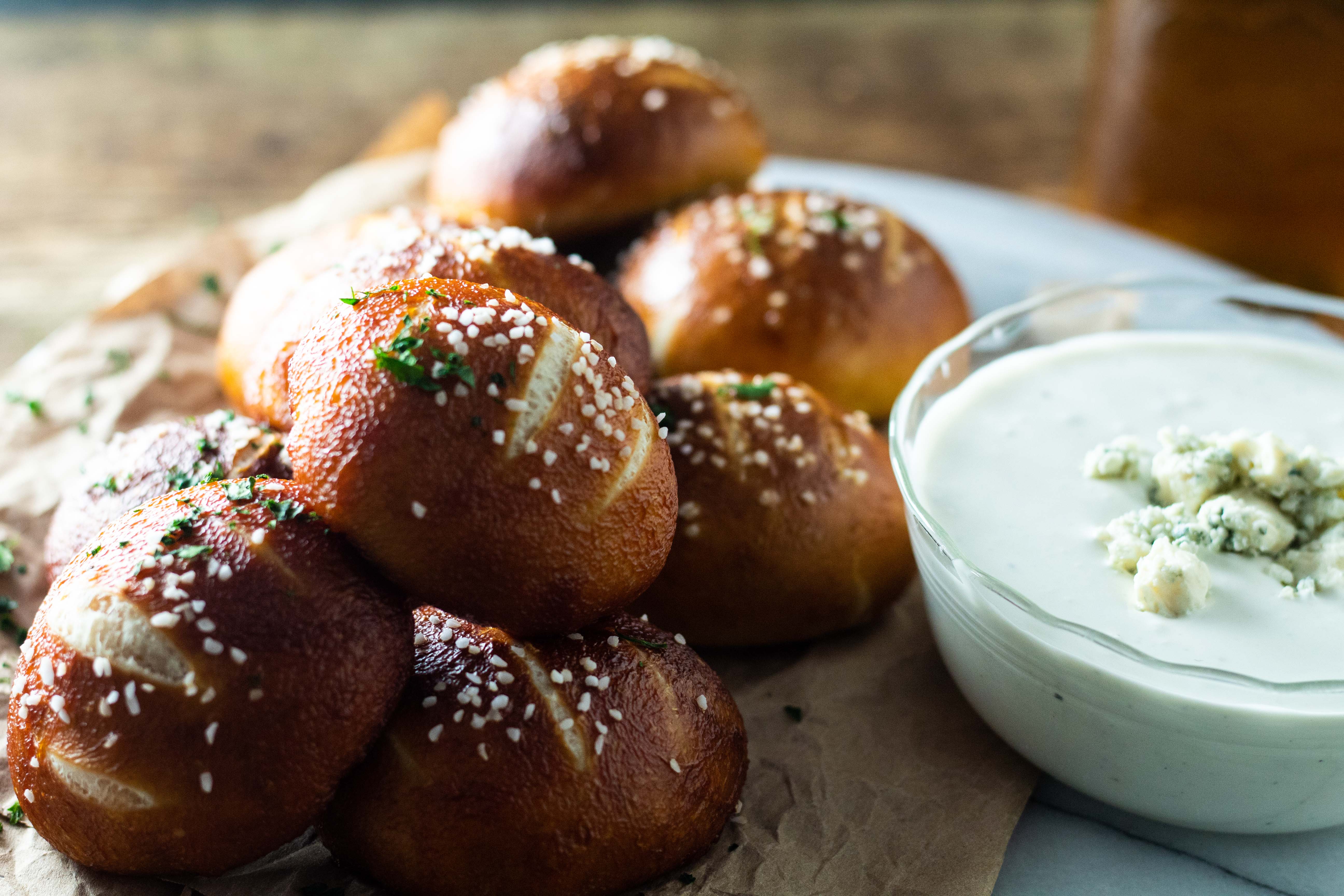 Once again we're back to the wonderful world of pretzels. We love pretzels so much, that one day we'll probably write a small eBook about the delicious dough creations. Right now, we're going to get into our current obsession: Buffalo Chicken Dip Pretzel Bites.
'Buffalo' is one of the most popular snack food themes ever. We've seen it on pizza, in dips, on chips, etc. There is buffalo sauce on everything at this point. This is our version of the old classic. We combined buffalo chicken dip with pretzels (not a new concept) and followed with very easy to understand instructions.
Buffalo chicken is perfect for folks that like spicy food but not too spicy. I am a spicy food lover but I don't like for my mouth to be on fire for an hour after eating. Like, have you ever eaten something so hot that you end up with a chemical burn and sweating? At that point, it's like you can't even enjoy it. The heat drowns out every other flavor.
Buffalo sauce ushered an era of wing obsession. Now, you'll find countless wing sauce varieties. But, it all started with Buffalo sauce. Call me a classic man but it is my favorite sauce for wings. Once again, spicy without the pain.
Check out some of our other Pretzel Recipes:
Spinach and Artichoke Dip Stuffed Pretzels
Jalapeno Popper Stuffed Pretzel Balls
Making Your Pretzels…
First, you have to make the dough (see recipe below).
Then make the buffalo chicken dip (see recipe below).
Then make the irresistible blue cheese dipping sauce (see recipe below). Alternatively, you could use the store bought stuff. But I recommend you make it homemade because it taste much better.
Next, measure out each dough ball. We use 1.5 ounces (or 3 to 4 tablespoons) of dough for each but you can make them whatever size you want.
Roll out the dough to about ¼ inch thick.
Put about 1 tablespoon of buffalo chicken dip in each.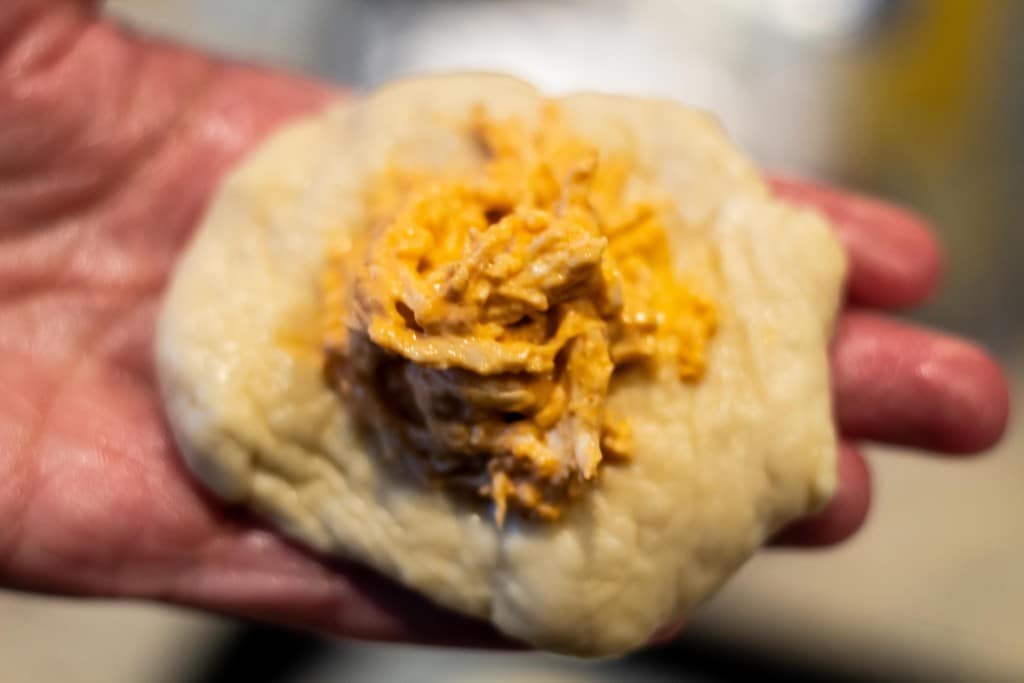 Close the dough ball.
Dip dough balls in high alkaline solution (lye or baking soda solution, see recipe below) for 30 seconds. Use kitchen timer on your stove or microwave.
Place the bites on a parchment or wax paper lined pan.
Bake.
Let them rest for 5-10 minutes. We recommend doing this to avoid burning yourself with the piping hot filling.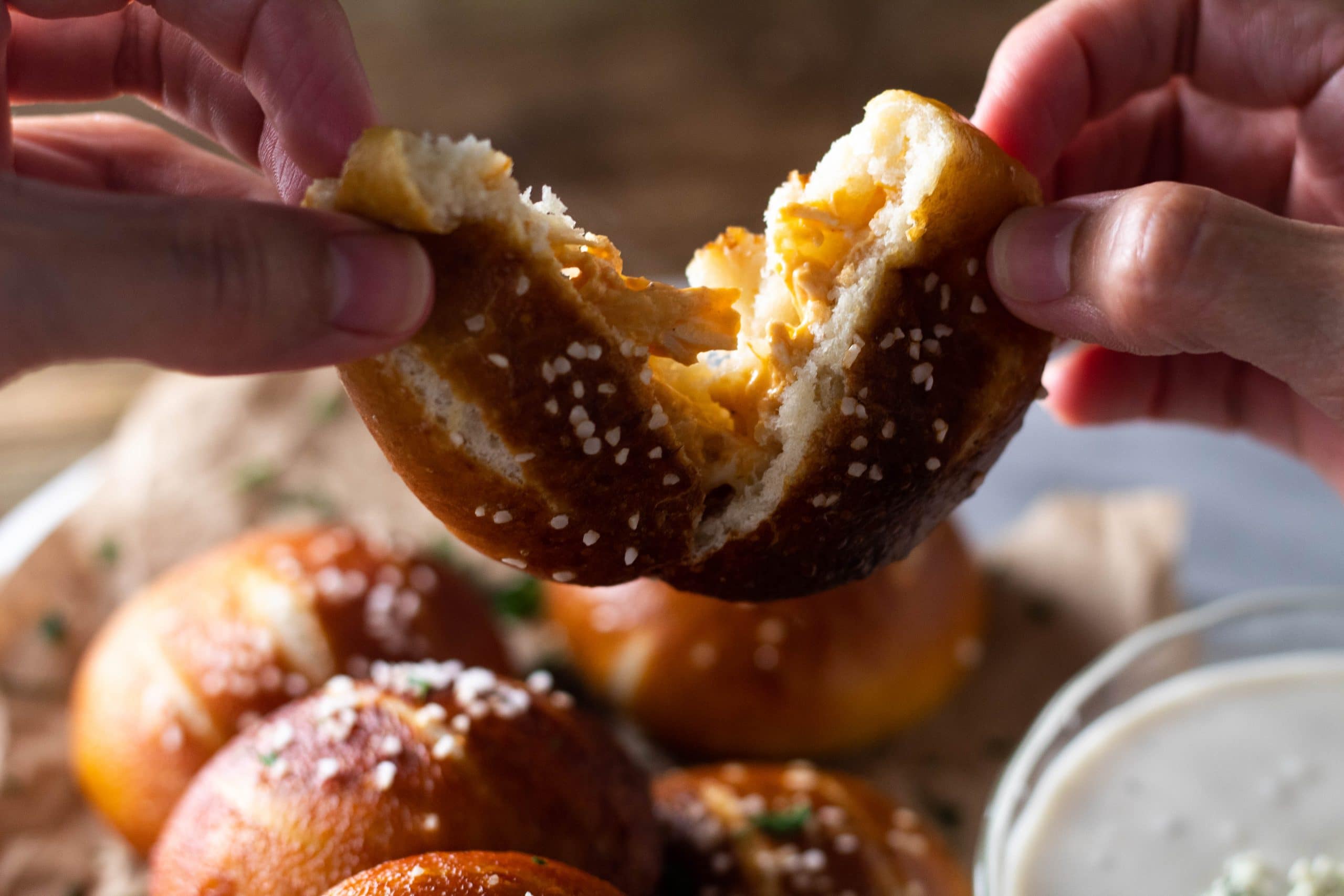 Enjoy.
P.S.
Now, too often the cook misses out on good food, often running back and forth to the kitchen. Don't be this person. Take the time to get you some! Eat them while they are still warm. Don't let them get cold while you are running to get something for someone else (looking at you Sarah).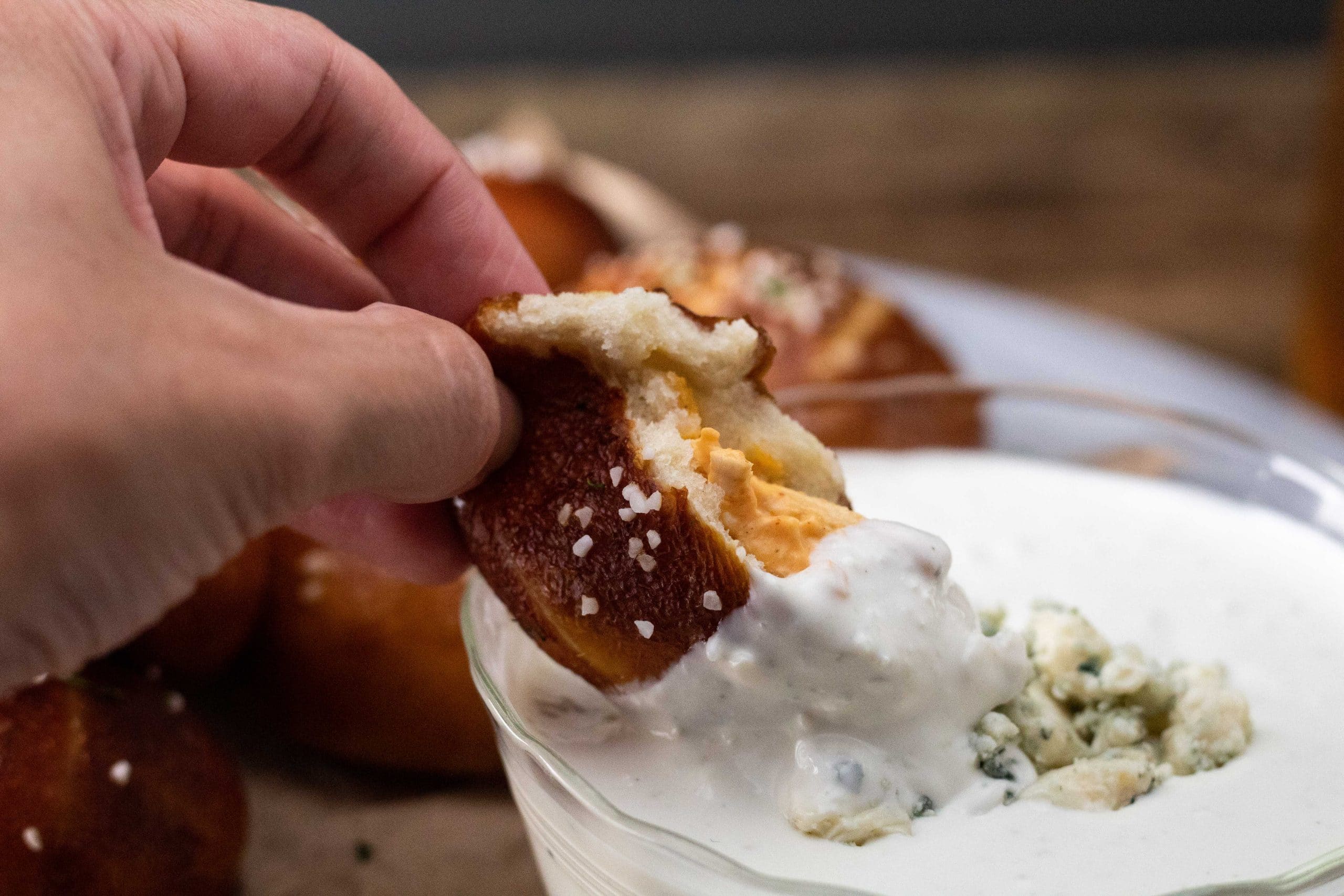 Buffalo Chicken Dip Pretzel Bites
These Buffalo Chicken Dip Pretzel Bites will drive you bonkers! Make them once and you are sure to get request for them often. This is a perfect recipe for all kinds of occasions. Make them for game day, fight night, birthday parties, or just because it's Tuesday.
Ingredients
Buffalo Chicken Dip Filling
1

Cup

Shredded Chicken Breast

4

Ounces

Cream Cheese

Room temperature

¼

Cup

Franks Buffalo Sauce

Salt and Pepper
Lye Bath
6

Cups

Water

2

Tablespoons

Food Grade Lye
Instructions
Make a batch of basic pretzel dough. Click here for the recipe.

Take the chicken breast season with salt and pepper and cook it in a frying pan for 5-7 minutes on each side or until no longer pink. (See notes) Once the chicken is cooked take 2 forks and shred the chicken. Measure out 1 cup since you will probably end up with more when cooking 1 chicken breast.

In a medium bowl add the room temperature cream cheese, the buffalo sauce, and the shredded chicken. Mix until well combined and set aside.

Measure out a 1.5 ounce of pretzel dough using a food scale. (See notes) Roll the dough out about ¼ inch thick. Fill the dough with 2 teaspoons of the mixture.

Fold the dough over the mixture ensuring no filling will leak out. Pinch the dough once you have covered the filling. Place on a parchment lined baking sheet.
Lye or Baking Soda Solution
Gather safety goggles, disposable rubber gloves, stainless steel pot, long stainless steel stirring spoon. Put on safety goggles and rubber gloves.

Take the stainless steel pot and fill it with 6 cups of water. Add the lye to the pot and heat on high until you see steam. Then turn the heat off and set aside for about 5 minutes until you no longer see the steam. Make sure that the area you work in is well ventilated. Do not inhale the steam.

If you opt to use baking soda instead of lye, follow these instructions:

When using the baking soda bath you will need to bake ¼ cup of baking soda at 250 degrees for 1 hour. Then you will need a stainless pot with 8 cups of water. Add the baked baking soda to the pot of water and cook on high until you it simmers. Use a stainless steel spoon to mix the solution to make sure the baking soda dissolves. Then turn the heat to medium to maintain a simmer. You are ready to dip your pretzels for 30 seconds then cook.

Once all bites are made, dip them in the lye or baking soda bath for only 30 seconds. That's right I said 30 seconds. You do not want to soak the pretzels in the lye or baking soda bath. Make sure to use a kitchen timer to ensure each bite only sits in the lye or baking soda bath no longer than 30 seconds. Place the bite back on the parchment paper. If you use the lye solution do not touch the dough with your bare hands at this stage.

After all of the pretzels have been dipped in the lye solution be sure to clean the pot, any utensils and work area. You can pour the lye solution down the drain. Clean the pot, utensils and work area with soap and warm water.
Baking
Preheat the oven to 425 degrees.

After dipping the pretzels, use a sharp knife score a couple slits on the bites to prevent them from exploding in the oven. Be careful not to cut too deeply into the dough. You just want to lightly score the dough. Top each bite with salt (pretzel large flake salt works best) and bake at 425 degrees for 10-12 minutes.

Let the bites rest for about 5-10 minutes before digging in, you don't want to burn your mouth. Enjoy!
Notes
You could use chicken breast from a rotisserie chicken that will help cut down your cooking time. Just don't get one that is flavored with lemon pepper. That won't taste good in this recipe. LOL
If you do not have a food scale you could use a tablespoon. Measure out about 3-4 tablespoons of dough for each bite to ensure all bites are even in size and to ensure proper cooking.
They are best reheated in the oven at 350 degrees for  minutes. If you let the bites sit too long on the baking sheet before baking it will be harder to score them. Make sure you score each bite as soon as you finish dipping them in the lye bath.
They are best reheated in the oven at 350 degrees for 5 to 7 minutes.
Follow all of the safety precautions when working with food grade lye.  Wear safety goggles, long rubber gloves, long sleeve shirt, and pants. If you drop some solution on your skin just take some vinegar and pour it on the affected area.