Get ready to explore this surprising list of 20 incredible canned corn recipes. It will completely change how you look at the humble ingredient.
Don't believe me?
Here's a sample of what you can expect: Cantonese cream corn chicken, dips, and mouthwatering corn fritters. Don't worry. There's something for everyone. So are you ready to discover delicious, canned corn dishes?
Let's dive in!
Looking for more tasty side dishes, see these corn on the cob recipes.
Cantonese Cream Corn Chicken Rice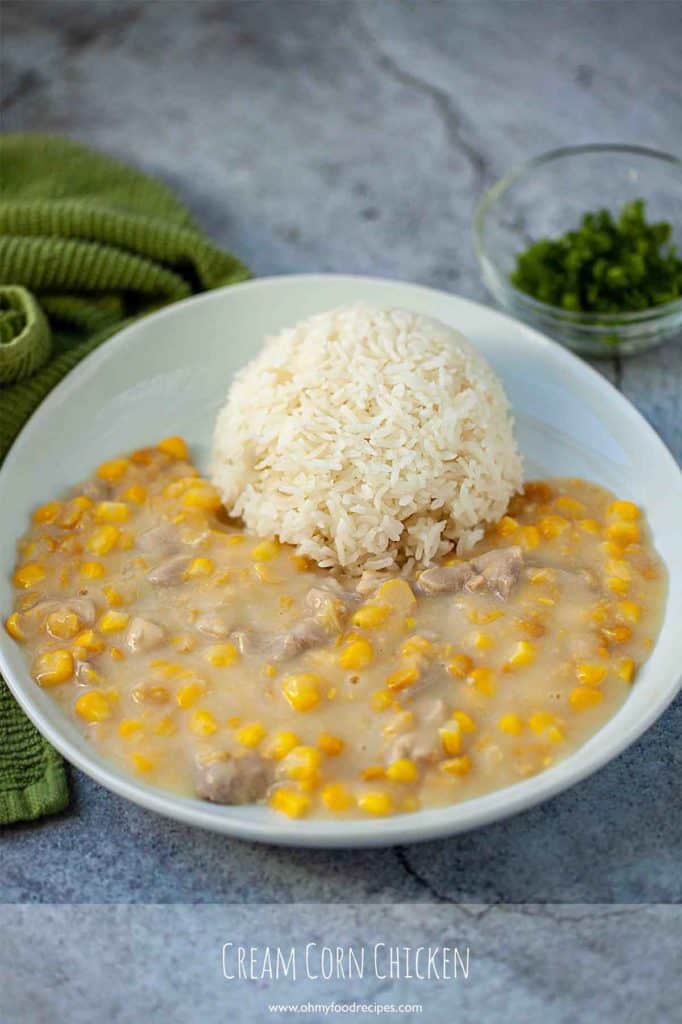 With as much flavor as Tracy of Oh My Food Recipes packed into this Cantonese Cream Corn Chicken Rice recipe, you'd expect it to take hours, right? Wrong! With simple ingredients like cream corn, canned corn, green onion, chicken thighs, and milk, it's one of the meals that come together quickly, but everyone spoonful leaves you wanting for more.
Quinoa Avocado Salad with Corn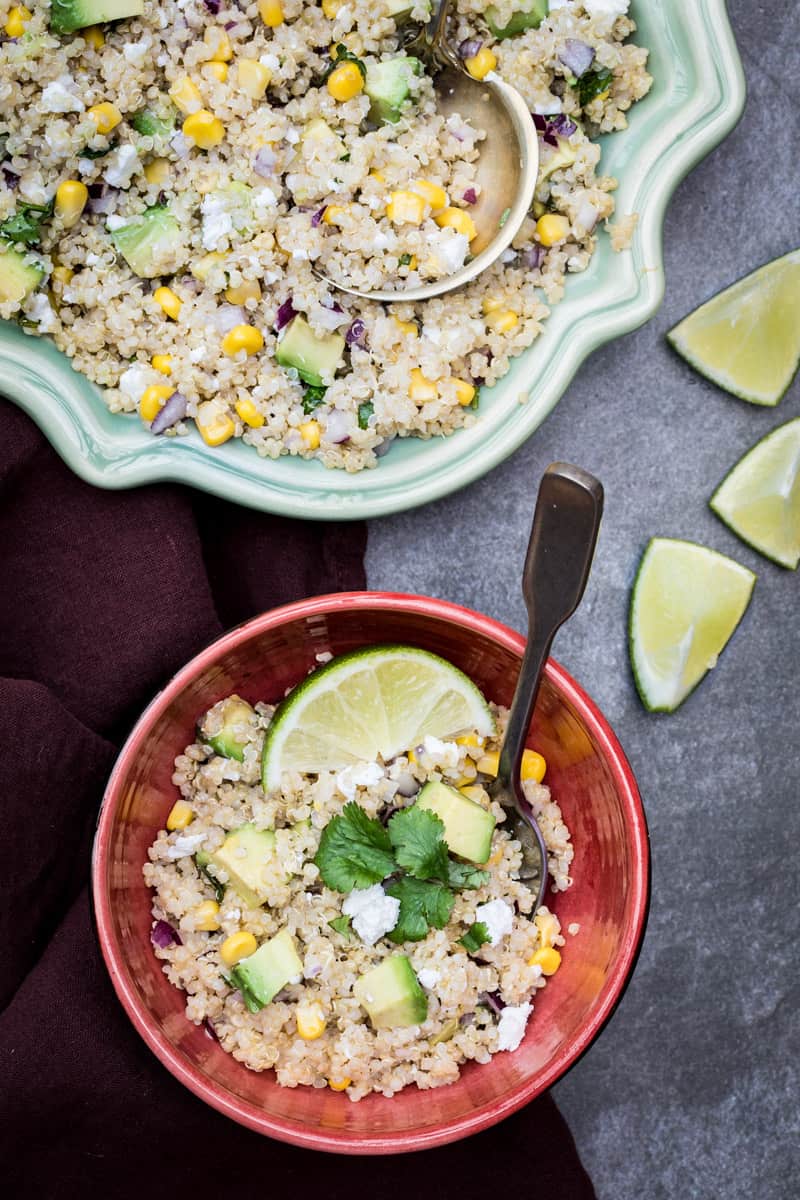 Practicing vegetarians and carnivores alike will be drawn to this Quinoa Avocado Salad with Corn by Vanilla Bean Cuisine because the quick 1-2-3 offering is a lunchtime dilemma alleviator. But while the corn, quinoa, and avocado-loaded meal will keep you filled, we can't forget about the flavor. Cilantro, lime, feta, and red onion make it a weekly winner you will remember.
Canned Corn Recipe with Peppers + Bacon
Name a meal that wouldn't be a wee bit better with bacon. Yeah, we can't, either. So with this Canned Corn Recipe with Peppers and Bacon from farmsteader Alli of Longbourn Farm, you know you're getting a meal that will thrill. Your taste buds, that is. The quick four-ingredient dish makes a lovely side for steak, chicken, or other protein.
Corn Fritters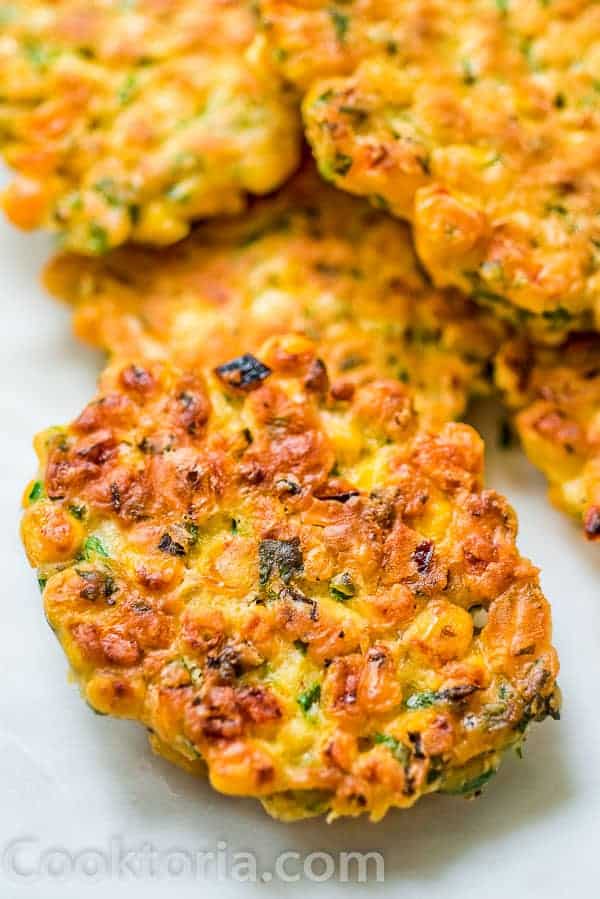 These Easy Corn Fritters from Tania of Cooktoria are versatile. They taste great with fresh, frozen, or for the reason, you're on this list, canned corn. But not only will they have you drooling over the corn, but the simple lunch option is also filled with bell pepper, egg, and flour. While fresh herbs like parsley and chives make it an aromatic fried treat so good you'll put it on repeat.
Cheesy Corn Dip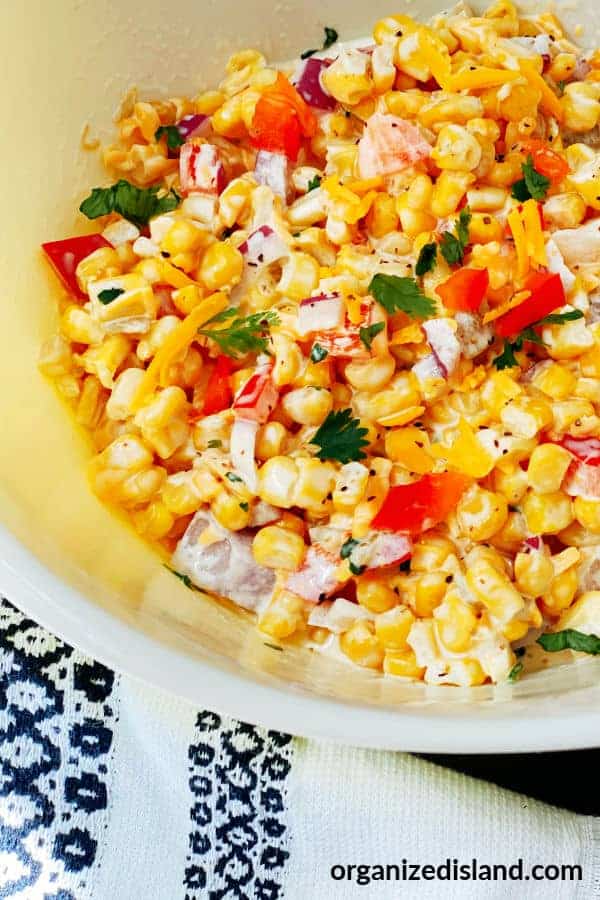 If you're anything like us, you look for any opportunity to put cheese on your food. So, we know that this Cheesy Corn Dip from Raquel of Organized Island has your attention. That's right! The T.V. or game night dip is so creamy with a crunch from the corn, red onion, green chilies, and bell pepper. And the shredded cheese makes it dreamy. So, here's our prediction. Make it once, and you'll never stop.
Jalapeno & Green Chile Spoon Bread
With this Jalapeno & Green Chile Spoon Bread from Kaylen of Flavorful Eats, you've found your new favorite accompaniment to chili. Each serving is a mound of moist deliciousness featuring canned corn, diced green chiles, and cheese. But what may be your favorite part is the texture. While others are pudding or soufflé-like, this one is more like cornbread. The moistest cornbread you've ever had.
Corn Salad Recipe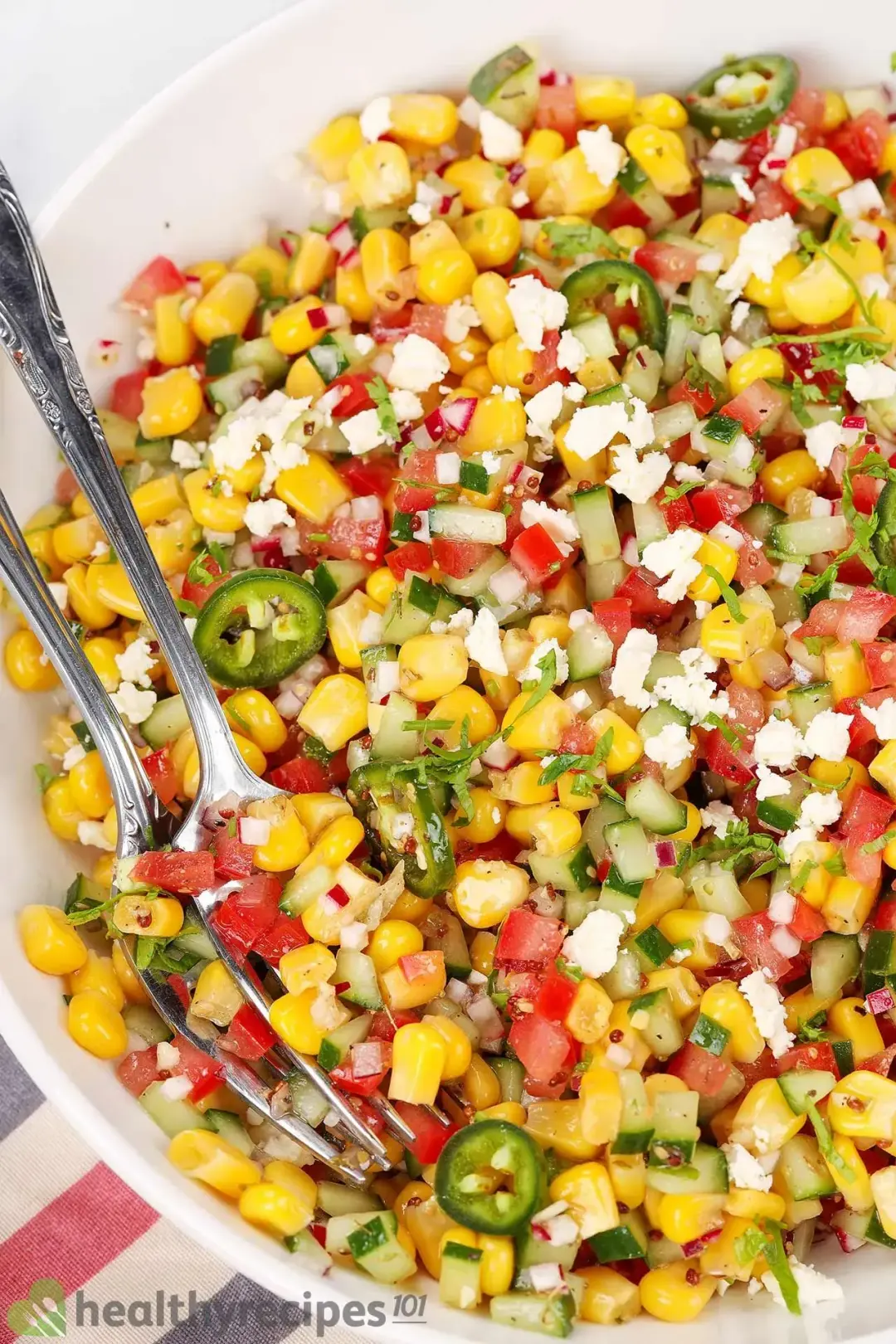 Don't underestimate the yum factor of simple salads like this Corn Salad Recipe from Healthy Recipes 101. And while it's a salad, if you serve it with chips, it can also be an addictive dip. Here's why. There are all kinds of vegetable goodness like tomato, cucumber, radish, onion, and jalapeno. However, the lemony, herby, vinaigrette, and feta bring it to addictive levels of tastiness.
Paté Chinois / French Canadian Shepherd pie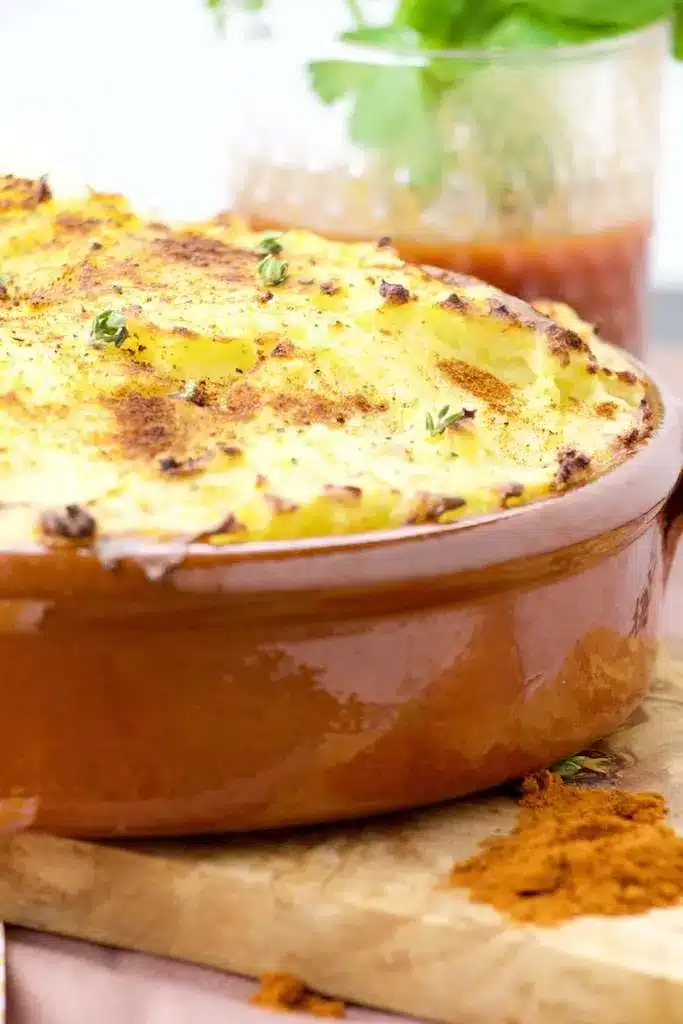 Canned creamed corn is essential to this Paté Chinois / French Canadian Shepherd pie from The Foodolic. So if you know anything about Shepherd's Pie, you know it's a hearty comfort food casserole with layers of ground meat, potatoes, and other vegetables. However, what makes this version special is the additional paprika, garlic, and thyme.
Savory Corn Pudding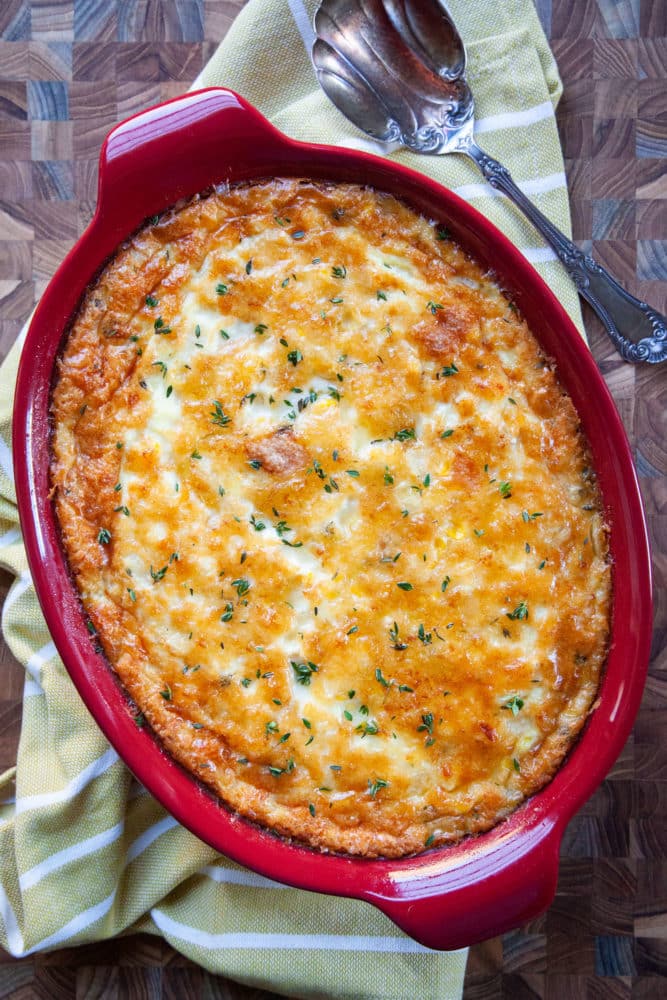 This Savory Corn Pudding from Lin of Eat The Love is but a delicious hook. So you'll visit for his extraordinarily delightful side dish, a more savory than sweet adaptation of the Southern and Midwestern classic, but be warned. You'll stick around. Lin's voice is welcoming, the writing is entertaining, the photography is captivating, and the food is mouthwatering.
Easy Tater Tot Casserole
This Easy Tater Tot Casserole from Tiffany of Saving Talents is a simple mid-week meal perfect for getting dinner on the table without the fuss. And with ingredients like frozen tater tots, ground beef, canned mushroom soup, canned corn, cheese, and green beans, it's tasty, dump, and go fare you'll surely appreciate.
Crack Corn Dip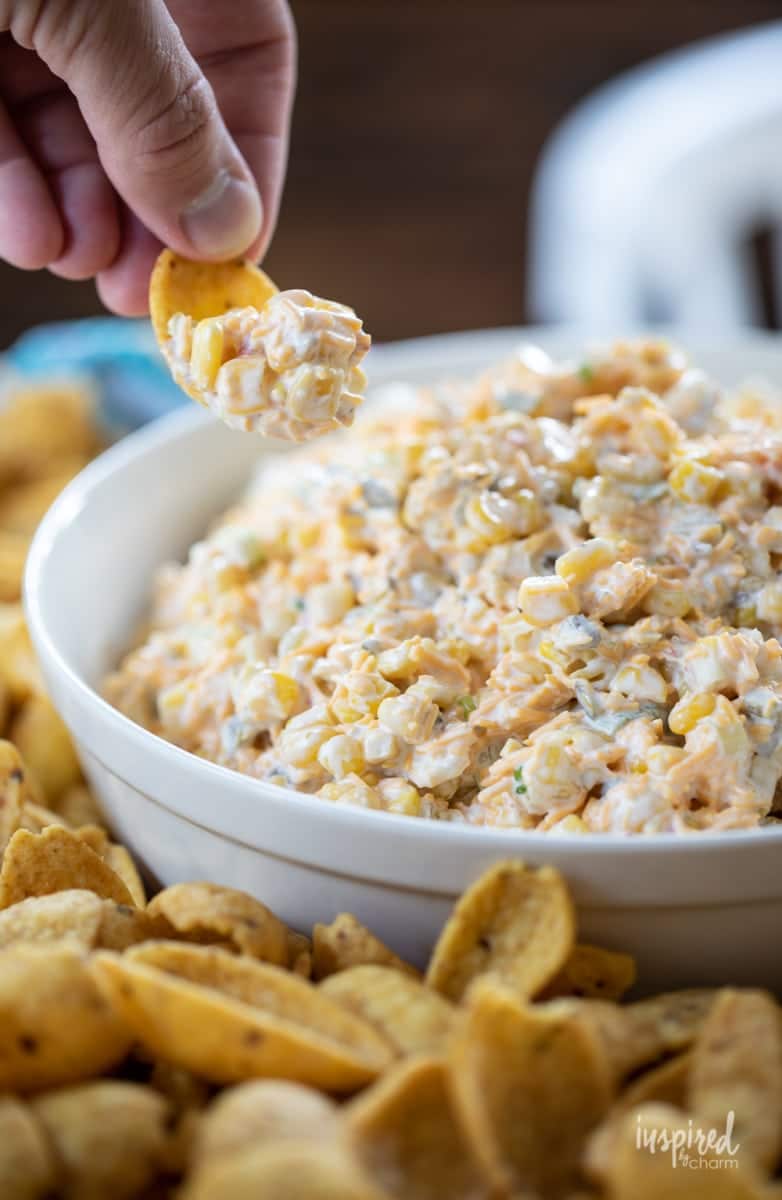 Like our Corn and Chorizo Dip, Michael of Inspired By Charm knows all about Crack Corn Dip. His taste bud satisfying offering will undoubtedly have your party guest fighting over the last bite. But before it gets to that, you can whip up yet another batch with simple ingredients like canned corn, mayonnaise, canned chiles, sour cream, and garlic powder.
Creamy Shoe Peg Corn Salad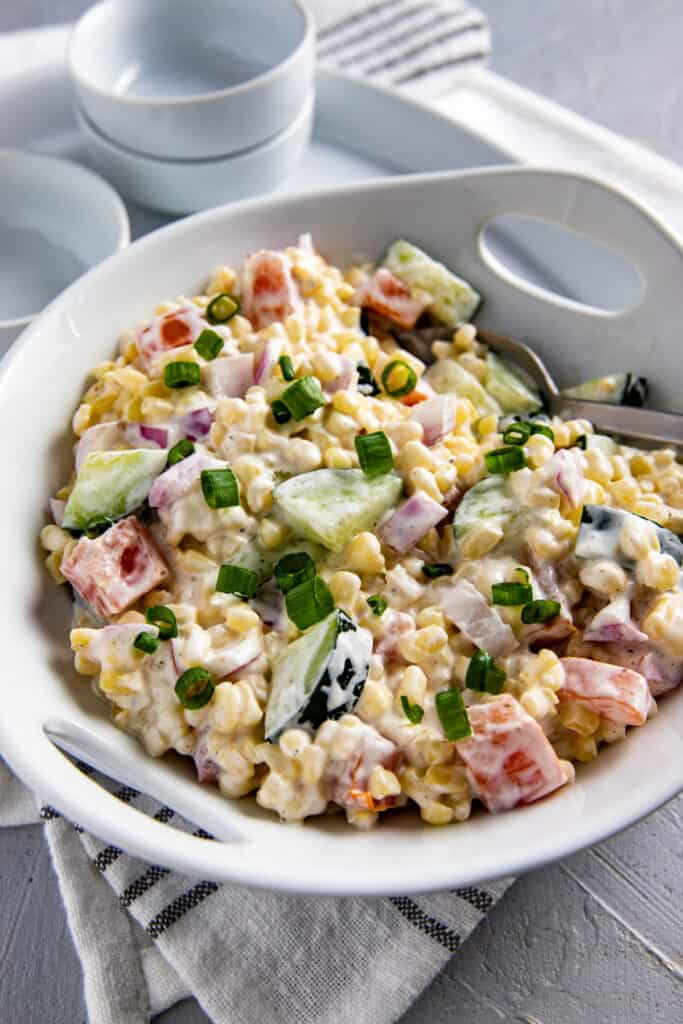 If you're reading Creamy Shoe Peg Corn Salad and thinking, what the heck? You wouldn't be alone. Shoepeg is a variety of heirloom corn known for its narrower kernels and sweeter taste. However, whole-kernel canned corn works in this recipe as well. Because alongside red onion, cucumber, tomato, and homemade dressing, you have a tasty side for your picnic spread.
Shrimp and Corn Chowder Recipe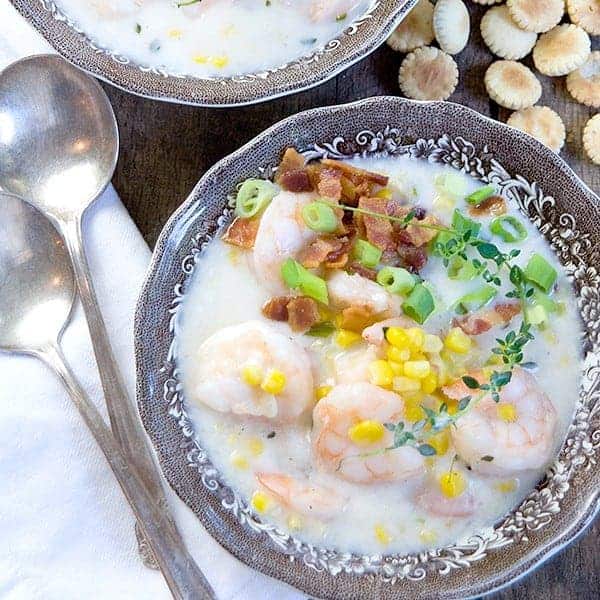 It doesn't get more comforting than soup or stew on a cold day. So this Shrimp and Corn Chowder Recipe from Lana's Cooking is more than just a tasty recipe. It's also about creating memories. It starts with bacon. Then you make a roux, and before you know it, you add the star ingredients. It's a recipe you'll want to double or triple and eat for days.
Mexican Street Corn Salad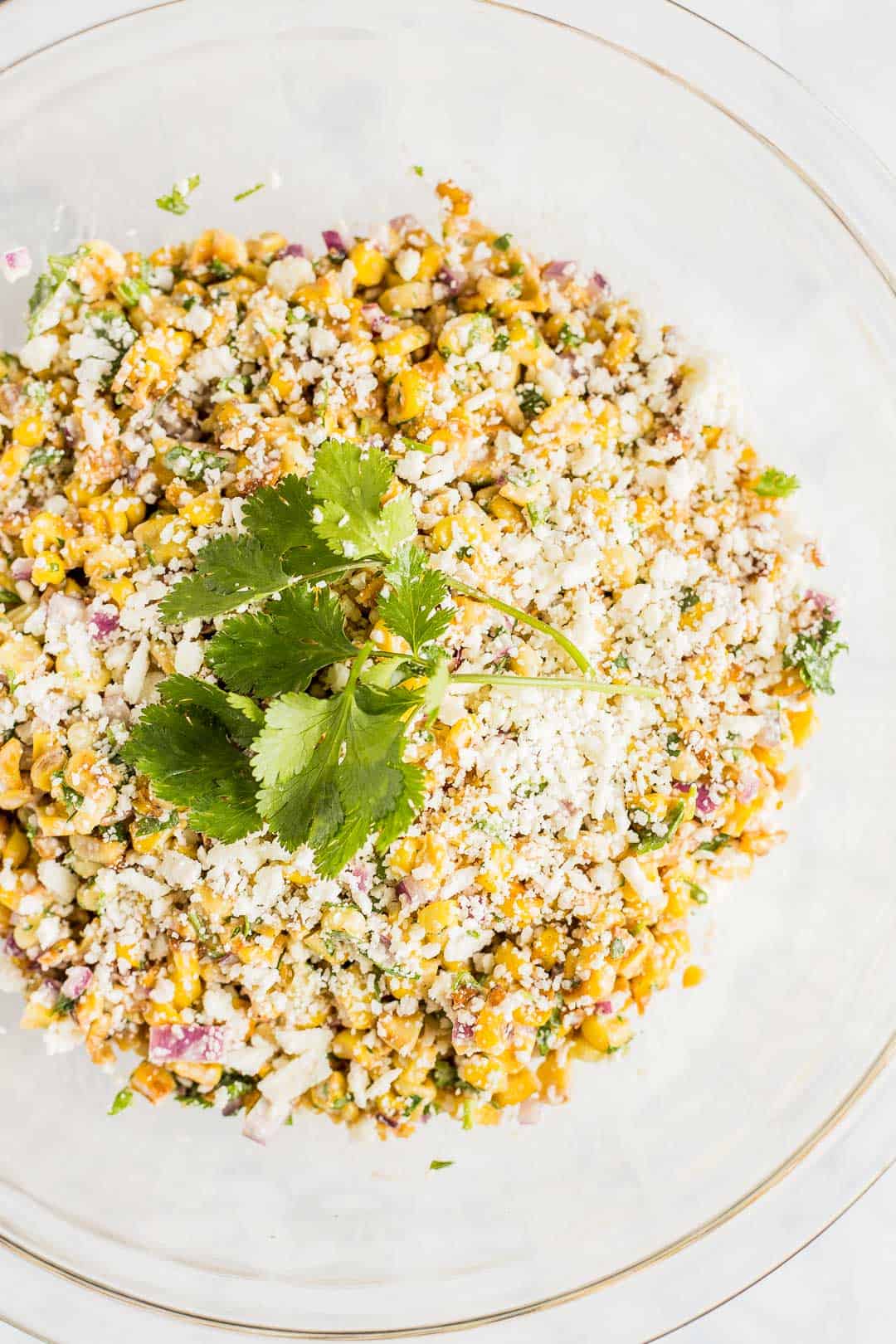 Mexican street corn, or simply elotes, is the addictive side dish that you'll want to eat all day. Seriously, it's dangerously delicious with the power to eviscerate diets everywhere. So naturally, Matt of Plating Pixels went and made it more accessible with this Mexican Street Corn Salad recipe. With canned corn, crema, mayonnaise, red onion, cilantro, paprika, and cotija, it's everything you love about the Mexican favorite in dip form.
Crock Pot Creamed Corn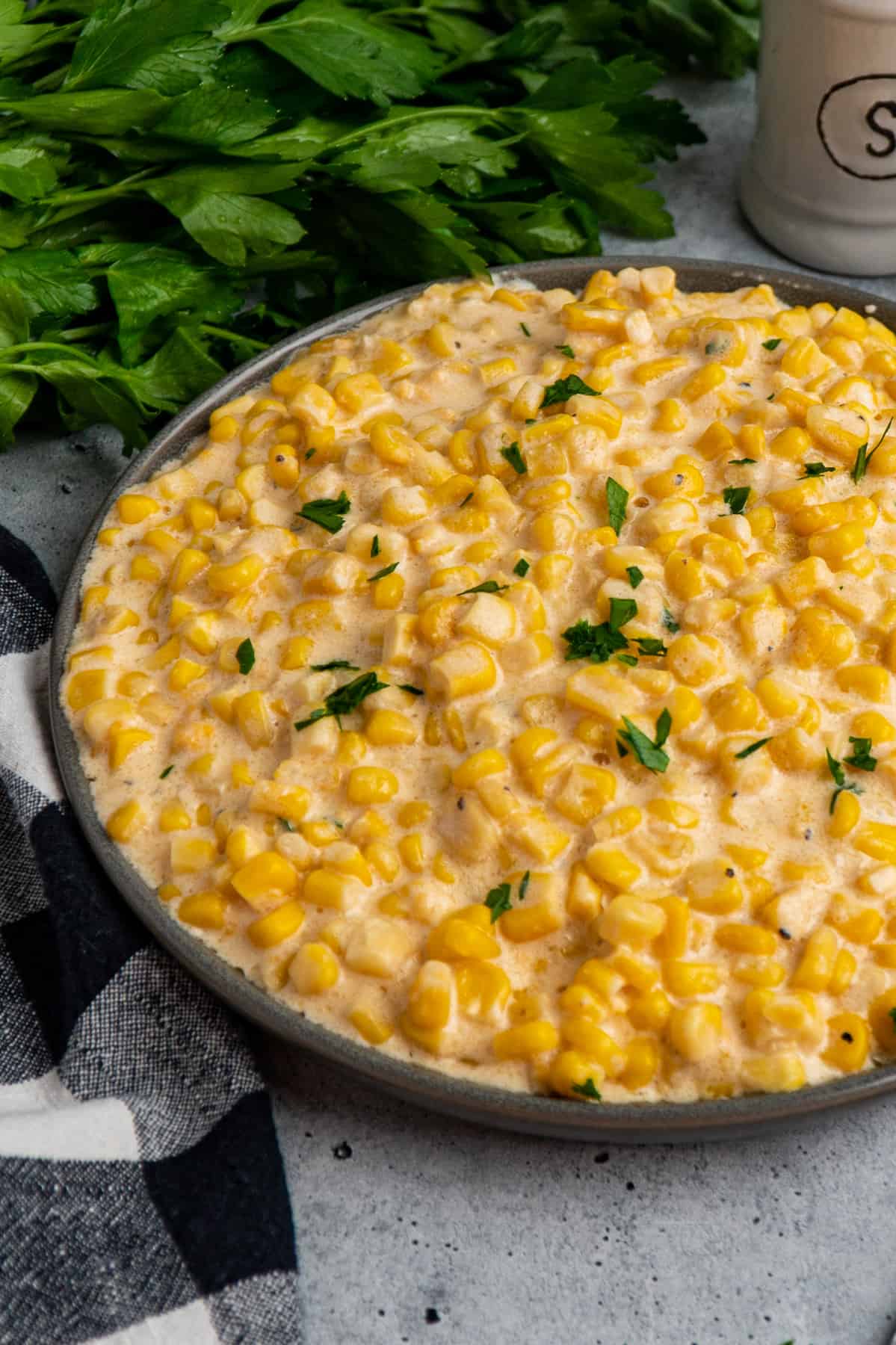 While usually served as a side dish, this Crock Pot Creamed Corn recipe from Ryan of Slow Cooker Meals is so good you might eat it as a complete meal. The simple dish contains just a few ingredients like canned whole-kernel corn, milk, cream cheese, and cheddar cheese. All you do is add them to your cooker and turn it on. Then three hours later, it's ready to eat. Until then, enjoy the aroma.
Frikadel Djagoeng: Indonesian Corn Fritters Recipe
These Indonesian Corn Fritters by Just Gimme Fries remind us, gastronomes, that there is a whole culinary world out there just waiting to be discovered. So while there is a fritter recipe above, we couldn't resist this one as it's so unique. The ingredients list includes the usual suspects, like flour, canned corn, and egg. But there's also Siamese ginger powder, candlenuts, and creamed coconut for a flavor sure to excite the taste buds.
Sautéed Zucchini and Onions with Sweet Corn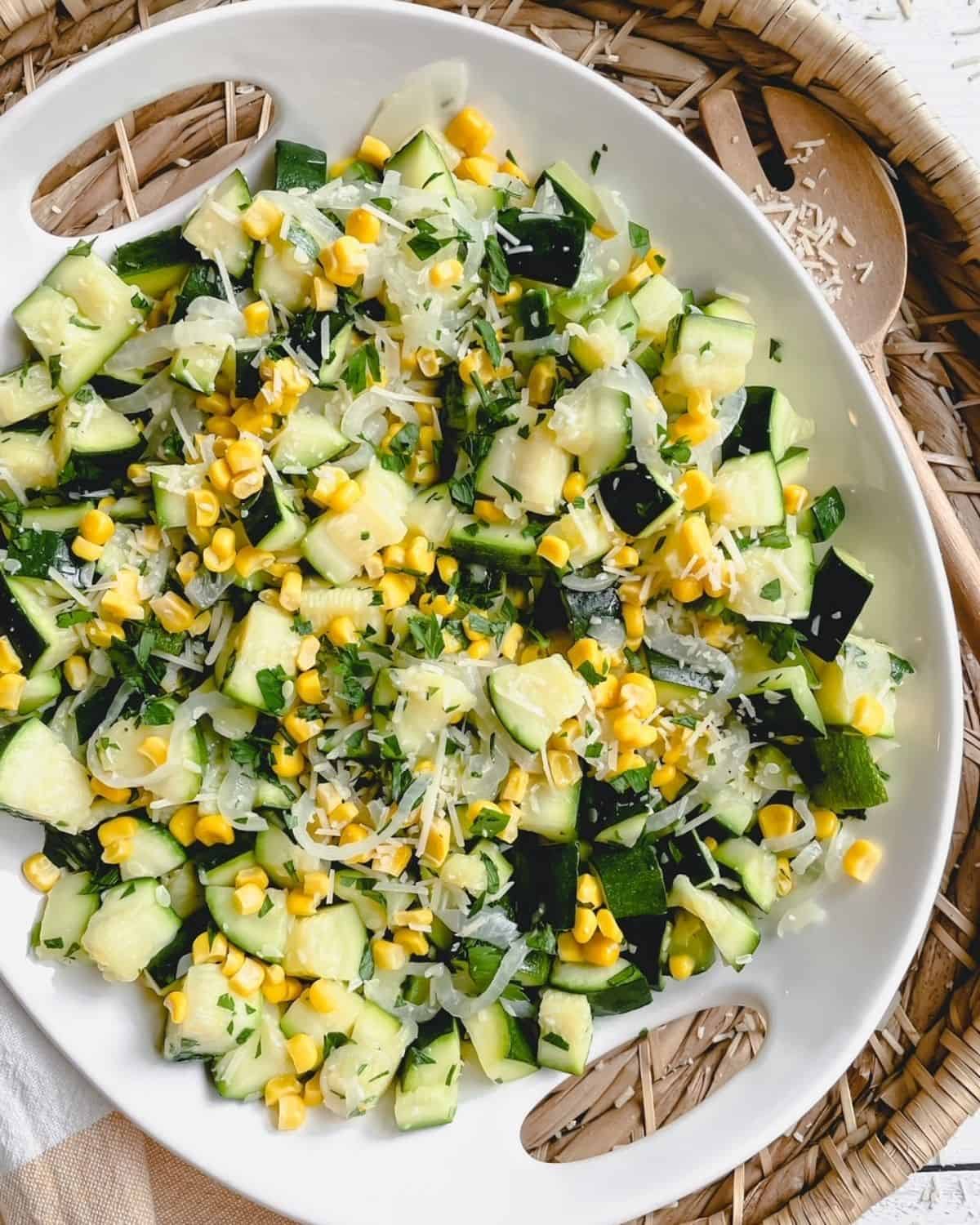 Zucchini is a great vegetable to grow. Once it starts growing, you'll have more than you know what to do with. So what's the solution? You make delicious summery dishes like this Sautéed Zucchini and Onions with Sweet Corn from Sugar And Snap Peas. It's flavor-packed with garlic, parmesan cheese, and fresh parsley.
Corn Chowder with Potatoes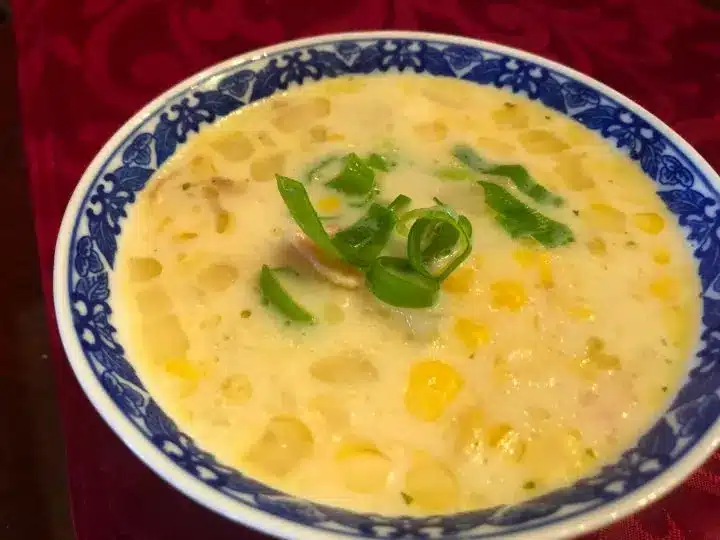 Along with an epic vegetarian Corn Chowder with Potatoes recipe, Tsai of Oh Snap Let's Eat offers cute tidbits about the soup. For example, corn is not a vegetable, although that's what most of us categorize it as. But while fun facts can be intriguing, we know what you're really here for; the food. It doesn't disappoint. Your tummy will be happy with the hearty, buttery, creamy corn chowder with bacon, onion, and tender potatoes.
Cowboy Caviar Recipe
No canned corn recipes list would be complete without a Cowboy Caviar Recipe like this one from Housewives Of Frederick County. It's a stick-to-your-ribs party dip filled with your favorite legumes like black beans, black-eyed peas, corn, tomatoes, and avocado. But that's just the beginning, y'all! It gets a flavor boost from zesty Italian dressing, bright cilantro, and lime.
Canning Corn (How To Can Corn)
Sarah of Sustainable Cooks is your guide showing you How to Can Corn using a pressure cooker. So, whether you grow your own corn or catch an unbeatable deal, it's the perfect way to extend that fresh corn flavor beyond the summer months.
Which Canned Corn Recipe Will You Try First?
With so many canned corn recipes out there, how does one choose? You could start with the addictive Mexican Street Corn Salad, Shrimp and Corn Chowder, or even the Indonesian Corn Fritters. Or you could even put on your homesteading hat and can your own corn.
Looking for more side dish recipes? See this list of easy potato recipes.