Are you looking for THE BEST delicious and Easy Kielbasa Recipes? Well, you're in the right place! We put together a list of the tastiest and simplest Polish smoked kielbasa sausage recipes you can find.
One or more of these simple weeknight meals will become your go-to when you're in a jam.
For example, there's a red beans and rice skillet, sauteed kielbasa and butternut squash, and several pasta meals with sausage. So are you ready to discover the deliciousness?
Let's jump in!
By the way, make sure you see these best sausage recipes.
19 Easy Kielbasa Recipes
Just below, you will discover nearly 20 amazing Kielbasa recipes perfect for your weeknight dinner plans. They are so easy that most take less than 30 minutes to make. And many are one-pan meals, so you won't have to clean a bunch of dishes.
Red Beans And Rice Skillet
Kate of I Heart Eating created this delicious savory red beans and rice with kielbasa dinner. The flavorful one-pan meal is more than just meat, beans, and rice, however. There's also a mix of aromatics; celery, onion, and green peppers. It's a "stick-to-your-bones" meal born out of necessity but, thanks to Kate, made even more accessible by utilizing the Instant Pot.
Visit I Heart Eating for the recipe.
Mexican Rice Kielbasa Skillet
Whether it's Chipotle-style rice bowls, burritos, nachos, or tacos, we love Mexican and Tex-Mex meals. And this Mexican kielbasa rice skillet from Emilie of Finding Zest surely fits the bill with deliciously seasoned rice, sausage, beans, onions, tomatoes, and sour cream.
Visit Finding Zest for the recipe.
Ukrainian Hash
For Food Meanderings Terri, this Ukrainian breakfast hash is not just a delicious hearty meal with wonderful flavors from the kielbasa sausage, potatoes, mushrooms, green peppers, and dill. It's a tasty way to celebrate Ukrainian heritage.
Visit Food Meanderings for the recipe.
Low Carb Fried Cabbage With Kielbasa
This pan-fried cabbage with kielbasa from Kyndra of Peace Love And Low Carb is naturally low carb and very flavorful from garlic, onion, red wine vinegar, red pepper, and parsley. You can bet on this one, as the popular recipe has over 350,000 shares on social media from folks that love delicious, easy weeknight meals.
Visit Peace Love And Low Carb for the recipe.
Grilled Kielbasa
So this ten-minute grilled kielbasa from Jason of Kitchen Laughter is as easy as it gets. We're sure you know how to prepare a sausage on the grill, but we like this guide because it teaches you how to cross-hatch the links, has specific equipment recommendations to get beautiful grill marks, and guides you on grilling the vegetables.
Visit Kitchen Laughter for the recipe.
Sautéed Kielbasa & Butternut Squash Skillet
Sometimes just looking at hearty and healthy meals like this fall-appropriate kielbasa, butternut squash, and kale skillet from Laura of Cook At Home Mom is energizing. It's like you're body is telling you it wants that nutrition. But not only is this recipe nutritious, but it's also…delicious.
Visit Cook At Home Mom for the recipe.
Kielbasa Kapusta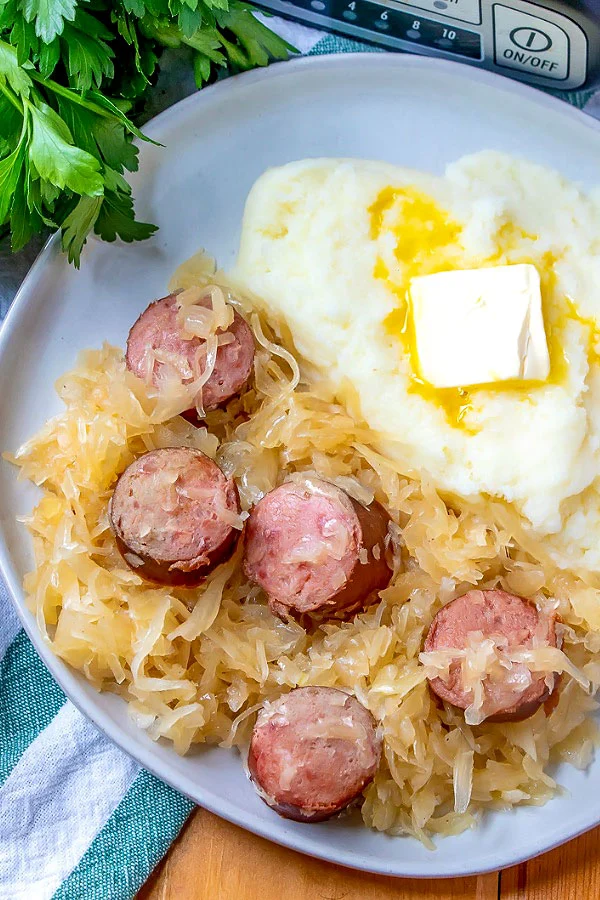 Jillian of Food Folks and Fun shares a bit of her Polish heritage with us through this kielbasa Kapusta recipe. It's a flavor-filled comforting heirloom meal consisting of minced onions and lots of tangy sauerkraut balanced by the richness of kielbasa. Mmm, you can almost smell it through the screen!
Visit Food Folks And Fun for the recipe.
Sausage Pasta In Creamy Tomato Mascarpone Sauce
Lucy of Super Golden Bakes developed this one-pot sausage pasta recipe during a time of scarcity. But it's this same scarcity, not abundance, that leads to the best creative food discoveries, e.g., gumbo, red beans and rice, and so many more the world over. So this rigatoni pasta with kielbasa, aromatics, mascarpone cheese, and cajun seasonings, while delicious and easy, is also a lesson in working with what you have.
Visit Super Golden Bakes for the recipe.
Crockpot Kielbasa And Green Beans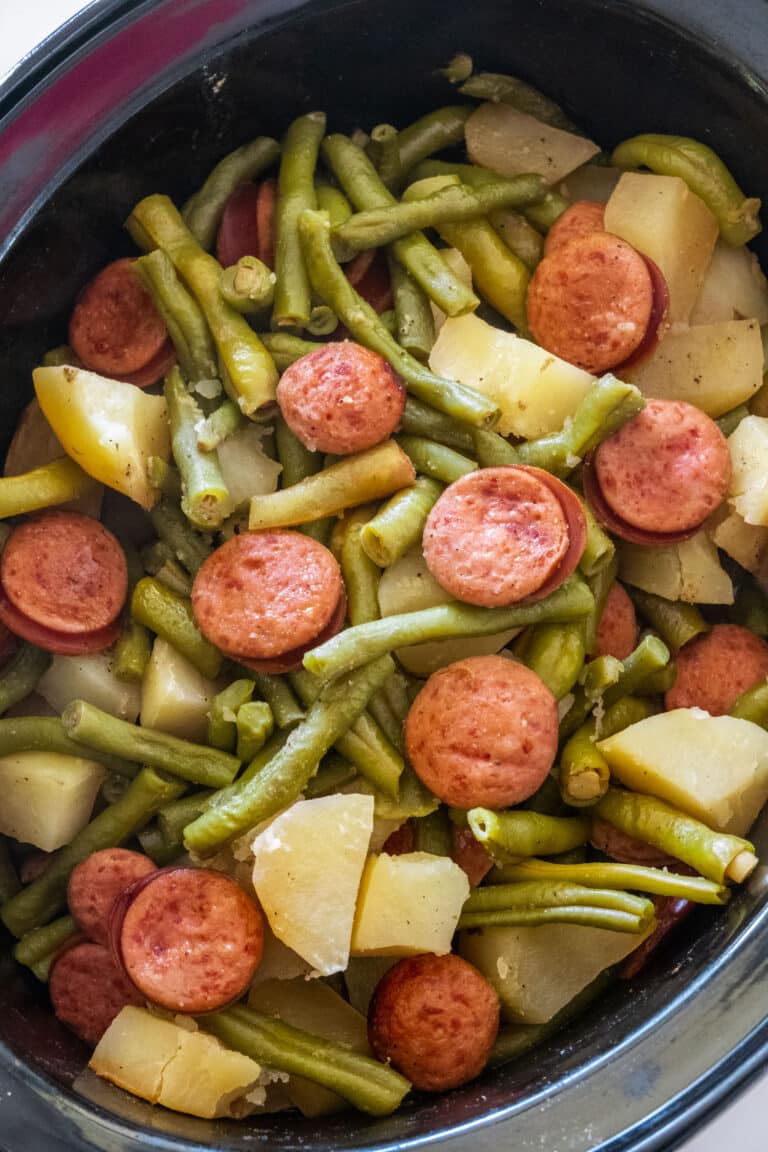 We continue the theme of working with what you have with Pamela, the Brooklyn Farm Girl. She and her husband, space constraints notwithstanding, created a rooftop garden with so many different vegetables that many folks call it a mini farm.
As for this crockpot kielbasa and green beans recipe, it's a delicious creation with kielbasa, fresh green beans, and potatoes. It's easy and mostly hands-off.
Visit Brooklyn Farm Girl for the recipe.
Dutch Split Pea Soup
Dutch split pea soup, also known as snert or erwtensoep, is a delicious bowl of comfort perfect for fall. For this version from Iryna of Lavender And Macarons, you'll find a tasty and colorful bowl of soup made with dried peas, carrots, kielbasa, pork chops, and other delicious flavorings.
Visit Lavender And Macarons for the recipe.
Easy Hungarian Layered Potatoes Recipe
Creamy and luscious thanks to the bechamel sauce. And oh so filling with potato, egg, and sausage. Natasha's Home brings us this delicious Hungarian casserole potato dish to use as a template. She doesn't specifically recommend kielbasa, but we're sure it'll taste amazing with it.
Visit Natasha's Home for the recipe.
Low Country Boil
Donna is The Slow Roasted Italian whipping up memorable dishes like this low-country (South Carolina) boil. And while boils vary slightly from recipe to recipe, this is a kind of surf-and-turf feast with corn, potatoes, onions, crab, shrimp, and kielbasa. Oh, and you add a liberal amount of cajun seasoning, serve with butter and cocktail sauce, and turn on the music. Cause with food like this. It's a party, baby!
Visit The Slow Roasted Italian for the recipe.
Slow Cooker Sausage And Cheesy Potatoes
Busy weeknights are no match for this slow cooker sausage and cheese potato dinner from Wendy of Butter Your Biscuit. With kielbasa, russet potatoes, cheese, onions, and herbs, you'll have an effortless and satisfying dinner on the table in no time.
Visit Butter Your Biscuit for the recipe.
Kielbasa And Pepper Pasta With Tomatoes
What busy parent doesn't love a good 30-minute meal? Well, you're in luck. Kristina of Tasty Oven has a tasty and quick dinner option for you. It's a pot full of noodles, cheese, sausage, diced tomatoes, and Italian seasoning. It's a fuss-free, comforting, easy meal you'll be glad you made.
Visit Tasty Oven for the recipe.
Easy Sheet Pan Sausage and Veggies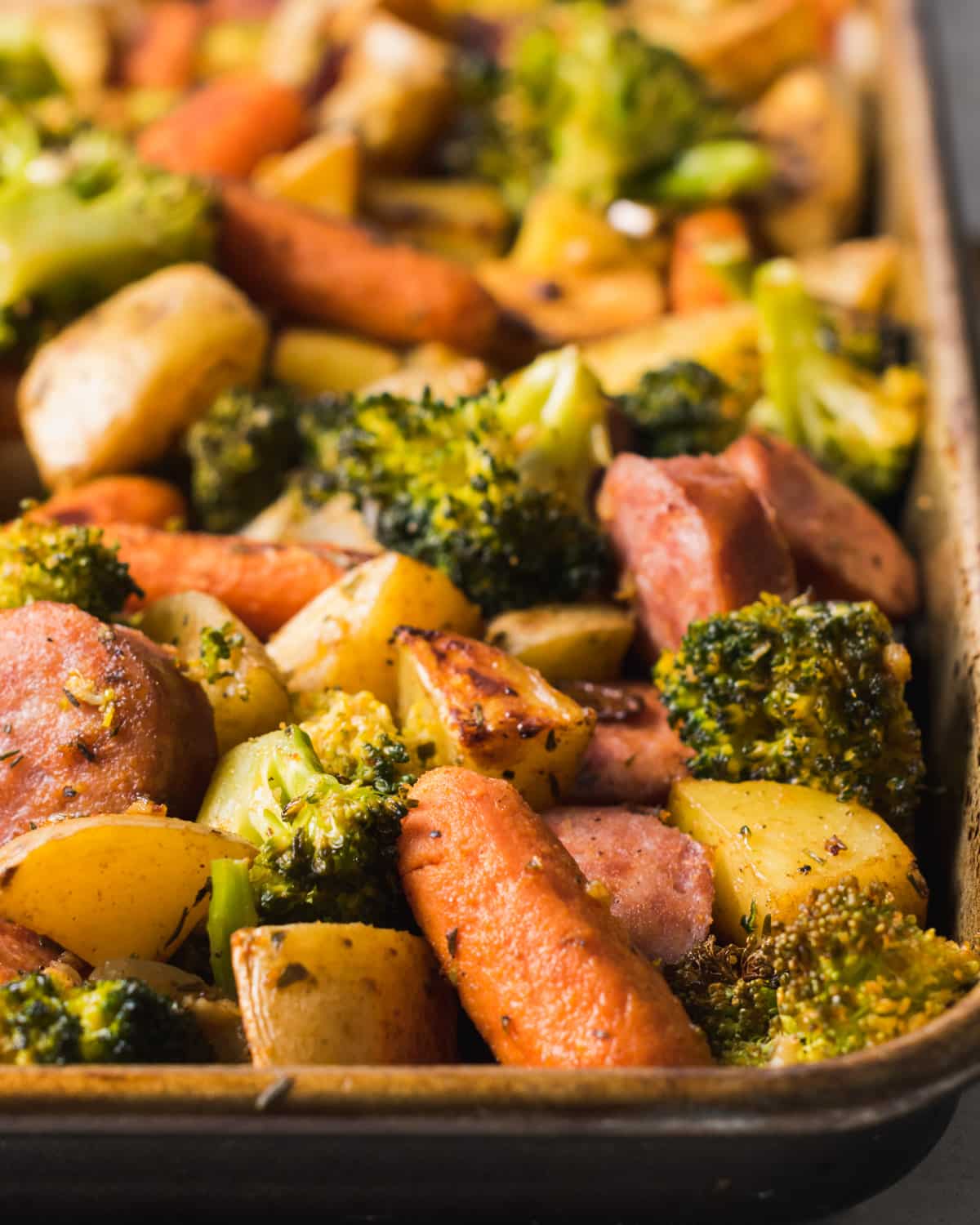 This sheet pan sausage with vegetables from Tiffany of Well Fed Baker is great for feeding large groups of people a healthy and inexpensive meal. It's a delicious one-pan dinner consisting of sausage, potatoes, broccoli, carrots, and spices.
Visit Well Fed Baker for the recipe.
One-Pot Cheesy Kielbasa, Broccoli, and Rice
With just a few minutes of preparation and some common ingredients, you can make this tasty one-pot weeknight dinner from Tracy of Served From Scratch. It's a deliciously cheesy, healthy-ish comfort meal filled with rice, kielbasa, and broccoli that is ready in just 25 minutes!
Visit Served From Scratch for the recipe.
One Pot Jambalaya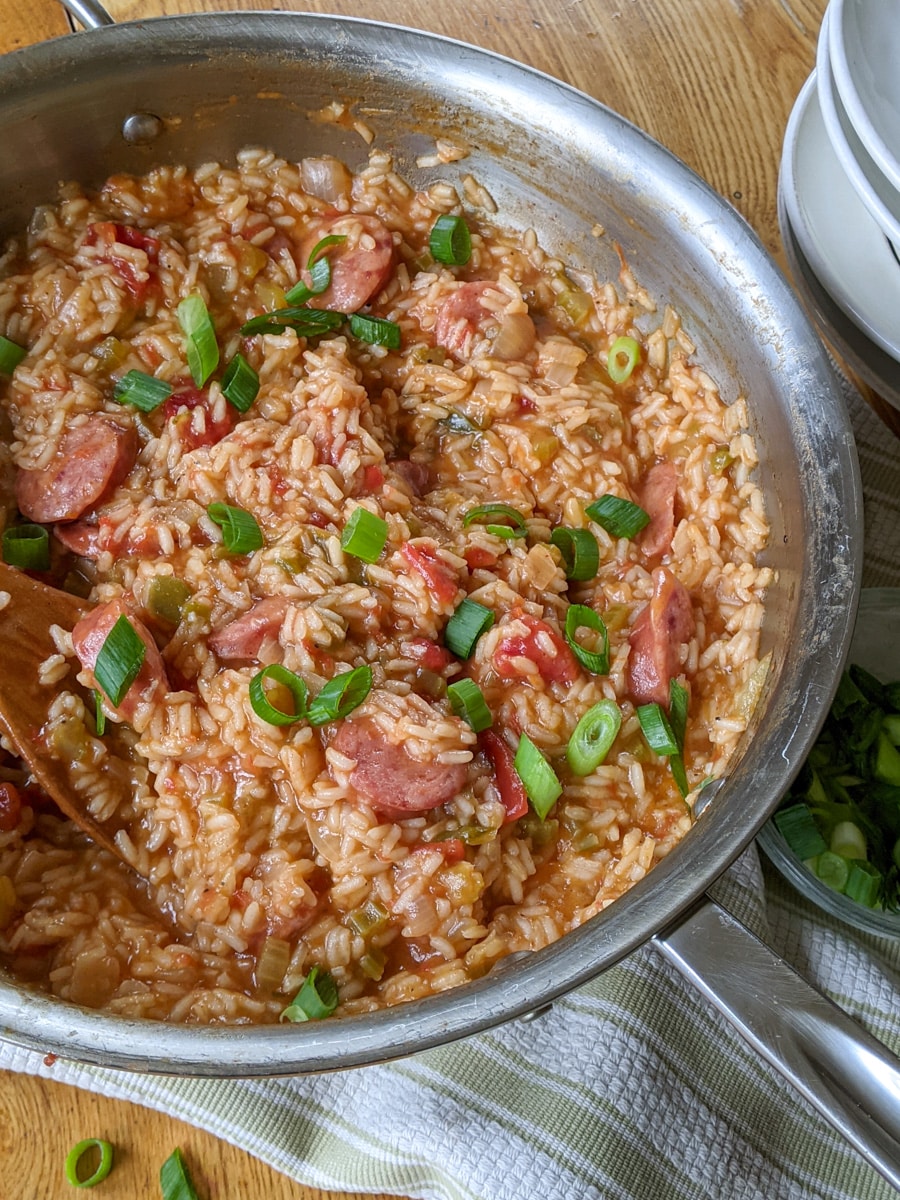 Do you need to shake up your dinner menu? Well, this one-pot jambalaya from Meryl of Sungrown Kitchen is a kick in the tastebuds you'll enjoy. It calls for andouille or kielbasa sausage (although no one would object to using both), onion, celery, bell pepper, and lots of spice. But the best part. It takes just five minutes to prep and 40 minutes to cook.
Visit Sungrown Kitchen for the recipe.
Dominican Sancocho Recipe
Samantha of Little Ferraro Kitchen makes a tempting offer with this sancocho recipe. This Dominican recipe is a comforting soup with sazon, adobo (Latin spice blends), yucca, corn, and plantains. The best part is the three types of meat, including chicken thighs, pork, and kielbasa sausage.
Visit Little Ferraro Kitchen for the recipe.
Kielbasa Baked Beans
Kielbasa baked beans from Valerie's Kitchen make for a mouthwatering side dish. These well-seasoned beans start with cannellini and kidney beans, bacon, and lots of flavors. Then you add the kielbasa for a delicious side dish or serve over rice or quinoa, and you've got yourself a hearty meal.
Visit Valerie's Kitchen for the recipe.
Which Easy Kielbasa Recipe Will You Try First?
By now, you've seen a lot of easy kielbasa dinner recipes that make for quick weeknight solutions. So will you try the one-pot jambalaya, slow cooker sausage, cheesy potatoes, or kielbasa kupusta? Let us know!
If you're looking for other easy weeknight meals, see this list.
Don't Forget To See These Other Sausage Recipes.