Battered sausages recipes – popular in the UK, battered sausages are simply delicious, indulgent, and surprisingly easy to make (for fried food). Although these sausages are deep-fried, they aren't greasy. And there is a reason for that.
Our recipe is a little different because we add a special ingredient and process to ensure that the exterior is super crispy, even hours later.
By the way, if you like this battered sausage recipe, you'll love our fried pickles and jalapeno popper mac bites.
Jump to Recipe
Perhaps you tasted battered sausages on a pub crawl in England or Ireland, and you're wondering how to make it in the States. The dish is common across the pond. They're so popular that it is considered an essential staple in fish and chips shops.
Or maybe this is your first time even hearing about the dish. Whatever the case, you are in for a treat. Battered sausages are so good you may start making them regularly, and our recipe, by no means authentic, will blow your mind! So let's get to it.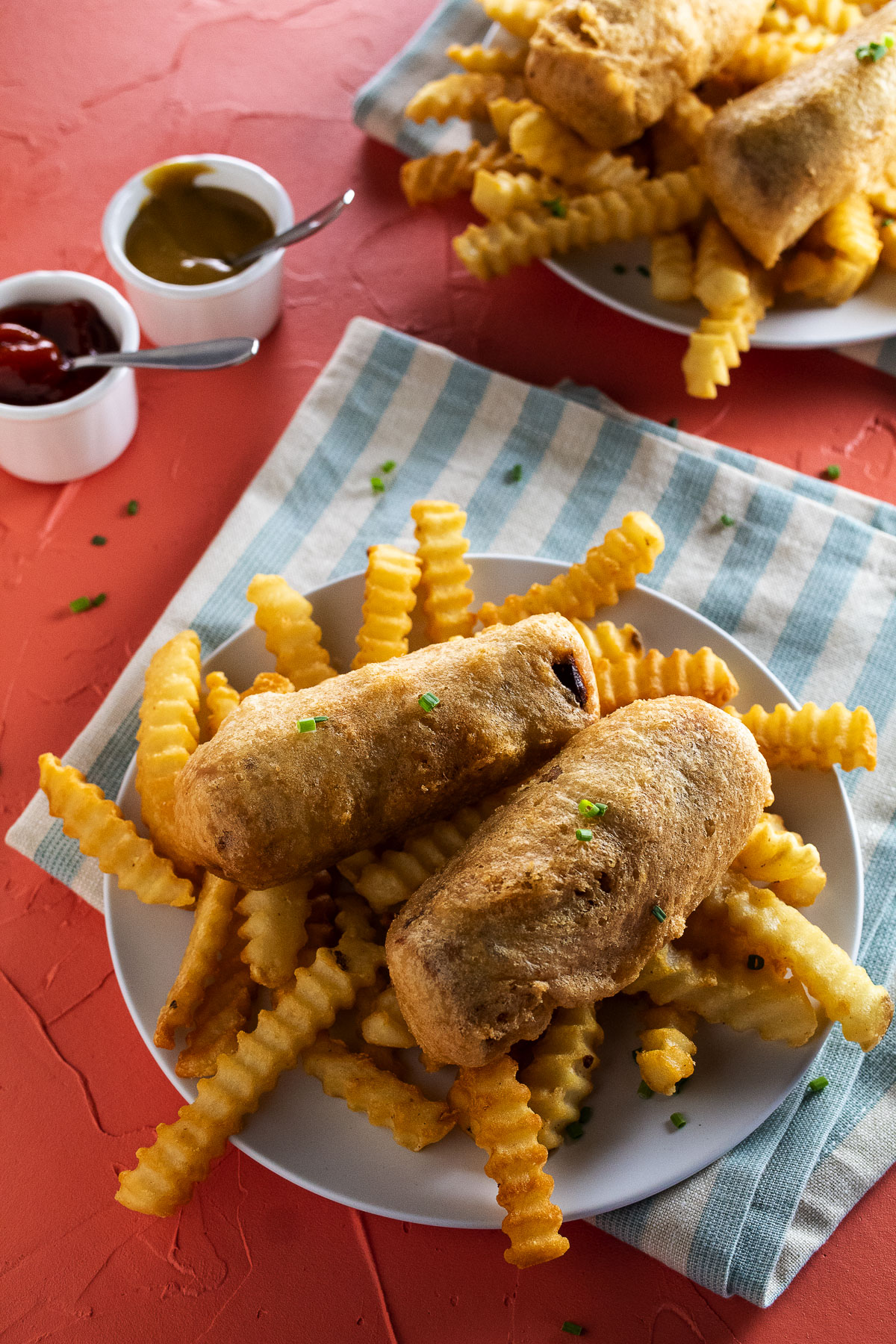 Jump to:
What Type of Sausage to Use
There are no hard and fast rules for this battered sausage recipe like many dishes you'll find here. However, you can use many types of sausages, including the varieties listed below:
Kielbasa – this Polish sausage is always a good choice. Although kielbasa comes in different varieties it is typically seasoned with garlic, has a coarser texture, and is lightly smoked if smoked at all.
Hot dogs – Yes, this recipe will even work well with traditional hotdogs. We like hotdogs with a natural casing.
Cumberland sausage – Hailing from Cumberland, England, these sausages are traditionally long, about 20 inches so. As they are seasoned with a variety of herbs and spices they are very flavorful. But typically, the most dominant flavor is pepper. If you can get your hands on this sausage, it will taste awesome deep-fried.
Why Our Recipe Rocks
So, what makes our recipe so good is that it is crispy and crunchy, even hours later. It is like a mixture between a beer batter and a tempura batter.
There are two things that make this recipe so great. For one, we include rice flour or cornstarch in this recipe. Because rice flour and cornstarch are fine-textured and gluten-free, they fry up crispier.
So you end up with that craggy, airy, crunchy deliciousness that can only be described as pure awesomeness.
We also recommend making the batter only right before you are ready to fry to minimize gluten activation. Gluten activation leads to more oil absorption and these gummy, oily breading.
There's one more thing that we do. So, before you dip the sausage in the batter, first dip it in All-Purpose flour. Doing so helps the batter stick to the sausage.
Ingredients
For this recipe, you will need all of the ingredients listed and pictured below.
Kielbasa or Other Sausage
All-purpose Flour
Corn Starch or Rice Flour
Beer – Ale or Lager
Salt
Baking Powder
The exact quantities are listed below on the recipe card.
How to Make Battered Sausages
After you gather all of your ingredients and bowls, you will need to cut your sausages into three to six-inch portions. Before we make the batter, we like to have the oil heated up first, that way the batter isn't sitting too long.
Next, prepare your dipping station. Grab two bowls, one for your all-purpose flour and one for the batter.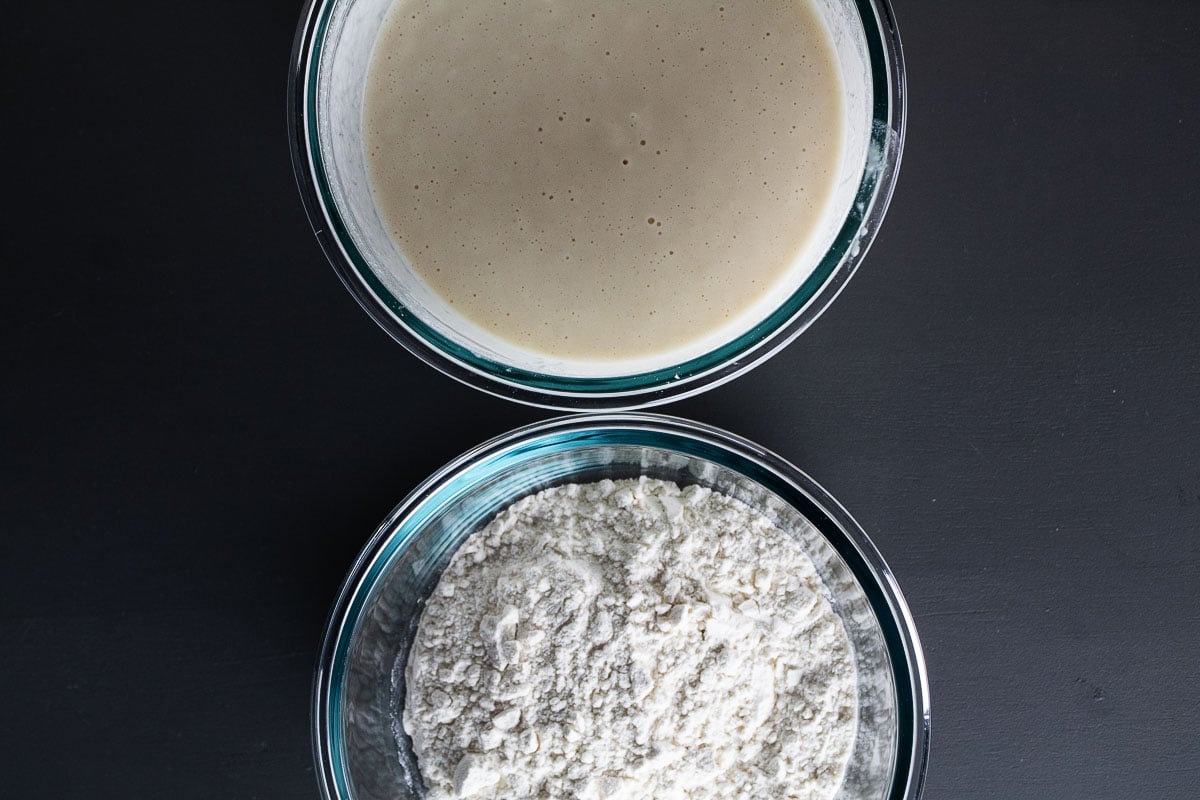 Next, dip the sausage into the flour, then into the batter.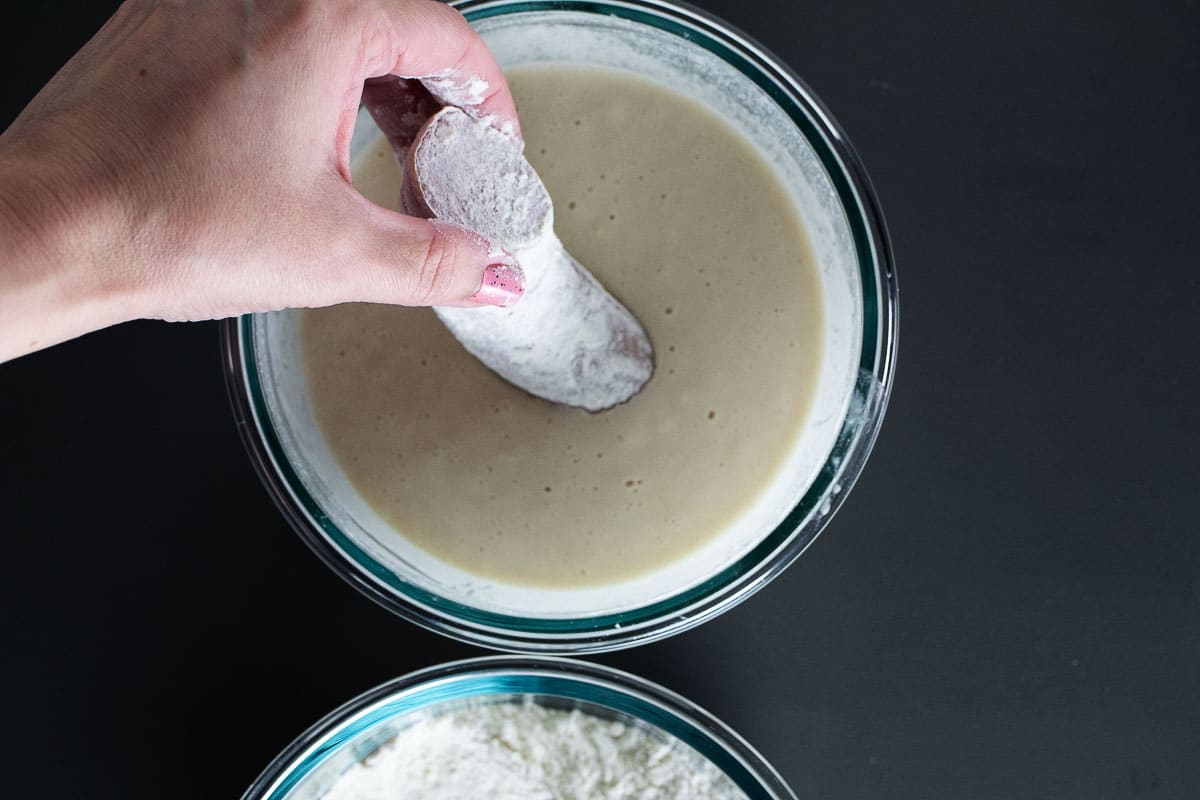 Once you dip the sausages into the batter, you will want to put them into the oil for frying. Do not drop them in, instead carefully place them in by laying them into oil away from your body.
What to Eat with Battered Sausages
Like fish, battered sausages are typically eaten with 'chips' or what we Americans call fries. And while you could try to gussy this dish up and green veggies or something, we recommend you eat your deep-fried sausages with chips as well.
Variations
There are all kinds of things that you can do to make this recipe different to suit your personal taste. You can experiment with different sauces or invent your own. You could also try a sausage not mentioned above.
We actually tried something a little different by cutting the sausages into medallions and frying them for about three minutes.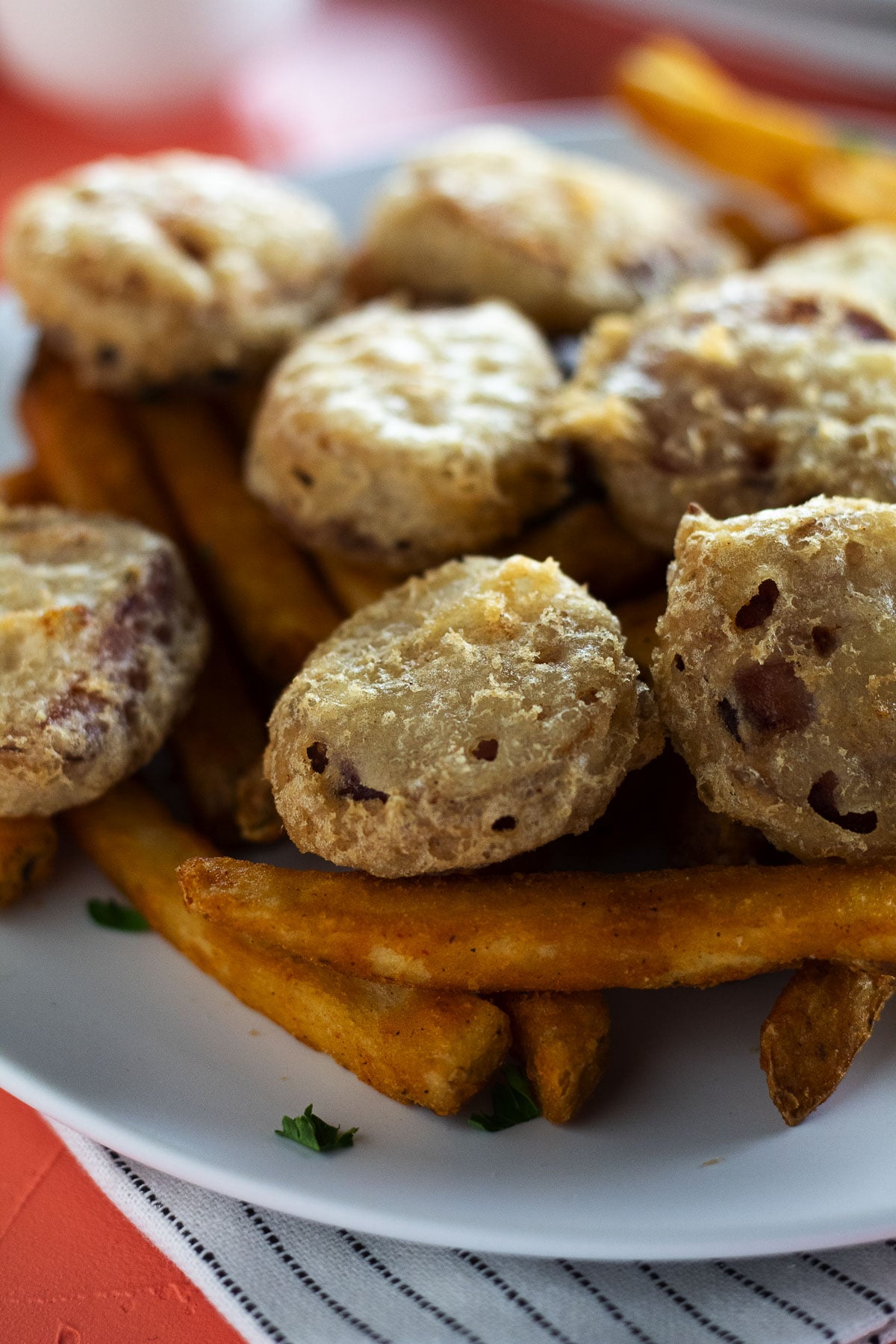 Equipment
You will need either a deep fryer or a setup with a dutch oven to make this recipe.
Another tool that is indispensable for deep frying at home is a food thermometer. Now, you will need to be careful when choosing a thermometer. Unfortunately, there are a lot of fakes and fly-by-night companies in the food thermometer business. So, we recommend ThermoWorks. They make high-quality, reliable food thermometers.
Other helpful equipment and supplies:
baking or cooling rack
baking pan
paper towels
disposable gloves
fire extinguisher
Battered Sausages Recipe
Battered sausages are an essential staple at fish and chip shops across the UK. Try our version and you'll be hooked.
Equipment
deep fryer or dutch oven

food thermometer

baking or cooling rack

paper towel
Ingredients
Battered Sausage
1

Pound

Kielbasa (or other sausage)

3/4

Cup

All-purpose flour

Extra for coating

1/4

Cup

Cornstarch or Rice Flour

1 1/4

Tsp

Baking Powder

1

Cup

Beer

Very Cold

1/4

Tsp

Salt
Horseradish Honey Mustard
1/4

cup

Honey Mustard

1 1/2

tsp

Horseradish
Chipotle Mayo
1/4

cup

Mayo

1

tbsp

Canned Chipotle Sauce
Instructions
Mix each sauce in small bowls and refrigerate until ready to eat.

Preheat the oil to 350 degrees.

Add the ¾ cup flour, corn starch, baking powder, beer, salt in a large bowl. Mix until thoroughly combined and smooth. Do not make the batter until the oil is heated up.

Coat the sausage with flour, then dip into the batter.

Cook in batches. Fry for 3-5 minutes or until golden brown. Continue until all batches are done. Enjoy!
Notes
We cut our sausages to about 3 inches long which is more than one serving.
You can also cut the sausage into medallions to make an appetizer.
Your frying station setup should flow like this: sausages => flour => batter => deep fryer/dutch oven => baking rack
This recipe is excellent to reheat in an air fryer at 400 degrees for 3 -5 minutes.
Oil should be at least 2 to 3 inches deep to submerge fully.
To avoid lowering the temperature too much, fry in small batches.
Bring the temperature back up to 350-degrees between each batch.
Nutrition
Calories:
296
kcal
Carbohydrates:
13
g
Protein:
1
g
Fat:
5
g
Saturated Fat:
1
g
Polyunsaturated Fat:
3
g
Monounsaturated Fat:
1
g
Trans Fat:
1
g
Cholesterol:
3
mg
Sodium:
228
mg
Potassium:
24
mg
Fiber:
1
g
Sugar:
2
g
Vitamin A:
5
IU
Vitamin C:
1
mg
Calcium:
41
mg
Iron:
1
mg
Storage
Because the batter is easy to make and gluten activation will change how the batter performs, we don't recommend saving leftover batter.
As for the fried goods, store them in an air-tight container for up to 2-3 days (although they probably won't last that long).
Reheating
One of the things that I really love about this recipe is that it reheats so well. And by well, I mean it tastes nearly as good as it would if you just fried it. So, what is the best way to reheat your battered sausages? Glad you asked. Reheat them in your oven or air fryer at 400-degrees for five minutes.
Safety
Whatever you do, do not leave your oil unattended, especially if you have little ones or pets. So, make sure that you have your fire extinguisher available and ready to go if something goes wrong.
Top tips
Aside from safety, the most important thing for you to do is keep your fry station organized. You don't want to be reaching across done foods to grab raw food. Our setup is arranged in this order:
sausages => flour => batter => deep fryer/dutch oven => baking rack
Another tip is to make sure that you dip your raw sausages into flour before the batter. The purpose here is to make sure that your batter sticks to the sausage.
Place paper towel on half of your baking rack. After your food is done, rest it on the paper towel for a few minutes, then place it on the side of the baking rack with no paper towel. Doing it this way will prevent your food from becoming soggy.