Our turkey meatball ramen with sweet potatoes is a delicious and nutritious meal that is highly customizable. And we also like it's easy to make, like these mid-week meals using ground beef. If you like what you see, please share.
If you want a meal that's chockful of nutrition and deliciousness, then look no further than our colorful turkey meatball and sweet potato ramen bowl. By the way, we threw an egg, some kale, and Shitake mushrooms in there for good measure. But not only is this recipe nutrient-dense and good til' the last drop, but it's also easy to make. So, get ready to dive headfirst into this pool of goodness. You won't be disappointed! The best part is that you will feel better after you eat this meal.
Jump to Recipe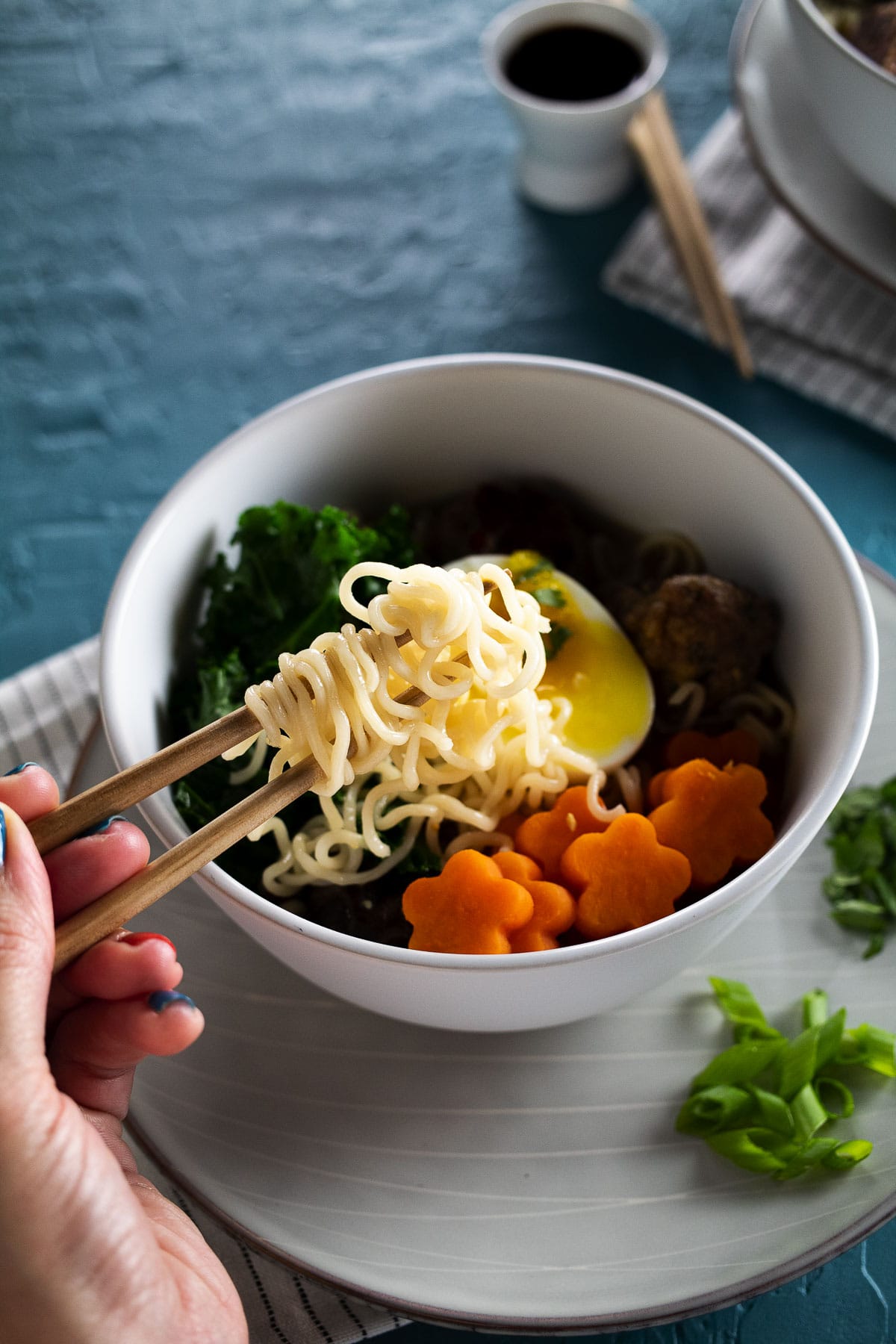 Sweet potatoes are one of those vegetables that are good and so good for you. What's more, they're versatile too. They make great chips, they're good mashed, you can put them in soups, you can spiralize them, bake them whole, and they make great desserts.
There are all sorts of ways you can present them too. For example, do you see those adorable tiny orange flowers in the image above? Yep, those are sweet potatoes.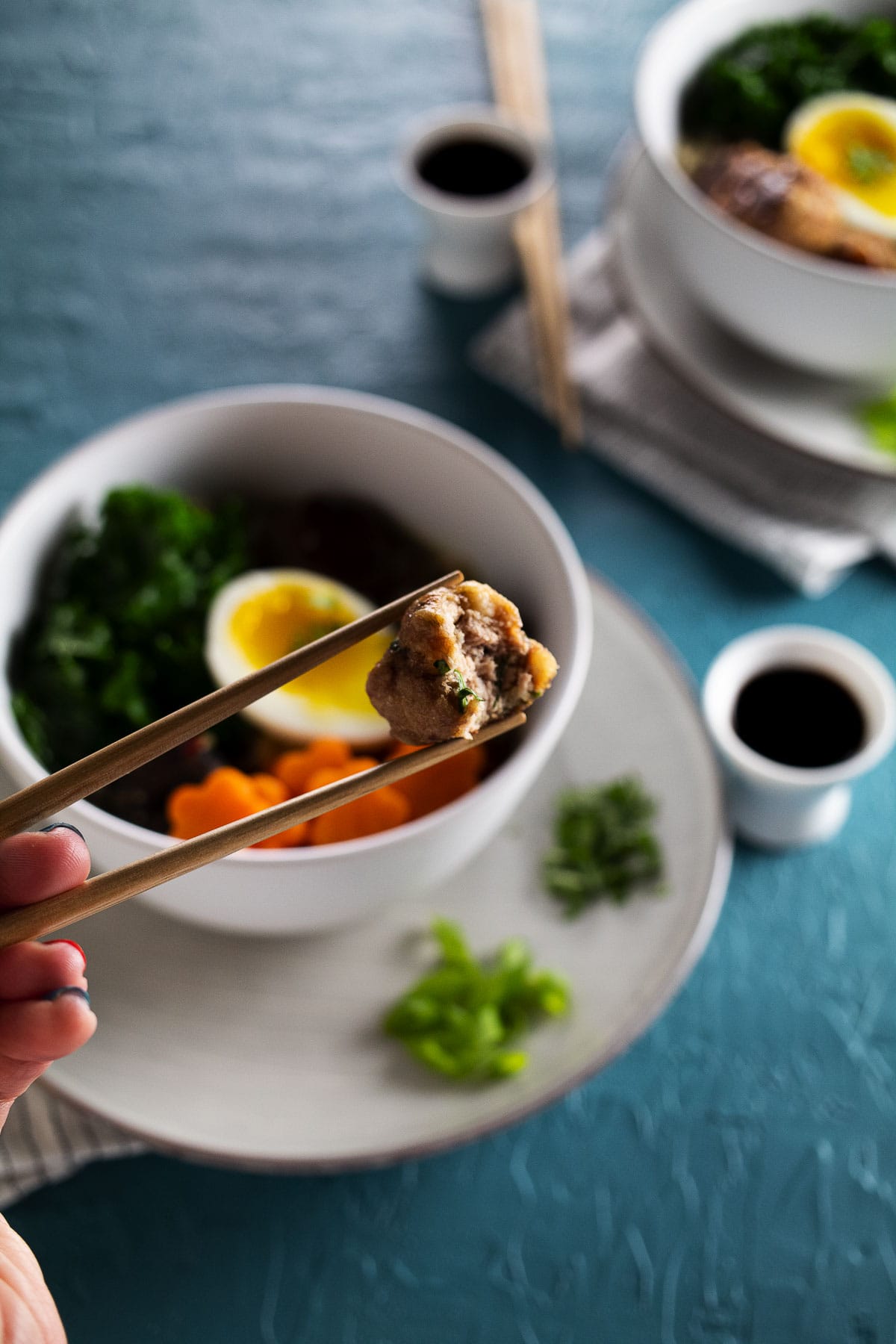 But the main player in this soup is the turkey meatballs. At first, we would use ground chicken for the meatballs, but the ground turkey was on sale, so we called an audible. And we weren't disappointed. Our recipe yields moist and flavorful meatballs with an Asian flair.
Jump to:
Ingredients
Below is an image of all of the ingredients for the turkey meatballs.
Ground turkey (we used 85/15)
Bread crumbs
Milk
Soy sauce
Sesame oil
Garlic
Ginger
Egg
Cilantro
See the recipe card for quantities.
Next is an image of all of the ingredients you need for the broth.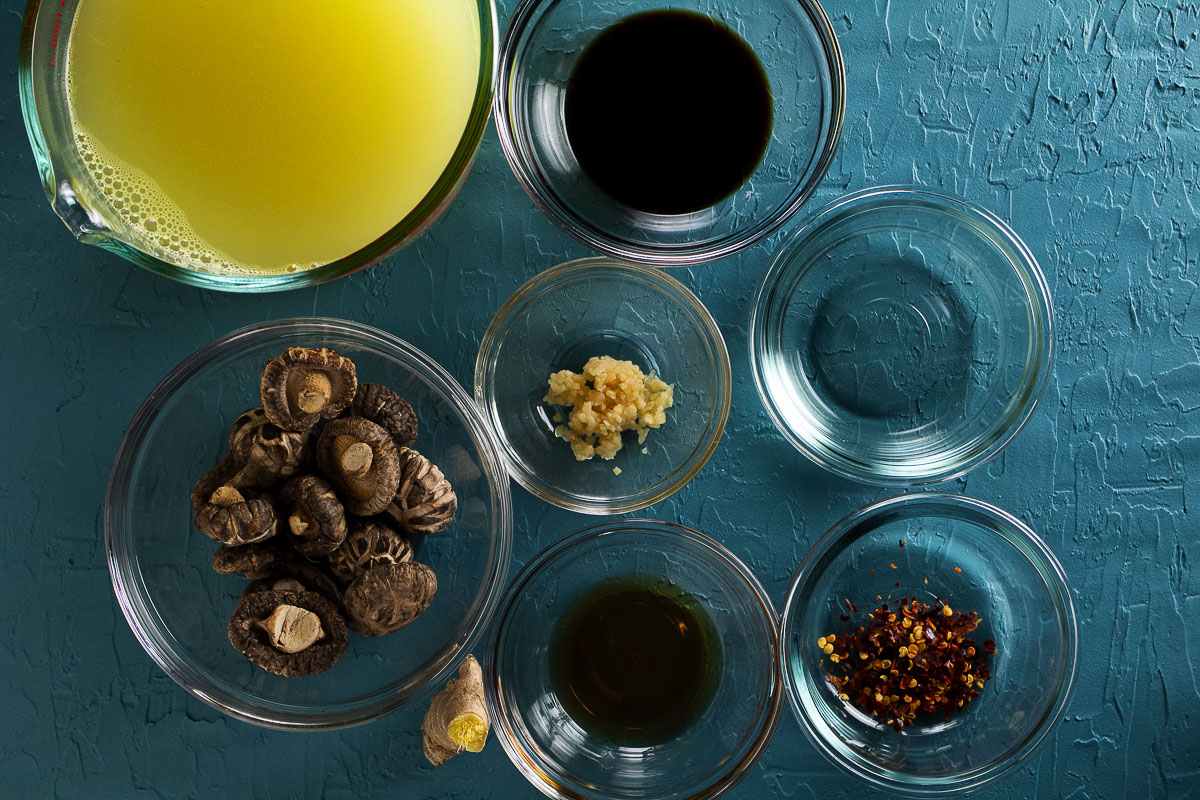 Chicken stock
Shitake mushrooms (dried or fresh)
Soy sauce
Garlic
Ginger (use fresh grated ginger)
Mirin
Sesame oil
Red pepper flakes
See the recipe card for instructions.
How to Make Turkey Meatball Ramen
So, making our turkey meatball and sweet potato ramen is easy. We start with the meatballs as they are the longest part of the process. But, first, you will need to add the milk to the breadcrumbs.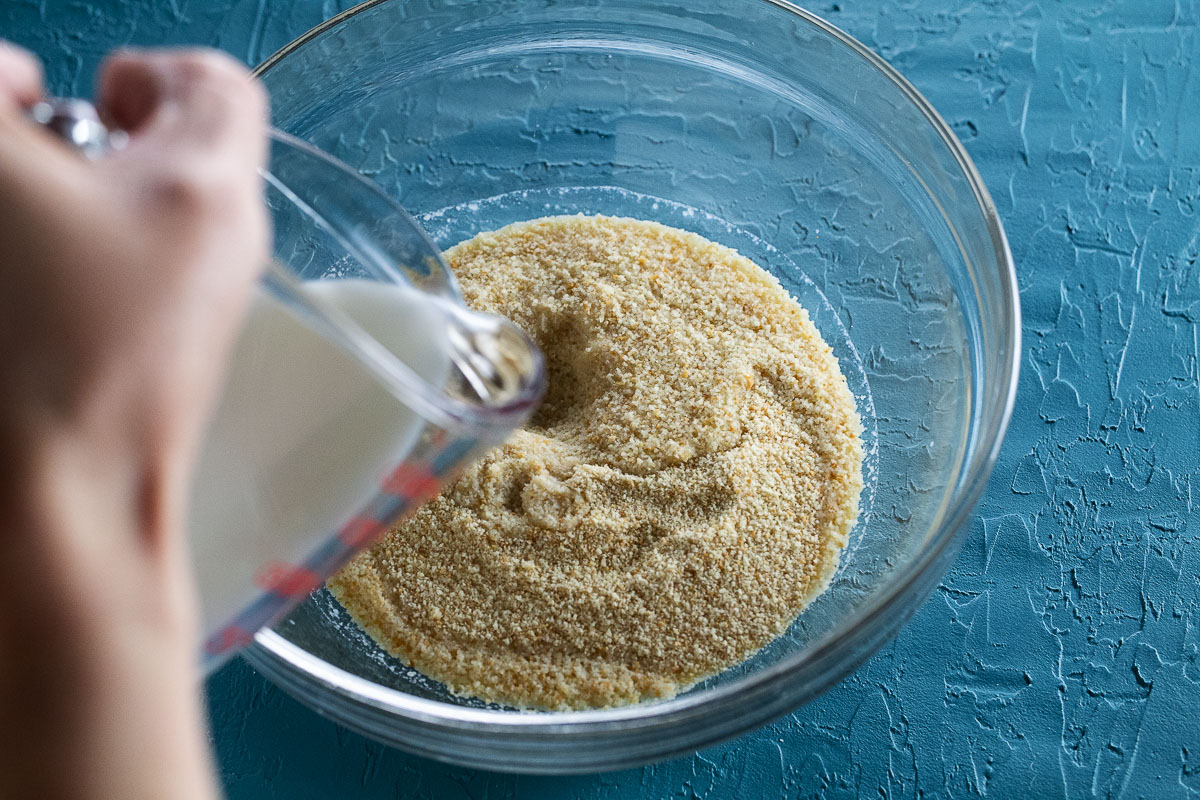 Next, add the rest of the ingredients to the bowl and mix with your hands to combine.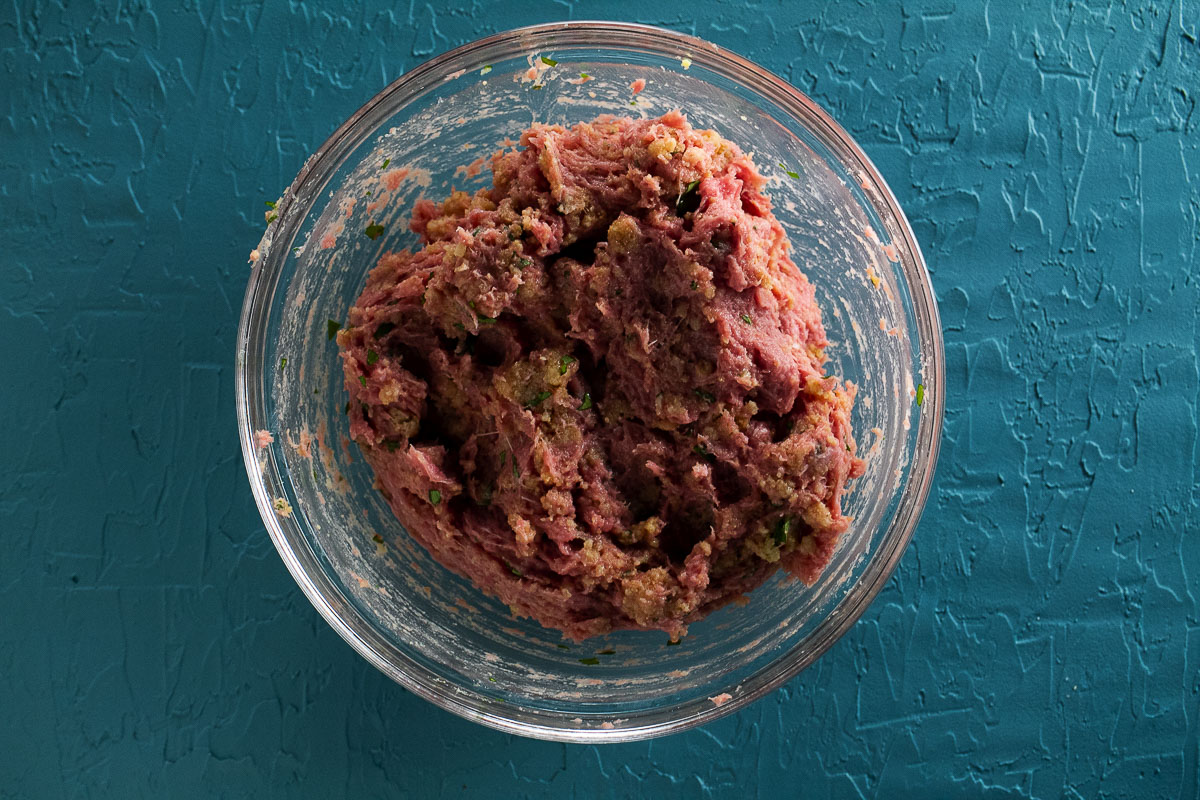 The next thing you will need to do is form the meatballs and place them on an aluminum foil-lined pan.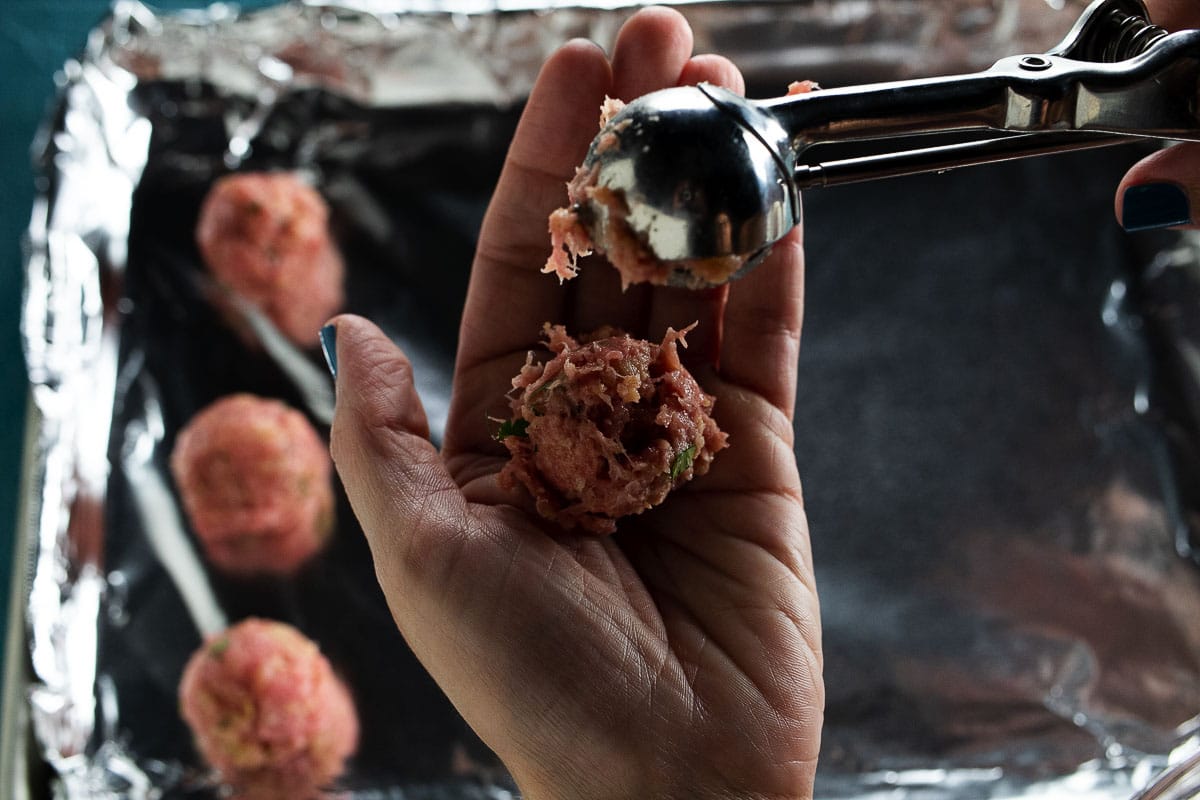 For the broth, the first thing that you need to do is saute the garlic and ginger.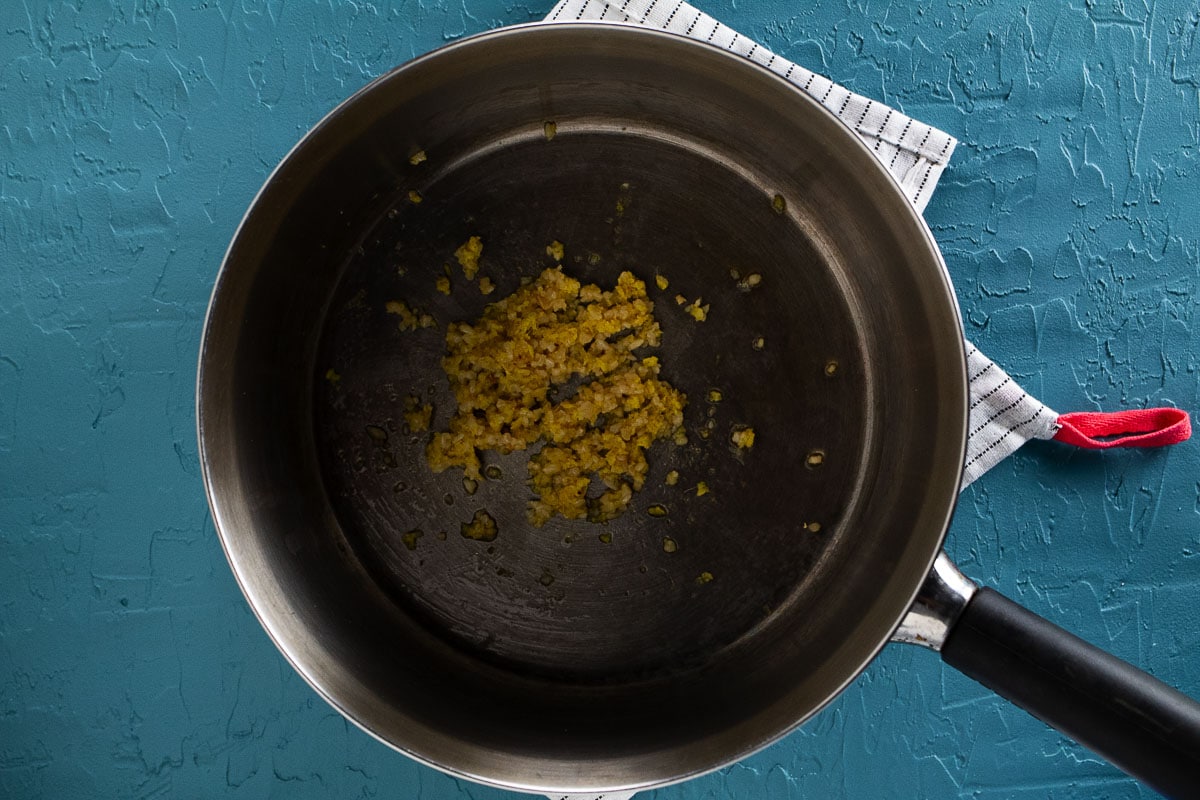 Next, you need to add the rest of the broth ingredients to the pot and cook until it boils.
You will then want to cook the sweet potatoes. We cooked ours in small pieces by slicing the potatoes into quarter-inch thick rounds. From there, we cut the rounds into one-inch pieces.
Finally, the egg! What's ramen without an egg, right? We like our eggs on the runny side.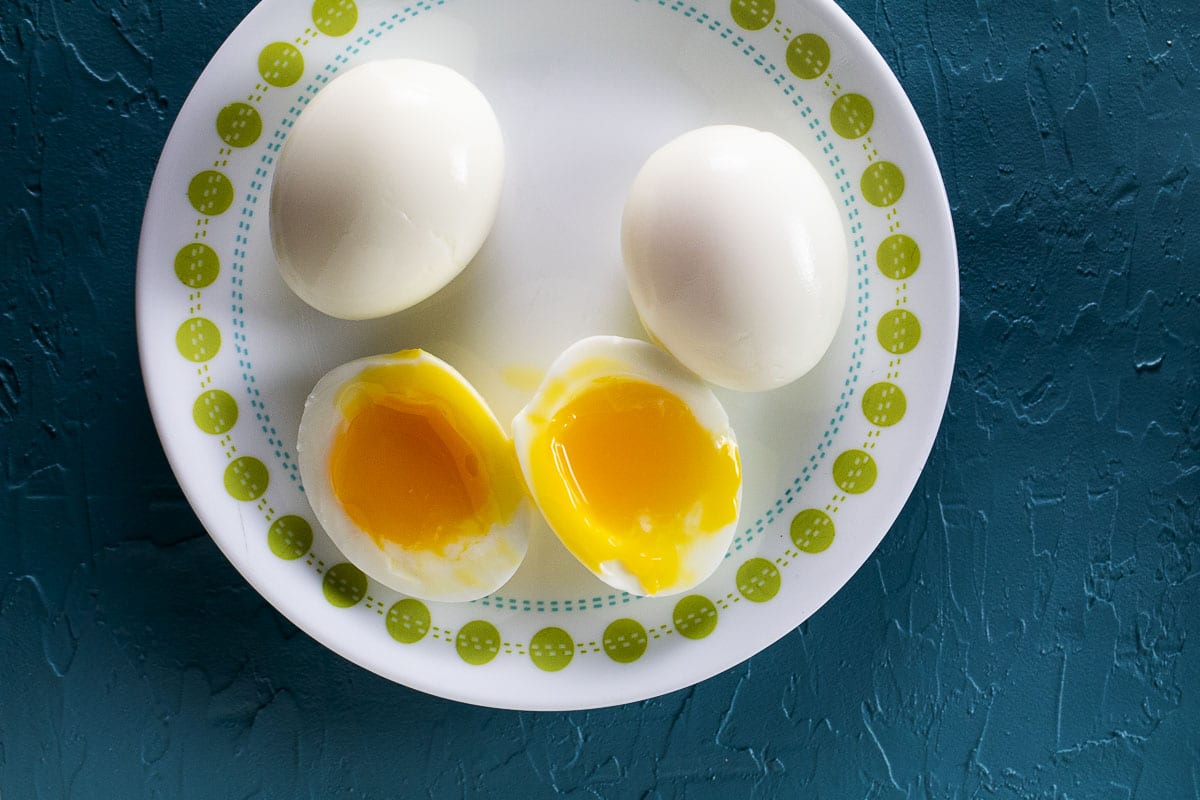 Turkey Meatball Ramen Varations and Substitutions
Like most of the recipes on this site, our turkey meatball ramen with sweet potato is so versatile. You can swap many of the ingredients for something else if what you're that isn't available or that's perhaps on sale (as in our case).
Poultry – instead of ground turkey, feel free to swap it out for chicken or even pork. The flavors will work well. Heck, if you want to make it completely vegatarian or vegan, you could get use impossible "meat" or some other meat substitute.
Greens – We chose kale because it's so nutrient dense and keeps a crunch even after it's been steeped in the ramen broth. With that said, you can swap it out for spinach and it will still tastes awesome.
Sweet Potatoes – There are many varieties of sweet potatoes, use your favorite, even the purple variety.
Spice – Now, our recipe does have a little kick to it with the red pepper flakes. Feel free to omit it completely or even add more. And while it's not pictured here, we ate our ramen bowls with gochujang sauce.
Mushrooms – We used Shitake mushrooms which add a particular flavor to the broth, often referred to as umami or savoriness. If you can get your hands on them, go for dried. Fresh is fine, if you can't find dried, but you will need to use more. And if you can't find Shitake, portobello or crimini will work.
Green onions – Green onions add a nice touch to the dish. You can substitute it with some sauteed yellow onions.
Egg – We like our boiled eggs on the runny side for our ramen. To achieve this, we boil them for six minutes (see directions), then immediately transfer them to an ice bath. If you prefer your eggs a little siffer, you can cook them a little longer. Check out this boiled egg guide.
Storage
Leftover soft-boiled eggs and broth will last up to two days in the refrigerator. At the same time, the meatballs and sweet potatoes will last for three to four days.
Top Tip
The biggest tip to make this turkey meatball with sweet potato ramen come out excellent is not to overcook the turkey meatballs or sweet potatoes. Turkey tends to be on the dry side, even with a fantastic recipe like ours. Also, do not overwork the ground turkey meat when mixing and forming the meatballs. Doing so will cause them to be tough. And because the sweet potato pieces are so small, it's easy to overcook them. To ensure they are tender but not mushy, immediately strain them after boiling, and put them into an ice bath to stop the cooking process.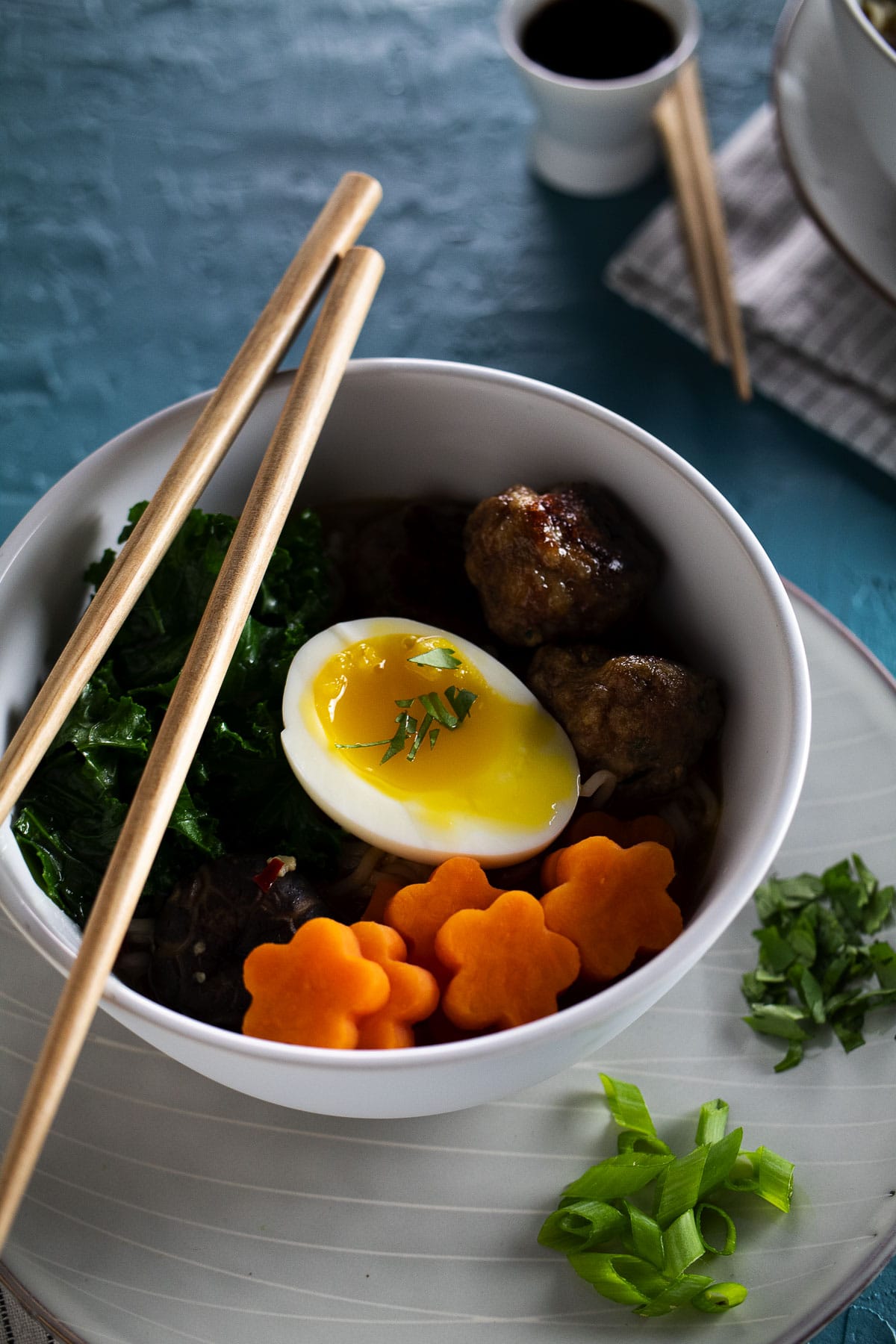 Turkey Meatball Ramen Recipe
Our delicious turkey meatball and sweet potato ramen is the perfect fall meal with asian flavors. With kale, sweet potato, egg, and turkey, it is chockful of nutrition. On top of of all of that it is easy to make!
Ingredients
4

packets

Ramen Noodles

2

Small Sweet Potatoes (cut into 1-inch pieces)

4

cups

Chopped Kale

4

Soft Boiled Eggs

Green Onions (garnish)

Cilantro (garnish)
Meatballs
1

pound

Ground Turkey 

1

cup

Plain Breadcrumbs

1/2

cup

Milk

1

tsp

Grated Ginger

2

Minced Garlic Cloves

2

tsp

Sesame Oil

1

tbsp

Soy Sauce

1/4

tsp

Salt

1

Large Egg

2

tbsp

Cilantro
Broth
4

cups

Chicken Broth

1

ounce

Dried Shitake Mushrooms (or 4 ounces fresh)

1

tbsp

Garlic

2

tbsp

Soy Sauce

1

tbsp

Grated Ginger

4

tsp

Sesame Oil

2

tbsp

Mirin

1

tsp

Red Pepper Flakes
Instructions
In a large bowl, add the breadcrumbs and milk. Let it sit for a few minutes. Then, toss the mixture with a fork to separate the clumps.

Add the ginger, garlic, sesame oil, soy sauce, salt, egg, and cilantro to the large bowl with the breadcrumbs. Mix until incorporated. 

Add the turkey and mix just until combined. Don't over mix, or your meatballs will be tough. 

Preheat the oven to 375 degrees. Form 1 inch balls and place them on a baking sheet lined with foil. Bake for 15 minutes or until the internal temperature reaches 165 degrees. 

In a large pot, heat 1 teaspoon of sesame oil, add the garlic and ginger. Saute for 1-2 minutes. Next, add the chicken broth, dried mushrooms, sesame oil, soy sauce, mirin, and red pepper flakes. Simmer for 10 minutes.

Bring another pot of water to a boil. Add salt to taste and blanch the sweet potatoes for 5-7 minutes or until fork-tender. 

Bring a small pot of water to a boil. Carefully add the eggs using a slotted spoon and cook for 6 minutes. Keep the water at a gentle boil. Then add them to an ice bath and let them sit for 5 minutes before peeling. The eggs will be soft.

In the pot with the stock, cook the noodles per package instructions. Divide the noodles into four bowls. Layer the bowls with chopped kale, cooked meatballs, sweet potatoes, and egg. Ladle the broth, cilantro, and green onions. Enjoy!
Notes
If you don't like the eggs runny you can cook them for another 1-2 minutes. Any longer and you will have a hard-boiled egg.
Nutrition
Calories:
451
kcal
Carbohydrates:
33
g
Protein:
15
g
Fat:
31
g
Saturated Fat:
6
g
Polyunsaturated Fat:
11
g
Monounsaturated Fat:
11
g
Cholesterol:
12
mg
Sodium:
7467
mg
Potassium:
1110
mg
Fiber:
1
g
Sugar:
15
g
Vitamin A:
865
IU
Vitamin C:
69
mg
Calcium:
228
mg
Iron:
4
mg