Get ready to jump into this list of 20 captivating custard recipes? Custards are a creamy type of dessert that uses eggs to thicken them.
And they are DELICIOUS!
Here's what you can expect! There's a classic Italian custard known as zabaglione, pumpkin custard, a creme brulee, and many more. You'll need to bake some of these treats, others are chilled, and some are best eaten right away. It's a fun list!
Let's dive in!
For more impressive desserts, see this list of Italian dessert recipes.
Classic Italian Cream Custard (Zabaglione)
You can count on Maureen for your Worldly Treat. This time, it's zabaglione, a classic creamy custard with just six ingredients, including egg yolks, white wine, and maple syrup. But here's what you'll really love. Despite the fancy presentation, it takes just 13 minutes to make. So just be sure to serve it right away!
Visit Worldly Treat for the recipe.
Mini Boston Cream Pie For Two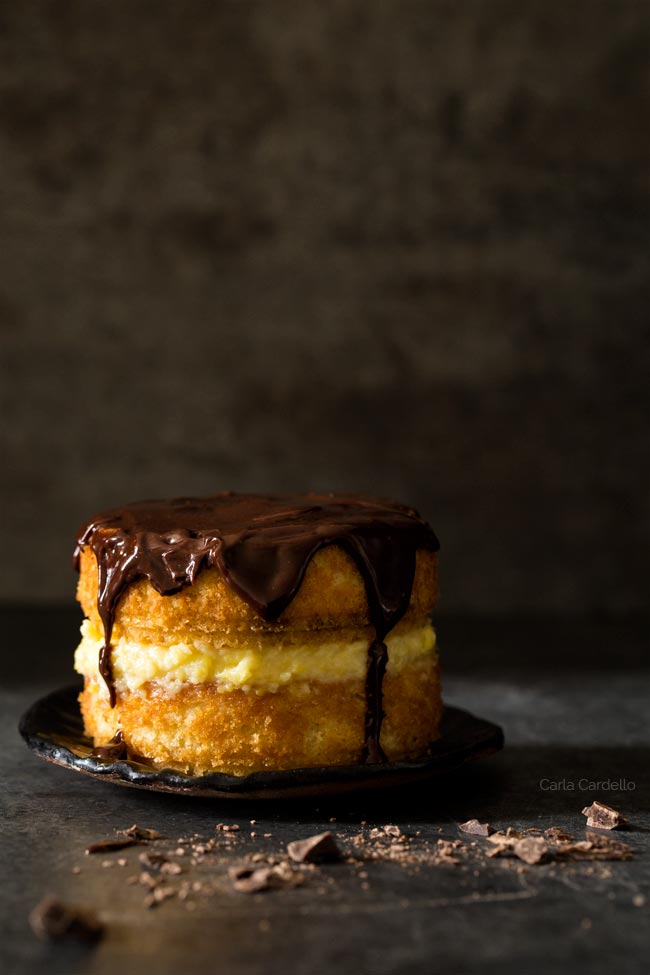 This mini Boston cream pie is a dessert for two from Carla of Homemade In The Kitchen. It starts with two fluffy four-inch sponge cakes, but you'll get lost in the substantial custard filling. Then, on top, the most delicious silky chocolate ganache dripped down the sides. Look at it. It's almost calling your name.
Visit Homemade In The Kitchen for the recipe.
Coconut Custard with Strawberry Rhubarb Compote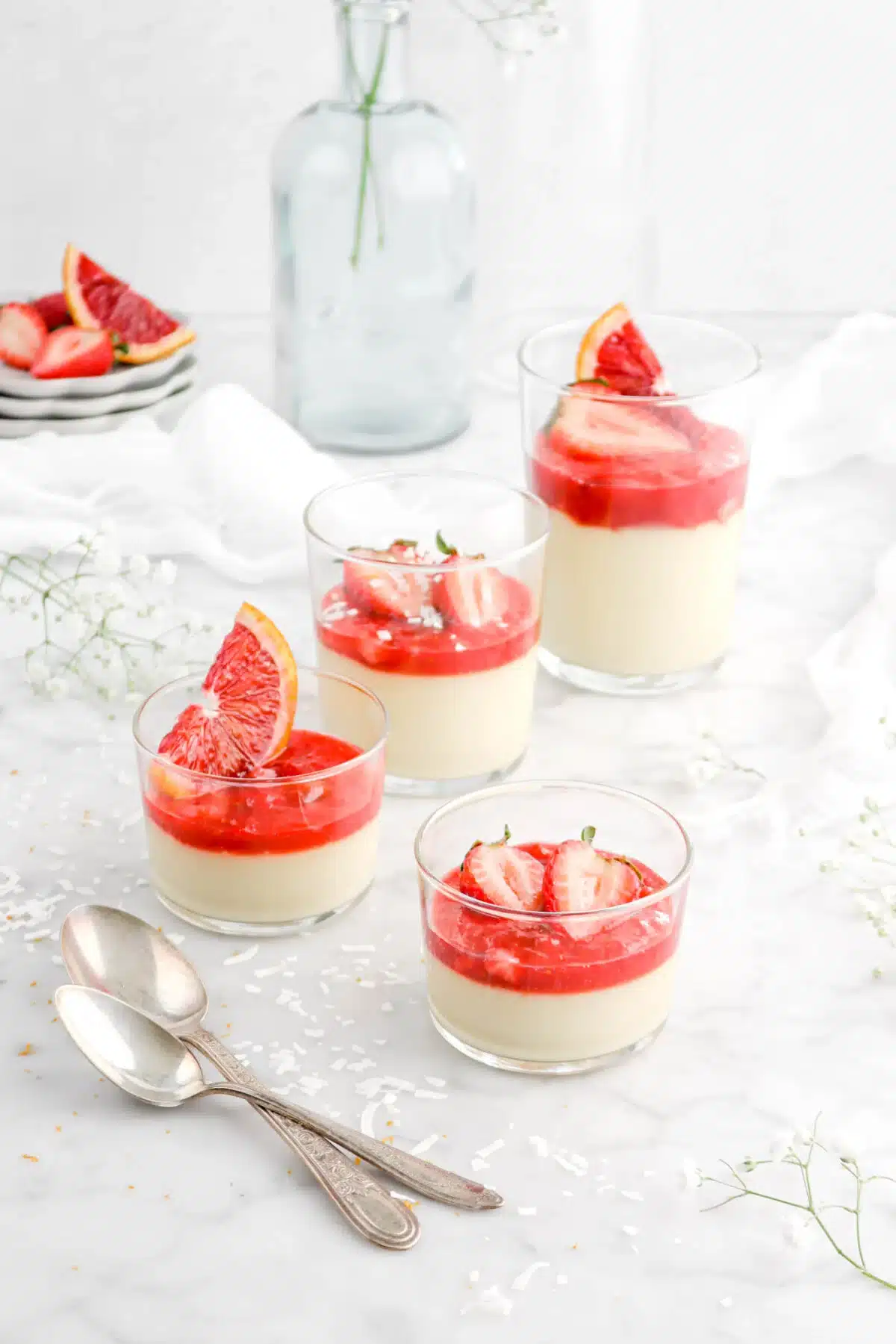 This coconut custard with strawberry rhubarb compote from Traci of Baker's Table is a stylish treat perfect for baby showers, bridal showers, and even weddings. But you won't only be impressed by the appearance. You'll fall for the spring dessert because of the rich creaminess, coconut flavor, and sweet and tart compote.
Visit Baker's Table for the recipe.
Pumpkin Custard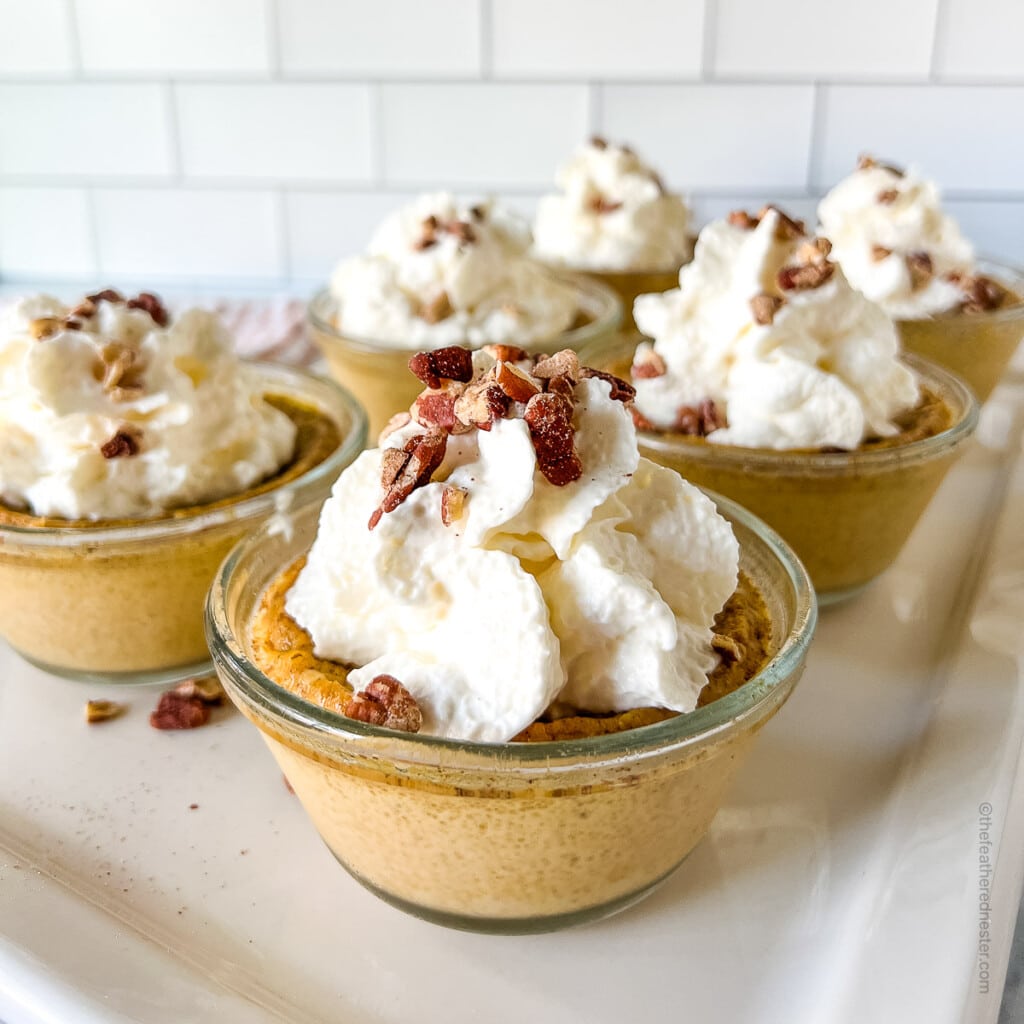 If you love pumpkin pie but could do without the soggy crust, you need to explore this pumpkin custard from Renae, The Feathered Nester. Served in classy clear dessert dishes, it's an elegant light and creamy, eggy treat that's a whole fall mood. It makes for an extraordinary finish to your holiday meal or any fall dinner.
Visit The Feathered Nester for the recipe.
Candied Kumquat and Custard Tarts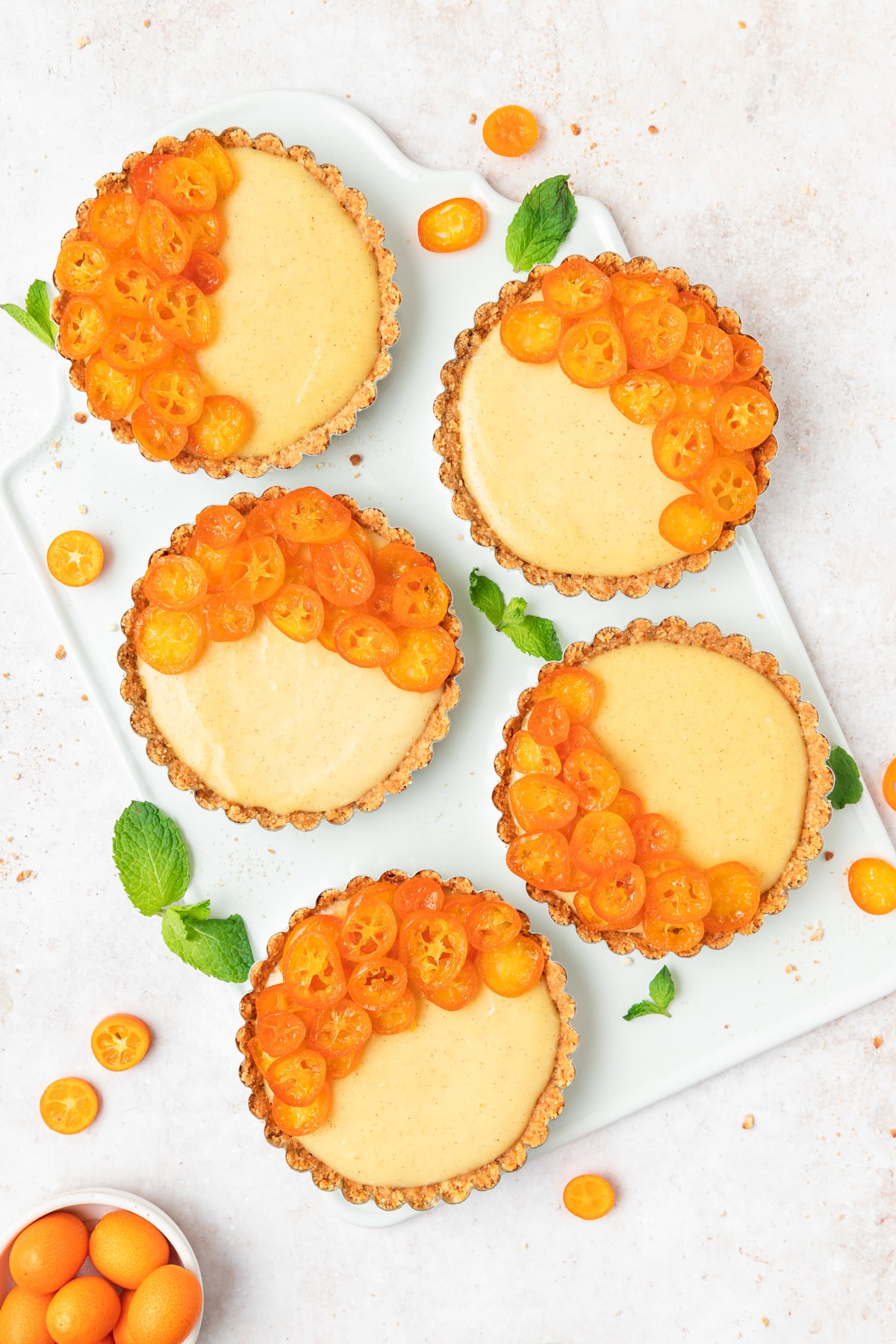 Count on Kyleigh of Barley & Sage to bring unmatched elegance to your holiday get-togethers. This candied kumquat and custard tarts recipe is just another example of it. The crust is made of light and crispy butter cookies, while the eggy custard filling with vanilla bean paste adds a more robust flavor than extract and adds to the gorgeous presentation. 
And if you were wondering, kumquats are a fall-winter citrus fruit with a flavor somewhere between orange and grapefruit.
Visit Barley & Sage for the recipe.
Grape-Nut Custard Pudding with Maple Whipped Cream
Once a staple of truck stops and diners in New England during the early 20th century, this grape-nut custard pudding from Barth Bakery is an ode to times long past. The treat consists of egg yolks, cream, grape nuts, and other ingredients. The cereal, heavier than the rest of the ingredients, falls to the bottom as the custard sets forming the crust.
Visit Barth Bakery for the recipe.
Old Fashioned Egg Custard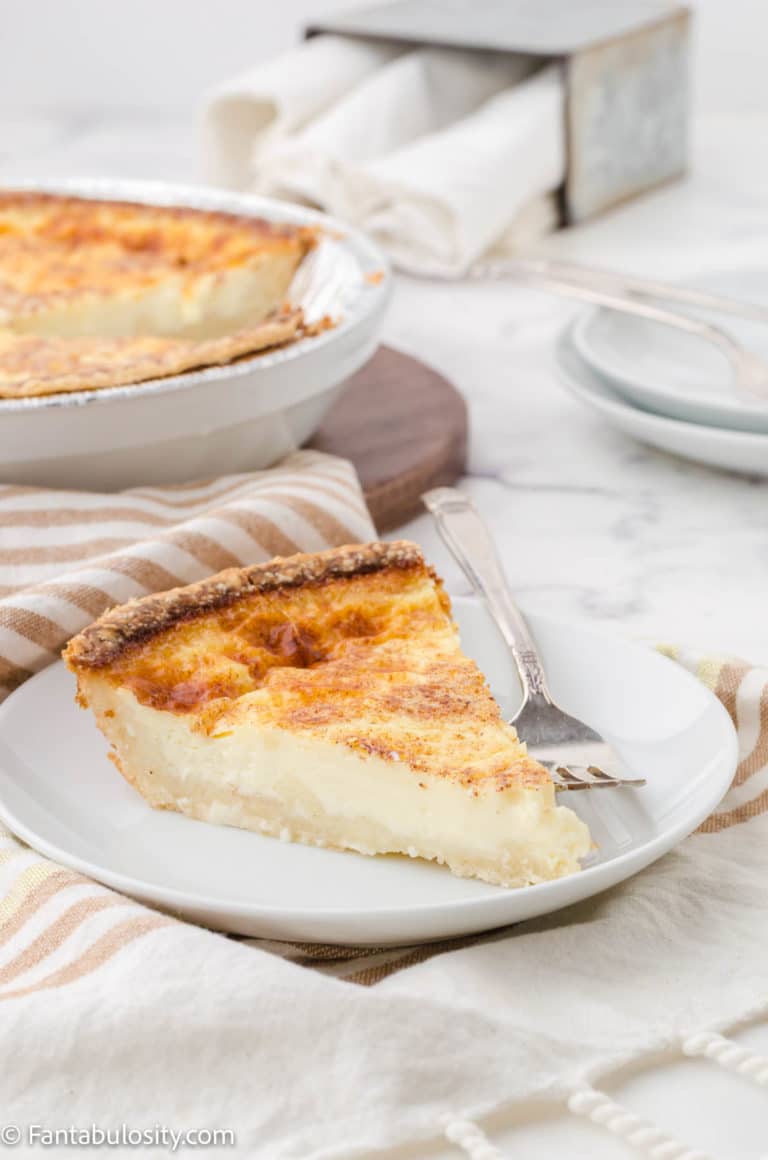 Like many custards, this old-fashioned egg custard pie from Jessica of Fantabulosity is a treat you'll enjoy during the holidays. However, it's so good, you'll want that custardy flavor all year long. It's a simple 45-minute, 7-ingredient dessert including eggs, sugar, milk, and pie crust.
Visit Fantabulosity for the recipe.
Vanilla Custard Cookie Cups
If life's giving you lemons quicker than you can make lemonade, or in Olivia's case, more snow than you care to shovel. Turn to these vanilla custard cookie cups from Liv For Cake. The two-bite sweet is a sugar cookie cup filled with a delicate vanilla bean pastry cream. But when you top them with fresh berries, you have a treat that'll help you make it through the winter blues.
Visit Liv For Cake for the recipe.
Bulgarian Biscuit Cake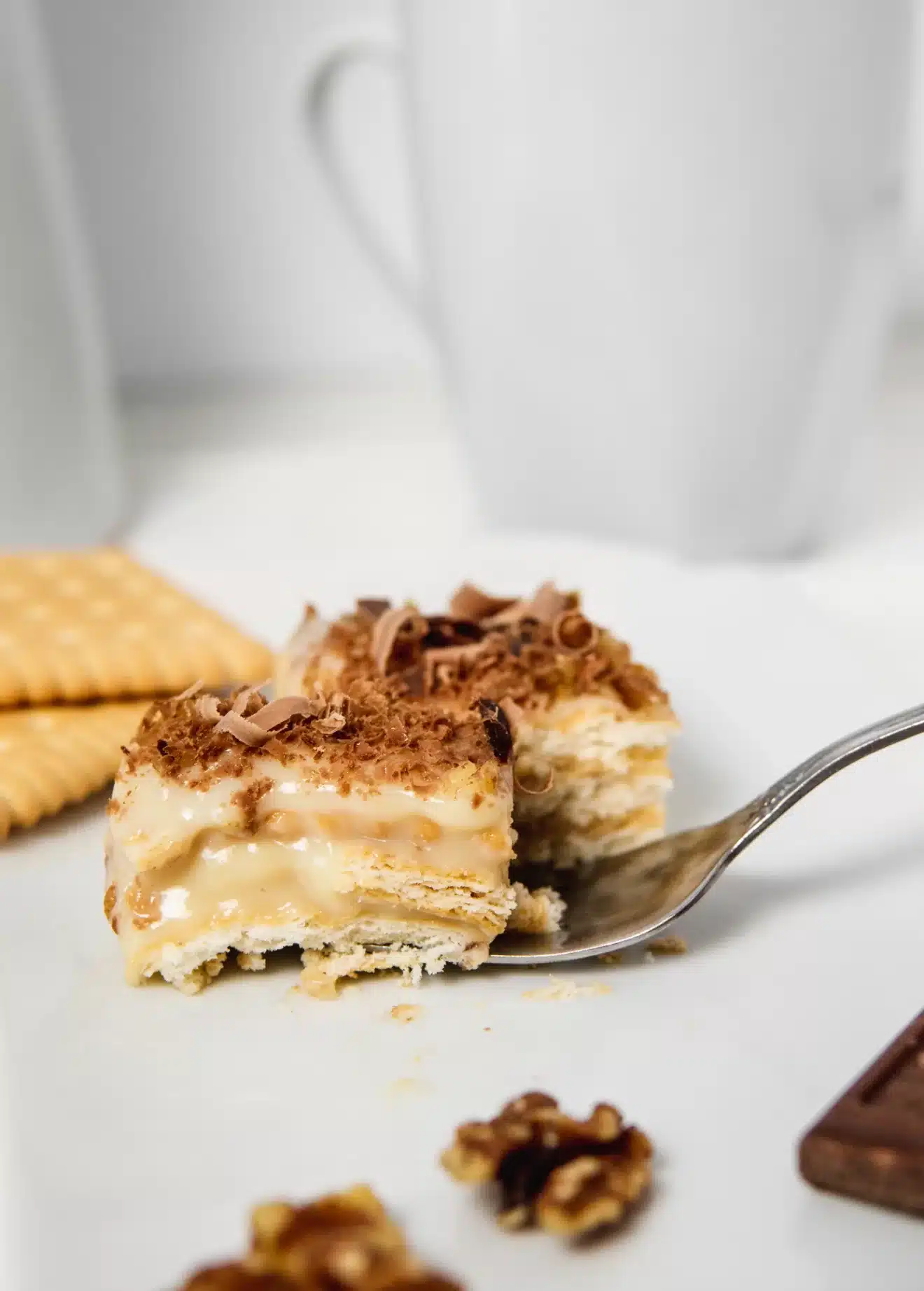 This no-bake Bulgarian biscuit cake from Sofia of The Mindful Meringue harkens back to the baking enthusiasts' childhood. The easy weeknight treat features alternating layers of custard and cookies. Then on top, you add chopped walnuts, shaved chocolate, and cocoa.
Visit The Mindful Meringue for the recipe.
Authentic Mexican Flan
Maricruz Avalos is a trusted source for authentic fare like this Mexican dessert flan recipe. It's a creamy, custardy sweet that's surprisingly simple to make. However, you still want an experienced cook to show you the ropes. For example, there are some particular instructions you'll want to pay close attention to regarding the caramel sauce.
Visit Maricruz Avalos for the recipe.
Easy Chocolate Pie
You'll go gaga for this easy chocolate pie from Chef Lindsay Farr. With five eggs (three whole and two yolks), cocoa powder, and chocolate, it's a dessert you're likely to repeat. Oh, and that's not all. The base is a buttery, flaky crust.
Visit Chef Lindsay Farr for the recipe.
Vanilla Bean Crème Brûlée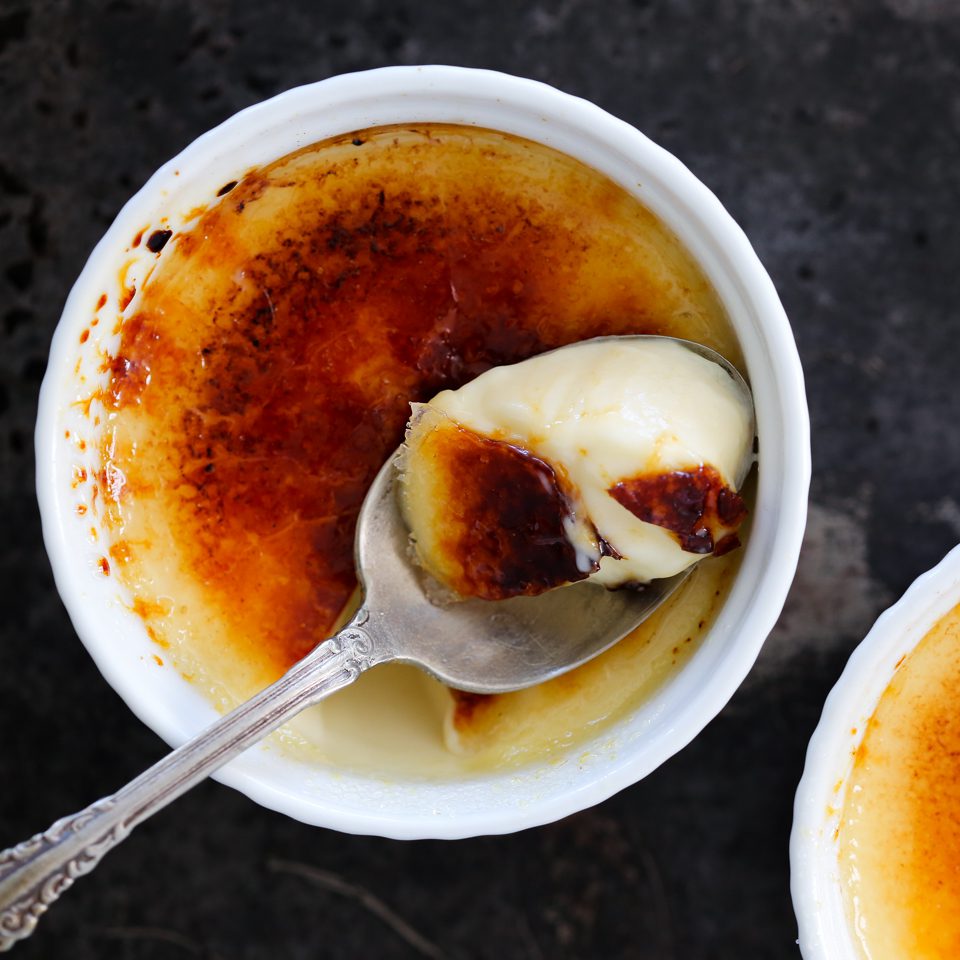 With so many crème brûlée recipes out there, why choose this one from Chef Lindsay Farr? Well, here's one good reason. In the early aughts of her career as a pastry chef, she went through a crème brûlée phase, making key lime, coffee, chocolate, banana honey, and pumpkin varieties to name a few.
Visit Chef Lindsay Farr for the recipe.
Baked Custard Recipe
Using a slow cooker to prepare baked custard takes an already easy dessert and makes it even easy. So you should definitely consider this baked custard recipe from The Magical Slow Cooker. It's a simple treat perfect for weeknight desserts. There are only six ingredients, including eggs, whole milk, and sweetened condensed milk.
Visit The Magical Slow Cooker for the recipe.
Roasted Figs in Goat Cheese Custard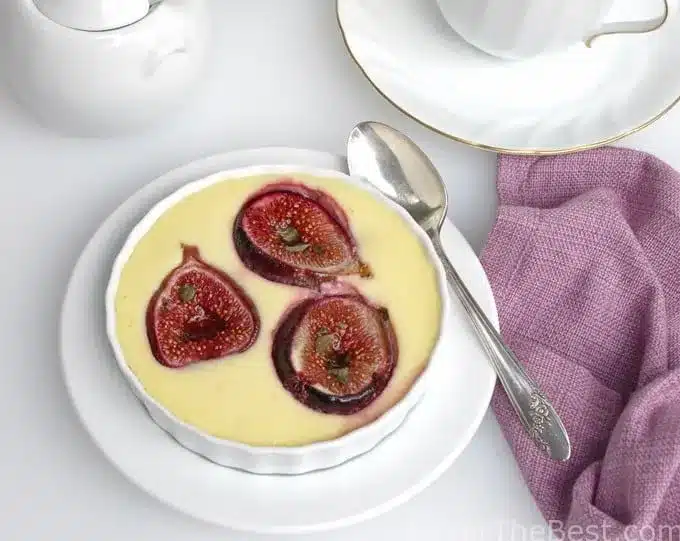 Whenever we come across beautiful fig recipes like this gorgeous roasted figs in goat cheese custard from Savor The Best, I am inclined to remind or inform you that figs aren't fruit. Instead, they're an inflorescence-a bunch of seeds and flowers enshrouded in a bulbous stem.
The colorful figs are suspended in a custard mix of eggs, goat cheese, sugar, and cream. What a delightful holiday treat.
Visit Savor The Best for the recipe.
Crème Anglaise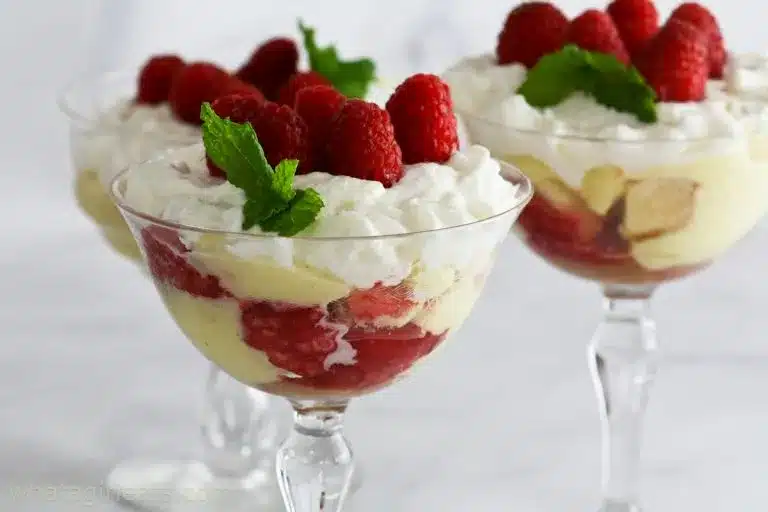 Crème Anglaise is a classic French sweet sauce that works with many desserts. So now, with the help of Cynthia of What A Girl Eats, you can make it at home. The rich topping, with six eggs, heavy cream, and granulated sugar, is one of the five French mother sauces. The uses are many, but it works particularly well with fruit or layered desserts.
Visit What A Girl Eats for the recipe.
Easy Portuguese Pastries
So, what the heck is Portuguese pastries? In short, they are pastries filled with custard and baked until golden brown. The result? A flaky, airy puff pastry confection filled with a creamy custard that's sure to garner compliments and requests for the recipe. It's your new holiday obsession.
Visit Easy Homemade Recipes for the recipe.
Strawberry Custard Tart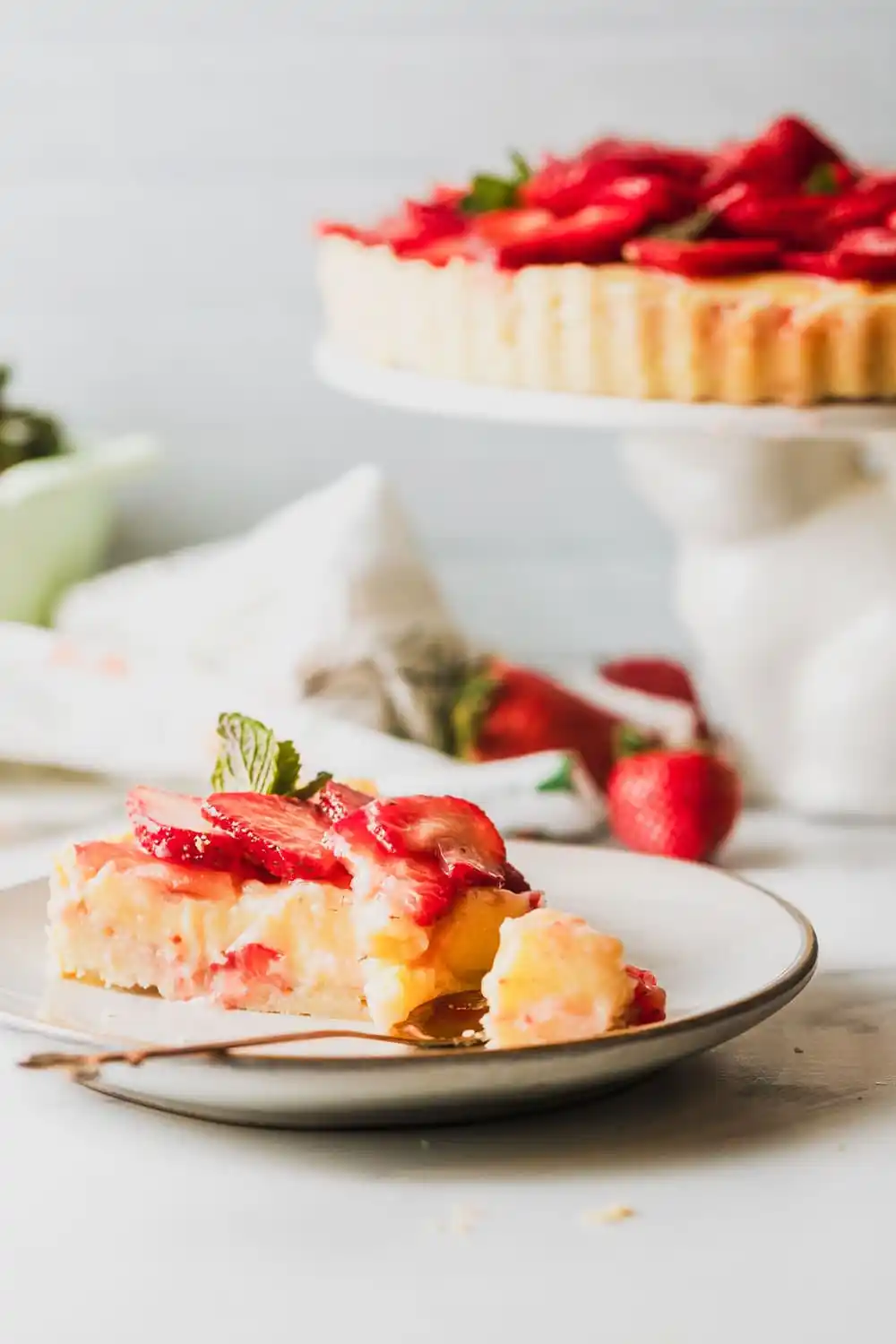 When Eden of Sweet Tea + Thyme comes across delicious bright red strawberries at the farmers market, she can't resist. First, the talented food blogger has to buy a ridiculous amount of them. Then she carefully turns them into insta-worthy sweets like this strawberry custard tart. The base is a delightfully crisp shortbread crust, while the filling is a meltaway pastry cream. Finally, fresh strawberries brushed with jam crown the top.
Visit Sweet Tea + Thyme for the recipe.
Southern Buttermilk Pie Recipe
Thick, rich, and creamy, with goldilocks sweetness, Gina of Home At Cedar Springs Farm promises the easiest pie recipe you'll ever make. Still, you may have some questions, like why the name? Well, the star of the seven-ingredient pie is buttermilk which results in a creamy, tangy, and perfectly sweet pie.
Visit Home At Cedar Springs Farm for the recipe.
Lemon Baked Custard with Sponge Cake Top
Well before the magic cake dessert trend had its viral moment, Toni's mom made them all the time. Although, she calls it by another name, "…custard with pillow top." Before baking, you pour the dessert into the cups then it separates into two distinct textures. For this version, there's creamy thick lemony custard at the bottom. On top, you'll find the fluffy sponge cake.
Visit Boulder Locavore for the recipe.
Salted Caramel Pot De Creme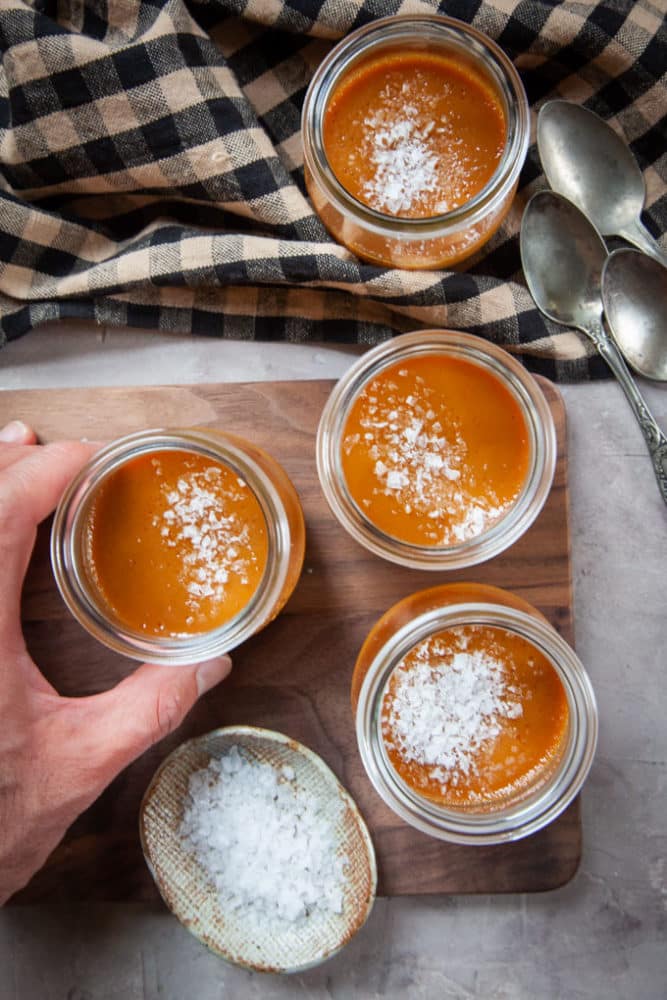 Pot de creme carries prestige that impresses all. Elegant and impressive as it is, however, Lin of Eat The Love shows you how to make the treat with virtually no resistance. It's simple; however, the egg-tempering and caramel-making process require patience.
Visit Eat The Love for the recipe.
Which Custard Recipes Will You Try First?
By now, you've come across nearly two dozen custard recipes. You've seen everything from salted caramel pot de creme to southern buttermilk pie, Portuguese pie, and many more. So, there has to be something that grabbed your attention. What is it? We'd love to know.