Key lime pie ice cream pops – delightful, citrusy, silky smooth, and delicious ice cream pops. These pops are refreshing, indulgent, and just plain seductive! And guess what, you can't eat just one. But, we dare you to try.
Jump to Recipe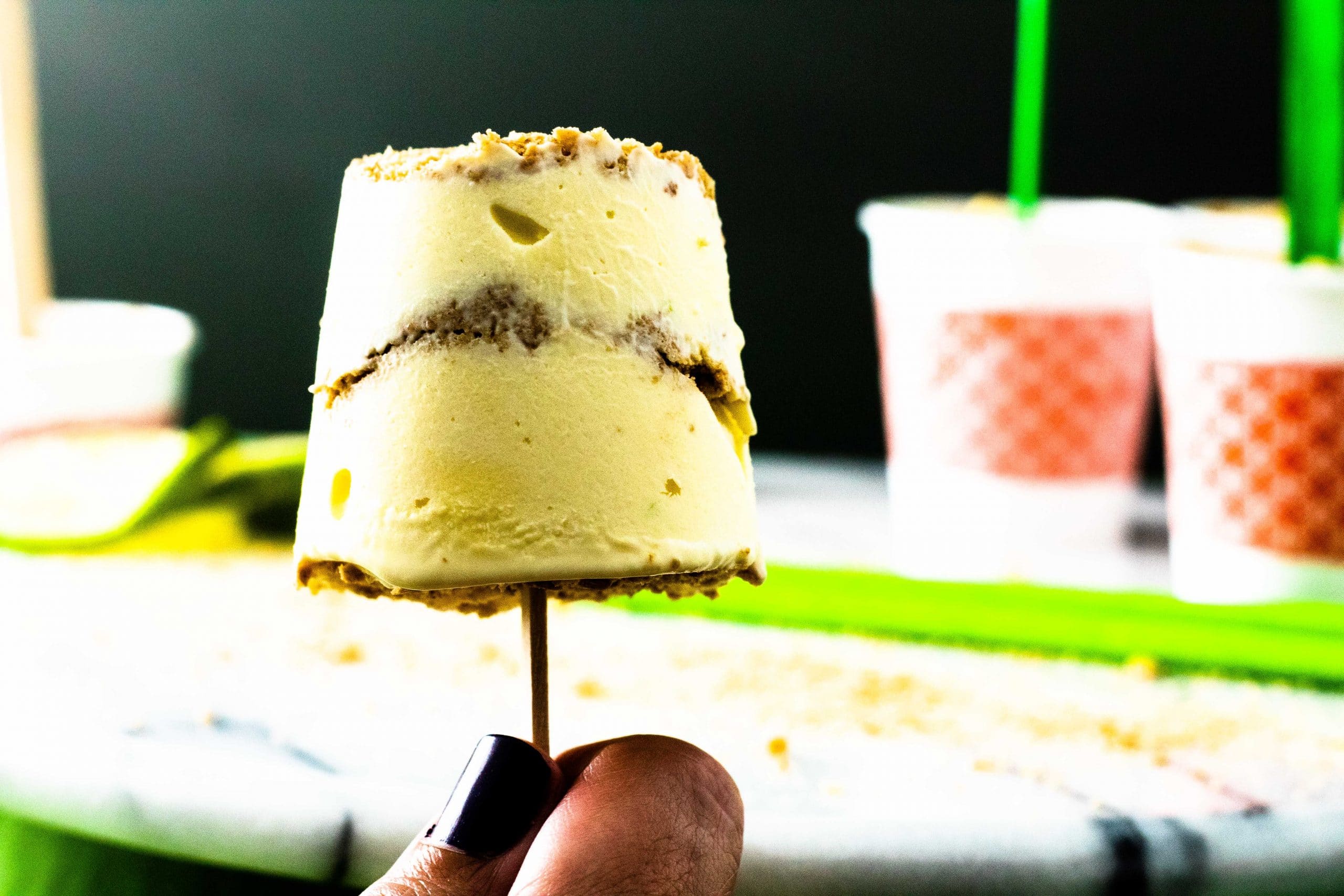 Our first taste of key lime pie was love at first bite. We first tried it in the Florida Keys, where just about every business sells its version of this delightful dessert. You can get key lime on a stick, dipped in chocolate, etc.
But these limes aren't like the ones you can find at most grocery stores. Key limes are different. Instead, they taste more"limey," if you will. You don't have to be an expert with a sensitive palate to notice the difference.
Key Lime Pie is the Perfect Summer Dessert
You can find many different key lime pie recipes online. But a traditional key lime pie recipe will call for eggs and the oven. Well, in the summer, you may not want to turn on the stove.
Therefore, we thought that the perfect way to satisfy that key lime flavor itch would be with ice cream and later ice cream pops.
However, finding key limes might not be so easy. Nobody sells them where we live but lucky for us. There is an alternative: Nellie and Joe's Famous Key West Lime Juice.
This concentrated juice allows the rest of us to get that distinct key lime taste without living in or near Key West, Florida.
A Few Things about These Ice Cream Pops
Okay, you should know that we made this ice cream using a custard mix. Custard contains egg. We love custard ice cream for a few reasons.
For one, it is usually denser and has a more exciting flavor than ice cream without eggs. For two, the egg is a stabilizer. Ice cream made with eggs holds its shape longer while melting than ice cream without eggs.
This recipe is simple and worthwhile because the result is so damn good. First, however, you need to be prepared to stir and stir and stir for about 20 minutes total.
Also, consider that this recipe requires an ice cream maker, and you will need to chill your ice cream mixture in advance (overnight for great results). So a little preparation is necessary, as is the case for all good delicious ice cream maker recipes.
How to Make Them
We bought small paper cups to make these pops because they are cheap and available everywhere. But you could make them in ice pop molds or even in ice trays.
So once your mix is chilled and ready to go, we suggest preparing your station to batch the process. Meaning, add a layer of graham cracker crumb to each cup, then ice cream to each cup, crumb to each cup, and so on. Layering like this is the most efficient way to do it.
Once frozen, you can squeeze around the cup to loosen it a little bit, and the pop will slide right out. While this ice cream was fun to make, it was even more fun to eat. We're looking forward to making this recipe again soon!
Other Post You May Be Interested In:
Key Lime Pie Ice Cream Pops
Once you try these key lime pie ice cream pops, they'll definitely become a regular part of recipe box. They are simple to make and so delicious.
Ingredients
1 1/4

Cup

Whole Milk

1 1/4

Cup

Heavy Cream

3/4

Cup

Granulated Sugar

Pinch of Salt

5

Eggs

2 tbsp + 1 tsp of Key Lime Juice

1/2

tsp

Lime Zest

+ extra for garnish

4

Sheets of Graham Crackers (crushed)

10

Small Disposable Cups
Instructions
Take 2 medium bowls. Add the heavy cream to one of them. Add the egg yolks to the other bowl
and set them aside.

In a medium pot add the whole milk, sugar, and salt. Heat until the sugar and salt have
dissolved. About 3 minutes.

Take the warmed milk mixture and slowly whisk it into the egg yolks. (See note) Once you have mixed the whole thing together. You will pour the mixture back into the pot and heat on low for 13-15 minutes. Stir consistently. (See note)

Using a mesh strainer pour the milk egg mixture into the bowl with the heavy cream. Stir to combine. (See note)

Put the mixture in an airtight container and refrigerate for at least 2-3 hours.

Crush the graham crackers and set aside until ready to assemble.

Add the lime juice and zest to the mixture. Pour into your ice cream machine follow the machine's directions

Time to assemble take a paper cup and full the bottom with graham crackers. Then add about 1 teaspoon of ice cream. Continue to layer until you filled the cup. Add a popsicle stick.

Freeze for about 3 hours before enjoying!
Notes
You DO NOT want to just pour the whole warm milk mixture until the egg yolks or you will get scrambled eggs. That is not good for ice cream.
If you do not stir consistently throughout the whole time your ice cream mixture won't be smooth and you will end up having soup scrambled eggs. Yuck!
Straining the mixture is key to make sure you don't have any egg shells or any egg that might have scrambled a little bit.
Nutrition
Calories:
351
kcal
Carbohydrates:
29
g
Protein:
7
g
Fat:
23
g
Saturated Fat:
14
g
Polyunsaturated Fat:
1
g
Monounsaturated Fat:
7
g
Trans Fat:
1
g
Cholesterol:
209
mg
Sodium:
93
mg
Potassium:
156
mg
Fiber:
1
g
Sugar:
28
g
Vitamin A:
1009
IU
Vitamin C:
1
mg
Calcium:
111
mg
Iron:
1
mg