Today we'll show you 18 amazing, fun dessert recipes to make by talented recipe developers and food bloggers.
These delicious dessert recipes are so colorful and intriguing that you'll definitely find something you just have to make! Perhaps as a special dessert for a birthday party or anniversary. Some are complicated, while others are easy recipes.
But all are odd, new, colorful, or exciting! So you won't find apple pie, red velvet cake, mug cakes, key lime pie, or other popular desserts. Been there, done that!
Instead, you'll find sand art cake, a cinnamon roll cake, and even a mirror glass cake. Wowza! So, you're sure to discover something to excite your sweet tooth. And you're sure to find something you've never seen before. How exciting is that?
And by the way, if you like this list, you'll love our easy rice Krispies treat recipes.
Let's dig in!
Jump to:
18 Fun And Creative Dessert Recipes To Make
Below, you'll find a list of 18 fun recipes to make. Of course, these confections aren't just easy desserts to make. Some are a bit complex. But all of these sweets are intriguing in some way. So, we're certain you'll find something that gets your attention. You're in for a real treat!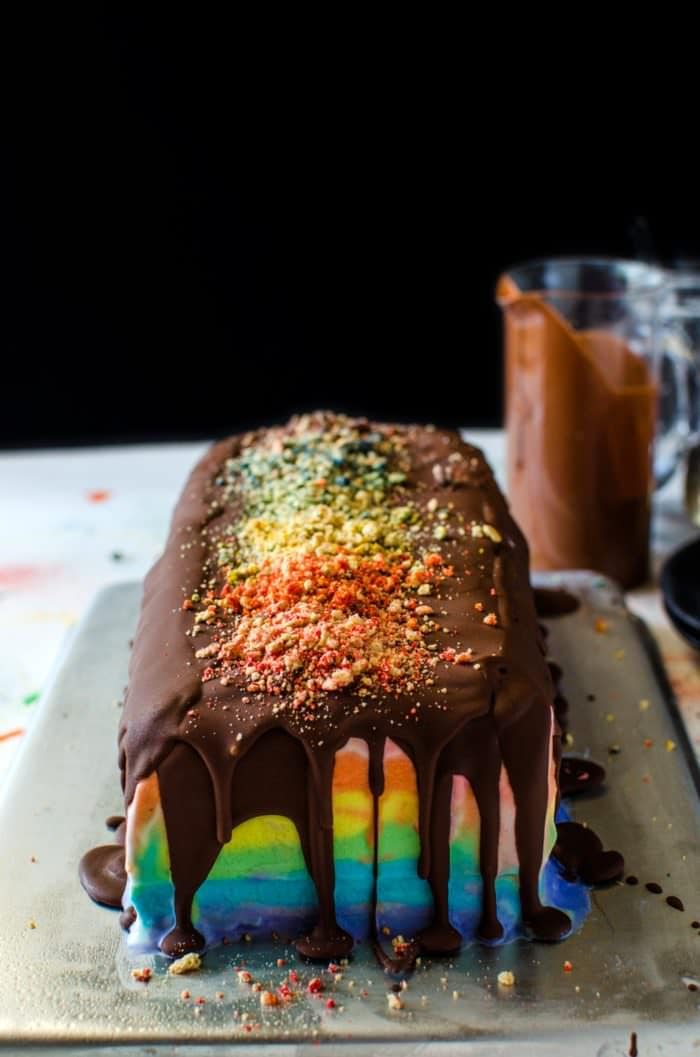 In a heartfelt and emotional post, Dini of The Flavor Bender uses her blog to advocate for the most powerful force in the universe, love. And for her, this rainbow ice cream cake is the perfect symbol for it.
Can you think of a better way to celebrate love through food?
But you won't just love what it represents. The cake itself is absolutely delicious and pretty. In the center, you'll find a heart-shaped chocolate mousse surrounded by layers of multicolored vanilla ice cream. And for a delightful finish, you can add crumbled colorful cookies or sprinkles on top.
Visit The Flavor Bender for the recipe.
Rainbow Fruity Pebbles Cake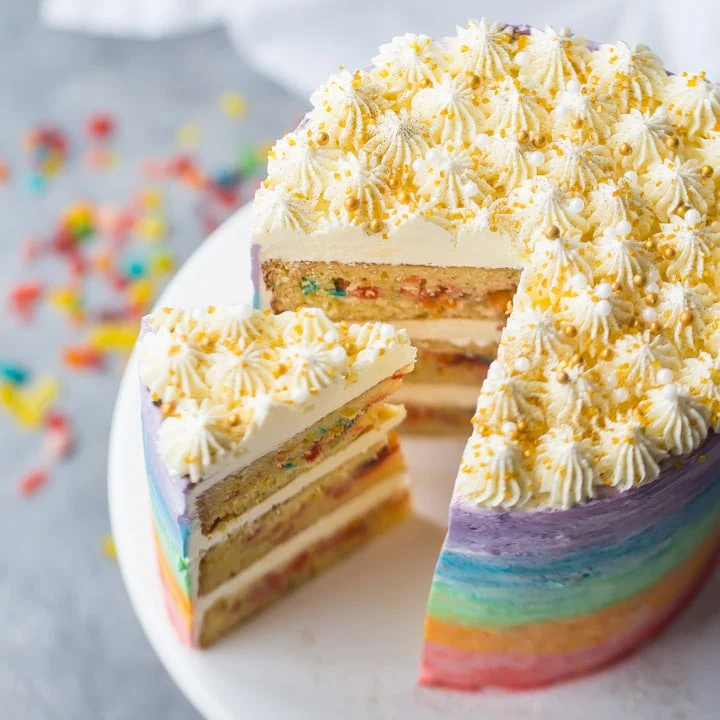 Impress everyone with this amazing dessert. It's a Rainbow Fruity Pebbles cake from Allie of Baking A Moment. You can make it for St. Patrick's Day or anytime you need the magic of a bright and colorful sweet treat. Perhaps a birthday party.
The cake itself is tender and moist with the help of greek yogurt. While the frosting is a Swiss meringue, fluffy, and light, like a cloud in the backdrop of a rainbow. Finally, at the top of your magical rainbow dessert, you'll discover the gold. Golden sugar pearls, that is.
Visit Baking A Moment for the recipe.
Sand Art Cake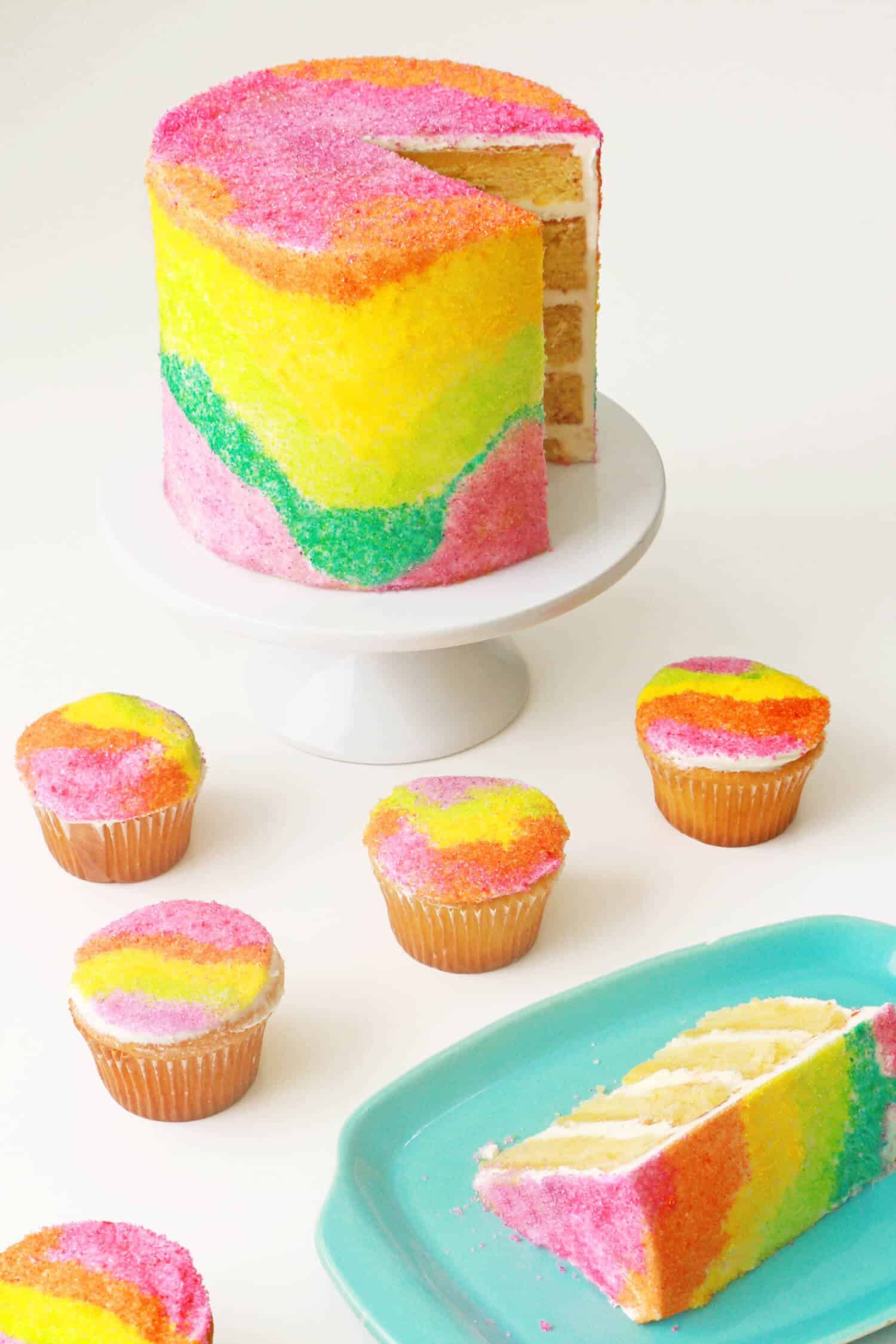 If you grew up in the 90s, chances are you've made sand bottle art. But if you aren't familiar, they were cool, multi-colored bottles of sand arranged in a way that resembled tie-dyed shirts. And they were so much fun to make. Well, the gals over at A Beautiful Mess invented this sand art cake.
It's a stunning homage to the good ole times and sure to strike a sense of wonder. The talented ladies show you exactly how to make them, including making the colorful sugar from scratch and getting the desired effect. It's a really fun project that kids of all ages will love.
Visit A Beautiful Mess for the recipe.
Galaxy Macarons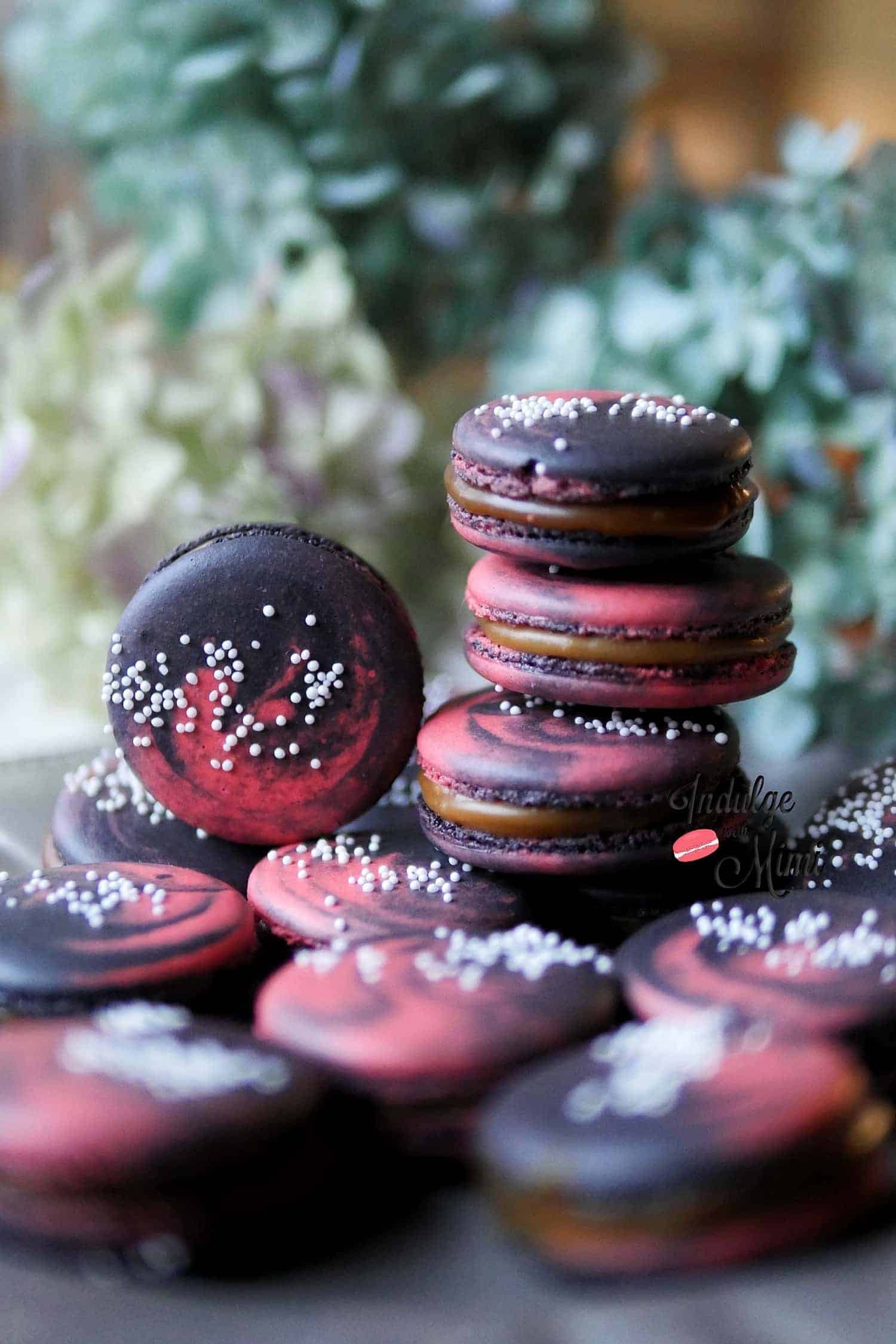 If you Indulge With Mimi, you'll learn the best way to make exquisite treats like these galaxy macarons. They're beautiful, intriguing, bite-sized French cookies that are almost too pretty to eat like many of Mimi's creations. But it takes her expert guidance with a unique batter technique to get the desired appearance.
The colorful swirl creates the background of the galaxy while white sprinkles twinkle like the stars above. Her page is complete with a great recipe and resources to ensure your macarons come out just right. And it's sure to become one of the best desserts you ever make.
Visit Indulge With Mimi for the recipe.
Watermelon Cake Roll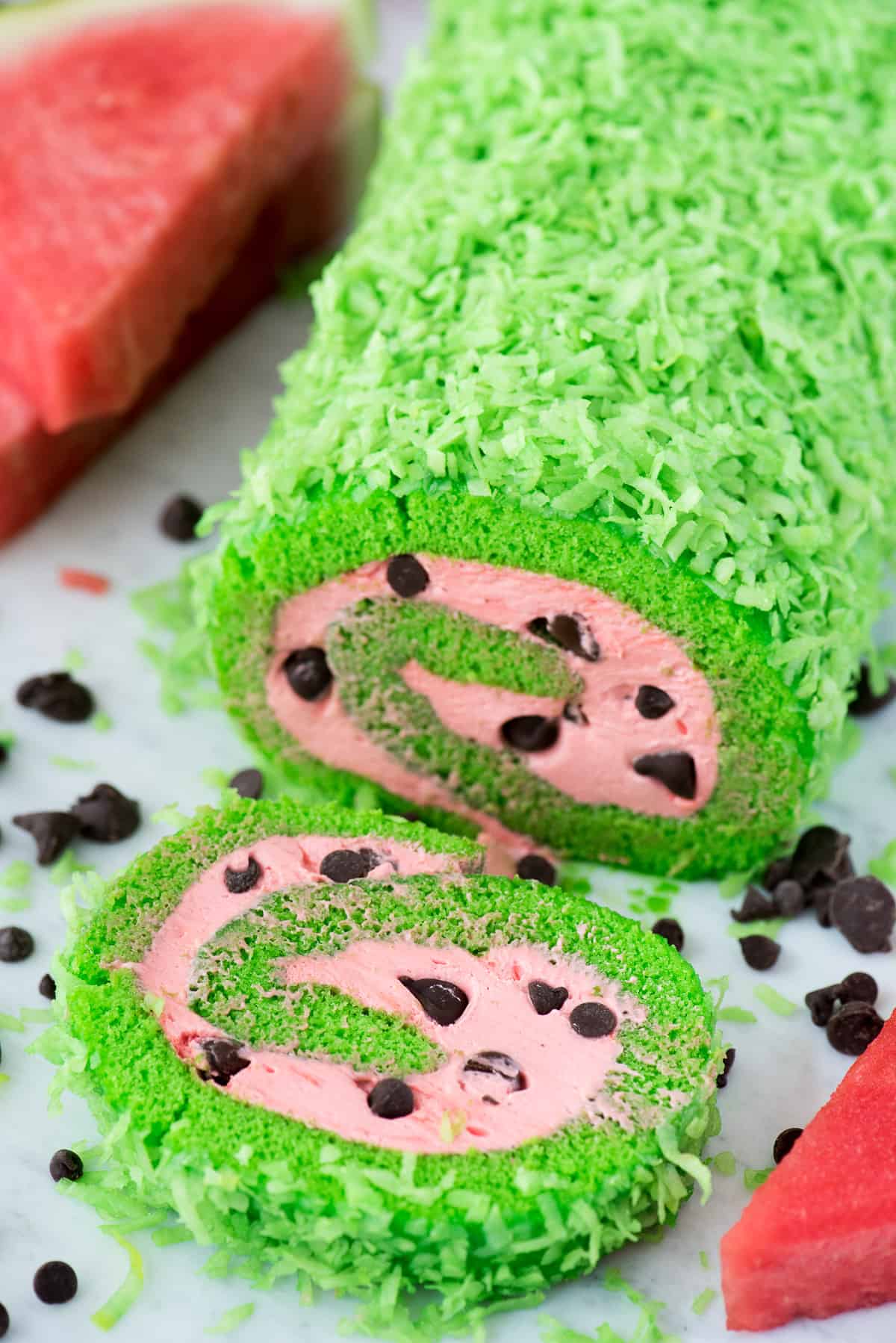 Watermelon dessert lover, Beth of The First Year Blog, created this easy treat as a spin on her Funfetti cake roll. Now, you'd be wrong if you were looking at the images and thinking it's a watermelon-flavored confection.
In reality, it's a simple homemade vanilla cake (no cake mix) with green food coloring. And Beth does suggest an optional watermelon-flavored filling, but as presented, it's just a cream cheese filling dyed pink with chocolate chips. Also, cake rolls can be awkward, but Beth has you covered with lots of tips.
Visit The First Year Blog for the recipe.
Easy S'mores Funnel Cake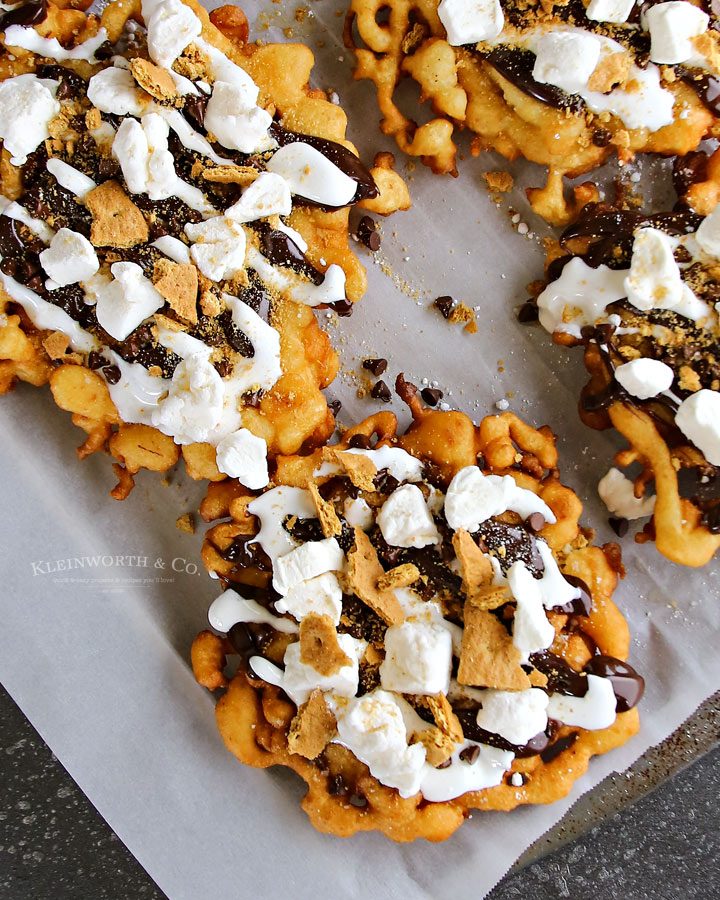 If you're looking for easy dessert ideas, look no further than s'mores. We're fools for distinctive s'mores desserts. So, it's only fitting to include this s'mores funnel cake from Gina of Kleinworth & Co. on our list. It's a carnival type of food you can make at home.
Now, you might be thinking this is a regular funnel cake topped with graham cracker pieces, chocolate sauce, and marshmallow cream. But we love that the batter itself has pulverized graham crackers in it. How cool is that?
Visit Kleinworth & Co. for the recipe.
Rainbow Unicorn Cupcakes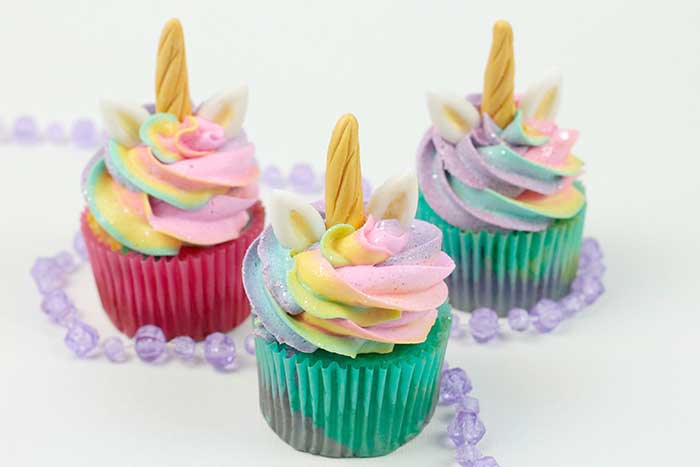 Cari of lifestyle blog Koti Beth made these unicorn cupcakes with her daughter just because they're a fun recipe to make. So make them just because it's Friday or make them for birthdays. Either way, the kiddos will be happy eating tie-dyed cupcakes with pastel frosting.
Cari whipped up a homemade cake batter, but she approves of box mix. Just add food coloring. The frosting, however, she recommends that you make from scratch. And as for the unicorn horn and ears, she shows you where to buy them.
Visit Koti Beth for the recipe.
Mirror Glass Cake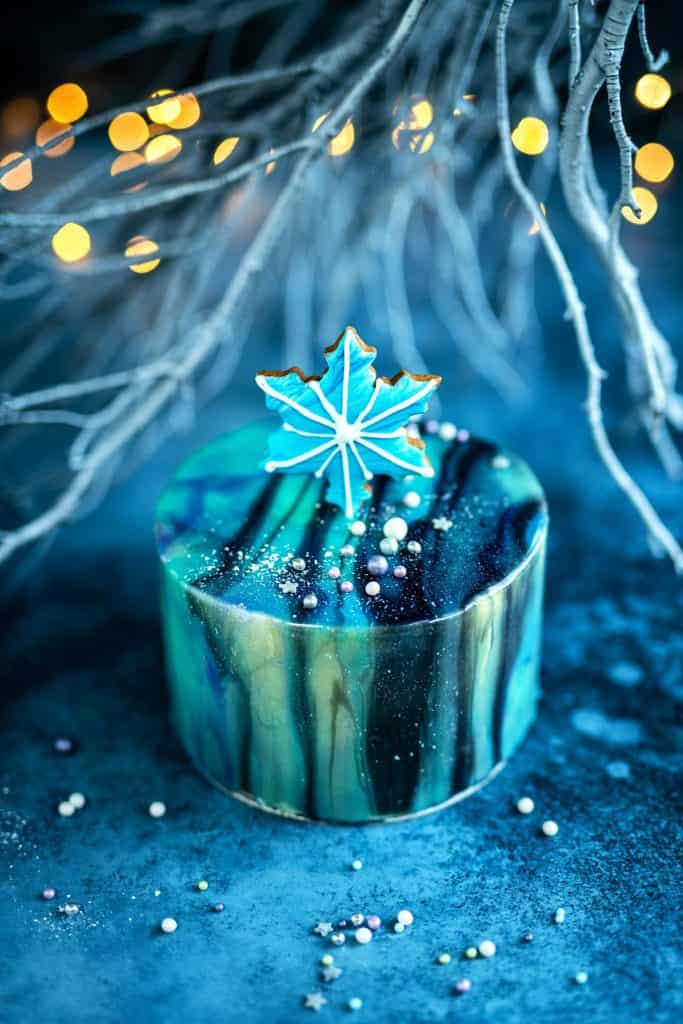 Mirror glass cakes, like this beauty from Lucy of Supergolden Bakes, aren't just a social media food trend. Pastry chefs worldwide have been making these impressive confections for years.
Luckily for the impatient and uninitiated among us, Lucy demonstrates step-by-step how to use this captivating technique. It's not really an easy dessert recipe as there is a learning curve.
But once you master it, you'll have picture-worthy creations to share. So, if you want to add this great dessert to you're repertoire, this is a great source.
Visit Supergolden Bakes for the recipe.
Homemade Cotton Candy Ice Cream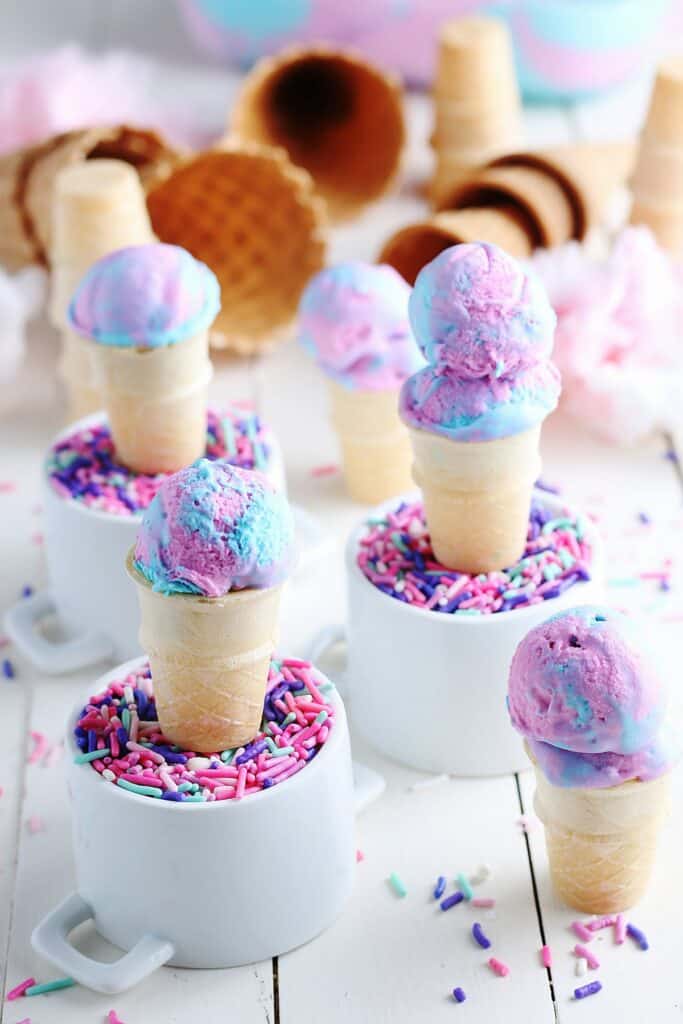 This homemade cotton candy ice cream recipe from Amanda of Big Family Blessings is such a fun dessert, perfect for a hot summer day. It takes us back to those carefree days of yesteryear. So let your inner child free with this one.
What we really love about this colorful treat is that it's super easy to make with just a handful of ingredients. And best of all, you don't have to churn it. Thus if you follow Amanda's instructions, e.g., make sure everything is super-cold before you begin, you'll be just fine.
Visit Big Family Recipes for the recipe.
Rainbow Jello Recipe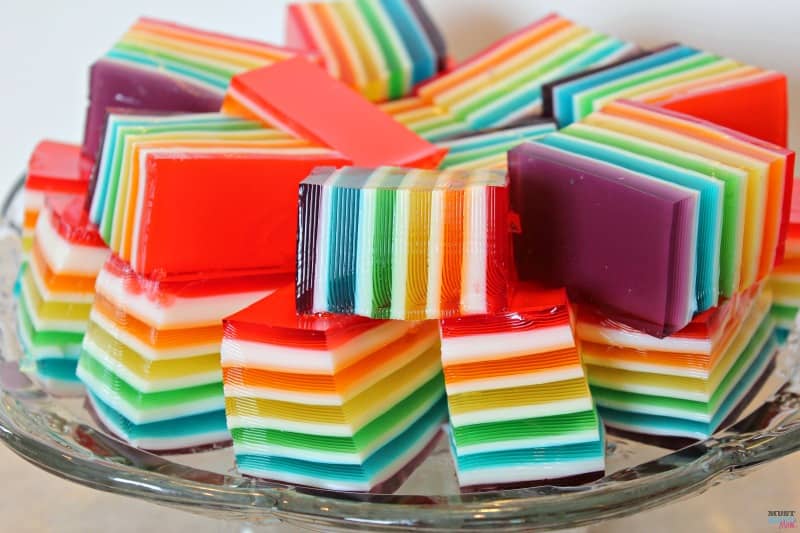 Sarah of Must Have Mom made this rainbow Jello recipe to celebrate her daughter's unicorn-themed birthday party. So you probably think it looks a bit complicated. But it's not. However, it is a time commitment as each layer must be set before adding the next.
Obviously, each of the color layers is a different flavor of Jello. But what is that white layer? It's milk, but we'll let Sarah fill you in on which kind. On the recipe page, you'll also find tips and easy instructions for a colorful treat sure to strike awe.
Visit Must Have Mom for the recipe.
Cinnamon Roll Cake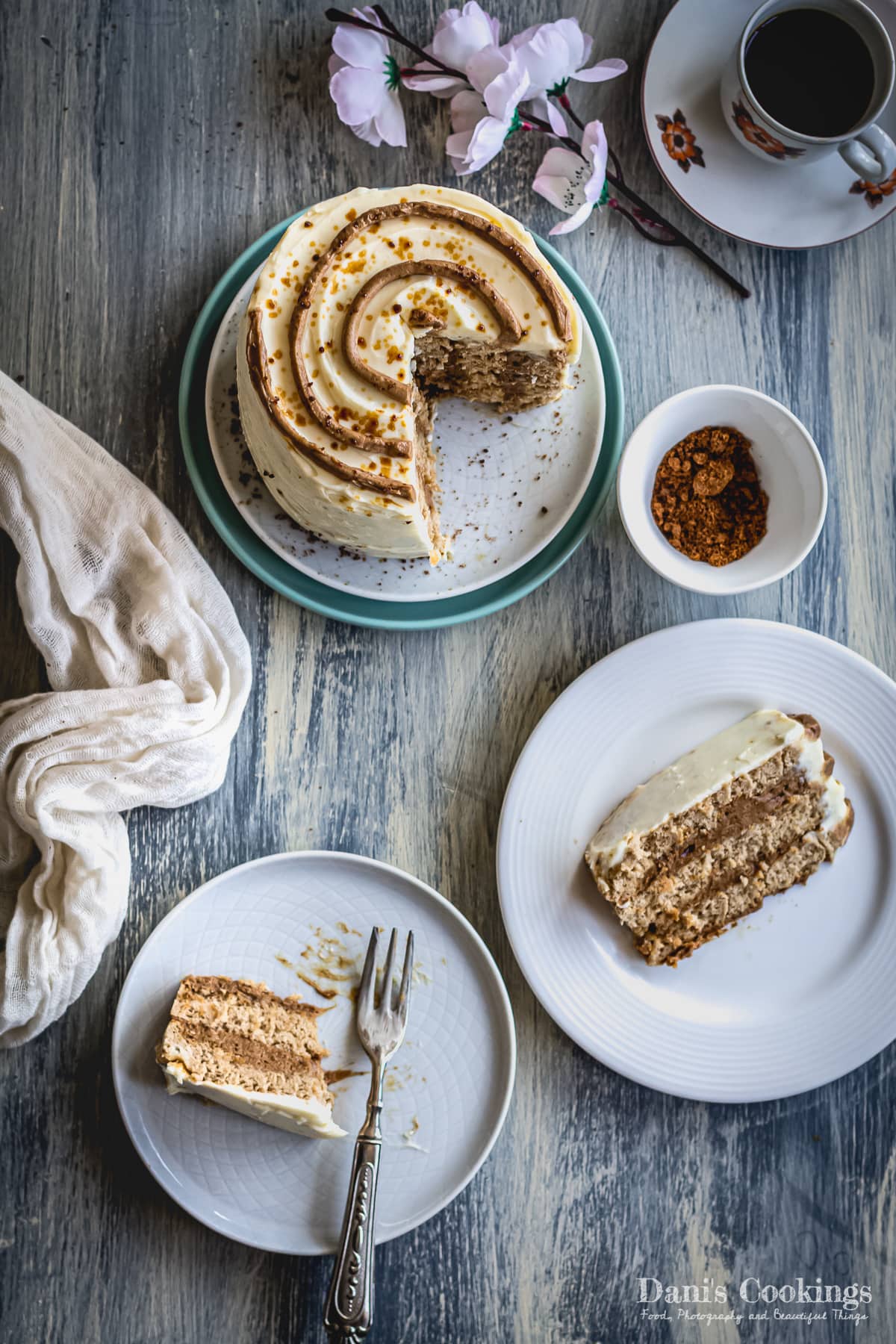 This cinnamon roll cake from Daniela of Dani's Cookings is such a creative and fun recipe to make. It's a willy Wonka-esque gigantic sponge cake cinnamon roll. But it's actually not as hard as it may look. Sponge cakes are the key to making roll cakes as they are pliable.
On the inside, you'll need to add the cinnamon spread. And as for the outside, there's a delicious cream cheese frosting. Just follow Dani's directions, and you'll have a beautifully unique dessert sure to become one of your favorite dessert recipes.
Visit Dani's Cookings for the recipe.
Mermaid Mini Cakes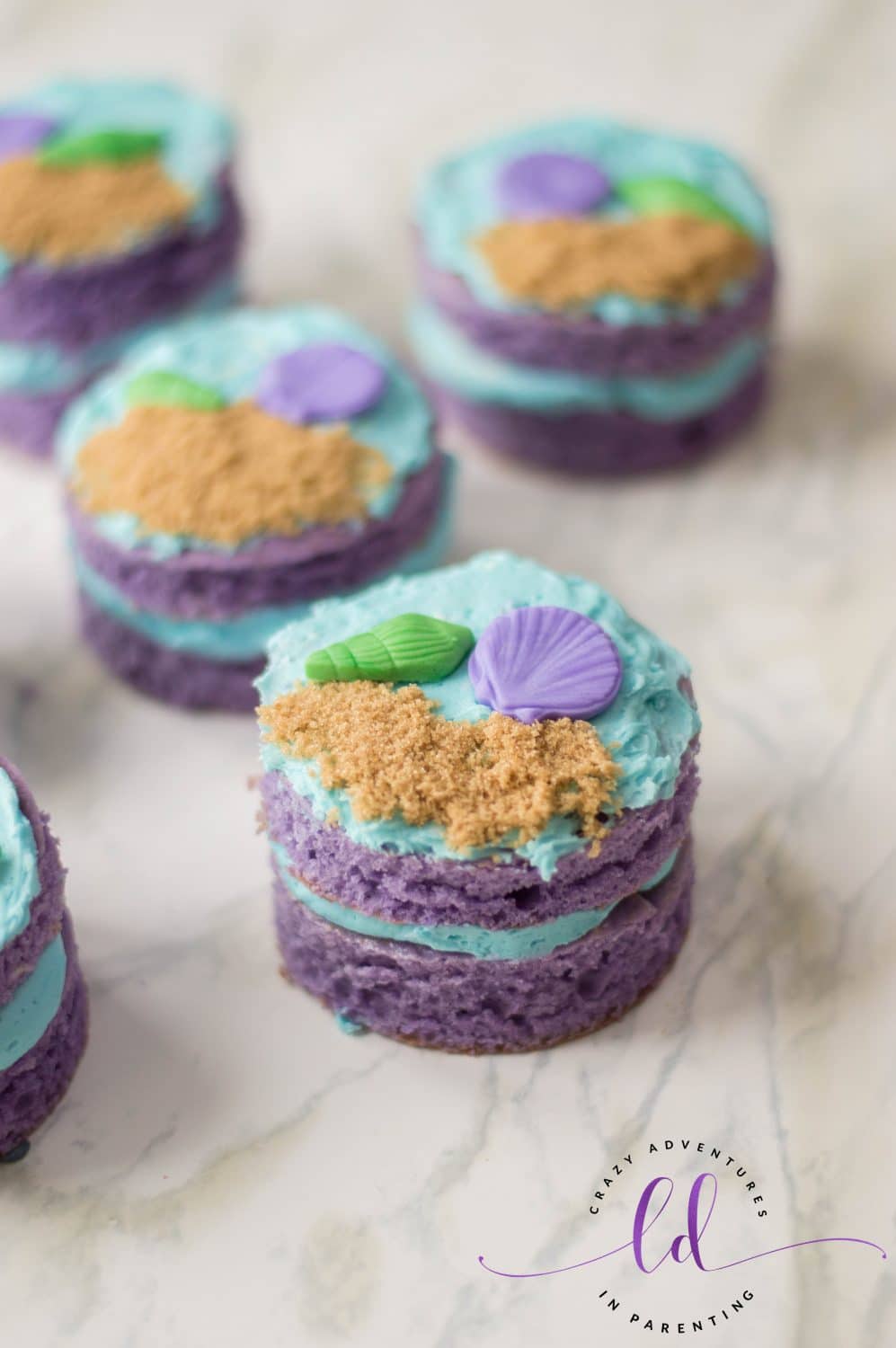 Do you know a mermaid fan? Surprise them with these ridiculously cute mermaid cakes. These little purple cakes with blue frosting are so festive and attractive that you'll wish you were part of a fanciful underwater mermaid world.
The recipe itself is simple. First, there's an easy homemade cake recipe. And between the cake layers is the bright blue frosting. And finally, you decorate each miniature cake with fondant shells and brown sugar.
Visit Crazy Adventures In Parenting for the recipe.
Rainbow Cupcake Recipe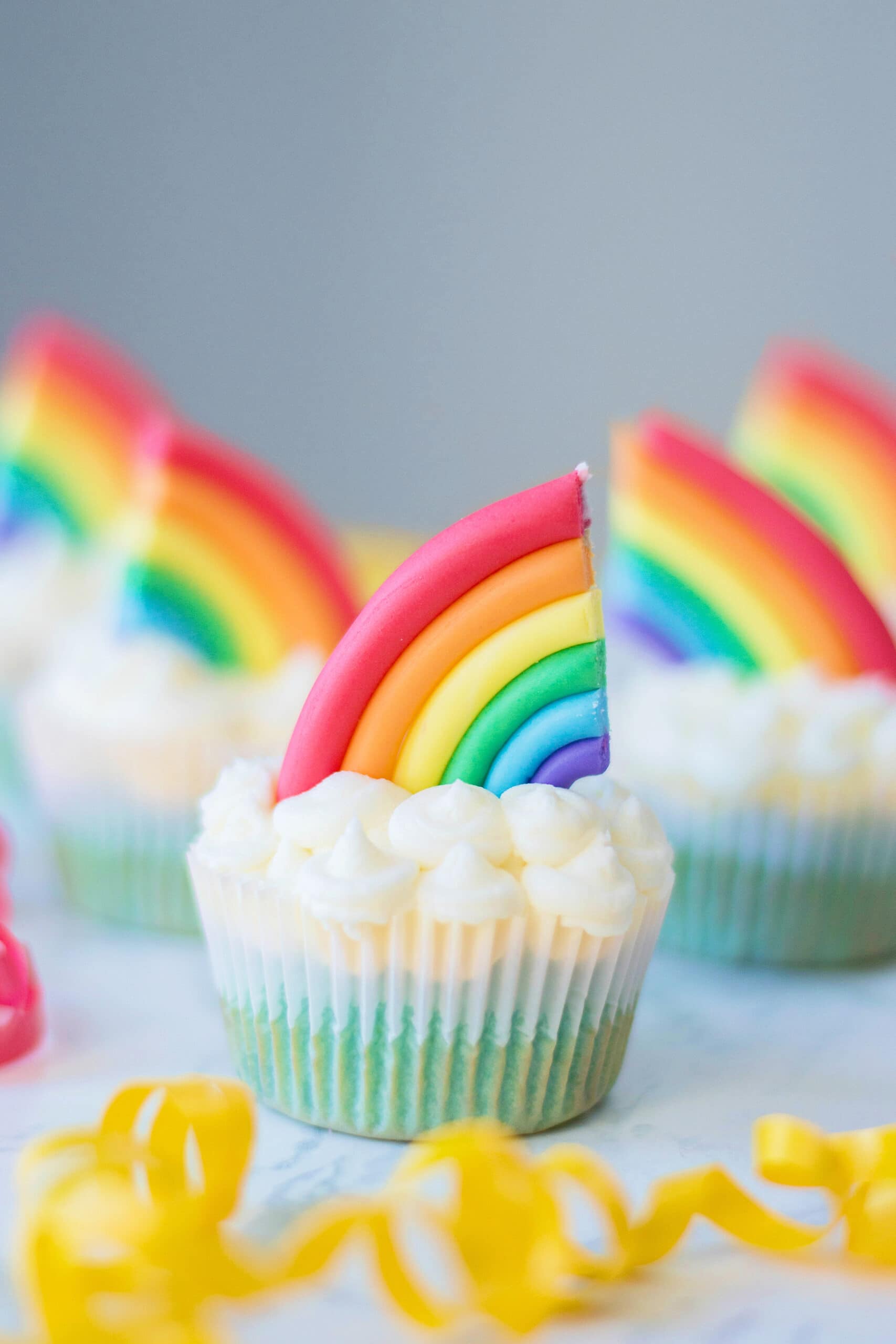 Aimee is the Extreme Couponing Mom who mystifies us with these rainbow cupcakes. They're the perfect treat for birthday parties. The rainbow extending beyond the clouds looks so cool and perhaps even above our skill level.
But Aimee believes in us.
She ensures that if you've ever played with play-doh, you can make these imaginative confections. But what is that rainbow made of? Fondant is the answer. It's pliable and forgiving. And doesn't require perfection but rather a little patience and step-by-step guidance from Aimee.
Visit Extreme Couponing Mom for the recipe.
Galaxy Ice Cream Recipe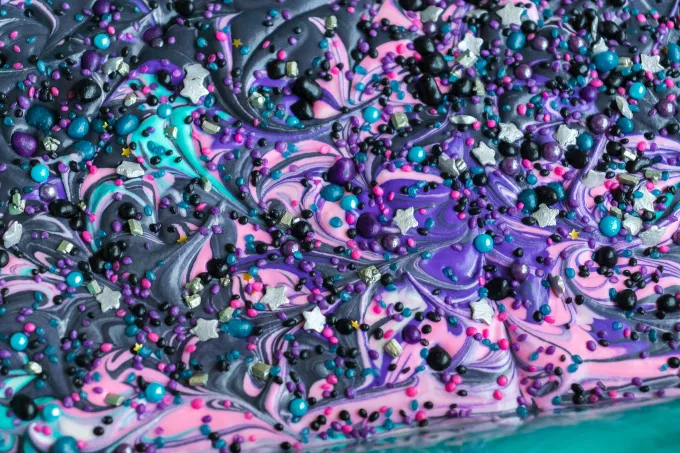 Lisa, the Fun Money Mom, knows that colorful dessert recipes like this galaxy ice cream are more fun to eat and make. But, her first foray into the homemade ice cream arts was peppermint, which was good.
However, galaxy ice cream is otherworldly! It's a quick treat that's ready in just 10 minutes. And the appearance is sure to draw folks in. There's black, purple, pink, and blue, and lots of different sprinkle shapes and colors. Indeed, someone in your life would be excited to have this for a birthday party.
Visit Fun Money Mom for the recipe.
Mardi Gras Oreo Truffles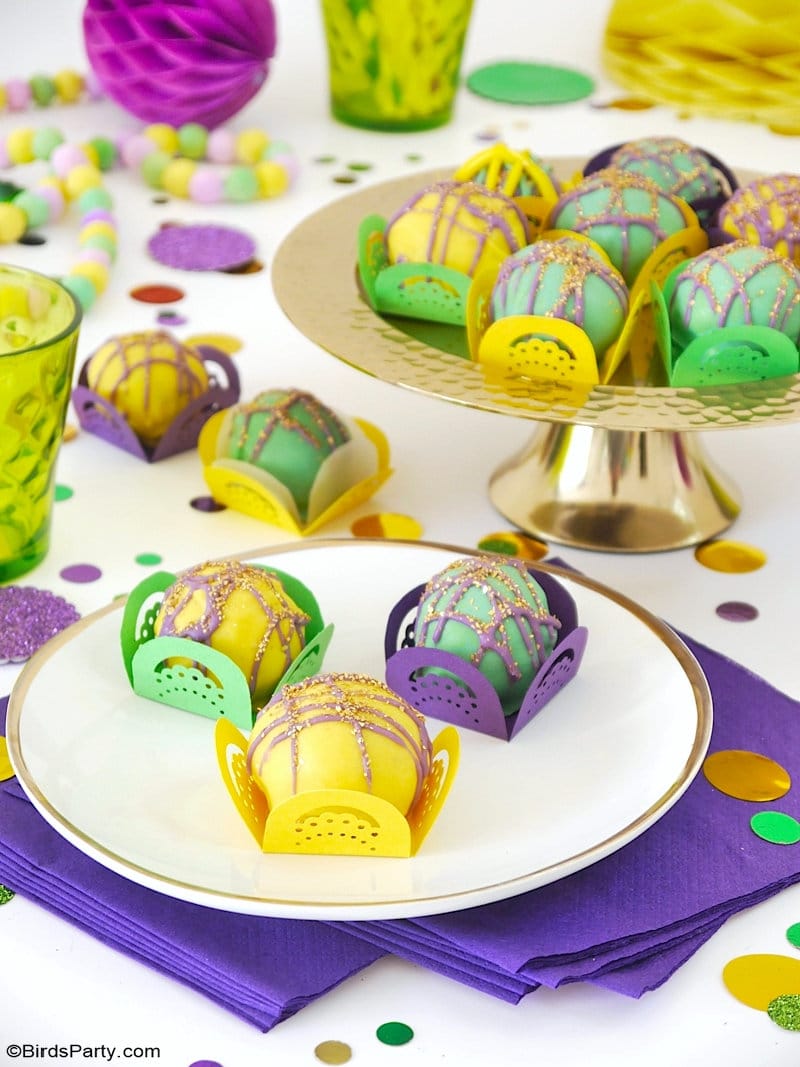 Every year, Bird, Editor-In-Chief of Bird's Party, treats her children to a festive dessert to celebrate Mardi Gras or Carnaval. One year she made these gorgeous Mardi Gras Oreo Truffles that are almost too pretty to eat.
So, to make this edible art, you crush Oreo cookies, mix them with cream cheese and form the truffles. Then you dip them into candy melts and drizzle them with more candy melts and edible glitter. Finally, you can get really fancy and make decorative paper cases. Or put them on sticks and have a dessert to rival cake pops.
Visit Bird's Party for the recipe.
Banana Split Crepe Cake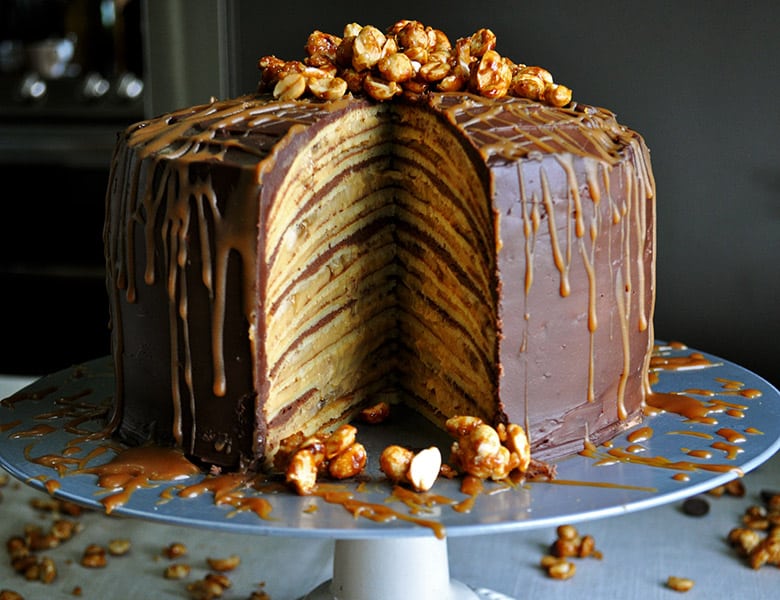 Layered desserts like this banana split crepe cake recipe from Rebecca of, Of Batter And Dough are fun to make. But would you believe this recipe is low-carb?! We know you'd have no idea to look at the images. But according to Rebecca, it tastes just as good as if she had added sugar.
So there are a lot of elements to this cake. There are the crepes, butterscotch sauce, pastry cream, ganache, and candied peanuts for a nutty flavor. It looks like a decadent dessert. However, all of those elements call for a sugar alternative. But in the end, you have a beautiful and creative presentation.
Finally, regardless of your stance on sugar replacements, this one will change how you think about chocolate desserts.
Visit Of Batter And Dough for the recipe.
Spring Lemon Layer Cake
Mary is The Cake Chica, and her site is filled with all kinds of gorgeous creations like this spring lemon layer cake, which looks like an edible flower garden made possible thanks to a bevy of frosting tips and frosting in many different colors.
So while it's impressive, this masterpiece isn't as hard as it appears. At least not with all the help you get from Mary. She walks you through the step-by-step processes. And she even teaches you some techniques you may be unfamiliar with, like reverse creaming. It's an incredible resource and may become one of your favorite cakes.
Visit The Cake Chica for the recipe.
Lucky Charms Sandwich Cookies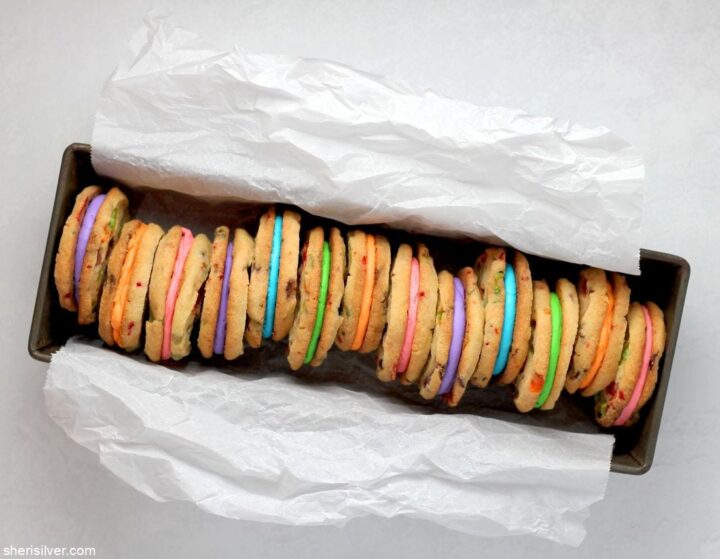 Sheri of food blog Sheri Silver created these Lucky Charms sandwich cookies to use leftover charms marshmallows. But first, a fun kitchen experiment ensued.
So while she was aware of and excited about the stunning terrazzo effect, she was surprised they turned a richer brilliant color when you bake cookies with lucky charms marshmallows.
Then, once cooled, you fill the cookies with a luscious marshmallow fluff filling. And finally, you end up with an eye-catching cookie as mouthwatering as it is pretty.
Visit Sheri Silver for the recipe.
Which Fun Dessert Do You Want To Make First?
By now you've seen a variety of fun desserts ranging from easy dessert recipes with simple ingredients like no-churn cotton candy ice cream. Then you've come across the more complex recipes like mirror glass cake. Which one do you want to make first? Let us know!
And if you're looking for other amazing dessert recipes, see our easy Italian dessert recipes.