Want dessert but not a whole lot of it? How about these single serving dessert recipes by amazing food bloggers? Because you shouldn't have to make an entire cake or pie to enjoy something sweet.
And guess what? There are nearly two dozen single-serving dessert recipes on this very page. For example, there are luscious strawberry cream cheese hand pies, vanilla bean crème brûlée, and even stroopwafel milkshakes. Are you ready to discover the tasty?
Let's dive in!
Don't forget to check out our fantastic list of desserts for two.
Strawberry Cream Cheese Hand Pies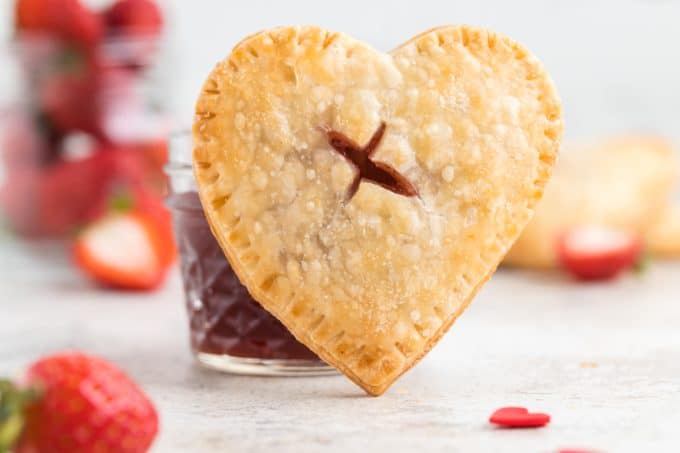 These strawberry cream cheese hand pies come to us courtesy of 365 Days of Baking. Filled with a delicious strawberry and cream cheese mixture, they are perfect for Valentine's Day or any day you want to show someone how sweet you think they are. The best thing is they look involved, but they're really easy to make.
Dark Chocolate Chia Pudding With Pistachio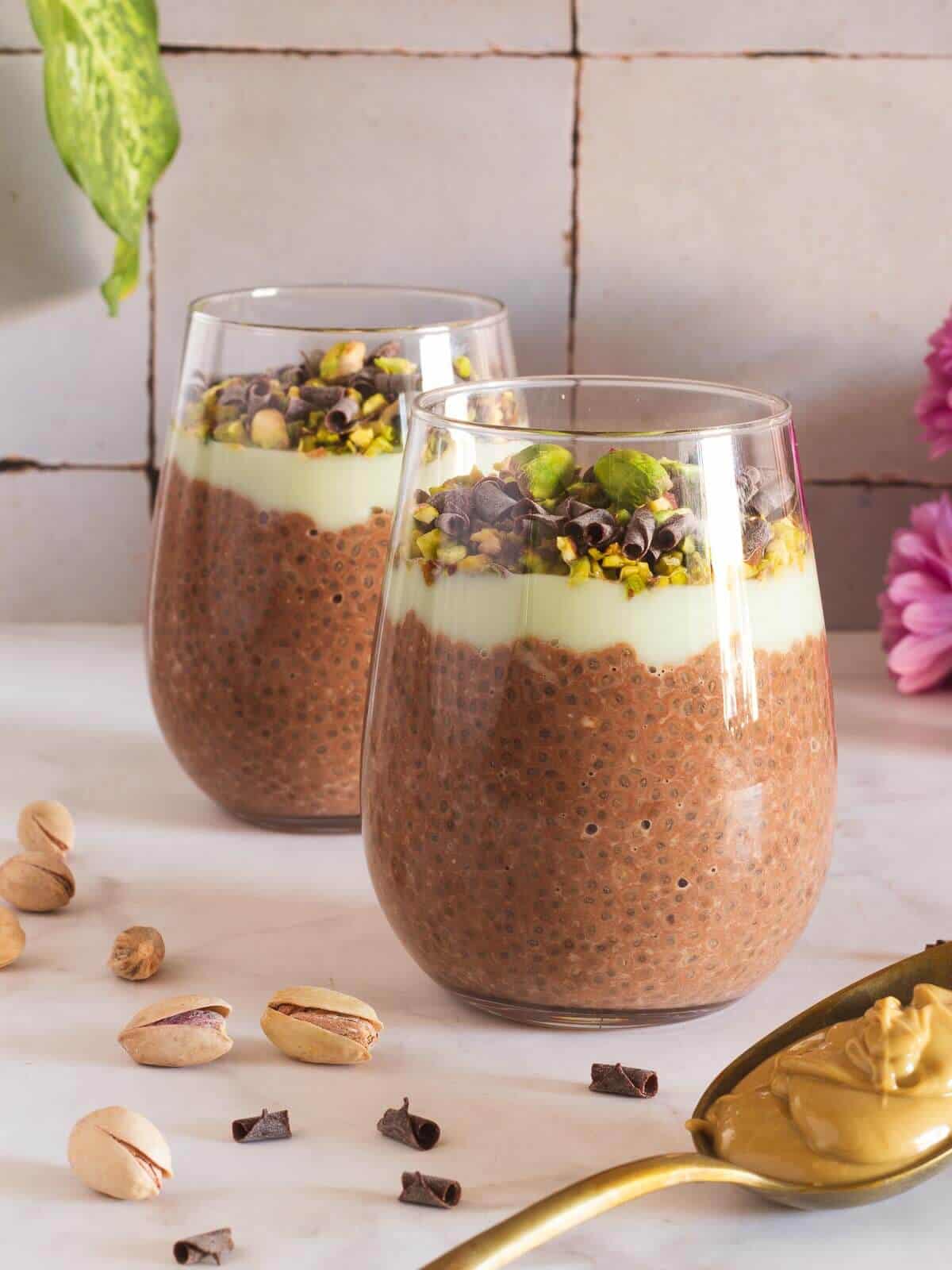 Sad because you're lactose intolerant and can't enjoy a good dessert? Well, we got you covered with this super yummy non-dairy dark chocolate chia pudding with pistachio. It is made with almond milk and maple syrup and can be topped with some vanilla vegan yogurt. The best part is you just mix and chill for at least 2 hours.
Chocolate Truffles
Thanks to Sara from Dinner At The Zoo for giving us a visually stunning homemade chocolate truffles recipe. These candies are decadently delicious, quick, and easy too. Folks will think you toiled away for a day when really, you can whip up a batch of these melt-in-your-mouth treats in minutes.
Easy Individual Tropical Trifles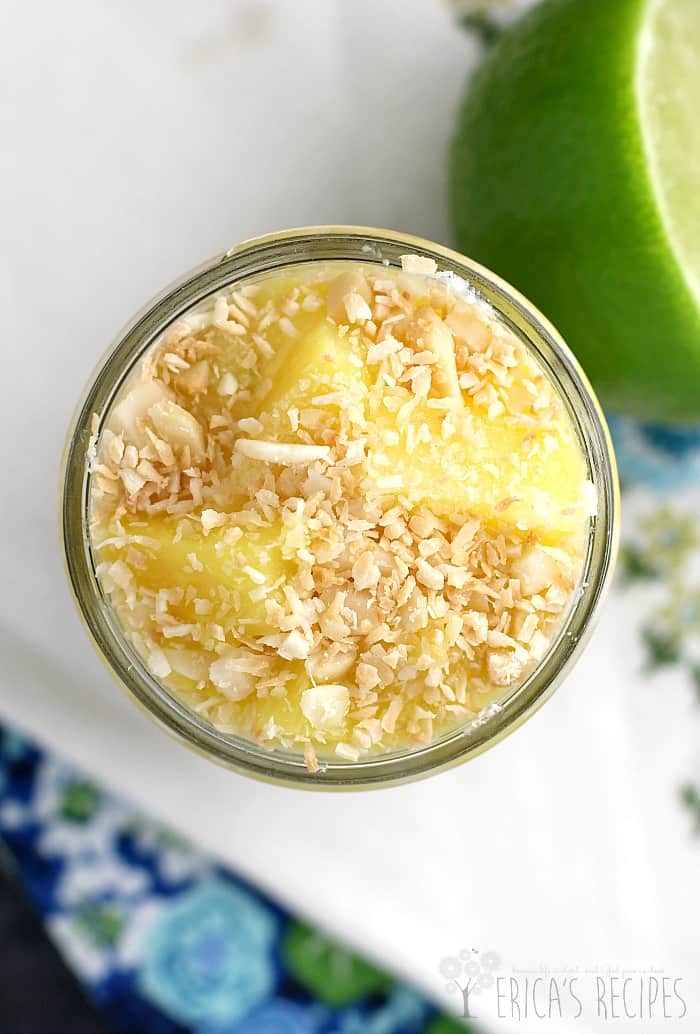 A trifle is a layered dessert that's usually quite involved, but that is not the case with these easy individual tropical trifles that you can put in mason jars or even just plastic cups. The ingredients of lime curd, pineapple, and coconut crème pie will make guests feel like they've been transported to the Caribbean.
Mocha Mug Cake
Mug cakes have been gaining popularity over the past several years. It's no wonder since they're quick, low mess, and require no baking. This mocha mug cake from Chocolates And Chai is no exception. The website says it is one of the fastest (5 minutes) they've ever made. If you're a mocha fan, this is a must-try.
Easy Mini Oreo Cheesecake Bites
Thanks to Liz at The Savory Cipolla for this perfectly delicate, easy mini Oreo Cheesecake bites. They are a fabulous treat for baby showers, kids' birthdays, or sleepovers. The Oreo crumble and whipped cream cheese are a heavenly combination. The best part is you can easily make a huge batch and freeze them for later.
Vanilla Bean Crème Brûlée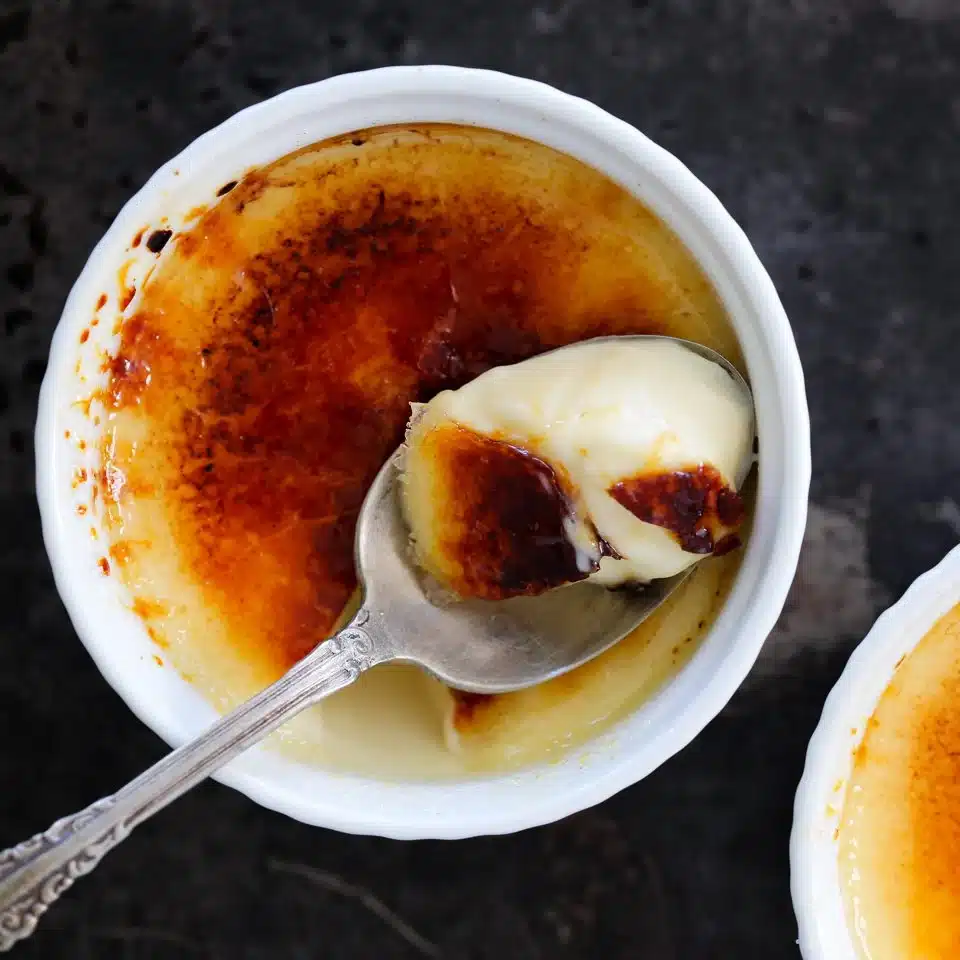 If you need a dazzling dessert that will have guests drooling, this vanilla bean crème brûlée Chef Lindsay Farr will definitely get the job done. It takes some time (about 45 minutes), but the process is not difficult. The creamy vanilla bean custards with the crunchy shell will absolutely be worth your time.
Blueberry Cheesecake Cupcakes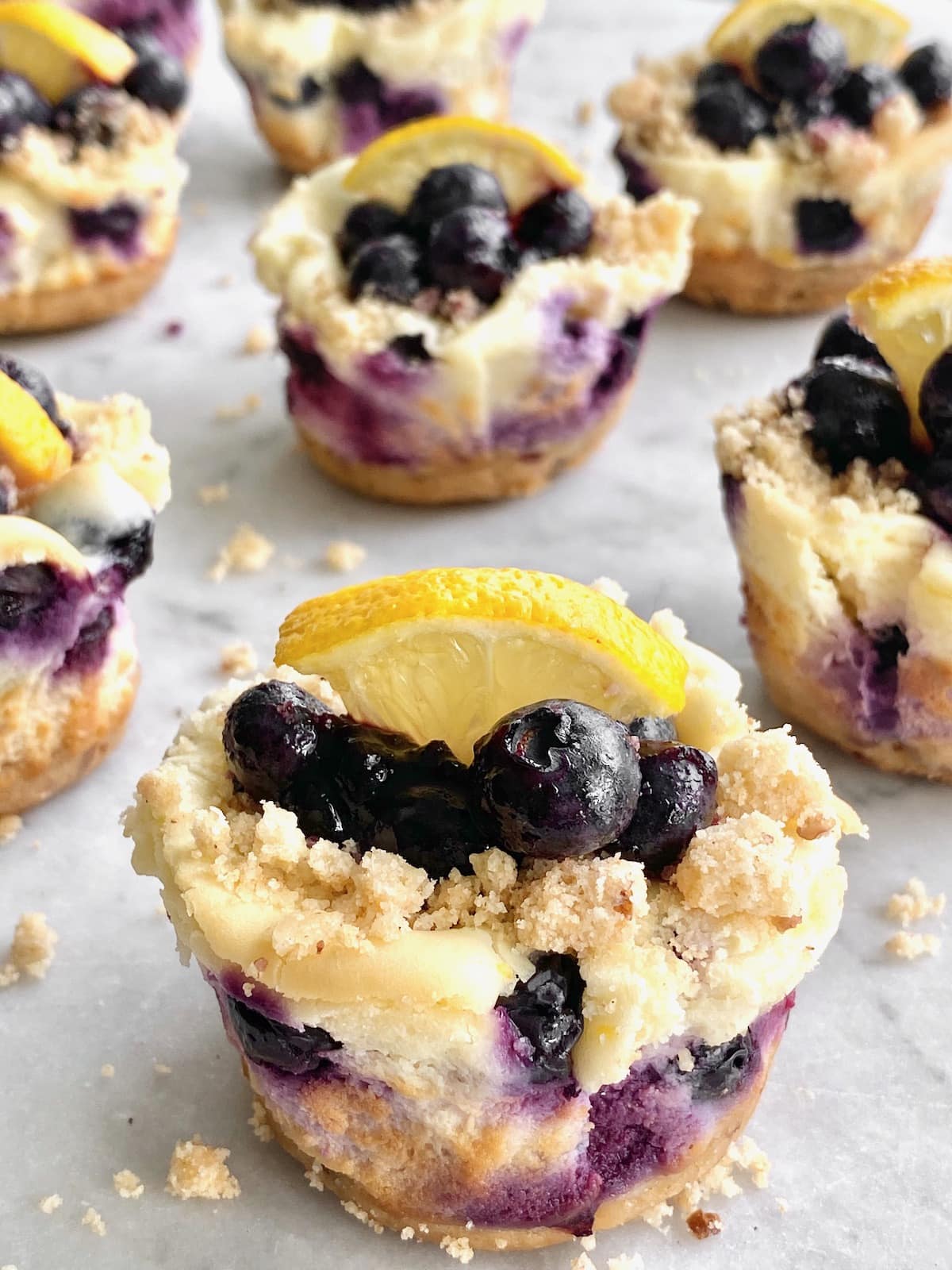 Blueberry cheesecake cupcakes by Quiche My Grits are like a blueberry muffin that bursts with cheesecake goodness. That's what you get with this zesty zinger (because there's lemon zest too). They're easy to make with some packaged pecan sandies. Everyone will be impressed with these colorful cups full of flavor.
Chocolate Pots De Crème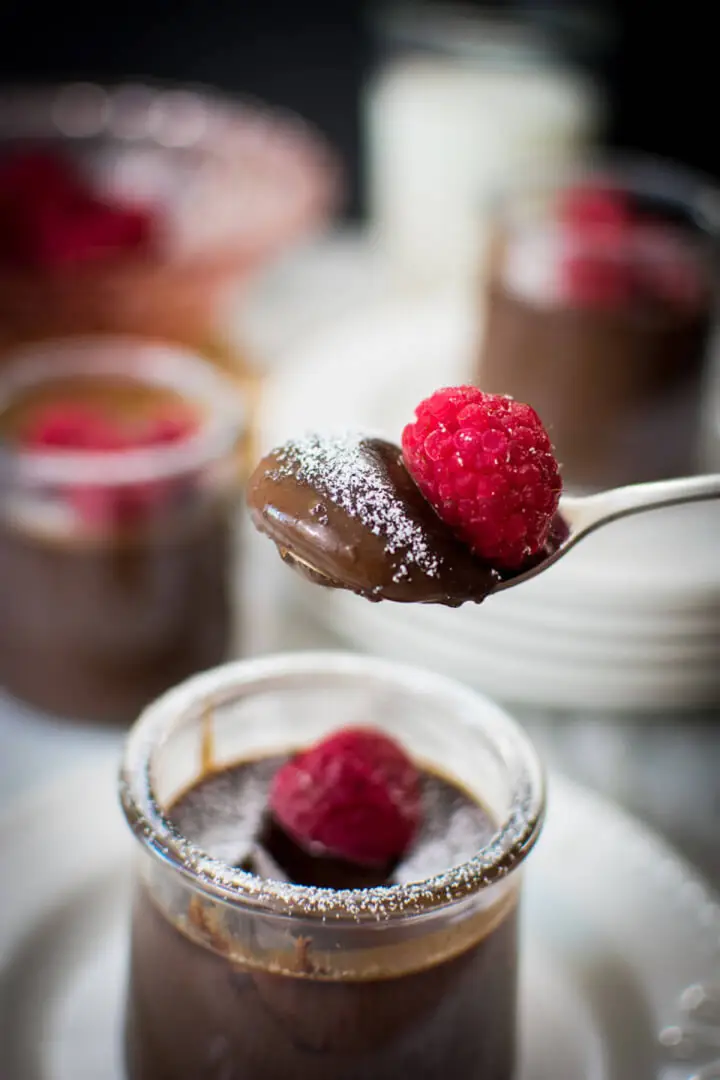 This chocolate pots de creme recipe comes to us from Teri at A Sprinkle And A Splash. This creamy custard is a chocolate lovers' dream. With simple, all-natural ingredients like dark chocolate, cream, eggs, and butter, there's nothing artificial about this treat.
No Bake Lotus Biscoff Cheesecake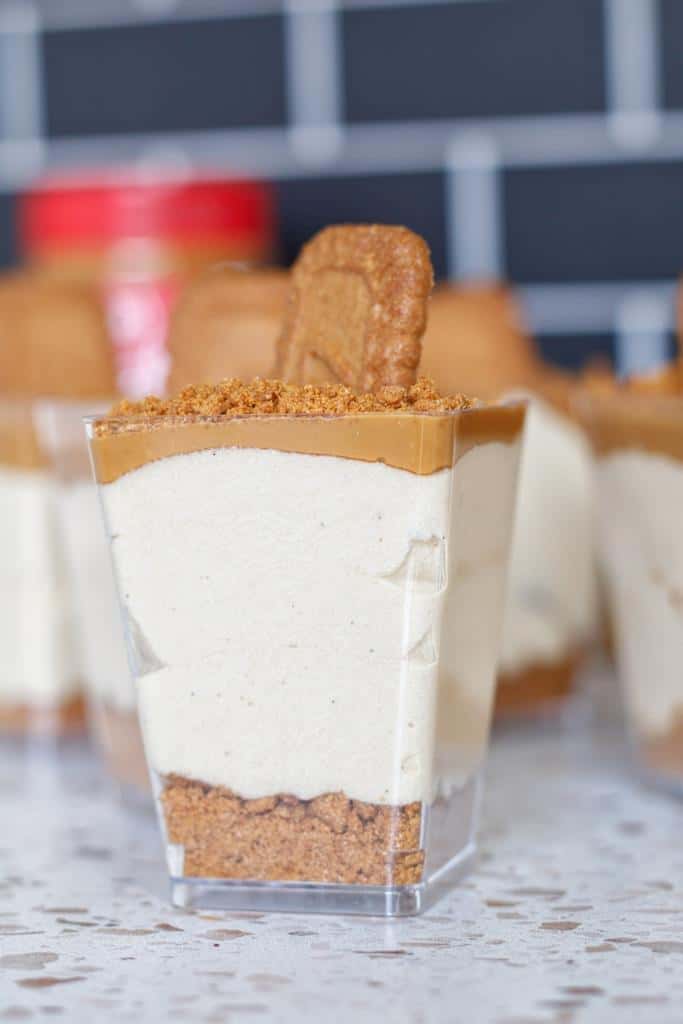 If no bake is not enough to grab your attention, how about a tasty, no bake lotus Biscoff cheesecake by Sour and Sweets that is super easy to make? The stand-out ingredient here is the iconic Lotus Biscoff biscuit, with all its caramel-flavored goodness. These individual desserts are also just plain shoo-in their see-through cups. Stick a whole biscuit right on top to finish things off.
Chocolate Covered Cheesecake Bites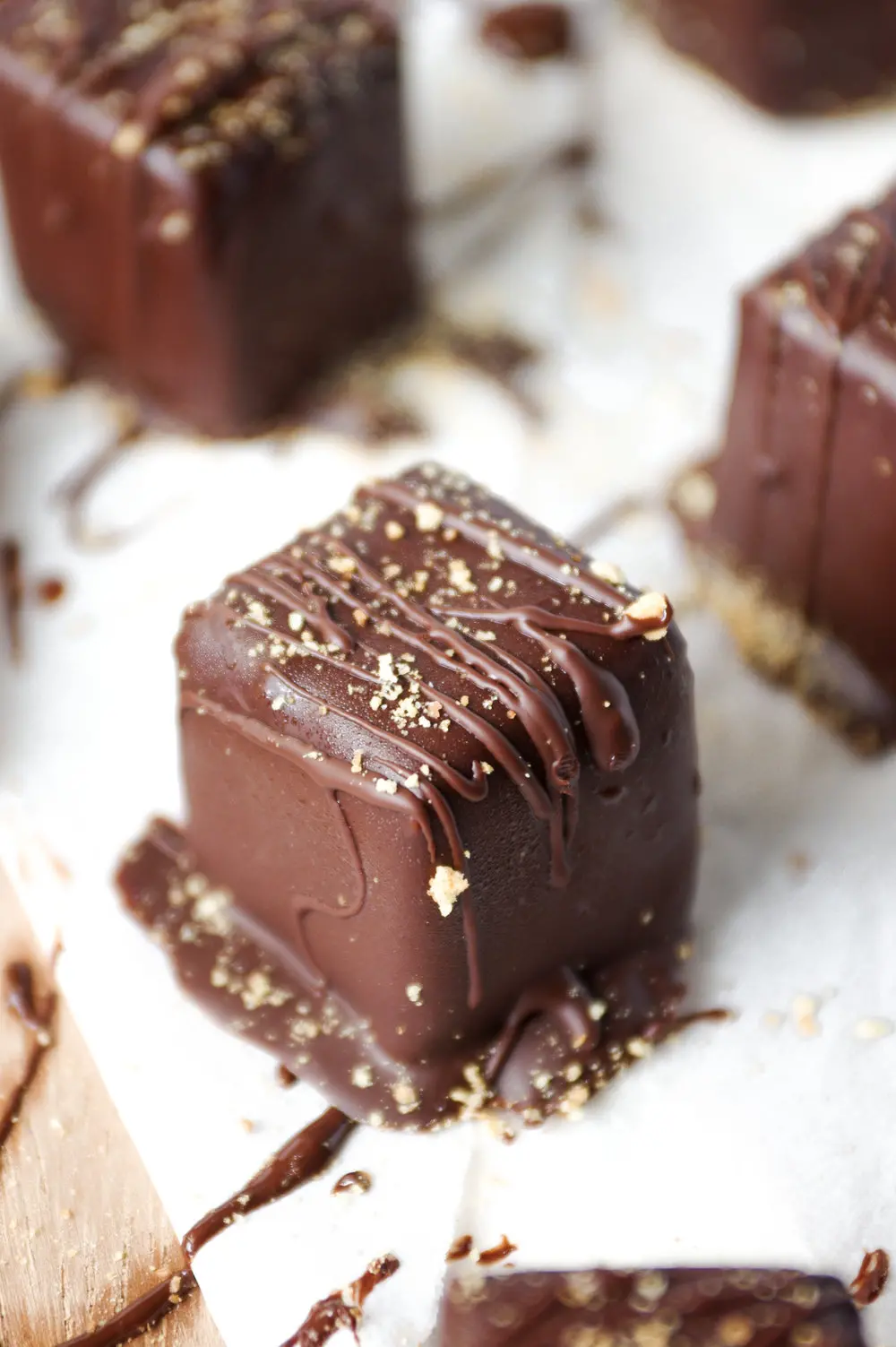 As the name suggests, chocolate-covered cheesecake bites by The Forked Spoon are pieces of cheesecake covered in a chocolate shell and lightly dusted with some graham cracker crumbs. All you do is dip the chilled cheesecake into warm chocolate and refrigerate. Easy peasy! These little nuggets are terrific to bring to holiday parties, the office, or potlucks.
Stroopwafel Milkshake
To answer the question we know you have, a Stroopwafel is a wafer cookie that is filled with vanilla and caramel. Some time ago, Mcdonald's had a Stroopwafel McFlurry, but it didn't last long. Not because it's not delicious, as you'll find out when you make this Stroopwafel milkshake by The Short Order Cook. Combine the simple ingredients of the tasty wafer, ice cream, and caramel sauce. It's a fun dessert for after-school or movie nights.
Funfetti Mug Cake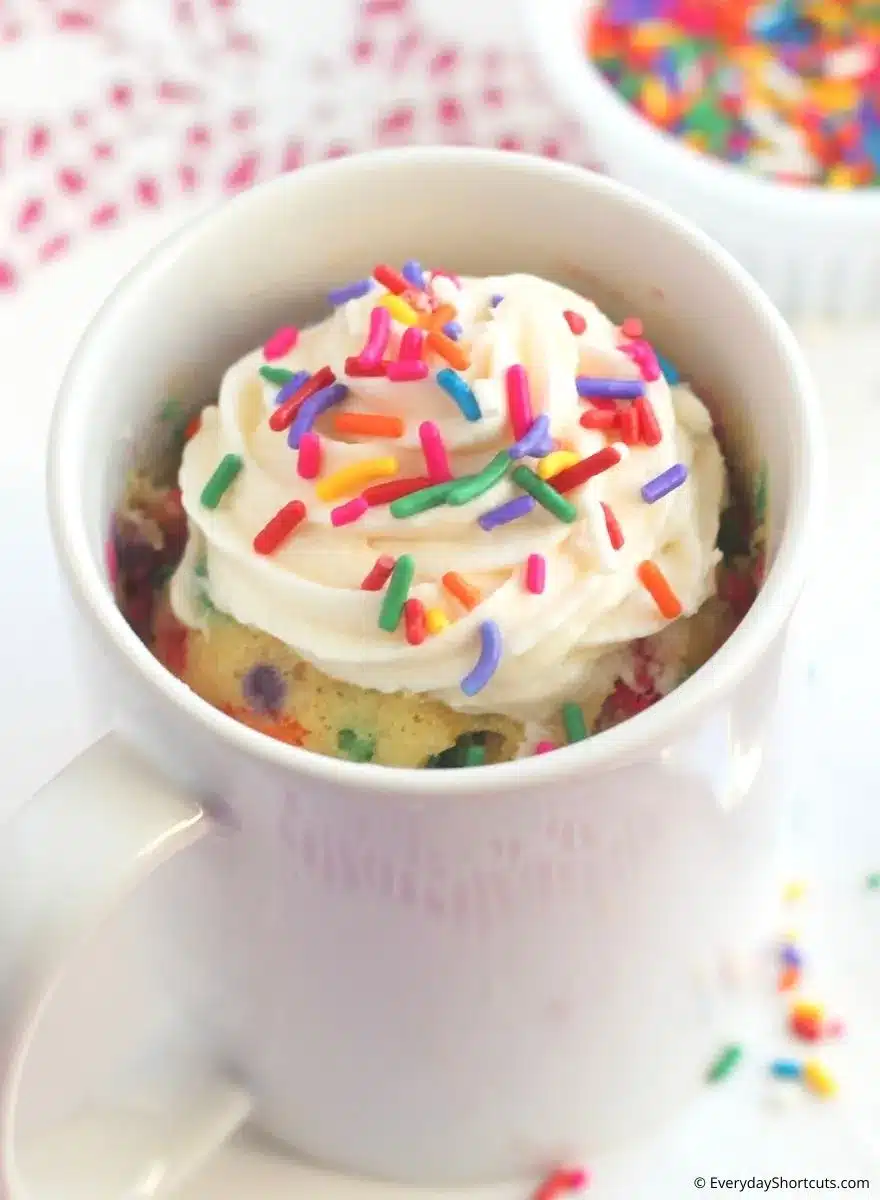 These Funfetti mug cakes would make a great alternative to a traditional kids' birthday cake. They're colorful, inexpensive, and fast. While parents could make them themselves, it could also be a fun and educational activity for the kids to do themselves.
Heavenly Instantpot Cupcakes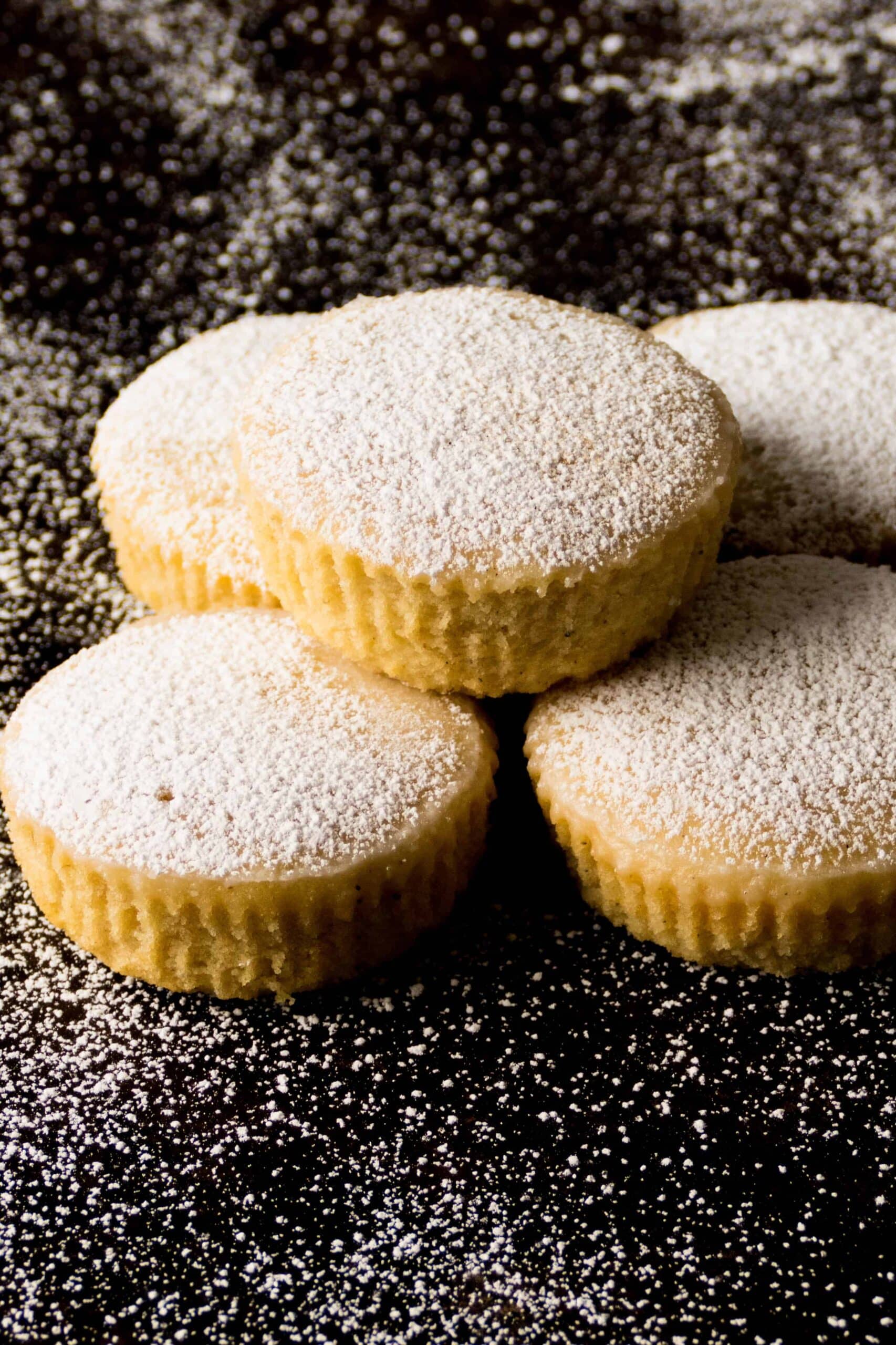 If you like pound cake, you'll definitely be a fan of these heavenly Instantpot cupcakes. The batter comes out moist and smooth, and you can add lemon, vanilla, or cardamon for extra flavor. The best part about these cupcakes is that you can add your own personal touches.
Mini Salted Caramel Apple Bites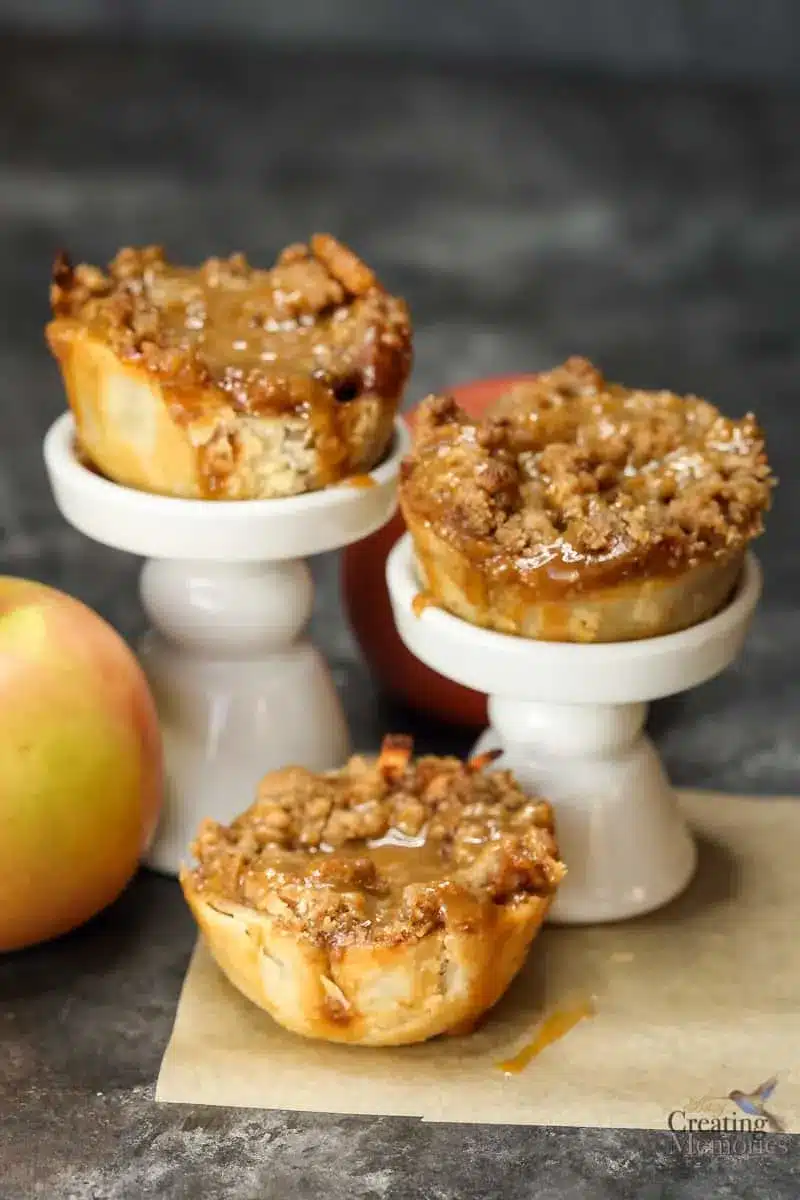 Do you love homemade apple pie but don't have the time it takes to make one? This mini salted caramel apple bites recipe is right up your alley. These bite-sized pies go great with a dollop of ice cream and are guaranteed to be the centerpiece of any holiday dessert table.
Single Serve Chocolate Chip Cookie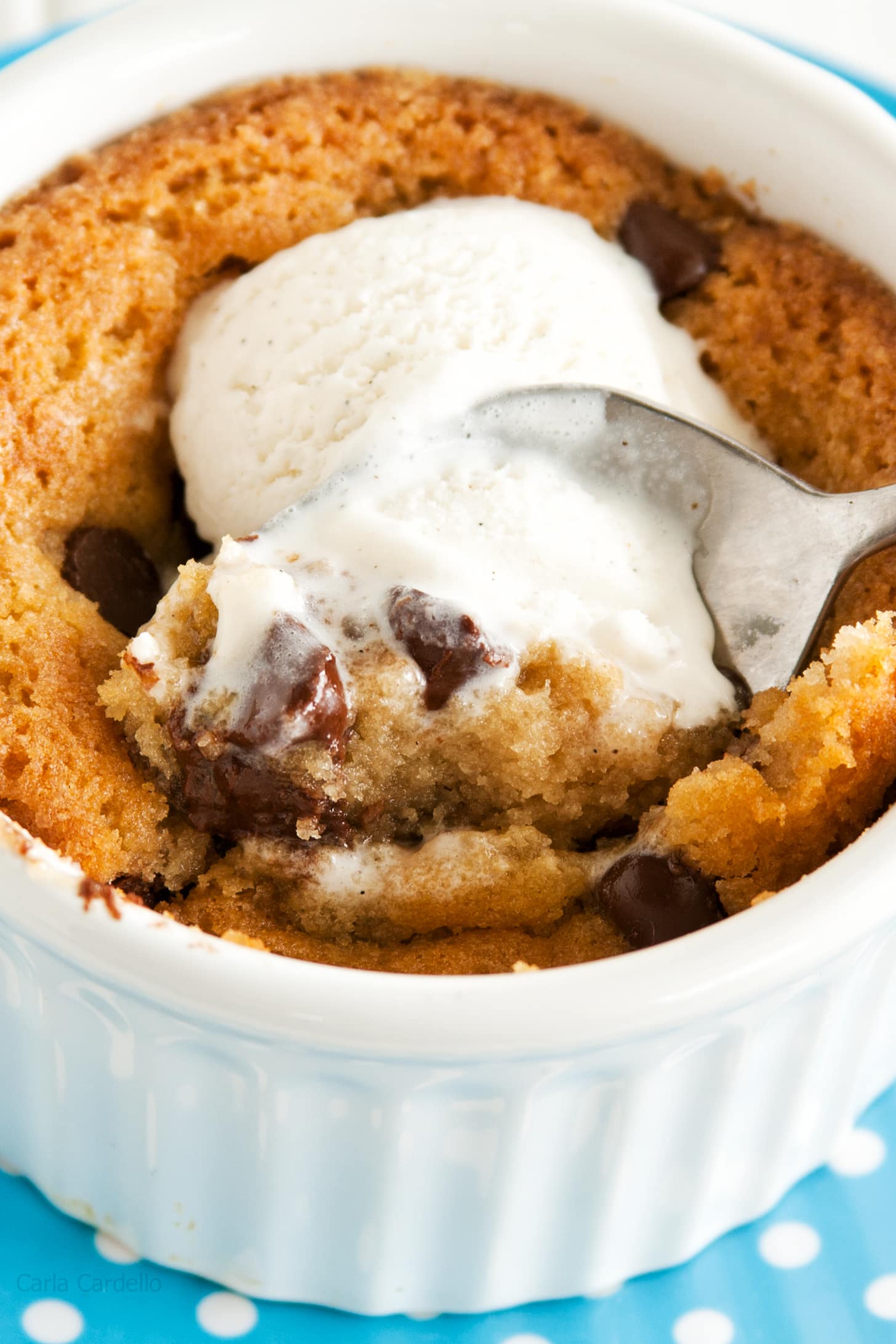 If you or someone in your family has an egg allergy, you may often feel left out of the dessert game. But not anymore with these soft and moist, no-egg single serve chocolate chip cookies by Chocolate Moosey that are baked in a ramekin (custard cup). Usually dripping with chocolate chips, feel free to add in whatever other kinds you like.
Chocolate Strawberry Tartlets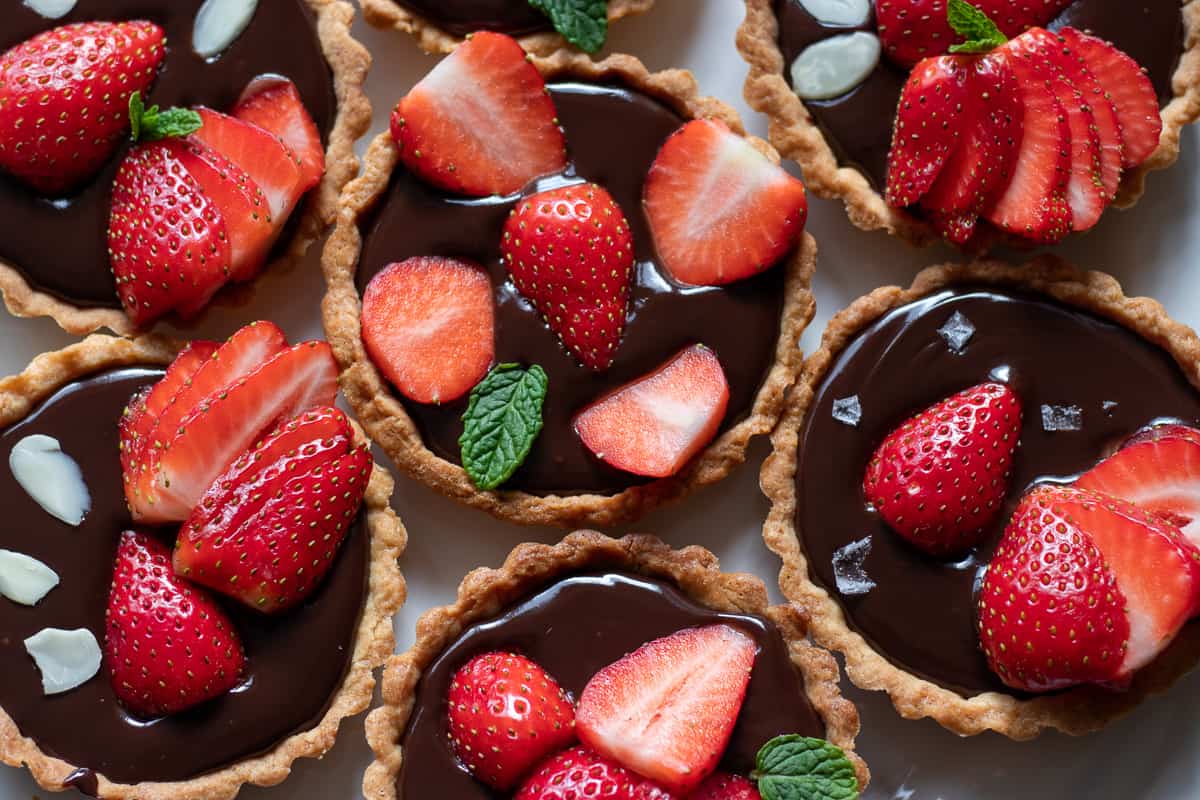 These easy-to-make chocolate strawberry tartlets are great for family gatherings and BBQs. Made with a flaky pastry shell and filled with chocolate and strawberries, it's a rich and decadent dessert. But there's really no guilt because they're so petite.
Molten Chocolate Cake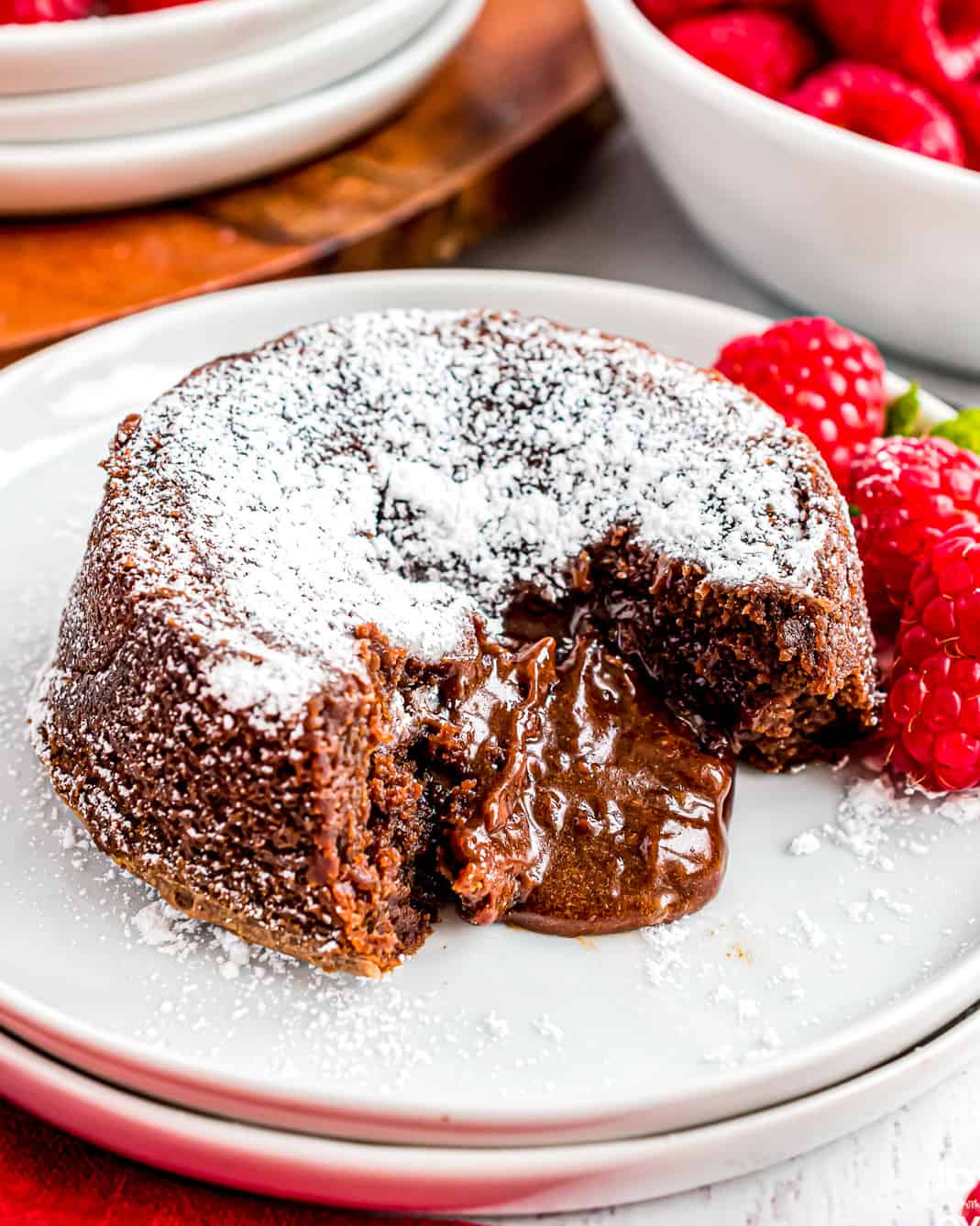 A staple of many a restaurant menu, this molten chocolate cake, with the chocolate lava sauce in the center, is just plain fun. The ingredients are simple, and it only takes 20 minutes to make.
Mini Chocolate Pecan Pie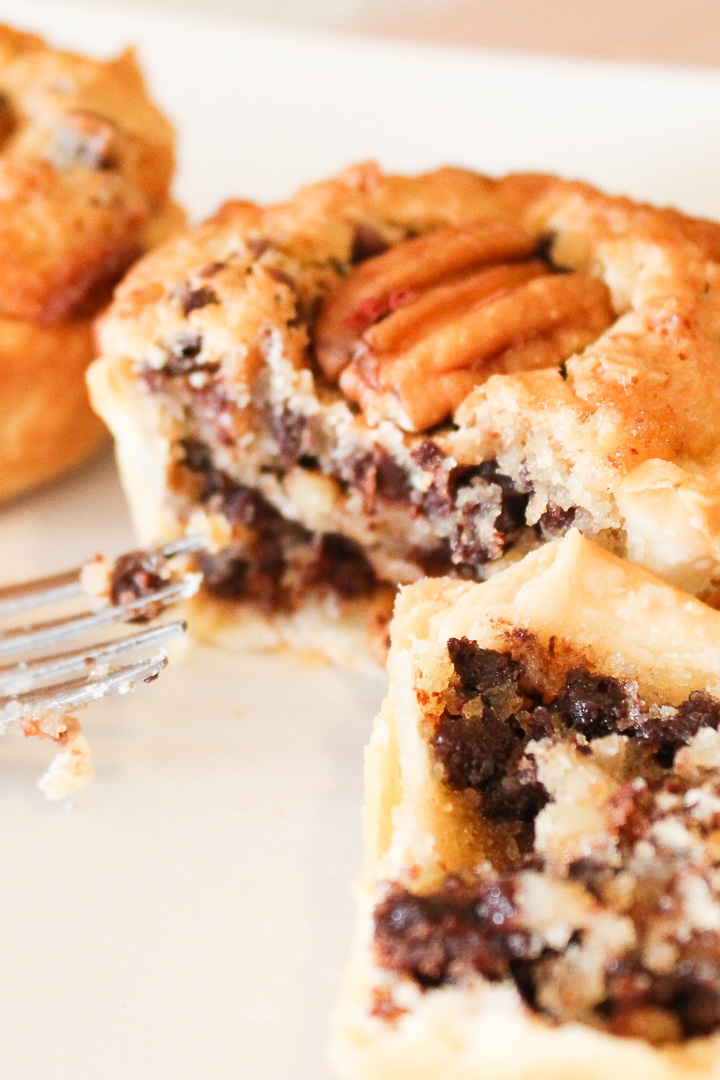 Thanks to Angie for these easy-to-prepare mini chocolate pecan pie delights. Pecan pie is a staple at many holiday gatherings. These smaller chocolate versions are sure to be a hit at the buffet table.
Triple Chocolate Cheesecake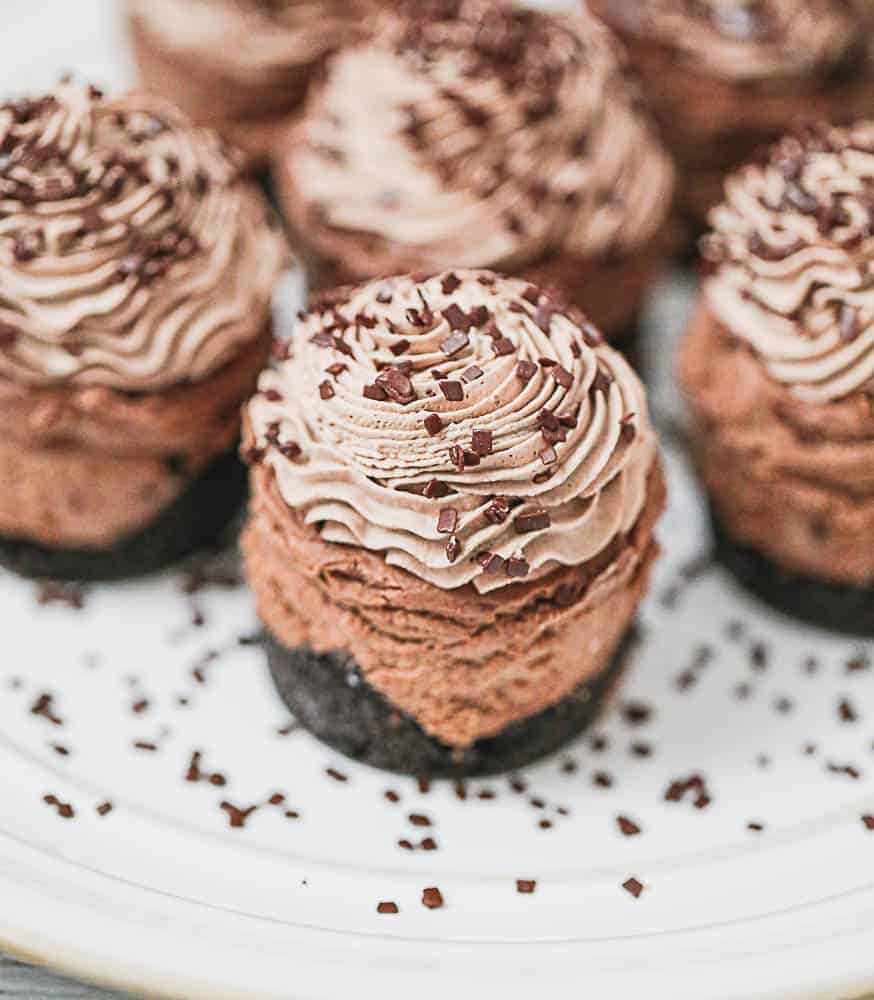 This triple chocolate cheesecake from The Baking Chocolatess is another one for chocolate lovers or anyone with a sweet tooth. The cream cheese is blended with cocoa powder and chocolate chips and is then combined with an Oreo crust. This is a great dessert for parties, holidays, or as a last-minute treat to bring when invited over to a friend's house.
Which Single Serving Dessert Recipes Will You Try First?
Wow, are there ever some delicious single-serving treats on this page? Chocolate lovers, especially, may find themselves stuck between the triple chocolate cheesecake, molten cake, and chocolate pots de creme. Want a more elegant dessert? Try the Vanilla bean creme brulee.
Looking for other mouthwatering treats? Check out these other small batch treats.