Razzle and dazzle them with one or more of these exquisite, easy Christmas cake recipes. There are over 20 to choose from, and they're all delicious!
You'll find a Ferrero Rocher cake with candy on top. There's an eggnog tres leches cake that's incredibly delicious, a winter wonderland naked cake, and so many more.
Let's dive in!
Moist Bourbon Gingerbread Bundt Cake
Move over gingerbread house. This gingerbread bundt cake shaped like a house from Pate of The G & M Kitchen is a much better alternative. You can make this festive treat using a house-shaped baking mold and a simple cake recipe that doesn't require a mixer.
It makes an excellent centerpiece for your Christmas celebrations.
But back to that recipe for a moment, the cake and glaze call for bourbon. Can you say party? But if you want to keep it PG, there's a substitution.
Visit The G & M Kitchen for the recipe.
Ferrero Rocher Cake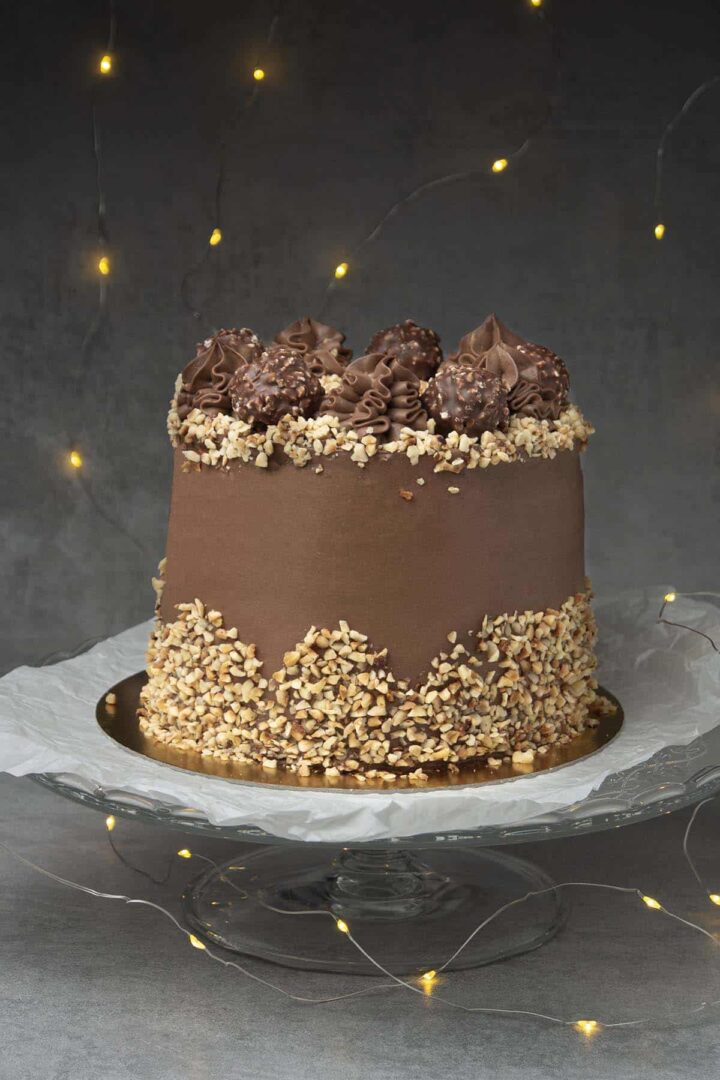 When you make this stunning Ferrero Rocher cake from Katalin of Spatula Desserts, everyone will talk about it for years to come. It starts with a super moist chocolate cake stuffed with luxurious silky smooth Nutella mousseline cream filling-we'll let Katalin expand on what makes it so unique.
The outside features more of that mousseline cream for the frosting. And finally, you coat the outside with chopped hazelnuts and Ferrero rocher candies. This beauty is a must-make!
Visit Spatula Desserts for the recipe.
Eggnog Tres Leches Cake
Tres leches cake is a popular Latin American dessert. It's a fluffy sponge cake drenched in condensed milk, evaporated milk, and heavy cream. And needless to say, it's delicious.
However, Jenn of Cook What You Love makes a tres leches-inspired confection with milk and eggnog. And for the icing, she uses heavy cream. So there are still three kinds of milk, and the cake is still delicious, only much more festive.
Visit Cook What You Love for the recipe.
Christmas Layer Cake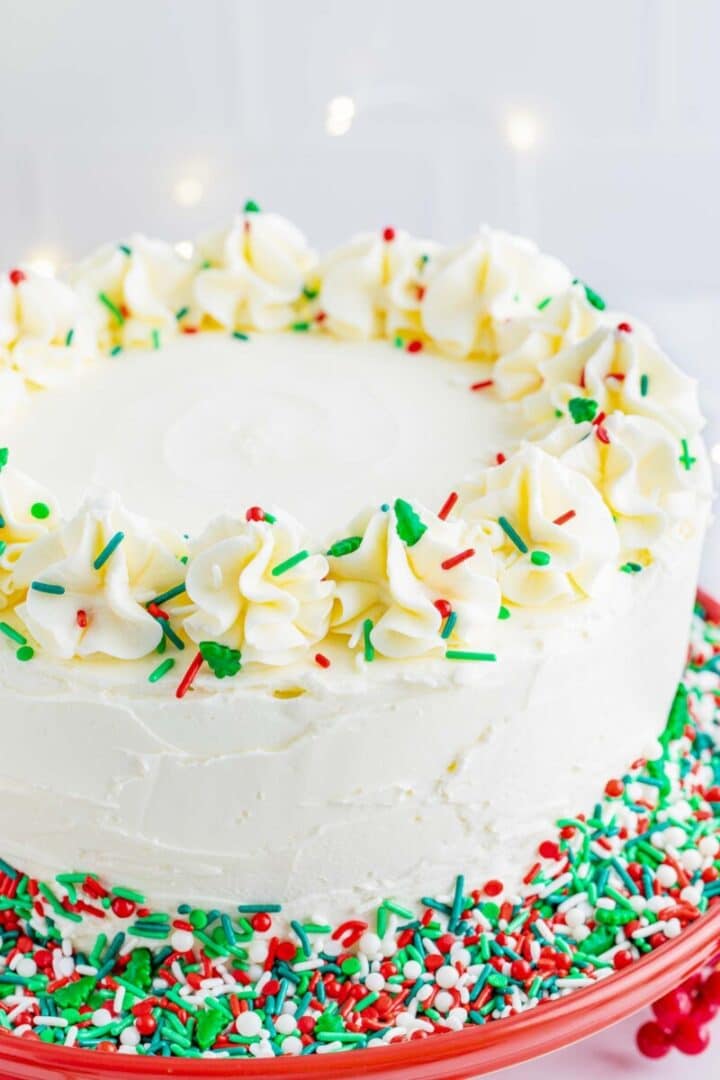 Diana has published simple, delicious, and beautiful desserts on her food blog Little Sunny Kitchen for nearly ten years. And this festive Christmas layer cake is one of her latest must-try offerings for the holidays.
You have two moist yet spongy white cakes with "funfetti" sprinkles. But that's just half of it. It's the rich vanilla buttercream frosting that ties it all together.
But best of all, Diana won't leave you hanging. She has you covered with clear pictures and instructions.
Visit Little Sunny Kitchen for the recipe.
Winter Wonderland Naked Cake
Are your eyes wide in awe of this beautiful winter wonderland naked cake from Kaylen of Butternut And Sage? Naked cakes, with so much of the exterior exposed, create a beautiful rustic look.
But what captivates us is the sugared cranberries and rosemary sprigs that resemble snow-covered evergreen trees.
The cake is rich, moist, and chocolatey, while the vanilla mascarpone frosting will have you hoping there's enough left for a second slice.
Visit Butternut And Sage for the recipe.
Gingerbread Pound Cake With Cream Cheese Frosting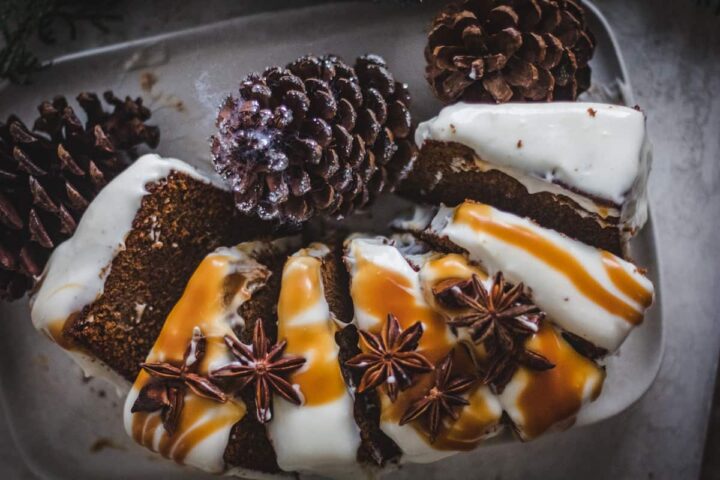 A number of ingredients like ginger, flour, and nutmeg go into this pound cake from Brittany Breaks Bread. But it's actually made of equal parts deliciousness and beauty.
Inspired by her aunt, Brittany captured a sweet, buttery recipe with smoky notes from molasses and finished with a tangy sweet cream cheese frosting. She decorates the holiday cake so beautifully that it looks like it belongs in a magazine, yet it takes just 15 minutes to prepare.
See how she does it.
Visit Brittany Breaks Bread for the recipe.
Cannoli Cream Cake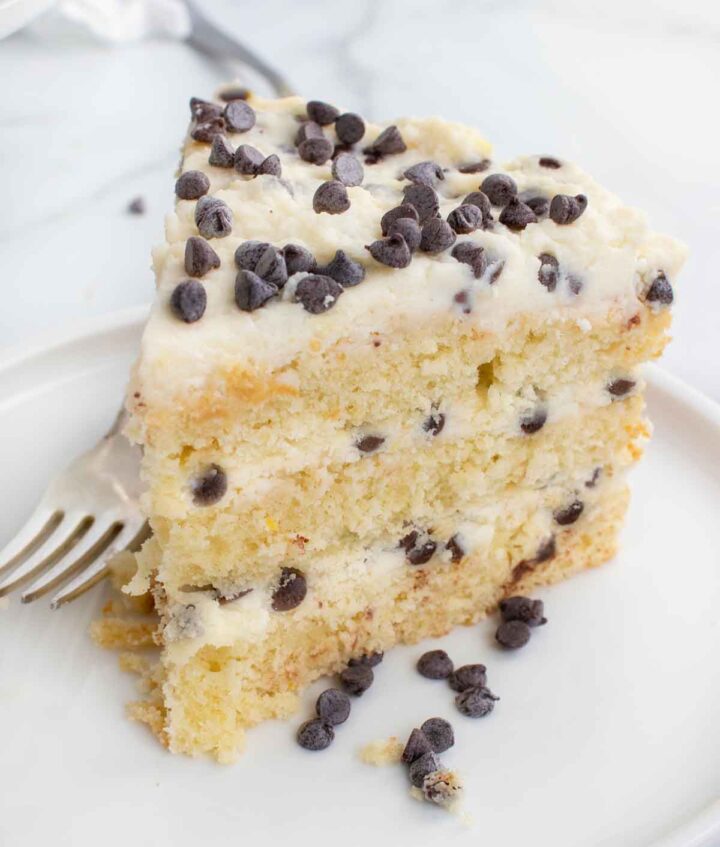 If you're looking for a cannoli cream that's just right, Ask Chef Dennis. He's tried it various ways, but for this cannoli cream cake, he goes back to the original. Of course, trends come and go, but the classics are, well, classic.
It's not hard to find a cannoli recipe, but the chef's is special. It's the little things. He provides tips such as gathering all your ingredients before starting and which type of ricotta cheese to use. That's wisdom!
Visit Ask Chef Dennis for the recipe.
Mulled Wine Cake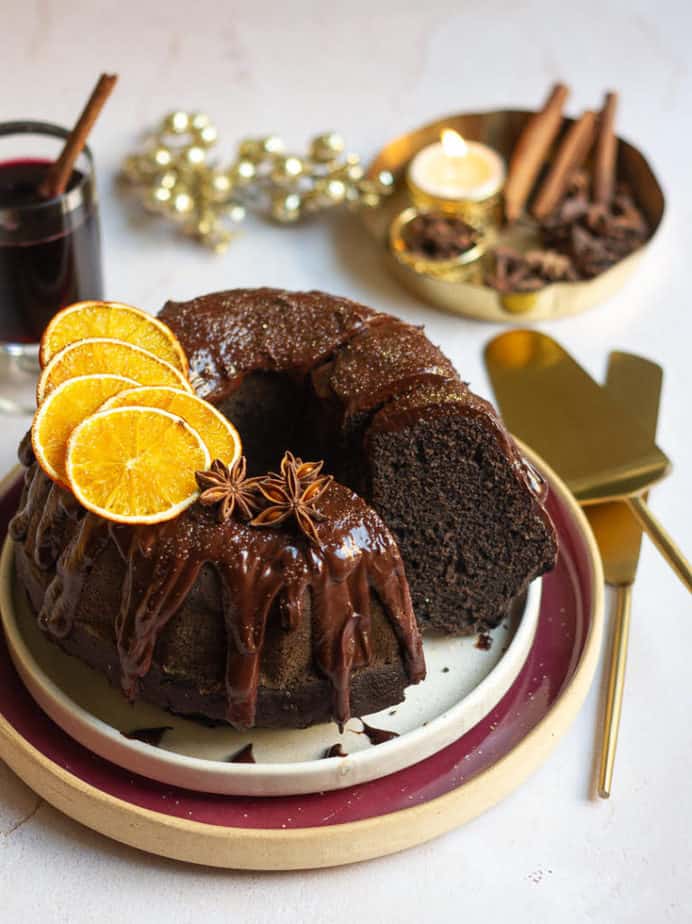 Suppose you're looking for an easy dessert recipe that tastes of Christmas. A recipe that will take you to childhood freedom and carelessness, if only for a moment. Then you have to make this mulled wine cake from Tasha's Artisan Foods.
Each bite carries with it the essence of Christmas.
The wine is spiced with cinnamon, star anise, and cloves, the most Christmas of flavors. Next, this enchanted concoction mixes with cocoa powder and other ingredients to form the base of this heavenly cake. Then, at last, coat it with velvety chocolate glaze.
Visit Tasha's Artisan Foods for the recipe.
White Chocolate Raspberry Bundt Cake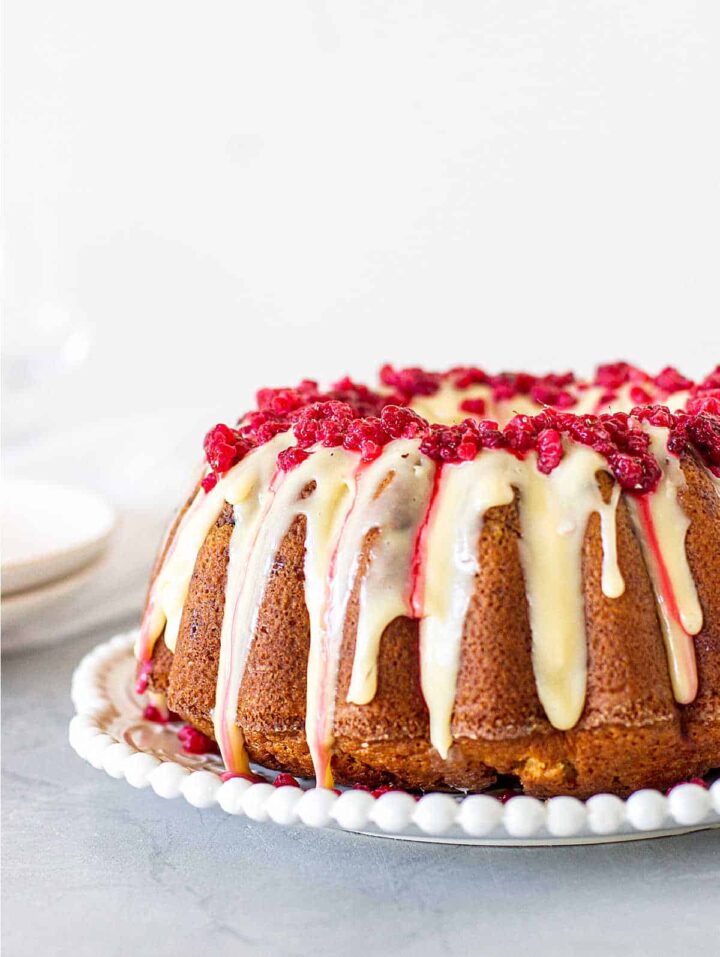 This white chocolate raspberry bundt from Paula of Vintage Kitchen is not just a mouthwatering cake recipe. There's a big lesson in there on keeping things simple.
She developed this recipe using a tried and true vanilla bundt cake recipe as the starting point and enhanced it.
The crumb is sweet, moist, and tender, yet dense, interrupted now and then by a tangy raspberry for a perfect flavor contrast. To top it off, you'll find rich, thick, white chocolate ganache.
Visit Vintage Kitchen for the recipe.
Christmas Tree Cakes
You'll be troubled to find a festive confection cuter than these super easy Christmas tree cakes from Miranda of Cookie Dough And Oven Mitt. They're made with varying shades of green with white and red frosting.
Now, you might not be able to tell but these cakes are minis, at just four inches in diameter. So they're perfect to use as delicious centerpieces or gifting.
Visit Cookie Dough And Oven Mitt for the recipe.
Sticky Toffee Pudding
If you're looking at the image and thinking, "I know what pudding is, and that's not it," don't worry. We thought the same. And before you scold us for including "pudding" on a cake list, hear us out.
Our friends across the pond (British) refer to steamed or boiled desserts as pudding. So, in times past, you would make this pudding by boiling it. Now it's most often baked.
The base of this sumptuous treat from Cooking With Wine is a date-filled spongecake—a masterpiece all its own. The sauce, however, makes it a Christmas special.
Visit Cooking With Wine for the recipe.
Semolina Date And Orange Cake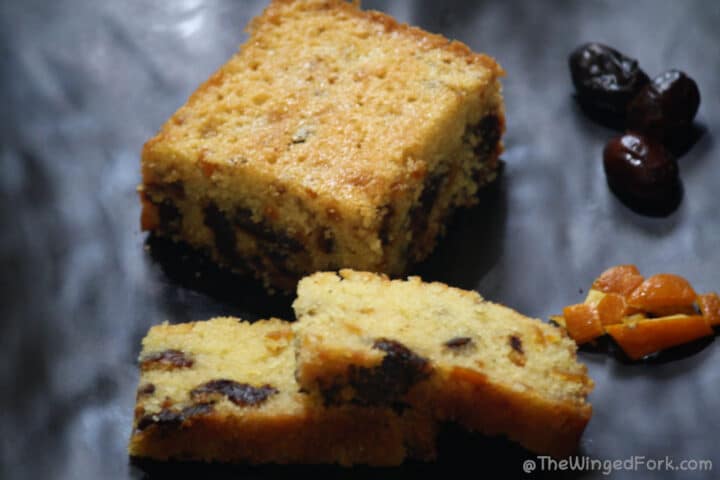 Perhaps you've heard of date and orange cake. But chances are you've never come across a cake recipe that calls for dates, fresh orange peel, and semolina flour like this holiday-appropriate cake from Abby's Plate.
Fresh orange peels boiled in simple syrup are slightly bitter, which contrasts nicely with the sweet dates. And semolina flour makes the cake very light with a moistness that lasts for days.
Visit Abby's Plate for the recipe.
Pear And Chocolate Cake
Dress up the holiday dessert table with this deliciously moist and decadent pear and chocolate cake from Sylvie of A Baking Journey. It's a fun and unexpected dessert sure to evoke questions and excitement.
The cake is scrumptious and tender, while the pears are still a bit crunchy, making for a wonderful contrast in texture and flavor. Plus, you'll love that the fruit is arranged to maintain its shape for a pretty presentation.
Visit A Baking Jorney for the recipe.
Christmas Tree Cake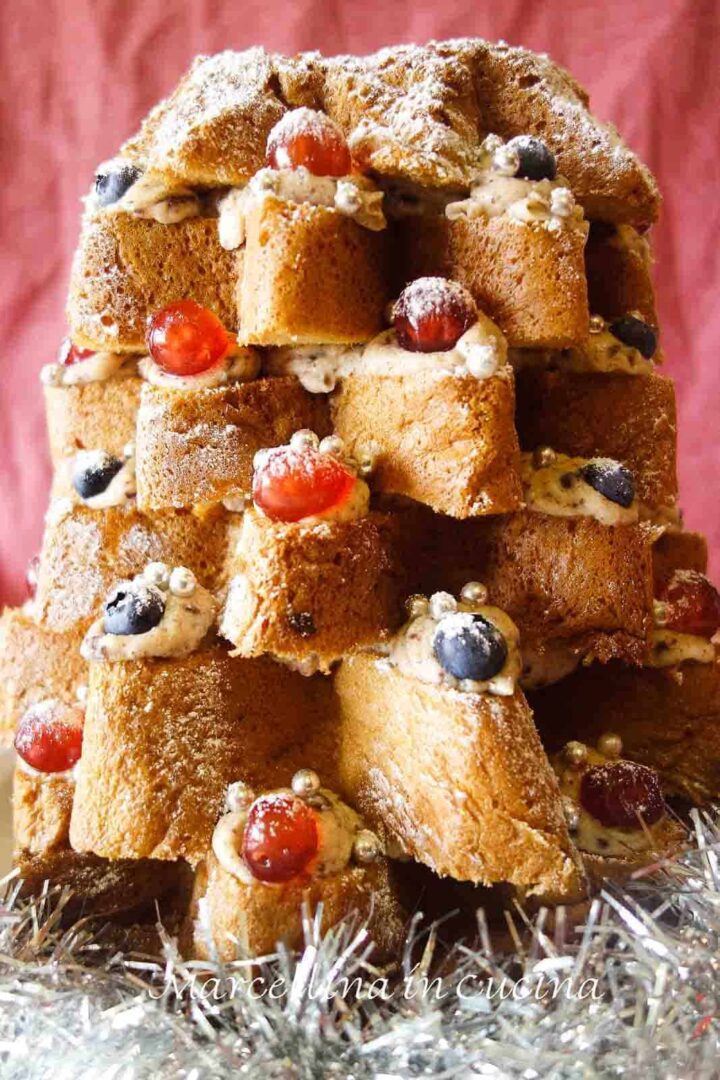 Go to Marcellina's Cucina for a no-bake Christmas tree cake that takes less than 30 minutes to make. It's a fail-proof festive, beautiful, and even last-minute sweet appropriate. That means one less thing to stress over.
You use sliced pandoro, a sweet Italian bread common around Christmas, and layer it with ricotta and mascarpone filling. Finally, decorate it with candied cherries and blueberries. Who won't love it?
Visit Marcellina's Cucina for the recipe.
Mary Berry's Coffee And Walnut Traybake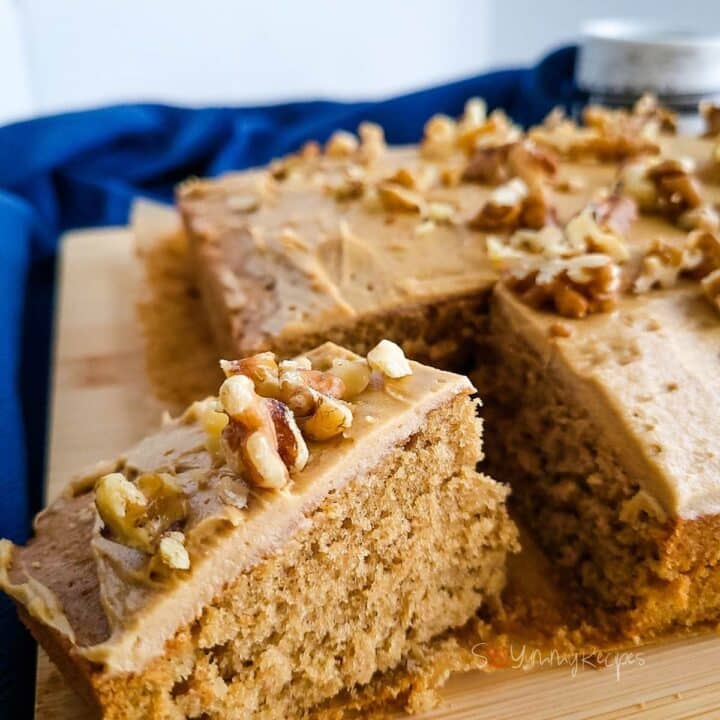 Start Christmas morning with this easy lush coffee and walnut cake from Devy of So Yummy Recipes which is actually a Mary Berry creation. Mary Berry is a UK baker, chef, and food writer extraordinaire renowned for her consistent, fail-proof recipes.
Now, most coffee cakes are fairly similar, but this one calls for caster sugar, self-rising flour, and baking spread. And the measurements are in grams which is a big part of why the recipe is so dependable.
Visit So Yummy Recipes for the recipe.
Scottish Snow Cake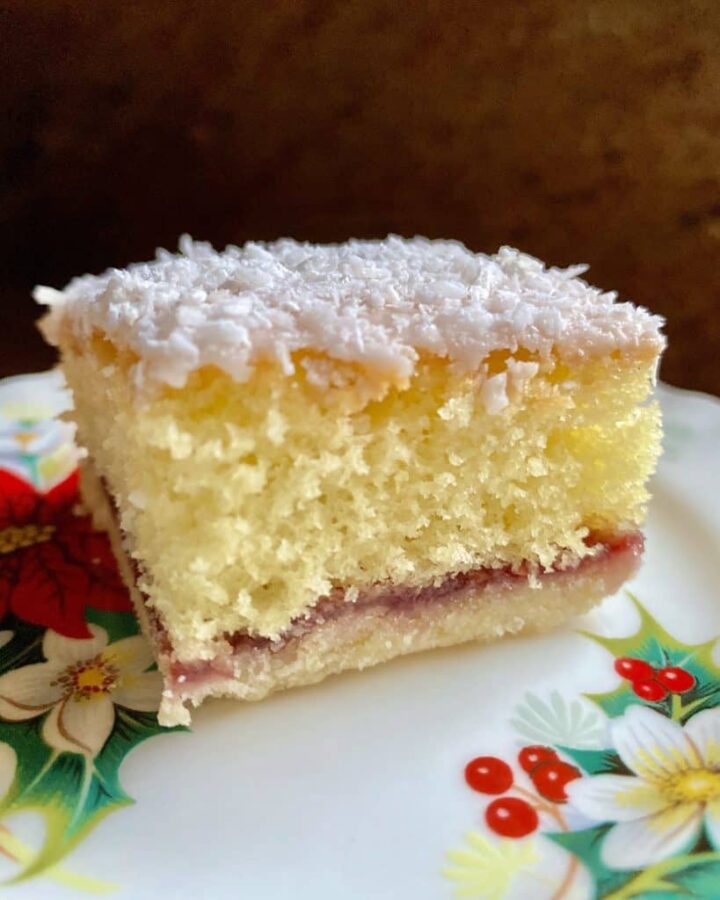 When we make a roundup and come across a recipe from Christina's Cucina, we're always delighted. With her Scottish and Italian roots, she always posts creations with her unique touch.
This Scottish snow cake is nothing if not enticing. It's a multiple-layer dessert with a short-crust pastry, raspberry jam, and sponge cake. Finally, spread the icing and sprinkle on the shredded coconut. Merry Christmas!
Visit Christina's Cucina for the recipe.
Cranberry Orange Brown Sugar Cake
This Martha Stewart adopted cranberry orange brown sugar cake from Dianna and Alyssa of In Fine Taste is a fluffy, moist, diet-ruining creation perfect for the Christmas dessert table.
The brown sugar cake is incredibly fluffy, actually. There's a lusciously sweet orange cream cheese frosting topped with cranberry compote. Oh, my goodness.
But what makes the cake so fluffy?
Well, because this recipe calls for both greek yogurt and baking soda, there's a reaction similar to when you combine vinegar and baking soda that causes the cake to become light and airy.
Visit In Fine Taste for the recipe.
Strawberry Flan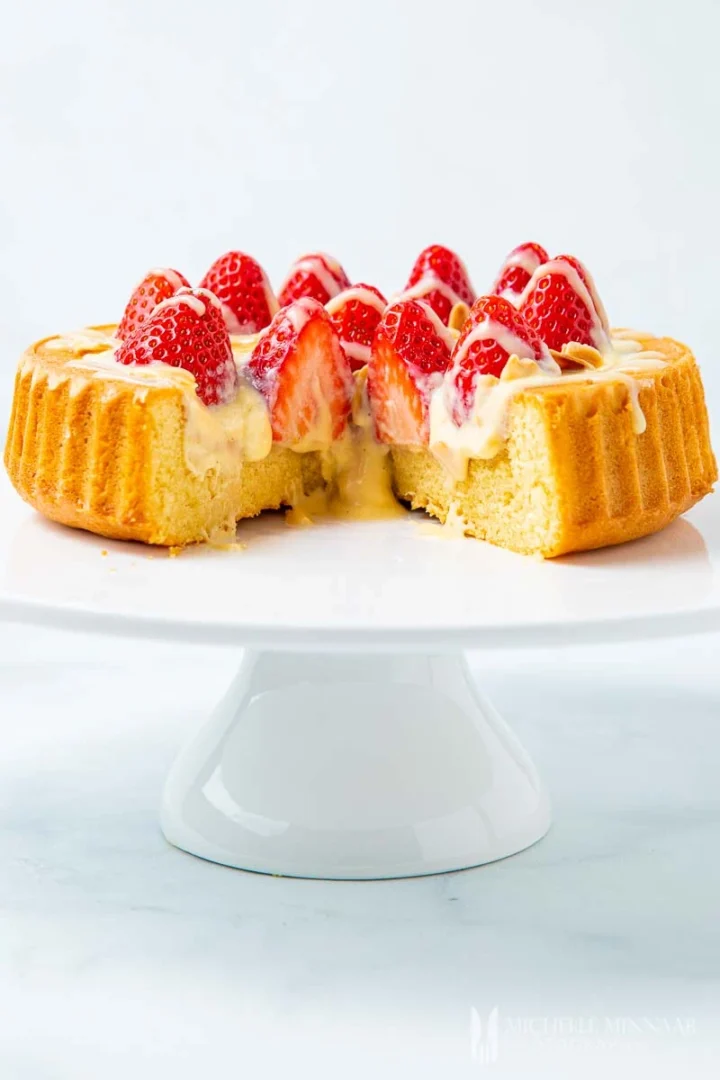 Easy, delicious, and different, this strawberry flan from Michelle of Greedy Gourmet makes a good Christmas cake option.
And in case you're wondering if this flan can be considered a cake, know that the base is sponge cake. The filling is custard. Then you top it with fresh berries and perhaps curd.
We know there are better times for strawberries than the winter months. So you can substitute them for in-season fruit like kiwi or pomegranate.
Visit Greedy Gourmet for the recipe.
Sour Cream Chocolate Cake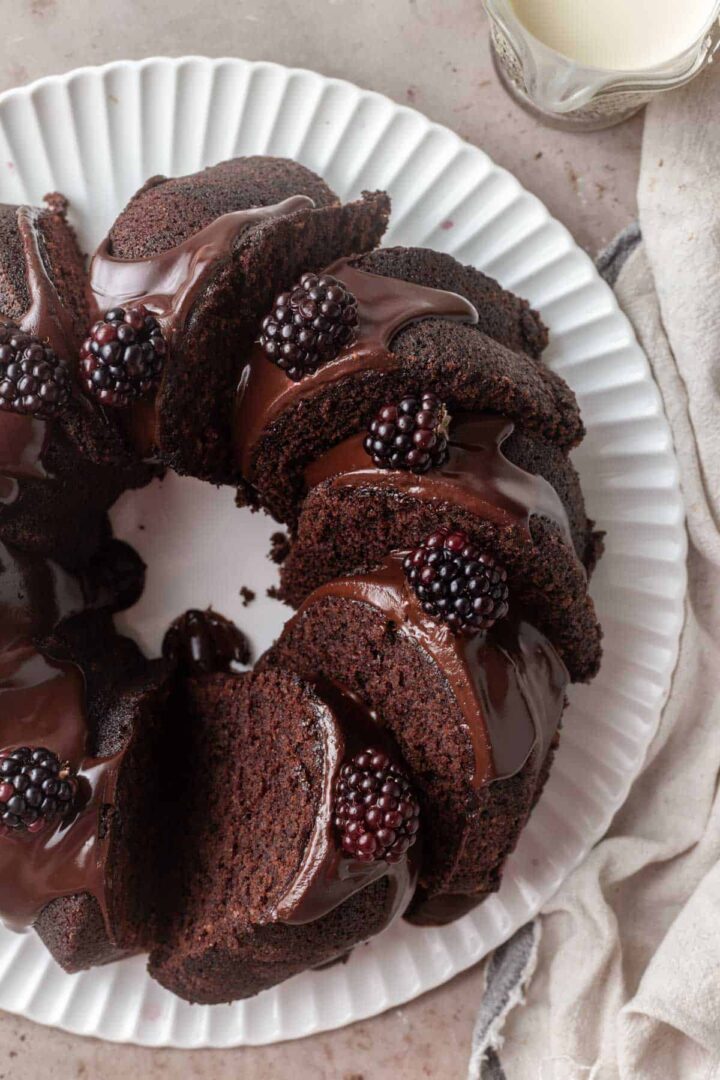 When Emma Duckworth Bakes up creations like this moist sour cream chocolate cake with rich and silky chocolate ganache, we know our diet is in trouble. It's a classic snacking cake that anyone can understand; simple and delicious.
You don't have to wonder what makes the cake so moist. The secret is in the title. Plus, you'll love that most of the ingredients are likely in your pantry or fridge.
As is, the cake is chocolate bliss, but with fresh blackberries and other adornments, it becomes spectacular.
Visit Emma Duckworth for the recipe.
Small Christmas Cake
Dried fruits and nuts are dispersed throughout this mini Christmas cake from Ella's Better Bakes. It's the one Ella crowns as best after many years of baking holiday goodies.
But what makes it so special?
Well, one reason is each bite offers a variety of flavors and textures between the soft and moist cake, almonds, walnuts, cherries, prunes, currants, and apricots. And its small family-friendly size means you're less likely to overindulge (maybe).
Visit Ella's Better Bakes for the recipe.
Vegan Coconut Cake
A cake by any other name would taste just as sweet, and this coconut cake from Melissa Huggins of Vegan Huggs is plenty sweet, with tender and moist crumb bursting with coconut flavor in every bite.
Oh, and it's vegan.
Start this recipe, and you'll end up with two buttery cakes surrounded by rich and luxurious coconut buttercream frosting shrouded in shredded coconut. But to get to the finish line, you'll need to follow the tips like using room temperature ingredients and measuring accurately.
Visit Vegan Huggs for the recipe.
Which Easy Christmas Cake Recipe Will You Try First?
Is it the sour cream chocolate cake, the Scottish snow cake or something else? Let us now.
Also, check out our red velvet waffle whoopie pies for a Christmas dessert that's quick to make.