This bright and yummy list of 20 easy lemon dessert recipes is sure to impress. You'll find so many fantastic warm-weather dessert options that you'll have to keep coming back to it to try a different one. It's that good!
Don't believe me?
You'll find a refreshing lemon-ginger sorbet, lemon ricotta cookies, lemon poke cake, and so many more! So, are you ready to discover some citrusy deliciousness?
Let's jump in!
Do you want more warm-weather desserts? See these frozen dessert treats or these easy ice cream maker recipes.
Lemon Bars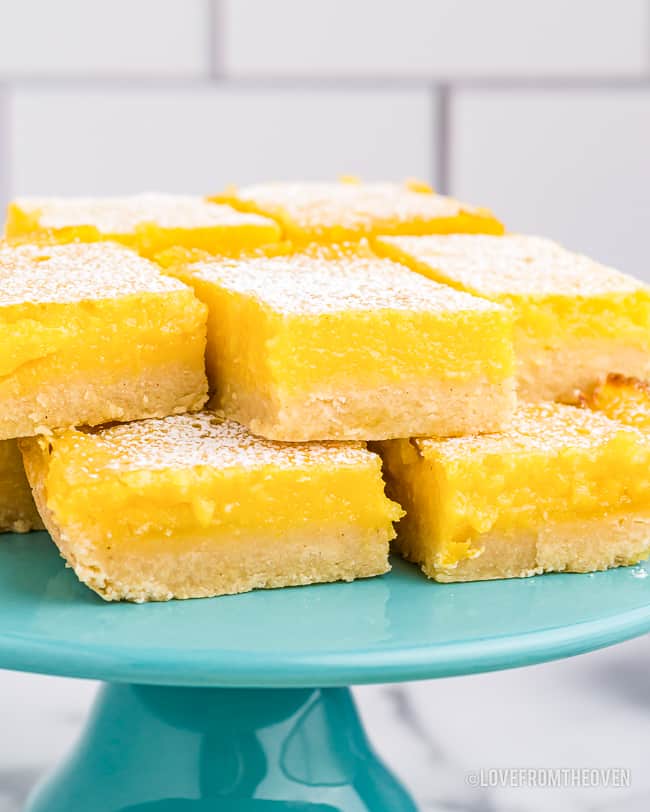 Christi of Love From The Oven says her lemon bars are "about as close as it gets to baking sunshine into a dessert." The base is thick and buttery, while the filling is bright, soft, and eye-catching. Finally, a dusting of powdered sugar makes them pastry shop worthy.
Visit Love From The Oven for the recipe.
Lemon Ginger Sorbet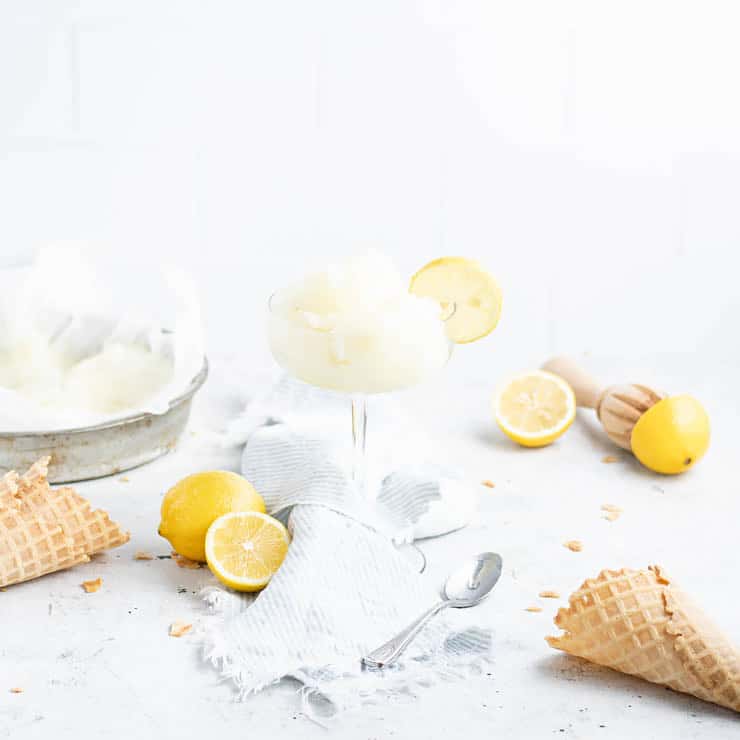 No ice cream machine is necessary for this lemon ginger sorbet from Claire of The Simple, Sweet Life. Instead, it's a summertime treat as refreshing as a glass of lemonade on a hot summer day. The texture is smooth and creamy, consisting of just five ingredients.
Visit The Simple, Sweet Life for the recipe.
Mini Lemon Pies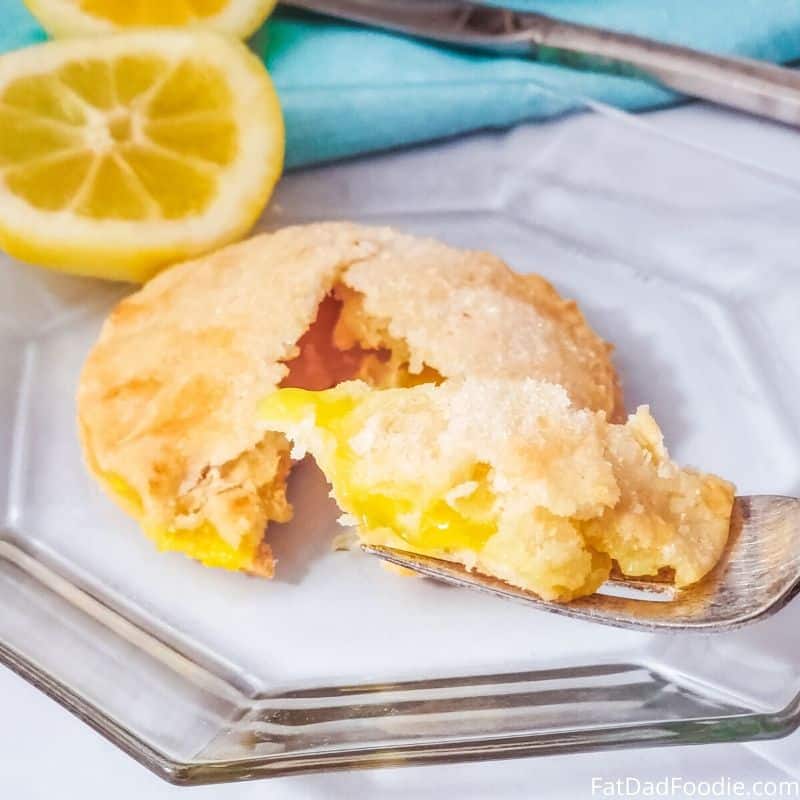 You won't want to share a mini lemon hand pie from Lenny of Fat Dad Foodie with anyone. They're too good, cute, and too small to give away even a tiny piece. The flaky, buttery pastry enshrouds a lovely bright lemon curd filling that's good until the very last bite.
Visit Fat Dad Foodie for the recipe.
Slow Cooker Lemon Sponge Cake
Leave it to Sarah of The Magical Slow Cooker to bring you an easy and irresistible dessert made right in your slow cooker. What begins as an ordinary cake mix is enhanced with loads of lemony flavor from lemon juice and zest. Once it's done, add the glaze and serve with vanilla ice cream.
Visit The Magical Slow Cooker for the recipe.
Lemon Blueberry Cookies
Packed with sweet and tart flavors, these Starbucks-inspired cookies from Samantha of Everyday Family Cooking are sure to get attention. They're soft and chewy with crispy edges and the distinct flavor of lemon and blueberries. Additionally, they take just ten minutes to prepare and 15 minutes to bake.
Visit Everyday Family Cooking for the recipe.
Lemon Sugar Cookie Pie
You'll want at least two servings of this lemon sugar cookie pie from Karen of When Is Dinner. The base is a dense sugar cookie which is novel. But the real prize is the silky, creamy, and zesty lemon pie filling. And to finish it off, you have a delectable cream cheese whipped topping.
Visit When Is Dinner for the recipe.
Greek Yogurt Lemon Quick Bread
For another Starbucks-inspired treat, you have this Greek yogurt lemon quick bread from A Paige Of Positivity. Whether you enjoy it with your coffee, as a dessert, or snack, you will adore it! And because it's a quick bread, i.e., cake, there is no yeast, kneading, or resting.
Visit A Paige Of Positiving for the recipe.
Lemon Blackberry Cake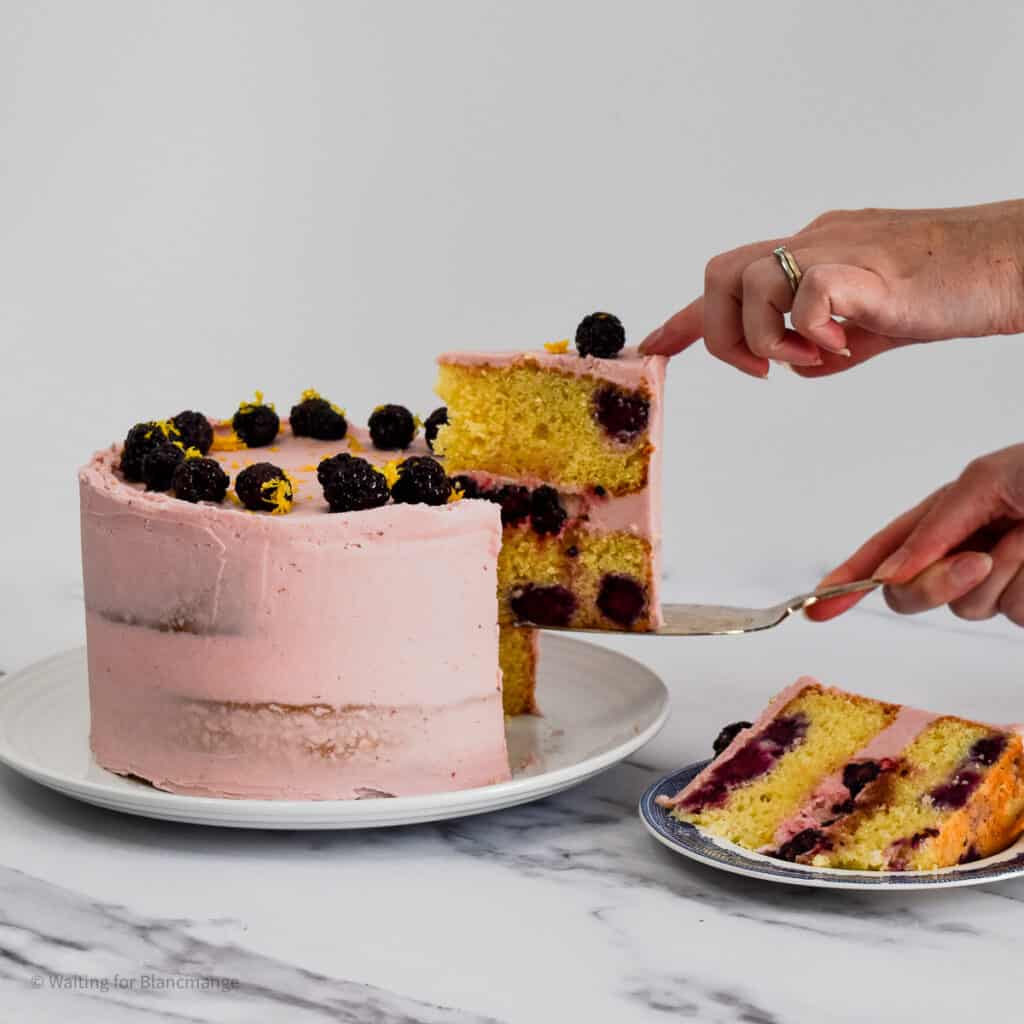 This lemon blackberry cake from Liz of Waiting For Blancmange is a gorgeous work of culinary art. But it's not just beautiful. It's also well-tested and delicious, thanks to Liz's 20 years of baking experience. So head on over to her site, where you'll find a delightful treat with easy-to-follow instructions.
Visit Waiting For Blancmange for the recipe.
Vegan Lemon Thumbprint Cookies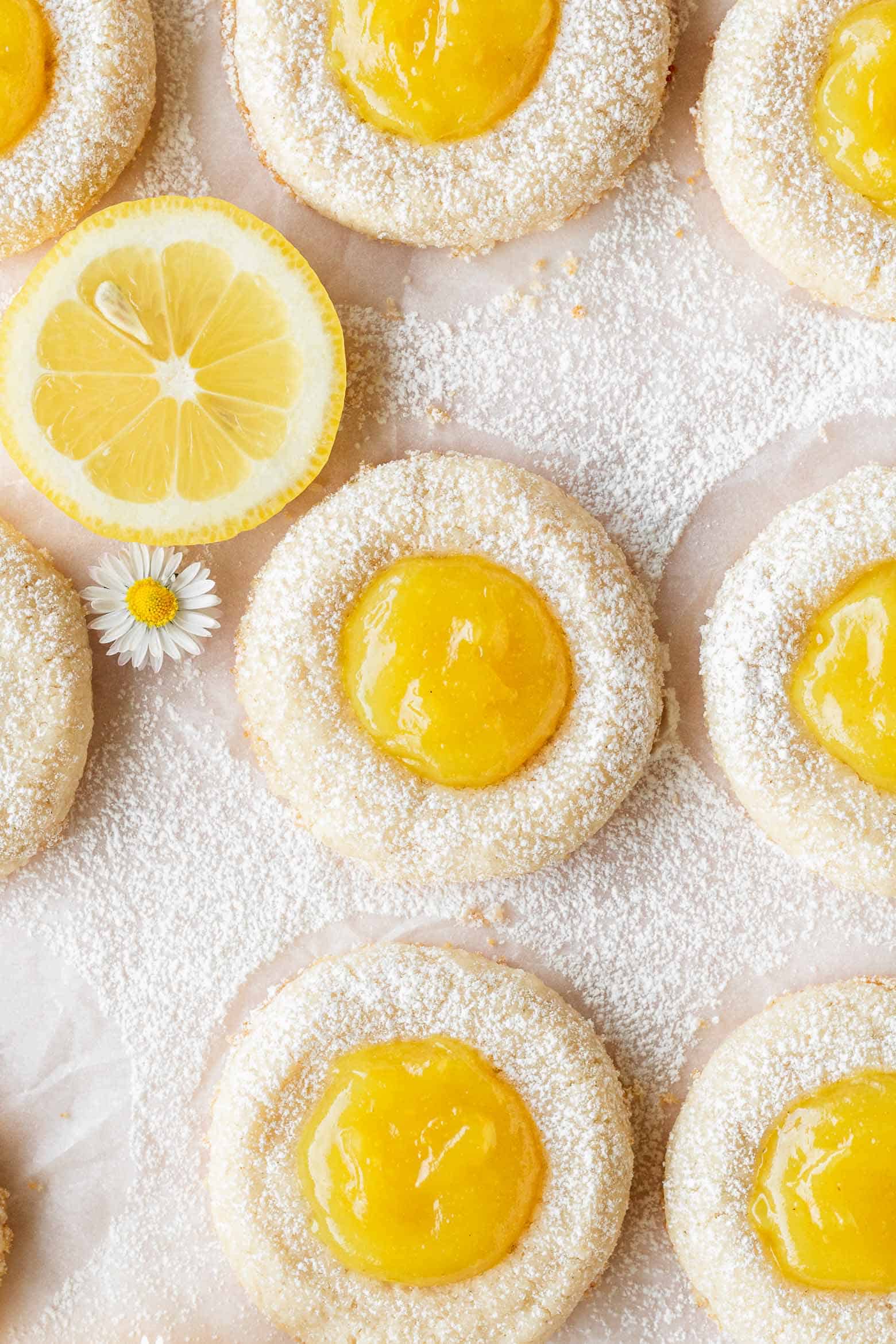 At a glance, you would never guess that these lemon thumbprint cookies from Ai Made It For You were vegan. And once you taste them, you won't care. It's a cookie with lemon curd filling. They're effortless to make with specialty yet accessible ingredients.
Visit Ai Made It For You for the recipe.
Lemon Gelato
Aside from the bright flavor, there are a few more reasons to love this delightful lemon gelato from Ask Chef Dennis. First, it's an easy ice cream maker recipe. Second, you don't have to worry about tempering eggs which can be a patience-testing endeavor. Lastly, it's a dessert the whole family will enjoy!
Visit Ask Chef Dennis for the recipe.
Lemon Ricotta Cookies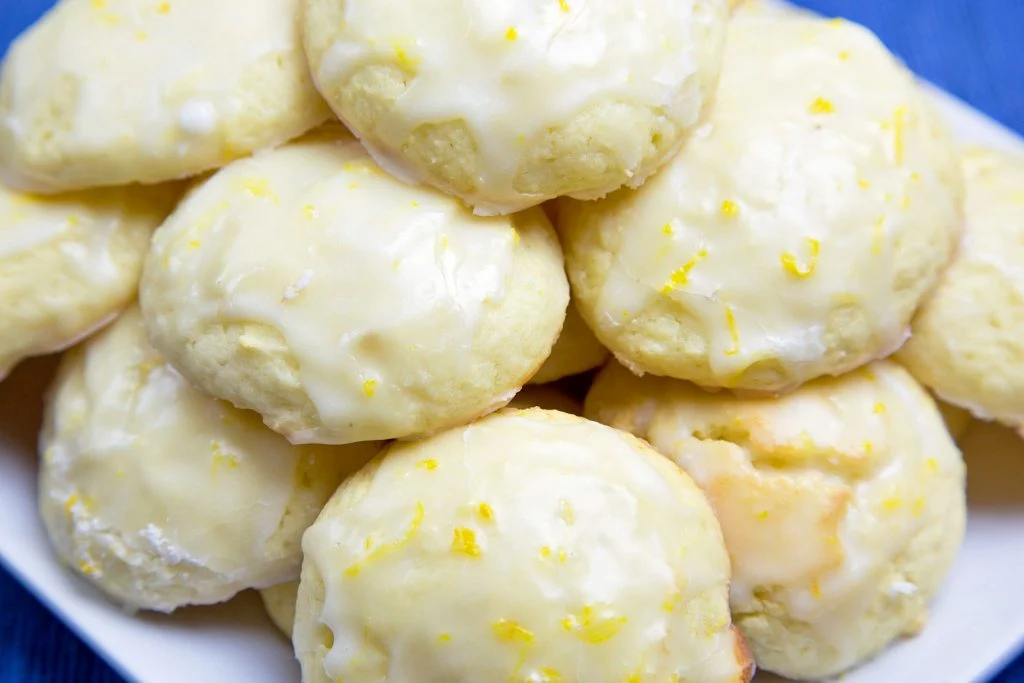 These lemon ricotta cookies are another trusted, easy lemon dessert recipe from Ask Chef Dennis. The buttery, melt-in-your-mouth treats are zippy and brilliant with both lemon juice and zest. And if that isn't enough, you top them with a simple three-ingredient lemon glaze.
Visit Ask Chef Dennis for the recipe.
Lemon Poke Cake
It's hard not to smile when you have a piece of this lemon poke cake from Cara of Midwestern Home Life. It has layers of tender, moist white cake, lemon Jello, lemon pudding, and cool whip for an old-school treat your taste buds will thank you for.
Visit Midwestern Home Life for the recipe.
Creamy Lemon Pie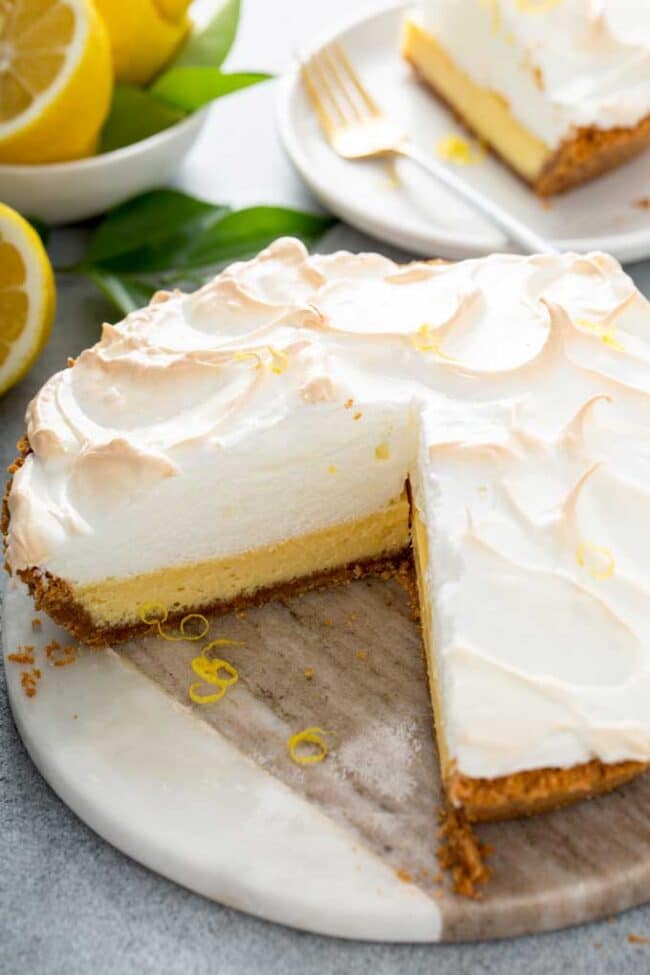 This creamy lemon pie from Chef Kathy of Lemon Blossoms will send you down memory lane. You'll reflect on the good ole days when life was too simple to worry about anything, like counting calories. The crust is a buttery graham cracker base with a silky smooth and creamy filling and clouds of meringue, lightly toasted, of course.
Visit Lemon Blossoms for the recipe.
Pineapple Lemon Dessert
If easy desserts are your thing, you can't overlook this three-ingredient pineapple lemon dessert from Dawn of Cutefetti. With crushed pineapple, lemon pudding, and whipped topping, it's the summer sweet you'll keep on repeat.
Visit Cutefetti for the recipe.
Easy Lemon Cream Cheese Tarts
For these lemon mini cheesecakes from Kaylen of Flavorful Eats, delicious, portioned, and easy, combine into one memorable confection. You can find the mini pie crust at any grocery store. And the filling is a simple mix including cream cheese, lemon juice and zest, and powdered sugar.
Visit Flavorful Eats for the recipe.
Lemon Meringue Cake
While the artful arrangement might lead you to believe this lemon meringue cake from Helene of Baking Capture is difficult. It's actually a lot easier than it looks. The "remix" dessert consists of simple components; a sweet lemony cake, tangy lemon curd, and lightly toasted, fluffy meringue.
Visit Baking Capture for the recipe.
Lemon Panna Cotta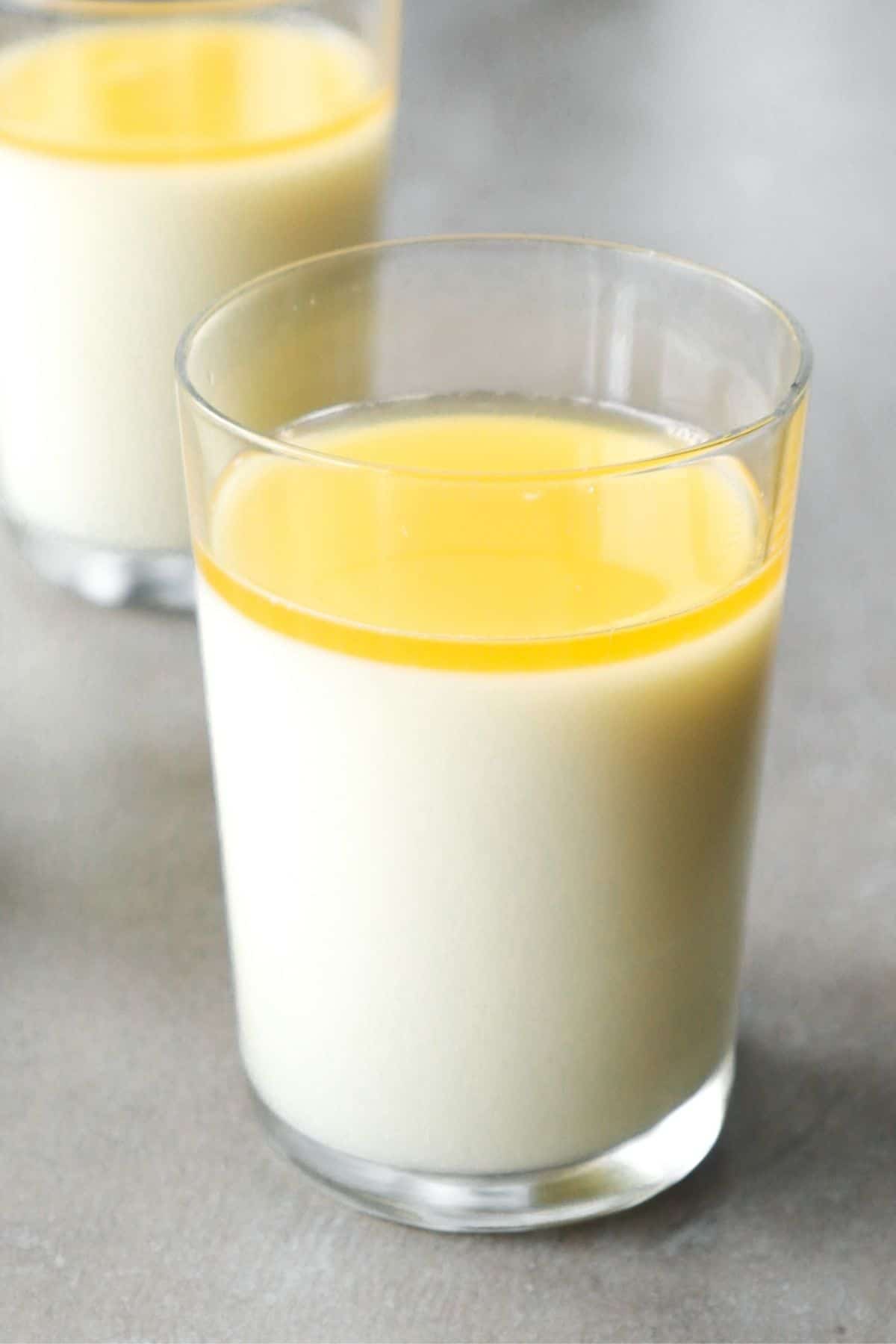 You can prep this sunny day lemon panna cotta from Maayke of Nutmeg & Vinegar well in advance. It's a simple dessert with accessible ingredients, including yogurt, whipped cream, and gelatin. And what's that on top? A two-ingredient honey lemon sauce.
Visit Nutmeg & Vinegar for the recipe.
Lemon Crinkle Cookies
On the inside, these lemon crinkle cookies from Rich And Delish are chewy and soft, and bursting with lemony goodness. While on the outside, they're crispy and coated in both granulated and powdered sugar. But best of all, they take just 10 minutes to make and 15 minutes to bake.
Visit Rich And Delish for the recipe.
Lemon Stuffed Braided Bread
A sweet treat you will make for years to come is this braided lemon bread from Renae of The Feathered Nester. Each slice of the beautiful pastry is subtly tart, sweet, and creamy. And because it calls for frozen dough, prepared lemon curd, and cream cheese, it's far easier than it appears.
Visit The Feathered Nester for the recipe.
Limoncello Tiramisu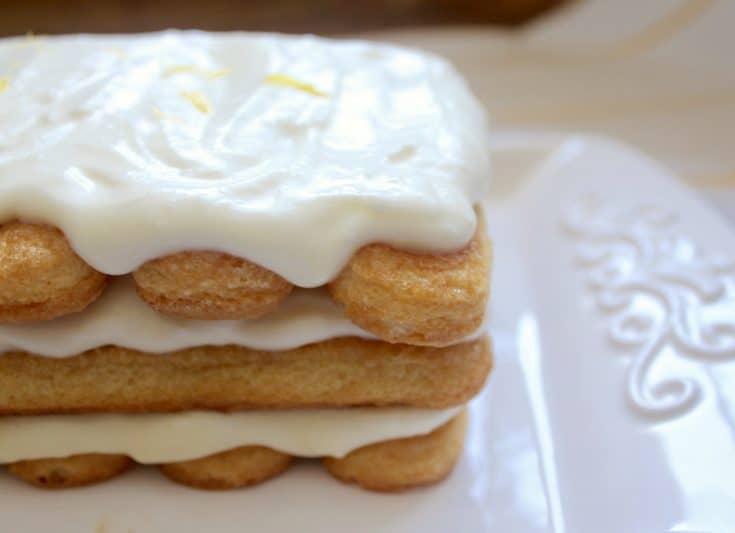 For a lemony twist on the "pick me up" dessert, Christina presents this limoncello tiramisu. It features alternating layers of limoncello spiked lady fingers and cream mixture. And although it's incredibly easy to make, the romantic-sounding treat carries prestige to impress summer dinner guests.
Visit Christina's Cucina for the recipe.
Which Easy Lemon Dessert Recipe Will You Try First?
So, by now, you've seen lots of easy lemon dessert recipes like limoncello tiramisu, lemon crinkle cookies, and mini lemon hand pies. Which will you choose first? Let us know!