Welcome! Today we're going to share with you an amazing list of 21 Easy Italian Dessert Recipes! Seriously, we scoured the internet to find delicious Italian treats you and the whole family will love.
You'll discover festive Italian rainbow cookies and a delightfully decadent Ameretti semifreddo. Oh, and you'll fall in love with the Italian cream horns. Mmmmm! We're excited for you!
Let's jump in!
By the way, don't forget to see these other delicious desserts.
21 Easy Italian Dessert Recipes
Below, you will discover some of the most amazing Italian desserts you can make at home. Naturally, we searched for a bit unique and easy desserts. And we were pleased to discover these recipes and are looking forward to trying some (many, actually).
So, grab a cup of coffee, perhaps a cappuccino, and take your time reading through this list. You are sure to find something you'll make for years to come!
One more thing, this is a list, not a ranking. Enjoy!
Creamy Limoncello Italian Ricotta Cake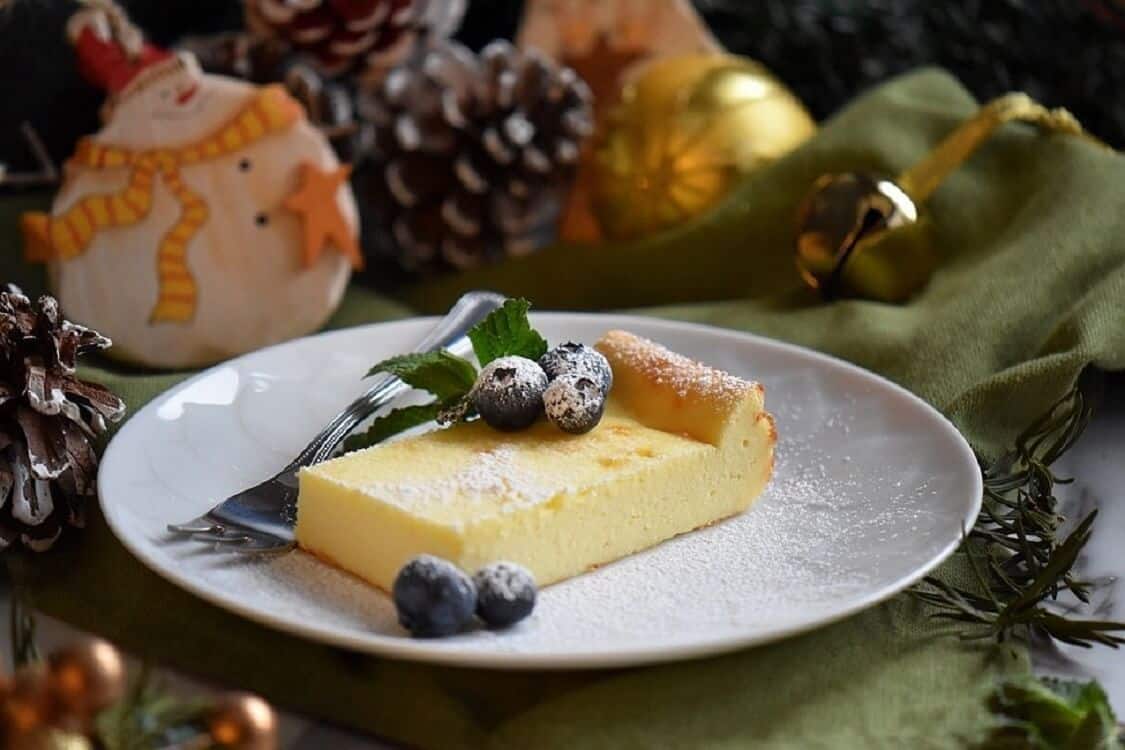 The ever gracious and lovely Maria of She Loves Biscotti brings us this Limoncello ricotta cake. It's a delicate and just-sweet-enough easy Italian dessert recipe perfect for the holidays. Not only is this dessert delicious, but it's also versatile, make-ahead appropriate, easy, and yet elegant. And would you believe that there are only five ingredients (including lemon liqueur and ricotta) and 10-minutes of prep time? So head over and check out this easy Italian dessert recipe, where you'll find other unique treats.
Visit She Loves Biscotti for the recipe.
Stracciatella Gelato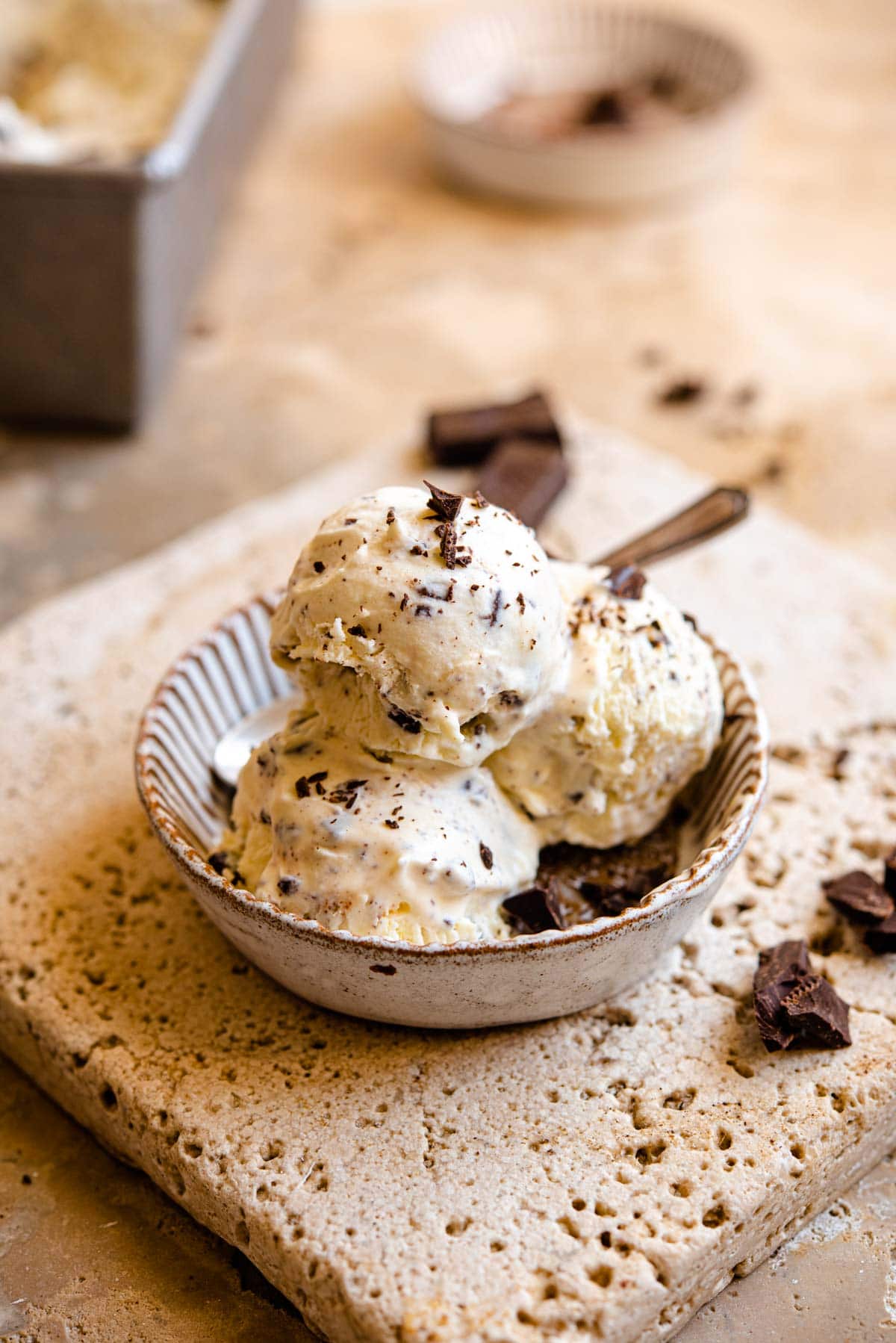 This stracciatella gelato recipe from Emily and Nathan of Inside The Rustic Kitchen is luxurious and silky smooth. Each bite is subtly vanilla with bits of dark chocolate throughout. And with just four ingredients and five minutes to mix, you don't have to labor for this love. But, what is no-churn ice cream, and how does it work? Well, Emily and Nathan show you how to do it with step-by-step pictures and instructions. You'll also find novel serving suggestions and links to some of their other favorite Italian desserts.
Visit The Rustic Kitchen for the recipe.
Caramel Macchiato Biscotti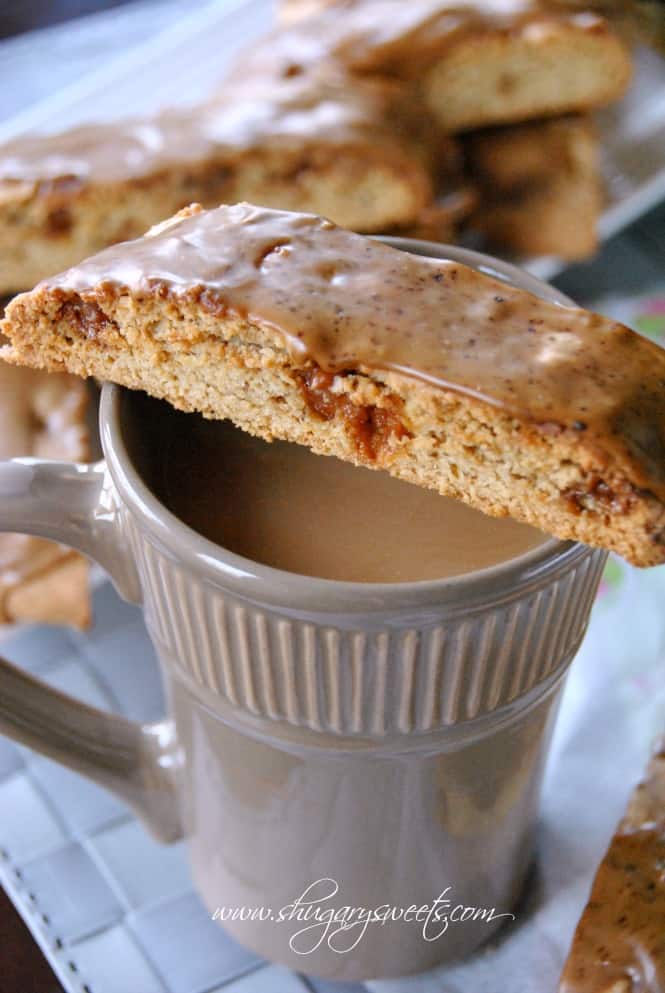 While not an authentic Italian dessert, this caramel macchiato biscotti recipe from Aimee of Shugary Sweets is easy and delicious. It combines two Italian favorites to make one creative treat to have with your morning brew. Espresso is baked into these satisfyingly crunchy twice-baked cookies before you top them with a caramel glaze. Now, they do take a little over an hour to make, but prep time is only ten minutes, and they are totally worth it.
Visit Shugary Sweets for the recipe.
Easy Homemade Pumpkin Gelato Recipe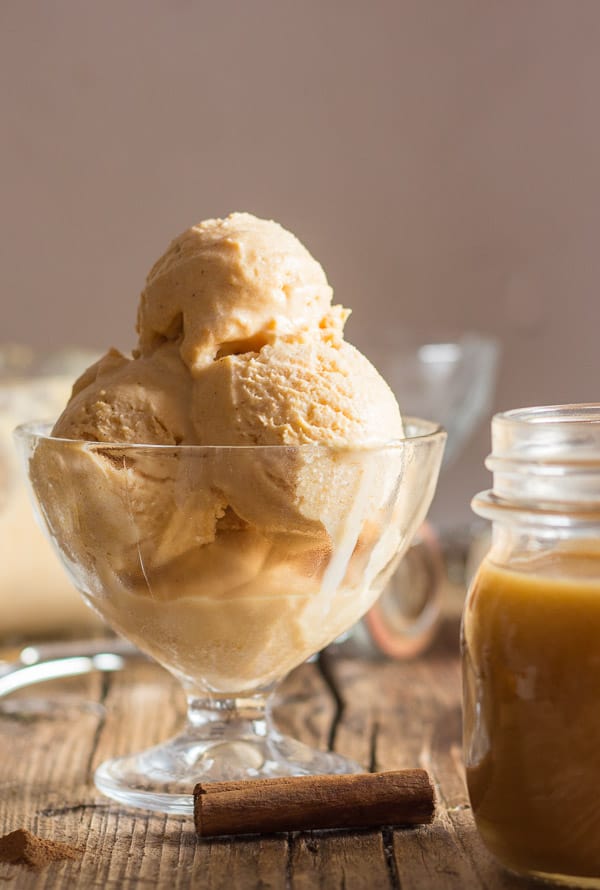 Gelato is the slower churned cousin of ice cream. So you can expect this pumpkin gelato recipe from Rosemary of An Italian In My Kitchen to be dense, smooth, and so very good. Making it a wonderful, if unexpected cap, to a fall dinner party. Rosemary developed this recipe with ease in mind. For one, there aren't any eggs to temper. Secondly, you can opt for canned pumpkin puree if you aren't in the mood to make it from scratch.
Visit An Italian In My Kitchen for the recipe.
Italian Rainbow Cookies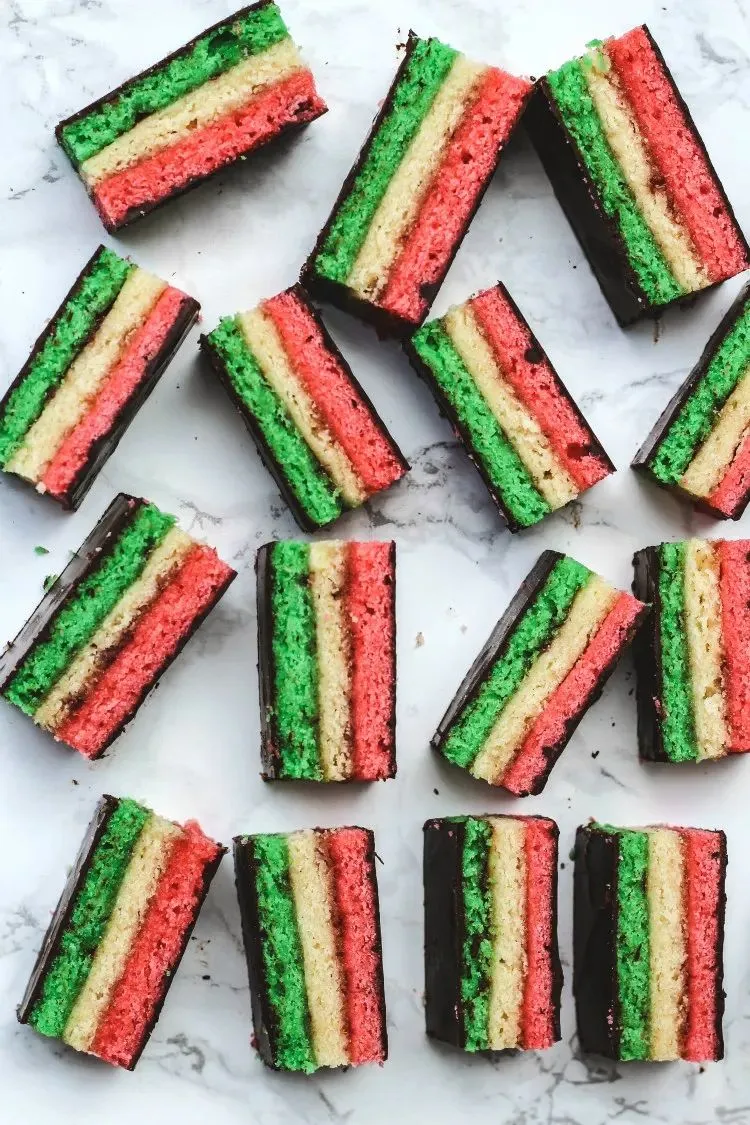 These rainbow cookies from Lora of Savoring Italy represent the Italian flag as well as the festive colors of Christmas. They are common treats served around the holidays in Italian homes. Now, for a bombshell. Those cookies aren't really cookies at all. They're actually thin dense almond sponge cakes. You'll find chocolate on top, and you'll find apricot or raspberry jam between the cake layers. And on the recipe page, you'll find a thorough recipe complete with lots of photos and tips.
Visit Savoring Italy for the recipe.
Chocolate Budino with espresso cream and flake salt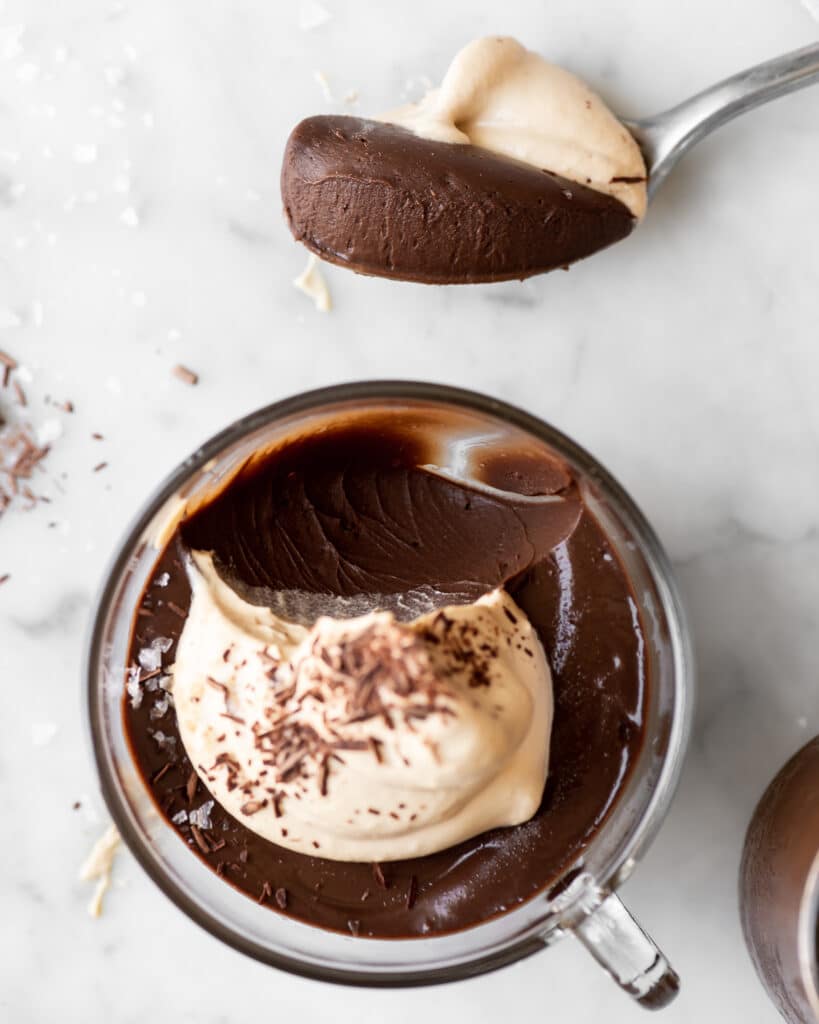 While you may find a 30-minute meal or two on the With Spice food blog, that isn't the goal. Instead, it is Indi's mission to provide you with exceptional recipes using quality ingredients like this intensely chocolatey, unbelievably thick, and luscious Budino, otherwise known as chocolate pudding. This recipe happens to be quick. So, sure it's easy to make, but it's still very much impressive. On the page, you'll find a silky espresso spiked Budino that Indi describes as a mix between pudding and ganache.
Visit With Spice for the recipe.
Easy Italian Cookies
Chances are you have all the ingredients on hand right now to make these seven ingredient buttery melt-in-your-mouth chocolate-covered Italian cookies from Lara, The Classy Baker. And while these delightful, fluffy little confections make great holiday fare, the safe bet is you will want to make them all year long. On her page, Lara provides you with all the instructions and helpful tips like using room temperature ingredients and avoiding over-baking.
Visit The Classy Baker for the recipe.
Dark Chocolate And Amaretti Semifreddo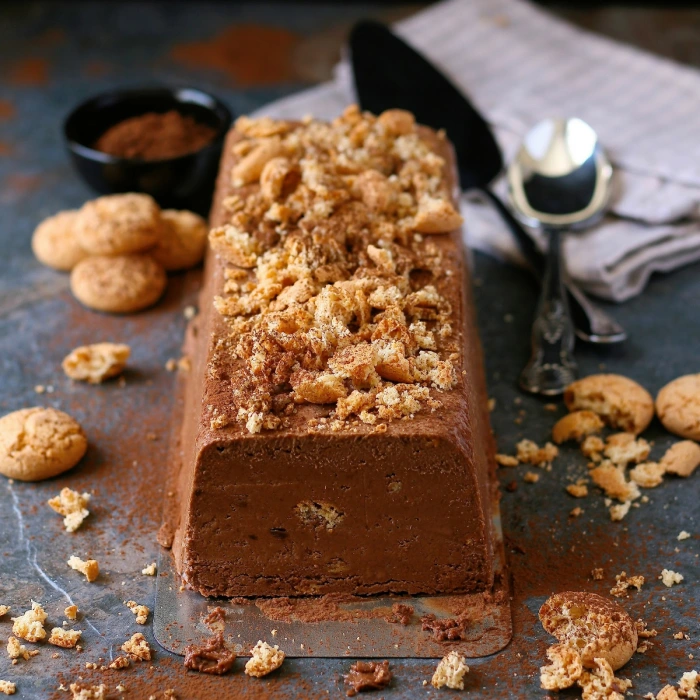 It won't matter if it's swimsuit or hat and glove season. Because when you discover this semifreddo recipe from Teresa of Cupcakes And Couscous, you'll just have to make it. Semifreddo is a decadent dessert somewhere between mouse and gelato. Each bite is creamy and rich but delightfully interrupted with Amaretti. A crunchy on the outside and soft on the inside almond cookie. And while this Italian dessert recipe is sure to impress, it's also easy. There are just eight ingredients and six easy steps.
Visit Cupcakes And Couscous for the recipe.
Italian Canestrelli Cookies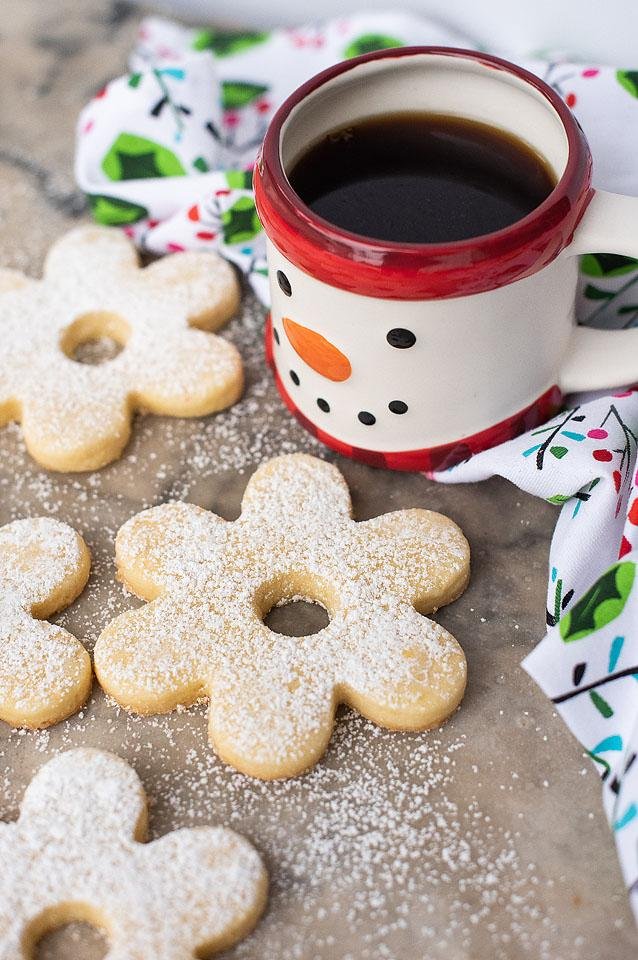 Legend has it these Canestrelli, or little basket, cookies were first created centuries ago and were a common gift for special occasions. You can think of these bright little biscuits as upgraded, richer, more flavorful shortbread cookies with a hint of lemon. And that flower shape, while adorable, wasn't chosen at random. It, too, is a part of the tradition. On Bella's page, you'll find not only an easy Italian dessert recipe with lots of tips and a surprising ingredient but also a short and nifty history of this delicious yet humble dessert.
Visit XOXO Bella for the recipe.
Amaretti Cookies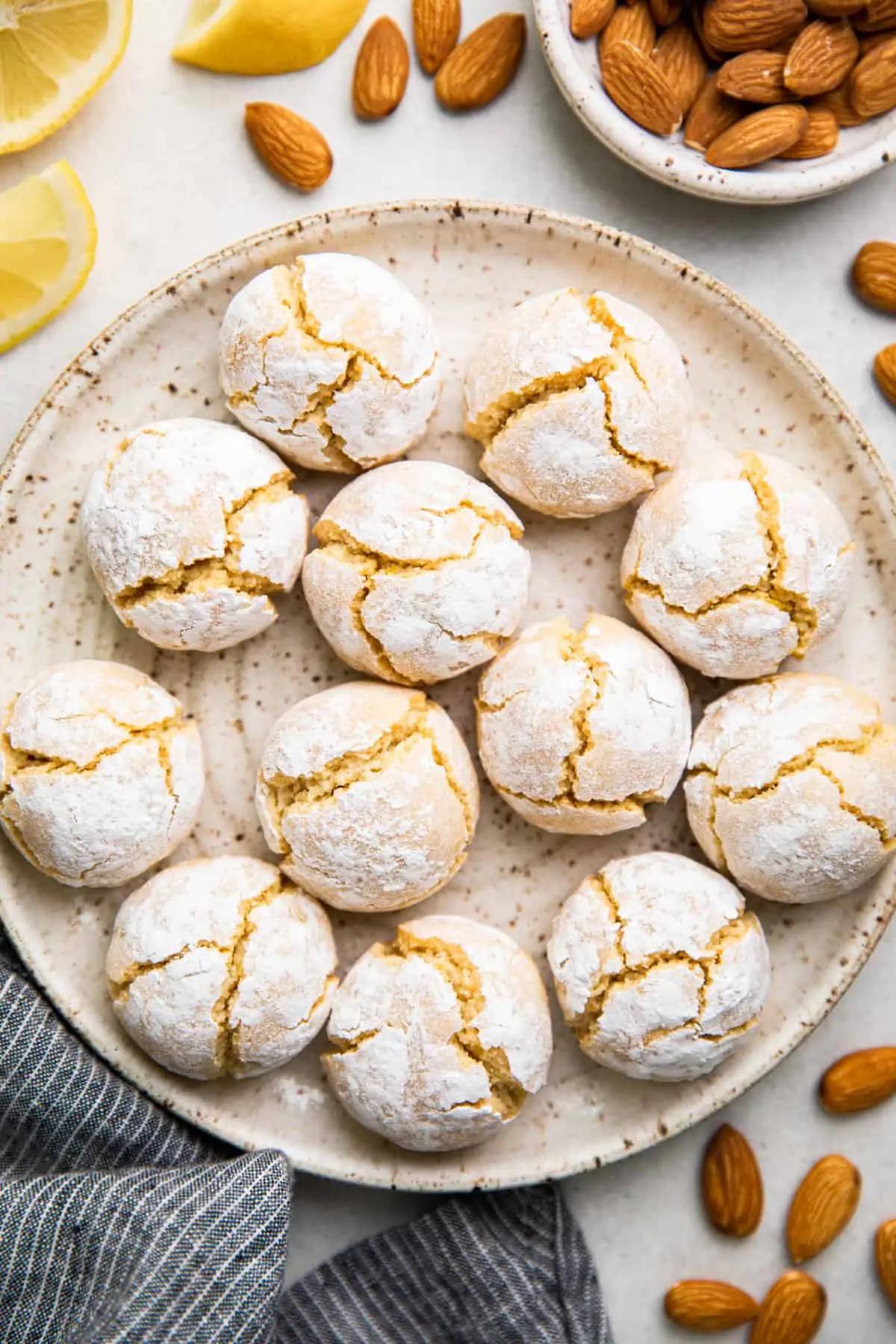 Like chocolate chip cookies in the United States, Amaretti are ubiquitous in Italy. These tiny, almond, lemony, gluten-free cookies are delicate in flavor and texture. And as Veronika of Veronika's Kitchen tells us, there's a soft or chewy center depending on the region. On the recipe page, you can expect to find a well-tested cookie recipe with answers to all your questions, like if you can use a substitute for almond flour and how to prevent the dough from sticking to your hands.
Visit Veronika's Kitchen for the recipe.
By the way, don't forget to see these other delicious desserts.
Bombolini – Pistachio Custard Filled Doughnuts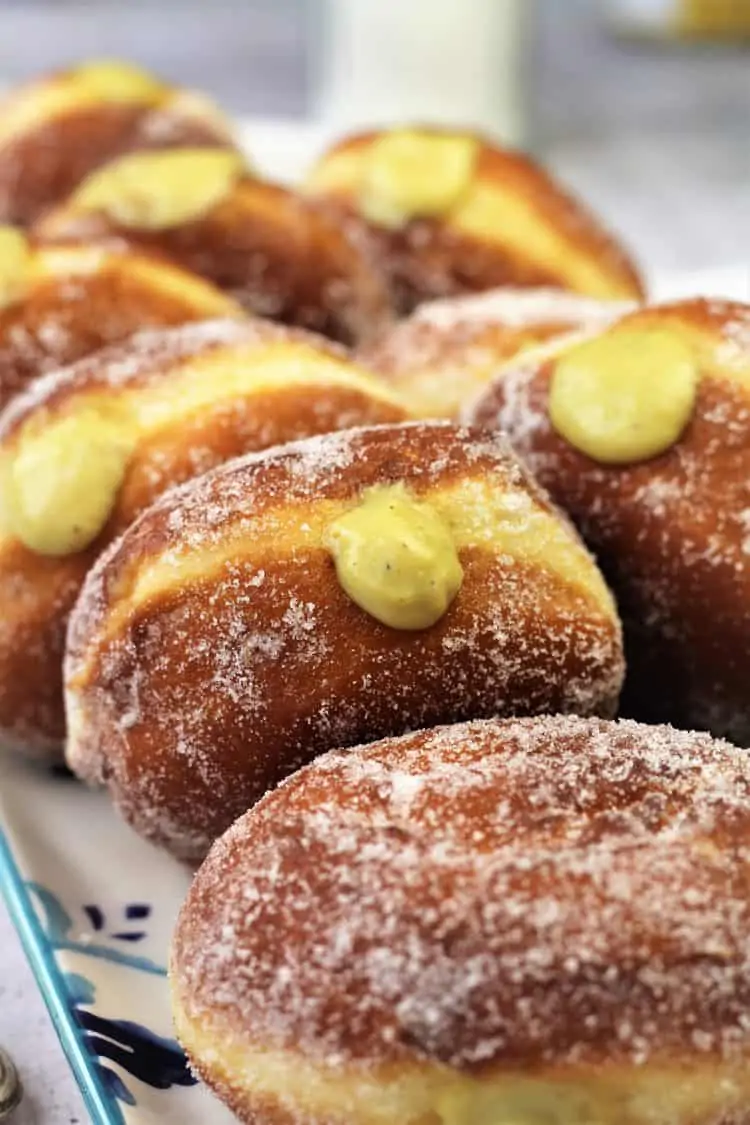 These Bombolini from Nadia of Mangia Bedda are one of the most thorough and enticing doughnut recipes we've ever encountered. It starts with a brioche dough that Nadia spent months studying. Then there's the custard filling. A heavenly thick, creamy, and rich pistachio pastry cream. Now, you might have questions like the difference between Bobolini and a basic doughnut. Not to worry, Nadia has you covered with every tip and resource you could need on her page.
Visit Mangia Bedda for the recipe.
Raspberry And Chocolate Semifreddo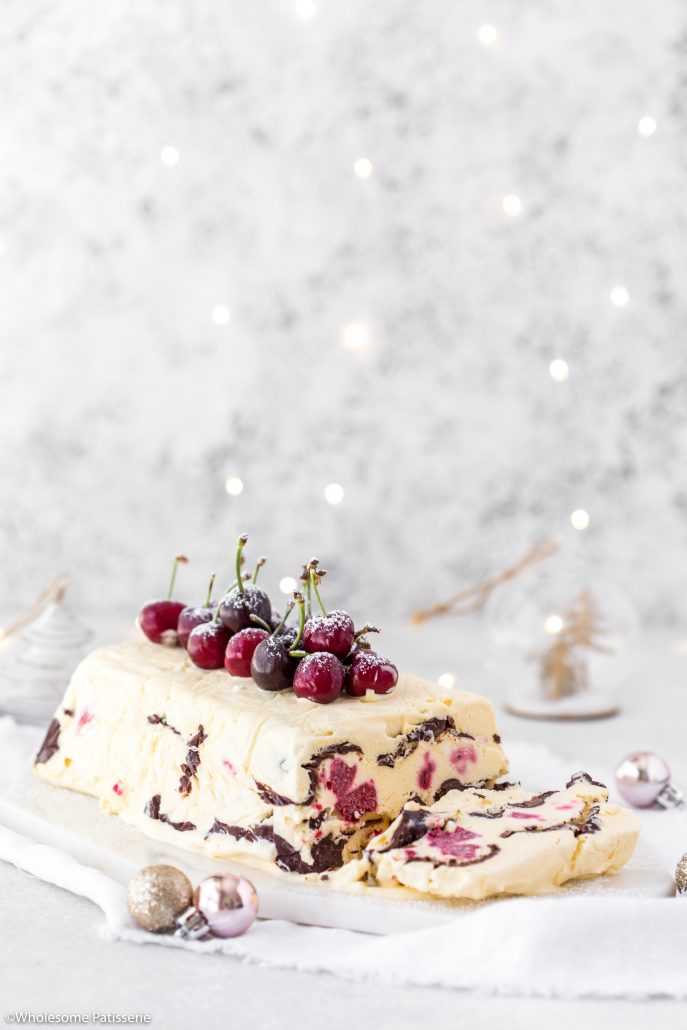 We like to think of Semifreddo as ice cream's more sophisticated cousin. It's more grown up in a way. It has the richness of ice cream, but it's lighter and fluffier due to a fair amount of whipping. This version from Samantha of Wholesome Patisserie looks divine. It's a simple Semifreddo recipe with layers of chocolate and raspberries. And if you're feeling festive, crown this masterpiece with fresh cherries for an elegant yet easy Italian dessert you will adore.
Visit Wholesome Patisserie for the recipe.
Easy Refreshing Watermelon Granita
Immaculate is the befitting name of Michelin trained chef, published food writer, recipe developer, and food blog author of the eponymous Immaculate Ruemu. Her resume is impressive, and so is this watermelon granita. It's remarkable in its flavor and its simplicity. On her site, you will find a delicious, refreshing, and well-received recipe. But you will also discover the origins of granita and tidbits to make it taste just as good as the pictures look.
Visit Immaculate Reumu for the recipe.
Traditional Italian Cream Horns (Cannoncini)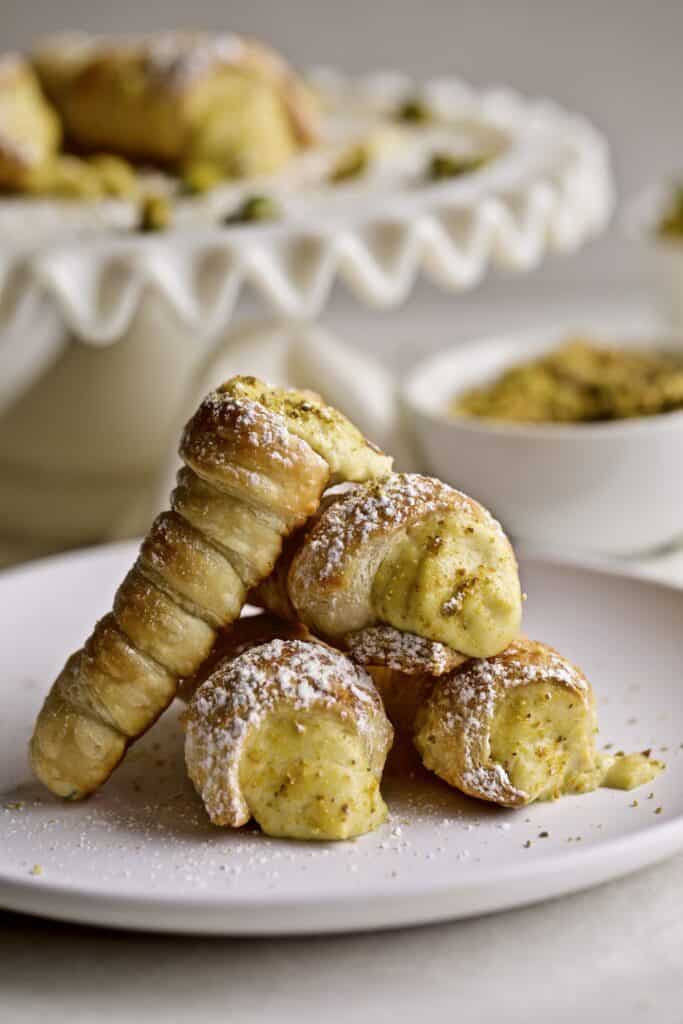 When Elena of Cucina By Elena misses Italy, home, she yearns for these traditional Cannoncini. They take her back to those wonderful years. Back to those carefree mornings eating breakfast with her aunt or grandparents in cities that sound exotic to us but familiar to her. Her approachable, easy Italian dessert recipe starts with premade pastry dough. But it's the filling, rich pistachio cream (or vanilla or chocolate), that wins the day. The hardest part is undoubtedly waiting the requisite 90 minutes for the horns to cool before you can fill them and eat them.
Visit Cucina By Elena for the recipe.
Amazing Sicilian Granita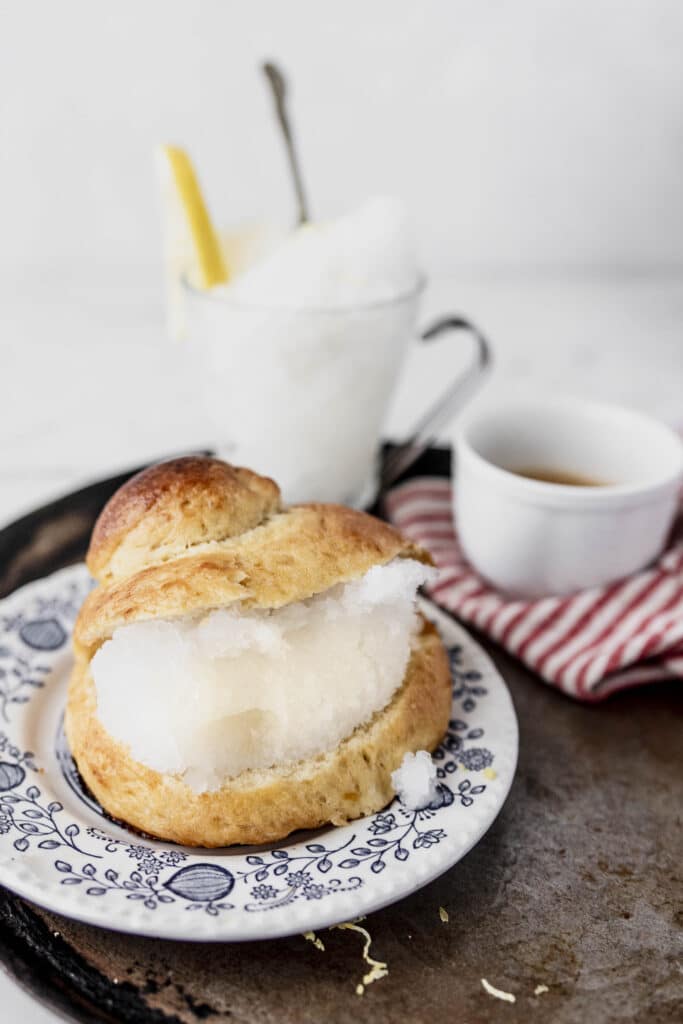 For Stefania of Stefania's Kitchenette, and most Sicilians would agree, granitas should be served in brioche. Also, this cold dessert should be creamy and delightful, reminiscent of the texture of snow but not as smooth as sorbet. And while optional, flavorings, such as her delicious pistachio milk aren't uncommon. These tenets are her way and the way of tradition. On the page, you will find a wonderful recipe and a cute story that outlines the beginnings of this refreshing summer dessert.
Visit Stefania's Kitchenette for the recipe.
Lemon Tiramisu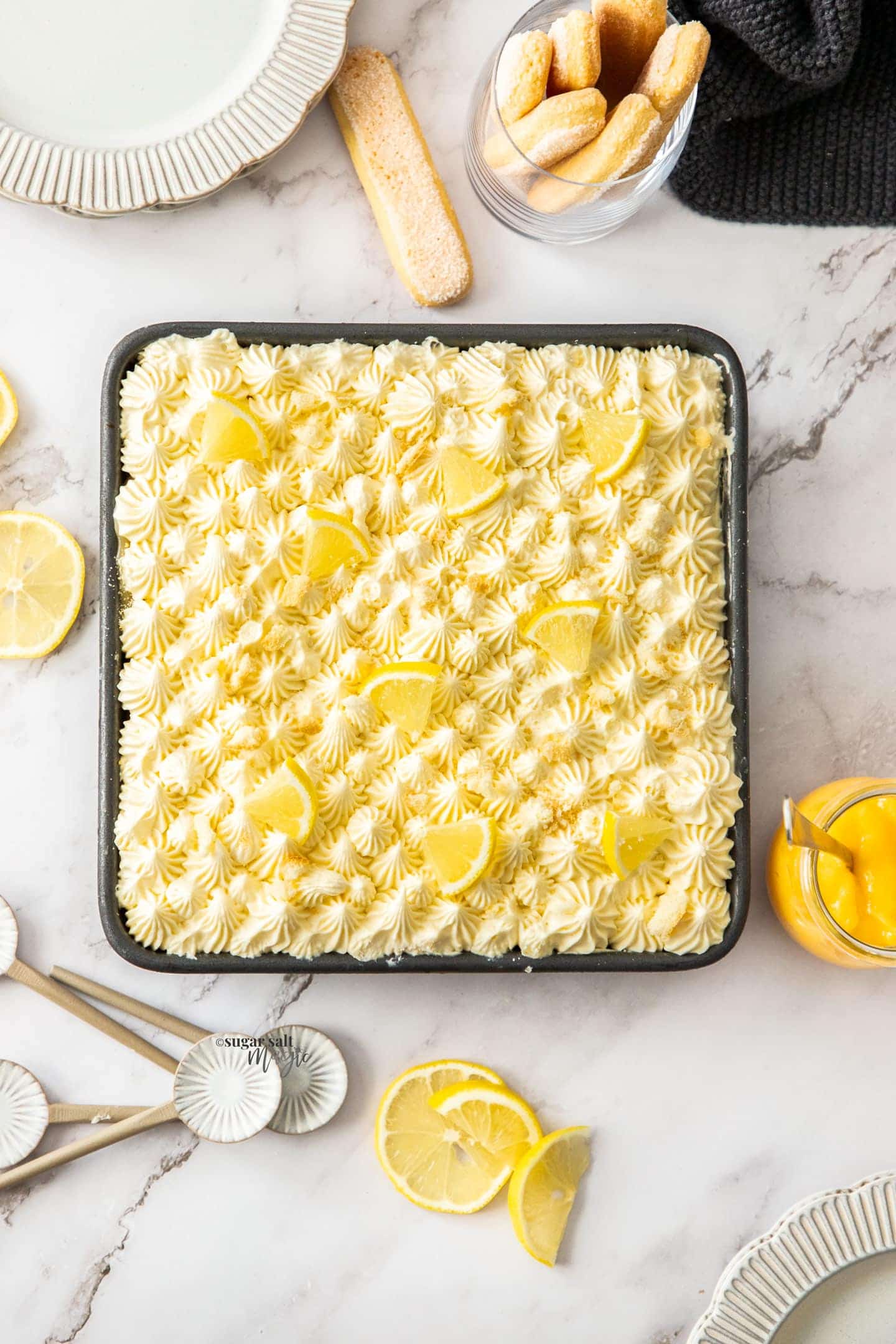 This lemon tiramisu is an elegant and decadent dessert filled with strong lemon flavor and rich cream. Like the traditional version, this one from Marie of Sugar Salt Magic starts with subtly sweet creamy layers alternating with cookie layers. And although this dessert is impressive and showy, you should know it comes together in less than half an hour. Still, you'll need some patience as it takes six hours to set.
Visit Sugar Salt Magic for the recipe.
Canolli Ricotta Fritters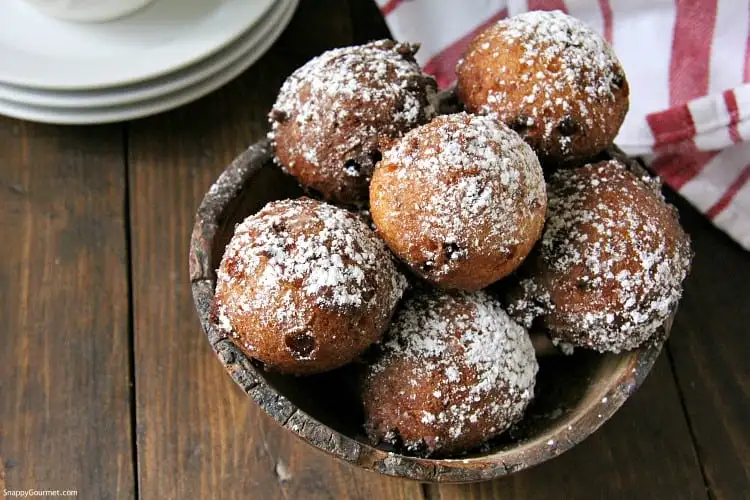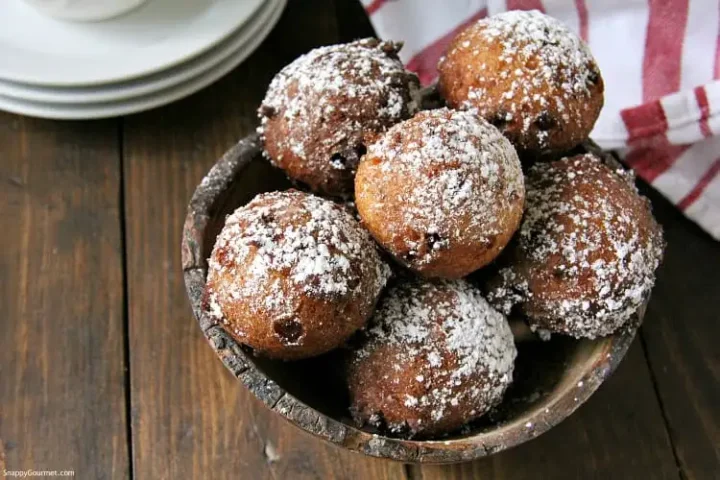 To say Lisa of Snappy Gourmet is a cannoli enthusiast would be an understatement. The busy blogger has dozens of creative, cannoli-inspired confections across her site. This rendition, however, has all of the hallmarks of a good cannoli but in donut form. Yes, there is ricotta, there are chocolate chips, and you'll also find an irresistible cannoli cream for dipping. So, indulge. Go ahead and give in to these seductive little fried bites of pure joy.
Visit Snappy Gourmet for the recipe.
Italian Lemon Olive Oil Cake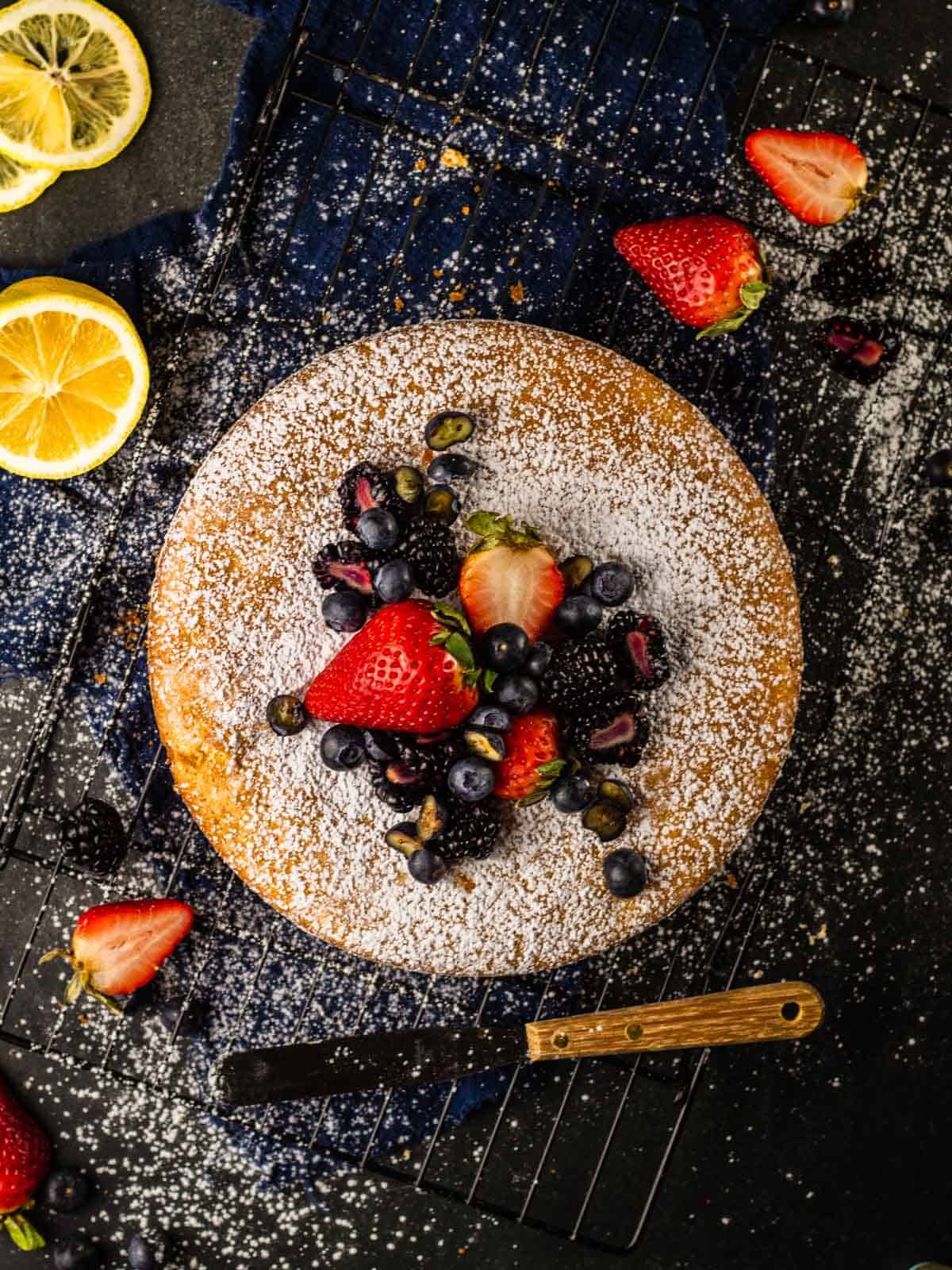 You won't find any butter in this lemon olive oil cake from Amanda of Scarlati Family Kitchen. Instead, the fat comes from olive oil. Just make sure you choose one of high-quality and mild flavor. If you follow Amanda's tips, like beating the eggs long enough and only mixing in the flour until it is combined, you will have a citrusy cake with a lightness to it. Serve this melt-in-your-mouth sweet treat with whipped cream and fresh fruit and watch it disappear.
Visit Scarlati Family Kitchen for the recipe.
Panna Cotta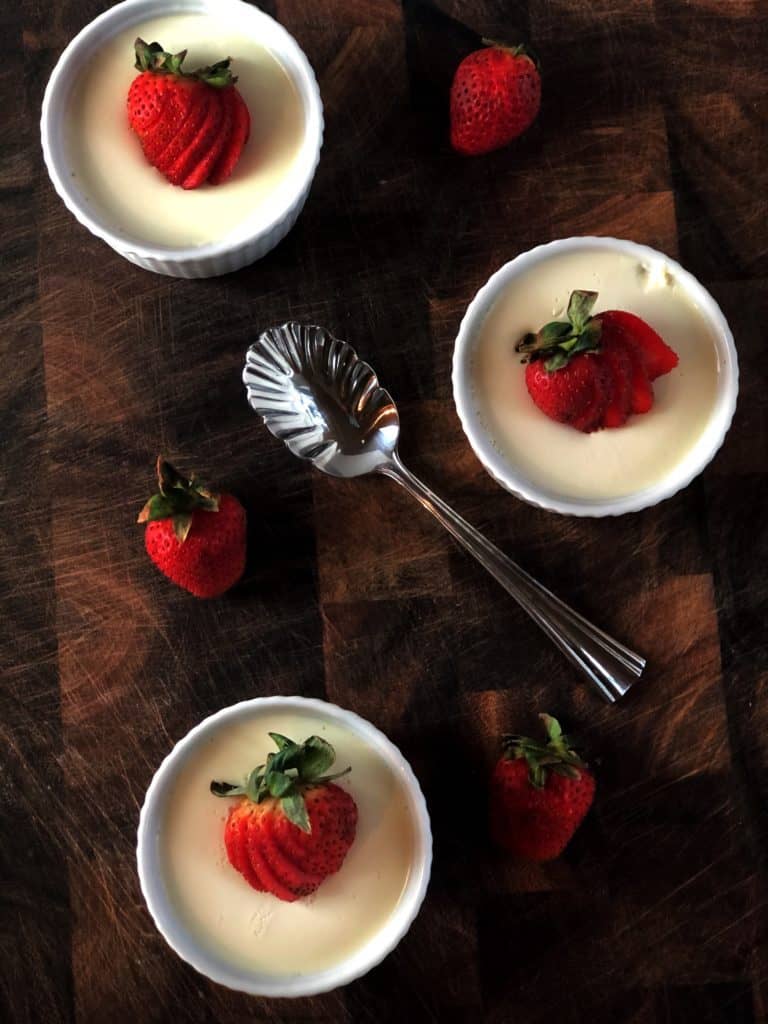 The panna cotta recipe you'll find on Melissa's site, Keeping It Simple Blog, consists of just five ingredients and a handful of simple steps. It's a cooked cream, easy Italian dessert recipe that looks fancy and tastes great. But it's straightforward to make. At restaurants, you'll likely see it served inverted on plates and perhaps drizzled with a compote. So if you want to get all high society, you can serve it in the same fashion. Or do like Melissa and serve it in the vessel it is set in and top with fresh fruit. Either way is delicious.
Visit Keeping It Simple Blog for the recipe.
Authentic Italian Tiramisu Recipe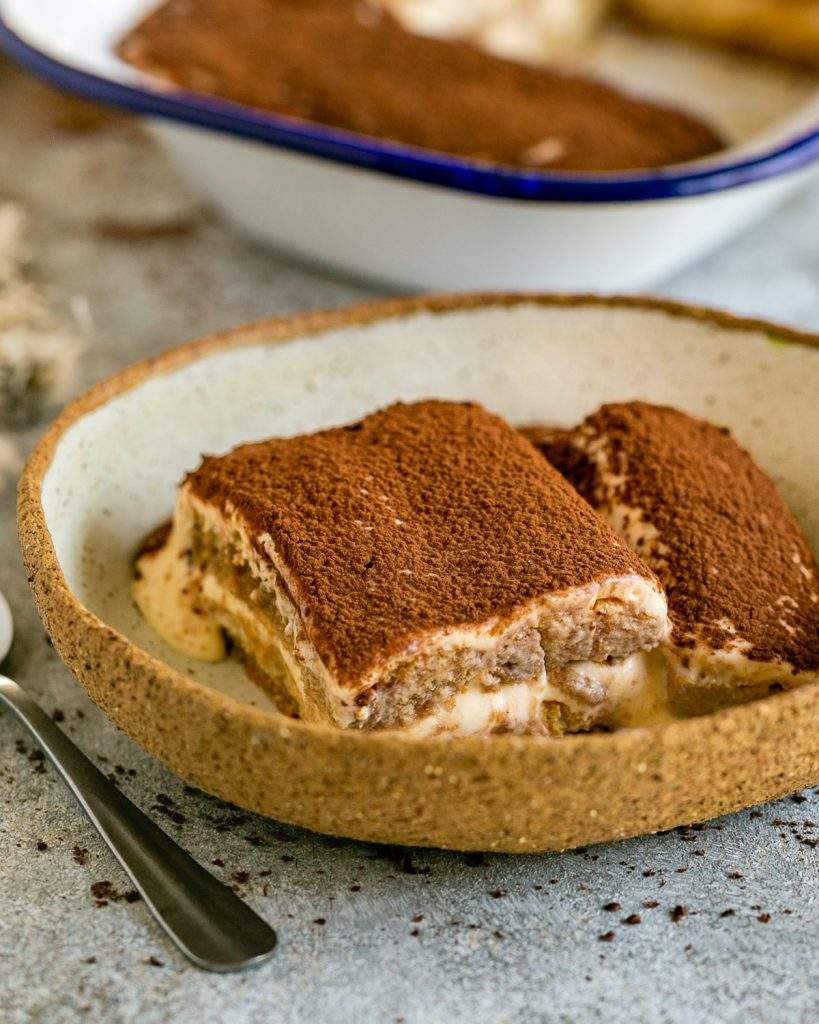 This Tiramisu from Shilpi & Etienne of Between 2 Kitchens is a delicious taste-tester-approved recipe. It is also accessible and authentic. But, why, oh why should you try? What makes their recipe stand out from the near-infinite tiramisu recipes you can find online? Well, it's the little things like the particular ingredient recommendations. And the particular instructions and little tips from a pro who's been making tiramisu for years. And finally, it's all those smiles their dinner party guests always have after the first bite.
Visit Between 2 Kitchens for the recipe.
Italian Almond Ricotta Cookies
Angela of This Italian Kitchen brings us this almond ricotta cookies recipe. It's a simple, fluffy, delicate almondy cookie. Yummy! But why ricotta?
So the reason you'll find ricotta in this delicious confection and many other Italian desserts is that it makes them moist and velvety. And ricotta is a mild cheese, so it doesn't interfere with the flavor. Additionally, if you're baking for a crowd, you'll really love that this recipe makes three dozen. Oh, and for a delicious finish, there's a glaze along with optional sliced almonds.
Visit This Italian Kitchen for the recipe.
FAQ
Which Easy Italian Dessert Do You Want To Try First?
Were you blown away by all of the delicious Italian treats on this page? So, tough question, which one do you have to make immediately? Is it the lemon tiramisu, the Bombolini, or maybe the Panna cotta? Let us know!
By the way, don't forget to see these other delicious desserts.