On this list of delectable desserts for two, you will find 24 quick sweet treats portioned for just two people. These desserts are ideal not only for romantic holidays like Valentine's Day but also for regular days after, say, a Tuesday dinner.
But here's why we especially love them! They allow you to have a treat without overindulging.
You can expect to find recipes, including small batch chocolate chip cookies, brownies for two, and instant pot creme brulee. So, are you ready to go on this exploration of small-batch desserts for two with us?
Let's dive in!
For more small batch treats, see this list of single serving desserts.
Mini Red Velvet Cake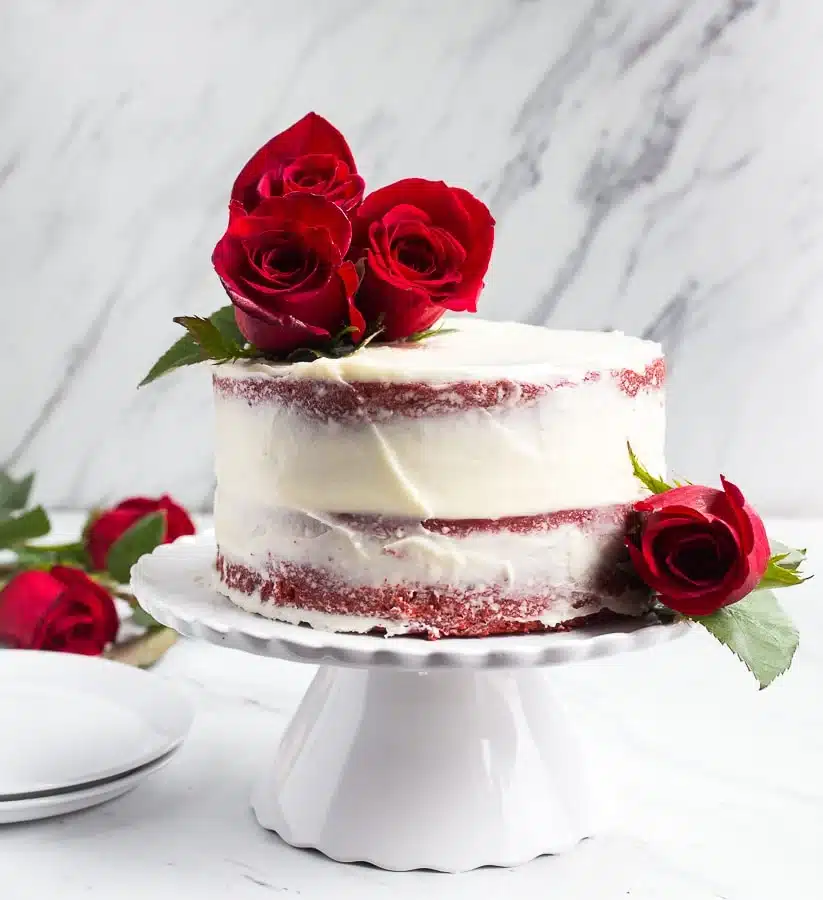 Are you celebrating an anniversary, Valentine's Day, or other special occasions with that special someone? In that case, you can't miss this mini red velvet cake from Dessert For Two. Christina reminds us, "using a small 6 inch cake pan, we can make the cutest things!" It's a from-scratch pastry that's equal parts beautiful and delicious.
Visit Dessert For Two for the recipe.
Sherry B's Apple Crisp for Two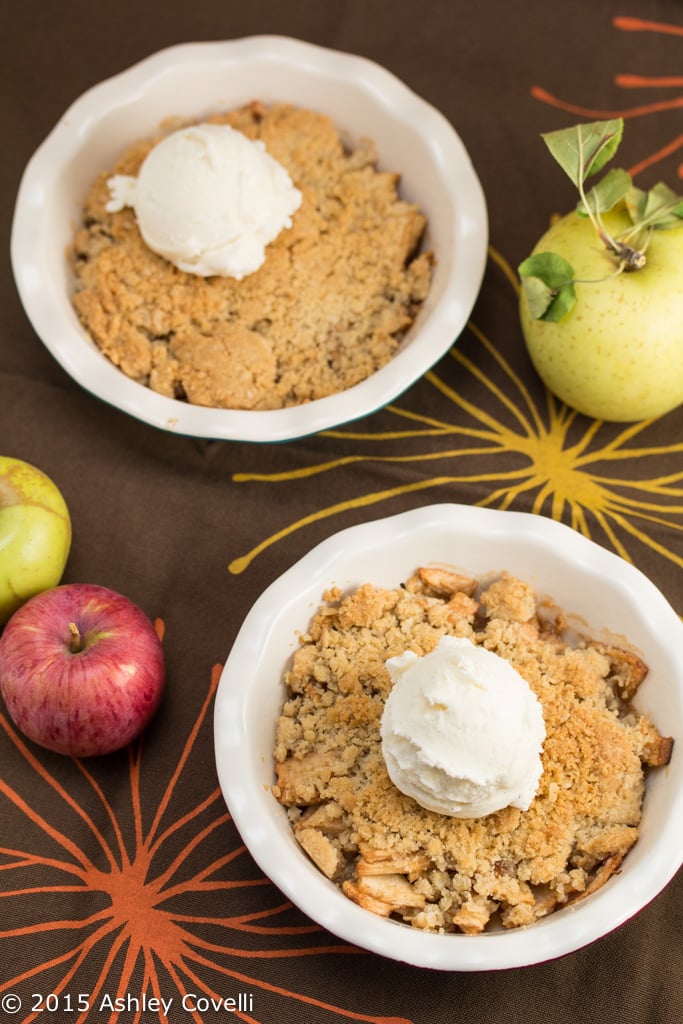 This apple crisp for two by Ashley from Big Flavors From A Tiny Kitchen is a great treat for beginners by way of Sherry B's dessert shop in New York. But despite its simplicity, it's still a perfect fit for love birds. Indeed, the autumn dessert is full of tender apples, cinnamon, oats, and brown sugar.
Visit Big Flavors From A Tiny Kitchen for the recipe.
Small Batch Chocolate Chip Cookies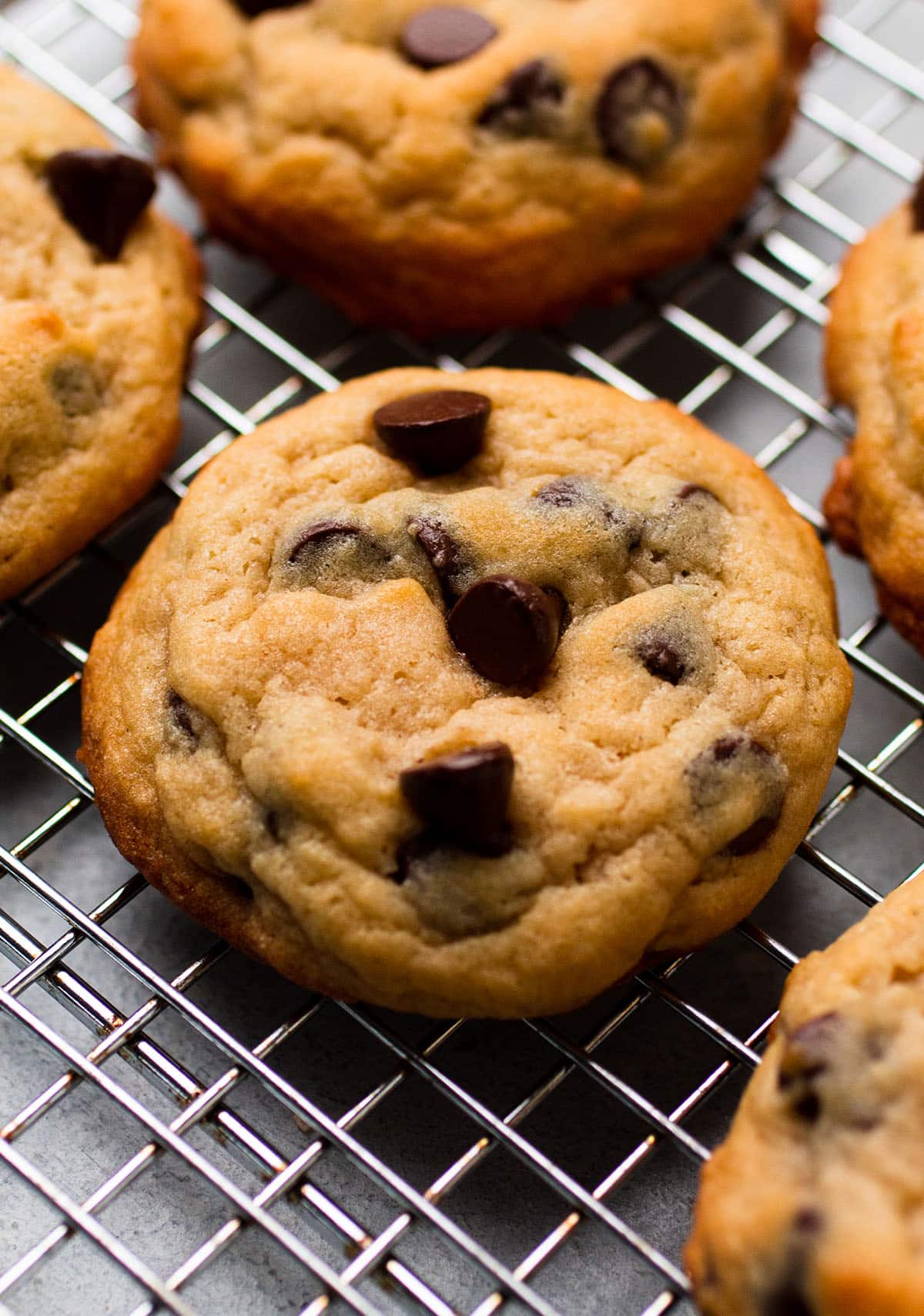 Although she scaled down this batch of warm, soft, and chewy chocolate chip cookies to just six, you'll be happy to know Jessie expertly developed the recipe to be every bit as delectable as a normal-sized batch. That's right, the Life As A strawberry team tested it more than a dozen times over months to get them just right.
Visit Life As A Strawberry for the recipe.
Instant Pot Creme Brulee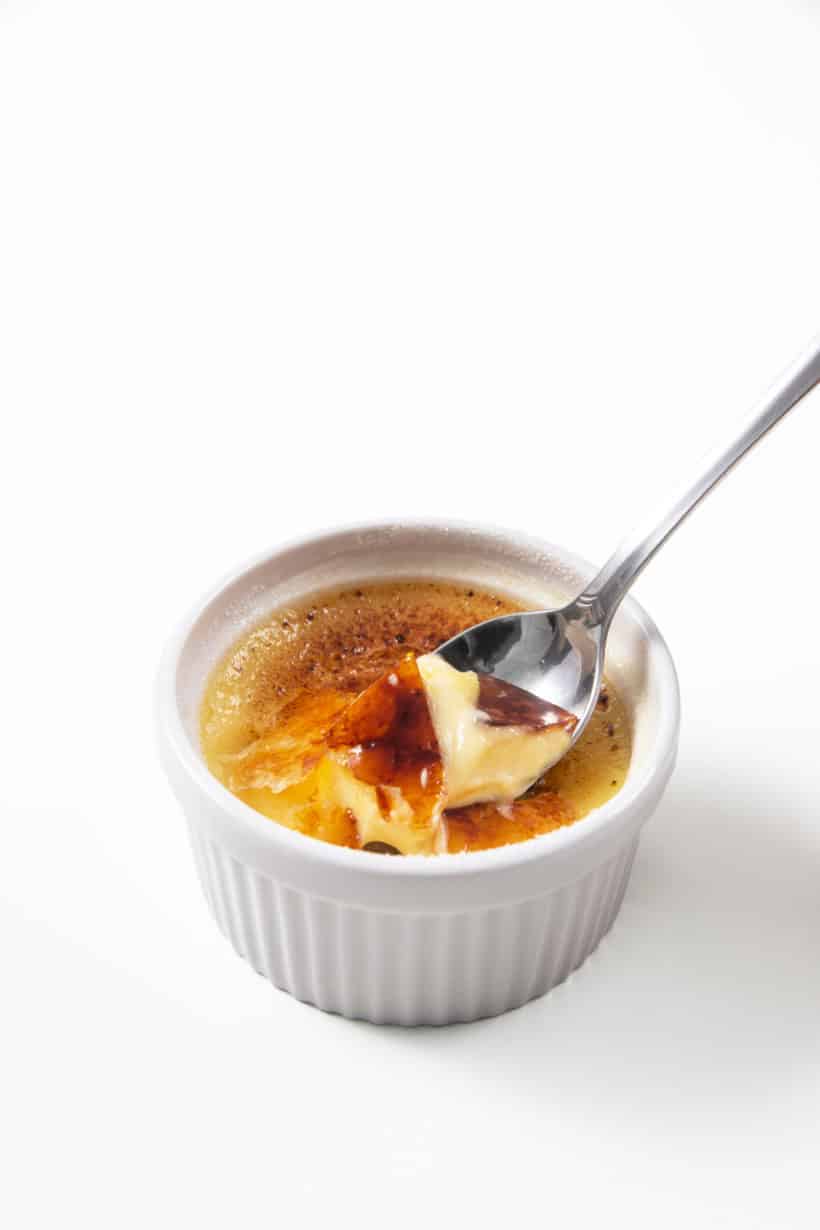 Creme brulee, served in ramekins, is an upscale dessert commonly found on the menus of high-end restaurants. The cream is mouthwateringly rich, silky, and sweet. While the top, cracking open like glass with a smack of the spoon, gives it a cachet you couldn't possibly replicate at home, right? Well, not exactly. Amy and Jacky show you how to make the five-ingredient elegant treat right in your pressure cooker.
Visit Pressure Cooker Recipes for the recipe.
Instant Pot Chocolate Lava Cake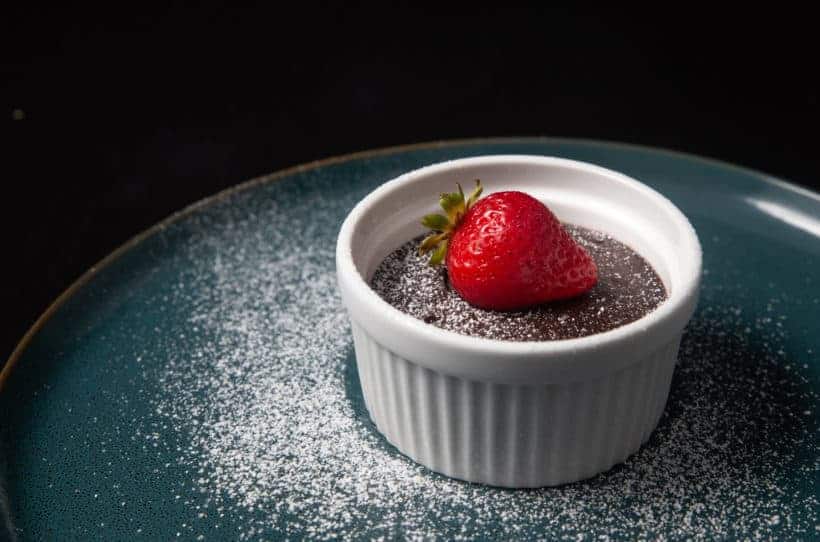 Husband and wife team, Jack and Amy of Pressure Cooker Recipes, surprise us again with this impressive chocolate lava cake. It'll get attention. Let's just say, if this dessert were a lady, it would stop traffic! But, awkward analogy aside, you get the point. It's the perfect treat to wrap up your dinner by candlelight, and your date won't know it came from the instant pot.
Visit Pressure Cooker Recipes for the recipe.
Brownies For Two
Whether you're planning a romantic dinner by candlelight, rose petals, or wine. Or, if you're just going to Netflix and chill (even alone), these single-serving ramekin brownies from Homemade In The Kitchen are your new fave. Whatever the occasion, serve with a scoop of ice cream, and you've got a winner.
Visit Homemade In The Kitchen for the recipe.
Strawberry Shortcake Mug Cake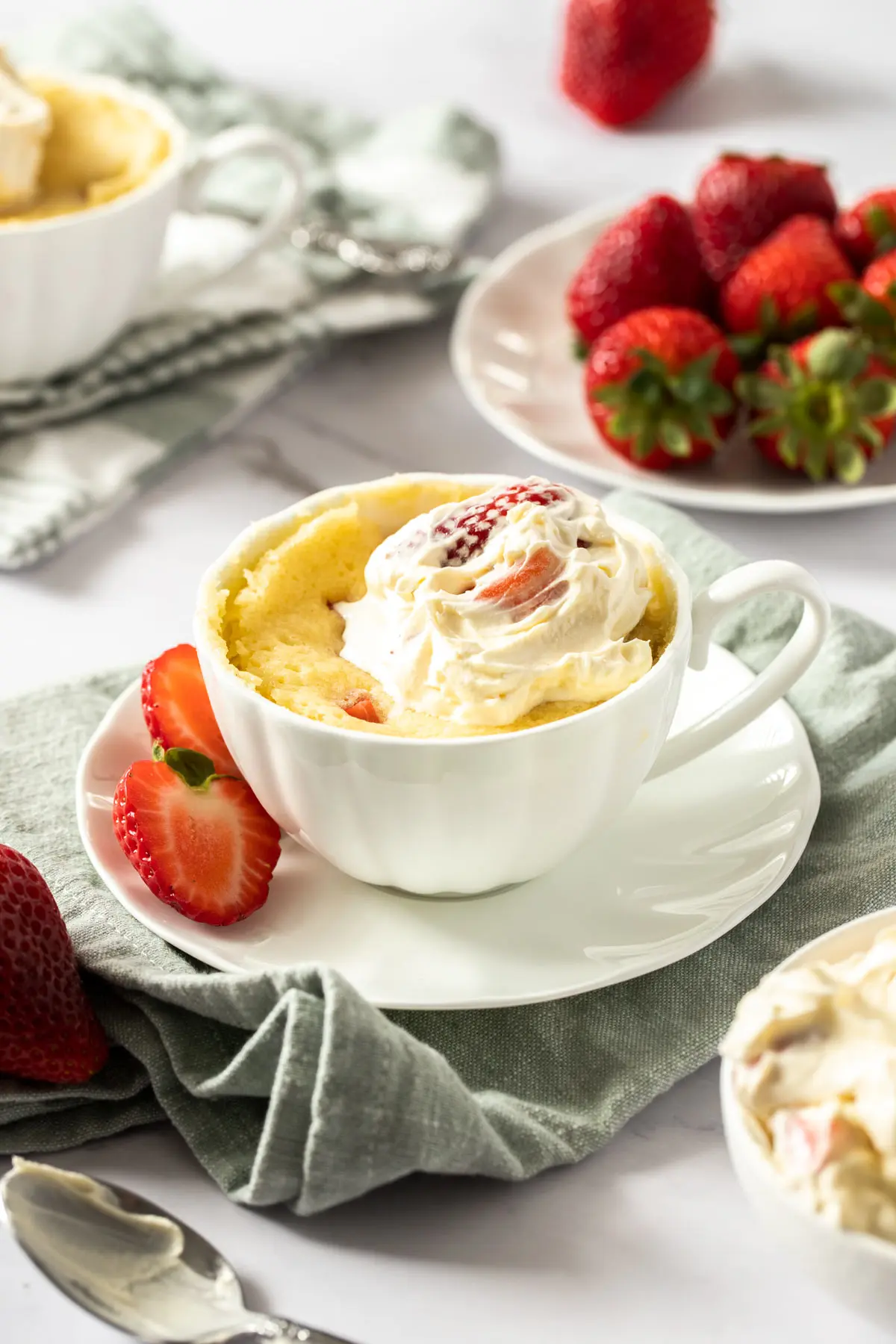 Mug cakes aren't usually what comes to mind when pondering aesthetically pleasing desserts for two. But surprisingly, this strawberry shortcake mug cake is attractive, but Rizwan promises the taste is even better. He understands the shortcomings of mug cakes, often dry, spongey, and shamefully consumed as a last resort. His promise, however, is a correction resuscitating what should be considered a legit dessert class.
Visit Chocolates And Chai for the recipe.
Raspberry Tiramisu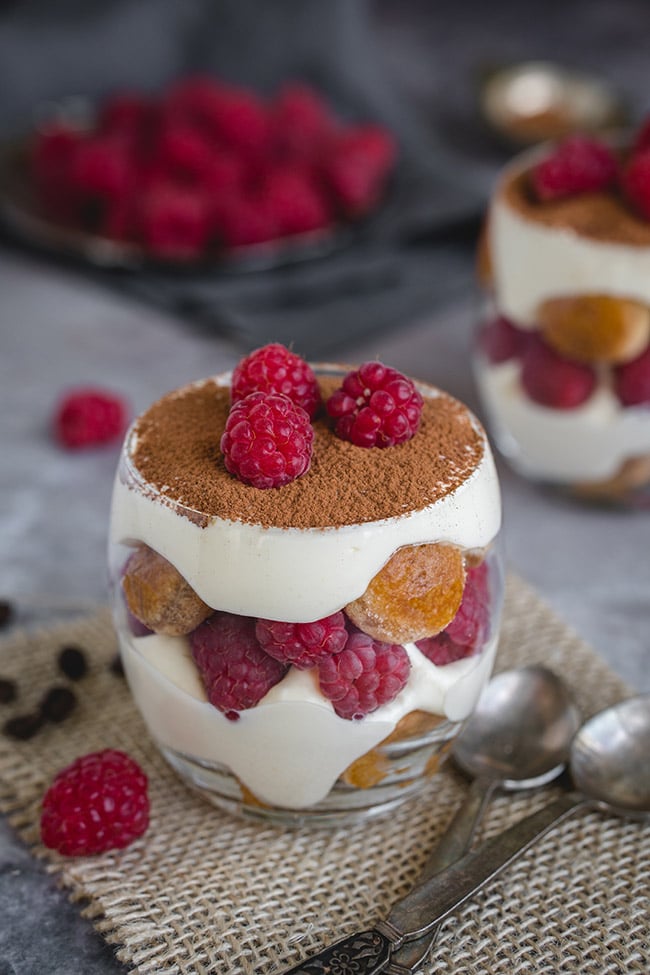 You may have found your new Yummy Addiction with this raspberry tiramisu by Jovita. It's a summertime take on the classic. But unlike some iterations, you still dip the lady fingers in coffee, staying true to the "pick me up" dessert moniker. The big difference is the fresh raspberries and individual serving glasses for a more elegant presentation and portion control.
Visit Yummy Addiction for the recipe.
Mini Layer Cake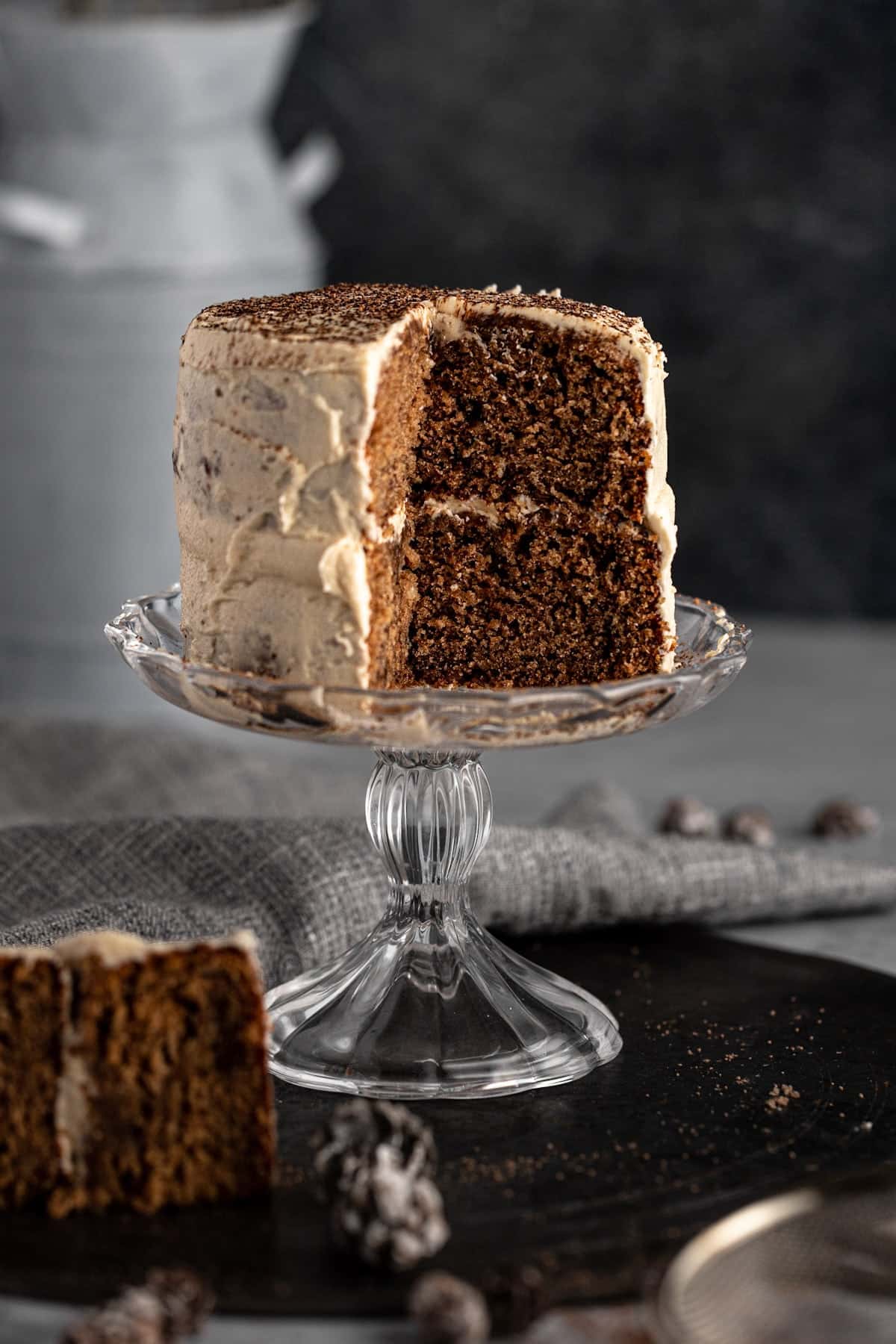 Although this mini chocolate cake by Ali of The Littlest Crumb could feed four to six, we included it because you will be open to leftovers for two. Besides, some folks like more substantial portions (or midnight snacks). But no one needs the temptation of a giant cake lingering around; that's a dessert best left for a crowd. This one is an elegant cake, appropriately sized for couples, and carefully developed.
Visit The Littlest Crumb for the recipe.
Chocolate Orange Cake For Two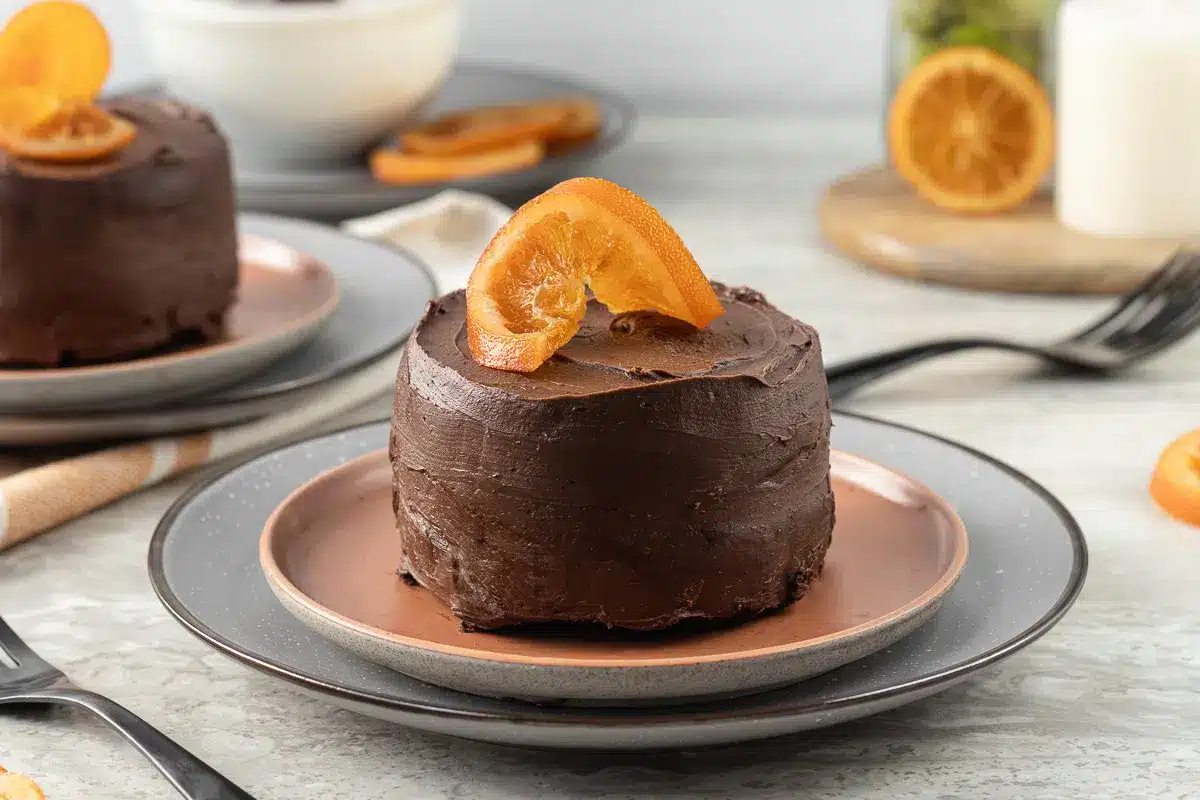 Empty nesters, dinks (dual income, no kids), and retirees will rejoice upon making this cute chocolate orange cake for two. It's Entirely Elizabeth! You'll experience the rich taste of melt-in-your-mouth chocolate combined with citrus. Although, unlike some citrus/chocolate confections, the orange flavor doesn't take a back seat. Instead, it stands front and center because of the fresh orange juice and zest.
Visit Entirely Elizabeth for the recipe.
Small-Batch Peanut Butter Cookies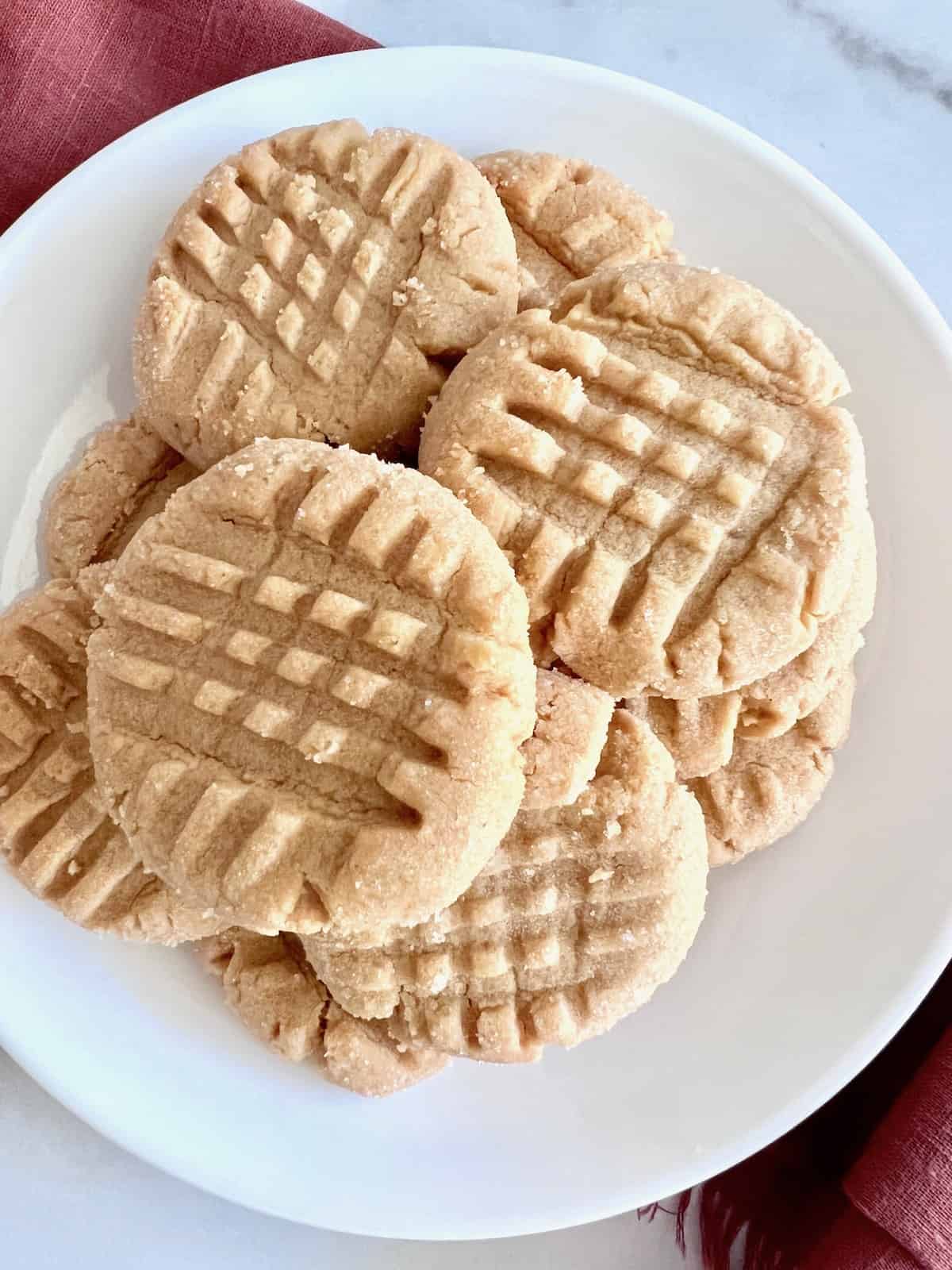 When Angela, The Short Order Cook, says this is a recipe for small-batch cookies, she means it. It only makes 12, warm and inviting cookies, which is ideal for sharing with one other person or keeping for yourself. And while not necessarily a romantic dessert, you can make them more attractive by dipping them in chocolate.
Visit The Short Order Cook for the recipe.
Cherry Crumble In 5 Minutes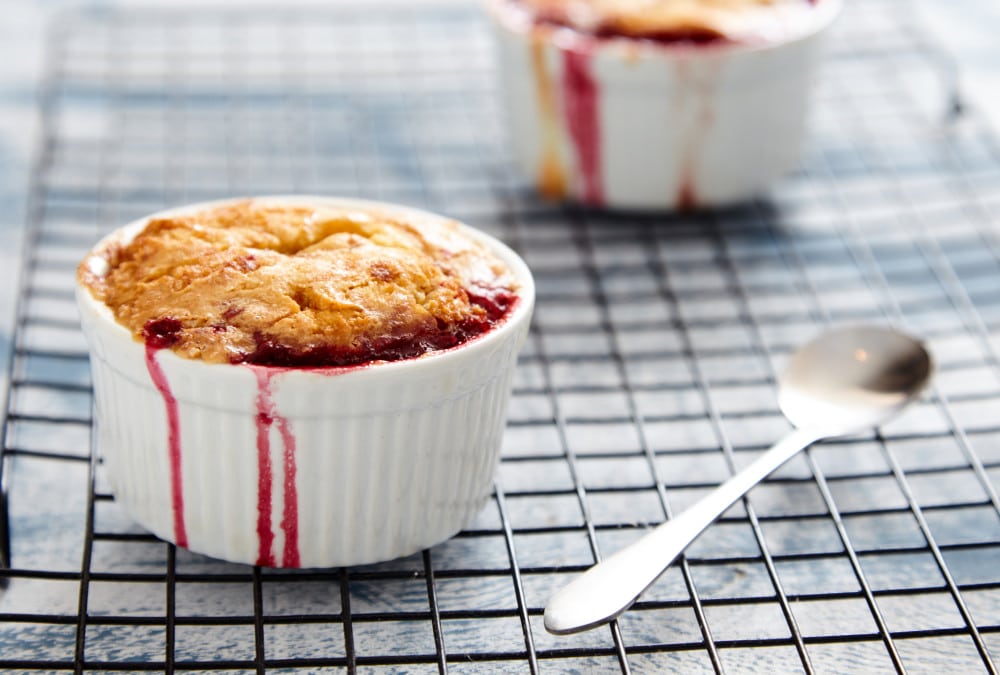 This cherry crumble from Bayevs Kitchen was designed for precisely two servings. The seven-ingredient mini pie couldn't be easier to make with frozen cherries, sugar, flour, egg, and butter. Each bite will spark old-school dessert nostalgia. But while that's good, it gets even better. It takes just five minutes to get it ready for the oven.
Visit Bayevs Kitchen for the recipe.
Easy Nutella Mug Cake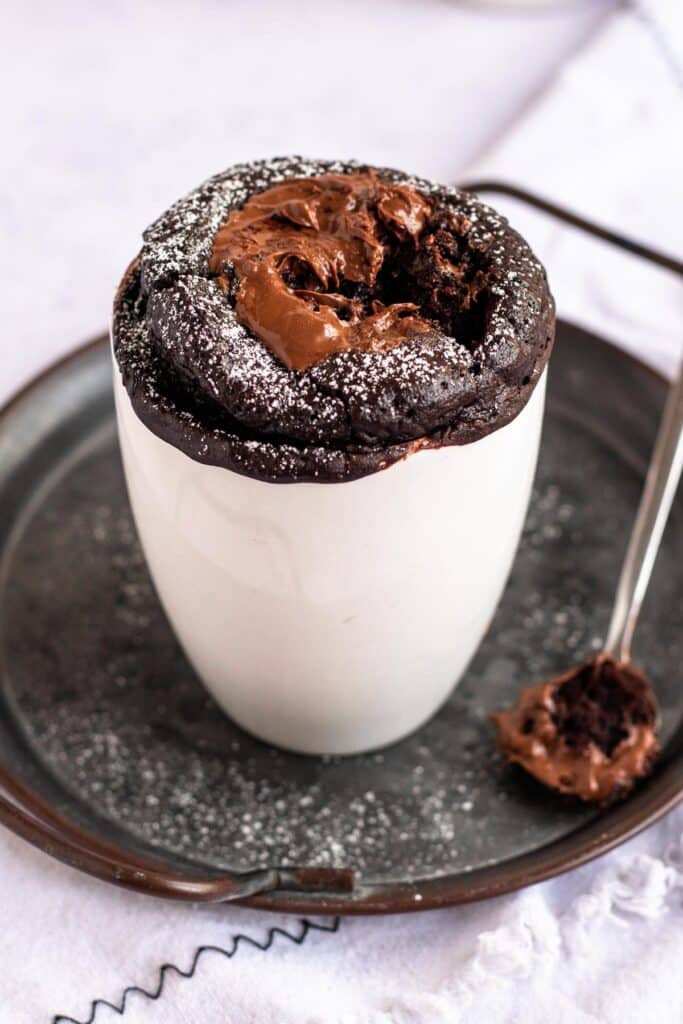 This easy Nutella mug cake from Or of Rich And Delish is perfect when you need a chocolate fix but can't be bothered with a trip to the bakery. Here's why you'll love it. Like a lava cake, it's ooey-gooey with chocolatey richness and Nutella's unique nuttiness. You can easily double the recipe for your significant other or friend. But better still, it'll be ready for you to devour in less than five minutes.
Visit Rich And Delish for the recipe.
Easy Strawberry Mousse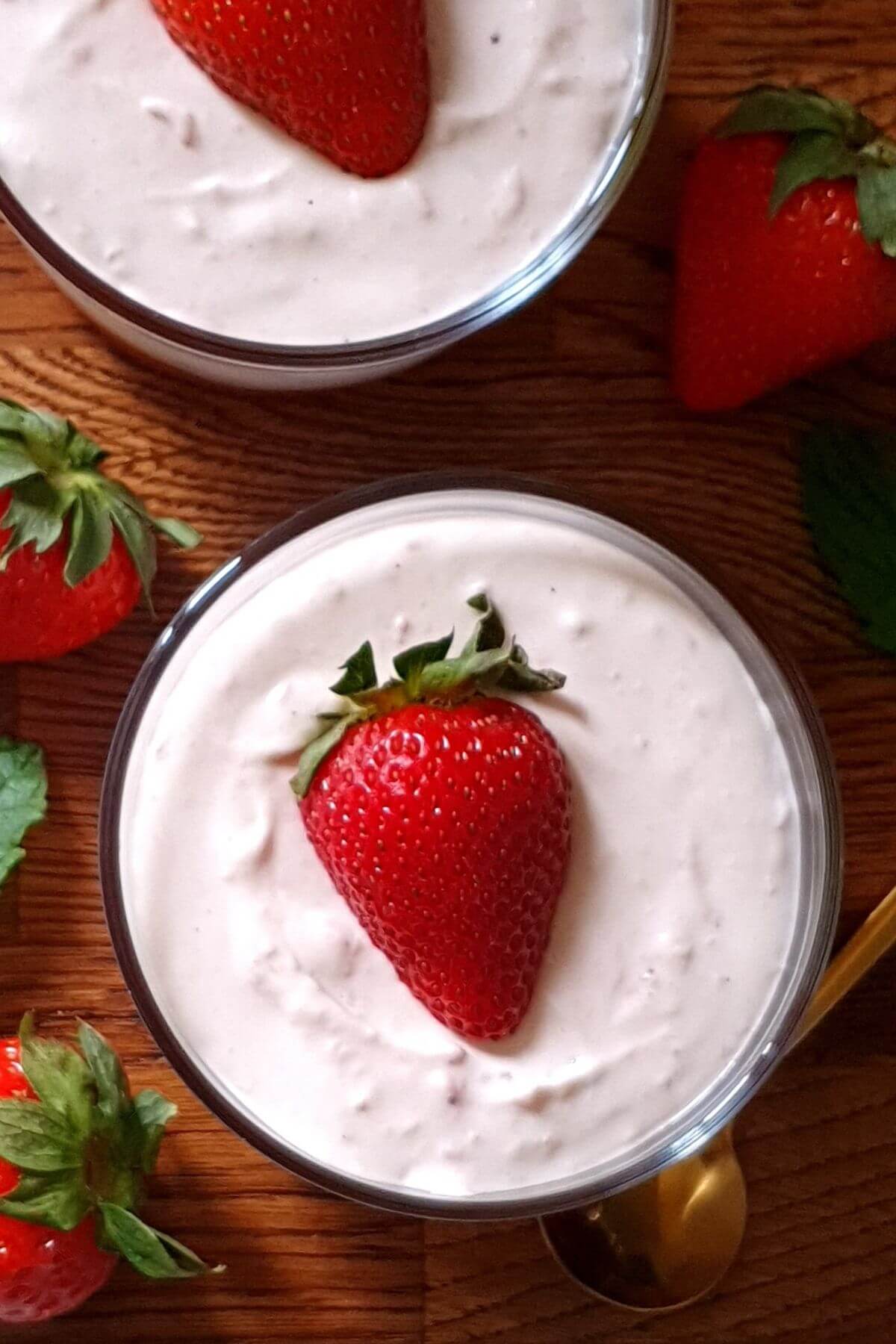 Although it makes four servings, this strawberry mousse from Pavanis Kitchen is still a delicious dessert for two because chances are your sweet tooths will be calling again tomorrow. Moreover, there are just three ingredients and unlike some mousse recipes, none are gelatin. Finally, you can top it with a strawberry for an exquisite presentation.
Visit Pavani's Kitchen for the recipe.
Rasberry Almond Ricotta Parfaits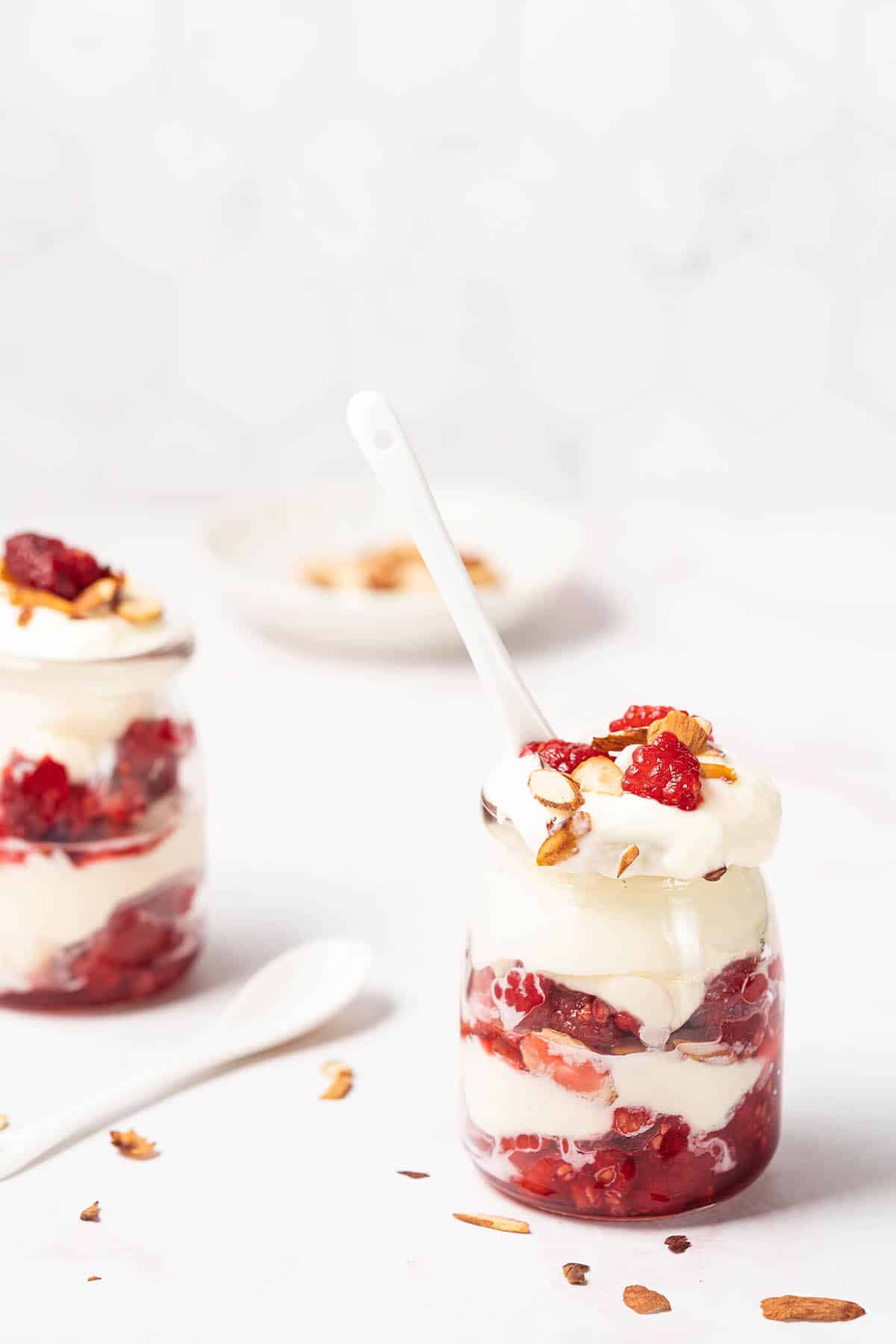 These raspberry ricotta parfaits from Kate of Nibble And Dine are how you ensure you get another date. The easy treat takes just 10 minutes and calls for just five ingredients. It's a decadent yet light and airy treat that won't weigh you down.
Visit Nibble And Dine for the recipe.
Lemon & Raspberry Cake For Two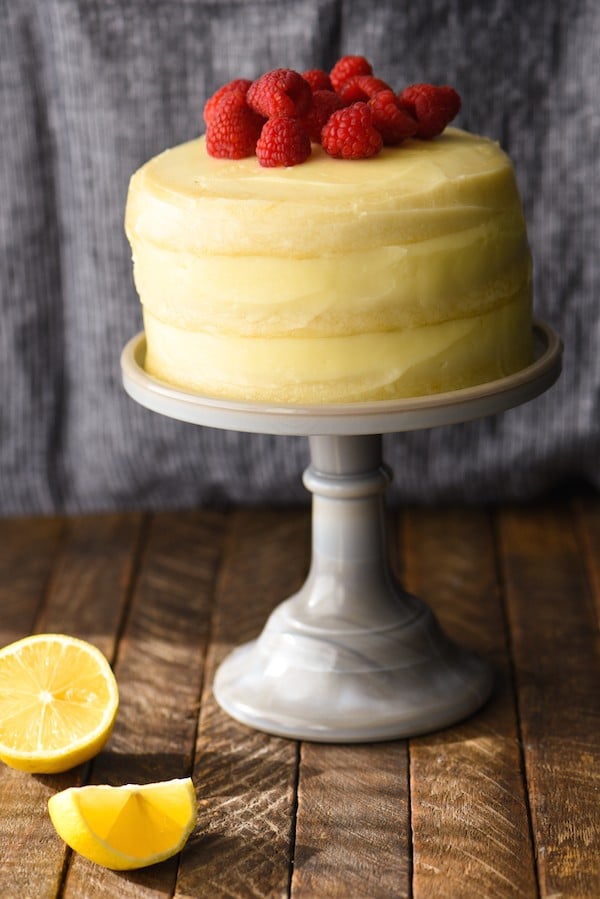 Whenever Lori bakes this miniature lemon cake, it's for one of two reasons. First, sometimes she wants a slice of electrifying lemon cake. Other times, though, she wants to use the little gray cake stand you see in the picture. So, if like Lori, lemon is your love language, you'll get a kick out of this one. The cake is bright with lemon extract, lemon zest, and raspberry jam between layers. Finally, the Swiss meringue frosting, sweet but not cloyingly so, seals the deal.
Visit Foxes Love Lemons for the recipe.
Individual Mini Peach Cobbler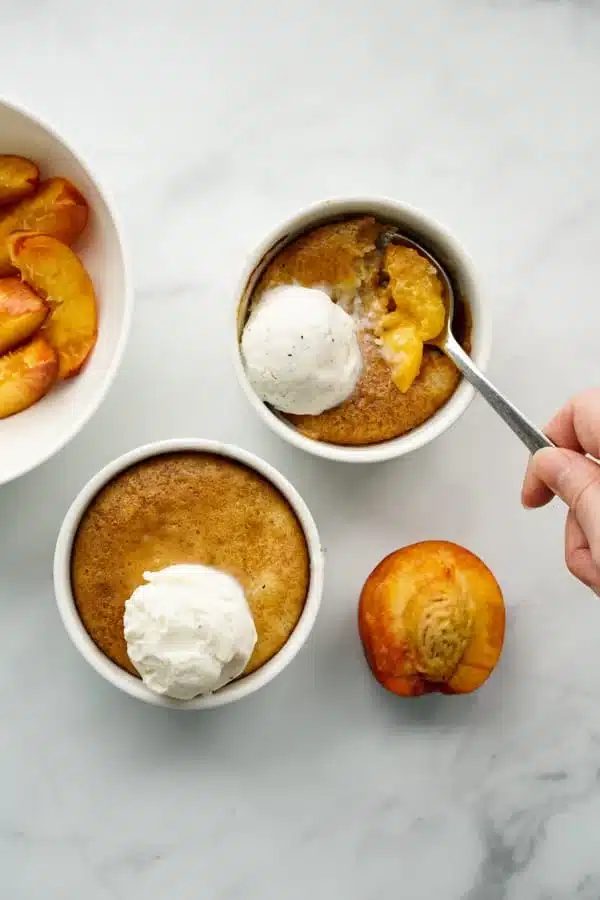 If a full-sized peach cobbler sits in our fridge, it will be devoured, and blood sugar levels will spike as we spiral into a gluttonous binge. So, this "why didn't we think of it" individual peach cobbler recipe from MinShien of Joyous Apron could be life-saving for us. Served in ramekins with a scoop of vanilla ice cream, it's a delicious portion-controlled treat.
Visit Joyous Apron for the recipe.
Easy Air Fryer Baked Apples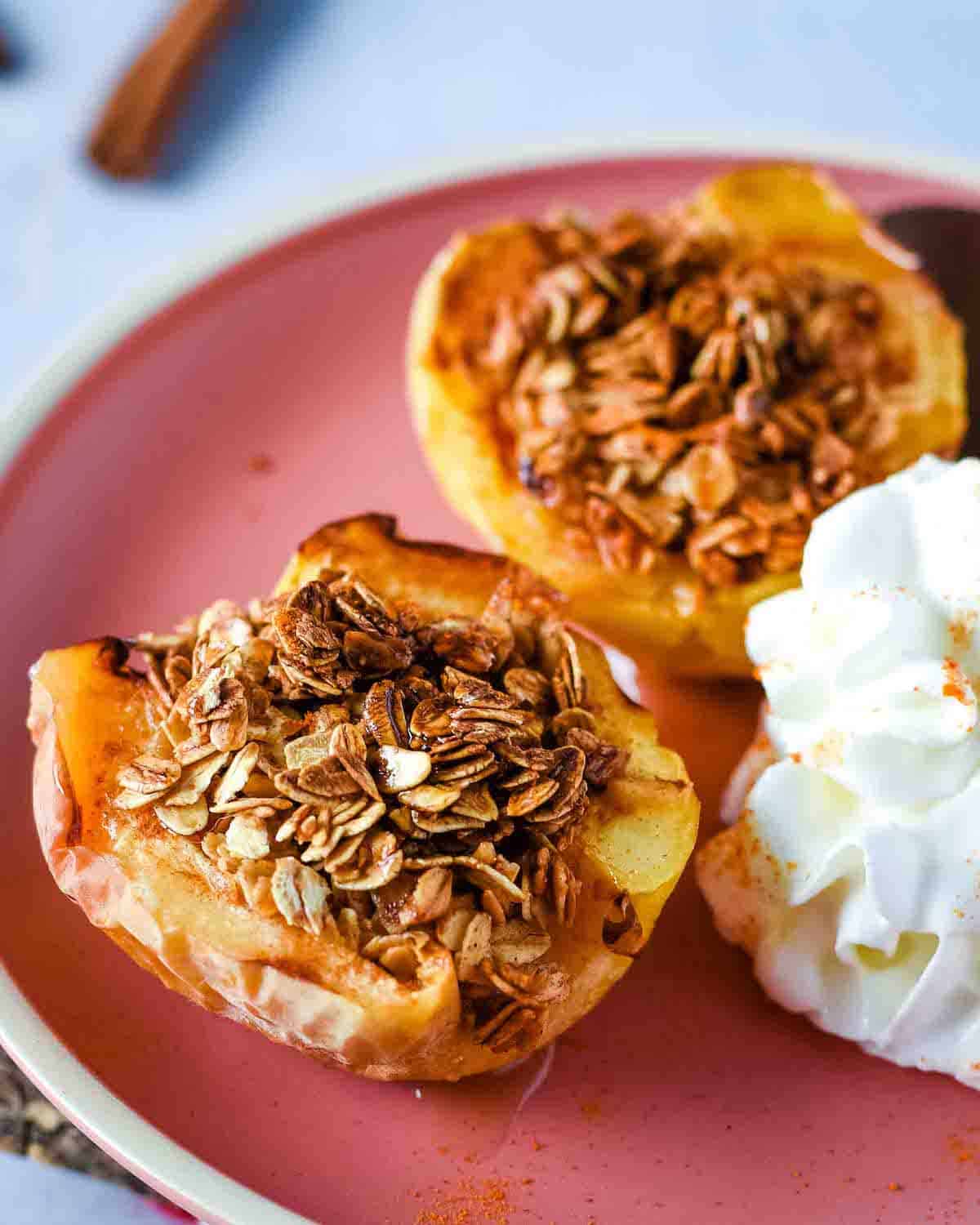 Air fryer baked apples by Genevieve of Two Cloves Kitchen are an effortless 18-minute dessert to finish your weeknight dinners. However, what we like about the sweet treat is that with oats, cinnamon, and maple syrup, it isn't overindulgent.
Visit Two Cloves Kitchen for the recipe.
Homemade French Hot Chocolate For Two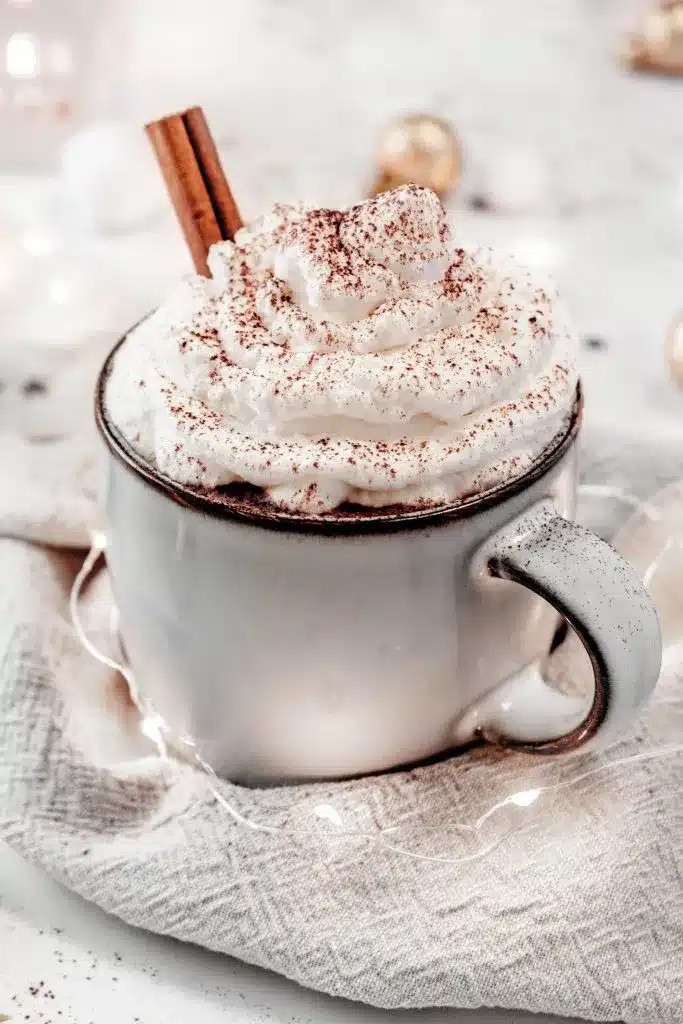 This hot chocolate by Bianka of Damn Spicy with heavy cream, chocolate, powdered sugar, whipped cream, and cookies is dessert in liquid form. It's not just any ol hot chocolate, however. Instead, it's decadent and creamy-what you'd expect at a Parisian cafe. As written, it makes two large servings.
Visit Damn Spicy for the recipe.
Small Batch Chocolate Cupcakes For Two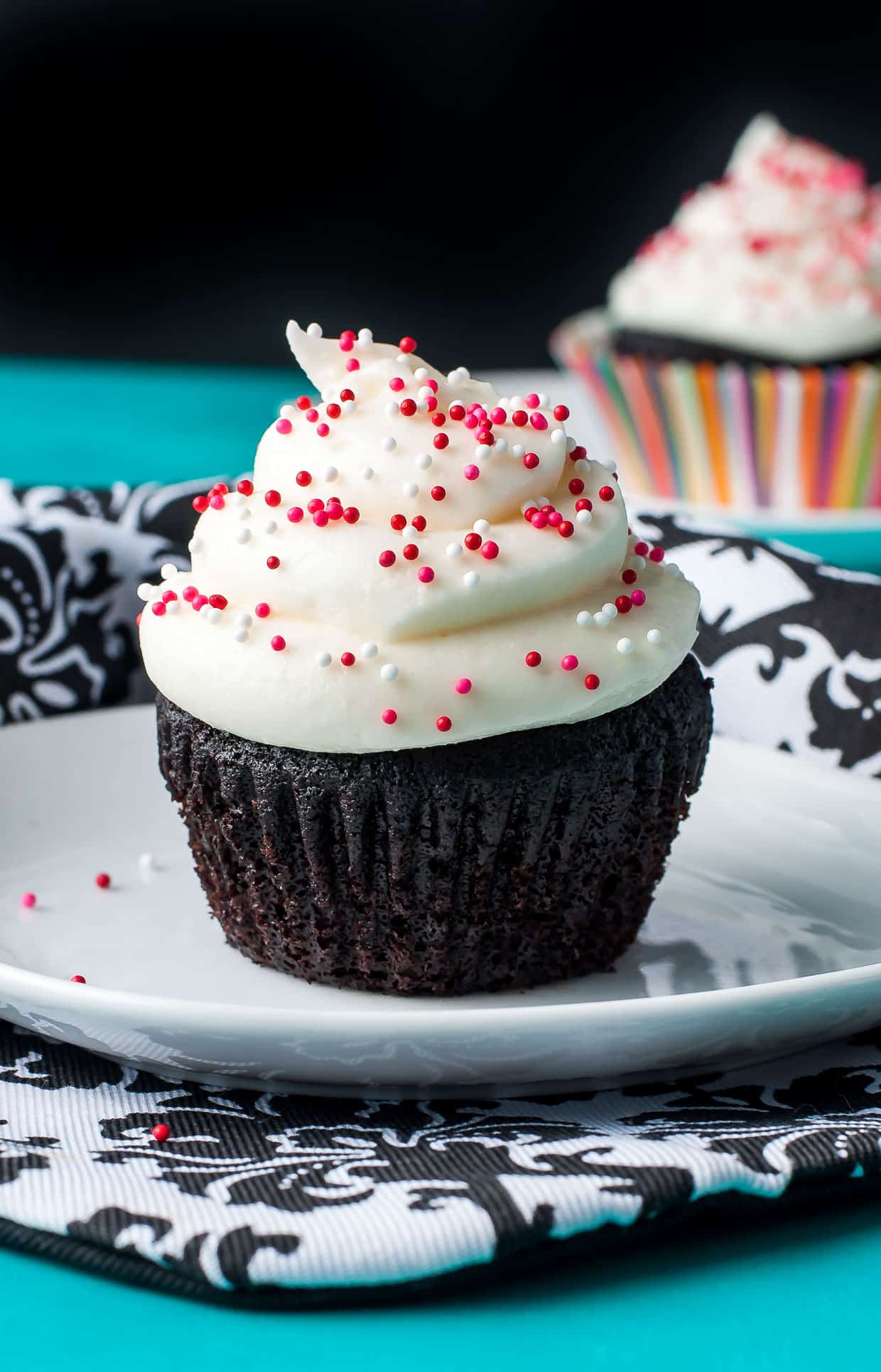 When the kids leave the nest, you won't find the need to make a big batch of cupcakes. So, you'll turn to these tiny batch cupcakes for two from Jenn of Peas & Crayons. This dark chocolate mini cakes recipe makes four servings. So, one for you, one for them, rinse and repeat tomorrow!
Visit Peas & Crayons for the recipe.
White Chocolate Valentine's Day Chocolate for Two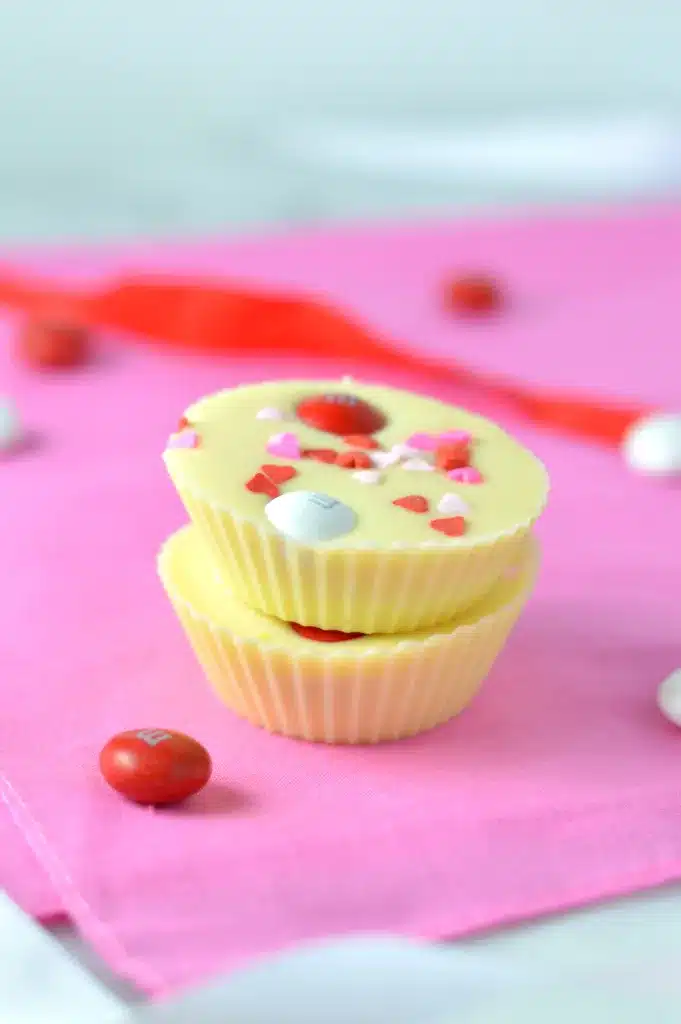 If Valentine's Day slipped your mind and you need a quick treat to bail you out of trouble, look no further than these quick white chocolate candies for two from A Taste Of Madness. Get this; it's a simple three-ingredient recipe including white chocolate, m&m's, and festive sprinkles. Better yet, you can make them in the microwave in just a few minutes.
Visit A Taste Of Madness for the recipe.
Amaretto Chocolate Mousse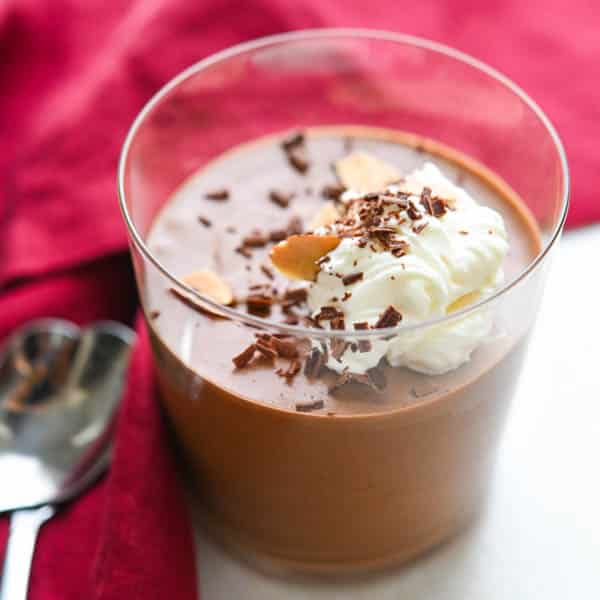 Candy is dandy, but liquor is quicker. Although, if you combine the two, you get this light and airy, alcohol-laden Amaretto chocolate mousse-a treat that'll hit all the right spots and, uh, "facilitate things," if you catch my drift. So turn to this recipe from Lisa of Garlic & Zest for a two-day, dessert for two, and the delicious night that follows.
Visit Garlic & Zest for the recipe.
Air Fryer Peaches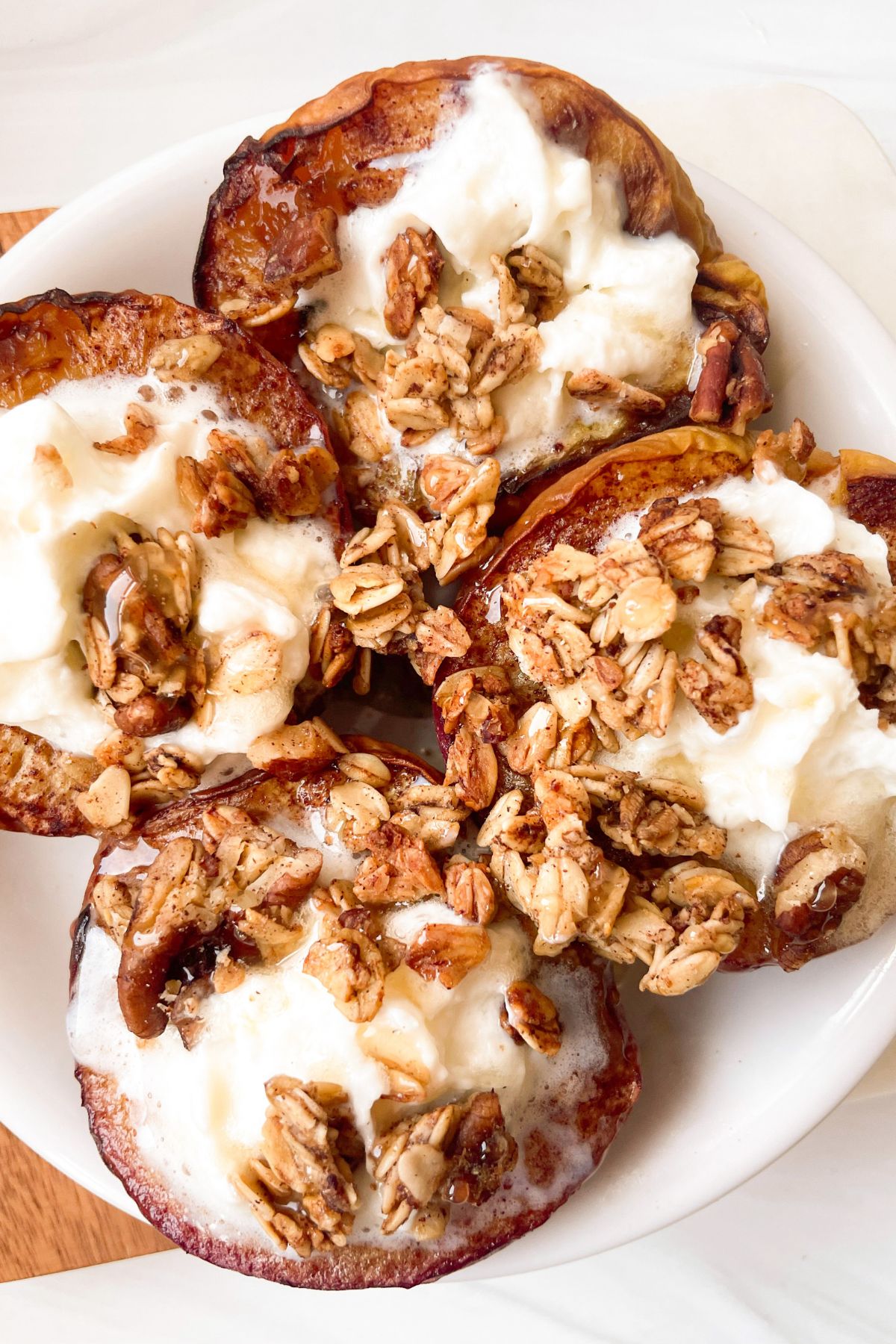 For a healthier dessert that won't drag you down, you'll want this tasty air fryer peaches recipe by Hello Frozen Bananas. But not only are they healthy, but they're also quick. Once you pop the peaches in the air fryer for just 12 minutes, top them with honey and granola for a "lazy peach crisp," as Krista calls it.
Visit Hello Frozen Bananas for the recipe.
Old Fashioned Banana Pudding From Scratch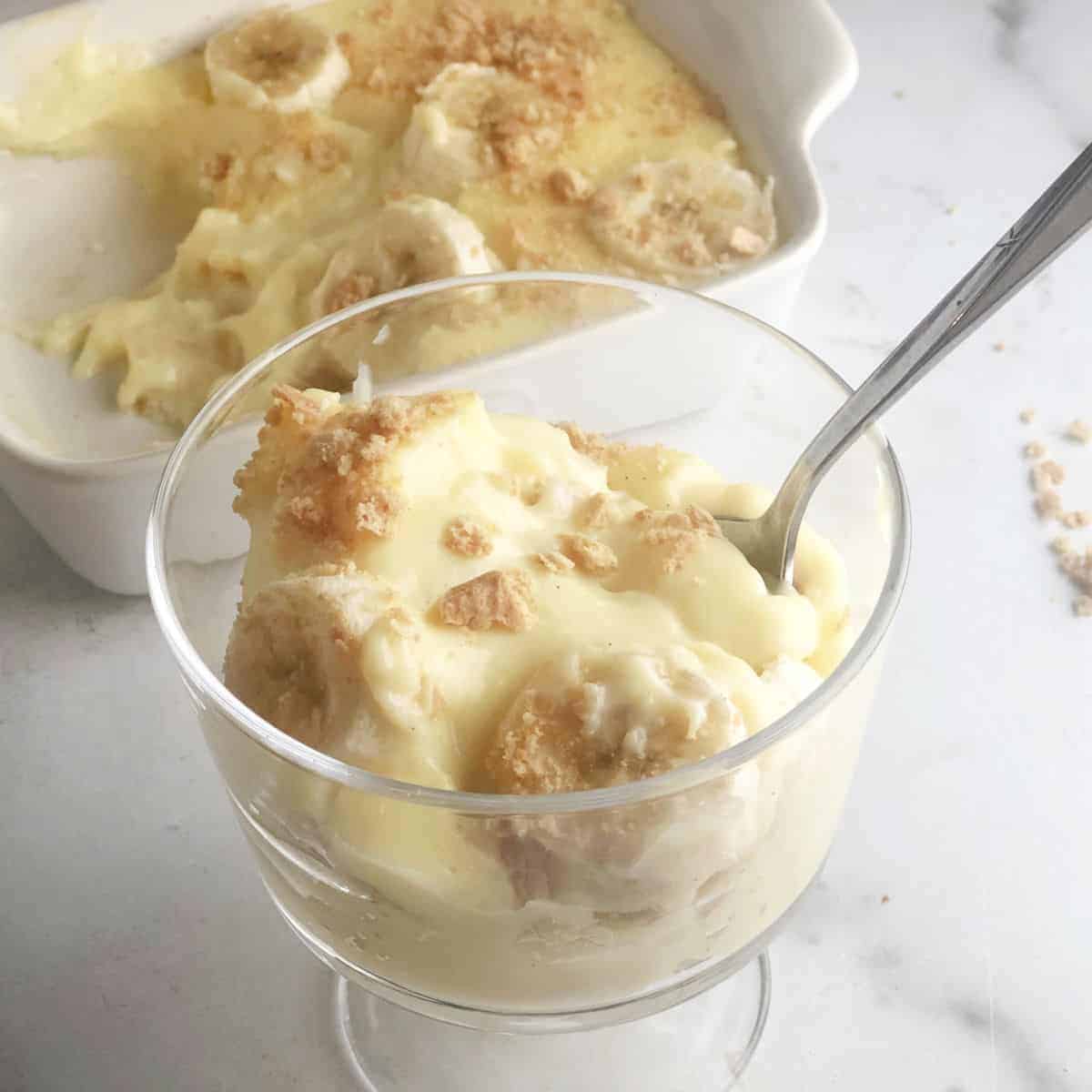 Oh, how we love banana pudding. The mushy wafer cookies, bananas, and pudding make for a tempting goody. However, if there were one dessert that should be miniaturized, it's this. After day two, the bananas start to gray, and the liquid begins to separate from the pudding. So, this small batch offering from Sydney of A Weekend Cook solves those issues for the single or couple.
Visit A Weekend Cook for the recipe.
Which Desserts For Two Will You Try First?
So, by now, you've come across two dozen immaculate desserts for two. There are so many delicious options for small-batch treats, which are ideal if you want to indulge without going overboard. So, what will it be? There are several small-batch cookies, cupcakes, and even less sugary treats like air fryer peaches with granola and honey. Let us know!
Before you leave, don't forget to see our tasty compilation of mini cheesecake recipes.