We all know that summer is ice cream season, but the Cuisinart ice cream maker recipes on this page will have you ready to make them all year round. We promise you're in for a treat, literally! So, continue reading for incredible ice cream inspiration.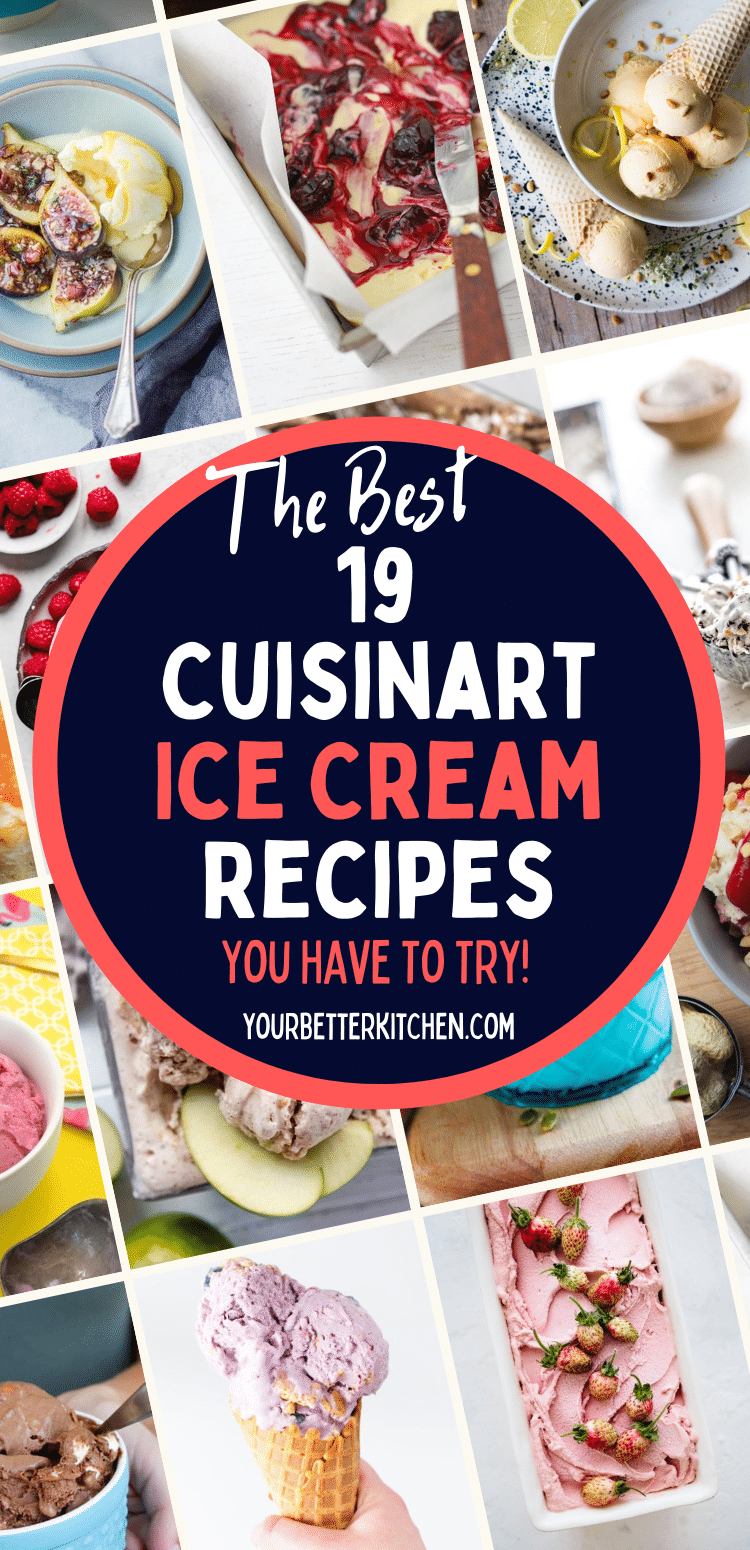 Be sure to check out our sweet potato ice cream recipe, key lime pie ice cream pops recipe, and s'mores ice cream sandwich.
Jump to:
5 Fun Facts About Ice Cream
1. Get ready for your jaw to hit the floor in amazement! On average, every American eats a waistline bulging 23 gallons of ice cream per year. So how do we have room for anything else between eating doughnuts, hot dogs, and ice cream?
2. Are you surprised to learn that vanilla is the most popular ice cream flavor? We're not surprised at all. Vanilla, while subtle, is delicious! And it's the perfect base for toppings and the best accompaniment for pie.
3. The most expensive ice cream dish is Black Diamond from Scoopi Cafe in Dubai, and it'll set you back over $800! The ice cream is made with edible sheer yellow metal and frozen using nitrogen, an expensive modernist technique. Then it's shrouded in 23-karat gold flakes, saffron, and Italian black truffle. Also, they serve it in a hand-crafted Versace bowl that you get to keep.
4. Merchant and explorer Marco Polo is credited with spreading ice cream throughout Europe.
5. National Ice Cream Month is July and National Ice Cream Day is the third Sunday in the same month. Check with your local ice cream shops to see if you can score a free ice cream cone.
19 Delicious Cuisinart Ice Cream Maker Recipes
You're going to have fun with this list of 18 of the most delicious Cuisinart ice cream maker recipes made by talented food bloggers. You'll find apple pie, peach, salted caramel (my personal favorite), rocky road, s'mores, and even fig and goat cheese, to name a few. The goal is to inspire you to make your favorite flavors at home and even discover new ones. And as always, this is a list, not a ranking.
1. Apple Pie Ice Cream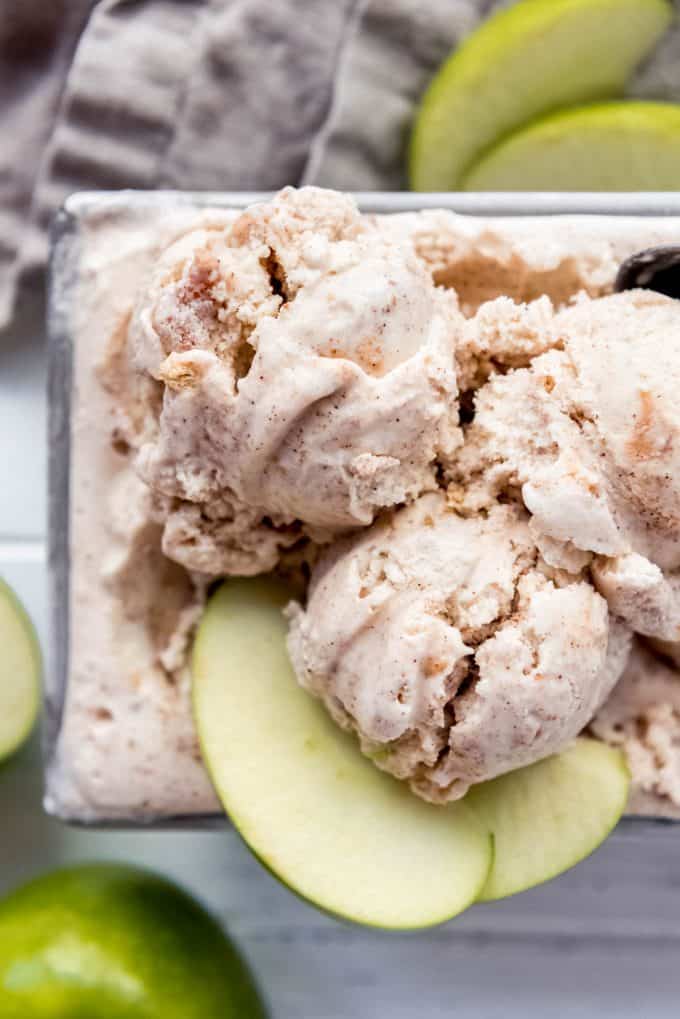 Don't you just love warm cinnamon-spiced cooked apples, buttery, melt-in-your-mouth crust, apple pie? We sure do! That's why this apple pie ice cream from Amy of House Of Nash Eats is a great late-summer treat. It's everything you love about apple pie in ice cream form. So it's perfect for when apples are just coming into season, but it's not quite baking season yet. And if you want a cold treat you'll be making all summer long, definitely see her old-fashioned peach ice cream recipe.
Visit House Of Nash Eats for the recipe.
2. Rocky Road Ice Cream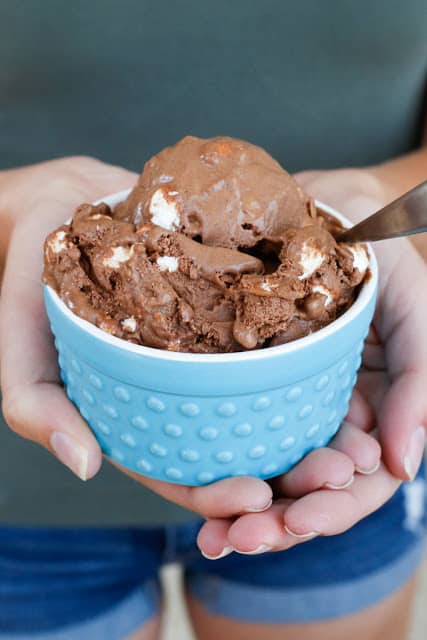 Enjoy this easy and indulgent rocky road ice cream all summer from Mary of Barefeet In The Kitchen. Rocky road ice cream has all of the mix-ins you could ever ask for, what with marshmallows, almonds, and chocolate chips. It's just full of deliciousness! Luckily, there's not much active cooking time for the mix, two minutes, actually. But, most of the time, you'll be waiting (impatiently) for the mixture to cool off so you can churn it…and eat it.
Visit Barefeet In The Kitchen for the recipe.
3. Chunky Apricot Ice Cream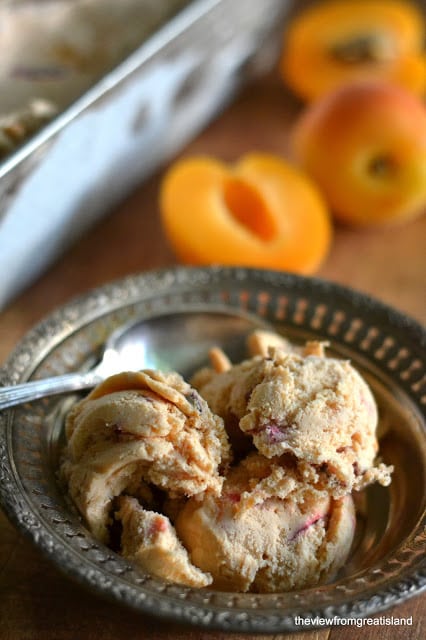 If you are anything like Sue of The View From Great Island, you just can't wait to put your ice cream maker in service. I get it. That's what it's there for, right? To pump out one delicious ice cream recipe after another. Anywho, we love that Sue loaded this apricot ice cream up with a lot of the stone fruit. In fact, she added a whole pound of it. So don't let the soft, old-fashioned color fool you. She packed it with flavor.
Visit The View From Great Island for the recipe.
4. Mint Chocolate Chip Ice Cream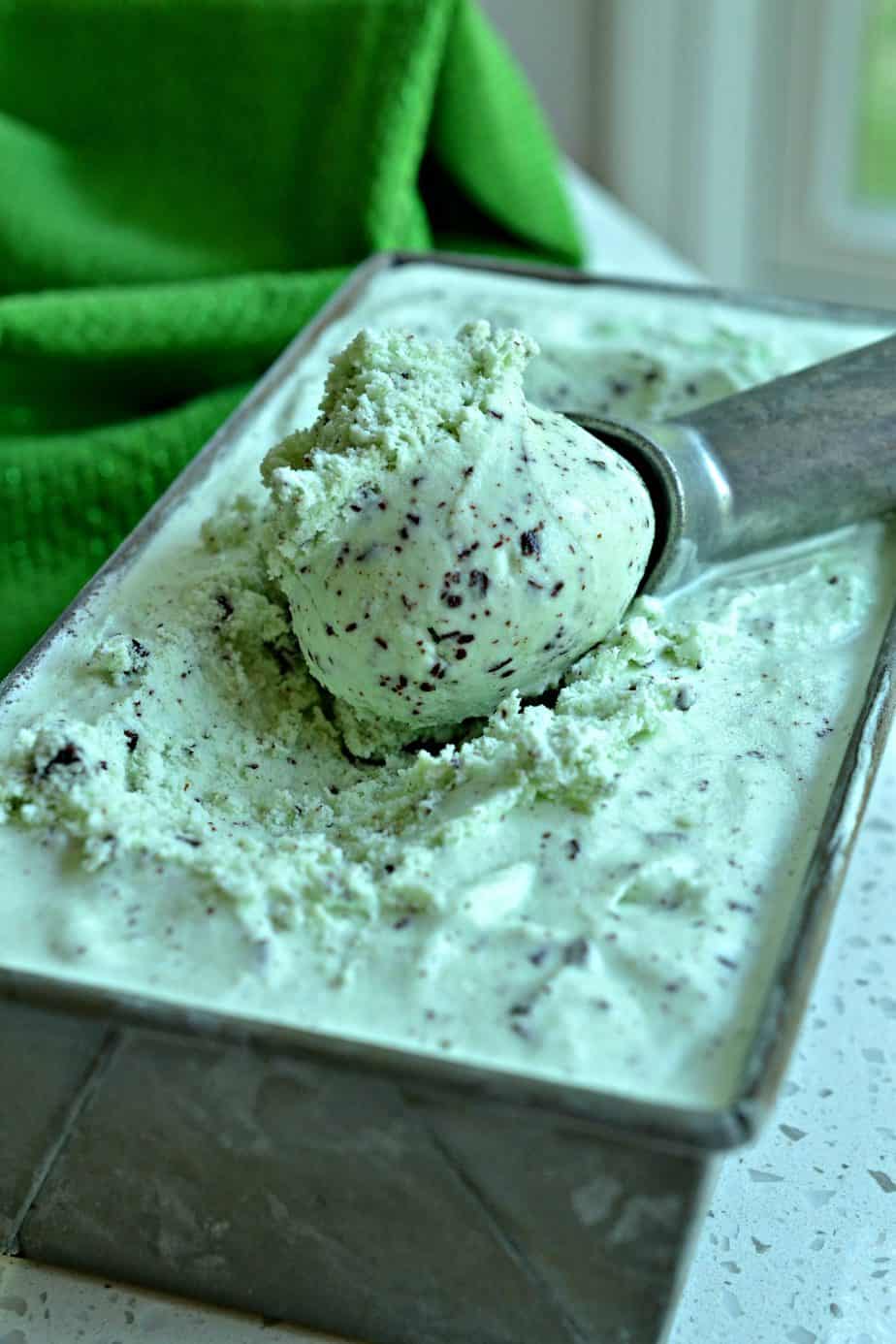 If mint chocolate-chip ice cream tickles your fancy, then you're going to love this ice cream from Beth of Small Town Woman. It's a seven ingredient refreshing ice cream with that classic pale green color (thanks to a few drops of food coloring). In addition, you'll find a recipe complete with helpful tips like which extract to use, how long to churn, and which chocolate is best to make this ice cream good to the very last spoonful.
Visit Small Town Woman for the recipe.
5. Toasted Coconut Chocolate Chunk Ice Cream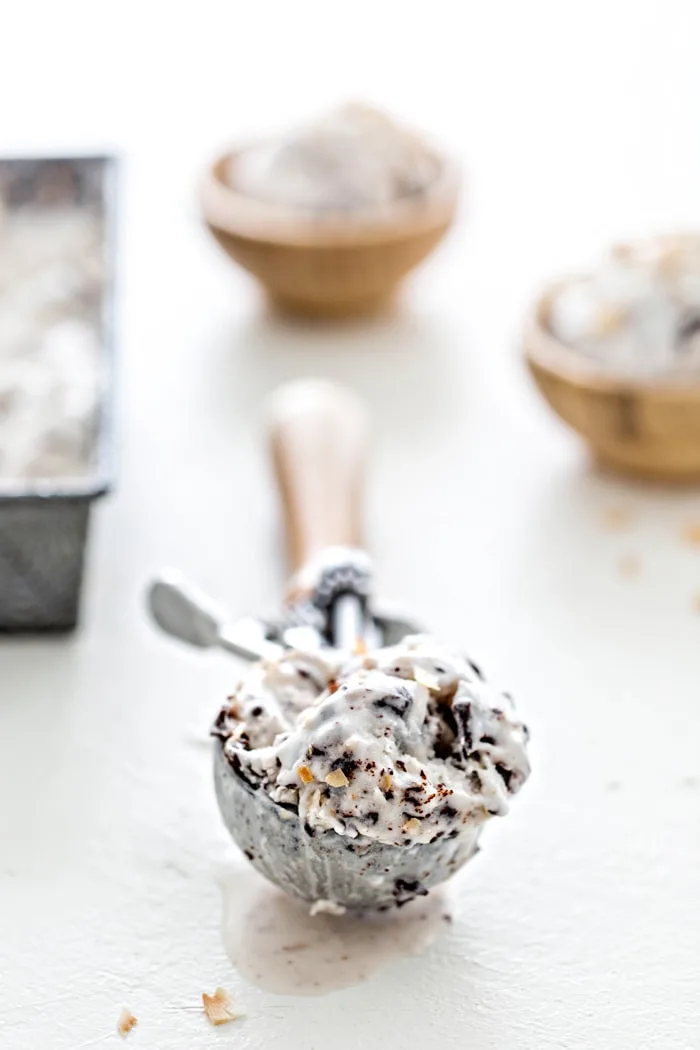 On doctor's orders, Katie of Good Life Eats cut dairy out of her diet for a while and made this delicious non-dairy coconut ice cream. Now, before you raise an eyebrow, Katie promises you would never know it doesn't have any cow's milk. So regardless of the base, you have a decadent cold treat complete with chocolate chunks and toasted coconut. Doesn't it look delish?
Visit Good Life Eats for the recipe.
6. Homemade Pomegranate Ice Cream Recipe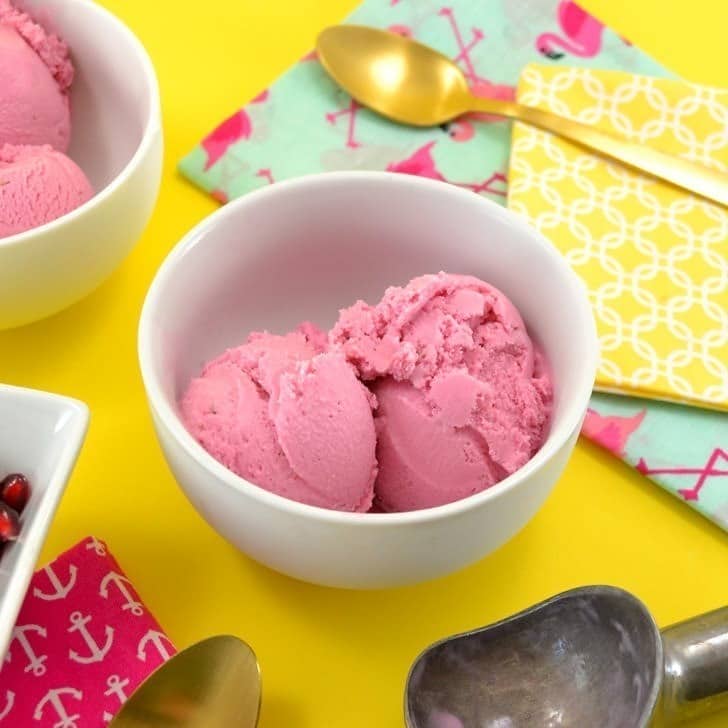 Before she gets into the recipe, Allison of Dream A Little Bigger gives us a brief history lesson on the pomegranate. Perhaps, one of the first cultivated fruits. You know, pomegranate is delicious, but it's not one of the first flavors you think about for ice cream or sweet treats. That's why this well-tested recipe is excellent to add to your must-try list. It's probably new to you and looks so delicious!
Visit Dream A Little Bigger for the recipe.
7. Raspberry Ice Cream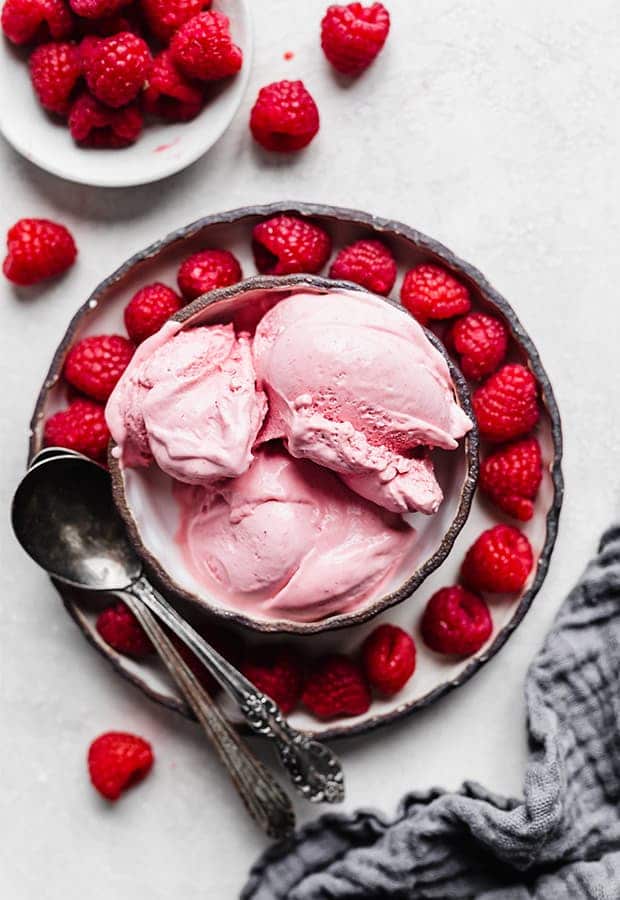 This raspberry Cuisinart ice cream maker recipe from Whitney of Salt and Baker looks luxuriously creamy and rich. That's because it's a decadent custard-based (egg yolks) ice cream, which is our favorite. So, you have that unique sweet tanginess of raspberries combined with a rich sweet cream base. Heavenly! In addition, you'll find a super-helpful post full of tips and tricks and answers to common questions.
Visit Salt And Baker for the recipe
8. Salted Caramel Ice Cream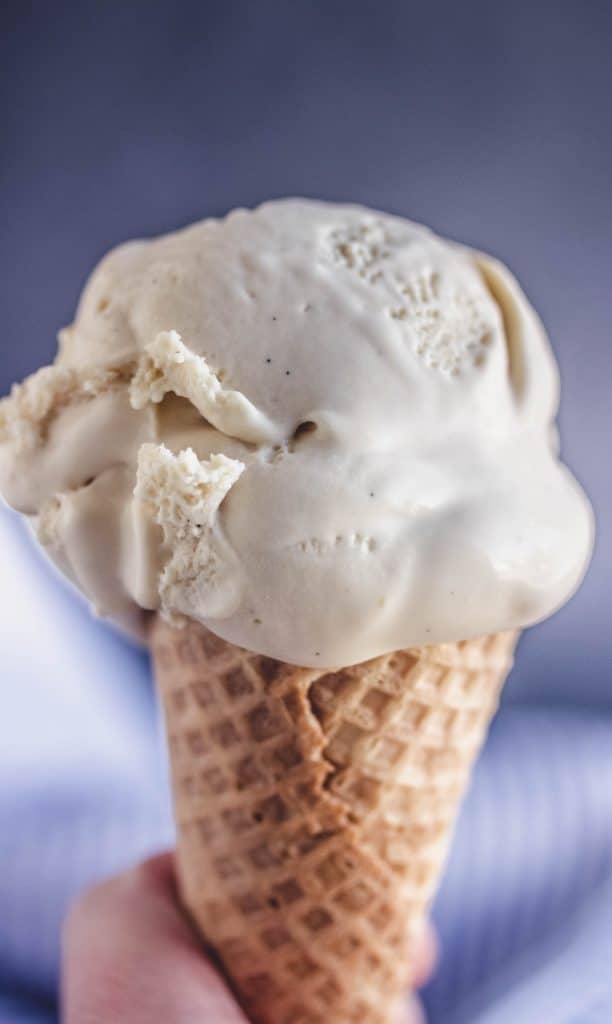 Salted caramel ice cream is a family favorite around these parts, so this recipe from Jodi of 5 Boys Baker certainly has us cheery. But we know first hand that salted caramel ice cream isn't the easiest to make. It requires patience and, equally important, a good recipe. So we were happy to see that Jodi filled her page with lots of tips and an image of the amber color you should look for when you make the caramel.
Visit 5 Boys Baker for the recipe.
9. Italian Lemon Ice Cream With Limoncello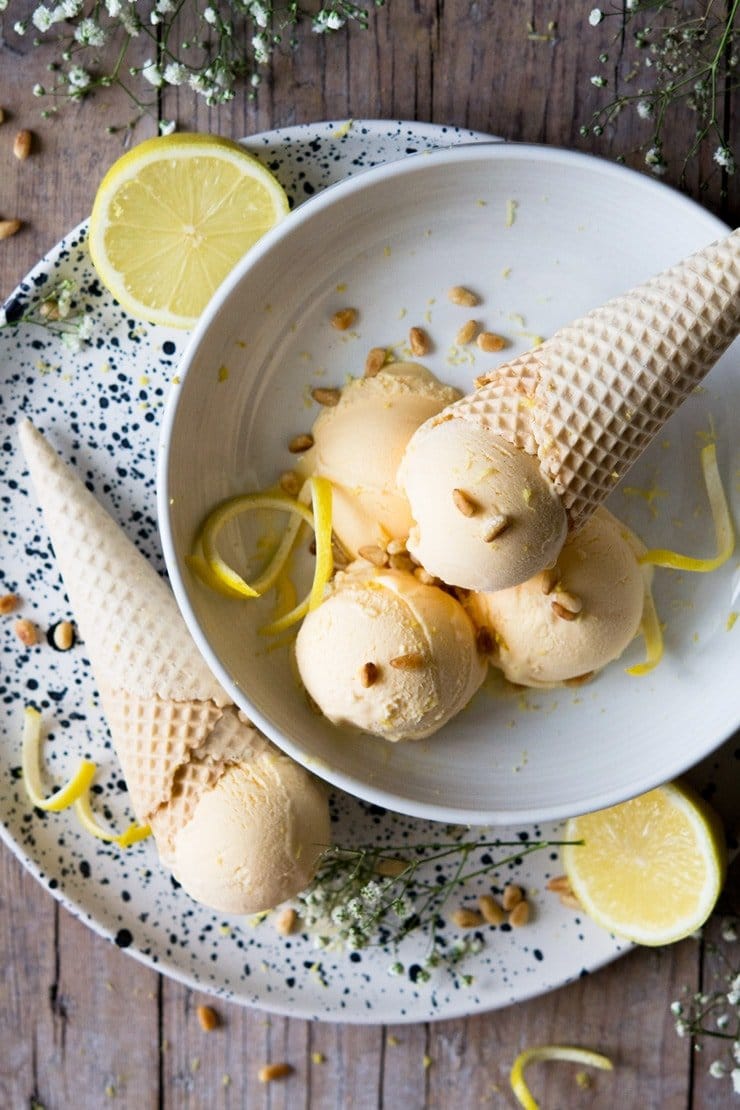 This lemon ice cream recipe from duo Emily and Nathan of Inside The Rustic Kitchen is on our must-try list! It just looks like an exciting recipe as they infused it with limoncello (Italian lemon liquor) and topped it with pinenuts and lemon peel. It's custard-based, so it has a creamy and luxurious texture. And because of the alcohol, you can expect it to be a bit softer and more scoopable.
Visit The Rustic Kitchen for the recipe.
10. Cherry Bourbon Ice Cream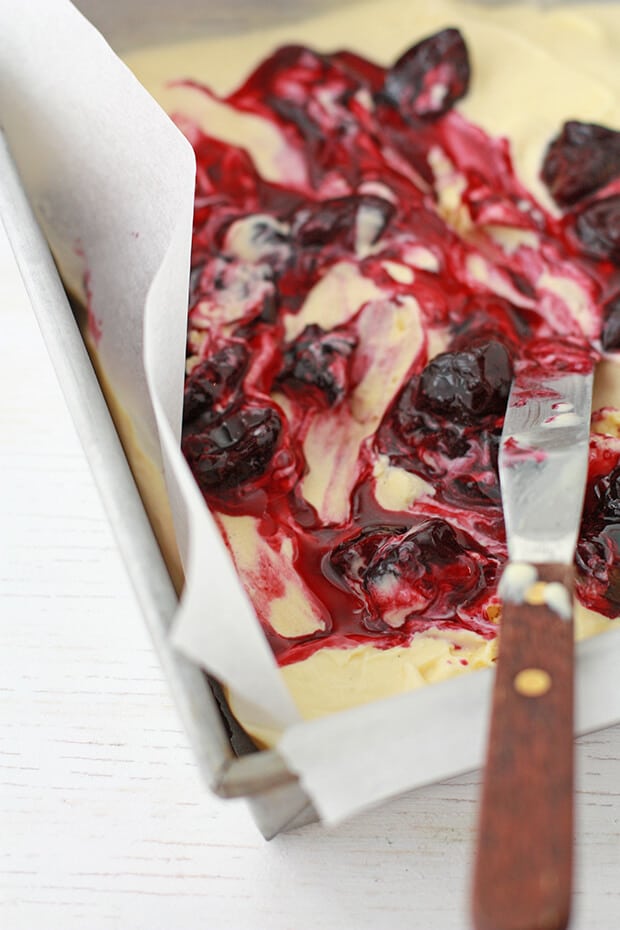 This cherry bourbon ice cream from Janice of Bake school is a lovely, creamy, fruity ice cream sure to impress. Not only does Janice make delicious ice cream, but she also schools us with some ice cream science. Particularly alcohol's place in the cold confection. You want to add enough to be softer and easier to scoop. But add too much, and you'll end up with a soup that just refuses to freeze. Lucky for us, Janice shares her wisdom after testing many ice cream recipes.
Visit Bake School for the recipe.
11. Strawberry Rhubarb Ice Cream
This strawberry rhubarb ice cream is the perfect Cuisinart ice cream maker recipe, brought to you by the kind folks over at Weekend At The Cottage. And it captures the essence of summer in every bite. You get the sweetness of the strawberries along with the tanginess of rhubarb for an age-old classic. The iconic soft pink color comes from the juiciest of ruby-red strawberries picked at their peak combined with a cream base. It's simply delicious!
Visit Weekend At The Cottage for the recipe.
12. Goat Cheese Honey Ice Cream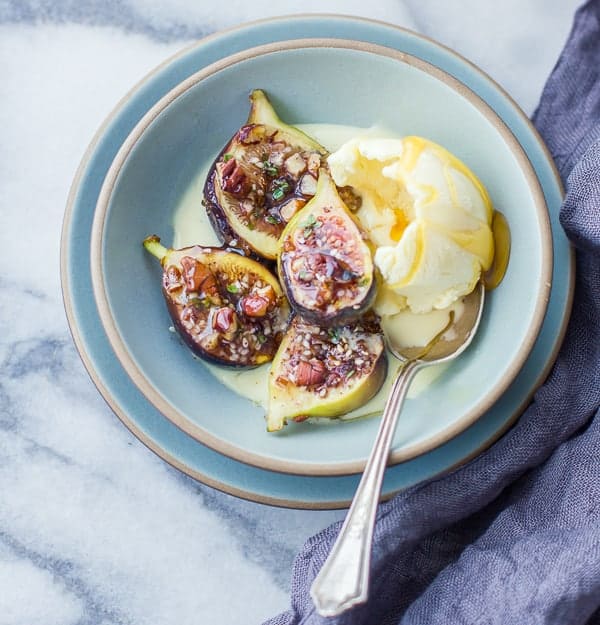 Allana of The Bojon Gourmet made this goat-cheese honey ice cream inspired by Za'atar broiled figs. The same gorgeous figs in the image above. Although it looks delicious, goat cheese isn't the most popular ice cream flavor. But it should serve as a reminder of how versatile ice cream can be. However, this ice cream will have a strong goat cheese flavor, perfect for goat cheese lovers. So, are you intrigued? We are!
Visit The Bojon Gourmet for the recipe.
13. Blueberry Cheesecake Ice Cream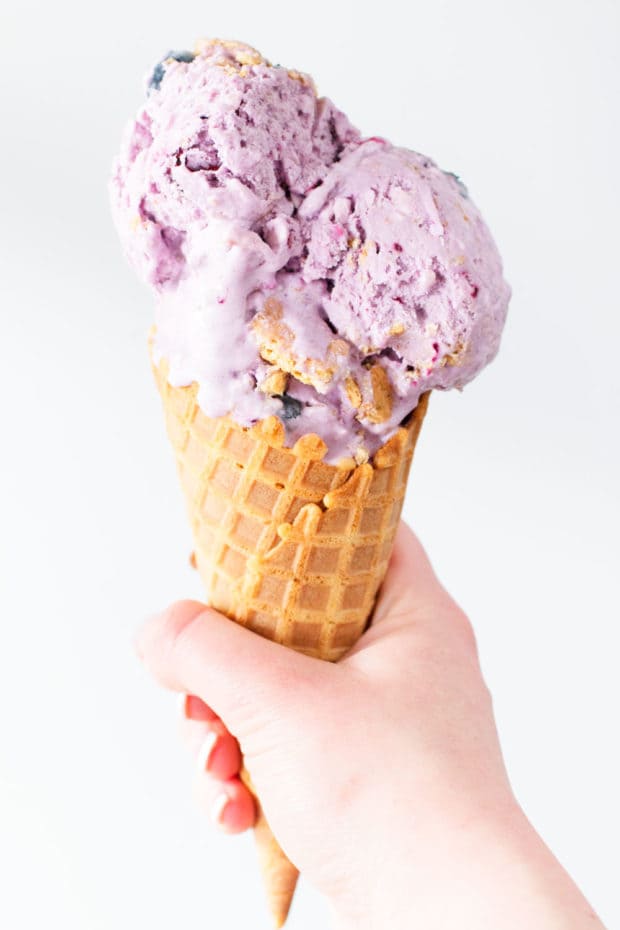 When life gets to be overwhelming, Meghan of Cake N Knife makes ice cream. And so that's how she developed this blueberry-cheesecake ice cream recipe. It's not a custard, so it comes together pretty quickly. The only thing to cook is the blueberry compote. But you can still expect a rich and smooth texture from the cream cheese base with long-lasting flavor interrupted now and then by the crunch of smashed graham crackers.
Visit Cake N Knife for the recipe.
14. Birthday Cake Ice Cream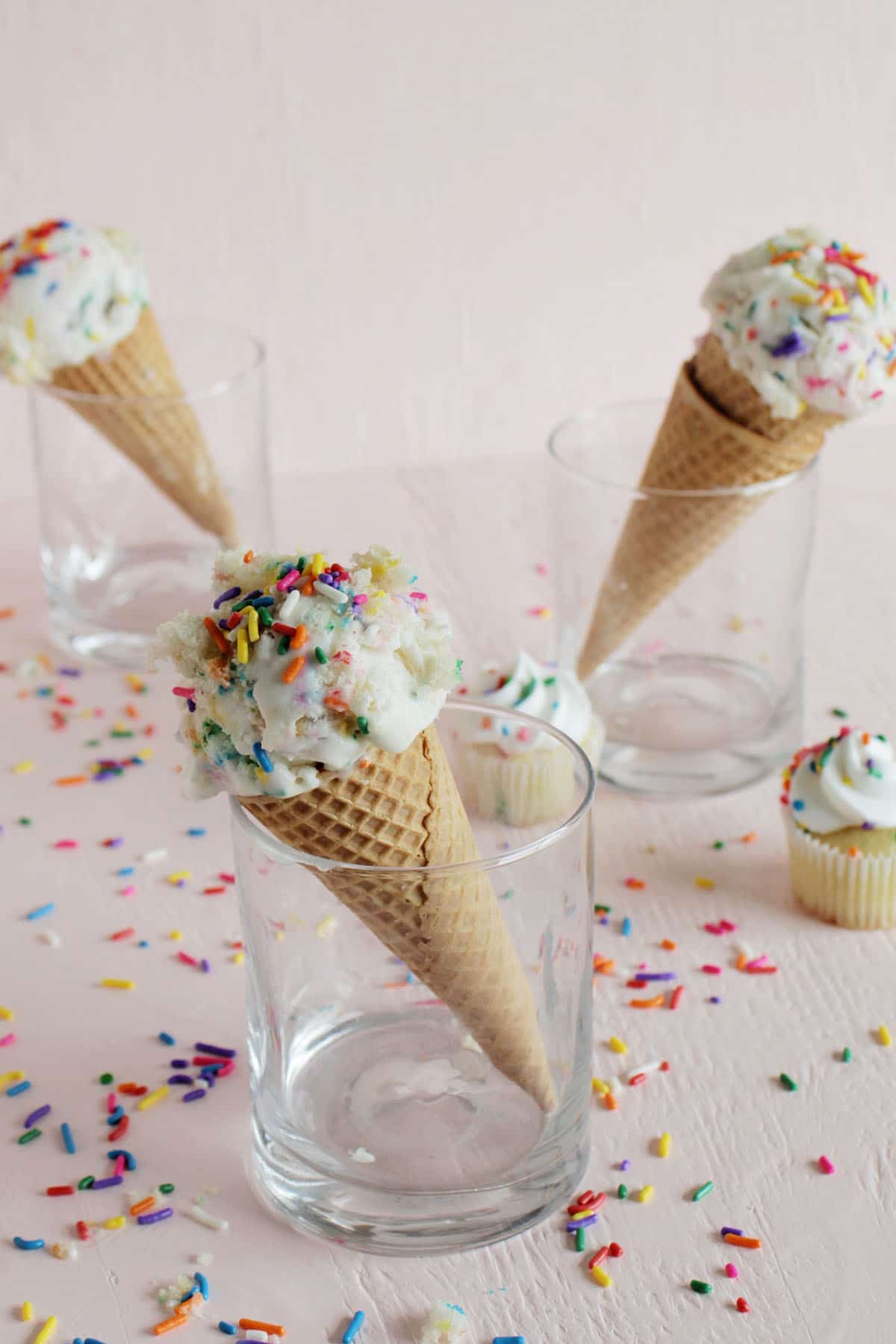 Jessica of Home Body Eats invites us to celebrate with her with this birthday-cake ice cream recipe. Of course, this delicious ice cream is the show's star, but there's also a science lesson shared within the post. You'll learn lots, for example, how cornstarch can replace egg yolks and act as a stabilizer. And then there's this one really cool secret ingredient to get that unique birthday cake flavor. It'll make you smile!
Visit Home Body Eats for the recipe.
15. Ice Cream With Brown Butter And Pecan Brittle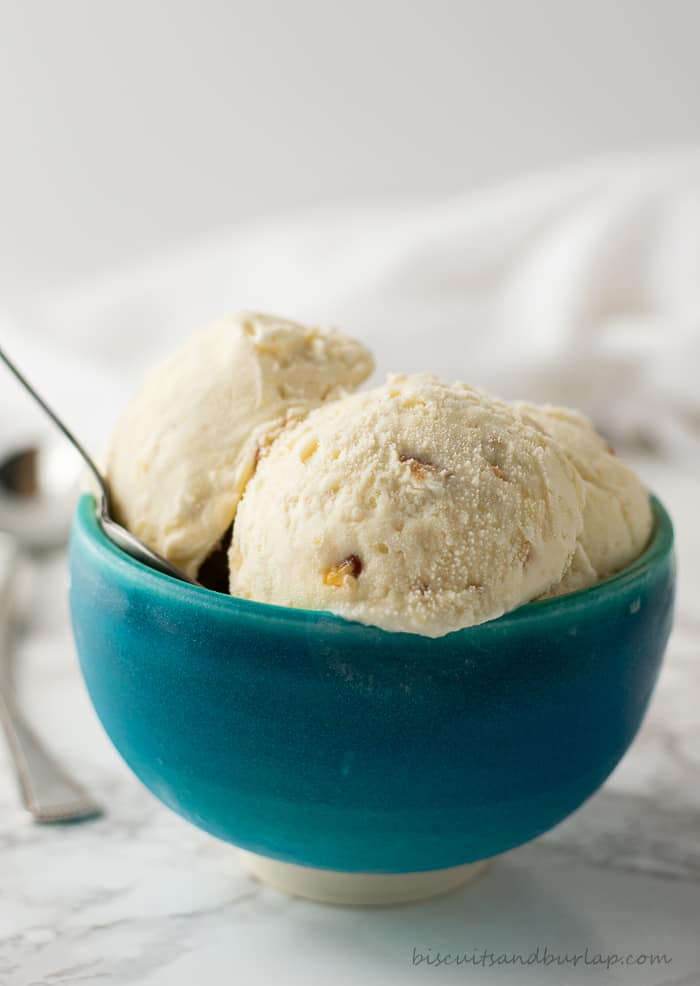 If you've never had brown butter ice cream, stop everything you're doing and put this recipe from Pam and Sara of Burlap And Biscuits on your must-make list. It's that good! Brown butter has a delicious nuttiness that is too good for words, as they state on their site. Correction, there is a word to describe this flavor. Mmmm! And the brown butter isn't the only thing to be excited about. They also packed this ice cream with pecan brittle!
Visit Burlap And Biscuits for the recipe.
16. Pumpkin Pie Ice Cream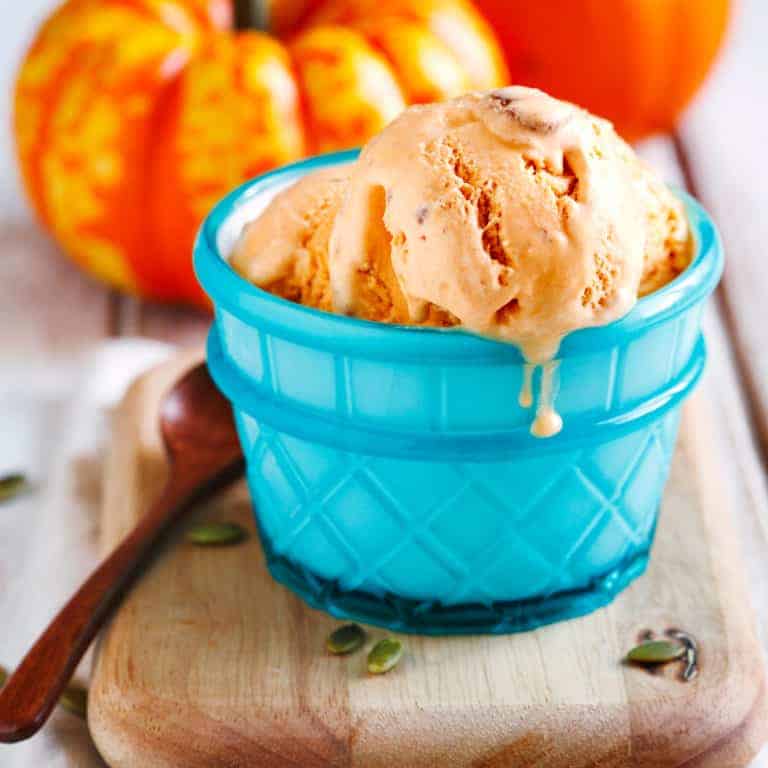 Kimberly of Daring Gourmet, a marriage counselor and creator of this pumpkin pie ice cream, gives us this delicious recipe with a warning. The last bit of ice cream may turn otherwise harmonious couples into selfish individuals. I can see why. You have a creamy custard base with pumpkin puree, brown sugar, pumpkin pie spices, and graham crackers. It's everything you could want in a holiday treat, even though we wouldn't think you're weird for craving it all year long.
Visit Daring Gourmet for the recipe.
17. S'mores Ice Cream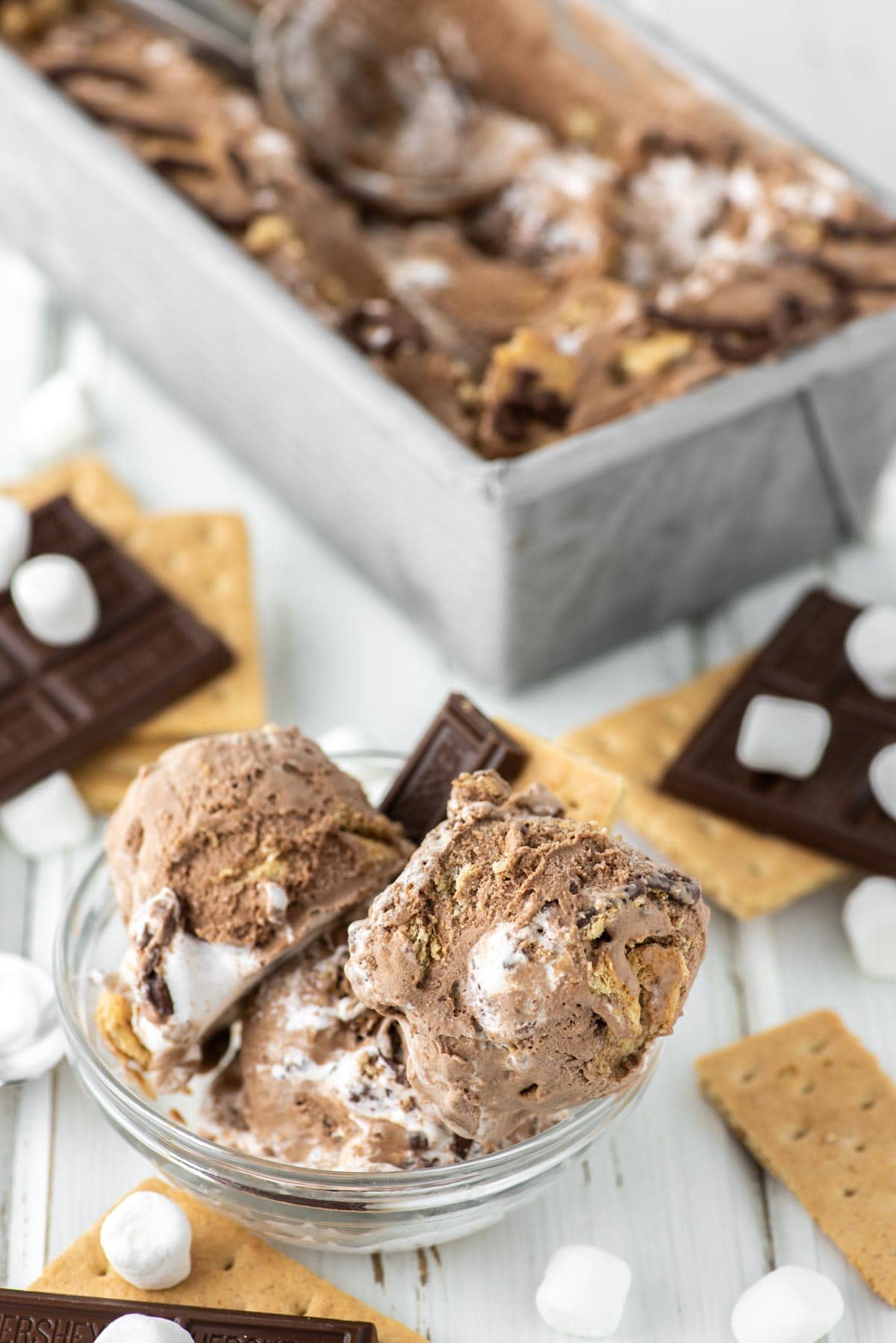 Ryan of Fork and Chisel brings us this delicious s'mores ice cream. A familiar treat in ice cream form. So, if you like ice cream and s'mores, this one is a no-brainer. We love s'mores and any opportunity (read: excuse) to torch marshmallows like with this s'mores ice cream sandwich or chocolate margarita. Ryan's recipe has all the usual suspects, Hershey's chocolate, graham crackers, and marshmallow creme. Oh, and if you need a DIY firepit, he's got you covered there too.
Visit Fork And Chisel for the recipe.
18. Roasted Balsamic Strawberry Ice Cream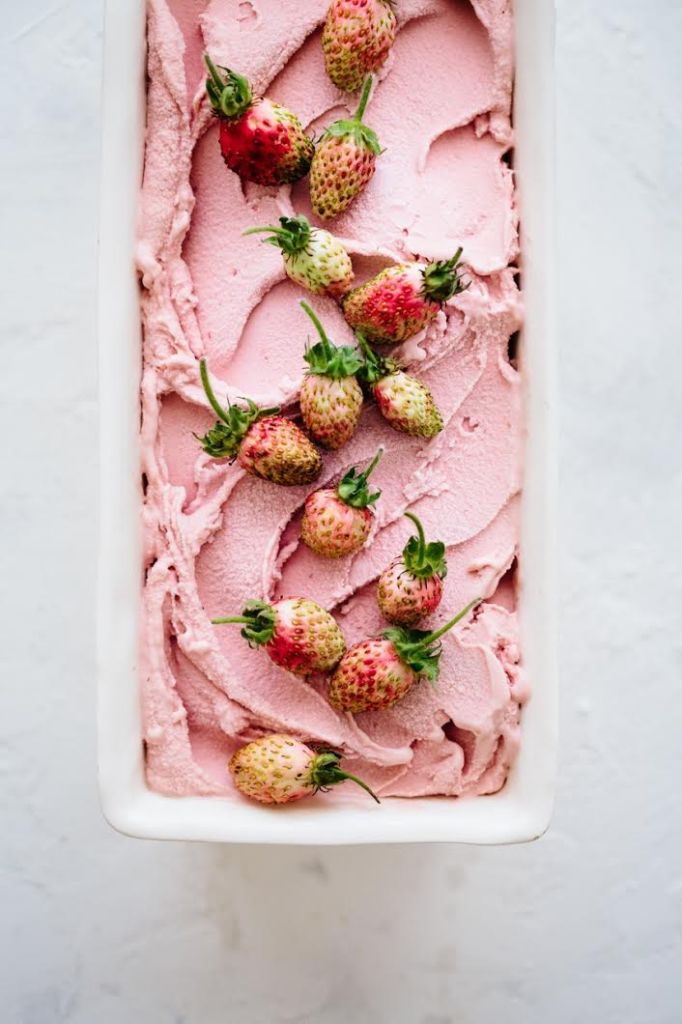 Vy of Beyond Sweet And Savory brings us this sweet and tangy roasted balsamic strawberry ice cream. It's a tasty treat that's sure to perk up the ears of the initiated and unfamiliar alike. And while it may be elegant and fancy, it's actually a very approachable recipe. Aside from roasting the berries with a bit of balsamic vinegar, the steps are the same as with any other fruity ice cream.
Visit Beyond Sweet And Savory for the recipe.
19. Peanut Butter And Jelly Ice Cream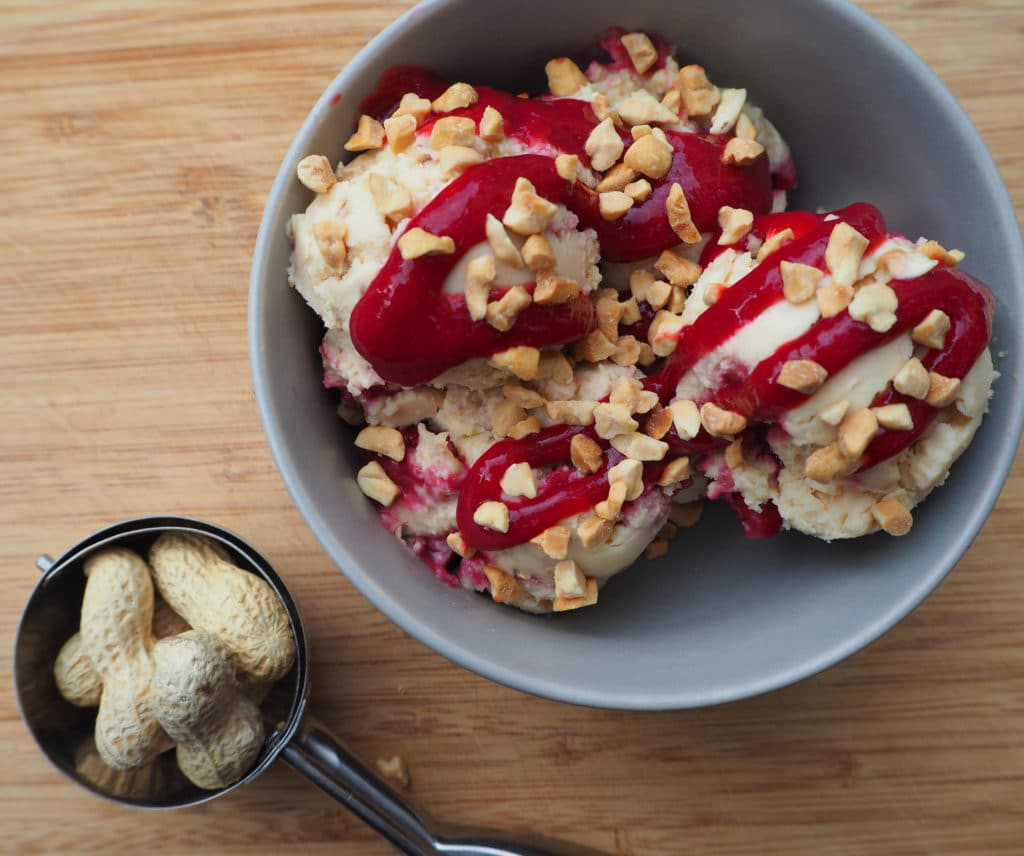 With this peanut butter and jelly ice cream from Sarah of Keep Calm And Eat Ice Cream, you can relive some of the tastiest moments of your childhood. But before getting into the recipe Sarah, an Australian fills us in on what jelly means "Down Under." It's an interesting tidbit. Then we get into the recipe, where she shows us how to combine the ingredients until the mixture resembles whipped cream. You definitely want to check this one out!
Visit Keep Calm And Eat Ice Cream for the recipe.
Which Recipes Are You Ready To Try?
So by now, you've seen a lot of Cuisinart ice cream maker recipes. Are you excited to get your ice cream maker out for some homemade ice cream treats? Which of the recipes are you ready to make? Let us know in the comments.