You're in for a special treat with these Bacon Apple Pie Bites. This recipe is just perfect for a fall party or get together. You've got the delicious crisp apples combined with the salty bacon flavor. It's a perfect sweet and salty marriage!
Like Lay's potato chips, when it comes to bacon apple pie bites, you can't eat just one. Therein lies the danger, right? Because one becomes two, then three, and if you're not careful, you've just ate a day's worth of calories in apple pie bites.
But I'm sure you have more self-control than that. I am a bit ashamed to admit that I had more than my fair share of these seductive little hand pies. But they are that good!
And that's not all…
They are the perfect make-it-in-advance party recipe. If you do decide to make them in advance, let them cool off first. If you bake them the night before your party, you will find that they taste better. Yeah, for real! They actually get better overnight. The dough gets a little more tender and the flavors of the homemade pie filling get a chance to mature.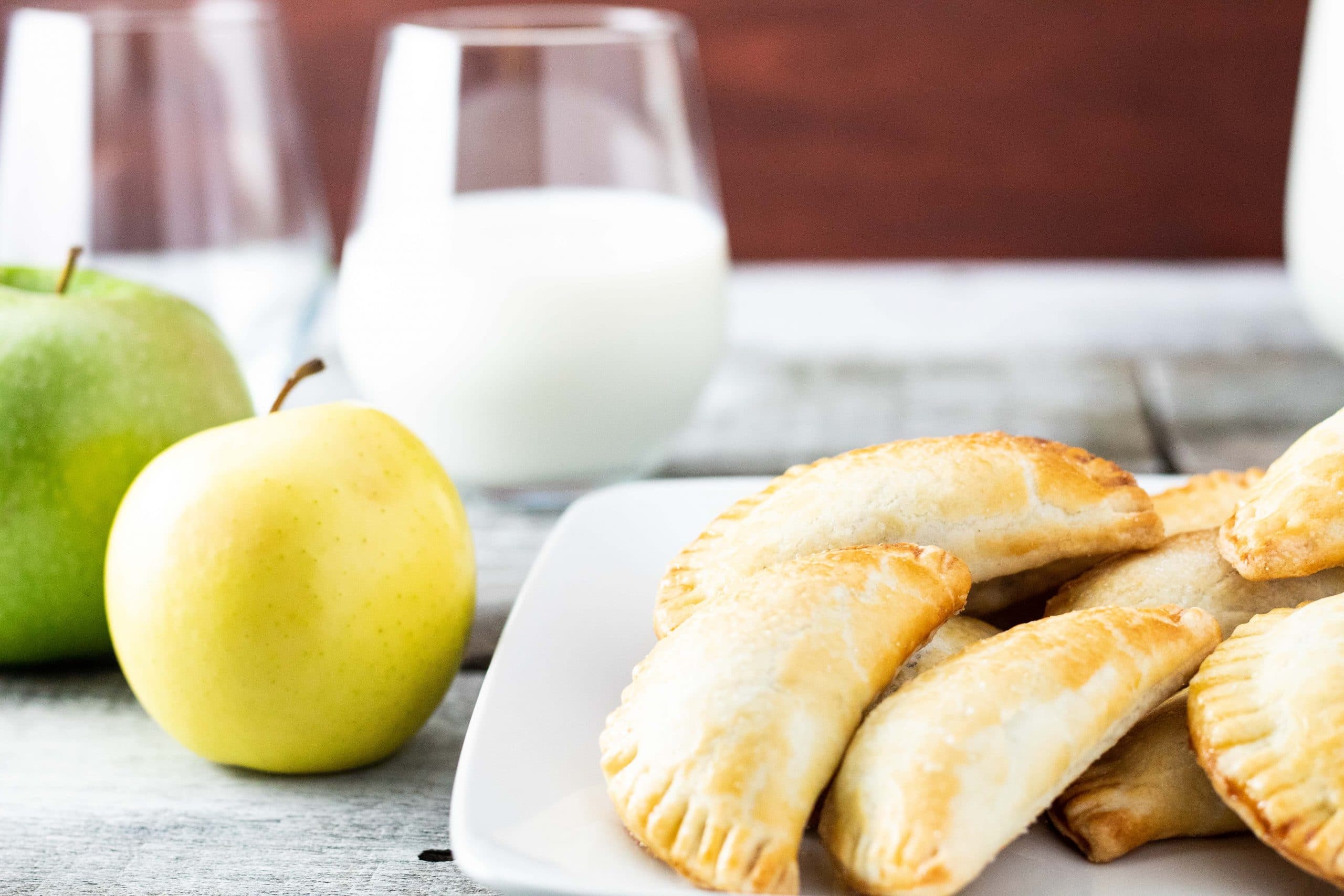 Speaking of that pie filling, we like to make our own pie filling rather than buying the canned stuff. You can't use just any ole apples. You have to use apples that can handle baking. We chose Golden Delicious and Granny Smith, which are firm, sweet and tart respectively. Now, here's the thing, once you start making your own pie filling, you will always make it from scratch. You just can't go back to the way things were before. The sun will shine a little brighter, cold weather becomes more tolerable, and people are nicer. It's that big of a difference!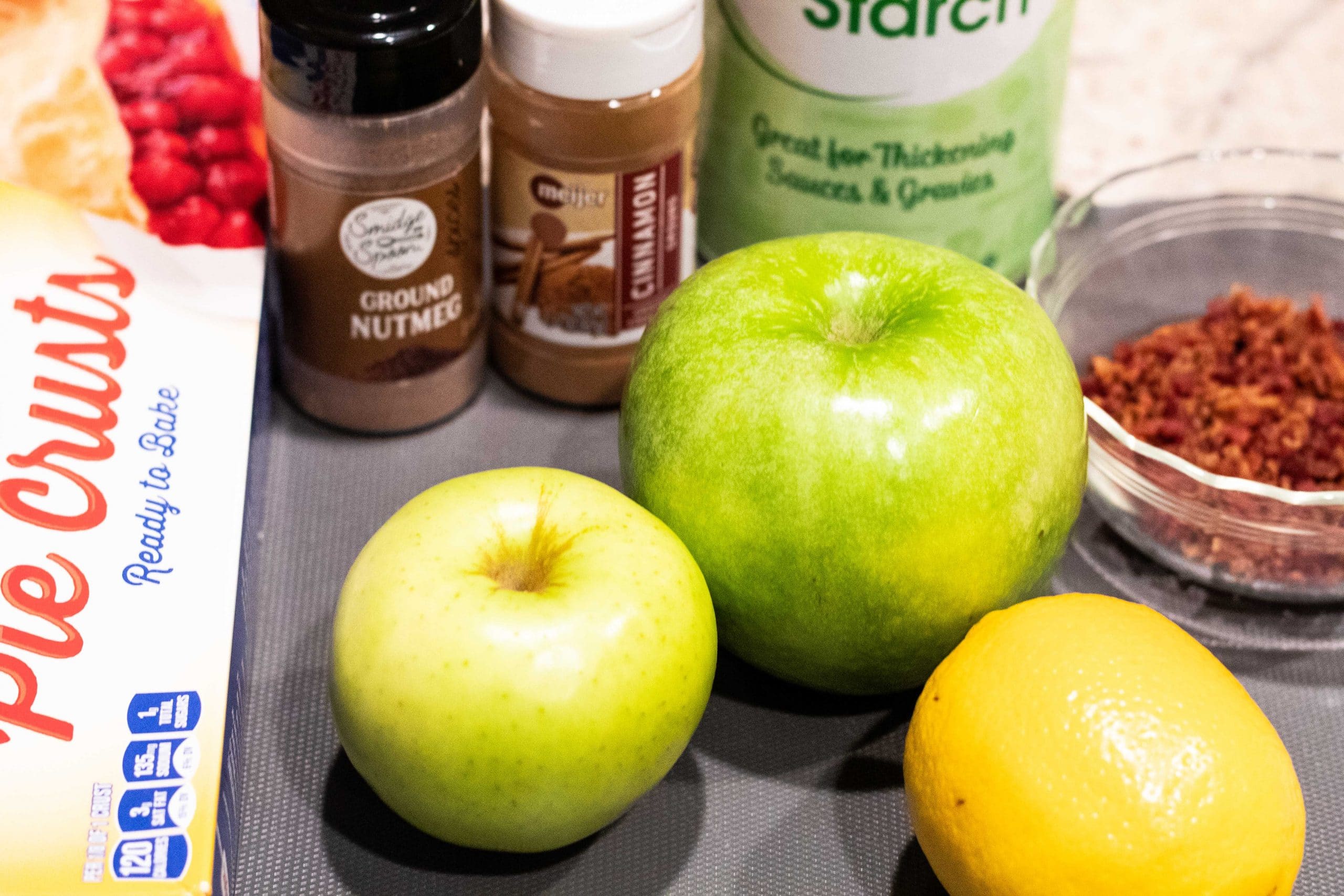 Pie Crust on the other hand is a different matter entirely. Store bought pie dough is serviceable. It'll work. Homemade is better, sure. But for recipes like this, I just don't think that homemade pie crust is worth all of the extra effort.
Putting together the recipe is simple as well. First, you need to peel the apples. The chop and dice them.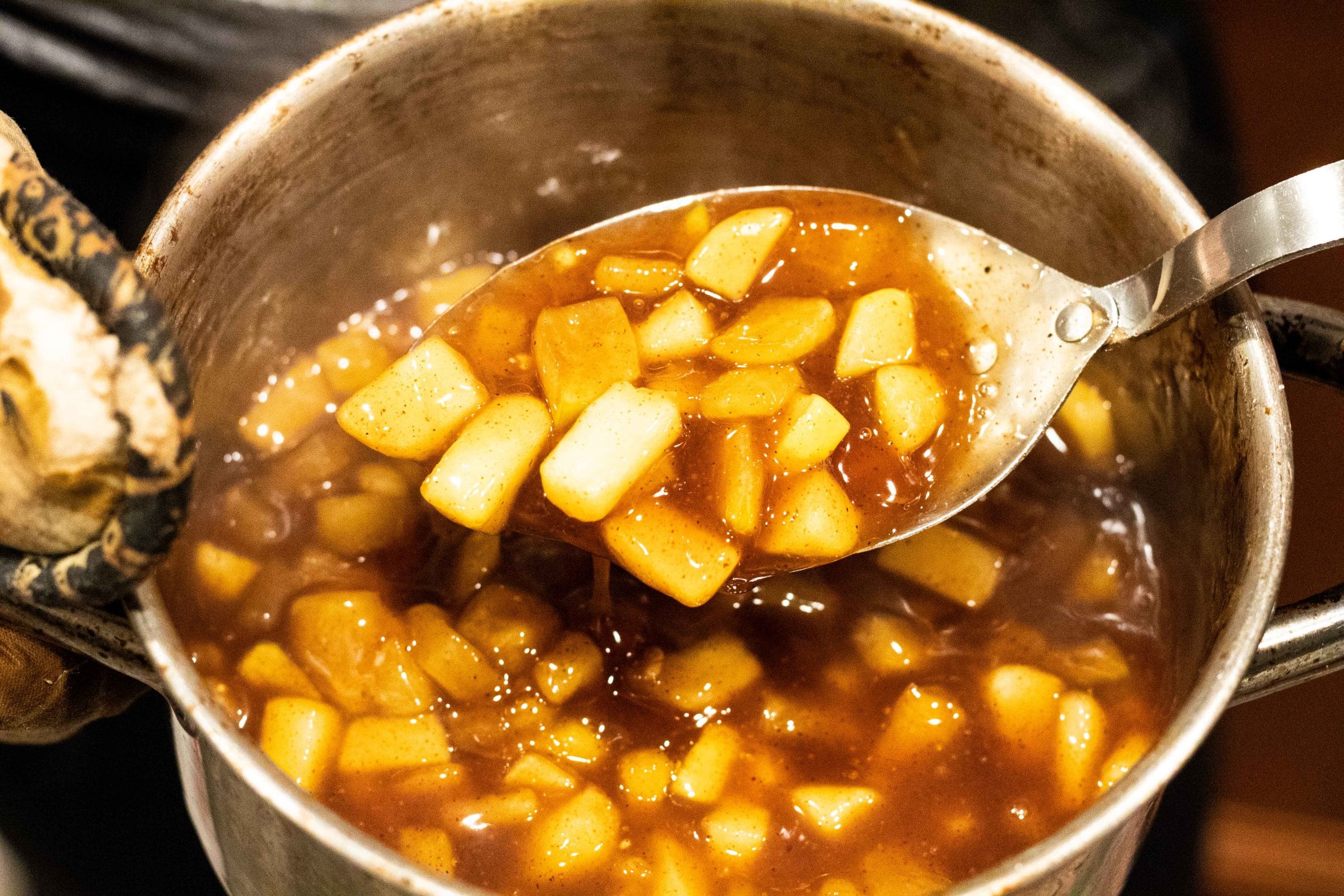 The next thing that you want to do is combine the ingredients for the filling. Then cook on the stove for the appropriate time.
Roll out the dough and cut using a cookie cutter, glass, or other guide. We found that a peanut butter jar top worked best. It allowed us to put about a teaspoon of filling and about a half teaspoon of bacon.
You can use the premade bacon bites. The real stuff not those imitation bacon bits.
Put about one teaspoon of pie filling and ½ teaspoon of bacon crumbs in each. This is the perfect ratio of sweet and salty. Do not overstuff. Make sure that you don't add too much bacon. You'll want to keep that mostly sweet ratio going.
Use a fork to crimp the pie pockets closed. Then, brush each pie with the egg wash.
Next, put them in the oven to bake for 11-13 minutes at 350 degrees.
Place them on a platter or pan and watch them go nuts.
Enjoy!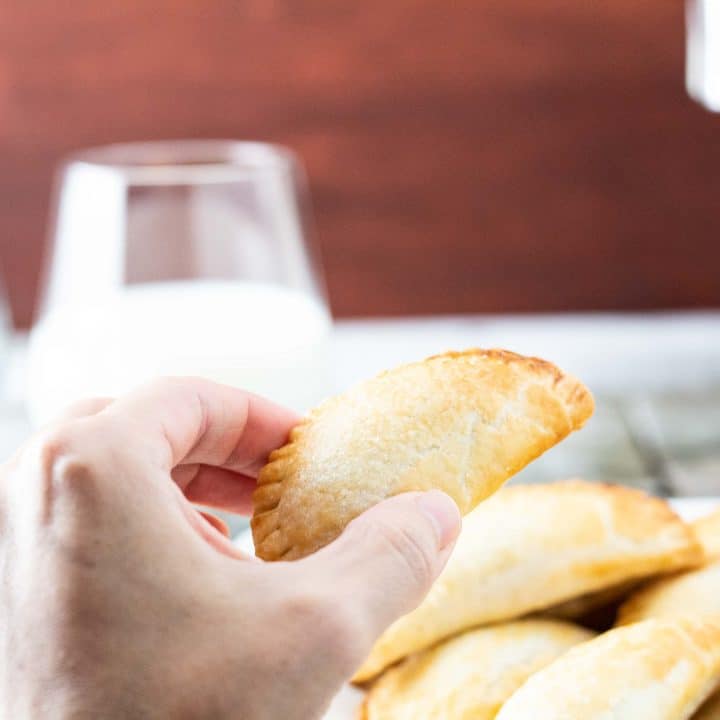 Bacon Apple Pie Bites
You're in for a special treat with these Bacon Apple Pie Bites. This recipe is just perfect for a fall party or get together. You've got the delicious crisp apples combined with the salty bacon flavor. It's a perfect sweet and salty marriage!
Ingredients
1

Large Granny Smith Apple

Peeled and Diced

2

Medium Golden Delicious Apples

Peeled and Diced

1

Teaspoon

Lemon Zest

2

Teaspoon

Lemon Juice

¾

Cup

of Dark Brown Sugar

¼

Cup

Granulated Sugar

Plus extra to top the bites when cooking

1

Teaspoon

Ground Cinnamon

¼

Teaspoon

Nutmeg

¼

Teaspoon

Salt

1

Cup

Water

2

Tablespoons

Cornstarch

6

Slices

of Bacon

Diced and Cooked

2

Rolls of Store Bought Pie Crust

Thawed if Frozen

1

Large Egg + 1 Tablespoon Water

Used for egg wash
Instructions
In a medium bowl peel and dice the apples. Add the lemon juice and lemon zest. Stir until all the apples are covered with the lemon juice and zest. Set aside.

In a medium pot add the brown sugar, granulated sugar, cinnamon, nutmeg, water and salt. Cook on medium high heat for about 5 minutes until the sugar dissolves.

Add the diced apples and cook on medium low for 8-10 minutes. Or until the apples are tender.

Take about ¼ cup of the liquid in a separate bowl and add the cornstarch. Make sure the cornstarch is completely dissolved.

Pour the cornstarch mixture back into the medium pot on the stove. Cook for about 5 minutes or until the sauce has thickened.

Cool the apple pie filling while you are cut the crust and cook the bacon.

Cut the bacon slices into strips and cook on medium high heat until the bacon is nice and crispy. About 8-10 minutes. Put the cooked bacon on a plate lined with paper towel and set aside.

Preheat the oven to 350 degrees.

In a small bowl whisk the egg and water. Set aside.

Unroll the pie crust and cut out about 8 circles. (See note)

Take one circle crust and fill about 1 teaspoon of the apple filling. Add ½ teaspoon of the bacon.

Brush the edges with the egg wash and fold the circle in half to create a half moon. Pinch the edges together to seal.

Using a fork crimp the edges. Place on a baking sheet lined with parchment paper.

Continue steps 11-13 until you have filled all of the bites you cut out.

Brush the bites with the egg wash and top with some extra sugar.

Bake for 10-13 minutes. Cool and Enjoy!
Notes
I used the lid of my empty jiffy peanut butter jar. I like the size and I didn't have a big enough biscuit cutter. You can use any cutter to make these delicious treats.

These bites can be made any size and are even better the next day.

Store them in an airtight container for 3-4 days.

You can reheat them in the microwave for about 10-15 seconds.

This recipe can easily with doubled if needed.