Keep cool this summer with these thirst-quenching, sweet, and creative ice cream maker sorbet recipes. That's right, we've curated this list of amazing sorbet made by talented food bloggers.
You're going to love it!
You'll find everything from exotic options like dragon fruit, fig, and chocolate stout sorbet. But if that's not your speed, we have familiar recipes like strawberry, raspberry, and limoncello. So we just know there's something on this list for you.
Let's dig in!
Jump to:
15 Ice Cream Maker Sorbet Recipes To Beat The Heat
Just below, you will discover 15 delicious cold and sweet sorbet recipes ranging from the novel to the familiar. You know, sorbet is perfect when you want cold dessert without all the extra calories you get from ice cream. That's why we put together this list.
We hand-picked each one to exemplify the great possibilities of sorbet. So, we're confident you'll find something you have to make. But better still, we hope these recipes inspire you to create something new.
By the way, this is a list, not a ranking. All of these recipes are, well, cool. 🙂
Pineapple Tequila Sorbet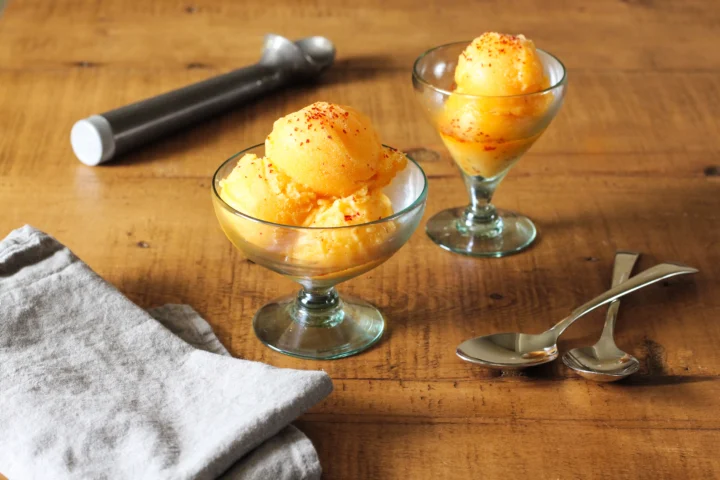 What do you do on the hottest and stickiest of summer nights? We know. You Make this pineapple tequila sorbet from Brandon of Kitchen Konfidence. It's a refreshing boozy dessert perfect for cooling you down when even the air conditioner isn't enough.
You simply combine pineapple puree with an Aleppo chili syrup. Then you chill, churn, and freeze the mixture. Finally, scoop and serve and sprinkle with additional chili powder. Now you've got the antidote to those unbearable humid summer nights.
Visit Kitchen Konfidence for the recipe.
Dragon Fruit Sorbet
This dragonfruit (pitaya) sorbet from Rachel of Most Hungry is stunning, delicious, and simple to make. The wonderfully creative Rachel serves the attractive purple sorbet in the peel of the fruit for a presentation as beautiful as it is delicious.
On the page, you will find a recipe complete with a beautiful gallery of images you will get lost in. Also, there are tips to guide you to success, like a genius, if unorthodox, way to guarantee you have just the right amount of sugar in your sorbet mixture. You've got to check it out!
Visit Most Hungry for the recipe.
Honeydew Lavender Sorbet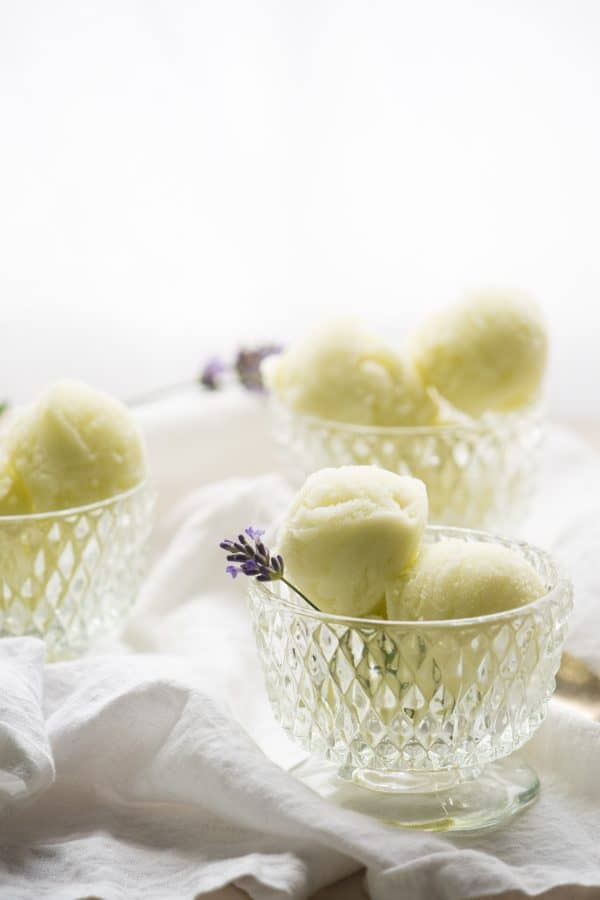 This honeydew lavender sorbet from Lauren of Hunger Thirst Play will take you on a countryside escape. Picture this, lying there crossed-legged, on the loveseat with your person and a couple of scoops of this refreshing ice cream on a warm sunny late morning as a breeze gently sways the sheer curtains—a moment of perfection.
Fresh honeydew melon is pureed and combined with a lavender-infused simple syrup. Now, Lauren's recipe is also an education in cooking with lavender. She sees you add just the right amount for a subtle floral, minty rosemary-like quality instead of the antiseptic flavor you get if you add too much.
Visit Hunger Thirst Play for the recipe.
Heavenly Fig Sorbet
Alix and Hugo show us that there is no better place to be than in love. But when you combine romantic love with a passion for travel and amazing food you get their blog, A Hedgehog In The Kitchen—which leads us to their heavenly fig sorbet recipe.
Heavenly fig sorbet features fresh figs, brown sugar, and lemon juice for a floral and sweet (but not cloyingly so) sorbet recipe you can make in your ice cream machine. So when you see those fresh figs crop up at your farmers market. Indulge. Pay whatever they cost and make this ice cream maker sorbet recipe.
Visit A Hedgehog In The Kitchen for the recipe.
Pear And Cider Sorbet
With this pear and cider sorbet, Julia of Bread And Basil implores us to eat seasonally. It's a great way to discover delicious culinary combinations and try foods you otherwise wouldn't. Enter Pear and cider sorbet.
Pear and cider sorbet is a delicious, creamy concoction of the two fall fruits. But wait, who eats cold or frozen desserts in the fall and winter? Well, Julia does, and so do we.
So, when the leaves start to turn, the air is a bit crisp, and you crave something sweet, cold, and in season. See Julia. She'll walk you through this recipe and the science of how sorbets work. It's a great resource.
Visit Bread And Basil for the recipe.
Blood Orange Sorbet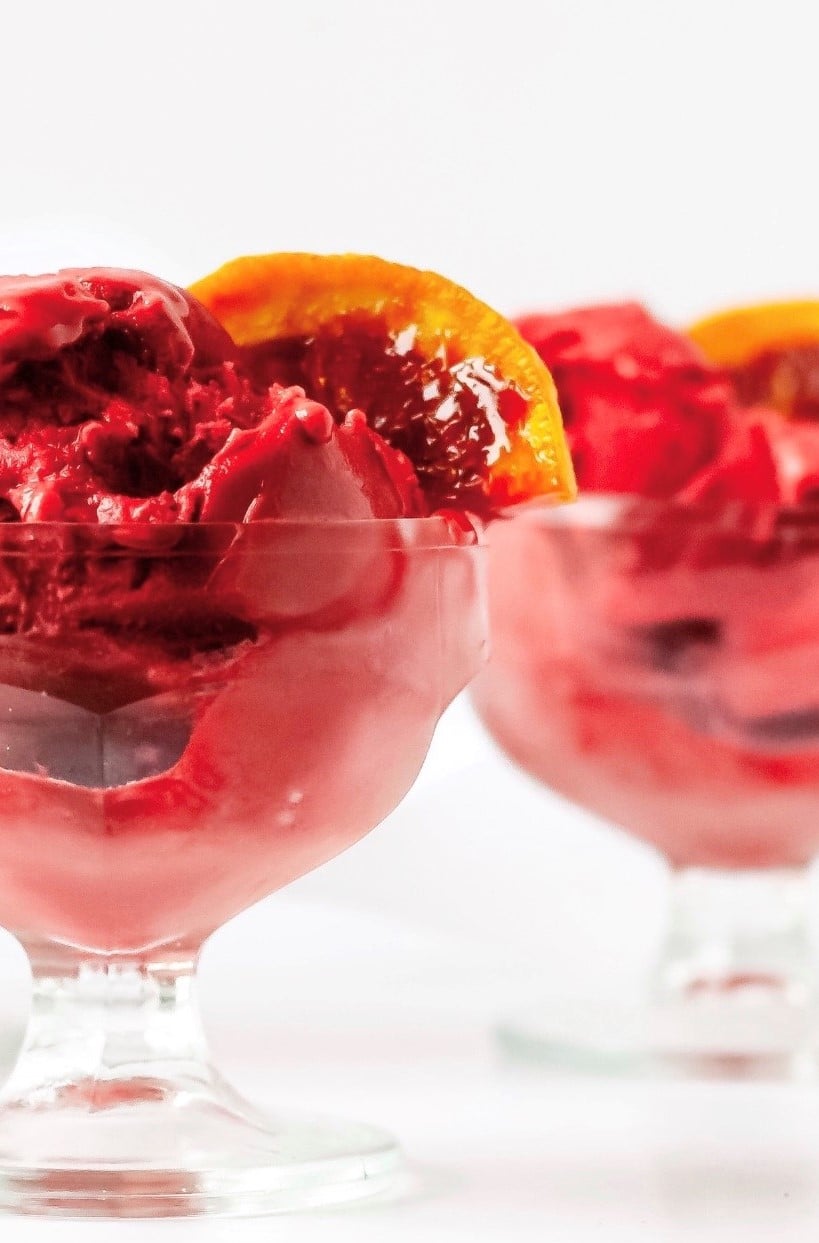 Blood oranges are known for their sweet and tangy flavor profile, as well as their striking crimson red flesh. They are available December thru April, a time of the year when baked goods are all too common and fresh fruit isn't as popular.
So when you're smack dab in the middle of calorie counting season, turn to this blood orange sorbet from Kate The Baker. It's a refreshing answer to the inevitable call of your sweet tooth. Her page contains this simple recipe and answers to common questions.
Visit Kate The Baker for the recipe.
Strawberry Rhubarb Sorbet
If there were a flavor combination royal court, strawberry-rhubarb would be in it—certainly not king and queen but definitely nobility. And like most flavor combinations that stand the test of time, this one is well-balanced. Sweet ripe strawberries counter the tartness of rhubarb.
To make this Strawberry Rhubarb sorbet from Crumbs And Caramel, you simply add all ingredients to a pot, then heat and puree. You then have the option to cool and churn, or you can strain the mixture before you cool and churn. The latter of which would leave you with a smoother texture sorbet. Either way, it'll be delicious.
Visit Crumbs And Caramel for the recipe.
Easy Ice Cream Maker Strawberry Sorbet
While not a novel idea, this strawberry sorbet from Corina of Searching For Spice is a classic. A dependable flavor that the adults and children will crave. Trust us. No one will turn down this ice cream maker strawberry sorbet recipe.
The ingredient list is short; strawberries, sugar, and water are the main players. But for the strawberries, you must get the freshest and juiciest available, in peak season, for the best results.
Visit Searching for Spice for the recipe.
Raspberry Sorbet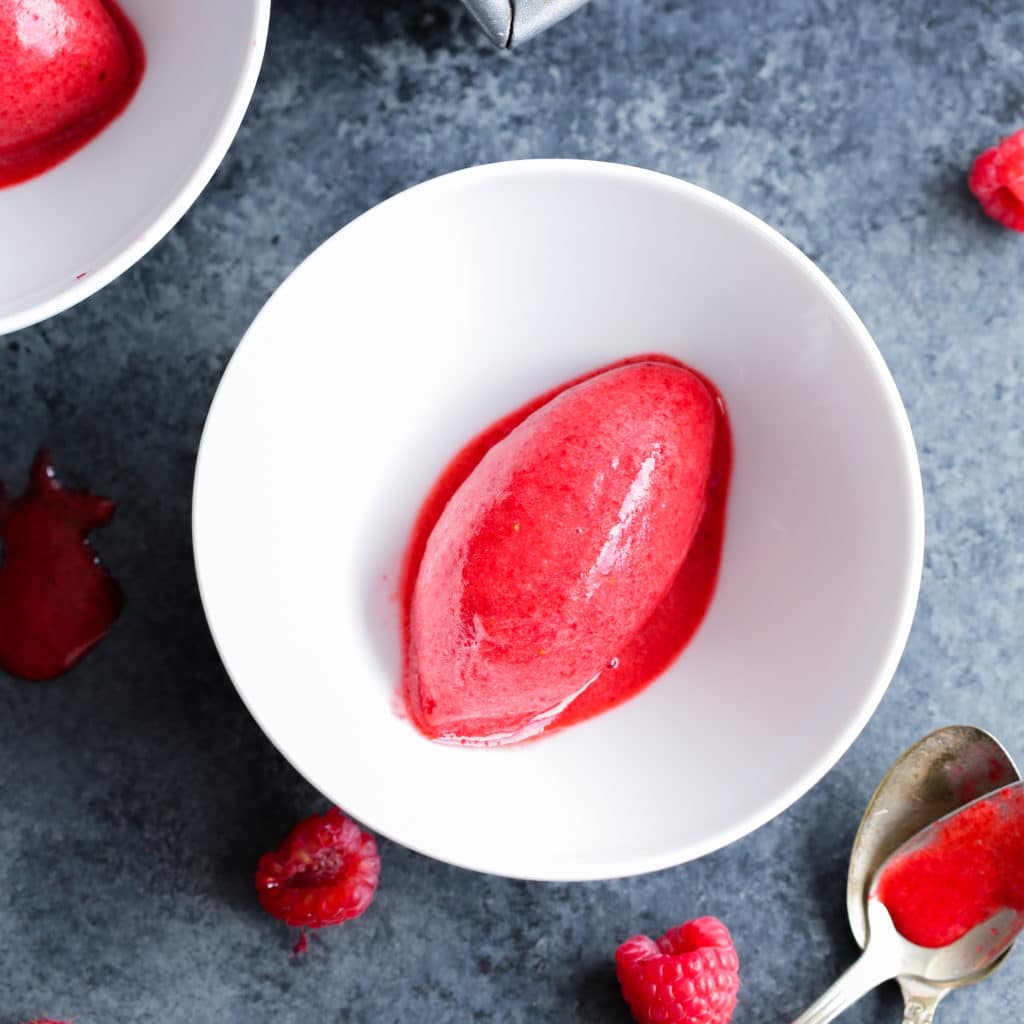 When the ridiculously talented Executive Pastry Chef Lindsey Farr isn't busy making impressive confections in her day job, you can find her delicious, well-tested, and accessible works on the self-titled Chef Lindsey Farr blog.
This raspberry sorbet starts with a simple syrup and raspberry puree. You can make the puree from scratch, or you can buy it. If you decide to make your puree, Lindsey has some tips for you, like how to pick the raspberries and an alternative to blending them.
Visit Chef Lindsey Farr for the recipe.
Crimson Grape Sorbet
Cape Town summers get hot, even brutally so. So you may need car rides to nowhere with the AC blasting and cold treats to beat it. At least those are some of the tactics employed by professional food stylist Sam of the renowned Drizzle And Dip blog.
It's not all bad, though. That wall of heat, as Sam would put it, provided some inspiration for this refreshing boozy grape frozen treat. On the recipe page, you find instructions to make this wine-infused sorbet and novel anecdotes you're sure to relate to.
Visit Drizzle And Dip for the recipe.
Limoncello Lemon Sorbet with Mint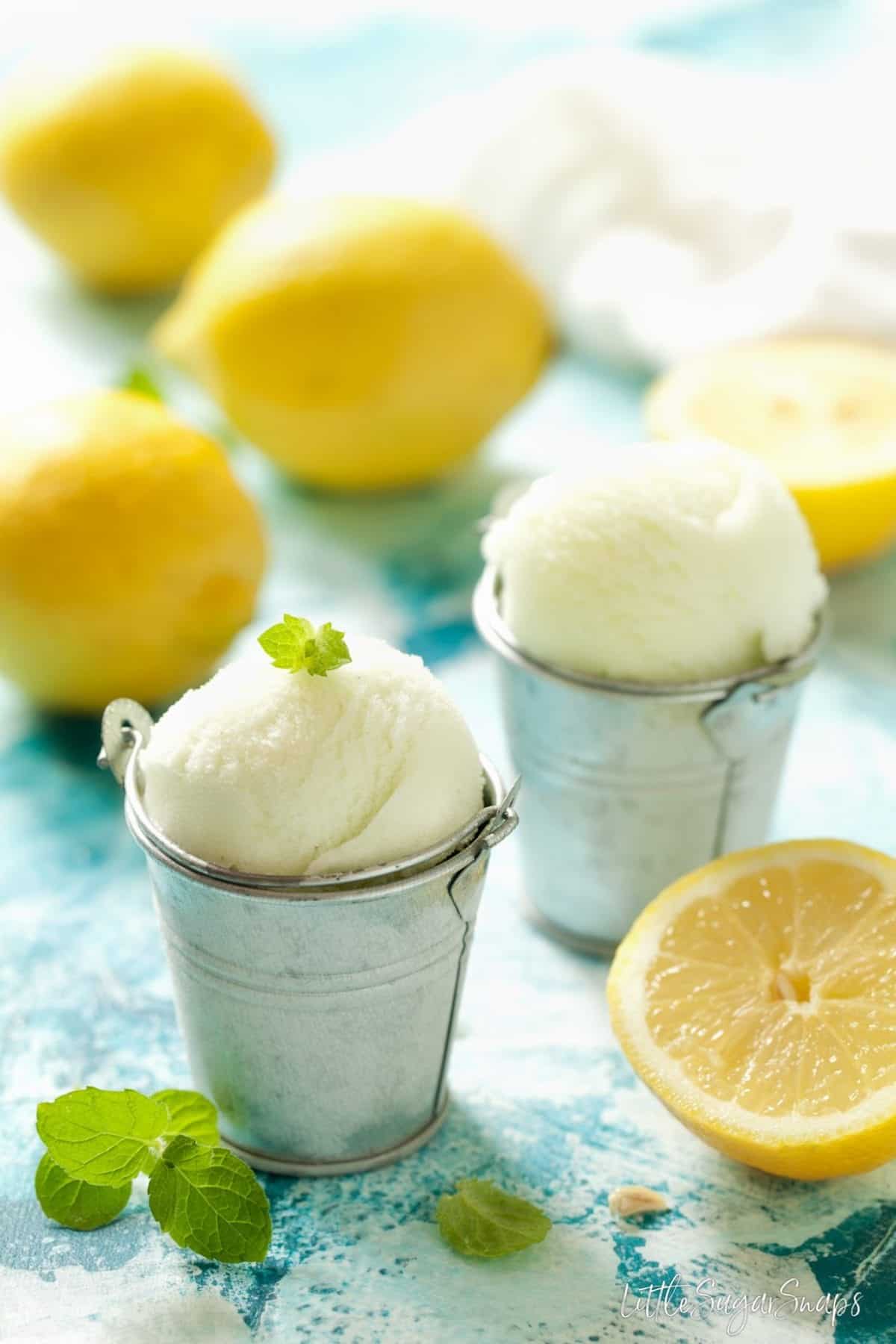 Jane of Little Sugar Snaps tells us of the annual heatwave, short as it may be, still powerful enough to elicit complaints from her UK compatriots. When it's hot and sunny, there isn't enough rain, and when it's rainy, there is not enough sun. Ah, to be human is to be unsatisfied, it seems.
Instead of complaining about the heat, Jane controls the things she can. One such way is making this zippy limoncello lemon sorbet with the added freshness of mint, a perfect summer treat. It's a fantastic recipe that includes a genius if unorthodox step to extend the shelf life of your sorbet.
Visit Little Sugar Snaps for the recipe.
Sangria Sorbet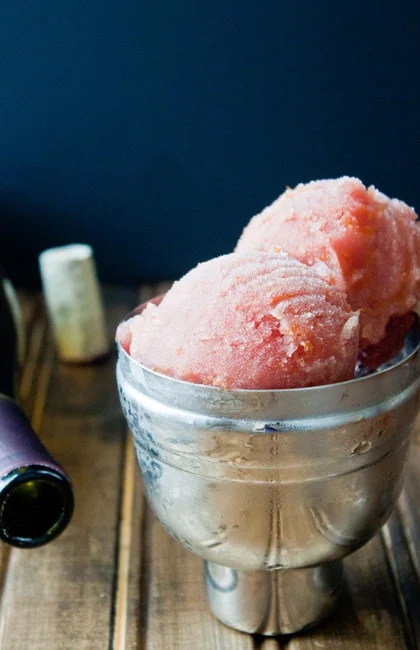 This boozy cold frozen treat comes with a warning from its inventor, Christina Lane, of Dessert For Two. Make it once, and you may end up making it for a lifetime. But that's not such a bad thing. I still love the chocolate chip cookies my mom made all my life, and the recipe hasn't changed once.
This is a boozy sorbet recipe and one you're sure to love for its flexibility. Christina recommends a fruity wine like a pinot noir. And as for the liquor, there aren't any hard and fast rules. Choose any accent liquor your little heart desires.
Visit Dessert For Two for the recipe.
Chocolate Stout Sorbet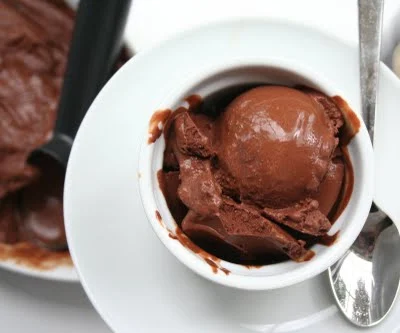 At All Day I Dream About Food, blogger Carolyn indexes all her low-carb creations. For example, it's a fantastic resource for those who need to stick to a keto diet. So, when I came across this chocolate Guinness sorbet, my ears perked up. I was intrigued to see how she would make a keto-friendly ice cream maker sorbet recipe using carb-rich stout beer.
And just like a mad scientist, Carolyn makes it happen. She whips up a delicious frozen treat rich in strong beer flavor and sweetened with a sugar alternative. The best part for those macro counting folks is that each serving is only about six net carbs. So, have your beer and eat it too.
Visit All Day I Dream About Food for the recipe.
Sweet Tea Sorbet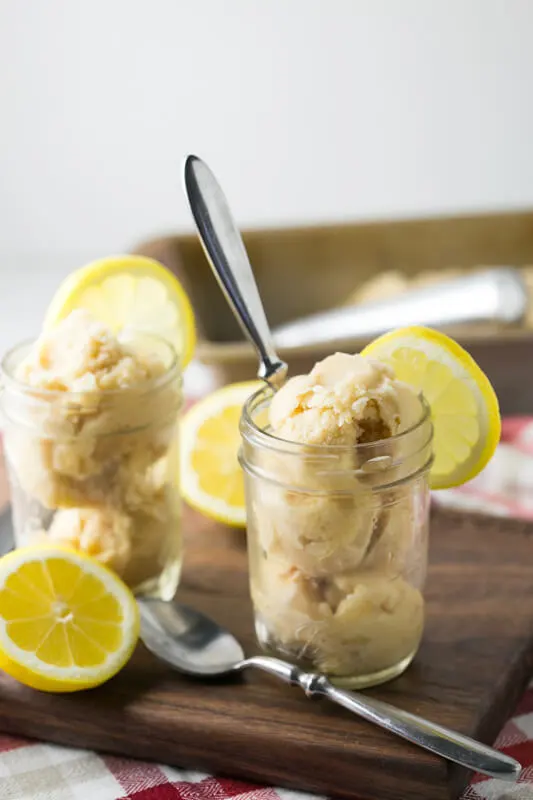 If you have questions about sweet tea and how dear it is to Southern folks, you will want to read this entertaining lecture by Mary of Chattavore. She humorously sets us Northerners straight. By the way, it's "sweet tea," not "sweettea." Thank you, Mary!
After the monologue, you'll find her inspiration. Then you'll find a recipe with all the tips you need to make this refreshing take on the drink of the South. She even provides two tea brand recommendations. And yes, that's important too, like how everyone has their favorite cola brand. For most, they aren't interchangeable.
Visit Chattavore for the recipe.
Pineapple Mango Sorbet
While you can't always hop a plane to the tropics, this pineapple mango sorbet will instantly transport you there. That's the promise of Urban Bliss Life's Marlynn that each bite will bring to mind cool breezes, linen shorts, and sunglasses. No to-do lists, just beachy bliss.
And you don't need to make a simple syrup for this recipe. Instead, you add all ingredients to the blender. Then you churn the mixture until it's nice and smooth. Finally, you pour the mix into a vessel before freezing. How about a hollowed-out pineapple?
Visit Urban Bliss Life for the recipe.
FAQs
What Is Sorbet?
Sorbet, also known as "water ice," is a frozen dessert that you churn in an ice cream maker. It is believed to have originated from Persia, but no one is certain. The word sorbet, however, derives from the old Italian word sorbetto.
What is the difference between sorbet and sherbet?
Sherbet and sorbet are two different and delicious cold desserts. Sherbet, however, contains milk.
What is the purpose of sorbet?
Aside from being a delicious sweet treat. In some restaurants, it is also used as a palette cleanser between courses.
How do you pronounce sorbet?
Sorbet is pronounced sore-bay.
What are some popular sorbet flavors?
Some of the most popular sorbet flavors are lemon, mango, watermelon, raspberry, peach, and even limoncello. But as demonstrated above, there are endless flavors
What Sorbet Recipe Are You Ready To Make?
Are you blown away by these sorbet recipes? By now, you've seen 15 diverse sorbet treats that will quench your thirst and sweet tooth. So, which one are you ready to make first. Is it the limoncello, grape, strawberry, or something else? Let us know.