As we finished making our s'mores ice cream sandwiches, one thought kept creeping into my mind, "I'm gonna eat way too many." I have to admit, at times, I'm an absolute glutton for a frozen treat. I mean, how can one resist chewy chocolate cookies, rich chocolate ice cream, torched marshmallow fluff, and graham cracker crust crumbs. So, when I say this recipe is fantastic, it truly is. It'll mess with your diet! 😛 So, indulge with us a little, and get ready to take a trip to the grocery store because you're going to want to make these today!
Jump to Recipe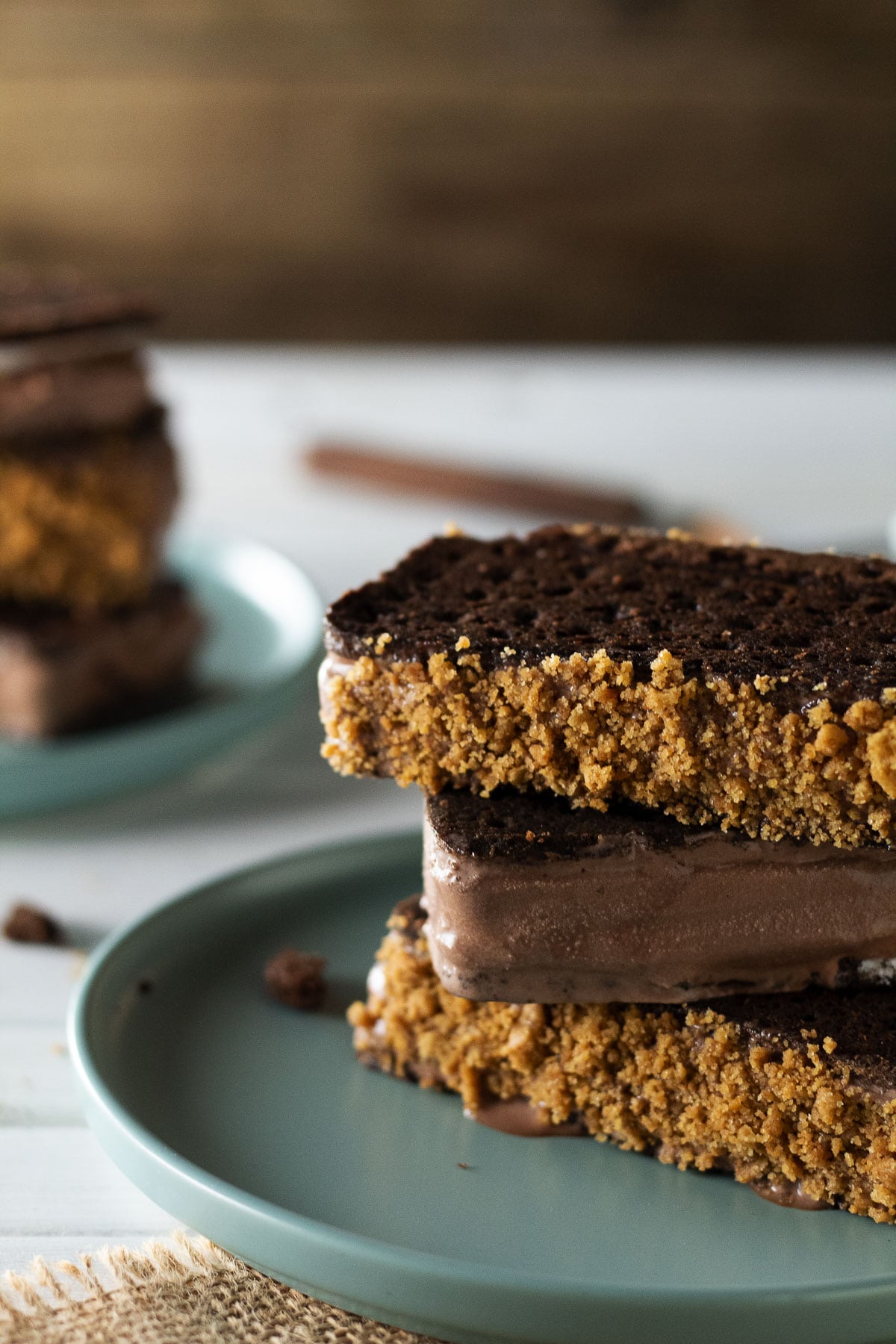 What I love about these bad boys is that you can eat them straight out of the freezer. You don't have to wait for them to soften like scoopable ice cream.
How We Decided to Make This Recipe
We would make a regular ice cream sandwich. And, you know, they taste good. But then, I walked past marshmallow fluff in the grocery store, and I knew it had to be a part of the magic. Then I thought of graham cracker crust crumbles, and baby, we had a s'mores party!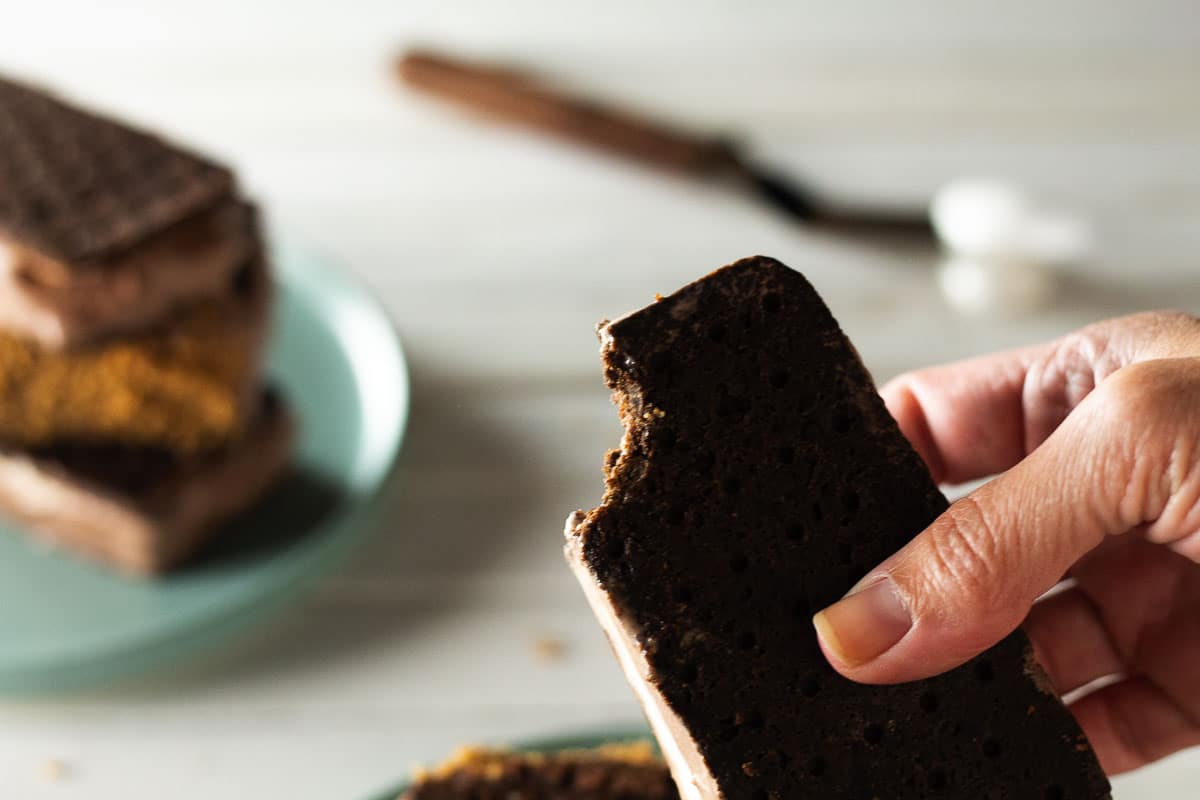 This s'mores ice cream sandwich tastes much, much better than a plain ole ice cream sandwich! That toasty torched marshmallow shines through when you take a bite. And graham cracker crust adds a little crunch and richness. I mean, these things are just darn good.
Jump to:
Ingredients
The first thing you want to do is grab all of your ingredients, except for the ice cream, if you're using store-bought.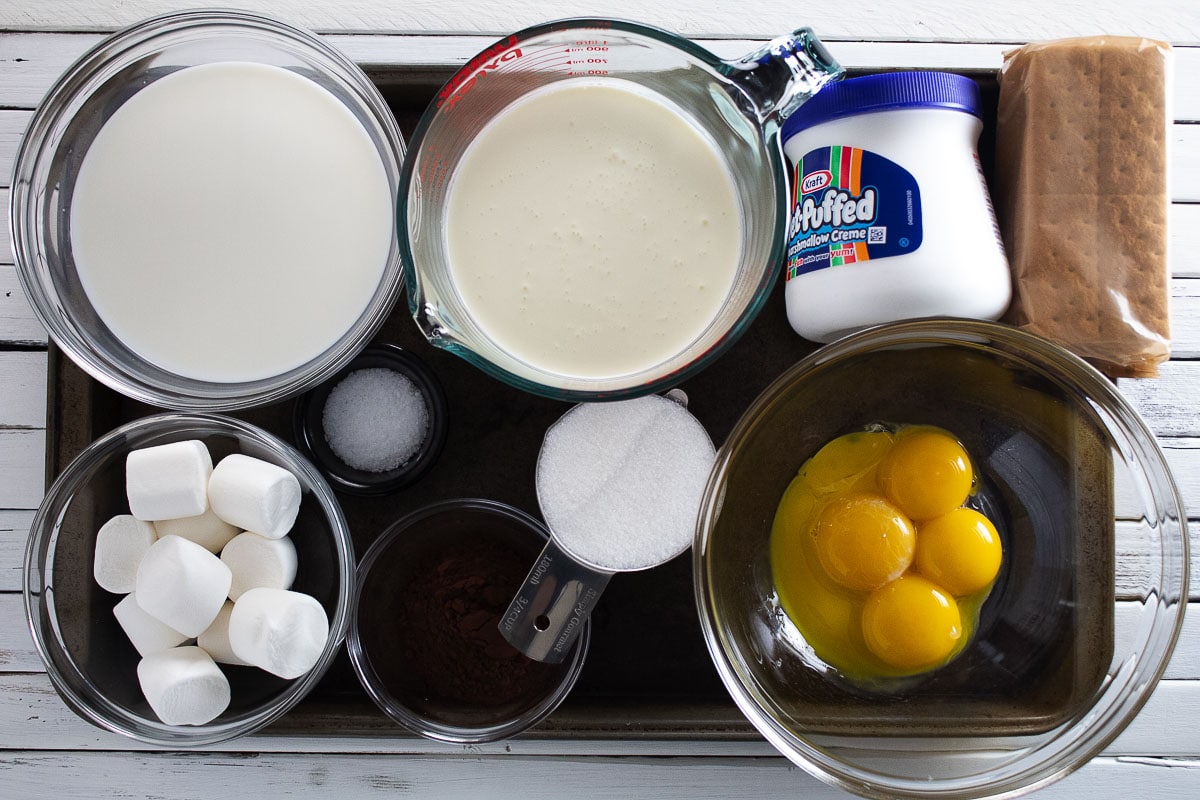 There are four components to this s'mores ice cream sandwich recipe: the cookie, ice cream, graham cracker crust crumbles, and the marshmallow. If you don't want to make the ice cream from scratch, you can buy it. Although, homemade ice cream tastes better than most store brands.
butter
sugar
eggs
vanilla
flour
unsweetened cocoa powder
baking soda
Chocolate Ice Cream
whole milk
heavy cream
sugar
egg yolks
dutch cocoa powder
salt
Graham Cracker Crust Crumble
graham crackers
butter
sugar
See the recipe card for quantities.
Critical Steps
There are a good amount of steps for this recipe, and I'm sure you don't need to see all of them. So, we've provided an image and description of the most critical steps. The first step is to make the chocolate cookie by following the directions outlined in the recipe card below.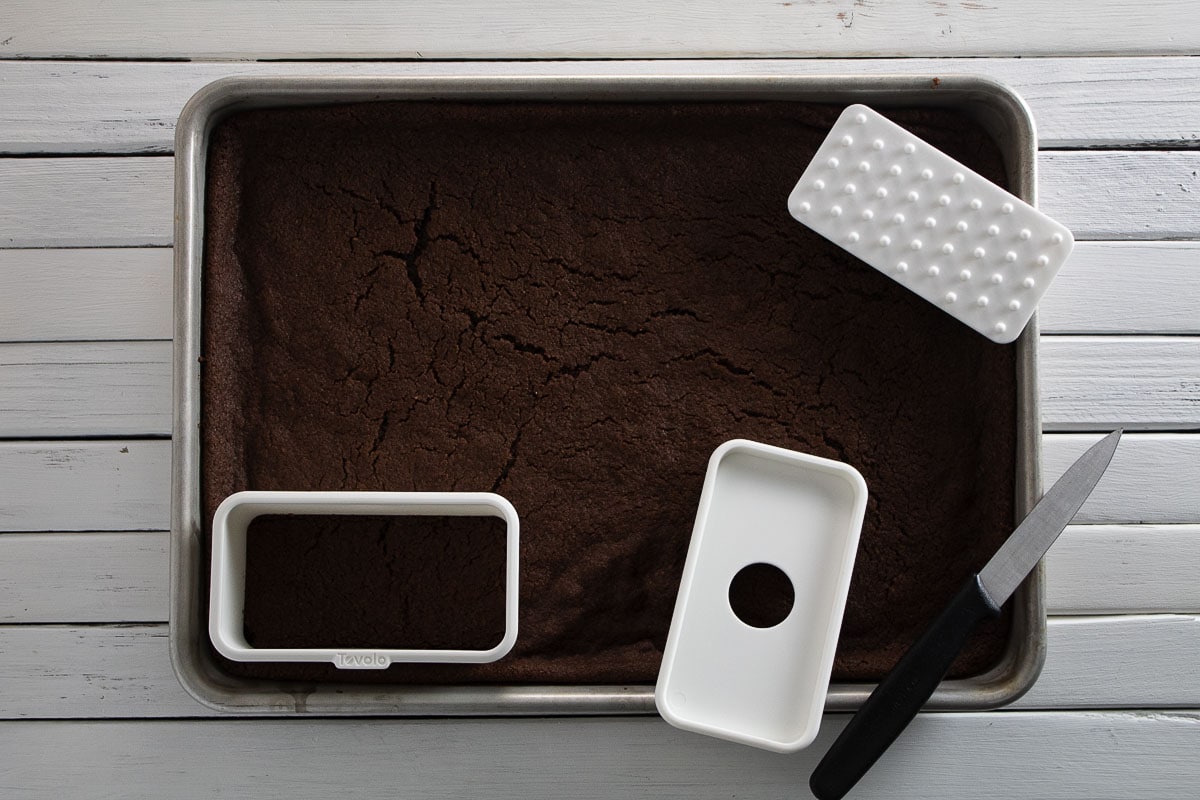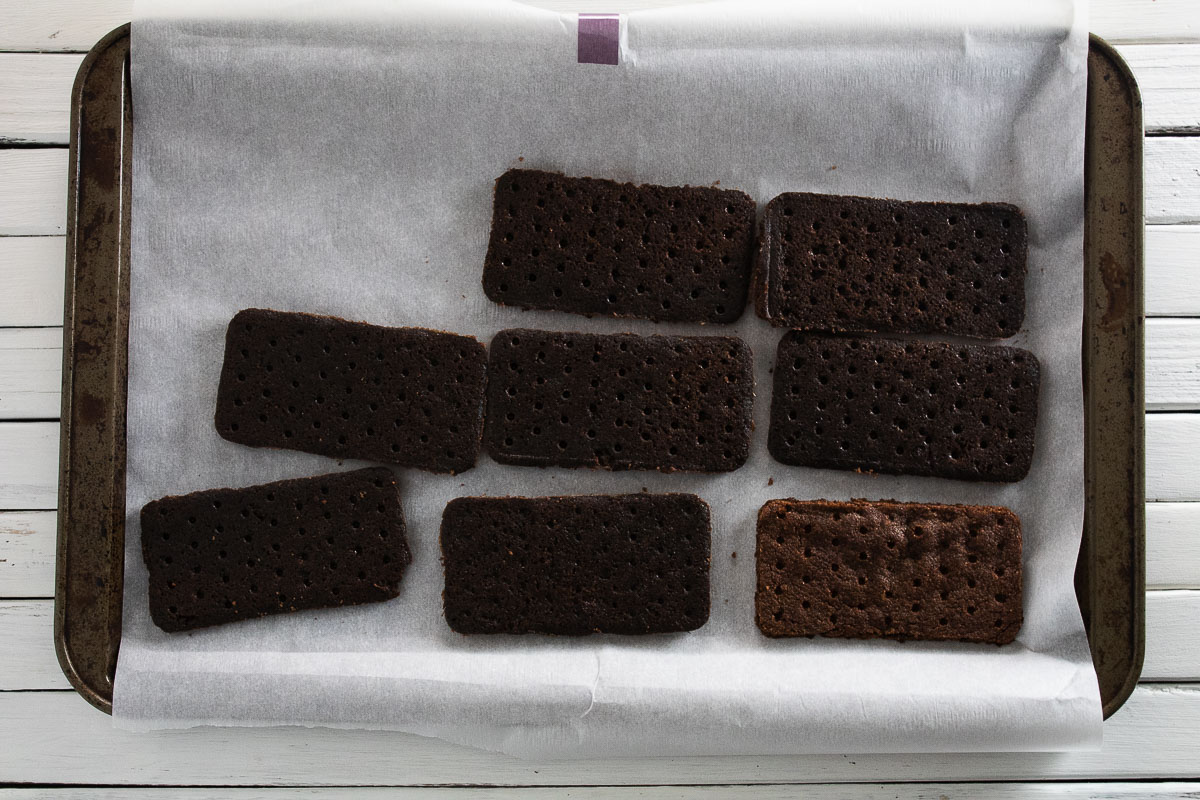 When the cookie is finished baking, it should look something like the image above. Use a cookie cutter, biscuit cutter, or in this case, an ice cream sandwich maker. Tovolo makes the cookie sandwich cutter above, and there's even a part that imprints the cookie with a design.
Hint: If you use the Tovolo ice cream sandwich mold, flip the cookies over after you cut them out before pressing the design into it. The design is more visible this way.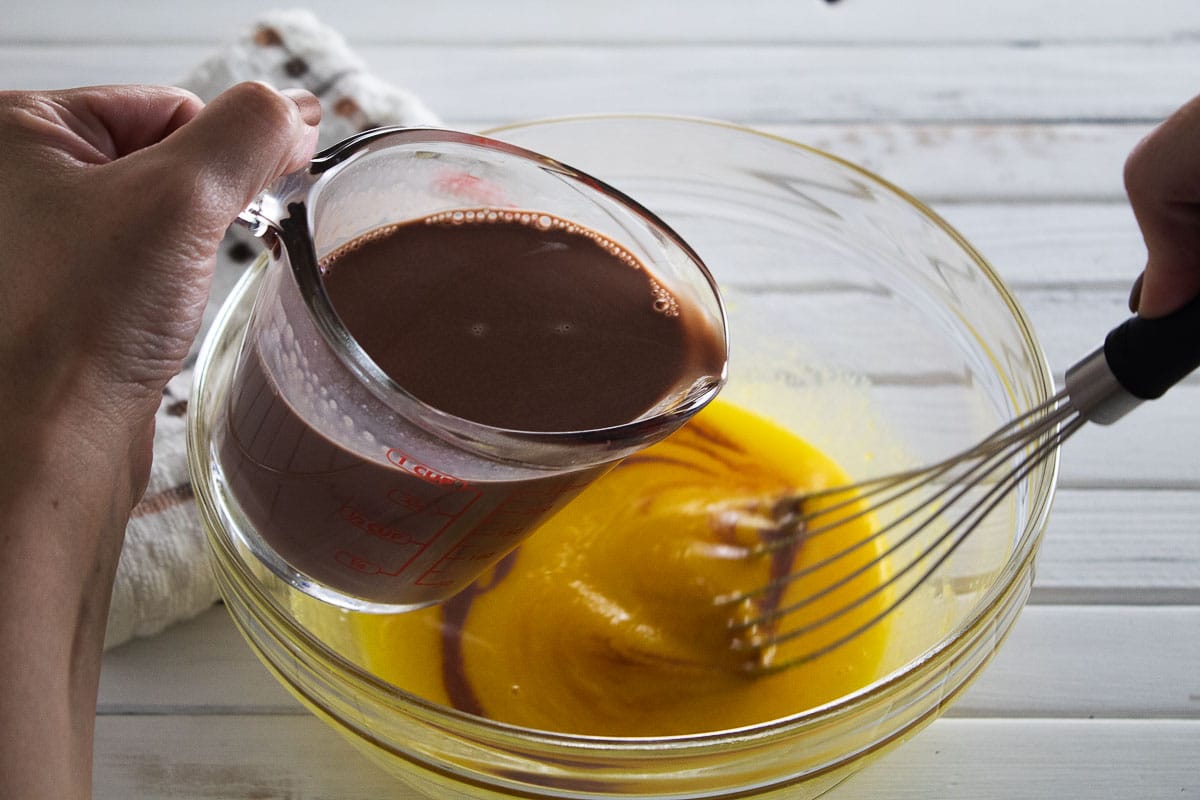 When making the ice cream, one of the essential steps is tempering the eggs. To temper, you need to drip a small amount of the warmed chocolate milk mixture into the egg/sugar mixture while stirring at the same time. Continue doing this until you've added the half-cup of the chocolate mixture to the eggs. This process gradually increases the temperature of the eggs without scrambling them. As pictured, we recommend that you use a spouted measuring cup or something similar to avoid spills.
Once you cook the ice cream mixture, you will still want to pour it through a mesh strainer. Straining is a crucial step because there may be the tiniest bit of scrambled egg in the mixture. Many recipes omit this step, but it is critical for smooth ice cream.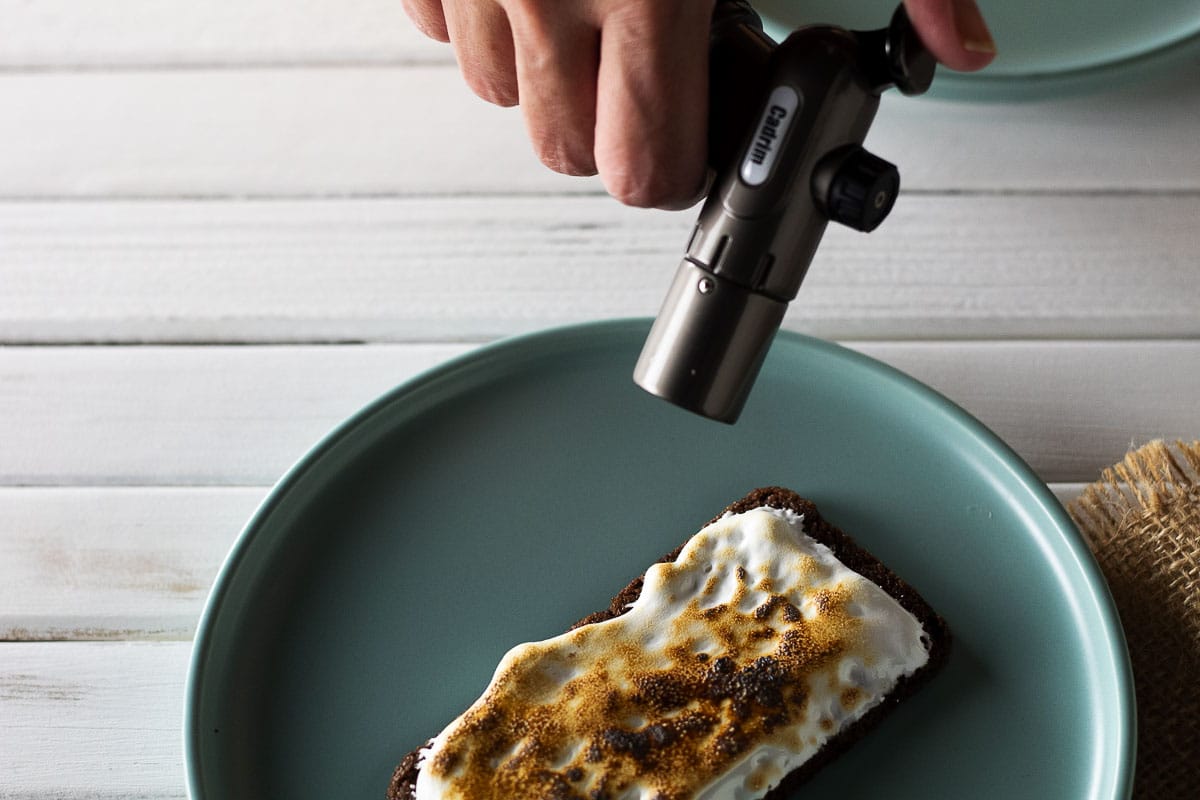 Use a kitchen torch to scorch the marshmallow gently. The trick is to hold the torch a few inches away from the marshmallow and sweep across it. Keep passing across the marshmallow until you get the desired brownness you want. Please do not hold the torch in one spot for too long. Else it will burn.
Variations
If you would like to change this recipe up a little to make it your own, you can do many different things.
Store Bought Ice Cream – our chocolate ice cream recipe is delicious but if you don't want to make it from scratch then simply buy some ice cream and let it sit out to soften.
Different Flavors – Strawberry, vanilla or even banana ice cream would work fantastic with this recipe (I think we'll try strawberry next time)
Nuts – You can add crushed nuts to the sides of instead of or in addition to the graham cracker crust crumbs.
More Marshmallow – You can add more marshmallow to the sides or even to the top of the sandwich. Go crazy here!
Equipment
If you want to make your ice cream from scratch, you will need your ice cream maker. If you don't have one yet, the Cuisinart ice-30 is a good buy. You will also need cookie cutters, biscuit cutters, or an ice cream sandwich-specific mold like the one on this page from Tovolo.
Storage
S'mores ice cream sandwiches will last up to two weeks in the freezer. Although, I'd be surprised if you and your family didn't eat them all before then. For best results, individually wrap ice cream sandwiches in wax paper and place them in an air-tight container or freezer bag. Only do this after the sandwiches are frozen.
Top Tip
Please have patience, my friend. If you decide to make the ice cream homemade, make sure it froze before spreading it onto the cookie. If you do not allow it to freeze completely, the sandwiches will end up distorted. And whatever you do, don't try to eat the ice cream sandwiches before they are completely frozen. If you do, the ice cream will squeeze out of the sides and make a mess. You'll be saying this recipe didn't work well, and we'll be like, "It's you, not us." 🙂
S'mores Ice Cream Sandwich Recipe
Our s'mores ice cream sandwiches are the best you will ever taste. With rich dutch cocoa ice cream, an irresistible chocolate cookie, torched marshmallow, and graham cracker crust crumbles, you're in for a memorable treat.
Ingredients
Chocolate Ice Cream
1 1/2

cup

whole milk

1 1/2

cup

heavy cream

3/4

cup

sugar

5

large egg yolks

1/4

cup

dutch cocoa powder

1/4

tsp

salt
Graham Cracker Crust
9

graham cracker sheets

4

tbsp

light brown sugar

6

tbsp

unsalted melted butter
Chocolate Cookie
1 1/2

cups

unsalted butter

2 1/4

cups

sugar

3

large eggs

2 1/2

tsp

vanilla extract

2 1/4

cups

flour

3/4

cup

cocoa powder

1 1/8

tsp

baking soda

1/2

tsp

salt
Instructions
Chocolate Ice Cream
In a medium bowl add the egg yolks and half the sugar. Mix to combine and set aside. 

In a medium pot add the cocoa powder, the rest of the sugar and ¼ cup of milk. Mix to create a paste. (See note) Then add the rest of the milk, heavy cream and salt. On medium heat bring mixture to a simmer. 

Add a ¼ cup of the hot mixture to the bowl with the yolks. (See notes) Once you have added about ½ cup of the hot mixture, pour the egg mixture back into the pot. 

Cook the mixture on medium low heat for another 5 minutes or until mixture has thickened. You will know it's ready when you can coat the back of a spoon and when you run your finger down the spoon and the mixture stays separated. 

Pour the mixture through a mesh strainer into a clean bowl. Put the bowl into a larger bowl to create an ice bath. This will help cool the mixture down before putting it into the fridge. Once cooled, put plastic wrap on top and refrigerate at least 2 hrs or overnight. 

Freeze in your ice cream machine according to the manufacturer's instructions. 
Chocolate Cookie
Add the flour, cocoa powder, baking soda and salt in a medium bowl set aside. Cream the butter and sugar. Then add the eggs one at a time until combined. Add the vanilla and mix. Add the flour mixture and mix just until combined. Press the cookie dough on a baking sheet lined with parchment paper. Bake for 350 degrees for 13-16 minutes. Allow the cookies to cool for about 10 minutes or until they are cool to the touch.
Graham Cracker Crust Crumbs
Add all ingredients in a medium bowl and mix to combine. On a cookie sheet lined with parchment paper add the mixture in an even layer and bake 325 degrees for about 10 mins or until golden brown. 
Assembly
Once cookies are cool, use a cookie, biscuit or other cutter to cut into desired shape.

When you are ready to assemble. Take the ice cream out of the freezer to allow it to soften for about 3 minutes. Take a cookie and spread some marshmallow fluff on it. Using a kitchen torch, toast the fluff until your desired doneness. I like a nice char on my marshmallows but be careful you can really burn the fluff. 

Add some of the chocolate ice cream and top of the fluff and top it with another cookie. Press the sandwich together, then roll the sides in the graham cracker crumble. Freeze for at least overnight. Trust me these are worth the wait. Enjoy!
Nutrition
Calories:
682
kcal
Carbohydrates:
86
g
Protein:
6
g
Fat:
37
g
Saturated Fat:
23
g
Polyunsaturated Fat:
2
g
Monounsaturated Fat:
10
g
Trans Fat:
1
g
Cholesterol:
105
mg
Sodium:
348
mg
Potassium:
230
mg
Fiber:
3
g
Sugar:
58
g
Vitamin A:
1196
IU
Vitamin C:
1
mg
Calcium:
86
mg
Iron:
3
mg