Our chocolate margarita recipe is out of this world! Seriously. And it is the perfect way to bring in the New Year. I mean, what's not to like about chocolate, coffee, homemade marshmallow fluff, and tequila. Extra points for the booze because it's a celebration, damn it!
Jump to Recipe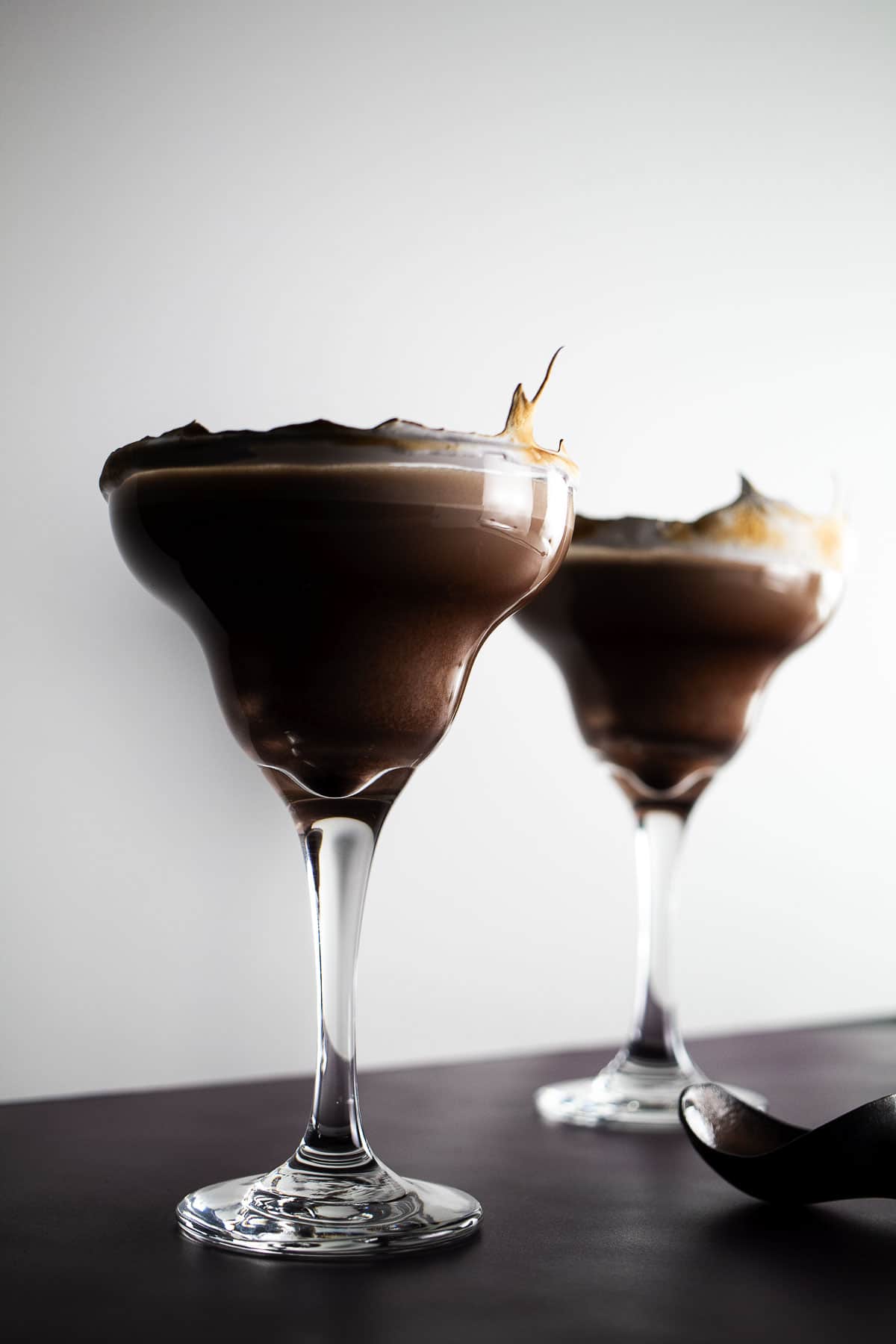 But not only are these decorative, over-the-top drinks delicious, and impressive. They're also extremely easy to make. So, whether you're celebrating the new year with everyone on your contact list or just your significant other, these drinks are perfect.
When we started developing this recipe, we thought about our New Years Day Celebrations of the past. And oftentimes we're out like a light well before the ball drops. Sometimes, we have to set an alarm to see the ball drop. This is the life of parents (and we wouldn't have it any other way).
So, we thought, this year maybe we should just drink coffee to stay up all night. But that's no fun, even parents deserve to have a little adult fun every now and then. So, we ran with the coffee idea and this chocolate margarita recipe was born (of course some genius already had the idea).
Anyhow, we had a lot of fun making this recipe. It's hard not to when you're dealing with sprinkles, tequila, marshmallow, and espresso.
Jump to:
Ingredients
There aren't many ingredients to make this delicious boozy drink. Below, you will see all of the ingredients needed to make this recipe.
Chocolate Ice Cream
Espresso
Sugar
Egg Whites
Tequila
Vanilla Extract
Cream of Tartar
See the recipe card for quantities.
How to Make Chocolate Margarita
The first thing you need to do is take the ice cream out of the freezer 10 to 15 minutes prior to getting started. After about five minutes, you can start scooping the ice cream into a bowl to help it melt faster. Next, you need to make the marshmallow fluff. Now, you might be wondering if you can just buy premade marshmallow fluff. Nah, don't do that. The store-bought stuff is sticky and hard to spread.
How to Make Marshmallow Cream
To make the marshmallow fluff, you need to put the egg whites, cream of tartar, and sugar, in a heat-resistant bowl.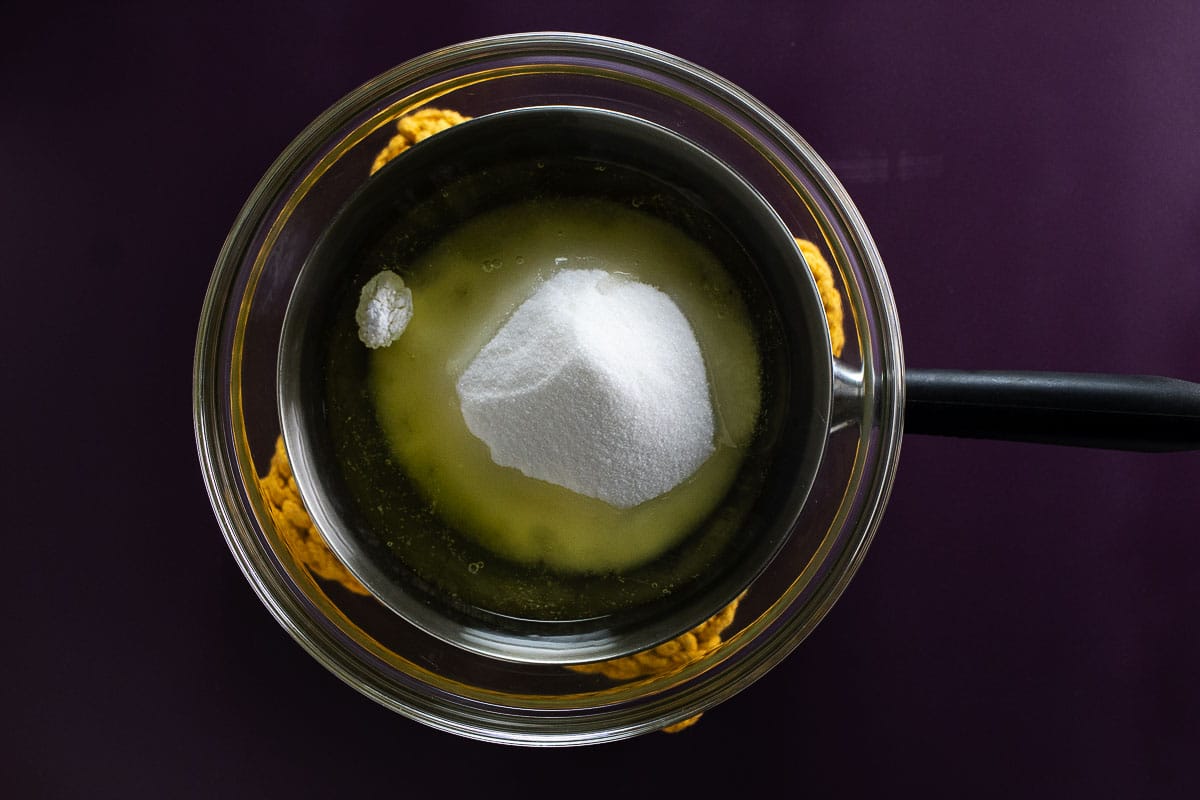 Then place that bowl over a pot with two inches of simmering water. You want to constantly whisk for about five minutes until the temperature reaches 160-degrees (for food safety). The mixture will be frothy like the image below.
Next, add the mixture and vanilla extract to the stand mixer bowl. Then, using the whisk attachment, mix on high for 5 minutes. The marshmallow fluff will have glossy and stiff peaks.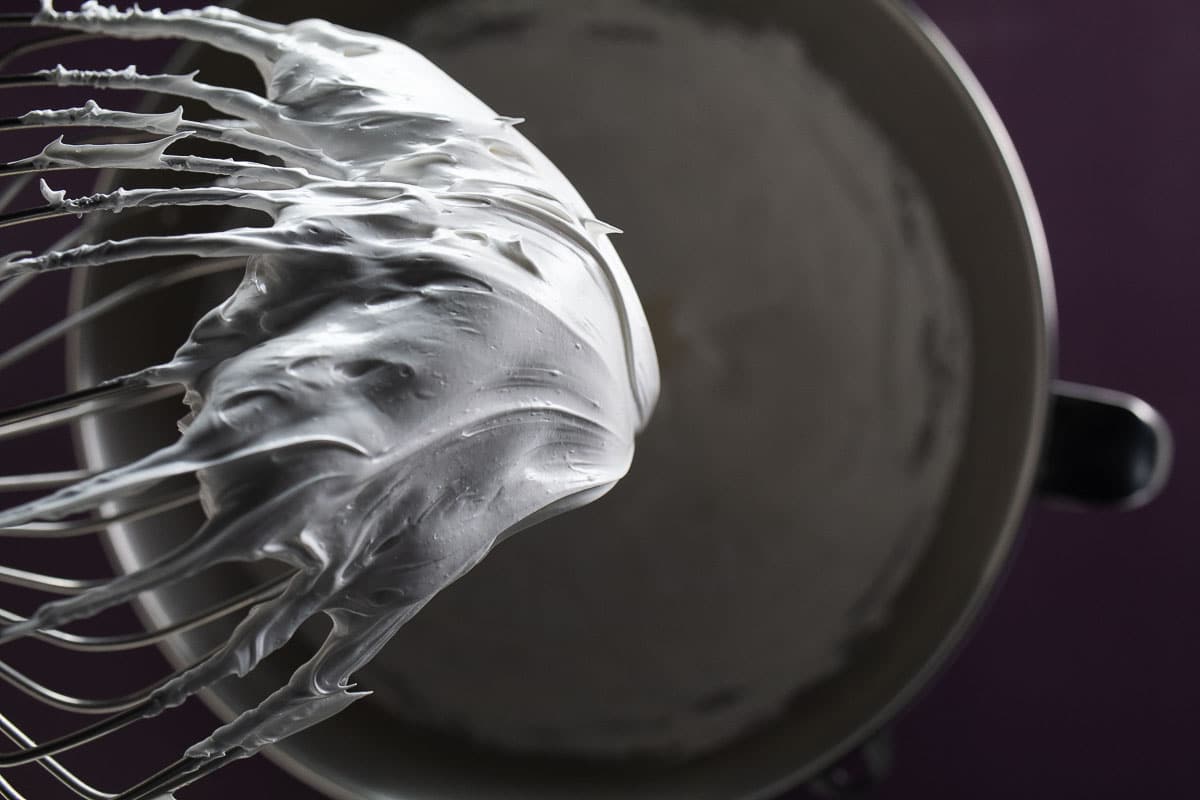 Once the marshmallow fluff is done, you can put your drinks together. First, you want to dip the rim into the marshmallow cream, lightly press down, then twist the glass a couple of times and pull it up fast. If you are going to add candy or edible decorations to the rim, now is the time to do it.
By this point, the ice cream should be almost completely melted. So, add chocolate ice cream, tequila, espresso, and a few ice cubes to the cocktail shaker (or simply mix ingredients in a bowl). Shake vigorously for about 10 seconds. Then pour into the margarita glasses.
Variations
There are so many ways you can change up this chocolate margarita recipe to make it your own. Here are a few to get you started.
Graham cracker crumbs – make it a smores treat by sprinkling graham crackers and torching the marshmallow (see below).
Ice cream flavors – how about caramel ice cream with margarita salt on the rim?
Pop Rocks – the crackling and popping of the pop rocks candy would add another fun element to this drink.
How to Torch Marshmallow
This is totally an optional step, but if you would like to get that really cool-looking torch look with the marshmallow peaks stiffened in place, you will need to use a kitchen torch.
First, hold the glass upside down. Then, with the torch setting on low, and about three inches away from the rim, sweep across it.
Equipment
To make this recipe there are three pieces of special equipment we used:
Storage
You can make the marshmallow fluff in advance. Store it in an air-tight container in the refrigerator for up to three days.
Top Tip
If you choose to make the "fancy pants" torched marshmallow version, be patient. It's so easy to burn the marshmallow while trying to get that beautifully toasted marshmallow look.
Chocolate Margarita Recipe
This mocha espress margarita is unbelievably good and super-simple to make. The best of both worlds, right? With chocolate ice cream, tequila, espresso, and marshmallow cream, you'll be relaxed and energetic while bringing in the New Year.
Equipment
Cocktail Shaker

stand mixer

Margarita Glasses

food thermometer
Ingredients
7 1/2

Cup

Chocolate Ice Cream

3 3/4

Cup

Espresso Coffee

2 1/2

Cup

Silver Tequila
Marshmallow Cream
1/2

Cup

Sugar

2

Large Egg Whites

1/4

Tsp

Cream of Tartar

1/2

Tsp

Vanilla Extract
Instructions
Marshmallow Cream
In a medium heat proof bowl add the egg whites, sugar, and cream of tartar. Place the bowl on top of a medium saucepan with about 2 inches of simmering water.

Continuously whisk until the sugar has dissolved, about 4 minutes. The mixture will get frothy, and you'll know it's ready when the thermometer reads 160 degrees.

In a stand mixer bowl, add the frothy egg mixture and the vanilla extract. Mix on high for 5 minutes.
Drink
Dip the rim in the marshmallow cream. Press down lightly and twist a couple times, then pull up fast. Using a kitchen torch, toast the marshmallow cream around the rim while holding the glass upside down. Take your time here you can burn the marshmallow cream.

In a cocktail shaker add the chocolate ice cream, espresso, tequila, and a few ice cubes. Shake for about 10 seconds until combined, then carefully pour into your margarita glasses.
Notes
Eggs are safe to eat when heated to 160 degrees so make sure the egg whites reach that temperature before putting them in the stand mixer bowl. 
The marshmallow cream can be stored in an airtight container in the fridge for up to 3 days.
We found it easier to keep the marshmallow cream in the mixing bowl when dipping the glasses.
If your making a few drinks at a time and using the cocktail shaker just know the bottom will get very cold when you shake the drink.
If you want to make all the drinks at once then use a large pitch and a spoon to stir the drink.

You can make this virgin by omitting the tequila.

If you don't have tequila you can use Vodka or Mezcal.

We don't recommend store-bought marshmallow cream. As it is very sticky and hard to work with. Homemade is very soft and manageable.

To clean the glasses, use dish soap and warm water. Dry with a micro cloth.

The best way to torch the marshmallow cream is to do it upside down. This helps create really cool peaks on the glass.

We recommend only 2 ounces to help balance the flavors. If you want a stronger drink you can add more.
Nutrition
Calories:
404
kcal
Carbohydrates:
38
g
Protein:
4
g
Fat:
11
g
Saturated Fat:
7
g
Polyunsaturated Fat:
1
g
Monounsaturated Fat:
3
g
Cholesterol:
34
mg
Sodium:
75
mg
Potassium:
259
mg
Fiber:
1
g
Sugar:
35
g
Vitamin A:
412
IU
Vitamin C:
1
mg
Calcium:
108
mg
Iron:
1
mg