With this 20 Ice Cream Recipes with Sweetened Condensed Milk collection, you may never return to regular ice cream maker recipes again. Why? Because they are so much easier to make. Sweetened condensed milk eliminates many other ingredients.
Also, you're not giving up flavor.
So you'll find No Churn Dark Chocolate Ice Cream, Cinnamon Bourbon Peach, Watermelon Sherbet, and many more! So are you ready to discover some tasty frozen dessert recipes?
Let's dive in!
By the way, if you love these no-churn ice cream recipes, check out this list of Cuisinart Ice Cream Maker Recipes.
No Churn Dark Chocolate Ice Cream
Unlike some chocolate ice cream recipes, this No Churn Dark Chocolate Ice Cream from Maretha of The Cinnamon Jar isn't an afterthought with bland results. Instead, you'll be pleasantly surprised by a rich, deep chocolate flavor dazzling your taste buds. But that's not the only reason you'll fall for it. This ice cream is incredibly accessible with just four ingredients.
No Churn Butter Pecan Ice Cream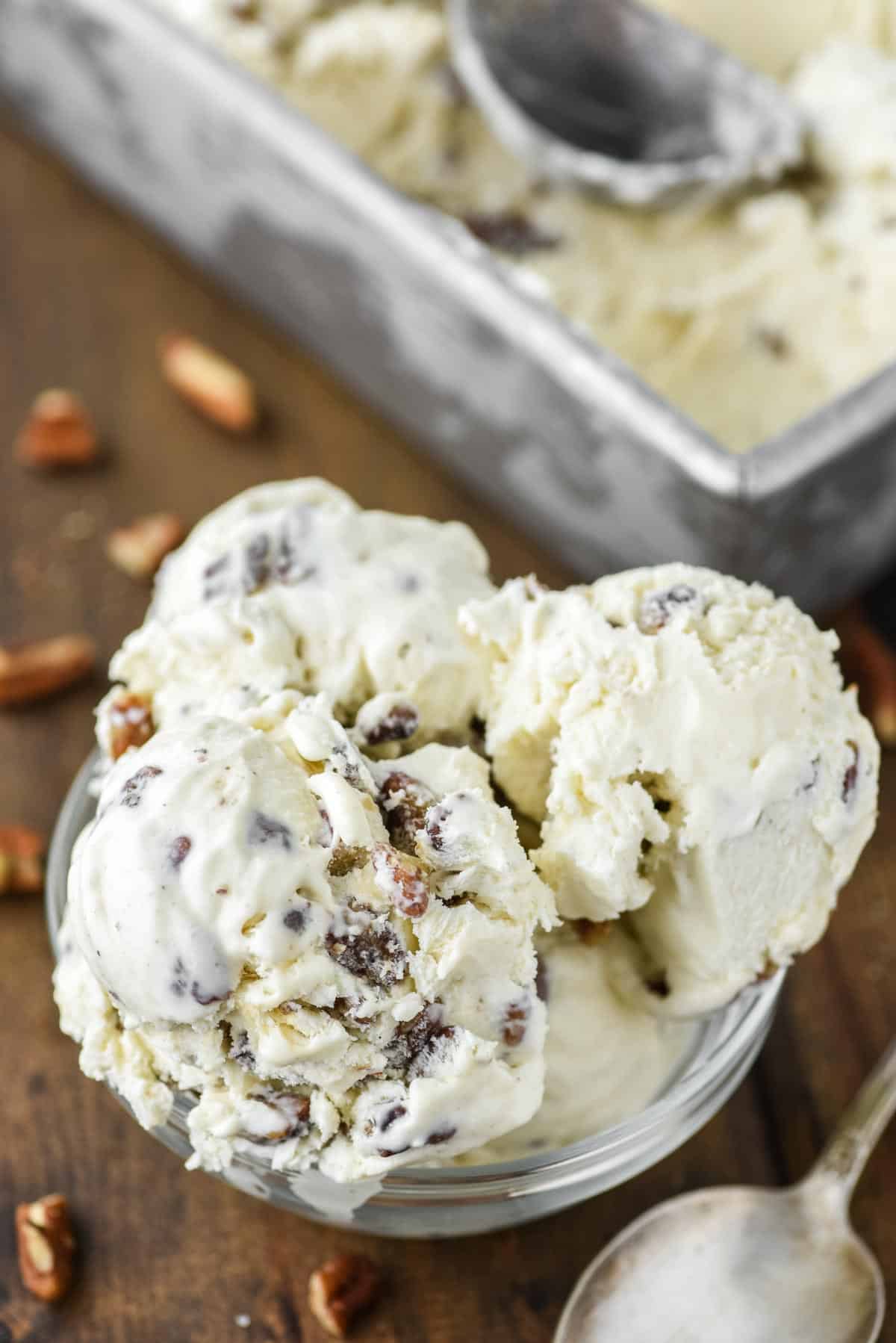 For your consideration, Ryan of Chisel & Fork presents this No Churn Butter Pecan Ice Cream – a top-five flavor worldwide. It's an eight-ingredient cold treat experience that you won't need an ice cream machine to enjoy. Prep takes just minutes, and torturously, freezing takes hours. But while you wait, no one can stop you from dreaming about every bite.
No Churn Homemade Vanilla Ice Cream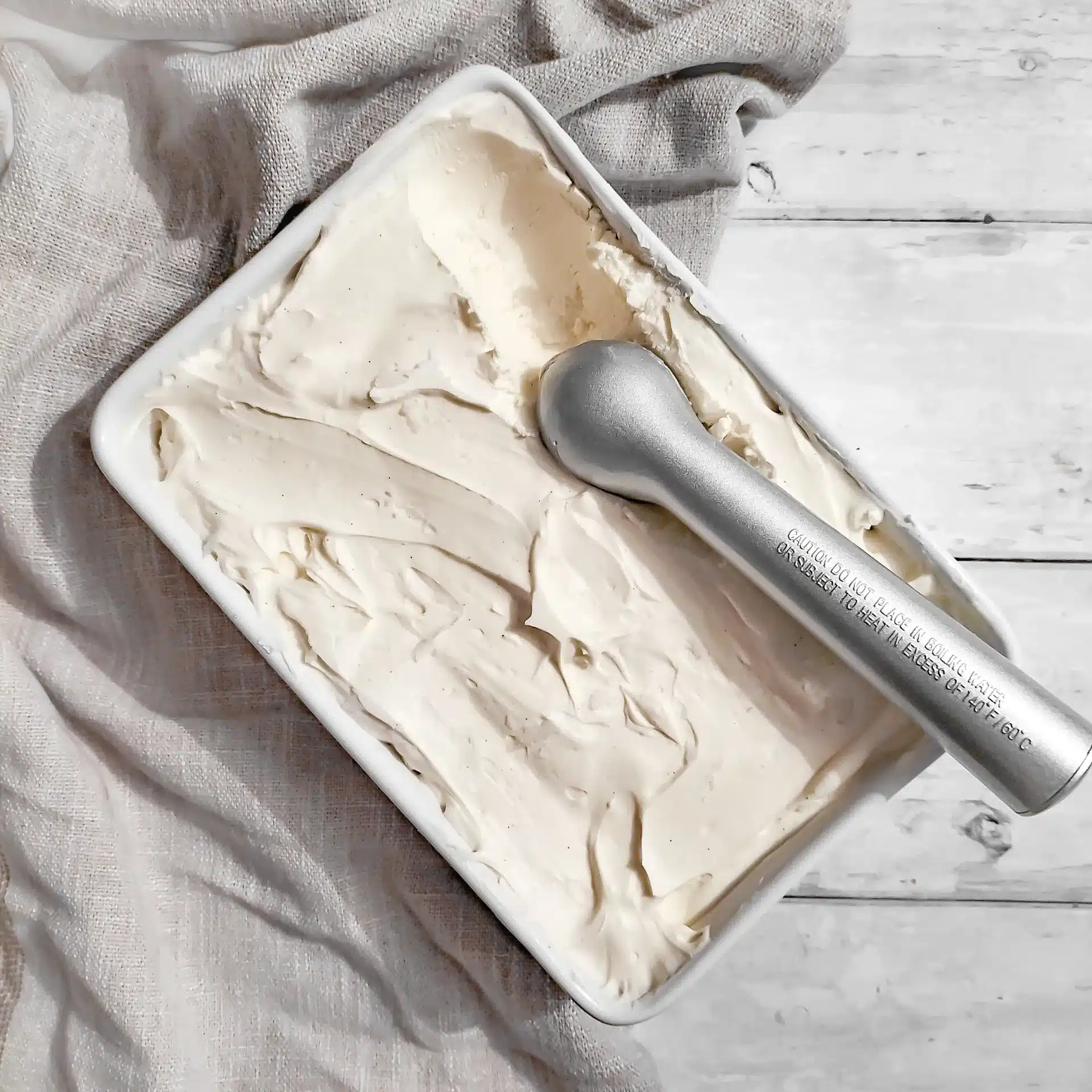 Cooking With Bry is right. Storebought vanilla ice cream can be bland, watered down, and uninspiring at worse or creamy, delightful, and full of flavor at best. So how about you stop rolling the dice? Rather, turn to this dependably easy No Churn Homemade Vanilla Ice Cream. With four ingredients and proper proportions, it will leave you wanting more.
No Churn Cinnamon Bourbon Peach Ice Cream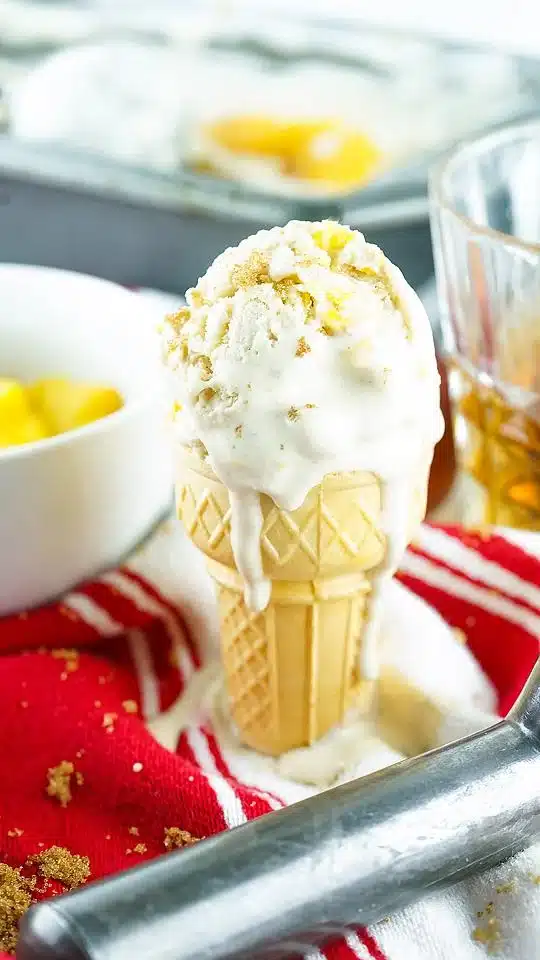 According to XOXO Bella, this No Churn Cinnamon Bourbon Peach Ice Cream is peach pie, only better. Mmmm! The cold dessert has the flavor of brown sugar, peaches, and bourbon, suspended in a cloud of sweet cream ice cream. What more could you want to cool off on a warm summer day?
No Churn Vietnamese Coffee Ice Cream with Boba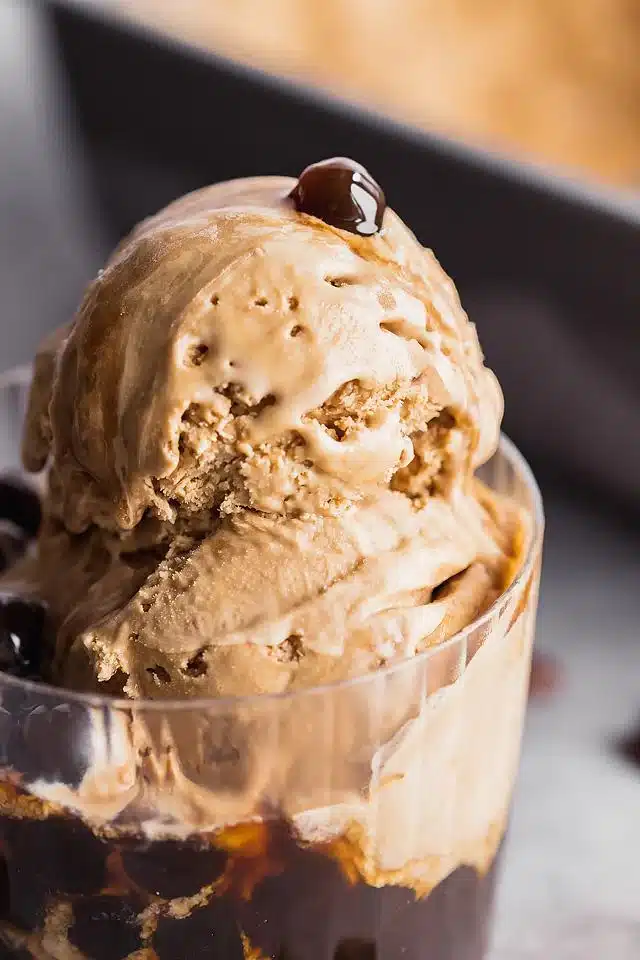 We're right back with another XOXO Bella creation. This time it's her No Churn Vietnamese Coffee Ice Cream with Boba. While that's a mouthful, the exotic-sounding confection uses (mostly) easy-to-find ingredients like sweetened condensed milk, powdered instant coffee, and brown sugar. Serve it with tapioca pearls for a unique sweet no one will soon forget.
Watermelon Sherbet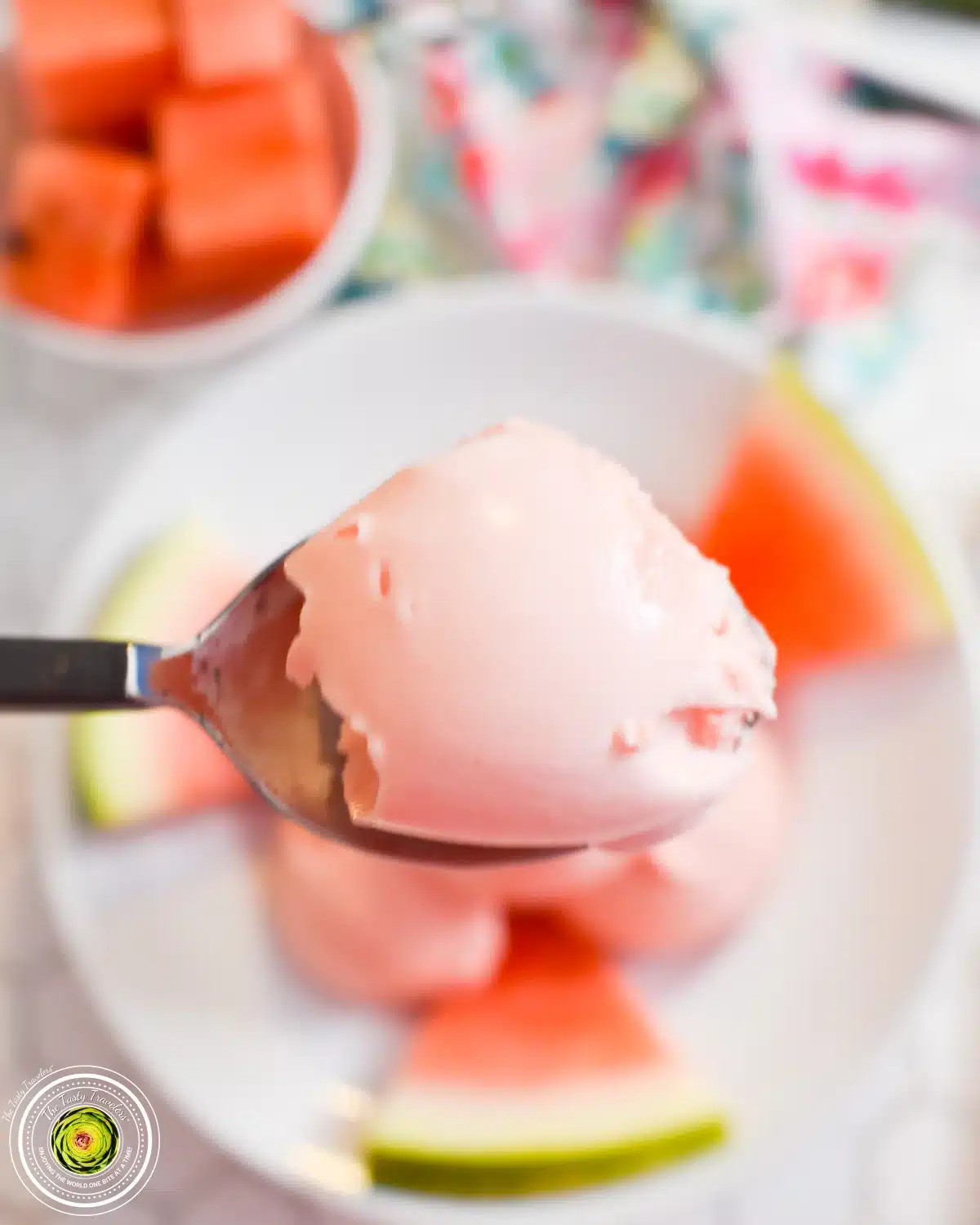 Oh boy! Are we ever tempted by this refreshing Watermelon Sherbet recipe from Lauren of The Tasty Travelers? It's a just-sweet-enough summertime treat you'll want all season long. And because of the sweetened condensed milk, it's scoopable, creamy, and good til the last bite.
No Churn Cake Ice Cream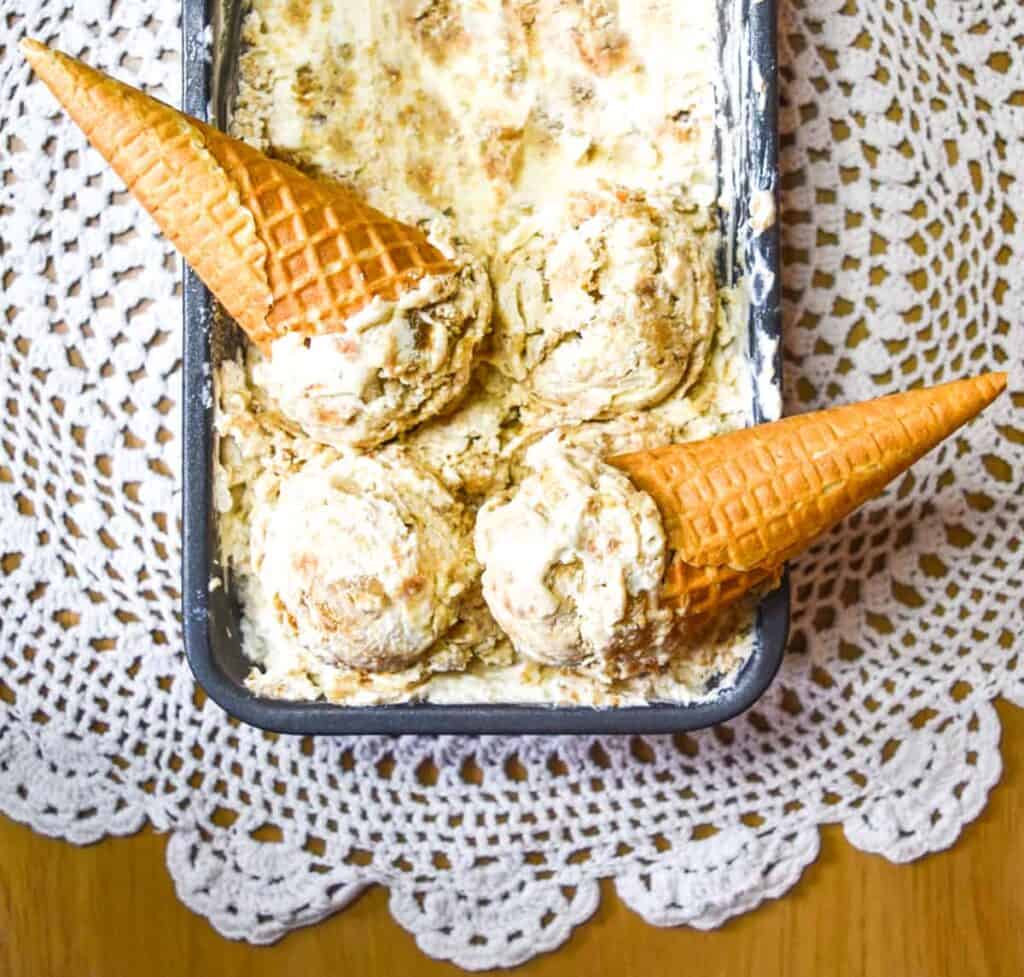 By far, my favorite Jeni's ice cream flavor is the Gooey Butter Cake. So, if you see the ultra-premium ice cream in the freezer, grab a pint. However, if it's unavailable in your neck of the woods, try your hand at this No Churn Cake Ice Cream by Liz of Waiting For Blancmange. It's completely stuffed with your favorite leftover or storebought cake (hopefully, it's buttery).
Kesar Pista Kulfi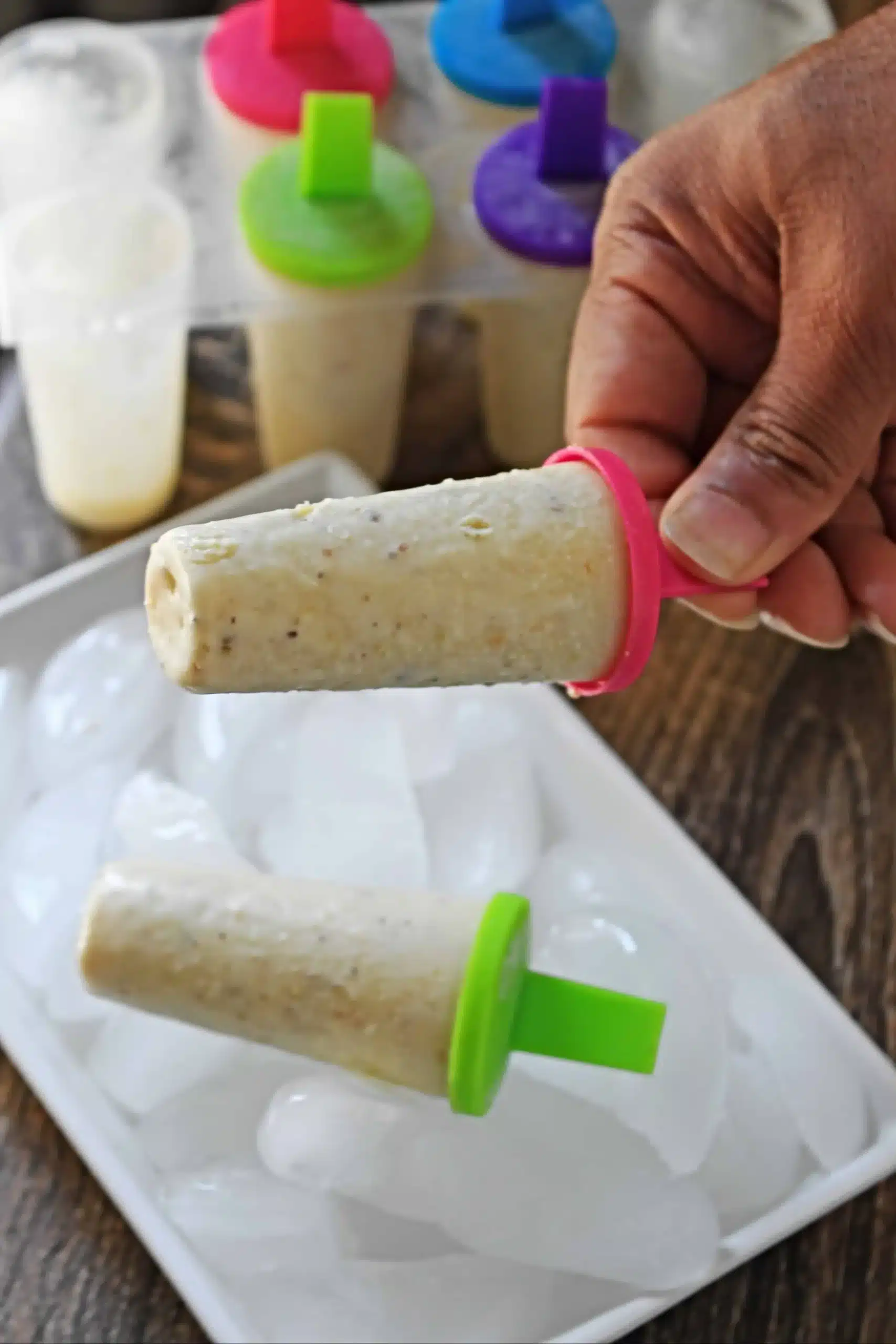 Sandhya of My Cooking Journey opines, "Summer or any season of the year needs a good homemade frozen dessert." We agree! So why not this Kesar Pista Kulfi? It's a frozen dairy dessert that starts with a sweetened condensed milk base. But where it gets interesting is the addition of chopped pistachios, saffron, rose water, and cardamom. It's going on our must-try list!
Strawberry Swirl Ice Cream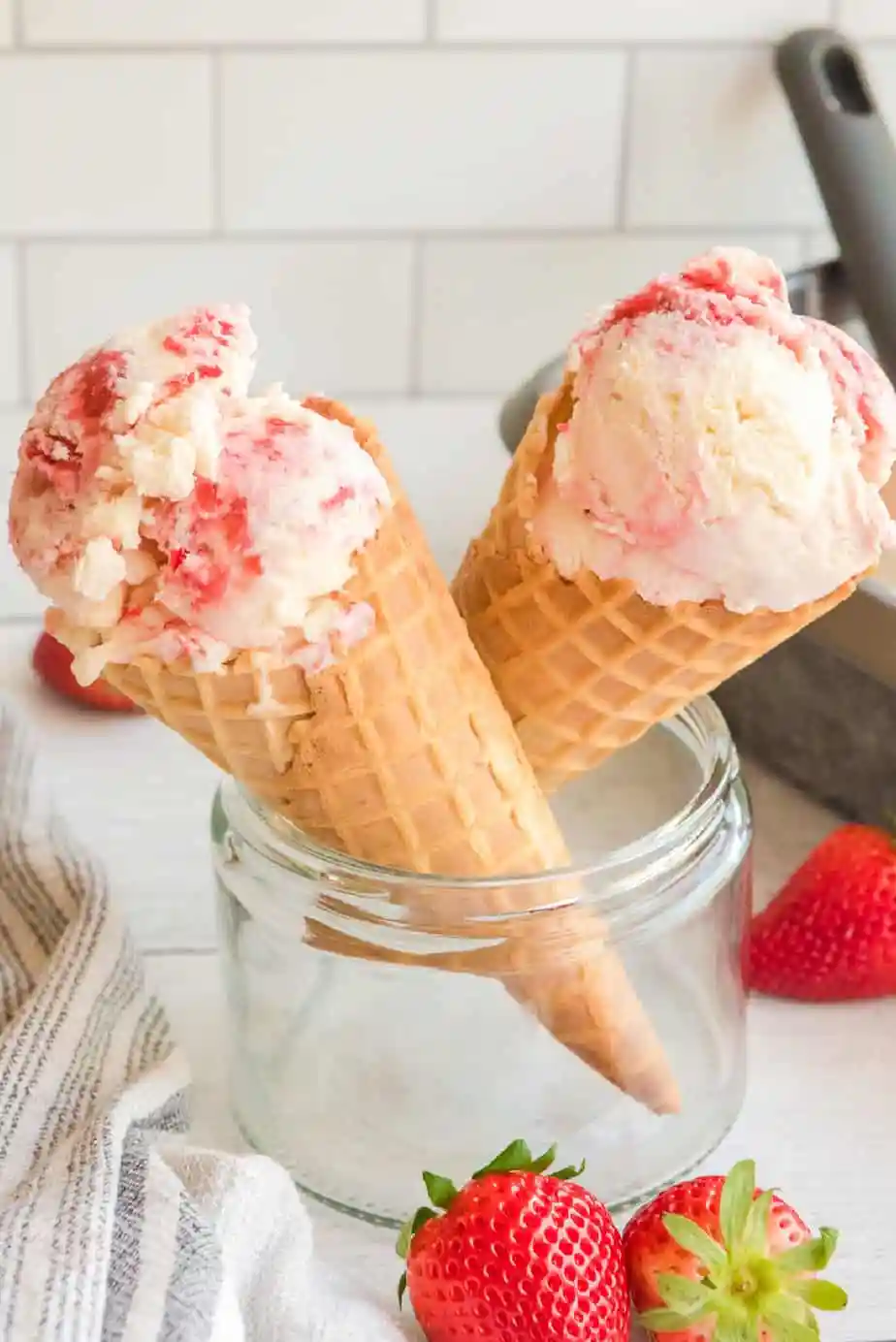 You can't resist Fresh in-season strawberries if you're anything like us. So you'll want to keep this gorgeous No Churn Strawberry Swirl Ice Cream recipe from On My Kid's Plate in your repertoire. Here's why. It's a simple vanilla base with five ingredients, including loads of fresh (or frozen) strawberries, cream, and sweetened condensed milk.
Homemade Blackberry Ice Cream with Chocolate Chips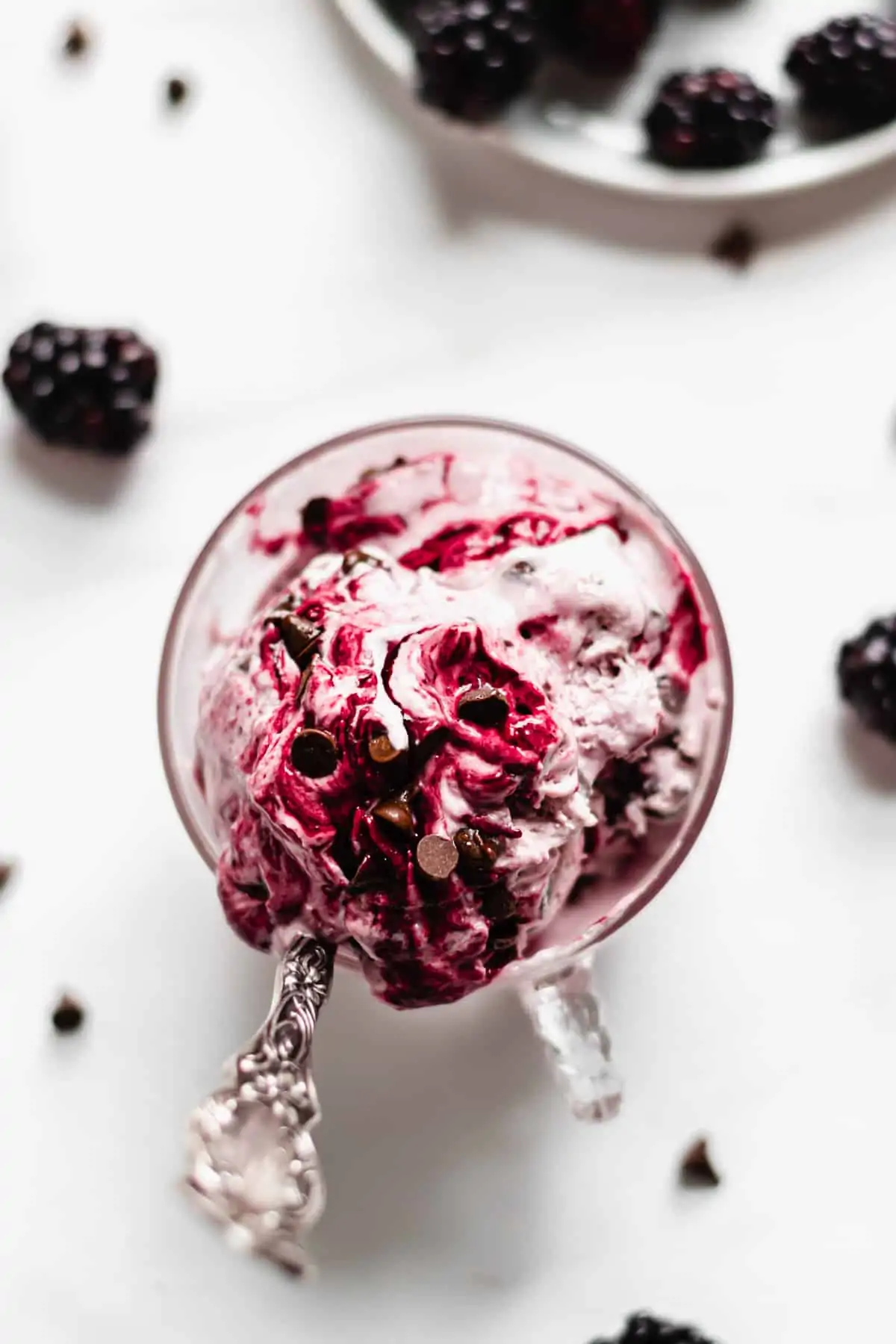 This Homemade Blackberry Ice Cream with Chocolate Chips from Callan of The Cozy Plum is an excellent way to cap a delicious summer meal. It has a smooth texture, interrupted now and again by bittersweet chocolate. Plus, it's no churn and takes less than half an hour to make before freezing. Will this become THE dessert of your summer?
Strawberry Shortcake Ice Cream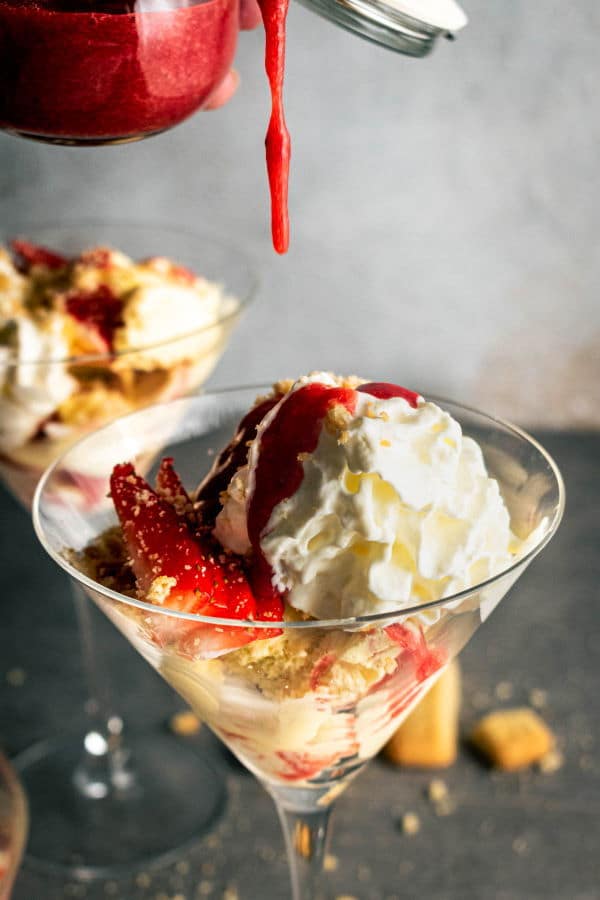 Buying dessert for momma is nice, but making it from scratch really shows you care. Luckily, there are recipes like this Strawberry Shortcake Ice Cream from Joss of In The Kitch. So you don't have to be a pastry chef by trade to make something she'll love. First, you'll need to make your strawberry sauce. Next, whip up the ice cream base, freeze, and assemble.
No Churn S'mores Ice Cream
Mosquitoes, be darned! We're suckers for gathering around the fire, roasting marshmallows, and eating s'mores under the night sky. It's a summertime tradition we and many others enjoy. However, with this No Churn S'mores Ice Cream recipe, you can enjoy those flavors year-round in cold form. It starts with the easiest vanilla ice cream base (thanks to sweetened condensed milk). Then you add the good stuff; crushed graham crackers, marshmallows, and chocolate.
No Churn Cookie Monster Ice Cream
Although, apparently, Cookie Monster also eats veggies now (what!?!?), you're kids will still go crazy for this blue No Churn Cookie Monster Ice Cream. Seriously, that bright blue hue is a sure hit amongst children. The bonus is how simple it is to make with very few ingredients, including heavy cream, chocolate sandwich cookies, and chocolate chip cookies.
No Churn Grinch Ice Cream
While your heart won't grow three times larger, with this No Churn Grinch Ice Cream from Cooking With Carlee, your sweet tooth will. It's perfect for Christmas, a Dr. Seuss celebration, or 'just cause.' But while it looks cool, what does it taste like? Well, it's a mint and white chocolate dessert, which is heaven if you love that flavor combo.
Peanut Butter Cup Ice Cream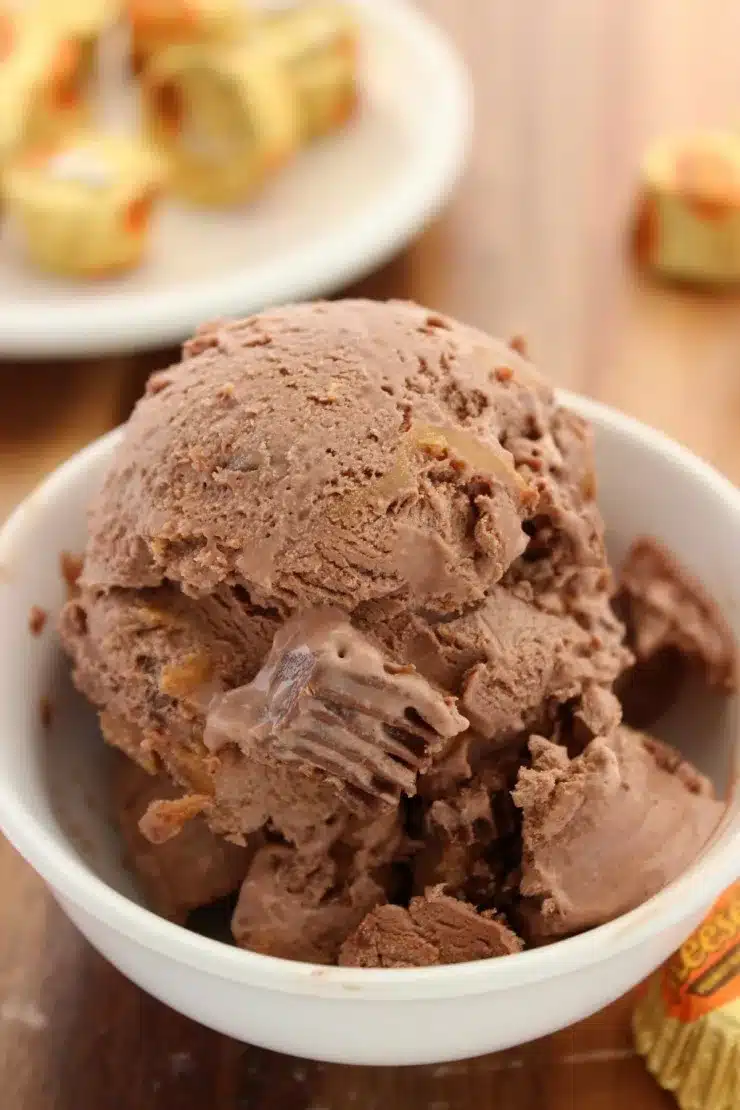 We love peanut butter and chocolate recipes like our gourmet peanut butter. So, we're excited to discover this Peanut Butter Cup Ice Cream from Life Love Liz. It's a five-ingredient creation of chocolate ice cream filled with mounds of peanut butter cups and swirls of rich, creamy peanut butter. No, you're not sleeping, but it is dreamy.
Raspberry Cheesecake No Churn Ice Cream
The magic of sweetened condensed milk continues to wow us with this Raspberry Cheesecake No Churn Ice Cream from The Flouring Kitchen. It's packed with the rich, tart sweetness of cheesecake combined with ribbons of homemade raspberry sauce, graham crackers, and vanilla.
Strawberry Shortcake Ice Cream Bars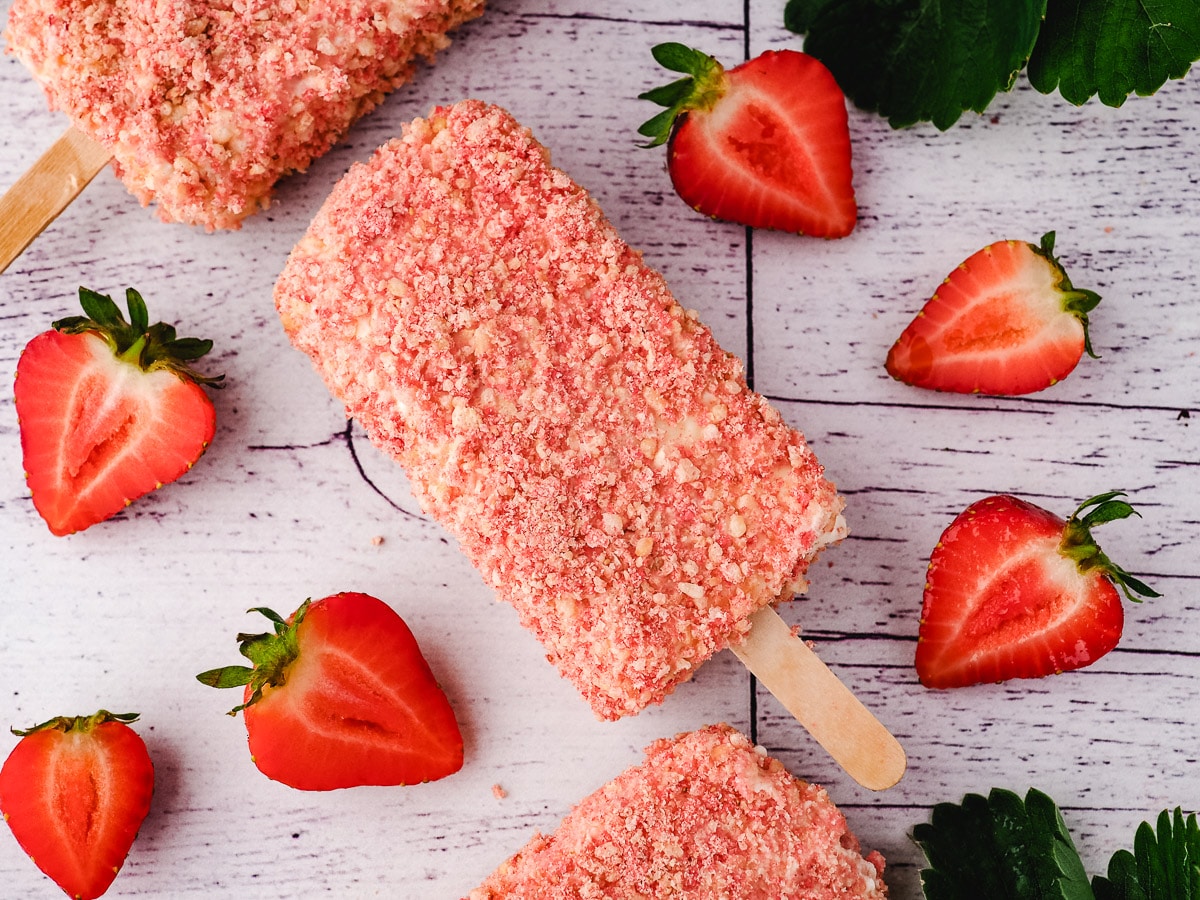 While ice cream trucks are rare now, they were once a centerpiece of summer culture nationwide, with many iconic favorites. One such popular flavor was the Strawberry Shortcake Ice Cream Bar, made accessible by this recipe from Sarah of Keep Calm And Eat Ice Cream. Like the throwback favorite, it starts with a strawberry center surrounded by vanilla ice cream and finally coated in a crunchy strawberry "shortcake" mixture.
No Churn Avocado Ice Cream
At first, we side-eyed the notion of avocado in ice cream. For one, avocado seems like it should be consumed in savory rather than sweet preparations. Secondly, the creamy green fruit is rather fatty. But after looking at this No Churn Avocado Ice Cream from Pavani's Kitchen, we're open to it. It has a distinct flavor, and it's worth a try for those adventurous eaters. And while novel, it could become a favorite.
Orange Ice Cream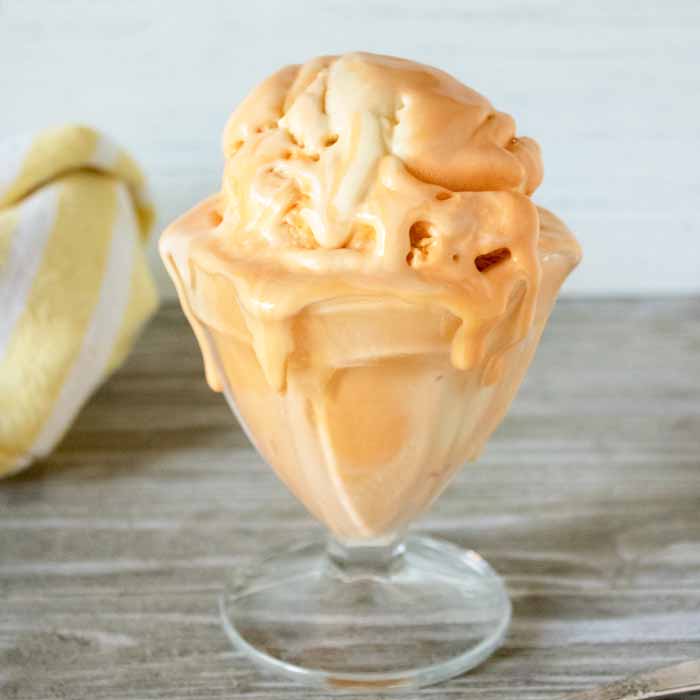 We like the way Angie of The Country Chic Cottage thinks. The food and craft blogger proclaims this Orange Ice Cream the perfect way to "lick away" summer. So as one hot day melts into the next, count on this frozen dessert to keep you cool.
Red Velvet Ice Cream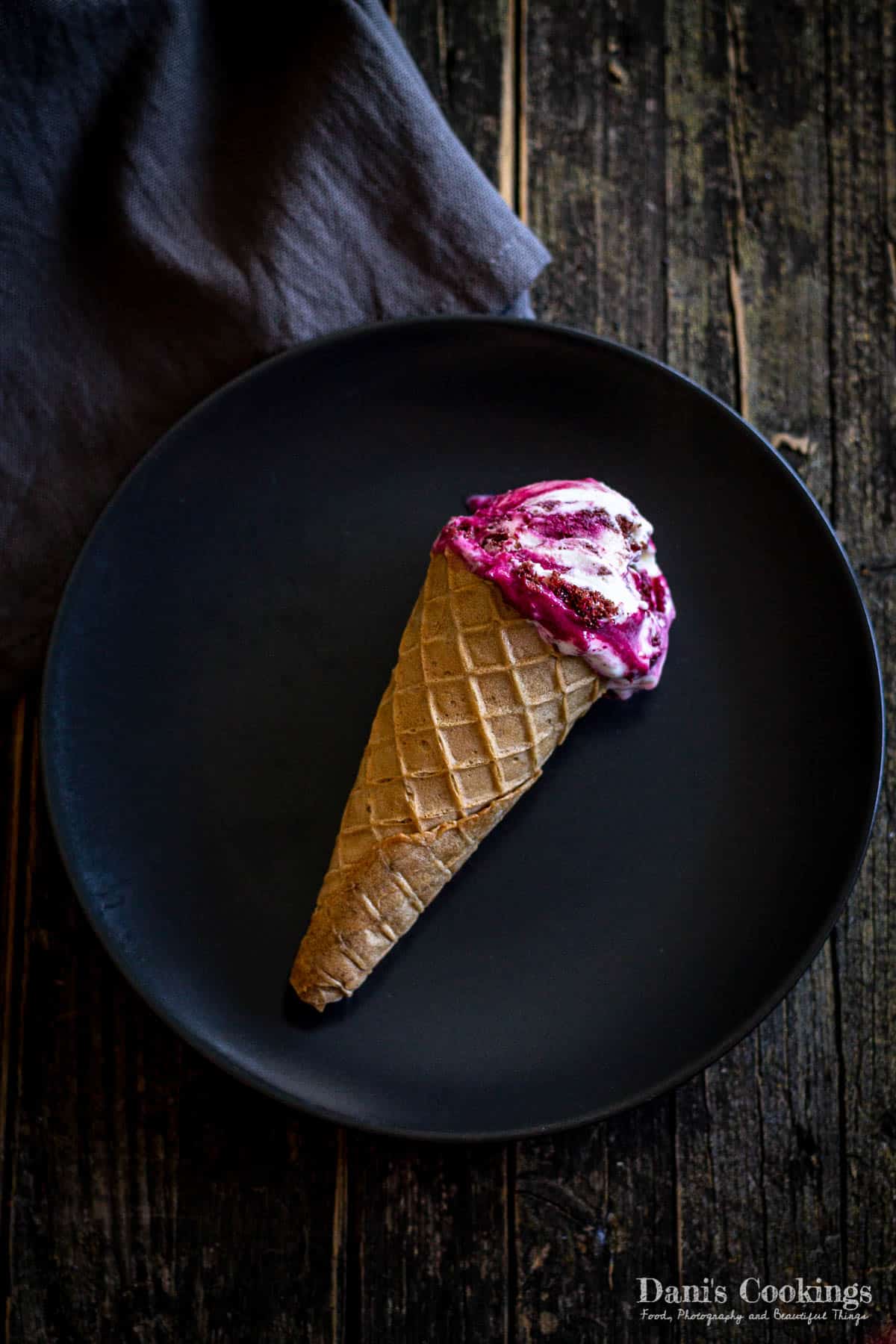 Although Dani shows you how to make a cake for this Red Velvet Ice Cream from scratch, don't feel bad about buying or making a quick one from a box cake mix. Either way, it's a straightforward recipe with a sweetened condensed milk base, beetroot powder (that's how you get that vibrant color), cocoa powder, and red velvet cake.
Which Ice Cream Recipe with Sweetened Condensed Milk will You Try First?
You've discovered 20 delicious ice cream recipes with sweetened condensed milk. And there are some really unique options, like Strawberry Shortcake Ice Cream Bars, No Churn Cookie Monster Ice Cream, and even ice cream with Indian flavors (cardamom, rosewater, etc.) So which one will you try first? We'd love to know!