Gourmet peanut butter – we combined peanuts, vegetable oil, and honey. That's it. That's the base of this simple, three-ingredient recipe, and it tastes great. But the real magic starts when we add the mix-ins like brownie pieces, cake, frosting, and marshmallows.
Jump to Recipe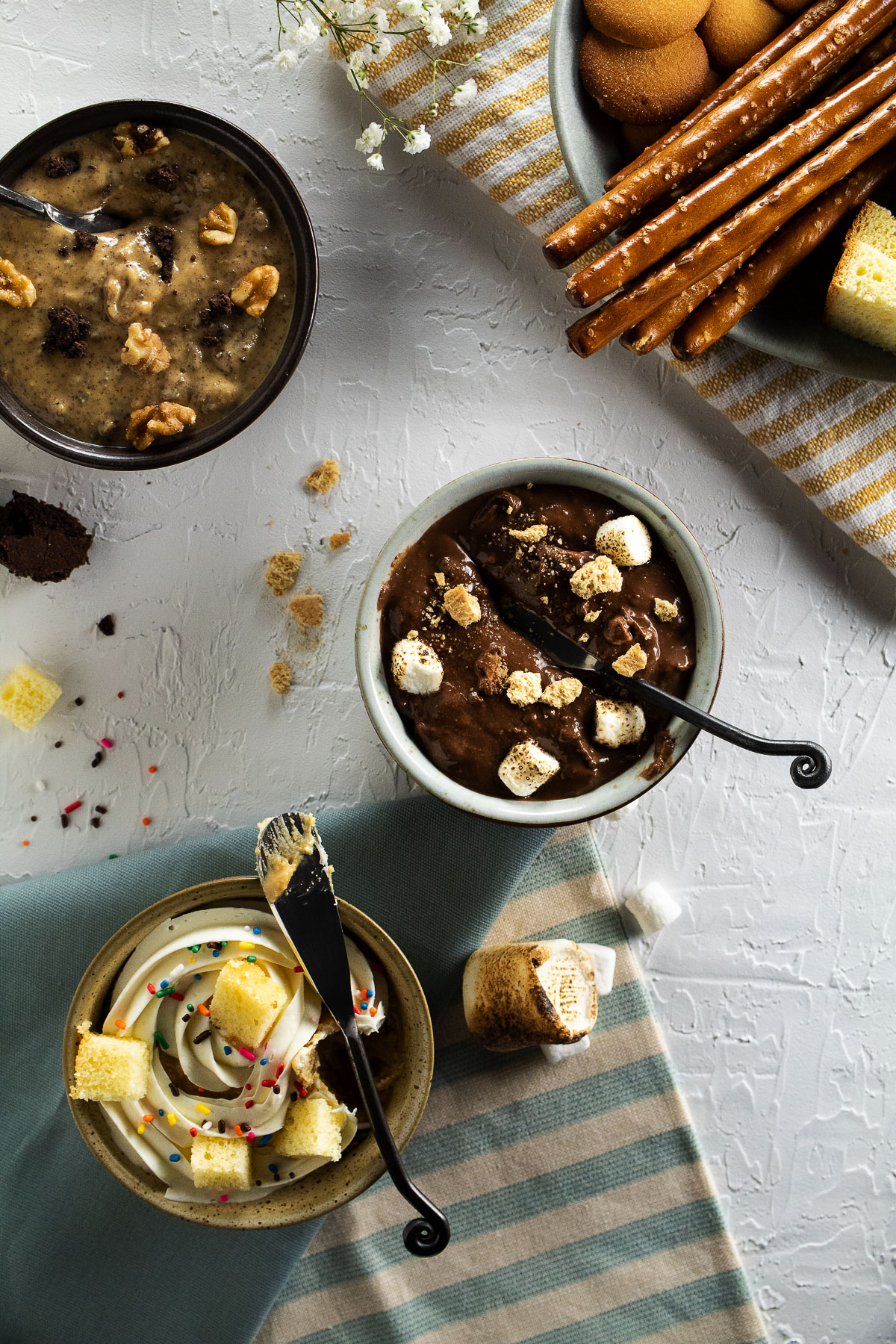 We are so excited to present this recipe to you. Why? Because we love peanut butter treats, just take a look at these old-fashioned peanut butter balls. Plus, there's just so much you can do with peanut butter. Chances are you never thought about Birthday cake peanut butter. Or how about s'mores peanut butter?
But wait, there's more!
Homemade peanut butter is redonkulous easy and quick to make. This golden magic sauce is a five-minute recipe, and it tastes much better than the stuff you get from the grocery store.
So, you can have a gourmet peanut butter board with all the trimmings whipped up in just a few minutes. You are making it an excellent choice for a surprisingly delicious appetizer. Just make sure you have milk on deck.
Jump to:
Ingredients
Below are all of the ingredients you need to make this gourmet peanut butter recipe.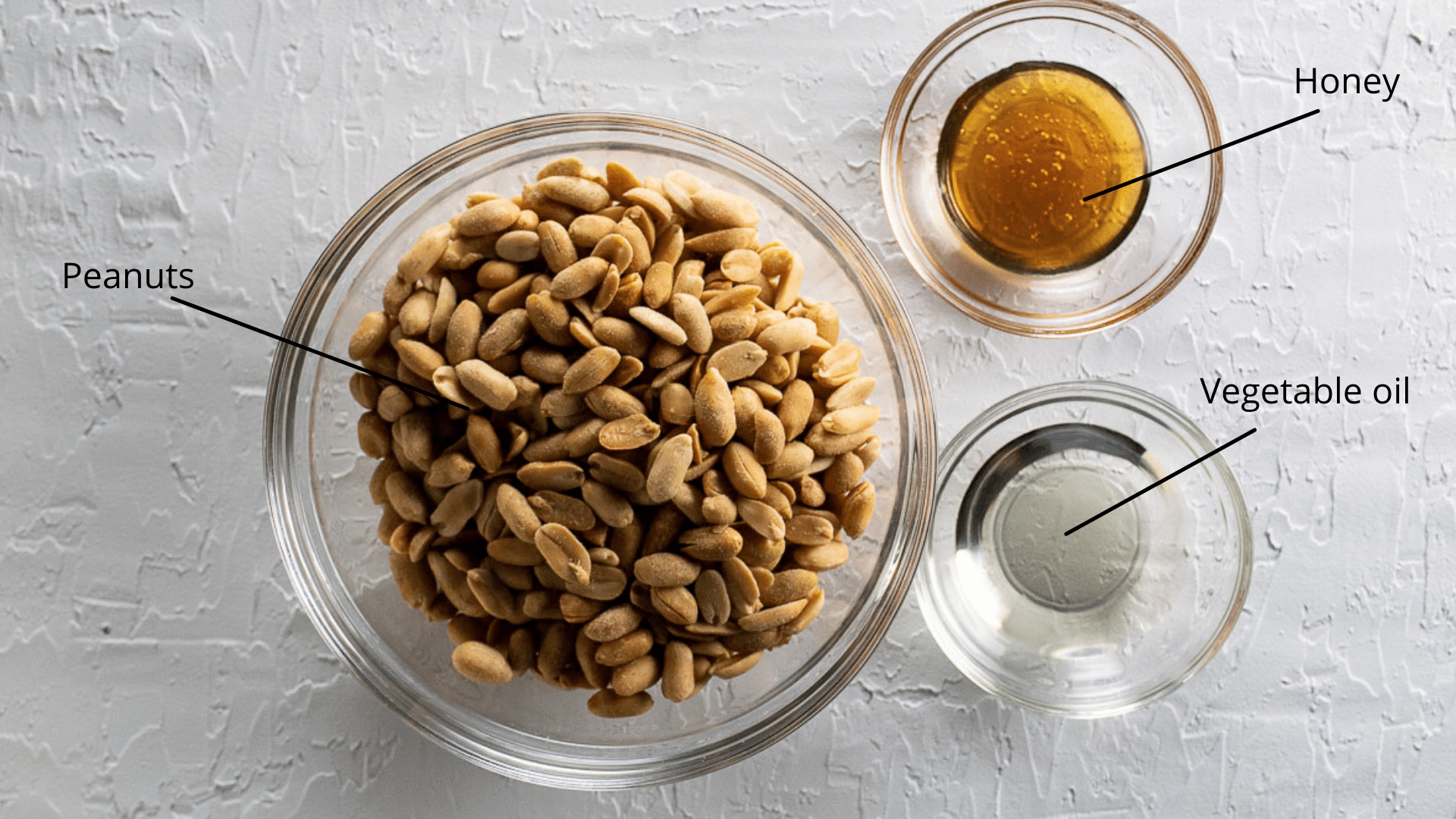 Peanuts (salted or unsalted)
Vegetable Oil
Honey
See the recipe card for quantities.
The image below contains all of the ingredients we used to make our unique gourmet peanut butter blends.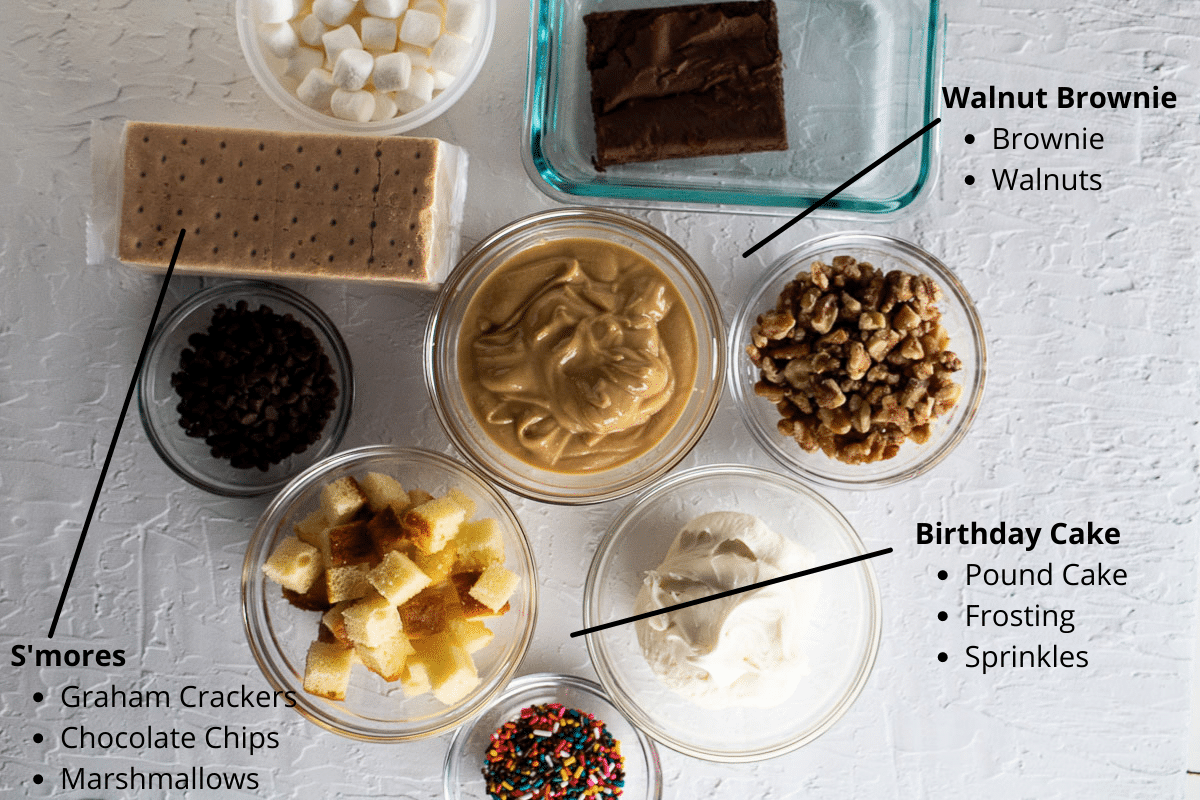 S'mores
Graham Crackers
Chocolate Chips
Marshmallow
Birthday Cake
Pound Cake
Frosting
Sprinkles
Brownie
How to Make Gourmet Peanut Butter
As stated above, our gourmet peanut butter recipe is so easy that it is dummy-proof. It's cool to watch your food processor grind up those peanuts into that pasty goodness we all know and love. If you haven't done this before, you're in for a surprise.
The first step is to add the peanuts to your food processor.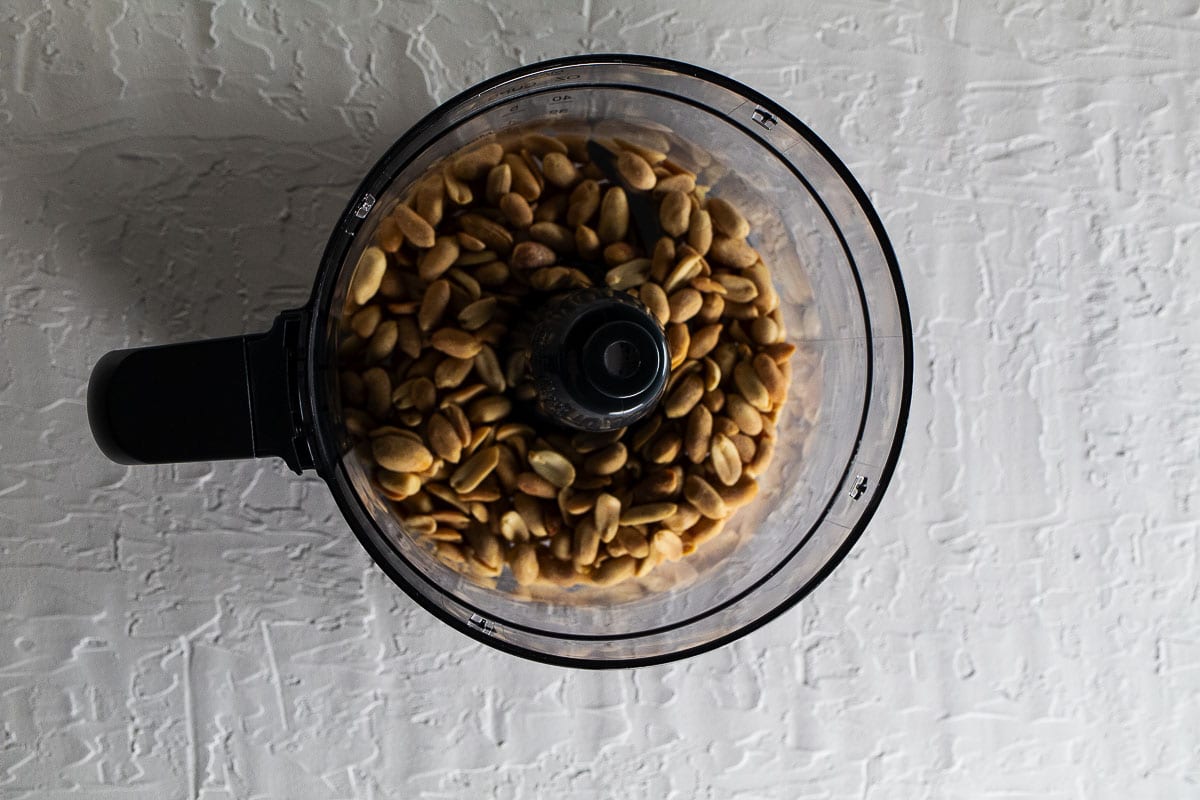 Next, turn your food processor on high for five minutes. After about a minute, your peanut butter will look like wet sand like the image below.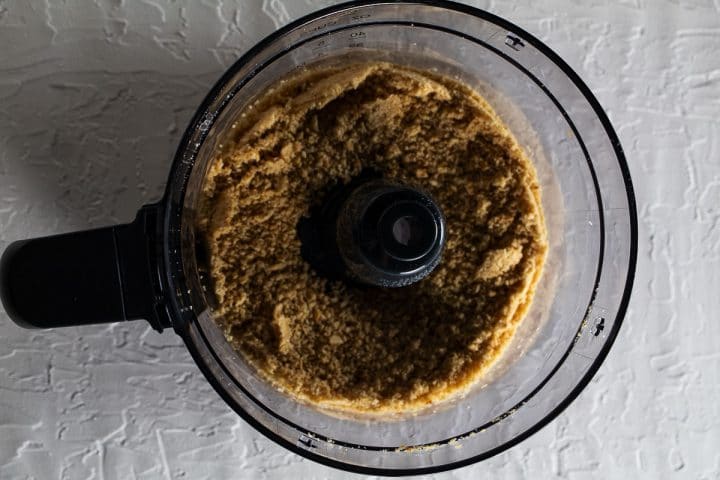 Then after two minutes or so, it will look like a ball. Don't freak out here. It's all a part of the process.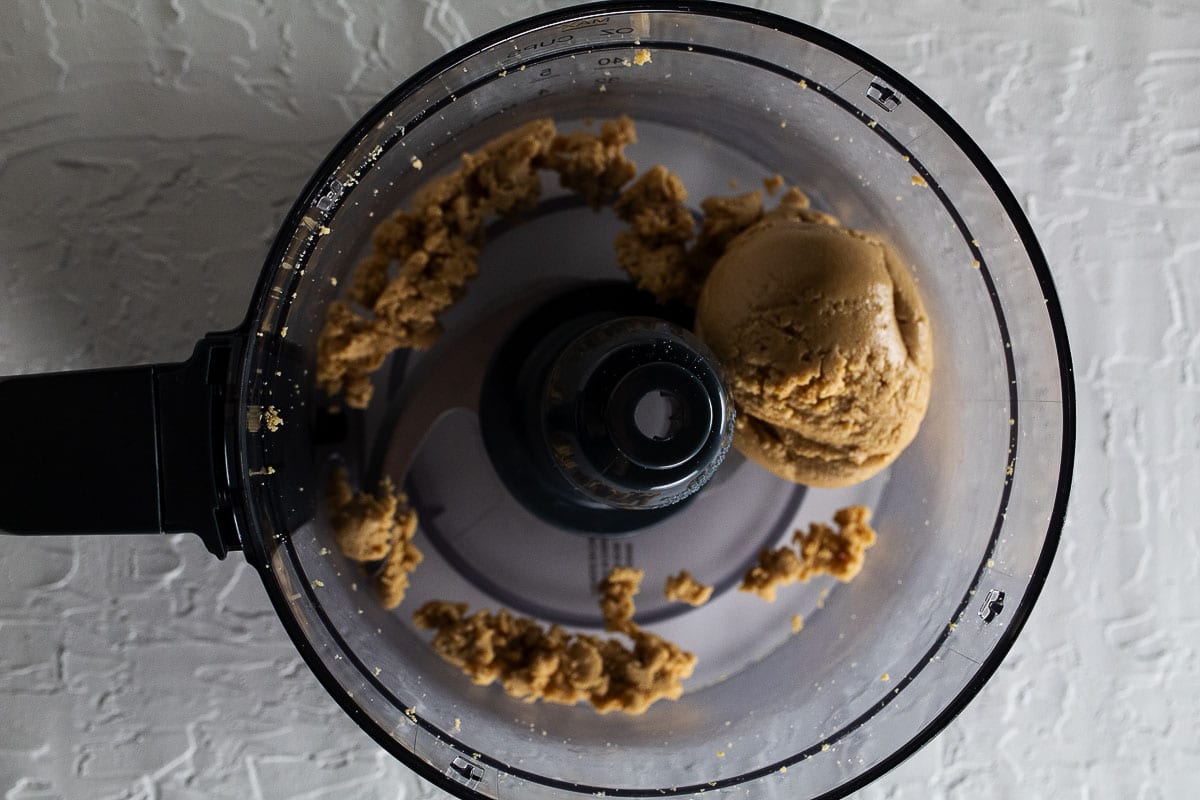 And finally, it will look like peanut butter after about four to minutes.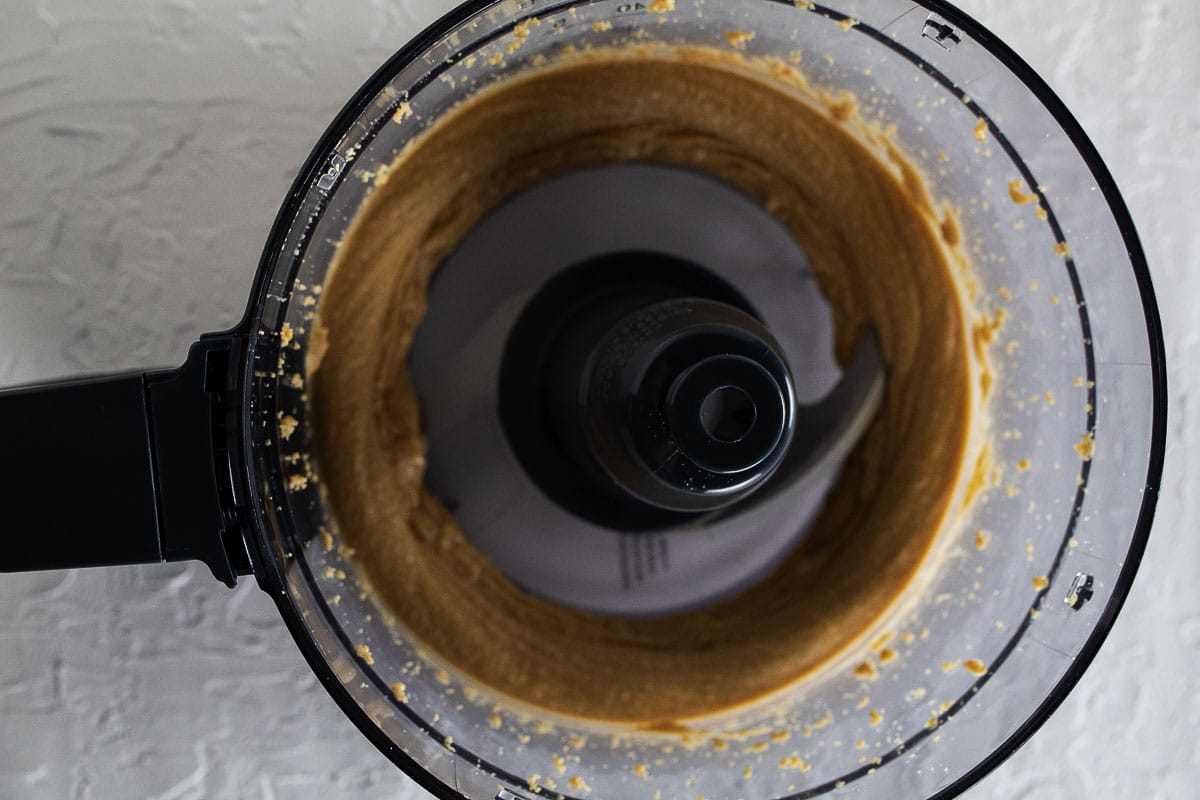 After this step, you'll want to add vegetable oil and honey. You'll end up with smooth, spreadable, slightly sweet peanut butter.
Oh, and if you want to make chocolate peanut butter, now is where you can add in the semi-sweet chocolate chips.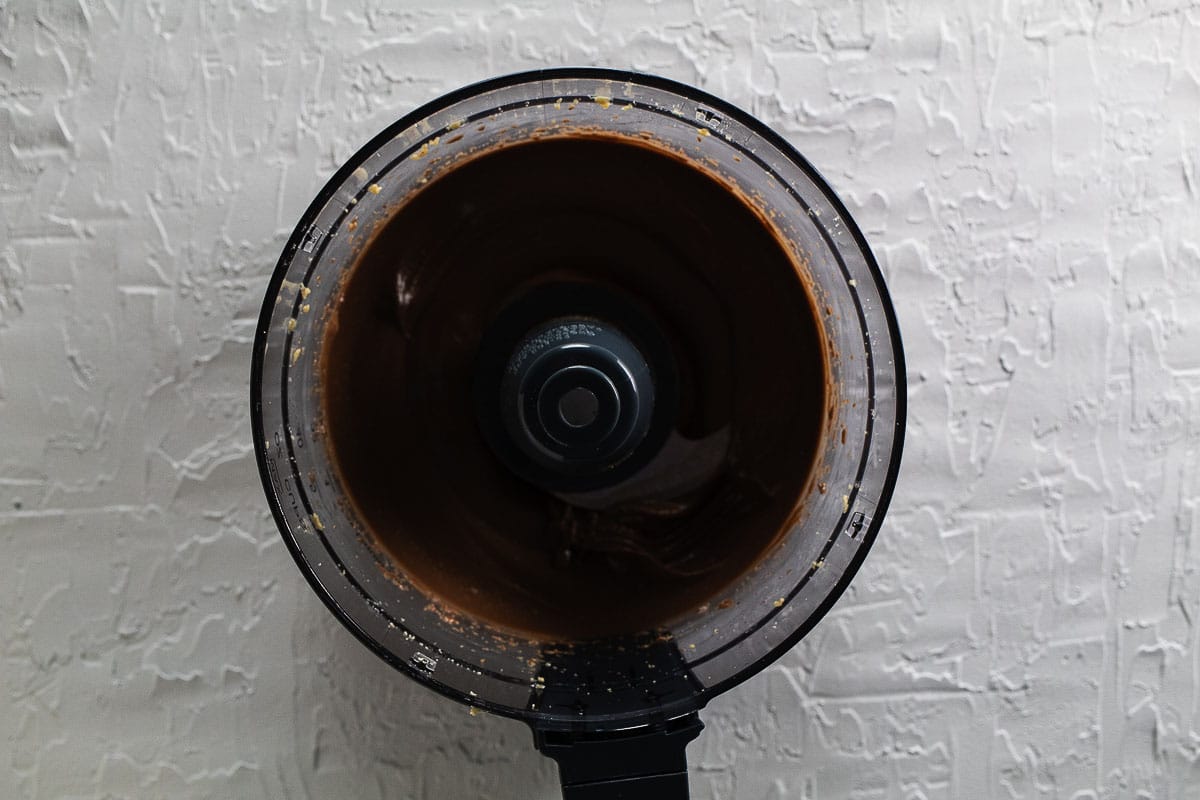 Note: You can use chocolate chips or cocoa powder for chocolate variations of peanut butter. We used miniature chocolate chips because they are sweet and leave the peanut butter with a smoother texture.
Variations
Oh boy, there are just about a million ways you can make this recipe your own. We're so excited to share some of the ways here.
Pretzels – mix in crushed pretzels for nice salty bite. You could also combine cream cheese, pretzels, and chocolate chips for a fun mix. This will be so good.
Fruit – use fruit instead of or in addition to pretzels, bread, graham crackers, etc.
Preserves and Jams – fold in jam or preserves for a classic peanut butter and jelly combo.
Chocolate Cake
Nuts – mix in crushed walnuts or almonds.
White Chocolate and Dried Cranberries
Get creative and go to town when it comes to flavor combinations.
Can You Make It In Advance
Yes! You can make homemade peanut butter in advance.
How Long Does Homemade Peanut Butter Lasts?
The homemade peanut butter will last up to three months. However, you can mix in other ingredients like cake, but it'll spoil sooner. For example, our Birthday cake peanut butter will last about three or four days in the refrigerator.
Store it in a food storage container.
Excellent Neighbor Gift
Are you looking for a food gift to give your neighbor, teacher, or friend? A jar of homemade peanut butter is a great option. You can make a large batch and divide it into small mason jars.
It makes a surprising and well-received food gift.
Equipment
You will need a food processor or high-powered blender to make homemade peanut butter.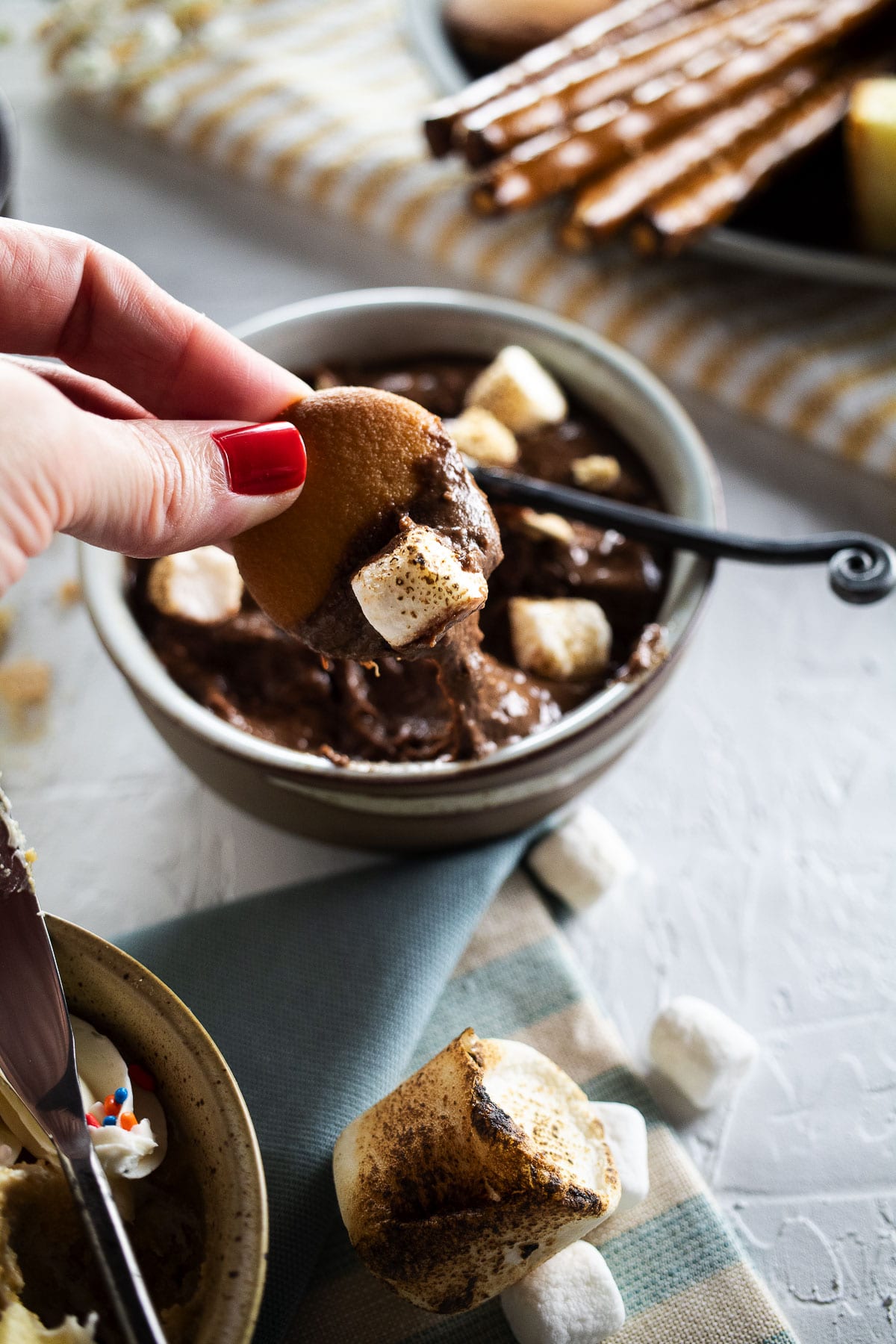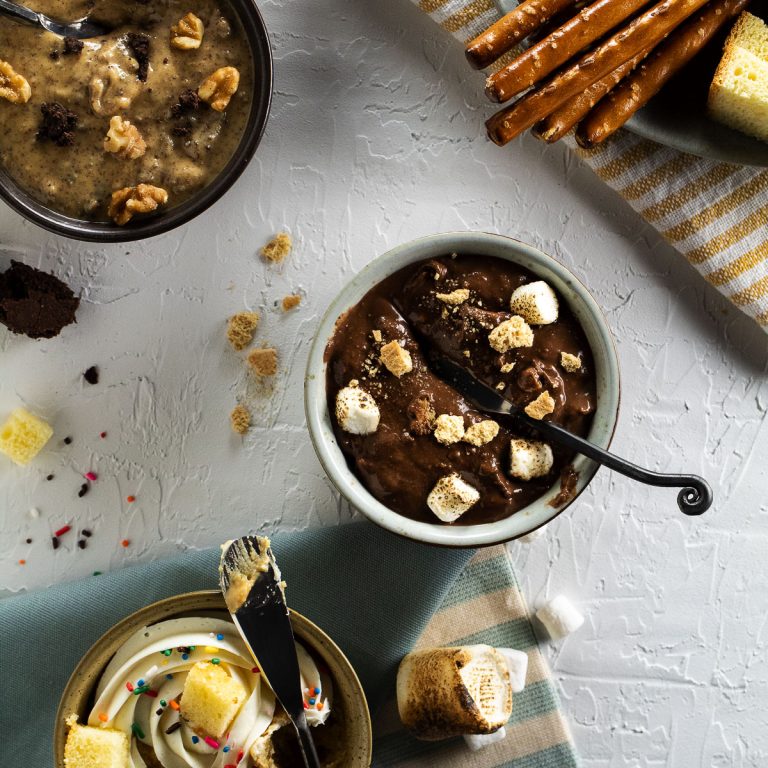 Homemade Gourmet Peanut Butter Recipe
Our homemade gourmet peanut butter recipe is easy and delicious. It literally takes five minutes to make. We also show you how to make some of our variations like birthday cake, brownie, and s'mores.
Ingredients
Original Peanut Butter
2

Cups

Roasted Salted Peanuts

2

Tbsp

Vegetable Oil

1

Tbsp

Honey
Brownie Peanut Butter
1

Cup

Prepared Peanut Butter

1/2

Brownie

Chopped

1

Tbsp

Walnuts

Chopped
Birthday Cake Peanut Butter
1

Cup

Prepared Peanut Butter

1/2

Cup

Pound Cake

Cubed

1

Tbsp

Color Sprinkles

1/2

Cup

Vanilla Frosting

Store bought or homemade
Instructions
Original Peanut Butter
Add the peanuts to a food processor and blend on high.

The peanuts will go through several stages. First, you will see the peanuts look crumbly or starting to look like wet sand. Then, it will form into a ball. Finally, it will become smooth.

After 4 minutes, stop the machine and scrape the sides of the bowl. Add the honey and vegetable oil. Continue on high for another minute. Enjoy!
Brownie Peanut Butter
Chop the brownie and walnuts into small pieces.

In a medium bowl add 1 cup of the prepared peanut butter and fold in the brownie and walnuts until combined.
Birthday Cake Peanut Butter
Chop the pound cake into small pieces.

In a medium bowl add 1 cup of the prepared peanut butter and fold in the pound cake, sprinkles, and frosting. You can also just top the peanut butter with the frosting.
Notes
If you have a high-powered blender you can make the peanut butter in there but you will need to scrape the sides a few times. 
You can also pulse the brownie pieces and walnuts a few times while in the processor and we loved the consistency. 
Store the peanut butter in an air-tight container in the fridge for up to 2 months. 
You should use roasted salted peanuts. If you use unsalted just add a pinch of salt when you add the oil and honey. 
If you use raw peanuts make sure you roast them first. Toss the raw peanuts in oil and salt, roast at 350 degrees on a baking sheet for 30-35 minutes. 
We have not tried but I'm sure you can also use almonds to make almond butter. You may need to add a little more oil. If using almonds we recommend searching for a recipe using almonds.
This recipe is perfect for a gift. Put it in a glass jar and give it to a loved one or friend. 
Nutrition
Calories:
125
kcal
Carbohydrates:
4
g
Protein:
5
g
Fat:
11
g
Saturated Fat:
2
g
Polyunsaturated Fat:
4
g
Monounsaturated Fat:
4
g
Trans Fat:
1
g
Sodium:
79
mg
Potassium:
142
mg
Fiber:
2
g
Sugar:
1
g
Vitamin C:
1
mg
Calcium:
18
mg
Iron:
1
mg