The best doughnut recipes on this list include classics and some modern twists. The best doughnuts are crispy on the outside, fluffy, airy, and delicate on the inside.
They all look spectacular, and I can guarantee that you'll see something so drool-worthy that you'll have to make it. So follow along as we show you some of the most delicious doughnuts recipes you can find online.
Jump to:
5 Fun Facts About Doughnuts
The origins of doughnuts go back to prehistoric times. But, Dutch immigrants are given credit for bringing the fried dough confection to America. The Dutch called this yummy fried food olykoeks "oily cakes."
Doughnut or donut? Well, the dictionary spelling is "doughnut." However, the shorter version, donut, rose to prominence due to the expansion of famed donut retailer Dunkin Donuts.
Like us, you were probably too busy eating doughnuts to learn that the average American eats 31 donuts per year.
That 31 doughnuts per year add up to about 10 billion. That's right, collectively The United States consumes 10 billion doughnuts. We Americans certainly love our fried dough!
Be sure to score your free doughnuts on National Doughnut Day. Americans celebrate this holiday on the 1st Friday of June. It originated as a way to honor members of the Salvation Army who served soldiers the tasty fried dough rings during World War I.
20 Best Doughnut Recipes To Try
We found 20 fantastic doughnut recipes for you to try at home. The sweet and delicious tasty confections are a doughnut lover's dream come true. As always, the order in which a recipe appears on the list has nothing to do with how tasty it is. Therefore, this list isn't a ranking.
Don't forget to check out our favorite mini bundt cake recipes, and our mini desserts in a cup.
1. Donut Bouquet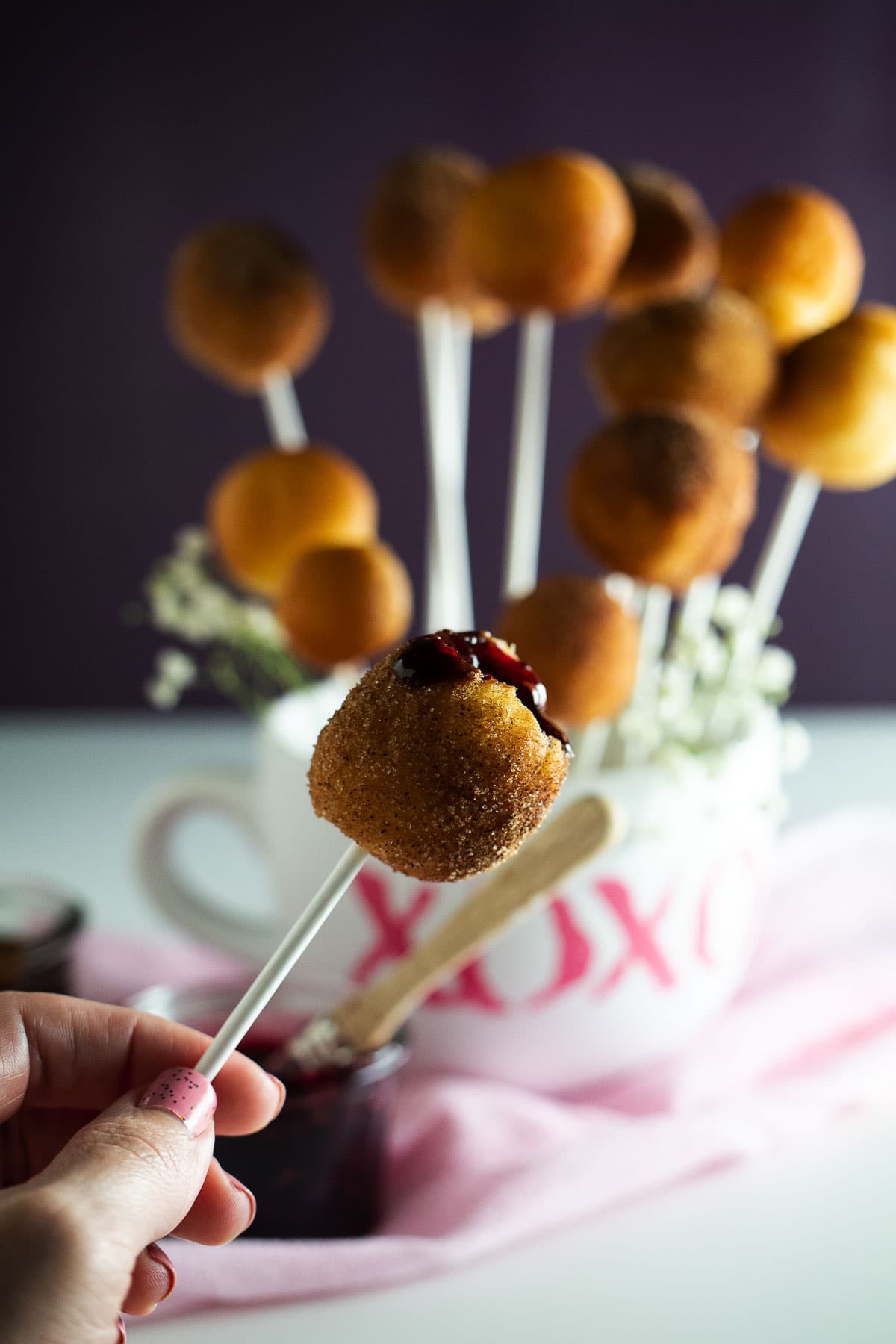 We made this Donut Bouquet as a food gift idea for that special someone in your life. It was an enjoyable project! So, we fried up small donut holes and tossed them in cinnamon sugar.
Then we put them on lollipop sticks and arranged them like a bouquet in a mug full of rice. The rice keeps the donut lollipops in place. It makes a lovely Daddy and kid project for Mommy on Mother's Day or Valentine's Day.
2. Coconut Flour Donut Holes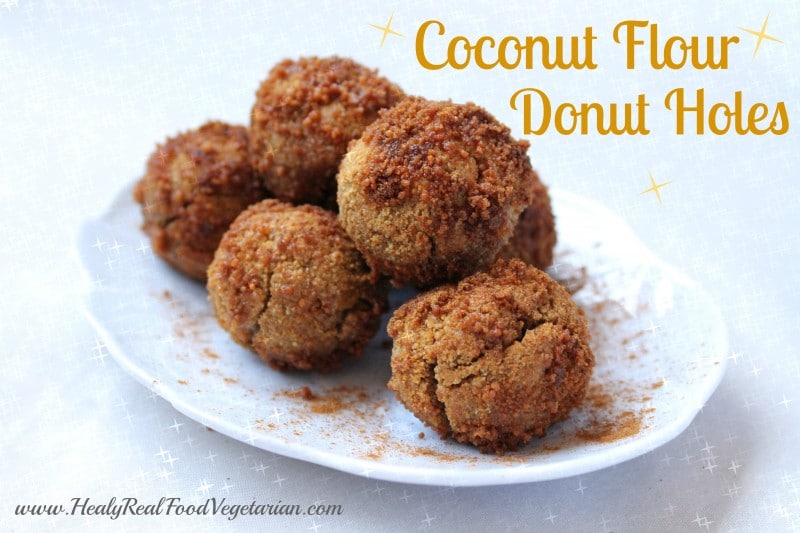 But doughnuts shouldn't just be for those of use without special dietary restrictions. Doughnuts belong to everyone. Hannah of Healy Eats Real gets that concept. So, she developed a gluten-free donut hole recipe that everyone can enjoy. And depending on how much additional sugar you add, this recipe can also be keto-friendly.
Another healthy benefit of this recipe, it's baked, not fried. So, share this recipe with your gluten-free friends or give it a try if you're looking for a doughnut that's slightly sweet and not so heavy.
Visit Healy Eats Real for the recipe.
3. Beignets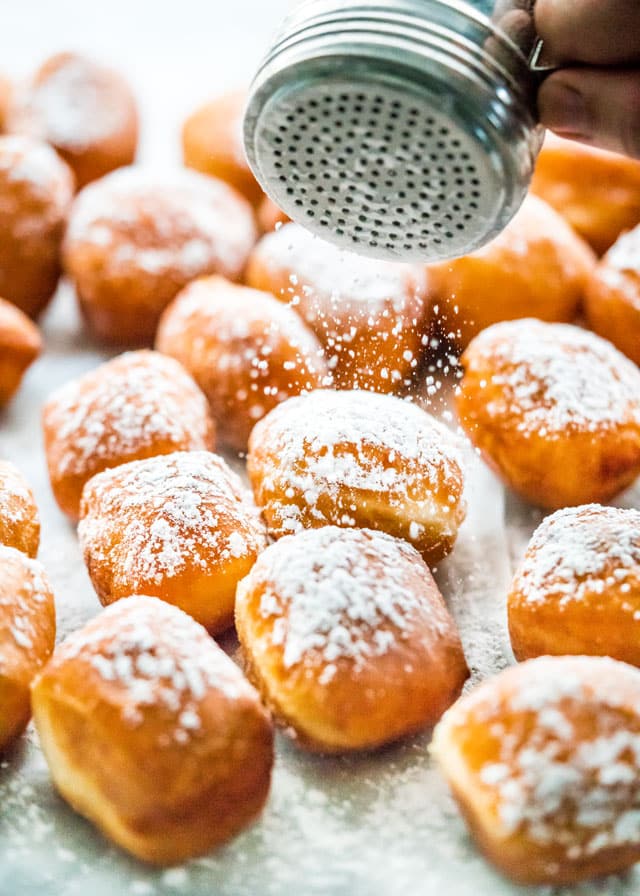 Of course, Jo of Jo cooks would have a super-popular Beignet recipe. And boy, is it ever popular with over 13,000 shares on social media, and it's highly rated with nearly 200 reviews (at the time of this writing).
Like all beignets, she describes hers are airy and fluffy. Whenever I have a beignet, it's like taking a bite out of a donut cloud. Jo will take care of you over there. She has many donut recipes, pairing suggestions, and even some baking advice.
Visit Jo Cooks for the recipe.
4. Best Baked Donuts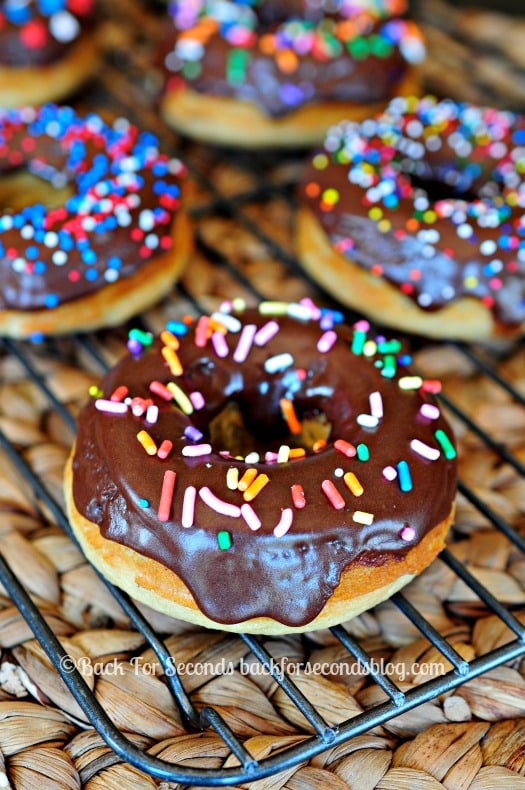 Retake a look at that picture. Unless someone told you, you would have no idea that it was a baked donut made using healthier ingredients like greek yogurt. So, are you looking for another healthy donut option? Well, you're in luck!
Stephanie from Back For Seconds schools us in the subtle art of swapping traditional ingredients for healthier counterparts. But not only is Greek yogurt a healthier substitute, but it also helps make the donuts light and airy. But that's not even the best part. I really love this recipe because the donuts only take 25 minutes to make.
Visit Back For Seconds for the recipe.
5. Chocolate Cake Donuts
Matt from In The Kitchen with Matt gets what good food is all about: good memories. His inspiration comes from all the good times spent walking to the local donut shop with friends. I recall similar memories. Good times and good people.
Anywho, you'll find clear, step-by-step images to guide you through these yummy chocolate cake donuts with chocolate glaze. So, if you're a chocolate fiend, you'll be in good company with Matt.
Visit In The Kitchen With Matt for the recipe.
6. Donut Ice Cream Sandwiches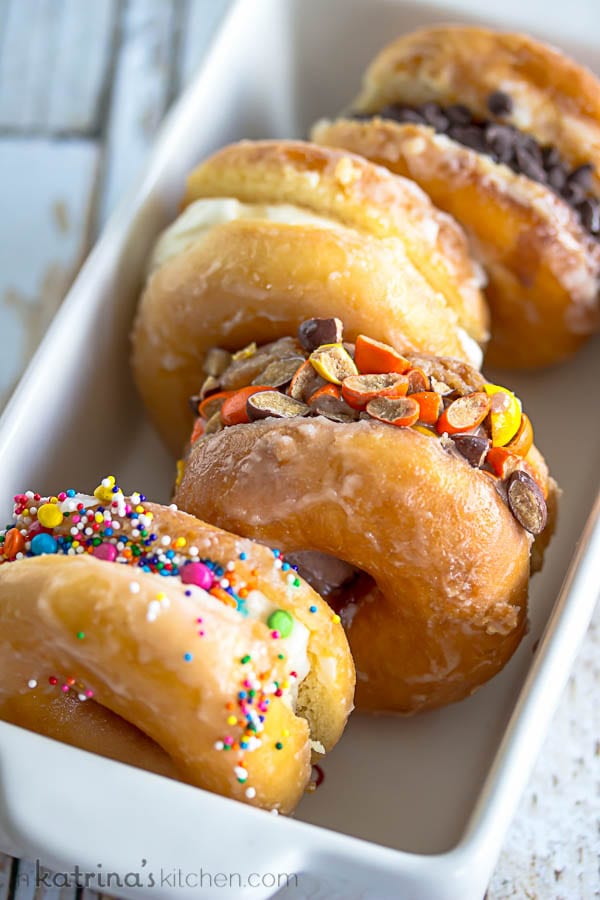 If this recipe doesn't make you smile, I just don't know what will. Seriously! Katrina of In Katrina's Kitchen combined two of my favorite desserts into one delicious creation for a why didn't I think of that first kind of reaction.
Some of the best things in life are the simplest. This recipe consists of just three ingredients that are perfect for those stifling summer months. You can make this recipe with your favorite donuts (I'd stick to yeasted donuts) and your favorite ice cream. It's really easy.
Visit In Katrinas Kitchen for the recipe.
7. Chocolate Donut S'mores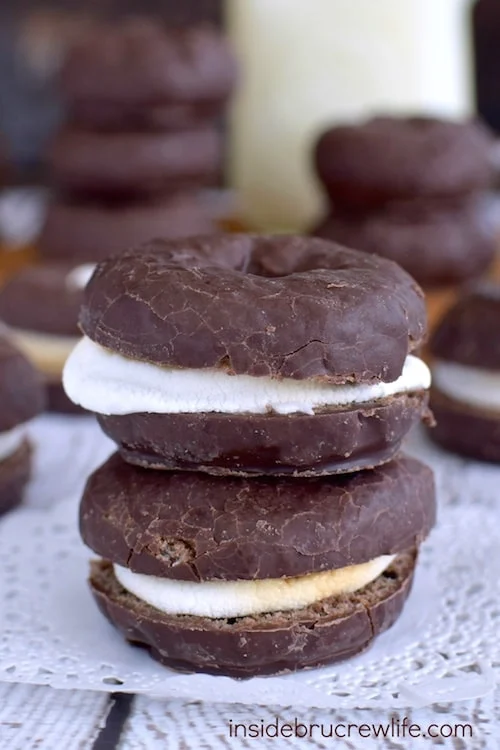 Jocelyn of Inside Bru Crew Life made this simple "recipe" for s'mores donuts. Like the entry just above this one, this one is ridiculously simple. These donut s'mores recommend using premade mini donuts and store-bought marshmallows.
Once again, don't you wish you thought about this simple combination. It's so simple yet brilliant.
Visit Inside Bru Crew Life for the recipe.
8. Easy Strawberry Frosted Donuts Recipe
These easy strawberry frosted donuts are Perfect for Valentine's Day, Mother's day, or simply a mid-week donut craving, Janel of Simple Sweet Recipes, which bakes up the sweetness with this 20-minute recipe.
So, what we have here is another baked donut recipe that looks as good as it tastes. The donuts will be beautiful with the frosting alone, but you can pretty them up even more by adding assorted sprinkles.
Visit Simple Sweet Recipes for the recipe.
9. French Cruller Doughnut Recipe with Honey Glaze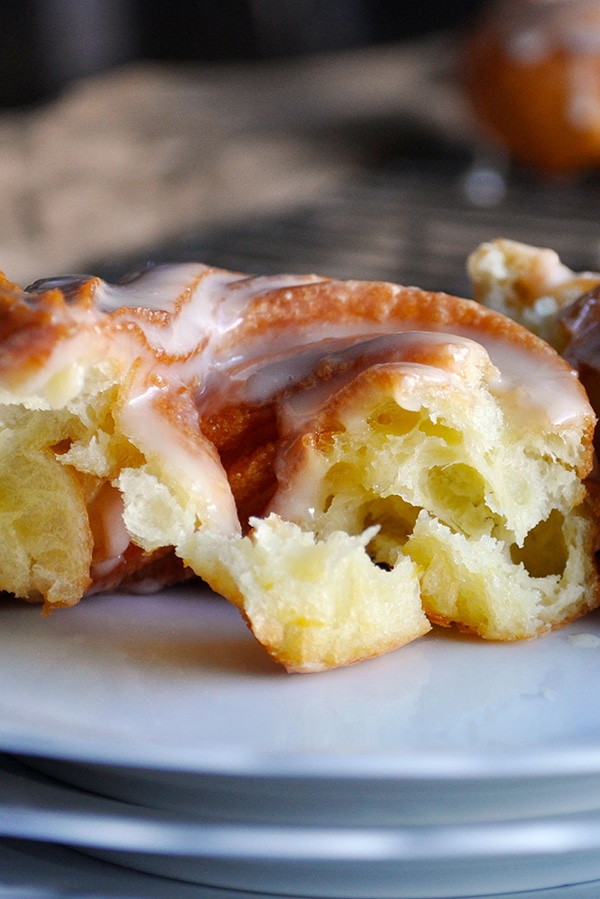 Surprise your family with this impressive melt-in-your-mouth French Crullers recipe from Rebecca of Of Batter And Dough. The dough for French Crullers is a Pate a Choix – a very rich buttery and eggy dough that is best described as delicious. Most other words can't do it justice.
But, it can be tricky to fry this delicate dough at home without Rebecca's tips. Start to finish it'll take about an hour to make them. But you most likely have all of the ingredients on hand. Besides, this recipe is best as a weekend treat.
Visit Of Batter And Dough for the recipe.
10. Mint Julep Donuts
Mint Julep Donuts are a glitzy way to celebrate the Kentucky Derby brought to you by Lifestyle blogger Andrea of Salty Canary. While she isn't a fan of mint julep in drink form, that didn't stop her from being inspired by the flavors.
Her Baked lemon-mint donuts topped with bourbon glaze is a perfect stand-in for the drink. And it's great for a "Kentucky Derby party, Southern-style Brunch or "just because," as Andrea puts it.
Visit Salty Canary for the recipe.
11. Doughnut Dippers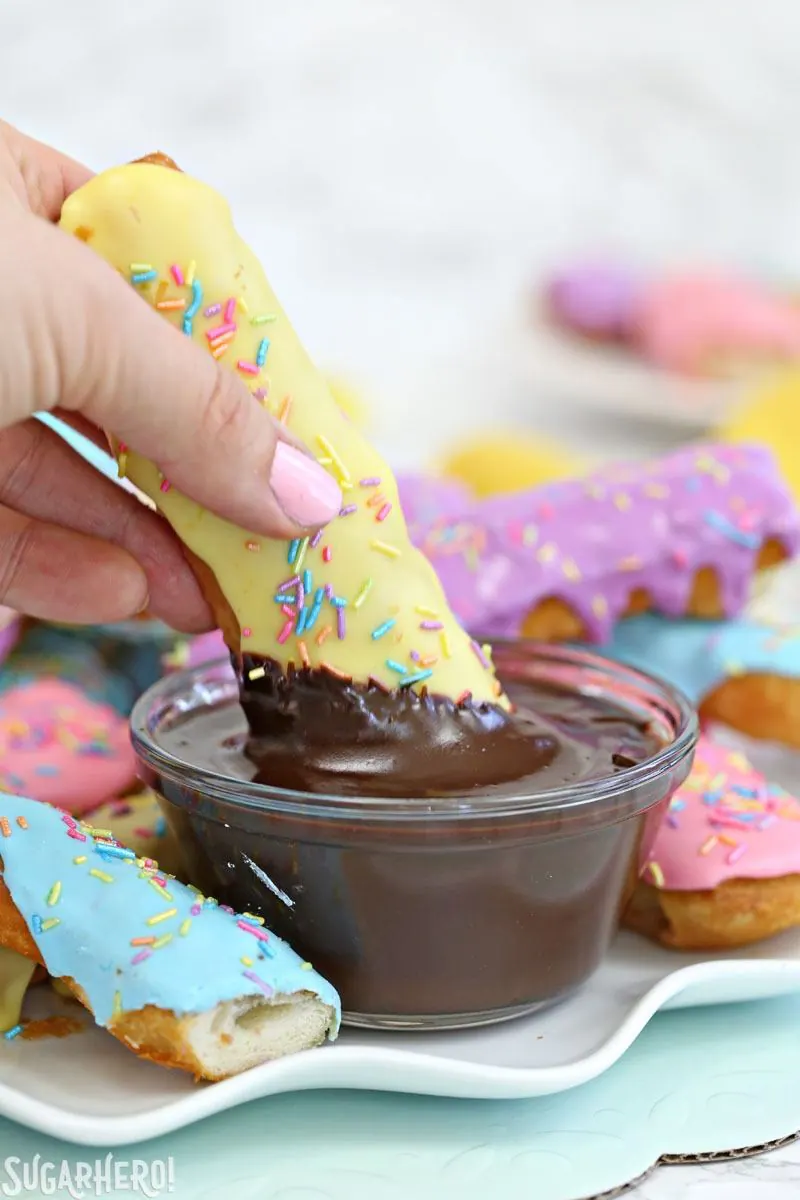 Donut dippers are fluffy, fried donuts dressed up in the pastel-colored glaze. Then for a little more delight, Elizabeth, the Sugar Hero herself, provides you with an easy mocha dipping sauce for a deliciously indulgent dessert that you justify as breakfast.
With this recipe, you can have a fun Saturday morning breakfast treat ready for your family in just 30 minutes so, if you want to give your kids a pleasant surprise, head on over to Sugar Hero and check it out.
Visit Sugar Hero for the recipe.
12. Easy Homemade Glazed Doughnut Holes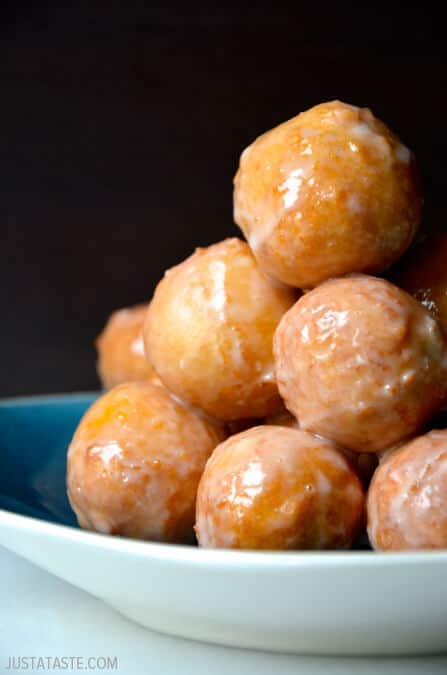 If you said that Kelly of Just A Taste had a bit of an obsession with doughnuts, you wouldn't be wrong. In fact, she would agree with you. Kelly loves homemade doughnuts so much that she once created her own doughnuthon, where she speed-walked five miles to sample 9 doughnuts from nine bakeries. So, mmm, hmmm, I'd say obsessed is the appropriate word. I love it.
We chose this doughnut recipe for its simplicity, versatility, and deliciousness. Eat the doughnut holes plain with a simple glaze or dip them in chocolate and sprinkles. These homemade doughnut holes won't disappoint.
Visit Just A Taste for the recipe.
13. Doughnut Burgers with Candied Bacon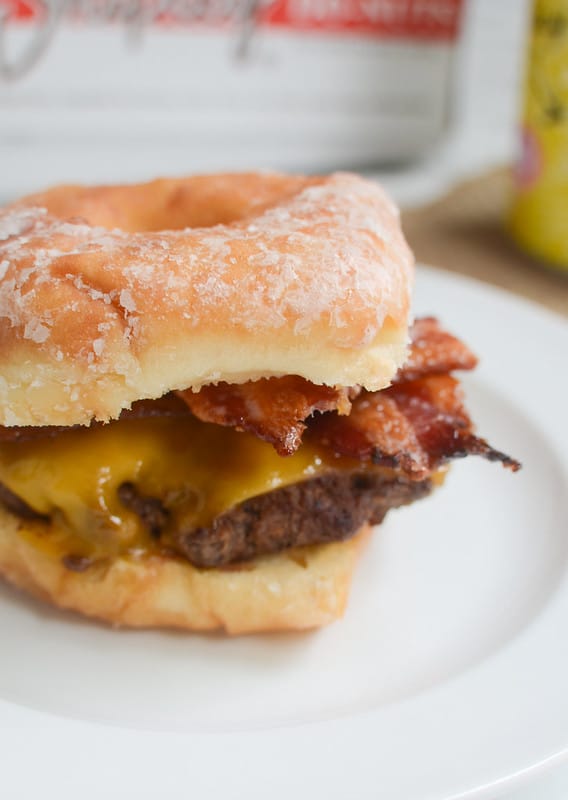 Are you a big fan of sweet and salty? It's one of the best flavor combinations known to man. Just take a look at our hot honey tater tots or our gourmet peanut butter. It truly is the best of both worlds.
Amanda of Fake Ginger came up with this doughnut burger recipe. First, she made homemade cheeseburgers put them on donuts. Then as if that wasn't enough, she added brown sugar candied bacon. This recipe is on our must-try lists.
Visit Fake Ginger for the recipe.
14. Donut Grilled Cheese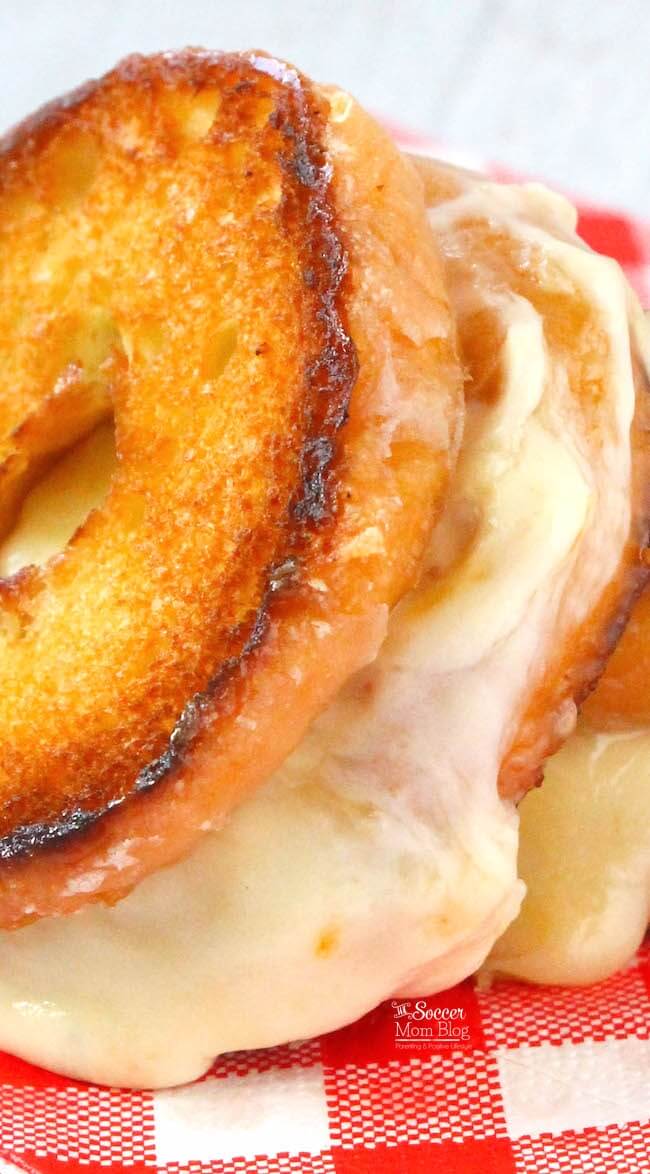 We first came across the donut grilled cheese sandwich on an episode of shark tank featuring the innovative restaurant Tom + Cheese. But with just 12 locations, you might not be lucky enough to live close to one. So if you have a chance to experience it from the restaurant, go for it.
But if you don't live close by, enter this donut grilled cheese recipe from Stacey of The Soccer Mom Blog. She whips up this effortless treat that your kids will behave for. Seriously, it's the stuff of carnival cravings.
Visit The Soccer Mom Blog for the recipe.
Duffins, Mugnuts, and Donut Bread
Duffins are donuts baked in muffin pans, and mugnuts are donuts microwaved in a mug to cook them. Below, we've listed recipes full of all the donut goodness but baked in a muffin, loaf pan, or even in a mug in the microwave. They might not technically be donuts, but they sure are delicious.
15. Jelly Donut Miracle MuffinCakes
If you love jelly-filled donuts, you'll appreciate this one. It's a donut with a dollop of jelly inside. And instead of baking them in a donut baking pan, you bake them in a muffin pan.
Visit Jamie Geller for the recipe.
16. Cinnamon Swirl Donut Bread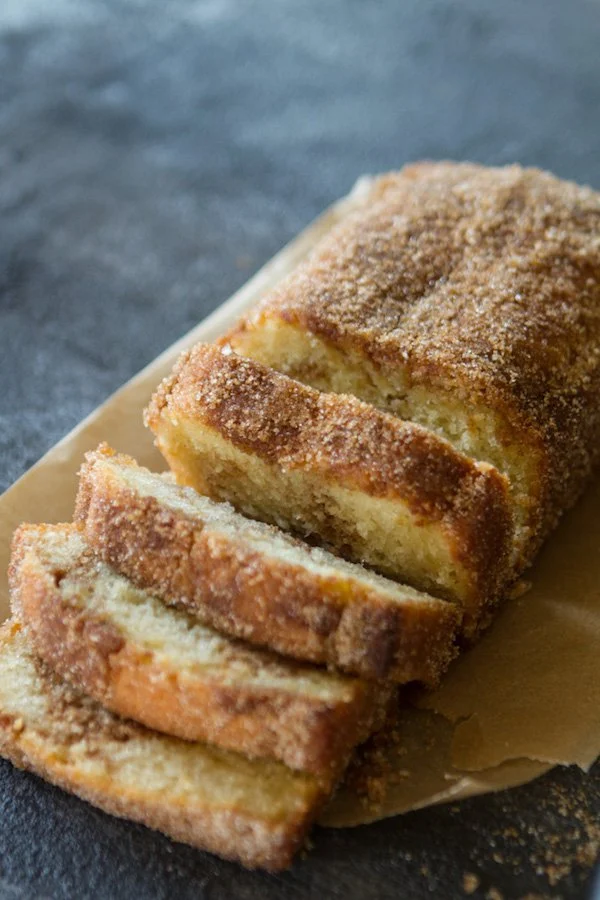 This donut bread looks so delicious. But, it's a loaf of bread brushed with butter and sprinkled with cinnamon and sugar. Not a donut, technically, but I wouldn't turn it down.
Visit Lauren's Latest for the recipe.
17. Glazed Chocolate Donut Muffins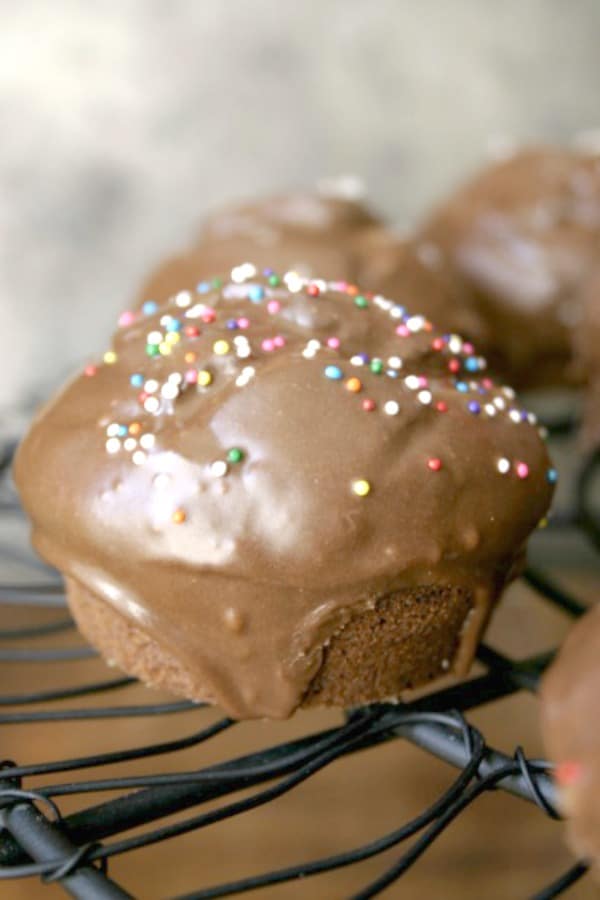 These glazed chocolate donut muffins taste just like baked donuts. Well, that's because they pretty much are. The only difference is that you bake them in a muffin pan. So, call them muffins or donuts. Either way, they're delicious.
Visit Crunchy Creamy Sweet for the recipe.
18. Baked Pumpkin Donut Holes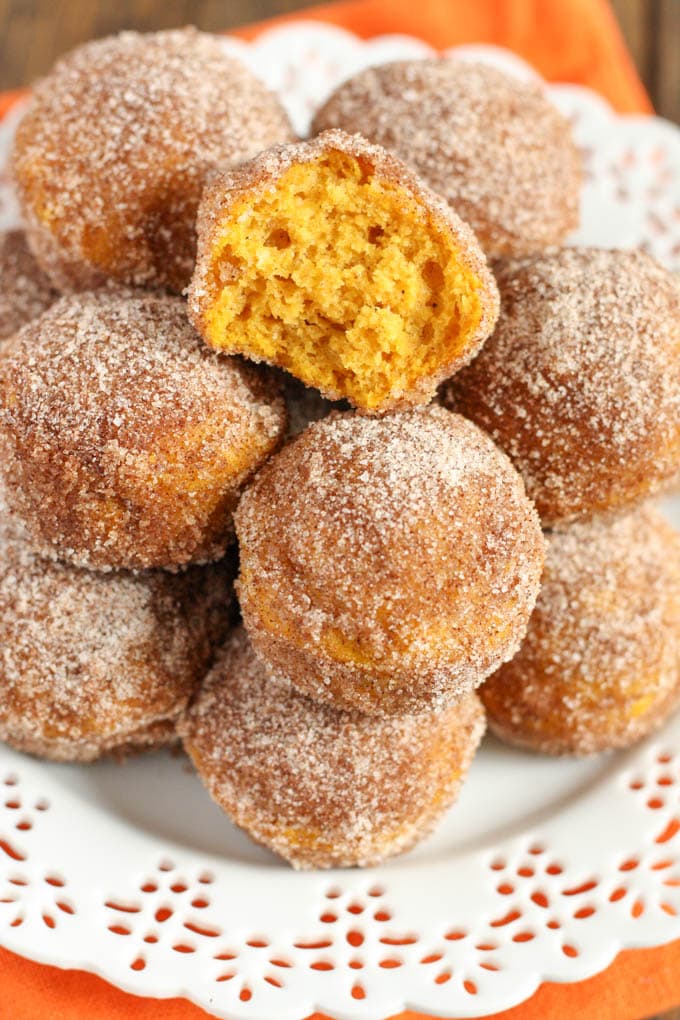 This recipe is yet another delicious donut offering to behold. These baked pumpkin donut holes are perfect for fall. These "donut holes" are baked in a muffin pan, filled three-quarters, and sprinkled with cinnamon and sugar.
Visit Live Well Bake Often for the recipe.
19. Microwave Jelly Donut in a Mug: Mugnut
You've probably heard of a mug cake. Today, Gemma from Bigger Bolder introduces you to the mugnut, a "donut" that you cook in the microwave. This creative jelly donut dessert is prepared and ready to eat in less than 10 minutes.
Visit Bigger Bolder Baking for the recipe.
20. Apple Cider Doughnut Cake
This apple cider doughnut cake is a game-changer for fellow apple cider lovers. And if fall is your favorite time of the year, you're going to want to save this recipe for when the leaves start to change color.
What Jenn of Princess Pinky Girl made with this doughnut cake is both creative and delicious. First, she bundt cake with a yellow box cake mix with apple cider and other ingredients. Then she tops it with an optional apple cider glaze for a cake recipe that tastes just like doughnuts and cider.
Visit Princess Pinky Girl for the recipe.