Deep-fried bacon-wrapped chili dogs are the best thing since our last recipe! With our special chili, cheese sauce, and brioche bun, your taste buds will be throwing a party! And speaking of party, these chili dogs make the perfect tasty game day party food. But our dogs aren't just delicious. They're also easy to make and inexpensive.
If you like these deep-fried hotdogs, you'll love our battered sausages recipe!
Do you love bacon? You're breathing, so of course, you do. But, you know, bacon does make everything better. It can even enhance chocolates, that's right, chocolate! But it's not just the flavor. There's a certain je ne sais quoi, a certain satisfying quality unique to bacon.
Jump to Recipe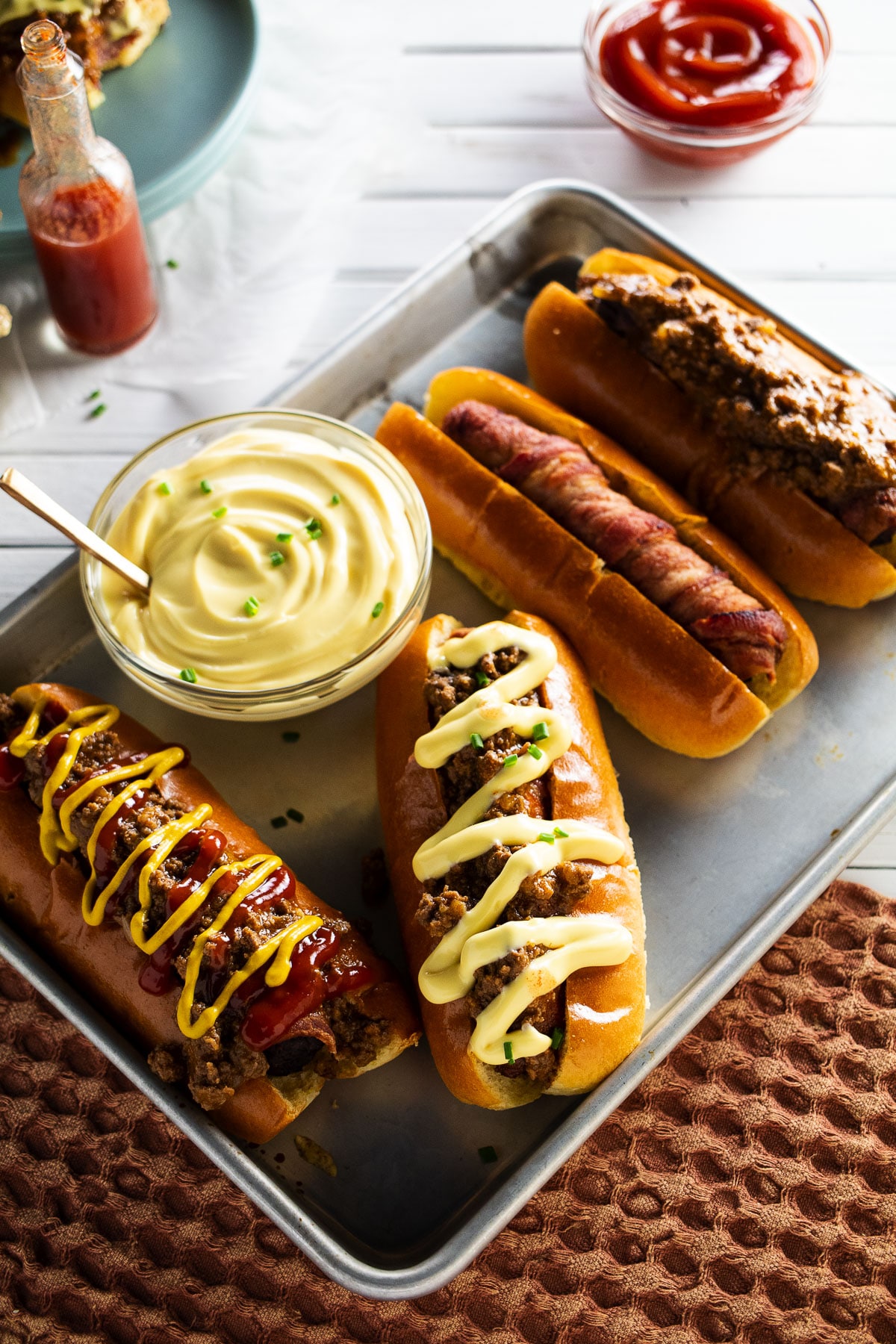 If you're from the midwest, and specifically Detroit, then you've probably had your fair share of coney dogs. We love coney dogs to our core. So, any time we make a trip to downtown Detroit we have to hit up American Coney Island. They're one of the best!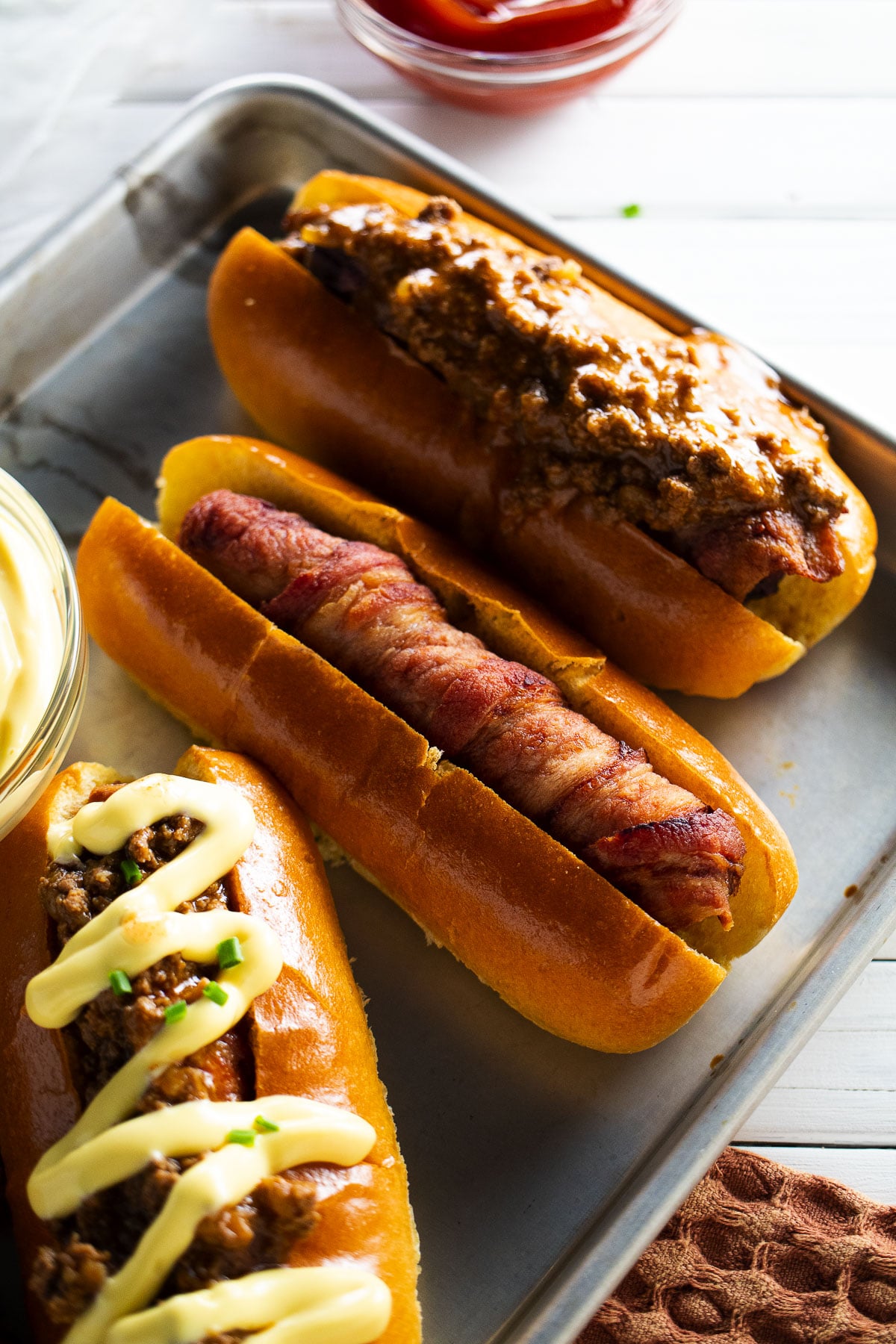 Don't those hotdogs look absolutely amazing? Follow along as we show you how to make these delicious, fatty, irresistible deep-fried bacon-wrapped chili dogs.
Jump to:
Ingredients
You will see all of the ingredients needed to make this recipe, except cornstarch, in the image below. We'll explain more about that below.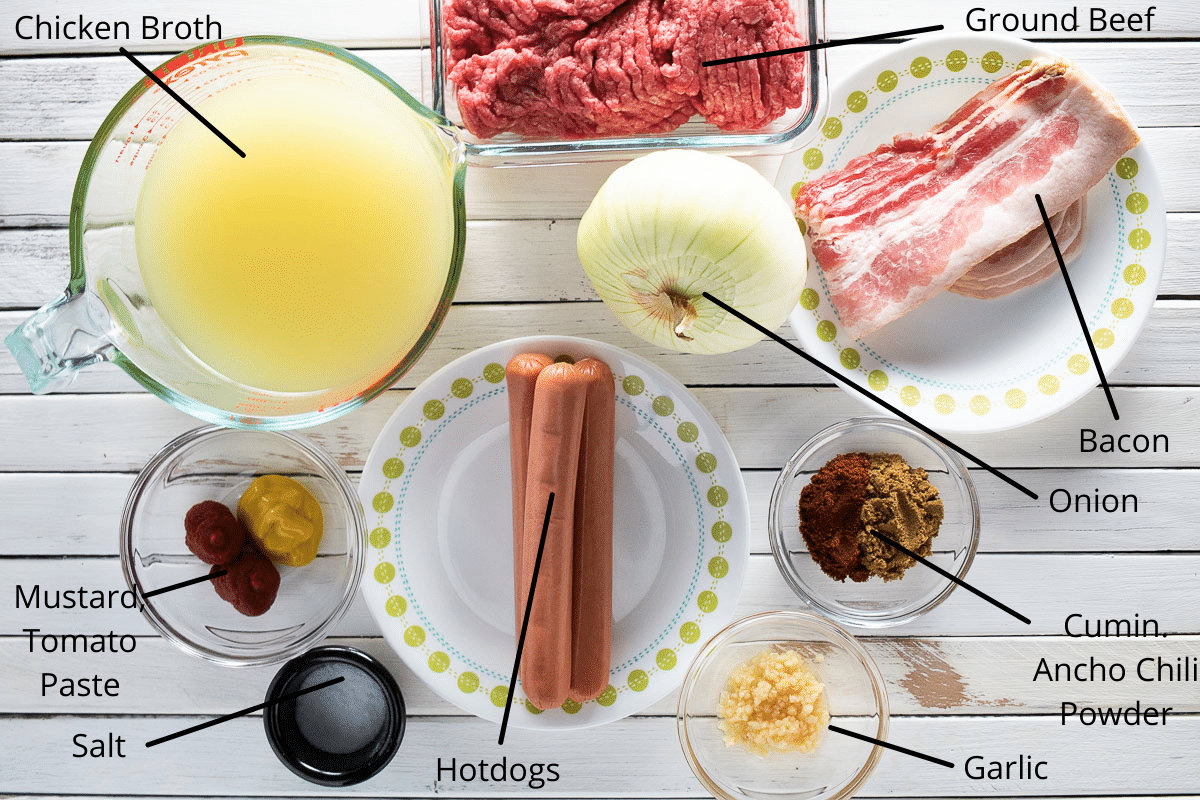 Hotdogs (we like bun sized)
Bacon
Chicken Broth
Onion
Garlic
Cumin
Ancho Chili
Mustard
Tomato Paste
Salt
Cornstarch – use to thicken the sauce.
See the recipe card for quantities.
Instructions
The first thing you need to do is brown the meat in a saucepan, using medium heat until it is no longer pink. After that, you want to add the minced onion and garlic. Cook until the onion starts to become see-through. Next, add the cumin, chili powder, broth, tomato paste, mustard, and salt.
Then stir and cook on medium-low uncovered for 30 minutes. Next, take a quarter cup of the liquid from the chili sauce, add it to a bowl, and mix in the cornstarch until dissolved. Add that mixture back to the chili sauce and stir.
Now, we're going to make the bacon-wrapped hotdogs. The first thing you want to do is cut slits into the hotdogs. You should cut the slits so they are spaced as you can see in the image below. This step helps prevent the hotdogs from bursting.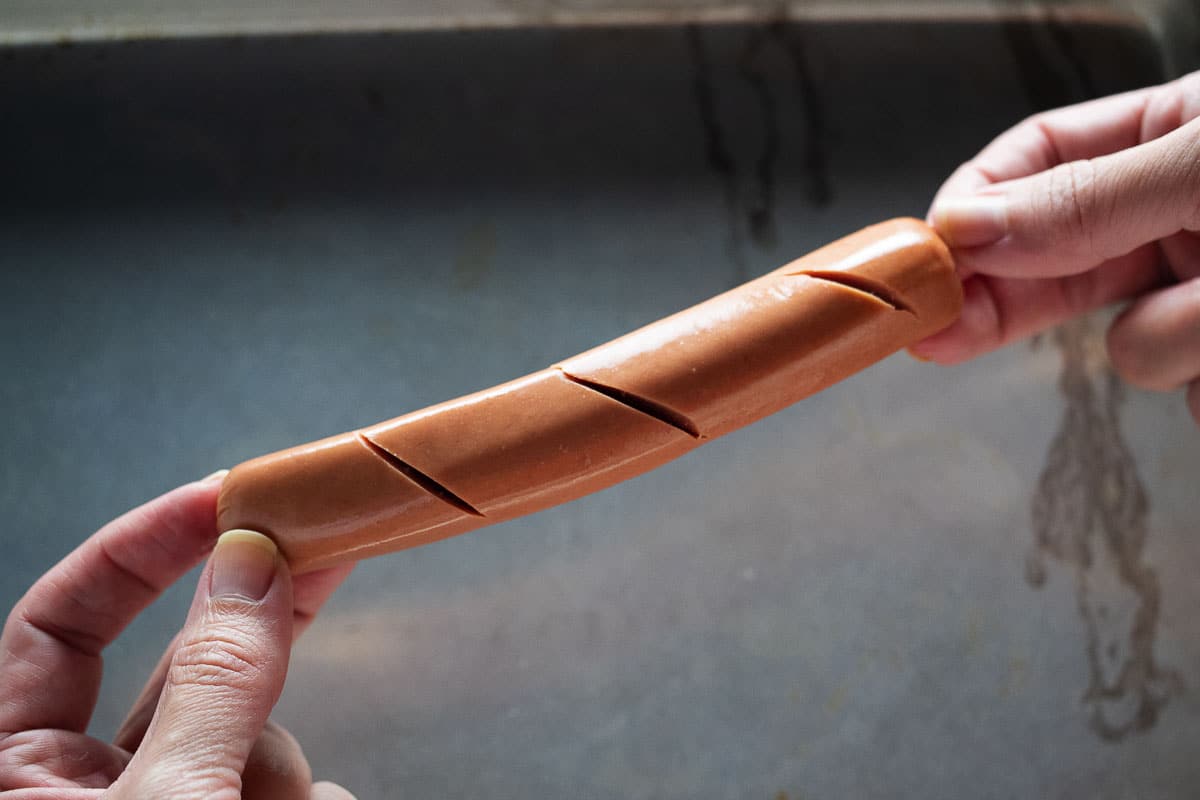 Next, let's get down to real business. First, stick a toothpick through one end of the bacon and into an end of the hotdog. Then, wrap the bacon tightly around the hotdog so that each bite has a bit of bacon. Yum, yum!
Now, it's time to fry! A temperature of 350-degrees is perfect here. Cook them for four minutes and make sure to return the temp to 350-degrees before each batch. They should look something like the image below.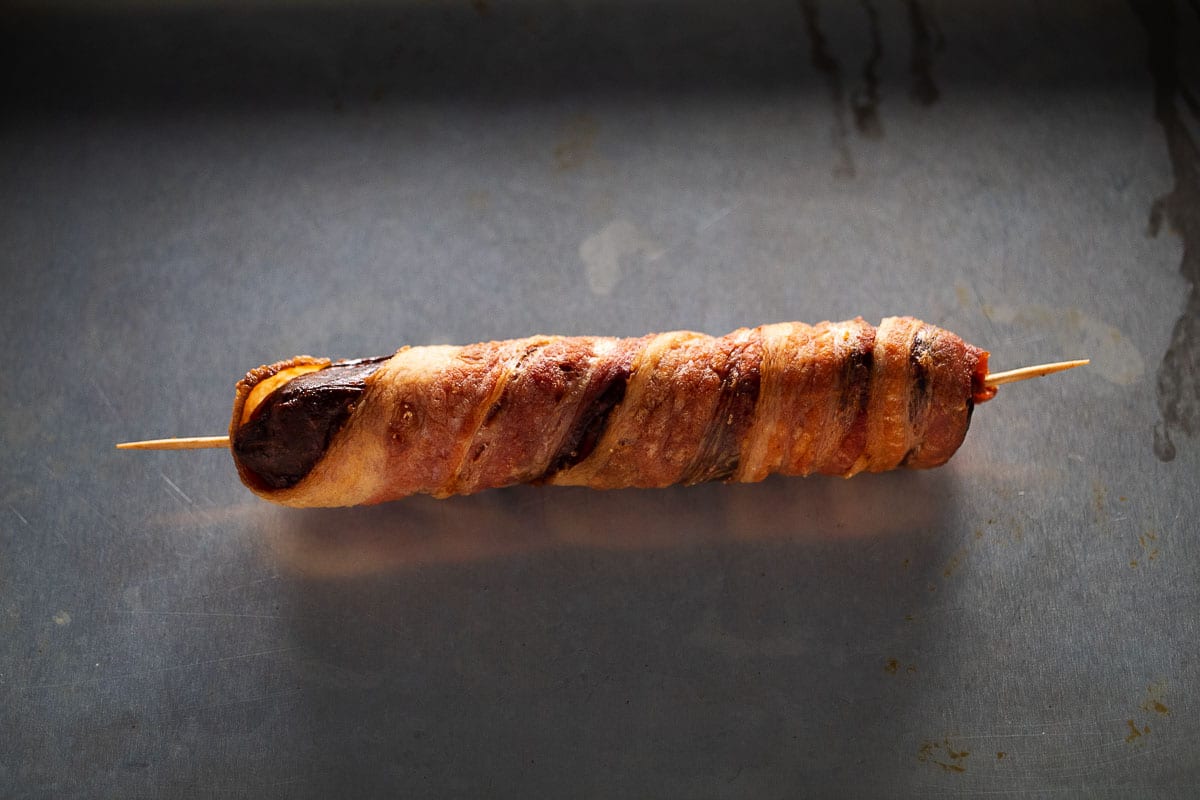 Variations
We encourage you to go bonkers with the toppings. There is no limit to what you can add to top your hotdogs. So, how about extra bacon bits or caramelized onions? Below, we got you started with a few suggestions.
Hot Sauce – want an extra kick of spice, something to wake up your tastebuds? Choose your favorite hot sauce. We like Franks Red Hot and Tobasco sauce.
Crispy Onions – Fried onions are the perfect topping to add a little more crunch. You can buy them or make them from scratch.
Crushed Potato Chips – nuff' said.
Bacon Bits
Caramelized Onions
Spicy Mustard
Equipment
For this recipe and all deep-fried recipes, some required equipment, and optional equipment make the process work more smoothly.
Deep Fryer – alternatively you could go with a dutch oven/thermometer setup – we prefer this setup as it is typically more accurate than a stand alone deep fryer.
Baking/Cooling Rack
Paper Towel
Fry Station Setup
We organize our fry station in a way that minimizes mess and prevents fire. It works as follows:
Uncooked food => Fryer => Cooling rack lined with paper towel
Some like to place the cooked food on the baking rack only. This tactic works, but we prefer to line half the cooling rack with a paper towel. So, first, we let the paper towel wick some of the excess oil from the cooked food. Then we transferred the food to the side that we didn't line with a paper towel – this is how we prevent our food from being too greasy.
Storage
You probably won't have leftover deep-fried bacon-wrapped chili dogs. But you might have some leftover chili topping. You'll be happy to know that you can store it in the refrigerator for three or four days. Or, if you double the batch, you can freeze it in an airtight container for up to three months.
Top Tips
When it comes to frying these deep-fried bacon-wrapped chili dogs, the number one thing you must keep in mind is safety. But, it would help if you were also concerned yourself with efficiency and reducing mess. These are our top tips:
Never leave your hot oil unattended.
Keep a fire extinuisher nearby
Use a food thermometer
Return oil to corrected in between batches
Use the frying station setup from above
Deep-Fried Bacon-Wrapped Chili Dog Recipe
Our bacon-wrapped chili dogs are so tasty that you will want to make them more often than you should. Make this recipe for all occasions, but they are perfect for game day parties.
Equipment
Deep Fryer or Pan for frying

food thermometer

Cooling Rack
Ingredients
8

Hot Dogs

8

Slices

Bacon

16

Toothpicks

8

Hot Dog Buns

Brioche
Chili
1

Pd

Ground Beef

80/20

2

Garlic Cloves

Minced

4

Oz

Onion

Minced

1

Tsp

Ground Cumin

2

Tsp

Ancho Chili Powder

2

Tbsp

Tomato Paste

1

Tbsp

Prepared Mustard

1/2

Tsp

Salt

2 1/4

Cups

Chicken Broth

1

Tbsp

Cornstarch
Instructions
Start by browning the ground beef in a large pot until it is no longer pink.

Add the minced onion and garlic to the same pot and cook for 3-4 minutes or until translucent. Then add the cumin, chili powder, tomato paste, mustard, salt, and broth. Stir until combined. Cook uncovered for 30 minutes on medium-low heat. Stir occasionally.

Take about ¼ cup of the liquid from the chili and mix in the cornstarch until dissolved. Add it to the pot and cook for 1 min. Add salt to taste. 

Cut three diagonal slits on each hotdog. Be careful not to cut all the way through. (This prevents the hotdogs from bursting open in the oil) Take a slice of bacon, tightly wrap it around the hotdog, and secure both ends with a toothpick.

Use a deep pot or dutch oven filled with 2 inches of oil (about 4 cups). Preheat the oil to 350 degrees and fry the hotdogs for 3-5 minutes or until bacon is golden brown. Return the oil to 350-before each new batch.

Place the hotdogs in the warm bun and top with chili and your favorite toppings.
Notes
Take the bacon out of the fridge at least 5 minutes before you begin to wrap the hotdogs. It's easier to cover the whole hotdog when the bacon isn't super cold. 

To heat, the buns place them on a microwave-safe plate. Wet a paper towel and ring out any excess water, and lay it over the buns. Microwave for 15 seconds for perfectly warm and soft buns.

You can adjust the thickness by adding more or less cornstarch. 

Chili will last in the fridge for 3-4 days in an airtight container or freeze up to 3 months.
Nutrition
Calories:
342
kcal
Carbohydrates:
34
g
Protein:
13
g
Fat:
17
g
Saturated Fat:
6
g
Polyunsaturated Fat:
3
g
Monounsaturated Fat:
8
g
Trans Fat:
1
g
Cholesterol:
35
mg
Sodium:
1116
mg
Potassium:
298
mg
Fiber:
2
g
Sugar:
4
g
Vitamin A:
224
IU
Vitamin C:
7
mg
Calcium:
101
mg
Iron:
3
mg