Are you looking for new and exciting ways to eat mango? Then you have to continue reading this list of 20 Mango Dessert Recipes. It's truly a beauty! Why? Because we searched far and wide to curate these diverse desserts from all over the world just for you.
So, for example, there's an Instant Pot Mango Sticky Rice which is an easier way to make the Thai dish. Also, there's a Mangonada Slush. It's sweet with some heat and tang. And even a Mango Pie recipe. So are you ready to discover the tasty?
Let's dive in!
Coconut Mango Lime Cake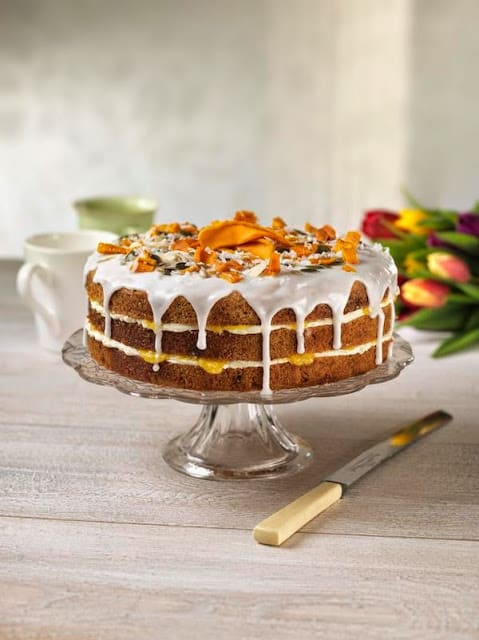 Coconut Mango Lime Cake, also known as the World's Happiest Cake, is what Leta of Attachment Mommy calls "happiness on a plate." And boy, oh boy, do we see why! The cake itself is divine, filled with lime zest, dried mango, and shredded coconut. But if that doesn't transport you to nirvana, the milk, sugar, and mango puree filling will.
Visit Attachment Mommy for the recipe.
Instant Pot Mango Sticky Rice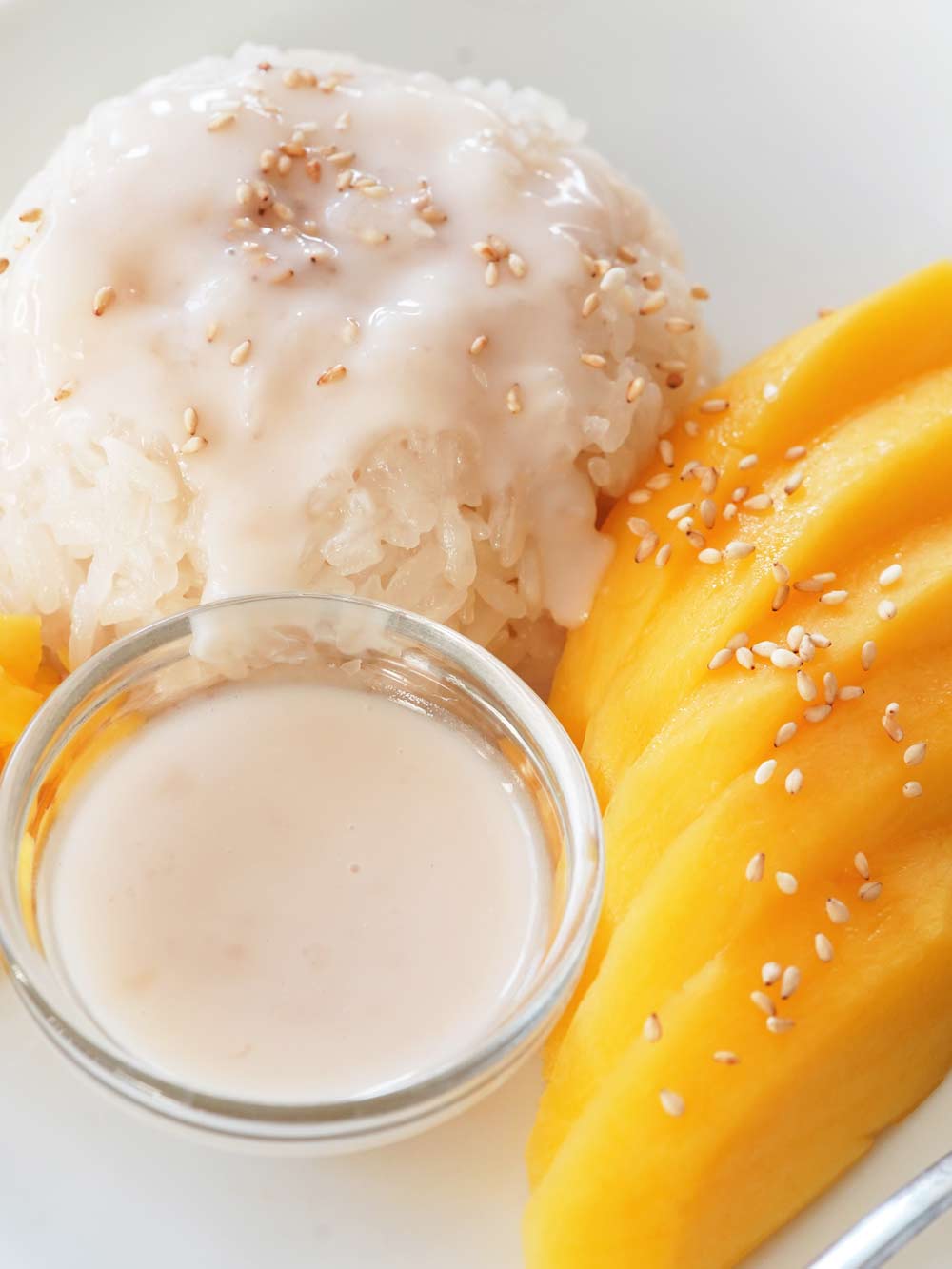 This Instant Pot Mango Sticky Rice from Laura of A Pressure Cooker Kitchen is a fun Thai dessert recipe you're sure to enjoy! It's a mound of sticky rice topped with coconut syrup. Next, you serve it with sliced mango and a sprinkle (or three) of toasted sesame seeds. Made in your pressure cooker and with Laura's tips, it's a quick treat to cap a delicious meal.
Visit A Pressure Cooker Kitchen for the recipe.
Chinese Mango Pudding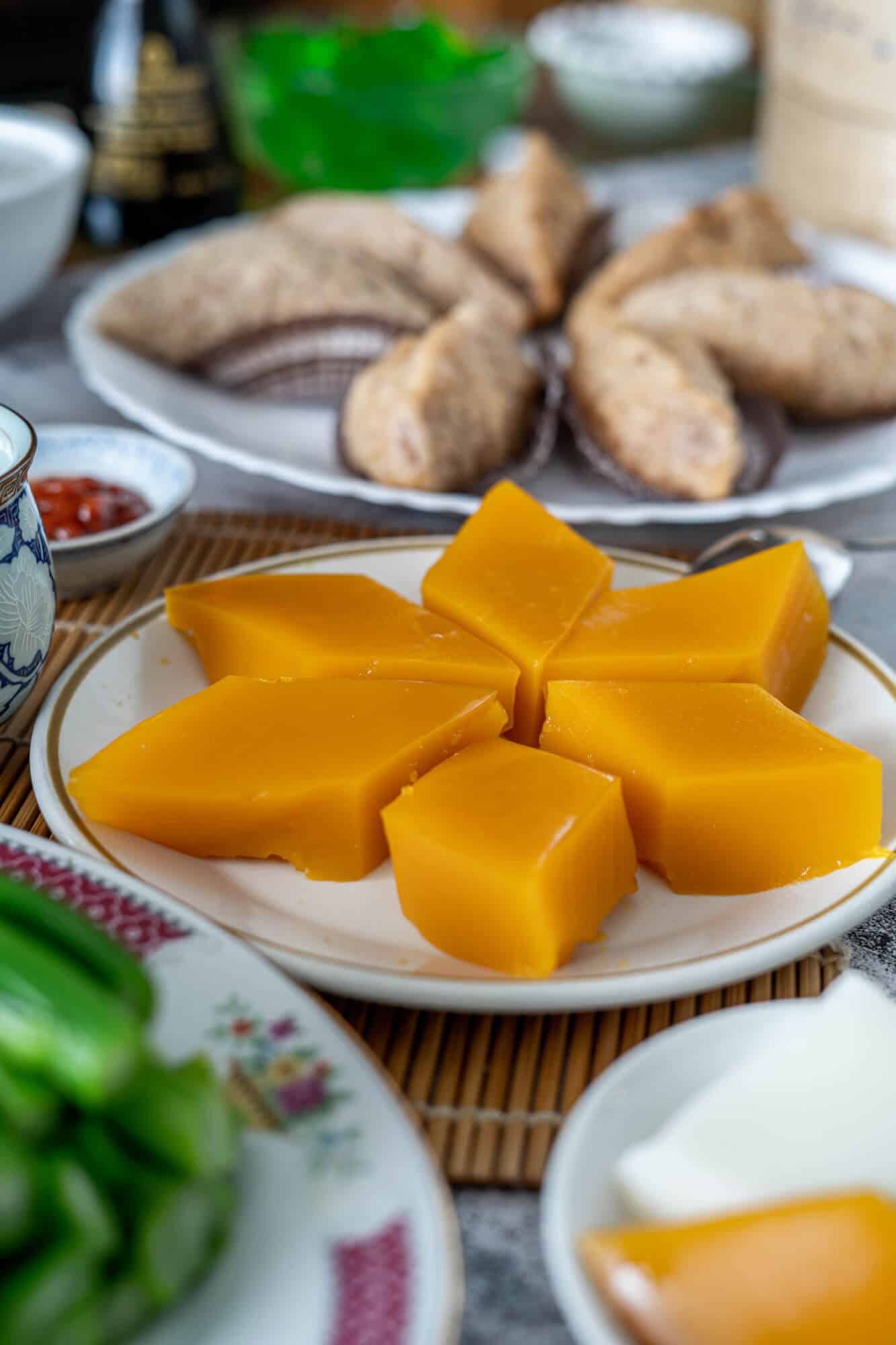 Armed with 40 years of culinary experience and his more tech-savvy daughter, Papa G of Wok Your World creates dishes like this Dim Sum favorite Chinese Mango Pudding. It's firm yet creamy with a Jello-esque quality. And while Chinese desserts often have a steep learning curve, Papa G gives you all the hints needed to make this dessert a hit. Check it out!
Visit Wok Your World for the recipe.
Peach Mango Pie
Blogger Chenée encourages us to make Today sweet. And with this Peach Mango Hand Pie recipe, how can we not? The opening of a Jollibee Filipino chain restaurant near her inspired the creation. And it comes highly recommended. But for those of us not close enough to try it from the source, she offers her take—a hand pie with a flaky crust and a lovely mango peach filling.
Visit Chenée Today for the recipe.
Easy Mango Bread Recipe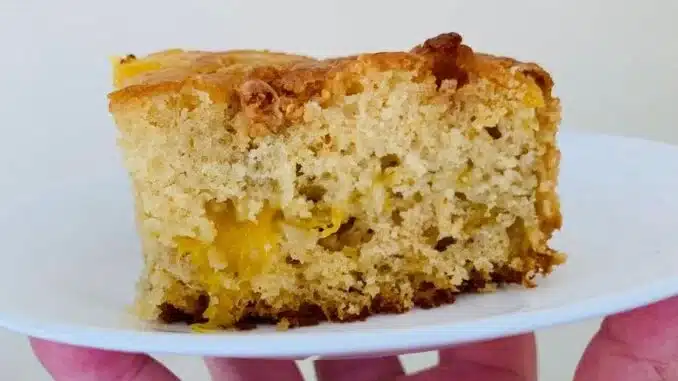 The food blogger world is so nuanced that you can find "Allergy Aware Asian Fare." That's the promise of Sharon of Nut Free Wok. So naturally, this Easy Mango Bread Recipe is peanut, tree nut, and even soy free. And yet it's still deliciously sweet and buttery with chopped mangoes and white chocolate chips.
Visit Nut Free Wok for the recipe.
Mangonada Recipe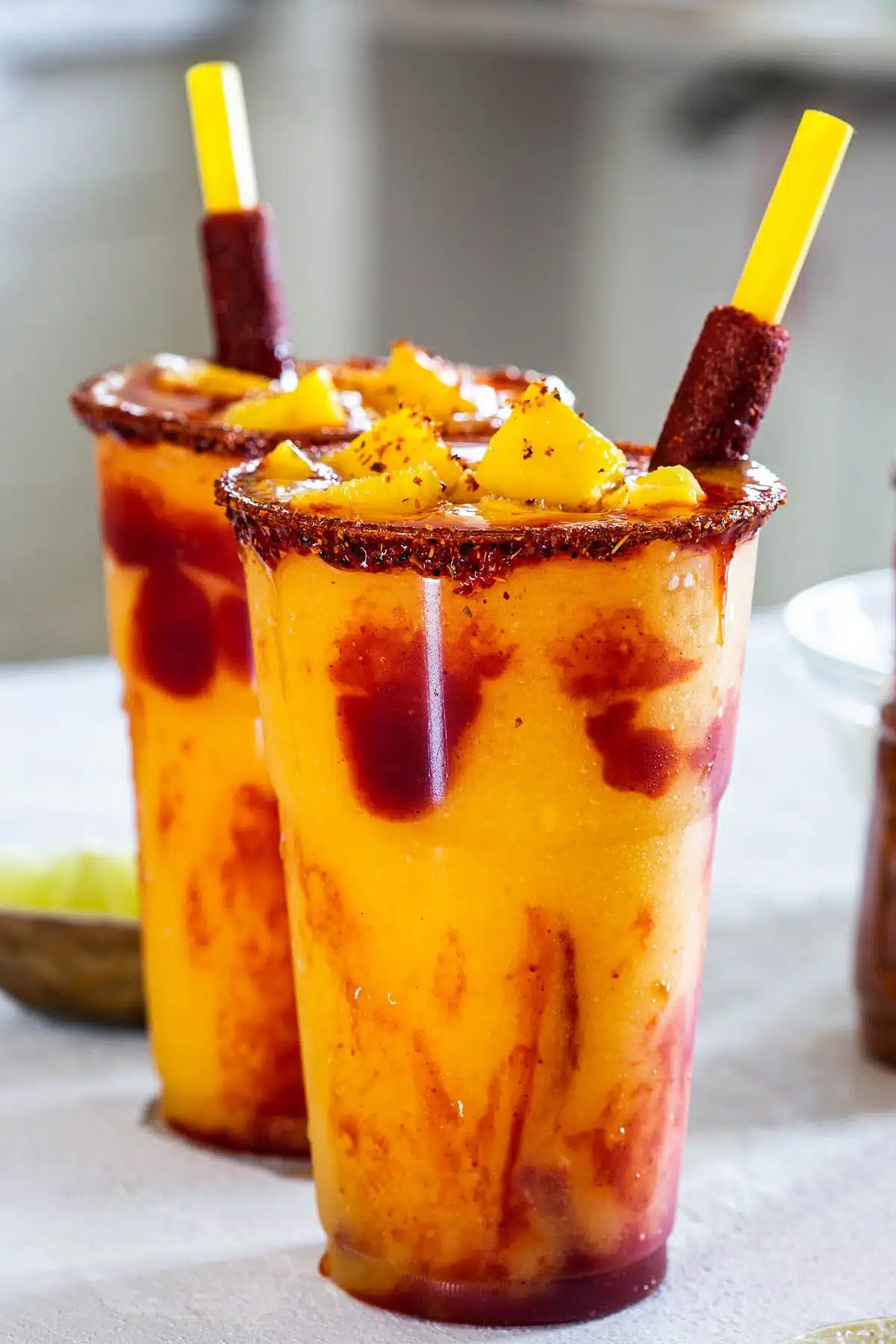 Maricrus Avalos promises this Mangonada Recipe "will change the way you think of slushies." We get it! While your typical American slushie is sweet, this one has a range of flavors. So you get spicy from the chamoy sauce and tajin, tangy from the lime juice, sweet from all the fruit, and a bit of sugar. Finally, there's even a bit of saltiness.
Visit Maricruz Avalos for the recipe.
Mango Coulis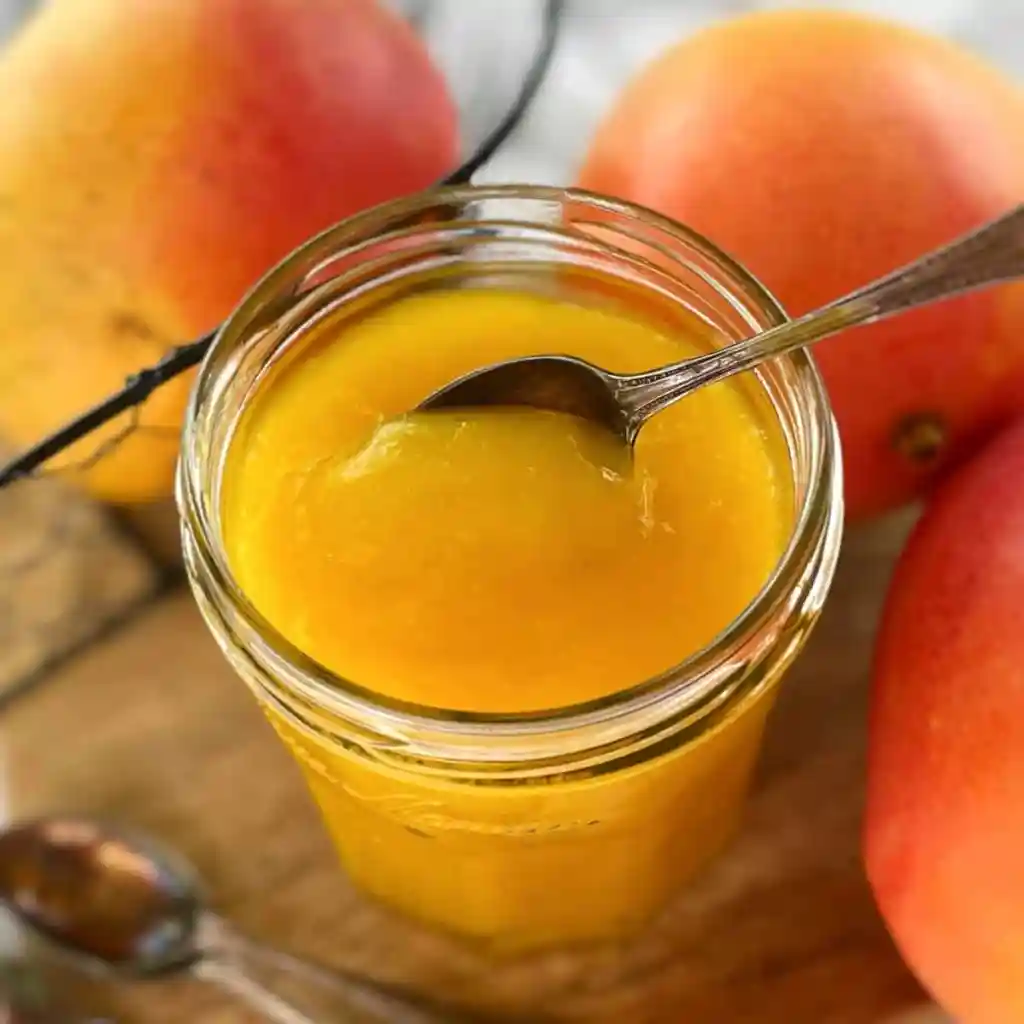 Move over chocolate and maple syrup! This Mango Coulis recipe from Chef Not Required is the new ice cream, pancake, and waffle topping in town. The versatile and drinkable sauce will have you looking for new things to try it on. It requires just three ingredients, including fruit, sugar, and lemon juice, and 15 minutes to make.
Visit Chef Not Required for the recipe.
Pound Cake Topped with Mango and Cinnamon Crema
While Maggie ate this Pound Cake topped with Mango and Cinnamon Crema to celebrate Mexican Independence Day, you'll want to have the dessert with regularity. Here's why? The super-simple semi-homemade treat starts with a loaf of storebought pound cake. Next, there's a layer of diced mango. And finally, you'll top it all with a creamy sweet, cinnamon milk mixture.
Visit In Mama Maggie's Kitchen for the recipe.
Tropical Mango and Passion Fruit Treats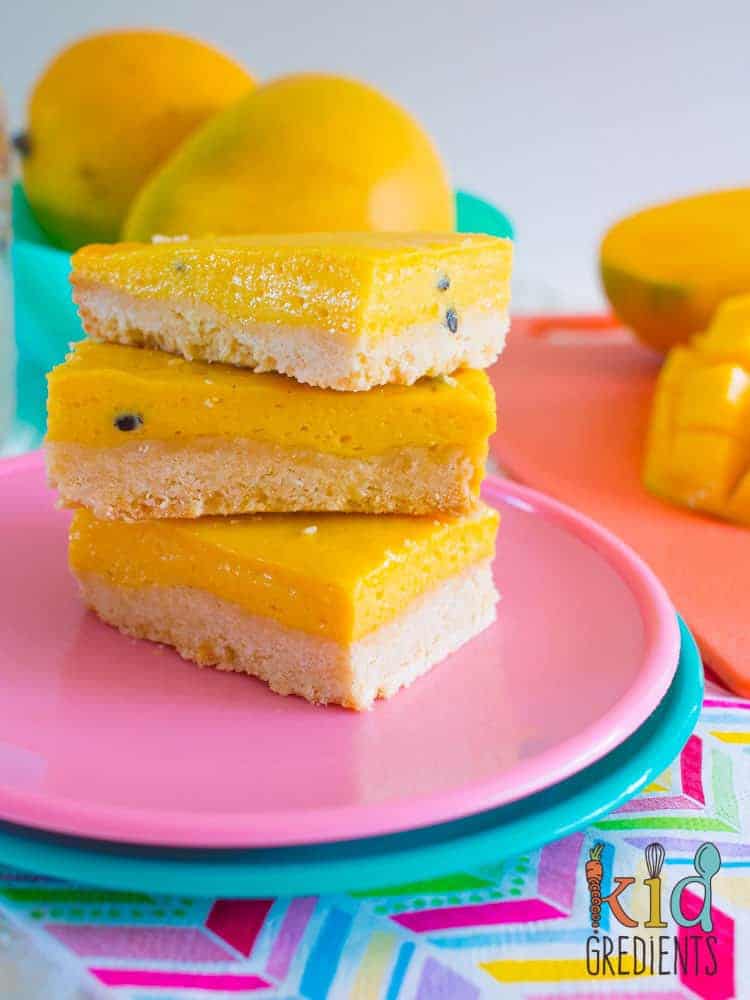 Kylie of Kidgredients calls these Tropical Mango and Passion Fruit Treats a "sometimes food." So while they're full of fruit, you still can't be eating them all the time. Although with a layer of sweet coconut cake and a mango, passion fruit, and condensed milk topping, we may want to. Prep time takes just 5 minutes, and they need less than 30 minutes in the oven, which makes for an ideal after-dinner sweet.
Visit Kidgredients for the recipe.
Coconut Mango Panna Cotta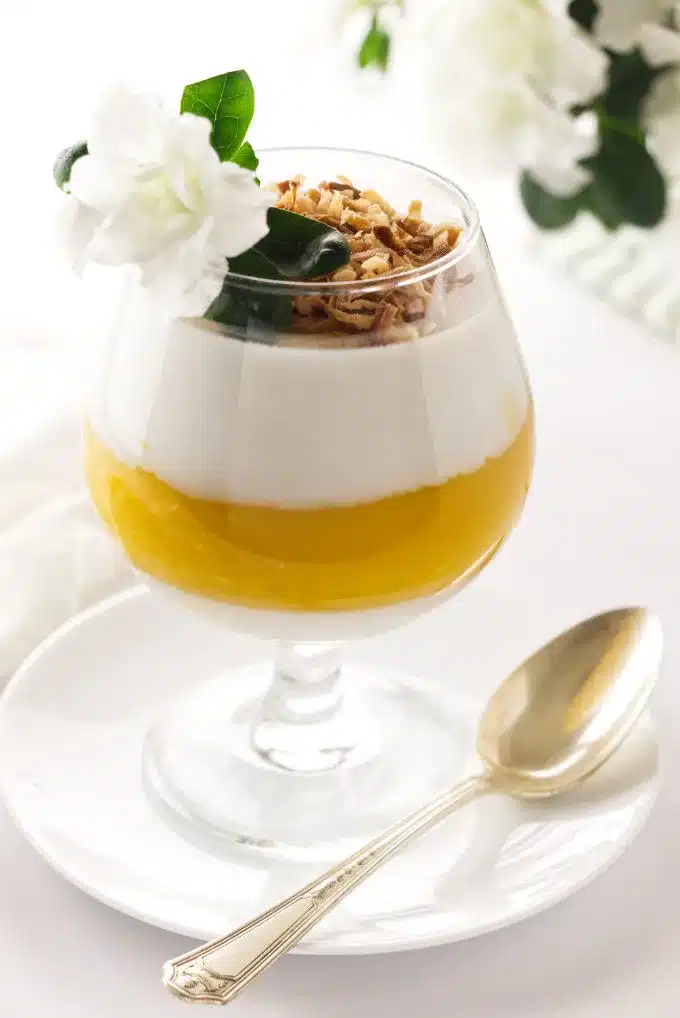 If you're not familiar, Panna Cotta is a gelatinous dessert reminiscent of custard or pudding. And Savor The Best's recipe index isn't wanting for panna cotta recipes. Instead, this Coconut Mango Panna Cotta is just one of many such recipes. So you can trust your guides, Pat and Dahn, to give you tips you might not find elsewhere.
The coconut panna cotta layer includes just a few ingredients, like gelatin and coconut milk. Added to the top are a layer of mango puree and toasted shredded coconut.
Visit Savor The Best for the recipe.
Mango Tajin Popsicle
With this Mango Tajin Popsicle recipe from Maureen of Worldly Treat, you won't have to worry about the summer heat. That's because the refreshing freezer pop is your heat wave companion. Each slurp is filled with the tangy brightness of mango, pineapple, and orange and balanced out by the tajin (Mexican pepper, lime, and salt seasoning) and a little chamoy if you're feeling adventurous.
Visit Worldly Treat for the recipe.
Coconut Mango Mooncakes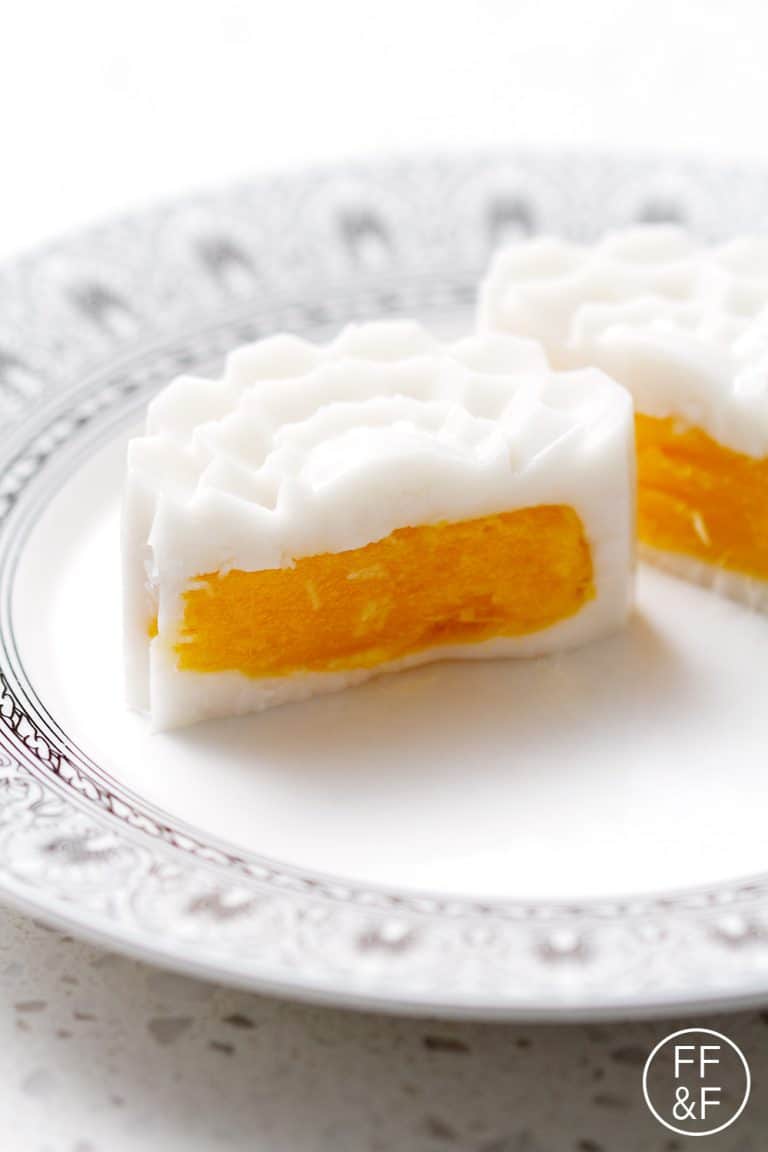 These Coconut Mango Mooncakes from Beth of The Honest Spoonful are different from the traditional version famous for celebrating Chinese New Year. Instead, her recipe uses Agar Agar (vegan gelatin). So for this exciting treat, the outer layer is a gelatinous shell; inside, you'll find a thick mango puree filling. It's a fun and surprising treat no one will see coming.
Visit The Honest Spoonful for the recipe.
Peach Mango Pie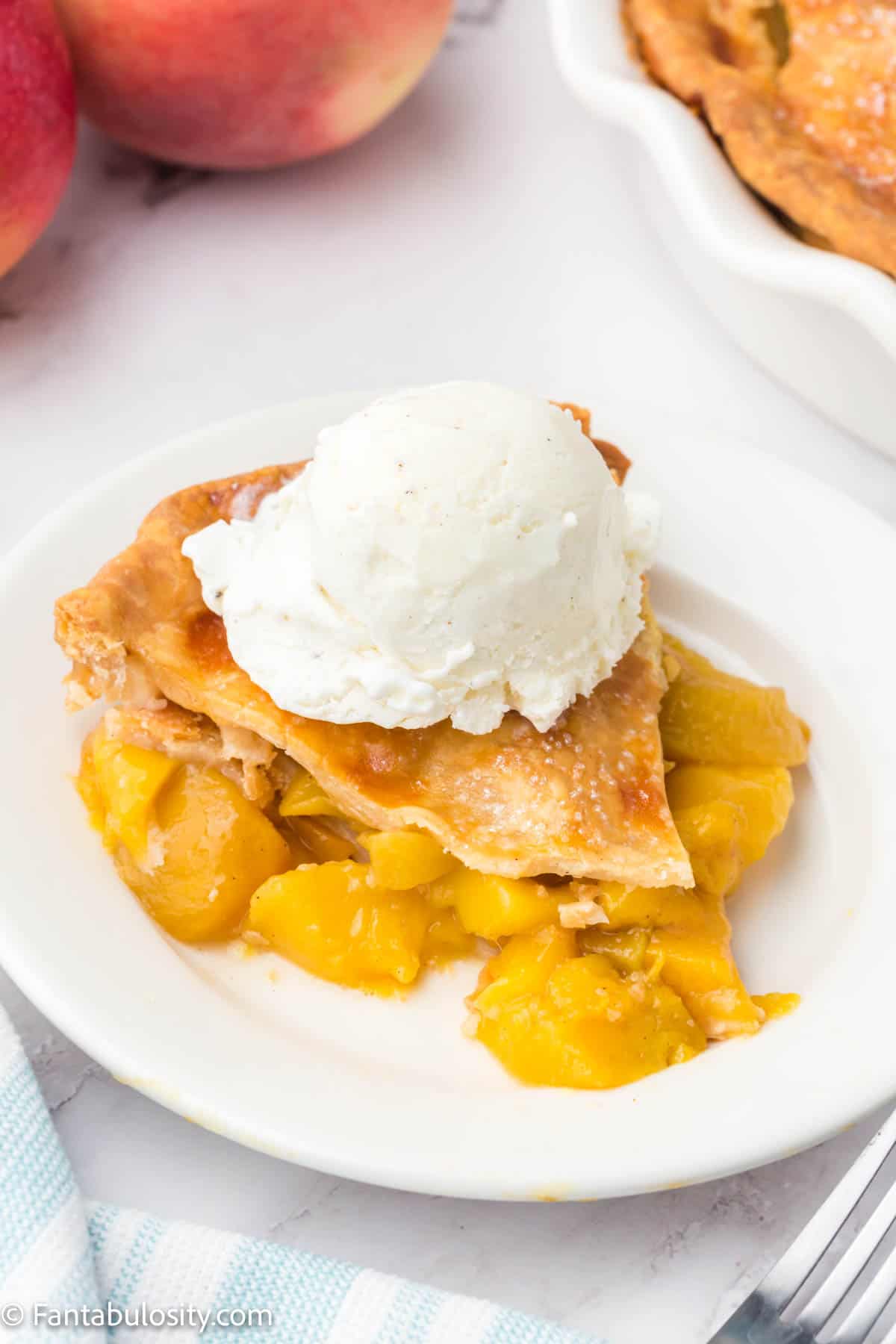 Aside from a fantastic taste, the most significant selling point of this Peach Mango Pie by Jessica of Fantabulosity is the short prep time. That's right! It takes just 15 minutes to get it prepared for the oven. However, there are a few steps, such as thawing and draining, that you must follow to ensure success, or else you end up with a soggy pie.
Visit Fantabulosity for the recipe.
Mango Coconut Cheesecake Bars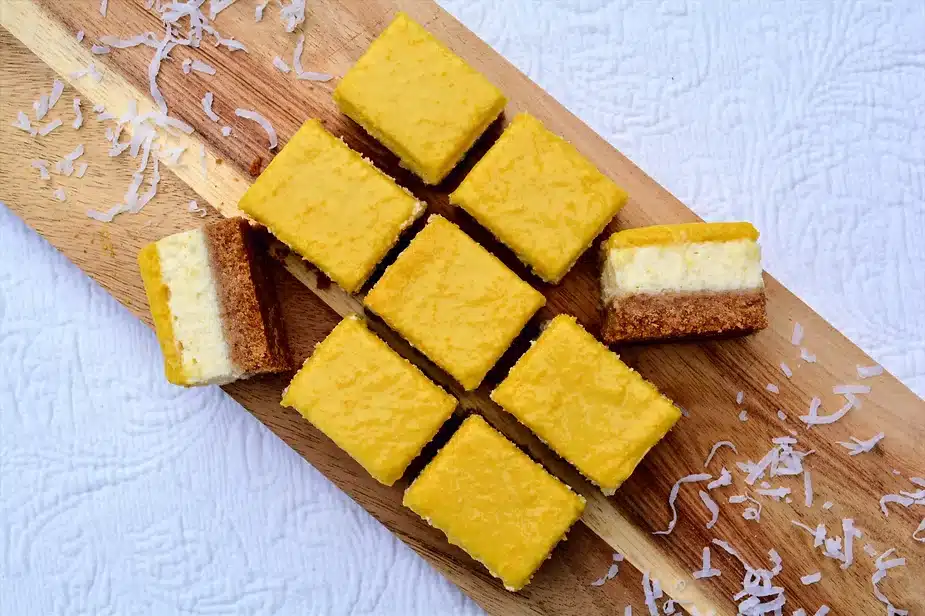 These Mango Coconut Cheesecake Bars from Barth Bakery are three layers of sweet, delicious goodness. So that first layer is a buttery coconutty, graham cracker crust. But next, you'll find the creamiest coconut cheesecake filling. And finally, on top, there's a bright summery mango curd. Nope, you haven't died. But you are in a tropical-treat paradise.
Visit Barth Bakery for the recipe.
No Churn Mango Sorbet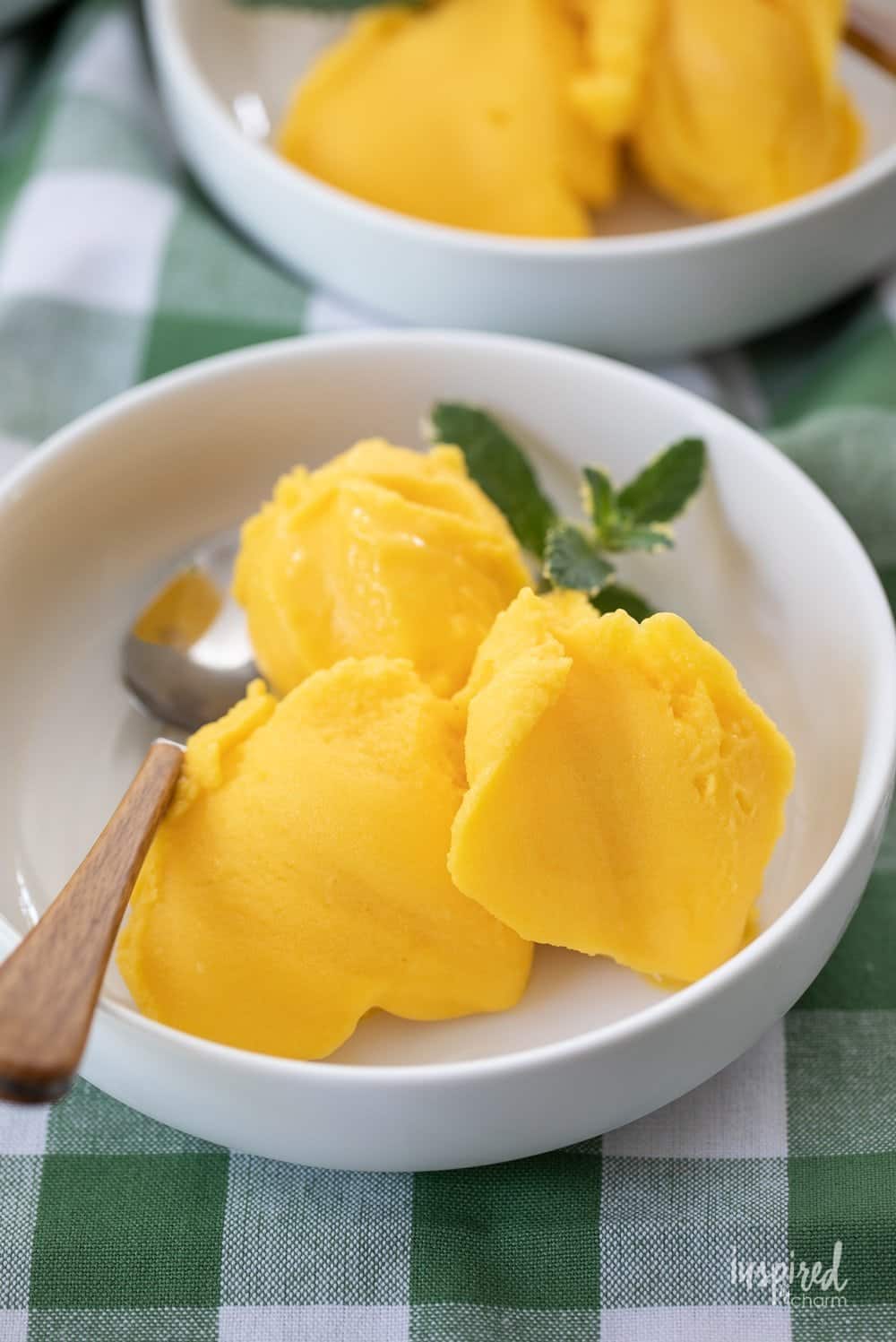 This easy-peasy four-ingredient No Churn Mango Sorbet is Inspired By Charm. It comes out silky smooth, creamy, and dreamy! But how do you make it happen without an ice cream maker to churn it? So you use a food processor instead. Yet even though it's super easy, you'll still benefit from Michael's step-by-step guidance.
Visit Inspired By Charm for the recipe.
Pineapple Mango Lassi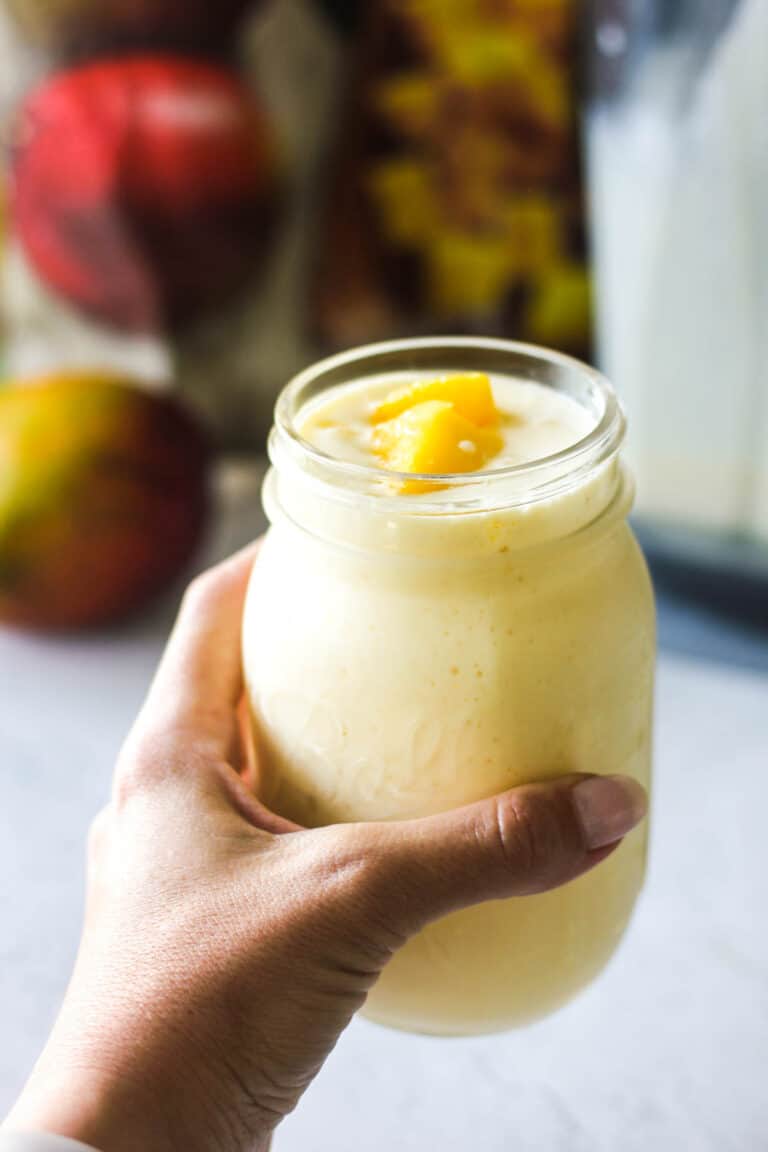 No matter the season, you'll want to get your hands on a Pineapple Mango Lassi by The Top Meal. It's a refreshingly tasty and creamy Indian beverage that, honestly, tastes like dessert. We tried it years ago and can't get enough! Although at five bucks a serving, they can be a bit expensive. So making them at home is a good option because the simple drink includes easy ingredients like fruit, yogurt, and cardamom (seasoning).
Visit The Top Meal for the recipe.
Mango Mousse Cake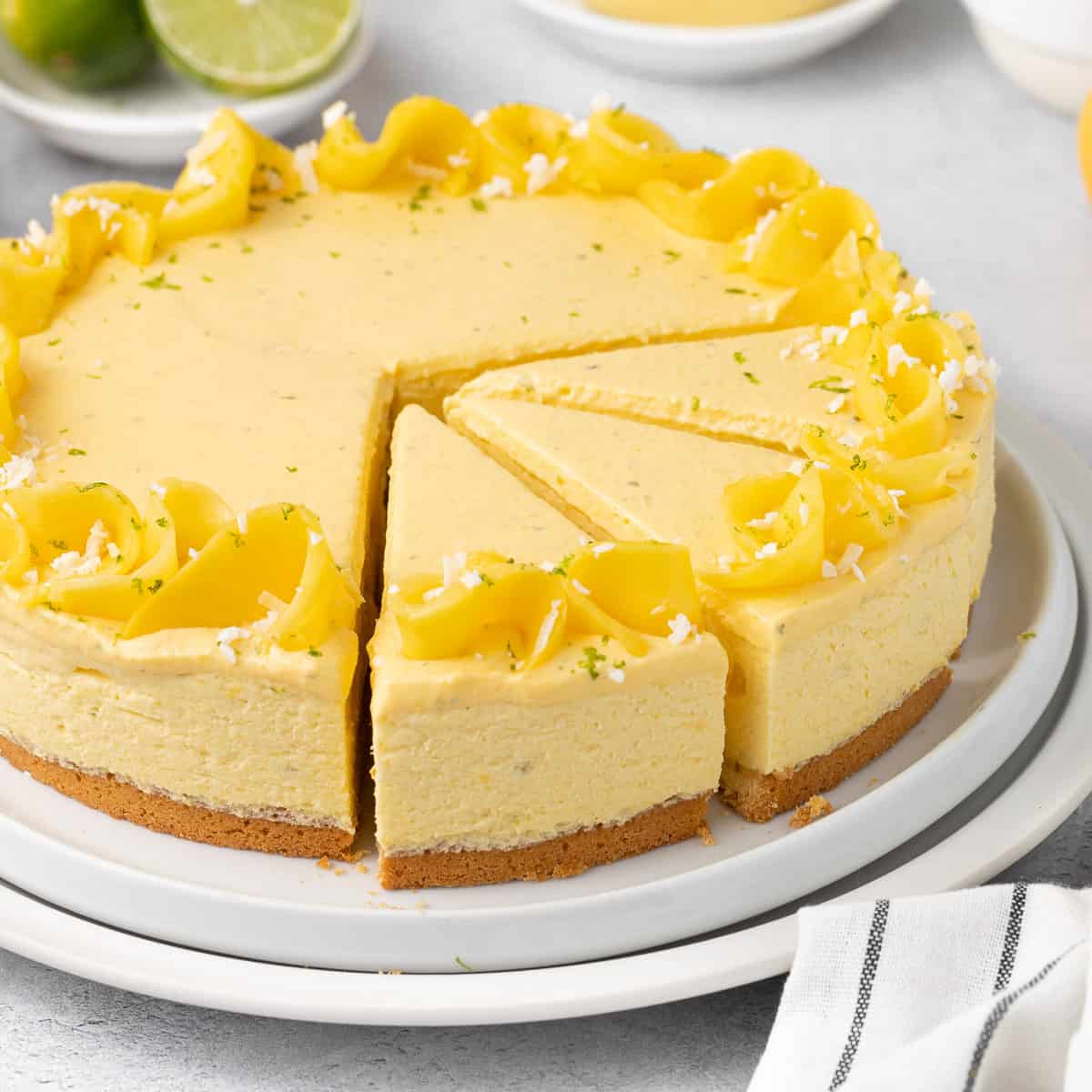 Sylvie of A Baking Journey utilizes a French sablé base for this Mango Mousse Cake. For the unfamiliar (as we were not too long ago), it's similar to a shortbread cookie; buttery, sweet, and crunchy. The mousse is light, airy, and "goldilocks sweet," making it a good candidate for summer dinners after a barbecue. On top, there's a luxurious mango curd. Finally, to top it, you'll want to decorate with the lime zest, coconut, and mango slice mixture for the prettiest presentation.
Visit A Baking Journey for the recipe.
Sweet Mango Crêpes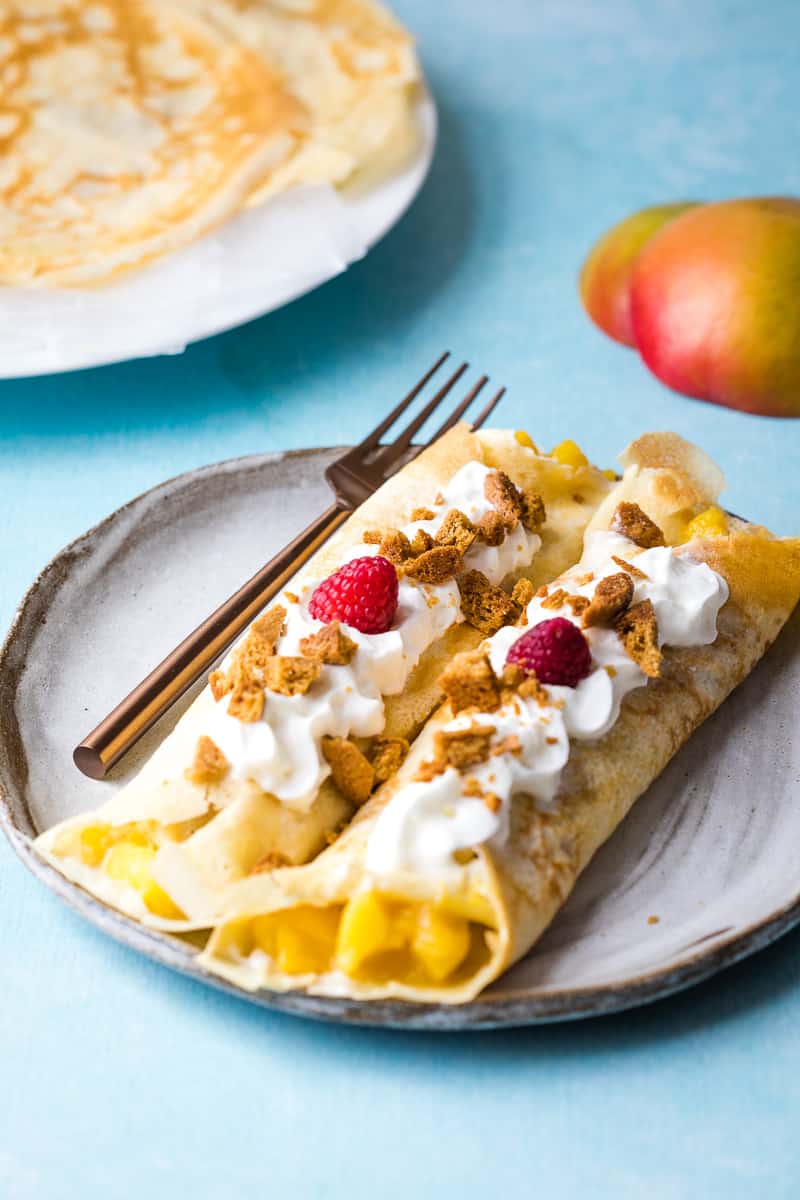 We love savory crêpes, but sweet ones like this Mango Crêpe recipe from Vanilla Bean Cuisine are elegant in their presentation and delicate in taste. So for this version, Chef Molly walks you through her tempting creation, starting with the thin buttery pancake. Then there's the mango filling with fresh diced mangoes, brown sugar, vanilla extract, and ginger. On top, she serves them with whipped cream, crushed gingersnaps, and fresh raspberries. Oh, my!
Visit Vanilla Bean Cuisine for the recipe.
Mango Kulfi – Indian Ice Cream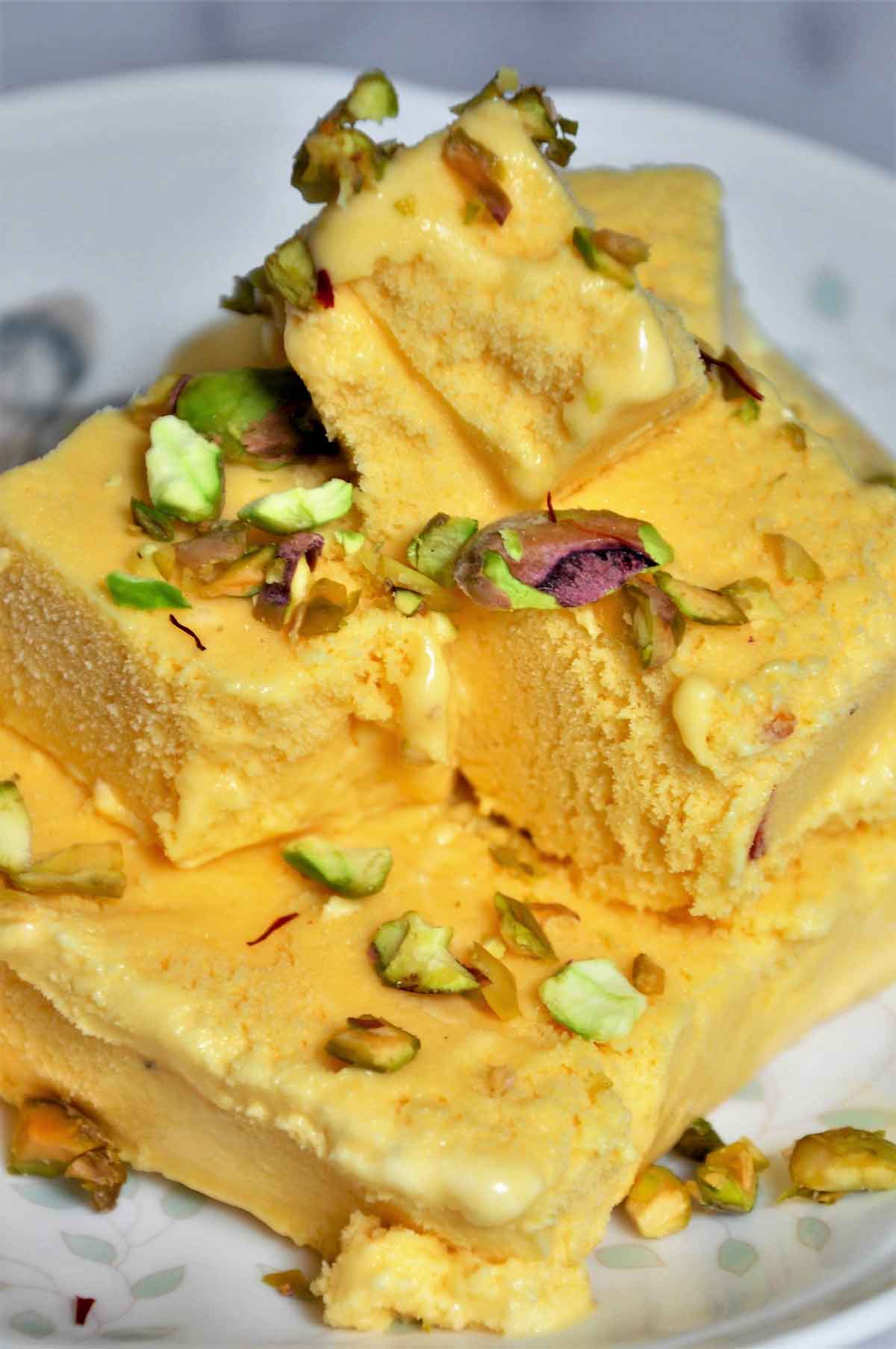 Oh, baby, this Mango Kulfi (Indian Ice Cream) recipe from Alpa of Culinary Shades is seductively delicious and refreshing. The treat is made with delightful mango, heavy cream, cardamom, and evaporated milk and churned with the help of your ice cream maker. This cold dessert isn't a custard base, so there are no eggs in this vegetarian ice cream. And finally, for serving, garnish it with pistachios.
Visit Culinary Shades for the recipe.
Mango Crepe Cake
Mary of Flouring Kitchen created this Mango Crepe Cake, which is an impressively delicate no-bake dessert. First, there is a stack of 40 thin and delicate crepes. But between each pancake, there's a light and airy, creamy mango filling. It's a unique treat that would be especially good during those summer months when turning on the oven isn't an option.
Visit Flouring Kitchen for the recipe.
Which Mango Dessert Recipe Will You Try First?
You've seen everything from Mango Crepe Cake to Mango Lassi and so many other treats. So now you know what dessert recipes can be made with the sweet tropical fruit. The only question remains: Which Mango Dessert Recipe will you try first? We'd love to know!