The dessert recipes with ricotta on this page answer the question, "what to do with this leftover tub of ricotta?" Because chances are you only bought it for a special recipe like lasagna.
But there are so many things you can do with it!
For example, there's the classic Italian cannoli by 40-year chef Dennis. Then there are lemon cupcakes with sweet ricotta cream, ricotta pancakes, and so many more! So are you ready to discover the tasty?
Let's dive in!
Italian Cannoli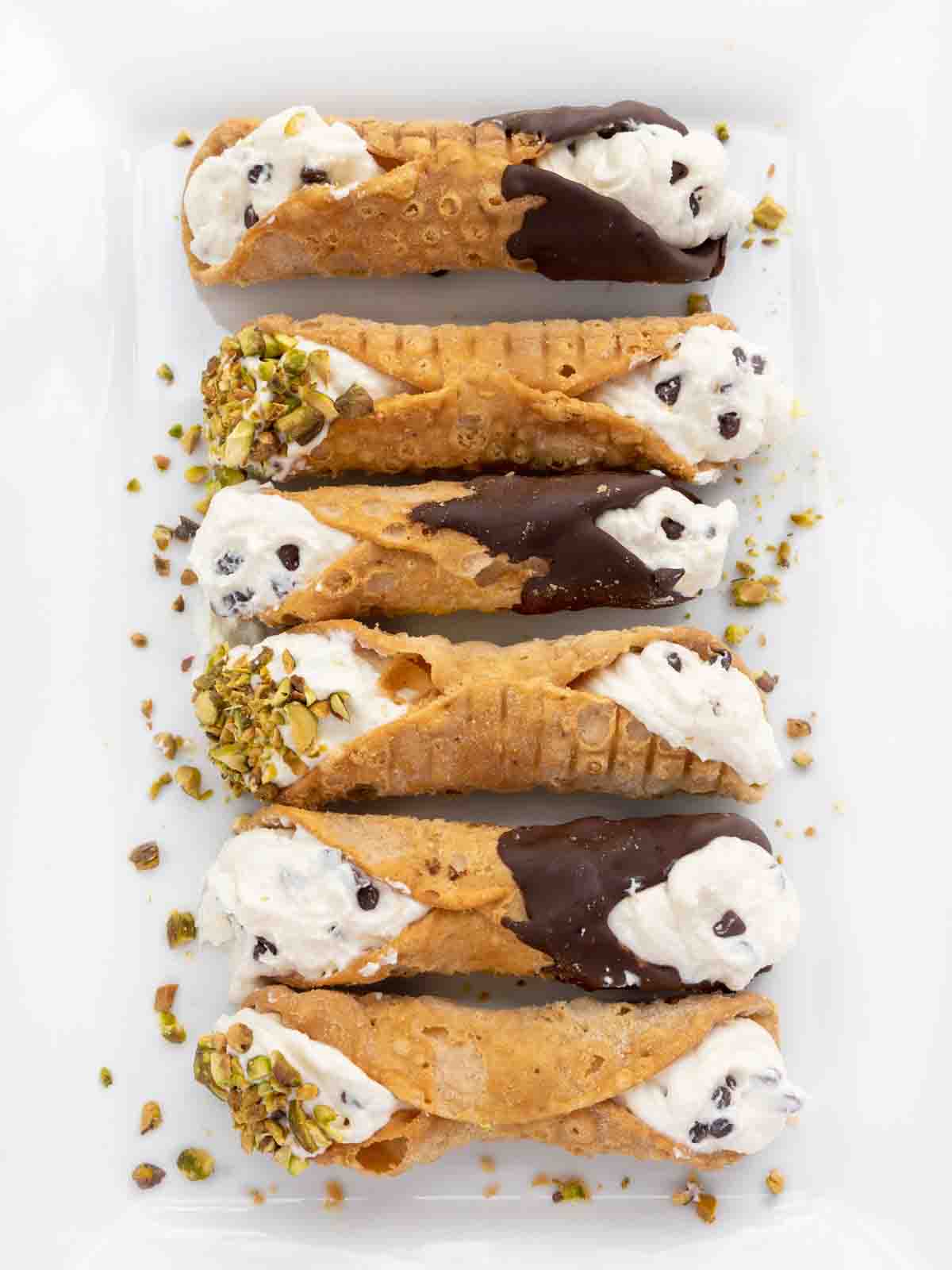 With each bite of this Italian cannoli from Ask Chef Dennis, you'll be transported to the charming streets of Sicily, savoring the perfect harmony of flavors and textures. The pastry shells are crispy, and inside, surprise! You'll find a luscious filling of velvety ricotta generously studded with mini chocolate chips.
Strawberry Ricotta Crostata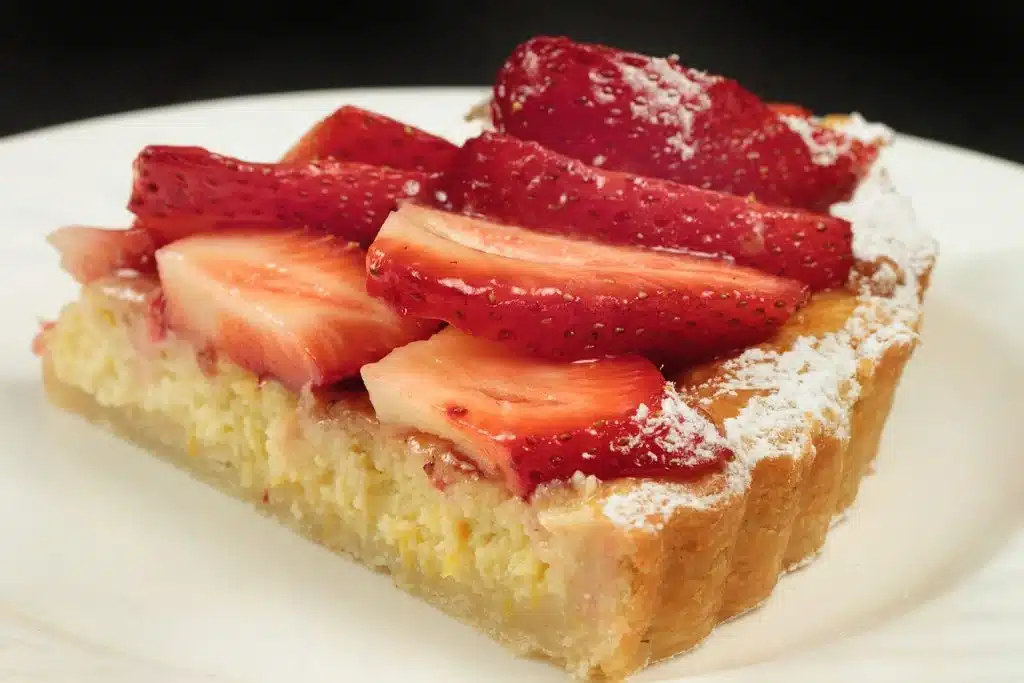 This delightful strawberry ricotta crostata again by Ask Chef Dennis is like a burst of summer in every bite. Picture a golden crust enveloping a dreamy ricotta filling crowned with vibrant, juicy strawberries. The delicate balance of sweetness and tanginess will leave you yearning for lazy afternoons and warm sunshine.
Ricotta Pound Cake Cupcakes with Whipped Ricotta Frosting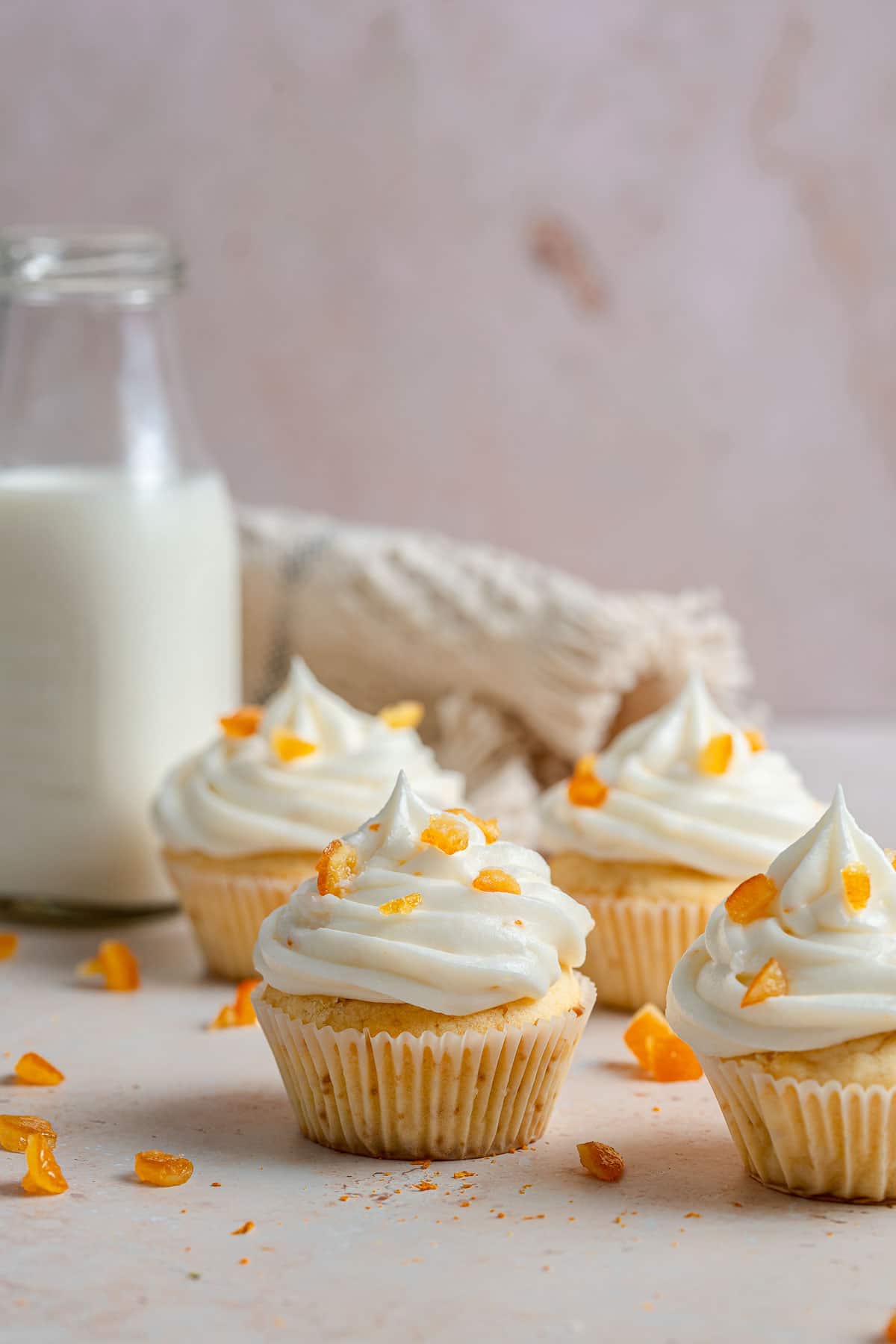 Were you looking for elegance in a single serving? Well, look no further than these decadent ricotta pound cake cupcakes by the Dessert For Two Blog. Moist and tender, they're adorned with a cloud-like whipped ricotta frosting that adds a touch of elegance. You'll delight in the harmonious blend of flavors as the velvety cake melts in your mouth.
Italian Lemon Cupcakes with Sweet Ricotta Cream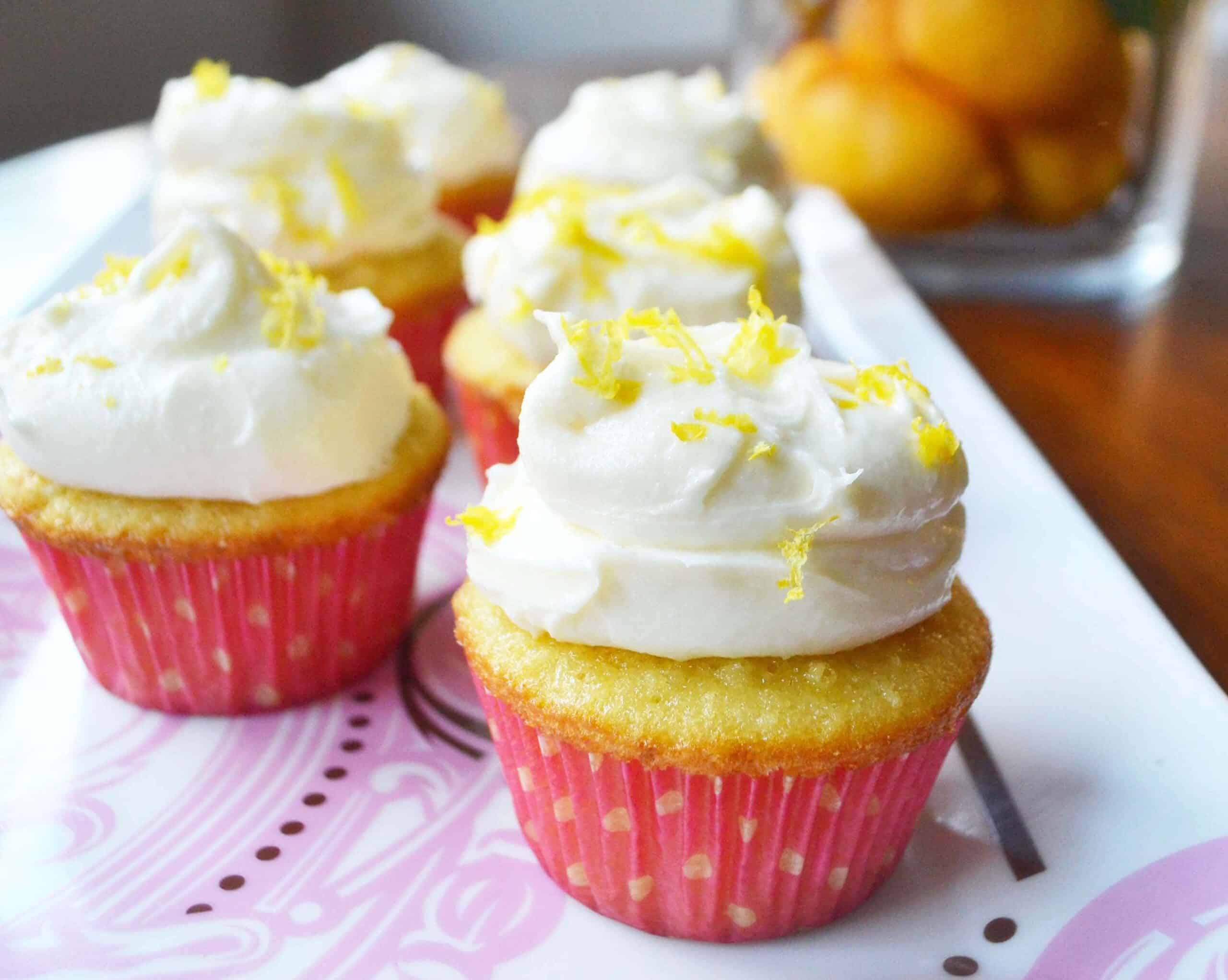 Bakehouse treats are delicious but sometimes a bit overly sweet. With that in mind, Melissa created this award-winning Italian lemon cupcake with sweet ricotta cream. So, certainly, it's sweet but not cloyingly so. Instead, it's bursting with fresh, zesty notes and complemented by a subtly sweet ricotta cream filling. These cupcakes are a delightful ode to the Mediterranean. Each bite will transport you to the sun-kissed lemon groves of Amalfi.
Prune and Fig Cjarsons di Pontebba
Fruity and sweetness aren't what you think of with ravioli. So certainly, these Prune and Fig Cjarsons di Pontebba come as a surprise. Oh, the possibilities! Delicate pasta pockets cradle a medley of dried prunes, dried figs, and ricotta, boiled then seasoned in a velvety buttery brown sugar and cinnamon bath.
Kunafah
Dive into the seductive world of Middle Eastern sweets with this irresistible kunafah recipe courtesy of Riz of Chocolates & Chai. Imagine layers of crispy, golden shredded phyllo pastry encasing a luscious core of gooey ricotta cheese, delicately perfumed with rosewater and topped with a lemony sweet syrup. It's a sensory delight that will take your taste buds to a world of exotic indulgence.
Ricotta Crumble Cheesecake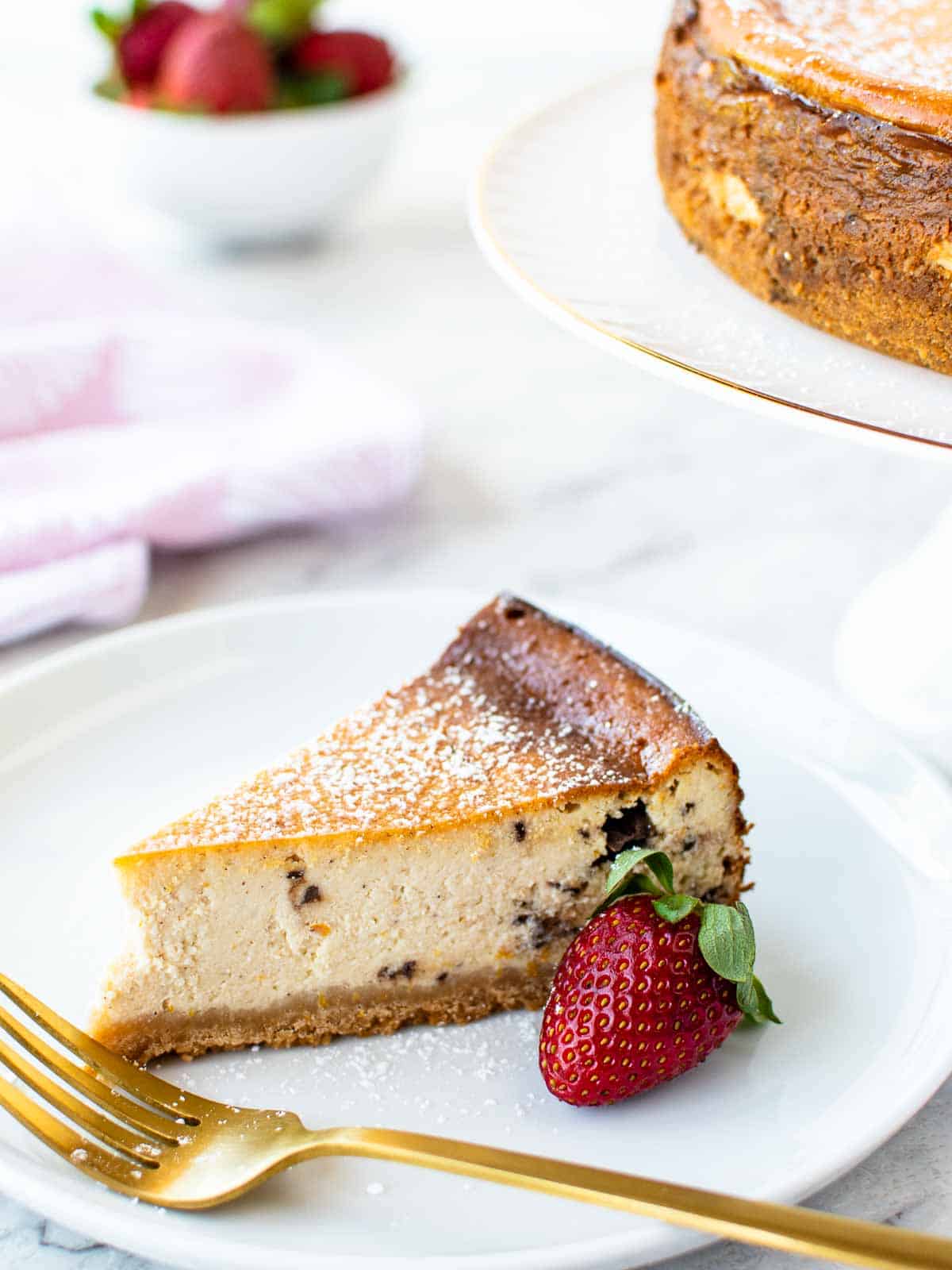 A slice of sheer heaven! That's what you get with this sumptuous ricotta crumble cheesecake by Marcellina In Cucina. A creamy ricotta with chocolate chip cheesecake filling joins forces with a buttery, crumbly cookie crust, creating a delectable symphony of textures. With every forkful, you'll discover the perfect balance of richness and lightness that will leave you craving more.
Lavender Cake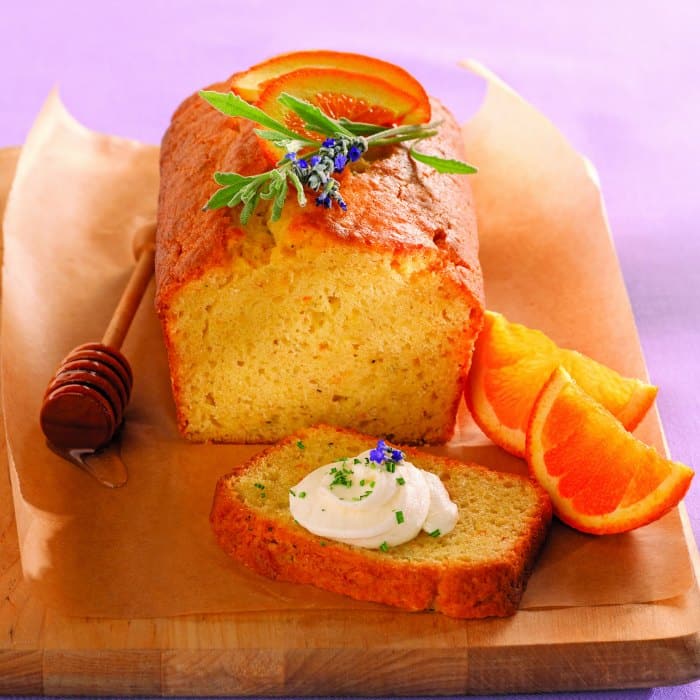 Revel in lavender's enchanting aroma and delicate flavor with this subtly sweet lavender cake by Jennifer of Mommy Evolution. Moist and tender, this floral-infused creation whisk you away to a serene garden, where each bite is a moment of tranquility and bliss—a true feast for the senses that will captivate your palate.
Ricotta Cheese Peda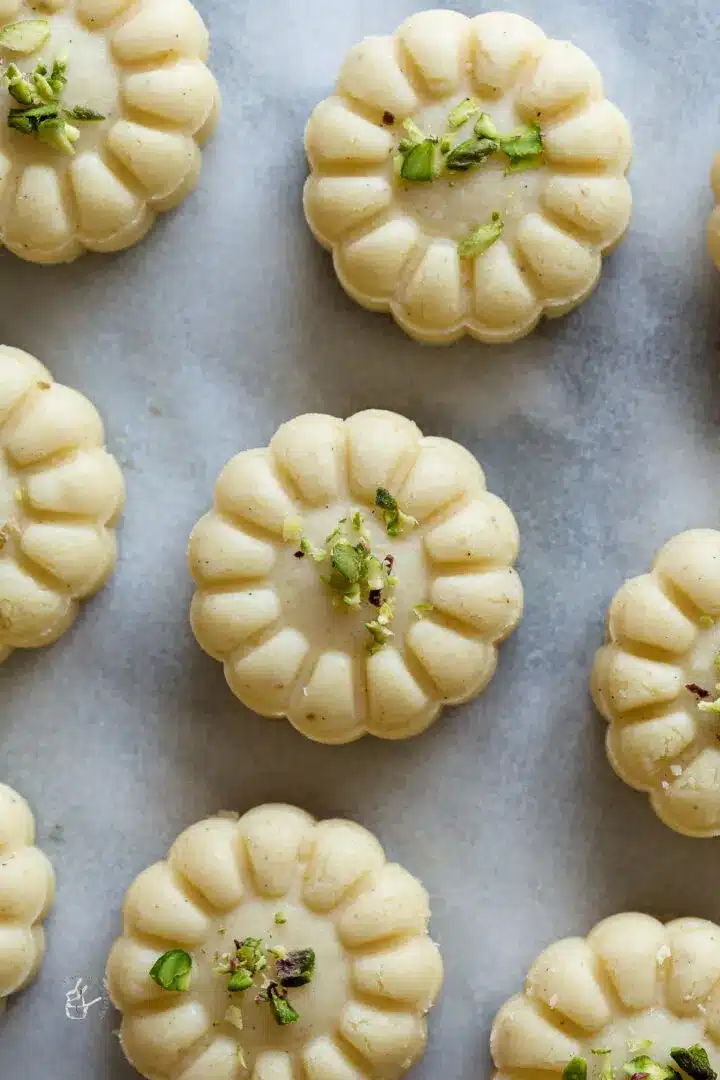 Immerse yourself in the vibrant and diverse flavors of Indian cuisine with these delightful ricotta cheese peda by Hayley of J Cooking Odyssey. Soft and creamy, these beautiful bite-sized treats combine the richness of ricotta and ghee with aromatic cardamom. So, savor the enchanting blend of textures and the sweet essence of Indian tradition.
Easter Ricotta Pie
Celebrate the joy of Easter with this delightful ricotta pie by one of our favorite food-blogging couples at The Sage Apron. It starts with a buttery crust that'll put you in the mind of a shortbread cookie. Then there's the velvety ricotta filling enriched with citrus zest. With its symbolic significance and irresistible flavors, this pie is the perfect centerpiece for your Easter feast, embodying tradition and togetherness.
Baked Apples with Ricotta Cheese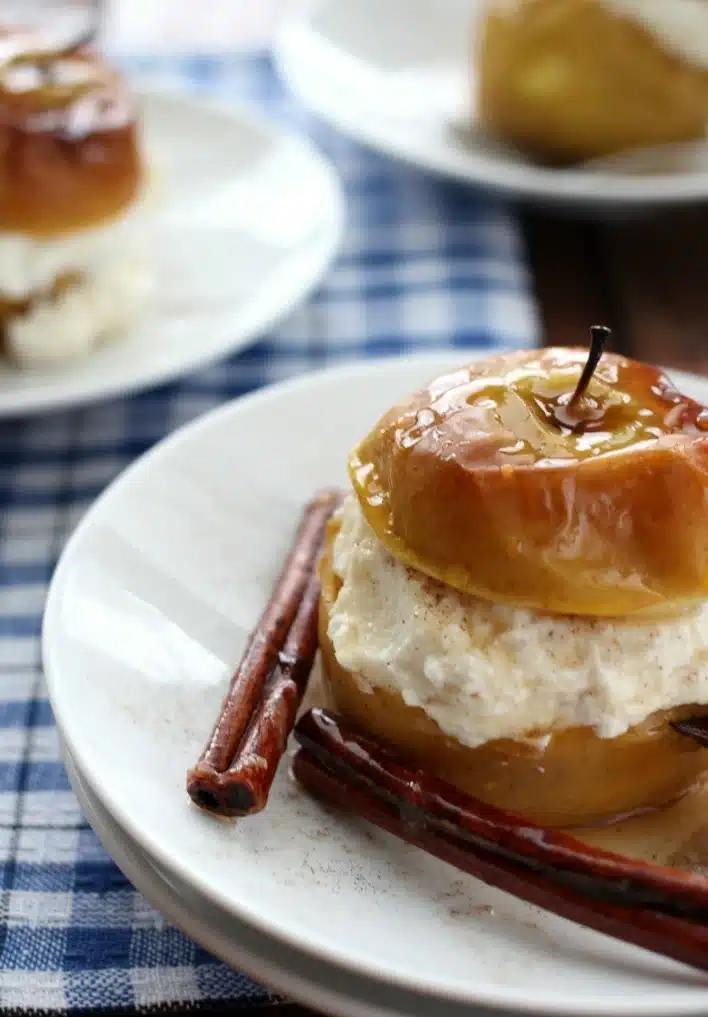 With this baked apples with ricotta cheese recipe by Maria Ushukova, we find that sophisticated desserts need not be complicated or overly indulgent. As it sounds, you bake the apples until tender, then fill them with a creamy honey-sweetened mixture. It's a warm, comforting, simple treat with delightful flavors and textures.
Baked Sweet Ricotta with Orange Zest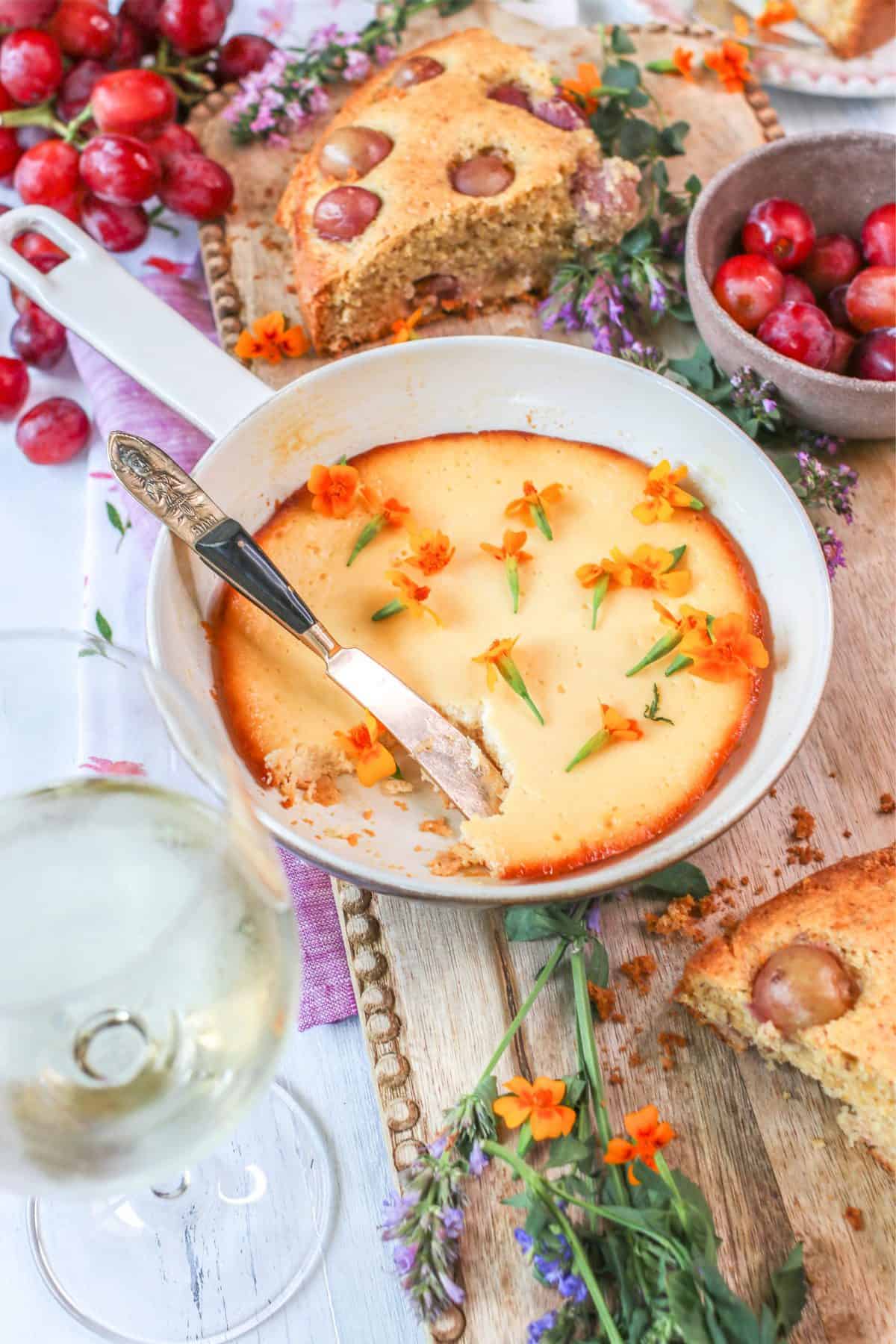 Indulge in the luxurious flavors of this baked sweet ricotta with orange zest dessert by California Grown. And would you believe it takes just 5 minutes to make? First, you mix smooth and creamy ricotta with fragrant orange zest, honey, egg, and a couple of other ingredients before it's off to the oven for a simple yet surprisingly elegant anytime dessert.
Orange Chocolate Chip Ricotta Cookies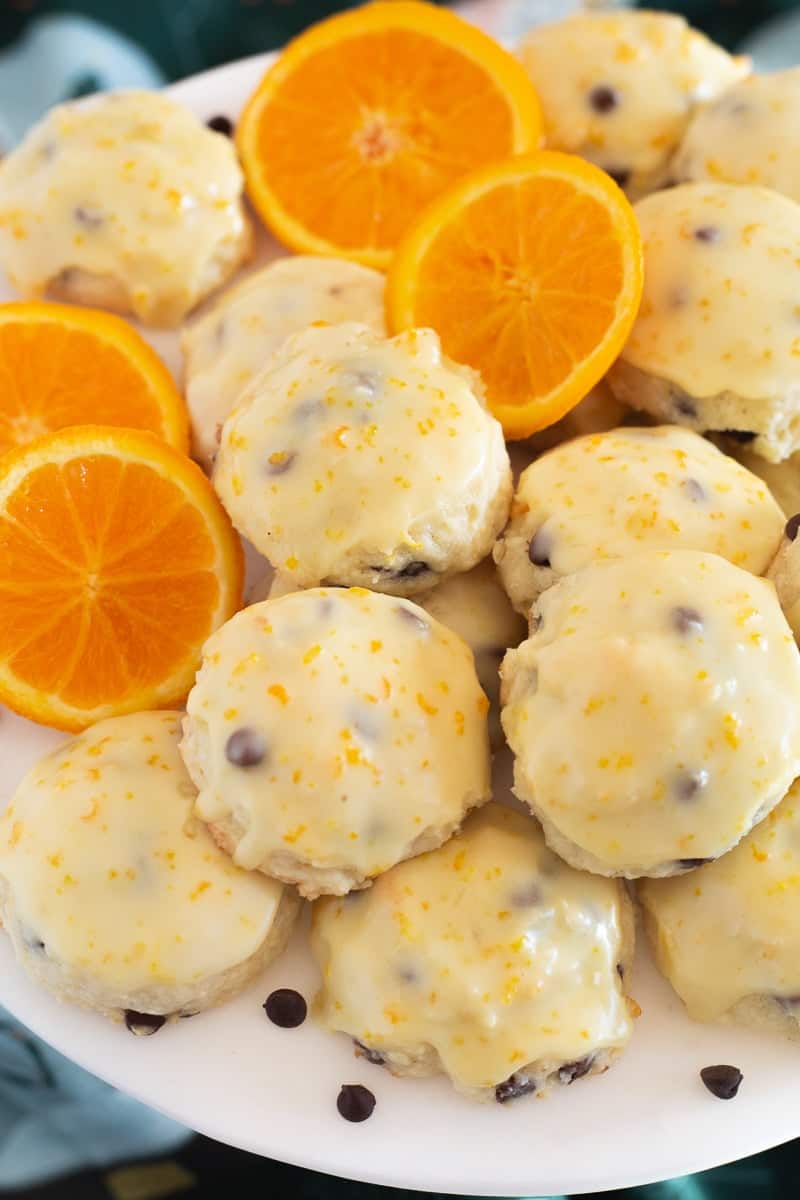 Soft, chewy, and packed with bursts of citrusy goodness and decadent chocolate, these Orange Chocolate Chip Ricotta Cookies by Sandra of She's Not Cookin' are a delightful balance of flavors. They're easy to make with mostly pantry and fridge staples like flour, baking soda, and orange juice. Plus, each bite of these soft little cookies seems to just melt away. They're the perfect treat for any occasion, but particularly lovely during the holiday season.
Ricotta Cheese Gulab Jamun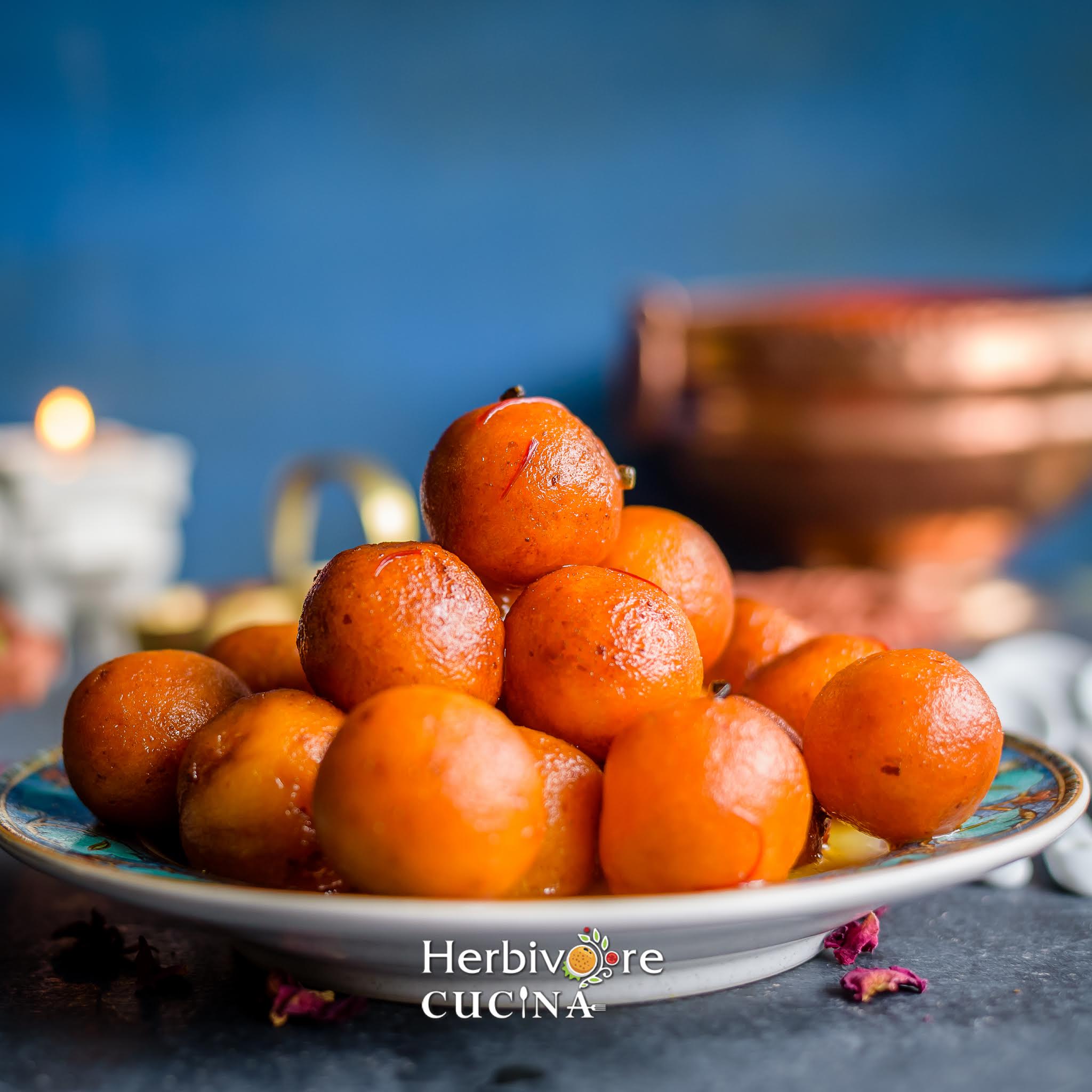 Jump into the enchanting world of Indian sweets with these divine ricotta cheese gulab jamun by Smruti of Herbivore Cucina. Oh me, oh my! These delicate little buttery dumplings, soaked in a fragrant sugar syrup, offer a heavenly combination of creamy ricotta and aromatic cardamom for a flavor you won't soon forget.
Kalakand with Ricotta Cheese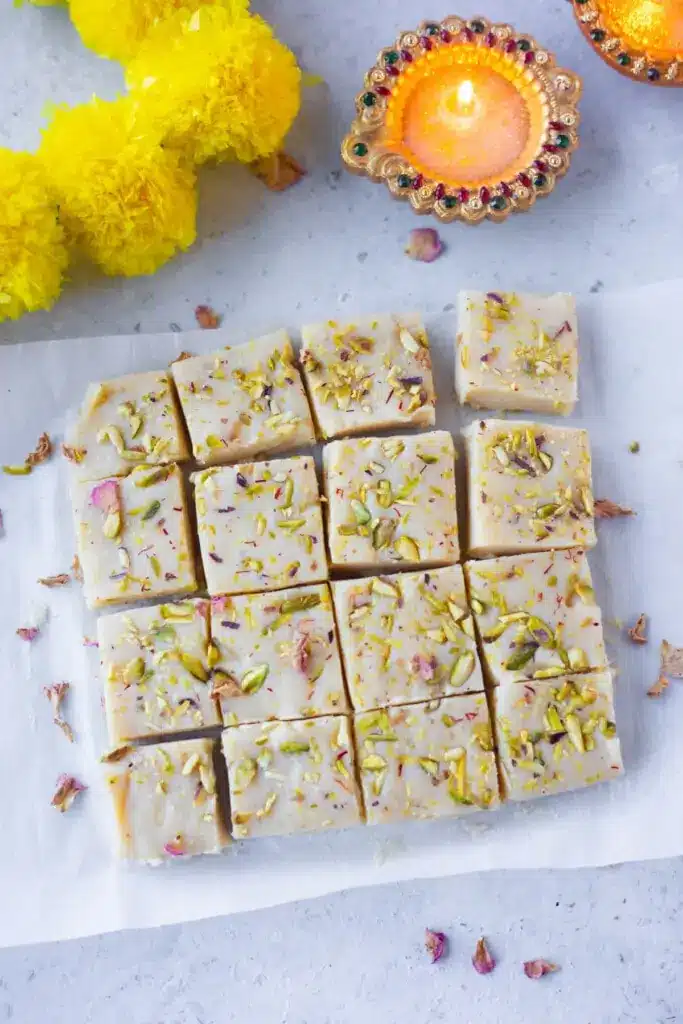 Treat yourself to the rich and creamy delight of kalakand with ricotta cheese by Piping Pot Curry. This traditional Indian sweet is a soft milk fudge infused with the aromatic flavors of cardamom, saffron, and rose water. Then, they're covered with crushed pistachios and saffron. The result is a heavenly dessert sure to captivate your imagination and taste buds.
Whipped Pumpkin Ricotta Dip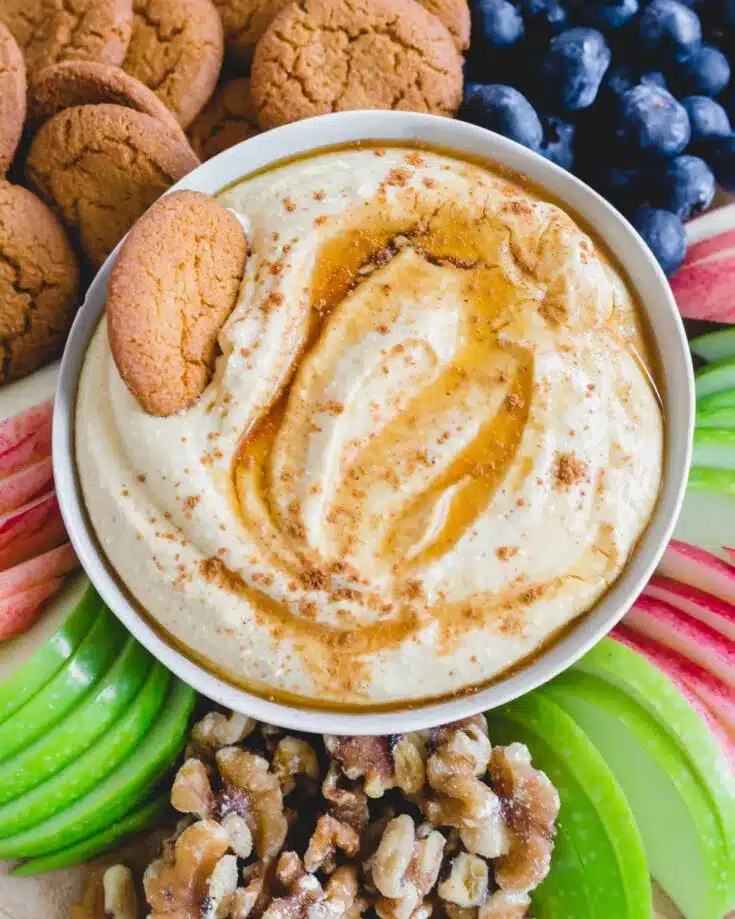 Dive into autumn flavors with this irresistible whipped pumpkin ricotta dip from Running To The Kitchen. It's a straightforward five-minute concoction featuring four simple ingredients: Creamy ricotta, velvety pumpkin, whole milk, and maple syrup. Perfectly paired with your favorite dippers like pretzels or cookies, this dip is a seasonal treat you'll keep on repeat.
Dark Chocolate and Ricotta Tart
With this Dark Chocolate and Ricotta Tart with Cherries, you can indulge in an exquisite 5-star dessert without effort. The base is a buttery crust that holds a luscious filling of smooth ricotta blended with decadent dark chocolate and fresh cherries. The result is a dessert that is both sophisticated yet deeply satisfying.
Apple Ricotta Cake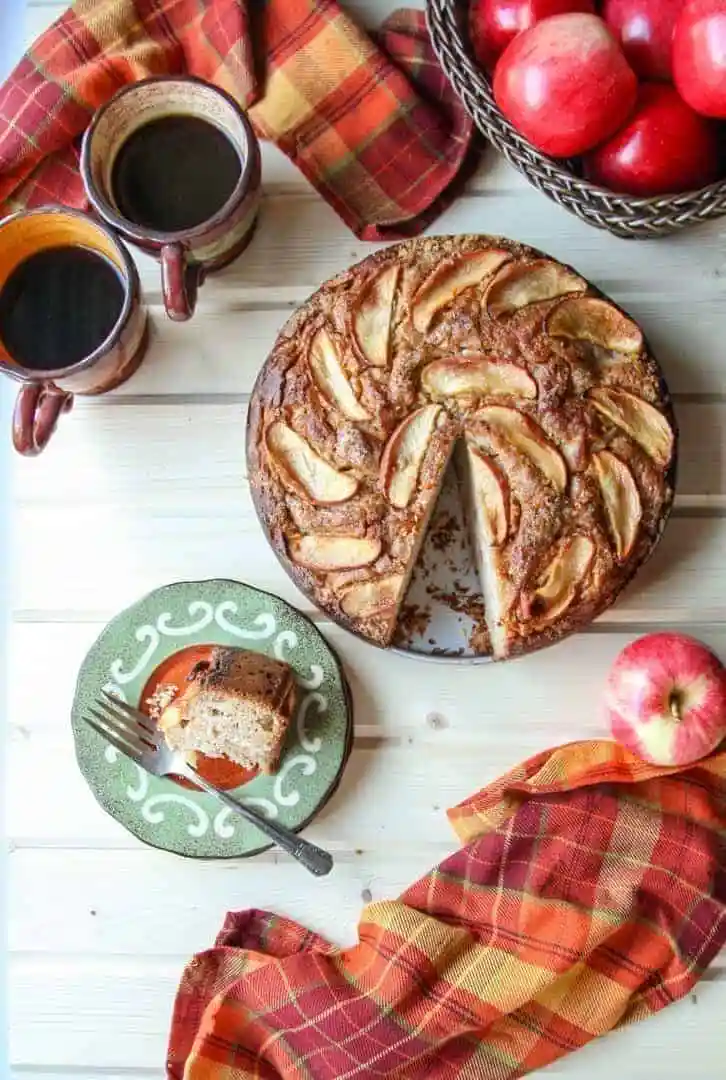 Thanks to the almond meal, you can experience the warming flavors of autumn in this gluten-free apple ricotta cake. Moist and tender, this cake is made with a generous amount of ricotta, giving it a delightful richness and a soft crumb. Plus, prior to baking, the batter is topped with fresh apple slices for a beautiful presentation.
Ricotta Pancakes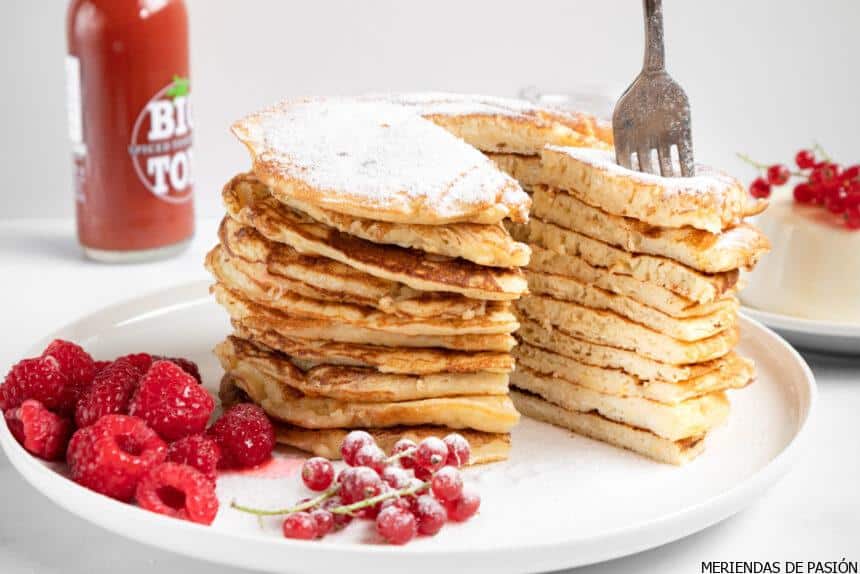 Start your day on a delicious note with these tender and light ricotta pancakes by way of Meriendas de Pasion. Adding creamy ricotta cheese to the batter imparts a subtle richness making for the fluffiest flapjacks you've ever had. So drizzle them with maple syrup, serve with fresh fruit or chocolate chips, and savor each bite of these irresistible pancakes.
Almond Raspberry Ricotta Parfaits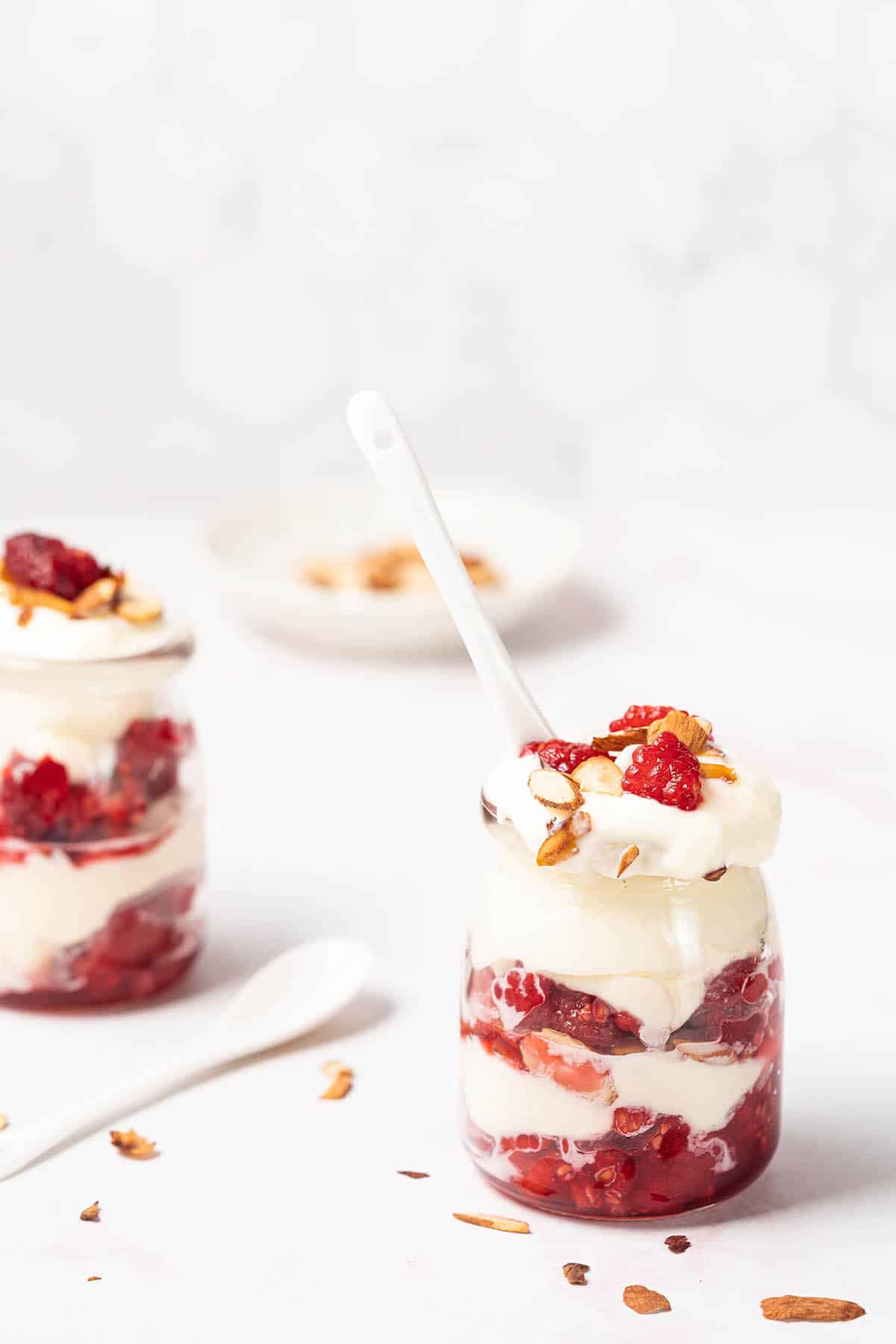 Pump the brakes on the heavy desserts and instead treat yourself to these light and elegant almond raspberry ricotta parfaits by Kate of Nibble & Dine. Layers of creamy ricotta, tart macerated raspberries, and sliced almonds create a harmonious medley of flavors and textures. It's a dessert that combines chic with simplicity, perfect for any occasion.
Fig Ricotta and Rum Caramel Gelato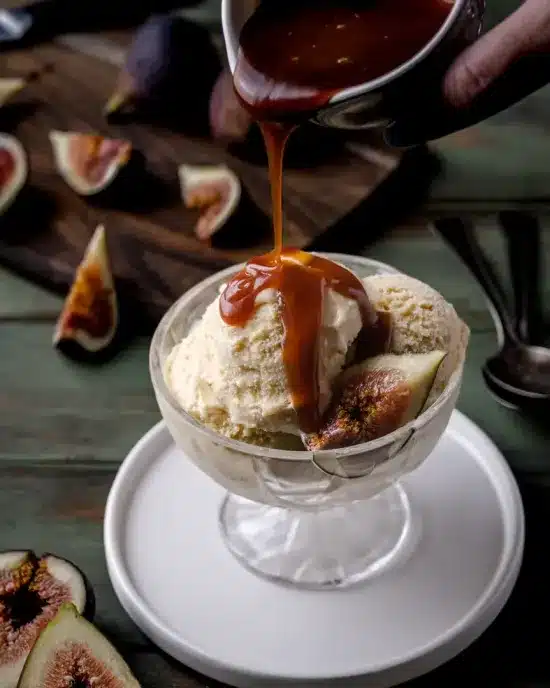 Mark and Angela at the Cooking With Wine Blog once again give us a taste of the good life with this luxurious fig ricotta and rum caramel gelato. The velvety smoothness of the ricotta and mascarpone gelato blended with fresh figs is elevated even further by the richness of caramel and the subtle warmth of rum. It's a frozen treat that will transport you to a realm of pure bliss.
Which Recipes With Ricotta Will You Make First?
So by now know, you've discovered all the creative and delicious ways you can use up that leftover ricotta. Were you intrigued by the orange chocolate chip ricotta cake, ricotta crumble cheesecake, or baked apples with ricotta cheese? Or did something else capture your interest? We'd love to know!