Below, you will find 20 homemade popsicle recipes that will make your summer a lot cooler. Making popsicles at home is better for so many reasons. For example, you get gourmet pops at a fraction of the cost and incredible flavors not available at stores.
Just take a look at some of the recipes you'll discover. There are strawberry meringue ice lollies, mango kulfi, peaches and cream, and many more. So are you ready?
Let's dive in!
For more cold desserts, see these unique ice cream recipes and these summer dessert recipes.
Strawberry Popsicles
Made with fresh fruit, these four-ingredient strawberry popsicles by Kristen of Slender Kitchen are the refreshing dessert snack you need this summer. In detail, the self-proclaimed "Popsicle Queen" teaches you how to make the quick, 10-minute, healthy 40-calorie treat sweetened with honey.
Blueberry Cheesecake Popsicles
All summer, Kelli keeps smiles on the faces of her 3 Boys And A Dog with these blueberry cheesecake popsicles. They love them so much that she often doubles the batch. But here's why you'll love them! They're easy to make with simple ingredients like frozen blueberries, lemon juice, and zest. And for extra creaminess, you have cream cheese.
Red, White, and Blue Popsicles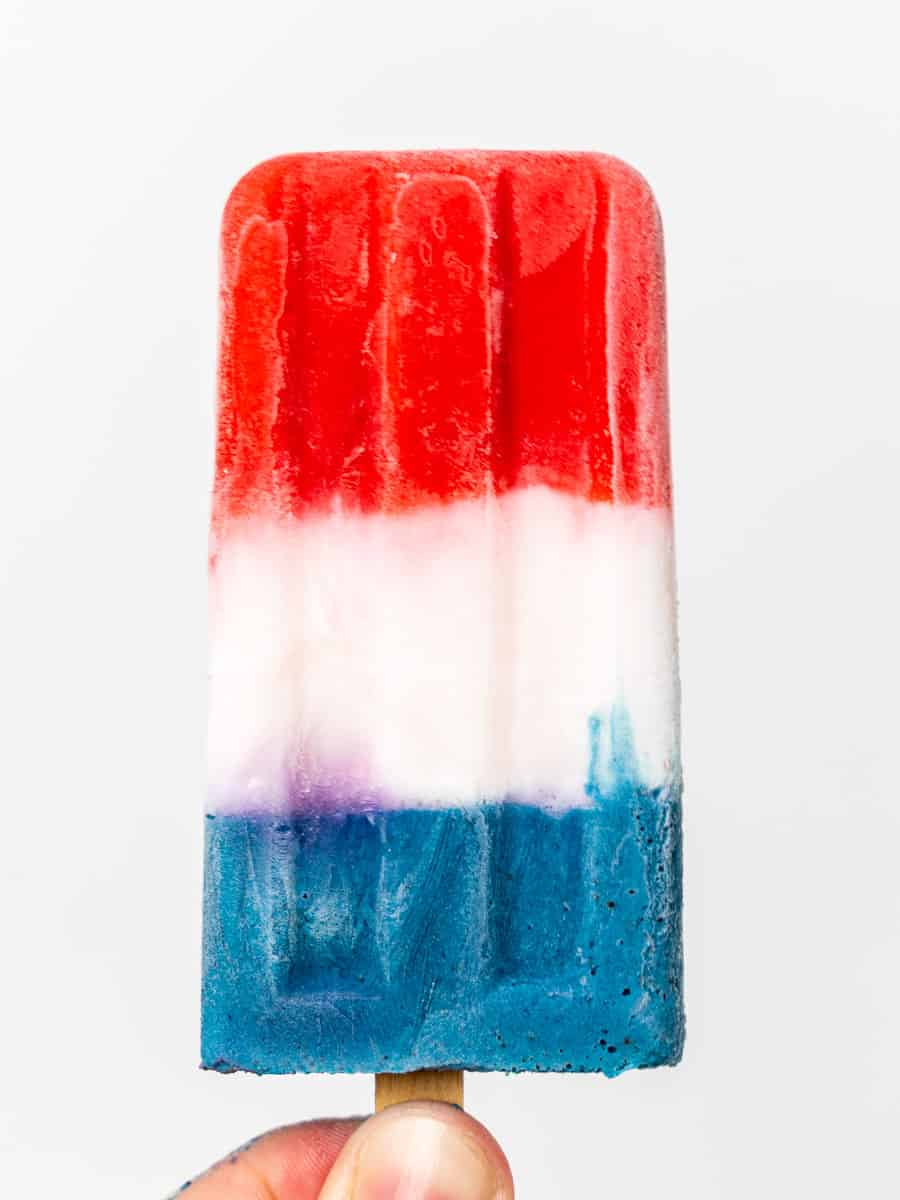 Indeed, these red, white, and blue popsicles by Dishes with Dad will spark nostalgia. You probably called them bomb pops. But did you ever think you'd be able to make the patriotic treat at home? Well, now, with the help of Scott's tips and tricks, you can. Raspberry or strawberry becomes the red layer. Coconut milk makes white and blueberry for the blue layer.
Strawberry Meringue Ice Lollies
These genius strawberry meringue ice lollies come by way of Christina's Cucina. She translated this dessert into popsicles from her aunt's strawberry meringue dessert recipe. It's a seven ingredient no bake dessert that takes less than 20 minutes to make. And despite the ingredients like Greek yogurt, whipping cream, and chopped strawberries, it's perhaps the lightest and airy popsicle you've ever seen. That's because you whip the cream into tall peaks, incorporating lots of air.
Mango Kulfi
These Indian Mango Kulfi popsicles by Aneesha of Spice Cravings are definitely on our must-try list. It's a seven-ingredient treat that's
creamy and smooth. And no, it's not a custard base. Instead, Aneesha uses sweetened condensed milk to make these lovely pops smooth and creamy. Finally, crushed pistachios adorn the exterior.
Mojito Cherry Popsicles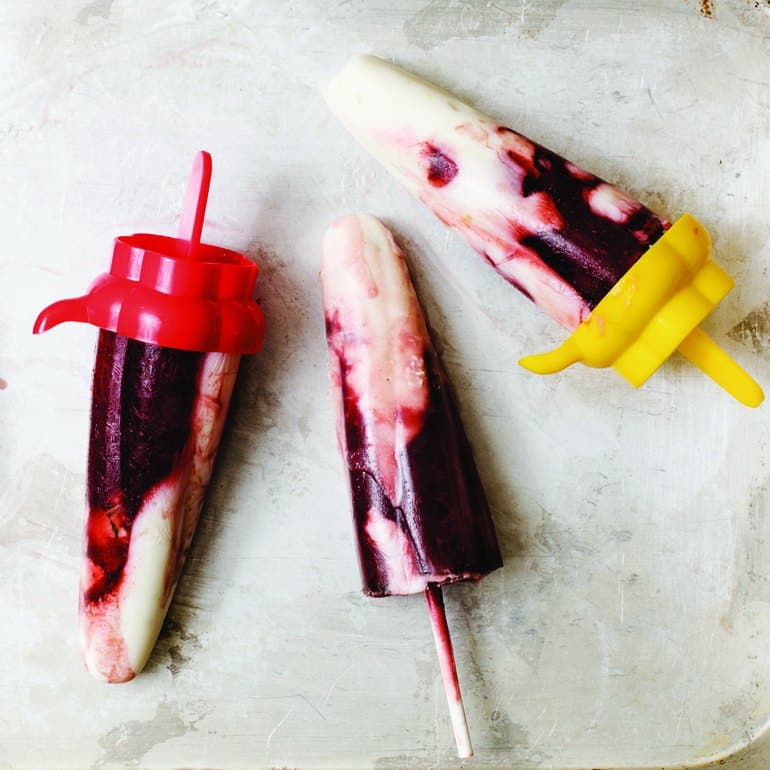 These mojito cherry popsicles by Jennifer of Mommy Evolution are like a cocktail on a stick. You have a blend of lime juice, cherry juice, Greek yogurt, and rum. Cherry juice, as Jennifer explains, has recovery benefits. Yogurt is packed with protein. And rum is optional but highly recommended. 🙂
Peaches And Cream Popsicles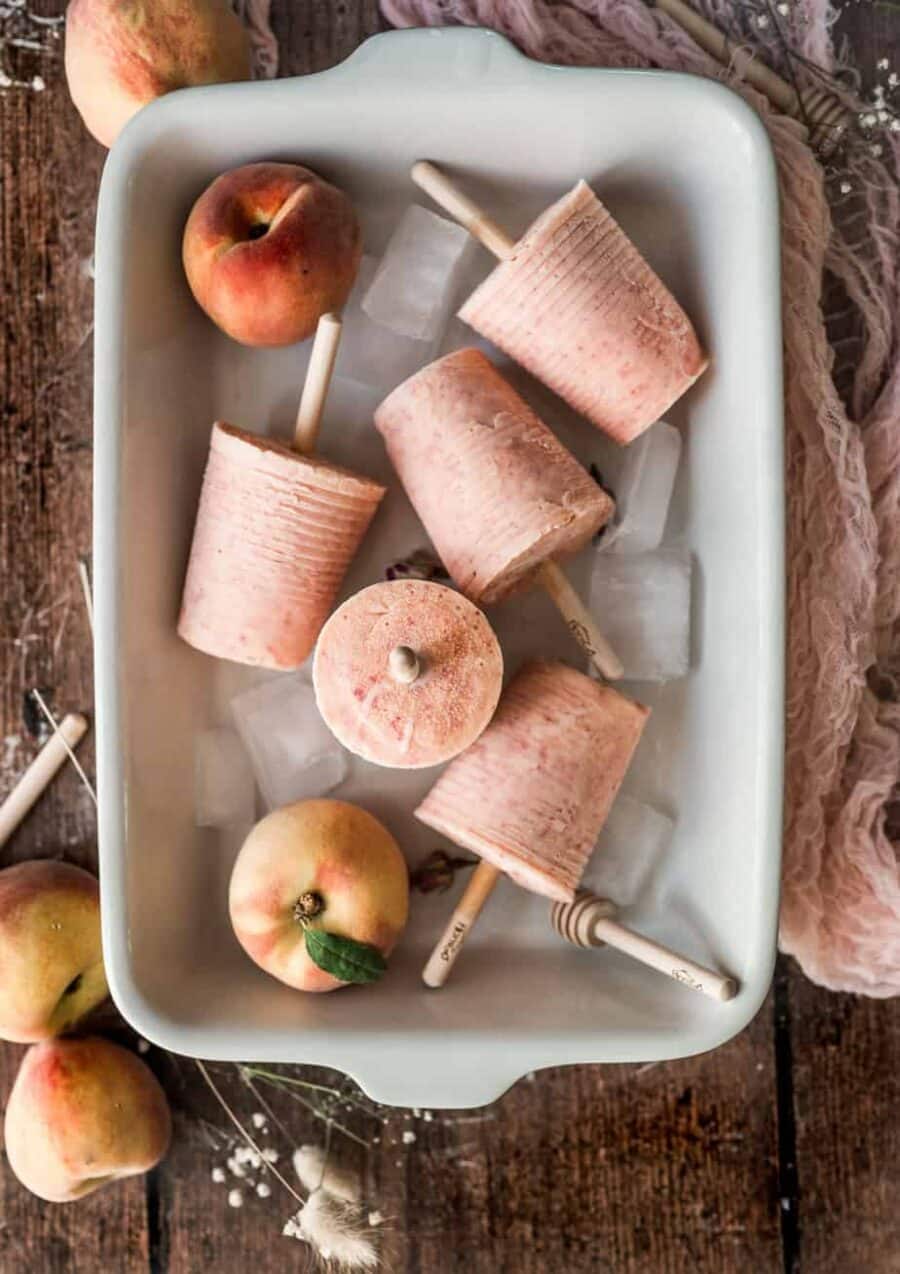 You know it's truly summer when the first peaches start to grow. Then, your wheels start turning, and you think of all the new ways to incorporate them into your desserts, like these peaches and cream popsicles by Frolic And Fare. Just slice your fresh peaches. Then, add them to a pan with Greek yogurt, heavy cream, and honey, and cook. Finally, add that mixture to your popsicle mold and freeze.
Breakfast Cereal Popsicles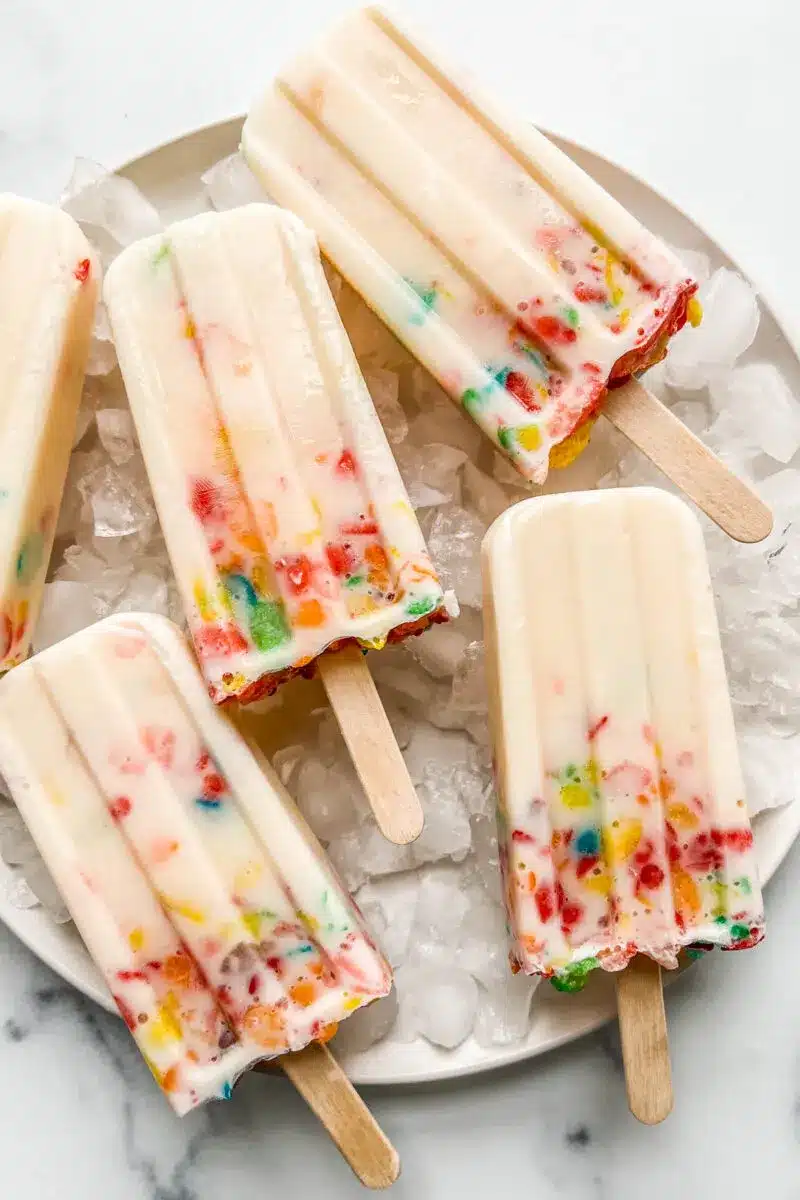 Popsicles for breakfast? Cereal in a popsicle? Yes, and yes! These breakfast cereal popsicles from Freezer Foodie Guide are the most unorthodox pops you'll find on this list. Based on the Milk Bar cereal milk concept (the milk left behind after you eat cereal), this recipe has you soak cereal in milk for 10 minutes, then add cereal and yogurt to the mold and freeze.
Limeade Popsicles
With just four ingredients, including water, lime, and sugar, you'll love these refreshing limeade popsicles by Janice of Salads 4 Lunch. They're nutritious, delicious, and, best of all, refreshing. While ice cream is nice, you'll want to keep healthy treats like this one stocked up in your freezer.
Mango Popsicles
With just three ingredients, these mango popsicles from Lisa of Garlic and Zest will whisk you into a tropical paradise. All you need is mango chunks, coconut liqueur, lime, and some time to freeze. Then, optionally, sprinkle with a bit of tajin (Mexican seasoning blend) for the most memorable summertime indulgence.
Cookies And Cream Popsicles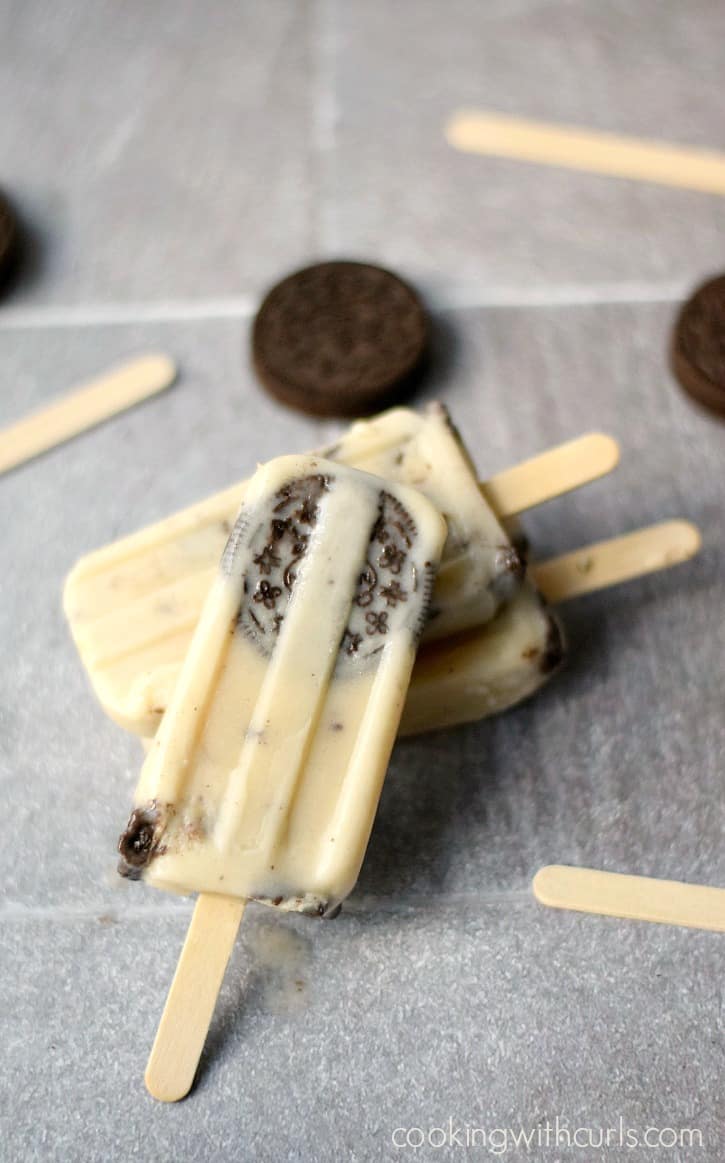 When summer is unbearably hot with uncomfortable humidity levels, turn to this Cookies And Cream Popsicles recipe by Lisa of Cooking with Curls. They're unapologetically indulgent. So instead of fruit and water, you'll find a recipe with milk, cookies, and pudding. Just what you need to take your mind off of the heat.
Chocolate Banana Popsicles
These chocolate banana pops from Vanessa of Maple And Mango are a no-brainer. Aside from the optional ingredients, it's a simple six-ingredient no-cook dessert recipe perfect for mid-summer. There's just one thing to consider. Will you dip them in melted chocolate or sprinkle them with nuts?
Raspberry Popsicles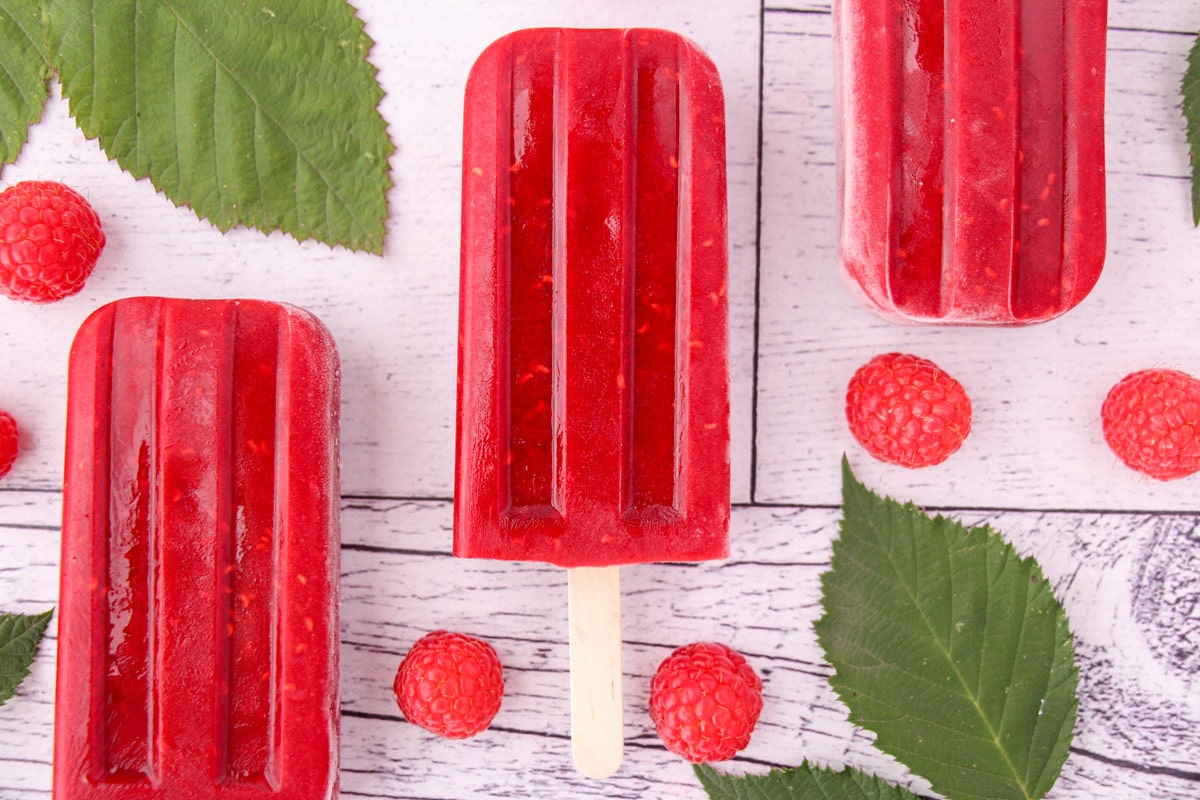 Do you enjoy the specific tang of raspberry? If yes, you'll live for these raspberry pops by none other than the Keep Calm and Eat Ice Cream blog. It's a simple three-ingredient recipe. Sarah recommends fresh or frozen berries, juice of fresh lime, and a little maple syrup.
Cherry Cheesecake Popsicles
What is the best thing to eat after a day of running through the sprinkler or swimming? How about these cherry cheesecake popsicles by Meaghan of 4 Sons R Us? It's like a delicious cheesecake dessert on a stick. You have sweet dark cherries, sugar, milk, cream cheese, and buttery graham cracker sand for this creamy treat. It sounds like heaven!
Green Tea Hibiscus Pops
Days hotter than Hades inspired Jenn of Peas and Crayons to invent these Green Tea Hibiscus Pops – a riff on her and her daughter's favorite Starbucks sipper. With just six ingredients, including tea, sugar, and pineapple juice, it's a 10-minute cold treat that'll keep you cool all summer long.
Strawberry Cobbler Ice Cream Pops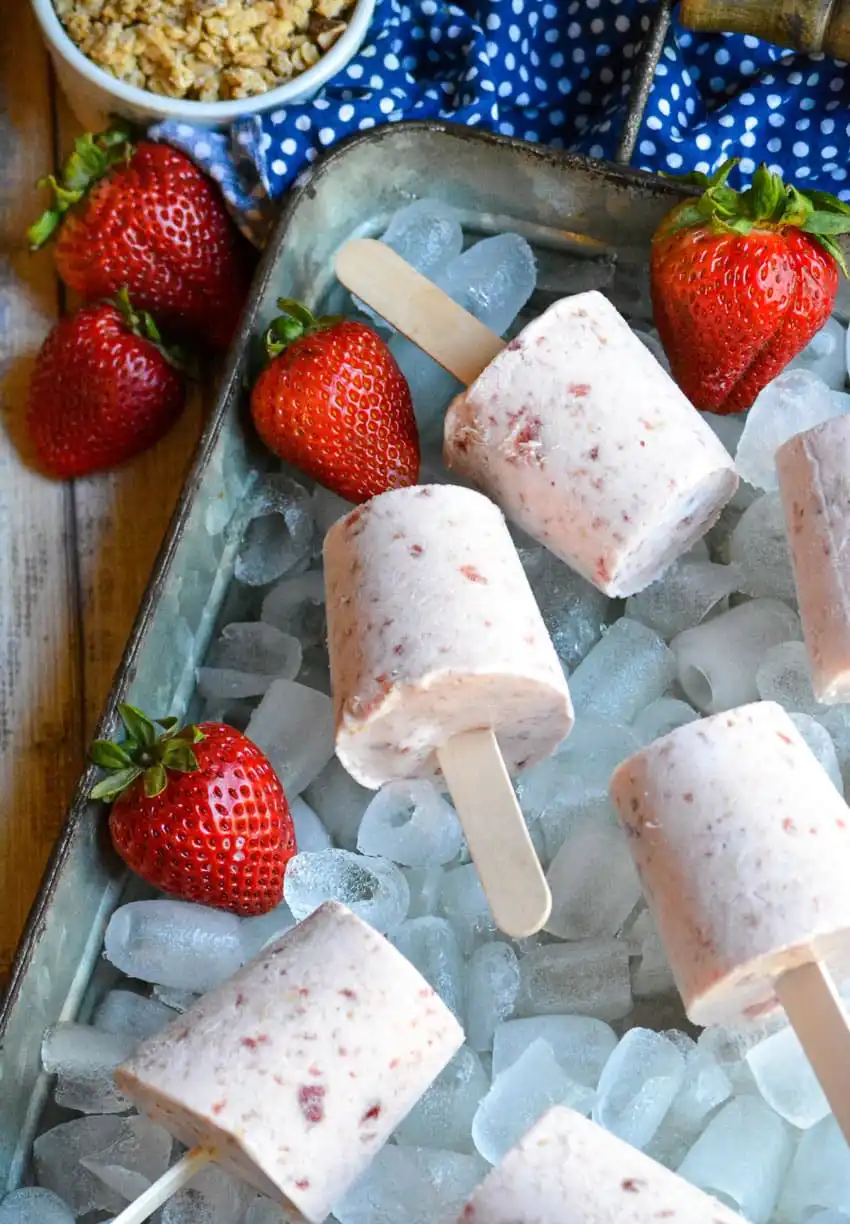 Don't feel guilty about wanting these strawberry cobbler ice cream pops by The Quicker Kitchen over others on the list. They're filled with ice cream, for crying out loud! And there are just three ingredients. Let the ice cream sit out for five minutes to soften just enough to put it in molds. Mix in the strawberry jam, then add the mixture to the molds, add the wooden sticks, granola, and freeze.
Watermelon Popsicles
These watermelon popsicles by Kristie of Saving Dollars And Sense are almost too pretty to eat. The keyword is almost. After you get over the cuteness, you'll realize the layered treat contains frozen watermelon, coconut yogurt, and kiwi. Mmm, so yummy! They take about 20 minutes to make and will make you the star of any backyard bbq or picnic.
Lemonade Popsicles
It doesn't get much more summer or refreshing than these simple three-ingredient lemonade popsicles by Moon And Spoon, And Yum. Every bite is like a burst of sunshine! You will need lemon juice, sugar, and water for the ingredients. Zest is optional, but smiles are unavoidable.
Banana Nutella Frozen Yogurt Pops
Nutella isn't just for baked desserts. Nope! These banana Nutella frozen yogurt pops by Brianne of Cupcakes And Kale Chips showcase the hazelnut chocolate spread in a refreshing treat. This pop contains three ingredients, including Greek yogurt, for a protein-packed cold dessert you'll make all summer.
Prosseco Popsicles
Back in 2017, prosecco popsicles had their food trend moment. And Jacqueline of GO GO GO Gourmet remembers it all too well as her social media feeds were filled with friends and colleagues jumping on it. The fun wine cooler alternative is so simple, and she shares five different recipes.
Which Popsicle Recipes Will You Try First?
Ooh wee, by now, you've seen lots of yummy frozen treats, so which popsicle recipe are you most excited to try? We're loving the prosecco pops and strawberry cobbler pops. But there are many others we want to try as well. So which one are you looking forward to the most? We'd love to know.
Don't forget to check out these no bake desserts.