There's an apple orchard we visit every year. Not for the overpriced pumpkins, crowds, and outrageous festivities. No, it's the donuts! These donuts, my goodness, are they good!
These donuts, crispy on the outside, and all cakey and oily with cinnamon and sugar, are so good that we count down the days until the orchard reopens for the season.
While our preference was once the yeasted pillowy soft, melt-in-your-mouth donuts from places like Dunkin' Donuts or Krispy Kreme, donut recipes without yeast are now on our menu.
So, on this list, you will find a plethora of delicious donuts without yeast. And if you're anything like us, you'll want to try them all.
You'll find apple cider, maple glazed, ube, churro, gingerbread, and donut holes. But, of course, you'll also find baked, fried, and even donuts made from canned biscuits and many more!
Let's jump in!
Baked Chocolate Donuts With Chocolate Glaze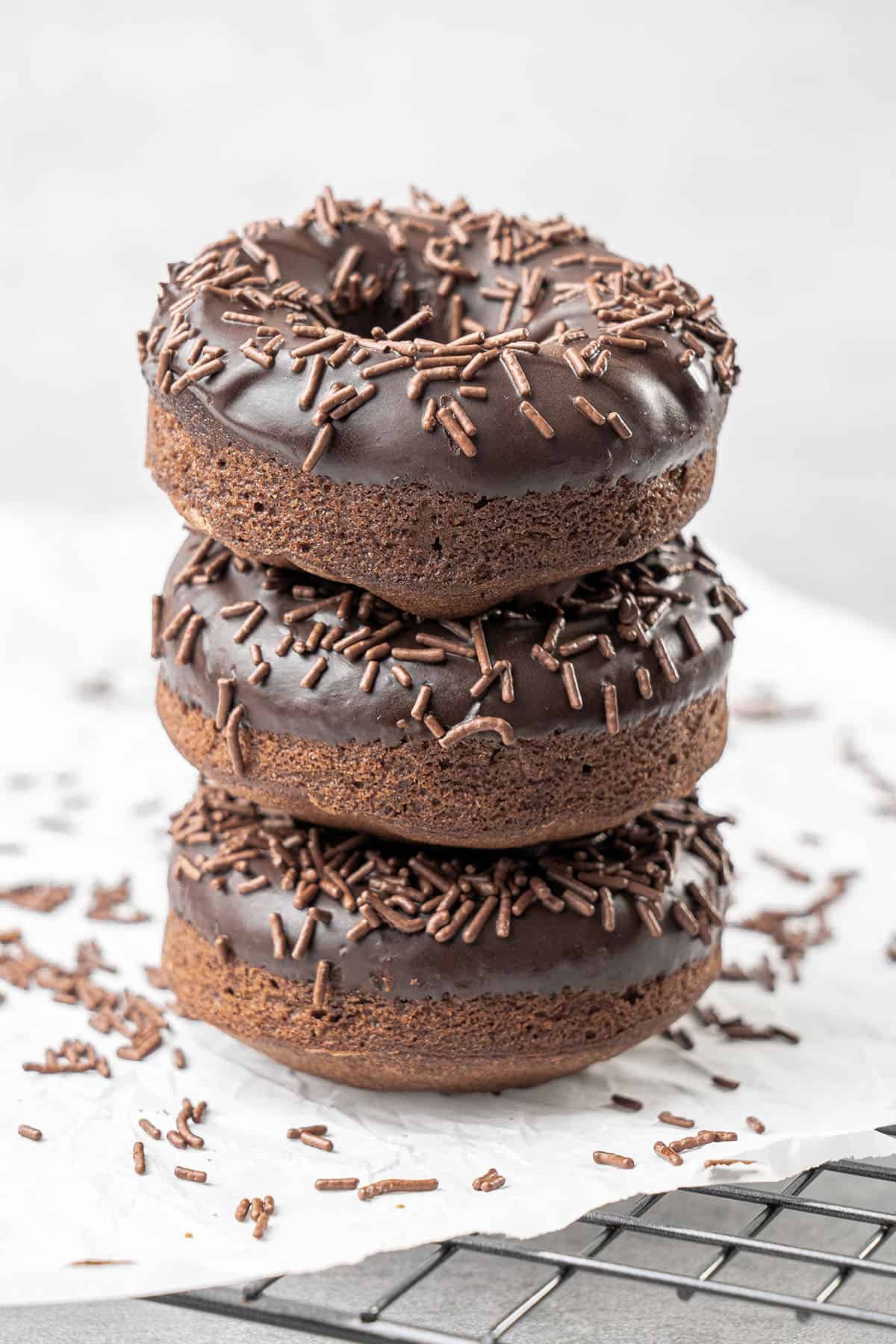 Creations from Katalin of Spatula Desserts aren't just delicious recipes. They're also baking lessons. With careful ingredient selections, the enthusiastic baker provides a tender and moist baked chocolate donut recipe, but you'll also find chocolate sprinkles and glaze.
So, let's talk about that glaze for a moment, shall we? It's a ganache that she recommends using high-quality dark chocolate along with heavy cream and butter. It's mouthwateringly rich and creamy.
Visit Spatula Desserts for the recipe.
Baked Churro Donuts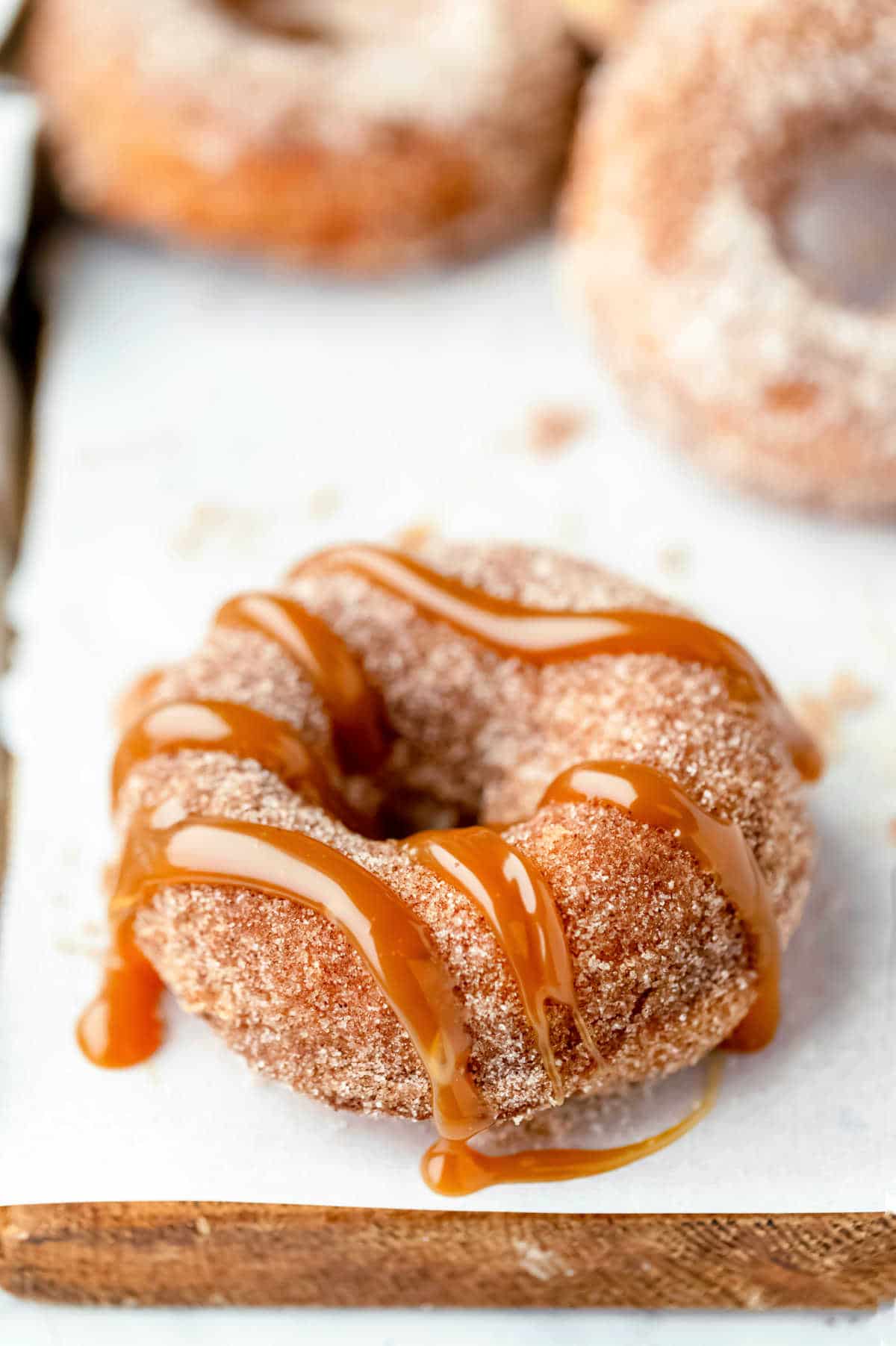 Cinnamon sugar churros are an irresistible dessert as common in Mexico as chocolate chip cookies in the United States. But making them at home can be a pain. So Kate of I Heart Eating has a beautiful solution; churro donuts.
You skip the hassle of deep frying them and instead bake them in a donut pan. Next, coat the delicious snack in melted butter before dipping it in cinnamon sugar. And if you serve them with chocolate sauce, you'll get as close as possible to the real thing!
Visit I Heart Eating for the recipe.
Blueberry Donuts With Lemon Glaze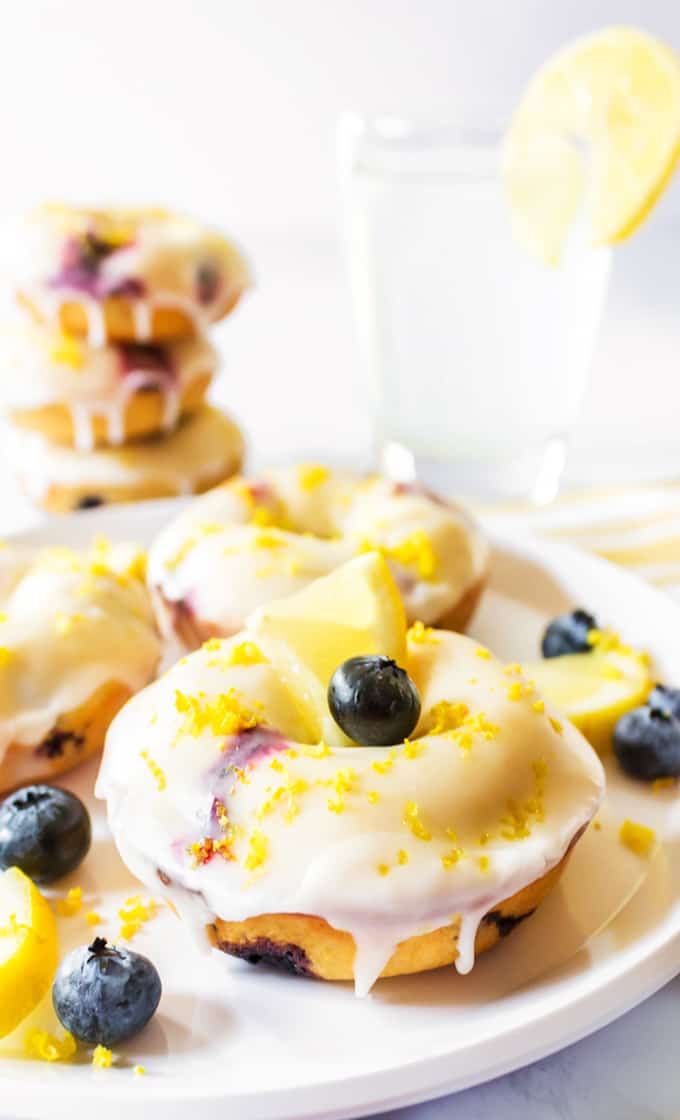 This is an urgent message! Dan, one half of the Platter Talk team, insists you make these baked blueberry donuts with lemon glaze right away. The blueberry and lemon flavor is a cosmic duo that will excite your senses.
And we're not just talking about your tastebuds. They're decorated beautifully with fresh blueberries and lemon slices, and the scent is mesmerizing.
Visit Platter Talk for the recipe.
Lychee Rose Donuts
Lychee is a fruit native to China that's unique in both flavor and appearance. It is characterized by floral and citrus notes. And the talented Michelle of Sift And Simmer shows you how to put it in pastries. We're excited!
The light yet cakey donuts have the aroma of rose water and the peculiar flavor of freshly blended lychee. They're topped with sweet but slightly tart ruby chocolate and beautifully decorated with culinary rose petals making them perfect for Valentine's Day.
Visit Sift And Simmer for the recipe.
Easy Biscoff Donuts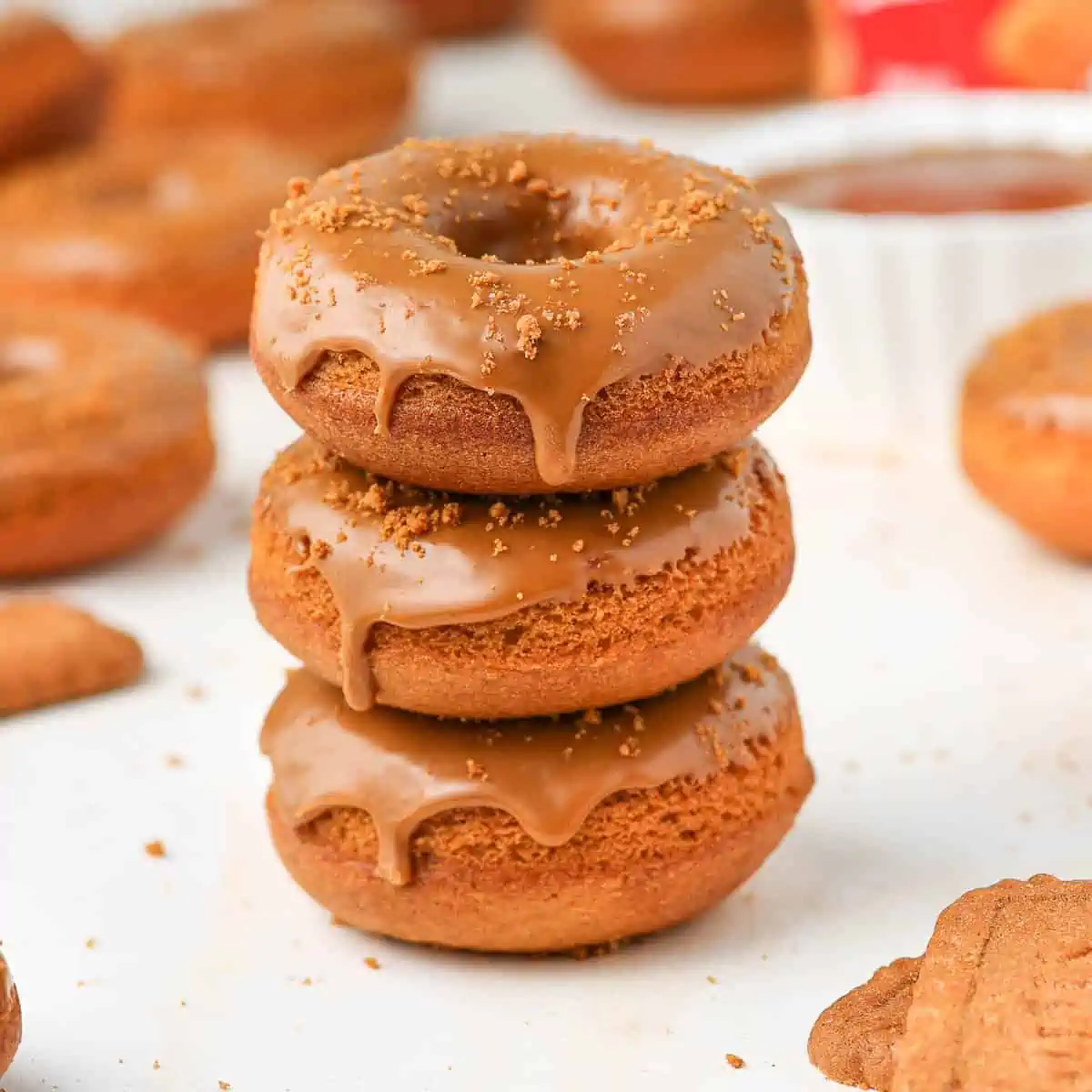 If you've never had speculoos, you're in for a treat with these easy Biscoff donuts from Sylvie of A Baking Journey. In fact, the eight-ingredient treats are so easy you don't even need a mixer to make them.
But for as simple as they are, it's the flavor that hooks you. The Biscoff, aka speculoos, is so good with a deep spice flavor akin to gingerbread, which you'll find in both the batter and the topping.
Visit A Baking Journey for the recipe.
Apple Cider Donut
If your house is full of apple donut-crazed lunatics like ours, then y'all will fall hard for these apple cider donuts from Wendie of Butter Your Biscuit. These delicious treats call for fresh Gala or Fuji apples. And the apple cider gets cooked down for the glaze.
But whereas most other donuts on this list spend time in the oven, these tremendous cake rings get a hot oil bath, so they're satisfyingly crispy on the outside but cakey and soft on the inside. Oh, how does one resist?
Visit Butter Your Biscuit for the recipe.
Funfetti Donuts
Ryan of Chisel And Fork answers what you do with sprinkle-filled donuts. The answer is you dip them in a glaze and cover them with even more sprinkles. That's how you make a real Funfetti treat.
Sour cream or Greek yogurt makes your new favorite donut extra tender and moist. And believe it or not, they will be ready in just 15 minutes.
Visit Chisel And Fork for the recipe.
Caramel Glazed Baked Turtle Donuts
Tiffany of Living Sweet Moments encourages you to choose these decadent, chocolatey, chopped pecan and caramel turtle donuts for your cheat meal. She claims they are better than the actual candy. They're that good!
And best of all, you will have them on your plate in less than one hour.
Visit Living Sweet Moments for the recipe.
Baked Mochi Donuts With Browned Butter Maple Glaze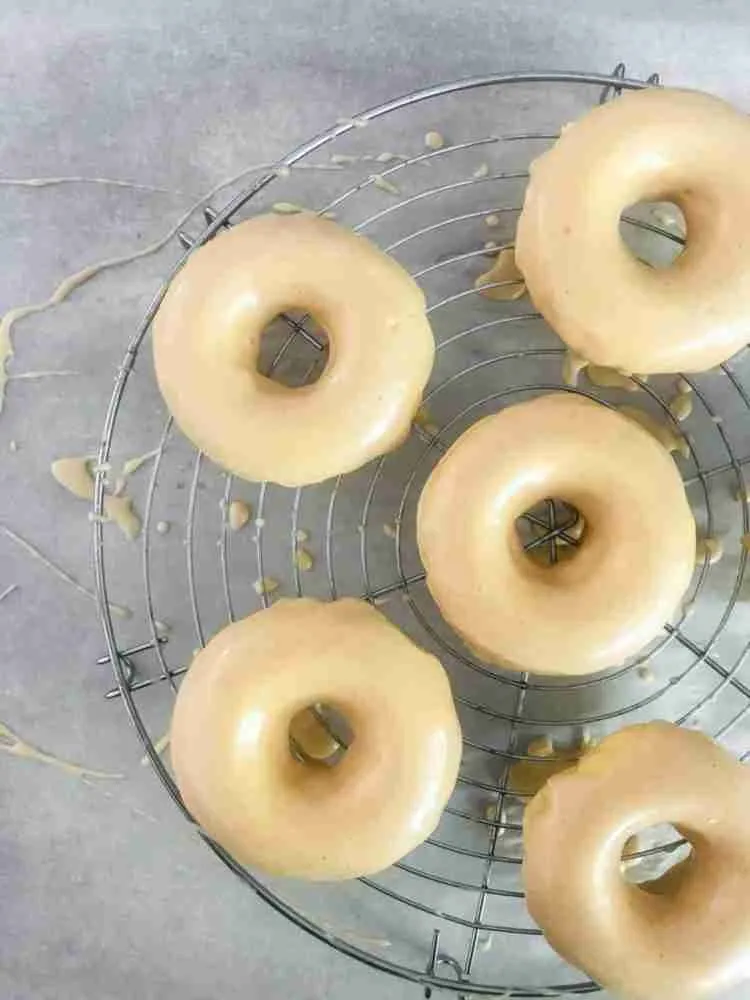 Joni comes out of The Pypers Kitchen swinging with this baked mochi donut recipe. While most baked donuts are "…pretty much glazed muffins," which isn't bad, the mochi donut texture is more exotic. They are tender if a bit chewy—her favorite part.
She gushes over the sweet and slightly nutty maple browned butter. And with a combined prep and bake time of just 20 minutes, these goodies might be, as Joni puts it, "dangerously good."
Visit The Pypers Kitchen for the recipe.
Earl Grey Cake Doughnuts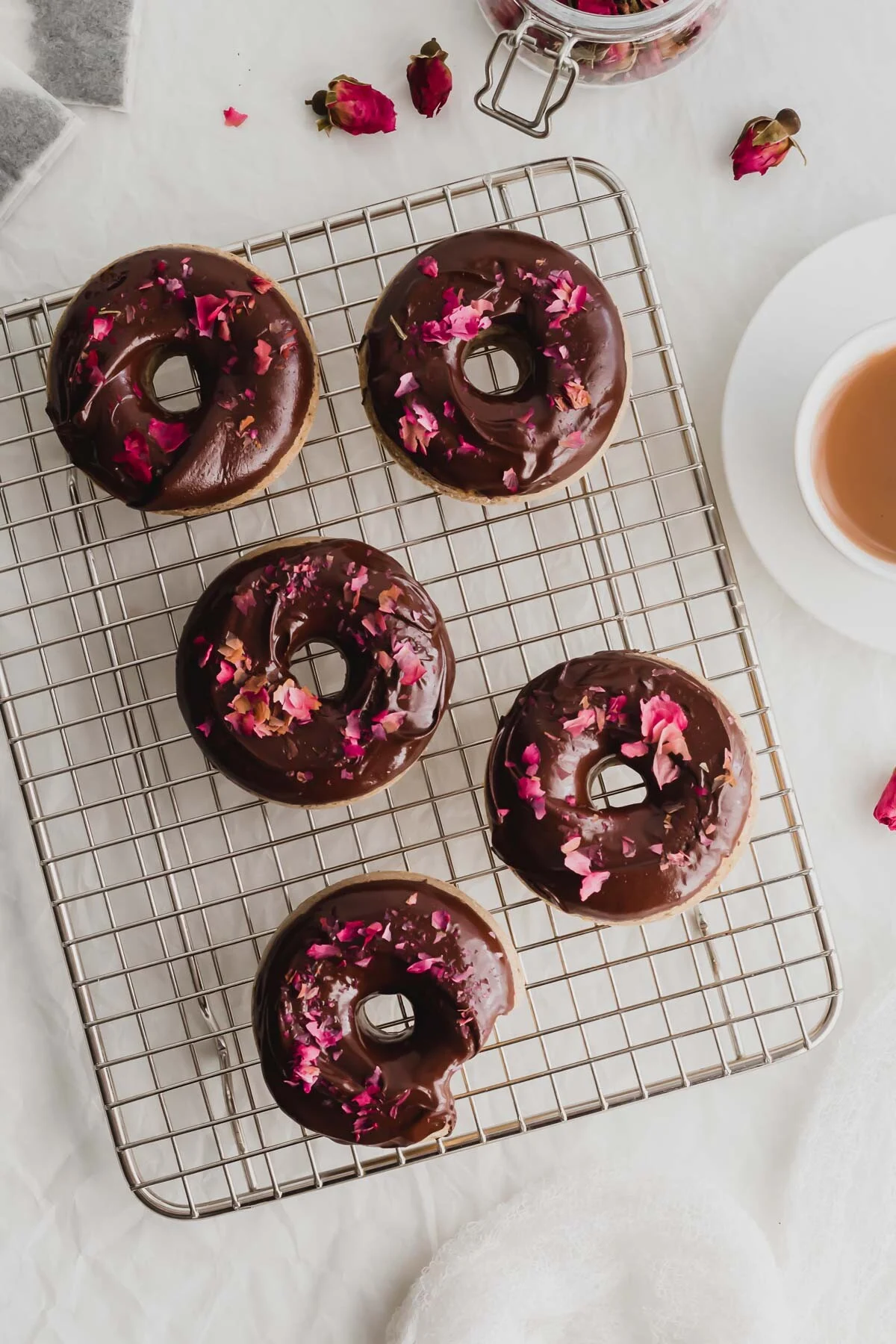 These Earl Grey doughnuts from Sift And Simmer are light and airy thanks to a special ingredient. And Earl Grey tea is a black tea infused with bergamot—bergamot has a bright, citrusy flavor—and it works very well in pastries.
The donut is cakey with an attractive fleck-filled appearance. You'll discover more of that characteristic Earl Grey flavor in the chocolate glaze. And to make it one of the prettiest donuts on this list, they are decorated with edible rose petals.
Visit Sift And Simmer for the recipe.
Bailey's Donuts With Chocolate Glaze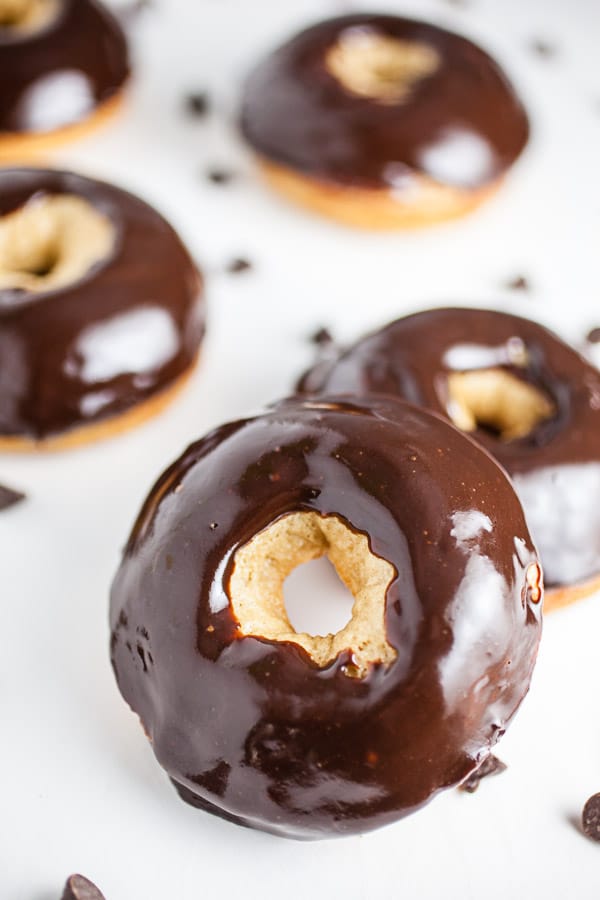 Christine, the blogger behind The Rustic Foodie, isn't exactly playing fair with these Bailey's donuts with chocolate glaze. With this magnetic baked creation of hers, it would seem as though she's on a mission to interrupt diets everywhere.
The easy, baked donut recipe calls for Bailey's Irish Cream—a blend of cream, cocoa, and Irish whiskey. Indeed, it's delicious with chocolate notes, vanilla notes, and a slight fruitiness from the whiskey. And guess what? That flavor goes in both the donut and the chocolate glaze!
Visit The Rustic Foodie for the recipe.
Air Fryer Jelly Donuts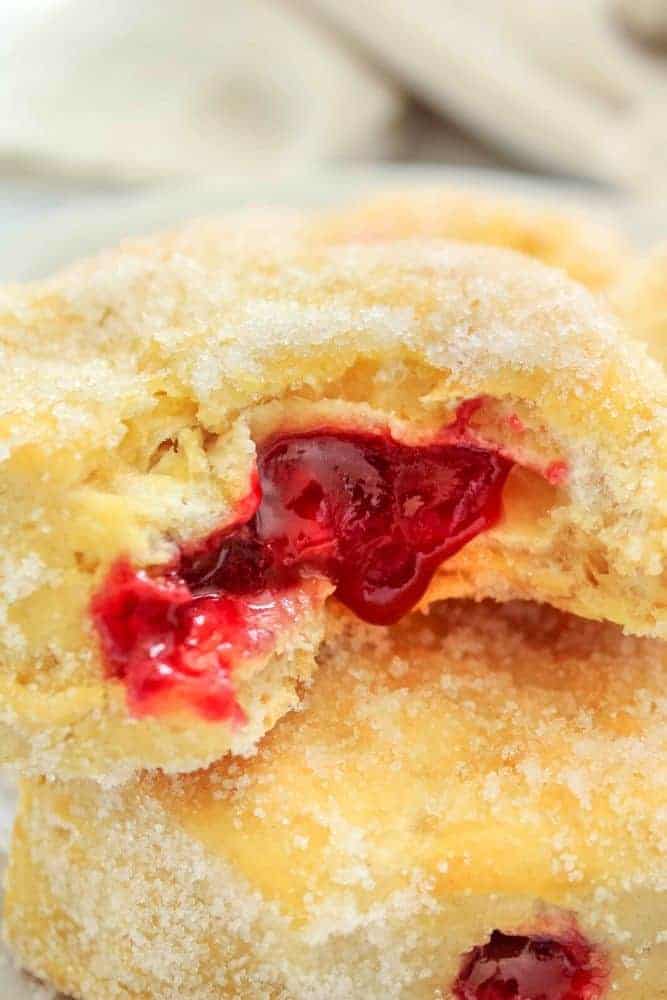 You won't find an easier donut recipe without yeast than these mouthwatering air fryer jelly donuts from Samantha of Everyday Family Cooking.
This four-ingredient donut couldn't be simpler. You air fry canned biscuits, brush them with butter, toss them in sugar, and fill them with jelly. They're almost too easy!
Visit Everyday Family Cooking for the recipe.
Baked Cherry Bakewell Doughnuts Recipe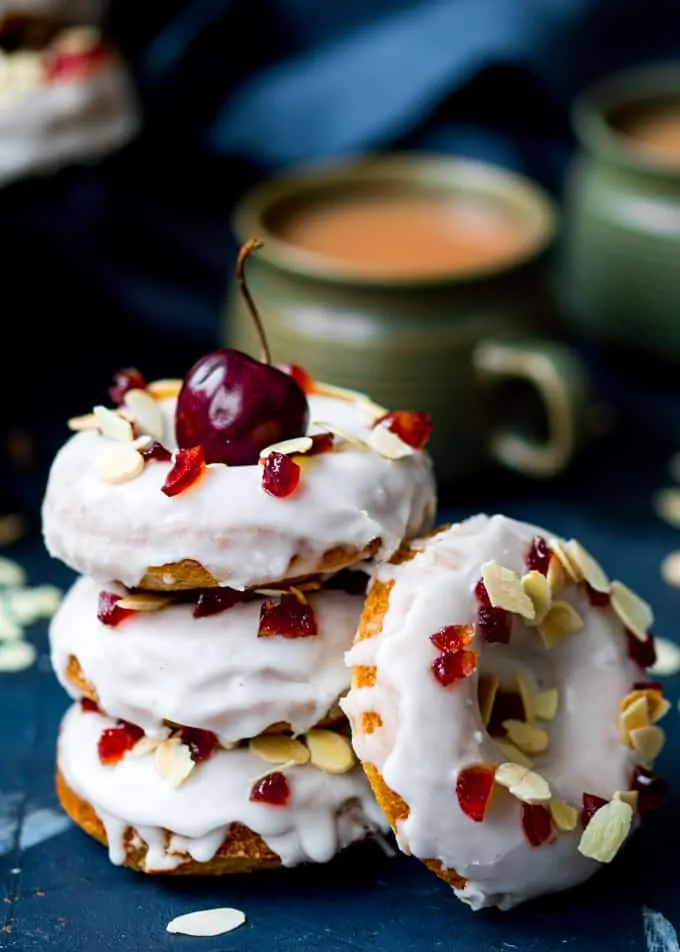 So, Bakewell is a shortcrust pastry whose flavor is characterized by almonds and jam. And for Nicky, the mere sight of them is irresistible. So, these baked cherry donuts from Kitchen Sanctuary are Nicky's delicious translation of the English tart.
On her page, you'll find a straightforward donut recipe with both vanilla and almond extracts. They are coated in a simple glaze, then topped with candied cherries and sliced almonds.
Visit Kitchen Sanctuary for the recipe.
Pancake Mix Donuts With Maple Glaze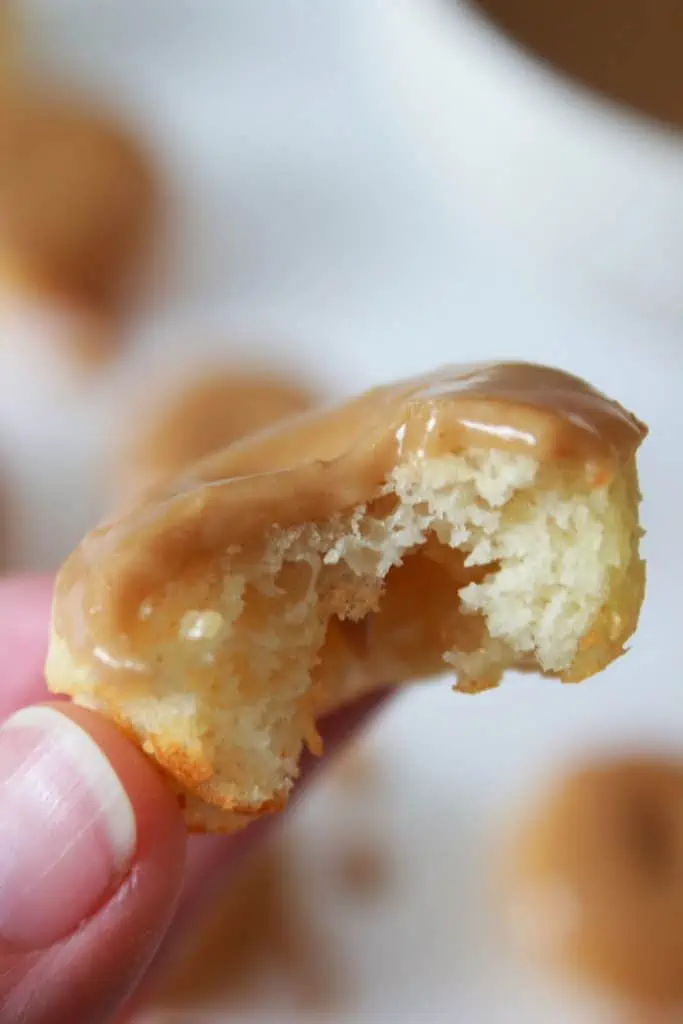 These baked mini pancake mix donuts from June are Practically Homemade. There's nothing fussy or fancy about this recipe using Bisquick as the base. But what's incredible is that you get the flavors of pancakes, including the maple syrup in the fun shape of a donut.
Plus, you'll love that, including the maple glaze, you can make this cute breakfast recipe in less than 25 minutes.
Visit Practically Homemade for the recipe.
Mini Coconut Donuts Recipe
At 24 Bite, Christian provides the neatest recipe ideas using common ingredients like these mini coconut donuts. You can make the tiny treats in your oven or the specialized Brentwood donut maker. Either way, it's fun for the entire family.
Christian guides you through everything, like his super secret ingredient for making your donuts moist and tender (you'd never guess) and his special tool to pick them up after dipping them in the glaze.
Fresh Strawberry Donuts
These donuts aren't the only strawberry recipe you'll find at Coffee With Us 3. We're here to tell you there are some genuinely glorious treats made with strawberries there, like cakes, trifles, and bars. Oh my!
But these 20-minute fresh strawberry donuts are the sweet breakfast treat of your dreams. Each bite is full of the tangy and sweet flavor we know and love. And while you can make them all year, they are best during peak strawberry season.
Visit Coffee With Us 3 for the recipe.
Vegan Gingerbread Donuts
These delicious gingerbread donuts from Anthea of Rainbow Nourishments challenge preconceptions of vegan food. They're delicious no matter your diet.
While they bake, you'll smell the unmistakable scent of gingerbread that harkens back to those nostalgic cozy feelings of Christmas.
But best of all, the beautifully dressed six-ingredient, dairy-free treats are baked in just 30 minutes, which is right before you'd run out of patience.
Visit Rainbow Nourishments for the recipe.
Zesty Grapefruit Baked Donuts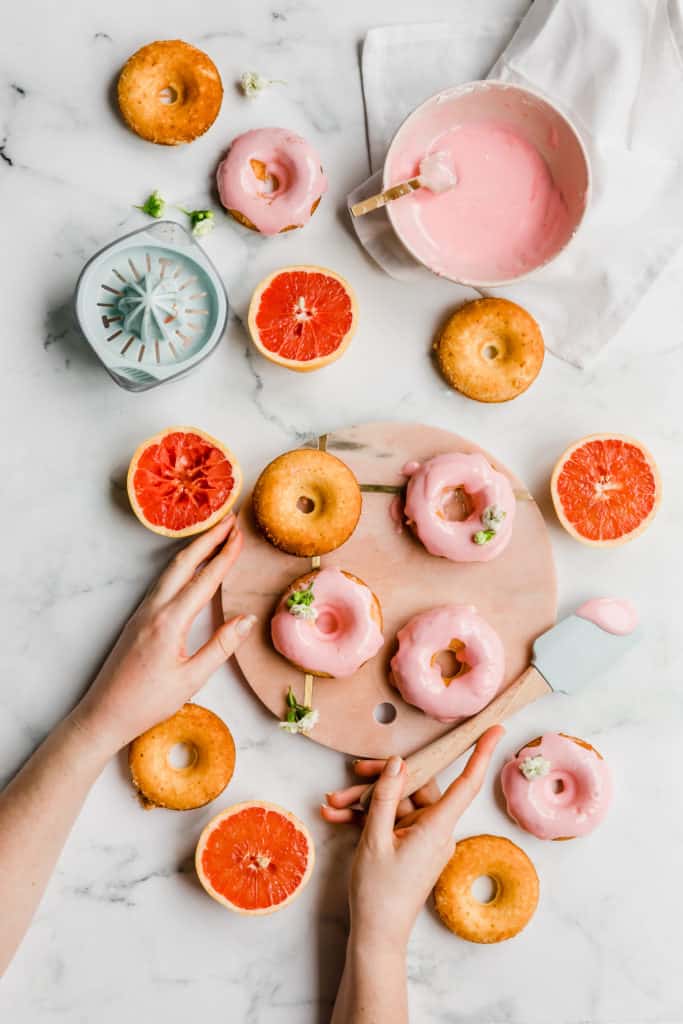 Inspired by a stroll through the produce section of the grocery store, these tasty donuts from Clara of Baking Ginger are the shot of life you need on a lazy Sunday morning.
Ruby red grapefruit has a distinctive taste—floral, sweet, and sour—and it isn't the most common citrus you see in pastries. But here, that exquisite flavor is present in both the donut and the glaze.
Visit Baking Ginger for the recipe.
Banana Maple Munchkins (Donut Holes)
Are you tired of banana muffins and bread? Well, the next time you have overripe bananas lying around, make these banana maple donuts from Tracy of Served From Scratch instead. It's an interesting change-up.
But we haven't even shared the most exciting part yet! These banana donut holes are deep-fried to golden brown perfection. And when these little guys come out of that hot oil, toss them in cinnamon sugar or dip them in a maple glaze. Yummy!
Visit Served From Scratch for the recipe.
Baked Ube Donuts Recipe
Perhaps the most eccentric donut recipe without yeast on this list are these baked ube (purple yam) donuts from Jolina of The Unlikely Baker. While many other ube recipes contain just the flavoring, these deeply purple treats contain the jam too.
But the most interesting part of this dessert is the toppings. So one option is the shredded coconut. The other is shredded cheddar cheese. Yes, you read that right! How interesting!
Visit The Unlikely Baker for the recipe.
Cinnamon Roll Donuts
At Savor The Spoonful, you'll find delicious baked cinnamon roll donuts with a cinnamon sugar topping drizzled with a luscious vanilla glaze. But what Samantha doesn't put in her recipes is dairy. But don't worry, you won't miss it!
The 30-minute treats hit the dessert exacta; they're easy and delicious. They're also soft and moist, thanks to Samantha's expert ingredient picks. So, consider making them as an alternative to Christmas morning cinnamon rolls.
Visit Savor The Spoonful for the recipe.
Which Donut Recipe Without Yeast Will You Try First?
At this point, you've explored many donut recipes without yeast. So, which one are you most excited to try first? There are so many delicious options here, but we really like the zesty grapefruit, banana munchkins, and Bailey's donuts.