Are you looking for some compelling Cinnamon Desserts that go beyond basic, regular, and mundane cinnamon rolls? Well, you're in luck, my friend, because we curated a list of 20 cinnamon treats from talented food bloggers to quell your curiosity.
So how does a Cinnamon Toast Crunch Cake sound? Or maybe sophisticated French Toast Bites? And if you're looking for something super simple, check out the Puff Pastry Cinnamon Twist. There's something for everyone! So are you ready to discover with us?
Let's dive in!
By the way, if you like these sweet treats, check out this list of best baked donuts.
Puff Pastry Cinnamon Twist
Keep ravenous dinner guests satisfied while you finish the main course with these crispy Puff Pastry Cinnamon Twist from Chef Molly. The elegant yet effortless treat requires just five simple ingredients, including the freezer aisle pastry dough, cinnamon, and sugar. And all you have to do is dethaw, unroll, sprinkle, cut, twist, and bake.
Cinnamon Toast Crunch Cake
This Cinnamon Toast Crunch Cake from Liv For Cake can be the star of an epic birthday party celebration. Why? Because we're sure that you know a fan of the cereal. So here's the deal. It all starts with three cereal milk-infused cinnamon cakes. But separating those layers is luscious cream cheese frosting with cinnamon cereal crumble. And finally, you frost the outside of the cake before coating it with more crumble. So, if that's not an epic cinnamon dessert recipe, what is?
Carrot Spice Cake with Brown Butter Frosting
While cinnamon is the predominant spice in this Carrot Spice Cake with Brown Butter Frosting from the The Sage Apron team, it's not the only flavor that'll make your taste buds sing. Carrots, apples, nuts, and other spices also do their thing. It's a cake they describe as the best, and if the immaculate presentation is any indication, they may be on to something.
Cereal Milk Cinnamon Rolls with Ube Cream Cheese Frosting
So this isn't the first time we've covered an Ube-flavored dessert from Shweta of Masala & Chai. Last time, it was a rice cereal treat recipe. However, it's Cereal Milk Cinnamon Rolls with Ube Cream Cheese Frosting this time. First, as the title describes, it's a cereal milk-flavored cinnamon roll. Then, there's cereal in the cinnamon brown sugar filling. And finally, there's a playful purple ube cream cheese frosting again with more cereal on top. Yeah, the child in us can't resist!
French Toast Bites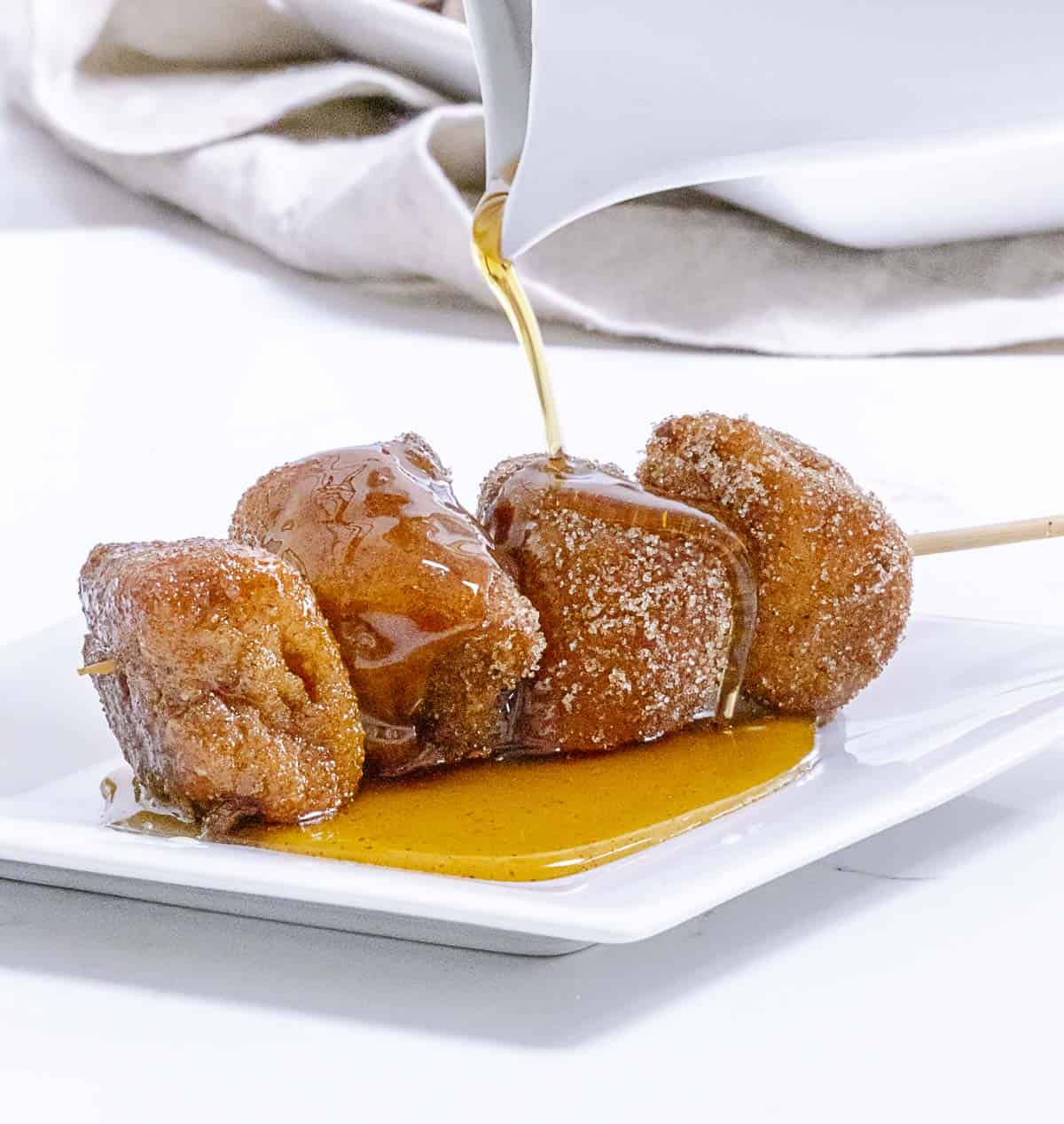 Aleka's Get-Together is your destination for all things party food like these playful yet surprisingly sophisticated French Toast Bites. She uses brioche, the best bread ever, and a secret ingredient to give it an extra crunch. And in addition to a trustworthy recipe, you'll also find her tips for success, like presentation ideas and why you need to use day-old bread.
Cardamom and Cinnamon Caramels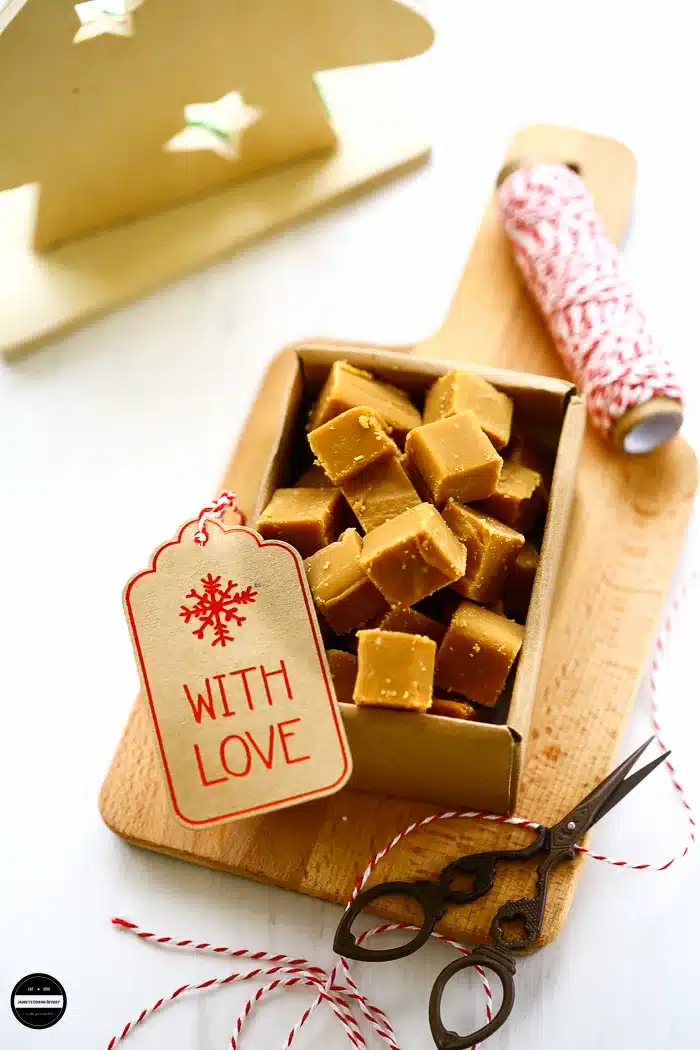 These Cardamom and Cinnamon Caramels from Hayley of J Cooking Odyssey are perfect for the holidays with an unexpected yet satisfying flavor. The buttery, melt-in-your-mouth treats are easy to make with just a handful of ingredients, including sweetened condensed milk, brown sugar, and spices. Prep and cooking time are less than 20 minutes. Then, once they cool, cut them into bite-sized squares, and package them up like Shweta for a tasty neighbor or coworker food gift.
Sourdough Cinnamon Rolls with Brown Butter Cream Cheese Frosting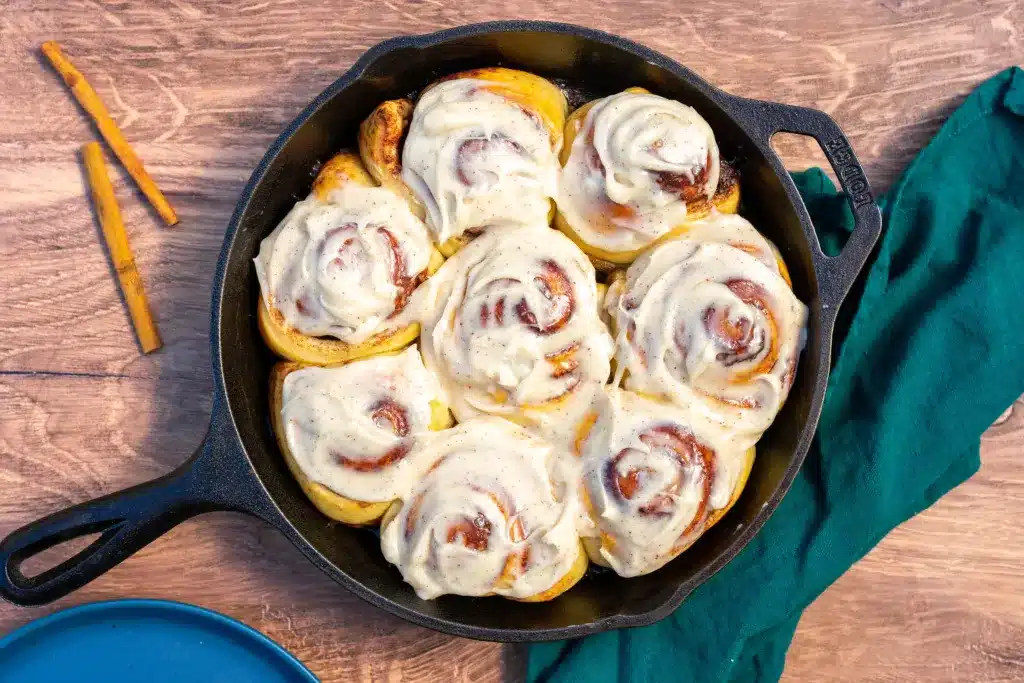 These Sourdough Cinnamon Rolls from Sourdough Brandon are the ultimate sweet rolls. Because unlike your run-of-the-mill offering, this fare is made of brioche sourdough for a pull-apart, pillowy soft texture. And while they are sweet, they're not overly so. They're balanced by the tang from the dough and brown butter cream cheese frosting.
Visit Sourdough Brandon for the recipe.
Candied Pecan Fudge Recipe
This Candied Pecan Fudge Recipe from Julie of Lemon Peony is a cinnamon dessert you'll go back to over and over again. Why? Because each bite of this six-ingredient treat features candied pecans suspended in browned buttery white chocolate fudge. But if that weren't enough, you'll be happy to know you can whip up sixteen servings in just 20 minutes.
Visit Lemon Peony for the recipe.
Cinnamon Pecan Rugelach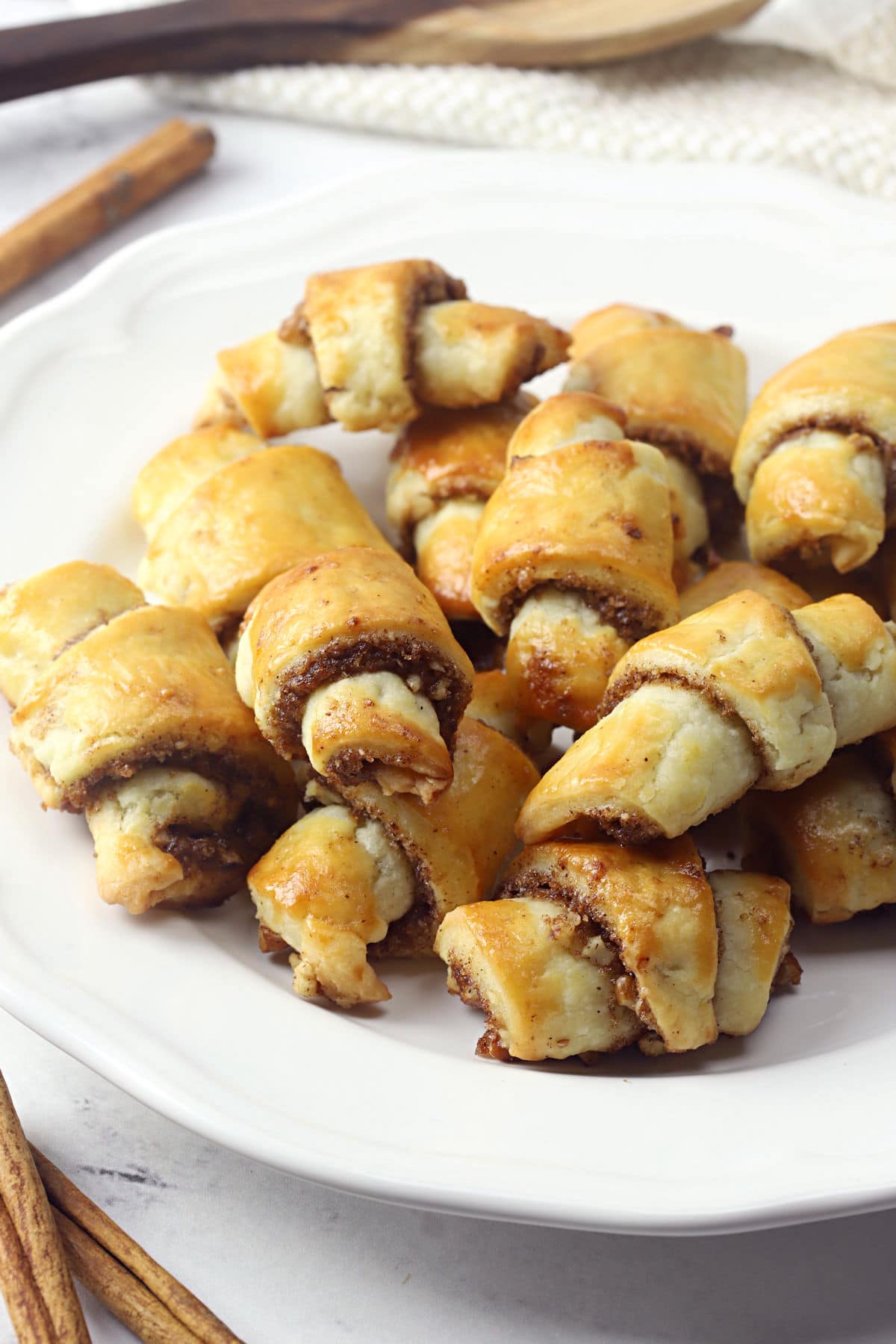 Heather of The Toasty Kitchen shows you how to make bite-sized Cinnamon Pecan Rugelach from scratch. Her Rugelach, or "little twist," is a cant-eat-just-one dessert taking just 20 minutes to prep. They start with a cream cheese pastry filled with a pecan, brown sugar, and cinnamon filling before you brush with egg wash and bake for a much anticipated Hannukah or Christmas dessert table addition.
Visit The Toasty Kitchen for the recipe.
Churro Pancakes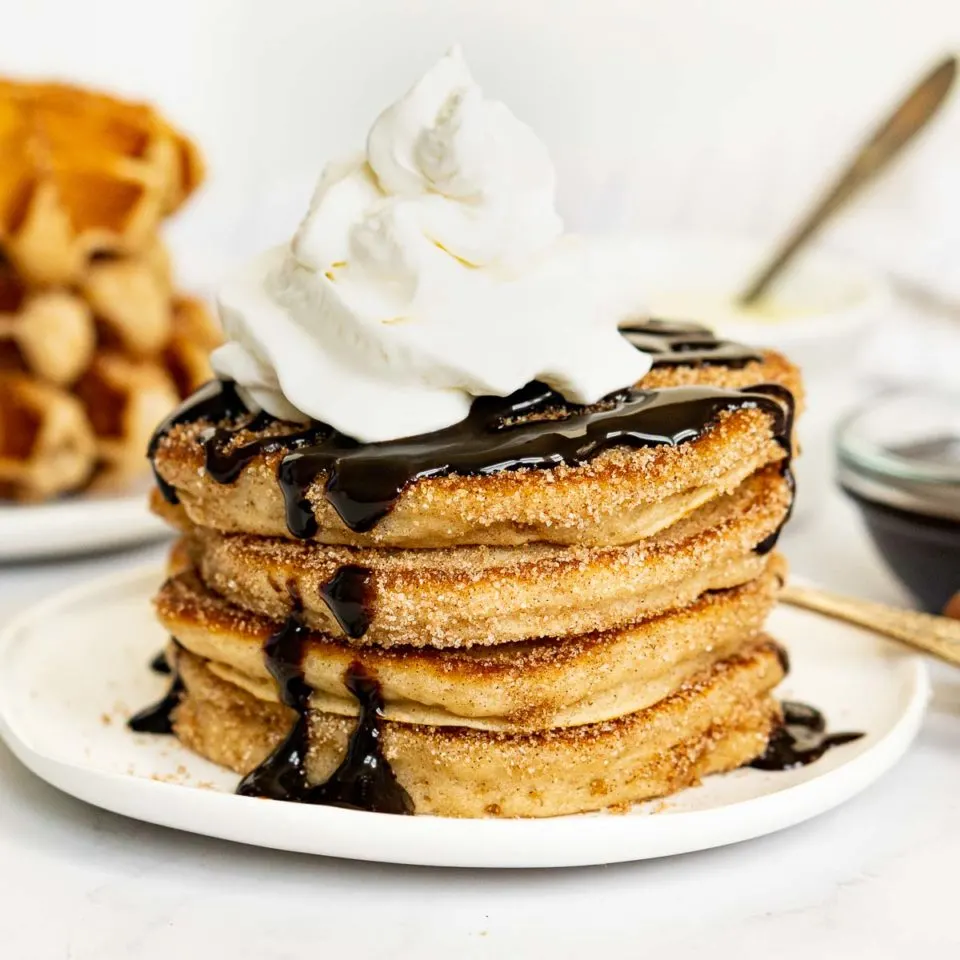 Don't ask whether these Churro Pancakes from Kate of Babaganosh are breakfast or dessert. Instead, just grab a fork and go to town! Each buttery flapjack is tossed in cinnamon sugar and drizzled with sauce or sweetened condensed milk (or both) for a spin on the classic Mexican treat. This one is sure to become a Sunday morning favorite.
Visit Babaganosh for the recipe.
Copycat Sprinkles Triple Cinnamon Cupcakes
For many, this Copycat Sprinkles Triple Cinnamon Cupcakes recipe from Chef Lindsay Farr will be the first time hearing of the legendary bakeshop. So if you don't do life within driving distance of one of their stores, nationwide shipping is available. Otherwise, try your hand at this recipe. First, you make the buttermilk cinnamon cupcakes which are dense yet moist. Next, frost them with the luscious cinnamon-spiked cream cheese frosting before rolling the whole thing in more cinnamon sugar.
Visit Chef Lindsay Farr for the recipe.
Easy Dulce De Leche Dessert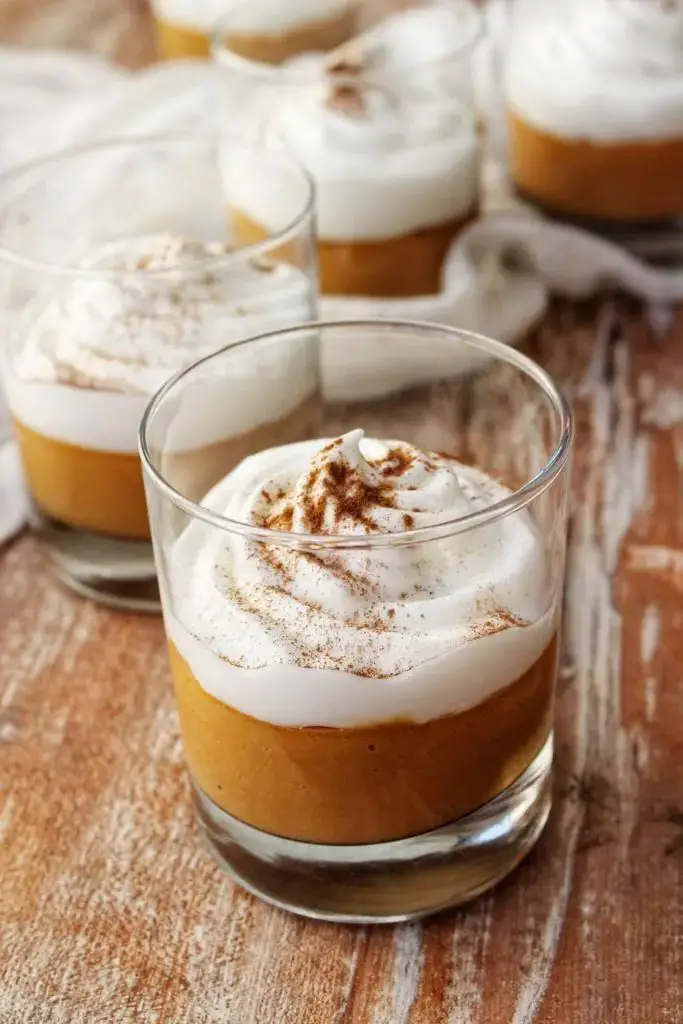 This Easy Dulce De Leche Dessert from Irene Mercadal is a simplified version of the more labor-intensive suspiro limeño. It's a creamy, custardy, caramelly, elegant dessert in a cup topped with meringue and finished with a sprinkle of cinnamon. And it comes together quickly thanks to the shortcut, whereby you use prepared dulce de leche instead of making it from scratch.
Visit Irene Mercadal for the recipe.
Easy Cinnamon Roll Cookie Bars
These Easy Cinnamon Roll Cookie Bars from Amy of DIY Candy are your new crowd-pleasing favorite. But, of course, they're also easy to boot. So here's why they'll make your roster. The no-bake treats are full of prepared ingredients like cinnamon bun Oreos, cream cheese, chocolate chips, and butter for a treat all will enjoy on your family's next movie night.
Visit DIY Candy for the recipe.
Caramel Apples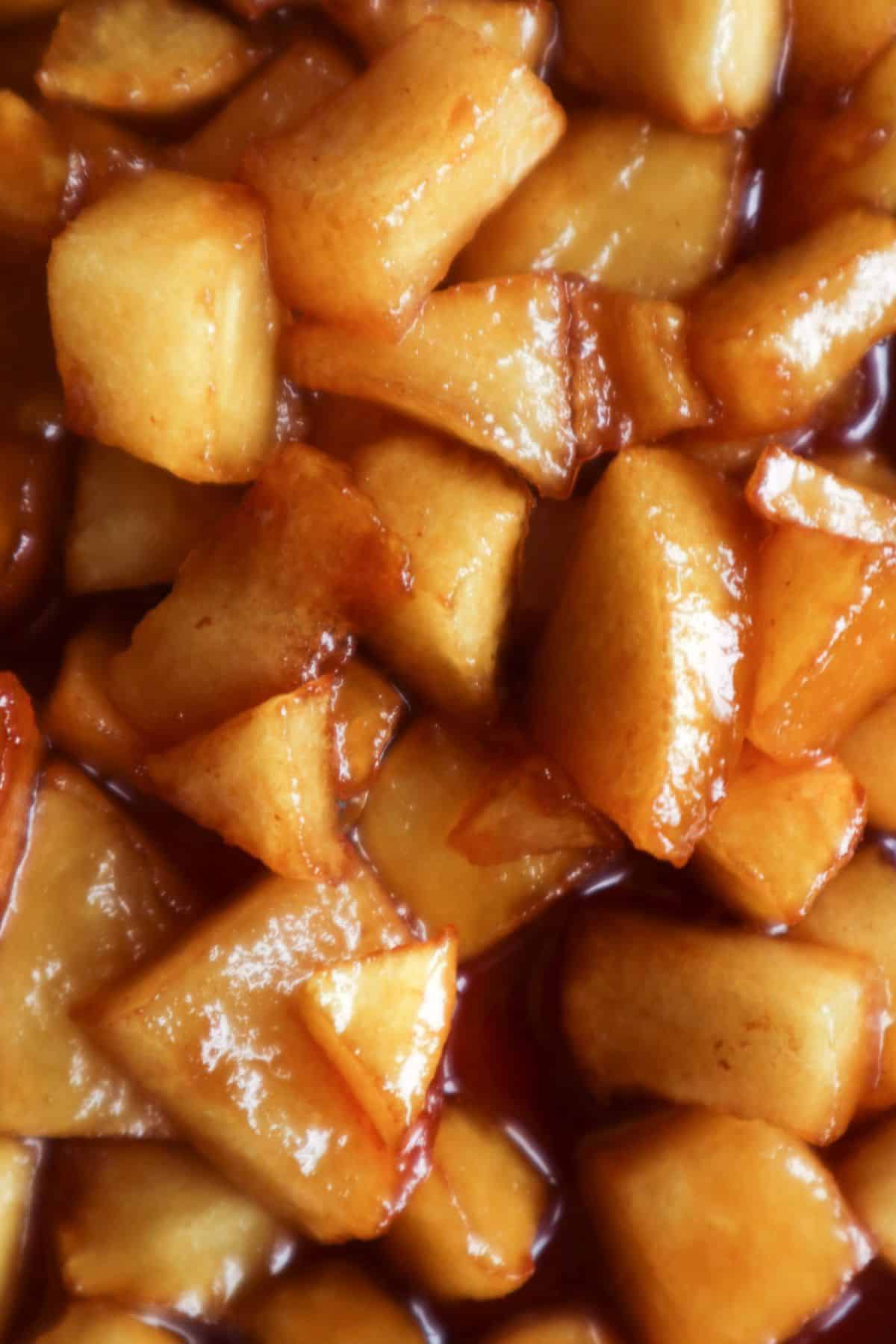 Similar to what we made in our Caramel Apple Elephant Ears recipe, this Caramelized Apples recipe from Nutmeg & Vinegar is what you want to go with your ice cream. It's a simple six-ingredient topping, including sugar, honey, and your favorite apples. What's more, it takes just 20 minutes to make and is sure to be a hit.
Visit Nutmeg & Vinegar for the recipe.
Hoosier Sugar Cream Pie
We might not know the State Of Dinner, but with this Hoosier Sugar Cream Pie from Erin, we know what's for dessert. First, the indulgent sweet is luxuriously creamy, starting with a pastry crust (homemade is encouraged). Next, make the six-ingredient filling with butter, heavy cream, vanilla, and sugar. However, the part you'll love most is the creme brulee top.
Visit State Of Dinner for the recipe.
Apple Cake with Apple Cider Glaze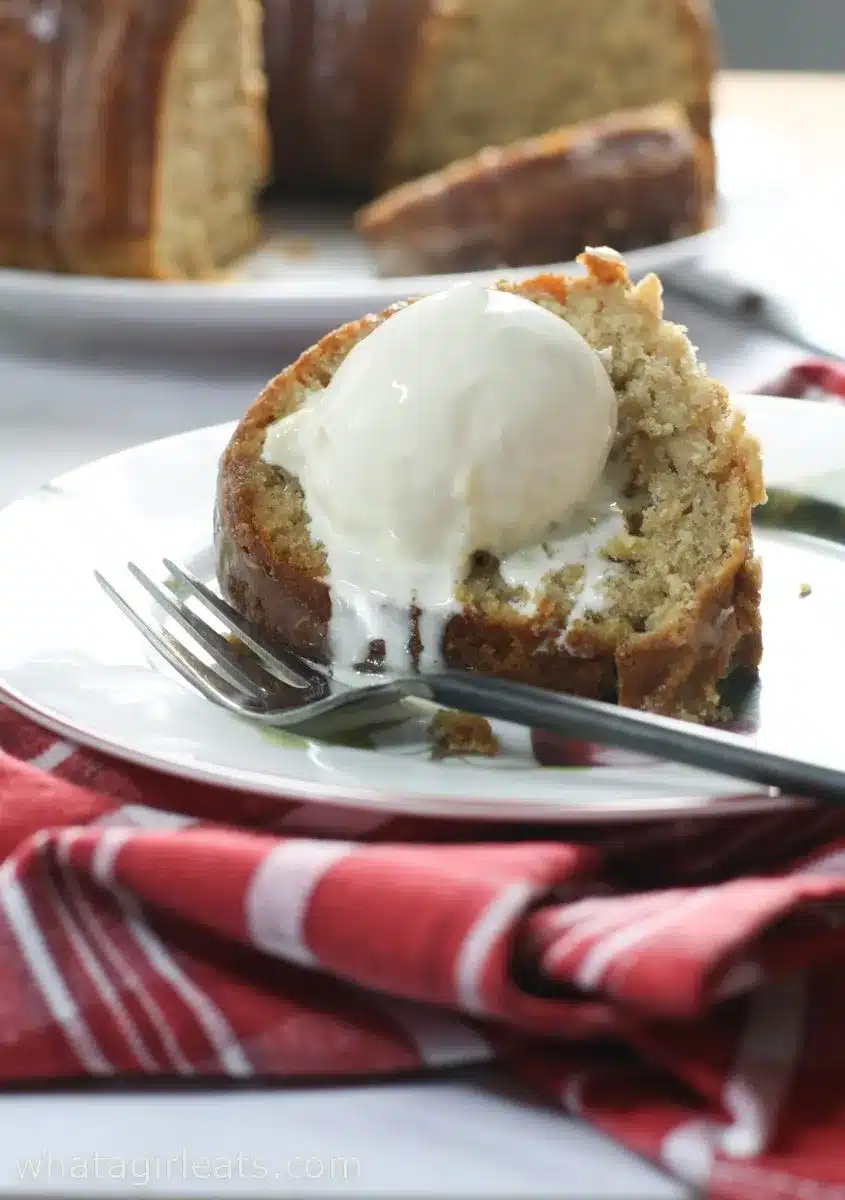 With this Apple Cake with Apple Cider Glaze, Cynthia of What A Girl Eats reminds us that while apples taste good year-round, September is the best time for apple treats. The cake itself is buttery and filled with fresh apples, cider, and warm spices. At the same time, the glaze is an intensely flavorsome apple cider and cinnamon reduction.
Visit What A Girl Eats for the recipe.
Cinnamon Banana Bread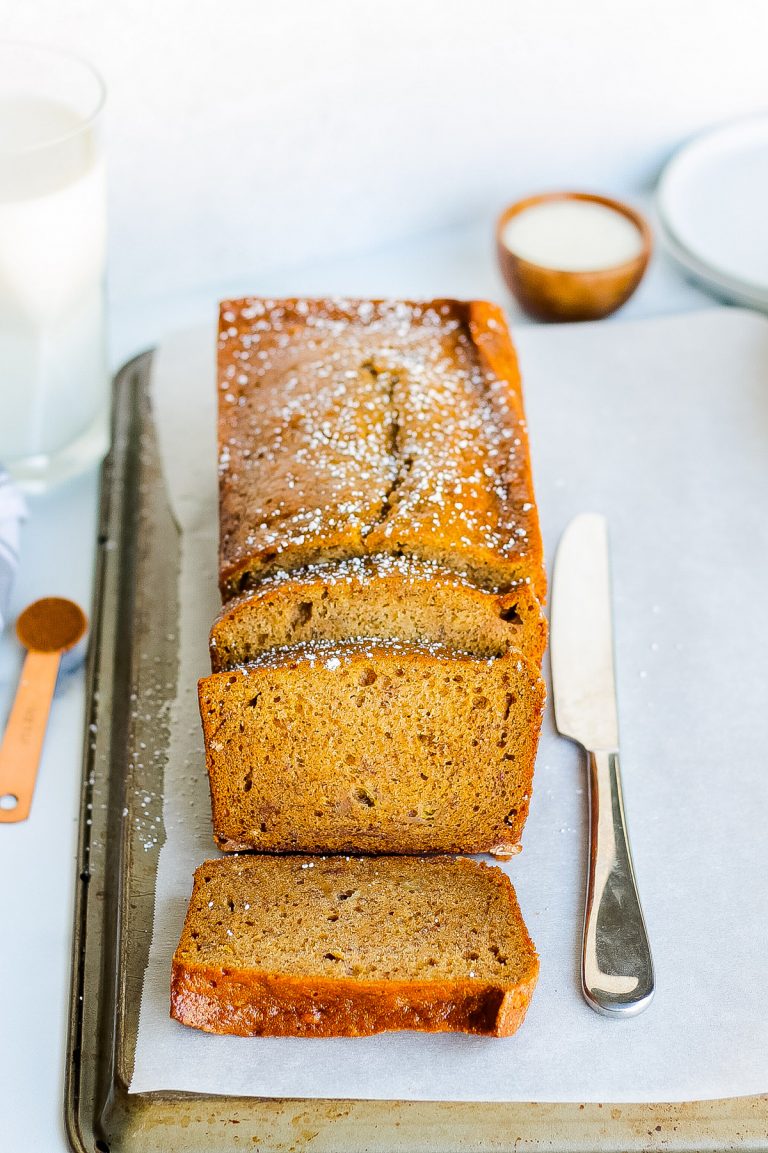 This one-bowl Cinnamon Banana Bread from Kathryn's Kitchen Blog is a moist and delicious treat with vanilla, butter, and ripened bananas. However, unlike other banana bread recipes, this one has a cinnamon sugar crust, which Kathryn calls, the best part. We think the best part is you can get away with eating it for breakfast.
Visit Kathryn's Kitchen Blog for the recipe.
Cinnamon Roll Cake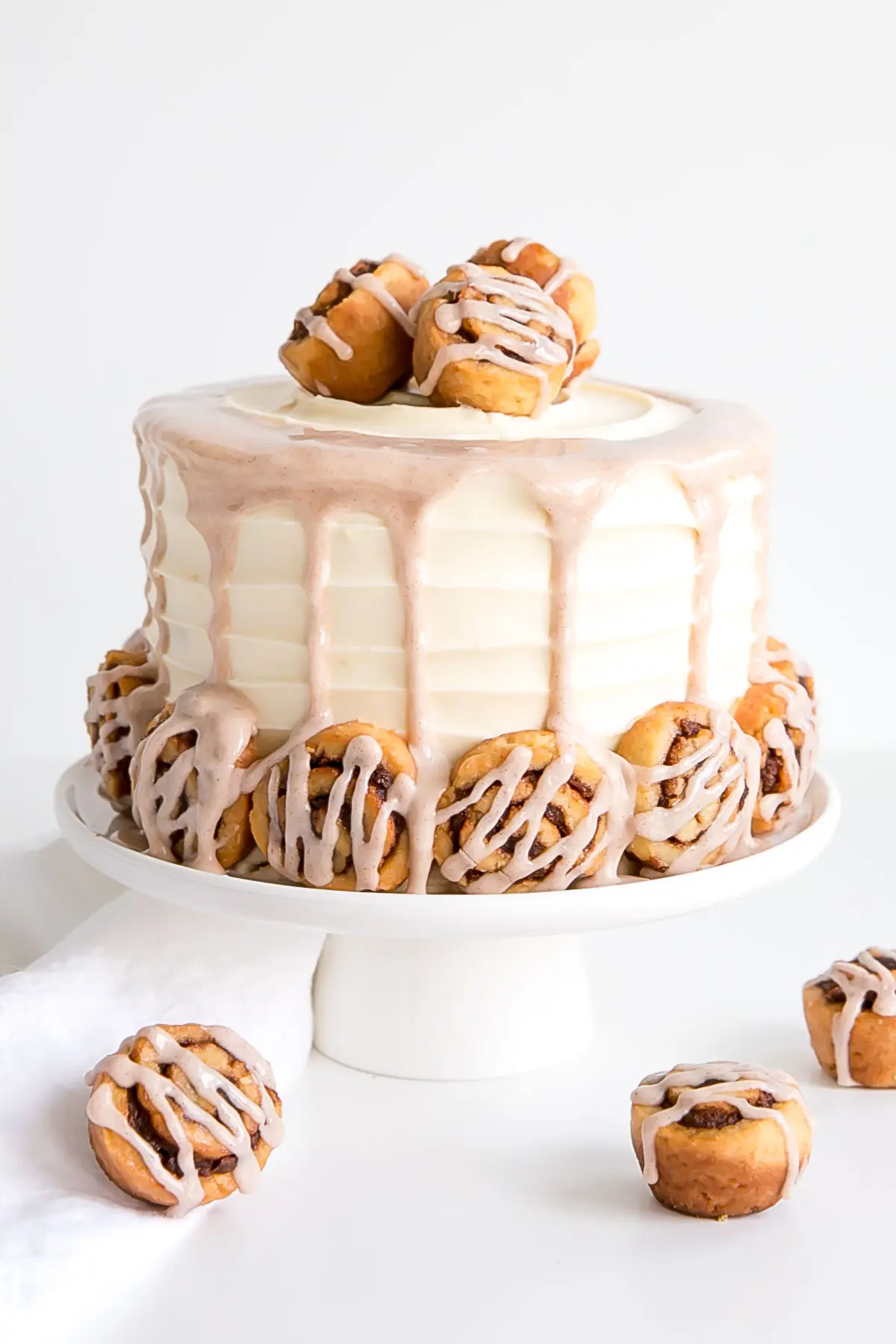 With this absolutely stunning Cinnamon Roll Cake, you're going to Liv For Cake. At five hours, start to finish. It's epic—a project, even, but worthwhile. There are cinnamon rolls between two moist and mouthwatering cinnamon swirl cakes. So it goes, cake, cinnamon rolls, cake. Between those layers is a finger-licking tangy cream cheese frosting which you'll also find on the outside.
Visit Liv For Cake for the recipe.
Air Fryer Churros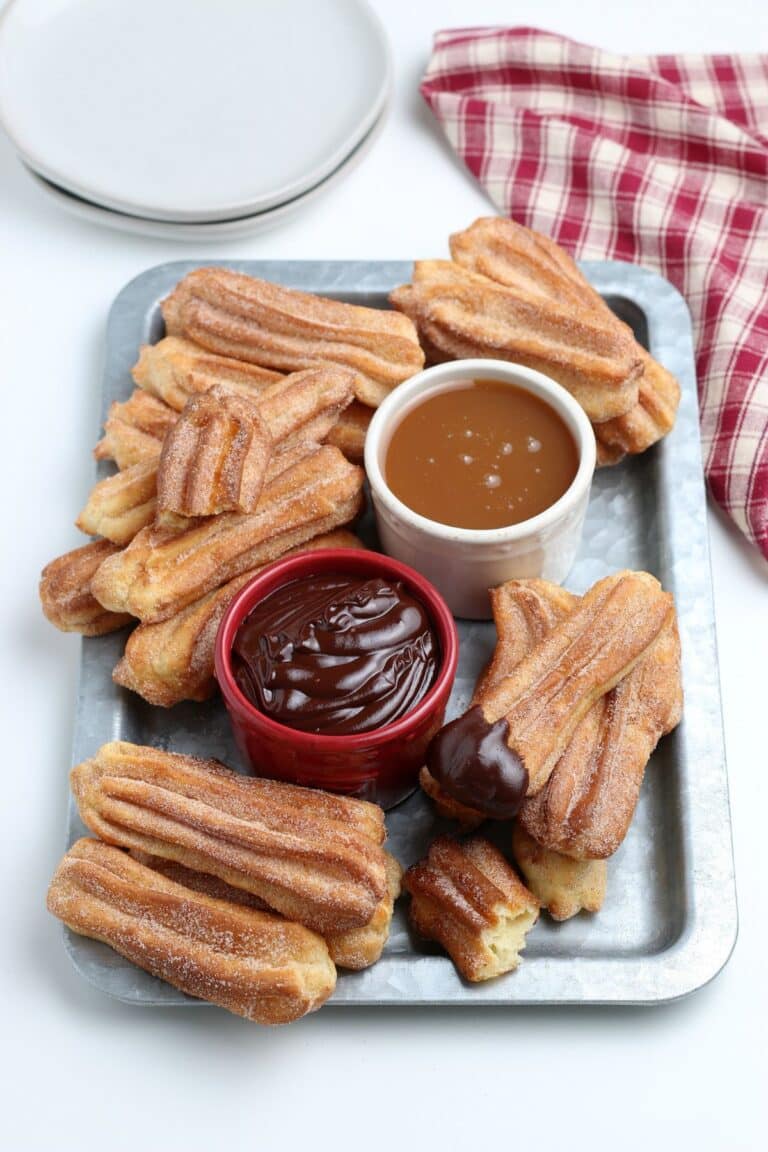 No one's going to pass over a platter of deep-fried churros. But making them at home is a different story altogether. So instead, when that cinnamon sugar bug bites, and you must indulge, turn to this Air Fryer Churro recipe from Home Fresh Ideas. They're still crispy and still delicious, but without the guilt. Plus, Felicia shows you all her tips and tricks and even troubleshooting so your snack comes out just right.
Visit Home Fresh Ideas for the recipe.
Snickerdoodle Cookie Recipe
In case you weren't aware, Snickerdoodle Cookies aren't just cinnamon-coated sugar cookies. Instead, they have a unique quality: a slightly tart flavor that contrasts nicely with the sweetness. There's also more rise and chew, thanks to a special ingredient. But, of course, the key to getting desired results is a good recipe, so we'll let Nikki of Tikkido take over from here.
Which Cinnamon Desserts Will You Try First?
You've seen the cakes, the pie, the cookies, and everything else in between. So which cinnamon dessert recipe sparks your interest most? For example, you've seen a brioche sourdough cinnamon roll. It's perhaps the best sweet roll we've ever come across. But then, there's a snickerdoodle recipe with expert guidance and many more. So, what will it be? We'd love to know!
Looking for more dessert recipes? See this list of easy custard desserts.