We love Rice Krispies treats and other cereal dessert recipes. So, naturally, we put together this list of 20 easy Rice Krispies treat recipes.
But what makes homemade Rice Krispies treats so amazing?
We love that cereal treats are no bake, making them perfect for those unbearably hot summers. Also, they're easy to make with simple ingredients. And last but not least, they are infinitely customizable.
So keep reading and you'll find inspiration from this list of 20 irresistible Rice Krispies treats recipes made by talented food bloggers.
Let's dig in!
Jump to:
20 Easy Rice Krispies Treats Recipes To Try
Below you'll discover all kinds of Rice Krispies cereal bars to make. You'll find everything but a classic Rice Krispies recipe on this list. We have peanut butter Rice Krispie treats, a Rice Krispies nest, and a wreath. And then there are some with butterfingers, milk chocolate, caramel, etc. Need a treat for a holiday? There are treats for Christmas, Easter, and even a birthday party. It's a great list, and you're going to love it!
Butterfinger Butterscotch Krispies Treats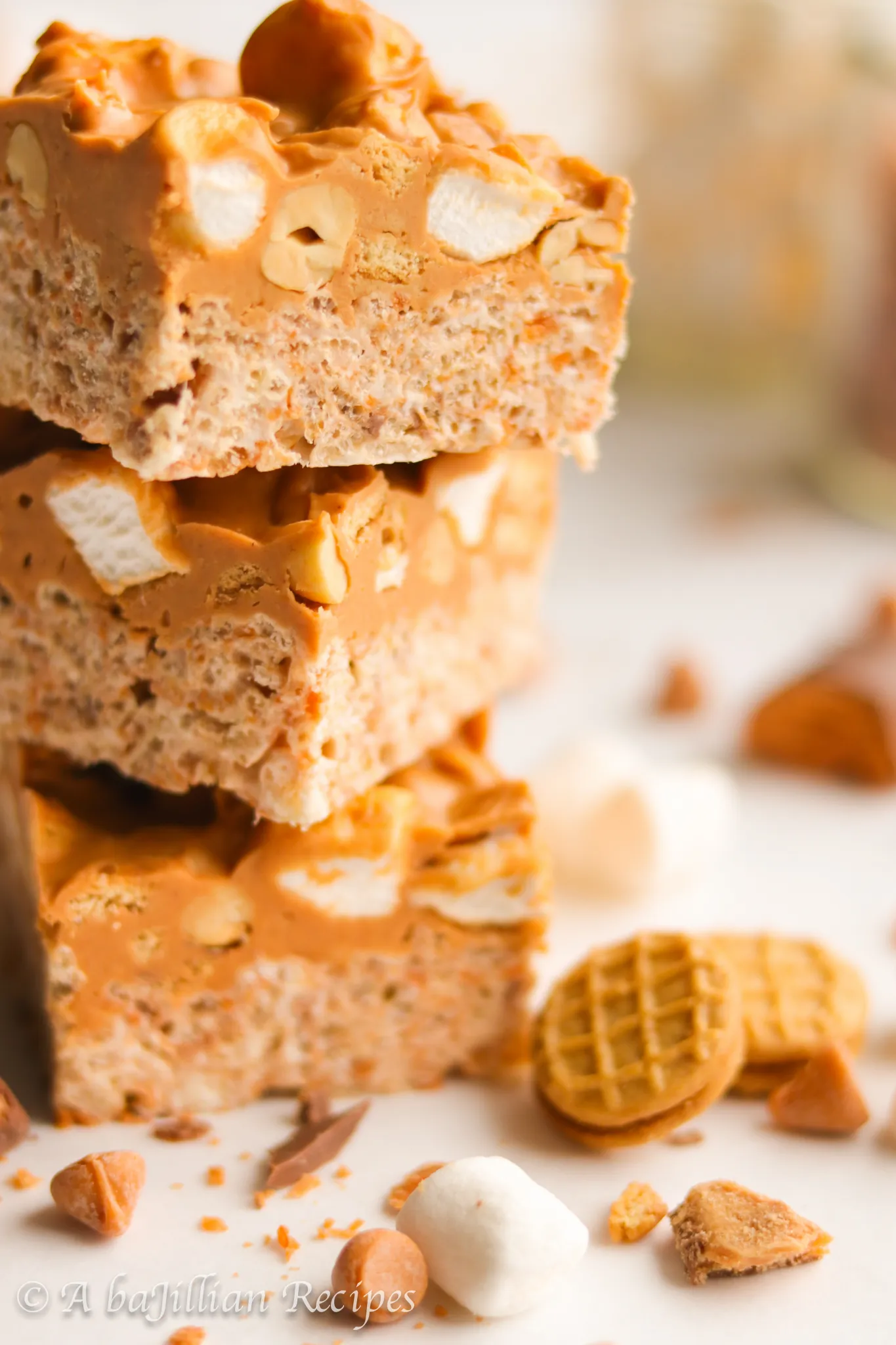 These Krispies treats from Jillian of A BaJillian Recipes are required eating for peanut butter lovers. Seriously, these things are overflowing in the best way possible with peanut-buttery deliciousness. Let's see, peanut butter, Butterfinger pieces, nutter butter cookies, butterscotch chips, marshmallows, and more are jam-packed inside each square. Yes, more! Okay, so after you stop drooling, you can start your grocery list. But we're betting if you make them after Halloween, you'll have plenty of leftover Butterfingers.
Visit A BaJillian Recipes for the recipe.
Ombre Ube Rice Krispies Treats
When you look at these vibrant ombre ube Rice Krispies treats from Shweta of Masala And Chai, you think, "now that's something you don't see every day." And you don't, it's a fantastic fusion of the dessert everyone loves and ube. Ube is the purple yam and the main ingredient in many popular desserts from the Philippines. But fret not if you can't get your hands on the violet yam. This simple recipe calls for ube extract. So you get the essence of the root vegetable without the fuss. And to get the purple color, you add food coloring.
Visit Masala And Chai for the recipe.
Salted Caramel and Twix Rice Krispies Treats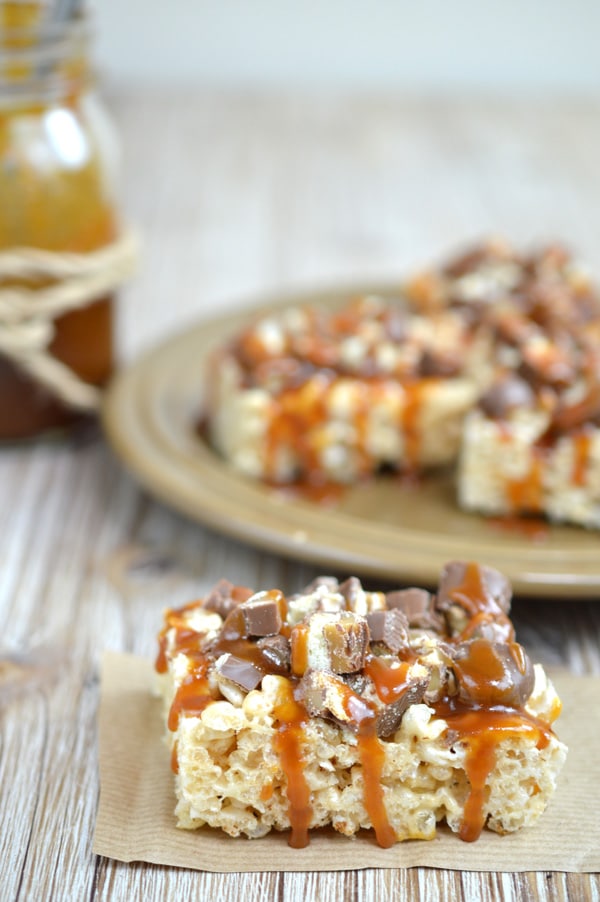 An unfruitful search for marshmallows became the motivation for Cindy of Italicana Kitchen to make this salted caramel Rice Krispies treats recipe. As an American transplant living in Italy, she is surrounded by beautiful scenery, cultured people, and some of the best food on the planet. But sometimes, she craves a taste of home. Namely, Rice Krispies treats! This version is fancier than the box recipe. On top, you'll find salted caramel and one of America's favorite candy bars, Twix.
Visit Italicana Kitchen for the recipe.
Reese's Rice Krispies Treats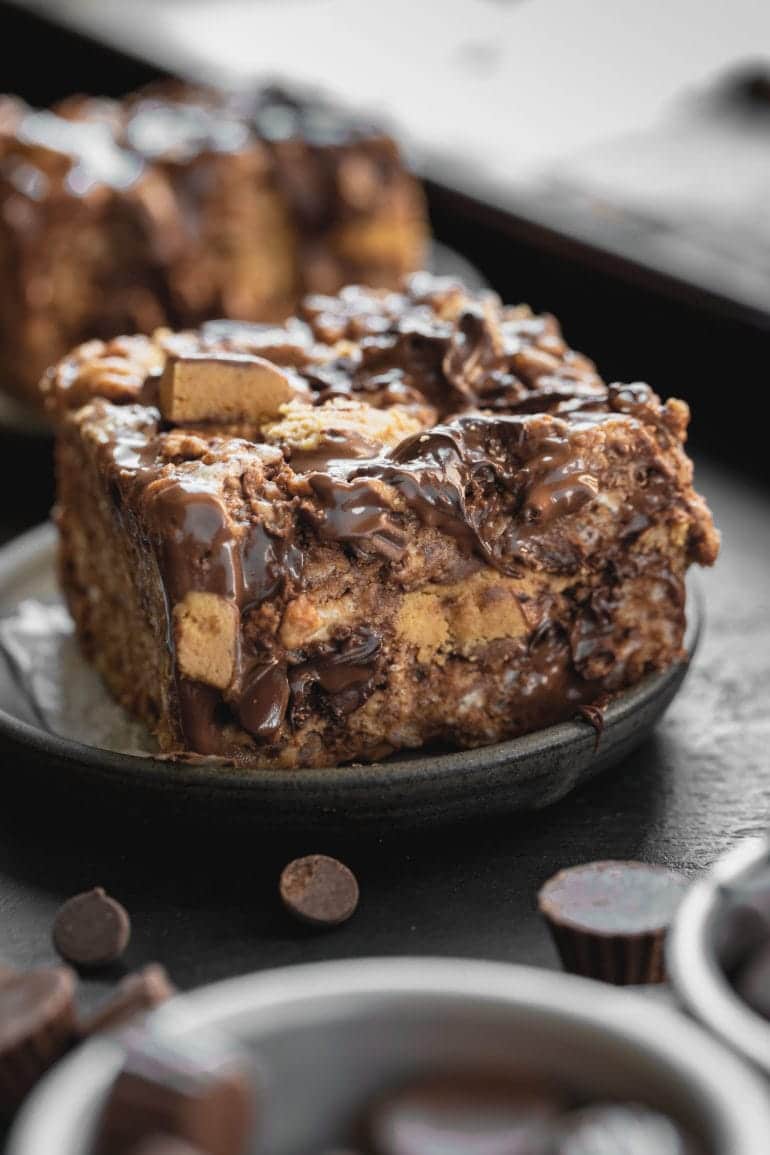 With just one look at these luscious and indulgent Reese's Rice Krispies treats from Carrian and Cade of Oh Sweet Basil, you just have to make them, right? You see the chunks of chocolate and Reese's candies, and you can almost taste them. Mmmmm! So this picture is certainly worth more than a thousand words. But what you don't see is the incredible story behind the sweet treats. This recipe, irresistible as it is, is based on the couple's first viral recipe. A tasty treat for sure, but for them, it was the glimmer of light during incredibly dark times.
Visit Oh Sweet Basil for the recipe.
Mini Birthday Cake Rice Krispies Treats
This birthday cake rice Krispies treats recipe from Angel of Hand Held Eats might be the cutest little cereal creation we've ever seen. They're basically chocolate, and vanilla rice Krispies treats combined to form "cupcakes". Then, you add sprinkles on top. Finally, pop in a candle, and you'll forget all about cake. Can you think of a more adorable way to celebrate a birthday? This recipe is easy, but Angel still has you covered with all the tricks you could need.
Visit Hand Held Eats for the recipe.
Rice Krispies Wreaths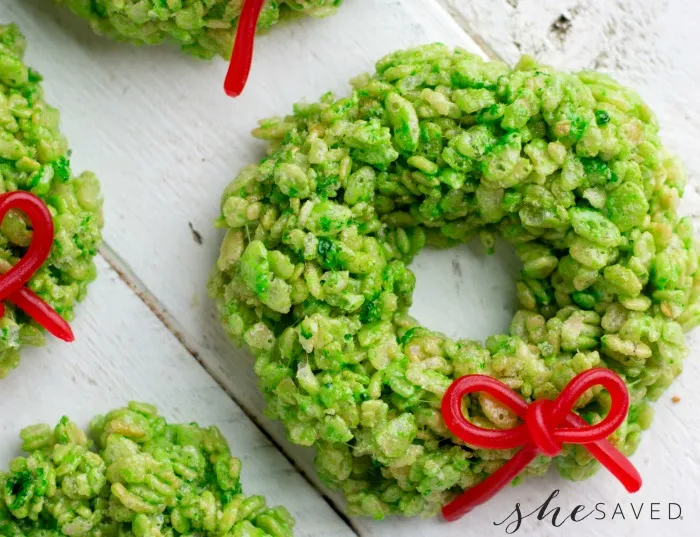 You don't have to make these Rice Krispies Wreaths from Keri of She Saved for your Christmas celebration just because you're running short on time. But, boy, if you are in a pinch and need a festive dessert, these wreath treats will bail you out. We like that they are just as easy to make as the originals, but they look cuter. They're one of those fun and adorable recipes the kids will remember them. And in addition to your regular Rice Krispies ingredients, all you need is food coloring, and some Twizzlers pull n peels.
Visit She Saved for the recipe.
Rice Krispies Nest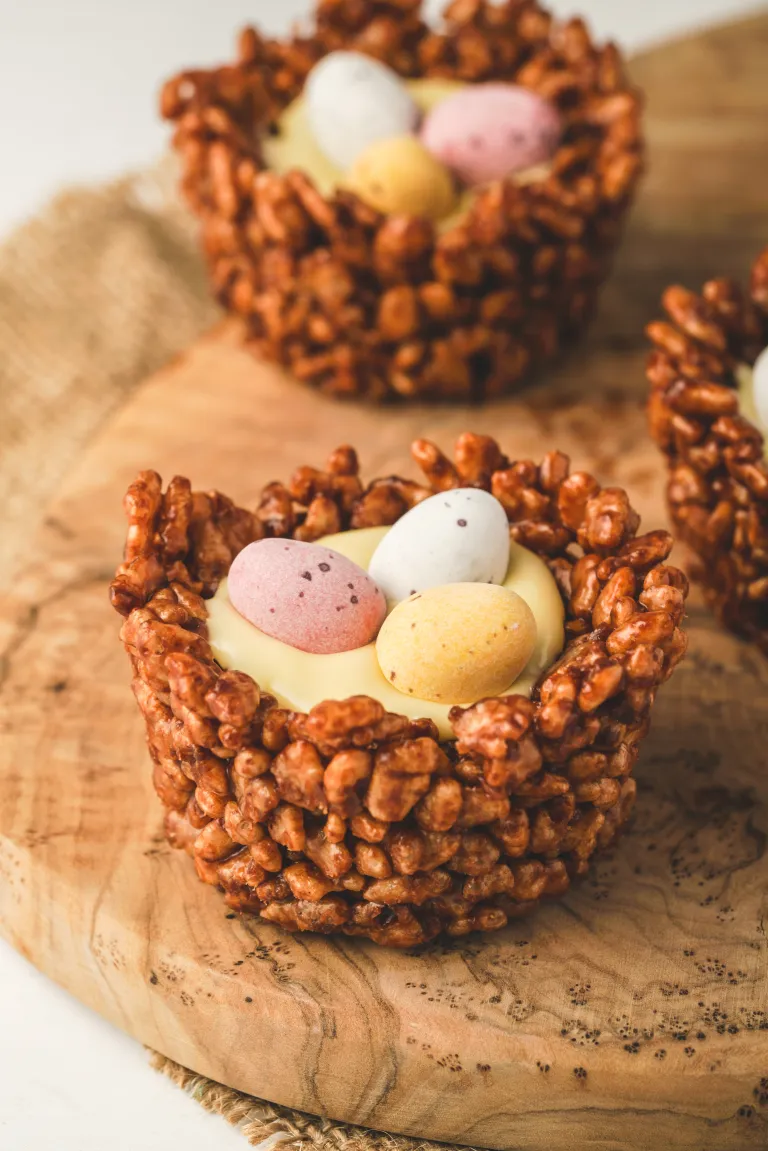 Don't feel weird if these Rice Krispies Nest from Tom of Clayton's Cookbook spark a bit of nostalgia for you. You're not alone. Clayton also remembers helping mom make these yummy treats. So while Rice Krispies nest isn't a novel idea, this one is upgraded a bit. These charming little confections start with you combining melted chocolate, syrup, and marshmallows with rice cereal. Then, for the center, there's a creamy white chocolate truffle. Finally, you top each little nest with candy eggs for a festive finish.
Visit Clayton's Cookbook for the recipe.
Rice Krispies Treat Cutouts
Children won't remember that one toy you got them for that one Christmas. However, they will remember the holiday traditions like cookie baking the day before Christmas. But Jackie of The Seaside Baker understands that baking cookies for the holidays with the kids can be a time-consuming endeavor. That's why she opts for Rice Krispies Treats Cutouts. It starts with the standard Rice Krispies treat recipe. Then she lets the little ones go crazy with chocolate, sprinkles, and other adornments.
Visit The Seaside Baker for the recipe.
Peeps Rice Krispies Treats Recipe
Using peeps, brown butter, and genuine vanilla extract, Rebecca of Let's Eat Cake ups the Rice Krispies treats ante. In her hilarious writing style, she shows us how to make colorful pastel treats for Easter. However, you can create a peep's treat to match any occasion. And as you might have guessed, those festive colors come from the sugar-coated marshmallow bunnies. There's no added food coloring. So head over to Rebecca's page, where she gives you all the guidance you could need to make this unique confection.
Visit Let's Eat Cake for the recipe.
Chocolate Covered Rice Krispies Peanut Butter Balls
We know firsthand how irresistible chocolate-covered old-fashioned peanut butter balls are. We developed a recipe ourselves. But we'd bet these chocolate and peanut butter Rice Krispies balls from Melissa of Persnickety Plates are even better. Like a Whatchamacallit candy bar, they have that extra layer of texture from the rice cereal. Also, the page lives up to the persnickety name in the best way. There are many tips, like using a toothpick to dip the balls in the chocolate. And what to do before you dip them.
Visit Persnickety Plates for the recipe.
Pumpkin Spice Rice Krispie Pops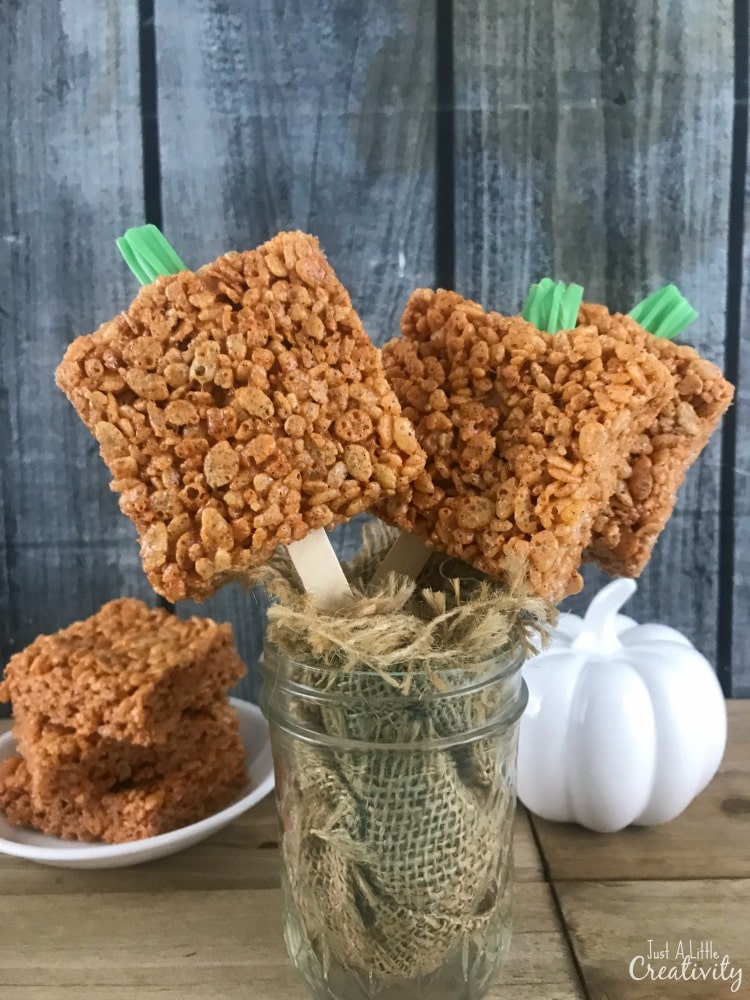 When fall rolls around, you couldn't avoid pumpkin spice if you wanted to. So, if it's your jam, these pumpkin spice Rice Krispies treats from Molly of Just A Little creativity will grab your attention. Each bite of these deliciously festive rice cereal squares is a taste of autumn. But what we really love about them is the message. They were inspired by a character from a children's book with a positive message about anti-bullying.
Visit Just A Little Creativity for the recipe.
Cookie Butter Rice Krispie's Treats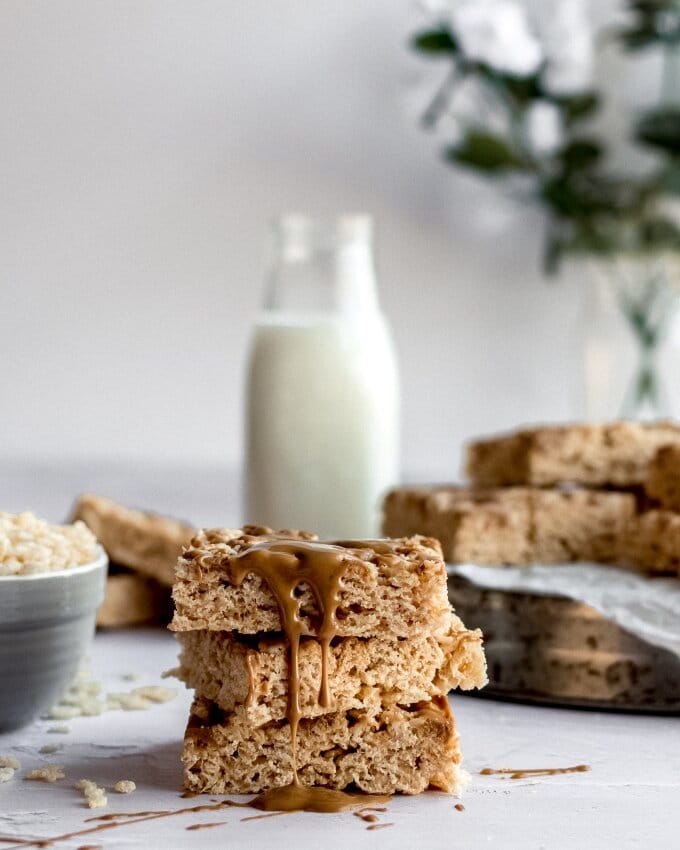 The way Sara of Sara's Tiny Kitchen sees it, Rice Krispie's Treats are the staycation of the culinary world. We get it. Just like a stay-at-home retreat, they're easy, don't require much planning, and are still so satisfying. And when you add cookie butter, the treats become a whole new phenomenon. On Sara's site, aside from clever quips, you'll also find tips for making the best Rice Krispies treats ever. Of course, fresh ingredients are a must, but execution is equally important. Check it out!
Visit Sara's Tiny Kitchen for the recipe.
Cookie Dough Rice Krispie Treats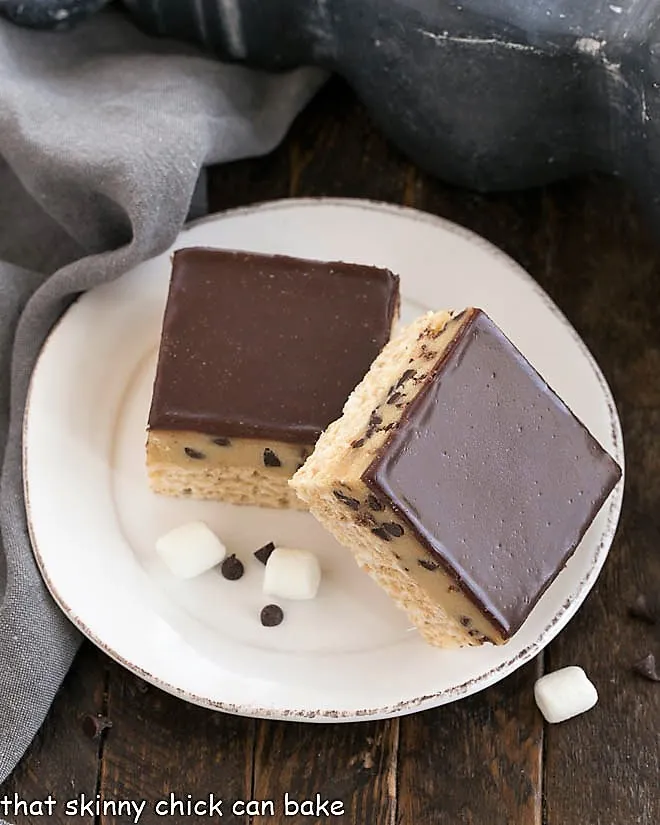 Even at the risk of a sugar-induced coma, we still recommend these Cookie Dough Rice Krispies Treats from Liz of That Skinny Chick Can Bake. There are three elements to these creatively indulgent sweets. First, there's the rice cereal treat layer. Next, you have a generous layer of luscious cookie dough. Yes, you can eat cookie dough thanks to Liz's eggless recipe. Finally, as if that wasn't good enough, she tops it with a velvety rich chocolate ganache. And we're so glad she did!
Visit That Skinny Chick Can Bake for the recipe.
Matcha Rice Krispies Treats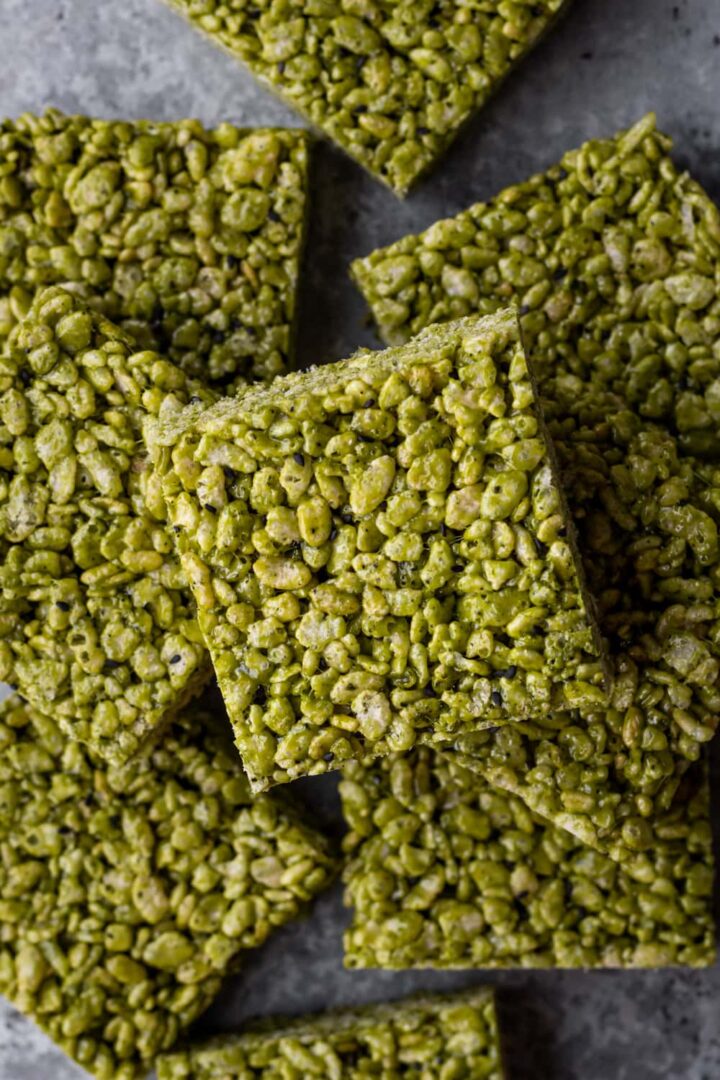 So are you looking for a sweet treat that's not super sweet? Perhaps you'll consider these delicious green matcha Rice Krispie treats from Becca of Cooking Therapy. Matcha powder is ground green tea leaves. It has a bright, vegetal, and slightly bitter taste. So it provides the perfect contrast to the sweet marshmallows. And for nuttiness, she adds black sesame seeds for a cereal treat with a truly unique flavor profile. Additionally, on Becca's page, you'll find a thorough recipe with little-known tips for great results.
Visit Cooking Therapy for the recipe.
S'mores Rice Krispies Treats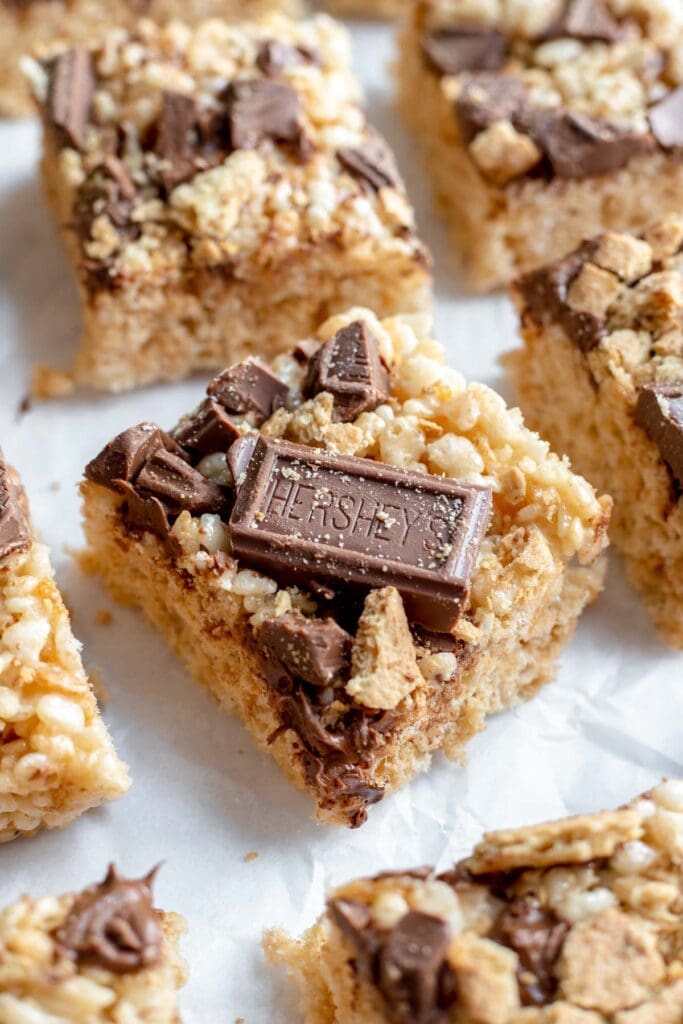 You can never go wrong with s'mores! They're simple and delicious, and everyone loves them. But we don't always have time to make them over a campfire. So instead, we take the elements of s'mores and create brand new desserts. And that's what Leslie of The Baker's Almanac did with these s'mores Krispies treats. On the page, you'll find a classic rice cereal treat recipe but with graham crackers and chocolate bars. You'll also find a clever tip to prevent your hands from getting sticky when forming them.
Visit The Bakers Almanac for the recipe.
Gluten-Free Halloween Mummy Rice Krispies Treats
This Mummy Rice Krispies treat recipe from Rebecca of lifestyle blog Rebecca Taig ensures that even those with celiac disease or gluten sensitivity can enjoy a good cereal treat. But even if you don't share the same dietary restrictions, you can enjoy these Halloween sweets too. They're just good! They start with her exceptional rice cereal treats dipped in white chocolate. Also, you get an education in making browned butter for a more intriguing nutty flavor. Finally, there are lots of tips like cereal brand recommendations.
Visit Rebecca Taig for the recipe.
Chocolate Rice Krispies Treats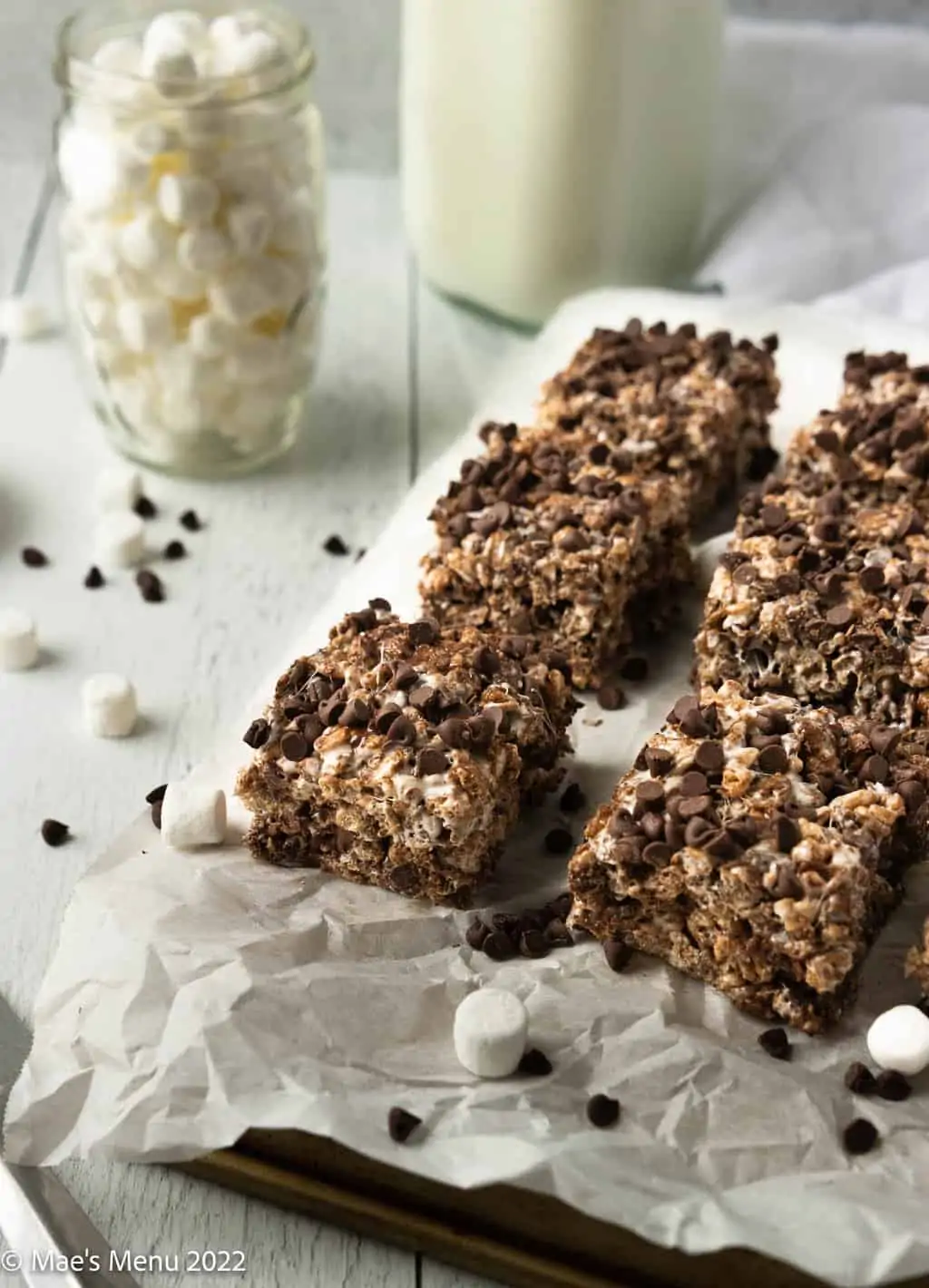 On cold, snowy days, Chelsea of Mae's Menu insists on nostalgic snacks like these chocolate Rice Krispies treats. And we'd have to agree! What could be better than a cup of hot cocoa and a crisp, chocolatey rice cereal treat bar after shoveling the snow?
Yeah, we couldn't come up with anything either.
So, in addition to the classic Krispies treats ingredients, you'll need chocolate chips. Then cocoa pebbles or cocoa Krispies replace regular cereal. And although there are noticeable differences between the two. Both are tasty.
Visit Mae's Menu for the recipe.
Peppermint Bark Rice Krispie Treats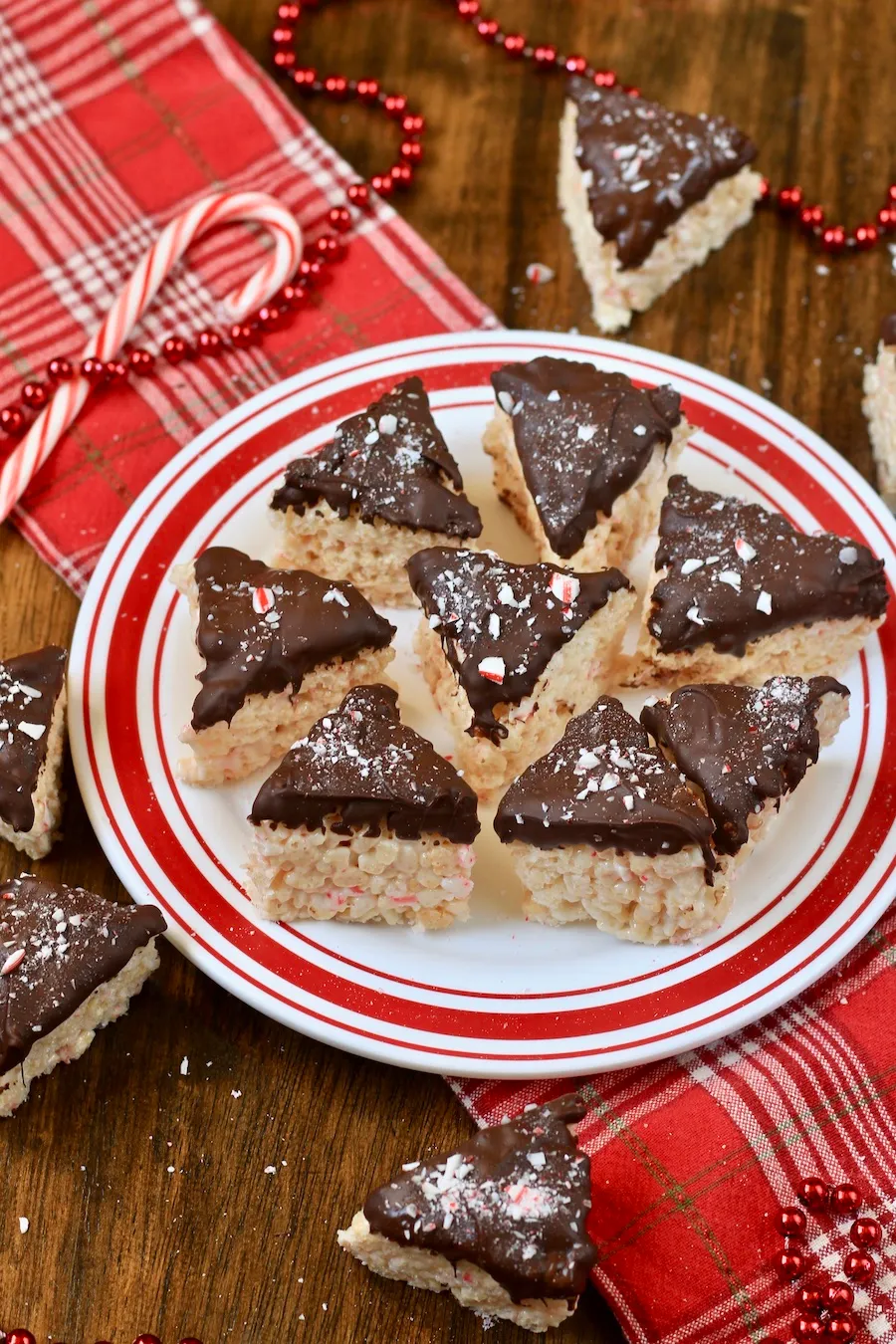 These peppermint bark Rice Krispies treats from Annie of My Life After Dairy is an excellent way to celebrate the holidays. Don't they look just as scrumptious as the other entries on this list? Well, you might be surprised to learn that these treats are dairy-free. But other than that, they start with a standard Rice Krispies treat base, but you add peppermint. And for the top, it's melted chocolate chips with peppermint extract and more crushed peppermint for a festive and memorable treat.
Visit My Life After Dairy for the recipe.
Peanut Butter Chocolate Rice Krispies Treats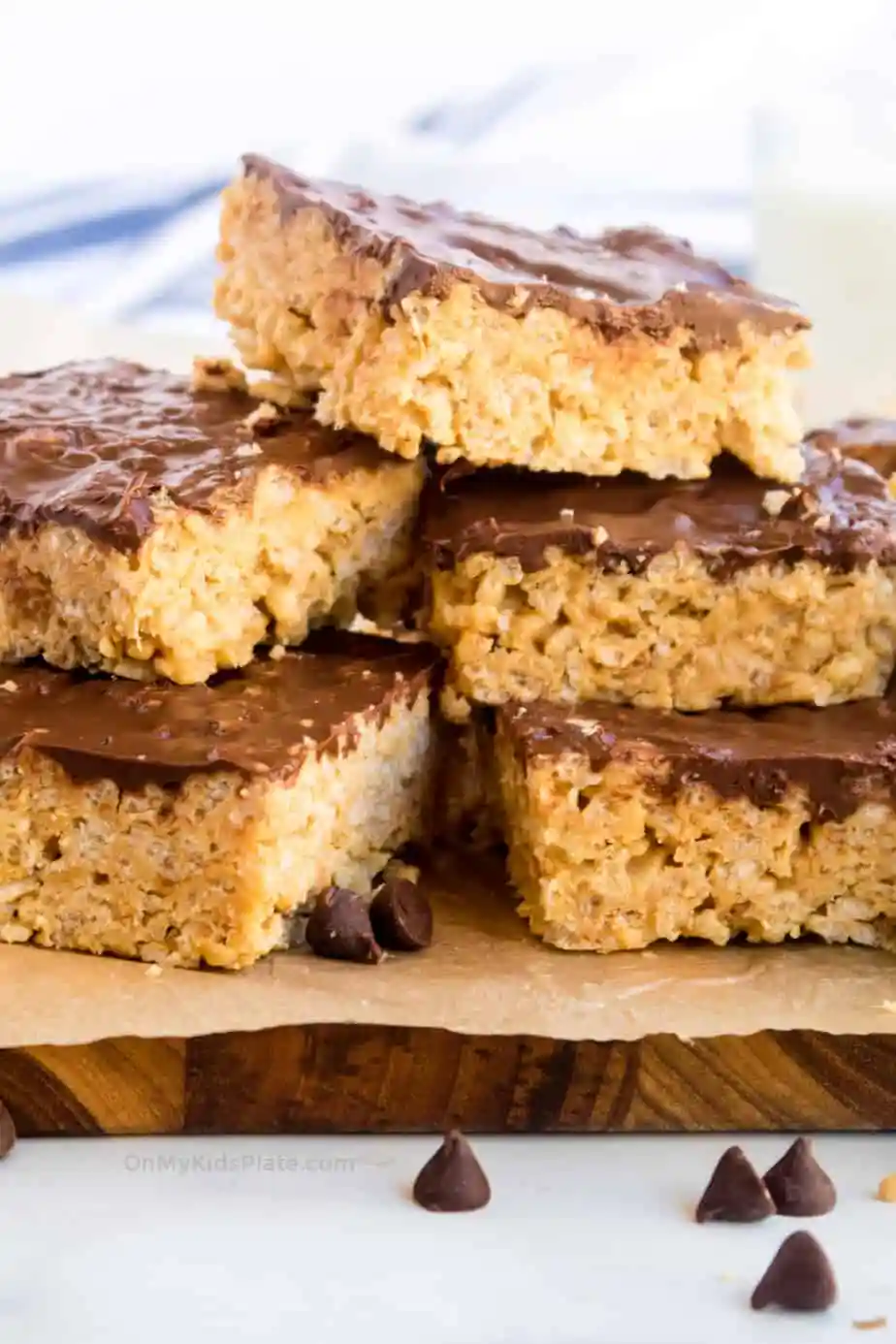 Be careful! They'll be hooked by a single bite of these peanut butter chocolate Rice Krispies treats from Kristy of On My Kid's Plate. And also, be prepared for the wave of compliments following that first bite, like "best Rice Krispies treat recipe" ever. These treats are super easy and complete with magical tips and tricks. So after lots of testing, Kristy understands the proper ratio of crispy rice cereal to melted marshmallow mixture. That's right! She knows the secret to make crispy rice treats perfectly gooey and yummy.
Visit On My Kid's Plate for the recipe.
Butterscotch Pretzel Rice Krispie Treats
Sweet and salty snacks like these butterscotch pretzel Rice Krispies treats from Ashley of The Darling Apron are so satisfying to eat. That's because salt and sugar are among the best culinary pairings. So the chewy sweet melted marshmallow and butterscotch are balanced by the irresistible salty pretzel in the best way. Mmmmm! This ying-yang treats recipe starts as a typical one, but you add butterscotch and broken pretzel pieces. But don't break the pieces too small. You still want that pretzel texture.
Visit The Darling Apron for the recipe.
FAQs
Can I use old marshmallows to make Rice Krispies treats?
No! Never use stale marshmallows to make the treats. For best results, you want to use fresh marshmallows to make Rice Krispies treats.
How to make marshmallows gooey?
The secret to getting delicious, picture-perfect crispy treats depends on how much cereal, melted butter, and cups of marshmallows you use in the recipe. Follow one of the recipes above, and you'll be in good shape. But if you want to experiment, it's still best to start with a trusted recipe and adjust.
Who invented Rice Krispies treats?
Iowan, Mildred Day, is credited with creating the Rice Krispie treats.
How to store Rice Krispies treats?
It's best to store your treats in an airtight container. Use wax paper if you stack them on top of one another.
Can I freeze Rice Krispies treats?
Yes, you can freeze your treats for up to six months. However, make sure to serve them at room temperature.
How to prevent the Rice Krispies mixture from sticking to the pan?
There are a few solutions. The first way is to line your square pan with parchment paper. Alternatively, you can spray the pan with a little cooking spray. Alternatively, you could also grease the pan with unsalted butter.
Why are my treats so sticky?
If your treats are sticky, you likely used too many melted marshmallows or melted butter. To make the perfect Rice Krispies treat recipe, the ratio of cereal mixture to marshmallow needs to be correct. For best results, start with a trusted recipe.
Which Rice Krispies treat ecipe are you excited to try first?
So, now for the fun part! Which treat recipe are you ready to make? Is it the peanut butter chocolate, the ube, reese's treats or something else? Let us know!
And if you love this post, don't forget to check out our list of desserts made with cereal.