We talked about the best donut recipes and donut recipes without yeast before. Those lists included fried donuts, baked donuts, and even a donut cake. But today, you're going to learn all about 20 of the Best Baked Donut Recipes. So you're quite literally in for a treat.
From Apple Cider Baked Donuts and S'mores Donuts to Baked Strawberry Donuts and Sourdough Discard Donuts, you're sure to find something to love. The only question is; are you ready to discover the tasty?
Let's dive in!
Apple Cider Baked Donuts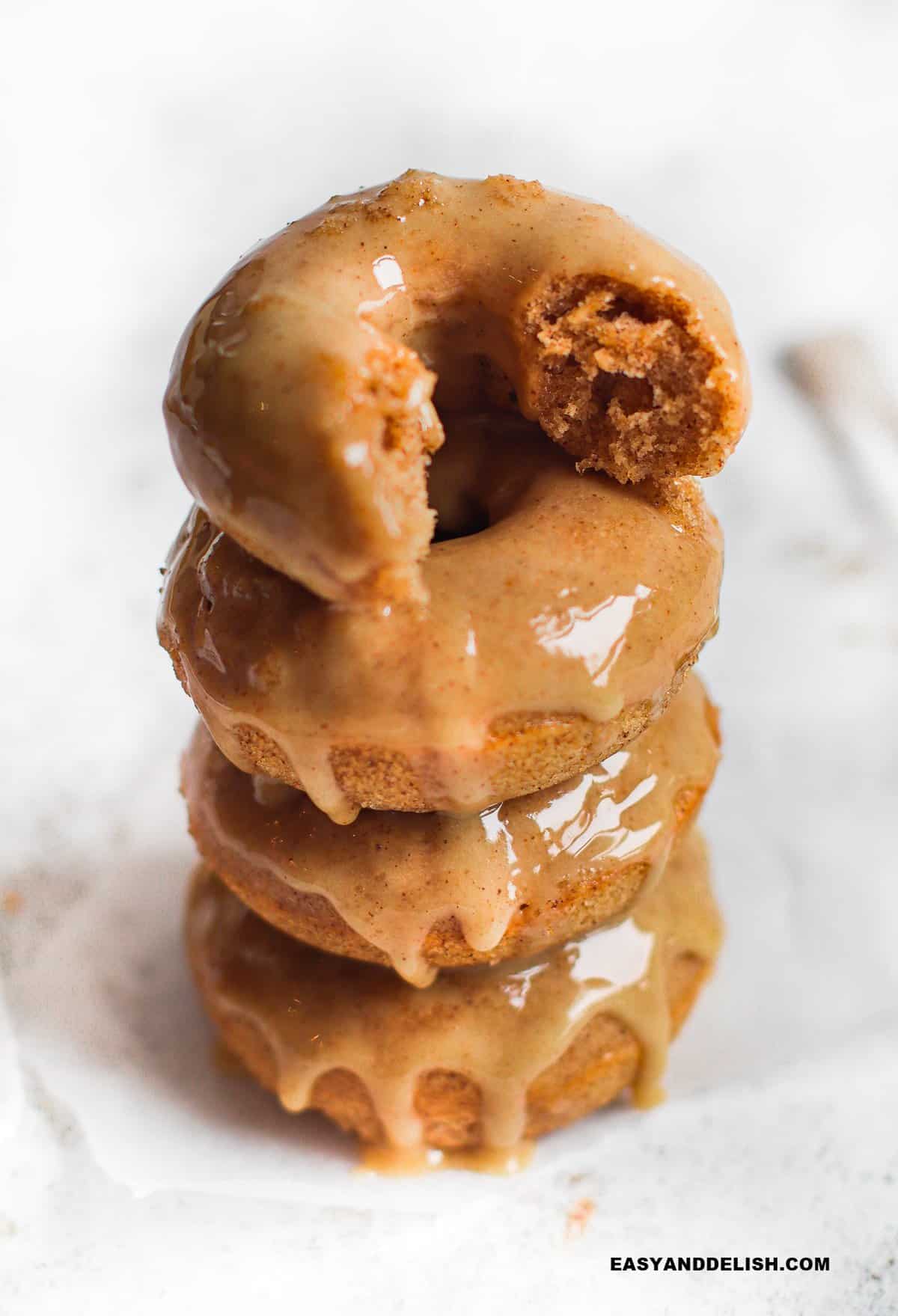 When we say, these Apple Cider Baked Donuts are stellar. Don't take our word for it. And don't take Denise of Easy And Delish word either. Instead, check out the shares, ratings, and comments. The people love this recipe! But what makes this recipe so well received? Could it have something to do with the apple cider (reduced or not) baked right into them? Or the maple glaze and cinnamon sugar? Or perhaps, it's all of the above.
Visit Easy And Delish for the recipe.
Mini Donuts Recipe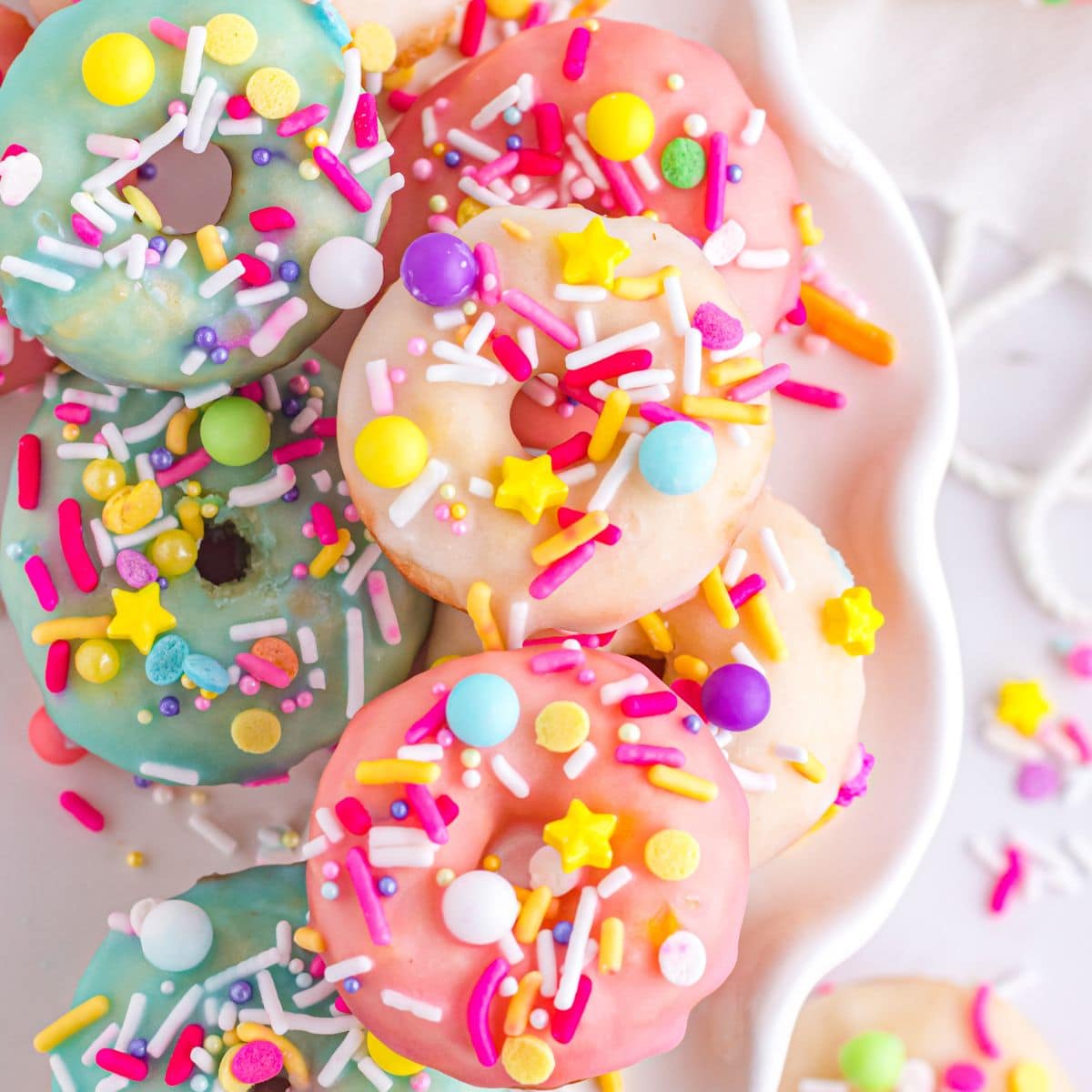 Not only are these little Two Bite Donuts from Heather of Good Party Ideas "can't eat just one" good, but they're also fun and easy to make. So easy, in fact, that after some prep work, they bake in less than ten minutes. Heather shows you how to make miniature treats with a donut maker, including storing and freezing methods and flavor variations.
Visit Good Party Ideas for the recipe.
Cinnamon Roll Donuts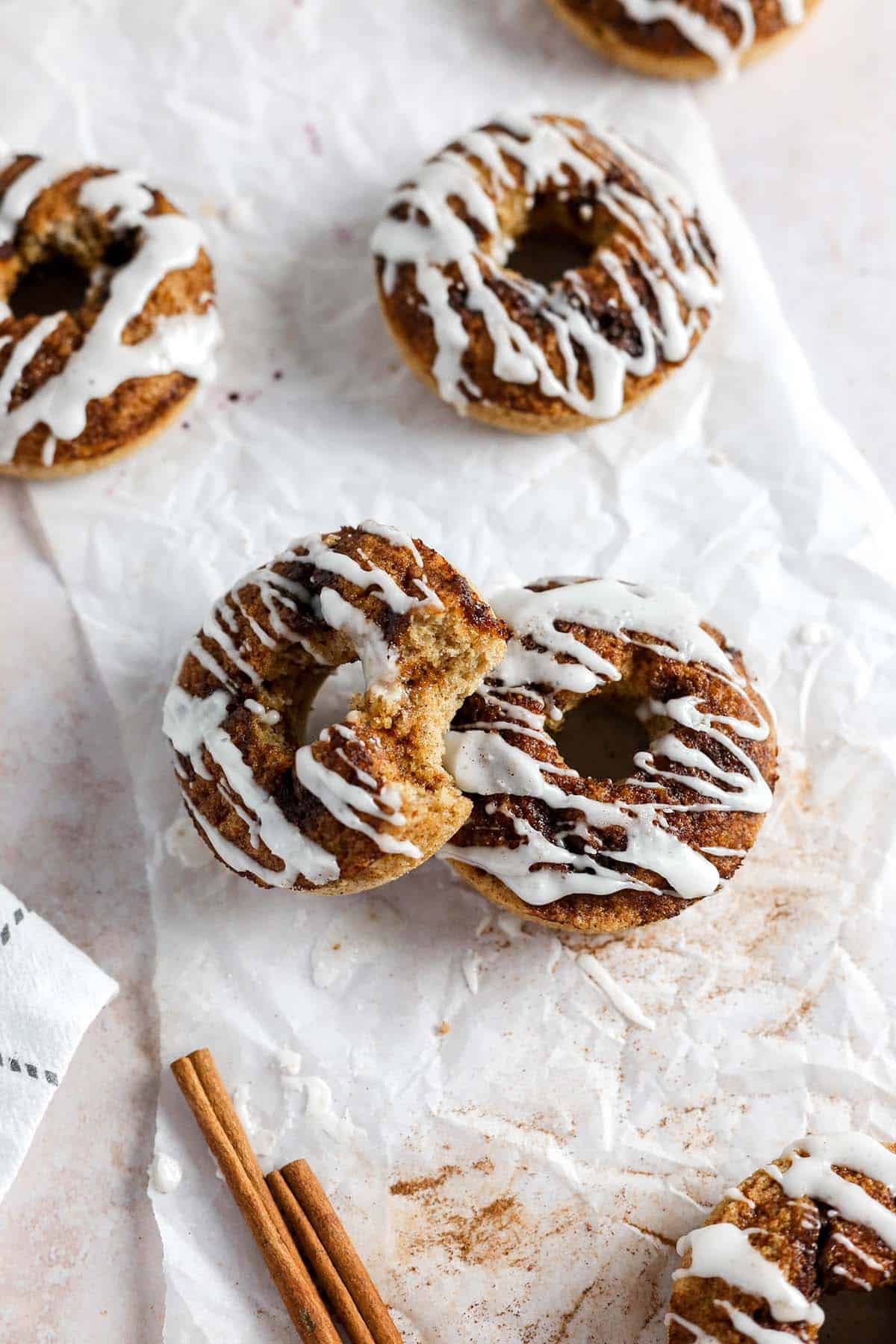 While Cinnamon Roll Donuts are most fitting around the cold, sentimental holiday months, you'll yearn for them year-round. And that's okay. Because with this easy guide from Samantha of Savor The Spoonful, they're easy to make. So here's why you'll love them. First, the baked treat is tender and moist, reminding you of a warm, fresh oven cinnamon roll. Then, on top, you'll drizzle them with a simple glaze; enough said.
Visit Savor The Spoonful for the recipe.
Baked Strawberry Donuts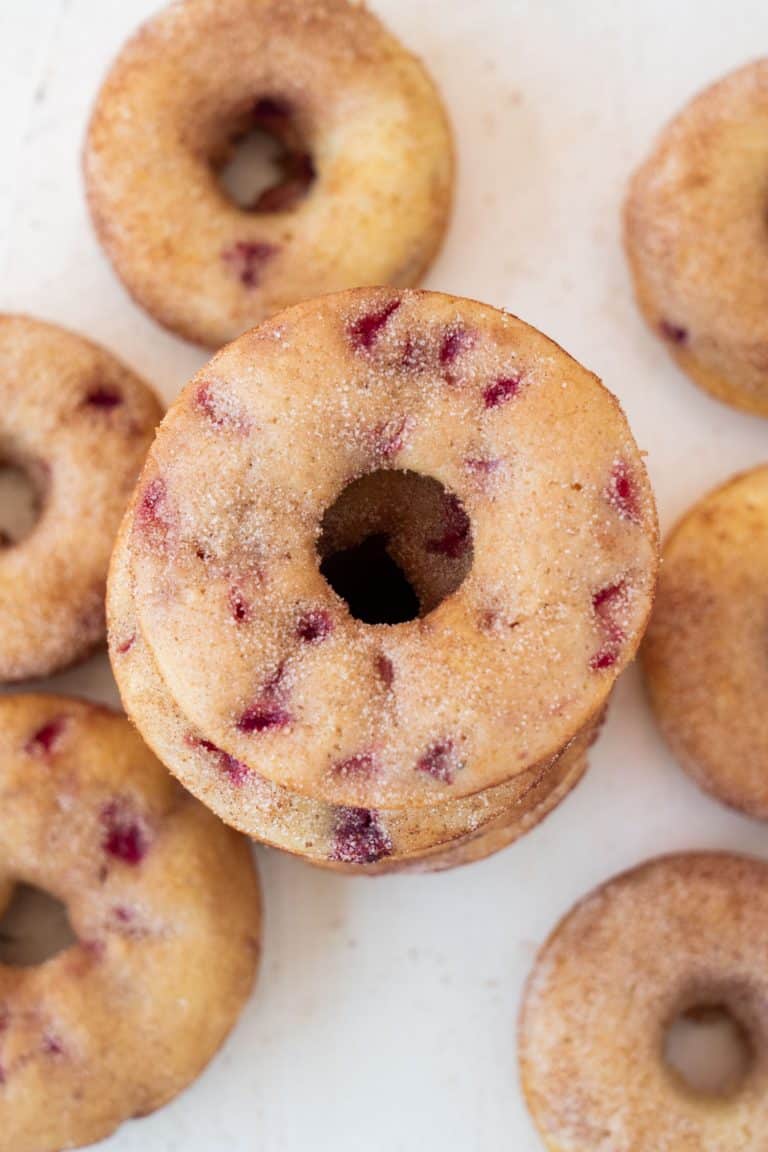 These Baked Strawberry Donuts from Pamela, the Brooklyn Farm Girl, are so good you'll want for strawberry season to last all year. Get this. Our favorite Brooklyn food blogger developed this recipe using fresh strawberries grown right in her garden. And the results are amazing! Each bite is tender, moist, strawberry-filled and full of cinnamon sugar. Mmmm!
Visit Brooklyn Farm Girl for the recipe.
Homemade Pumpkin Spice Donuts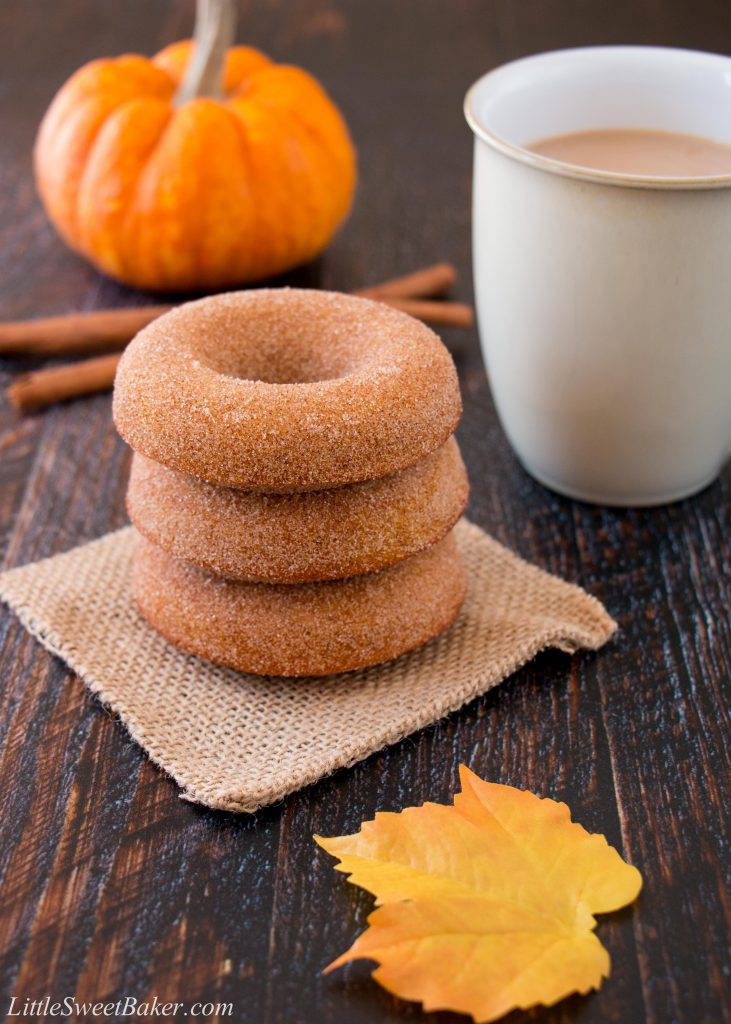 Oh me, oh my. There's something to love about all the seasons. But fall is extraordinary. It's the coziest time of year. Not too warm or cold; it's the goldilocks of seasons. All that to say, this Homemade Pumpkin Spice Donuts recipe from Lily of Little Sweet Baker reminds us of fall. Each bite is filled with pumpkin puree, pie spices, and autumn.
Visit Little Sweet Baker for the recipe.
Baked Biscoff Donut Recipe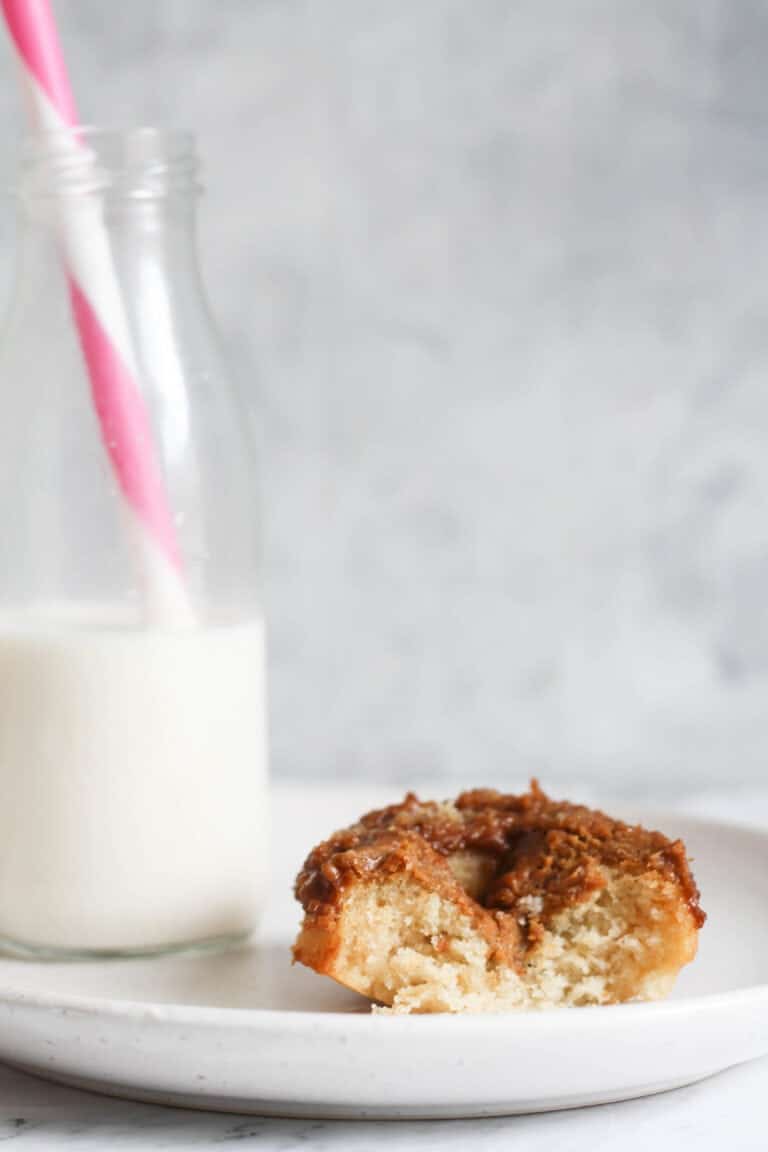 Before getting into her Baked Biscoff Donut Recipe, Faaiza of Modest Munchies points out one of the main benefits of baking donuts in the first place. They're easier to make. As for her recipe, she our full attention with Biscoff, aka cookie butter. It's a simple donut recipe topped with a generous layer of crunchy cookie butter.
Visit Modest Munchies for the recipe.
S'more's Donuts
We love s'mores to the moon and back. For proof, check out our S'mores Ice Cream Sandwiches Recipe, S'mores Peanut Butter, and we even made Mini S'mores Skillet Cookies. But man, are we impressed by this S'more's Donut Recipe from Baran Bakery. The talented food blogger and photographer show you how to make cake donuts topped with chocolate ganache, torched marshmallows, and graham cracker crumbs.
Blueberry Cake Donuts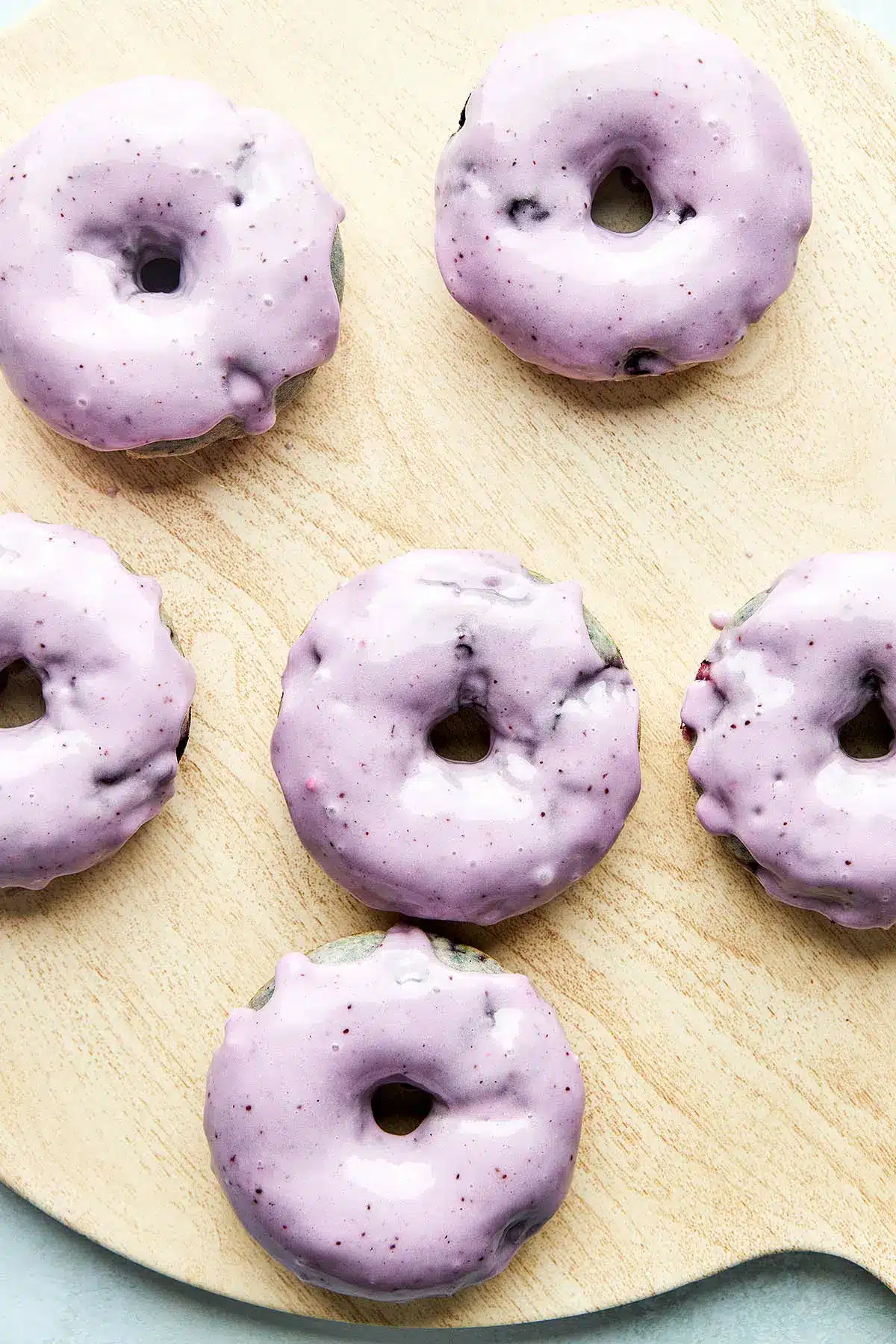 Here's how we know Kelly Neil has a thing for blueberries. This is the second time we're featuring a recipe of hers; it was a Novascotian Blueberry Grunt. So there's that. As for this Blueberry Cake Donuts recipe, it features a tender and moist crumb batter interspersed with plump juicy wild blueberries. Oh, and a simple powdered sugar blueberry glaze.
Visit Kelly Neil for the recipe.
Maple Glazed Donuts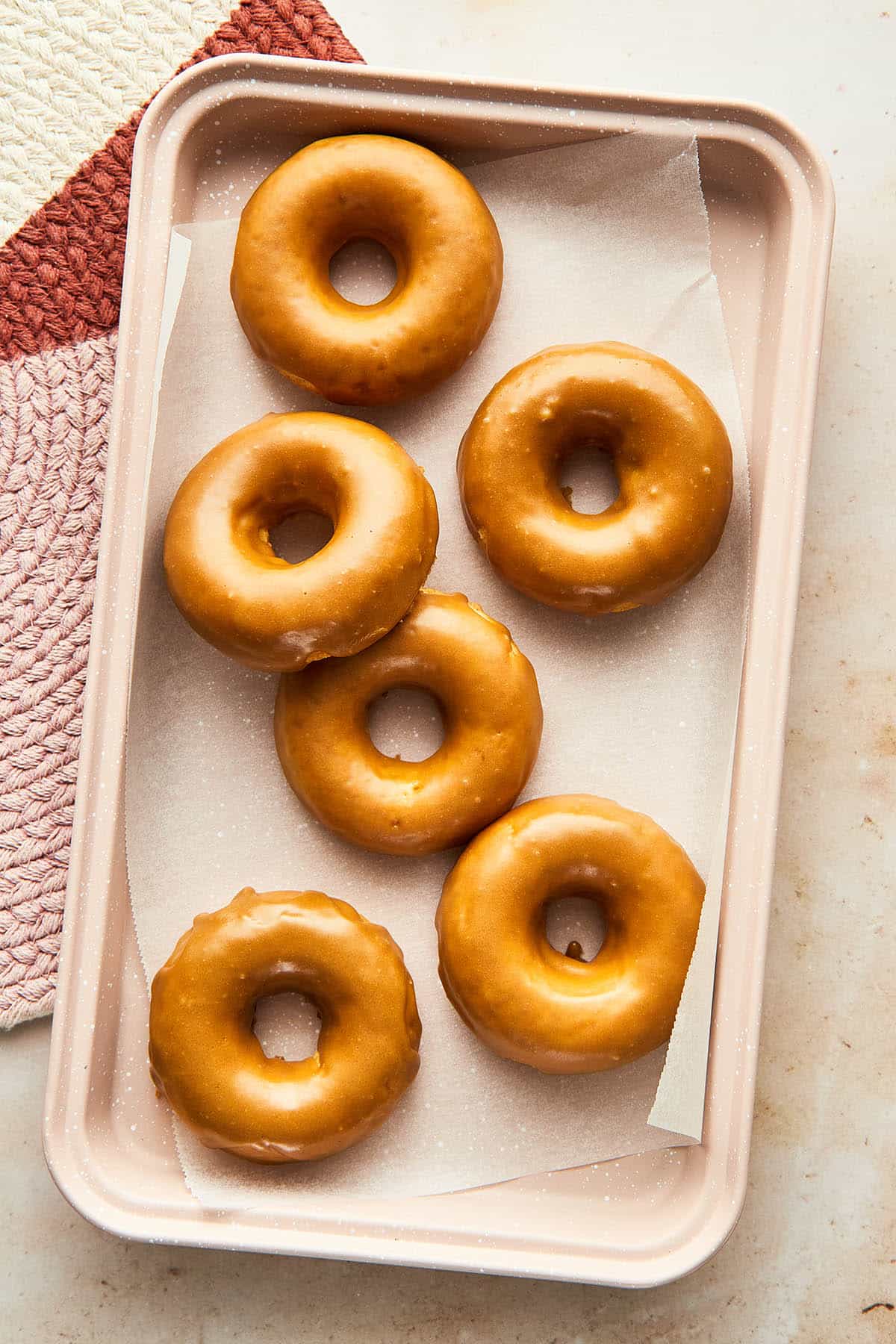 So it doesn't get more Canadian than these Maple Glazed Donuts, eh? While Alexandra of Baked The Blog acknowledges the texture is a wee different than what you'd expect from a coffee shop, they're still good. But you won't care about that. All you'll care about is how good they are. So go ahead and hop over to find a recipe for the cake donut and the immaculate maple glaze.
Visit Baked The Blog for the recipe.
Cherry Limeade Baked Donuts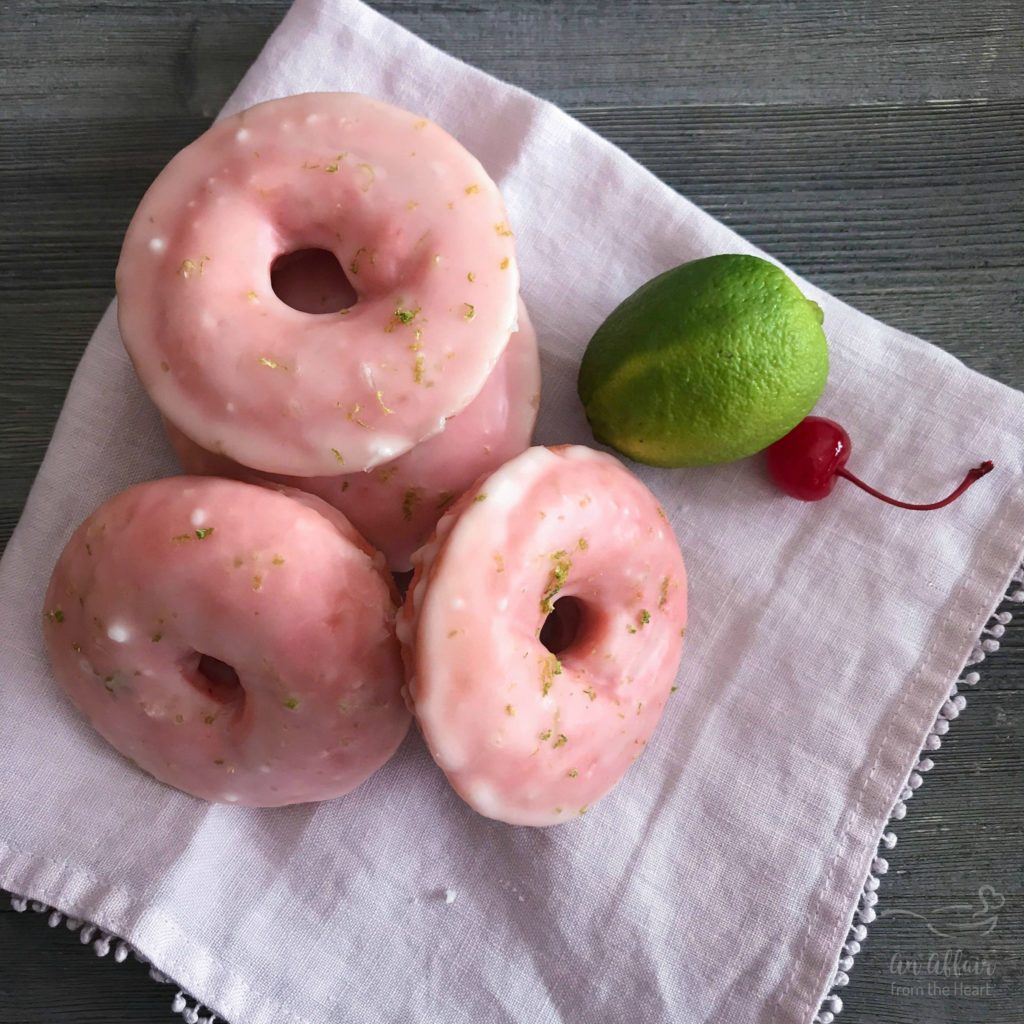 These Cherry Limeade Baked Donuts from Michaela are An Affair From The Heart. They were spawned out of the food bloggers' need to create. It's an itch that demands to be scratched. So we get it, an idea manifests in your head, and the next thing you know, you're gathering flour, leavening agents, and in this case, lime juice and pink food coloring. So what started as an idea became a deliciously unique, moist cherry-flavored baked cake donut with lime glaze.
Visit An Affair From The Heart for the recipe.
Sourdough Discard Donuts Recipe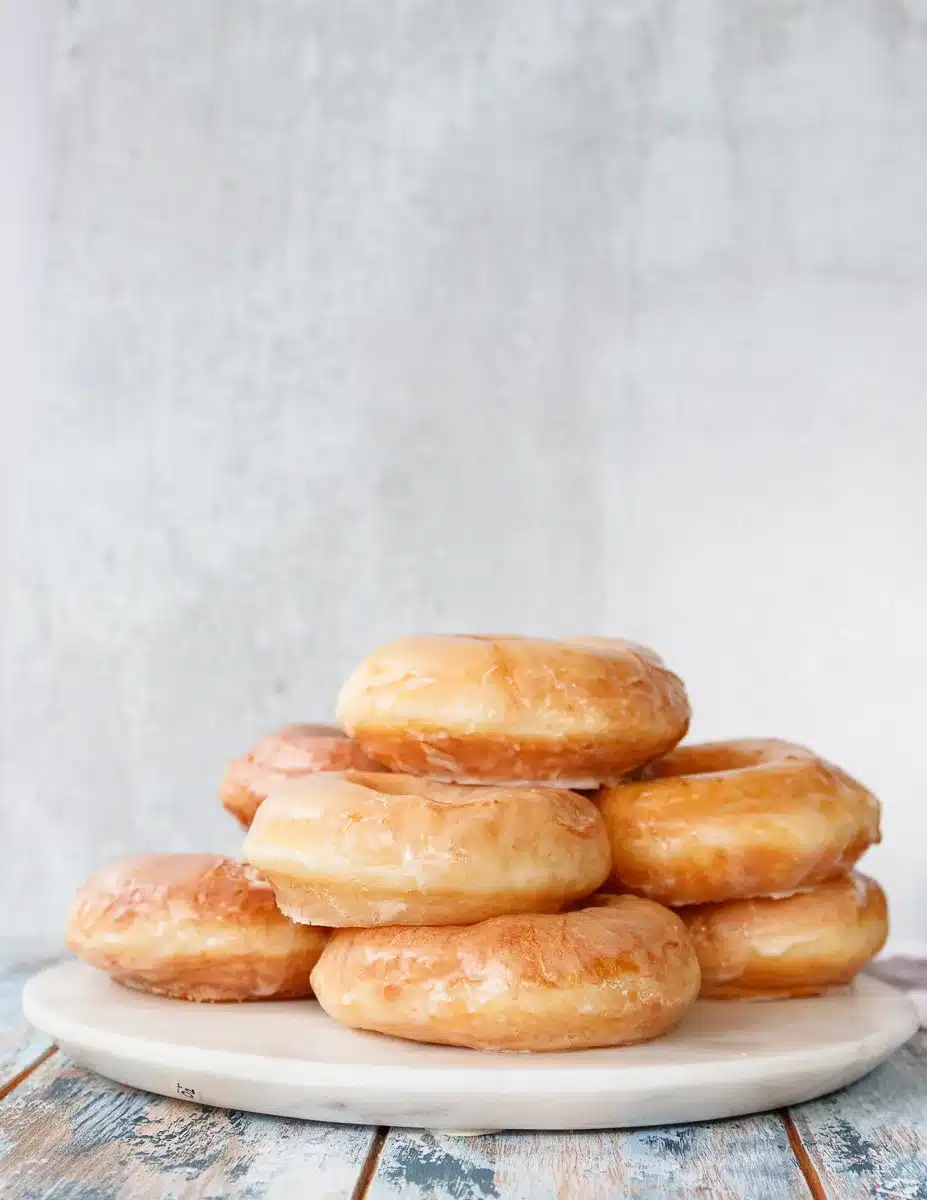 Although most baked donuts are of the cake variety, these are Sourdough Discard Donuts from Mary, the Goodie God Mother. It's a recipe that gets rave reviews, with some proclaiming them the best donuts ever. But what makes them so darn good? Well, unlike dense cake donuts, these are light, airy, and melt-in-your-mouth good.
Visit Goodie God Mother for the recipe.
Mini Chocolate Donuts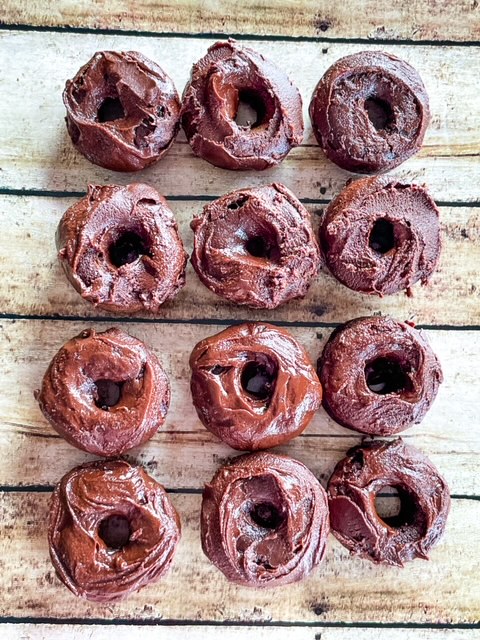 Here's a word of warning. If you make these Mini Chocolate Donuts by Sweet Tooth And Sass, you'll never be able to eat the store-bought version again. Here's why. Carrie shows you a thick and rich cake donut recipe complete with dutch cocoa powder. So they're super chocolatey. On top, however, there is a finger-licking chocolate glaze.
Visit Sweet Tooth And Sass for the recipe.
Lemon Poppy Seed Donuts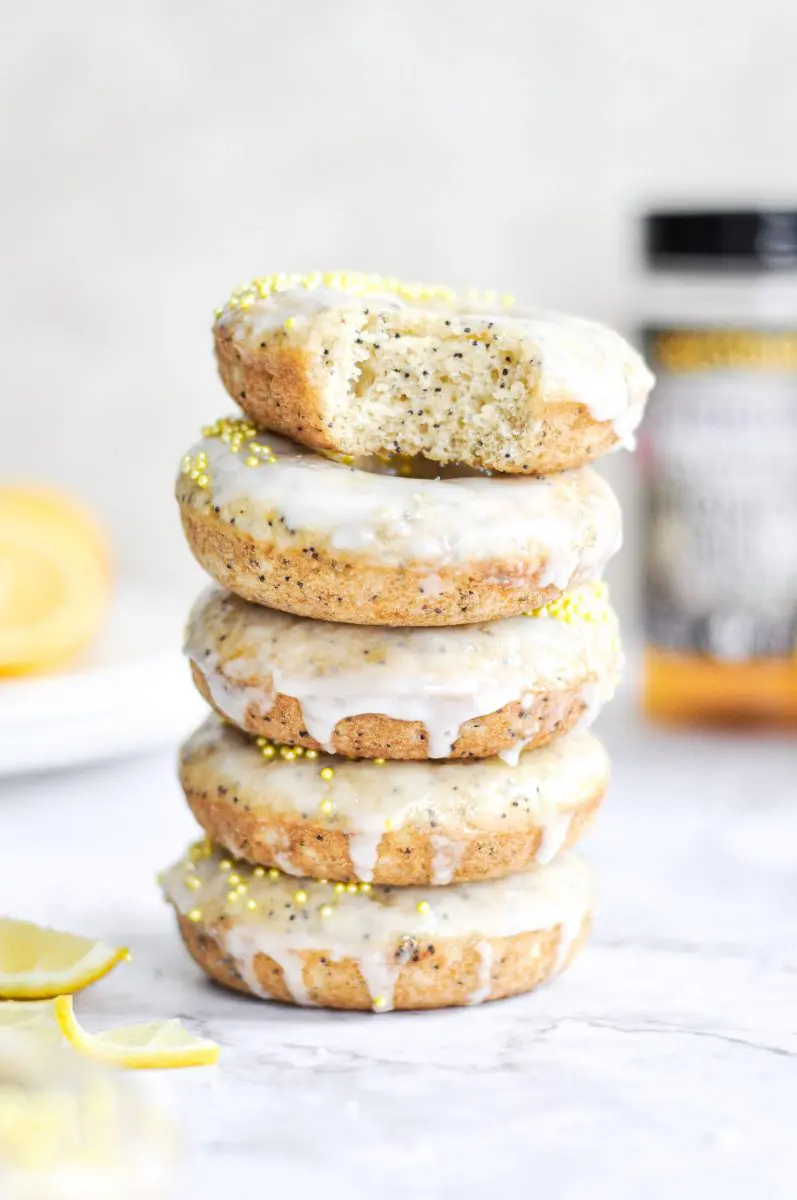 You'll find some of the most aesthetic desserts at Caked By Katie. They jump off the page with flavor possibilities. Yet it is when you begin reading through the post you discover they were developed for sweet lovers with dietary restrictions. Such is the case with these Lemon Poppy Seed Donuts. Though dairy-free, they're still light, fluffy, and full of honey and bright citrus flavor.
Visit Caked By Katie for the recipe.
Oreo Explosion Donuts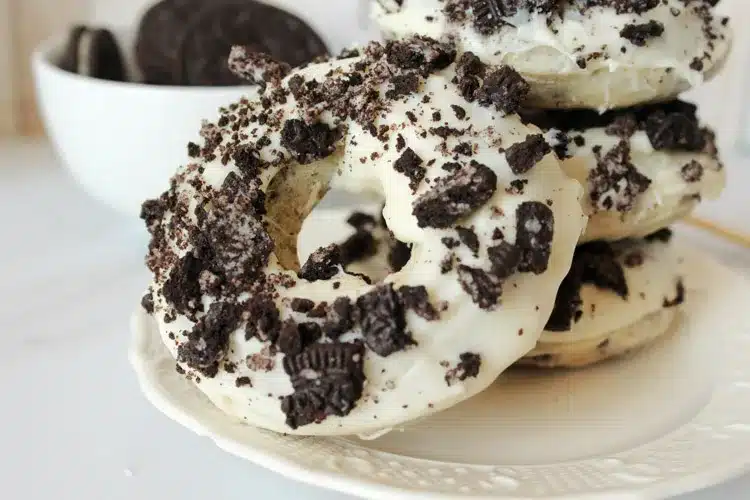 A fusion food of sorts, these Oreo Explosion Donuts by Frosting And Glue combine two all-time favorite American foods into one delectable treat. So satisfaction is what you'll experience, not just from the flavor but the contrasting texture of the moist, cakey donut dipped in candy melts with the crunchiness of the oreo topping.
Visit Frosting And Glue for the recipe.
Honey Donuts with Vanilla Honey Glaze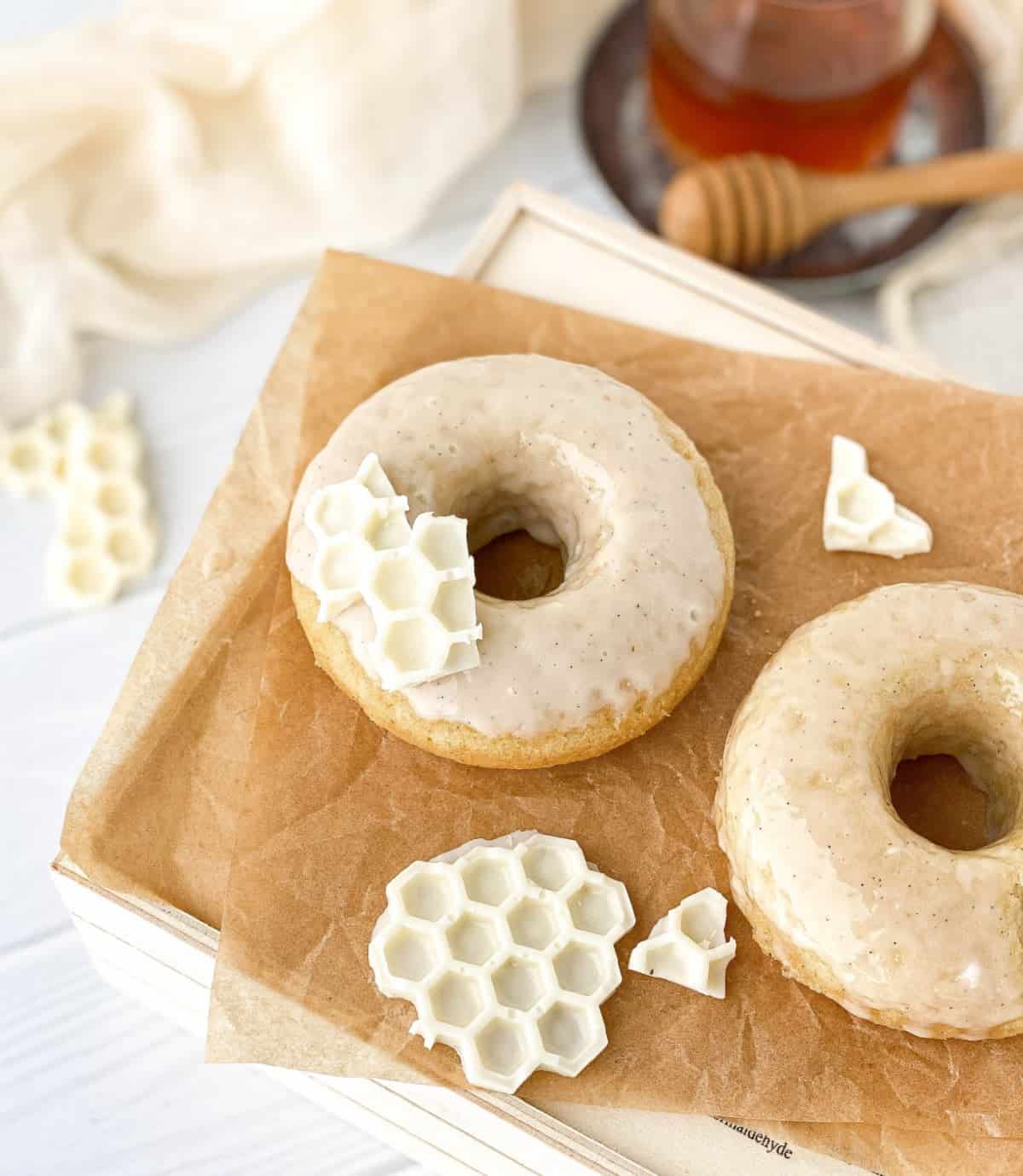 On many occasions, Aimee of Live To Sweet opts for multiple flavors in one treat. However, just one ingredient gets the spotlight for these Honey Donuts with Vanilla Honey Glaze. And, of course, honey deserves to shine with its fantastic floral qualities. In this post, Aimee walks you through simple instructions, including substitutions and variations for a baked donut recipe all will remember.
Visit Live To Sweet for the recipe.
Baked Strawberry Jelly Donuts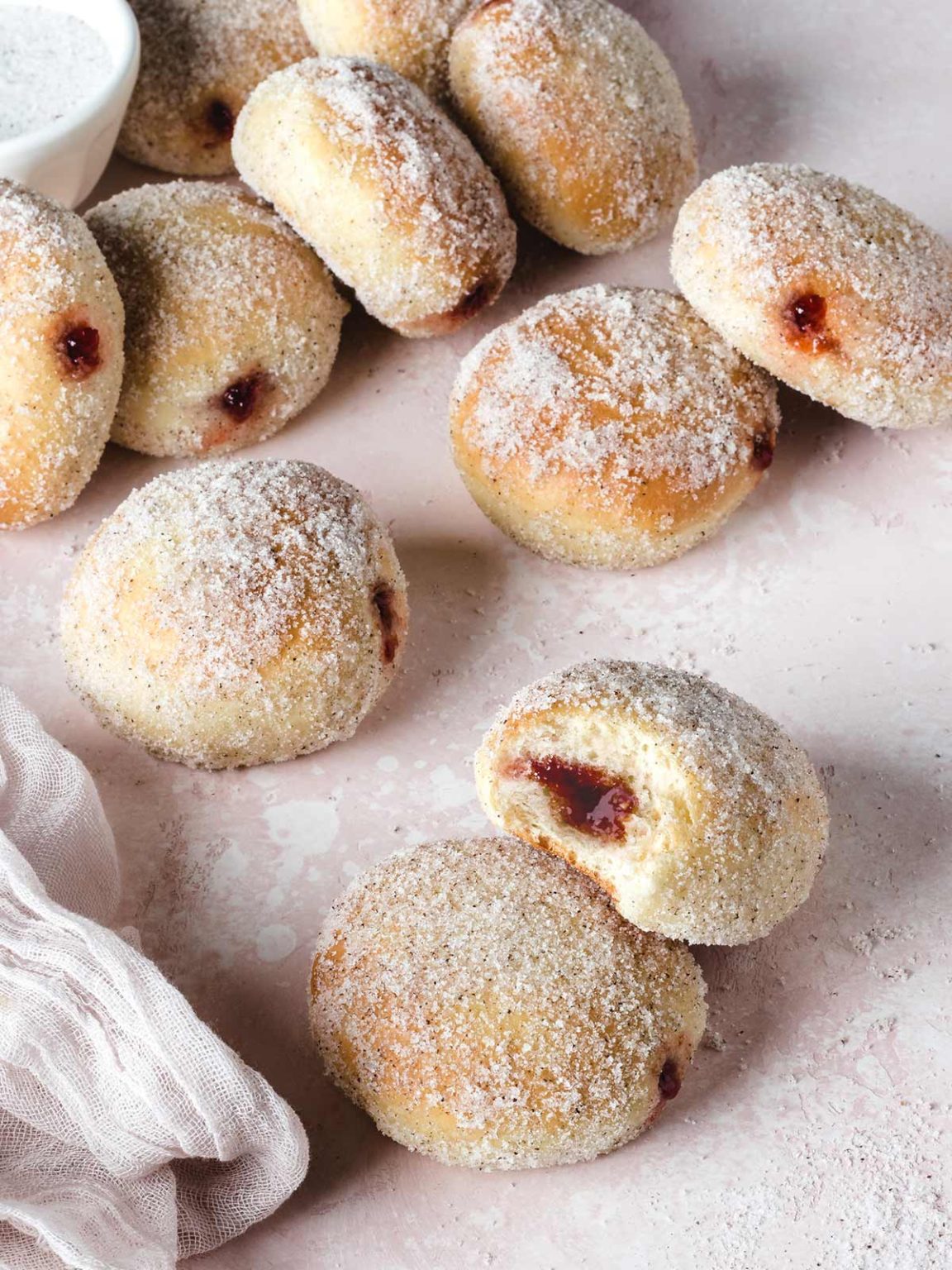 Today Theresa of Quiet Baking Day shows us how to make humble yet time-honored Baked Strawberry Jelly Donuts. So traditionally, the donuts are fried before you fill them with jelly. But Theresa offers another way with baked yeasted dough and a cardamom sugar coating.
Visit Quiet Baking Day for the recipe.
Coffee Donuts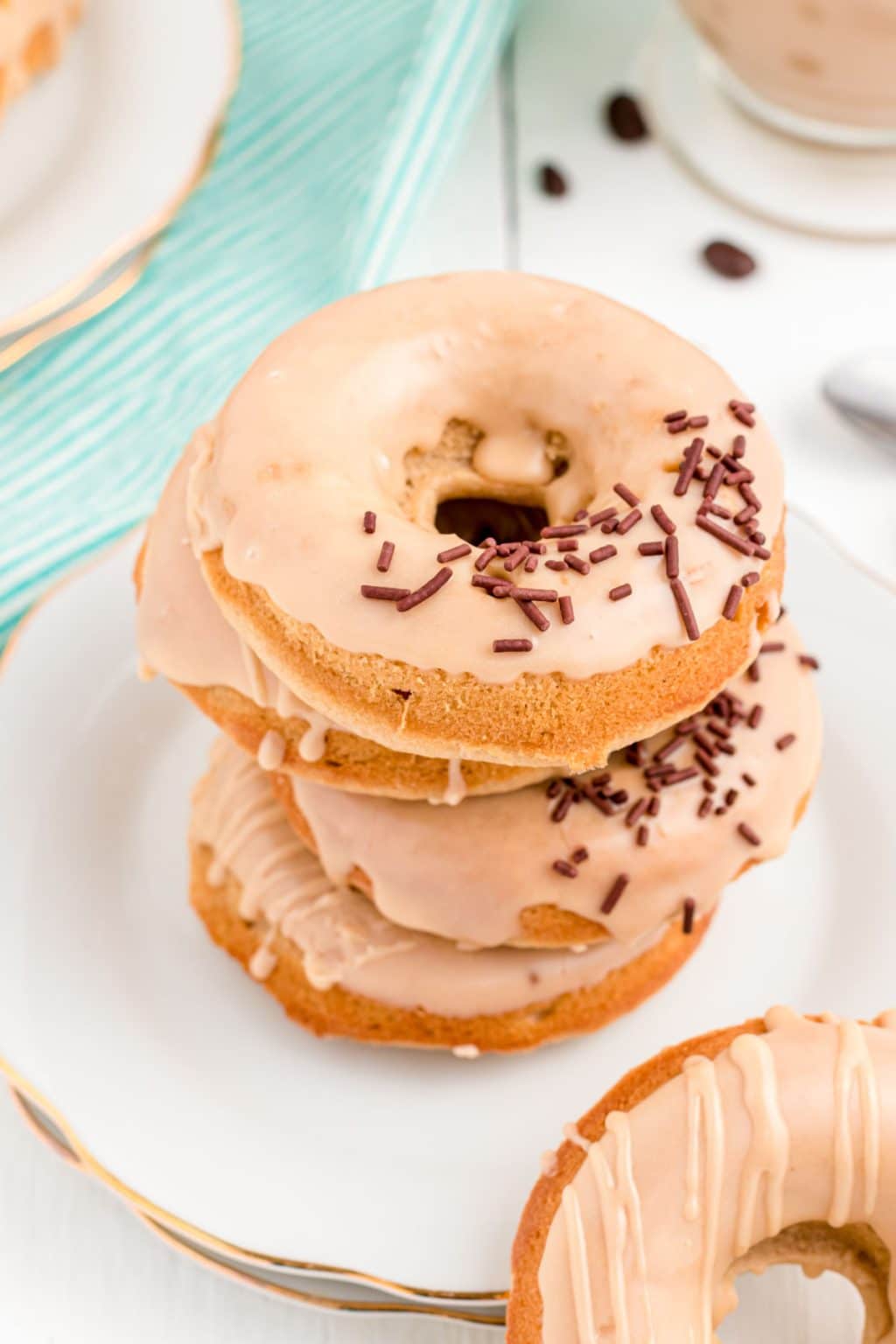 Even though these Coffee Donuts by Rebecca of Sugar And Soul are baked instead of fried, they still have a slightly crispy exterior. The base is a vanilla-flavored cakey donut topped with a glaze, made dreamy thanks to the addition of half and half and espresso.
Visit Sugar And Soul for the recipe.
Baked Vanilla Donuts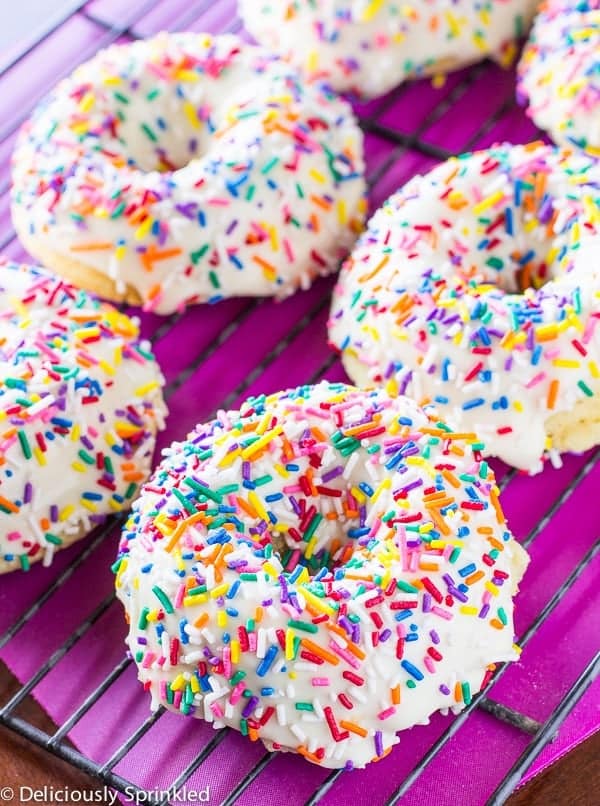 These Baked Vanilla Donuts from Jennifer of Deliciously Sprinkled are so good you'll want to eat a whole dozen. But cooler heads will prevail, and you'll settle for two because they're healthier than fried. The donut itself is cakey with subtle flavor. Yet, the homemade vanilla glaze with colorful sprinkles makes it a party.
Visit Deliciously Sprinkled for the recipe.
Baked Carrot Cake Donuts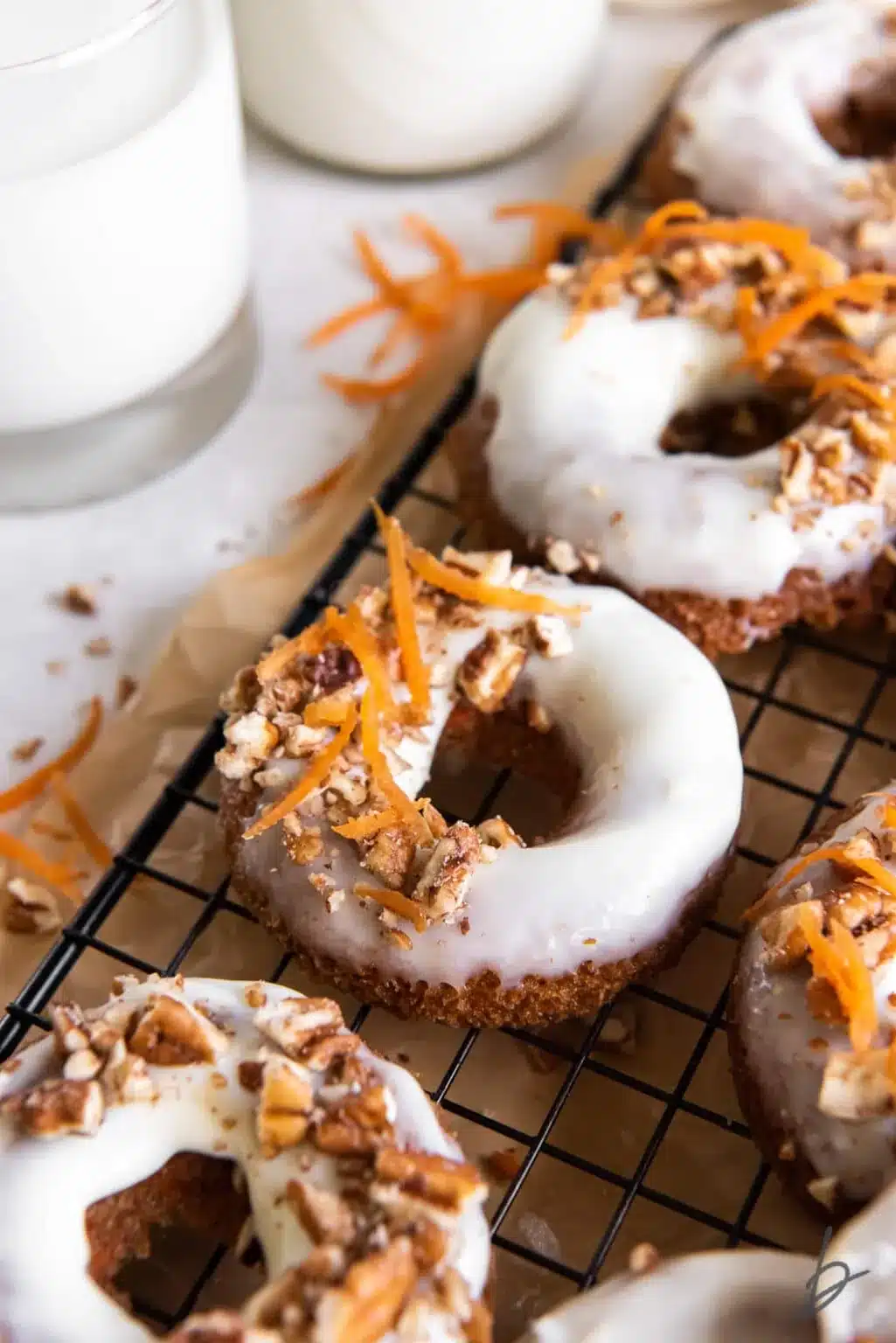 Good luck waiting for fall to sample these Baked Carrot Cake Donuts from Haley of If You Give A Blonde A Kitchen. How does one limit the flavor of spiced carrot cake with cream cheese frosting to just one season? Especially considering they take just 30 minutes from start to finish.
Visit If You Give A Blonde A Kitchen for the recipe.
Baked Churro Donuts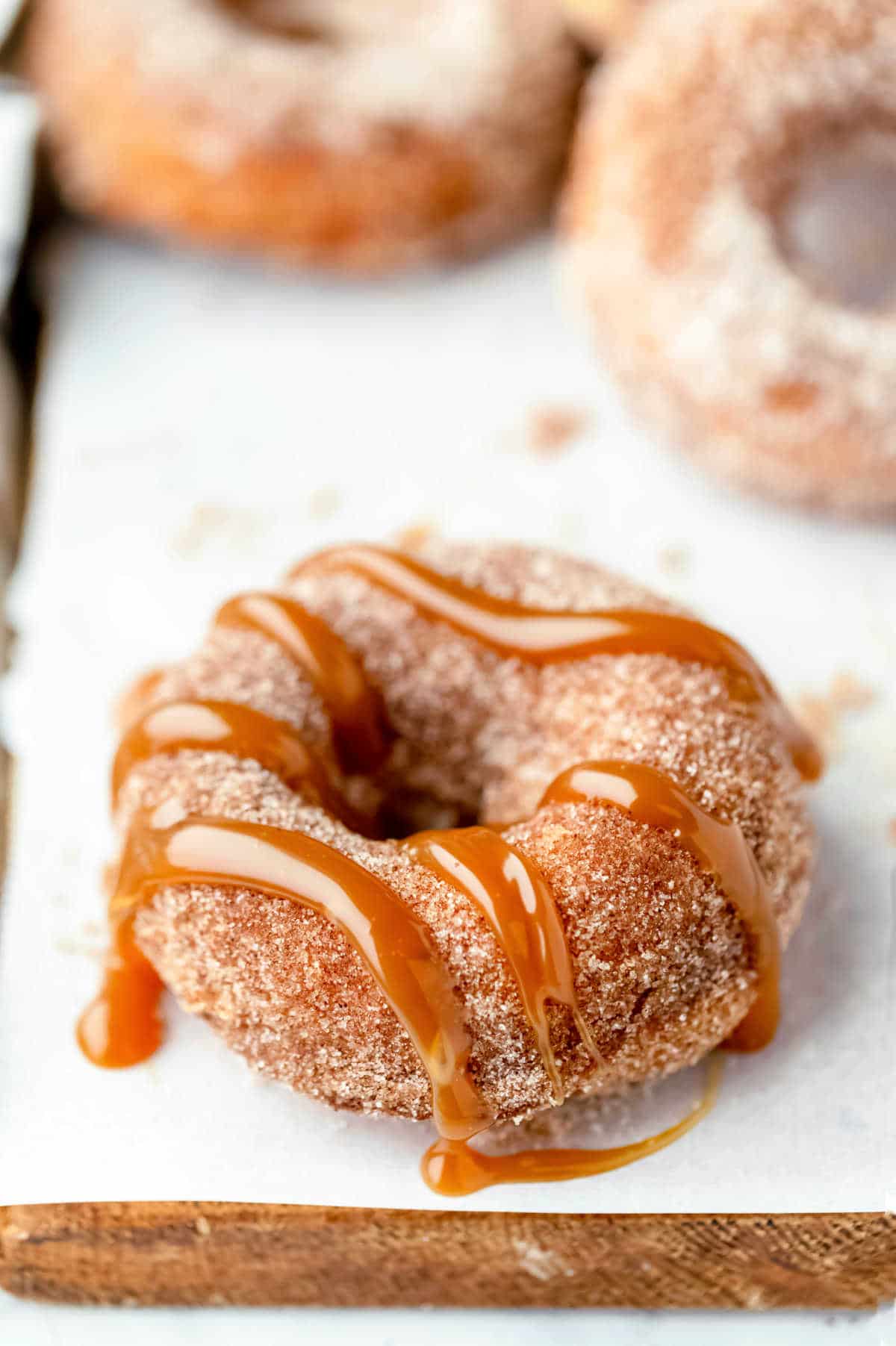 Churros immediately strike images of deep-fried dough dipped in cinnamon sugar. Mmmmm! But unless you can get them from a restaurant or food truck, how do you make them? Sure, you could make them at home, but deep frying is messy and smelly. So you turn to these Baked Churro Donuts from Kate of I Heart Eating. With her quick recipe, you'll be enjoying the same flavors of the churro, only a bit healthier. Finally, a drizzle of caramel makes for a taste you won't soon forget.
Visit I Heart Eating for the recipe.
Which Baked Donut Recipe Will You Try First?
In this post, you discovered so many different Baked Donut Recipes that you probably don't know what to do with. But which one got your attention over all others? Is it the Coffee Donuts, Lemon Poppy Seed Donuts, or something else entirely? We'd love to know!