Get ready to discover some of the most enjoyable, easy Christmas dessert recipes you can find online. You know, with all the hustle and bustle of the holidays, the last thing you want to do is have to spend all day making desserts.
So, instead, on this list, you will find fuss-free holiday treats to please everyone. There's a red peppermint Oreo truffle, mini cheesecake bites, Christmas tree brownies, and so many more.
So, let's dive in! Enjoy!
Oh, and don't forget to check out our easy Christmas cake recipes, Thanksgiving appetizers (some great options work for Christmas, too), and our Christmas cake jars.
Red Peppermint Oreo Truffle Recipe
For Monique of Living Life As Moms, receiving food gifts around the holidays is her favorite. As she says, "you can almost taste the love that went into it," and we totally agree with that sentiment.
But with all the running around you need to do, you need simple treats to give away, like these red peppermint oreo truffles. All you need is five ingredients, including vanilla Oreos, peppermint, and candy melts. See how she shares the love.
Visit Living Life As Moms for the recipe.
Grandma's German Gingerbread Cookies
As a kid, Errika of The Home Intent remembers lots of German food during the Christmas season, like this German gingerbread cookie recipe. So, this healthier spin on German Christmas cookies is a way to keep that tradition going and introduce you to a fine cookie.
They're satisfyingly crunchy with a chewy texture on the inside. And you'll love that each bite is filled with Christmasy warming spices with a nice dark chocolate glaze finish.
Visit The Home Intent for the recipe.
Apple Crisp With Oat Topping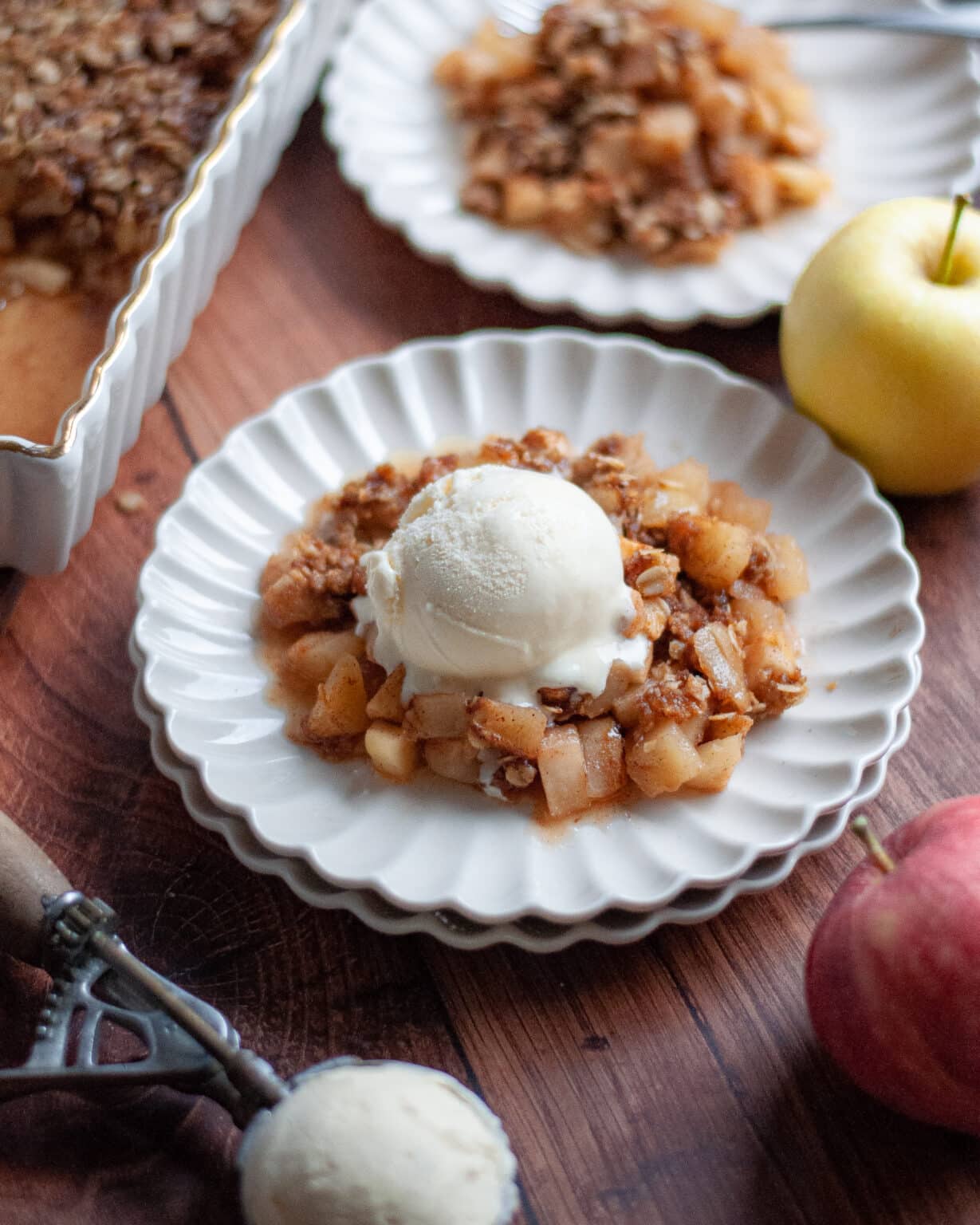 Like Meredith, Our Love Language Is Food. So, this old-fashioned apple crisp with oat topping is certainly in our vocabulary.
Desserts like this are essential for your holiday food preparation. It's full of holiday pie spices that make your home smell amazing. And it doesn't get much easier as it starts with diced and spiced apples. Then add the buttery oat and flour mixture on top and bake.
Serve it warm with a scoop of ice cream, and enjoy the familiar deliciousness.
Visit Our Love Language Is Food for the recipe.
Eggnog Basque Cheesecake
Basque cheesecake was popularized by a restaurant in the land of Basque—an area of Spain distinctly different from the rest. You char the top for a nice caramel flavor, and unlike its American cousin, there is no cookie crumb base.
Liz of Waiting For Blancmange modified this creamy and dreamy dessert by introducing eggnog for a taste of the holidays. It's a rustic treat you can't wait to eat!
Visit Waiting For Blancmange for the recipe.
Mini Cherry Cheesecake Bites
You won't need to make a graham cracker crust for these mini cherry cheesecake bites from Jessica of Ashcroft Family Table. And these little bits of heavenly decadence are so small. You'll have to eat one, then two, then three, before you stop counting.
Place a mini wafer cookie in each mini cupcake liner. That's why you don't need a crust. How brilliant is that? Then you add cheesecake filling, bake, and chill them. Then add the cherry topping and watch them disappear.
Chocolate Pandan Panna Cotta
This chocolate pandan panna cotta from Tu of Cook Morphosis is beautiful, and the color pairs nicely with the holiday season.
Pandan leaves have a floral, vanilla, and slightly coconut flavor, popular in Southeast Asian cuisine. They impart a unique flavor to treats like this panna cotta (Italian pudding). Topped with chocolate, and you've got a Christmas dessert all will remember.
Visit Cook Morphosis for the recipe.
Christmas Chocolate Covered Strawberries
This chocolate-covered Christmas strawberry recipe from Jamie of Drive Me Hungry is a great quick and cute holiday food gift. With just three ingredients and 10 minutes, you can make them in no time.
Just be sure to pick ripe strawberries and follow Jamie's other tips. She explains when to add the sprinkles, how to get a softer chocolate shell, and even how long to store them outside the refrigerator.
Visit Drive Me Hungry for the recipe.
Reindeer Cakes
How cute are these reindeer cakes from My Air Fryer Kitchen? But the best part is that this recipe uses all prepared ingredients. So from the ding dong cakes to the candy melts, pretzels, and candy eyes, all you need to do is decorate.
You can make 10 of these cuties from start to finish in just 15 minutes. And for as easy as they are to make, you'll still find great tips like waiting 30 minutes after decorating to handle them. There are also ideas for variations.
Visit My Air Fryer Kitchen for the recipe.
THE Best Christmas White Chocolate Chex Mix Recipe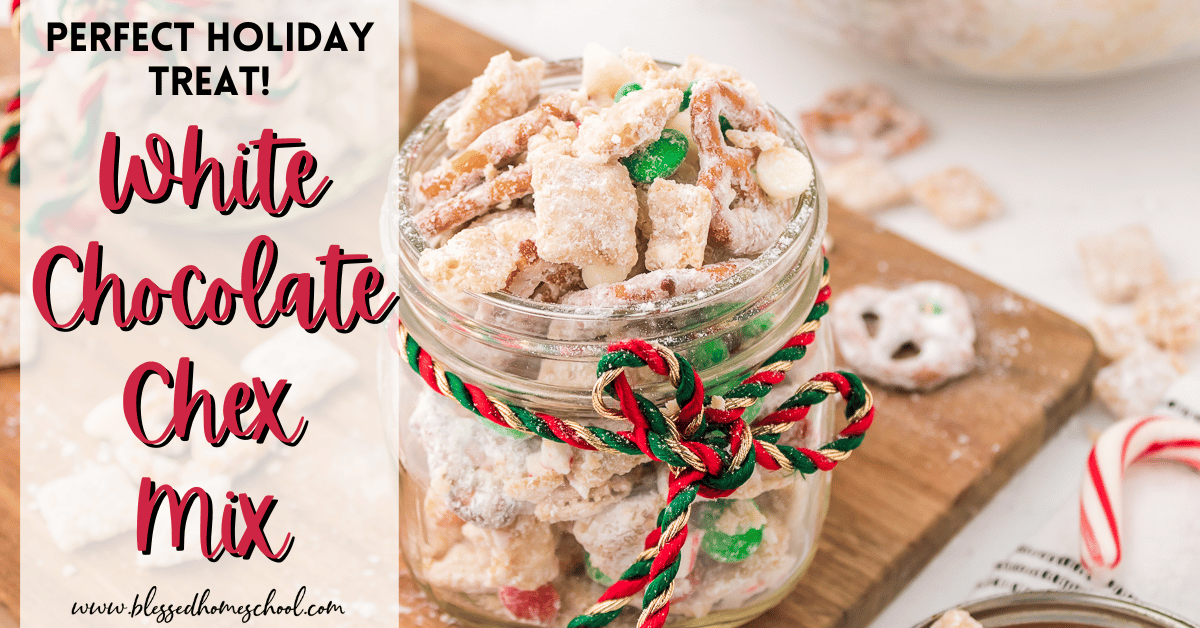 At Blessed Homeschool, Sara doesn't only provide resources for successful homeschooling but also delicious and simple recipes like this Christmas white chocolate Chex mix.
It's her adorably festive take on "muddy buddies" or "puppy chow." They're also foods she had an aversion to due to the nickname. We admit dirt pals (muddy buddies) and dog food (puppy chow) aren't exactly appetizing monikers.
But once you get past that, you find a simple recipe made with simple ingredients that feed a crowd of kids.
Visit Blessed Homeschool for the recipe.
Chocolate Peppermint Blossoms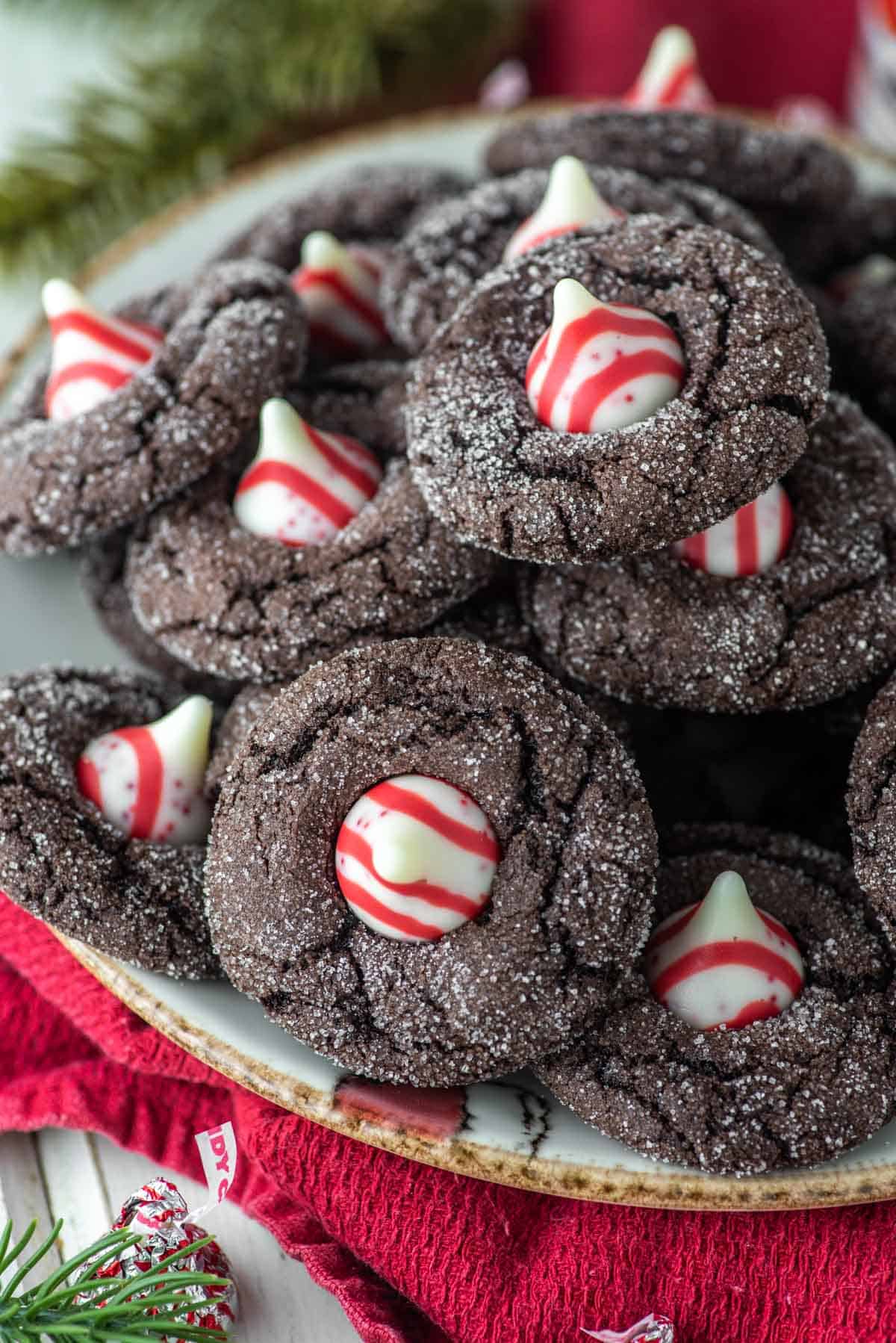 Ryan is a maker-a true creator through and through. His site, Chisel And Fork, is an eccentric fusion of food and DIY. So you can find a wainscotting tut or an easy Christmas dessert like these chocolate peppermint blossoms.
Like peanut butter blossoms, you take a cookie and bake a Hershey's Kiss into it. Only this time, you use Ryan's brownie-like chocolate cookie, and instead of milk chocolate kisses, you use peppermint kisses. It's a treat that taste just like the holidays.
Visit Chisel And Fork for the recipe.
Christmas Tree Brownies
Even Dannii, head cook at Hungry Healthy Happy, likes to indulge in a sweet treat from time to time. That's because balance is best for long-term health success. And with Christmas tree brownies this cute (and easy), who could resist?
Using an 8 x 10 baking pan, she bakes the most delicious non-cakey brownie with a perfect fat-to-flour ratio. Then she cuts them into small triangles and decorates the bite-sized tree desserts. See how she does it.
Visit Hungry Healthy Happy for the recipe.
Christmas Crack (Saltine Toffee Candy)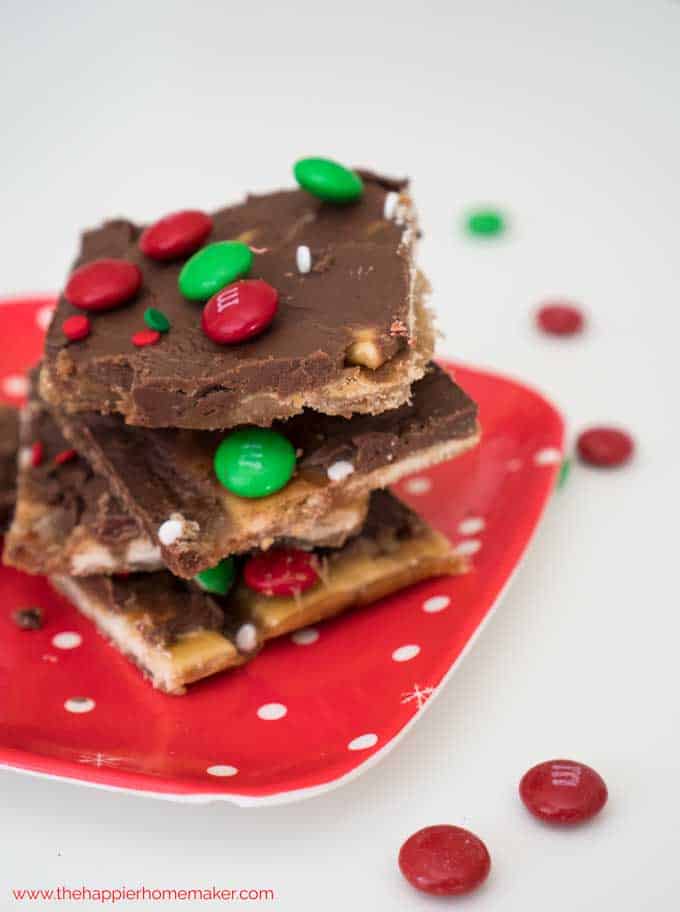 Melissa, The Happier Homemaker, reminds us that while it's fun to try new foods, the classics are classic for a reason. They've stood the test of time. And so is the case with this "like grandma used to make" Christmas crack.
Here, the humble saltine cracker has its day. On a parchment paper-lined baking sheet filled with the crackers, pour the toffee, then chocolate chips, and sprinkle on your favorite candy like green and red m&m's or holiday sprinkles.
Visit The Happier Homemaker for the recipe.
Christmas Poke Cake
This Christmas poke cake from Rebeka of Zen And Honey may prove to be the star of your Christmas dessert table. It's a fantastic combination of easy, festive, and delicious.
But first, what is a poke cake?
It's a cake that, once baked, you poke holes in, then you pour a liquid over it to add your favorite flavors. It's a fun and simple way to enhance the flavor of box cake. This recipe uses red and green Jello, which is perfect for Christmas.
Visit Zen And Honey for the recipe.
Spiced Poached Pears (without wine)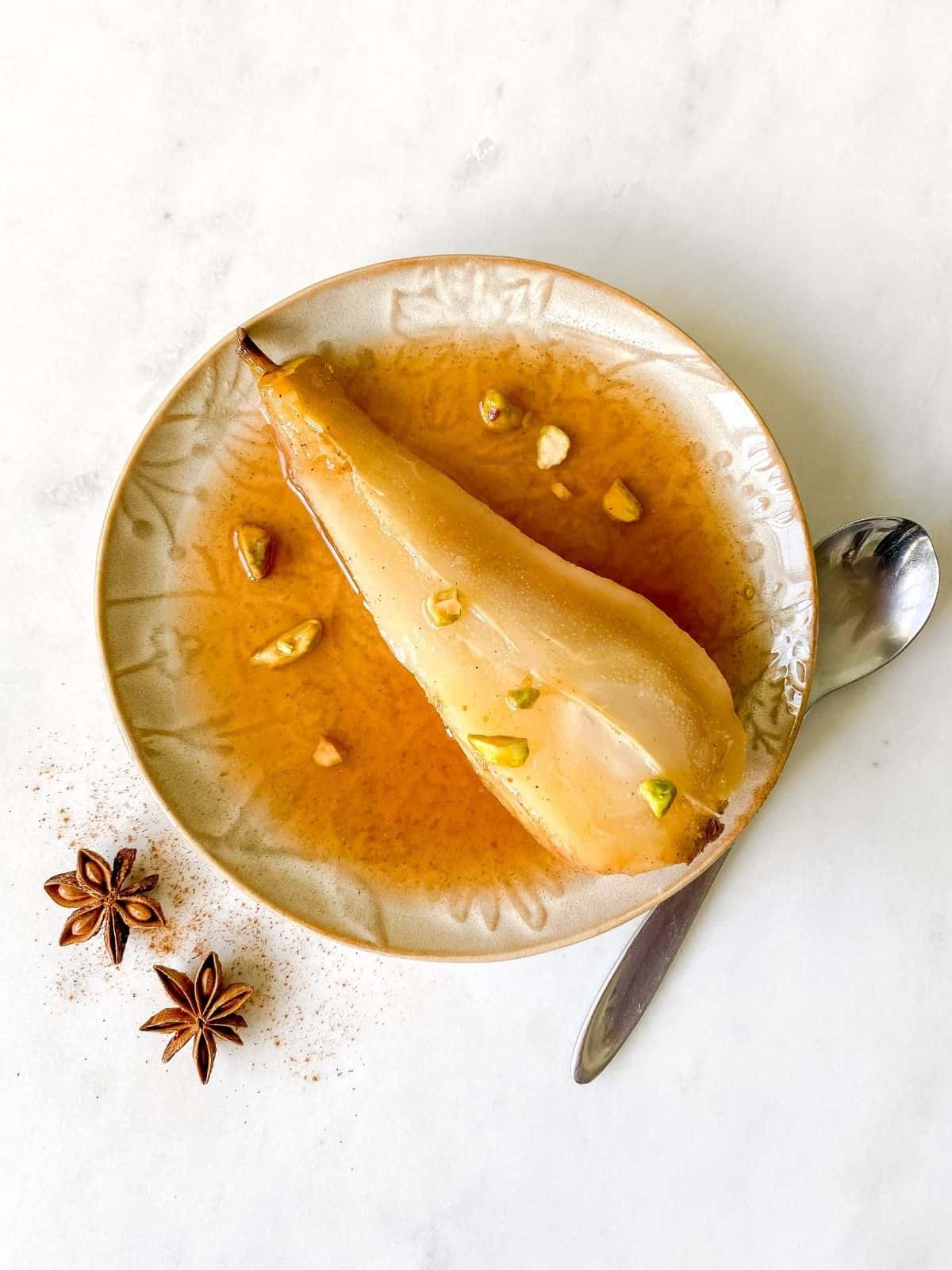 You'll fall in love with these spiced poached pears from Claire of Through The Fibro Fog. It's such a simple recipe where all you need to do is poach the pears in a concoction of apple juice and spices.
They take just 10 minutes to prepare and 30 minutes to boil (you won't have to watch them the whole time). Plus, there are just seven ingredients, two of which are optional. Finally, plate the pears with syrup from the pan and garnish with crushed pistachios for an elegant presentation.
Visit Through The Fibro Fog for the recipe.
Crock Pot Christmas Crack Candy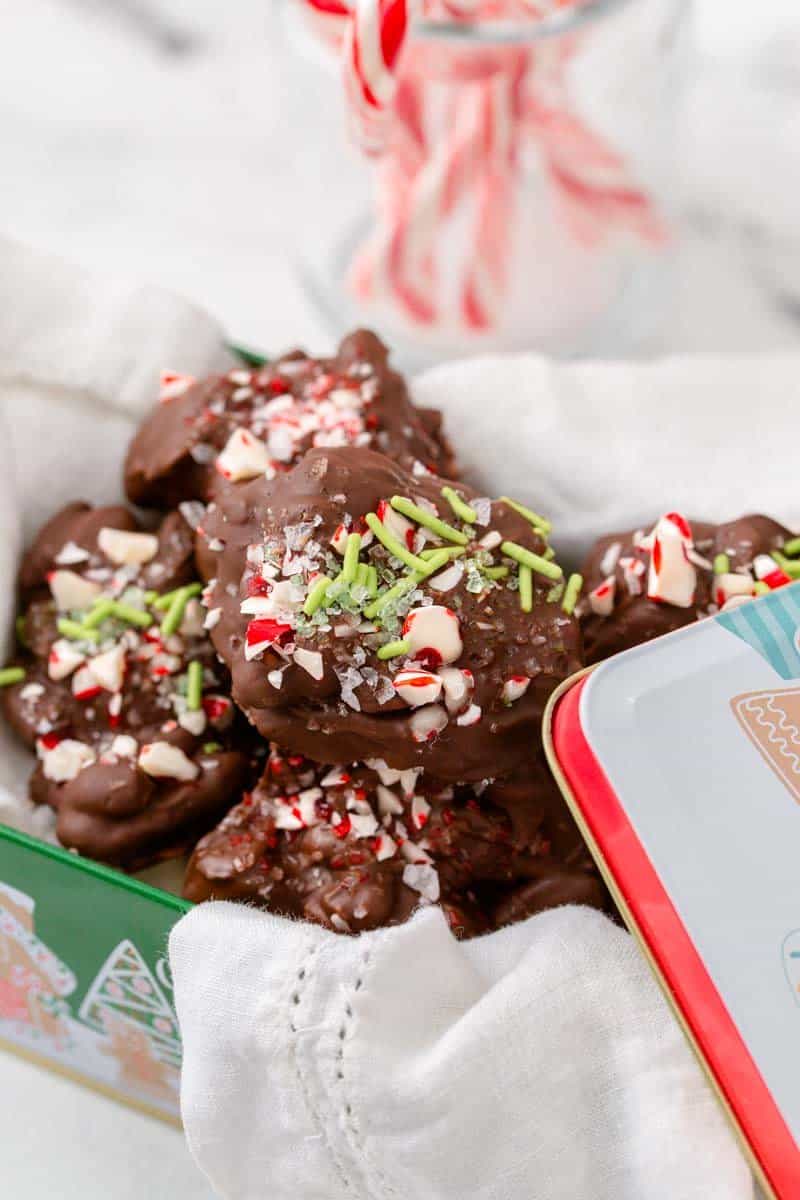 With a site named Aleka's Get Together, you can be confident in finding all sorts of tips for entertaining from the teacher-turned food blogger extraordinaire. So, this crock pot Christmas candy is certainly a good option for the next potluck you attend.
This holiday treat is filled with chocolatey and peanut buttery goodness and nuts. But wait, there's more! Optionally you can top the candies with crushed peppermint or sprinkles.
Visit Aleka's Get Together for the recipe.
Mini Apple Cream Cheese Danishes
Thanks to frozen puff pastry, this apple cream cheese danish from A Paige Of Positivity couldn't be easier. It's an elegant dessert treat perfect for the holidays or any time of the year. In fact, they make a good alternative to your favorite toaster breakfast food.
It starts with a square of puff pastry. Then you add the cream cheese sugar mixture and sliced apples. Finally, you bake, and you'll have a delicious and elevated dessert that takes less than 30 minutes to make.
Visit A Paige Of Positivity for the recipe.
No Bake Cherry Eclair Dessert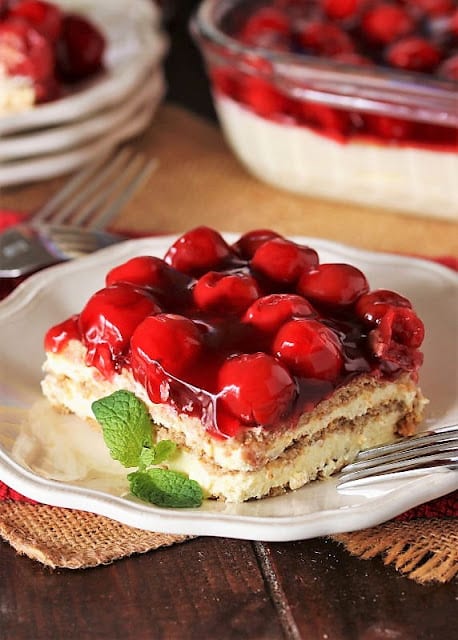 If homey desserts without the oven get your attention, you'll love this no-bake cherry eclair dessert from Tracey of The Kitchen Is My Playground. It's a five-ingredient layered treat and an excellent finish to a holiday feast.
You start by alternating layers of graham crackers and the pudding and whipped topping mixture. Then you top with a final layer of graham crackers and spread the canned cherries on top. It's an effortless yet pretty dessert that's sure to get devoured.
Visit The Kitchen Is My Playground for the recipe.
Easy Chocolate Cream Pie
This easy chocolate cream pie from Nicole and Andrea of Simply Scrumptious Eats represents old-school decadence at its finest. This recipe is one of those desserts that work well in the summer but equally well during the winter.
It's effortless!
So this five-ingredient treat starts with a base of Oreos, cream removed, of course. Then you top it with instant pudding and whipped cream. Chocolate shavings are optional but highly recommended.
Visit Simply Scrumptious Eats for the recipe.
Sour Cream Sugar Cookies with Cream Cheese Frosting
Tiffany of Saving Talents is an expert at making these sour cream cookies with cream cheese frosting. She's been making them since she was a little girl, continued to do so through college, and has kept them a family tradition ever since.
It's a simple buttery sugar cookie with just eight ingredients (five for the frosting), and you will most likely have all of them in your pantry or refrigerator. Plus, Tiffany shows you about a dozen decorating examples.
Visit Saving Talents for the recipe.
Christmas Snowball Cookies
With 4.5 stars across 99 reviews at the time of this writing, you can trust this Christmas snowball cookies recipe from Jaclyn of Crayons And Cravings is a winner. Snowball cookies are almond-flavored cookie mounds that traditionally contain nuts.
But Jaclyn opted for red and green m&m's candies instead-a fitting change as it matches the holiday season. Best of all, the yummy sweet takes just 15 minutes to prepare and 25 minutes to bake.
Visit Crayons And Cravings for the recipe.
Gingerbread Madeleines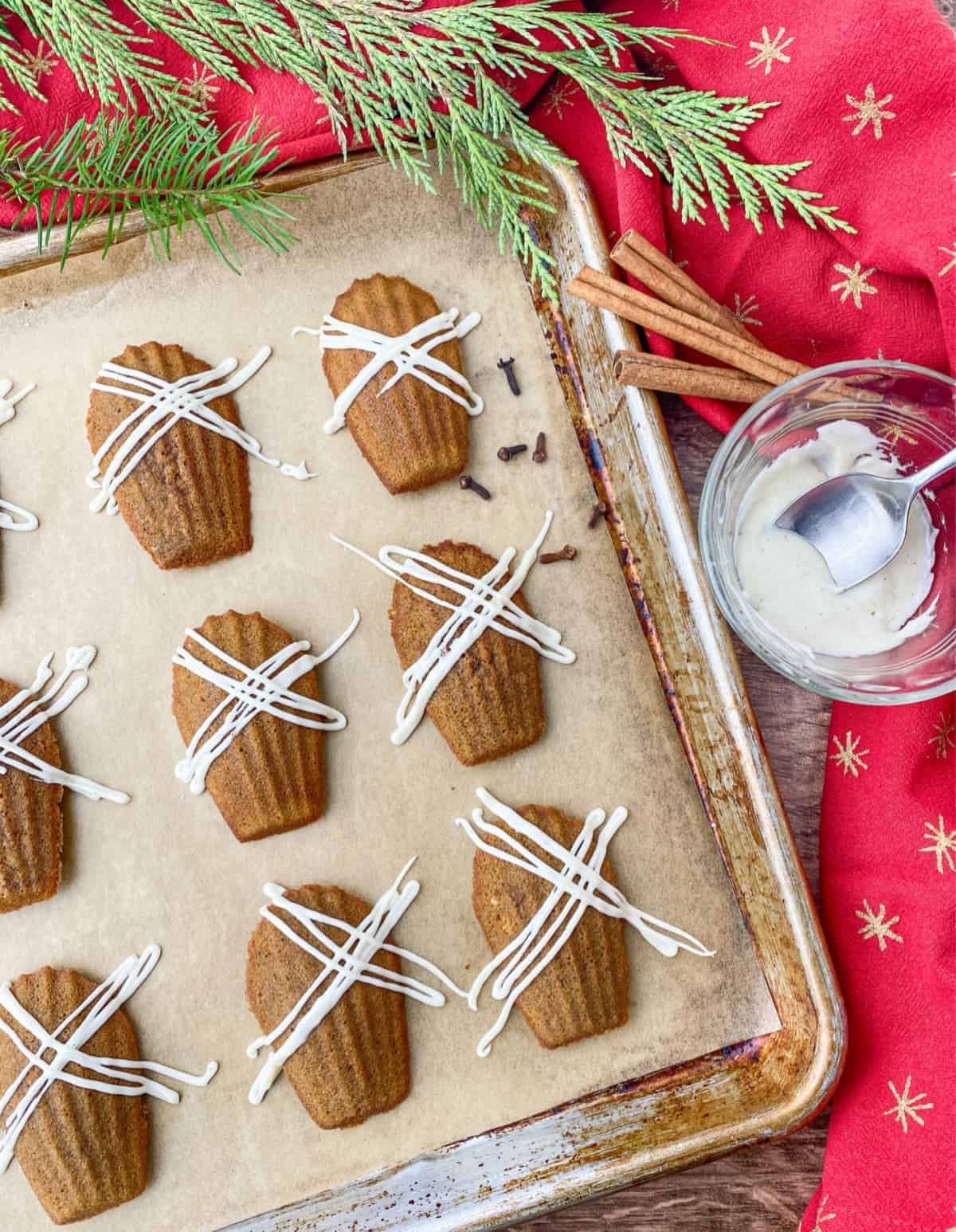 These gingerbread madeleines from Amee of Live To Sweet represent simple elegance. They take just 20 minutes to prepare and 10 minutes to bake. And the vanilla bean glaze is to die for.
Now, don't be turned off by the ingredient list. It isn't the shortest. But most of what you need are spices like cinnamon, ginger, and nutmeg (most of which you have).
But for as easy as the recipe is, Amee provides you with notes like keeping the madeleines uniform in size. Plus, she'll share her favorite place to get vanilla bean paste.
Visit Live To Sweet for the recipe.
Which Easy Christmas Dessert Recipe Will You Make First?
By now, you've seen a variety of easy Christmas desserts ranging from Basque cheesecake to snowball cookies and everything in between, which one are you excited to try first?