These are some of the best ramen recipes online, from spicy lamb to salmon ramen and everything in between. Once, the humble bowl of ramen was thought of, in the US at least, as just a quick meal for poor college students and young adults. But these ramen recipes below are meals the whole family will enjoy.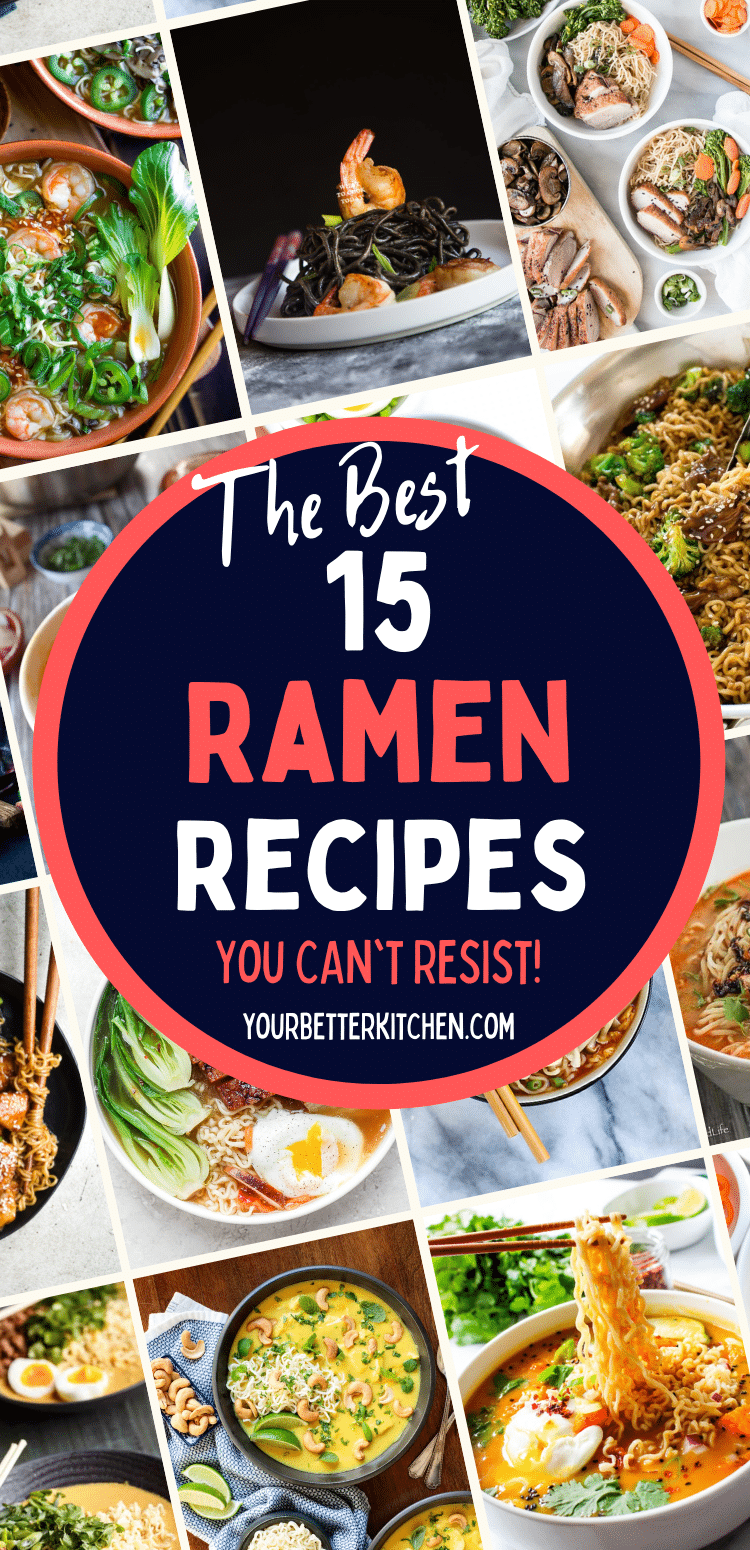 Love this list, be sure to check out our best cast iron recipes, and the best food on a stick.
Jump to:
5 Fun Facts About Ramen
1. China consumes the most ramen of any country. But how many packets of ramen does China consume…Wait for it…A whopping 46 billion packs per year.
2. Ramen is popular amongst inmates. So much so that it is the most purchased commissary item at Rikers Island prison. You might also be interested to know there is a prison ramen cookbook.
3. Instant noodle ramen is fried before it is packaged to preserve it.
4. Did you know there is ramen etiquette? While it may seem uncouth to slurp noodles in the United States, it is rude not to slurp in Japan where it shows that you enjoy the meal.
5. Celebrate the best ramen recipes on October 6th, national ramen noodle day.
15 Best Ramen Recipes
We searched every corner of the internet to bring you these 15 best ramen recipes. You will find everything from spicy shrimp ramen to hunger noodles with eggs and sausage. These are some of the best ramen recipes to inspire you to make a new bowl of delicious noodles. There is no ranking, all of the recipes are awesome!
Spicy Lamb Coconut Curry Ramen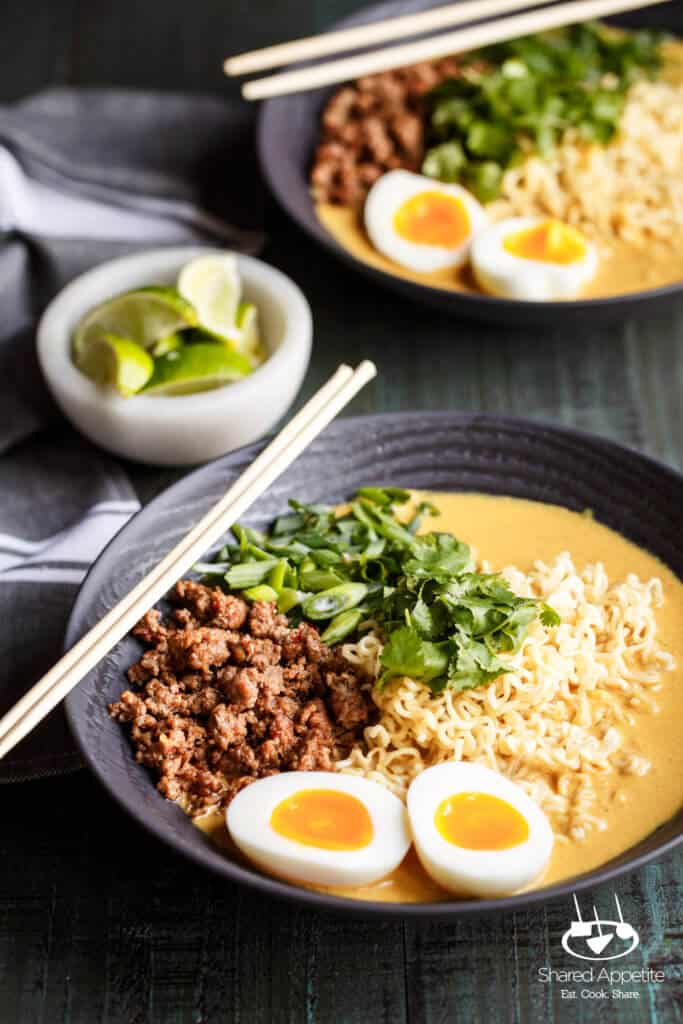 In one of the most entertaining food blog reads you'll ever come across, Chris of Shared Appetite is our exploration buddy, helping us discover Khao Soi, a Thai/Burmese soup exploding with flavor. It's the inspiration for his spicy lamb curry ramen, only far more accessible. But back to that flavor, it starts with a harmonious mix of shallots, ginger, garlic, ground coriander, fish sauce, and more. The crown jewel, however, is tender, spicy lamb. It's a meal you can make on a weeknight, but it'll undoubtedly impress your significant other on a special occasion.
Visit Shared Appetite for the recipe.
Spicy Shrimp Ramen Bowls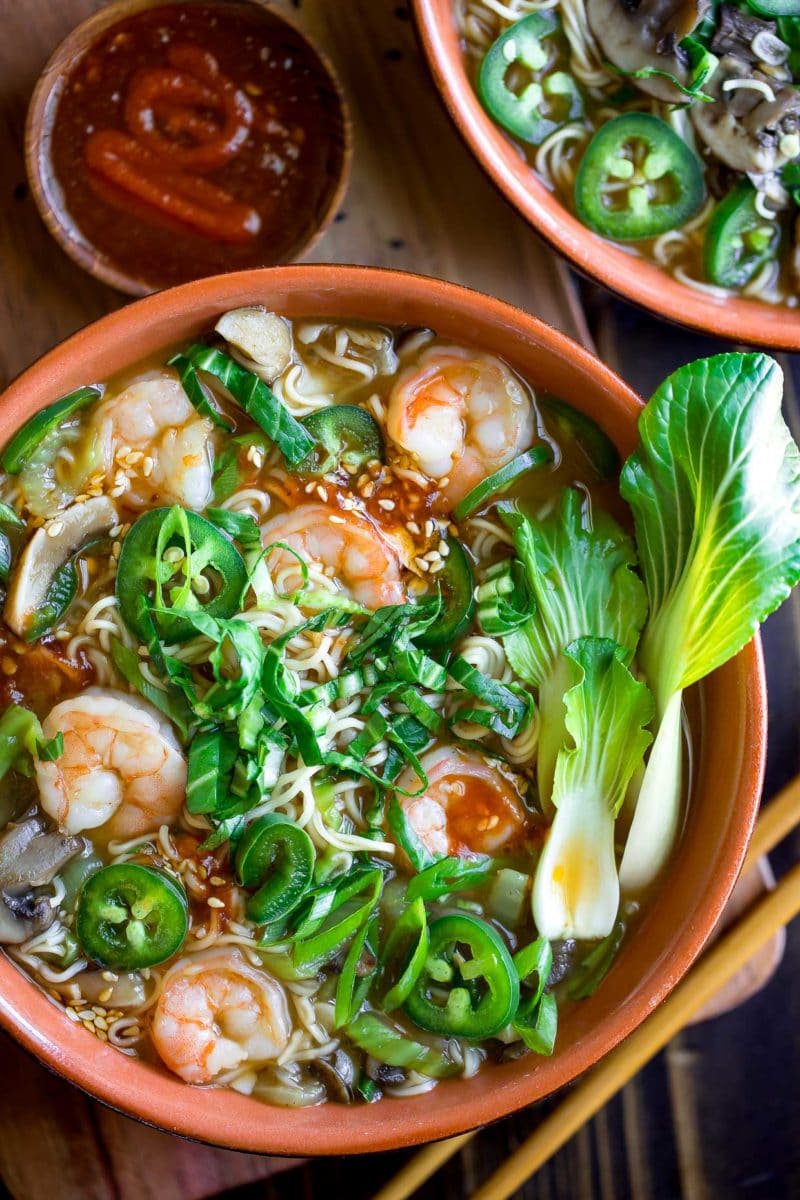 Spicy shrimp ramen bowls by Jen of Peas And Crayons are the love child of two spicy noodle recipes on her site. However, in this 30-minute bowl of deliciousness, there's shrimp, noodles, bok choy, mushrooms, garlic, and heat from jalapenos, chili paste, and sriracha. So, double or even triple the batch for meal planning the whole family will love. And if you want to make the dish unique to your taste, Jen has a mountain of topping ideas.
Visit Peas And Crayons for the recipe.
Hunger Noodles
After a fun night out, drinking and partying until morning-morning, you need to follow it up with something carby and meaty. That's why this noodles recipe from Adrianne of Sweet Caramel Sunday is the perfect antidote to a hangover. But you don't need to overindulge in alcohol to enjoy this ramen meal filled with breakfast fixings and some spinach (so you can say you ate healthily). It's just as tasty on a sober Sunday morning before church.
Visit Sweet Caramel Sunday for the recipe.
Coconut Curry Chicken Ramen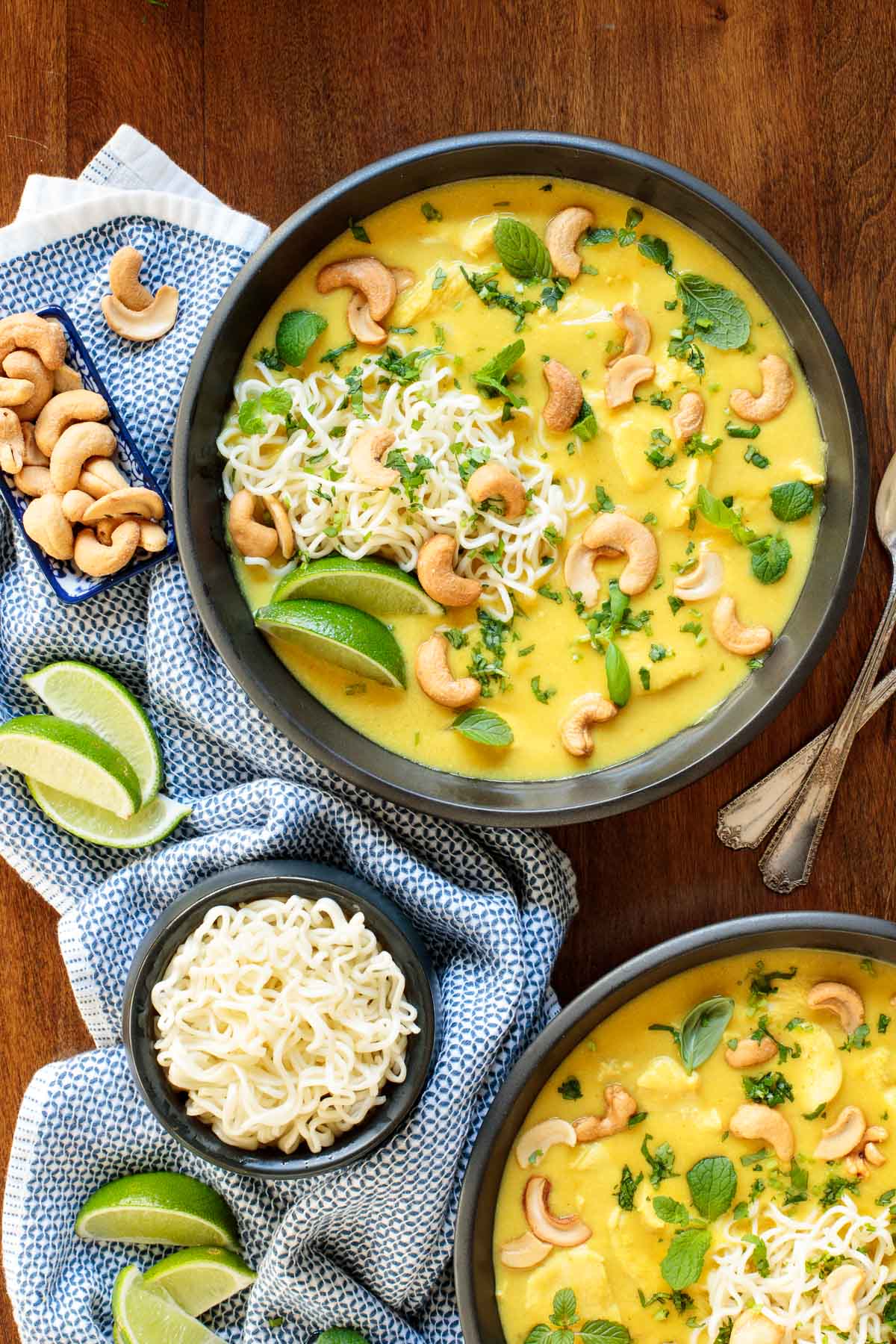 Whether you're looking for tasty ramen for a party of one or to impress dinner guests, this coconut curry chicken ramen will not disappoint. Because what Scott and Chris of The Cafe Sucre Farine get is that it's all about that sauce. Their silky smooth, rich curry sauce has, amongst other ingredients, ginger, curry paste, garlic to energize tastebuds. Then there's the chicken. They show you how to make the most succulent chicken with a process we'll let them introduce to you.
Visit The Cafe Sucre Farine for the recipe.
General Tso Chicken With Ramen
When the weather starts to shift from warm to chilly Sara of Between Carpools craves the comfort of American Chinese food. So it's no surprise she dreamed up this 20-minute General Tso chicken ramen recipe. It's everything you love about General Tso's chicken's unmistakable flavor, sweet and tangy, but with ramen noodles. What you will really love about this recipe is that she includes two methods to make it. Stovetop and crockpot.
Visit Between Carpools for the recipe.
Easy Spicy & Creamy Garlic Sriracha Ramen Recipe
Veronique and Alvin of Couple Eats Food put hot sauce on everything! Yet, the creamy chicken broth base with milk, garlic, and sesame oil complements the heat in this vegetarian ramen bowl. On top, you will find a protein-rich egg and sriracha. As written, the spice-loving authors estimate the heat level to be medium-high. However, add the sriracha little by little if you're not as spicy inclined.
Visit Couple Eats Food for the recipe.
Homemade Salmon Ramen Recipe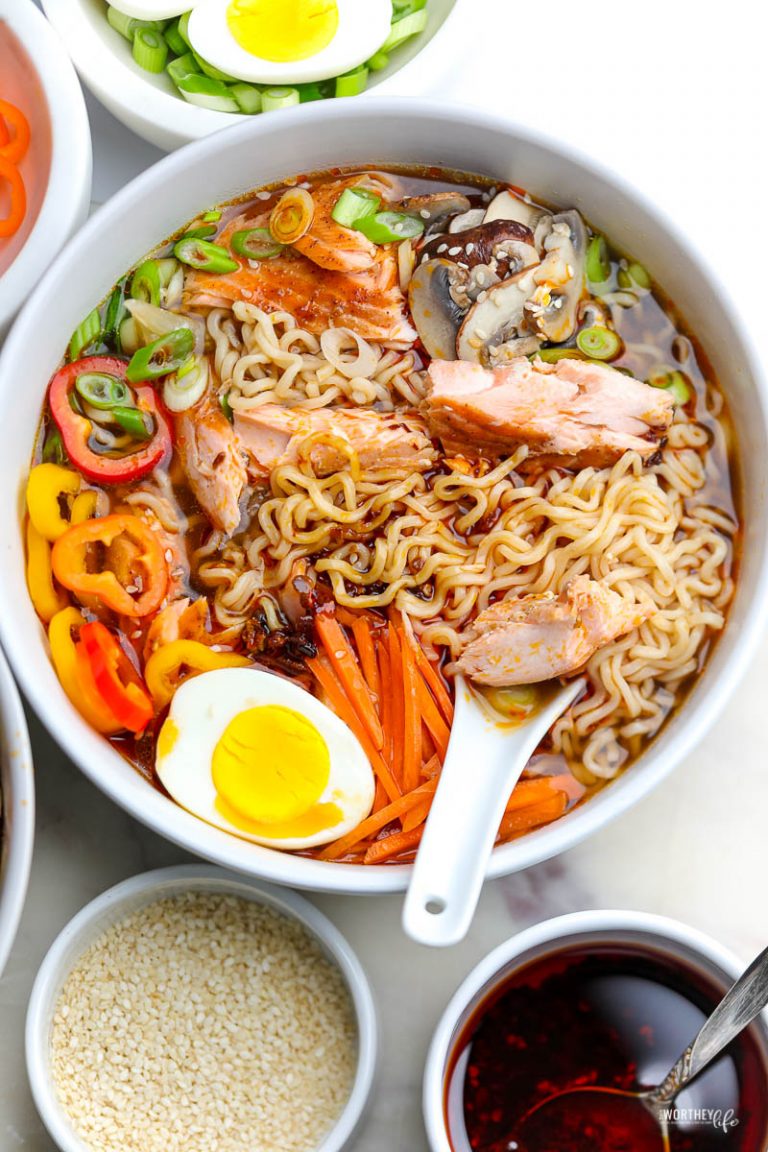 Tatanisha and Derrick of This Worthey Life share this healthy homemade salmon ramen recipe. It's a weeknight meal featuring nutritiously ample salmon, which has too many health benefits to list here. In addition, your body will thank you for the carrots and green onions. But nutrition doesn't mean a whole lot if the meal doesn't taste good. Luckily this dinner satisfies your tastebuds too! There's just so much flavor in the broth from the soy sauce, Bonita flakes, garlic, etc. Mmmm.
Visit This Worthey Life for the recipe.
Birria Ramen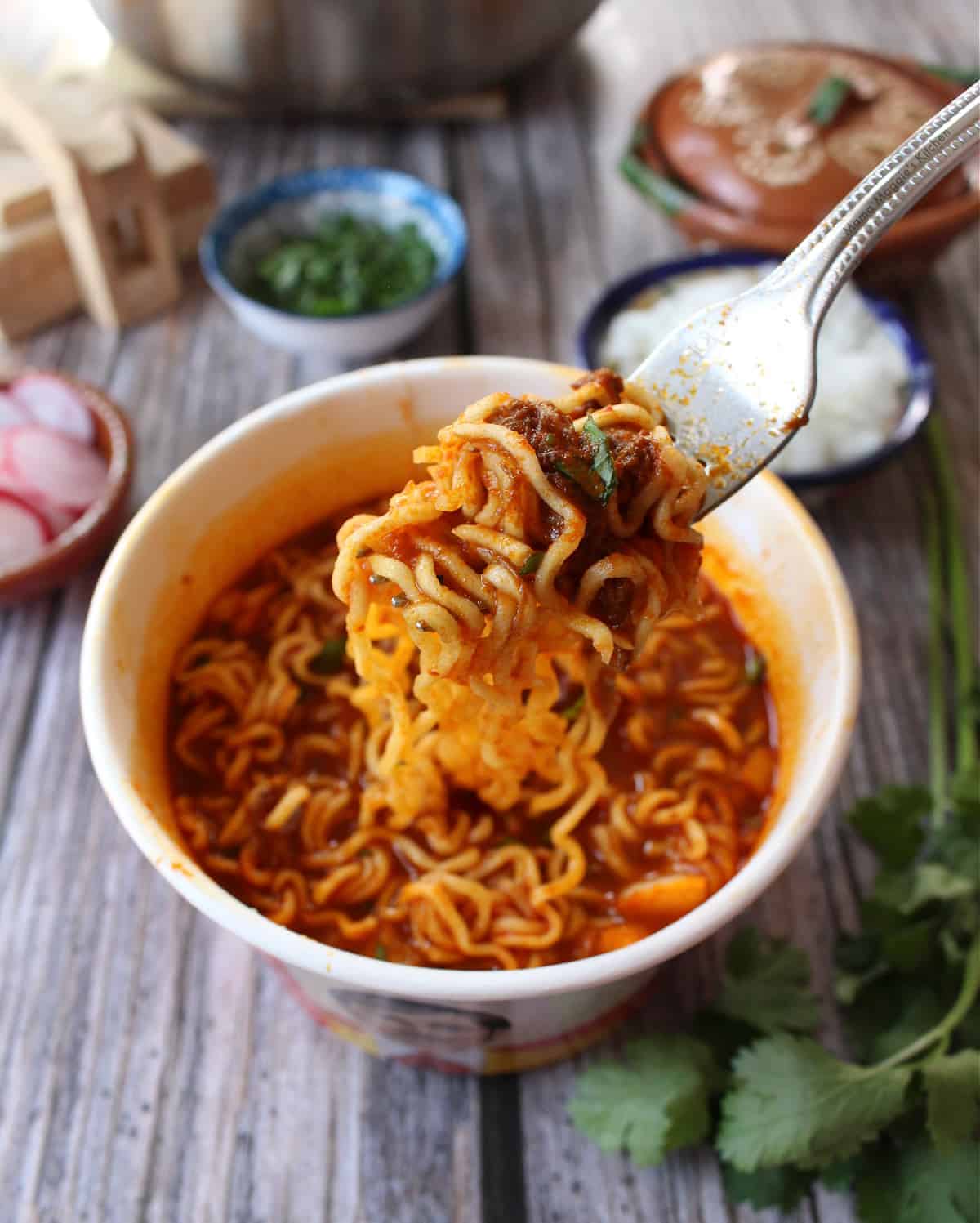 This birria ramen by Maggie of In Mama Maggie's Kitchen is another answer to what to do with all that delicious leftover birria de res. Birria is low and slow stew meat from Jalisco, Mexico, with just about every spice under the sun. So, by now, you'll find birria versions of everything from tacos to fries, nachos, poutine, or this ramen. We like Maggie's recipe because it is kitted out with all the tips you could ever need, including topping ideas and specific ramen brand recommendations for a fun recipe everyone will enjoy.
Visit In Mama Maggie's Kitchen for the recipe.
Pho Spiced Pumpkin Ramen
If you say Yes To Yolks, Molly will show you how to make her delicious pho spice pumpkin ramen. If you're unfamiliar, typical Vietnamese cooking contains pho spice, and pho spice has five main ingredients: cinnamon sticks, cardamom, cloves, coriander, and star anise. So as you can see lots of flavors. But this dish is unique because it combines pumpkin, a North American squash, with Vietnamese flavorings and Japanese noodles. Another surprise is pumpkin is usually served in a sweet dish, but this one is savory.
Visit Yes To Yolks for the recipe.
Crispy Sesame Duck Ramen
It's not often we find duck on the menu but if there were ever a time to try it at home it would be with this crispy sesame duck ramen from Samantha of My Kitchen Love. This recipe will likely get you out of the rut of sameness by exploring a lesser utilized protein. There's lots of umami flavor in the broth by way of mushrooms and miso where she encourages us to use the latter in more than just this meal. Lastly, she thoughfully shares how to render duck fat so the skin gets crispy.
Visit My Kitchen Love for the recipe.
Pork Belly Ramen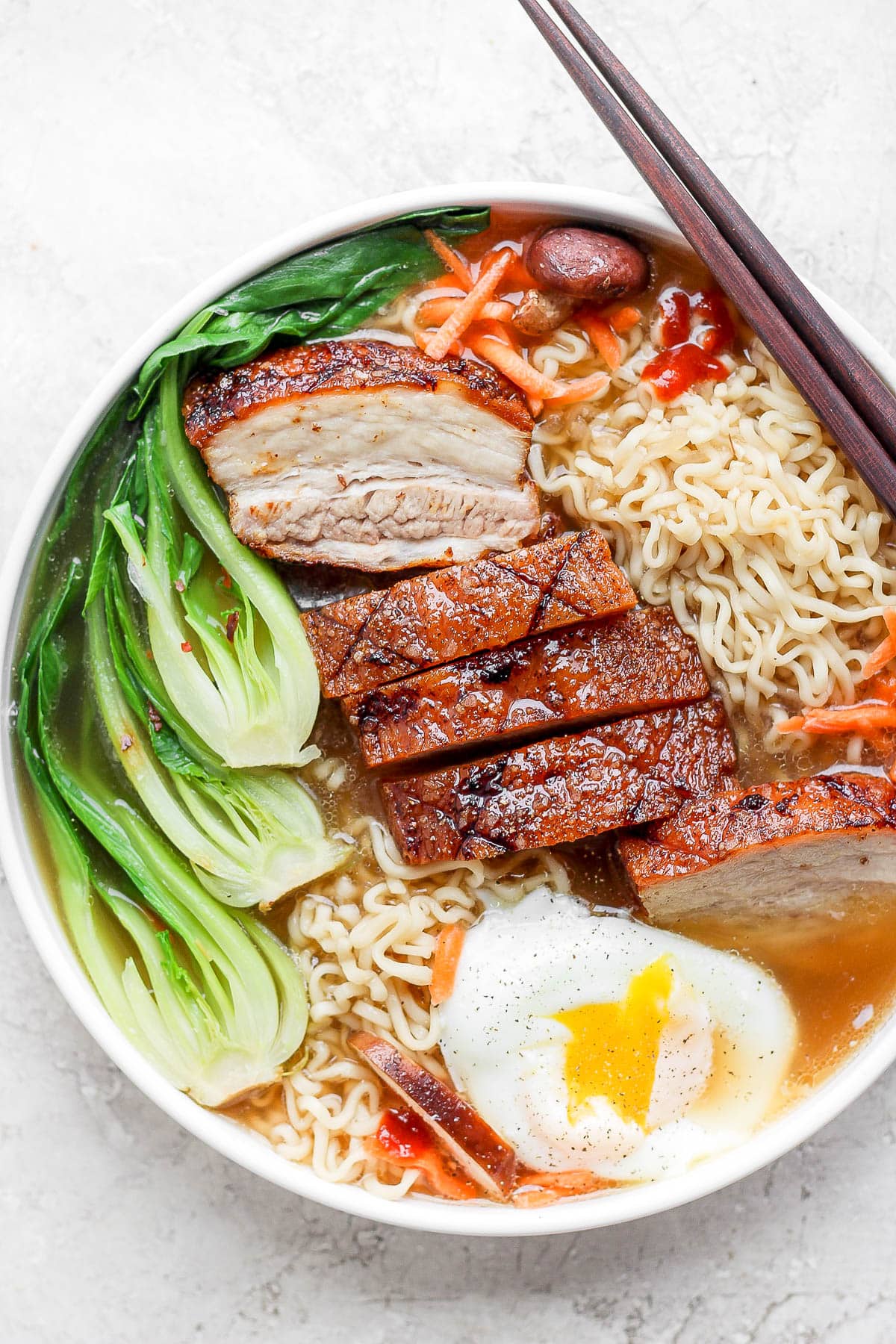 This pork belly ramen from Erin of The Wooden Skillet is a complete meal stuffed with so much flavor from fragrant ingredients like lemongrass, shallots, ginger, and garlic. Also, the protein! There is just so much protein from the crispy better-than-bacon pork belly. Better still, Erin takes you by the hand with images of each step. So, in the end, you can cozy up with this comfort in a bowl.
Visit The Wooden Skillet for the recipe.
Mexican Ramen Bowl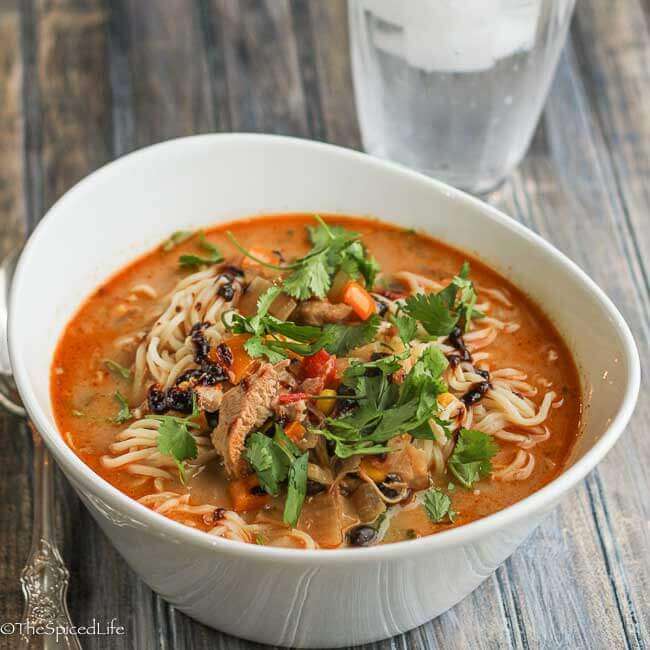 Laura of The Spiced Life is a fusion food expert and enthusiast who shares this exciting Mexican ramen bowl with salsa negra. In fact, salsa negra, made with roasted tomatoes and peppers, was the motivation behind this dish. Accompanying flavorful boneless skinless chicken thighs is an intensely flavorful broth with chili powder, cumin, and even beer. You will want to garnish with cilantro, lime wedges, and more salsa but leave the cheese out of this one.
Visit The Spiced Life for the recipe.
Beef and Broccoli Ramen
Classically trained chef Kelley Simmons of Chef Savvy brings us this beef and broccoli ramen, an American Chinese fusion food. It's a super saucy, tasty, and quick dish your family will appreciate. Now, you do have to marinate the meat for an hour, but it takes less than 30 minutes for actual cooking and prep. In addition, you get hints to help you cook and cut the steak properly.
Visit Chef Savvy for the recipe.
Homemade Squid Ink Ramen And Buttered Ramen With Shrimp Stir-Fry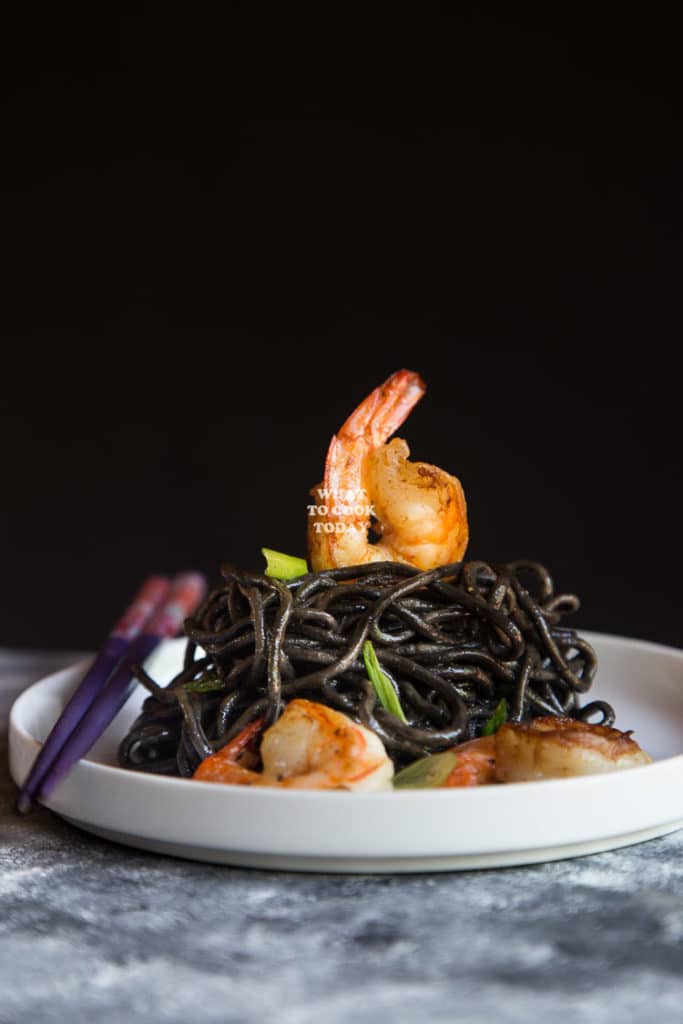 Don't let the long title discourage you from exploring this squid ink ramen from Marvellina of What To Cook Today. It's easy to make, and it could become your favorite delicious discovery you make repeatedly. However, you should know that you will need a pasta cutter. Marvellina uses a stand mixer attachment. Overall, this is delicious ramen with a beautiful contrast of black and pink. So, make this dish, perfect it and surprise your dinner guests with it.
Visit What To Cook Today for the recipe.
Kimchi Ramen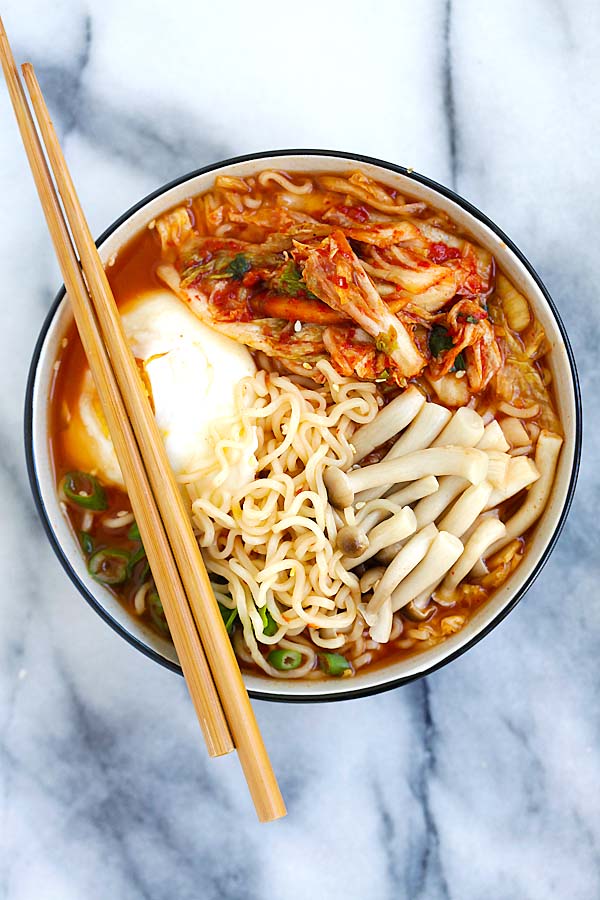 You will love this simple Kimchi Ramen from Bee of Rasa Malaysia if you enjoy the spicy, sour, fermented kimchi flavor. It's one of the spicy dishes she turns to when the weather is suboptimal. You know, cold and wet. It's not all about spice, though. Eggs and mushrooms give this quick ramen some bite and protein. But how quick is quick? In just 15 minutes, you can be slurping away with a bowl of this tastiness right in front of you. Oh, and one more thing, she gives you this weird kimchi buying tip that'll change your life (if you love kimchi).
Visit Rasa Malaysia for the recipe.
Which Ramen Recipe Do You Think Is Best?
Is it the squid ink ramen? Or perhaps the crispy duck ramen? Let us know in the comments section.