When you combine sweet cream ice cream and Grandma's sweet potato pie, you get a sweet potato pie ice cream. When you add a homemade marshmallow fluff on top and toast it with a kitchen torch, you get pure magic! This recipe is perfect if you're a sweet potato lover and want to try something new with the versatile root vegetable.
And if you love sweet potato, check out these sweet potato dessert recipes, and these sweet potato breakfast ideas.
Jump to Recipe
This sweet potato pie ice cream is a spin on one of our favorite holiday desserts. Now, there's nothing like grandma's sweet potato pie. In fact, this recipe takes me back to those chilly Thanksgiving days when I couldn't wait to get to Grandma's house and eat too much food. But it was the sweet potato pie that I looked forward to the most. The scent alone takes me right back to simpler times. Long before I knew what a bill was.
If you're here, you probably have warm memories of holiday pie, of something Grandma used to make. We've made other sweet potato pie recipes, but this one is our favorite. It's our take on an old classic. We hope that you enjoy it as much as we do!
Jump to:
Ingredients
To make our sweet potato pie ice cream, you will want to use your favorite sweet potato pie. If you don't have one, you can use the one we link to in the recipe card below. Or, if you don't have the time, buy a pie from the store. Store-bought pie, however, isn't usually as tasty as homemade.
sweet potato pie
eggs
whole milk
heavy cream
salt
sugar
See the recipe card for quantities.
Essential Steps
If you are making your pie from scratch, you will want to do that first, as the pie will need a few hours to cool off. We provide a link to one of our favorite sweet potato pie recipes in the recipe card below; however, we don't go over any of the critical steps. Next, you will want to make the ice cream, so below you will find the most critical steps to making your ice cream.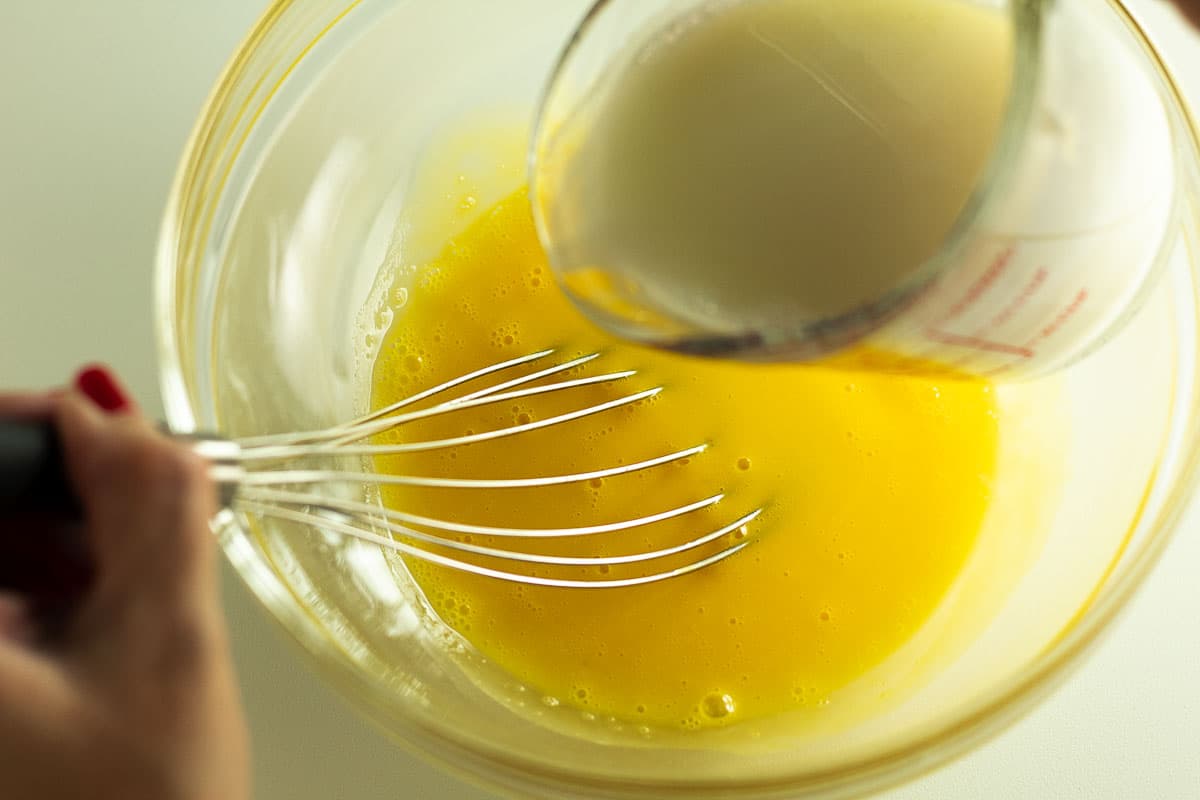 One of the essential steps to making a custard (egg) based ice cream is tempering the eggs. This means adding the warm milk mixture to the eggs a little at a time to increase the eggs' temperature gradually. You have to do this to avoid making scrambled eggs.
Even when you carefully temper the eggs, you may end up with a tiny bit of scrambled eggs. So, you will need to pour the eggs through a mesh strainer. This step will ensure that you have smooth ice cream.
Use a double boiler set up to make the homemade marshmallow fluff. Just make sure that the bowl is heat-safe. You will first dissolve the sugar and salt into the egg whites, then stir until the temperature reaches 160-degrees. The mixture will be frothy.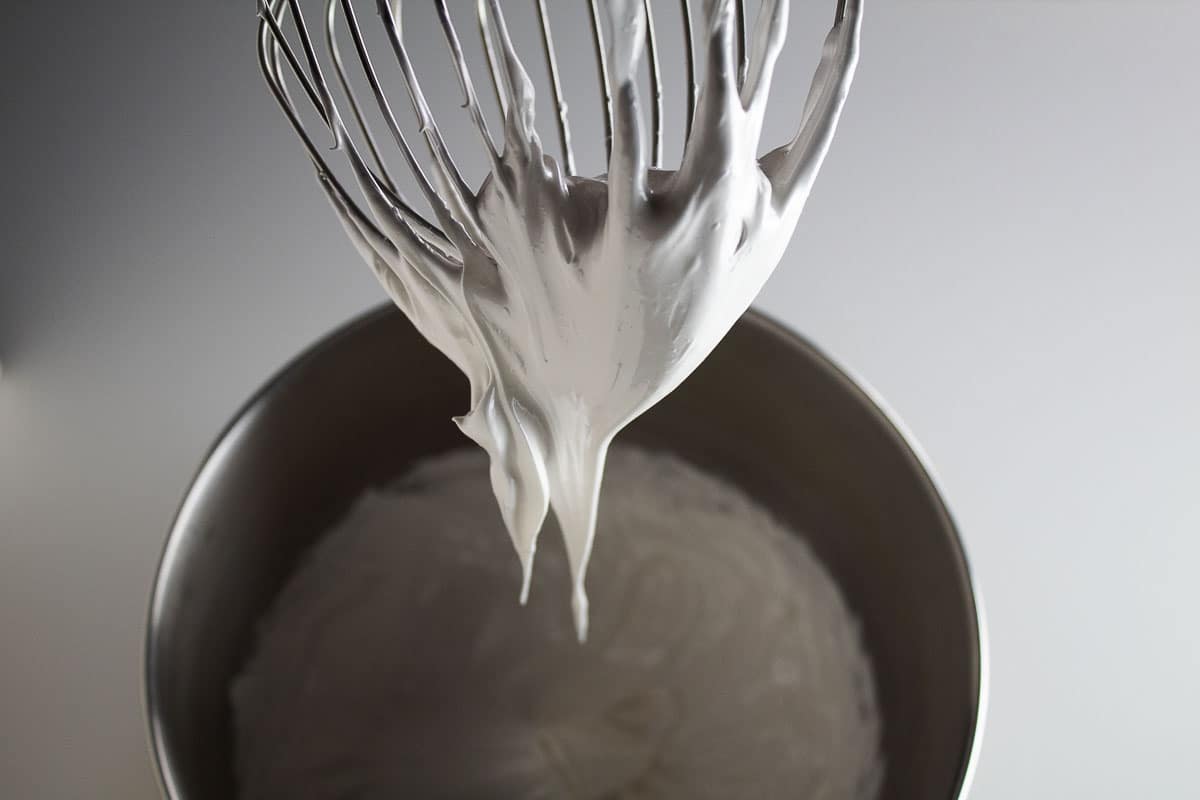 Next, add the frothy mix to your mixing bowl. Mix on high for about five minutes. You will know that the marshmallow fluff is finished when the peaks are glossy.
Equipment
To make this homemade ice cream or any other, you will need an ice cream maker. So, do you have one? Well, if you don't, I recommend going with the Cuisinart ICE-30. This entry-level ice cream maker is perfect for newbies, and it won't break the bank.
Other than an ice cream maker, I'd recommend a stand mixer to make your homemade marshmallow fluff. Now, if you only have a hand mixer, you can still make the marshmallow fluff but will need to hold the mixer the whole time.
If you want to make the recipe the way we did, you will need a kitchen torch. These cool little kitchen gadgets are good for scorching marshmallows and a host of other things.
Variations
If you are looking to make this recipe slightly different or level it up in some way, we've listed some ideas for you.
Purple sweet potatoes – even though purple sweet potatoes can be found at some grocery stores, they aren't nearly as common as their orange cousins. Many people still aren't familiar with them. So imagine giving someone a sweet potato ice cream and they're surprised that it's purple.
Chocolate marshmallow fluff – add cocoa powder to your marshmallow fluff for a chocolate variation. Chocolate goes with sweet potatoes very well.
Food coloring – adding different food colors to your marshmallow fluff is a great way to present your ice cream creation in a unique way.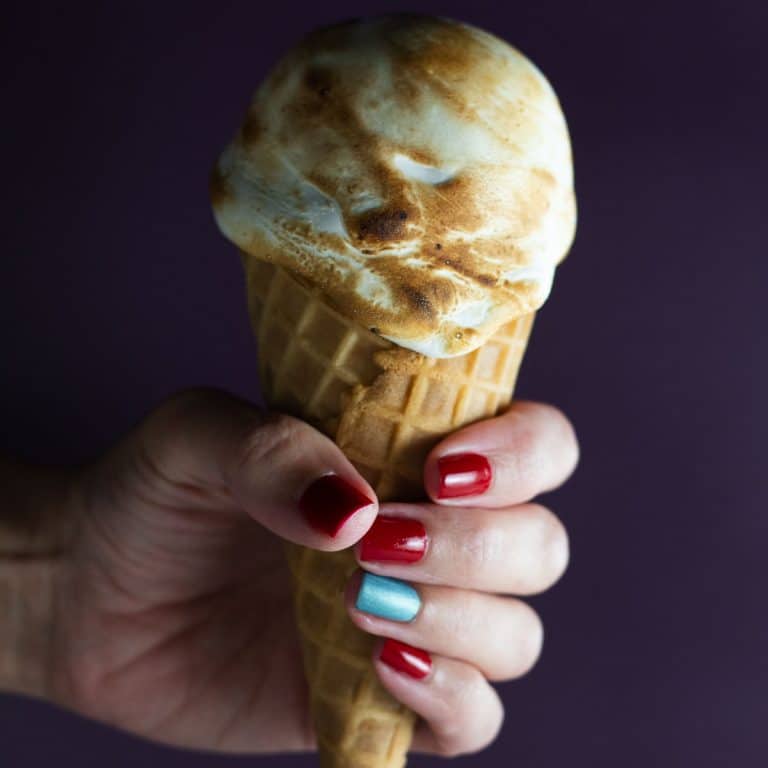 Sweet Potato Pie Ice Cream Recipe
If you are a big fan of sweet potato pie, then get ready to fall in love all over again with this amazing ice cream recipe.
Equipment
Ice Cream Maker

food thermometer

stand mixer

kitchen torch
Ingredients
Sweet Cream Ice Cream
1 1/2

cup

whole milk

1 1/2

cup

heavy cream

3/4

cup

sugar

5

large egg yolks

1

pinch

salt

1/4

sweet potato pie
Marshmallow Fluff
4

large egg whites

1

cup

sugar

1/2

tsp

cream of tartar

1

tsp

vanilla extract
Instructions
Sweet Cream Ice Cream
Add the heavy cream to a medium bowl and set aside. In another medium bowl, add the egg yolks. 

In a medium pot, add the whole milk, sugar, and salt. Heat until the sugar and salt have dissolved. It can take about 3 minutes.

Take the warmed milk mixture and very slowly whisk in about ½ cup into the egg yolks. Then pour the egg mixture back into the pot and cook until the mixture has thickened or covered the back of a spoon. It can take about 13-15 minutes. 

Using a mesh strainer, pour the milk and egg mixture into the bowl with the heavy cream. Stir to combine. Then put the mixture in an ice bath to help cool it down. Once the mixture is cooled, put it in an airtight container and refrigerate for at least 2-3 hours.

Churn the ice cream mixture using your ice cream machine's instructions. While it's churning, you want to cut small pieces of the sweet potato pie and set them aside. When you have 5 minutes left, add the pie pieces and combine. Freeze the ice cream for at least 4 hours to overnight. 

Serve ice cream in a cone, and using an offset spatula sprayed with cooking spray, spread some of the marshmallow fluff on top. Using a kitchen torch, toast the fluff and enjoy!
Marshmallow Fluff
In a heatproof bowl, add the egg whites, sugar, and cream of tartar. Place the bowl on top of a medium pot with about 2 inches of simmering water.

Whisk the mixture consistently until the sugar has dissolved, about 4 minutes. The mixture will become frothy, and you'll know it's ready when the thermometer reads 160 degrees. 

Add the frothy egg mixture into a stand mixer bowl and add the vanilla extract. Mix on high for 5 minutes. Store in an airtight container in the fridge for 2-3 days. 
Notes
Don't just pour the whole warm milk mixture into the egg yolks, or you will get scrambled eggs.
Straining the mixture ensures you don't get eggshells or scrambled eggs into your smooth ice cream mixture.
An ice bath is when you take a large bowl filled with ice and cold water. Then place a medium bowl inside the large one.
If you noticed the egg mixture curdling after heating, no worries. You can add the mixture into a blender and blend for about 30 seconds. This will help cream the mix again. 
If you don't have a stand mixer, you can make the marshmallow fluff using a hand mixer.
Spray your tools with cooking spray when you spread the marshmallow fluff. It's very sticky.
Nutrition
Calories:
471
kcal
Carbohydrates:
63
g
Protein:
3
g
Fat:
24
g
Saturated Fat:
15
g
Polyunsaturated Fat:
1
g
Monounsaturated Fat:
7
g
Cholesterol:
88
mg
Sodium:
56
mg
Potassium:
169
mg
Sugar:
61
g
Vitamin A:
973
IU
Vitamin C:
1
mg
Calcium:
108
mg
Iron:
1
mg
Storage
When storing this ice cream, make sure that you place it in the freezer as soon it is finished churning, and you fold in the chunks of sweet potato pie. So, move quickly because if you wait too long, the ice cream will start to melt, and it will be icy when it freezes.
Top Tips
We have a few tips for you to consider. For one, make sure that you put the ice cream in the freezer as soon as possible. This will prevent you from having "icy" ice cream.
Next, we like nice chunks of sweet potato pie in our ice cream. So while you should add the pie to your ice cream when there are ten minutes left, you should add more when the ice cream is finished churning. This will ensure that you run into chunks of pie while you eat, making for a delicious surprise.
Another rather important tip is to make sure that whatever container you will use to store your ice cream is cold. So, please place it in the freezer while your ice cream is churning. This is important because a warm container will cause the ice cream to melt.