Ultimate Fried Pickles Recipe – dill pickles breaded and deep-fried until golden and delicious. Our bread coating is thicker than most fried pickle recipes, reminiscent of southern fried chicken (chicken fried pickles, if you will), and it will stay crisp long after you fry.
If you love fried foods, be sure to check out our battered sausage recipe.
Jump to Recipe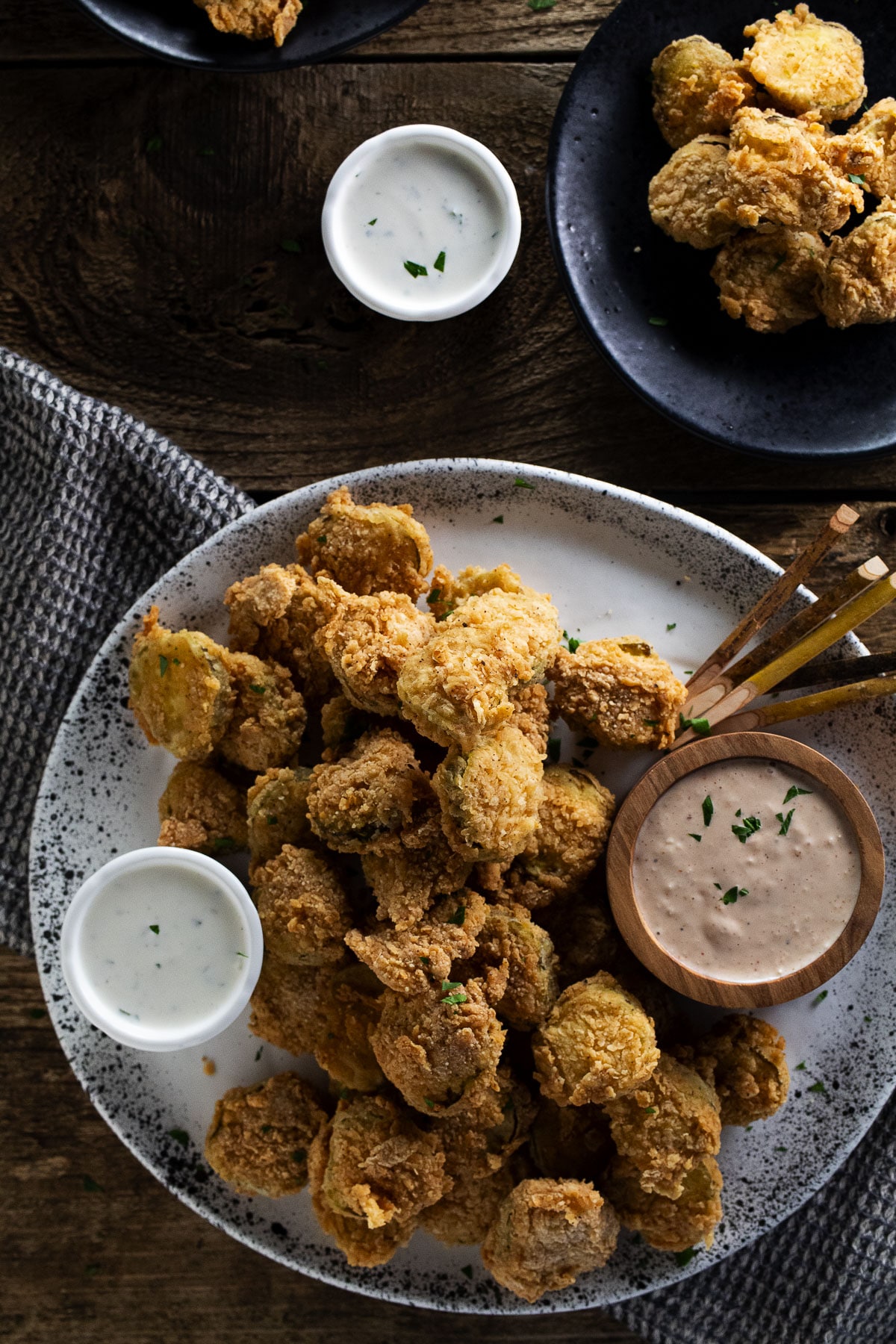 Our Texas Roadhouse fried pickles recipe is better than the original. Yep, I said it! Now don't get me wrong, Texas Roadhouse makes some amazing fried pickles, but ours are even better. And our dipping sauces are fantastic.
We like Texas Roadhouse. Every time we eat there, we have to get an appetizer. Our favorites are rattlesnake bites (fried jalapeno cheese balls), cactus blossom (fried onion), or fried pickles.
But sometimes, you don't feel like dining out. So, making fried food at home is a good option.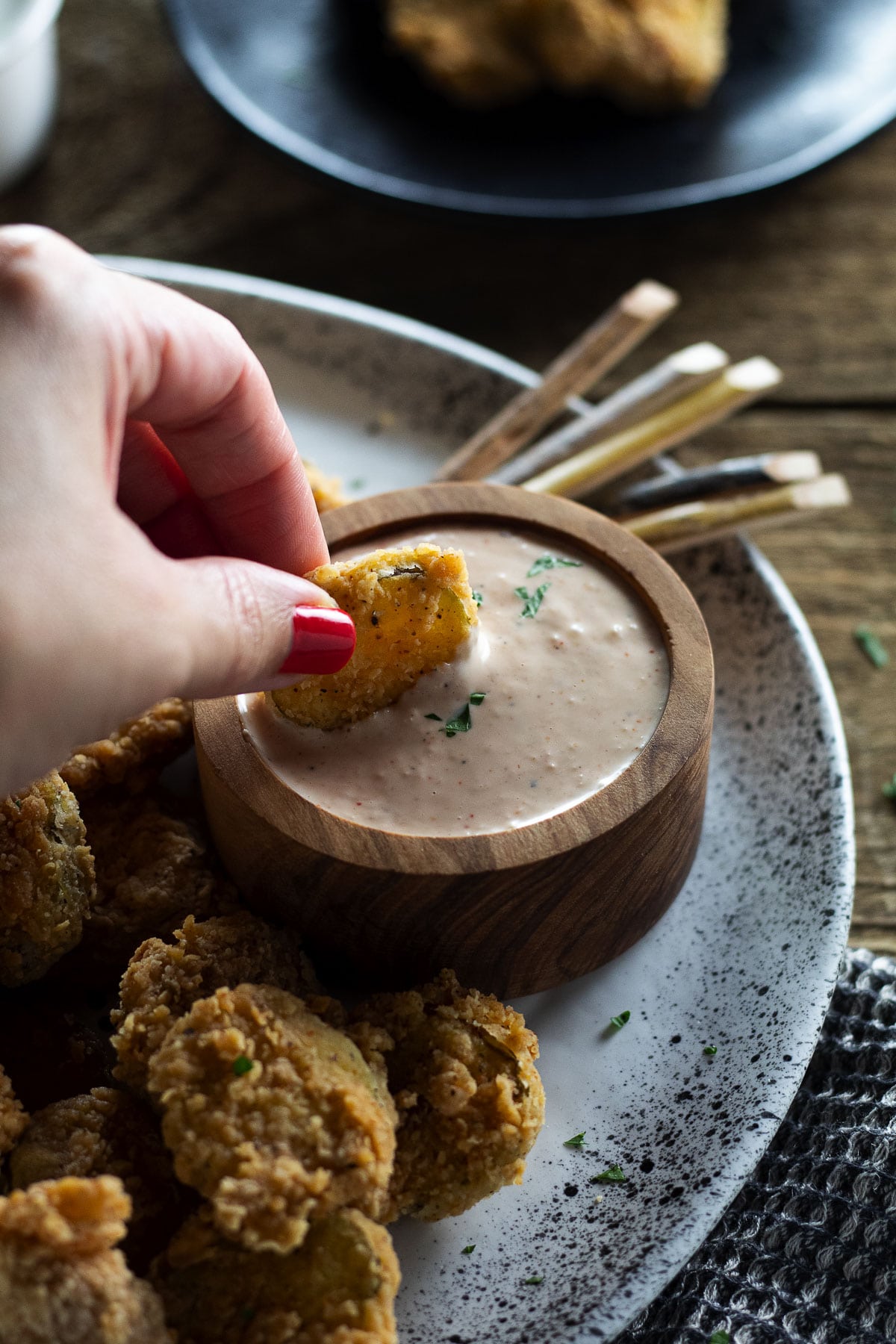 Now, there are a lot of Texas Roadhouse fried pickle recipes out there. And most of them tell you to only dredge the pickles in cajun seasoned all-purpose flour before frying. We've tried this, and while it tastes good, it produces a barely coated fried pickle. Also, this thin coating peels off relatively easily when you take a bite.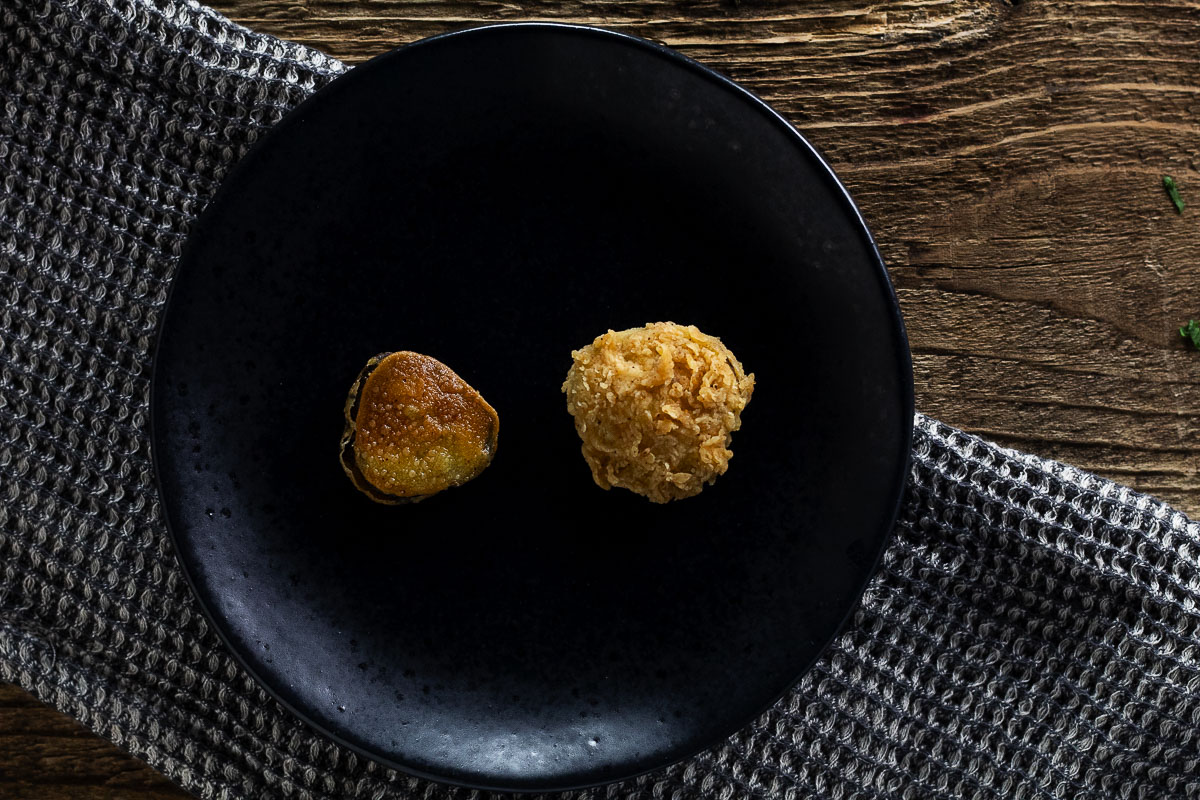 So, instead of a dredge, we opt for a breading where we dust the pickles in cajun seasoned flour/cornstarch mixture, then egg, then flour mixture once again. Please continue reading to see how we put it all together.
Ingredients
There aren't many ingredients for this recipe. Below, you will see every ingredient we used to make these delicious copycat Texas Roadhouse fried pickles.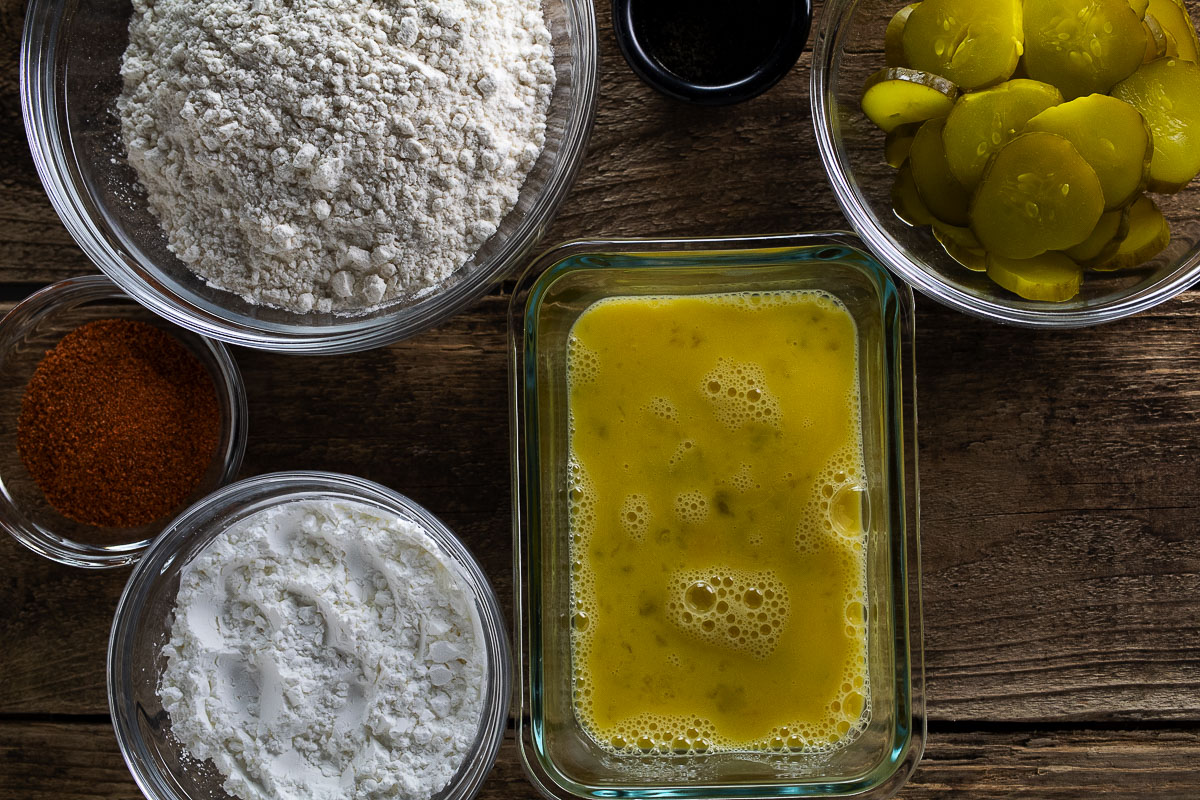 Dill pickles (sliced or whole is fine) – if you get whole pickles, make sure that you slice them fairly evenly. A mandoline will make slicing easier.
All purpose flour
Cornstarch – The cornstarch makes the bread coating crispier.
Eggs
See the recipe card for quantities.
How to Make Them
You first need to set up your frying station. It should start with the fried pickles, then flour mixture, then eggs, flour mixture again, cookie sheet for uncooked breaded pickles, then oil for frying, and finally your baking rack lined with paper towels over a sheet pan.
First, mix the flour, cornstarch, and cajun seasonings. For ease and less mess, it is best to prepare two bowls with this mixture.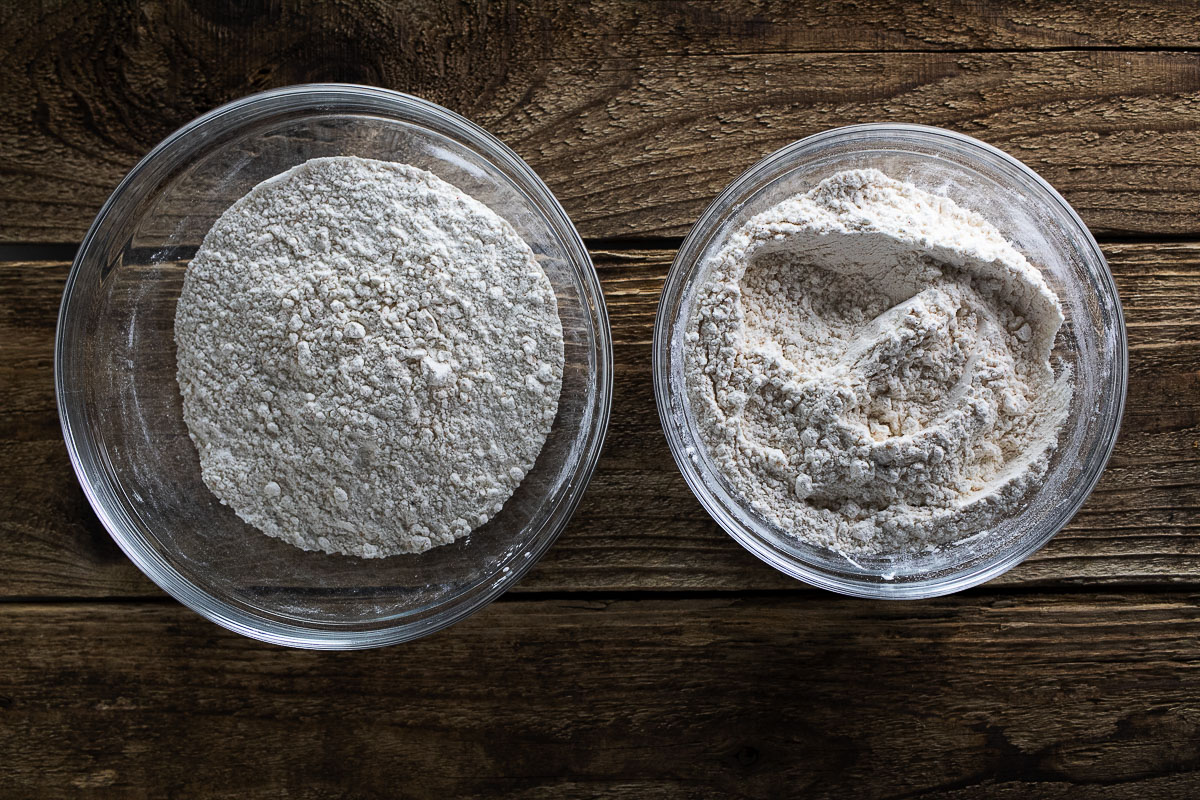 Next, you will want to scramble the eggs.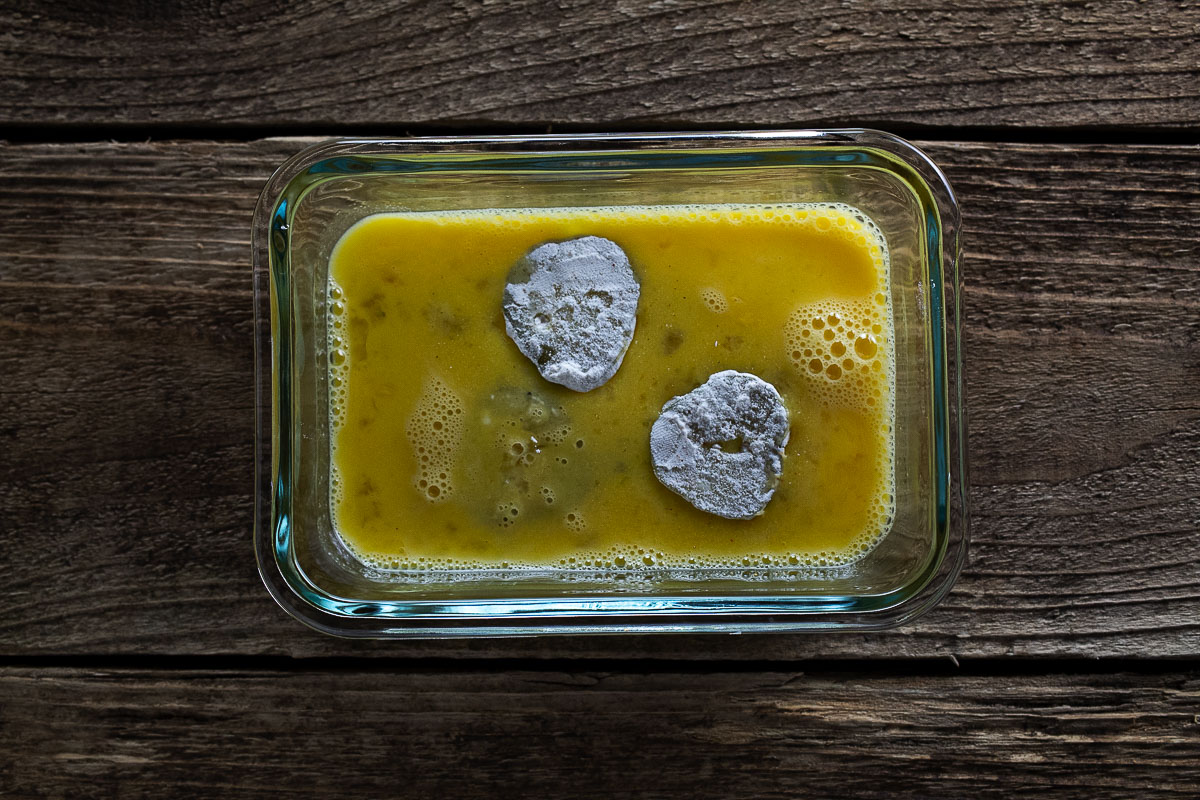 Dip the pickles in flour, then egg, then the flour mixture once again.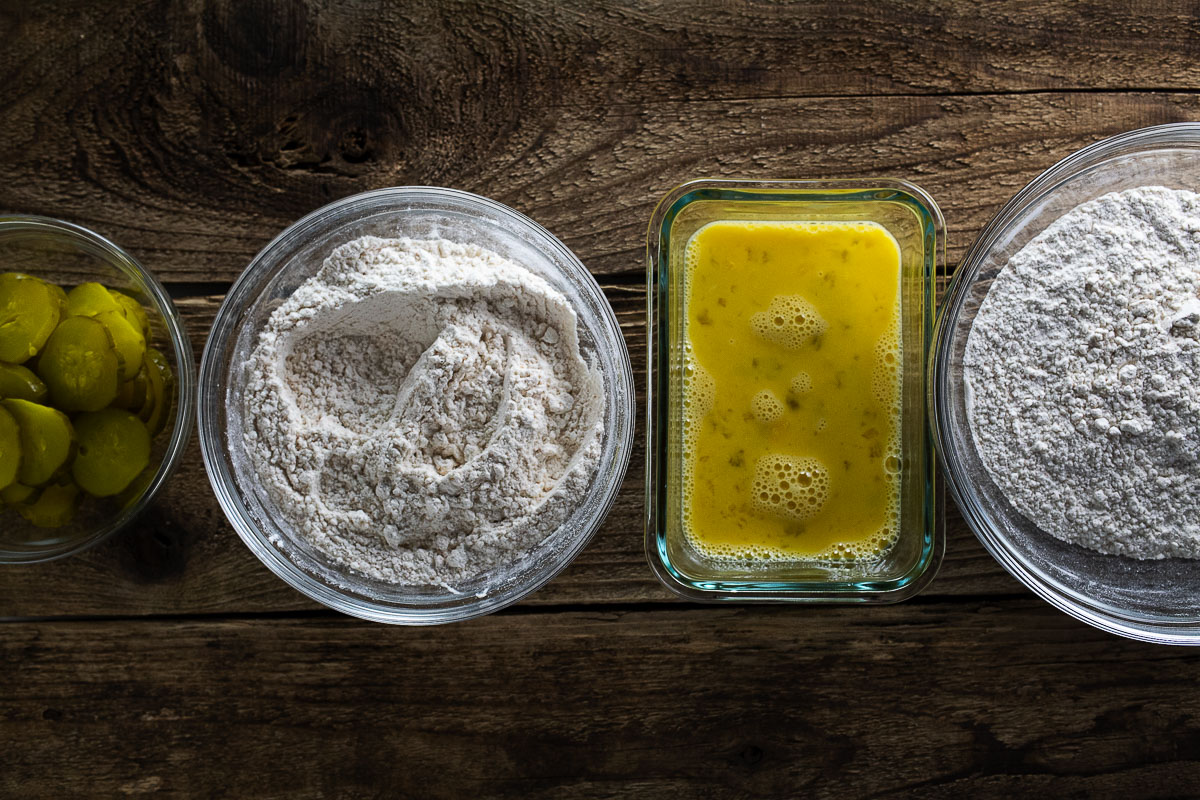 After the second flour coating, we like to sort of "fish" for the pickles using a spider to shake off excess breading.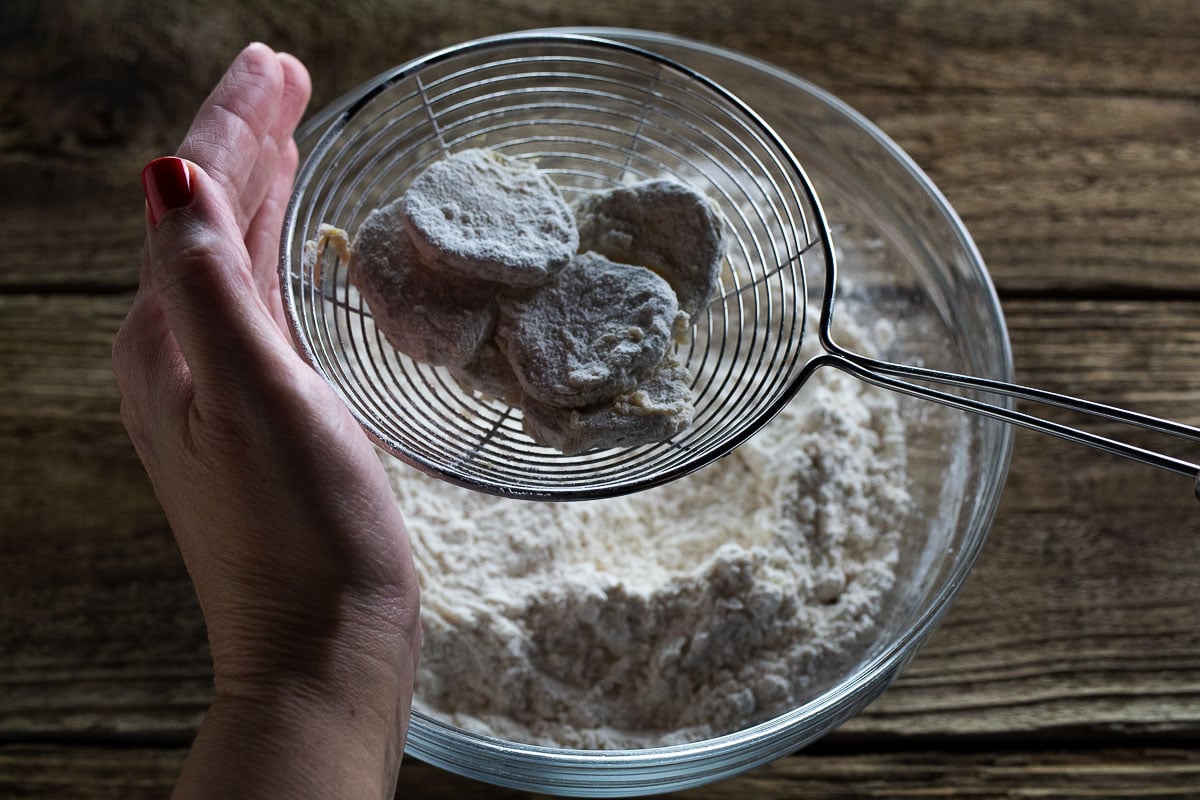 Next, place the uncooked breaded pickles on a baking pan. We line ours with aluminum.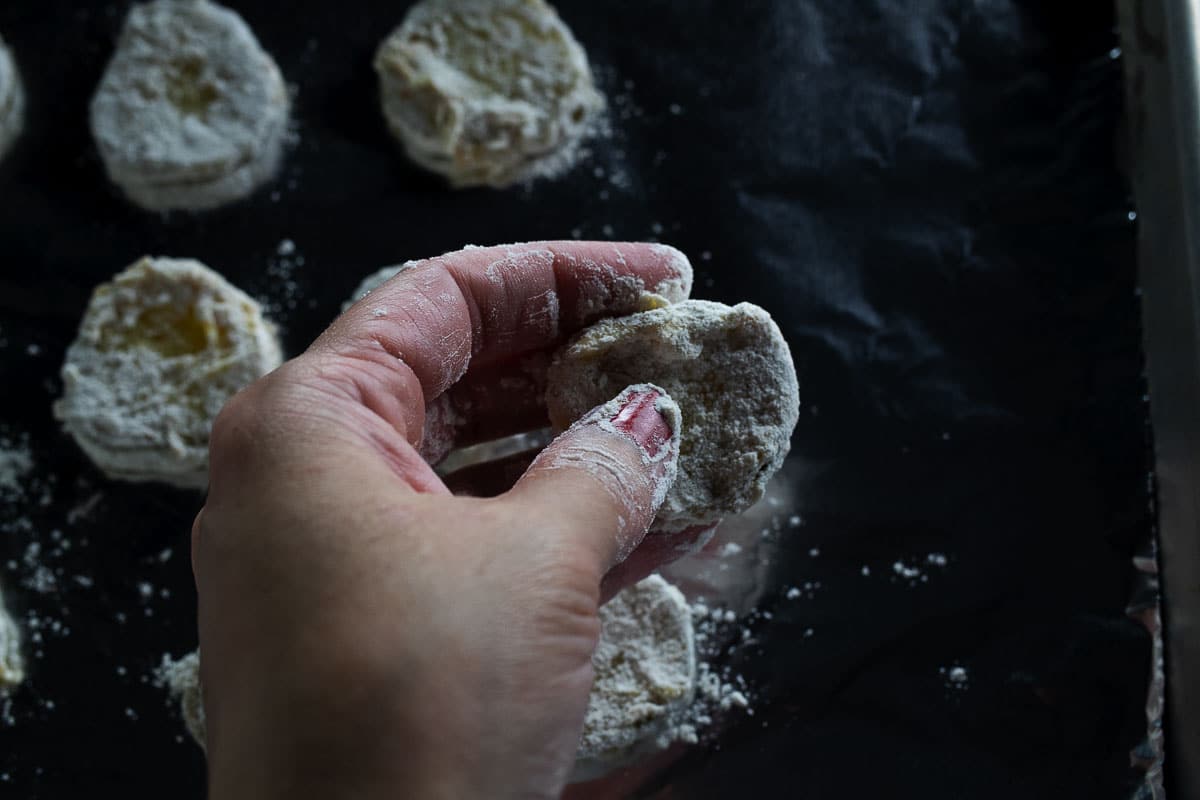 For frying, you will want to use a deep fryer, dutch oven, or another pan. Heat the oil to 375 degrees and fry. Do not add too many pieces simultaneously, or you will lower the temperature too much.
Your pickles are done cooking after four or five minutes. Use a clean spider/slotted spoon to scoop out the fried pickles. Hold the spider or slotted spoon over the oil for a few seconds to allow excess fat to drip off.
Then place the fried pickles on the paper towel-lined baking rack. After a minute or two, place those pickles on the side of the baking rack not covered with paper towels.
Dipping Sauces
Texas Roadhouse fried pickles come with the choice of two dipping sauces. The universal ranch and their Cajun dipping sauce. The sauce is a necessity for fried pickles. Our homemade ranch is on the thinner side, making it perfect for dipping. The Cajun dipping sauce has a nice "kick" from the horseradish.
Handling Oil Temp Drop
Gradually, the oil temperature will drop. So, to combat this, we like to turn the temperature up as soon as we add a batch of breaded pickles to the oil. Most often, the reason why fried food ends up greasy is because of overloading the frying vessel. Adding too much food causes a sharp drop in temperature, and the bread coating absorbs too much oil.
Variations
Now, if you prefer a lighter bread coating on your fried pickles, you could simply dip them in seasoned all-purpose flour and fry. But, in our opinion, they aren't as tasty. And, isn't that what you're here?
Equipment
You will need a deep-fryer or Dutch oven/deep pan for frying. In addition to that, some other tools are helpful.
Other helpful equipment and supplies:
Storage and Reheating
Chances are unless you plan on it, there won't be any leftovers. But if there are any, our better than Texas Roadhouse fried pickles are good to reheat and still taste amazing. It's because the addition of cornstarch makes the bread coating crispier. Reheat them in the air fryer for two to three minutes at 400-degrees or in the oven at 375 for three to five minutes.
Top tips
Keep the oil clean – dry flour coatings like this recipe dirty the oil quickly. So, to keep the oil as clean as possible, you will want to shake off as much excess flour as possible.
Safety – Keep a fire extinguisher on hand, and do not leave your frying station unattended while cooking.
Temperature control – After adding food to the oil, we turn up the burner until the temperature increases.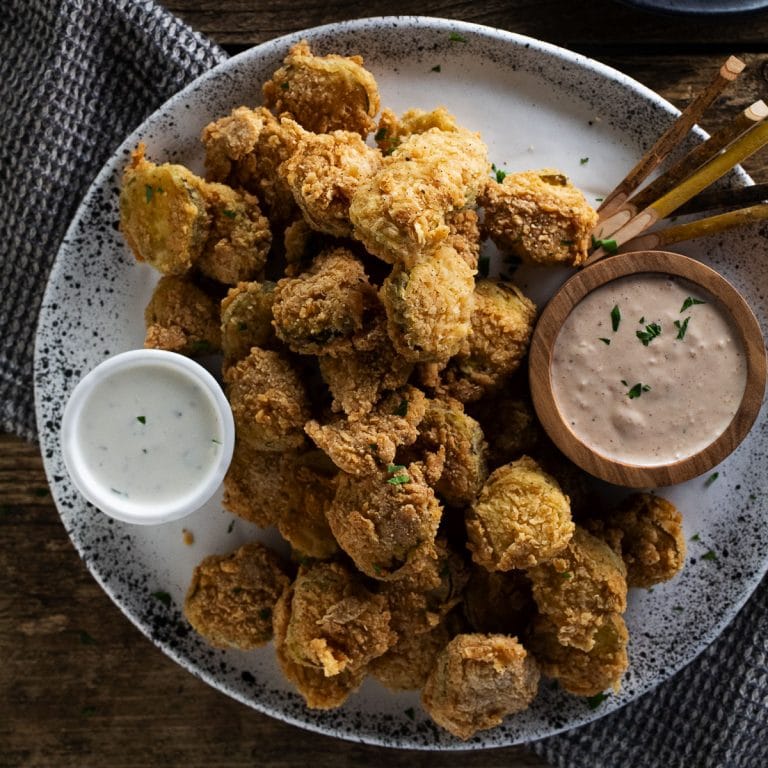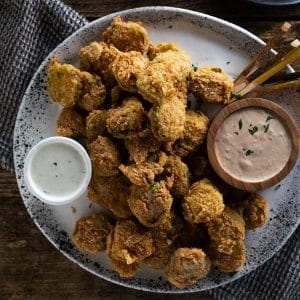 Better Than Texas Roadhouse Fried Pickles Recipe
Our fried pickles have a delicious crispy coating like what you expect from fried chicken. It makes the perfect appetizer or game day snack.
Ingredients
Fried Pickles
2

cups

Flour

1/4

cup

Corn starch

2

tbsp

Cajun seasoning (homemade or store-bought)

1/2

tsp

Black pepper

2

Large eggs

2

cups

Sliced dill pickles

Vegetable oil for frying
Cajun Dipping Sauce
1/4

cup

Mayo

1

tbsp

Ketchup

2

tbsp

Horseradish

1/4

tsp

Cajun Seasoning

Pinch

Salt and Pepper
Ranch
1/4

cup

Mayo

Pinch

Salt and Pepper

1/4

cup

Sour Cream

1/4 + 2 tbsp Buttermilk

1/2

tbsp

Fresh Dill

1/8

tsp

Onion Powder

1/2

tsp

Dried Chives

1/2

tbsp

Fresh Parsley

1/4

tsp

Garlic Powder
Instructions
Fried Pickles
Fill a large dutch oven with about 2 inches of oil and preheat until it reaches 375 degrees.

In a large bowl mix the flour, corn starch, cajun seasoning, and black pepper. In a medium bowl lightly whisk the eggs to break them up.

Drain the pickles. Then put about a ⅓ of the pickles into the flour mixture, toss to coat, and using a spider shake off any excess. Then add them into the egg mixture and completely coat. Finally, toss them back into the flour mixture and place them on a cookie sheet lined with foil until you finish with that amount.

Add the ⅓ of the coated pickles into the hot oil, and fry for 4-5 minutes or until golden brown. Repeat until all pickles have been coated and cooked. 

Place the cooked pickles on a cooling rack lined with a paper towel. Serve with the dipping sauces and enjoy!
Cajun Dipping Sauce
In a small bowl mix add the mayo, ketchup, horseradish, cajun seasoning, salt, and pepper. Cover with plastic wrap and refrigerate until ready to use. 
Ranch
In a small bowl mix the mayo, sour cream, buttermilk, dill, parsley, chives, garlic powder, onion powder, salt, and pepper. Cover with plastic wrap and refrigerate until ready to use.
Notes
I didn't add salt to the flour or egg mixture since there is a lot of salt in the pickles and the cajun seasoning. 

It's best to make the sauces ahead of time to allow the flavors to marry. The longer they sit, the better they taste.

If you like a thicker ranch, you can omit the extra two tablespoons of buttermilk. However, we like a thinner ranch.

You can reheat these in a convection oven at 400 degrees for 5-6 minutes. Or an air fryer at 400 degrees for 2-3 minutes. 
Nutrition
Calories:
397
kcal
Carbohydrates:
48
g
Protein:
6
g
Fat:
20
g
Saturated Fat:
4
g
Polyunsaturated Fat:
10
g
Monounsaturated Fat:
4
g
Trans Fat:
1
g
Cholesterol:
15
mg
Sodium:
707
mg
Potassium:
176
mg
Fiber:
2
g
Sugar:
3
g
Vitamin A:
630
IU
Vitamin C:
6
mg
Calcium:
56
mg
Iron:
3
mg