If you're a big fan of spinach and artichoke dip then these spinach and artichoke dip pretzel bites are going to be your new favorite appetizer. I can promise you that.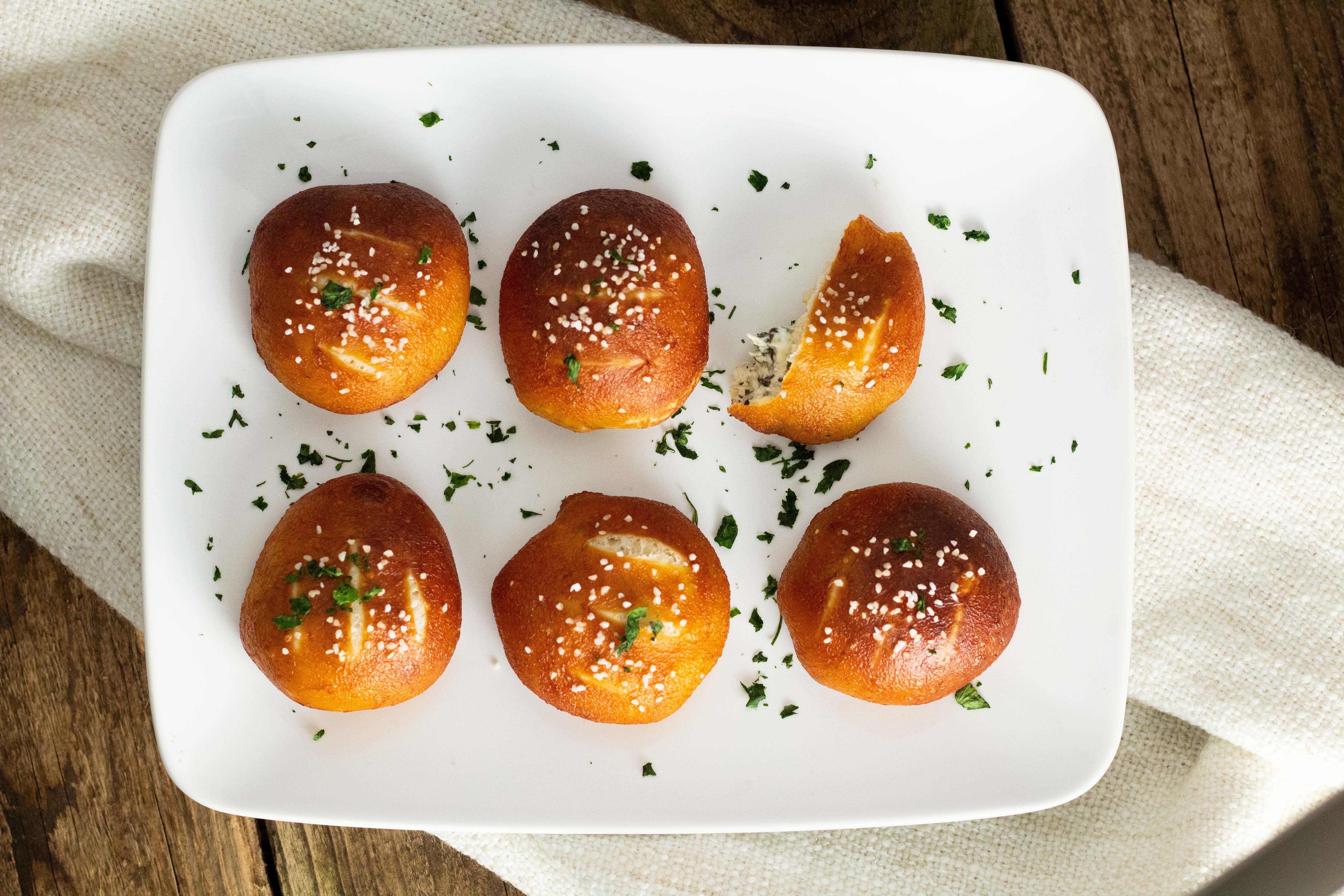 When we go to Applebees or similarly styled restaurants we always get the spinach and artichoke dip. It's so addictive! And we are so greedy that at some point while eating we actually start racing through it. Like, literally competing to get the next chip to dip. It kind of gets dangerous at times. We each want to make sure that we get our fill of it. Ain't that pitiful? lol
Anyway, we probably came across this idea on Pinterest, I don't know. I mean this just seems like it would be done a billion times already. But if there is something that we advocate for differently on this site – when it comes to pretzels – over most others is the use of lye. It makes a huge difference. In fact, it is the difference.
Making these pretzels is just like making the other stuffed pretzels we've published.
Check out these other recipes if you're interested:
Jalapeno Popper Stuffed Pretzels
Buffalo Chicken Stuffed Pretzels
Okay, so there are no big challenges here. The magic is in that dip! We were going to get all high-society with this recipe and use fresh spinach and fresh artichokes, but we remembered that nobody else following this recipe would do the same.
Fresh artichokes are expensive and honestly in a dish like this, you wouldn't really notice a difference. Fresh spinach on the other hand isn't terribly expensive, but it isn't worth the trouble of wilting and all that. However, canned spinach can be a little off-putting texture-wise. So, go for the canned artichokes and frozen spinach.
If you're making these for crowd you'll be happy to know that they reheat well. This is perfect if you want to make a bunch of them and freeze (although our preferred time saving method is to freeze the dough and bake them fresh). If your plan is to reheat them then make sure to omit the salt from the baking process. On reheat you can sprinkle with a little water and add the salt then.
From frozen, they need about 9 minutes at 350 degrees. From the fridge they need about 5 minutes. Place them on the middle rack. Your experience may vary depending on a number of factors. Keep an eye on them while they reheat at about the 5 minute mark.
Start by making the pretzel dough (see recipe below).
Then make the spinach and artichoke dip (see recipe below).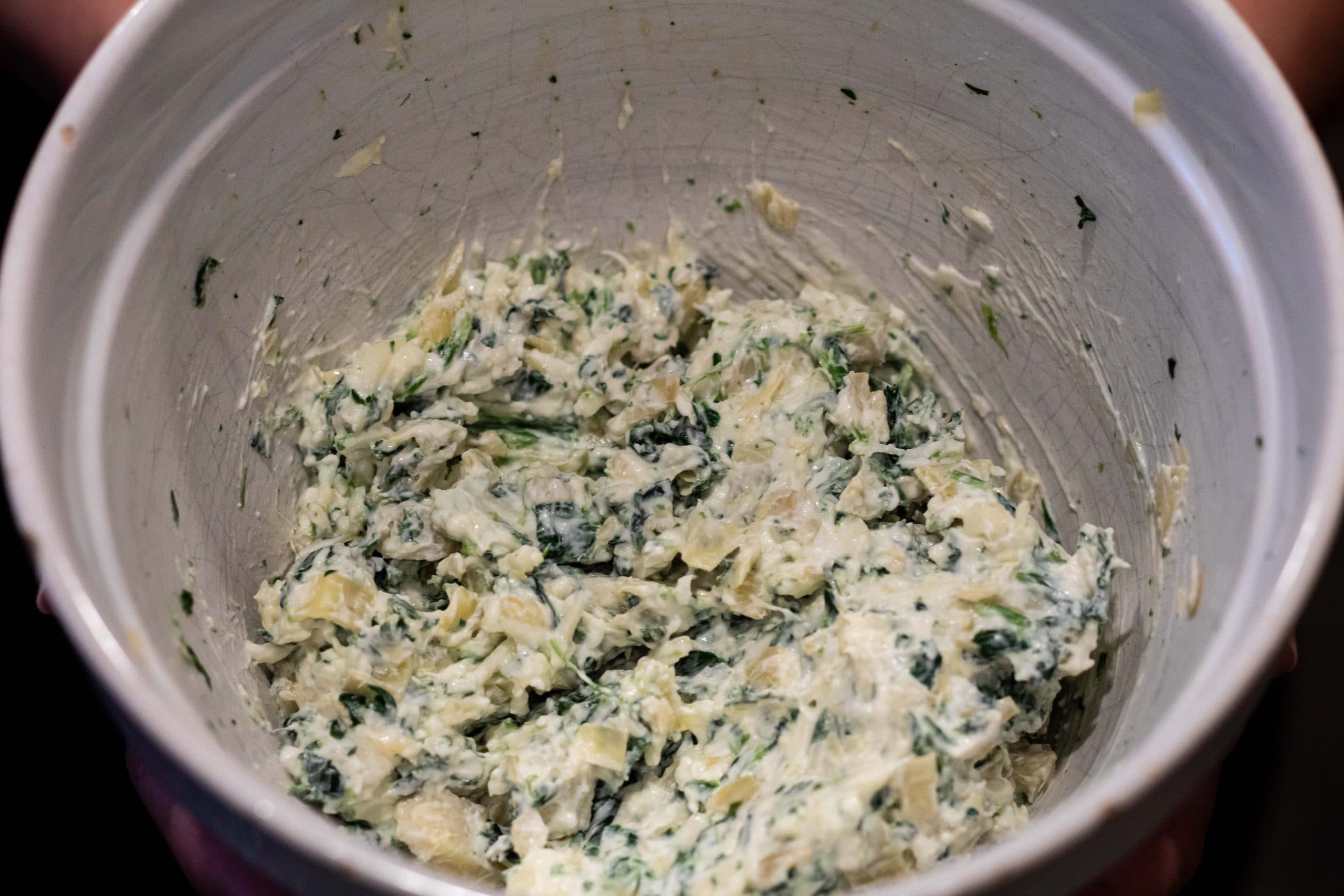 Roll out a small portion of dough to about a ¼ inch thickness. We used 1.5 ounces of dough for uniformity.
Add the spinach and artichoke dip to the center of the rolled dough (about two teaspoons).
Close the dough ball by pinching the dough together on the opened side.
Dip the dough bites in the lye or baking soda bath.
Remove from the bath after about 30 seconds. (We use a kitchen timer)
Place on a wax or parchment paper lined baking pan.
Score each dough ball lightly. A clean straight razor works great. We usually make 3 scores. It presents really beautifully.
Sprinkle with pretzel appropriate salt. (i.e. not fine table salt)
Bake at 425 for about 8 minutes.
Eat after about 10 minutes. You don't want to burn your mouth. Also, this recipe still taste good when eaten at room temperature.
Spinach and Artichoke Dip Pretzel Bites
If you're a big fan of spinach and artichoke dip then these spinach and artichoke dip pretzel bites are going to be your new favorite appetizer. I can promise you that.
Ingredients
Spinach and Artichoke Dip
4

Ounces

Cream Cheese

Room temperature

7

Ounces

Canned Artichoke

Chopped

2

Tablespoons

Sour Cream

¼

Cup

Frozen Spinach

Thawed

½

Cup

Shredded Mozzarella

1

Garlic Clove

Grated
Lye Bath
2

Tablespoon

Food Grade Lye

6

Cups

Water
Instructions
Make a batch of basic pretzel dough. Click here for the recipe.

Take the frozen spinach and squeeze all the excess water out using a paper towel or kitchen towel. You don't want a soggy mixture. Put the spinach in a medium size bowl and set aside.

Mince the artichoke and put into the same bowl as the spinach. Using a micro grater grate the garlic into the same bowl. (See note)

Add the cream cheese, and mozzarella to the bowl. Mix all ingredients until well combined.

Measure out a 1.5 ounce of pretzel dough using a food scale. (See notes) Roll the dough out about ¼ inch thick. Fill the dough with 2 teaspoons of the mixture.

Fold the dough over the mixture ensuring no filling will leak out. Pinch the dough once you have covered the filling. Place on a parchment lined baking sheet.
Lye or Baking Soda Bath
Gather safety goggles, disposable rubber gloves, stainless steel pot, long stainless steel stirring spoon. Put on safety goggles and rubber gloves.

Take the stainless steel pot and fill it with 6 cups of water. Add the lye to the pot and heat on high until you see steam. Then turn the heat off and set aside for about 5 minutes until you no longer see the steam. Make sure that the area you work in is well ventilated. Do not inhale the steam.

If you opt to use baking soda instead of lye, follow these instructions:

When using the baking soda bath you will need to bake ¼ cup of baking soda at 250 degrees for 1 hour. Then you will need a stainless pot with 8 cups of water. Add the baked baking soda to the pot of water and cook on high until you it simmers. Use a stainless steel spoon to mix the solution to make sure the baking soda dissolves. Then turn the heat to medium to maintain a simmer. You are ready to dip your pretzels for 30 seconds then cook.

Once all bites are made dip them in the lye or baking soda bath for only 30 seconds. That's right I said 30 seconds. You do not want to soak the pretzels in the bath. Make sure to use a kitchen timer to ensure each bite only sits in the solution no longer than 30 seconds. Place the bite back on the parchment paper.

After dipping the pretzels in the lye or baking soda solution, use a sharp knife cut a couple slits on the bites to prevent them from splitting open in the oven. Top each bite with salt.

After all of the dough has been dipped in the lye or baking soda solution be sure to clean the pot, any utensils and work area. You can pour either solution down the drain. Clean the pot, utensils and work area with soap and warm water.
Baking
Preheat the oven to 425 degrees.

Bake at 425 degrees for 10 to 12 minutes.

Let the bites rest about 5 minutes before digging in, you don't want to burn your mouth. Enjoy!
Notes
For the garlic, you could use the smaller side of a box grater if you do not have a micro grater. You could mince the garlic but I didn't want to bite until a big piece of garlic. This also allows the garlic to easily be mixed into the mixture.

If you do not have a kitchen scale, just measure out 3-4 tablespoons for each pretzel bite.

If you let the bites sit too long on the baking sheet before baking, it will be a harder to score them. Make sure you score each bite as soon as you finish dipping them in the lye bath.

If these don't fly off the plate you can place leftovers in the refrigerator for up to 3-5 days.

They are best reheated in the oven at 350 degrees for 5-7 minutes.