Jalapeno popper mac and cheese bites – the cheesiest mac and cheese is out of sight on its own, but we added extra cheddar, bacon, and jalapenos for an otherworldly experience! Then we formed the balls and deep-fried them. They came out of the fryer extra-crispy. Finally, we brought the whole thing together with piped whipped cream cheese on top. Mmm…magic…pure magic!
Jump to Recipe
These bites are a perfect snack to make for your big game super bowl party. They'll leave your attendees feeling special as most of them have never had an appetizer quite like this. Of course, you can whip them up whenever the mood strikes. But they're too involved to make for the middle of the week. So, a Saturday or Sunday would be your best bet.
Now, this isn't a quick recipe. But, you know, it does take a little pre-planning. You have to make the macaroni at least fours in advance. But what I can promise you is a big flavor and happy smiling faces! So it is worth the extra effort.
Jump to:
Ingredients
Below, you will see the ingredients to make the jalapeno popper mac and cheese with bacon. This image does not include the cream cheese or the ingredients for the breading.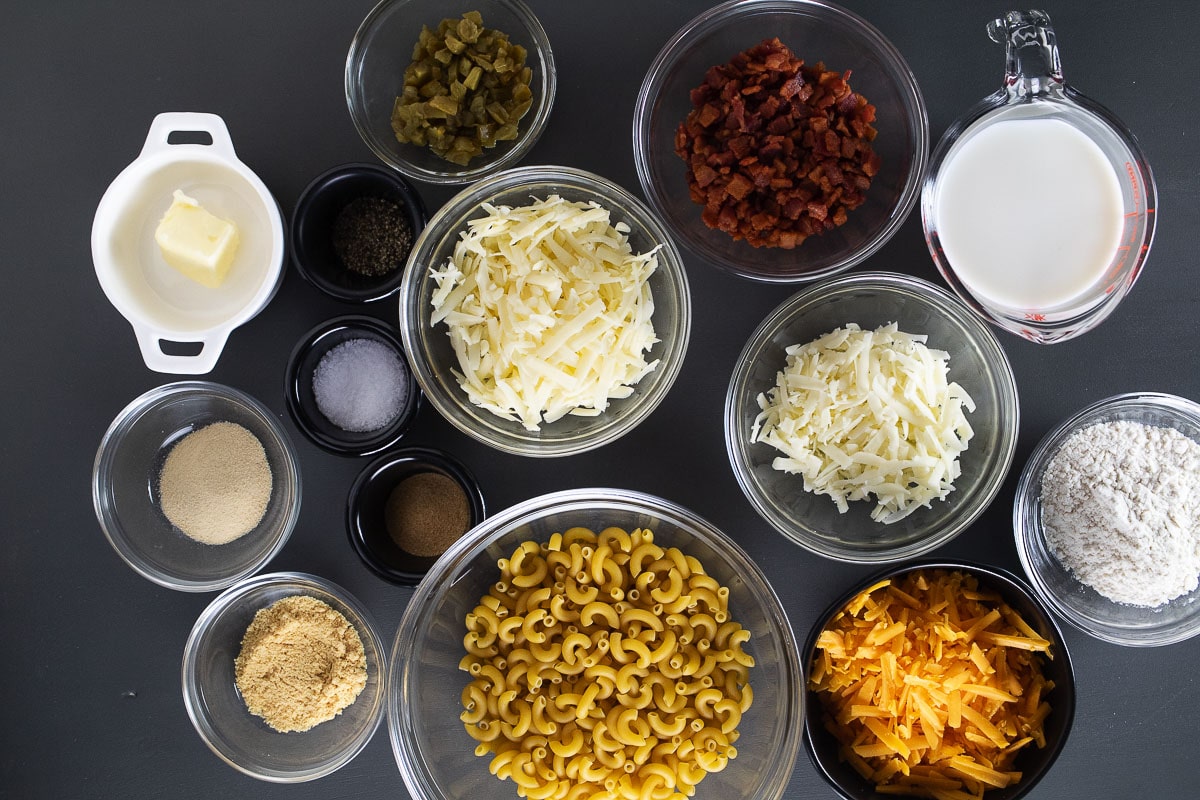 Macaroni Noodles
White Cheddar
Orange Cheddar
Mozarella
Bacon
Milk
Flour
Butter
Jalapenos
Salt
Pepper
Garlic Powder
Ground Mustard
Onion Powder
See the recipe card for quantities.
How to Make Jalapeno Popper Mac & Cheese Bites
For this recipe, we started by cooking the bacon first. Then we jumped into making the macaroni.
Cook your noodles according to the box. Next, you need to make the cheese sauce which begins with a roux.
Add flour and butter to a saucepan and cook for about one minute, stirring constantly. Then add the salt, pepper, ground mustard, onion powder, garlic powder, and cook for another minute.
Add the milk and cook until the sauce thickens. Finally, add the white cheddar and mozzarella cheeses and stir until melted thoroughly.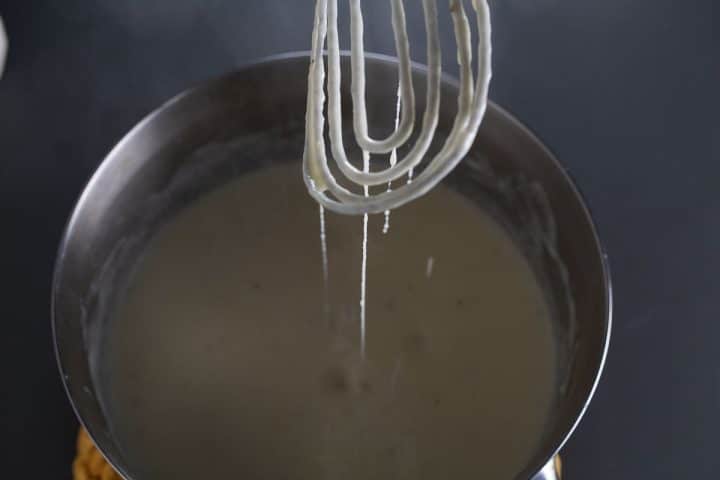 Next, combine the cheese sauce, jalapeno, bacon, noodles, and extra cheddar cheese with the noodles. Then pour the mix into a pan and place the pan in the refrigerator for at least four hours, but preferably overnight.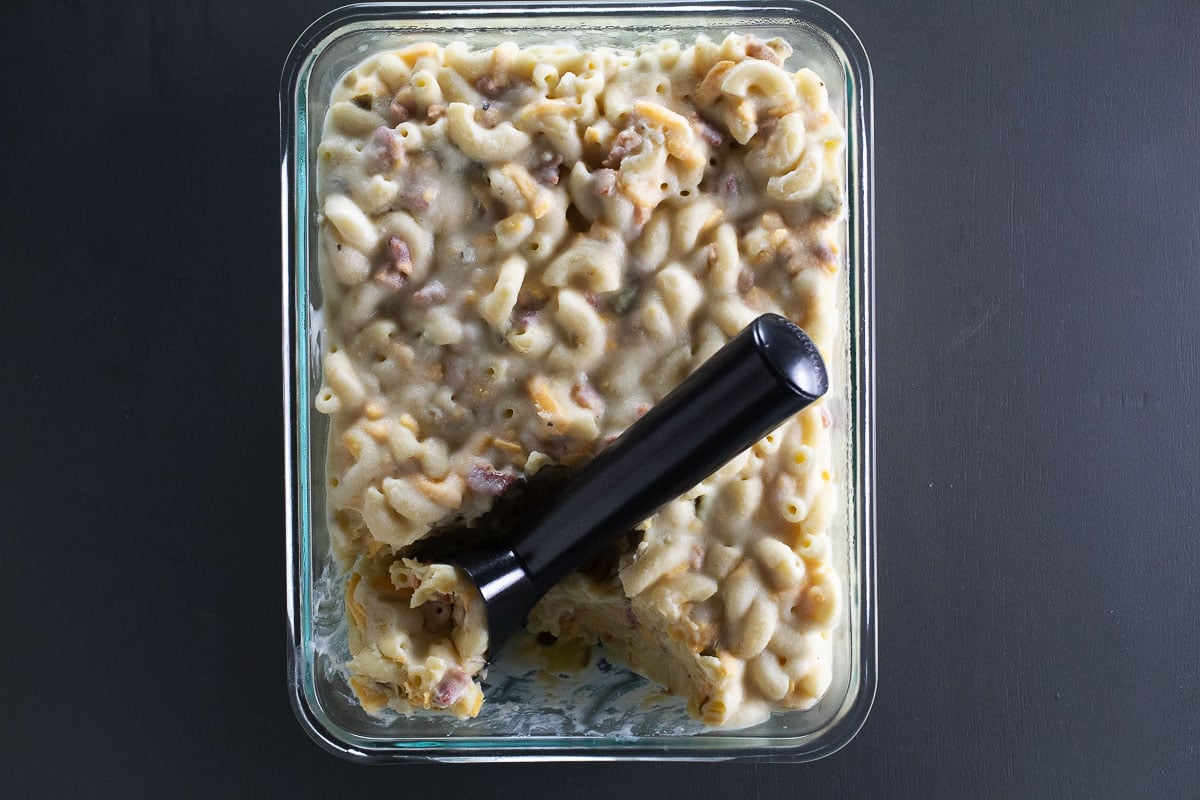 Now it's time to form the balls.
Use an ice cream scoop to gather about two tablespoons of the prepared mac and cheese and form a ball. Place it on a pan or tray lined with parchment paper.
Once you've made all of the balls, it's time to bread them.
Grab three bowls or pans. You will need a bowl for flour, one for whisked eggs, and one for bread crumbs.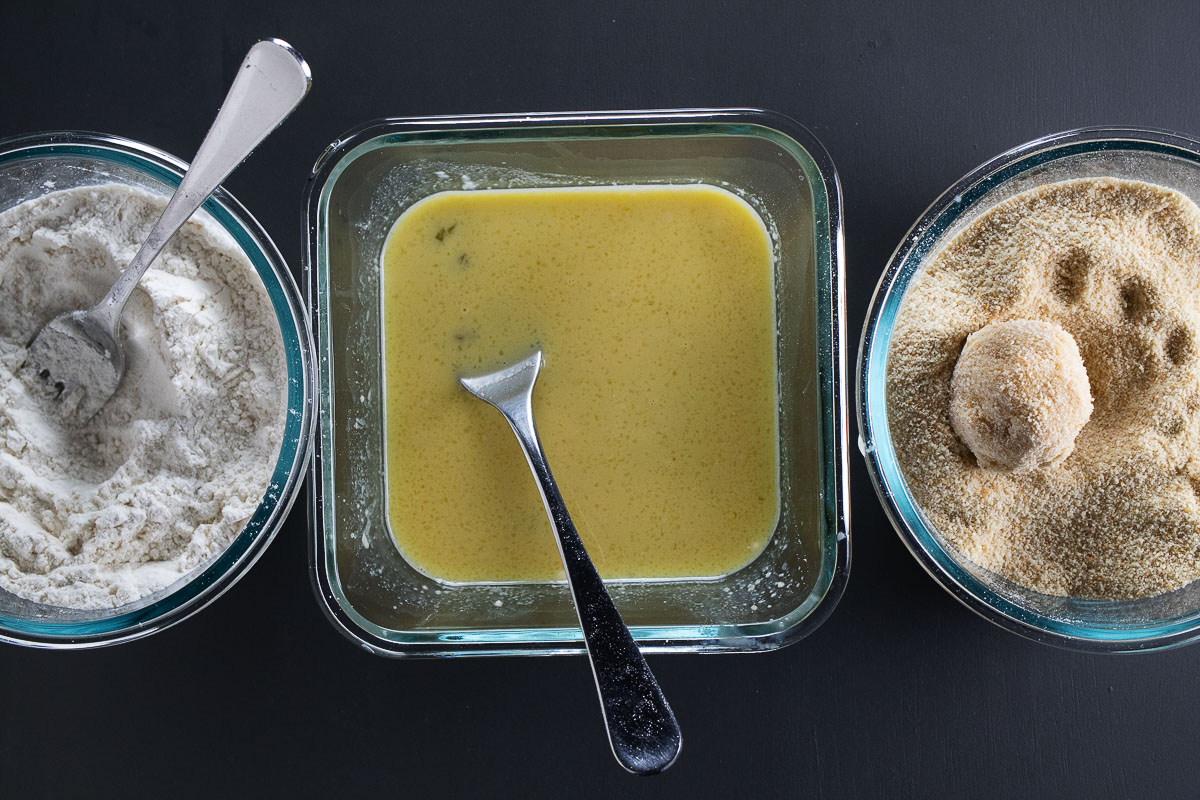 Dip the balls in the flour, then the egg, then the bread crumbs.
Dip them back into the egg, then into the bread crumbs again for a double coating. This double coating process helps to prevent the bites do from leaking. Double breading is necessary for this recipe as there is a lot of cheese.
Fry the balls at 350-degrees in a dutch oven with two inches of oil for around three minutes (or until golden brown).
Hint: Wear disposable food-safe gloves to cut down on mess when breading the bites.
Double Breading Is Necessary For Jalapeno Popper Mac and Cheese Bites
There is a lot of cheese in this recipe! So if you don't double bread these jalapeno poppers, they will ooze out during frying. Even with double breading, they may still ooze depending on how liberal you are with the cheese. Now, the bites will still be delicious, but the oil will get dirtier faster.
Equipment
You will need some special equipment to make these bites. Not all of the See below:
Storage
You can store cooked mac and cheese bites in the fridge for up to five days or in the freezer for up to three months. However, the sooner you eat them, the better they will taste.
Reheating
Reheating your mac and cheese bites in the air fryer is the quickest and best way. Just reheat them at 375 degrees for three to five minutes. Alternatively, you can reheat them in your full-size or toaster oven for the same amount of time.
Top tip
Stay Safe! When deep-frying, things can go bad quickly. Keep an eye on what you're doing. Follow at least the safety tips below:
Use a food thermometer.
Do not overfill the cooking vessel with oil.
Do not leave your frying area unattended.
Keep children and animals away.
And always keep a fire extinguisher nearby.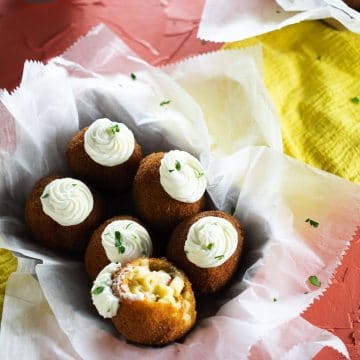 Jalapeno Popper Mac and Cheese Bites Recipe
Our jalapeno popper mac and cheese bites are delicious! We took jalapeno mac and cheese, formed it into balls, and deep fried them until golden brown. What emerged was an irresistible appetizer perfect for game days, birthday parties, or weekends. Enjoy!
Equipment
Dutch Oven

food thermometer
Ingredients
Macaroni and Cheese
8

Oz

Macaroni Noodles

2

Cups

Milk

Room temperature

2

Cups

White Extra Sharp Cheddar Cheese

Shredded

1/2

Cup

Mozzarella

Shredded

1/3

Cup

Sharp Cheddar Cheese

Shredded

2 1/2

Tbsp

Unsalted Butter

3

Tbsp

Flour

1/2

Tsp

Ground Mustard

1/4

Tsp

Onion Powder

1/4

Tsp

Garlic Powder

1/2

Tsp

Salt

1/4

Tsp

Black Pepper

3

Tbsp

Pickled Jalapenos

Diced

4

Strips Thick Cut Bacon

Diced and cooked
Coating
2

Large Eggs

1/4

Cup

Milk

2

Cups

Plain Bread Crumbs

1

Cup

Flour
Instructions
Cut the bacon and cook until crispy. Lay cooked bacon on a plate lined with paper towel to catch any excess oil. Set aside.
Macaroni and Cheese
Bring a large pot of salted water to a boil. Cook the macaroni noodles for 10 minutes or until tender. Drain them and set aside.

While the noodles are cooling make the cheese sauce. In the same pot add the butter and flour. Cook for about 1 minute. Add the ground mustard, onion powder, garlic powder, salt, and pepper. Cook for 1 minute, then add the milk and stir the sauce occasionally until sauce thickens. About 5 minutes.

Add the shredded cheeses and mix until the cheese is completely melted. Add the cooked bacon and jalapenos. Mix to combine. Add in the noodles and pour the mac and cheese in an air-tight container. Once cooled place it in the refrigerator for at least 4 hours preferably overnight.
Breading and Fry
Scoop the mac and cheese into 2 tablespoon portions. Press into a ball using both hands and place them on a baking sheet lined with parchment paper.

Place the flour in a bowl. Lightly beat the eggs and milk in a second bowl. Place the breadcrumbs in a third bowl.

Start with one at a time, dredge in the flour until completely coated, shaking off any excess. Next, dip in the eggs, then coat with the breadcrumbs. Lastly, dip it back into the egg and back in the breadcrumbs for a 2nd coating. Return to the baking sheet.

Use a deep pot or dutch oven filled with 2 inches of oil (about 4 cups). Preheat the oil to 350 degrees. When the oil is ready, fry in batches of 4 to 5 and fry for 3-4 minutes or until golden brown. Transfer to a baking sheet lined with a paper towel to drain. Continue with the remaining mac and cheese bites until all are done. Then enjoy!
Notes
It's easier to cut the bacon if you first freeze it for 10 minutes.
The mac and cheese can be made 1 day in advance.
You can add any combination of cheeses. You can use sharp cheddar, mozzarella, gruyere, fontina, gouda, Monterrey jack.
The double breading allows for a nice crust and it ensures the cheese won't ooze out.
Store the mac and cheese in an airtight container for up to 5 days or freeze for 3 months.
Reheat the bites in the air fryer or oven at 350 degrees for about 5 minutes.
This recipe yields about 30-34 balls. You can make the bites smaller or larger but the cooking time will vary. 
Nutrition
Calories:
176
kcal
Carbohydrates:
10
g
Protein:
3
g
Fat:
3
g
Saturated Fat:
1
g
Polyunsaturated Fat:
1
g
Monounsaturated Fat:
1
g
Trans Fat:
1
g
Cholesterol:
7
mg
Sodium:
84
mg
Potassium:
52
mg
Fiber:
1
g
Sugar:
1
g
Vitamin A:
101
IU
Vitamin C:
1
mg
Calcium:
42
mg
Iron:
1
mg