Life's too short for another boring taco Tuesday! Instead, choose one of the best taco recipes on this list. These tasty ideas are easy, different, and creative. You'll love them!
Here's a sample of what you can expect!
You'll discover quesabirria tacos, fried fish tacos, crispy chicken tacos, and even walking tacos. So, are you ready to upgrade your taco night? We sure are!
Let's dive in!
If you like this list, you'll love these mouthwatering nacho recipes.
Quesabirria Tacos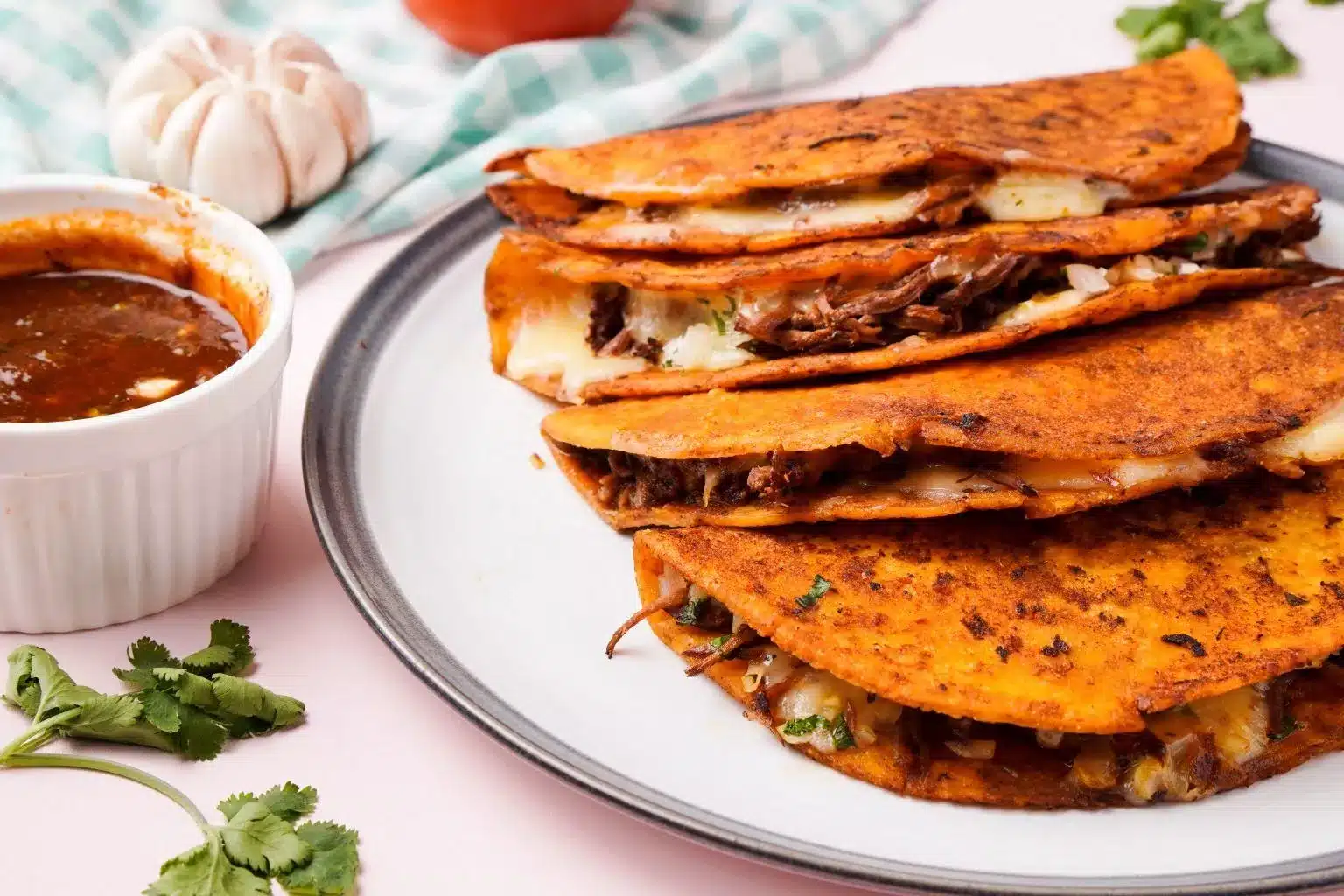 Allow Kelley of A Girl Worth Saving to guide you through the process of making quesabirria tacos. Inside each crispy corn tortilla, you'll find the most immensely flavorful shredded beef, cheese, mozzarella, diced onions, and aromatic cilantro. But although delicious, they're quite the process; you'll need over 20 ingredients. There are peppers to soak and spices to blend. But the results are worth it because, in the end, you'll have the most flavorful Mexican-inspired meal ever.
Fish Tacos
These fish tacos by Nicky of Kitchen Sanctuary are white tortillas filled with battered and deep-fried, crunchy on the outside, tender cod, or haddock. Then you top it with pico de gallo salsa, a masterpiece with cherry tomatoes, red onion, jalapenos, cilantro, and lime. What else could you ask for? I know, cerveza and sunshine.
Crispy Potato Tacos
There are so many things to love about these crispy potato tacos by Jacqueline of Piper Cooks. For one, they are vegetarian, featuring creamy mashed potatoes, which makes a delicious meatless meal. Equally excellent, they're a great way to use leftover mashed potatoes. Give them new life with cumin, sour cream, or yogurt. Finally, add the toppings like cilantro, cheese, or pico de gallo.
Tinga-style Pork Tacos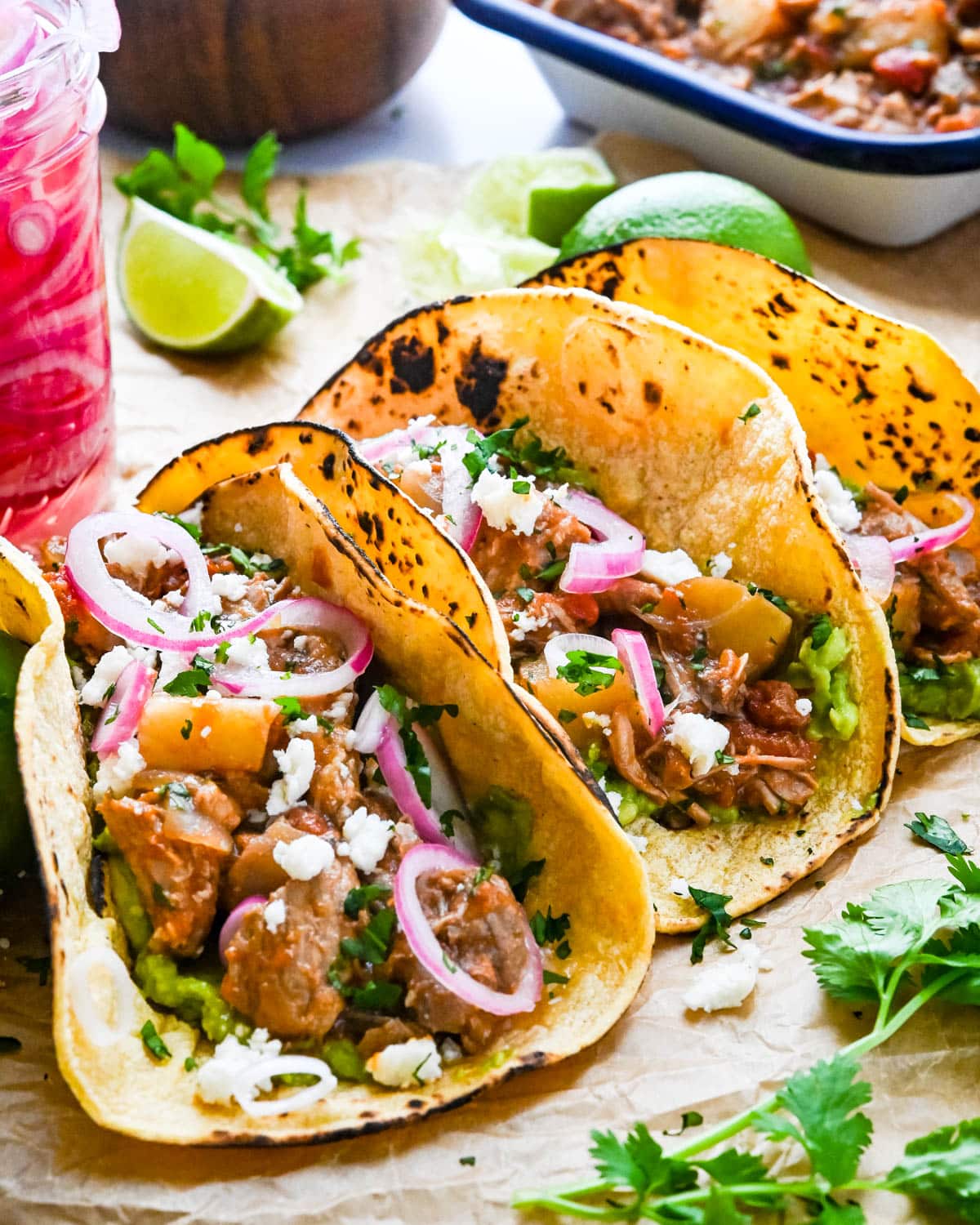 Inspired by Chef Rick Bayless, Lisa of Garlic and Zest offers her Tinga-style pork tacos. You make tinga with chipotle peppers, tomatoes, onion, and many herbs and spices. Talk about flavor! But that's not all. Lisa adds chunks of potato before braising on the stovetop, pressure cooker, or Dutch oven. The result is a lip-licking, hearty dish that keeps everyone returning for seconds.
Suya Street Tacos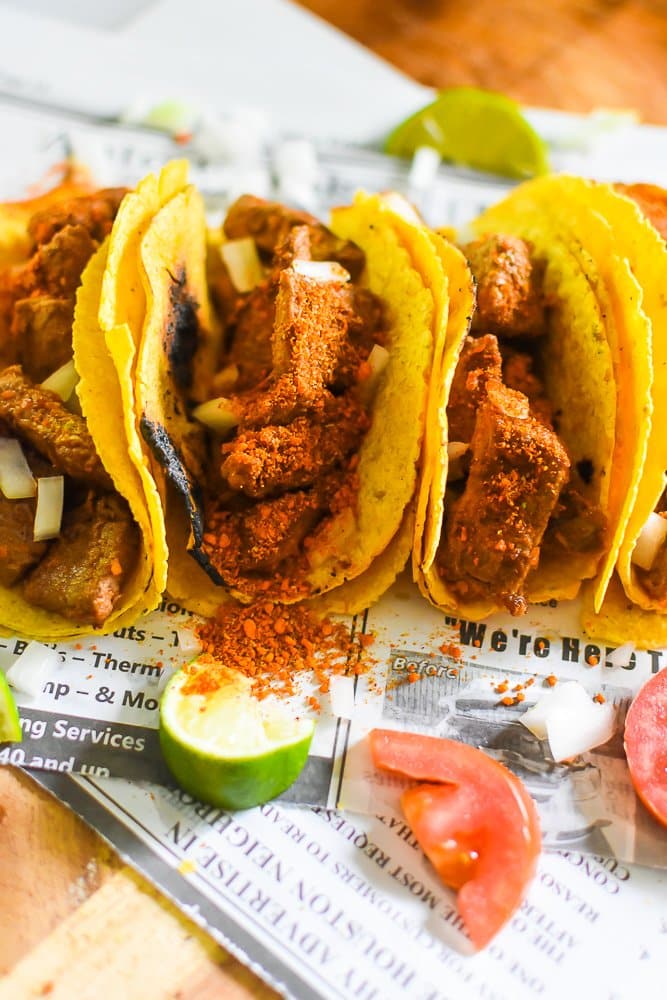 Suya street tacos are a fusion food combining Nigerian-flavored meats with Mexican tacos by A Dash of Jazz. You marinate beef sirloin in yaji, a seasoning blend of ground peanuts, salt, pepper, and paprika. The result is a fun, unexpected dish that's more than just creative. Jazzmine shows you how to use the practical dish for meal prep.
Smoky Chipotle Mushroom Tacos
With this smoky chipotle mushroom tacos recipe by Michelle of The Last Food Blog, you'll tell meat to take a backseat. Seriously, you won't even miss it. Portobello mushrooms have a nice meaty mouthfeel. Plus, the marinade is full of spicy, smoky, savory flavor. Add a bit of tangy red cabbage slaw, and you've got a serious vegetarian taco.
Shrimp Tacos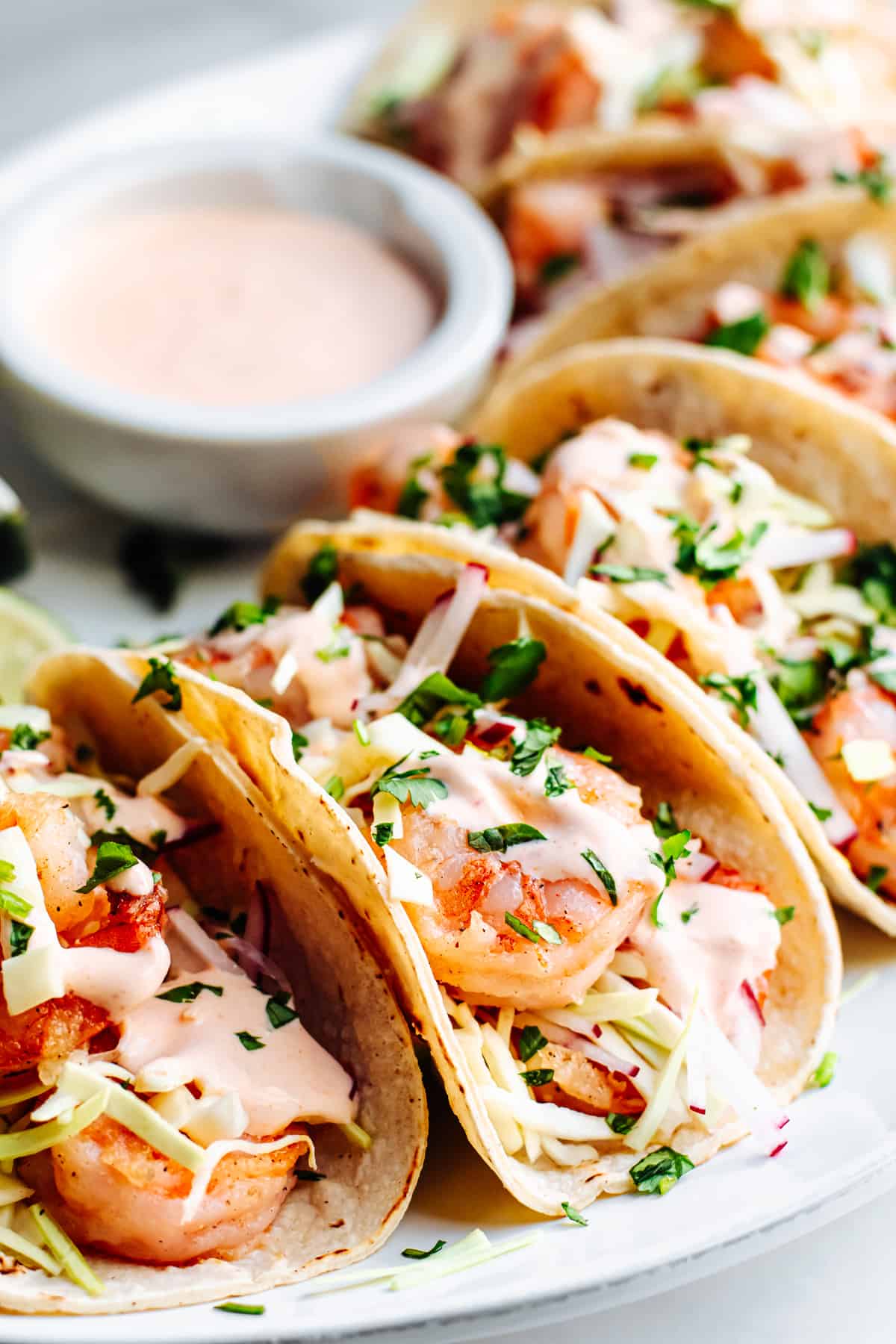 Marissa of Pinch and Swirl reminds us that life is too short for average shrimp tacos. So instead, she offers her version. Lightly charred corn tortillas encase tender, lightly fried, crispy shrimp. Are you craving them yet? Well, that's just the beginning! Assemble them with fresh cabbage, radish, cilantro slaw, and a spicy sriracha/sour cream shrimp sauce. Mmmm!
Kimchi Tacos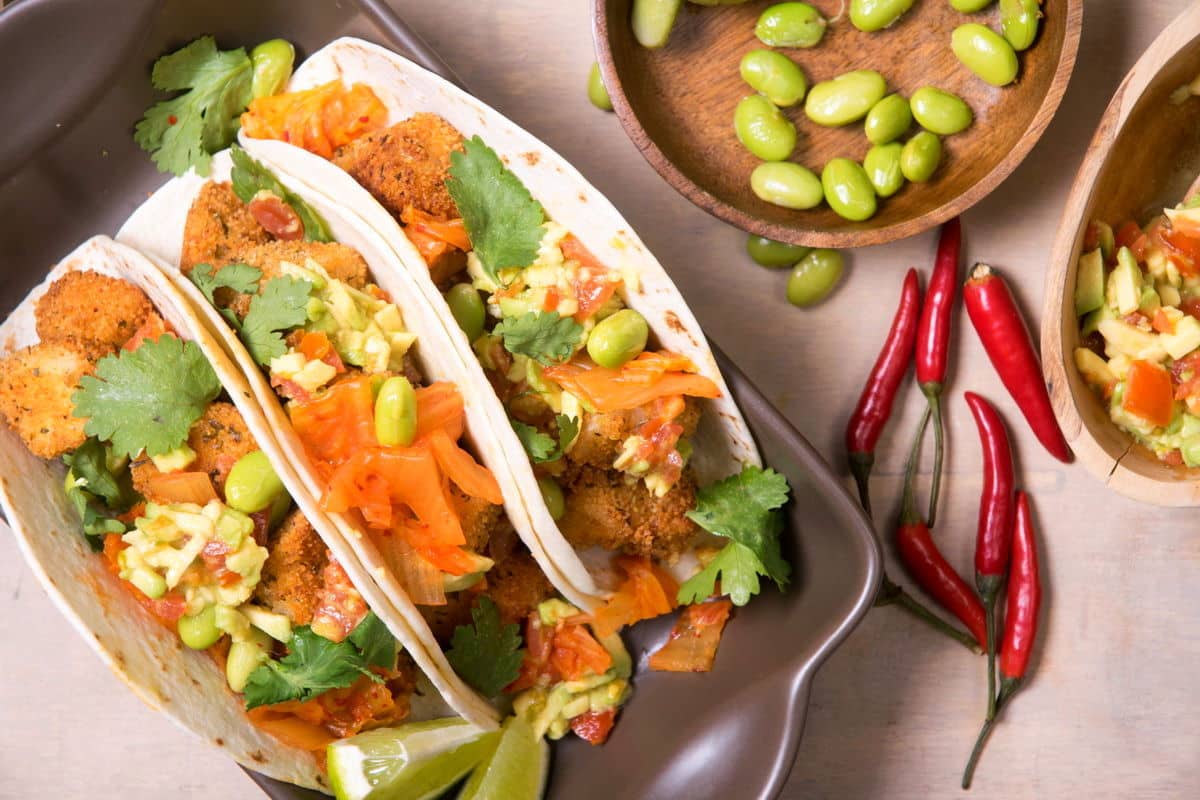 Experience the exquisite flavors of fresh kimchi tacos with crispy cod by In The Kitch. Joss adorns each tortilla with authentic Korean kimchi, guacamole, sour cream, and edamame, perfectly complementing the Mexican-spiced breadcrumbs coating the cod. Best of all, this fusion can be yours in just over 20 minutes, promising a thrilling culinary adventure that combines the best of both worlds.
Homemade Chicken Tacos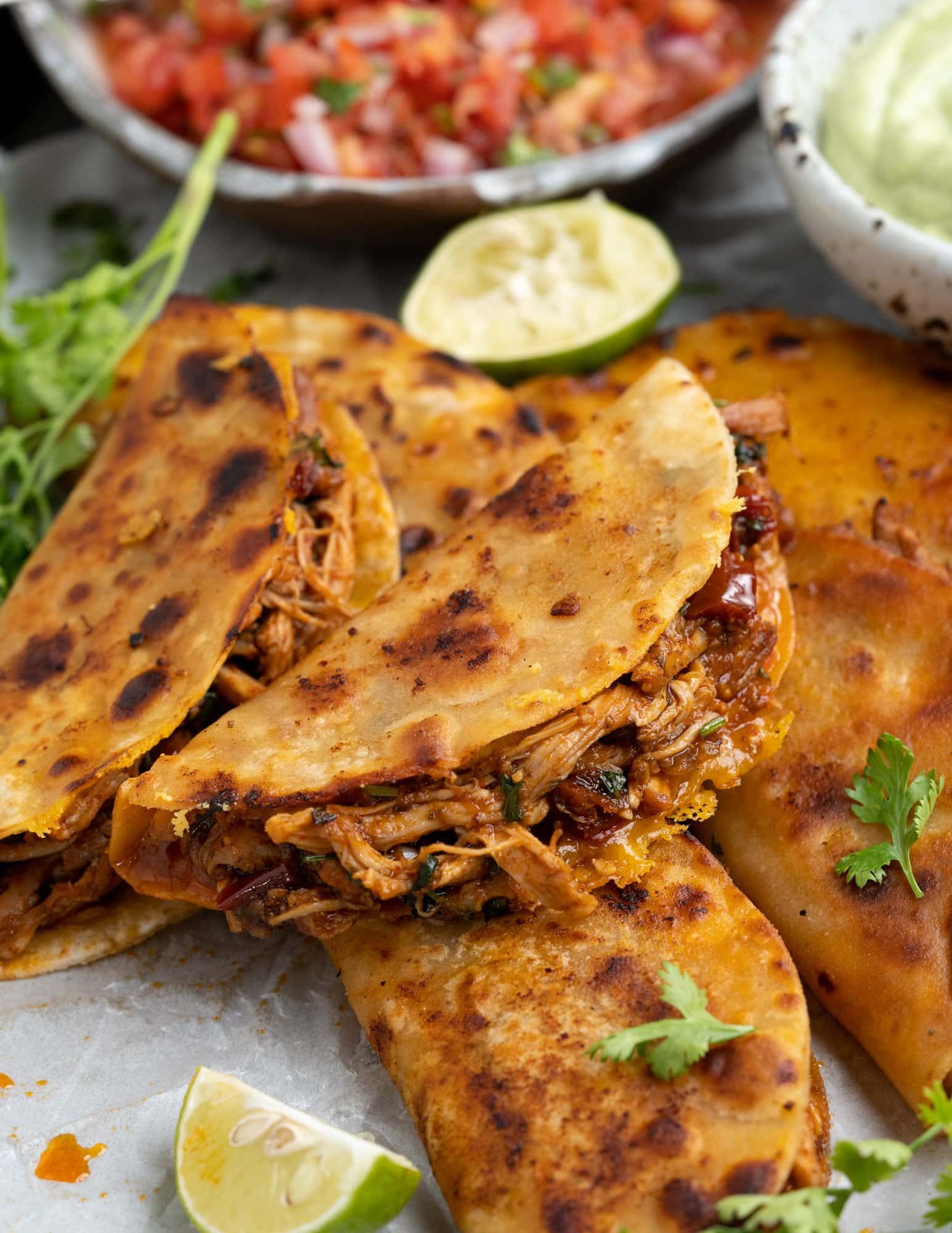 Taste the delicious flavors of Subhasmita's homemade chicken tacos from The Flavors of Kitchen. Cooked with onions, chipotle peppers, and tomato paste are tender shredded chicken thighs flavored with a handmade spice mixture. Next, stuff that deliciousness inside crisp corn tortillas along with fresh cilantro and melty cheddar cheese. Finally, add your favorite toppings to create a delicious Mexican-inspired feast in just 30 minutes!
Slow Cooker Ground Turkey Tacos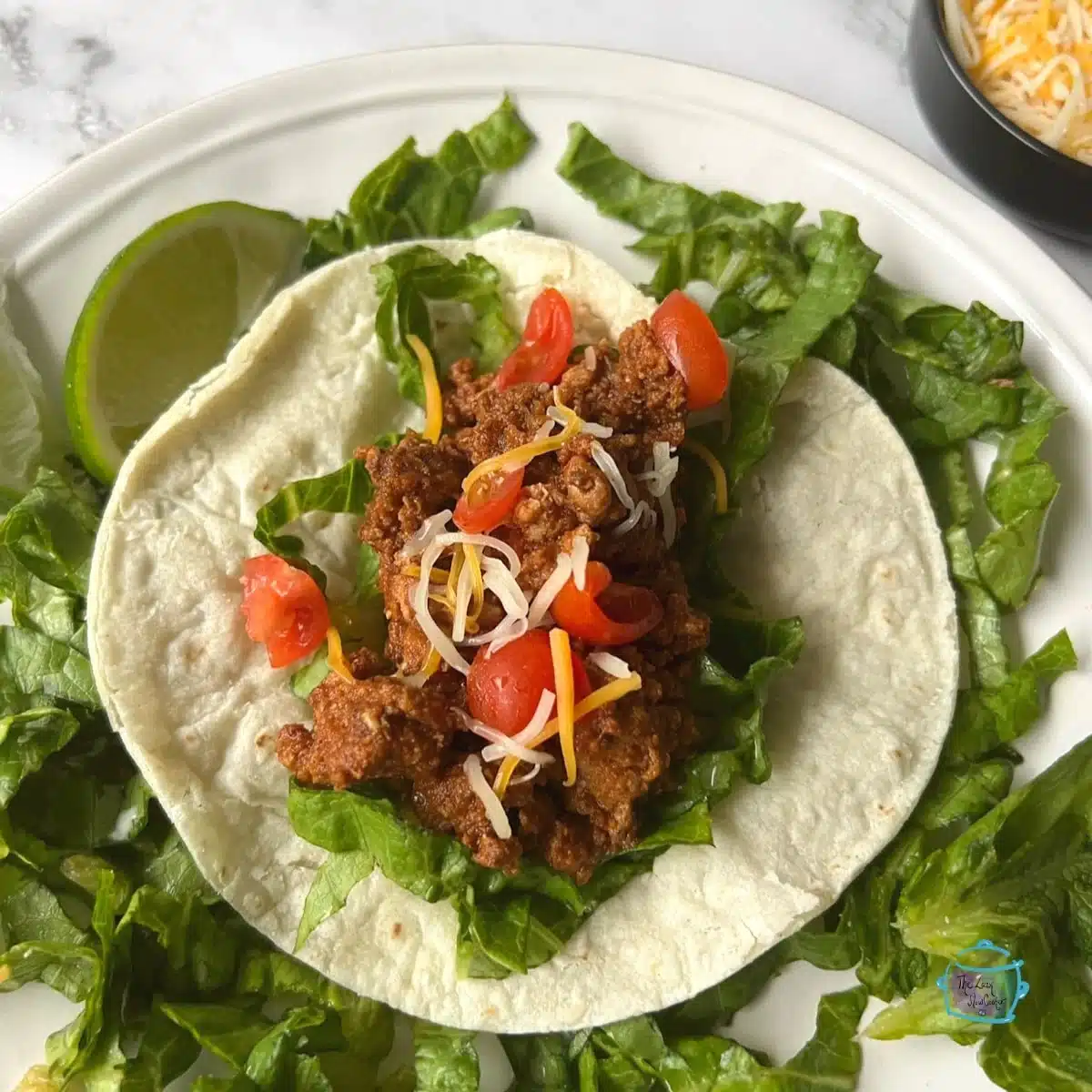 Ground poultry has never been so good with these slow cooker ground turkey tacos from The Lazy Slow Cooker! First, you slow-cook ground turkey with traditional taco flavors like salsa, homemade taco seasoning, and tomato paste until nice and juicy. No pre-cooking is required! Serve it in soft taco shells, or go gluten-free with lettuce wraps. Finally, customize with toppings like cheddar cheese, beans, and zesty chipotle peppers. Leftovers freeze well for quick weeknight meals.
Walking Tacos
Are you ready to experience the ultimate party food? We're talking about walking tacos by I Heart Naptime's Jamielyn! Your favorite taco meat and toppings are packed inside a bag of crunchy corn chips. But here's the twist: some swear by Fritos, while others can't resist the allure of Doritos. It's a delightful debate that adds excitement to any gathering.
No Brainer Grilled Steak Tacos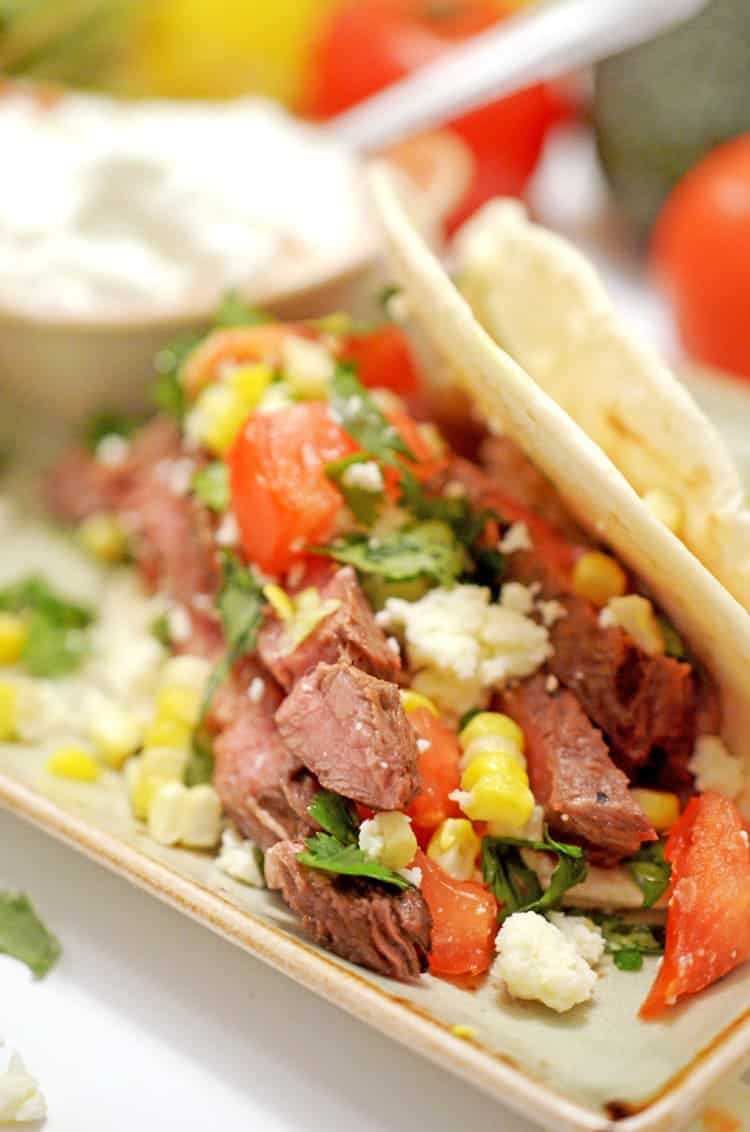 Grilled steak tacos – a delicious remedy for a chaotic weekend. After a long road trip and bidding farewell to their freshman son, the Platter Talk family yearned for a comforting meal. With an empty fridge, the grill became their go-to choice. The no-brainer option? Flavorful skirt steak soaked in a store-bought marinade. Quick cooking paired with grilled corn will bring your family together.
Crispy Chicken Tacos
Introducing the BEST EVER Crispy Chicken Tacos by The Cookin' Chicks! Prepare to be blown away by this Tex-Mex sensation that will make your taste buds sing! Tender chicken pieces, perfectly breaded and baked until crispy, nestled inside warm flour tortillas. But wait, it gets better! Drizzled with tangy BBQ sauce and creamy Ranch dressing and topped with crunchy cabbage, these tacos will stay on your mind days after you eat them.
Deep Fried Tacos
With only three ingredients, you can create crispy deep fried tacos, a flavorful twist on traditional taco night. Fry the tortilla shells until they become chewy and crunchy, providing a satisfying texture that pairs perfectly with your favorite fillings. This mouthwatering experience will make this recipe a mainstay on your menu.
Greek Tacos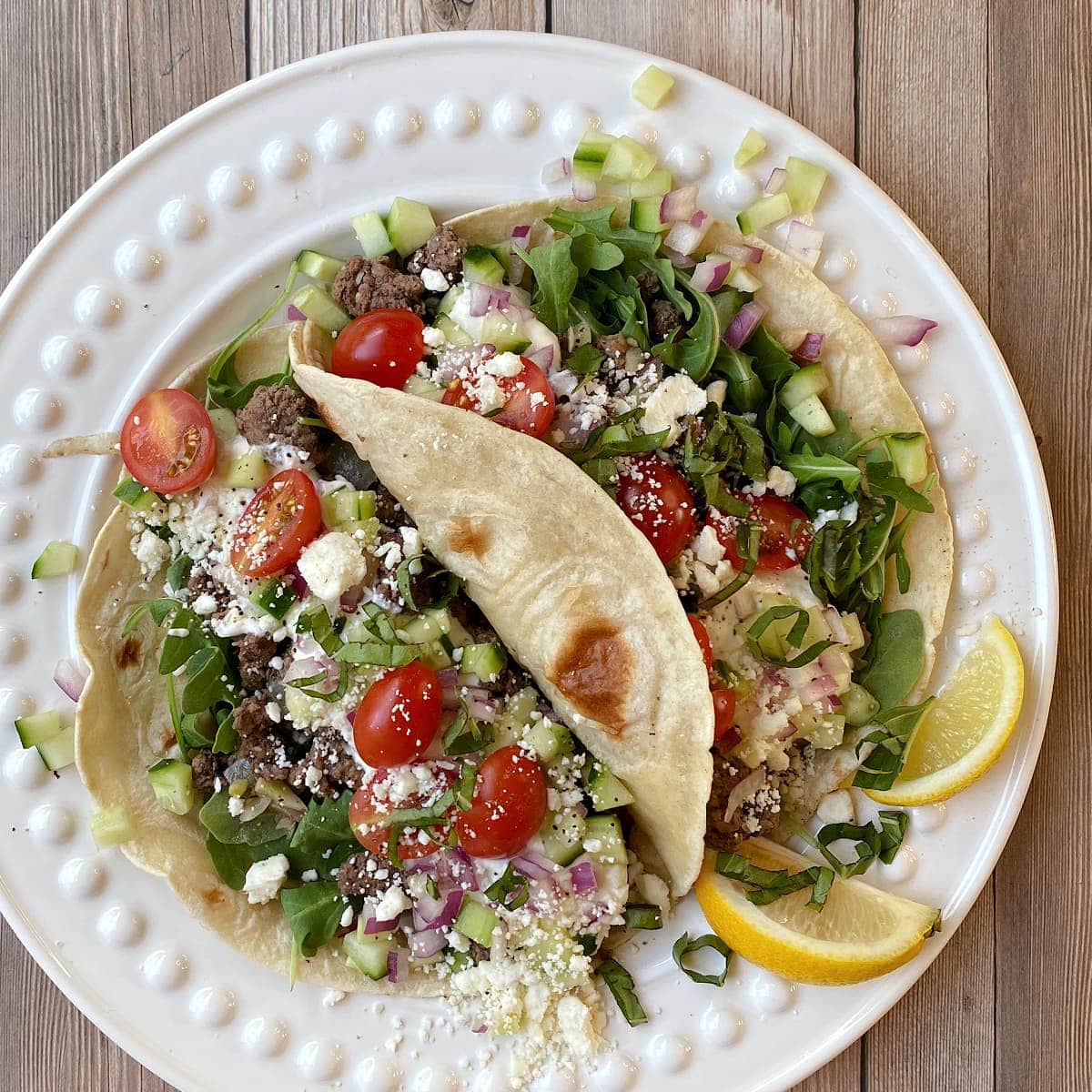 Brace yourself for a flavor-filled journey with Greek Tacos by The Good Hearted Woman! Just imagine the scent of seasoned ground meat sizzling in a hot skillet. As you dice crisp cucumbers and vibrant red onions, the anticipation builds. Top it all off with creamy feta, tangy yogurt, and zesty basil, and you've got a 30-minute wonder that'll leave everyone begging for more.
Sheet Pan Halloumi Tacos with Cauliflower and Black Beans
With these sheet pan halloumi tacos with cauliflower and black beans, get ready for a taste like no other! Picture this: a sheet pan filled with sizzling halloumi (semi-soft goat's milk cheese), roasted cauliflower, and black beans, all coming together to create the most mouthwatering tacos you've ever had. But here's the best part! You can prepare it in one pan, which is ideal for hectic weeknights. The real kicker is that once you devour these tacos, you'll wonder how you survived without them.
Chorizo Street Tacos
Get ready for an burst of flavor with these mouthwatering chorizo street tacos by MidWexican! The star ingredient is high-quality chorizo, best if sourced from a local deli or made from scratch. Corn tortillas are thin and offer an authentic taste. Remember to heat them for extra pliability! Keep the toppings simple with onions, cilantro, and salsa, or get creative with queso fresco and crema.
Pork Belly Tacos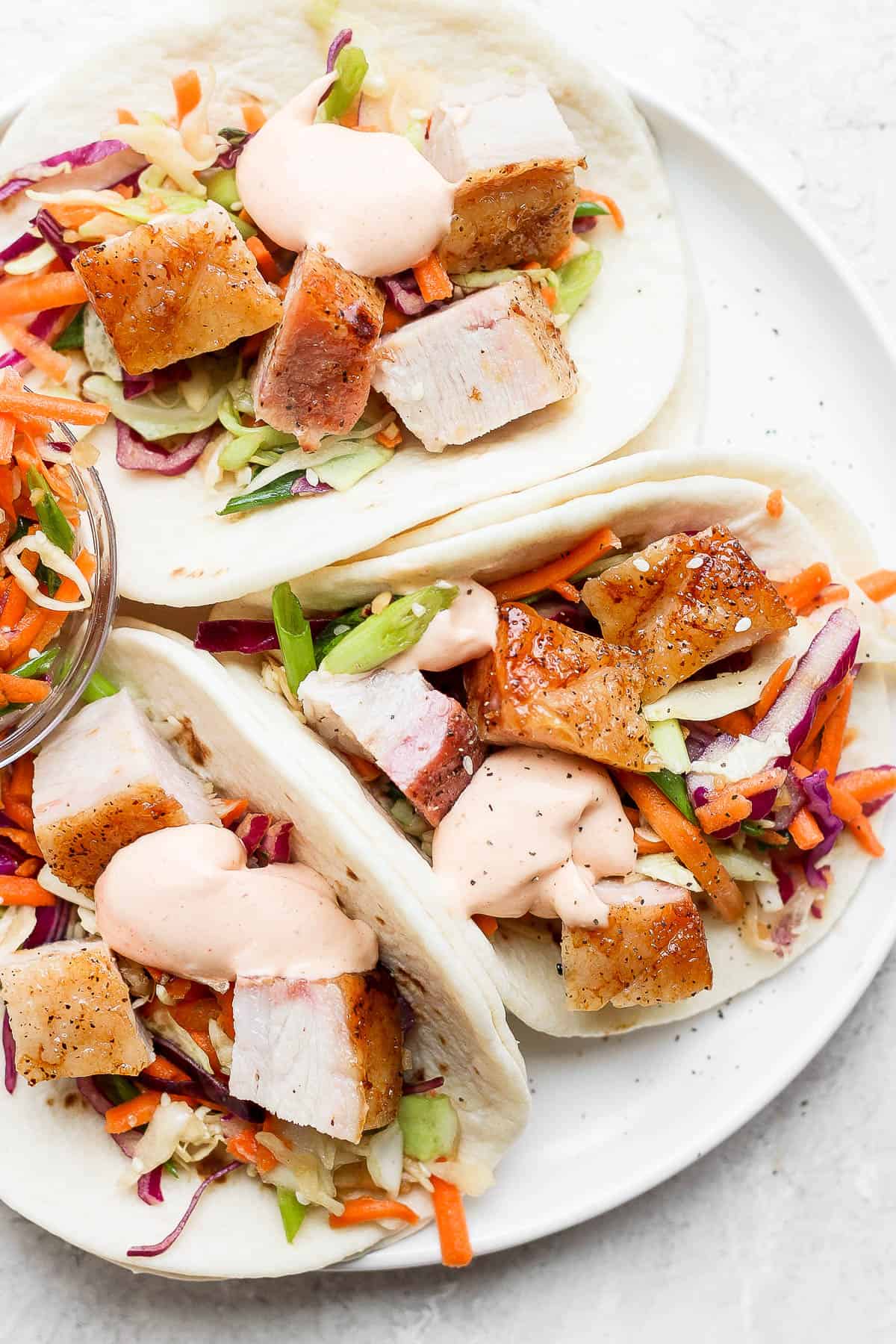 Erin of The Wooden Skillet introduces us to Pork Belly Tacos, the ultimate pleasure! Imagine a juicy, flavorful pork belly tucked into a warm street corn tortilla and served with a mouthwatering ginger sesame slaw. You have two cooking options: smoke or oven-roast. And if you are feeling adventurous, add a dollop of spicy mayo for more flavor!
Blackened Fish Tacos with Cilantro Lime Slaw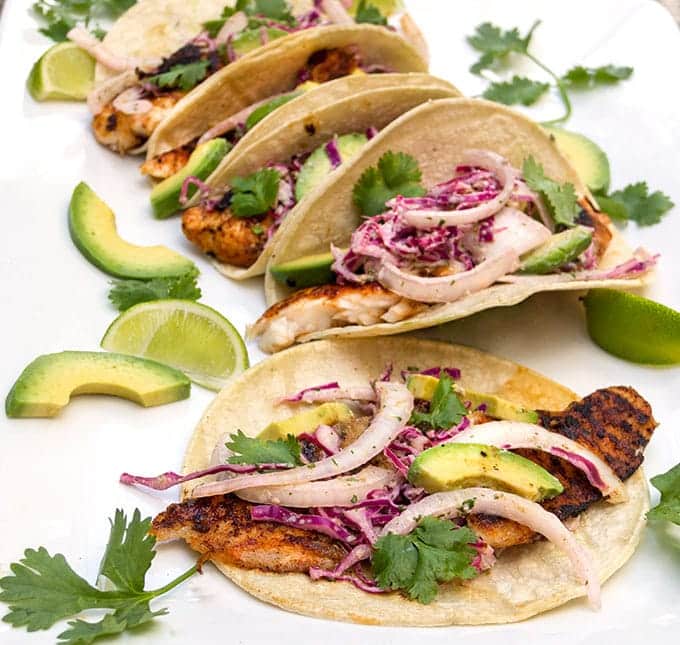 Blackened fish tacos feature tender, spicy fish encased in a blackened crust and a refreshing cilantro lime slaw. This recipe's origin traces back to the renowned Chef Paul Prudhomme, who popularized Cajun-style cooking in America. With firm white fish, and a blend of paprika, oregano, and jalapeños, these tacos offer a tasty balance of heat and tanginess. Bon appétit!
Fried Oyster Tacos with Citrus Salsa
You're taste buds have never experienced something quite like this fried oyster tacos with citrus salsa from Beyond Mere Sustenance. Crunchy cornmeal-breaded and fried oysters take center stage, and a zesty citrus salsa adds a bright, fresh flavor. While the combination of textures and the vibrant colors of the avocado, radishes, and shredded cabbage make these tacos a feast for the eyes and the palate.
Mexican Street Corn Guacamole Tacos
These vibrantly flavorful Mexican street corn guacamole tacos from Three Olives Branch are ideal for busy nights or Meatless Mondays. They combine the best of both worlds with fresh guacamole and zesty corn salsa layered on warm tortillas. Finally, top them off with your favorite garnishes like cilantro, lime, or radishes for an impressive vegetarian dinner.
Which Taco Recipe Will You Try First?
Tacos are a versatile and beloved dish that always satisfies. With a wide range of fillings, flavors, and styles, tacos offer something for everyone. The possibilities are endless, so whether you prefer traditional recipes or enjoy experimenting with unique combinations. The only question that remains is which taco recipe you will try first. We'd love to know!
And before you go, check out this list of tasty fish taco recipes.