Buttered grilled corn on the Cob is fine and dandy. But the 20 Best Corn on the Cob Recipes on this page are special. They are unique recipes that go far above anything you might expect. So you are in for a treat!
For example, you'll find Mexican Street Corn, Fried Corn on the Cob, and even a Flamin' Hot Cheeto Corn on the Cob recipe. Yes, you read that right! So are you ready to discover the tasty?
Let's dive in!
20 Corn on the Cob Recipes
Just below, you are about to embark on a culinary adventure of the corn kind. There are so many delicious summer recipes you won't know where to start. There's the classic corn on the cob cooked in the air fryer or instant pot, but there are also other, more novel creations you have to see to believe.
Mexican Street Corn (Elotes)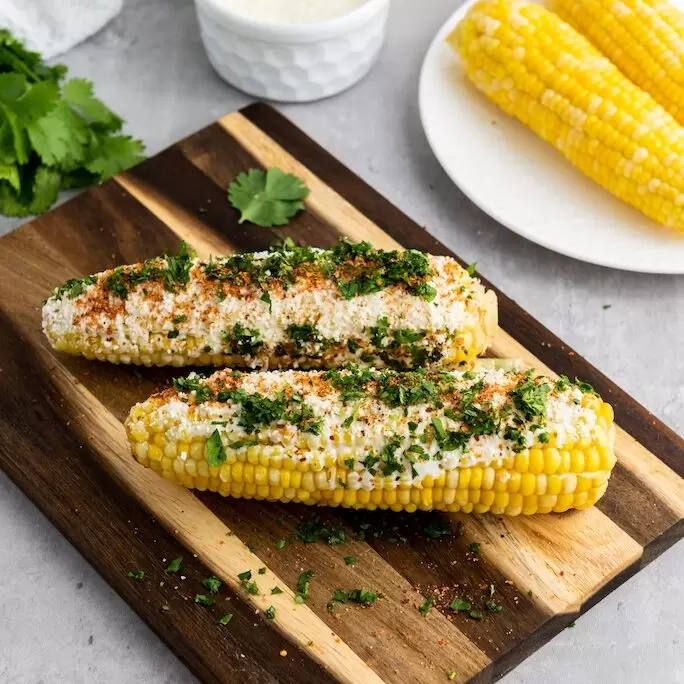 We agree with the folks at Chaos and Wine when they say Mexican Street Corn, also known as elotes, is the best way to consume corn on the cob. It starts with cooked corn ears (preferably grilled) that get a facelift from the mayo/Mexican crema mixture, Tajin seasoning, fresh cilantro, cotija cheese, and a bright squeeze of lime. Up until fairly recently, it was how you ate corn on the cob, if not simply butter and garlic.
Pigs In A Cornfield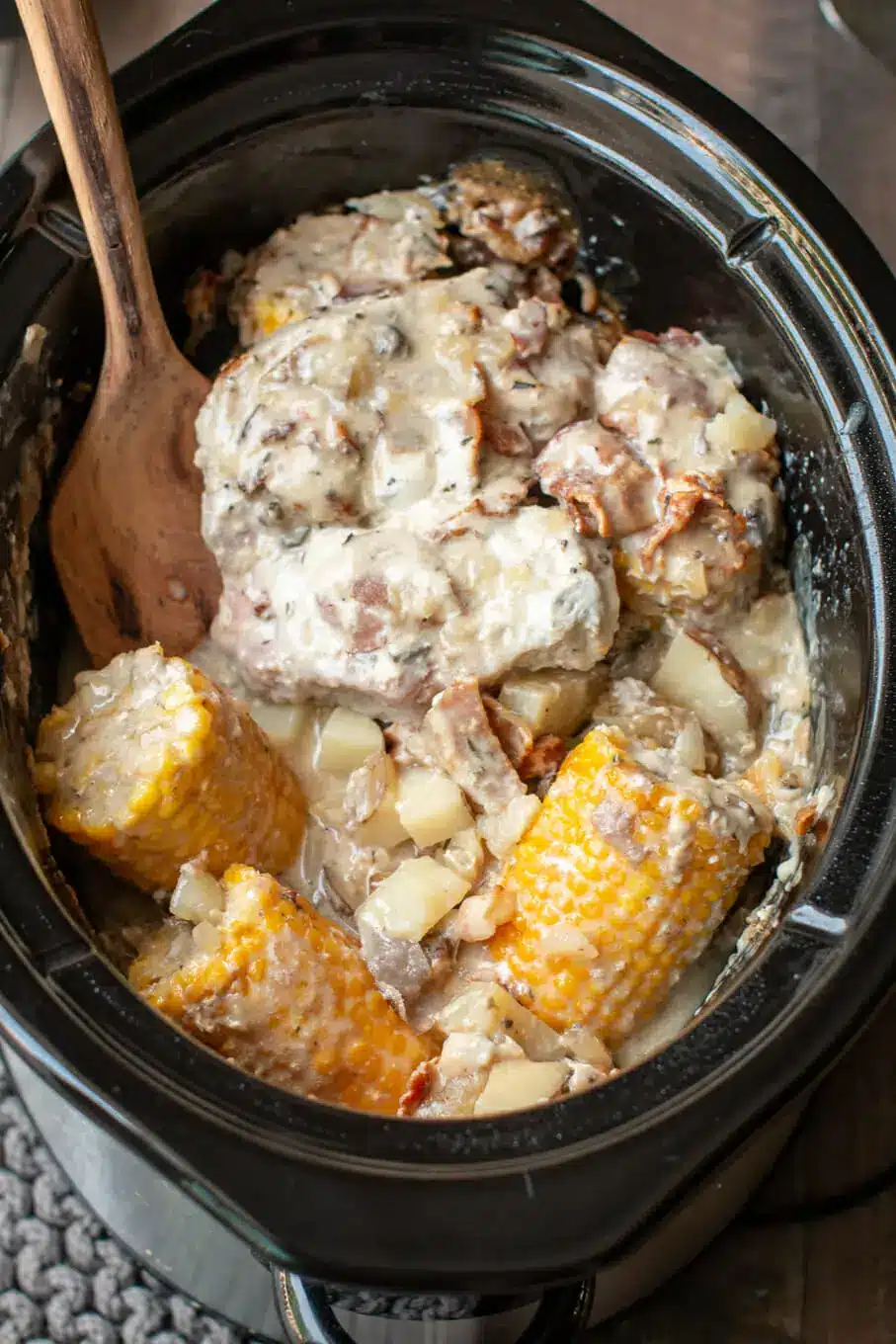 So you've heard of pigs in a blanket, but pigs in a cornfield? Yeah, that's a new one. It's a recipe suggested to Sarah by a fan of The Magical Slow Cooker. It starts with frozen halved corn on the cob, diced onion, pork chops, and cream of mushroom soup, all loaded in the slow cooker and simmered for seven hours. The result? A deliciously aromatic feast, perfect for weeknight dining.
Herb Roasted Corn with Hot Honey Butter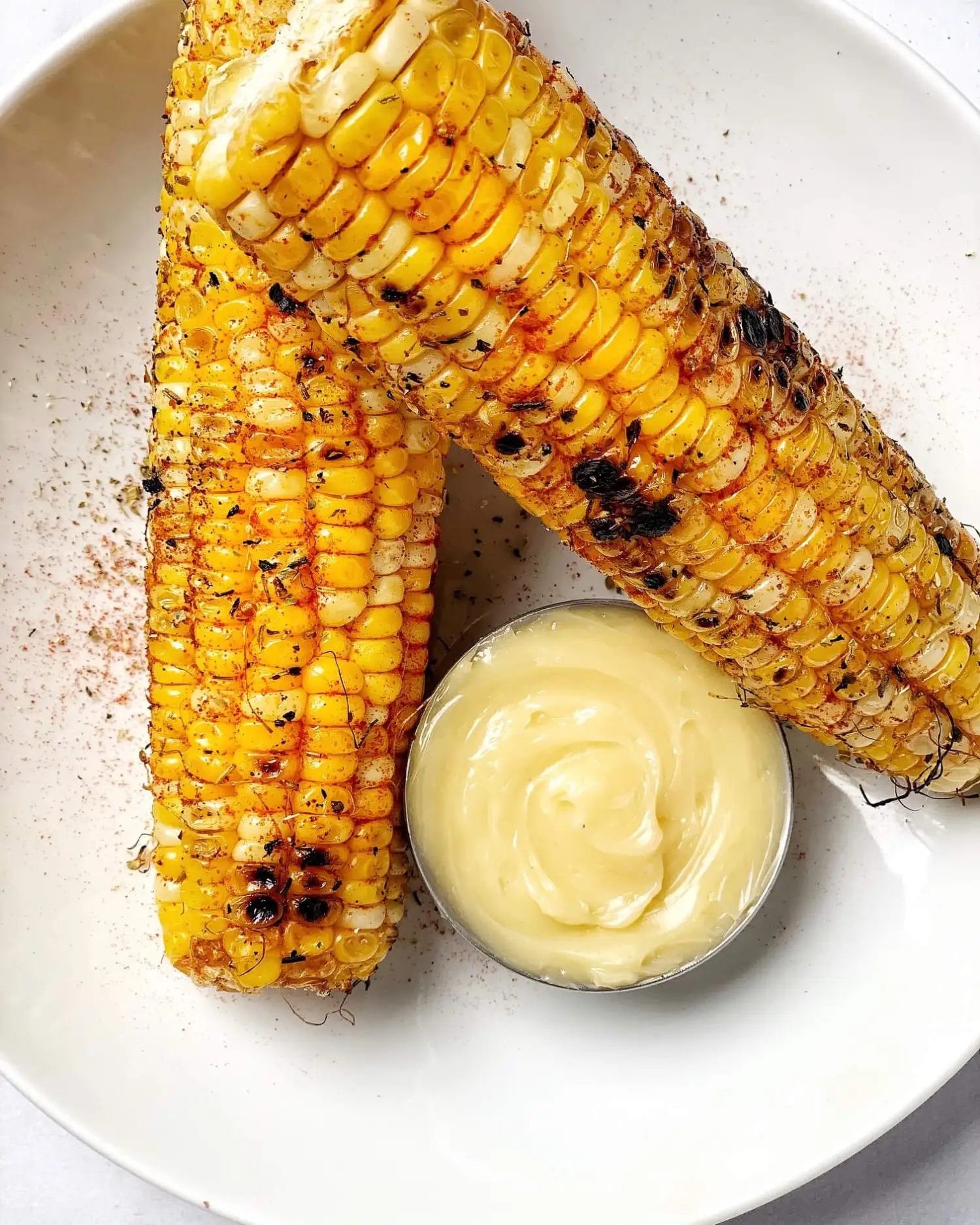 Liz says this Herb Roasted Corn with Hot Honey Butter is the only side dish you will ever need. It's a bold claim, but we'll take the challenge. You make it with a few simple ingredients, including fresh ears of corn, paprika, butter, and honey. First, roast the corn to perfection. Next, the fun part! Slather it with chile-infused honey butter. It's the perfect addition to any summer BBQ or dinner party (even when corn is out of season).
Air Fryer Corn On The Cob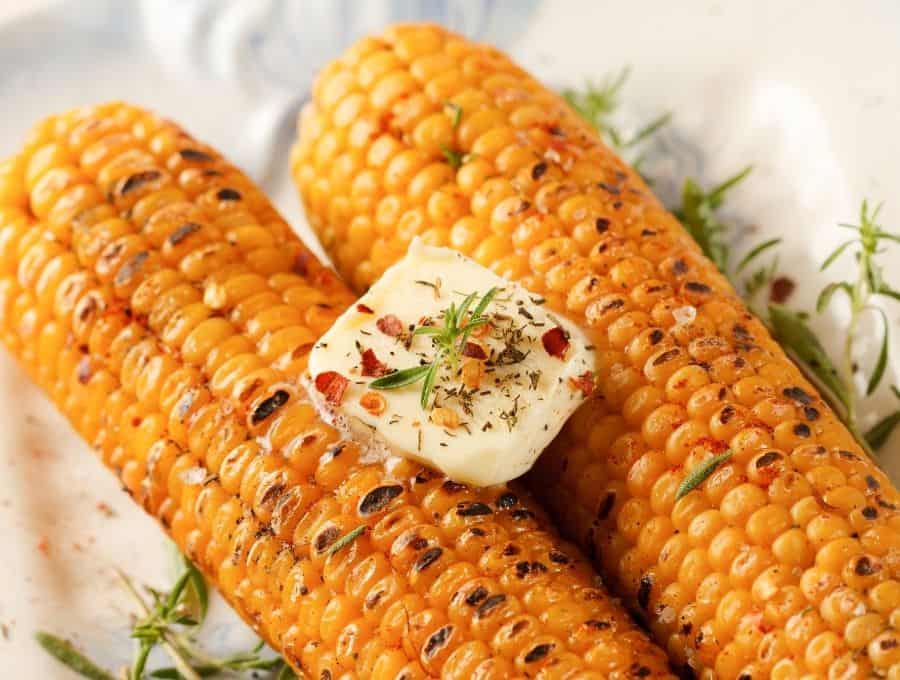 The Two Sleevers suggest this Air Fryer Corn On The Cob will become your favorite way to cook everyone's favorite yellow side dish. Here's why. Including the preheating, it takes less than 30 minutes to make. There are just a few ingredients. It's highly customizable. For example, sprinkle with chili powder, lime, and salt. Plus, it's time-saving. You can have the corn cooking while you finish the protein on the grill.
Bang Bang Grilled Corn On The Cob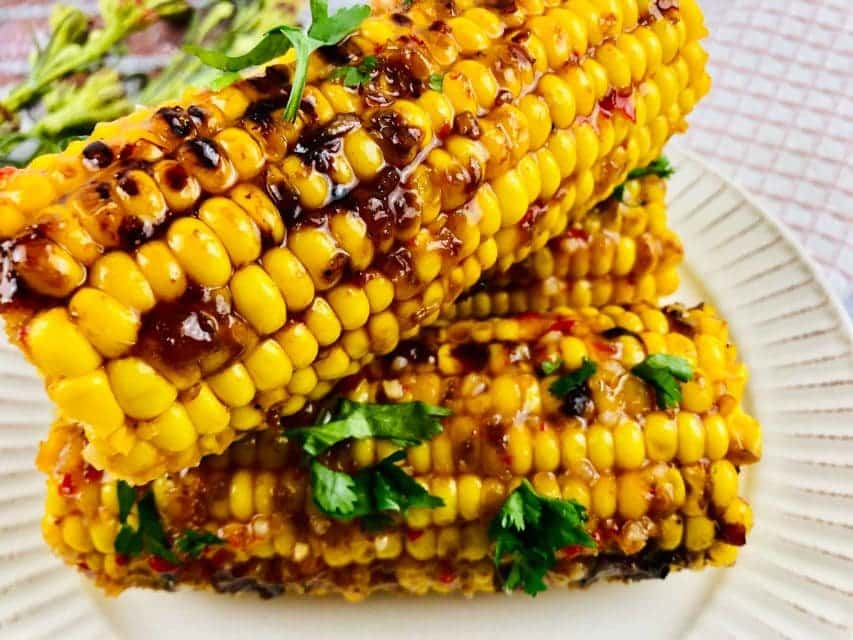 Perhaps you've heard of the "bang bang" flavor concept. Originally, it's a Bonefish Grill restaurant favorite that makes for a delicious shrimp dinner meal. The sauce comprises sweet chili sauce, melted butter, sriracha, and a few other ingredients. It's indeed delicious! Now, imagine their surprised faces when you bring Bang Bang Grilled Corn On The Cob to the next potluck or picnic.
Curry Mexican Street Corn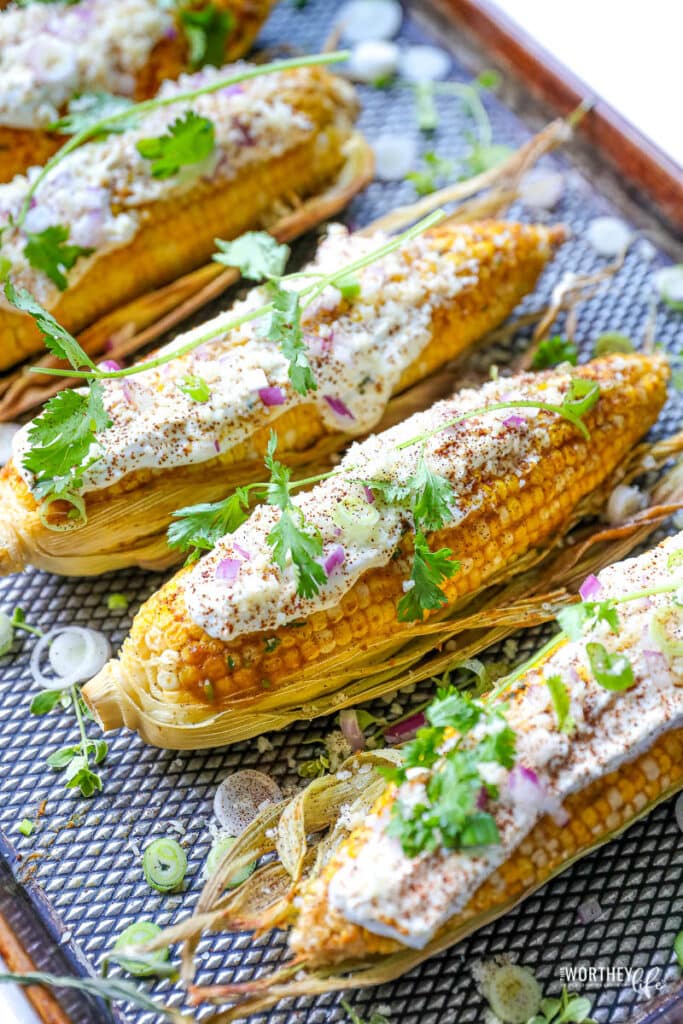 Indian and Mexican seasonings deliciously collide for this Curry Mexican Street Corn recipe. It's a welcome, if unlikely, fusion dish with too many flavors to list here. But we'll give you a sneak peek with a few: yellow curry sauce, cilantro, ghee, cilantro, and paprika. You dress the cobbled corn with a smear of Greek yogurt instead of sour cream, but the stars are the limit when it comes to toppings.
Grilled Parmesan-Pesto Sweet Corn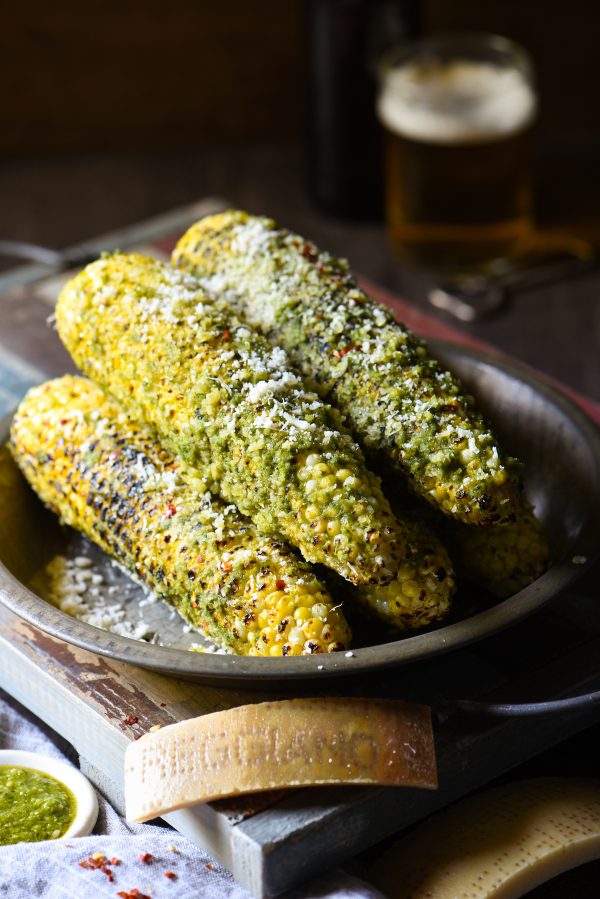 Lori of Foxes Love Lemons proclaims her favorite part about Midwest summers; fresh corn and cherries. Well, as fellow Midwesterners, we certainly agree. Those make our top ten. But while the grilled corn can elicit a highlight reel of fond memories, this Grilled Parmesan-Pesto Sweet Corn isn't like anything you're used to.
Quite the contrary. The culinary school graduate first shows us her super simple way to cook corn. It couldn't be easier. Then, the fun part. She dresses them in a ridiculously delicious mix of prepared basil pesto sauce, grated Parmigiano Reggiano, and red pepper flakes.
Instant Pot Corn On The Cob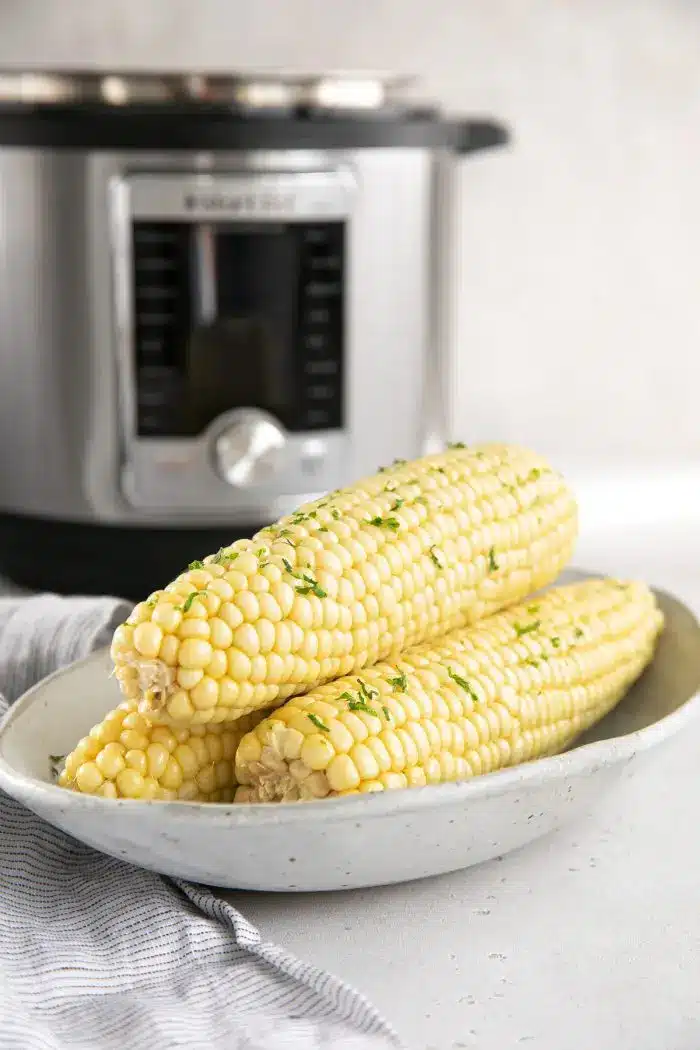 While flavorwise, there's nothing particularly novel about this Instant Pot Corn On The Cob recipe by Jessica of The Forked Spoon, the preparation method is one you want to consider. The busy home chef cleverly shows us how to cook corn in the pressure cooker perfectly every time. So you won't have to wonder, "is it done yet?" Or "did I overcook it?"
Oh, and for bonus points, she blesses us with several other sauces like chimichurri and butter parmesan to have us gobbling it up one after the other.
Bacon Wrapped Corn On The Cob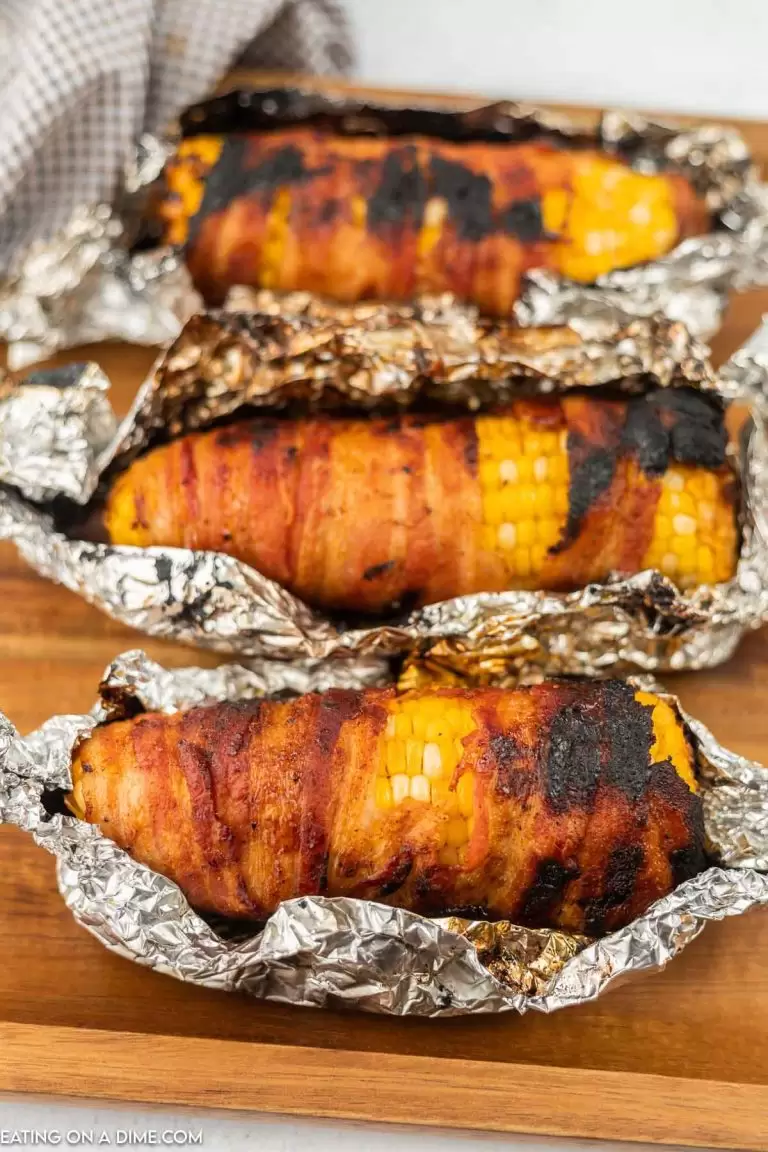 Carrie of Eating On A Dime understands a simple yet universal culinary truism: everything's better with bacon1 So with this Bacon-Wrapped Corn on the Cob, the corn is tender, and the bacon is crisp. But that's not all. The whole thing is drenched in a glorious honey butter chili powder sauce.
Fried Corn On The Cob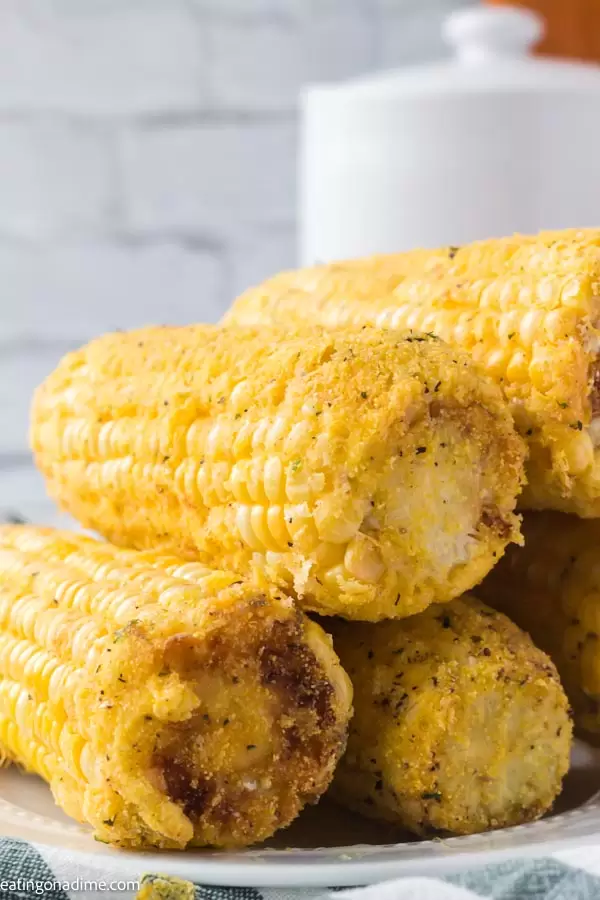 But if you thought wrapping corn in bacon was special, you're in for a treat with this deep-fried corn on the cob recipe, once again from Eating On A Dime. It's fantastic fair food right in your kitchen. First, dip them in the egg wash. Next, dip them in the seasoned cornmeal and flour mixture, and finally, fry them for the most delicious corn side dish you've ever had.
Easy Corn Riblets Recipe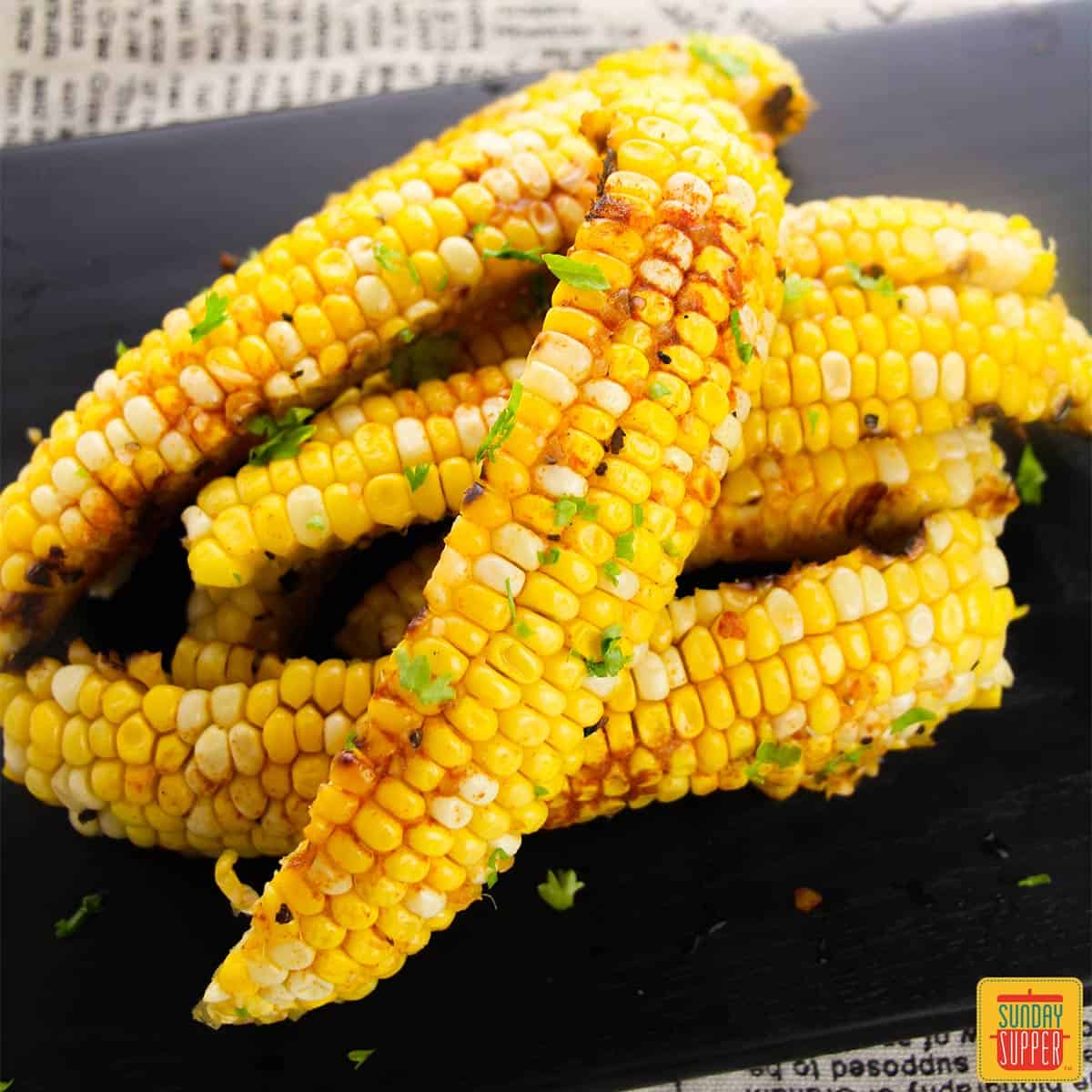 This Easy Corn Riblets Recipe is part of Isabel's Sunday Supper Movement. And they are super fun to look at and even more fun to eat. You'll learn how to properly quarter the corn. Next, it's time to cook. Grilling is best for maximum flavor. But you can cook them stovetop, oven, or air fryer. Finally, slather them in garlic butter and let the corn munching commence.
Grilled Corn on the Cob with Avocado Dill Dressing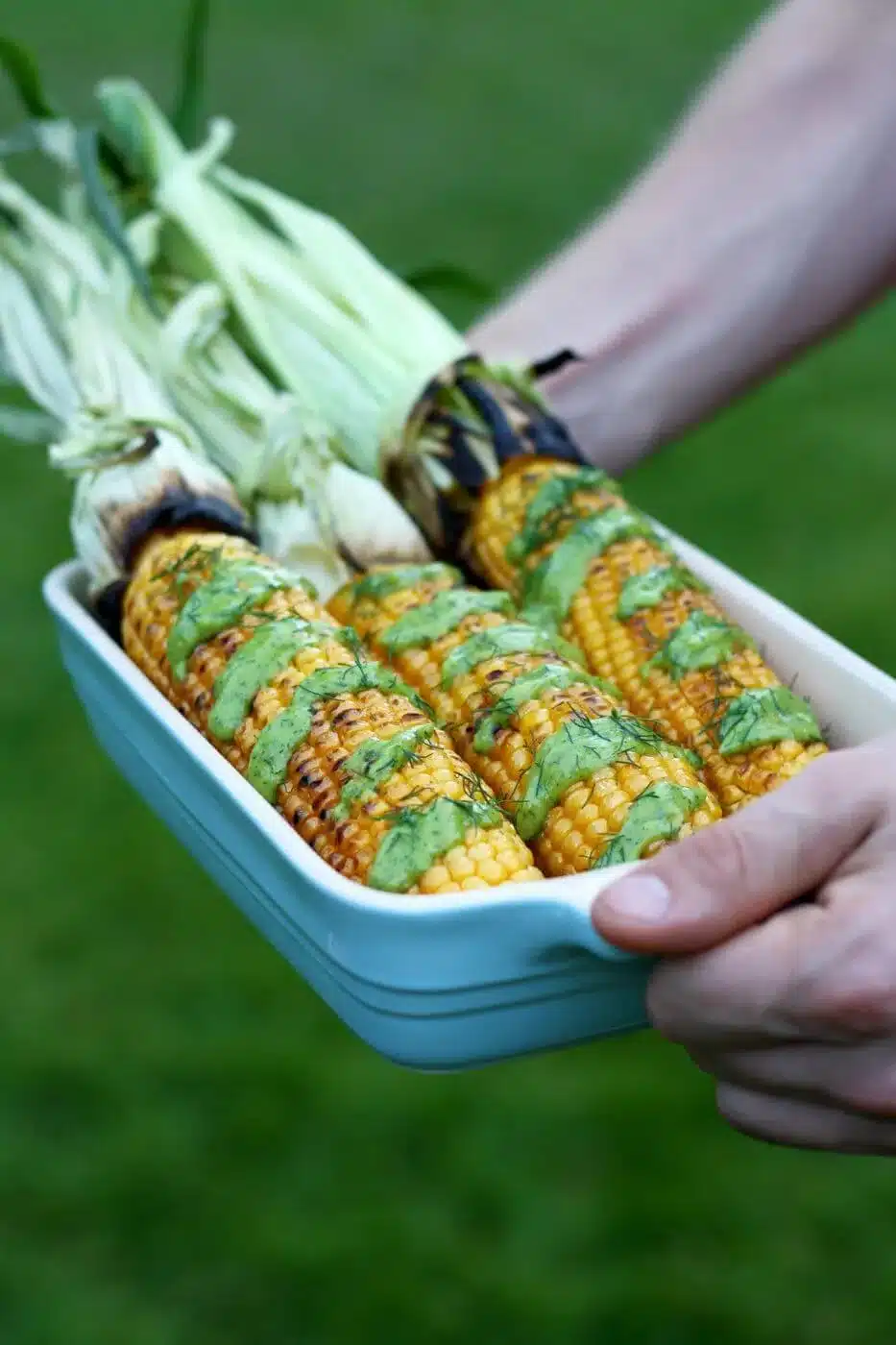 If you've yet to get the most out of summer, this Grilled Corn on the Cob with Avocado Dill Dressing with get you on the right track. It features picturesque golden charred corn with a vegan avocado and dill topping. You make that sauce with all kinds of fresh deliciousness like avocado, fresh dill, apple cider vinegar, jalapeno, garlic, and even fresh mint.
Flamin' Hot Cheetos Corn On The Cob Recipe
Apparently, Flamin' Hot Cheetos Corn on the Cob, a twist on classic elotes, is so good folks are willing to wait in line for hours for it! And like elotes, it starts with smokey grilled corn on the cob that gets a slathering of mayo/sour cream and rolled in crushed Flamin' Hot Cheetos. Sounds drool worthy!
Buffalo Corn on the Cob
So by now, you've seen just about everything corn on the cob there is to see, right? Well, not so fast. Because this Buffalo Corn on the Cob is certainly a novel experience. The simple party food recipe starts with flame-kissed cobs. Those corn cobs get a drizzle of buttery, spicy Buffalo sauce, and crumbled blue cheese. This one is sure to surprise your family or guests.
Honey Garlic Corn on the Cob
This Honey Garlic Corn on the Cob by The Endless Meal will have you scratching your head, thinking, "why didn't I think of that?" It's oh-so sticky, sweet, garlicky, and irresistibly smoky. But instead of getting jealous (we're talking from experience here), it's best to just start making your grocery list. You'll need fresh corn, garlic, honey, sesame oil, soy sauce, chili flakes, and an appetite.
Sweet Curry Corn with Mango Chutney Butter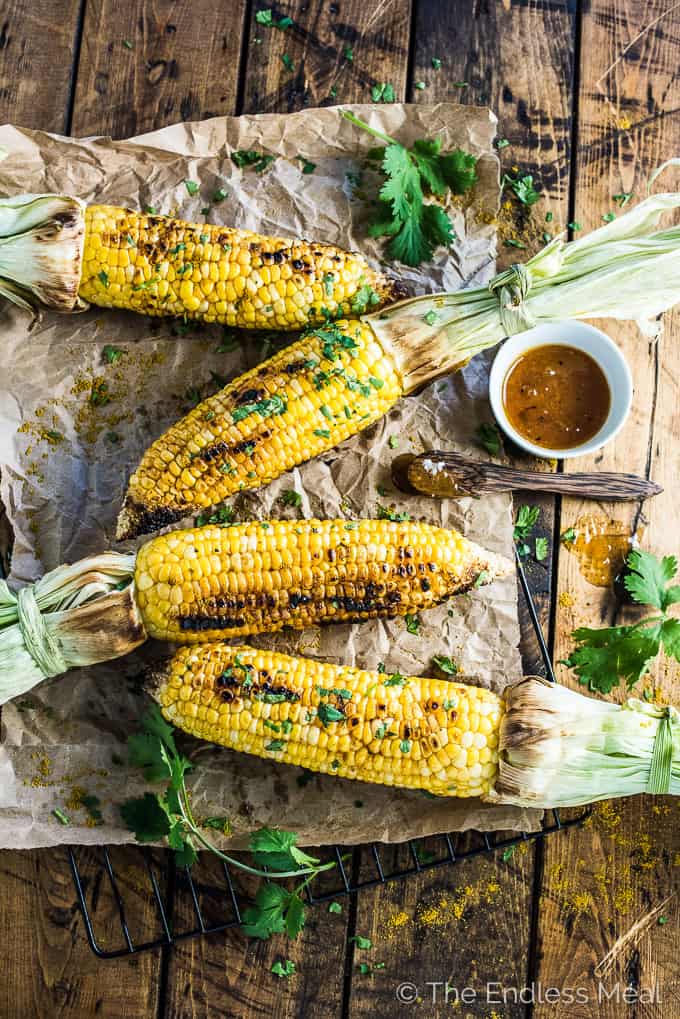 With this Sweet Curry Corn with Mango Chutney Butter, The Endless Meal continues with creative grilling season recipes we wish we knew about sooner. While it's super-flavorful and sounds fancy, with just four ingredients, it's actually quite easy to make. The only problem is that if you were contemplating a paleo or low-carb diet, this recipe might keep you from committing.
Cajun Corn on the Cob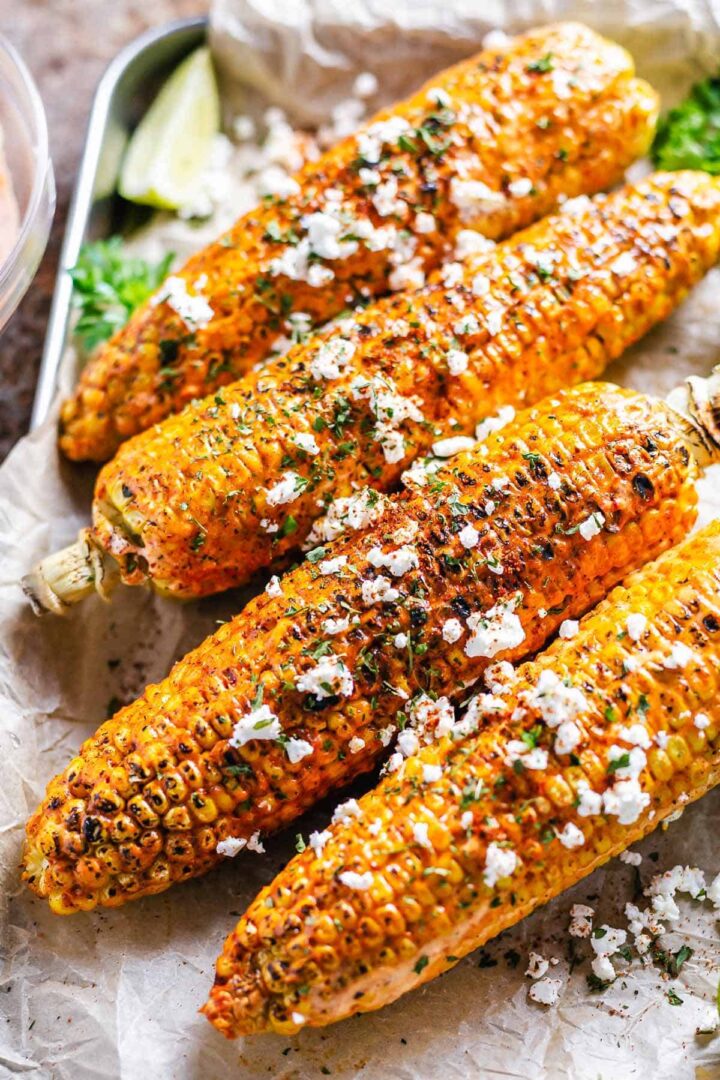 This Cajun Corn on the Cob recipe by Julia of The Yummy Bowl is the perfect way to christen summer, otherwise known as corn season. Before grilling, baking, or boiling, season those yellow ears with a tasty mix of paprika, onion powder, garlic powder, olive oil, and cajun seasoning. When they're done, liberally spread on the seasoned mayo/sour cream mixture and top with lime juice, feta, and cilantro.
California Street Corn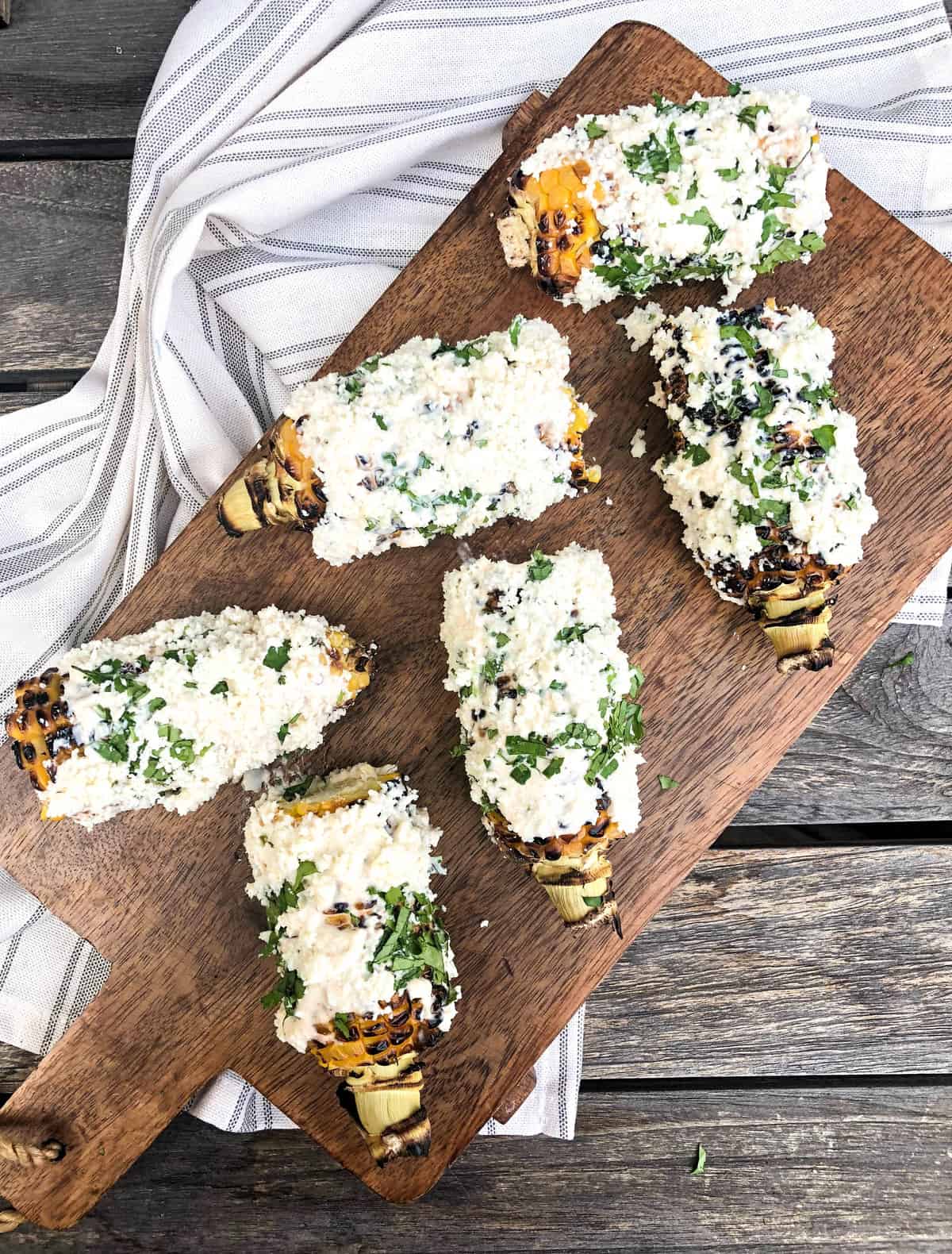 Get ready to tantalize your taste buds with this irresistible California Street Corn recipe! First, you char fresh, juicy ears of corn over an open fire. Mmm, smoky! Next, brush them with a creamy and dreamy blend of mayo, sour cream, fiery jalapenos, smoky chili powder, bright and zesty lime, and salty cotija. Now that's an explosion of flavor that will transport you straight to the streets of California.
Spicy Miso Air Fryer Corn Ribs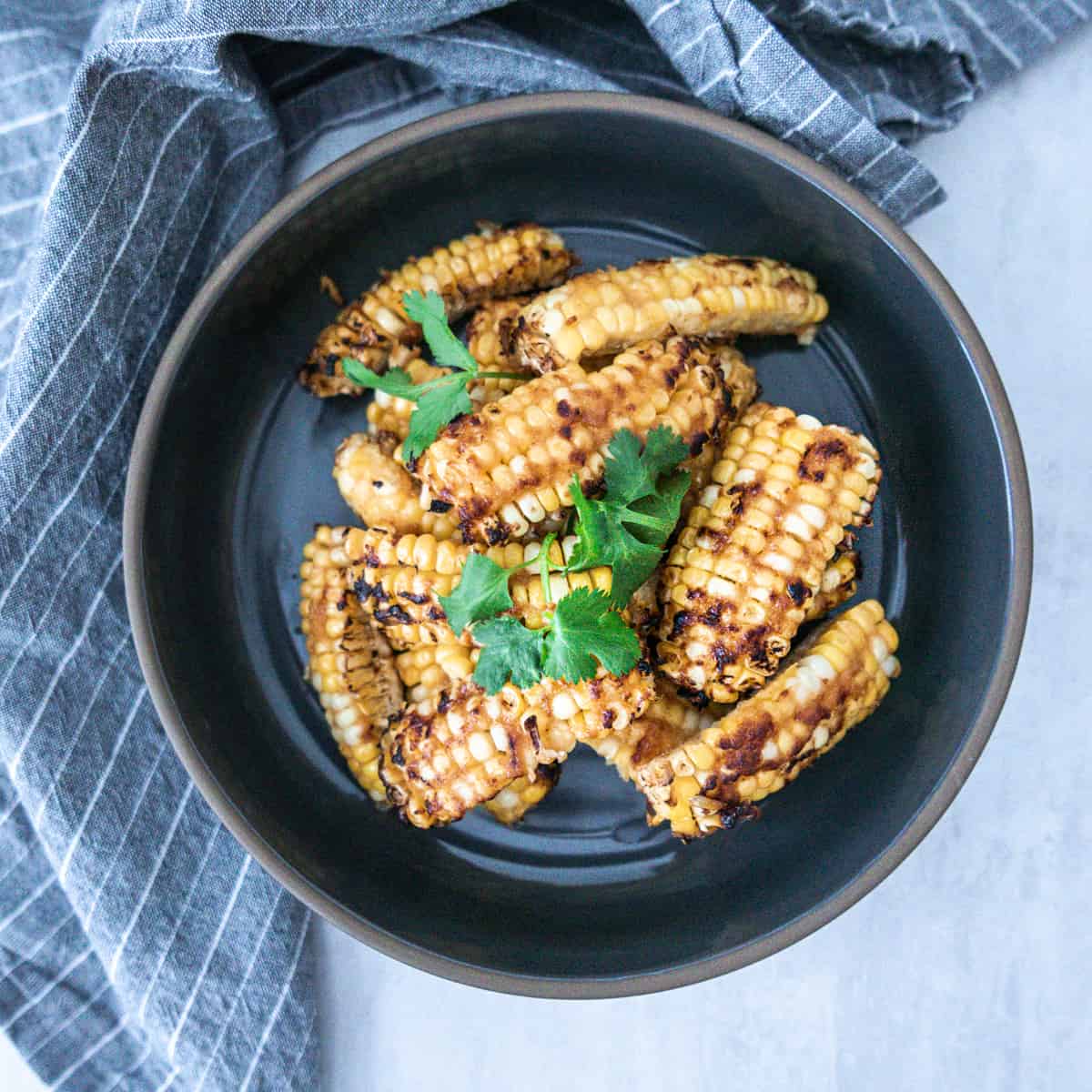 Elevate your corn game with this Spicy Miso Air Fryer Corn Ribs recipe by Nancy of Nomss. Now if you're reading Miso and thinking, "What the heck is that?" You wouldn't be the only one. Just know the Japanese soy-based flavor enhancer adds a particular savoriness you wouldn't get otherwise. The other ingredients, including maple, butter, and shichimi togarashi, help to make it a corn dish to remember.
Grilled Corn on the Cob
On the surface, this Grilled Corn on the Cob recipe from Lisa of The Delicious Table may sound ordinary; it's anything but. First, she answers all the questions you might have about corn on the cob, including how to pick the best ears. Then, she shows you how to grill it like a pro. And finally, once you cook it, she gives you a dozen seasoning ideas like BBQ rub and Herbs de Provence.
Which Corn on the Cob Recipes Will You Try First?
By now, you've seen nearly two dozen Corn on the Cob recipes. These delicious corn dishes include everything from Spicy Miso Air Fryer Corn Ribs to Cajun Corn on the Cob and everything in between. So which one are you most excited to make first? We'd love to know!
Other Delicious Side Dishes to Consider!